Hello!
So Banggood was kind enough to support my small little enterprise and sent me a Klarus XT1C to review. This is my first time working with Banggood and look forward to getting back into the swing of reviewing lights again. I choose the XT1C because I haven't reviewed any Klarus lights yet and wanted to give the brand a try, and I have been very intrigued by the 2 switch system and wanted to see if this would make a good "one light" option for me.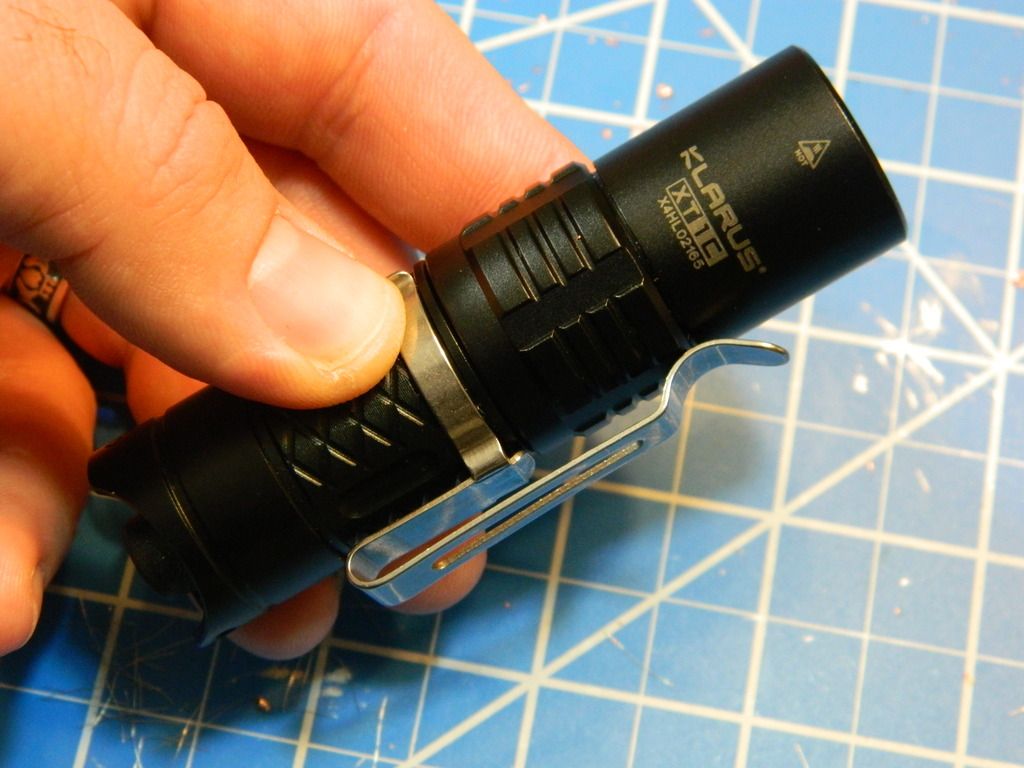 Banggood link (non-affiliate)
https://goo.gl/BT0Dl2
Product name: Klarus XT1C XP-L HI V3 700LM LED Flashlight
Brand: Klarus
Model: XT1C
Emitter Brand
Emitter Type: XP-L HI V3
Material: Aluminum
Total Emitters: 1
Mode: Low,Mid,High,Strobe,SOS
Max Lumens: 700LM
Max Runtime: 53h
Battery Configurations: 1× 16340 / CR123A battery (Included 16340 battery)
Switch Type: Dual Tactical Tail Switch
Switch Location: Tail cap
Working Voltage: 2.0-4.2V
Peak Beam Intensity: 11025cd
Impact Resistant 1m
Range: 210m
Lens: Toughened ultra-clear glass with anti-corrosion AR coating
Reflector: Smooth reflector
Waterproof: IPX-8 (underwater 2 metres)
Weight: 47.5g(Without battery)
Size: 85mm(Length) x 25.2mm(Head) x 23.2mm(Body)
Features: 1. Utilizes XP-L HI V3 LED with a lifespan of up to 50,000 hours 2. Classic Tactical Setting as factory default 3. All New upgraded edition. Compact design; superb functionality; industry leading patented features 4. Easy Interface: One-Touch Strobe; One-Touch High; One-Touch Low; ITS temperature control; SOS; Quick mode change 5. Patented Dual-Switch Control; One-hand tactile control, an evolution of flashlight UI 6. Two Interfaces: Tactical Setting; Outdoor Setting Tactical Setting: Classic KLARUS XT series control. One-Touch High; One-Touch Strobe; versatile in all tasks Outdoor Setting: Specially designed for the wilderness. One-Touch Low; One-Touch High; SOS; suitable for all needs in Hiking and Camping 7. ITS temperature control, real time monitor and auto-adjust output levels to keep LED and crucial component safe for the best balance of performanc and equipment safety 8. Constant Current Circuit driven, no flashes and no PWM blinking 9. Springs at bezel and tail resist shock and drop damages
10. Reverse Polarity Protection; eliminates damage from incorrect battery install
11. Monolith bezel design for efficient heat dissipation
12. Hardened Mineral Glass lens with AR coating; scratch resistant
Package included:
1 X Klarus XT1C XP-L HI V3 700LM LED Flashlight
1 X Klarus 16340 700mAh battery
1 X O-ring
1 X Lanyard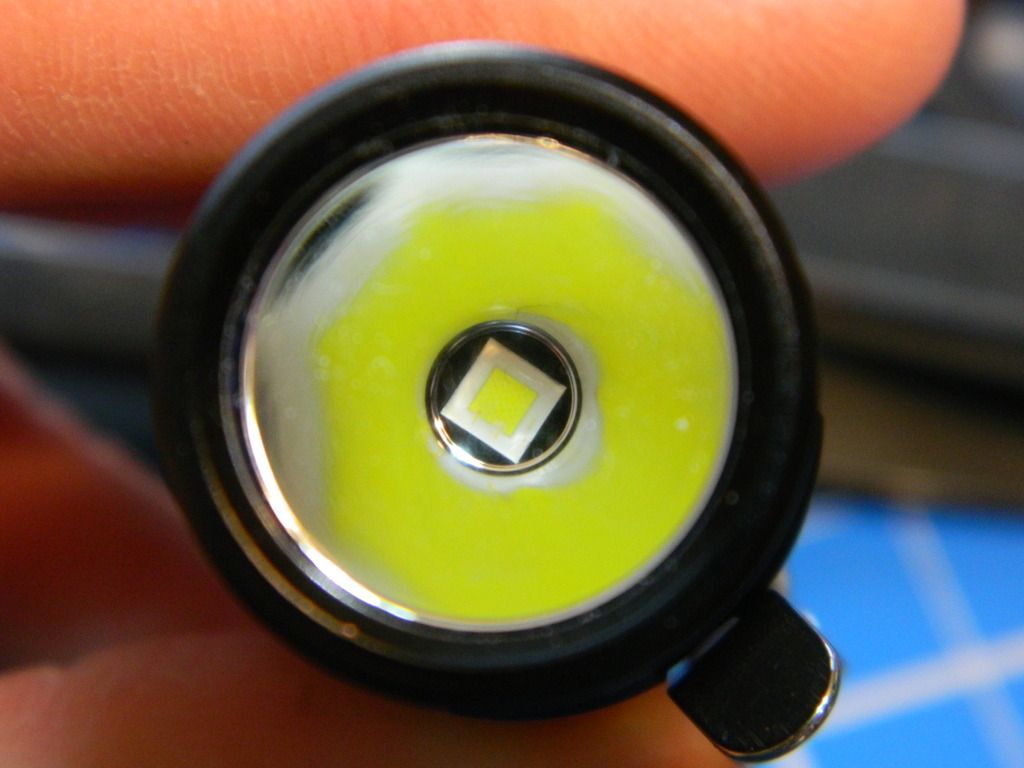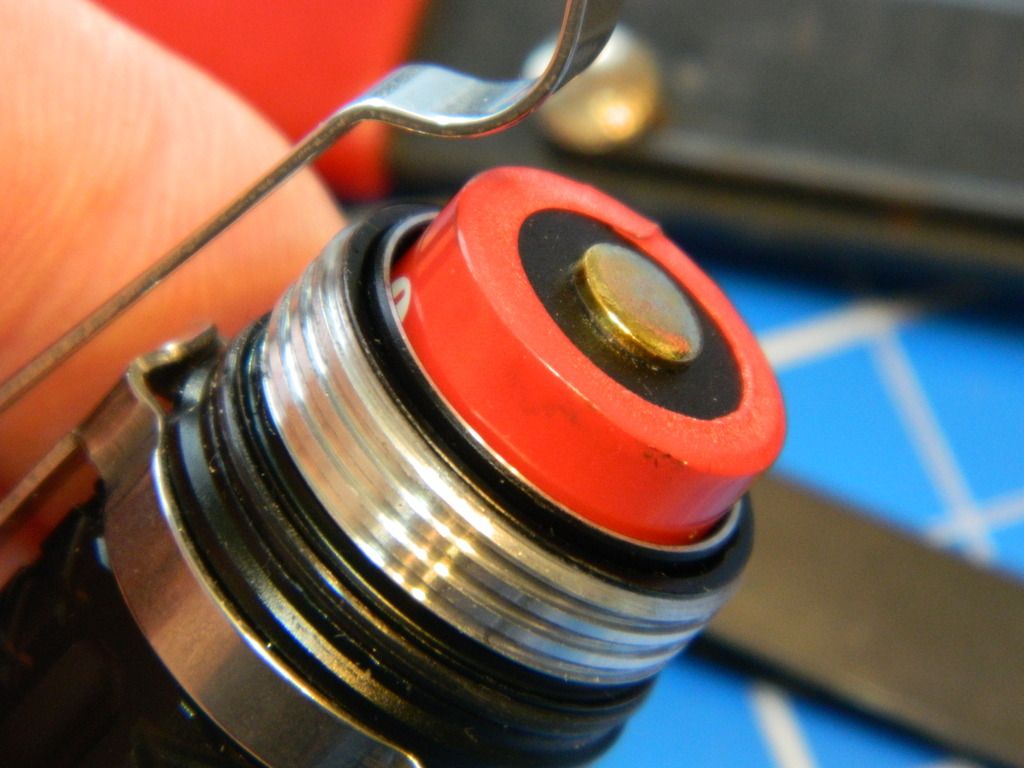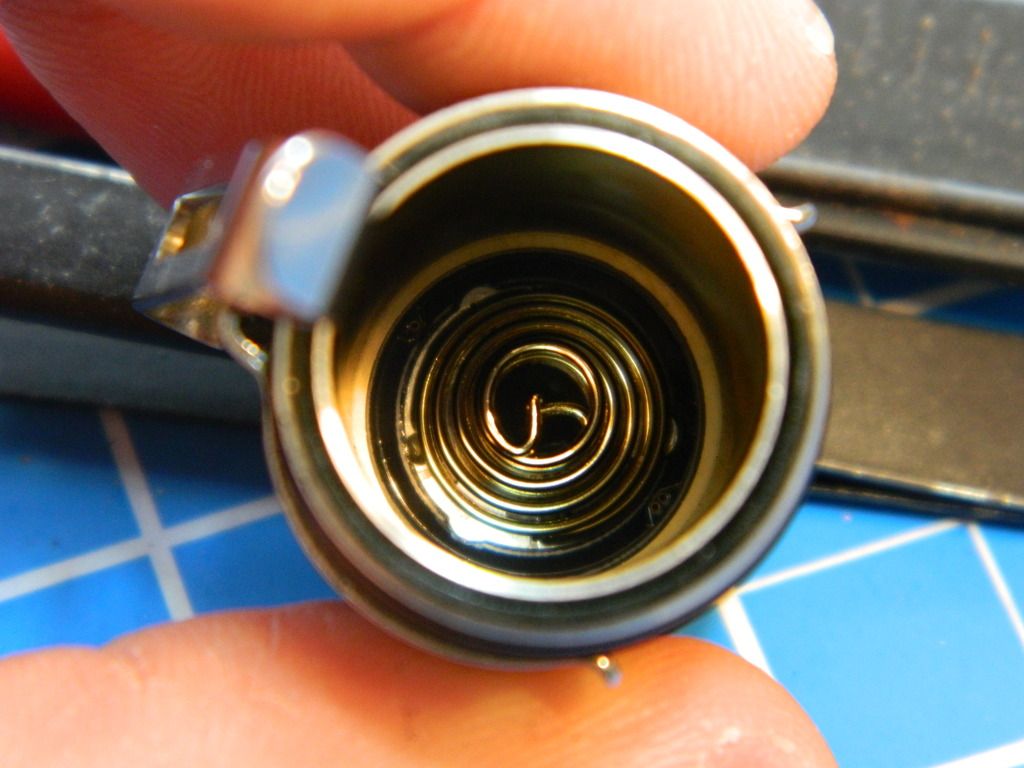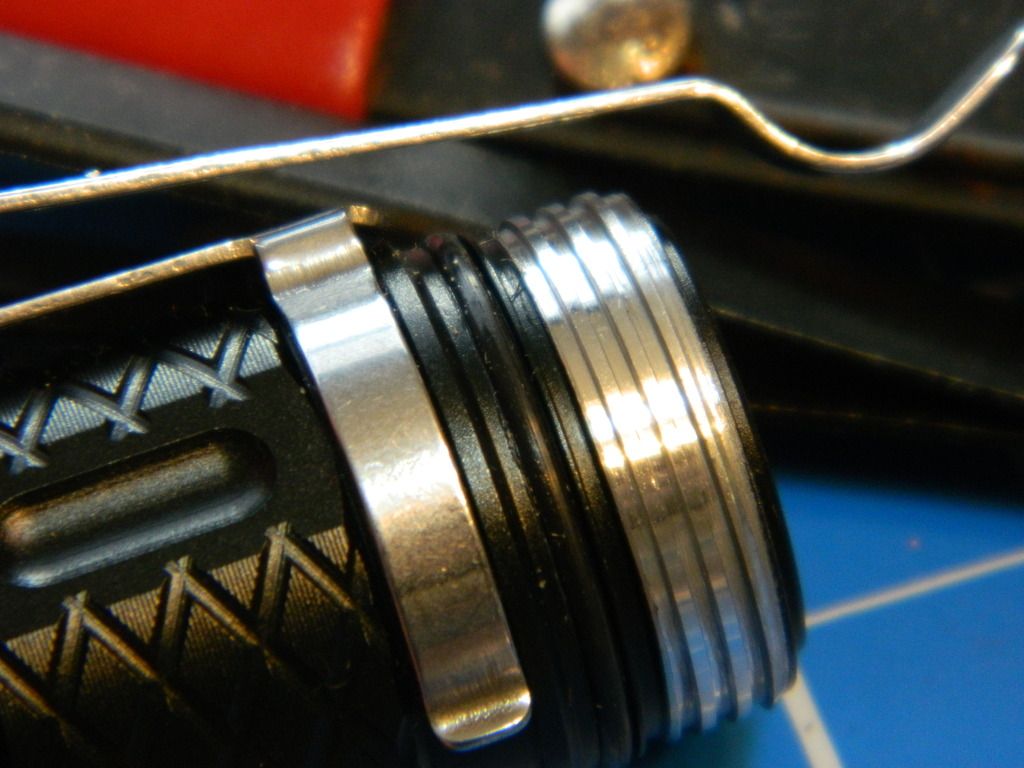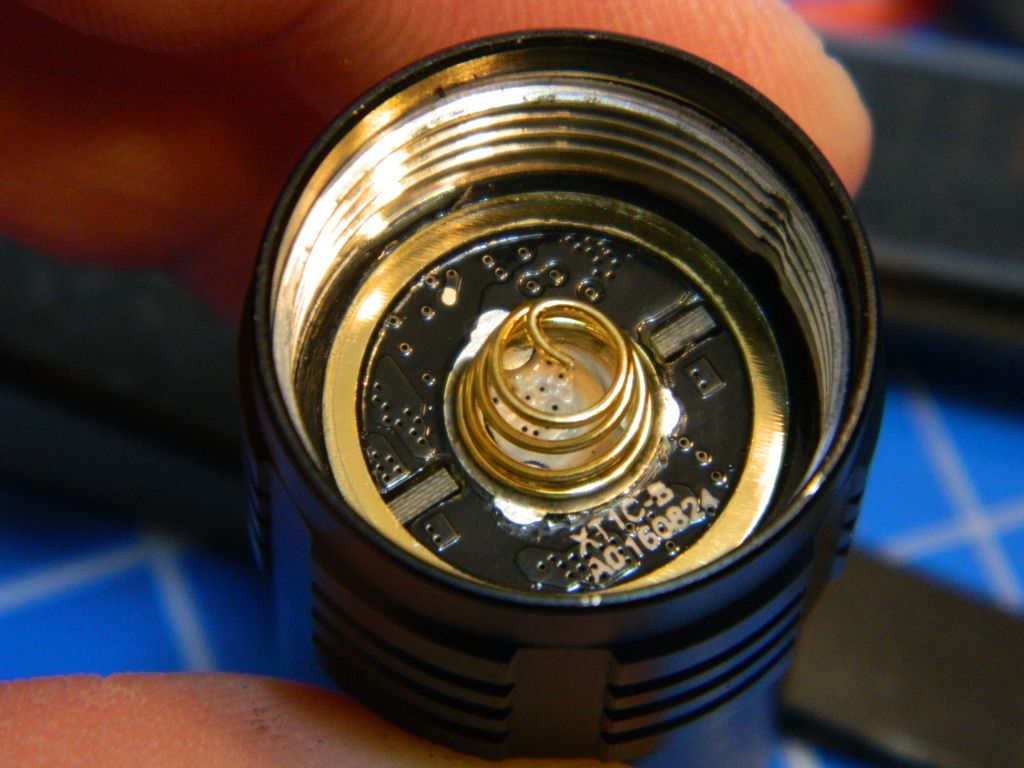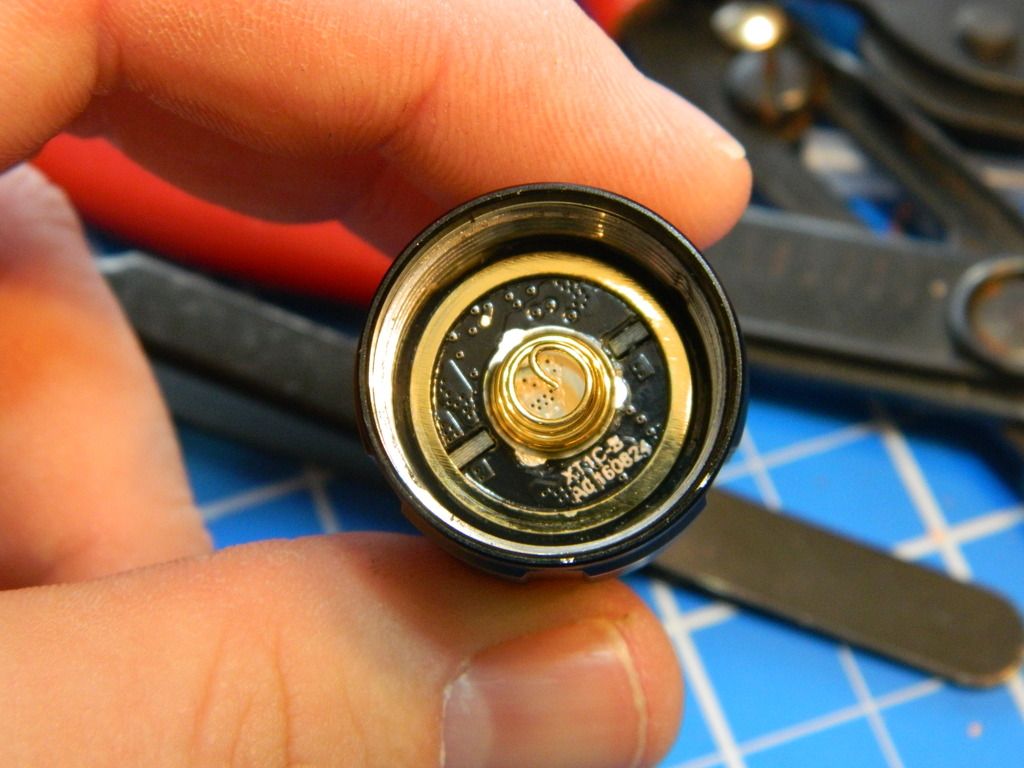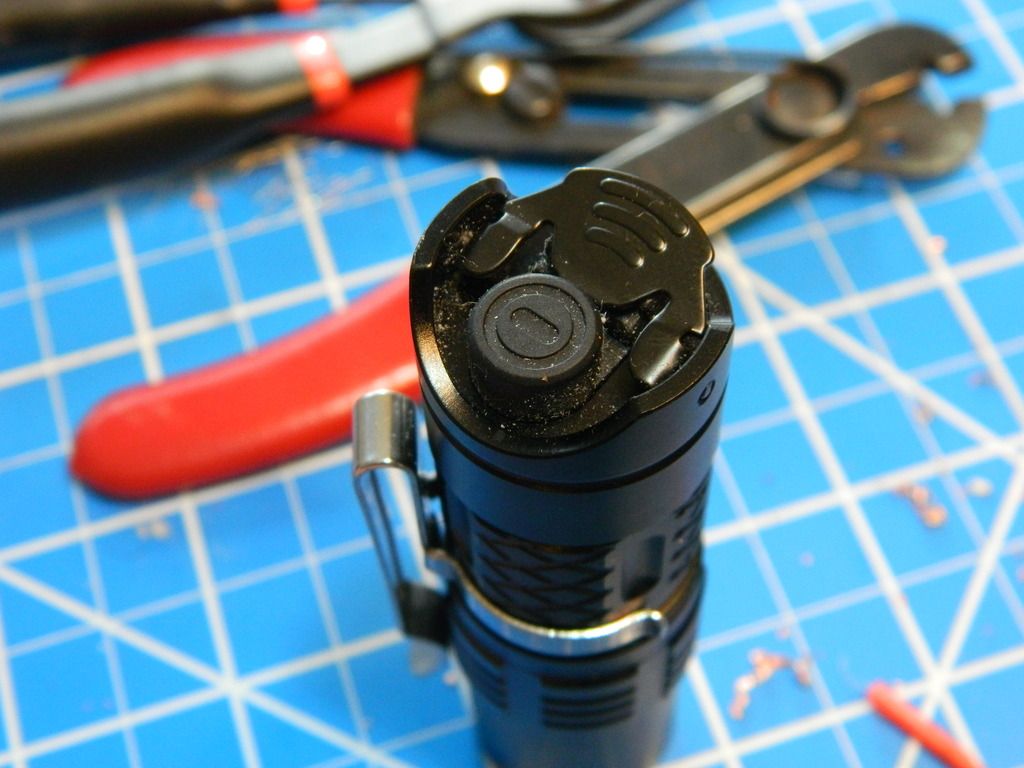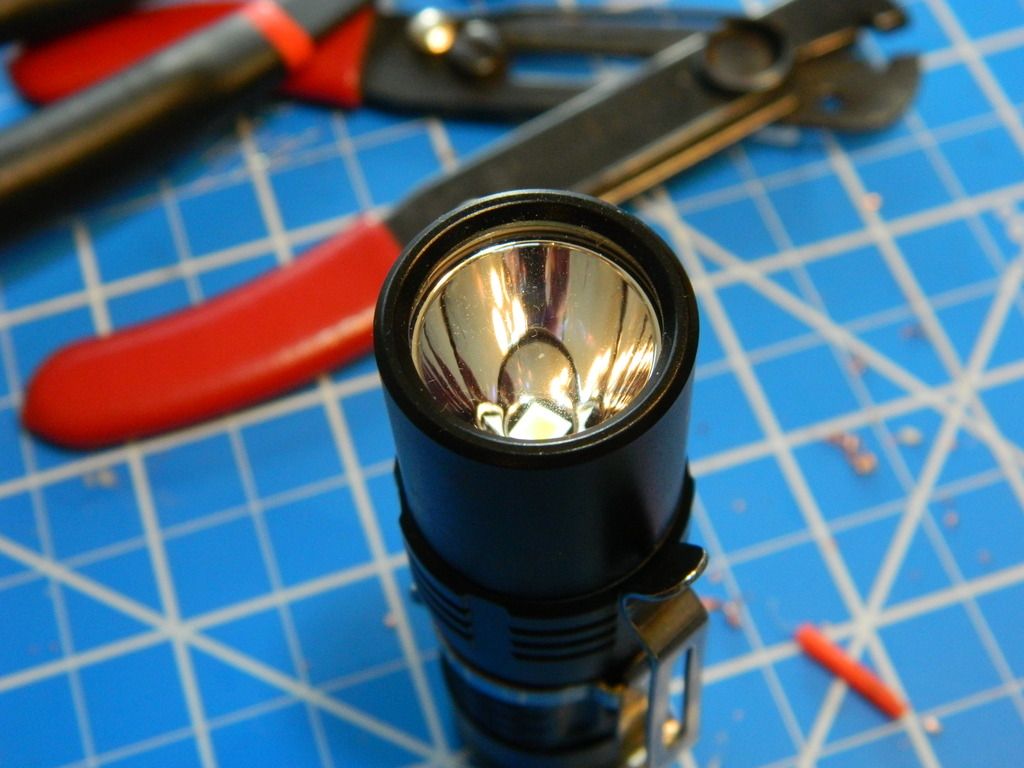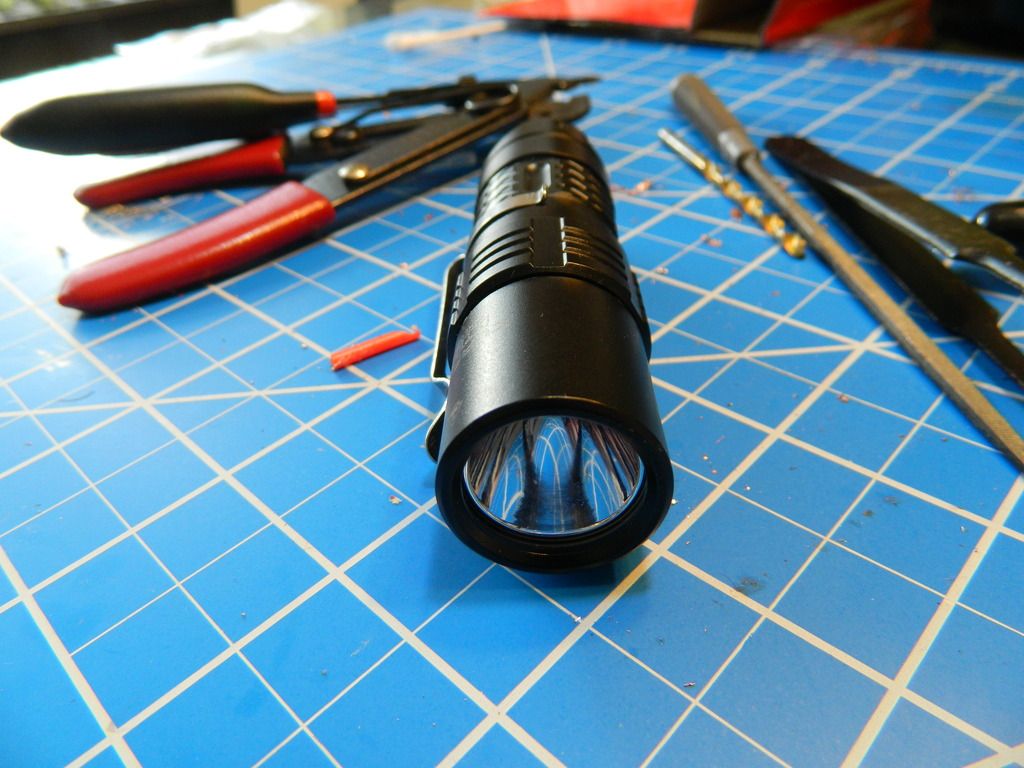 I definitely see some good thick springs which will be very helpful when this light is used on a rifle. The threads are not annodized, however there is some annodizing on the tip (yes… just the tip…) that does allow you to successfully lockout the light by loosening the tailcap. The light will tailstand, but is wobbly due to the rubber boot of the round switch making slight contact. The pocket clip is my real area of complaint. CR123 lights are very unfriendly to pocket carry in my opinion. They just aren't long enough to stay in the pocket securely if your really in there digging for loose change. The clip is plenty strong, but had it been slightly more deep carry I would be so much happier with this light. I do know this is an area of preference, but for me when it comes to short AA, AAA, and CR123 lights I want them to be deep carry. I don't mind an 18650 light that stands a little proud out of the pocket. The body is two piece construction and comes apart at the middle. The pocket clip is 2 way carry and in the position you see in the pictures above it makes reassembling the light very difficult because of the clip pressure on the light. The threads are just ok smooth. They are acceptable, but nothing I would brag about. Overall I'm very happy with the way this light is built. I can't wait to slam this thing on an ar15 and go to town.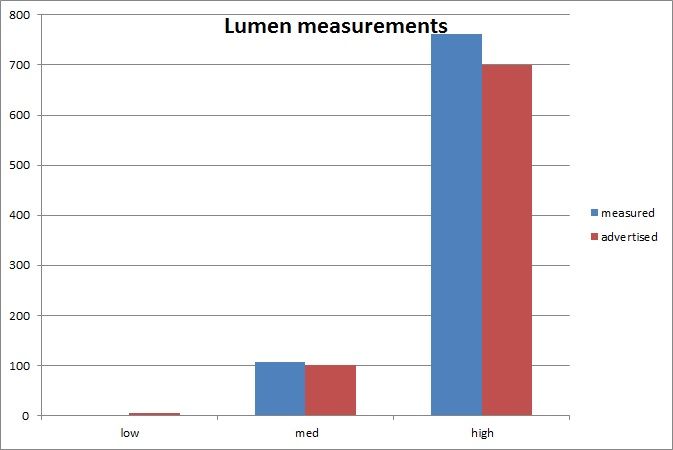 The light surpassed the advertised specs by a hair. Also note that the light only boasts 400 lumens with a CR123. I did not have a spare one to test with at this time.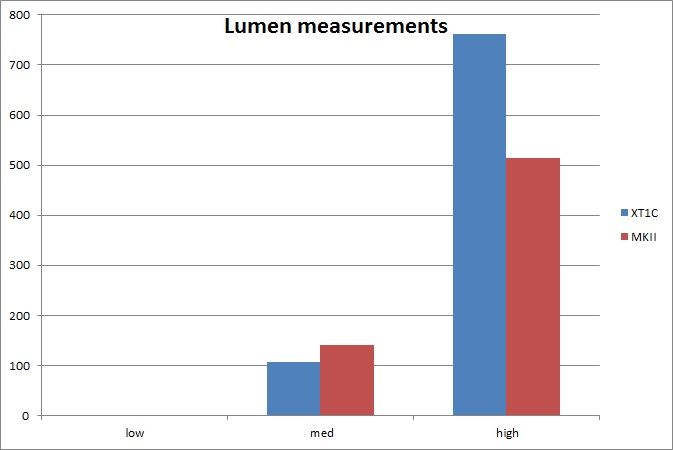 Here it is compared to the Jetbeam MK-II. This was a tough light to find a comparison light. I considered the olight S1R but in reality it is only a 300 lumen light once you take away the turbo. The only light I own that has a sustained output and was even close in lumens was the MK-II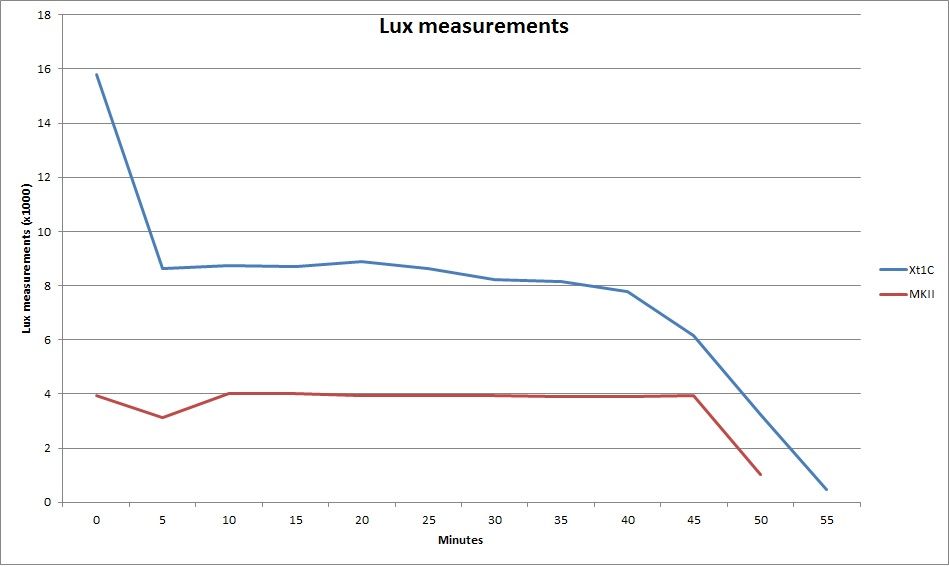 Here are the direct lux measurements I took. Bear in mind you are comparing a 700 lumen xpl-hi vs a 500 lumen xpl. The much higher readings are mostly due to the much more intense hotspot of the XT1C. You can see the light takes a nosedive in output after a few minutes, and then holds steady for around another half hour before making it's final descent.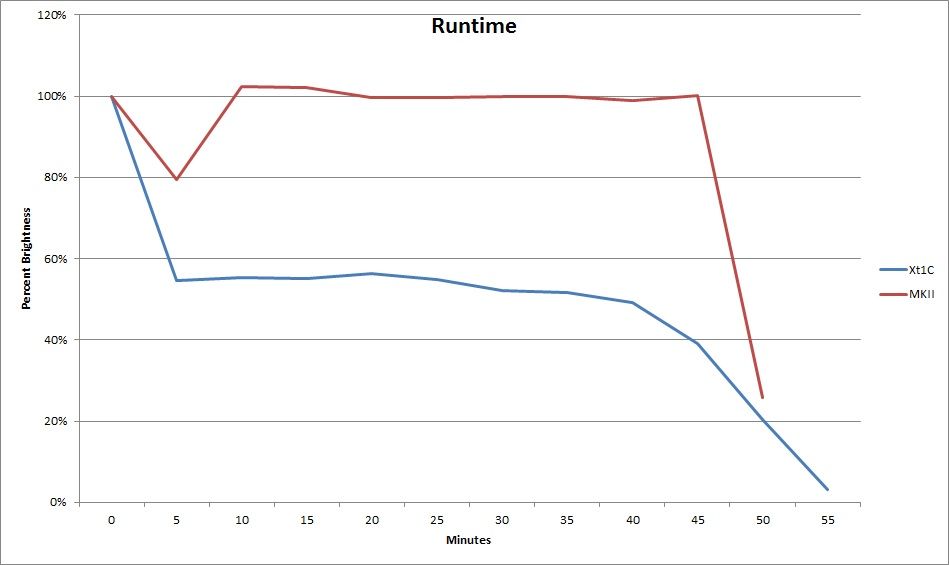 This graph shows % of total light over time. This graph shows a different picture. The MK-II obviously has better regulation as it holds at nearly 100% for the entirety of its run. The strange dip that the MK-II takes is either due to some thermal regulation the light has or user error on my part.
Runtimes:
XT1C – 55 minutes 2.96V (I ended due to low output. There was no warning, blinking or flashes from the light) MK-II - 52 minutes 2.49V (light started flashing)
Battery:
The XT1C comes with a 700mah high drain 16340 battery. It can also use a CR123 with reduced output. I did a discharge refresh on my opus before testing and ran several discharge tests on the battery. My results varied from 750-780mah.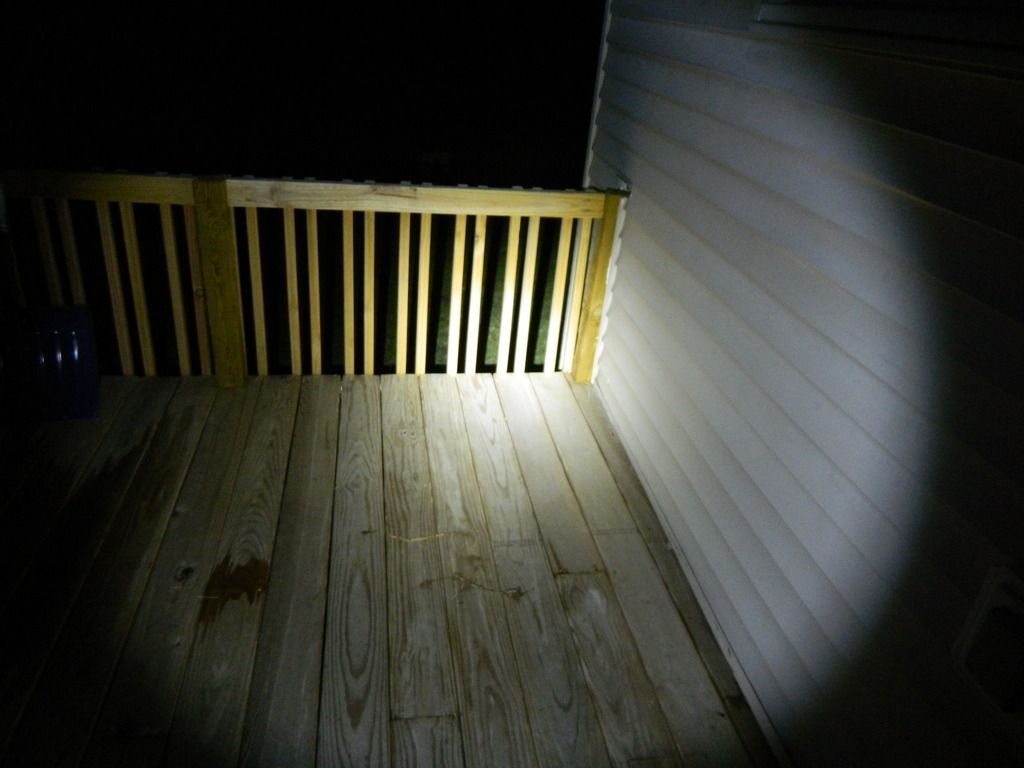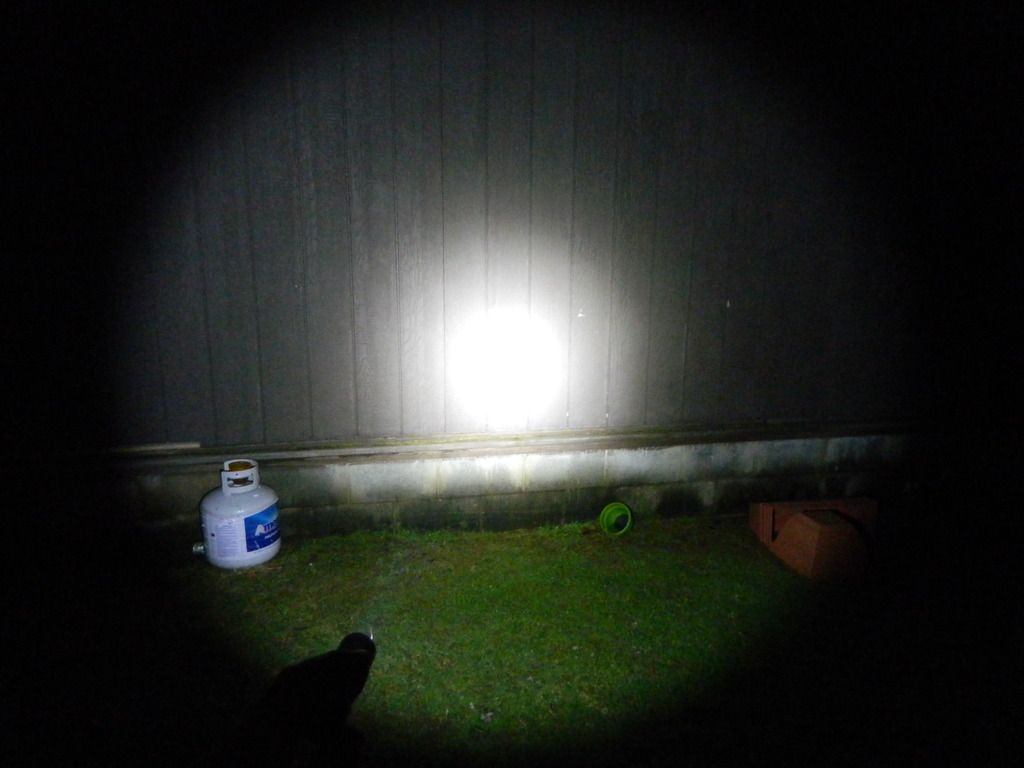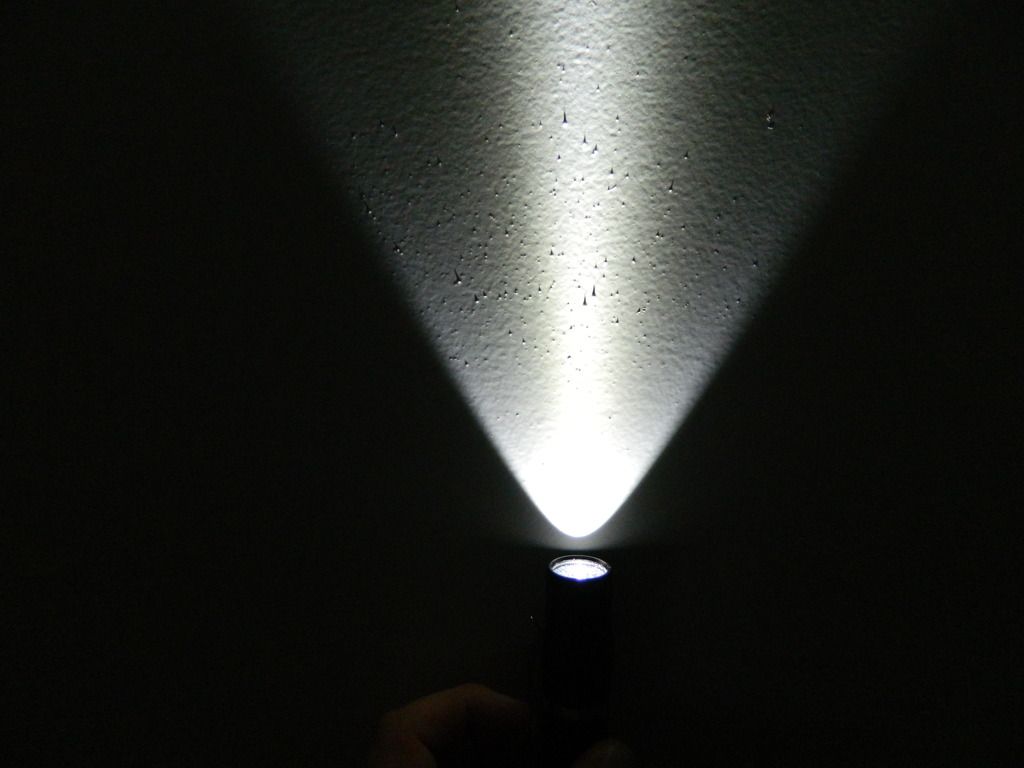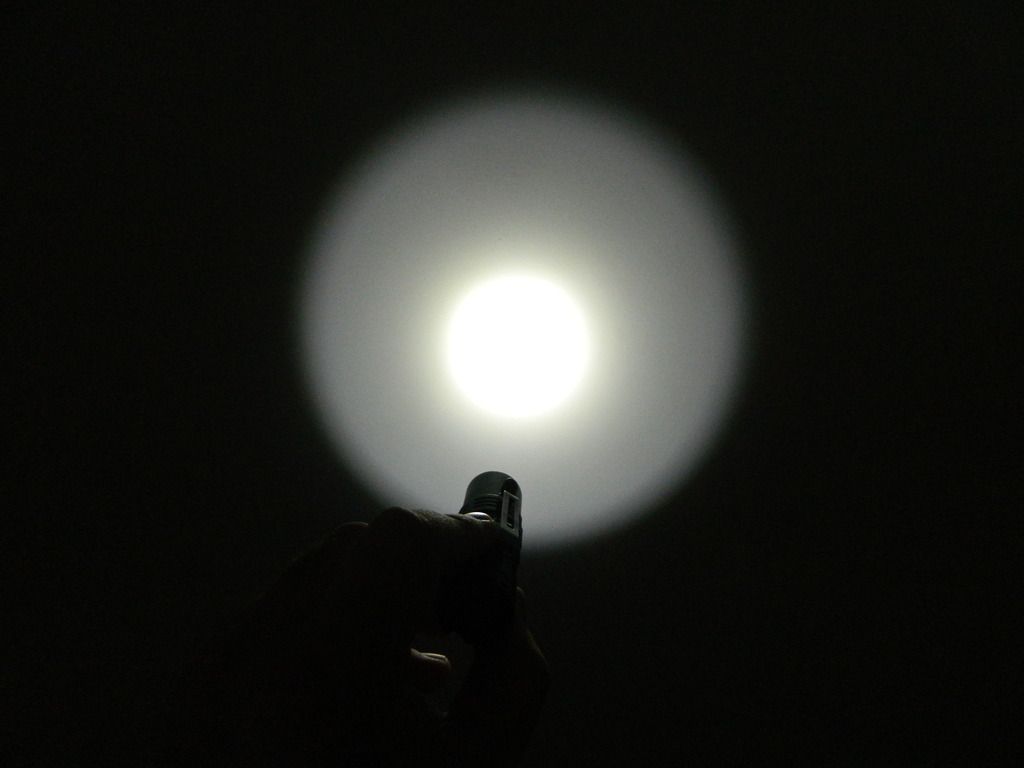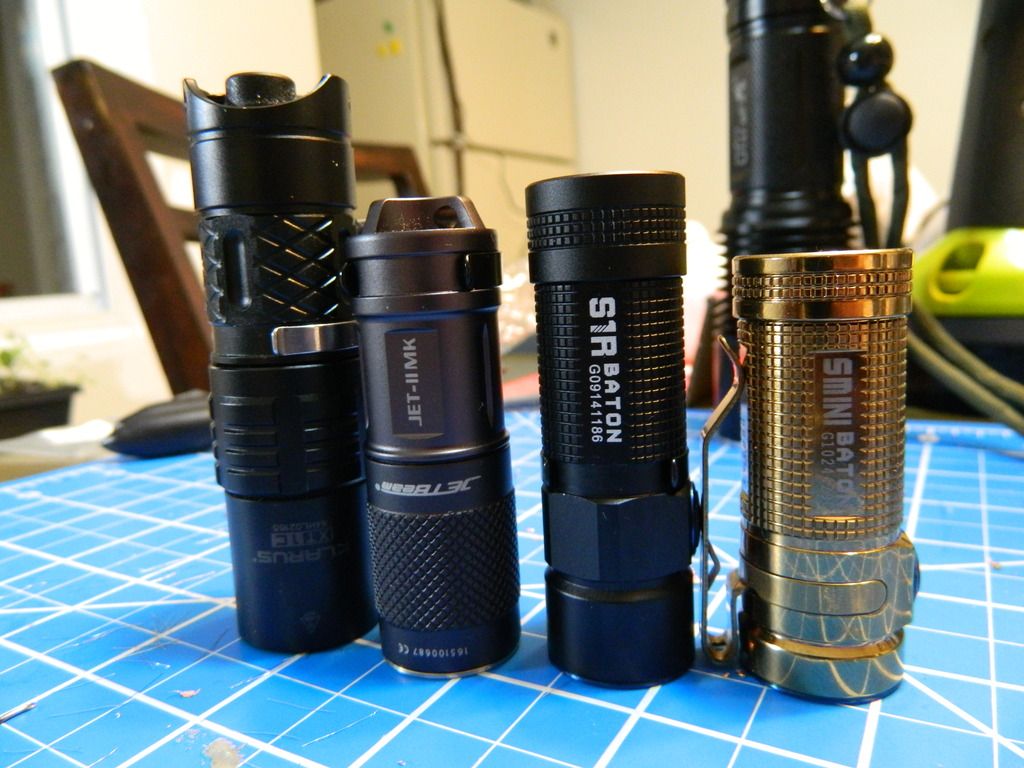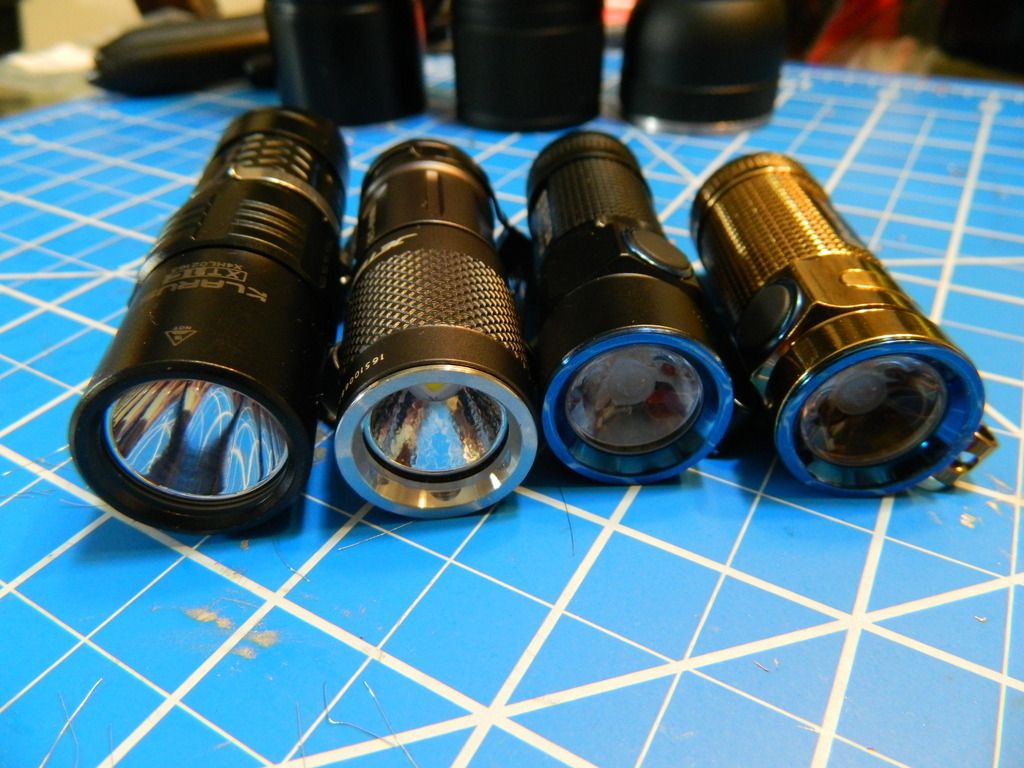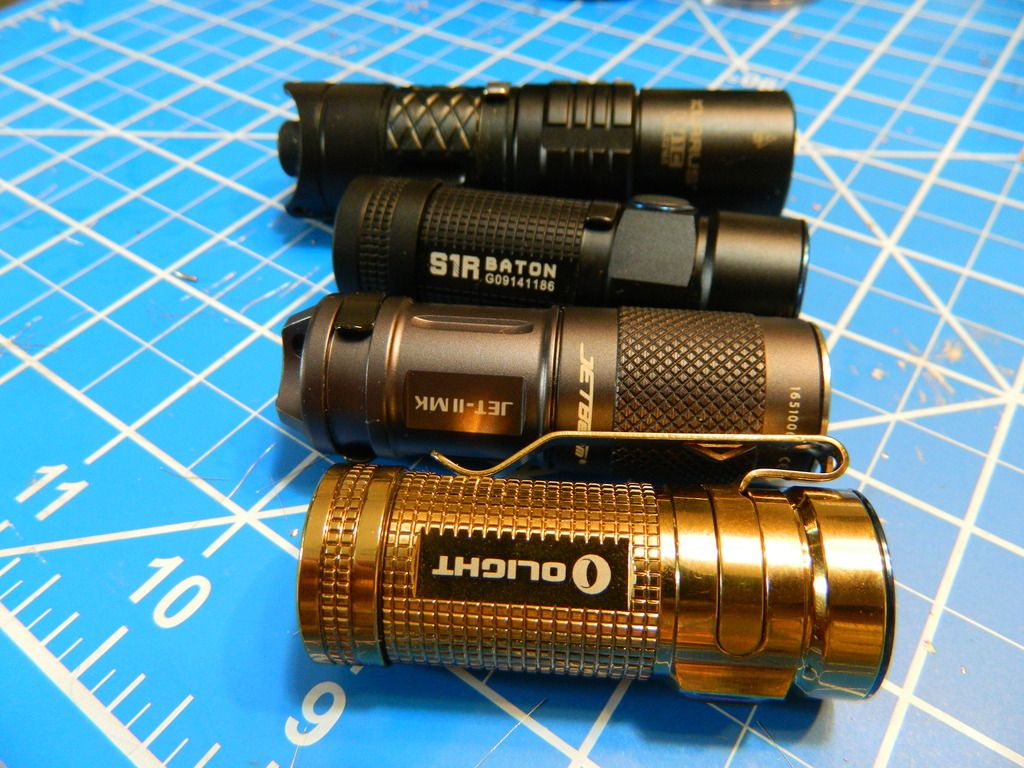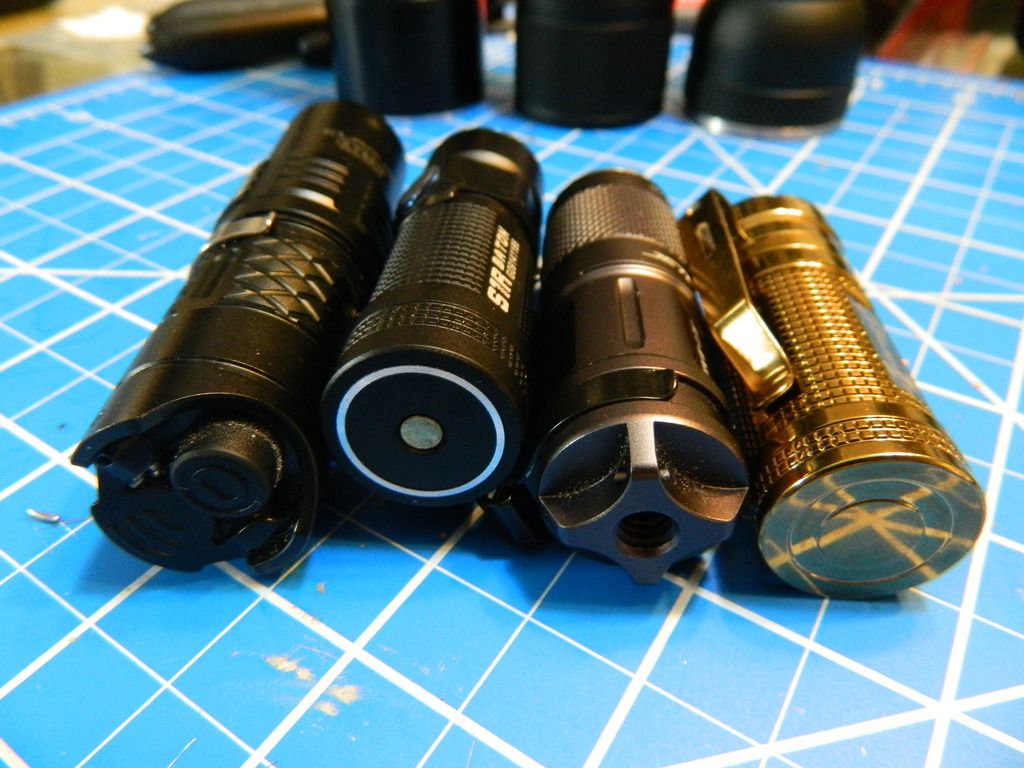 I was unsure whether I would like the user interface on this light. This light has 2 operating modes you can switch between – tactical and outdoor as well as two switches. One being a round rubber booted switch and the other a metal tab. It didn't take long and I was hooked. I primarily carried the in outdoor mode as I have much more use for moonlight than I do strobe. The outdoor mode gives you instant access to high and low whereas tactical gives you instant access to strobe and high. The two switch setup is pretty intuitive and took no time to master.
To switch between tactical and outdoor you are going to turn the light off and depress and hold the round switch for 5 seconds. You will notice a dim strobe. Continue to hold the round switch down and press the metal switch. If you are successful the light will blink 1 or 2 blinks to confirm the mode change. I do not like this about the light. It is necessary to use to hands to switch between tactical and outdoor mode. I really wish you could switch easily with one hand.
The light turns on by pressing the round switch. When the light is on you can hit the metal tab to switch modes.
PWM:
NADA!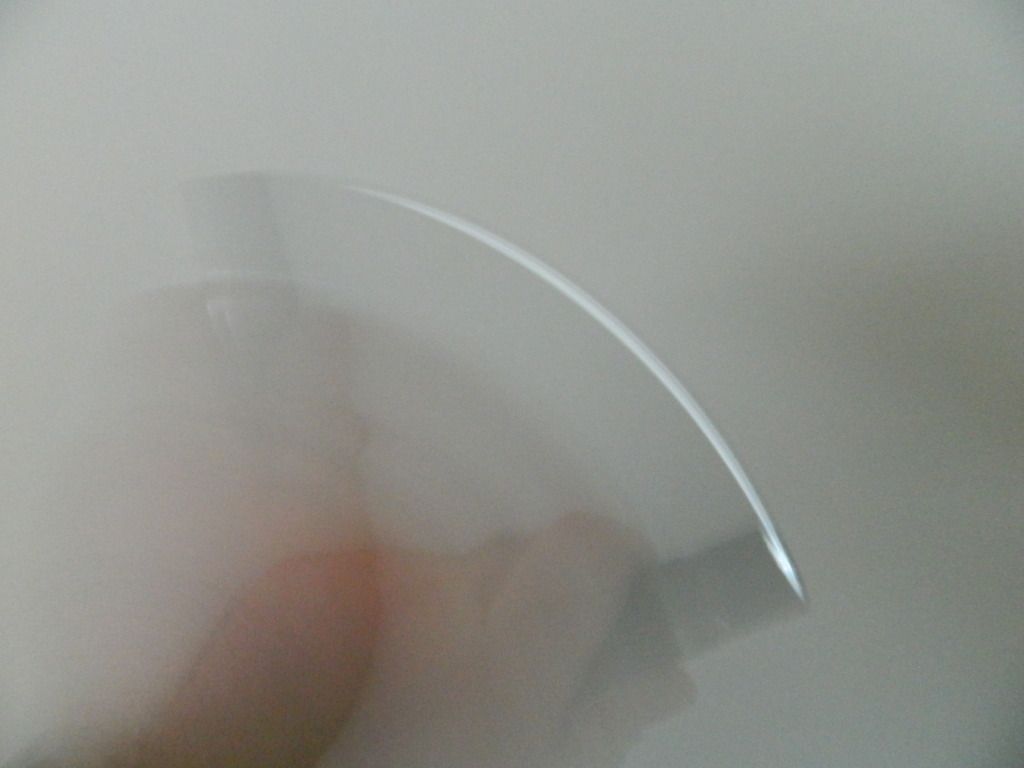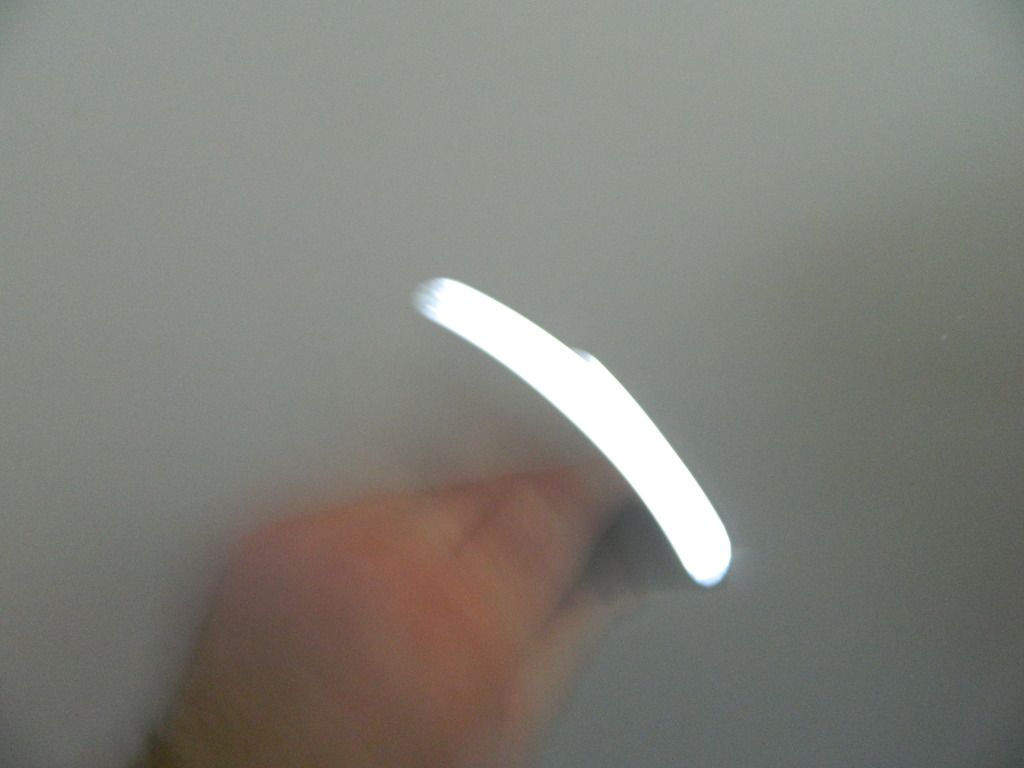 At full blown retail this light isn't a winner. But at the prices banggood is selling this light at it is very competitive with other CR123 lights. I carried this light for a while and am not crazy about the pocket clip, but I still really enjoyed the light. It is a very versatile light. Not only can you pocket carry it, but you can also wear it on a baseball cap. It's a bit heavy for it, but it can be done. The XT series are weapon rated lights and I can not wait to try it out on a few rifles.
This light to me is a good "one light" option. I feel this way for a few reasons. Firstly the light is small enough to EDC, and the instant access to high/low and strobe/high in the 2 mode groups gives you good choice in your instant access. For daily carry I had this in outdoor mode and found myself switching it over to tactical and putting it on the night stand before bed. It's a light that can meet me EDC needs, but is also bright enough and has quick strobe access to make me comfortably enough to use it as a defensive option. There are not many lights on the market that can transition from pocket carry to rifle so seamlessly and in this price range.
The CR123 is a great size battery for EDC and a good choice. CR123 batteries are readily available at big box stores for those who don't like shopping online or opt not to use lithium-ion rechargeables. However, you need the 16340 to get the light up to the 700 lumens advertised. The 50 minute runtime is more than adequate for EDC or defensive situations. I also enjoy CR123 light options because they are more accepting of extreme temperatures, and a flashlight like this may end up left in a hot car, etc… and the CR123 is the best battery to deal with extreme temperatures.

you get several good minutes of 700 lumen output before it dims slowly
NO PWM! yehaw!
Very affordable weapon light option
xpl-hi gives you a nice long range hotspot for such a small light
user interface meets all my edc needs
2 way pocket clip
able to run for duration of runtime with no cooling and without overheating.

switching from tactical to outdoor mode requires two hands
pocket clip could be deeper carry.
large! one of the biggest CR123 lights on the market
wobbly tail stand
Only getting 700 lumens from 16340
your going to need a high drain 16340