I am very sorry for the missing photos. I have used Photobucket for over 10 years and without warning they decided to continue to host my review photos from the last 10 years I would have to pay a very large yearly fee.
I am working on moving all of my photos to another hosting site but moving 10 years of review pictures will take a while. The video at the bottom still works perfectly .
I will have the pictures back up and working as soon as I can get them all moved and organized. There are about 7000 photos so no way to get it done quickly.
I have already made some changes so this will not happen in the future.
Thank you very much,
Terry
*Update BangGood has provided a discount code for the DN35.  Here is the URL for the DN35 https://goo.gl/8vm4sC  and here is the discount code 409cc4.*
Enjoy...
IMALENT DN35 XHP35 HI 2200LM 26650 USB Rechargeable LED Flashlight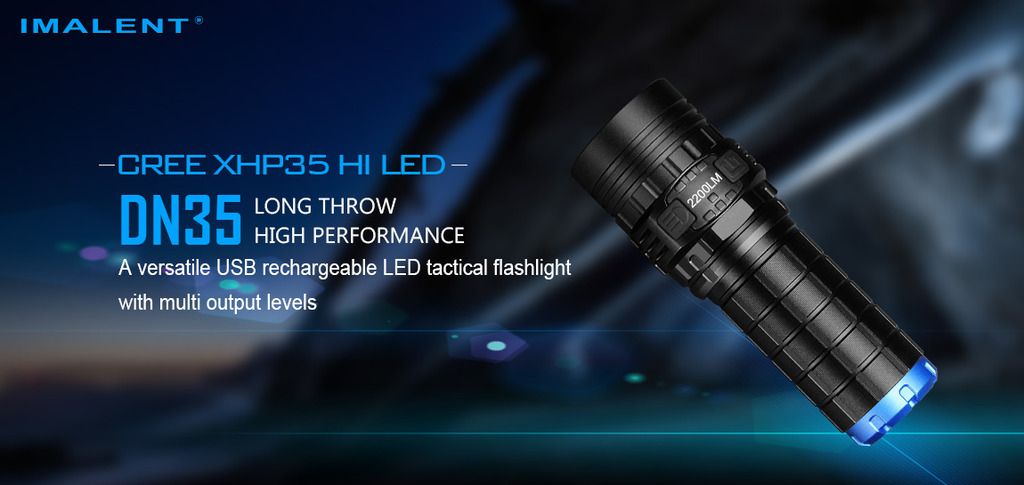 Today I will be reviewing the Imalent DN35 XHP35 HI flashlight. The light was provided to me by BangGood.com for my honest and unbiased review.
For those of you that may not know Imalent us a China based company founded in 2010, so they are a fairly new company when compared to many of the flashlight companies. They are creating some very innovative ideas.
If you would like to purchase the DN35 you can find it here.  https://goo.gl/8vm4sC
Let's get started.
What's in the Box
Package included:
1 X IMALENT DN35 XHP35 HI 2200LM LED Flashlight
1 X IMALENT 4500mAh 26650 battery
1 X USB
2 X O-ring
1 X Holster
1 X User manual
In the picture below I did leave out the holster. I will get that added soon.
Unpacking:
First I wanted to mention that the shipping time in this package was the best so far from BangGood, or anywhere in China I order from. From BangGood warehouse in China to my house on the East coast of the U.S. in only 9 days. That is almost as fast as ordering local.
The box is very well made, the light itself rests in a very dense foam cutout and of course the battery is inside with plastic protectors to be sure there is no connection. The other items are in a small box beside the light. The box is sturdy enough to help avoid damage in shipping. Mine arrived with on damage at all.
Main features
Features:
Utilizes the latest XHP35 HI LED.
The lifespan up to 50000 hours with maximum output of 2200 lumens. Includes a built-in USB charging interface
The OLED display can show various parameters. With high drain 4500mAh 26650 Li-ion rechargeable battery
High efficiency constant power circuit will maintain constant brightness
Anti-reverse battery protection
Built-in thermal control module will automatically adjust the brightness output according to the working state and outer temperature
Combination of toughened ultra-clear mineral and anti-reflective coating glass optimized deep metal reflector maintains great throw distance and spread with an ideal beam pattern
Aerospace-grade aluminum alloy body, wear-resistant Type III hard-anodized surface treatment
Tail stand function
Time to play:
The DN35 is designed with a USB charging system and, I have tested it several times and it works just as it should. I prefer charging any of my lithium ion cells in a charger epically one that just arrived, in fact I like to test it for capacity as well so I charged the 26650 that came with the DN35 with my LiitoKala Lii-500, as well as letting is cycle through the test setting. Capacity is very good, better than the rated 4500 mAh, after fully charging and then setting the charger to test the capacity came out to 5100 mAh.
A couple of things I want to point out before moving along and both are pretty important. First the USB cover while it is sort of attached it does not take much effort to accidently separate it from the light. I call this important because if you happen to do this and then it gets lost you have a small problem. The round nipple that should stay attached actually goes through the side of the head and the end of it can be seen just beside the emitter. Not a problem if it stays in, if you do not replace it you then have about a 2mm diameter hole in the side of the lights head. I do wish they would at least ship an extra just in case of something like that. If you are careful this should not be a problem. I pulled mine out on purpose to see how well attached it is. I did have to pull it out but not a lot of force needed so try to go easy on that.
Second you put that massive 26650 inside the battery tube and screw the head on as firm as you would any other light and notice the OLED is on and working, even the light work find for an hour or so. Then suddenly it goes out for no reason at all and will not come back on. I learned from measuring, and checking then re-checking the threading that to stop this is simple. You really have to put some muscle into it when you screw the head on. Once I figured that out I have had no problem of any kind with the light or U.I. A co-worker helped me solve that. Thanks Kenny.
The board is gold plated copper, I have seen a few that have the Imalent logo stamped into them, mine does not but still works fine.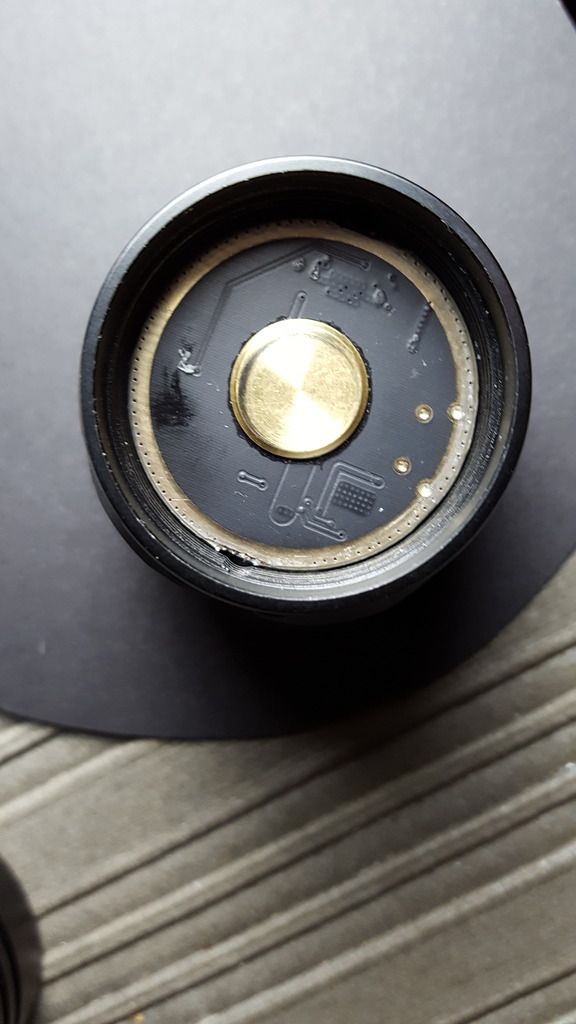 Here is a shot of the emitter and you can see the inside of the interface for the USB and heat control systems. Below that picture you will see a better shot of the USB interface and heat/temp control systems.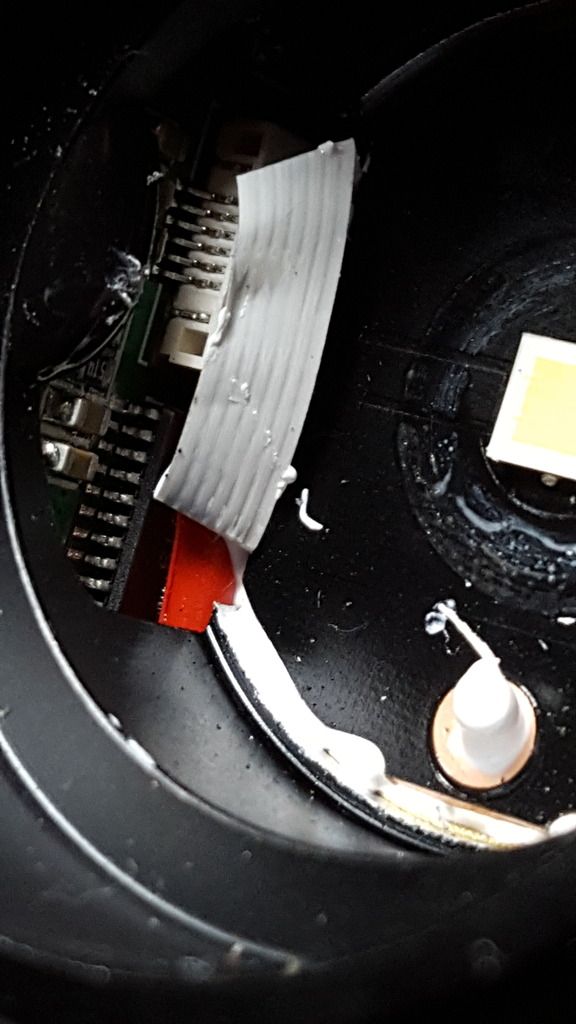 I did clean a bit of the thermal paste out. Just a bit much in places that would be of little or no help.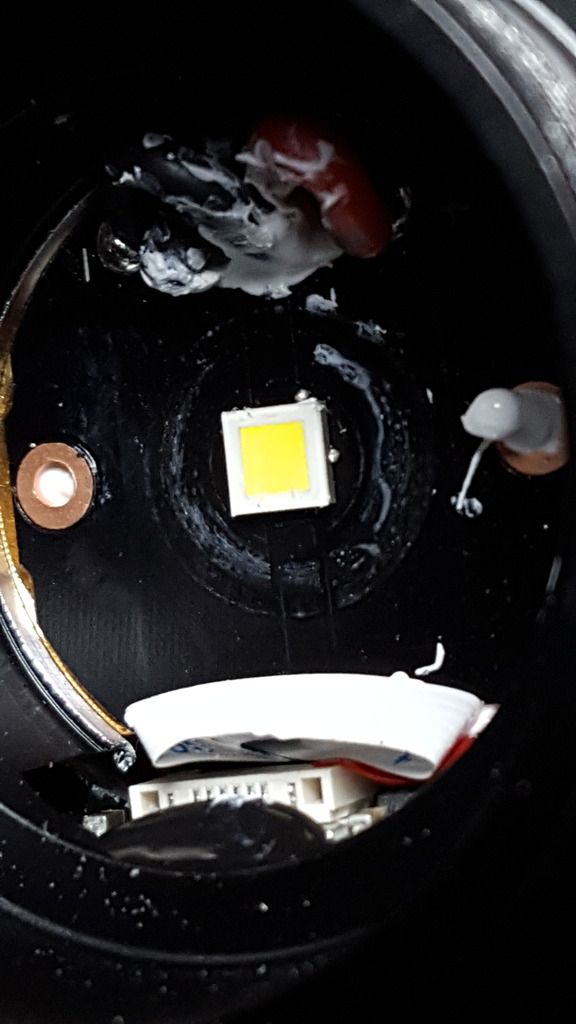 As hard as I tried I could not find any blemishes on the all metal reflector. The specs that you see are dust.
How it works
The OLED in the center of the power and function buttons keeps you informed of the mode or light level you are in as well as current voltage. It also warns you of overheating.
The U.I. is very simple. The right button is the power on/off and cycles through the light levels except for the turbo mode and special modes.
The left button allows you to access the Turbo mode as well as special modes, Strobe S.O.S. and Beacon. It also accesses the current voltage of you press it quickly while you are in any other mode. If you are in the hidden modes or what I call special modes it will not access the voltage. Even if the light is turned off you can click the left button and get the voltage.
To turn on the power just a quick click on the right button and the light will come on. It does have a memory function so it will come on in the last level you had it in when turned off.
To turn the power off you need to press and hold the right button for about a half a second.
To change the light levels, quickly click the right button, you start at 20 lumen next is 450 lumen, then 1500 lumen, or low, mid, high. If you click it again it will start over at 20 lumen.  If you need the turbo function just press the left button, this activates the turbo mode. If you hold the button for more than 2 seconds it will remain in that mode until the heat reaches a level that activates the advanced temperature control module This happens at around 50 degrees C or 122 degrees F.
If this happens you will see the overheat symbol in the OLED and it will decrease the light to a 900 lumen output.
If the light is turned off and you need to access the turbo mode, just press and hold the left button for 2 seconds.
To access special modes- just double click the left button. This works even if the light is turned off. Double click once for Strobe double click again for S.O.S and again for Beacon. To leave any of these modes including turbo just click the right button and you go back to the light level you were last on.
My thoughts on overall performance:
The machining work is very good, everything fits very snug. You do not hear anything rattling around it is solid. Even as small as it is when you are holding it you can feel how solid from the weight.
The fit and finish were as good as any I have seen Black except for the tail cap which is that medium bluish almost an aqua. (which does not come off by the way)
Short distance beam shot.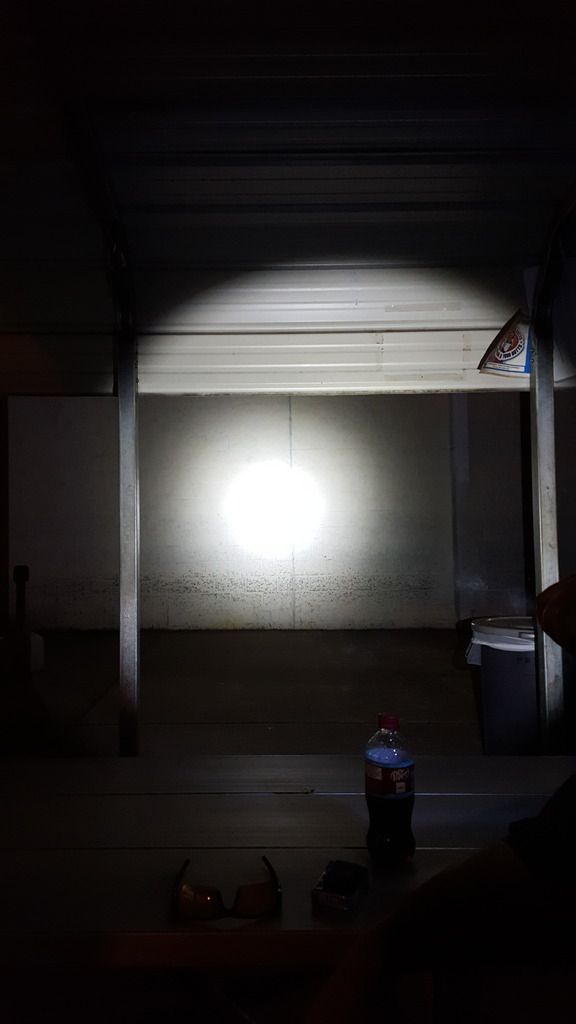 This light throws as well or better than any I have owned or tested. Better than any I currently own for sure.
The levels are pretty well spaced out, 20 lumens are just enough to see most things close by or if you just need a little extra light. 450 lumens is where I leave the one I have been testing parked. It is just a good all-around level for most things I need. When you actually see how well it throws a tight beam at 450 lumens is plenty of light.
Having the most fun with it was people seeing it in the 450-lumen setting and then clicking turbo and just straight to 2200 lumen, I found it closer to 1800 as you use the light.  It looks like a massive jump when it is dark out. I am always surprised just how many people have never seen even a 1000 lumen flashlight. You can imagine how much fun it is going from 450 to turbo and see their faces.
The actual distance of throw I just have no way of testing. I do not have anywhere with that much open space at that distance.
I normally show distances of 30 to about 100 yards when reviewing a light, I probably will with this light as well just to show how short those distances are for a good thrower.
The 1500 lumen setting is good when you need a lot of light and keep the light cool enough for turbo if needed.
One problem I have is in the dark, the buttons are hard to locate, I think future versions of this light will address that. I know has been discussed but I have no idea what the outcome will be.
It has a tight narrow beam designed for throwing which it does very well. Even on lower settings the throw is good.
I have read a few reviews from other countries (did not see one from the U.S. at the time) talking about the problems I mentioned about the light just stops working. Mine did the same thing, I would have to unscrew the head and screw it on again to get it working. A Co-worker and I were talking about it so we got out the calipers and started measuring. All we could find were 2 things, either the spring was just a little too short or maybe it needed just a tiny bit more threading for the head. Kenny my co-worker is a pretty big guy. I looked up and he had screwed the head on and muscled it just a tiny bit, I think it came to about a 1mm difference. This solved that problem, that was 4 days ago, and I have not had it happen again. After some use, I am sure it will much easier. Everything needs time to break in a little.
Final thoughts:
Imalent is coming out with some very innovative designs and advanced features. Many of these are in smaller lights just around 4 and half inches long. That is a lot to put into a small package and have it work perfectly. Outside of screwing the head on a good bit tighter the one I have tested has work without problems.
Would I recommend this light? Yes, I would. It's a great thrower is a small but powerful package and a 26650 to help maintain and provide that power.
It is built like a little tank, very solid.
Happy to answer any questions that I can.
I am including a couple of videos of some distance beam shots. I am sorry that the exposure is not nearly as good as it should be. I had very little time to get that.
Thanks for reading.