Here is a product page at Fasttech.
It seems that previous version of TK47 was good enough, so Fenix team decided to upgrade it, which resulted in issuing pair of products: UE and regular one. I`ve already reviewed UE, so now time has come to take a look at it`s long throwing brother. As their appearance is almost totally similar, I copy part of previous review.
Stated characteristics are:


Features
·Headlight: Cree XHP35 HI neutral white LED with a lifespan of 50,000 hours
·Tail light: Quality neutral white LED, red LED and diffuser tip design
·Powered by two 18650 rechargeable Li-ion batteries
·266.2mm Length x 61.5mm Head Diameter x 28.6mm Body Diameter
·376 grams (excluding batteries)
·Dual independent light source that can be used simultaneously
·Headlight with a far-reaching 700m beam distance
·Digitally regulated output maintains constant brightness
·The headlight features lockout function
·Reverse polarity protection, to protect from improper battery insertion
·Intelligent overheat protection to avoid high surface temperature
·Featuring low voltage downshift function
·Made of durable aircraft- grade aluminum
·Premium type Ⅲ hard-anodized anti-abrasive finish
·Toughened ultra-clear glass lens with an anti-reflective coating
PACKAGE AND APPEARANCE
TK47comes into nice cardboard box with handle. Perfectly designed and printed. It looks really expensive and tell that it hides a serious thing within.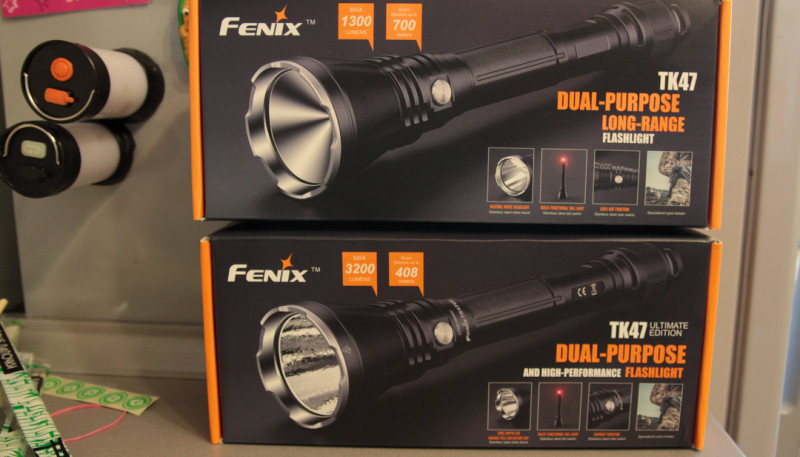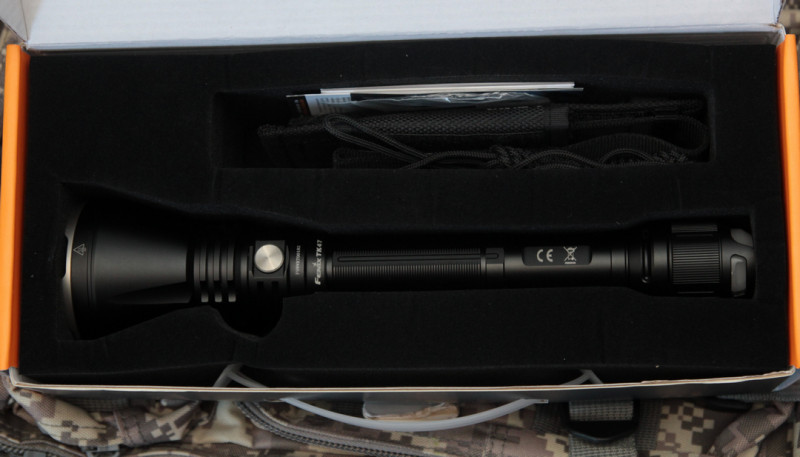 Package includes: flashlight, manual, holster and lanyard and spare o-ring.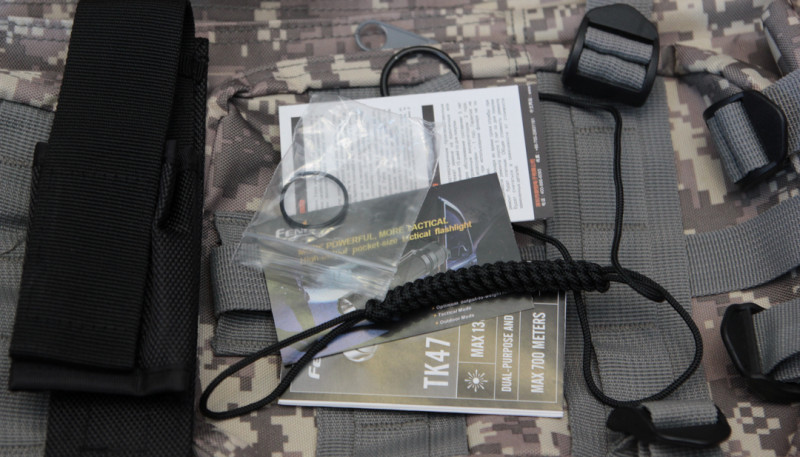 holster is…mmm, just good holster, nothing to add. )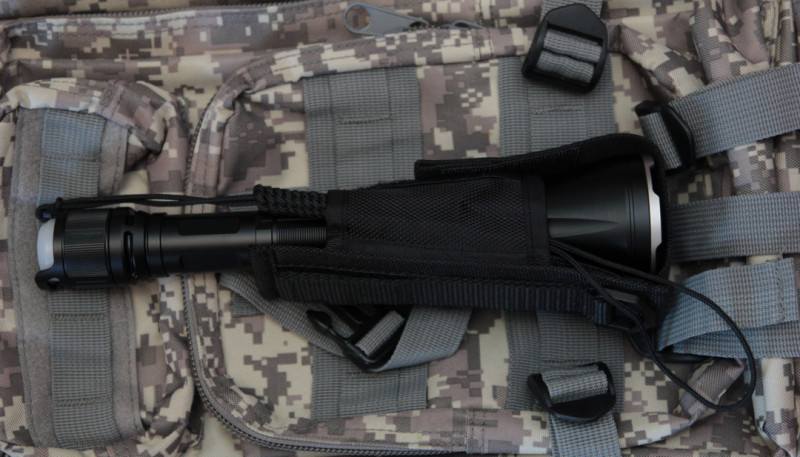 But *lanyard*is cool! Paracord noose, that may give you some good rope in urgent situation.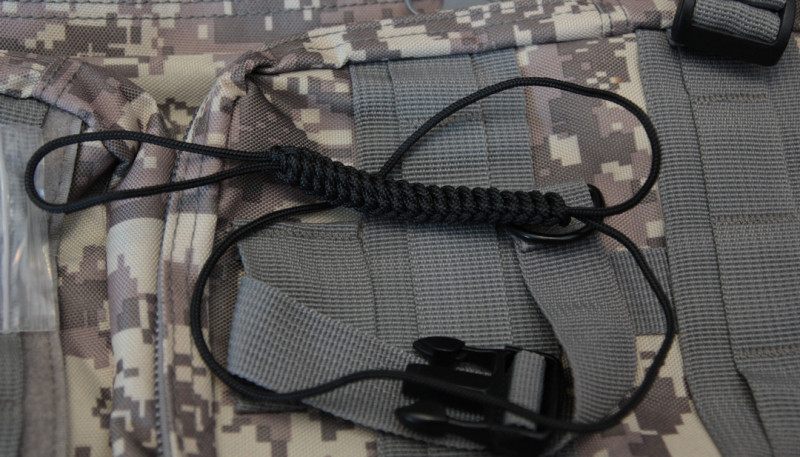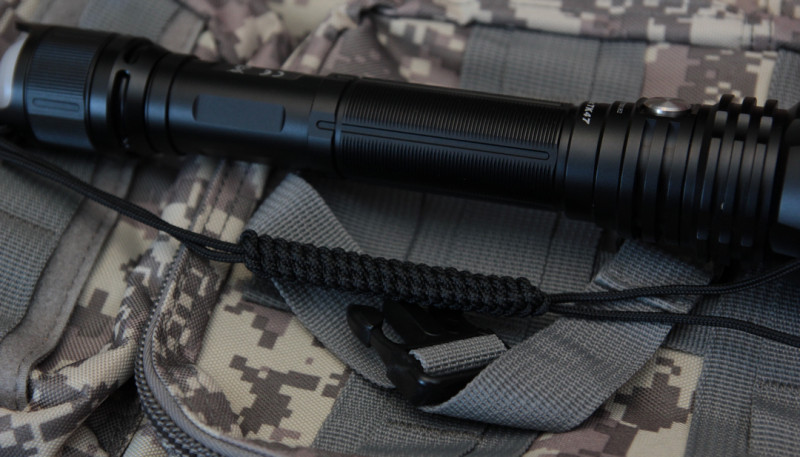 Flashlight looks good, and feels good in hand.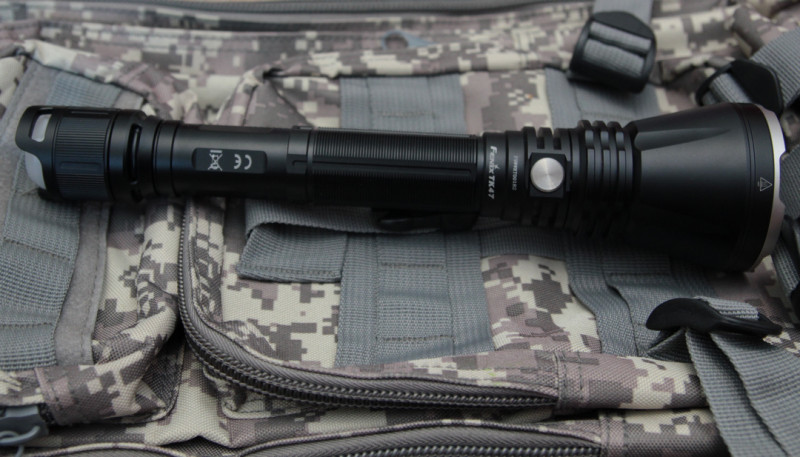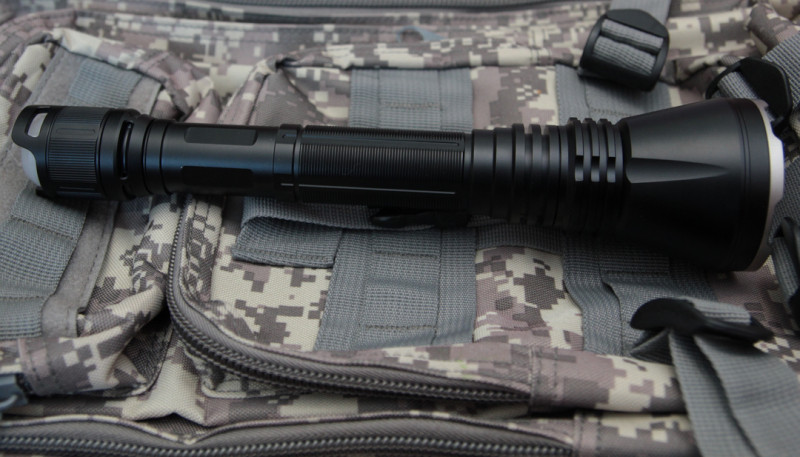 The only visible difference from 47UE is SMO reflector instead of OP. (and spring at head part, when you look inside)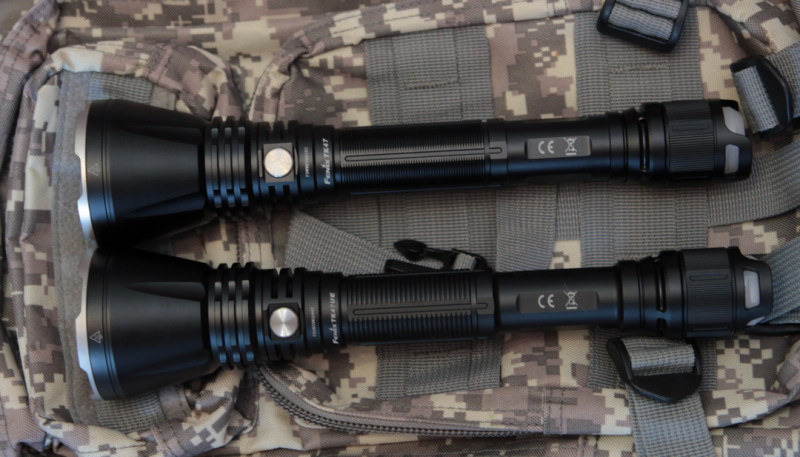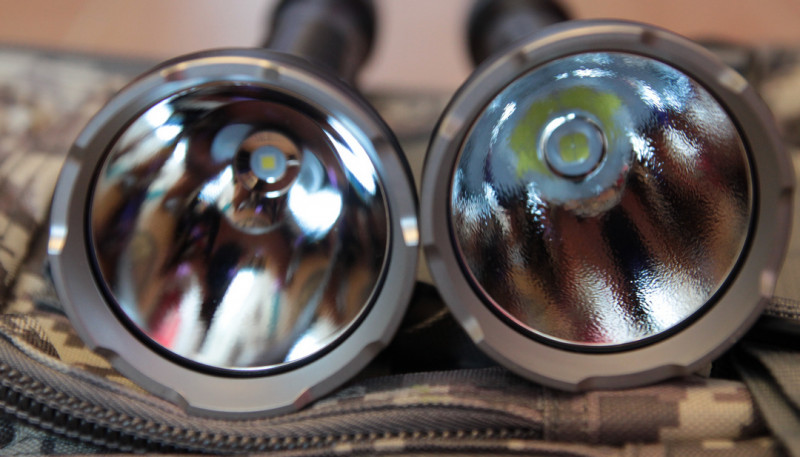 Fortunately package doesn't include branded batteries, which would add a lot to price. So you can save this money for batteries that you`d like to use.
Flashlight is big, but if you have any regular longthrower, you will not be surpised at all, size is tipycal to this 2×18650 form-factor, may be just 1-2cm longer than other ones. But reflector is not that wide as you can expect, just 52mm.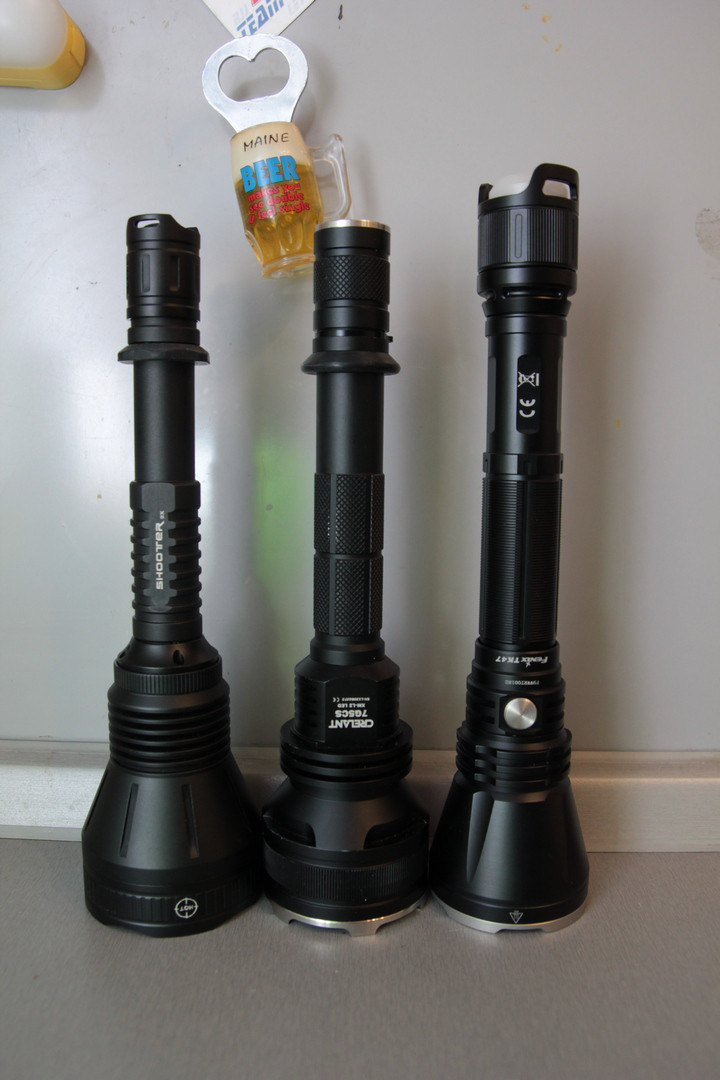 Knurling varies from one part of flashlight to another. Weight of matte anodized body is well balanced, center of mass is 1-2 cm closer to head from center. *Grip *is good, for palm here has reliable stop – tail light.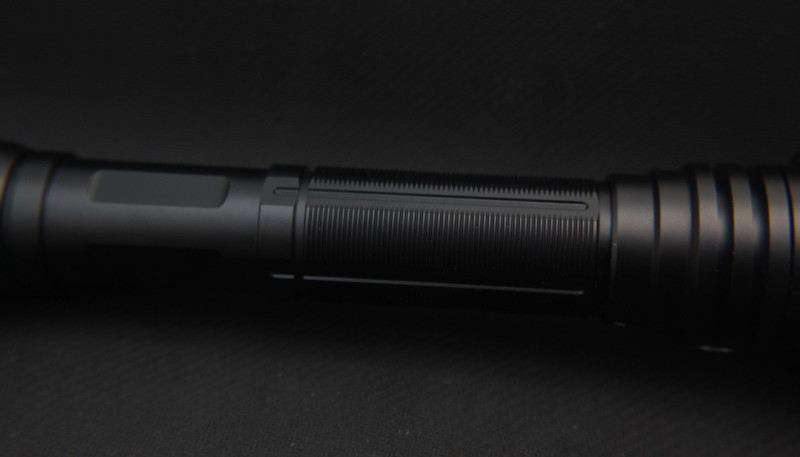 And this tail light is the thing that visually and functionally differs TK47 from any other light i`ve used or have red about. NW LED is hidden inside solid plastic capsule, protected at both sides with U-shaped arcs, which have hole for lanyard. Capsule, I repeat, is made perfectly – no matter how hard I tried, I couldn't manage to move or twist it at all.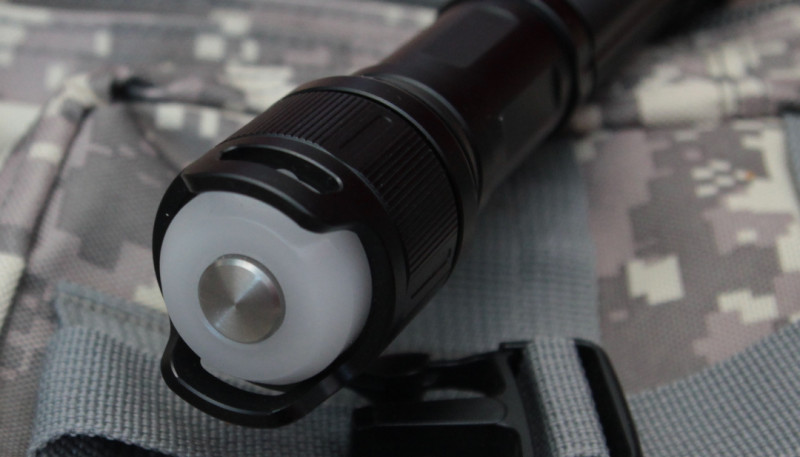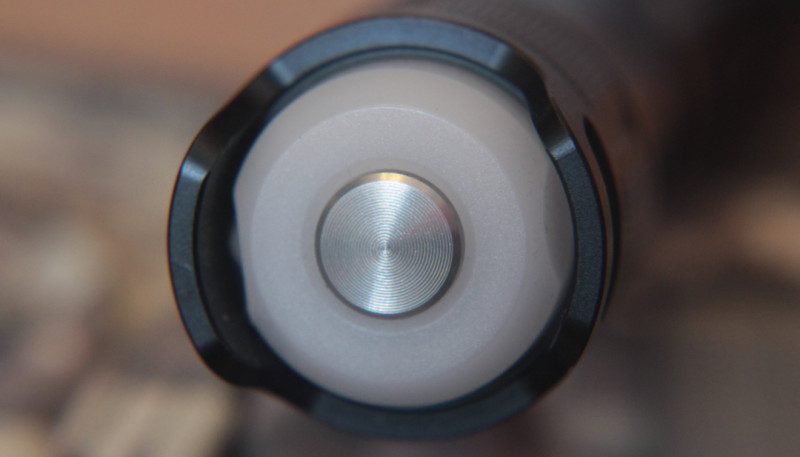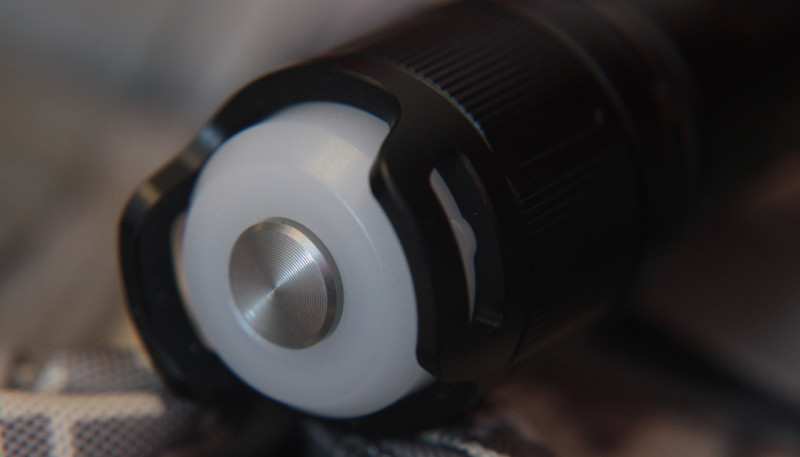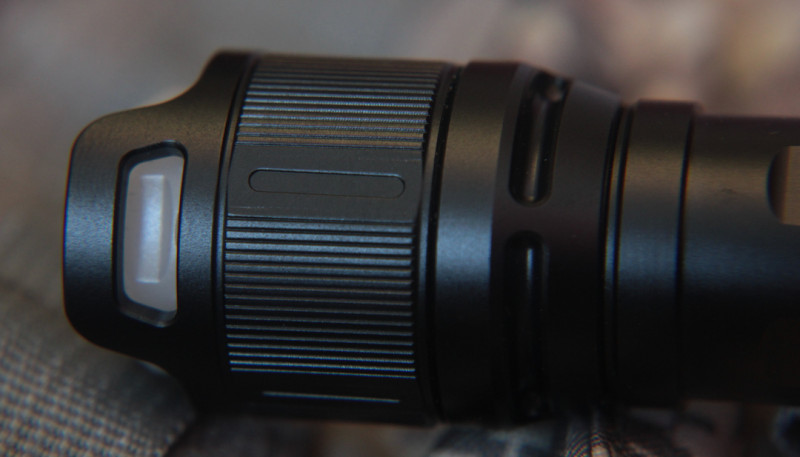 Inside of tail.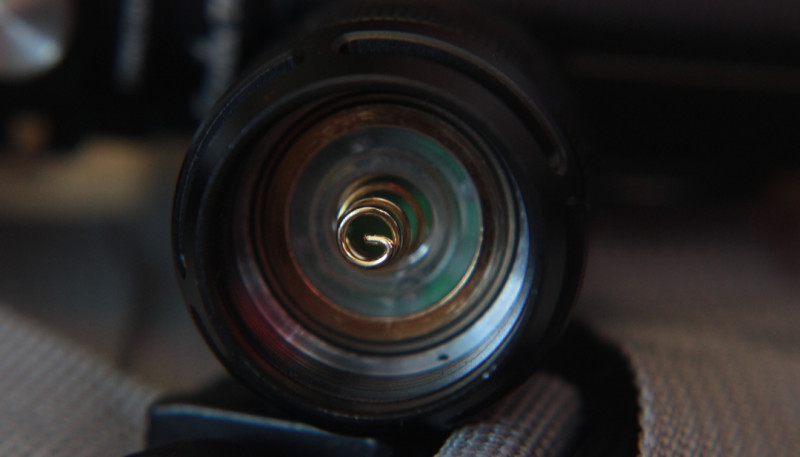 Unlikely 47UE this one HAS spring at head part.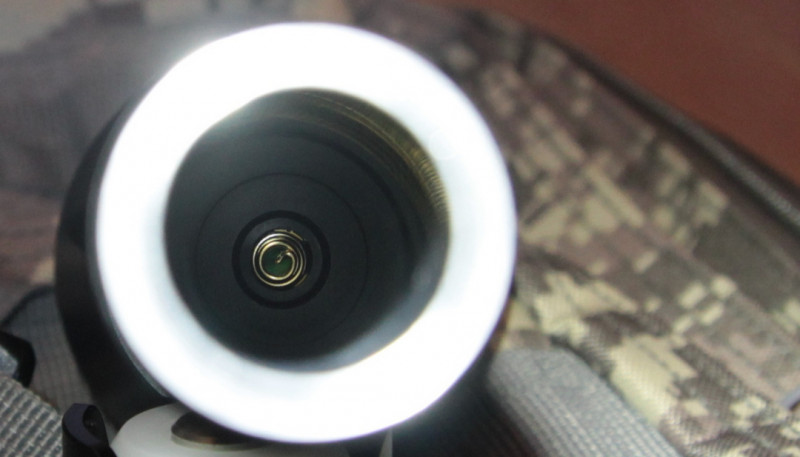 Threads are mid-sized, rectangular and well lubricated.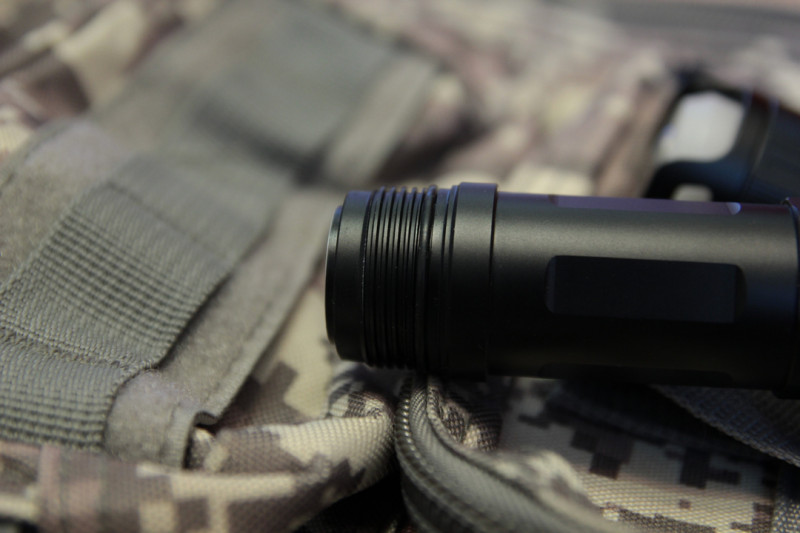 There are two layers of body, inner and outer. Each of them serve for powering each of LEDs.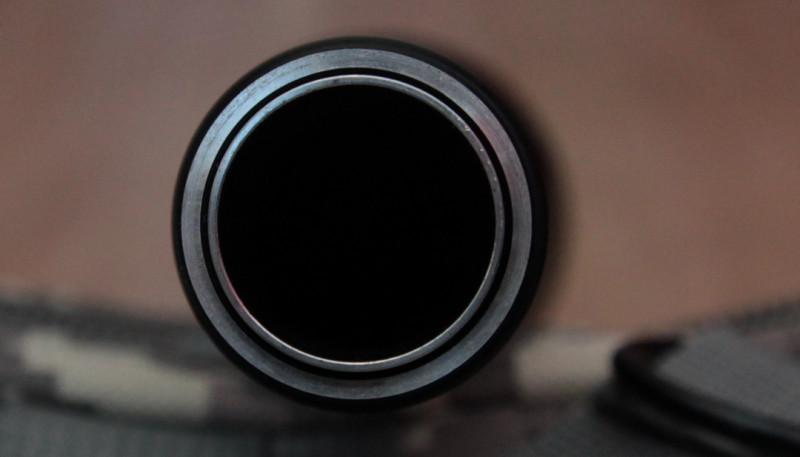 Both the buttons, at side and tail are made of metal and have concentrical engravings. As the rest of body they are precisely made, i`ve got no any complaint.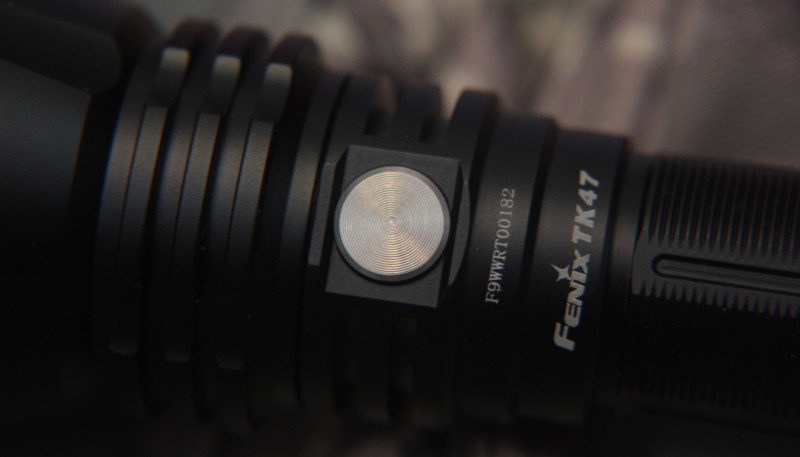 What about cooling ribs, for 47UE they may be larger, but they are capable of transferring heat in this model, with it`s 1300 lumens and XHP35 HI.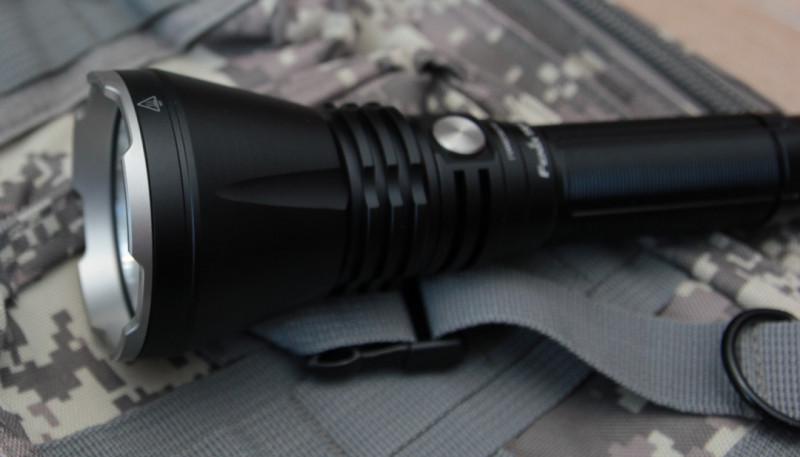 *Head*is quite compact, less then L6\L2, more similar to regular long-thrower. *Bezel *is aggressive, crown-shaped. *Reflector*is SMO with perfectly centered dedomed XHP35 HI ( I was surprised to meet this LED here, as i`m used to L2 as a choice for longthrowers) at buttom.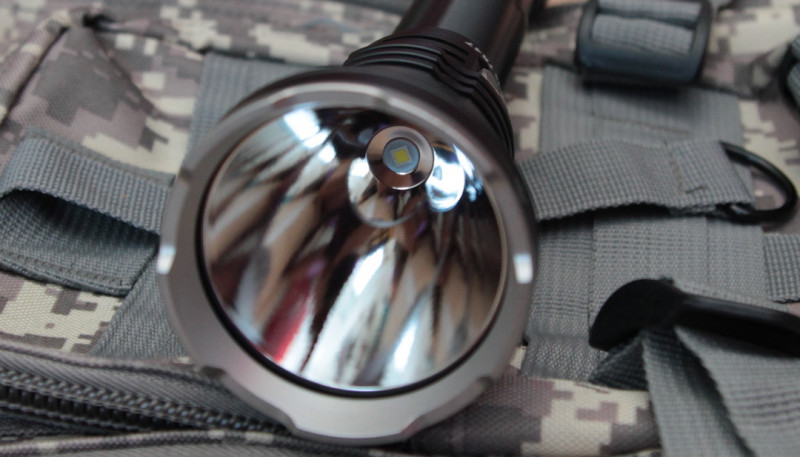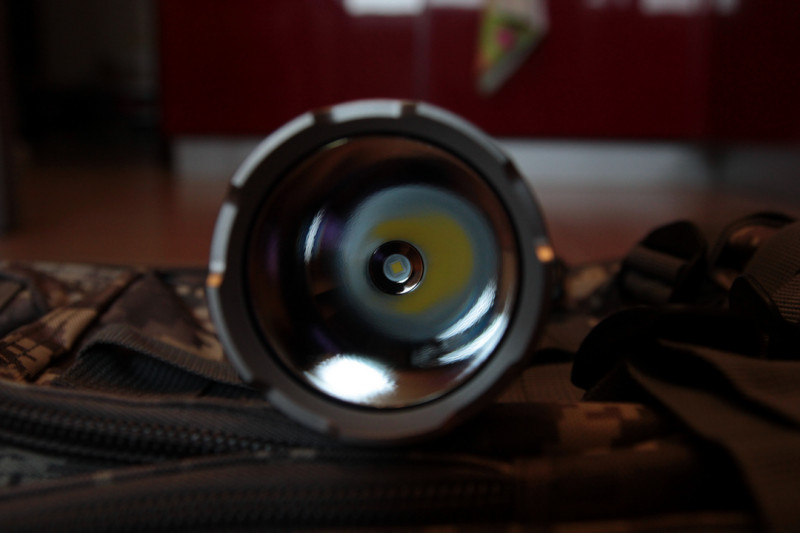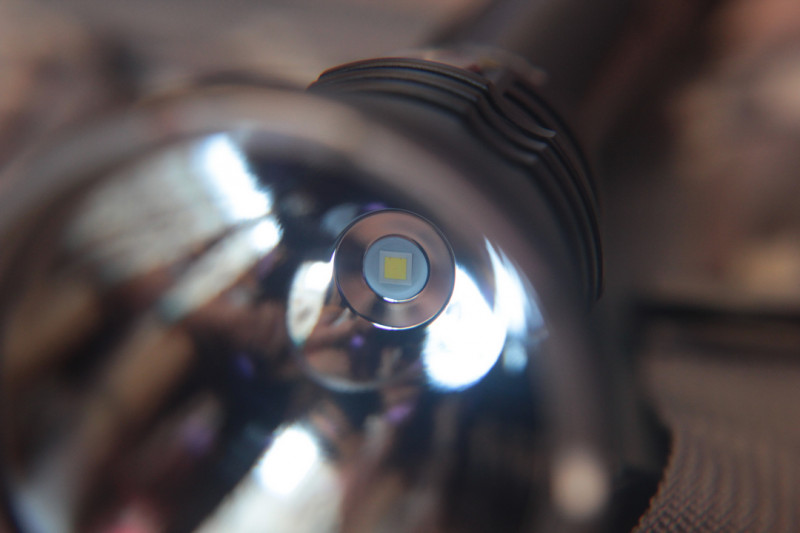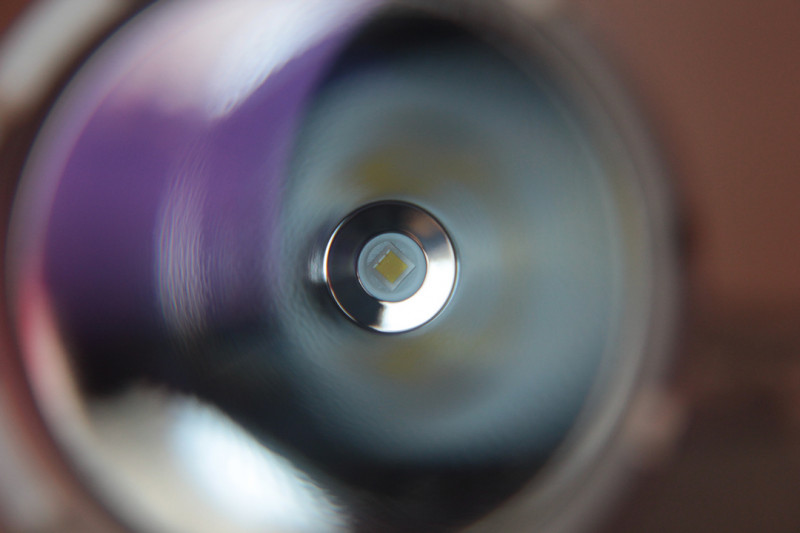 So, what about appearance and build quality – everything is perfect.
UI.
Very simple.
What can I add to this pic…Button is convenient, finger finds it easily. For the rest – tail button for tail light, side button for primary light.
Disadvantages
that I see: I assume for some this would be advantage instead. Memory modes only works for turbo. So if you turn light off in turbo, forget about it and then turn light on in darkness, prepare to be temporaly blinded. And if you keep button extra time, when try to turn the light off, you can enter
STROBE
mode.
PERFORMANCE.
Heat transfer is excellent, as I mentioned above – at max brightness of 1300 lumen, LED produces heat that flashlight this size can easily dissipate. I can hold flashlight barehand.
Besides thermal stepdown, TK47UE also cuts off higher mode, when according to level of batteries charge. And in case you use unprotected batteries, there is easy to avoid over discharging. Just pay attention, and when you see only 10 lum mode available, better change batteries. I bet you , guys, know all this anyway ) I overdischarged my 18650 to 1.5A each in test situation, and it even didn`t required Xtar MC charger to make batteries alive, simple Liitokala 200 have recognized batteries this time and charged them. I was really surpised to see that equipped with pair of 2600 mah Fenix batteries, TK47 worked in turbo without any stepdown for almost half an hour!
Other side of using unprotected batteries is that in this case you can ruin your battery, but get all the available runtime in situation of extreme need.
Here is some footage.
TK47 is NW, but this NW is closer to CW, to be honest. I`ve heard that this is typical for Fenix.
Light distribution is usual for long throwers, nothing new. I`ve decided to apply an inversion for beamshots pic, as it revealed more details in low modes.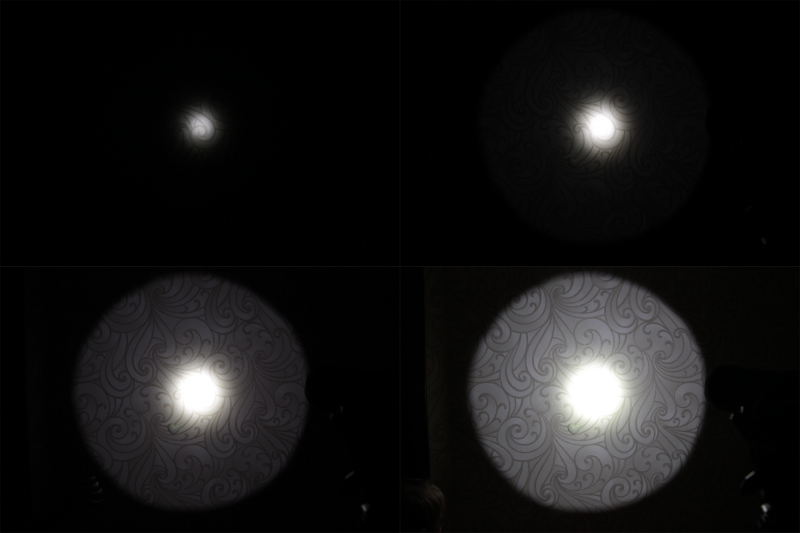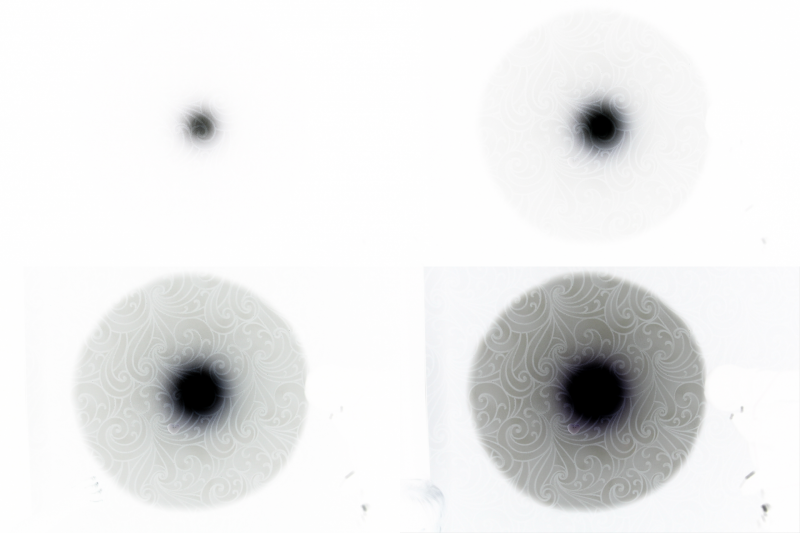 I checked brightness with my luxmeter from 5m distance, and here is what I got. My current luxmeter is a cheap one, i`m still picking new, expensive one with USB logging function to make charts and stuff, so don't count this numbers as precise ones. But in relation, they may be useful. In other review, Fenix got more candelas.
fenix tk47 96000cd
maxtoch shooter 2x 201500cd
crelant 7g5cs 40750cd
YKP Ballista 3.0 141750cd
What about NW taillight. 30lums is enough to illuminate tent or table, within about half meter radius you can easily read. Red light is really, really bright. Good night light for tent, in some cases it also can serve as primary light. I tried to use it like regular flashlight – it performed well, making ring of diffused light, enough to see in couple of meters ahead.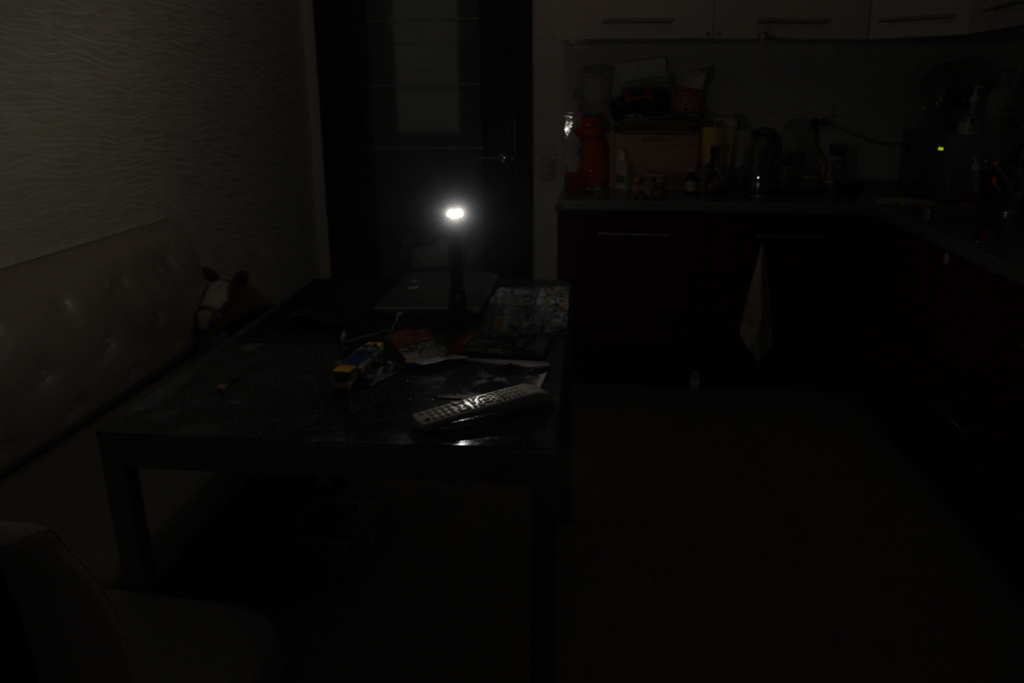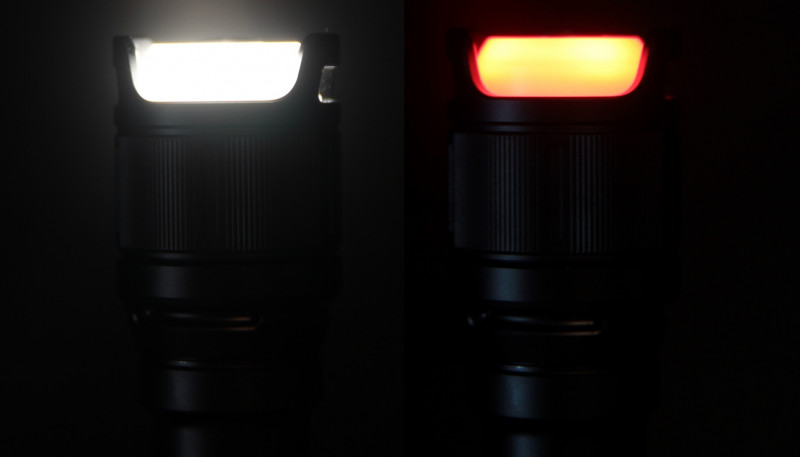 And here is pics from some different distances.
About 7m. Of course this is definitely not the distance for longthrowers. But if for some reasons you use TK47 in garage or basement, even 10lum mode will be ok for 7-10 meters range, you definitely will clearly see things in hotspot. Of course there will be no sidelight at all.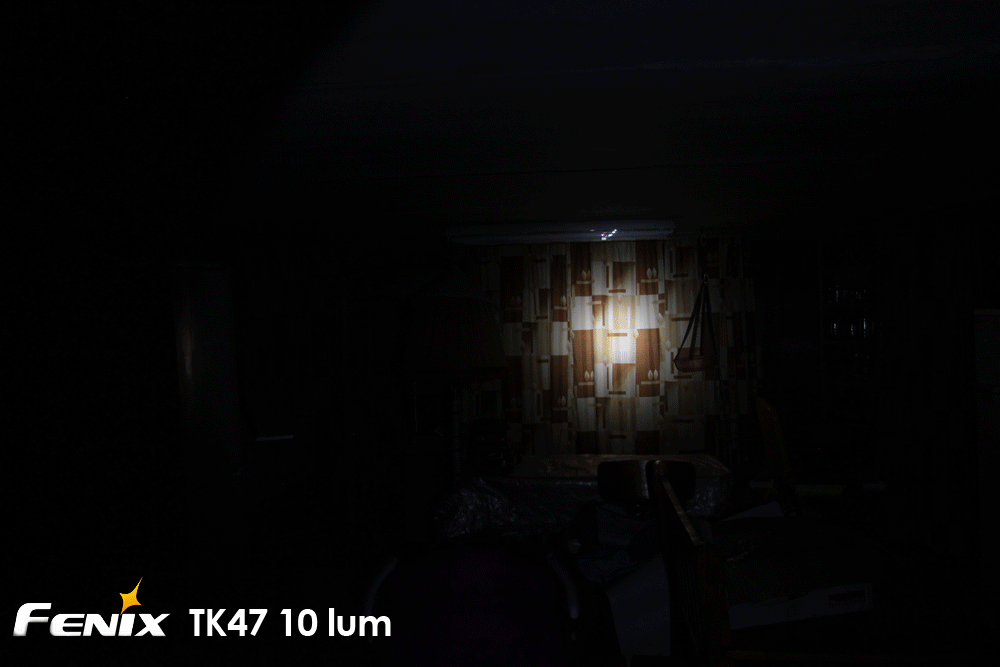 About 80m to garages` roof. 10lums are slightly visible there, 100 lums seem to be ok.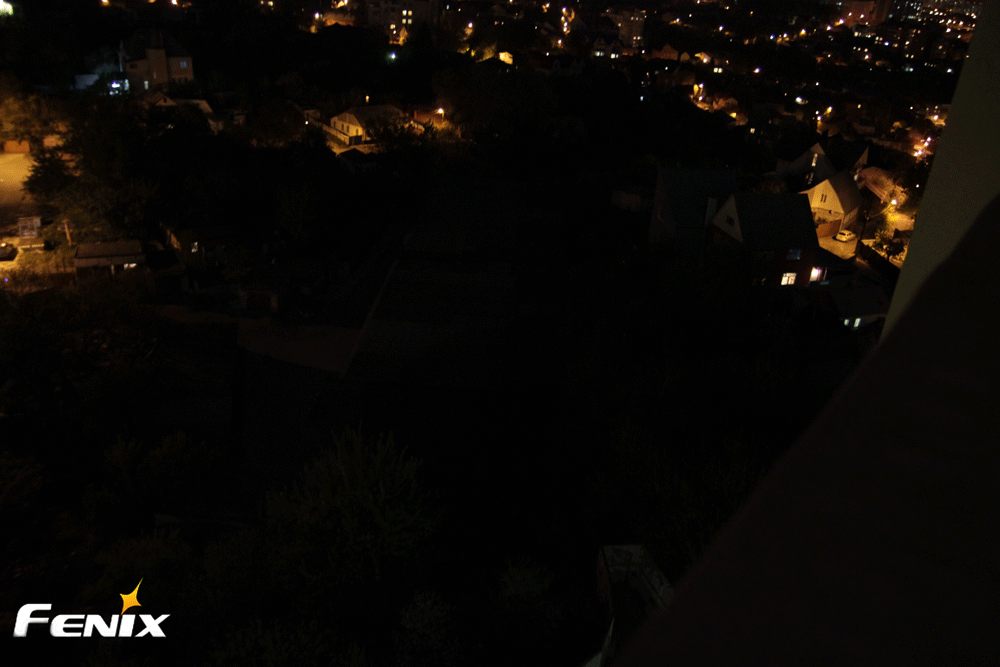 175m. my fave test distance as there is a good wide wall to point flashlight at. So I decided to compare some 2×18650 flashlights. Fenix TK47 performed well. I evaluate useful range as 200-300meters. IMHO, within this radius, you have wider and more convenient hotspot, comparing to more throwing lights (like Maxtoch in my case) which will produce more tight hotspot, better at longer distance. BTW. I made a mistake in Crelant model`s name, because I took a look at my Zoom 5GN guitar processor. I didn`t save PSD source, so I didn`t remake GIF, it`ll took too much time.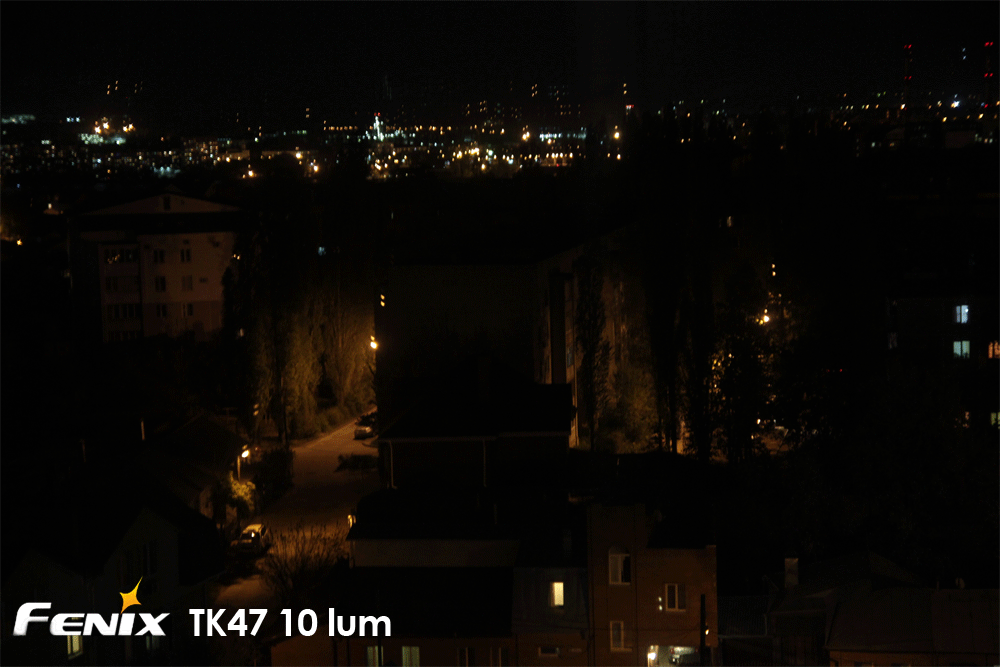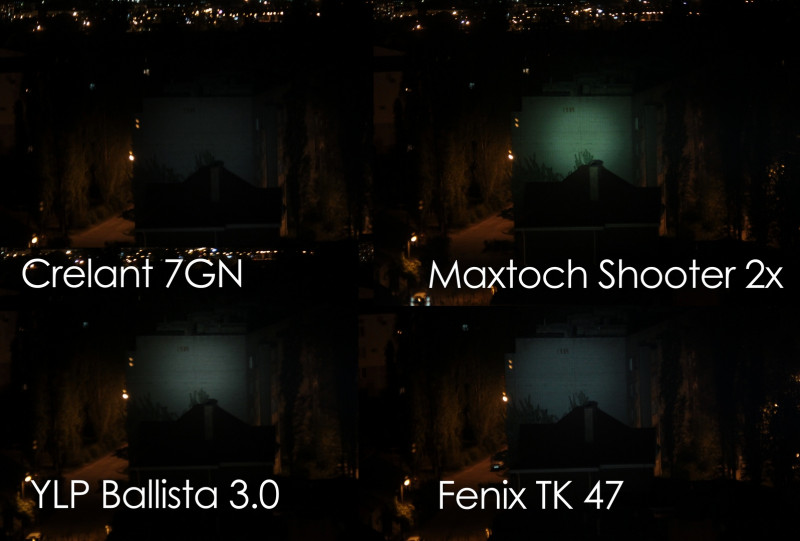 About 250m.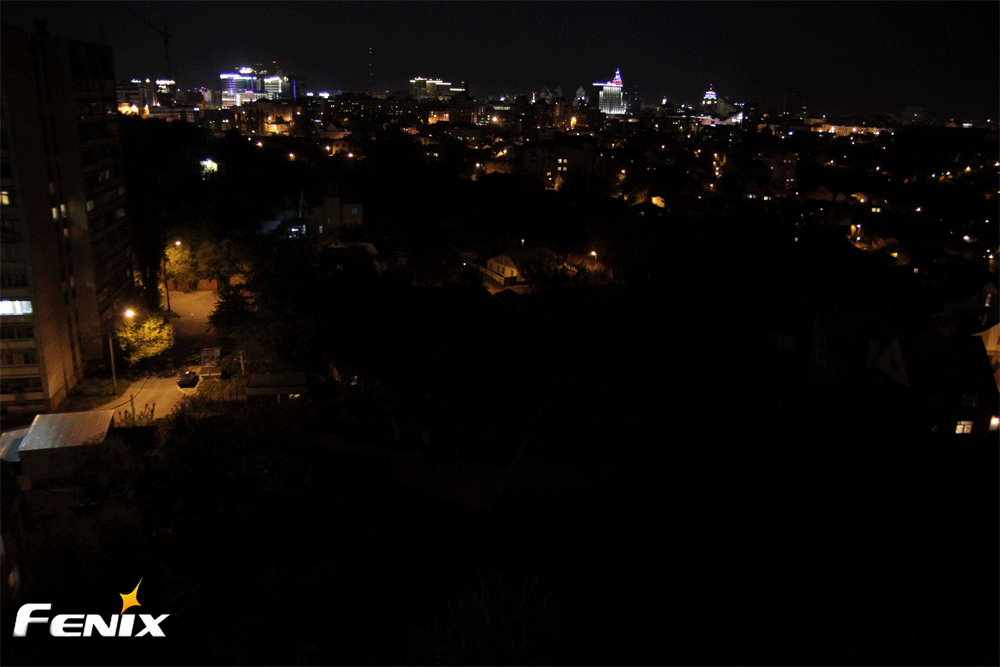 900m distance. In reality should be darker, it was hard to set an appropriate exposure in this case without binoculars. But, believe ,with my own eyes I could clearly see reflection of these 3 white rectangles that you may see at GIF. Of course using TK47 for work at 900m distance may be useful only if you try to tell Gojira from Kaidzu.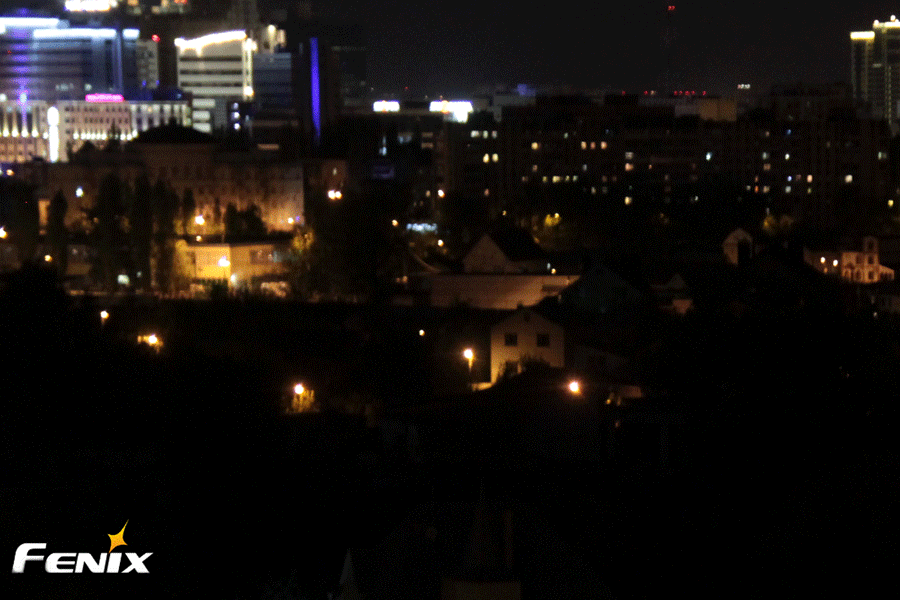 Ah, as TK47UE , this one successfully passed *PWM-shimmering test *in shower.
OVERALL.
TK47 seems to be a decent new product. If it hadn`t got this tail light, it might has been just one more longthrower at market (though good one). But I believe that with this tail light feature it stays aside from the rest of similar product and may be a kinda of universal flashlight for both long and close range usage.
+ good set of modes
+ tail light feature
+ excellent built quiality
+ appearance.
+ good performance at long distance
+lock-out function
- weak tailstand and no anti-rolling parts.
- possible entering STROBE mode when try to turn light off.
If i`ve forgotten something, please let me know, i`ll add.