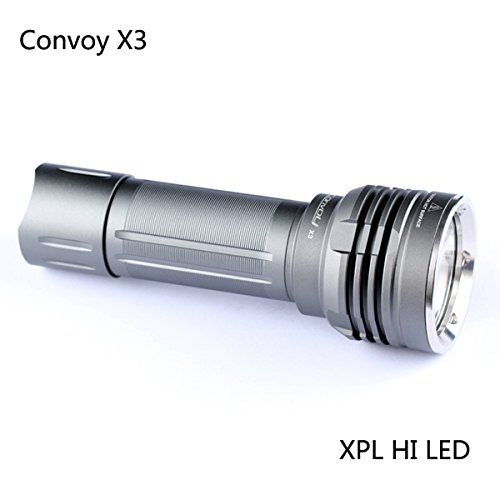 Review of Convoy X3 XP-L HI LD-25 1100LM 4modes LED Flashlight 26650/18650.
This light was provided to me by BangGood.com for my fair and honest review.
First you get to choose the bin for the emitter you prefer, the one I am testing here I requested the U6-3A which is around 500 to 5200K, your choices are V2-1A/U6-3A/U6-4B/U4-7A.
Manufacturer specs.
Brand:Convoy
Model: X3
Emitter Type: XP-L HI
Emitter BIN:V2-1A/U6-3A/U6-4B/U4-7A
Light temperature:6500-7000K,5000-5200K,4300-4500K,3000-3200K
Light ColorWhite Light, Sun Light, Yellow Light, Deep Yellow Light
Driver:LD-25
Output current:3000 mA
Material:Aluminum Alloy
Mode: Low 80mA, Mid 700mA, High 3000mA,Strobe
Battery Configurations:1 x 26650/18650/3xAA Battery (not included)
Switch Type: clicky
Switch Location:tail of the flashlight
Max Output:1100Lumens
Reflector:Smooth Reflector
Waterproof:IPX-8 waterproof up to 2 meters
Color: Light Grey
Weight:270g (without battery)
Size:155mm x 37.8mm x 54.8mm(length x body x head diameter)
What's in the package
Package included:
1 x Convoy X3 XP-L HI LD-25 1100LM LED Flashlight
1 x AA Battery Tube
1 x 18650 battery Tube
1 x 26650 O-ring
Normally here is where I would show you everything that comes in the box but my sample only came with the light itself. I was able to get the 18650-battery tube from someone locally and the O-rings that you need to use a 26650 are I believe the same size as the ones on each end of the 18650 battery tube so just to be sure a 26650 would work without any problems I use those and it worked without any problems. I also machined a tube out of PVC in case I decide to use a 26650 for long extended periods of time and a battery change would be necessary. It is just easier to change with a tube verses O-rings.
Personally, I see no need or reason to use this light with a standard AA battery so I did not bother trying to make a tube for that.  I am sure that is was just my sample that got shipped without the tubes and O-rings. If you purchase one there should be no problem with those items being included.
Very well machined. 
Testing.
For my testing, I used an 18650 30q and current reading at the tail cap are as follows
Low 6mA
Medium 900mA
High 3.07A
Just for the purposes of this review I also took readings using a 26650 and they were almost identical. And pretty much any good quality 18650 that I tried gave me a reading of between 3.01A to 3.09A. So, the board seems to be set up to get you equal power to the emitter provided it is charged and ready to use. I even tried a couple of really poor quality 18650 cells and still got at least 3.00A. As always though you will want to use a good quality battery regardless of which size you decide.
Lumen testing- I had no problems at all getting the claimed 1100 lumen from this light. Do remember that if you decide to test it in your own integrating sphere that this light has a very tight narrow beam and that can cause some strange readings depending on what yours may be made of or how it is designed.  This light loves to throw.
Here you can see the O-rings from the 18650 tube worked very well for the 26650.
And here is the ugly little tube I machined from PVC. It fit just tight enough but not too tight.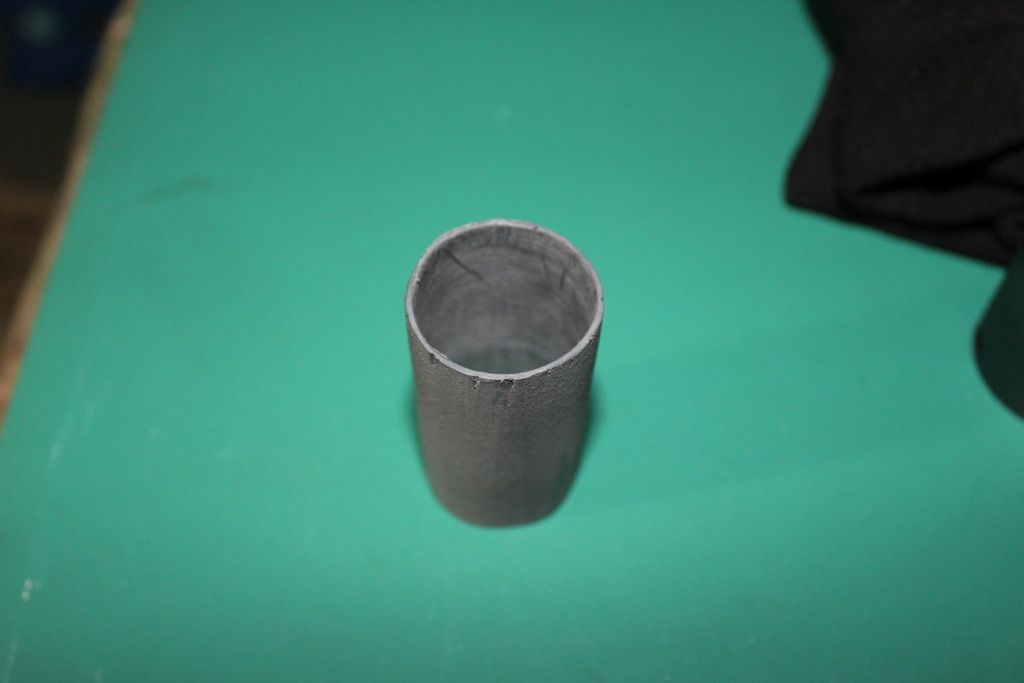 Taking the light out for a spin.
I have to be totally honest. I really was not sure what this light was designed to do best when I received it. At that time, I could find very little information at all about it and no reviews. So, I just kept the light with me most of the time for a couple of weeks and finally one night a need came up to give it a really good workout.
I had turned it on and moved through the levels several times usually only for a couple of minutes and each time was inside.
This particular night the lighting outside of the building I work in was all out because of some expanding so anyone outside the building in the shipping and receiving area would be in total darkness.
Part of my job is overseeing our production employees and they will go out back of the building sometimes to have a smoke or just get some fresh air. Normally the place has lighting everywhere so seeing is not a problem but because of the power on that side all being locked out it was total darkness.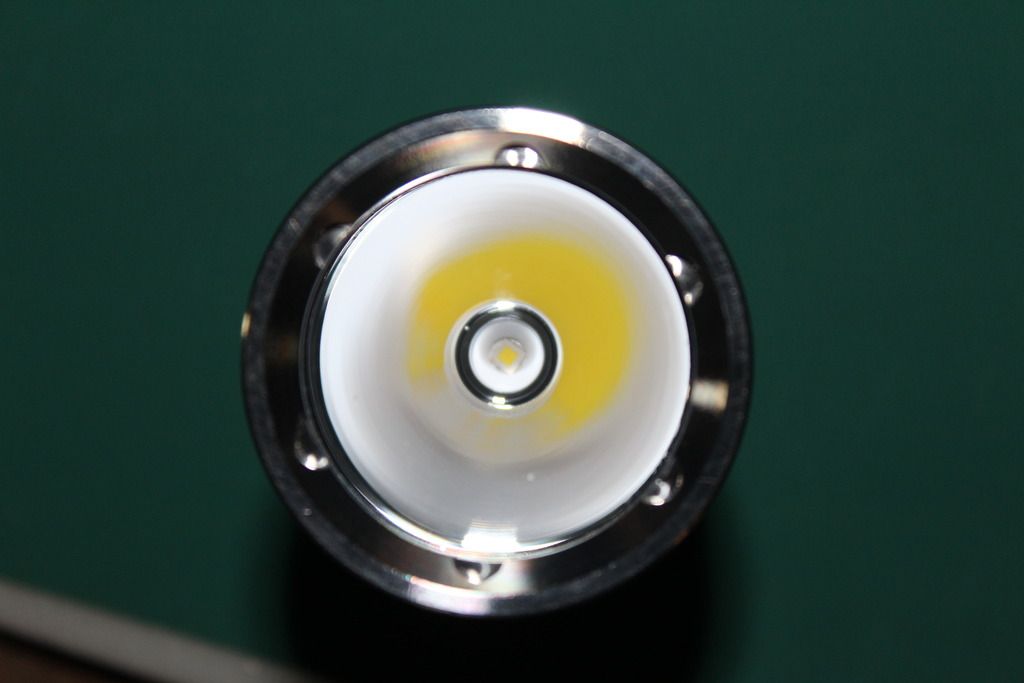 I turned the Convoy on in its lowest setting and was completely shocked. ON the lowest setting the beam threw from one corner of the building to the other. That is almost exactly 200 yards.
Now on low of course it did not light up a lot at that distance but it made me very curious so I stepped it up to medium. Big difference, the beam shined well past the end of the building and into a wooded area another 60 yards or so. That is the far edge of the property.
By now I was all fired up so naturally I kicked it up to high. I have no idea how far this thing will throw but it really brightened that wooded area up nicely. I walked all around the outside of the building until I could see the smoking area. By this time, I was outside the fence at the end of the drive. I have never measured that distance so I do not know how far it was but, the people all outside in that dark smoking area started yelling for me to turn off the spot light.
I can tell you for sure that 200 yards is no problem at all. Set to high it is almost easy for the X3.
This light can easily be one of the lightest and easy to carry search lights I have seen. It is not a small light yet it is not large either. For its size and the option of using a 26650 battery for much longer run times. This is a perfect light to keep around the house and/or car to use as your own personal search light.
I am going to order 3 more just for that reason. I want to keep one on my job, one in my truck and one at home. That will leave me one extra that I can keep out in the shop.
There is no adjustment like a zoomie, just a very nice tight even beam. Just enough spill to light up enough width.
I have 2 videos of the beam shots, I will try and get some still shots at measured distances in a few days. I am curious just how far it will throw.  I am sorry about having 2 separate videos but for some odd reason my camera wanted to just stop recording whenever it got ready to.
Of course, it is not a mega thrower and yes there are better throwers out there. But, the normal retail on this light is only around $40.00. I will have several of these around very soon.
The U.I is very simple. Tail clicky, a full click turns it on or off. You start off in low first time on, forward from there, half click to medium, another half click to high. Two quick double half clicks gets you strobe and another single half click goes back to normal lighting.
It does have a memory function that seems to work no matter how fast you turn it off after stepping up or down in levels. It will turn on at the last level it was turned off.
You can't go wrong with this one. Without any modifications, right out of the box it's a great light, perfect for using at home. I would take this one on any camping or hiking trip.
Machining is very good, tail and head are very smooth when removing and, it is almost hard to drop. The knurling and cut lines just make it very easy to hang on to even in the rain.
This is one of those lights that you really should have around because it does exactly what it is supposed to do every time you turn it on, the price is very reasonable and, the U.I. is simple for anyone to get use to.
I recommend a lot of lights but I only "Highly" recommend 2 or 3 a year. This Convoy I very highly recommend,
Thanks for reading.
Update for you. I heard from BangGood today and if you are interested in purchasing this light here is the URL https://goo.gl/D5skxi and enter coupon code 31aec3 at checkout for a 20% discount.
Enjoy
Videos of beam footage....