➤ Nitetorch store with 20% off sidewide code HJK5KDNQ
Manufacturer stated characteristics.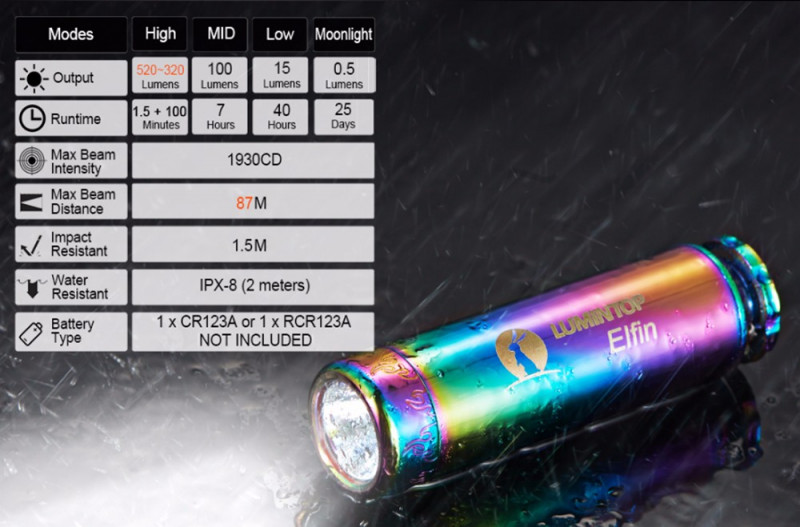 You can buy Nitecore UCN2 PRO at
➤ AMAZON
➤ ALIEXPRESS
➤ BANGGOOD
PACKAGE AND APPEARANCE
Well, as we can see, Elfin and Torpedo 007 is almost the same, with some minor difference in appearance. So I can only guess what folks there in Lumintop think, releasing definitely gift-collection product in such a box. Torpedo 007 had decent box, not perfec t and expensive one, but still good. Elfin comes in cheap-looking cardboard box that definitely has nothing in common with product inside.
When you see box opened, situation gets definitely better. Semi-transparent thin plastic leaves cover flashlight and the rest of stuff that comes with it: manual, carabiner, o-rings, light diffusor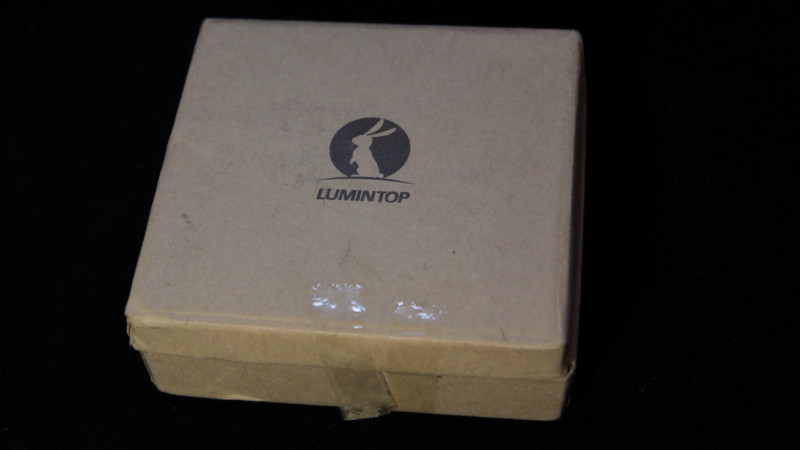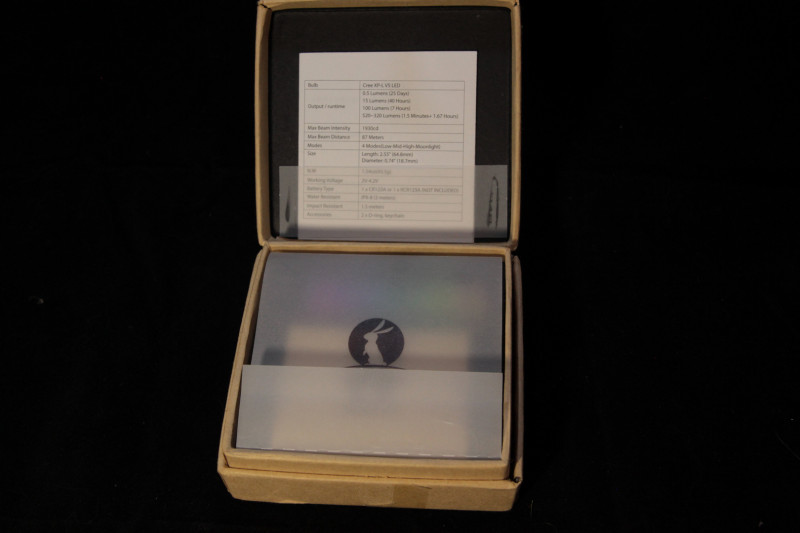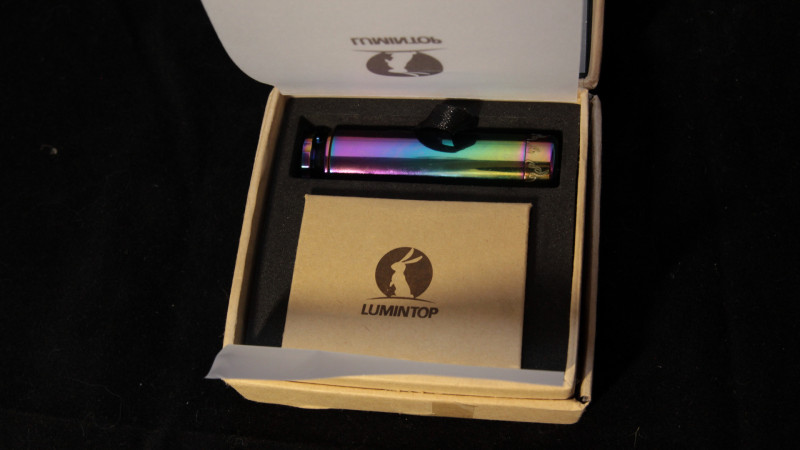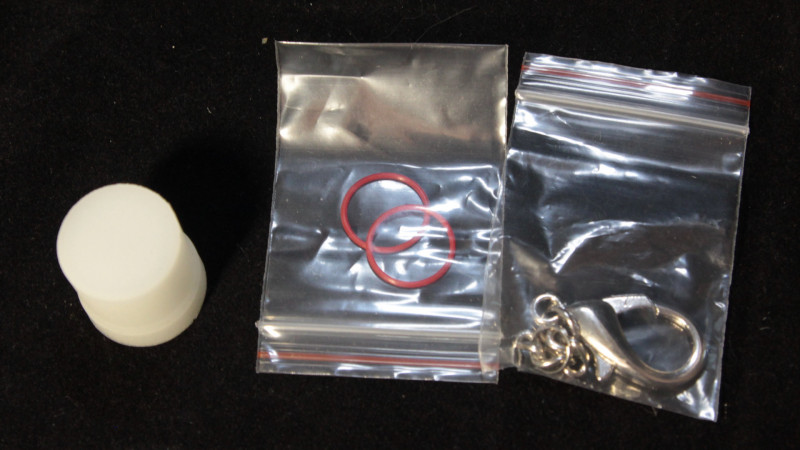 Flashlight is made is stainless still, it feels like some solid and well-looking stuff. Engravings on side and on copper ring are accurate. SS provides better scratch-proof, but has worse heat transfer. To improve the rest one, Lumintop made inner copper tube.
Elfin is the smallest 16340 flashlight that i`ve held. It is just 64.8mm long, exactly like 18650 battery.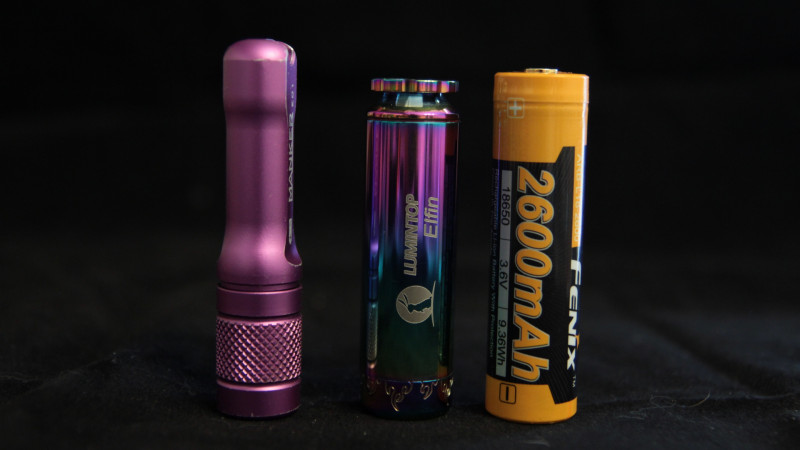 For other kinds of light we can neglect for it`s outlooking. But as this one is supposed to be a collectable and gift thing, this is a major part of review. I, personally prefer simple design of Torpedo, though I`m definitely sure there are one, who find Elfin more attractive.
Manufacturer says that this motley appearance is made with electroplating technology. But guys in Russian forum says this is a result of heat treatment. As far as I understand, an appropriate English word is blueing or tarnish.
There is a small tritium insert in the tail. dont` expect too much from it. It`s light is just enough to make finding Torpedo easier on shelf or (which is also cool) attract attention.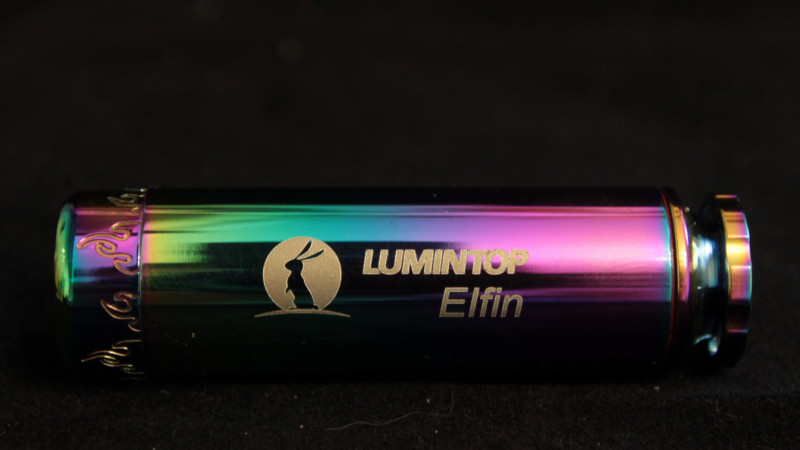 The only misadvantage i can point at is that stainless steels gathers too much fingeprints, but that is a minor disadvantage.
Machinery is good, threads are small, there is enough lubrication.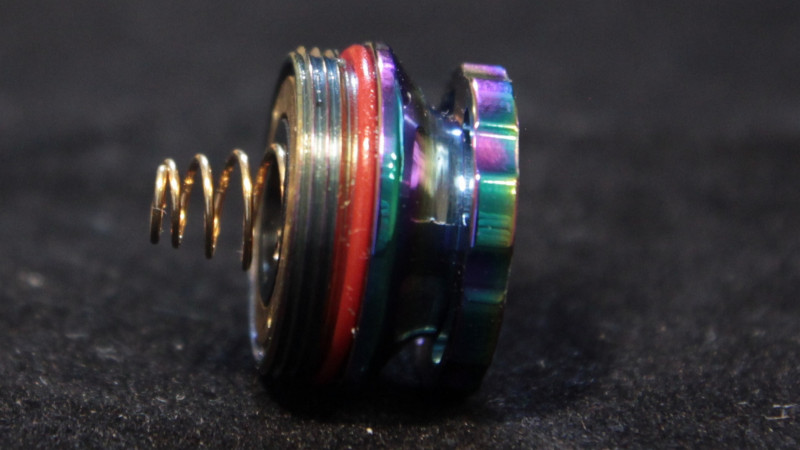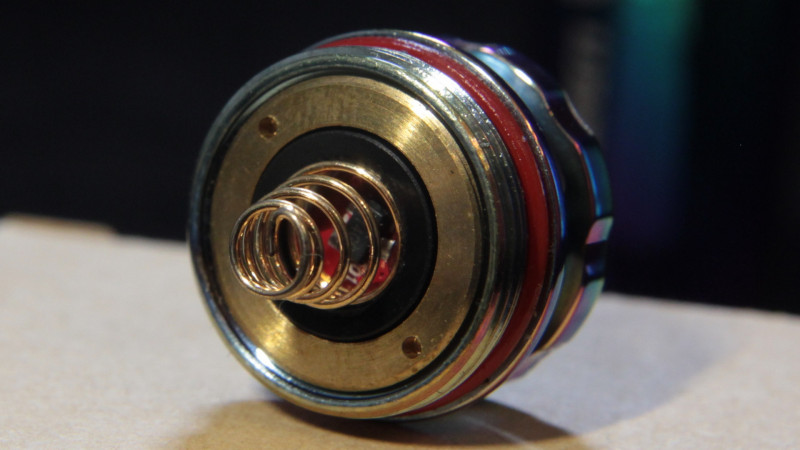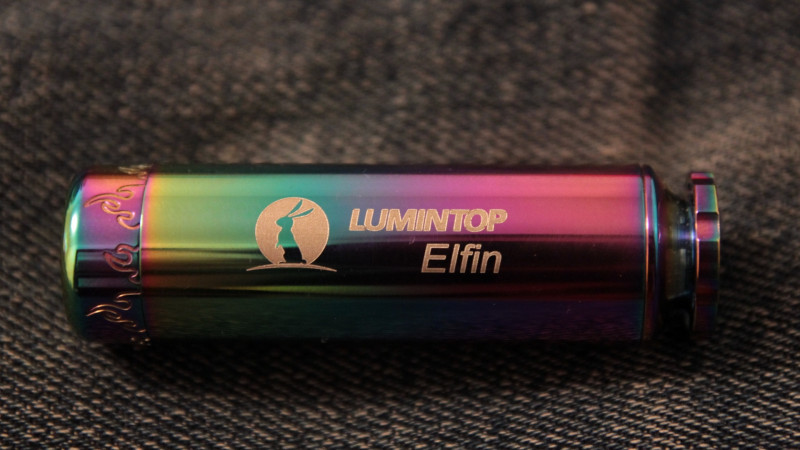 Reflector is expectably shallow, OP with XP-L V5 inside.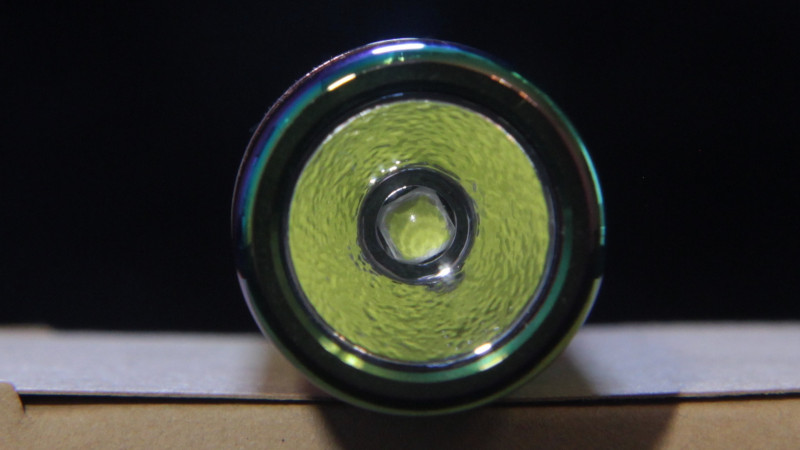 2nd difference between 007 and Elfin is tails, which is not perfectly round and smooth now, and more comfortable for unscrewing. Tail button is not a popular decision for keylight. Although, grip is firm and comfortable, switching modes will require changing grip from direct to reverse. And with this new tail design, grip will be better. Of course, it`ll take some minutes to get used to it. At least it took me.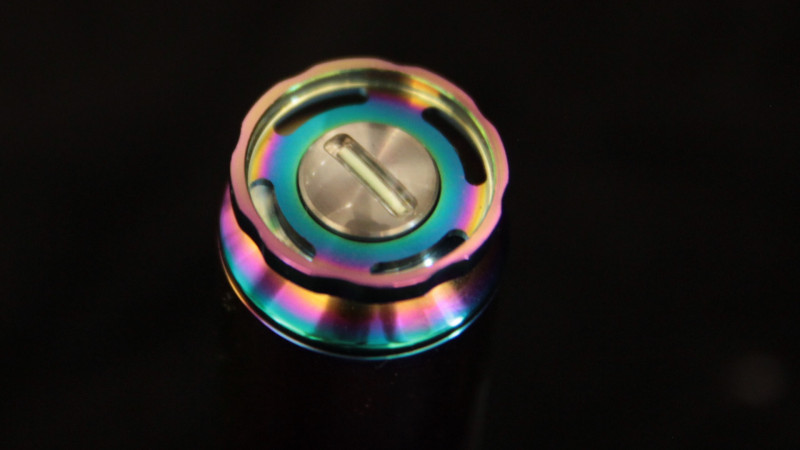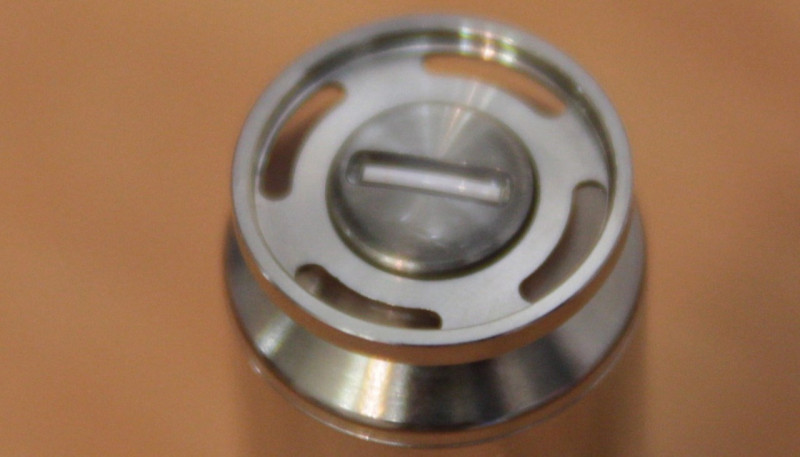 Diffusor makes what it suppose to make, though I don`t believe that someone will carry It along. This stuff will be needed in case of camping or
when light at comes comes out. BTW, this one is phosphorescent.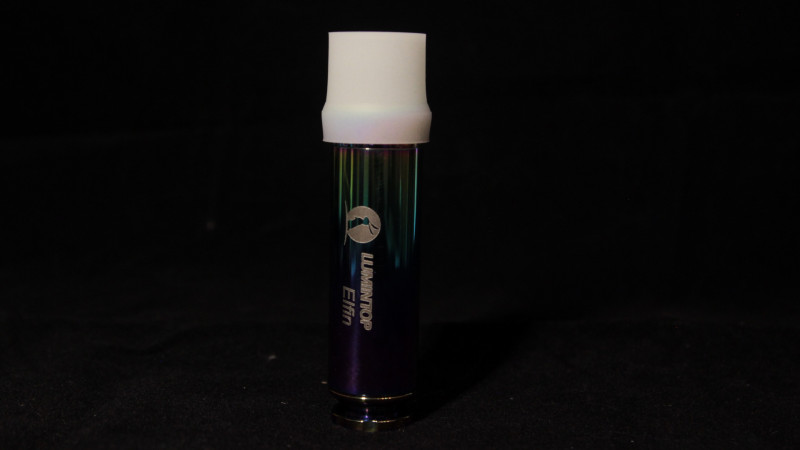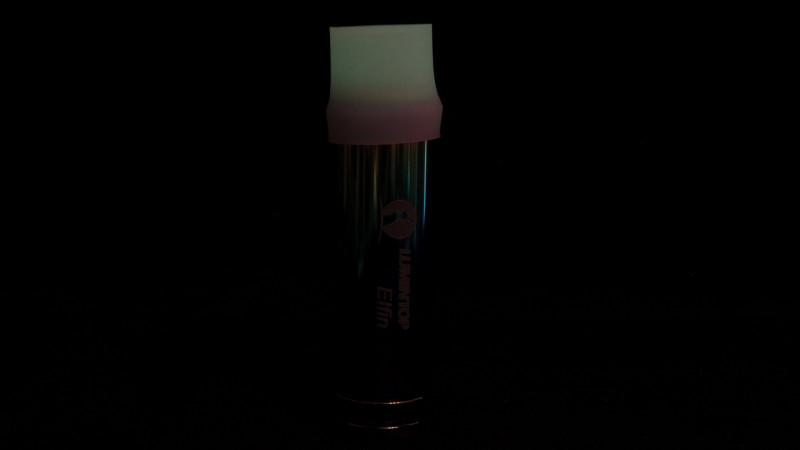 UI
UI is unusual and doubtful (yet has it`s own logic, at least i see one even being sober)
Flashlight always starts in 15 lum mode.
To switch brightness you have to quickly press button. what is unusual, you ask? unusual is that each 2nd press will turn the light off. so
press\15lum-press\off-press\100lum-press\off-press\520lum-press\off-press\0.5lum etc in circle.
As far as i see, this strange ui has a simple aim to avoid overheating in case of occasional turning flashlight on in pocket. if you somehow press button, light starts in "cold" and battery saving 15 lum mode. if you press again – light simply will turn off. again? ok, on\off again. No burns, no discharged battery.
Nevertheless, for real use (to light path ahead, to figure out is that stain on porch a piece of dog crap or just mud, to find something on shelf in garage) – that will not be a trouble at all.
Ah, yeah. There is no strobe. Ok, i can live without it )
PERFORMANCE
Here is what i measured for each modes (measured at tail button, not at LED)


In max mode 007 get quite warm but not hot (though copper ring really is), so you can use it with comfort. I cannot tell exact temperature coz my thermometer is an IR one, and flashlight`s body has outstanging albedo). Seems something between 40 and 50 degrees celcium.
There is no visible PWM shimmering in any mode.
Light is 6200К.
Comparing to On the road M3 it is colder, but comparing to Nitecore EC11 that is definetely ok. Honestly, as On the road M3`s light tint is warm white , the one of Elfin is not cold)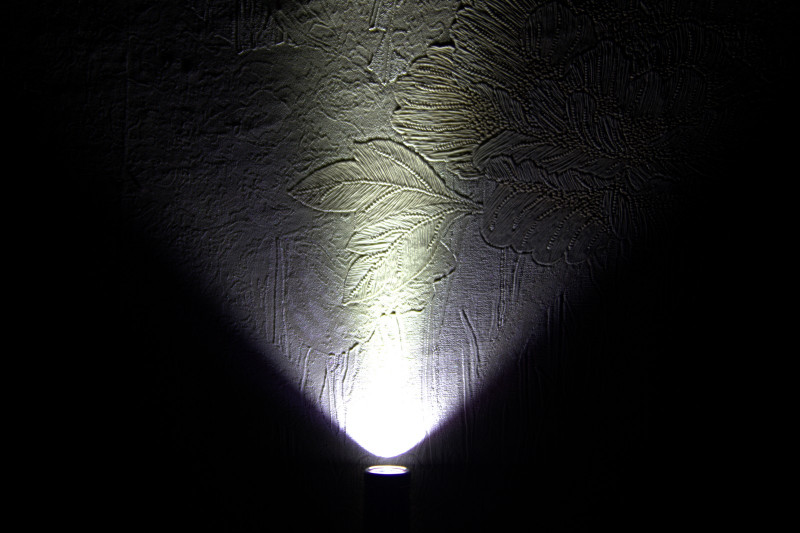 Modes are comfortable for each case. I appreciate that Lumintop honestly stated turbo time and brightness after stepdown. BTW, Elfin`s output is thermally regulated. So you cannot overheat LED, which is good for flaslight body is so small.
As all the 16340 flashlights that i own have the same 300 lum mode, i decided to make comparing picture.

Elfin`s light is convenient, diffused. 15 lum at start is enough for a lot of cases, and 100-520\320 is definitely enough brightness for any EDC flashlight and for most of regular occasions.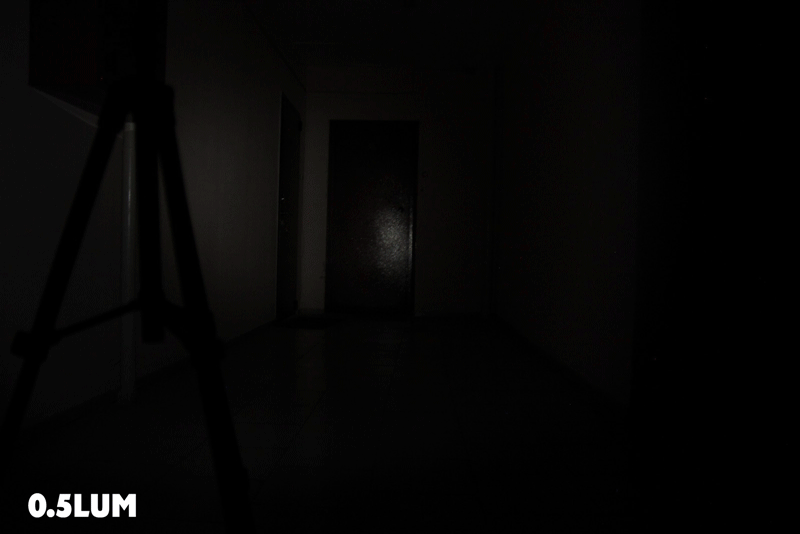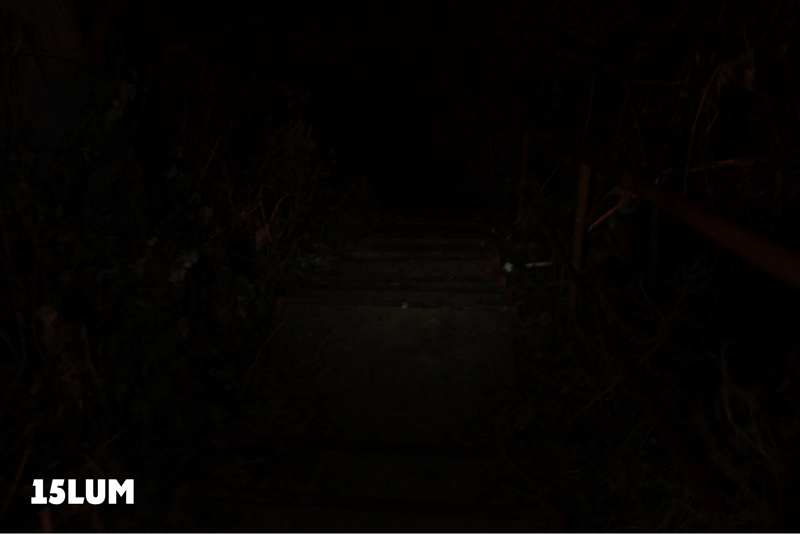 Stabilisation: After stepdown from turbo, Elfin kept on working for an hour, then started disco mode.

Turbo is not perfectly constant, look at chart. For turbo`s 1.5min, brightness falls down for 8-10%. Actually no eye can see this difference once decreasing is slow, not rapidly dpopped.


I`ll write to manufacturer and offer to upgrade driver. This disco mode is something that i`d expect from any cheap "sh*tfires", not from product of known manufacturer. I`d offer something like 2-3 blinks as discharge indicator and then turning light off.
OVERALL
As this is collectable and\or gift flashlight, i`ll consider this in writing overall.
Elfin looks and feels for it`s price, it will be a good gift that will attract attention when taken out from pocket. I must admit that idea to use such cardboard box for Elfin is not good. I would be very skeptical if I got such a gift (at least until I open box and turn the flashlight on).
Build quality is also on good level.
What about functionality. UI is doubtful, but mostly seem to be ok for such a small light. Lumintop were wise not to choose head twisting, and used tail button instead.
Light? Light is good and convenient. and considering 007 size, that light is bright enough for "wow-effect"
What i dislike is that strobe after discharge.
And for it`s price i`d like to see high-CRI LED there. Or, at least, version with it.