Today I will be reviewing for you the Fenix TK25 RB Version. (RB of course stands for red and blue).
Before we move on: The light was provided to me by Banggood.com for my honest and unbiased review. I will in no way speak of or infer that a product is better than it is. What you read will be the truth and my honest opinion.
If you would like to purchase this light you can find it here https://goo.gl/5iYsZL 
I also noticed that BangGood is having a pretty cool Mid-Year sale. Usually I do not advertise but there are some decent prices. Here is a URL if you would like to check out some of the prices.  https://goo.gl/L1aZqg
Now with that said let's get on with it.
This light was shipped for my review before I had a chance to check the model, for that I must apologize and here is why.
I live in the southern United States so Hunting, fishing, tracking. Things like this are a way of life here and if I had known that this was a mountable light that you can get a remote pressure switch for I would have requested those items needed to mount it and really test it for you. I have been told by several users of this light and the U.V. model that they hold up very well to weapons mounting even as hard hitting as 12-gauge pump action or semi-auto shotguns.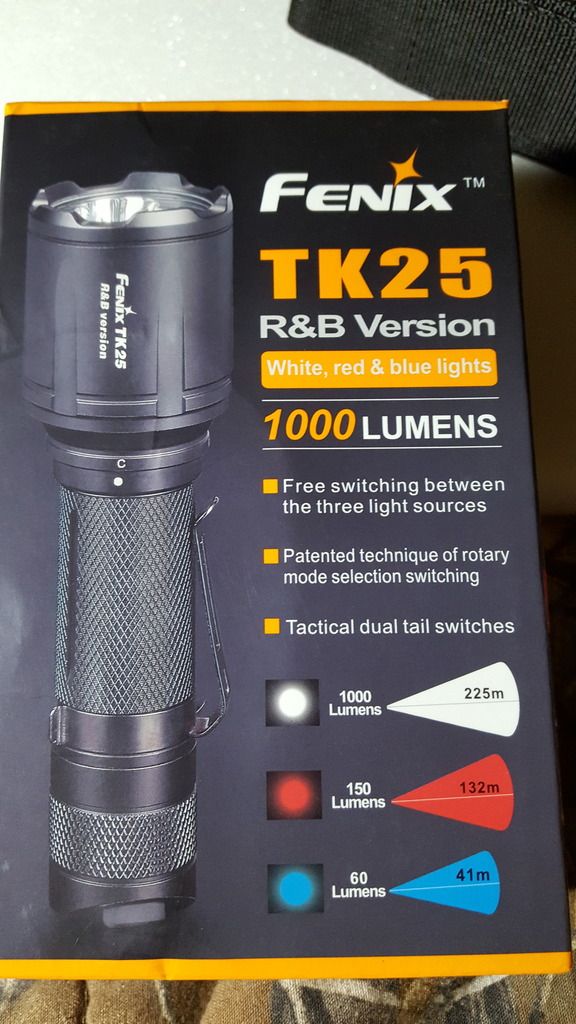 What's in the box:
1 x Fenix TK25R&B XP-G2 S3 And XP-E2 1000LM LED Flashlight
1 x Holster
1 x Lanyard
1 x Clip
1 x O-ring
1 x User manual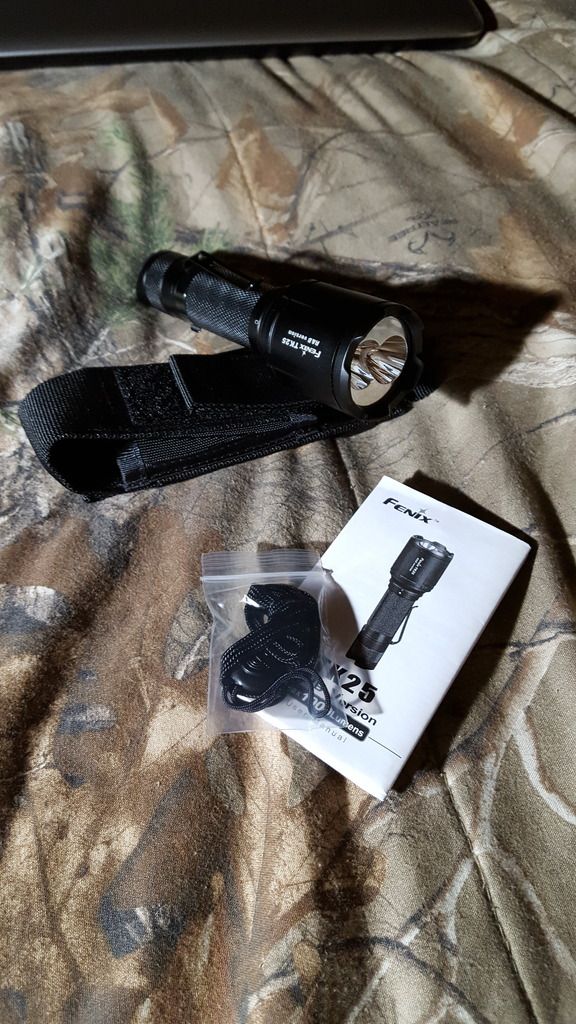 Features:
·Uses XP-G2 S3 and XP-E2 (red & blue) LED's with a lifespan of 50,000 hours
·Powered by one 18650 rechargeable Li-ion battery or two 3V CR123A Lithium batteries
·Free switching between white, red and blue lights
·Compatible with AER-03 remote pressure switch
·Reverse polarity protection, to protect from improper battery insertion
·Tactical tail switch for momentary activation
For my testing, I will be using an unprotected 30q.
The light in the basic kit does not come with a battery, only what you see listed above.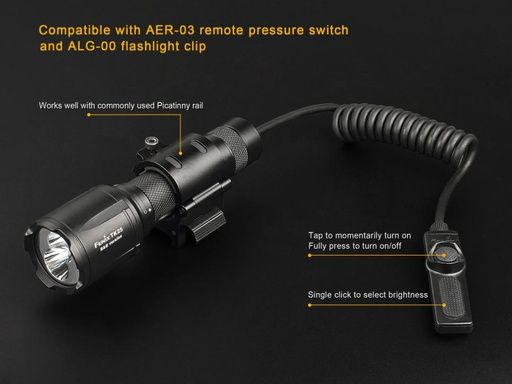 My impressions:
I have been a hunter from childhood, although I do not hunt these days I do still like tracking. I have also had advanced tactical firearms training with 18 different weapons. (Some I can name and some I can't: Sorry)
Needless to say, I have used plenty of lights that are weapons mountable or everything from M-4's to UPS .45's (notice I left a couple of words out of that weapons designation) If you know anything about shooting you will know most of the weapons I own and have trained with.
The earlier models of mountable lights were very unreliable, many would go out after a single shot, and others because of the battery types used would no work at all when it came time.
Modern lights from good manufacturers have changed most of that. We all know that current lithium ion cells hold up a very long time when not being used and are ready to go when you are. You also get a great deal more power from them.
Also, the lights basic designs have helped to take the punishment of a very hard recoil or extended periods of shooting.  The LED I think takes most of the credit, they are just hard to kill as long as the lights design is sound.
This Fenix is ready for that task.  As I said I was not able to mount and test in actual shooting but I did do some handheld shooting with no problems at all. I also shock tested this light to the point that most would have shorted out. I have dropped it onto normal soft ground from 12 feet and the light kept right on working.
It uses dual emitters. One for white light and the other for the red and blue light. They have pulled this off quite well. You simply twist the head of the light and align either the letter W for white or the letter C for colored with a little white dot below it and that is it, simple and it actually works.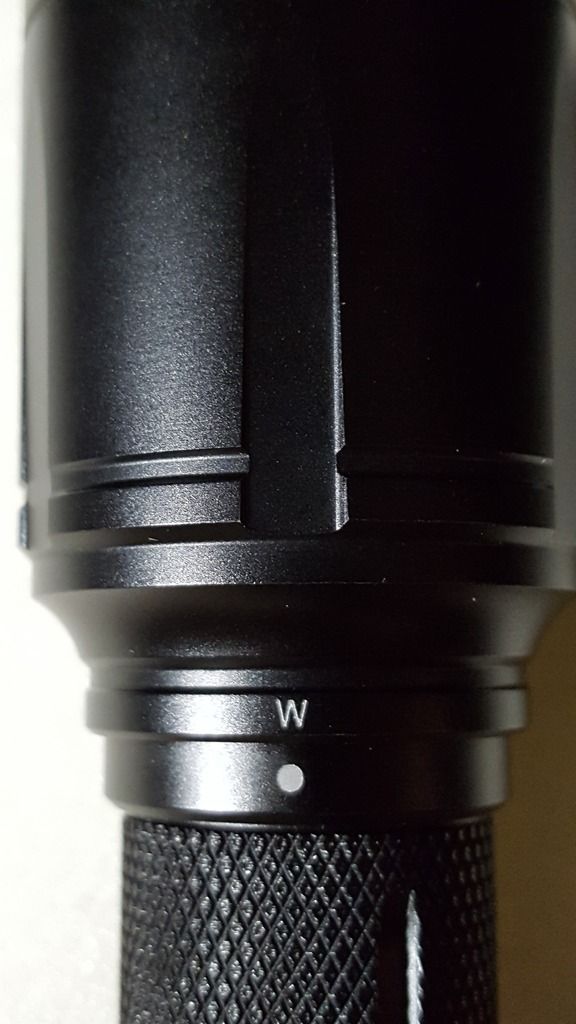 Side by side emitters I thought would cause issues with how well the lighting would be, this is not the case at all. On its highest setting (turbo) you get a very good amount of throw and just enough flood to get the job done.
When set to color you get more than I have seen in lights costing 2 or 3 times this amount. The red is very bright, blue is of course much dimmer but still enough to do the job it is used for.
For those that may not know the red light is to help protect your eyes natural night vision, a bright white light turned on the off even quickly would ruin that ability for several minutes. The red light lets you see and keep you night vision.
Blue is for tracking; a blood trail or spots here and there will show up much better with a blue light. It can also be used in fishing but, I can't speak for that I have never tried it.
Everything I put the light through it performed just as advertised. I like tis light a lot and will probably purchase a couple more for mounting.
Sorry, I am just hard to impress with this type of light and for the size and using 2 emitters I really did not think it would be as great as it is.
Construction is very well; the machine work is as well as you expect from a Fenix. The knurling is deep and rough enough that if you drop this light you had to work at it.
A removable belt or pocket clip lets you keep it on you with the optics facing down as they should. I can carry it comfortably in a pocket with no problems at all.
The U.I.
My favorite part. Very simple and easy.
You have dual switches on the tail cap. The Larger of the two simply turns the light on and off.
Set to white light click the large button once to turn on. To cycle through the different light levels, click the smaller button. You also have instant strobe. Instant on and off. With the light off just press the small button and hold it and strobe starts with no hesitation, release the button and it stops. In white mode, you have memory function. The light will turn on at whatever level you were set at when you turned it off.
Set to color the large button does the same and turns on the light. It will come on red first at the highest setting for red, press the small button and step down to the lower level of red, click it once more and you get the blue light.  (Blue only has one level setting) The color mode has no memory function. If you turn it off in blue when you turn it on again it will start in high red. Cycle down with the smaller button to color or light level you need.
With the light off in color mode of you press and hold the small button you will get instant on red in its highest setting then when you release you get instant off.
It took me about 2 minutes to get the U.I. without reading anything, it is very simple.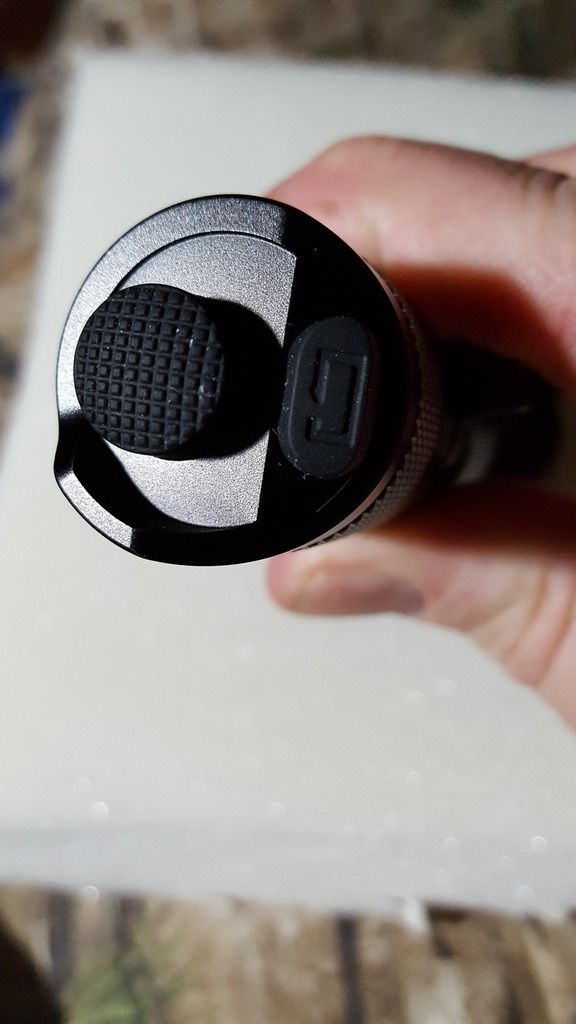 My take on this light.
I am going to buy a couple more, Turbo in white is easily as bright as advertised 1116 lumen no problem at all. And 225 lumens on highest red mode.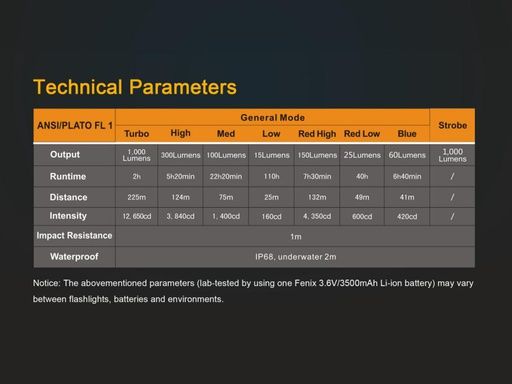 My only real complaint is inside the tail cap. I have not seen a set up like it and the metal looks very think and plastic is well….plastic. It may never have a problem but, I would have rather seen something sealed.
My favorite is the 2-button tail cap. They are angled just right and make it very easy to use.
I highly recommended this light to anyone at all. You do not have to hunt or even use a firearm for this light. It's a great light whatever you choose to use it. The fact that it is weapons mountable with a pressure switch to me makes it a really great light.
I will get some beam shots as fast as I can. It is raining out right now so I need to let that pass.
Probably some video footage as well going through the U.I.
Thanks for reading and enjoy.
The rain finally stopped long enough for me to get some video footage of this light. Even in the misty foggy humid air it still did very well.