30-4-2019 Update
Almost 2 years after my initial review and regular use of about 100 full cycles my unit started to show signs of swelling. My power bank is fully charged and ready to go most of the time, which is not optimal for Li-Ion storage but otherwise defeats the purpose of a power bank. And that's how most people who are not into batteries will use them anyways, so "real world results" nonetheless.
A bit of swelling in pouch batteries is not always dangerous but there is a chance it continues expanding, in which case I must dispose it. One more reason to go with 18650, they also degrade quicker when stored fully charged, but at least won't became dangerous.
Spins on its belly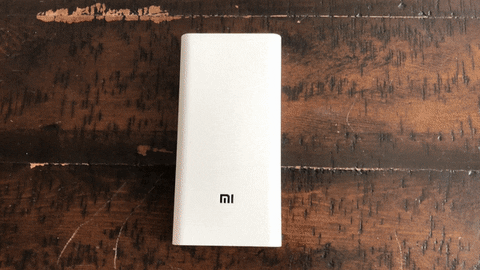 Vs flat surface

.
.
.
.
.
Xiaomi Mi 2 Power Bank 20,000mAh Quick Charge 3.0 Portable Charger
Unit supplied by banggood for review and testing, product link (aff?): https://www.banggood.com/Original-Xiaomi-20000mAh-Polymer-Power-Bank-2-D...USB-Output-with-Quick-Charger-3_0-p-1114740.html?utm_source=bbs&utm_medium=william&utm_content=chendongling
This is the new version of the 20,000mAh Xiaomi Powerbank, and even though it shares a lot of similarities on the outside with the old one, it's been completely revamped on the inside. I have already reviewed their new 10,000mAh model and was surprised by the performance, so much that I would say with confidence it is the best powerbank in its class and price range. Will the bigger brother live up to its hype? Let's see…
Specs from Xiaomi:
Battery Capacity: 20000mAh 3.85V ( 77Wh )
Battery Core: Polymer
Interface: Micro USB, USB
Input: DC 5V/2A, 9V/2A, 12V/1.5A
Output: 2* DC 5.1V/2.4A, 9V/2A 12V/1.5A (18W Max)
Size: 135.5 × 67.6 × 23.9 mm
Weight: ~400g
One of the reasons I love Xiaomi power banks is because they state all the numbers in the spec, including the energy rating which is useful to measure efficiency. This version uses a 3.85V battery which gives it a slight advantage in energy as compared to 3.6V and 3.7V chemistry. Higher nominal voltage and an extremely efficient conversion module gives the Xiaomi 2 the almost unbelievable results in the discharge tests (See below).
Unboxing:
Typical Xiaomi powerbank box that comes with a short USB cable and a brief instruction manual in Chinese (not pictured)

Some info in the back of the box

Build quality and interface:
The Xiaomi Power Bank 2 has great built quality just the like original, even though the casing is fully made of plastic it feels really solid on hand.

Close up of the finish and logo. It has a smooth polished finish with small dots over front and back sides. White plastic gets dirty quick!

Vs. the older version, about 1CM shorter and narrower. A tad thicker but hardly noticeable. Weight comes in at 326gr (new) and 339gr (old).

Vs. another typically sized, 6× 18650 powerbank.

Xiaomi powerbank family

Obligatory size comparison with a S2+

Close-up of the top: button, 4 LEDs to show capacity, micro USB for input and 2x USB out. The matte finish can be easily scratched, but not very noticeable because it is white.

Lots of technical info underneath

In action

Compared to the older model, key differences are:
-No longer uses 6× 3.7V 3,350mAh 18650 batteries, now it has 2× 10,000Mah 3.85V Lithium Polymer cell.
-Quick Charge 3.0 supported for both input and output. (only input for old version)
-Faster recharging, thanks to the reduced CV phase of the new battery.
-Variable output voltage added
-Smaller size, rounder edges
-Low current mode added
Operation and performance:
-It has auto start when a device is connected
-Will automatically turn off after 30 seconds if a load is not detected
-One single button operates the power bank, it will turn on the output or restart it when pressed.
-Double click activates a low current mode, designed to charge/power low power devices such as bluetooth headset, USB lamp, keychain flashlights, etc. These devices draws very small amount of current and in normal mode would not keep the power on.
-Pass-through charge is possible but QC is disabled for both input and output.
Variable output voltage: Just like the 10,000mAh powerbank 2, this one has a variable output voltage. When the connected load is above exactly 1.5A the voltage gets bumped from 5.0V to 5.2V. This is extremely useful to compensate for cable losses and helps to maintain a healthy charge current. I would have preferred a permanent 5.3V output voltage like some modern smartphone chargers, since there is really no reason for manufacturers to stick to exactly 5.0V anymore. A 5.0V output reaches the device at 4.5~4.8V after cable losses and most -if not all modern 5V devices can safely receive up to 5.5V,
The included USB cable is the same that comes with all xiaomi products, a flat type cable that measured 0.09 Ohm resistance at 5V 2A. This is good compared to my other short cables.
Charge test:
-Maximum input using a QC3.0 adapter was 12V/1.5A
-From empty to full it only took 6hr 11min, impressively fast.
-103Wh required to fully charge with an efficiency of 75%
-After being fully charged it draws ~40mA while idle
Discharge tests:
5V/1A: output was completely flat, and it achieved the highest efficiency I've ever seen in a powerbank at 98%.

5V/2A: nice and flat output like in 1A test, slightly lower energy.

9V/1.5A: output remained above 9V the whole discharge test.

12V/1.5A: output voltage was sustained above 12V the whole discharge test.

The complete chart, even at 18W output the efficiency remains above 85%. Why don't we have a flashlight driver like that?
Notes:
-I got 975mAh more output capacity than the spec, and unbelievably high efficiency at 98% (Spec'd 93%
). I wonder if that's due to capacity being underrated? Either way, it's a good thing. Same happened with the 10,000mAh version. Lets hope that Xiaomi don't ever realize this and go cheap on their products.
-Compared to the older Xiaomi 20,000mAh (pictured above), I'm getting roughly 15Wh more at 5V/2A which is a dramatic 25% increase. This is enough to give an extra full charge to a smartphone with a ~3000mAh battery.
-The internal battery is a High density lithium polymer with a nominal voltage of 3.85V, so compared to a common 3.7V 18650 based power bank of the same capacity there is a considerable energy increase. Keep this in mind when shopping power banks.
Compared to other 20,000mAh powerbanks: All tests done at standard 5V 2A discharge rate and charged with a QC 3.0 capable adapter
-Xiaomi 2: 74.4Wh, 6hr 11min to recharge
-Xiaomi 1: 59.3Wh, 6hr 45min to recharge
-Ravpower "porsche design" (pictured): 63Wh
-Vinsic: 62.4Wh, 5hr 10min to recharge (short recharge time thanks to highly efficient input converter)
Final words…
The new king of 20,000mAh? Most users don't realize how much better this Mi 2 powerbank performs compared to others, but just look at the numbers!
If you liked the 10Ah powerbank 2, you'll love this one. As always, I put my power banks under heavy use for some time before reviewing and everything was flawless.
What I like:
-Compact size and great build quality.
-Extremely high efficiency
-Strong output charges the most power hungry devices. Recharges very quickly as well.
-Has low current output mode and variable output voltage, which are not offered in most power banks.
-Budget price! At the current price of $30.99, it easily beats other brand name products such as Anker, Ravpower, Aukey.
What I don't like:
-Plastic construction is solid, but for some people it might look cheap compared to other products of the xiaomi line-up. I'm totally in for an aluminum case version.
Thanks for reading and I hope this review has been useful to you.