My first review on here after many posts!
I received an invite to review the Sofirn SF36, well, which of us would turn down an offer like that?
I was intrigued, its not a light I know anything about, Sofirn being a pretty new player in the industry as far as I am aware. The light arrived a couple of days ago and I've had a bit of time to play with it, frustratingly its not the best time of the year to play with lights, daylight being far too long! As such I haven't been able to get any outdoors photo's taken but from playing around indoors and having a brief test in the back garden before going to bed I've been able to form an opinion on this light. A favorable one at that!
The light comes in at the budget end of the market, for around the £33 mark you get the light itself, spare o-rings, a lanyard, a 18650 battery marked as being 2800mah, a charger and USB cable.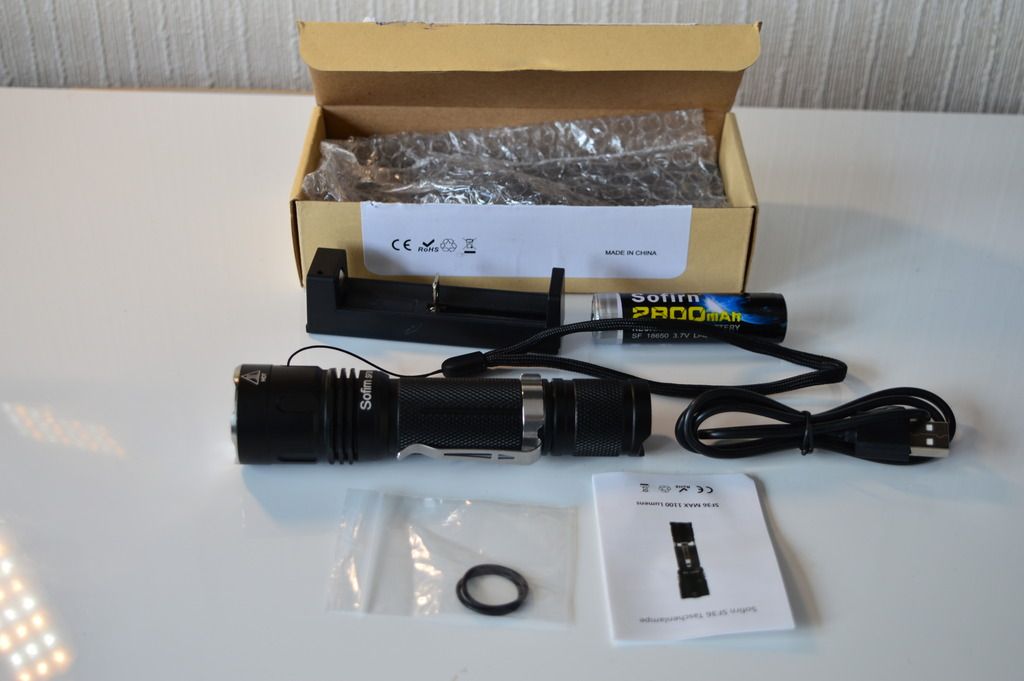 I haven't a reliable way to test the battery capacity but at least was able to confirm it charges up as it should using the included charger.
The light itself seems well built and has a nice feel in the hand. The photo's below show it next to a few other lights for size comparison, the other lights being a Nitecore MH10, Olight S Mini, Astrolux S41S and a Solarforce L2T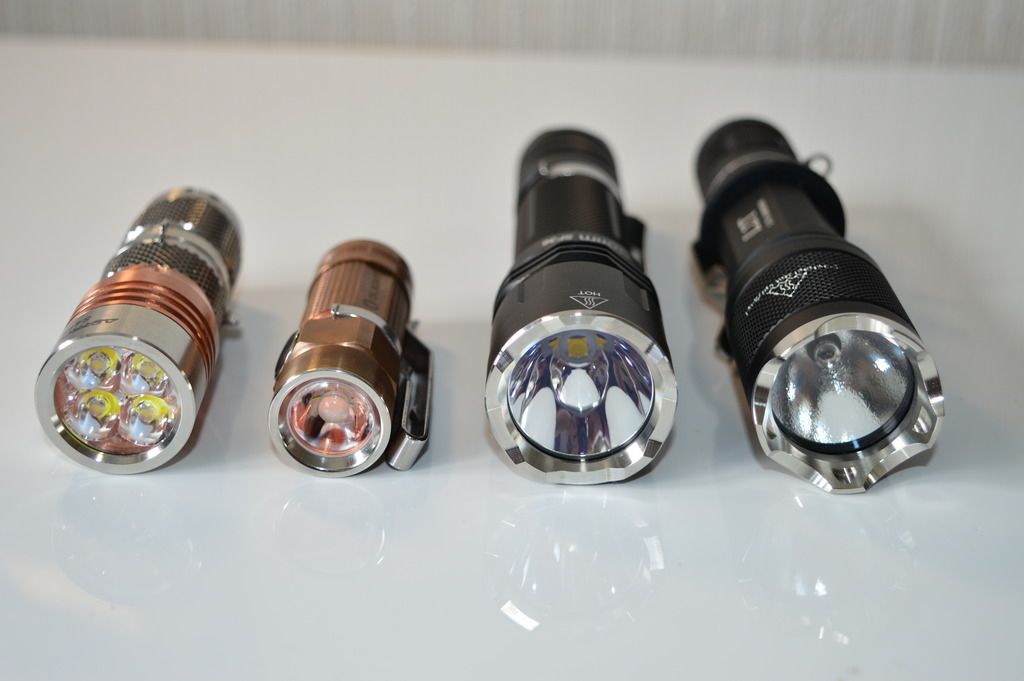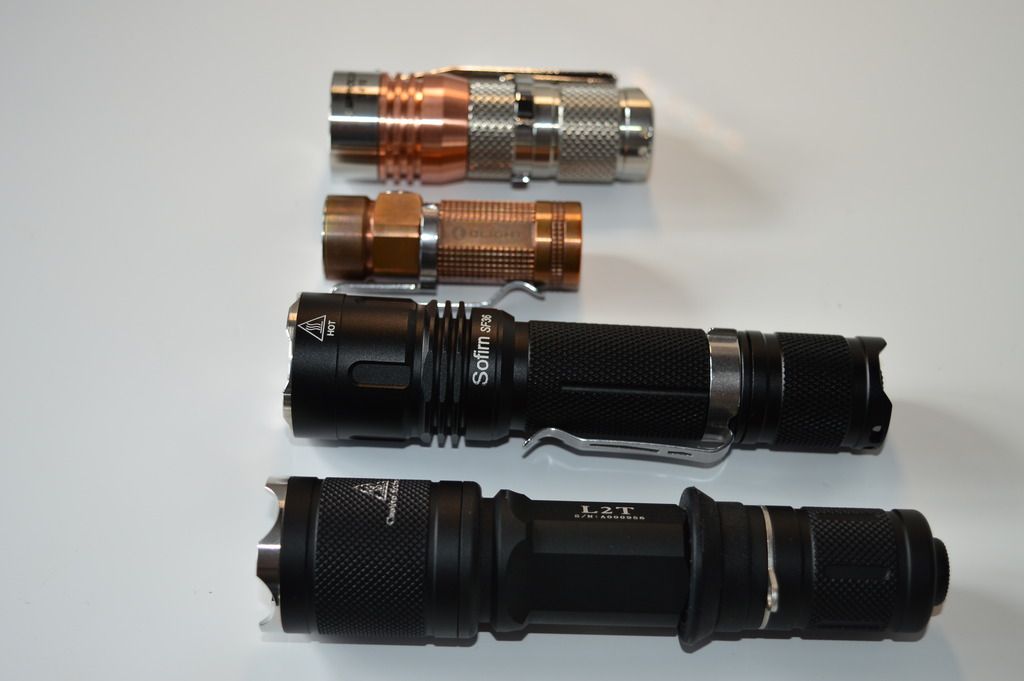 The LED is a Cree XP-L2 V6 stated as giving up to 1100 lumens, its well centered in a smooth reflector behind a crenelated bezel. The glass does not look to be AR coated.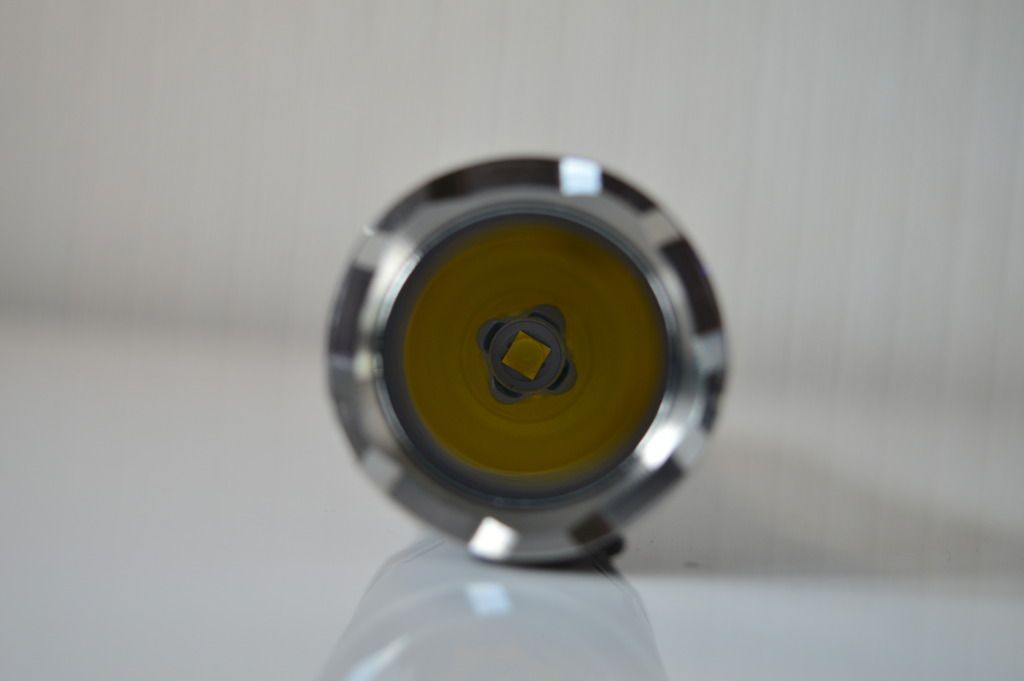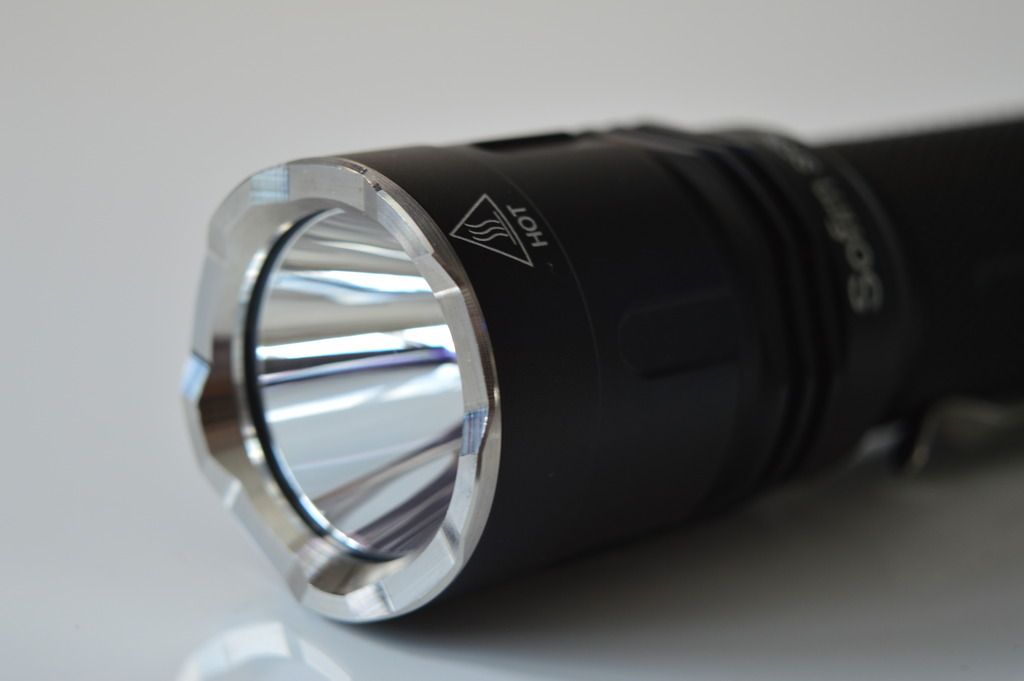 Its controlled by a single mechanical tail switch with 5 modes: Firefly / Low / Mid / High / Strobe.

Press to turn on, half press to cycle modes, press to turn off. It has mode memory. Strobe is not on the main mode group. It can only be accessed from On and is a double half press, a single half press takes you back to normal operation.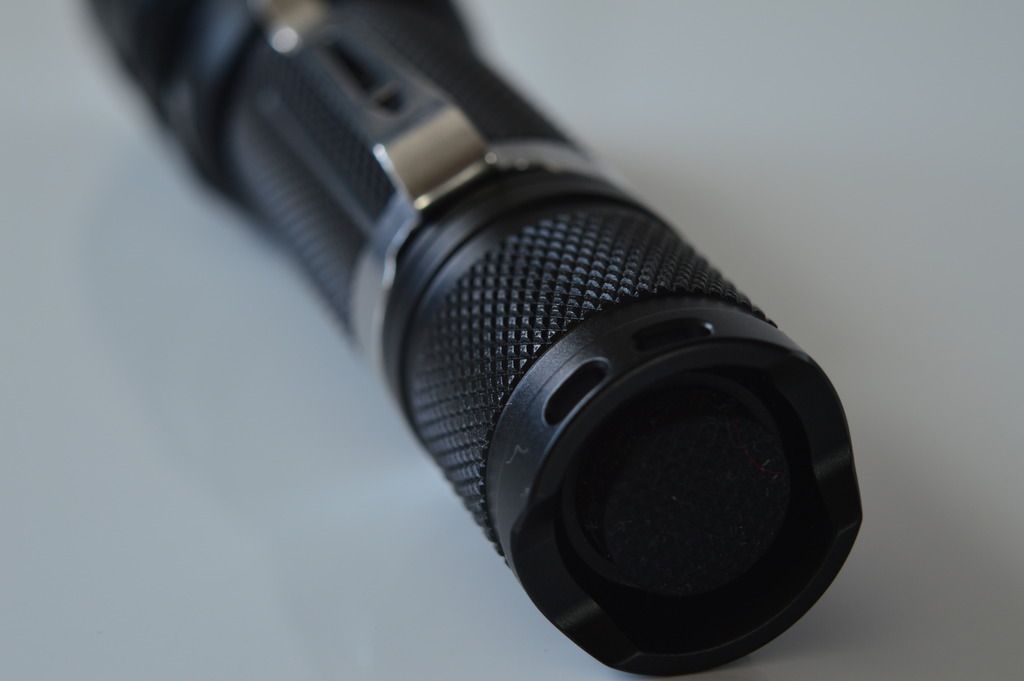 In use this is a very nice light! Comparing to my Nitecore MH10 (stated as 1000 but tested by others at around 920-950 typically) the advertised lumens appear accurate, the SF36 is noticeably a little brighter. The deeper reflector will give a bit more throw. The tint, well thats the clincher here. Normally a light at the lower end of the price range would be a very cool white bordering or totally charging into blue territory. Not this one! Its a nice neutral colour which is a pleasure to use, the brief test I had outside revealed the garden in genuine coloured glory, not a washed out effect as is often the case with cool tints.
The shots below show this. I'm not a white wall (or cupboard door in this case!) fanatic as what shows on those doesn't really reflect real world use, in this case though they demonstrate the tint difference well. MH10 on left, SF36 right. The brightness is not a comparison, the 2 lights didn't really have a practical level i could directly compare, this is purely a tint comparison!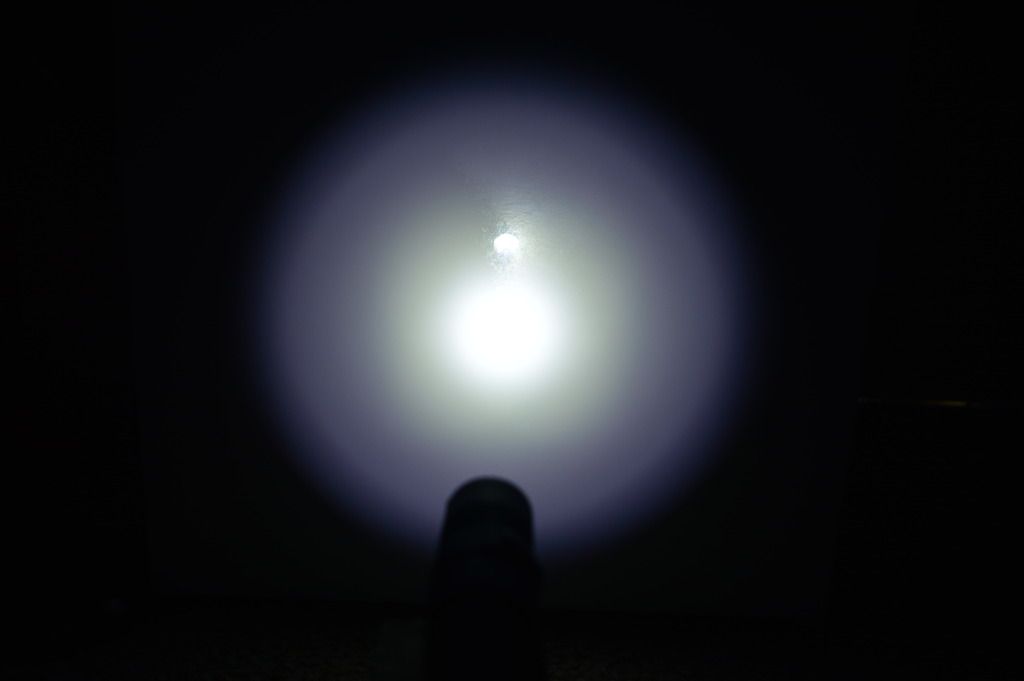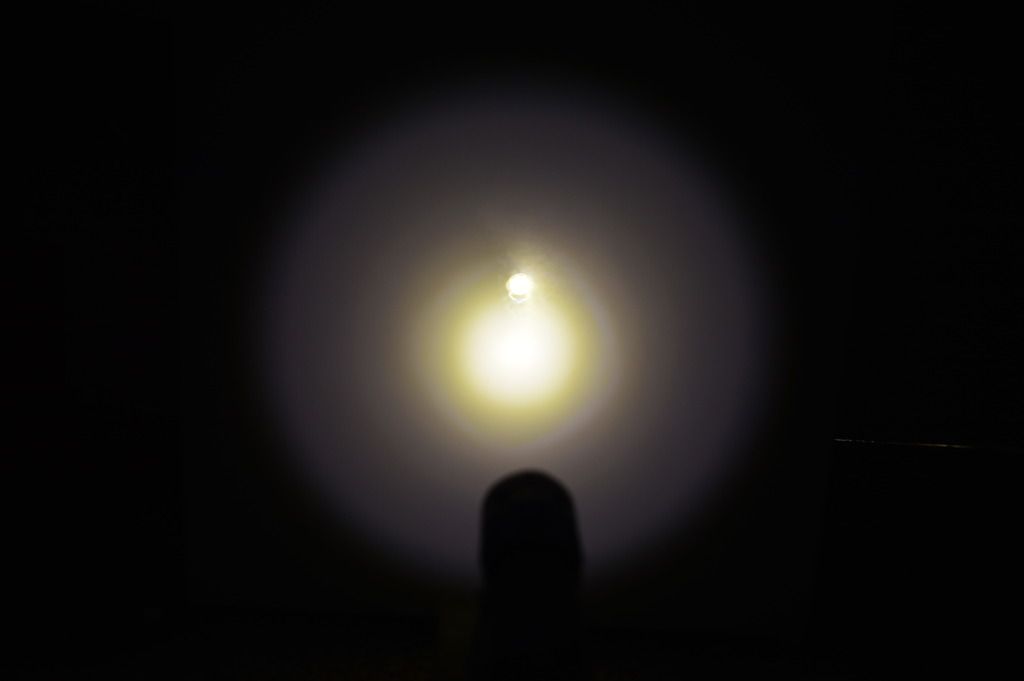 Note any rings seen in these shots are not visible in real use, its one of those things only a white wall shot shows.
The light is rated IPX8, I haven't got a convenient swimming pool to confirm this!
My overall impression of this light is very positive. At this price point it beats the dominant shop shelf favourite LED Lensers hands down in every way! I can't think off hand of anything thats better for the price that is available in the UK. Its so nice for once to be able to get a competitive serious torch at a good price without having to order from China.
The fact a battery and charger is included is a bonus, I know having to buy a charger pushes a lot of people away from 18650 lights. I don't have the equipment to look into how good the charger is in detail but I can say it charged the included battery up to exactly 4.20v when I popped it in my regular Nitecore charger to check.
The only negatives would be the firefly is a lot higher than a genuine firefly mode would be, theres no direct access to any mode other than what is memorized and finally no AR glass. That said if we had these it would probably push the price up to the point where it is not the stand out good offer that it is now so maybe I am just being fussy for the sake of giving an honest review.
The bottom line is for anyone new to 'proper' torches this would be a fantastic entry point which offers performance that matches or betters lights a lot more expensive. Recommended.
Edit - I noticed the glass is AR. Odd how it only became apparent under different lighting conditions. It is there though!