Thorfire gave me a 99% discount in exchange for a review, however, that doesn't affect my opinion of the light.
Initial thoughts:
Opening the box, you find a light, user manual, and 2 spare o-rings. The manual says it comes with a lanyard, but I don't really care for them anyway. 
The light seems very structurally sound, with a good amount of heft to it for an aluminum light. Anodizing seems really durable, it is very finely textured, halfway between shiny and matte. I wish it had some knurling (even a little) as it can be a little slippery. There are some milled slots which are ok, probably saves them production costs as opposed to knurling. As for the pocket clip, I'm not crazy about the aesthetics, but it is surprisingly strong and works well. There's a very nice SS bezel on the front that gives it a tough look (it also is tough ;)). One thing that is slightly annoying is the rubber switch boot, which is WAY too squishy. If you aren't careful to push straight down on it, it just bends over and doesn't engage the switch, which gives it a sloppy feeling. The boot on my BLF A6 is virtually the same, but the rubber is stiffer. By the design of the tailcap, it's supposed to tailstand, except that the switch boot is 1mm too high to stand without wobbling. For what I'm going to use it for. Overall though, the build quality is decent. Good job, Thorfire. 
Specs:
XP-L2 emitter (I believe it's a 3D tint)

SMO reflector

2.85V LVP (measured)

Timed stepdown on high

Mode memory

Reverse clicky

AR coated lens

Amazon says 11.2kcd (280m), manual says 13.2kcd (300m)

4 levels + strobe

IPx8 waterproof

1m impact resistance

Stainless Steel bezel

Pocket clip
Dimensions:
head diameter 32.5mm

body diameter 26mm

reflector diameter 25mm

total length 133.5mm

clip length 45mm

weight (without battery) 133g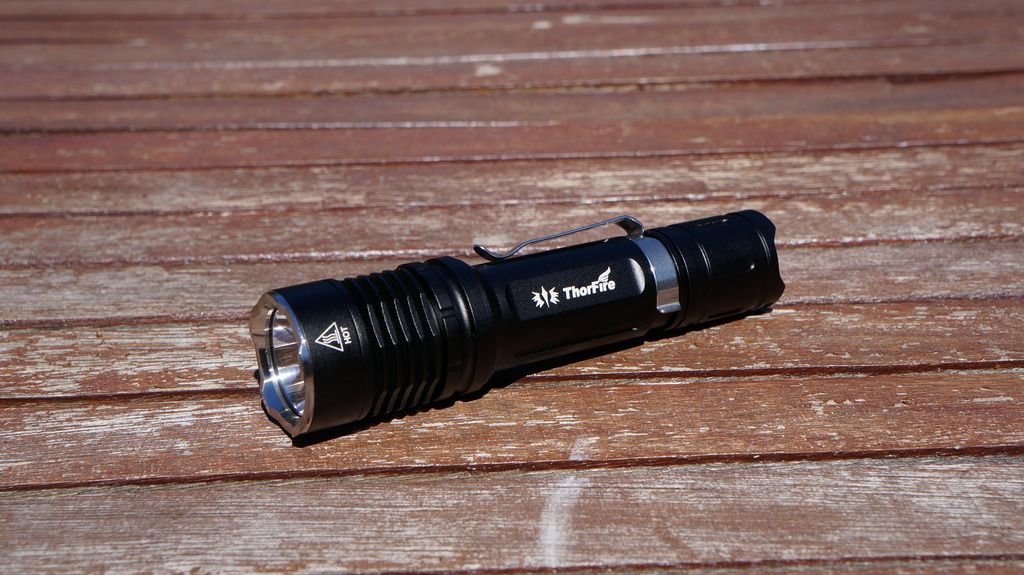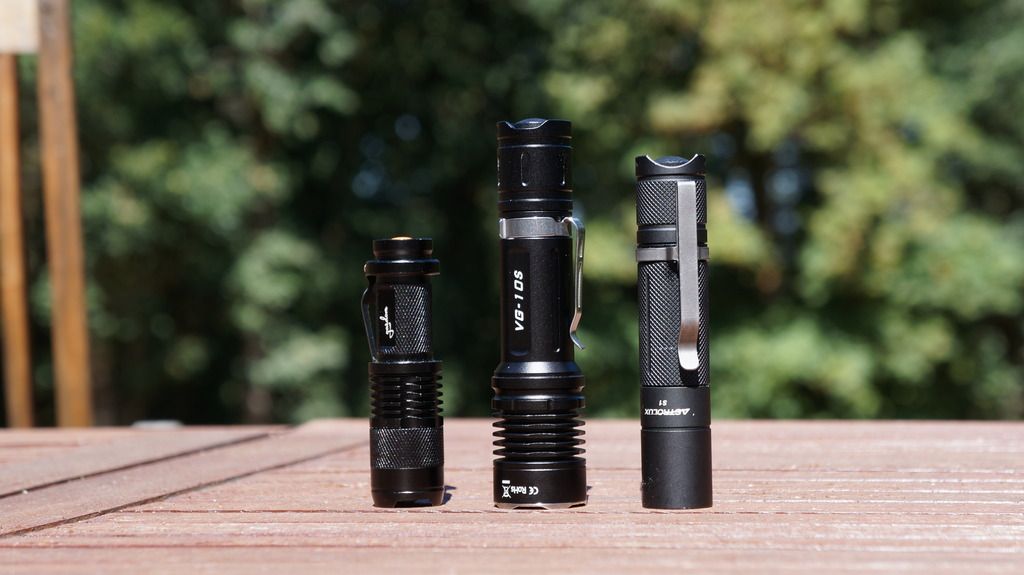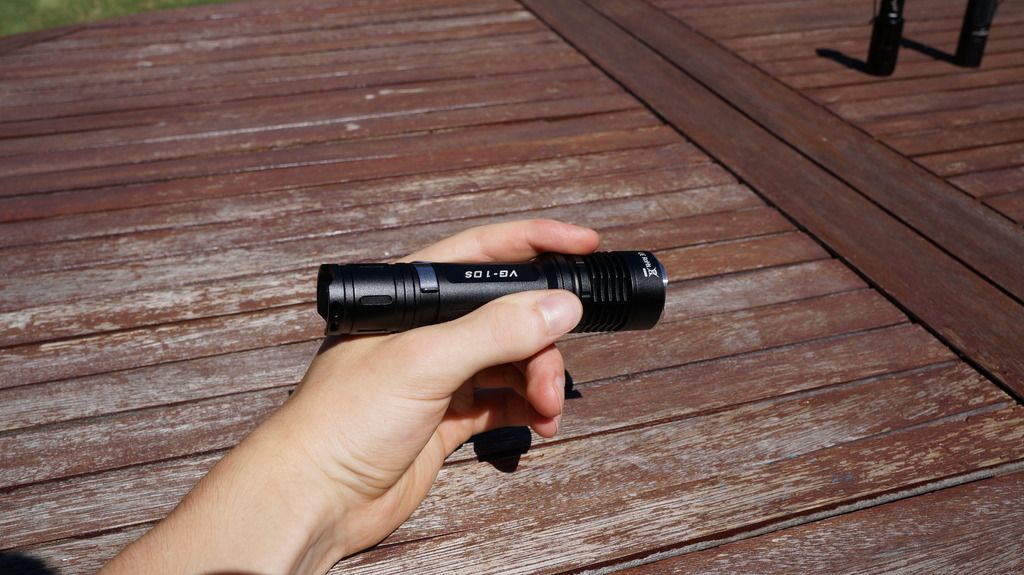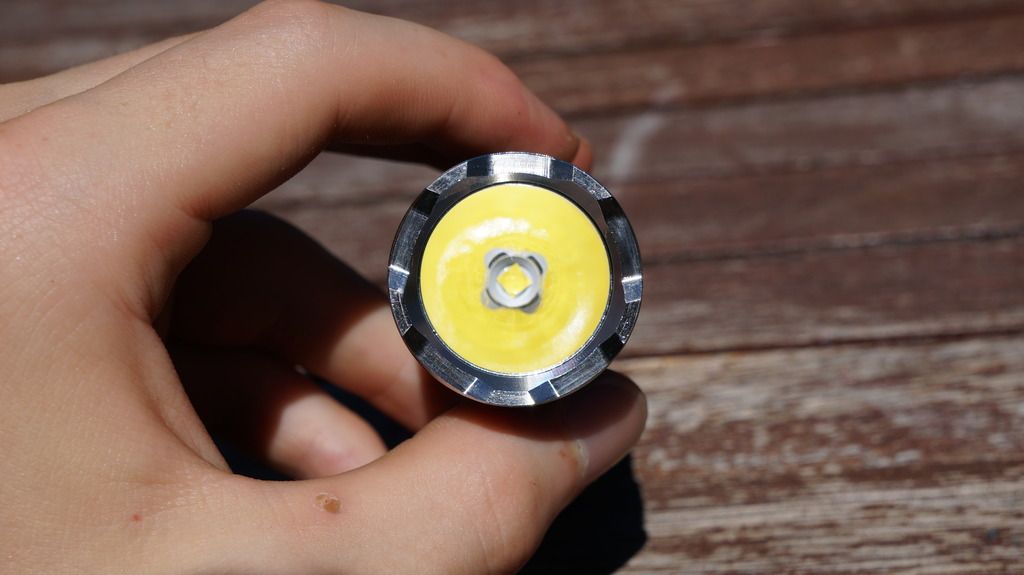 User interface:
The UI on this light is very simple with only 4 levels (which I think is probably the best). It has mode memory, and a short tap will take you to the next mode. One thing that really bugs me is that there is a 200-400 millisecond (I completely guessed here) delay between switching modes. It may be a defective driver but I doubt it. 
Double tap to get to strobe. Some people don't like double-tap access to strobe, but personally I haven't accidentally activated it yet. The strobe toggles between fast (~10hz) and slow (~6hz) every 3 seconds, which could be annoying to some. 
Teardown:
The tailcap came apart very easily, and is pretty typical for a clicky light. Nothing unusual here. Unfortunately, I was unable to crack the driver pill. I tried brute force, heat, brute force and heat, nothing worked. I was really curious what the driver looked like, but it looks pretty unlikely I'll be able to get it out without destroying it in the process.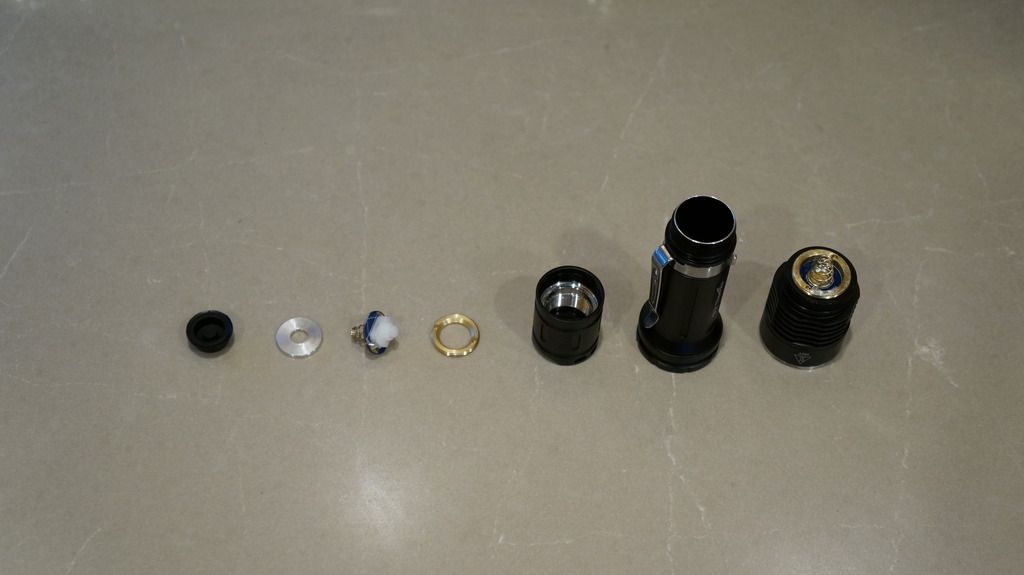 Runtimes:
I tested the runtimes with a freshly charged NCR18650GA cell (measured at 3350mAh) and run until LVP kicked in. Note that high is essentially a turbo mode which slowly ramps down to medium after 5 minutes. I got the 1hr 10min time by 'refreshing' the turbo timer every 5 minutes to get the minimum time possible.
| | | | |
| --- | --- | --- | --- |
|   | Claimed | Actual | Current* |
| Moon | 200hr | ? |   |
| Low | 22hr | ? |   |
| Med | 2hr 45min | 5hr 15min |   |
| High | 45min | 1hr 10min |   |
| Strobe | 45min | 2hr 50min |   |
*I'll measure this soon!
Thermal test:
Here's a thermal graph of the head temperature while on high. I measured it with little temperature logger I cobbled together on an arduino, but it should be accurate to +/- 3 degrees or so.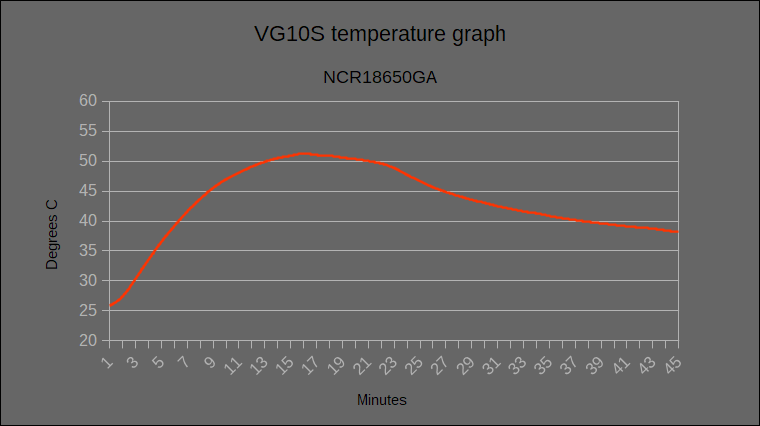 Annnnnd Beamshots:
This isn't much of a comparison, but I hope it will be helpful for somebody. All photos were taken on the highest output possible with a NCR18650GA cell. The Astrolux S1 has double BeCu springs and a dedomed XP-L2 emitter (4000k, 80CRI, V3 bin). Unfortunately, awhile back some moisture got into the reflector and damaged it a little, so its much dimmer than it should be. The BLF A6 is completely unmodded.
The deer target is 50 feet away, and the treehouse is 120. I didn't measure the distance to the trees in the background, but I'm guessing 140 feet.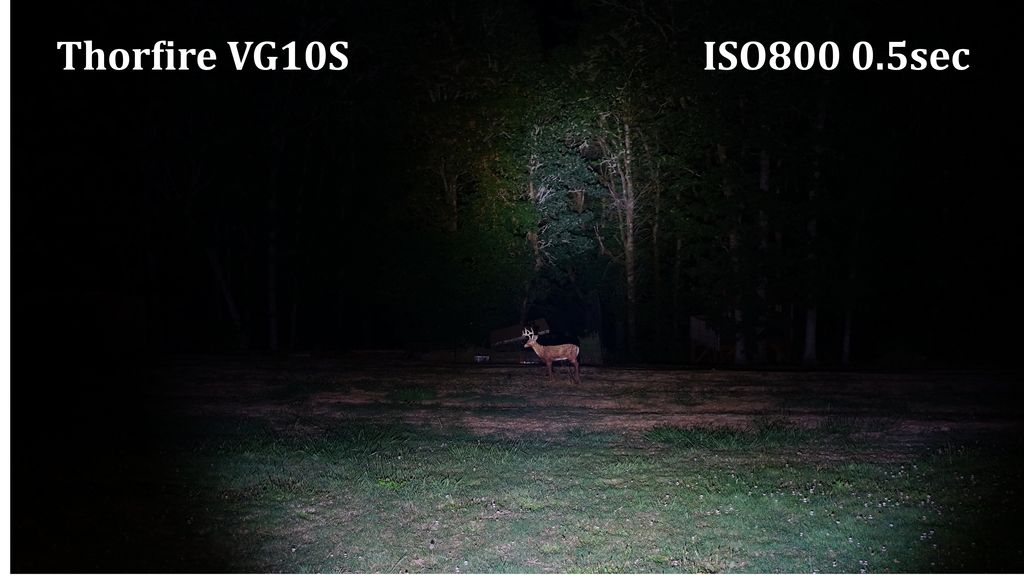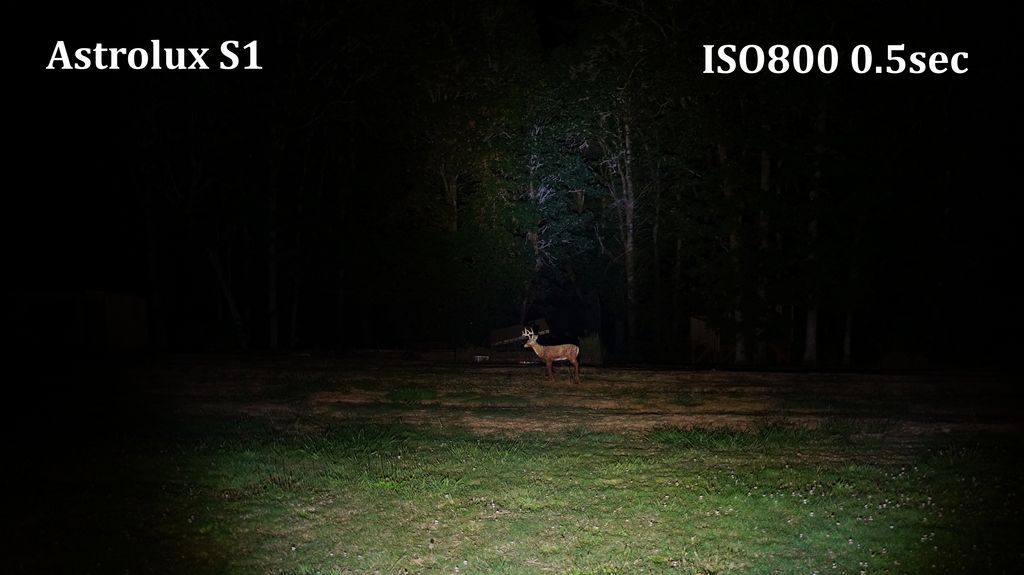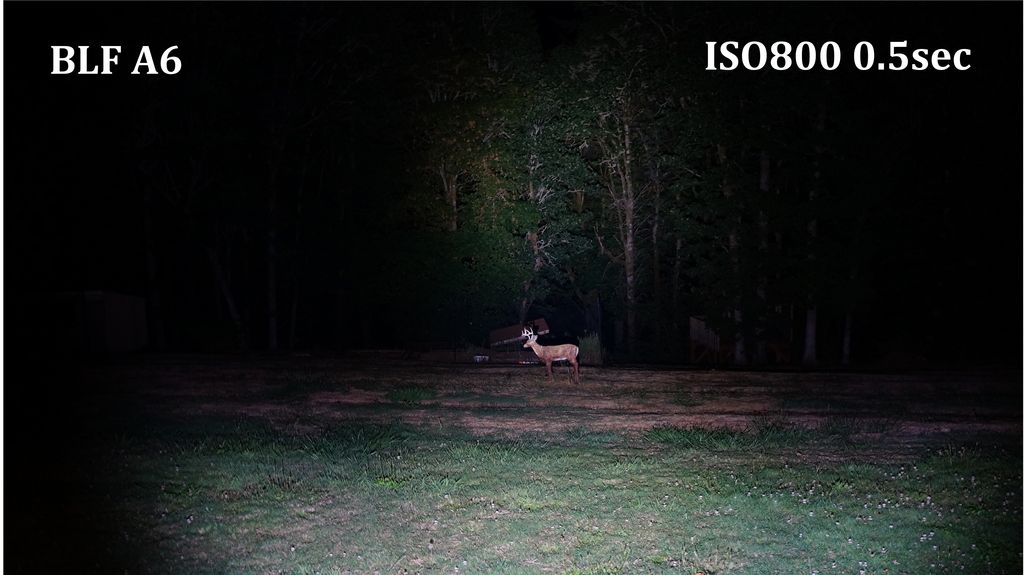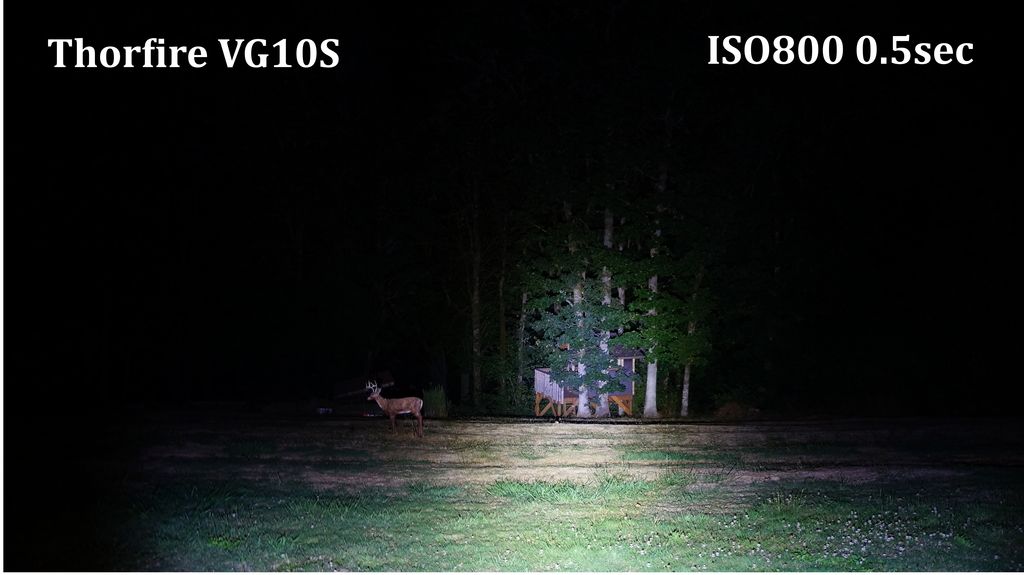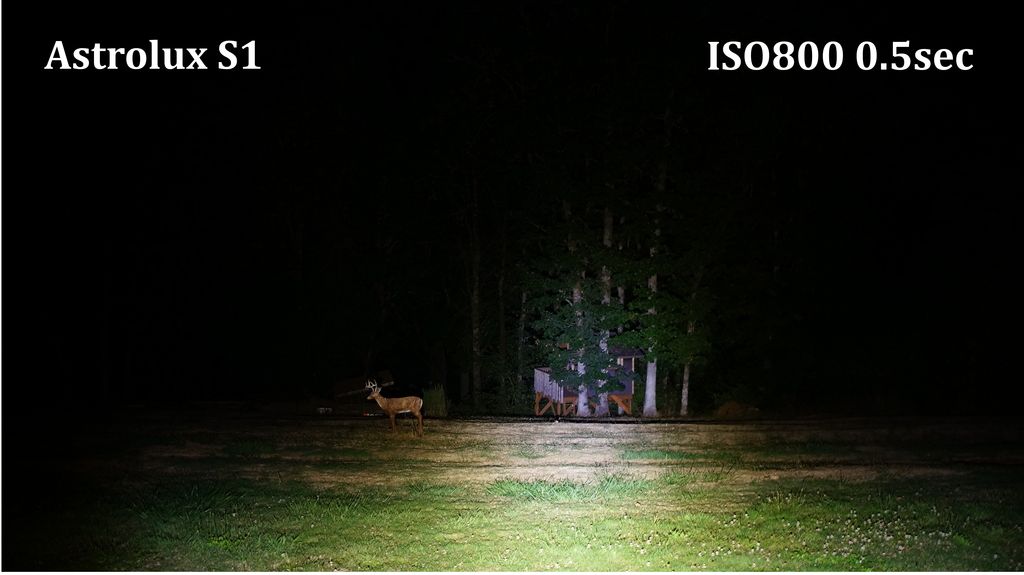 Final thoughts:
Overall, this is a pretty sturdy light with that seems well made. It is a little big for an edc, but that's what you get for a bigger reflector. The biggest disappointment for me was the UI, which is very slow which makes it seem clunky. This is probably going to be my dedicated bike light, where I won't be cycling through modes all the time.
Well, that's it!
—
I've only been wrong once, and that's when I thought I was wrong.