Review example was provided by Maxtoch.
Here is a link to product page at company`s store at aliexpress.
This is a 2nd Maxtoch light that I review. Previous one was also shooter, but it`s longthrowing version with dedomed XM-L2. This one turned to be most throwing light that I tested. I seriously think that there is just one non-custom light that can overparform it, Thrunite TN42 (more throwing, but a way more expensive as way). So if you guys look for a real thrower that can be used for hunting (there is a remote button for it) – this is the one. I`ve boght it for 3 hunters, all they were and stull are happy with it.
Well, Maxtoch is not the company that often issue new models. As far as I can see, all the recent models are based on the same body. This is the same Shooter but with other LEDS like green and red. And this one is equipped with XHP 70.2
There are a lot of lights in 2×18650 or 2×26650 size, but what differs this one is the fat that it supports 20700. They are really, really rare now, but as far as I know Ilon Mask`s Gigafactory started producing them already. I hope that price will drop, because 20700 and 18650 are almost the same size, but capacity really differs.
I`ve forgotten model name, but I know that there is also another model of flashlight which also supports 2×20700, so it seem that with this Shooter they make a couple of the only 20700 light in the whole market.
Now, lets take a look.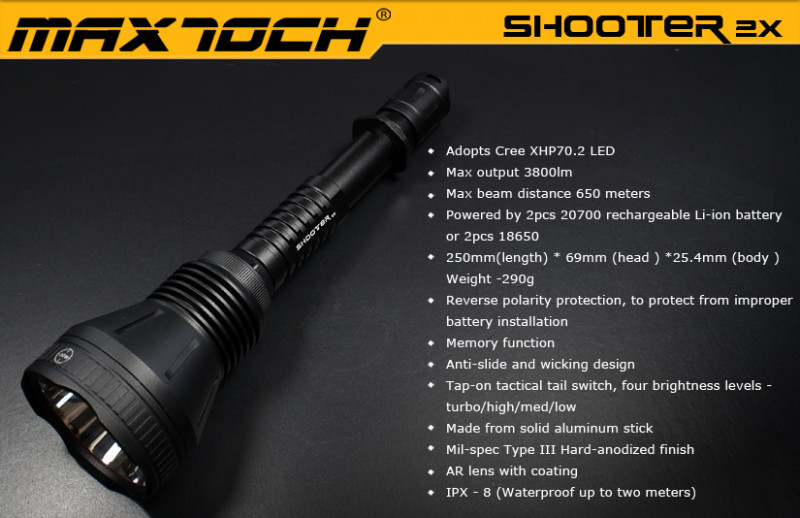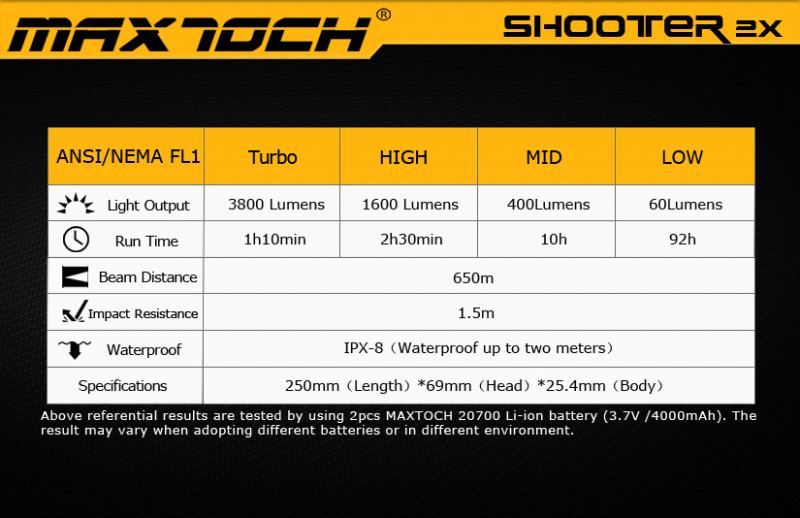 APPEARANCE
Box is just some thick cardboard with logo. Well, Arja Stark will like it`s facelessness )) No compare with majority of other motley packages.
But when it`s opened situation turns upside down. There are simple manual and a nice purse, that includes:
Maxtoch Shooter
Battery adaptor
o-rings
spare button (electronic + rubber part separately)
lanyard
that is a good thing that`ll prvent your light from get scrathed. And as well, this is more convenient to be stored at shelf when in box.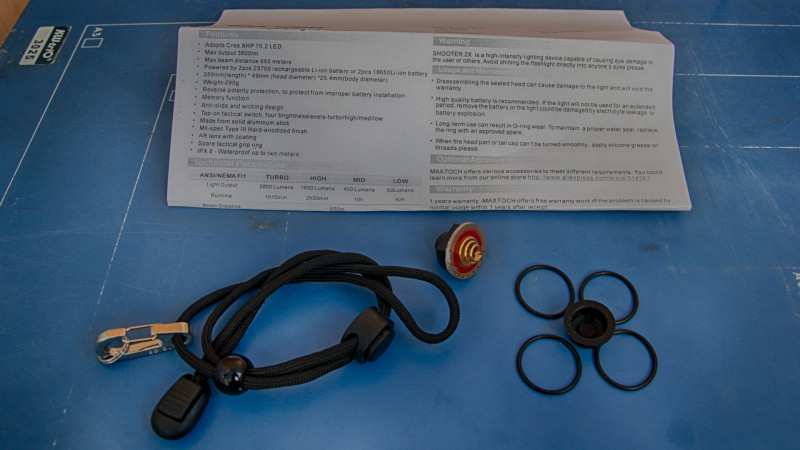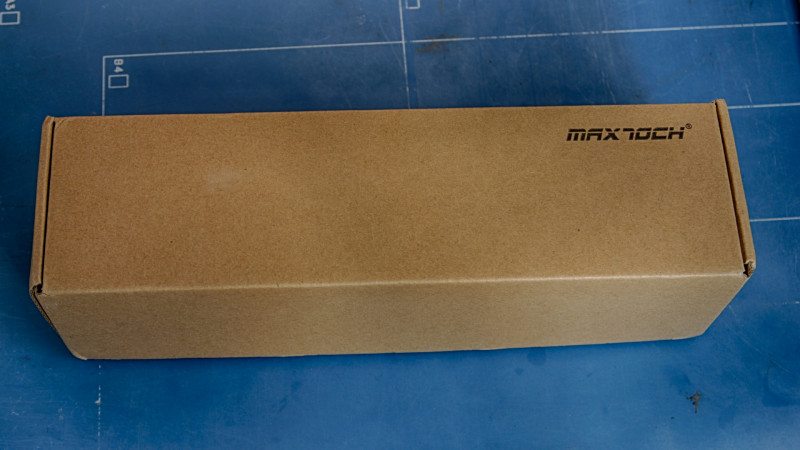 Flashlight, as i`ve mentioned, is absolutely the same as other versions. 250mm x 69mm x 25.4 mm and 290g. I was surpised to comfortably fit it in side pocket of shorts, when went for a walk with son.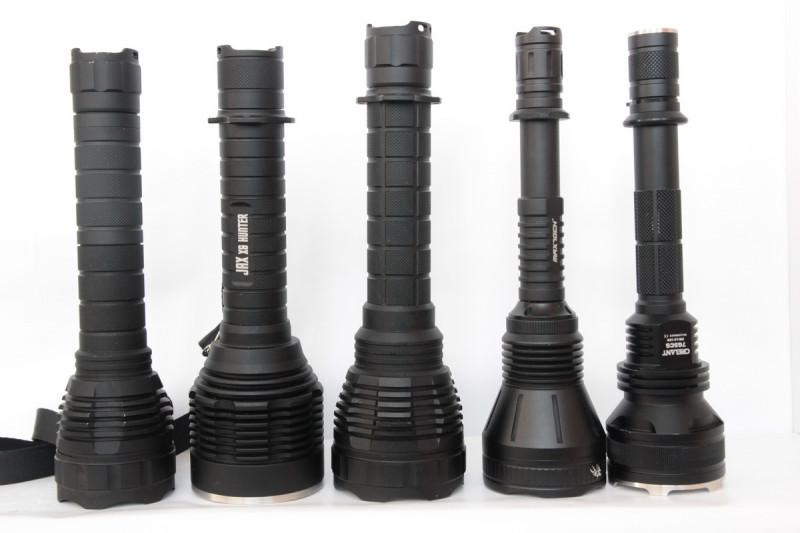 Here it is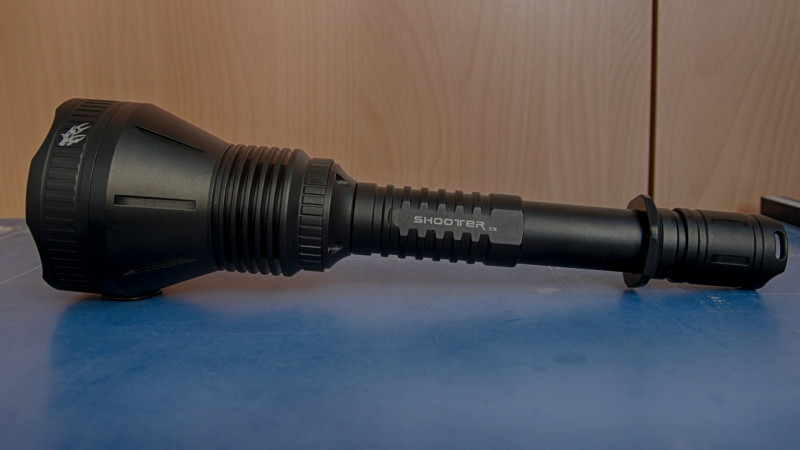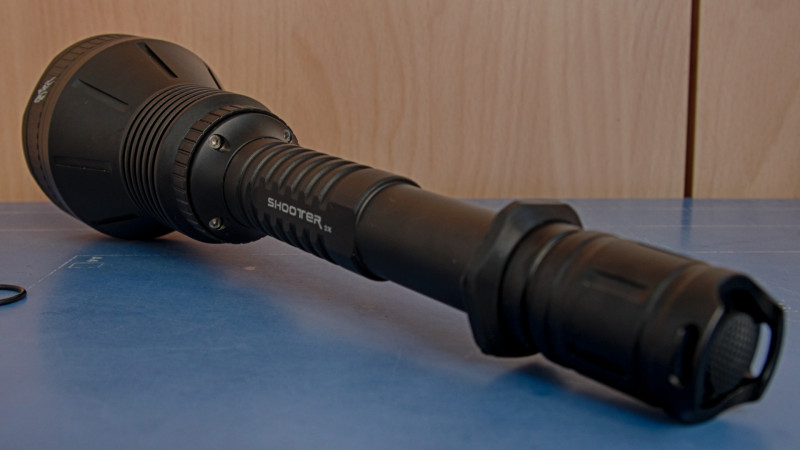 The difference is in LED.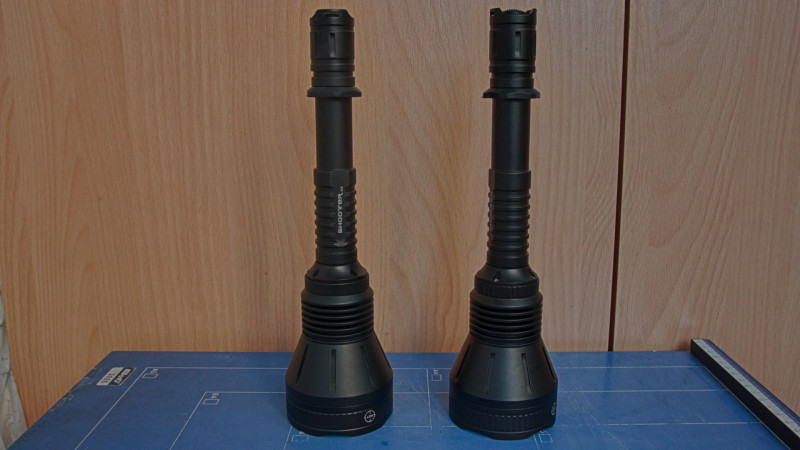 The rest is the same.
AR glass.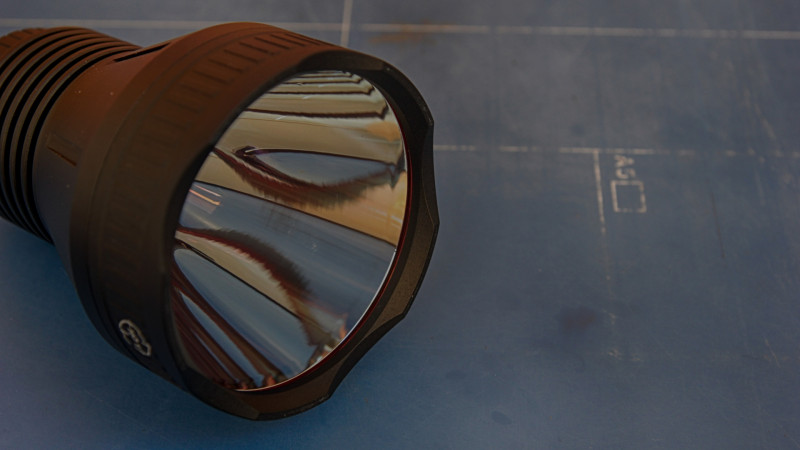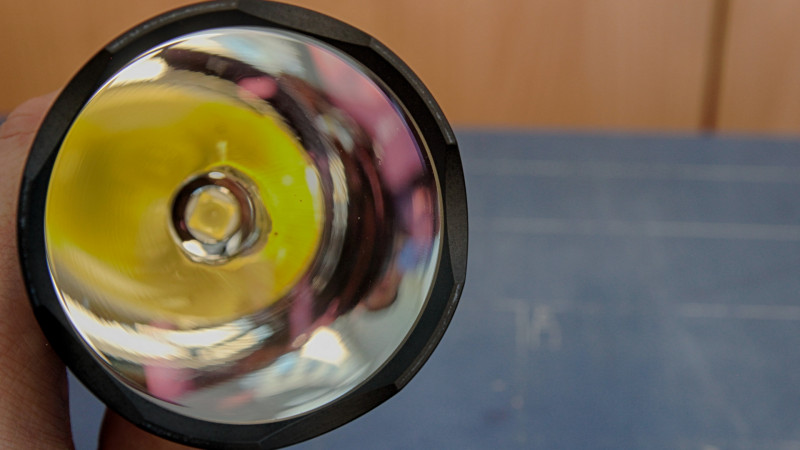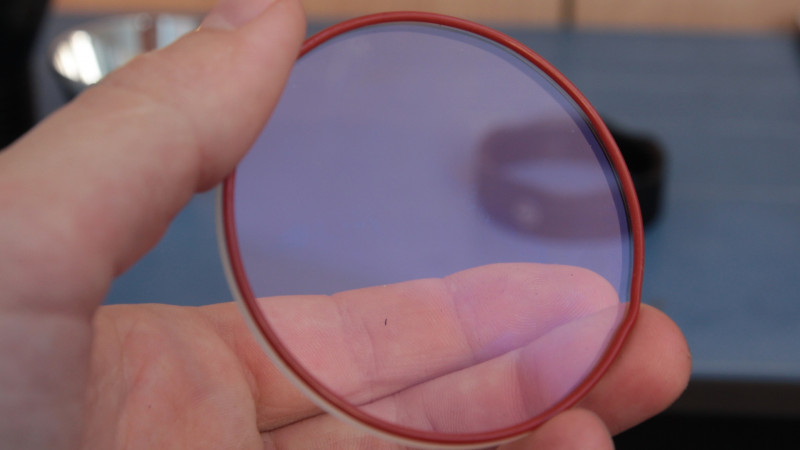 Actually I was surpised to see SMO here, because XHP LEDs are good with OP reflectors, for mid-range work. Since I tested L6, I`ve always wanted to test such LED with SMO and now I have chance )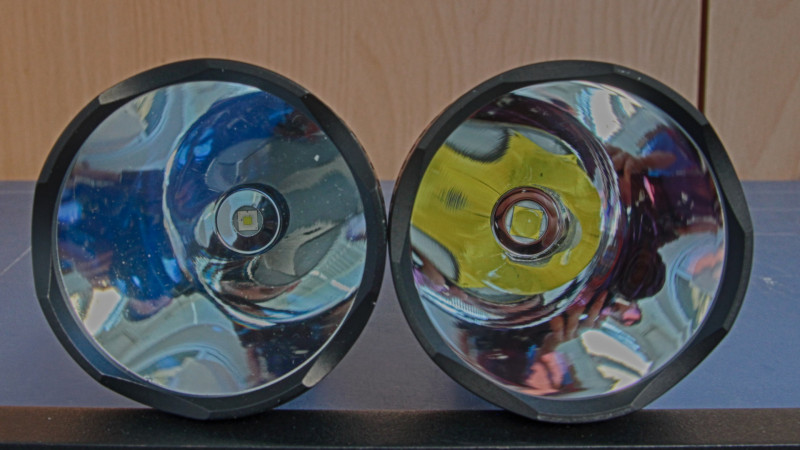 If i be lucky, parcel with L6 will be delievered before I go off for vacation. So i`ll make some comparisions.
What else. In my previous reviews, guys were sceptical when saw that part of head was bolted to body. They wrote that it may get unscrewed when attached to rifle by return of the shot. Well, those 3 hunters have been using flashlights very often sin last Autumn. Nothing happened.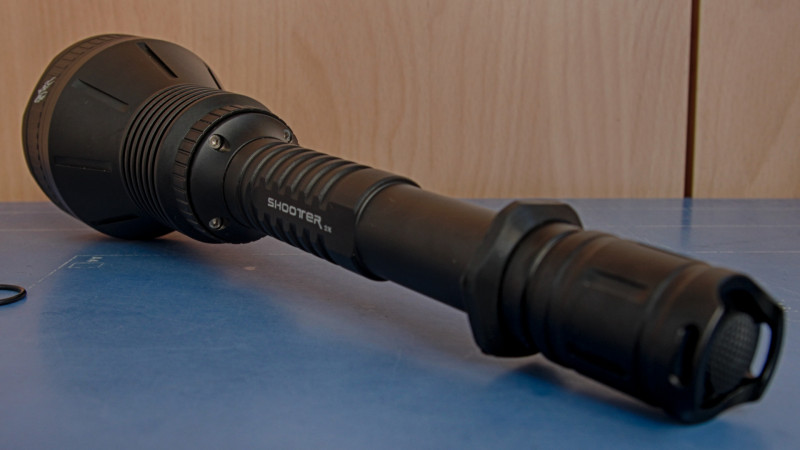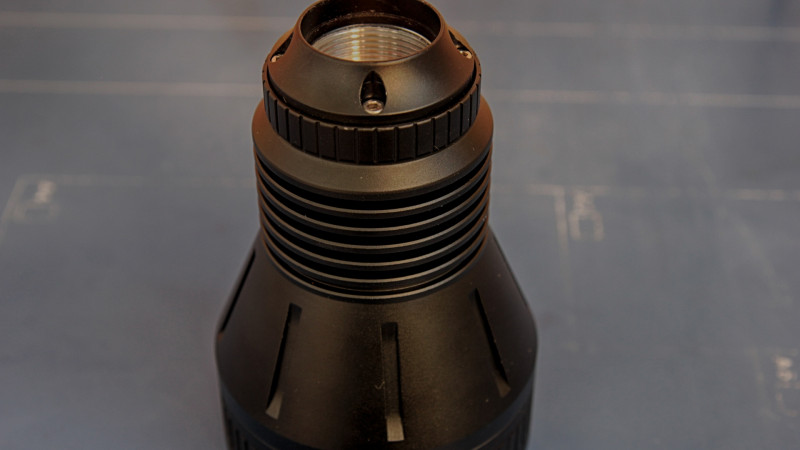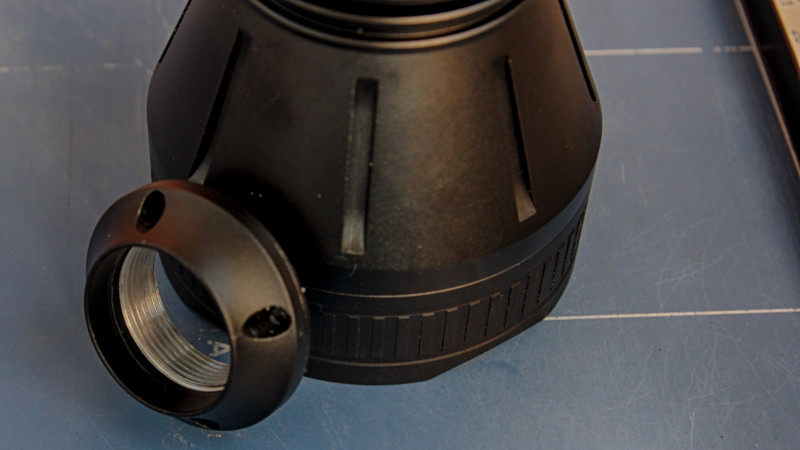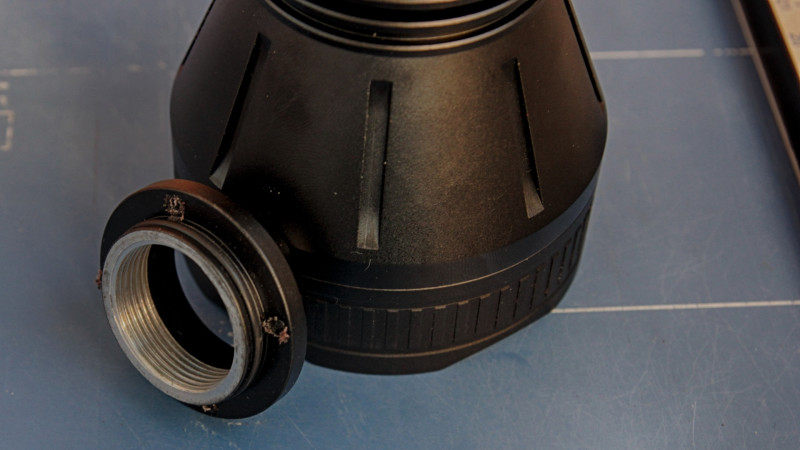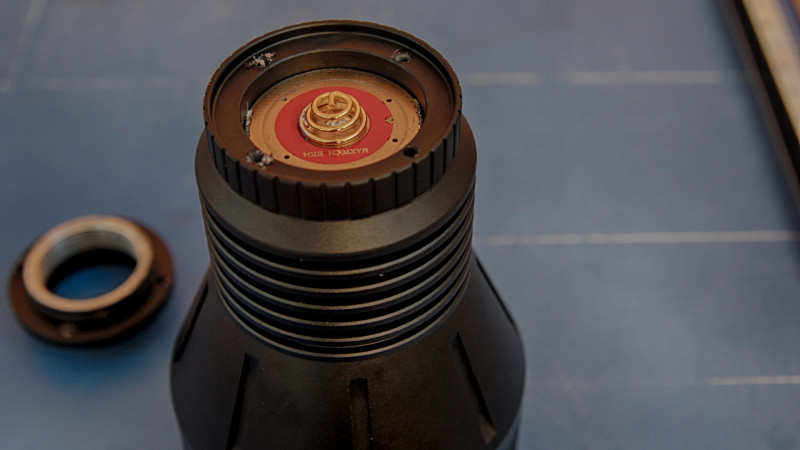 65mm diameter x 56mm deep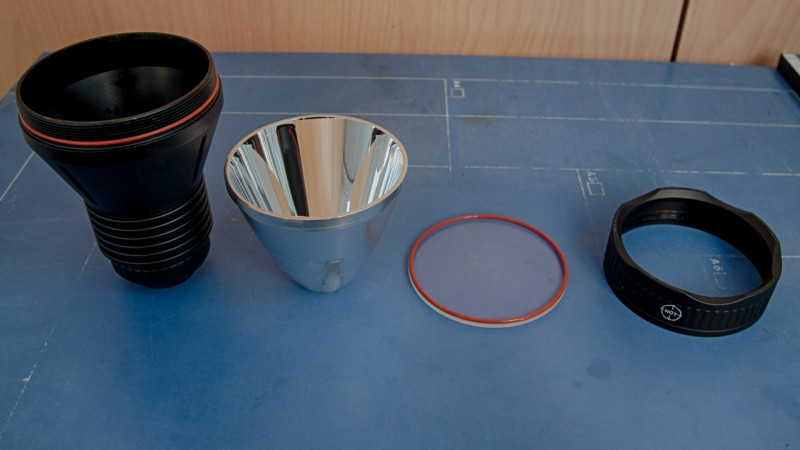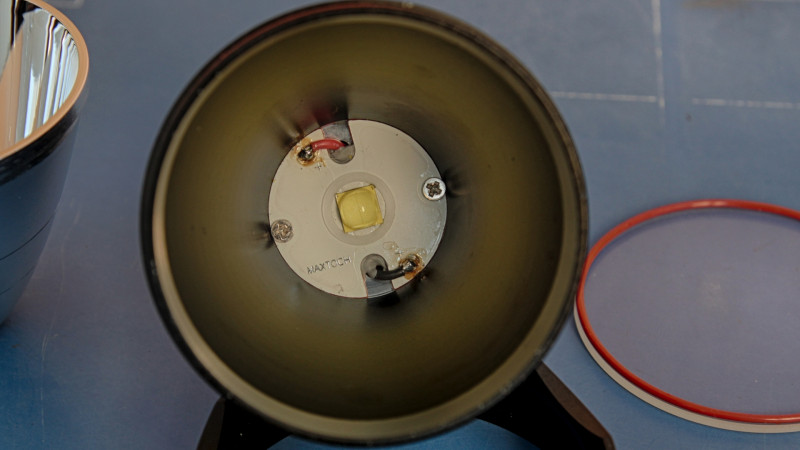 Cooling ribs are deep, seem to be ok.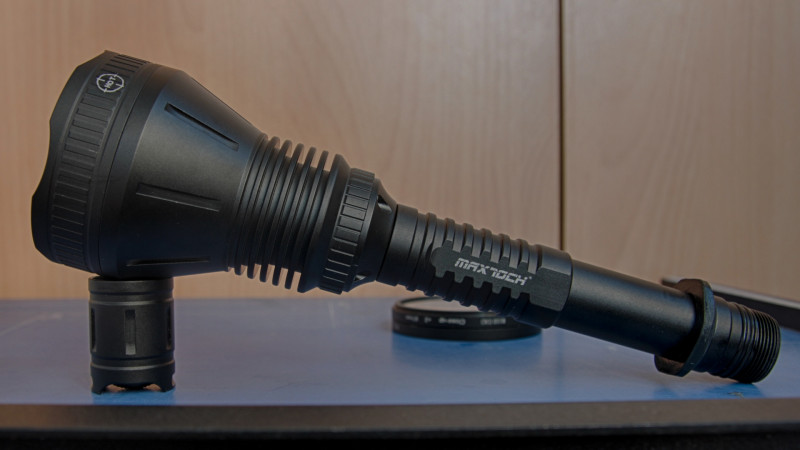 But, of course, they are away from L6\L2 one`s )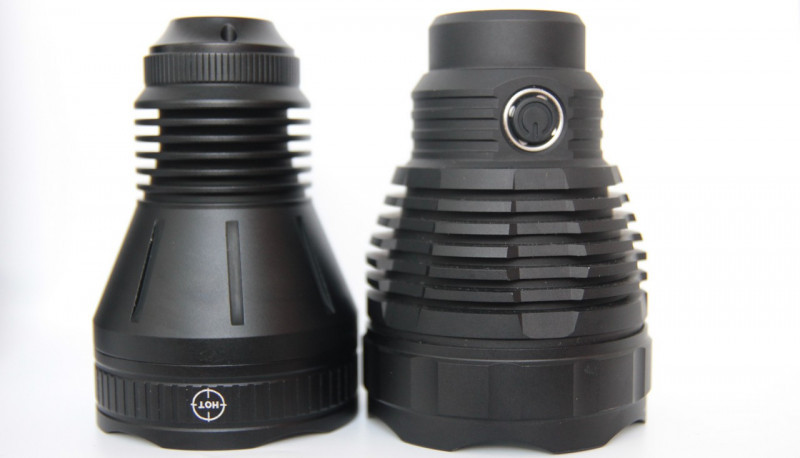 You can ask how Maxtoch managed to support 20700 if flashlight body is the same as previous models, which were used with 18650? Springs are shorter (and thicker), and it seems that inner diameter is little bit more to store 20700. Just minor improvements.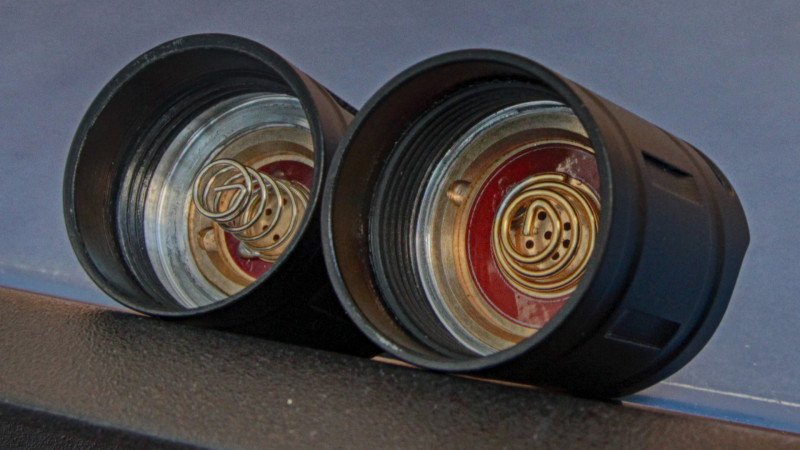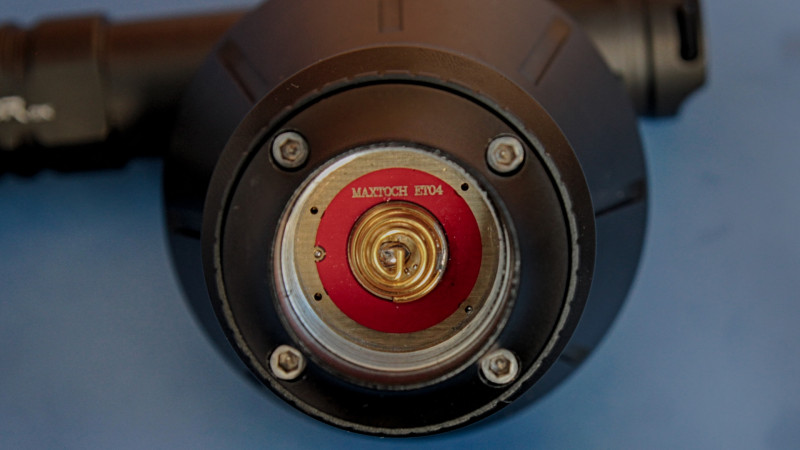 So, when I inserted a pair of my 18650 GA, flat top ones, i`ve seen that there is no contact at all.
A pair of protected button top batteries worked perfectly.
But to use flat top I have to put some magnets inside or just screw pair of cheap springs from old battery box.
I think that in this case MAxtoch have to add some kind of spring adapter.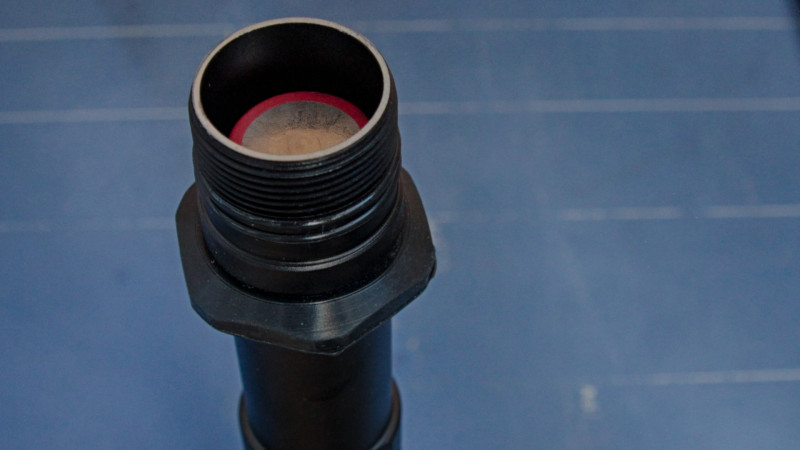 There is a tail button in the rear part, with a couple of holes for Lanyard.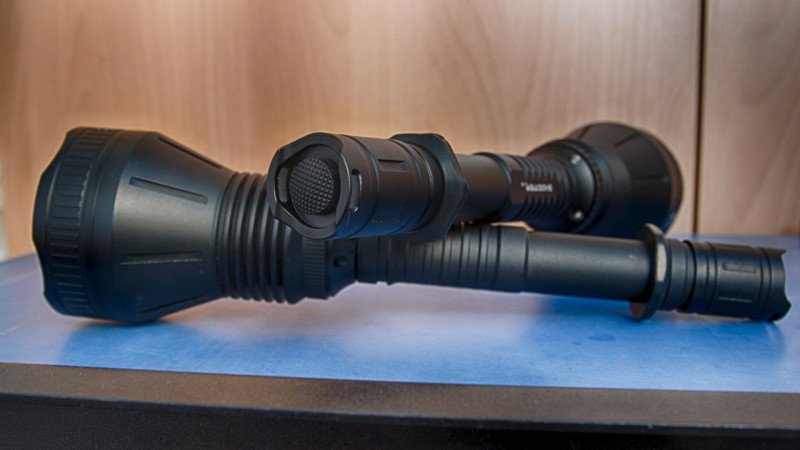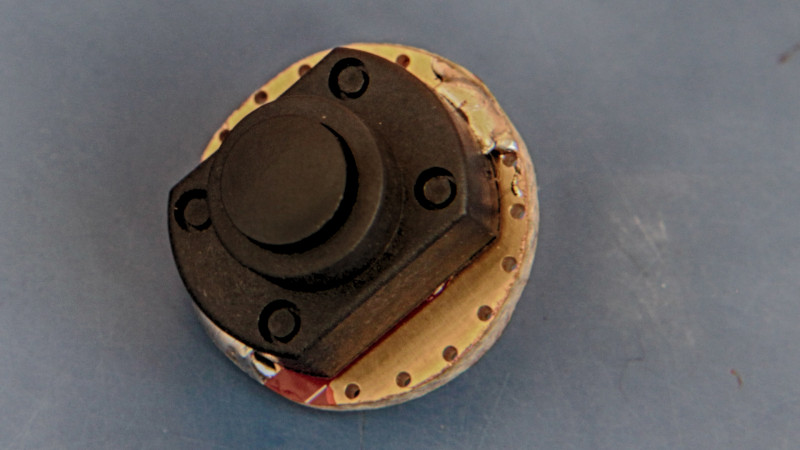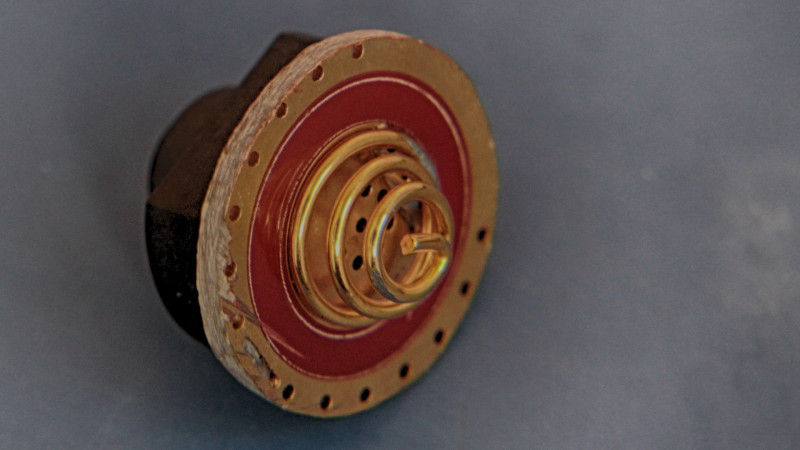 And rubber stop ring will provide better grip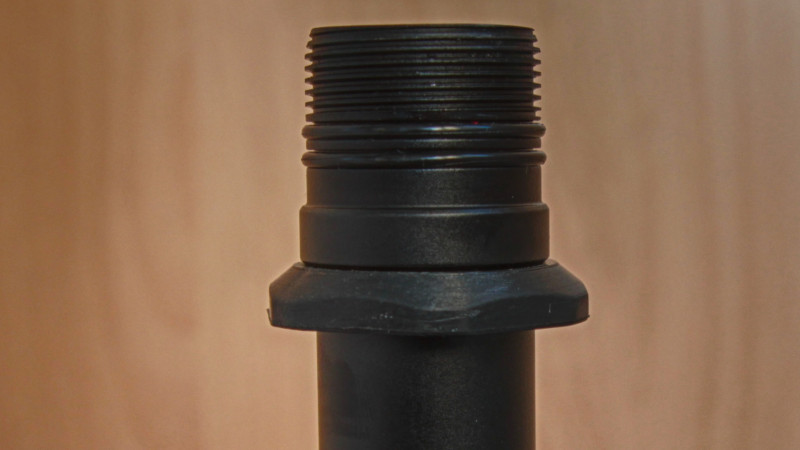 Middle part almost lacks any knurling. There are just some rings for better grip and that`s it. Machinery is good. Threads at tail are lubricated well, and worse at head.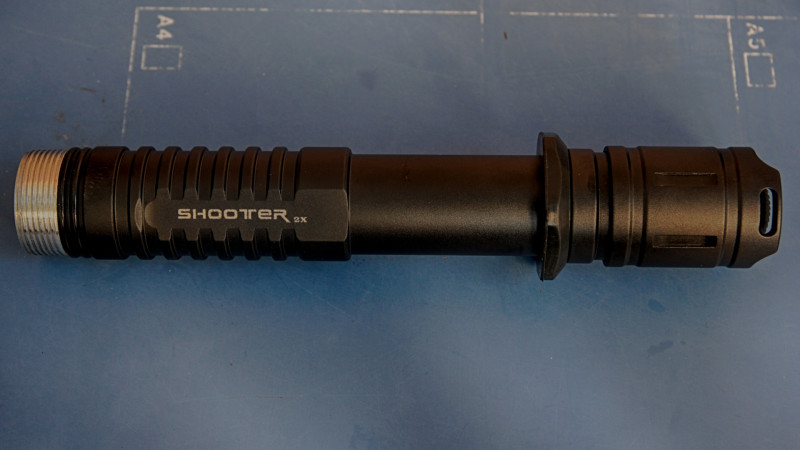 Weight balance is Ok, light fits hand comfortably.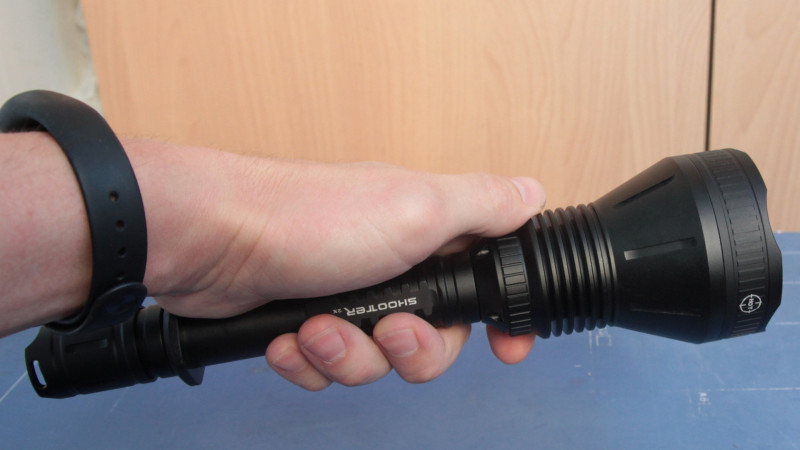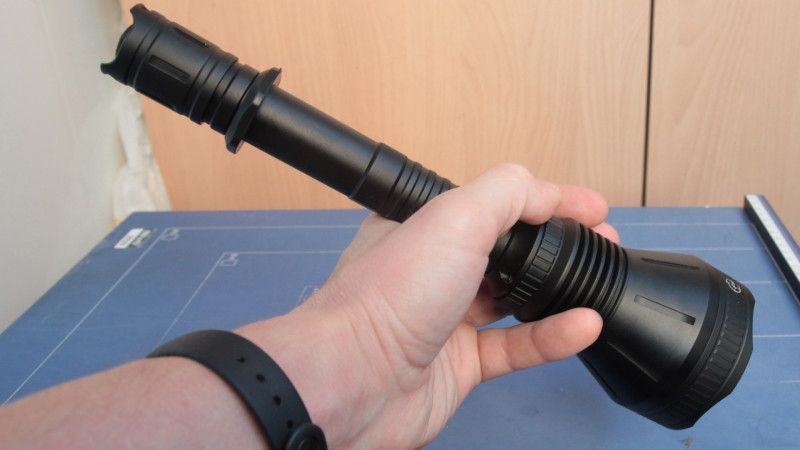 UI
Simple. Just take a look at pic

And I have to notice that order Turbo-High-Mid-Low is not the sort that I prefer. I like when brightness goes up, not down.
But in case there is a mode memory, that seems to be tolerable.
There is no strobe-sos. I don`t like and don`t use this mode, but I think MAxtoch might make hidden mode group with 2-3 half-clicks activation
PERFORMANCE
No visible PWM-shimmering.
NW, but colder than the one of longthrowing version.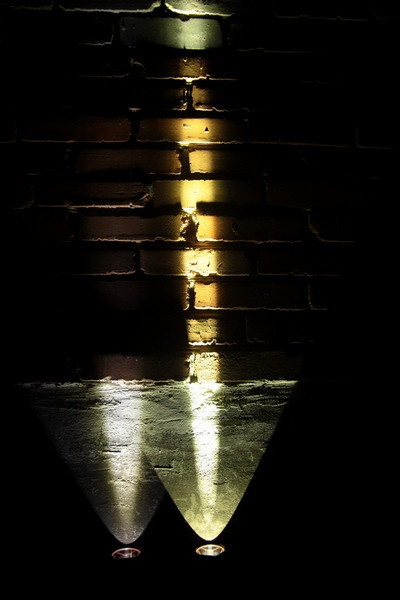 Sets of modes is no that bad, enough for long work in close range and short illumination somewhere in 300 meters ahead with wide-wide sidelight.
There is an artificial ring of light around main one, see GIF in basement.
Batteries cut off at 3A
Amperage is 0.055-0.37-1.6-4А
And here is a chart
I decided not to rely to bounce test to calculate brightness, lets wait for L6 to compare. But at least I can show runtime chart. And I can say that visually turbo seems to be the same it was of Convoy L6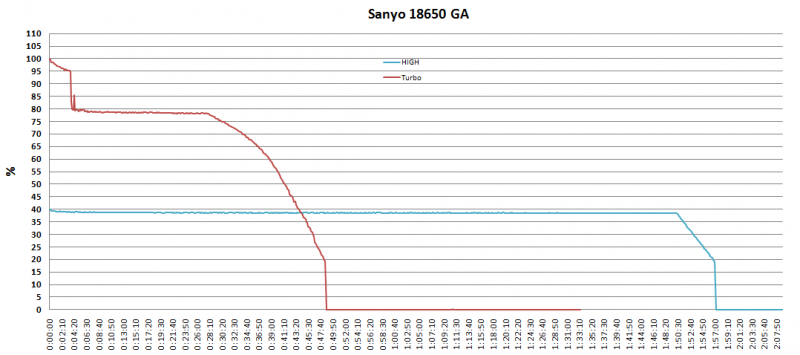 No time or thermal regulation.
Maxtoch manager said this: "To explain clearer, please note when the battery voltage is higher than LED VF value (around 6.4V), it has regulated output. When the battery voltage is lower than VF, the output drops accordingly. This is the best we can do to keep its regulated output. "
And here goes most interesting part )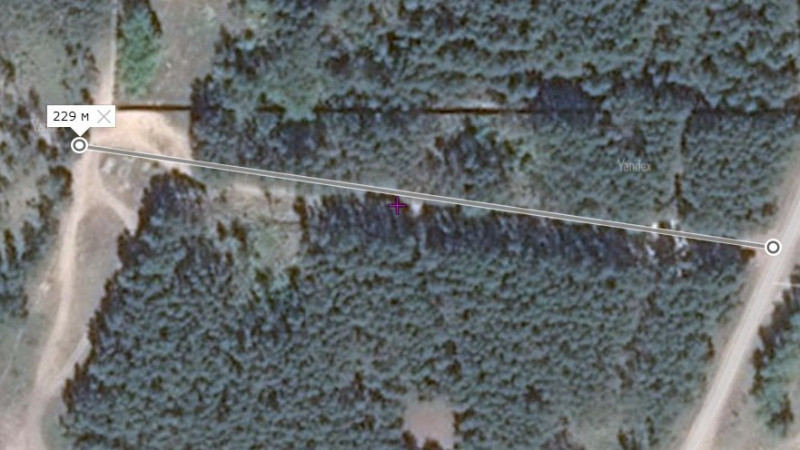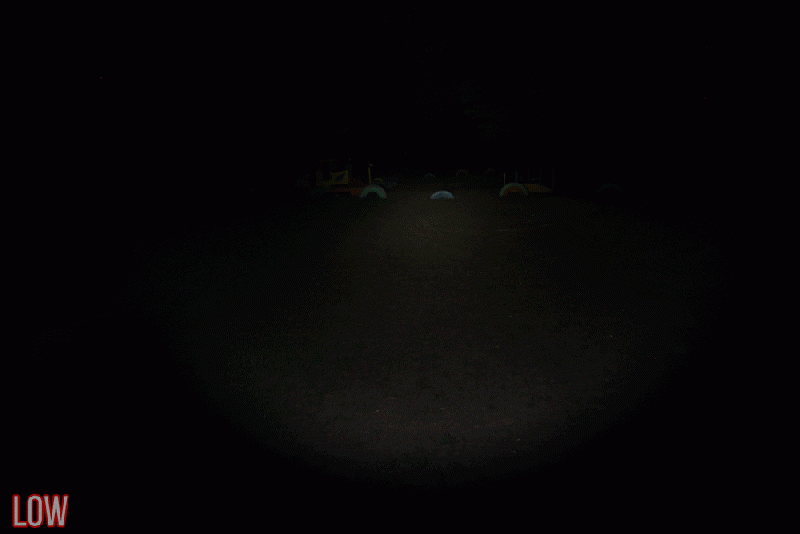 Just to show difference between XM-L2 and XHP70.2 in the same flashlight body and reflector.


VS Opel Meriva B headlights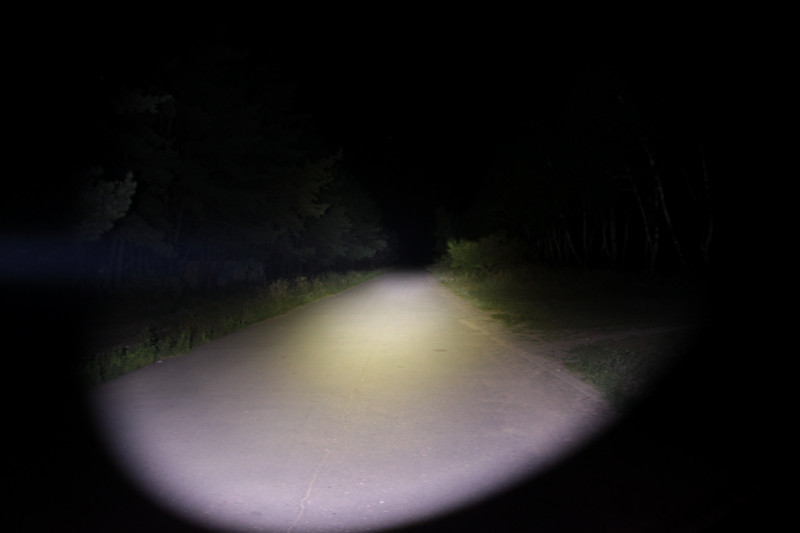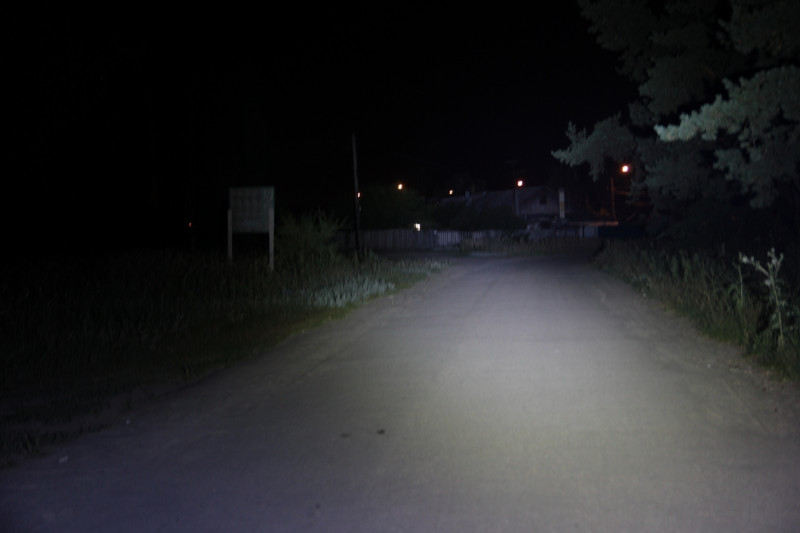 Hmm..SMO really effects to light distribution, make it longer. Of course sidelight looses some brightness this way, but still it is totally useble even in close range. With
SMO
, Maxtoch has to overperform L6 in range, but this is what to be tested. Though i`m sure it will be so.
I tried to remember other 2×18650
XPH
50\70 lights and remembered only Fenix TK47UE. This one has nice tail light, but cost way more.
L6 – has better runtime and keeps constant turbo, but is a heavy thing.
+ good compromise between throw and sidelight
+ supports 18650 + 20700
+ excellent buld quality
+ seems to be one of a kind as all the other 2×18650 are longthrowers. And 2×26650 are so big and heavy.
+ there is a remote button, good for hunters who need serious sidelight up to 250-300meters range ".
- revers order of modes
- no battery adapter for flat top batteries
- I think that i`ll perform better with 20700 which are expensive and rare
You can leave "narmattaru" in comments and get 5$ discount. That `s just a week long deal.