This is the Thorfire TK15 S , which is an upgrade to the TK15. I received this light for a really deep discount from Thorfire (99% off) after they had asked me to do a review of the light , No other compensation was recieved.
The TK15 S can be found at……… (link non affiliated)
https://www.amazon.com/ThorFire-Flashlight-Emergency-Rechargeable-Includ...
The TK15 S is an EDC , 18650 powered light with XP-L2 emitter.The light is a pocketable size and reasonably small for a light that utilizes the 18650 cell and both a tail switch and side switch.
The tail switch is used for On and Off and Momentary on only , while the side switch controls the modes of ….
Moon / Low / Medium / High and then with each press once in high mode , the light goes in reverse order with each click of the side switch back down to moon……there is also a hidden strobe which is activated with a quick double click and a bicycle strobe which is activated with a long press. The light memorizes ANY of these modes including the strobe and bicycle strobe , so any of the modes on the light can be put into memory to come on the next time the light is turned on , by simply clicking the light off in the desired mode you want it to come on in next time.
The tail switch is also a momentary or "Tactical" type switch and with a half press it activates the momentary on.
I also tried a variety of cells in the TK15 S and all the cells from protected to unprotected and flat top to button top all work in the light well , other than the longer protected cells can be pretty tight and fully compress both springs it seems , but I had no problems with the light functioning properly even then.
There is 2 step down timers on the TK15 S , with the first one set at 3 minutes , at which time the light steps down to Medium mode. After that mine stepped down again at 37 mintues to the Low mode and remained there until I turned the light off later. (shown in below charts)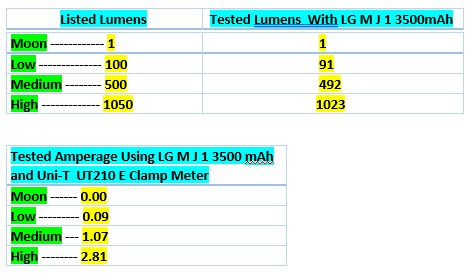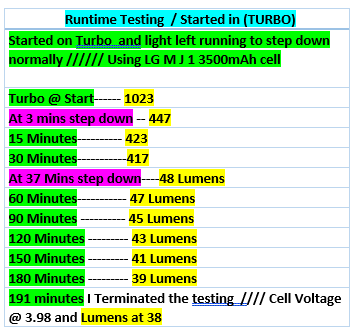 Although a smooth reflector is used in the TK15 S the beam is not a really tight beam as a thrower would have , but it does achieve a decent amount of throw for the small reflector , while also having somewhat of a floodiness with it for a good balance of throw and flood. The beam is not defined as you see with a smooth reflector light usually either , it is a more blended beam , but not as much so as the OP reflectors. The tint is a neutral tint just on the warmer end of the neutral spectrum. I would guess it to be in the 4600K-ish to 4800K-ish range as my best guess.
The finish on the light is not a really shiny finish , but at the same time it is not a matte finish either , just kind of a nice sheen to it and a good feel. Overall the finish is very well done though and I found no bare spots or thin spots on the light I received. The tail switch and side switch both work and feel very good on my light , with both switches moving very smoothly and NO fiddling to get anything to work like it should with the switches. The knurling is also well done on the TK15 S and it is semi aggressive but not overly so, with a good feel to it.
The threads at the head and tail ends of the tube are square cut and feel very smooth and also were lubed well when I got the light.
The TK15 S will tail stand , but with the thumb cuts outs you need a fairly level surface for this.
The only bad news so to speak is that if you want to mod this light it will be hard to get apart. I dont know yet just how hard , as I havent tried too much , but it does seem the Bezel is glued and also the driver retainer ring didnt want to move when I tried to loosen it.
Other than that , Overall I like the upgraded TK15 S and feel it is a very well made and useful general purpose light.
NOTE: In the still beamshots segment and in the main video itself , I kept saying / listing "Turbo mode" this light in fact does not have Turbo , but instead is as listed in the above written portion with ……..Moon / Low / Medium and High modes in the main group of the UI.
For those who do not want to watch the whole video , the Still shots and Beamshots start at 6:46 of the video timeline and the outside live footage comparing the Thrunite TC12 V2 and Nitecore EC20 start at 10:59 of the video timeline.
Video followed by listed specs……….

1. Cree XP-L2 LED with a lifespan of 20 years.
2. Use one 18650 3.7V battery (not provided).
3. Size: approx. 132mm (length) * 24mm (body diameter)
4. Weight: 77g (battery excluded)
5. Tail switch for power on/off and side switch for mode selection.
6. Made of aircraft-grade aluminum.
7. High efficiency lens with anti-reflective coating.
Super Bright: Latest XPL-2 V6 CREE Led delivers Max 1050 Lumens, covers a long throwing of 150 yards.
• Multiple 6 Modes: Moonlight(1LM)/Low(100LM)/Mid(500LM)/High(1050LM)/Hidden Strobe(1050LM)/ Hidden Bike Blink(200LM) with memory for daily different usage; Hidden Strobe for emergency, self defense; bicycle blink for cycling.
• Compact&Durable: Made from aviation aluminum material with premium type III hard -anodized tough for extreme condition; IPX8 Waterproof standard for use in heavy rain.
—
Click any link to see MY REVIEWS:
Maxtoch M24 Sniper / Maxtoch 2X Shooter (2016 factory dedomed) , 2X - XHP 70.2 / Maxtoch Xsword / M1 Archer *** ### ThruNite // Archer 2A V3 / Ti4T / TN4A HI / TH10 / TH20 / C2 Mini / TC12 V2 / T01 /  , neutron 2C V3 , TC20 / Catapult V6 / TC15 / TC15 CE *** ###  Olight // H2R Nova , S10R III / S30R III / H1 Nova / H1 R Nova / X7 Marauder , PL Mini ,  M2R warrior //// Orca T11 / Nitecore EC20 / BLF A6 / Custom Convoy C8 / Lixada Triple 3800LM / Lixada 1000LM / LuxStone X30 / Manker E02 / Manker E14 II /  ### Thorfire /// PF03 , PF04 , Upgraded PF04 , C8 , S-50 ,  VG-10 , VG25 , C8s , BL30 , TK4A  , S1 , VG15 S  , TK 18 //// ##WowTac// A4 , A1 (original) , A2 headlamp , A3 //// Acebeam L16 /// Massdrop (Lumintop) Brass EDC