I bought 2 of those from Banggood
The group buy price was 40$, likely a coupon will come out when 2. batch is shipped
I am honest and will judge the light as it is with its pros and cons
.
Manufactory specification:
Product name: BLF Q8 4X XP-L 5000LM Professional Super Bright LED Flashlight
Brand: BLF
Model: Q8
Emitter Type: XP-L HD V6 3D
Light temperature: 4750K-5000K
Light color: Neutral White
Mode: Smooth ramping or mode set operation
Material: Aerospace grade aluminum alloy construction
Total Emitters: 4x
Battery Configurations: 4 × 18650 or unprotected button top (not included)
Working Voltage: 3-4.2v
Switch Type: Electronic switch
Switch Location: Body side of the flashlight
Peak Beam Intensity: 50,000+ cd
Impact Resistant 1.2meters
Max Output: 5000+ lumens
Range: 450+ meters (max)
Lens: High transmittance glass
Reflector: Aluminum alloy mirror reflective cup
Waterproof: IPX-8 waterproof
Color: Black
Weight: 400g without battery
Size: 132mm x 59mm x 50mm(length x head x body diameter)
Features:
• Compact and lightweight 5000 Lumens flashlight
• Utilizes four XP-L LEDs
• Uses four 18650 batteries for maximum runtime up to 1500hours
• Features advanced temperature regulation (ATR) technology
• Integrated power indicator in side switch indicates remaining battery power
• Flashlight can blink out voltage with 0.1V accuracy
• Intelligent memory function for brightness levels
• Direct access to ultralow and turbo outputs
• High transmittance glass
• Stainless steel bezel ring protects core components from damage
• Constructed from aerospace grade aluminum alloy
• HAIII military grade hard-anodized
• Waterproof in accordance with IPX-8
• Tail stand capability
Package included:
1 x BLF Q8 4X XP-L 5000LM Professional Super Bright LED Flashlight
2 x Flashlight Body Tube O-ring
1 x Flashlight Head Lens O-ring
1 x Switch cover
1 x English Manual
The parcel arrived after 14 days shipping with to Germany which is fast from China.
.
Package and content:
The light boxes came packed OK with a wrap around the card box and in a plastic bag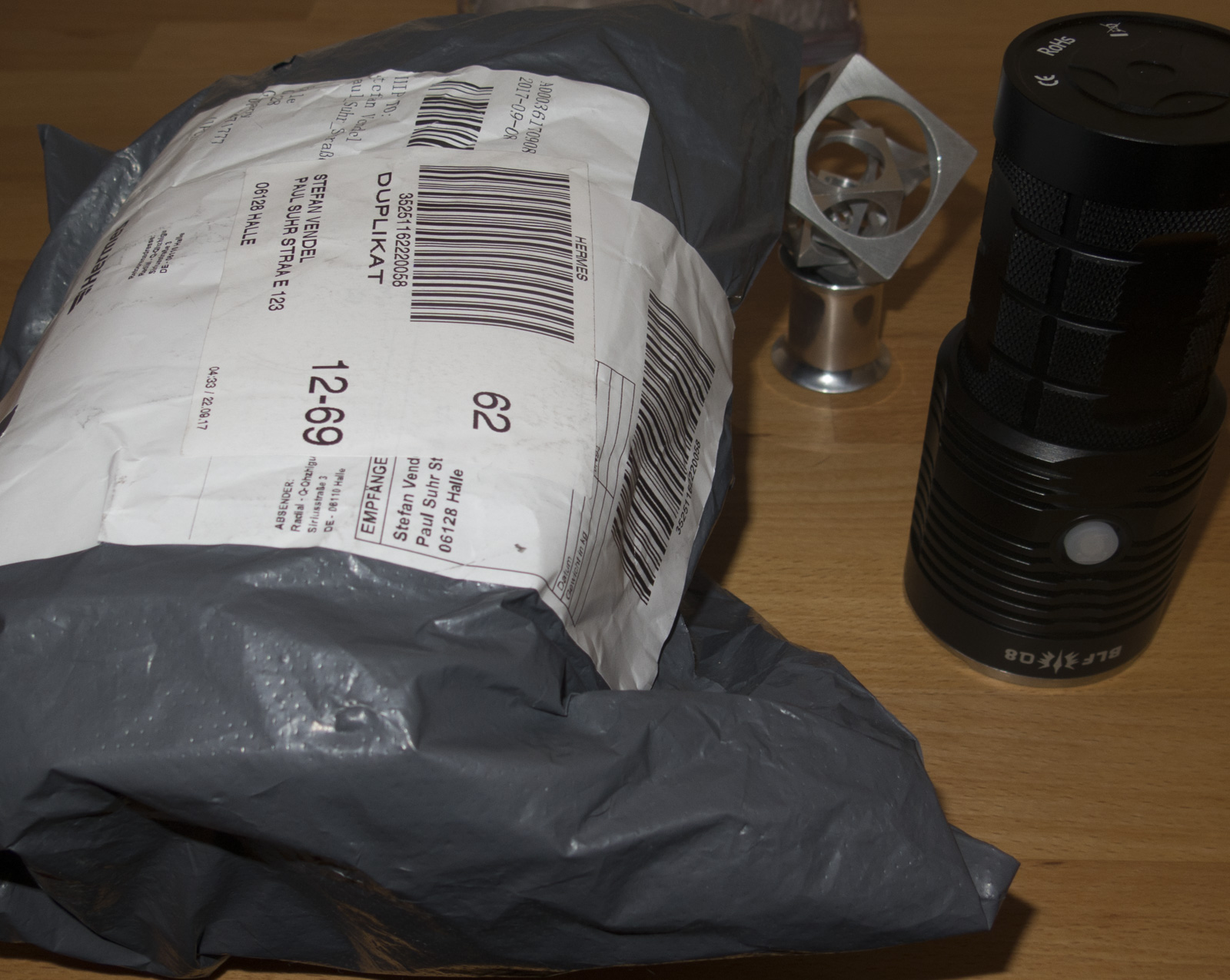 The light comes in a package typical for Thorfire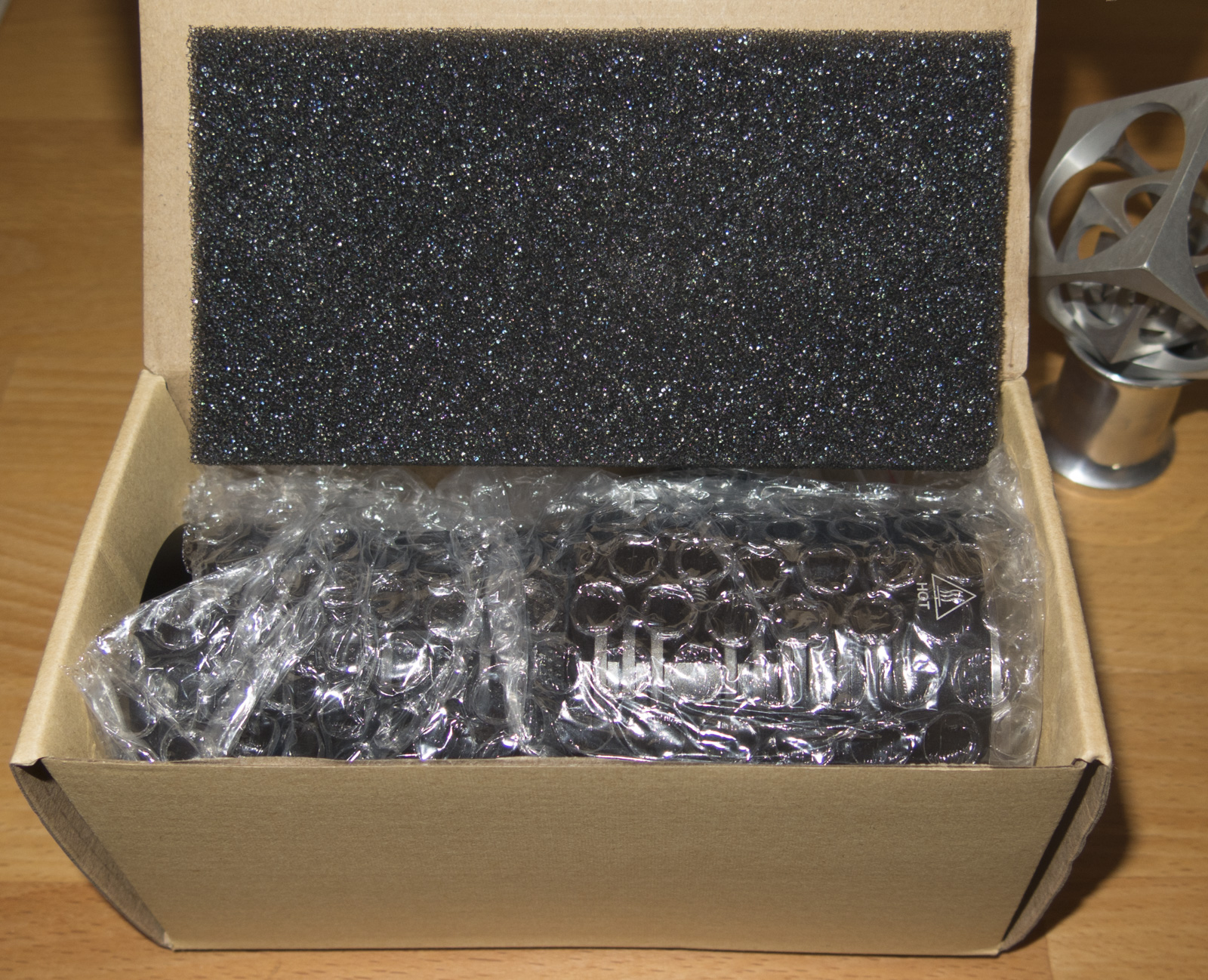 In the box the light is packed in some bubble wrap
.
It comes with:
- 2 spare o-rings,
- switch cover,
- cheat sheet and manual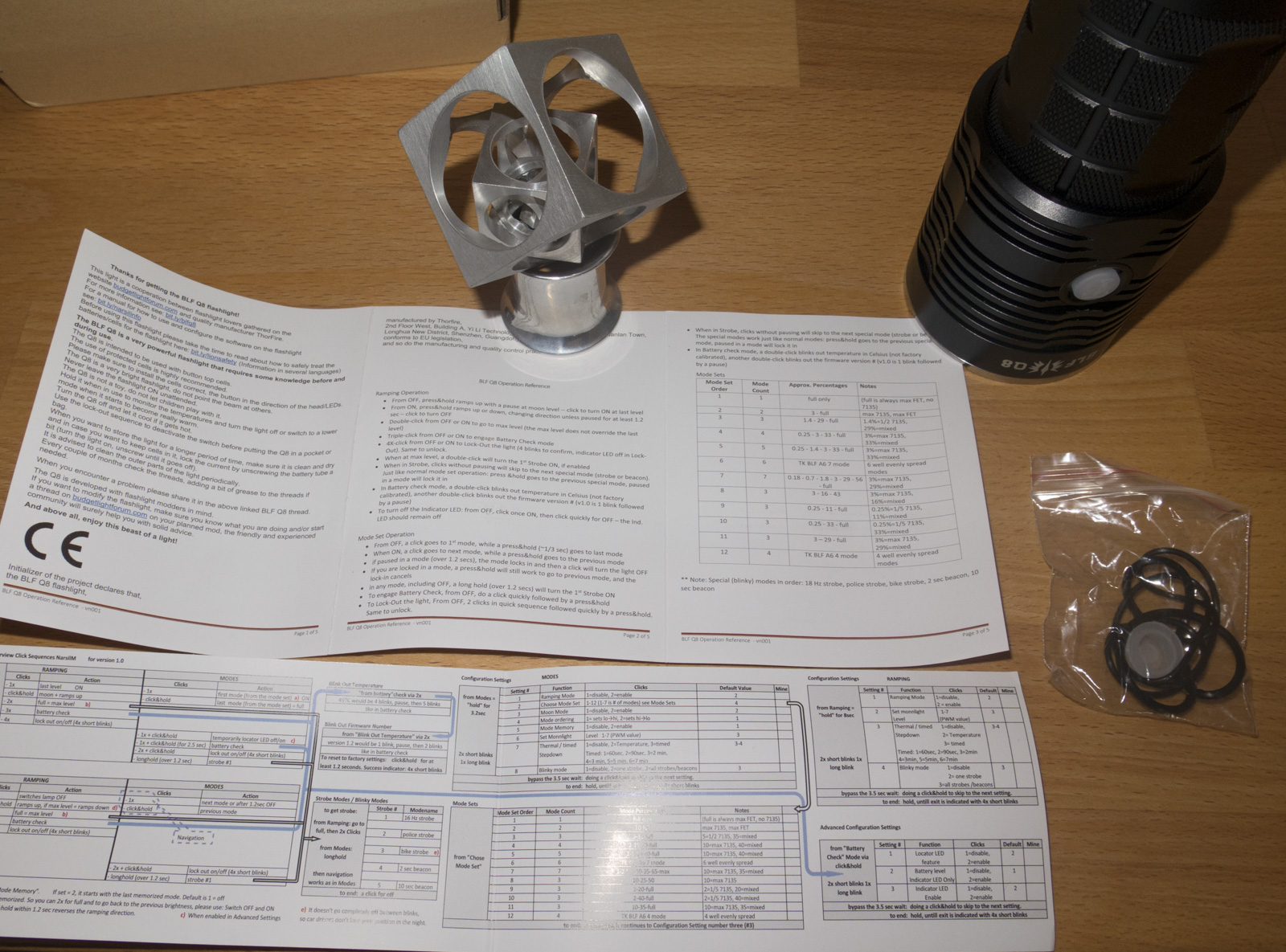 The cheat sheet can be folded and stored in the end of the tube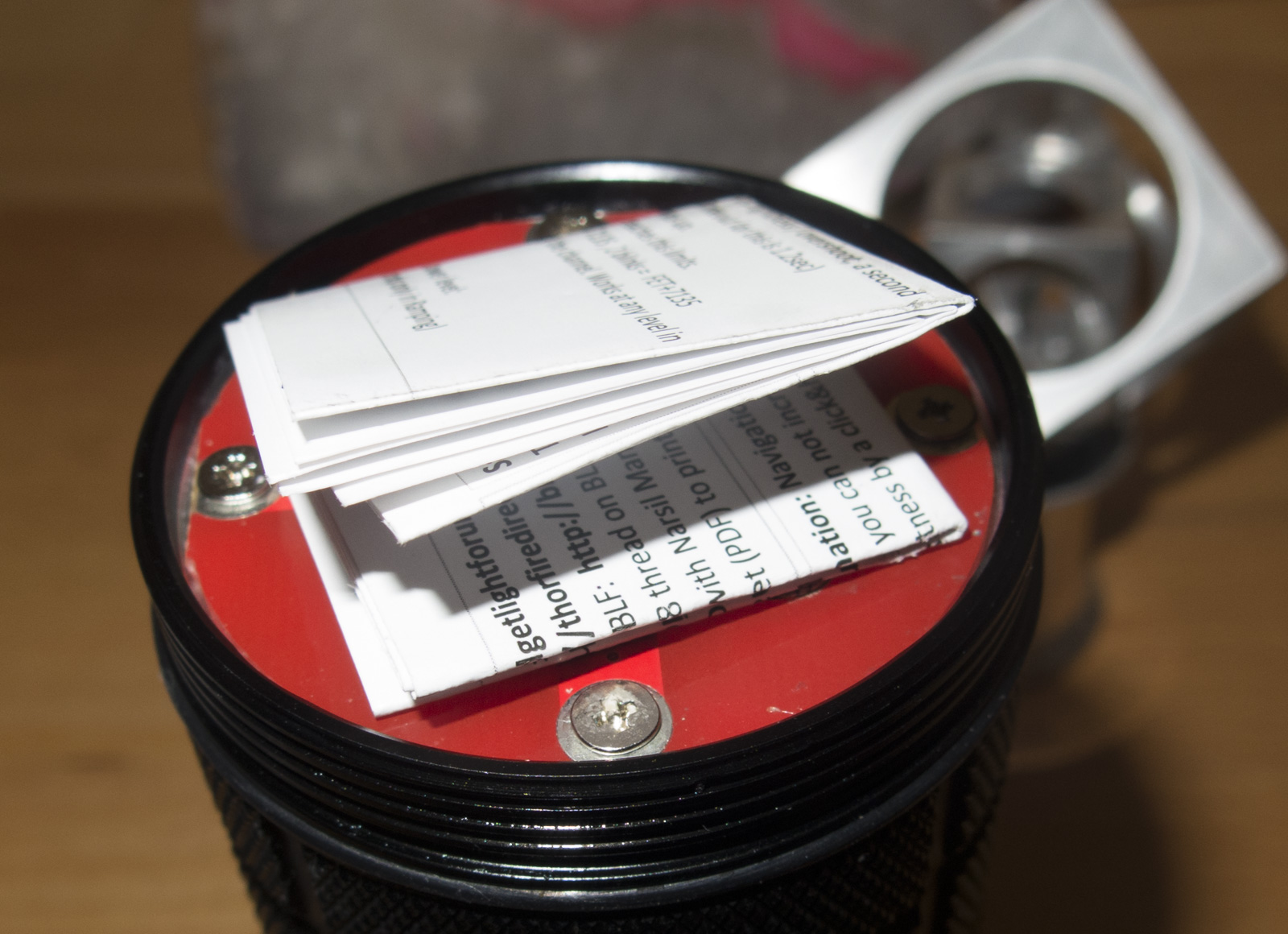 Photos of the light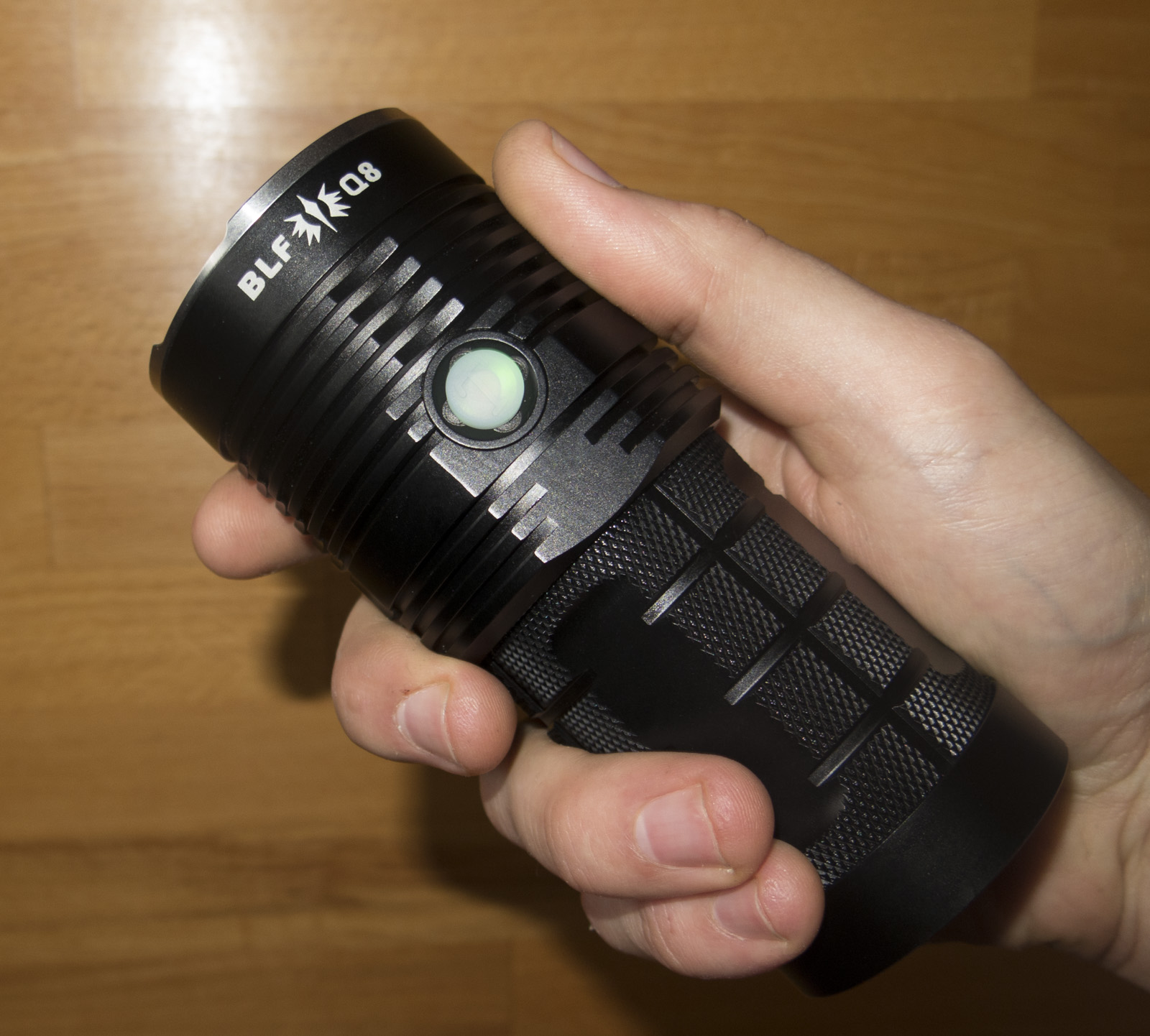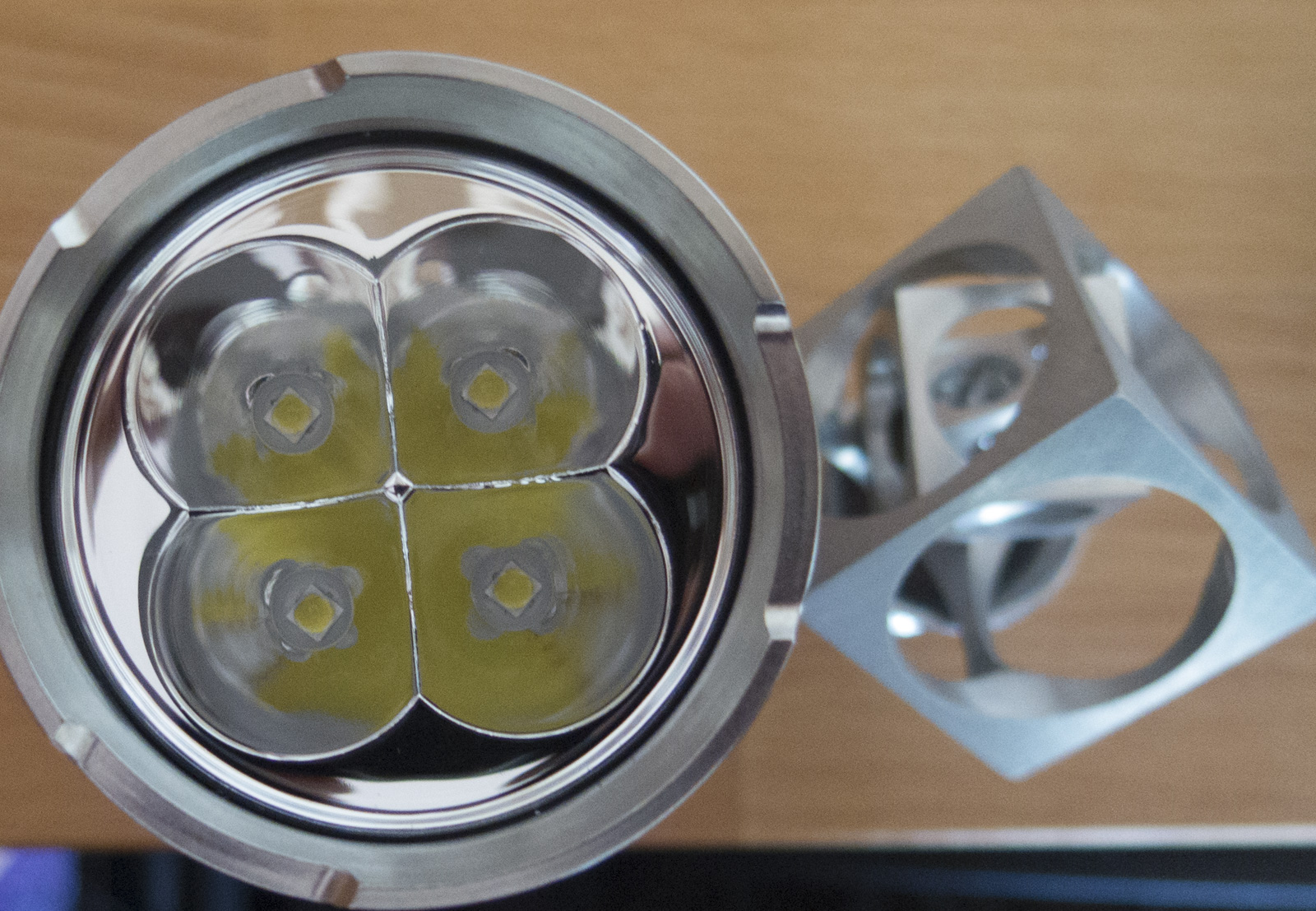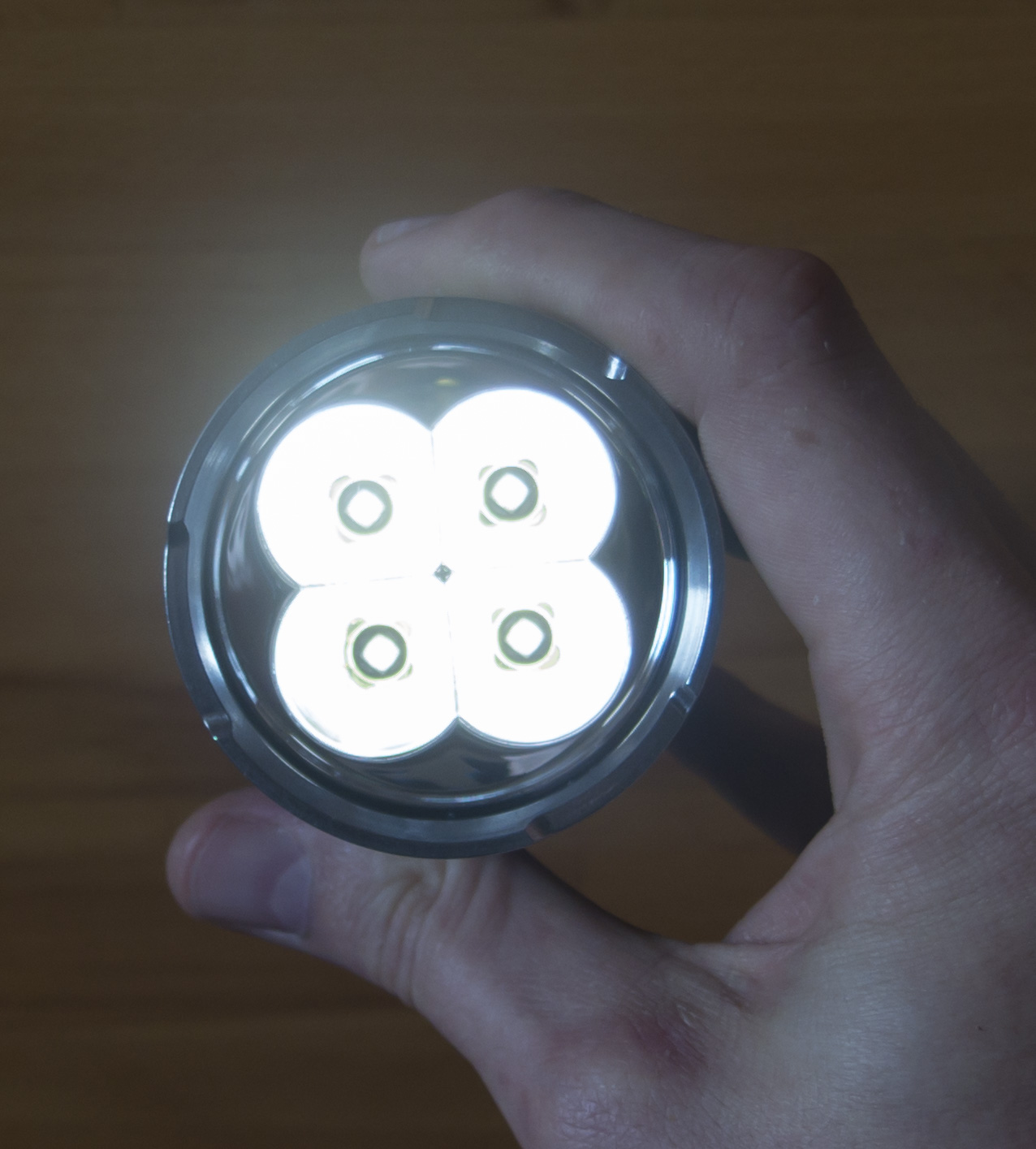 it fits pockets but you feel the light you carry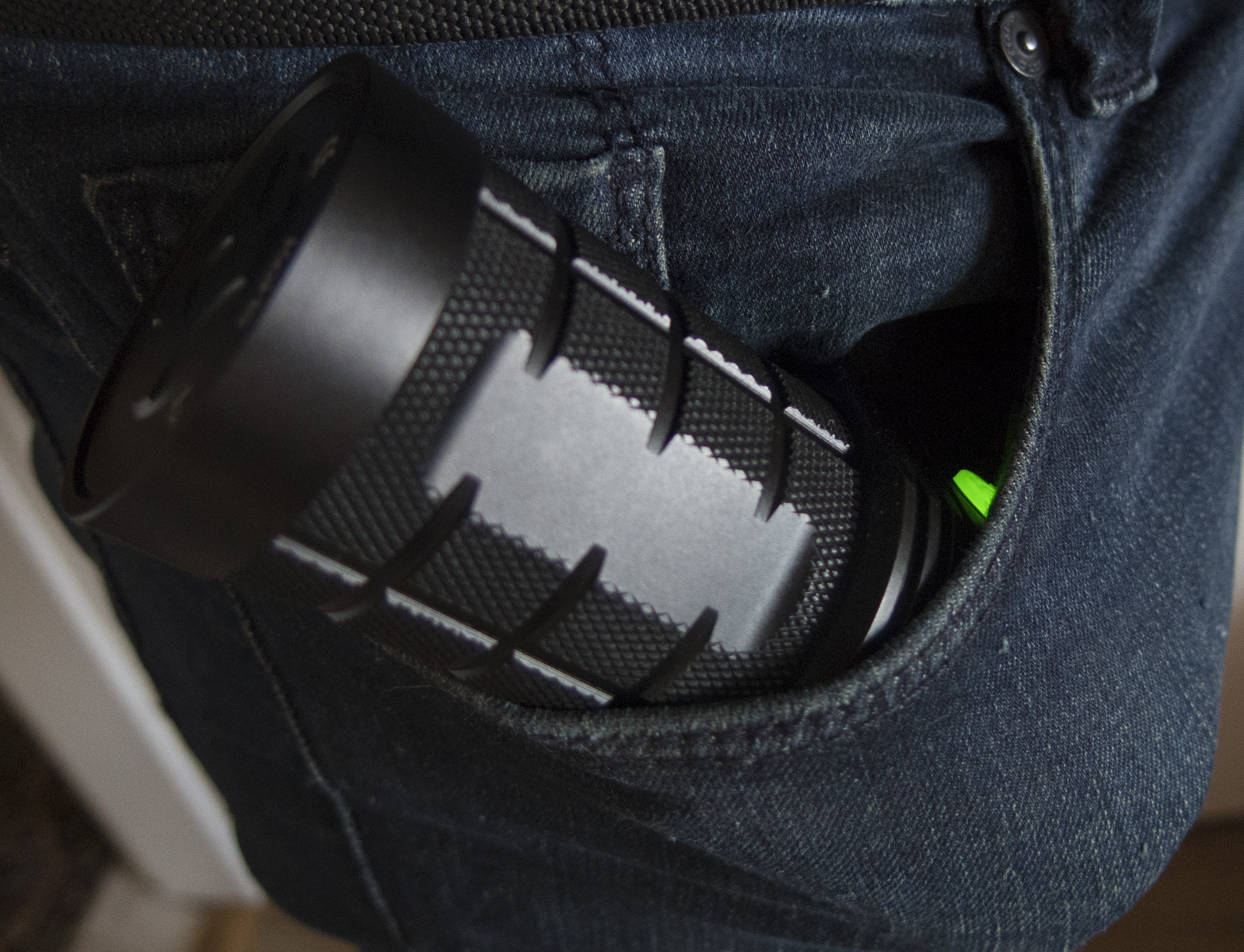 .
Comparism and teardown:
Size compared to other 3x or 4×18650 lights the Q8 compared to my other lights it is quite small, as it has no battery carrier or deep reflector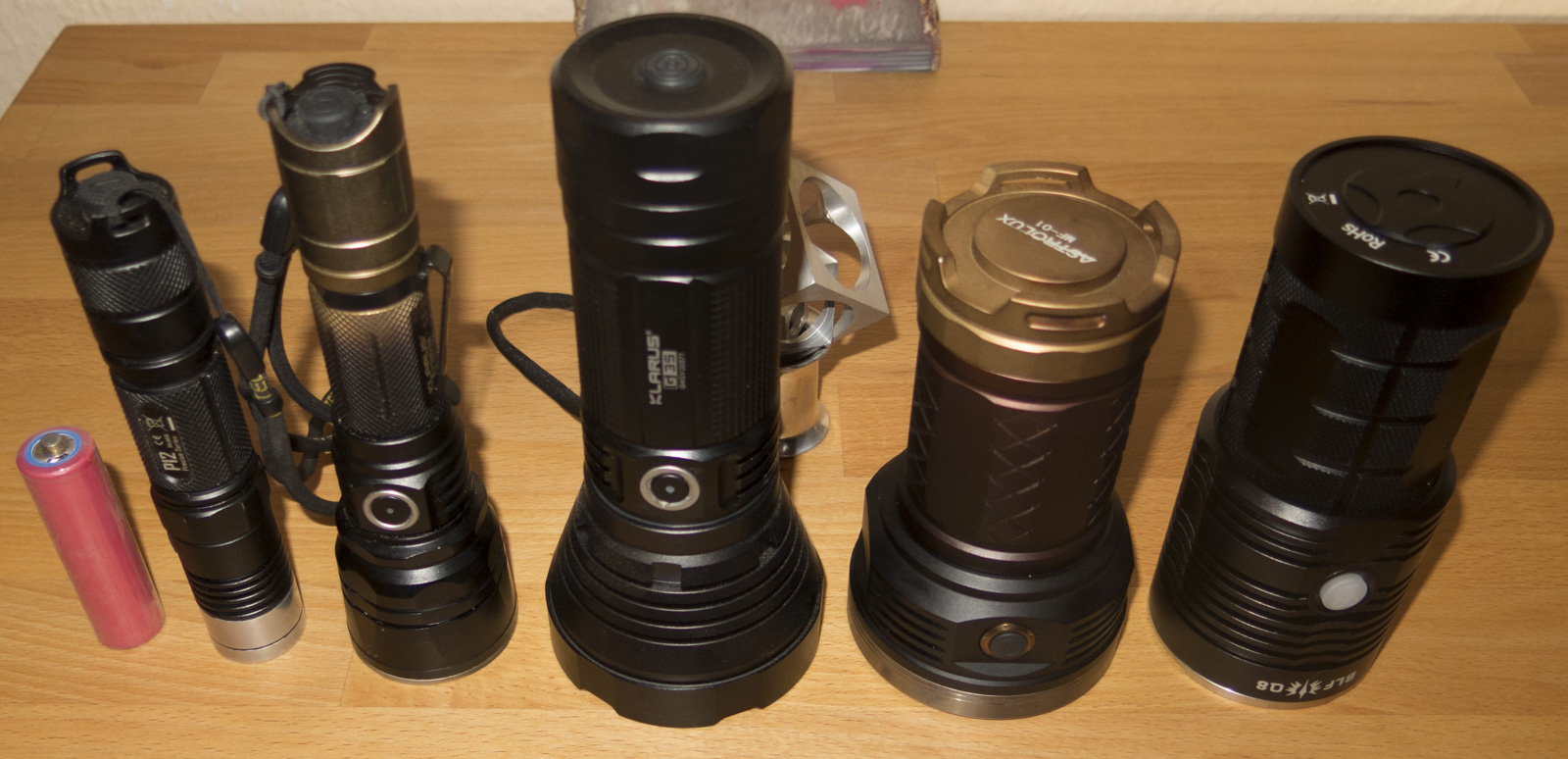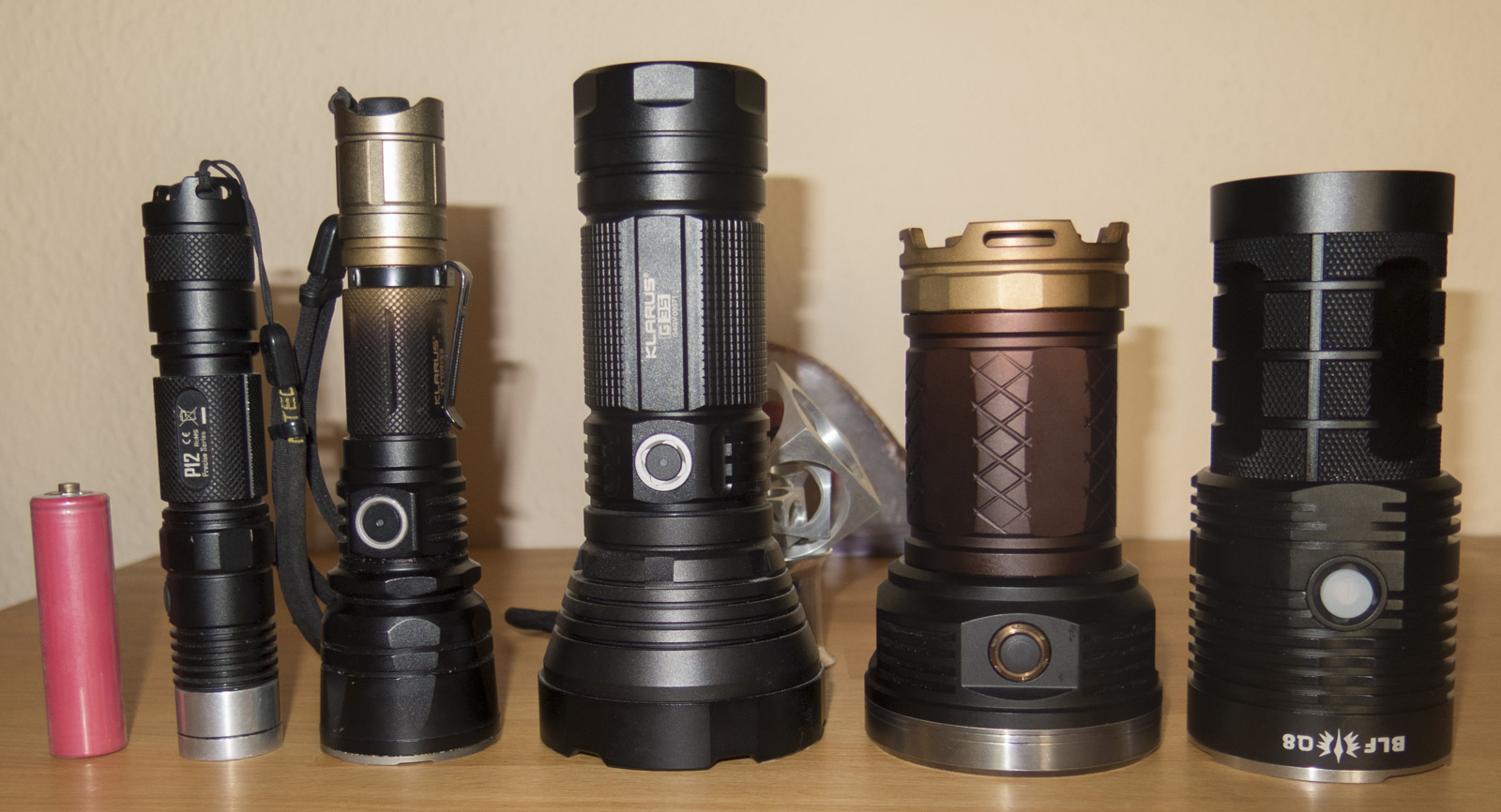 Beam color is neutral around 5000K with 4 Cree XPL HD V6-3D, the beam has a nice balance between throw and spill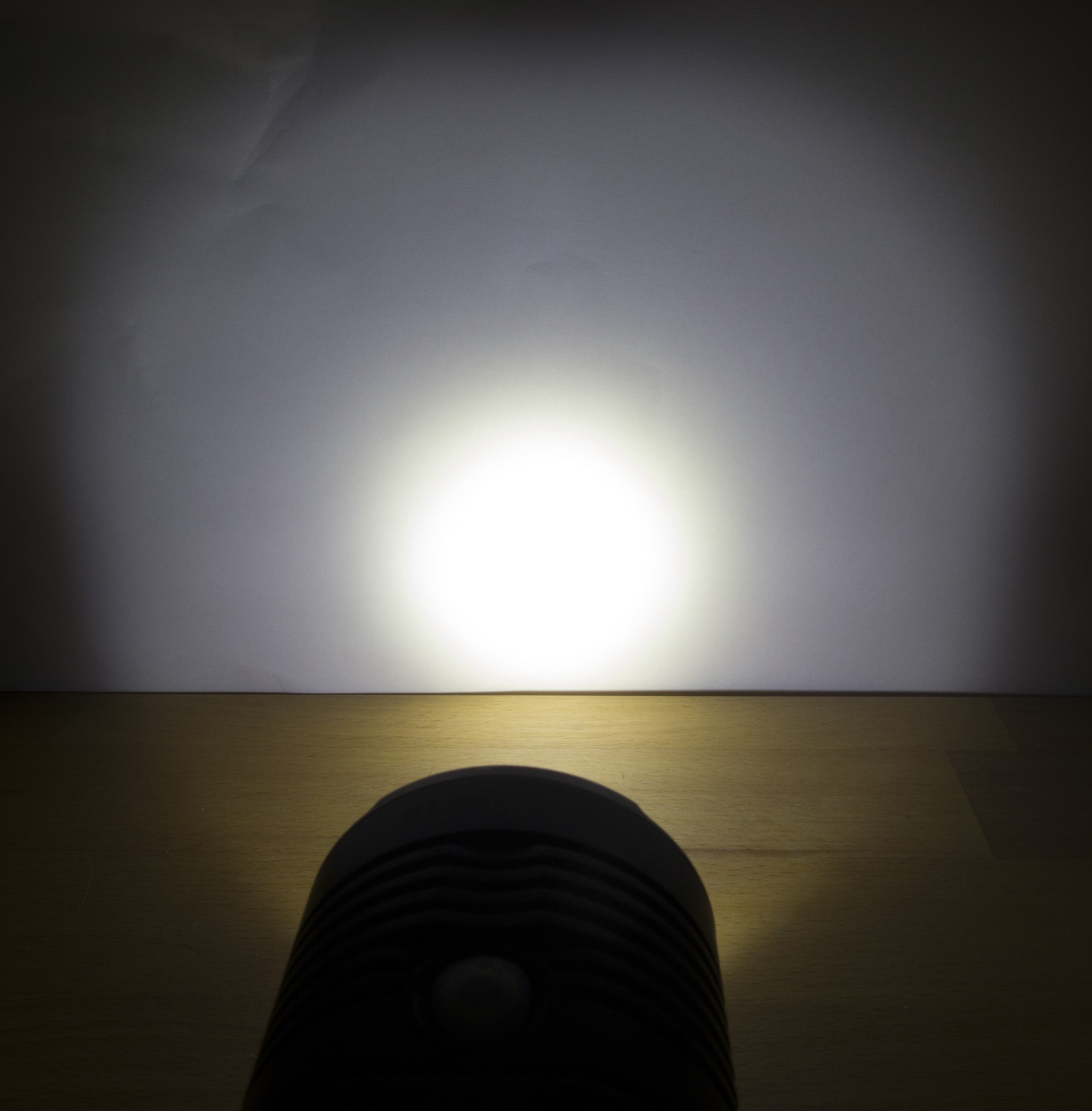 The LEDs are very good reflowed and the DTP MCPCB is perfectly flat, but not polished or gold plated
The heat paste is applied in a good amount and squeezed in an uniform thin layer

The reflector has some tiny imperfections and is free of dust that can be seen while the light off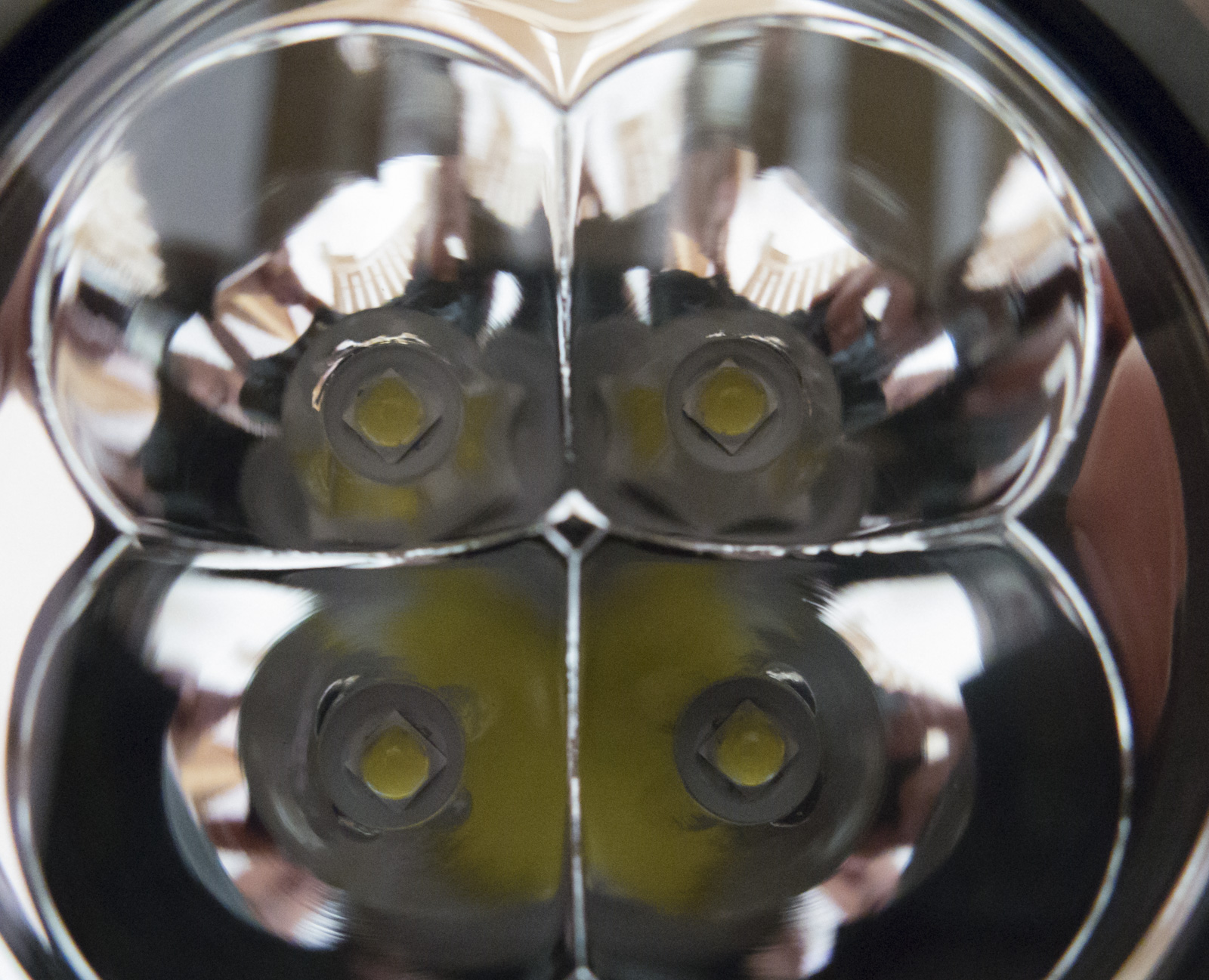 Light color is a nice neutral white, at high currents the hotspot has no tint shift I can notice, on very low level the LEDs tint shift towards green/yellow
from left to right the lights get warmer, picture taken @5000K camera setting
left Nitecore P12 XML2 U3-3D 5000K, Thorfire BLF Q8, Astrolux MF01 Nichia 5000K, Klarus XT12GT XHP35 E2-3C 5000K, Nitefox UT20 XML2 1A 6500K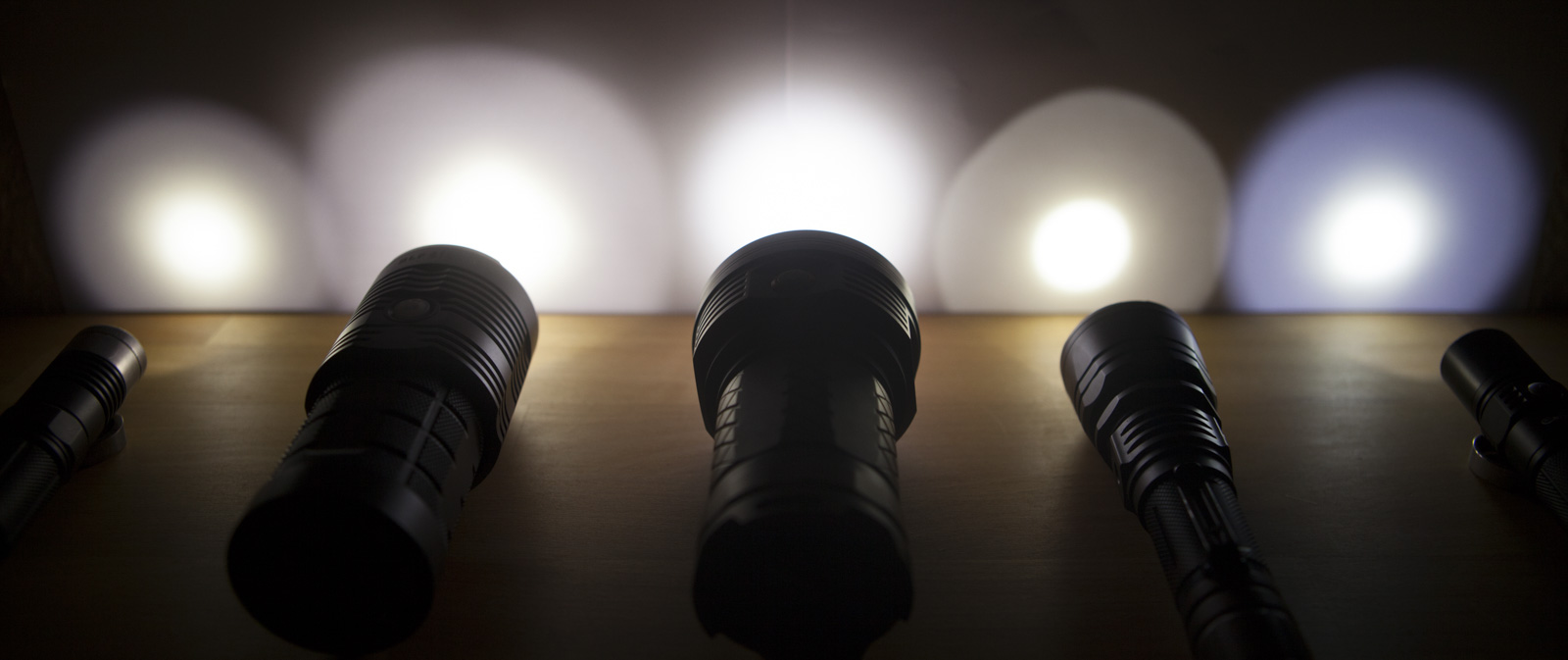 The light can be opened no threads are glued, but it seems the screws have some sort of locktite on them
Some of the screw heads are damaged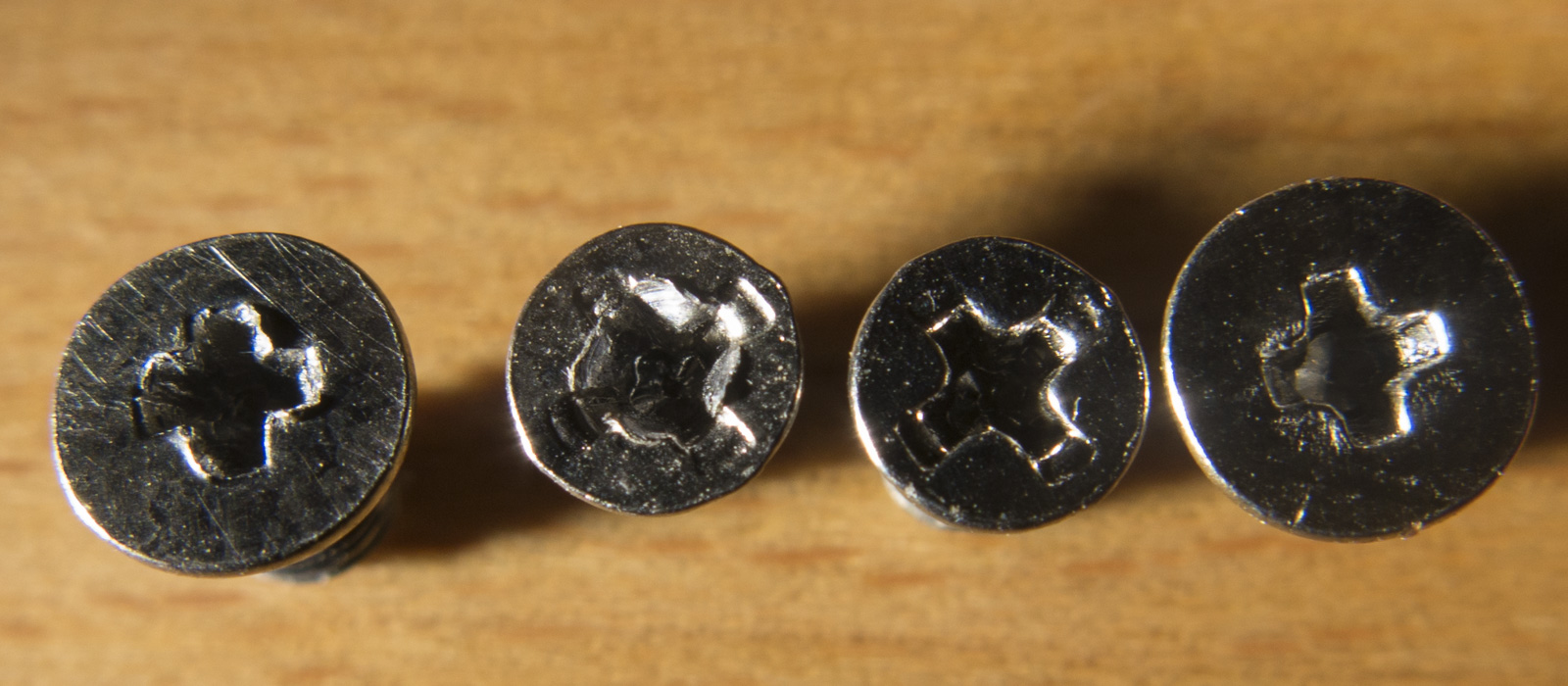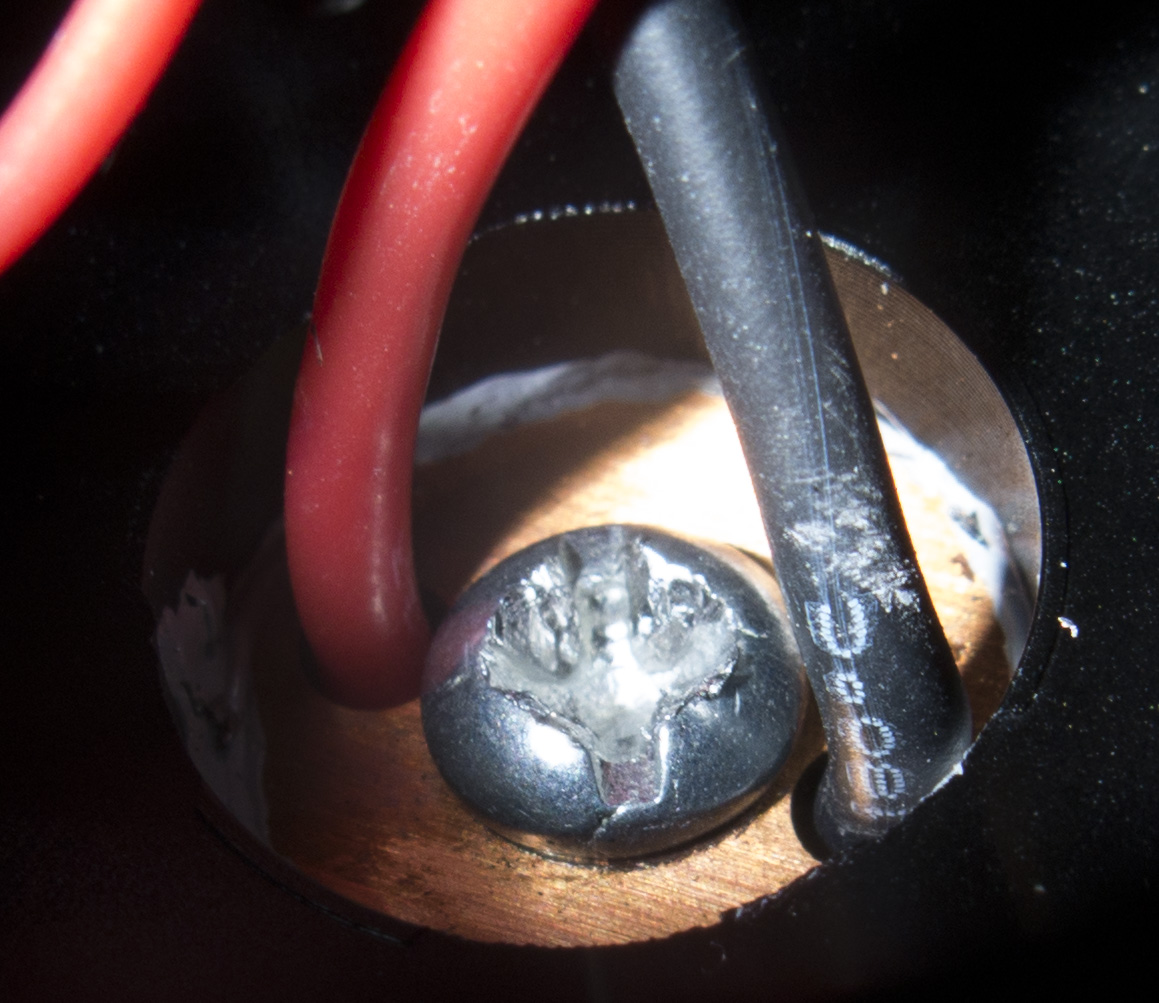 The light has a solid tail cap, but no hole for a Lanyard
The light stands on the tail perfectly rock solid
The lens is really big but not AR coated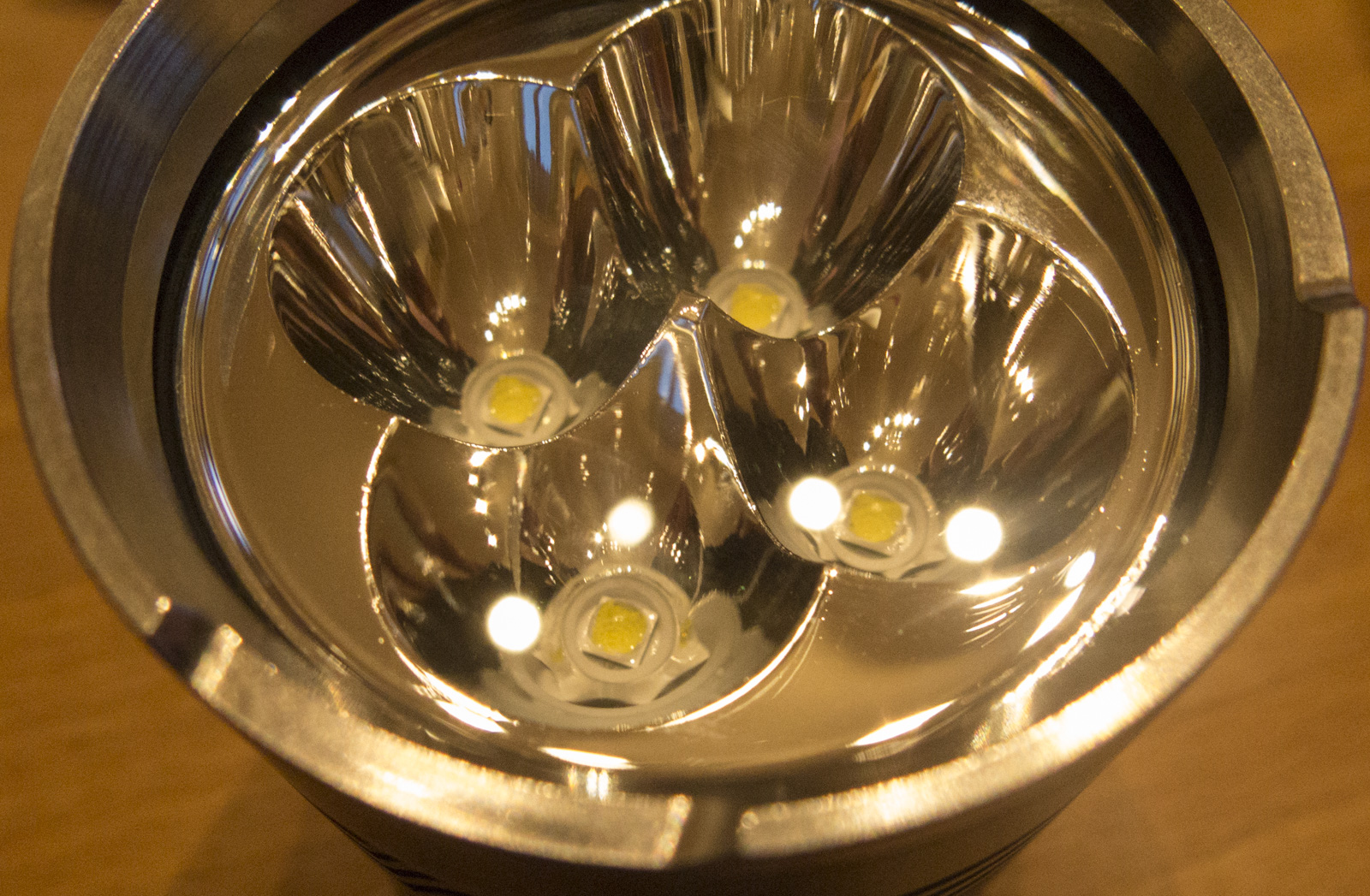 The head has a diameter of 58.2mm and 44mmm visible reflector, while each LEDs reflector has a diameter of 21mm
The light can be run by one, 2, 3 or 4 18650 batteries in parallel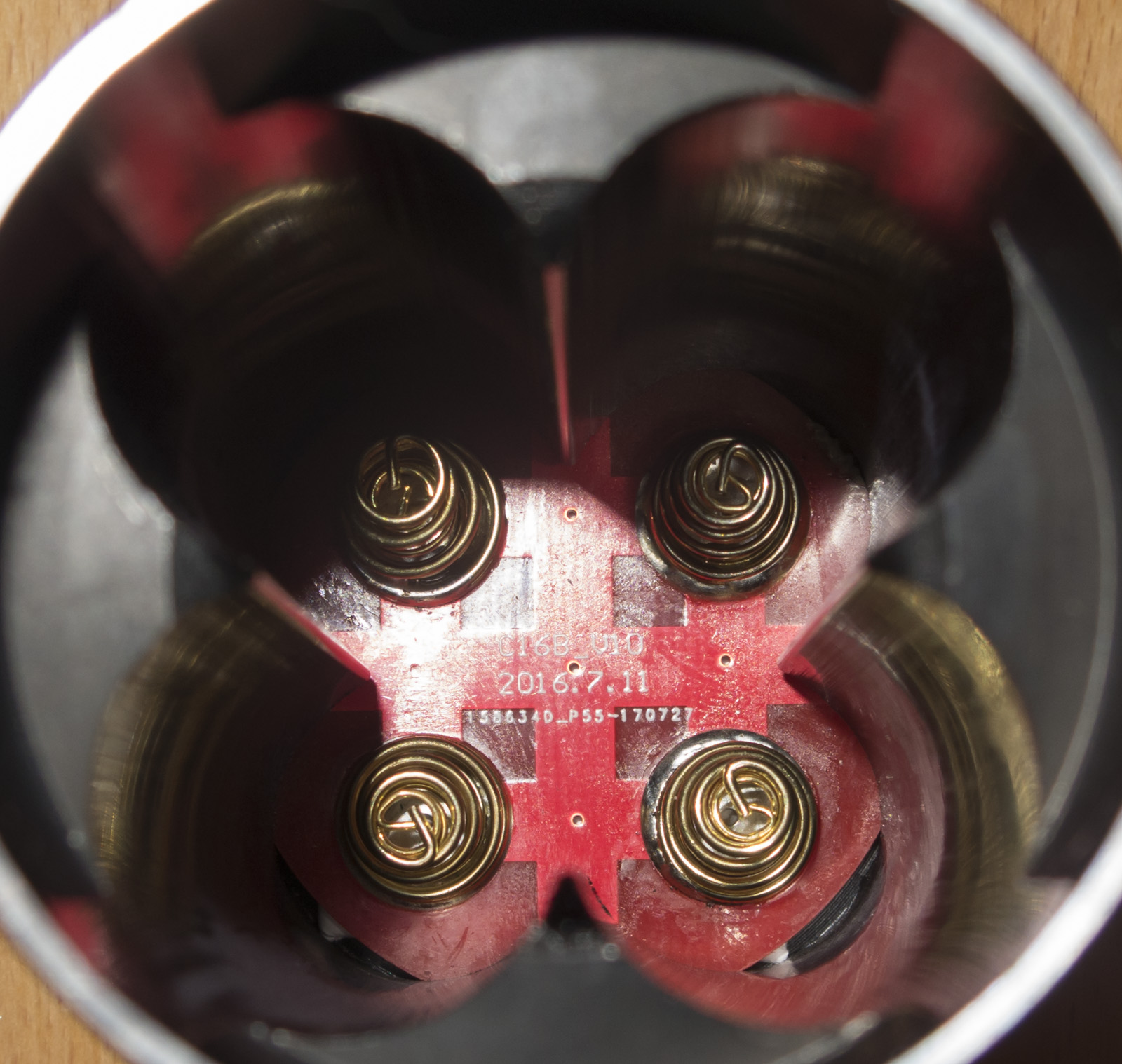 The driver is easy to access just 2 screws are holding it, the brass ring is a bit dirty and not centered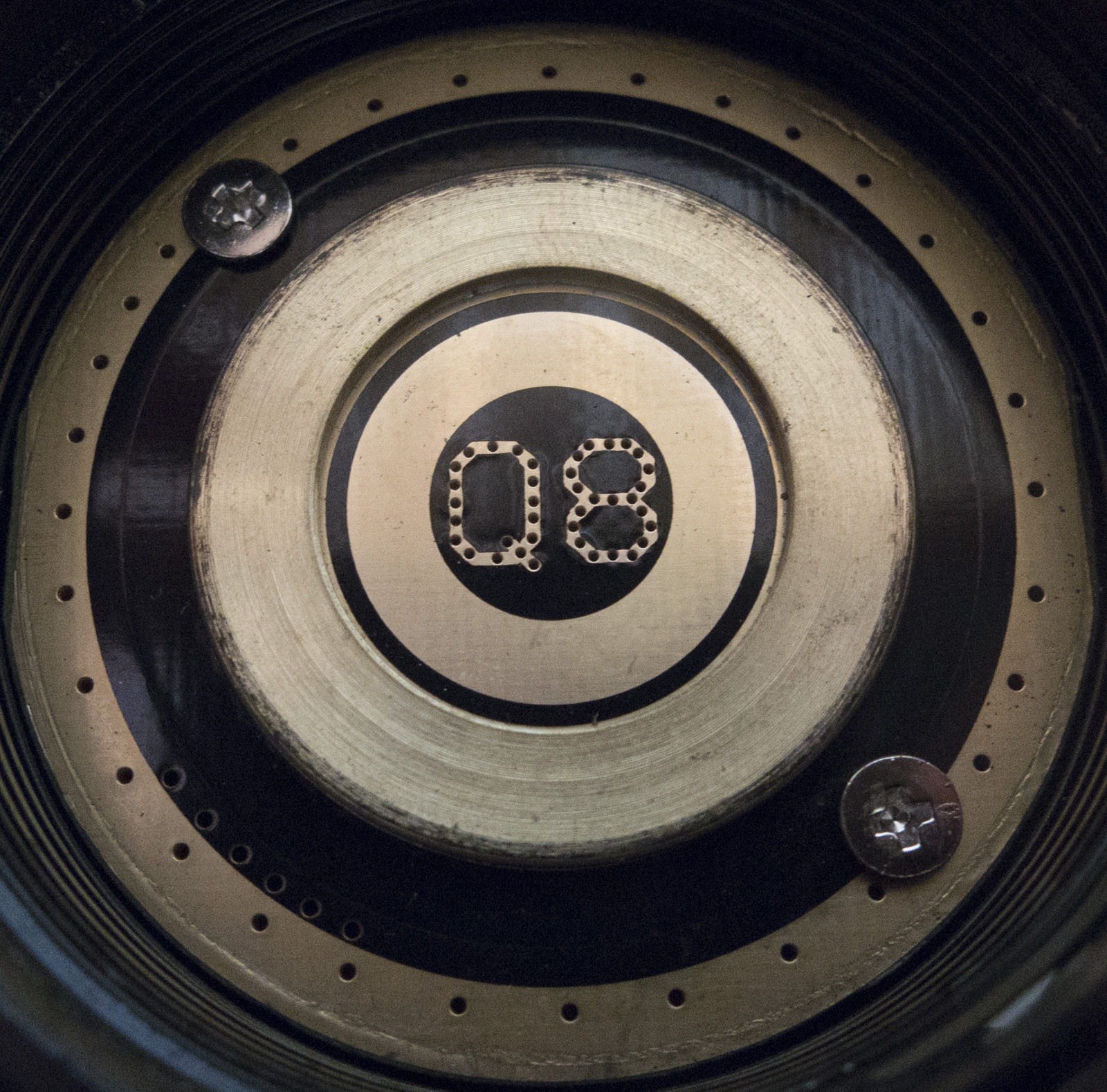 Unfortunately the screw holes of the driver were not drilled for 3mm, partially the screw head was messed and all the screw threads contain some dirt or glue
The driver has one FET +1*AMC7135 and is running NarsilM on a Attiny85
The light can be physically locked out by twisting the tube 1/4 turn from the head
Also electronic lockout by 4 fast clicks possible
.
The Head
The big reflector contains for each LED a small reflector
The LEDs from one of my 2 lights were not centered, the reflector was twisted a bit, but nothing serious and easy fixable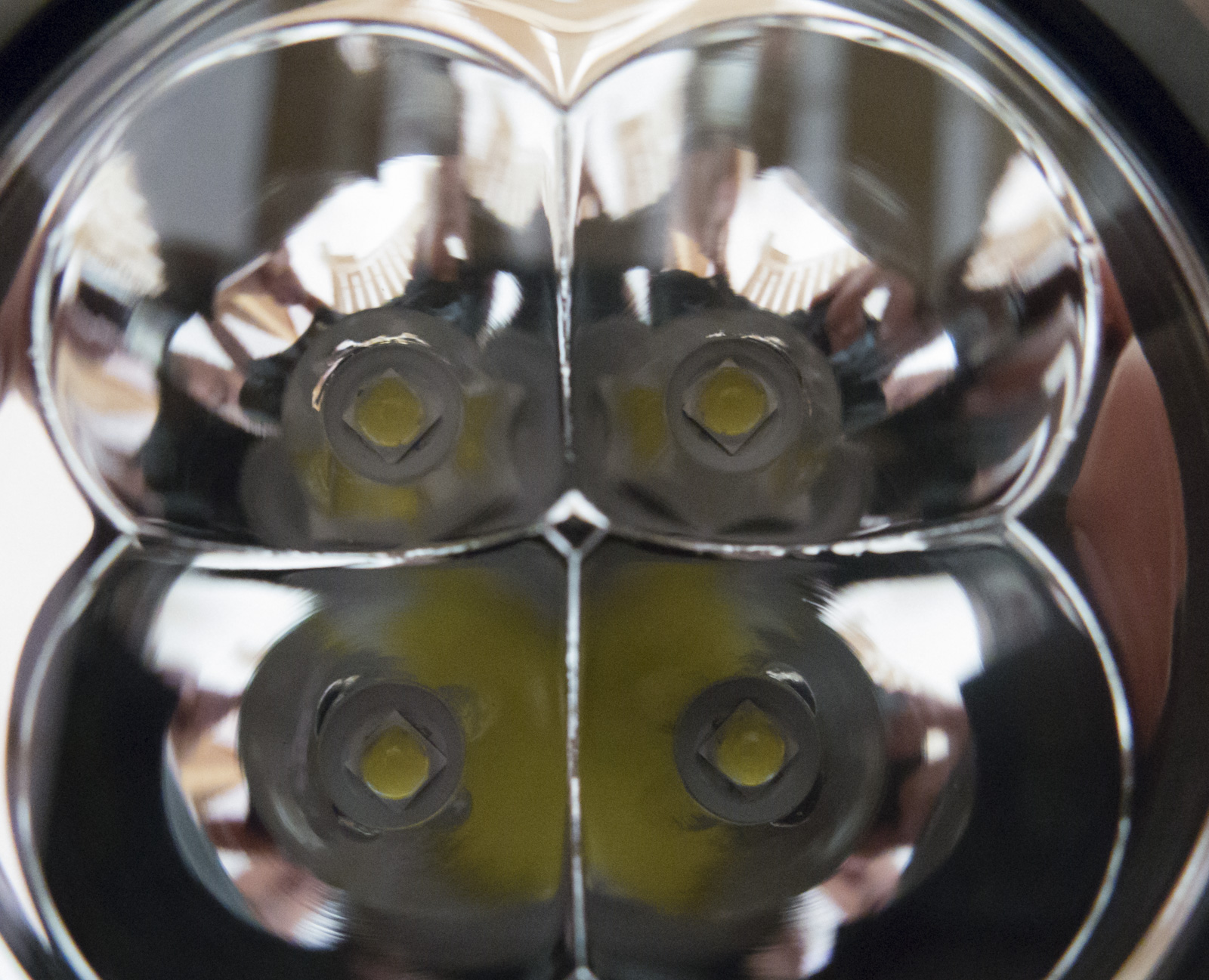 The switch is from transparent silicone
The switch cover can be screwed out easily counter clockwise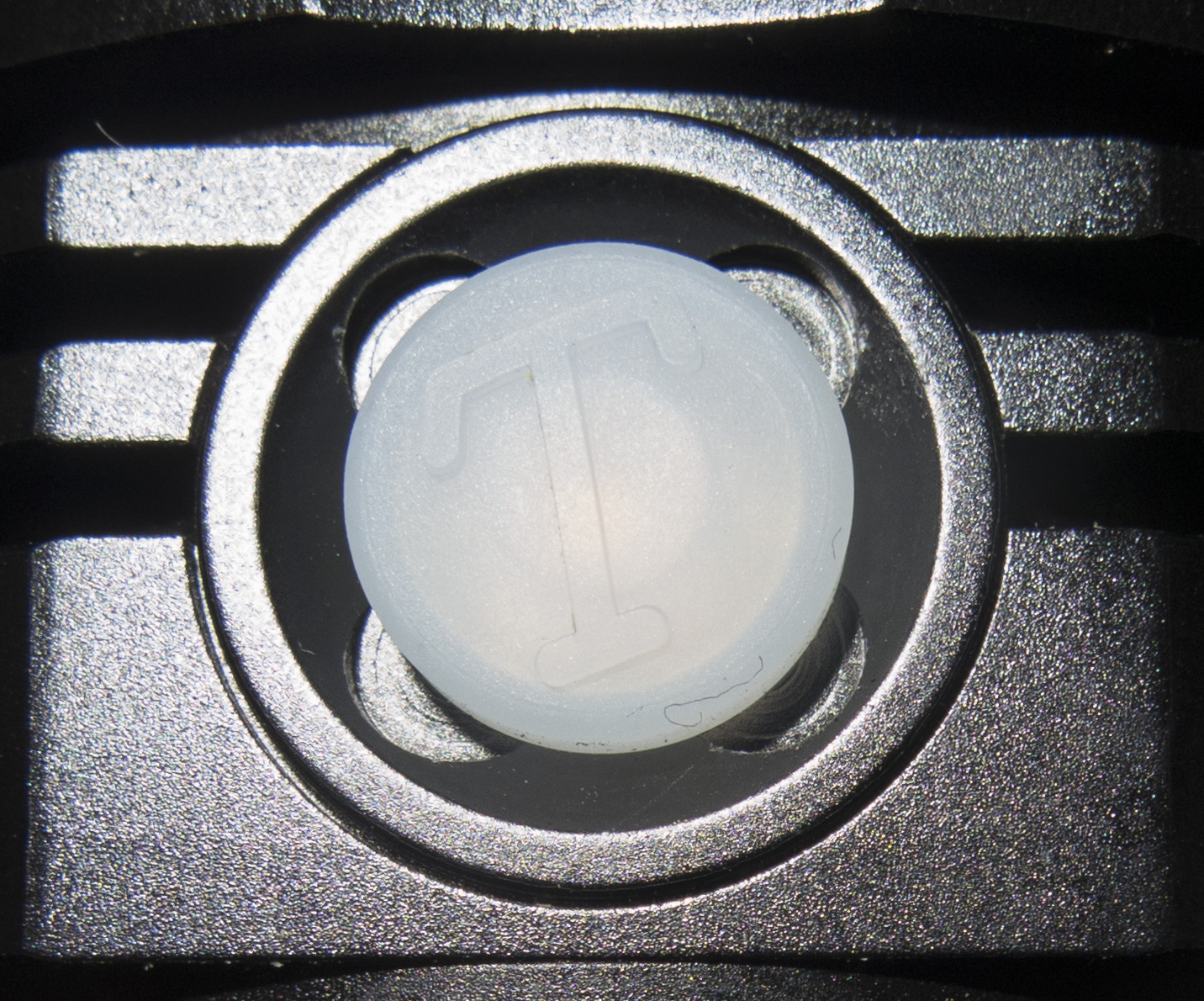 The slave board for the switch has two green LEDs and a single resistor
The LEDs are often uneven bright, better for each LED a single resistor like I did on the left one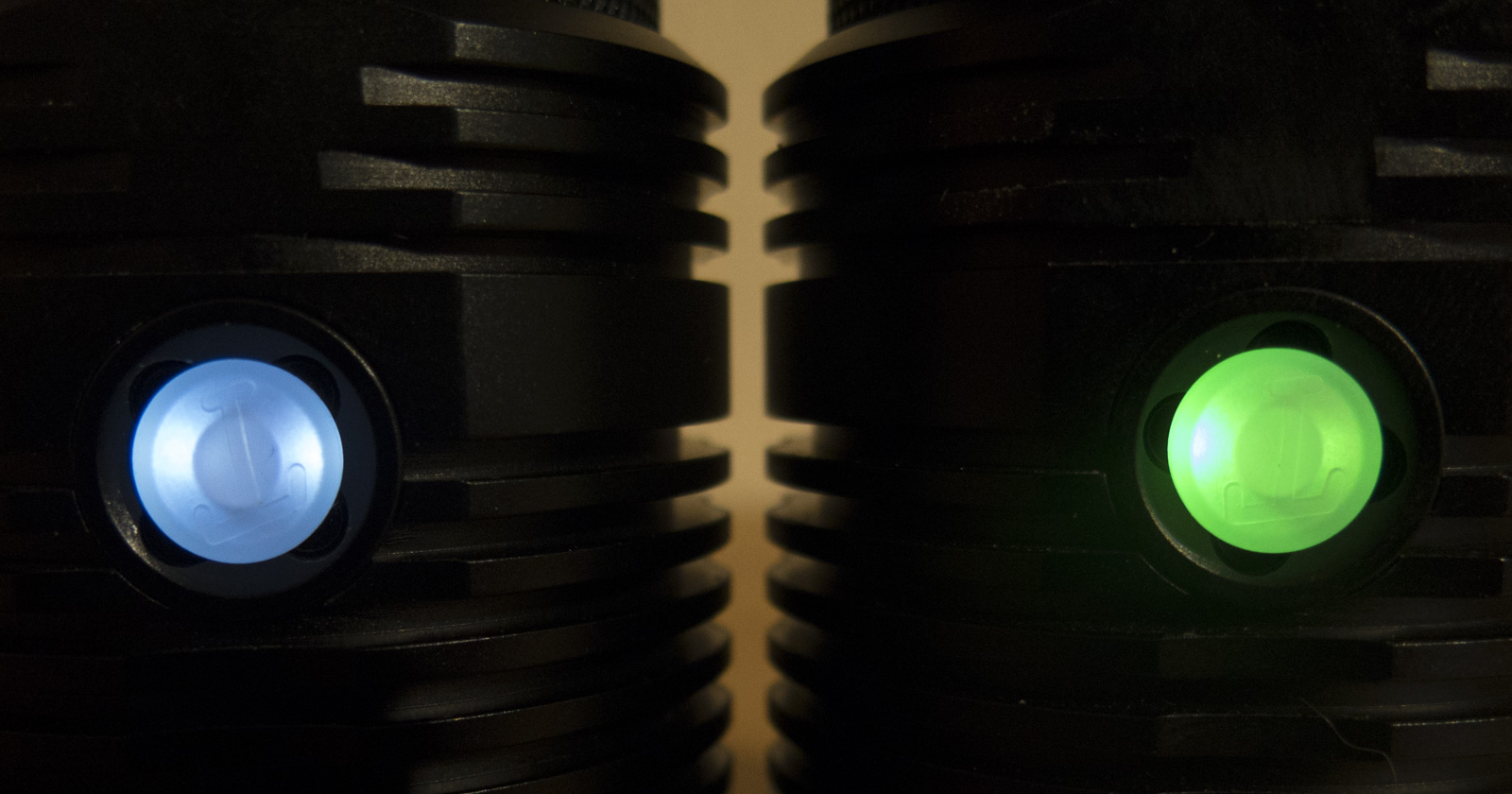 The shelf is 5mm thick and the really big 2mm thick copper MCPCB does a good job spreading the heat

The MCPCB is s true copper DTP, the back of it is bare copper

The MCPCBs back is perfectly flat
However the lubricant is very dirty from black anodisation worn off when the light was assembled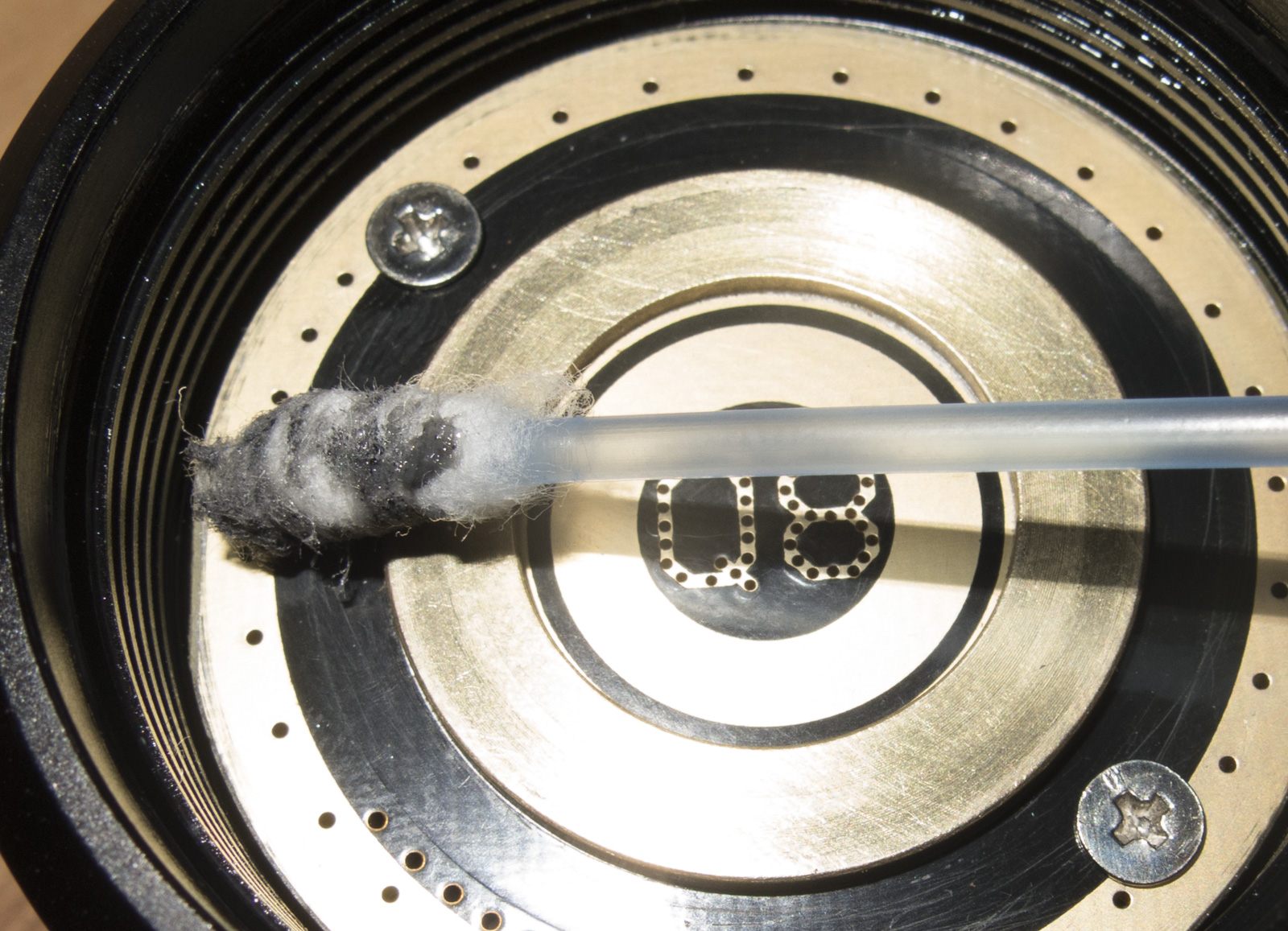 The lens is not coated glass, no fingerprints or dust on it when it came out of the box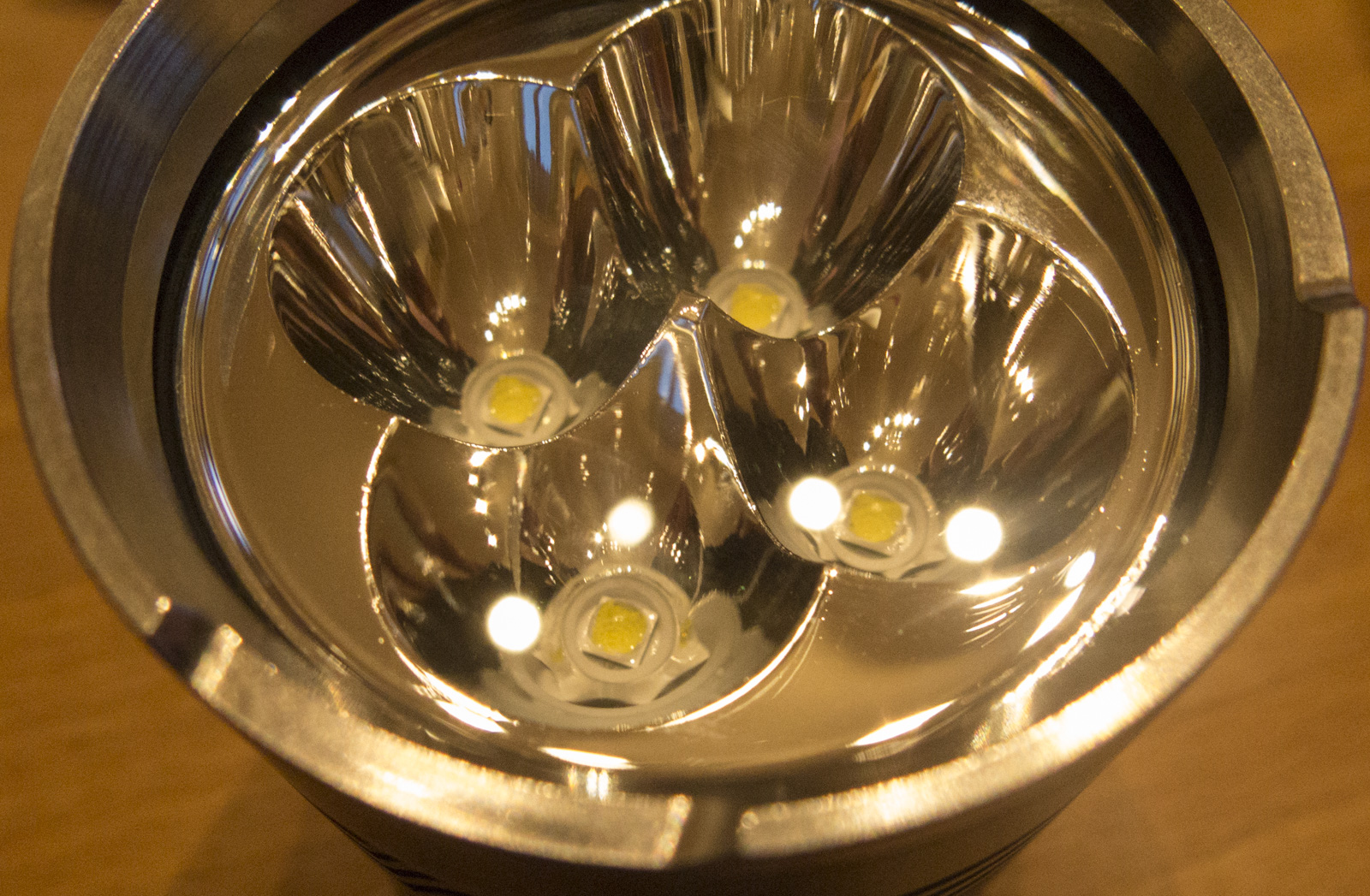 Tube and Tail
The tail cap is fully anodized and solid, but has no hole for a Lanyard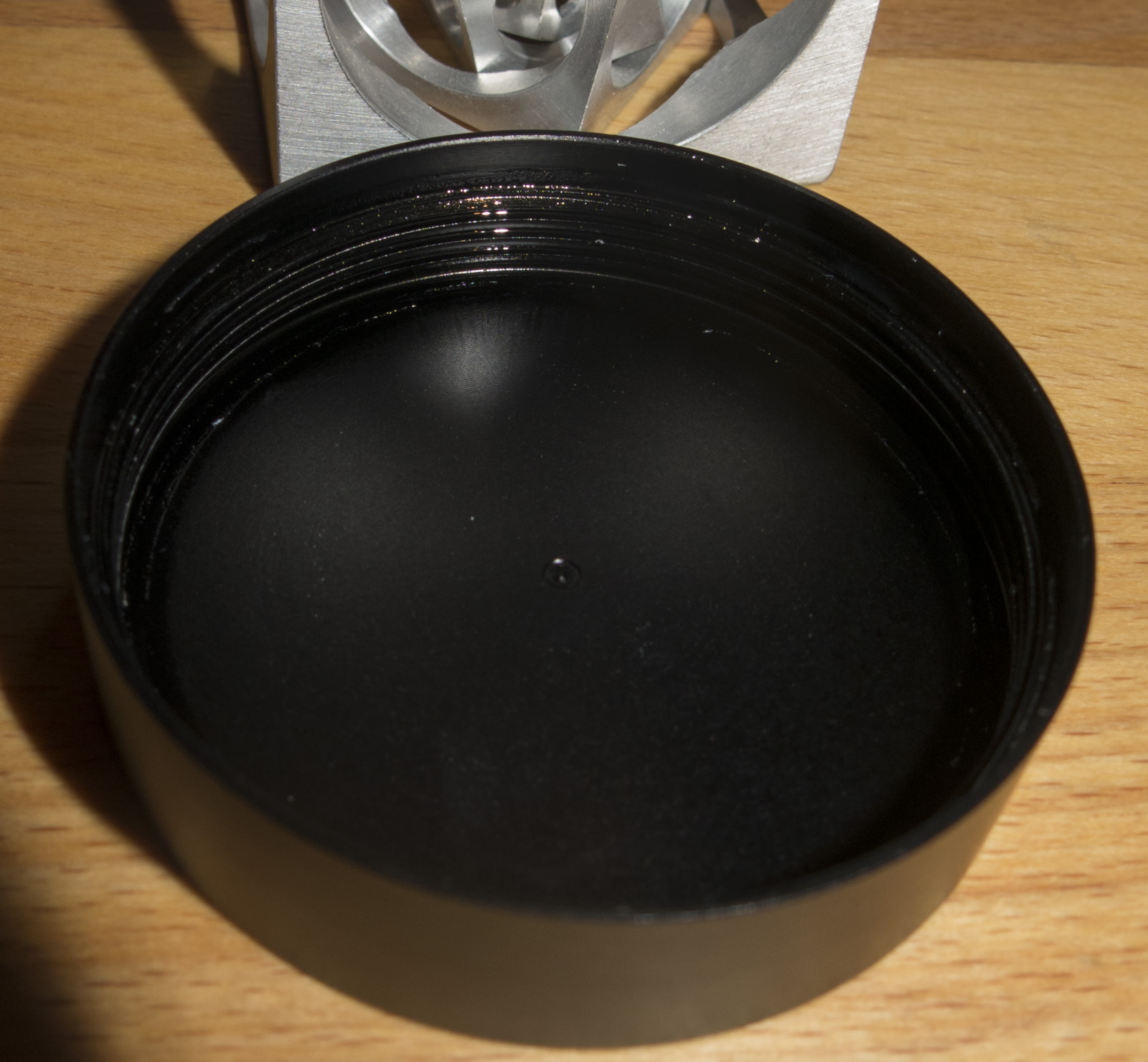 The light is waterproof, the tail cap and head threads are lubed with a medium amount of lubricant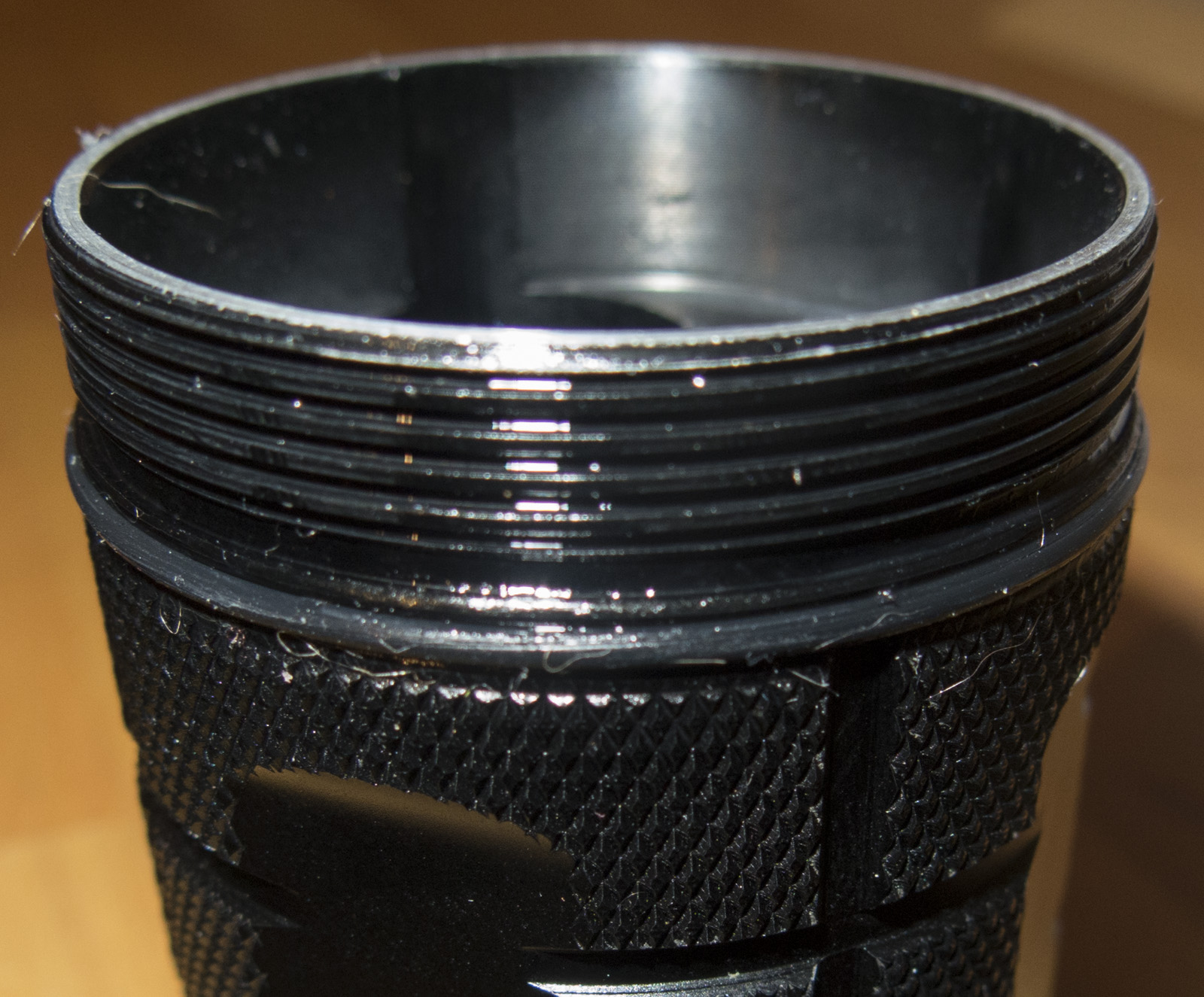 the tube is build for 4 batteries, protected and unprotected fit well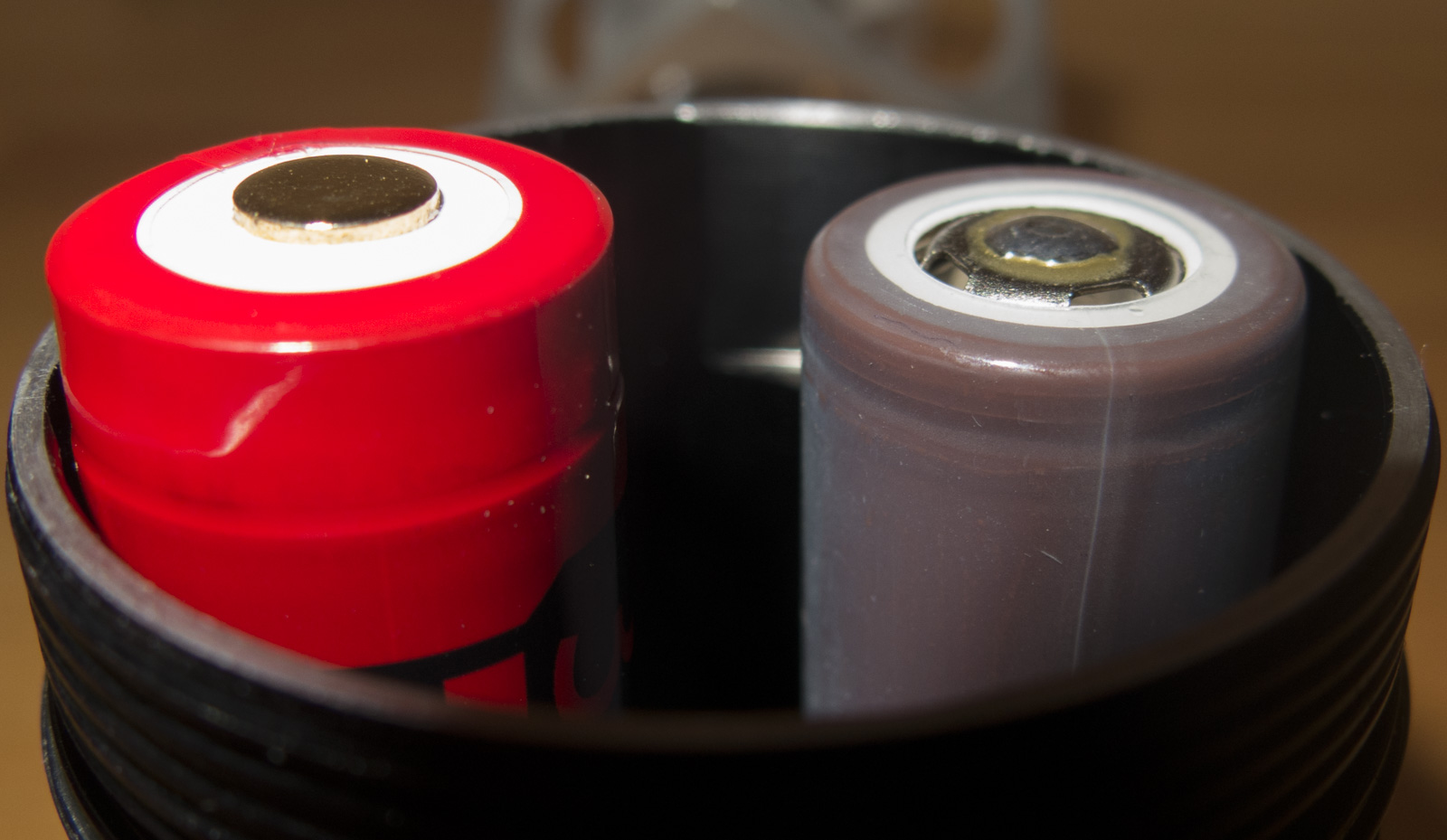 The tube threads are square cut and fit nicely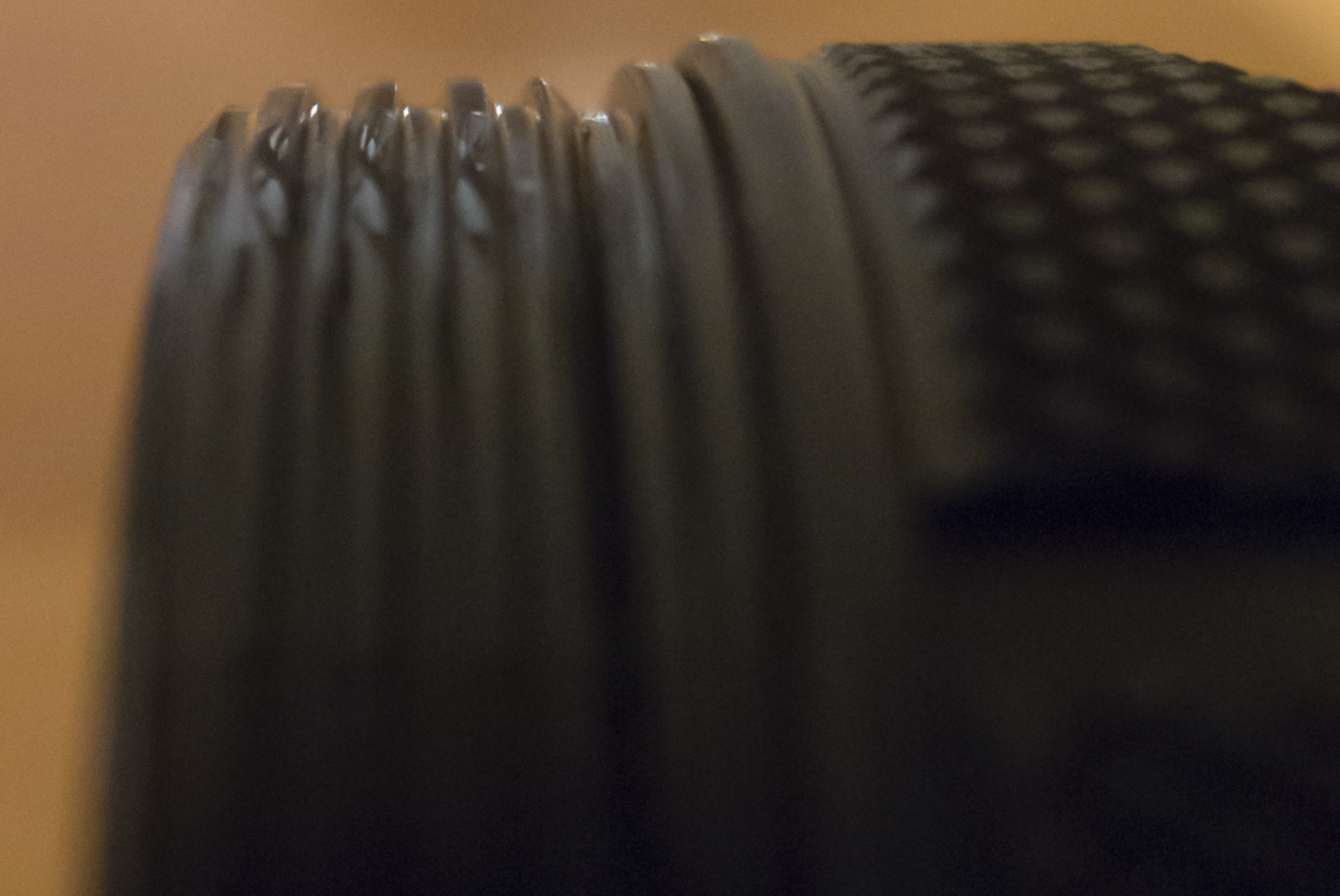 .
Driver and Battery
The light uses a DD+AMC driver with Attiny85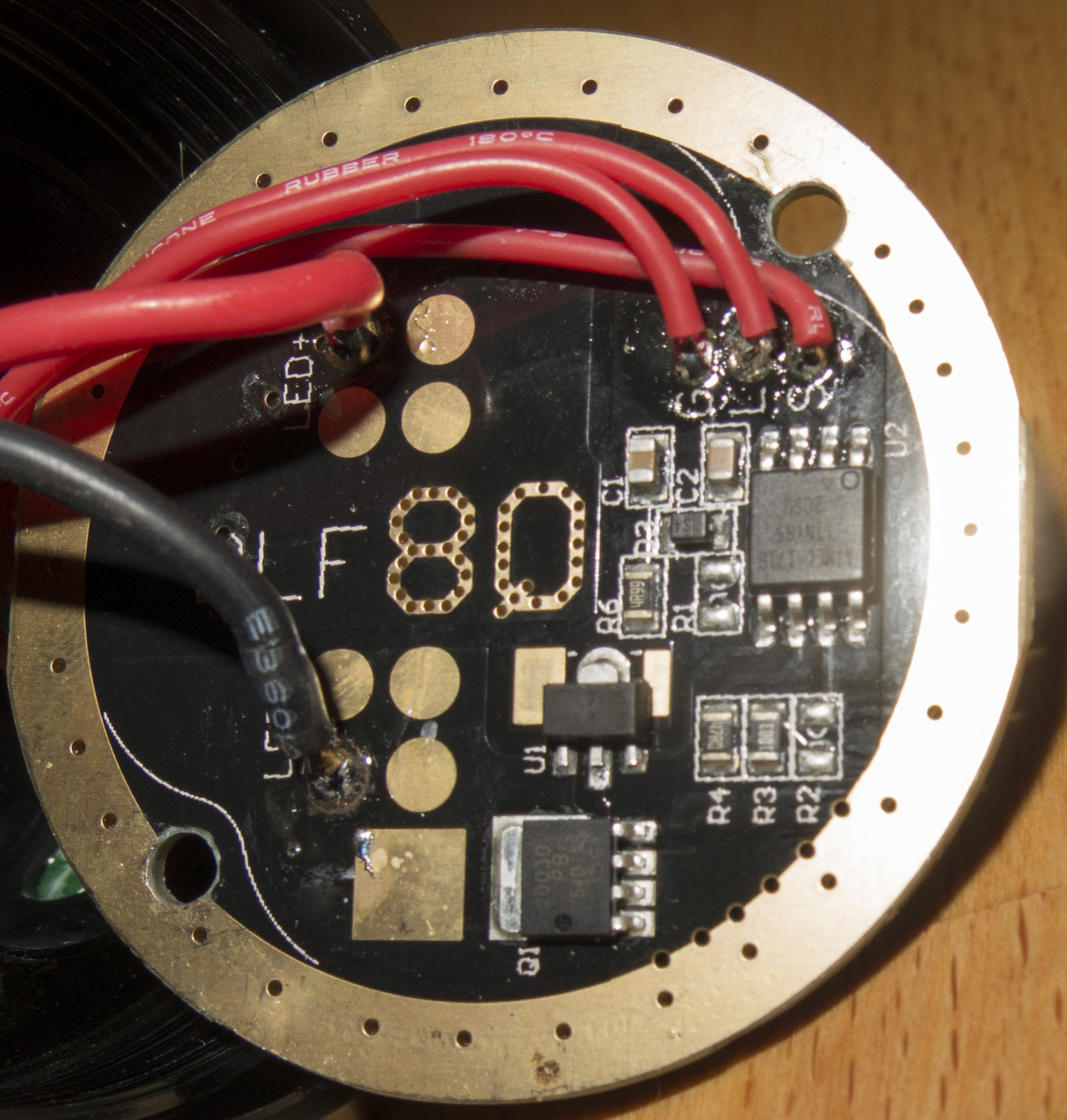 The light has in ramping and mode sets on most modes PWM, Turbo and 350mA are PWM free
The light has a some mass to absorb and surface to spread heat
some members did already infrared videos, the light runs about 3 minutes on Turbo before the temperature step-down kicks in, depending on which temperatur it is calibrated
The light is build for protected and unprotected batteries, the positive contact ring is from solid brass, but there is some dirt on it that can be cleaned with acetone or steel wool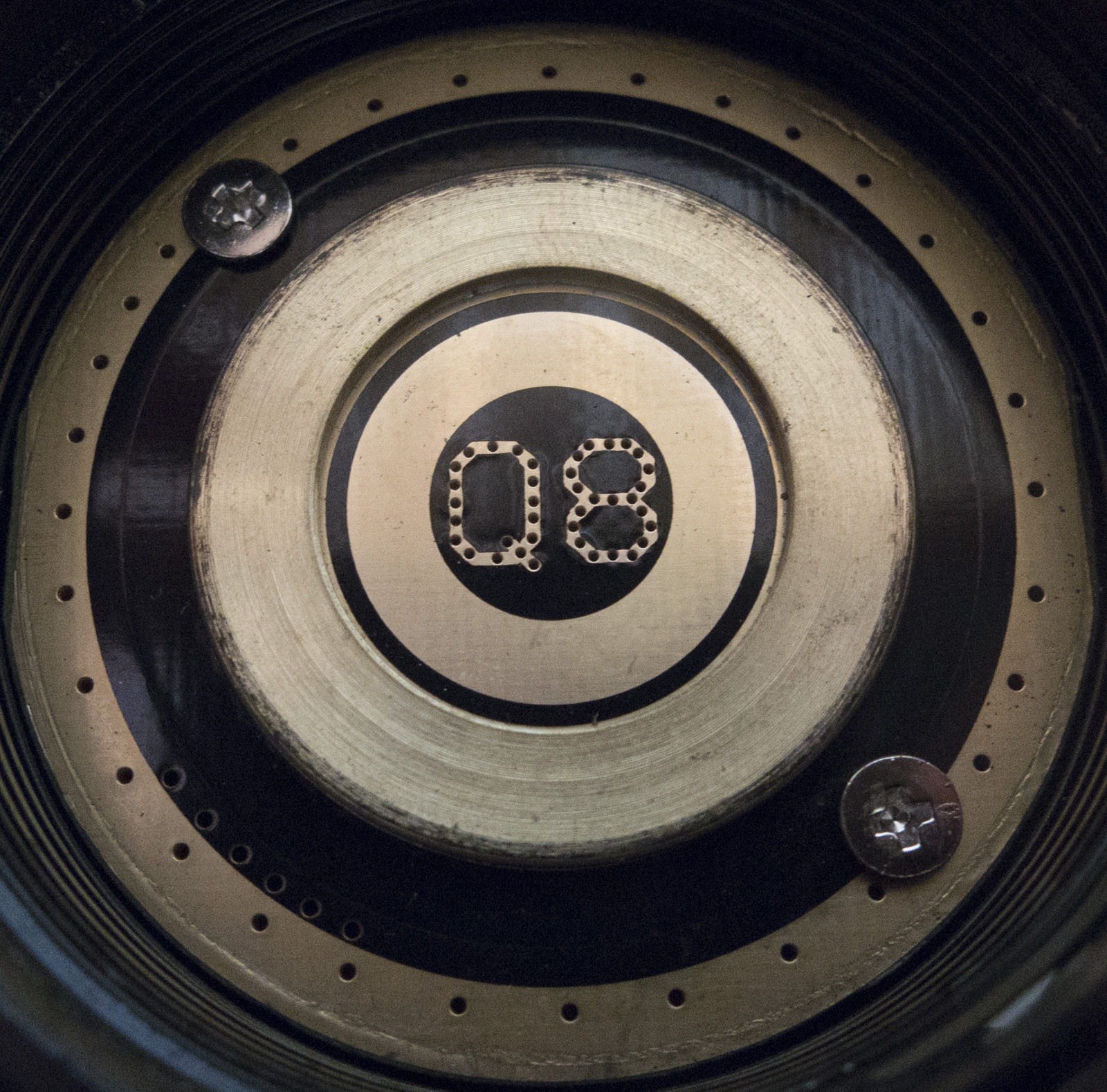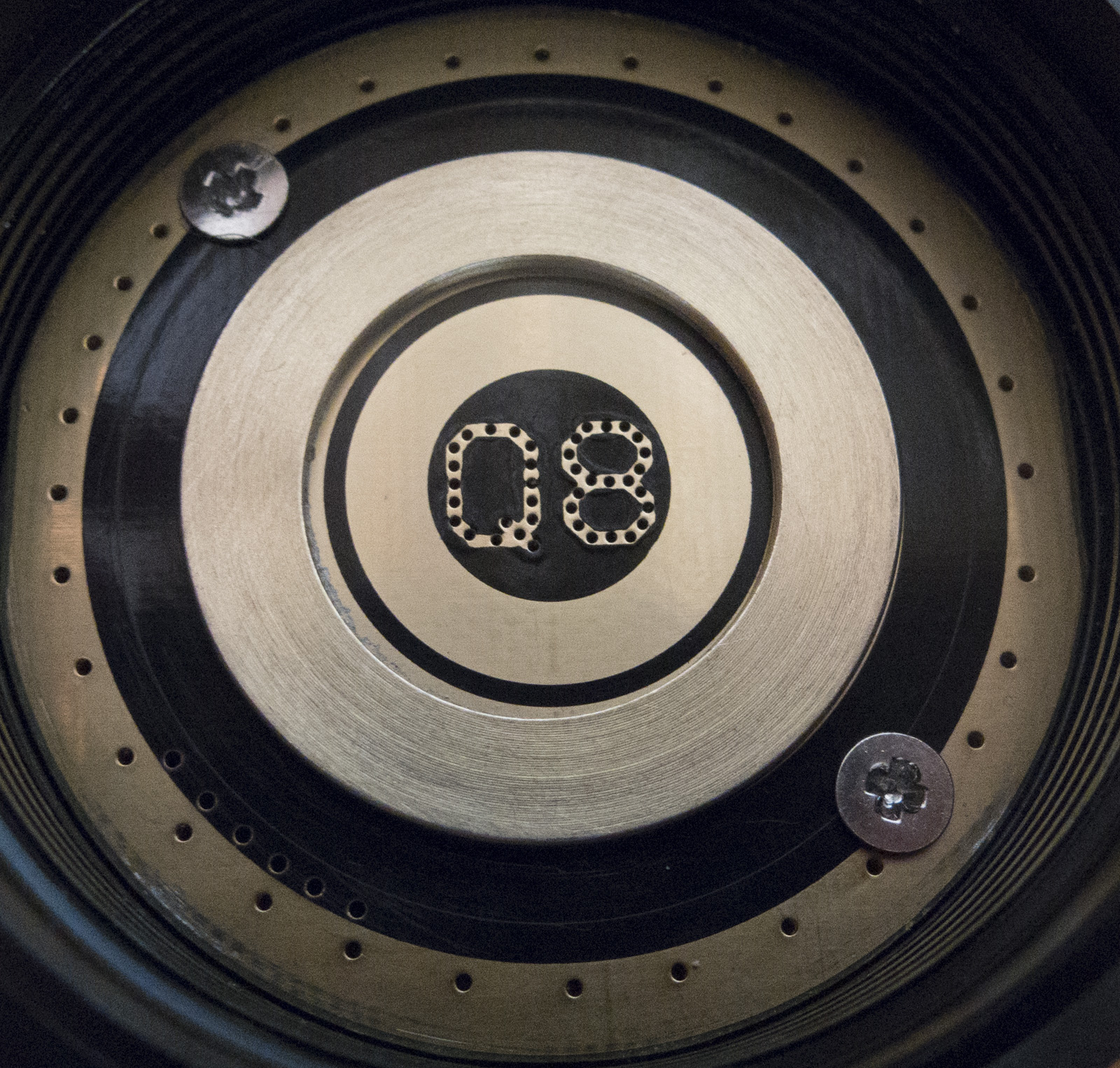 the light uses double springs from steel, that can be bridged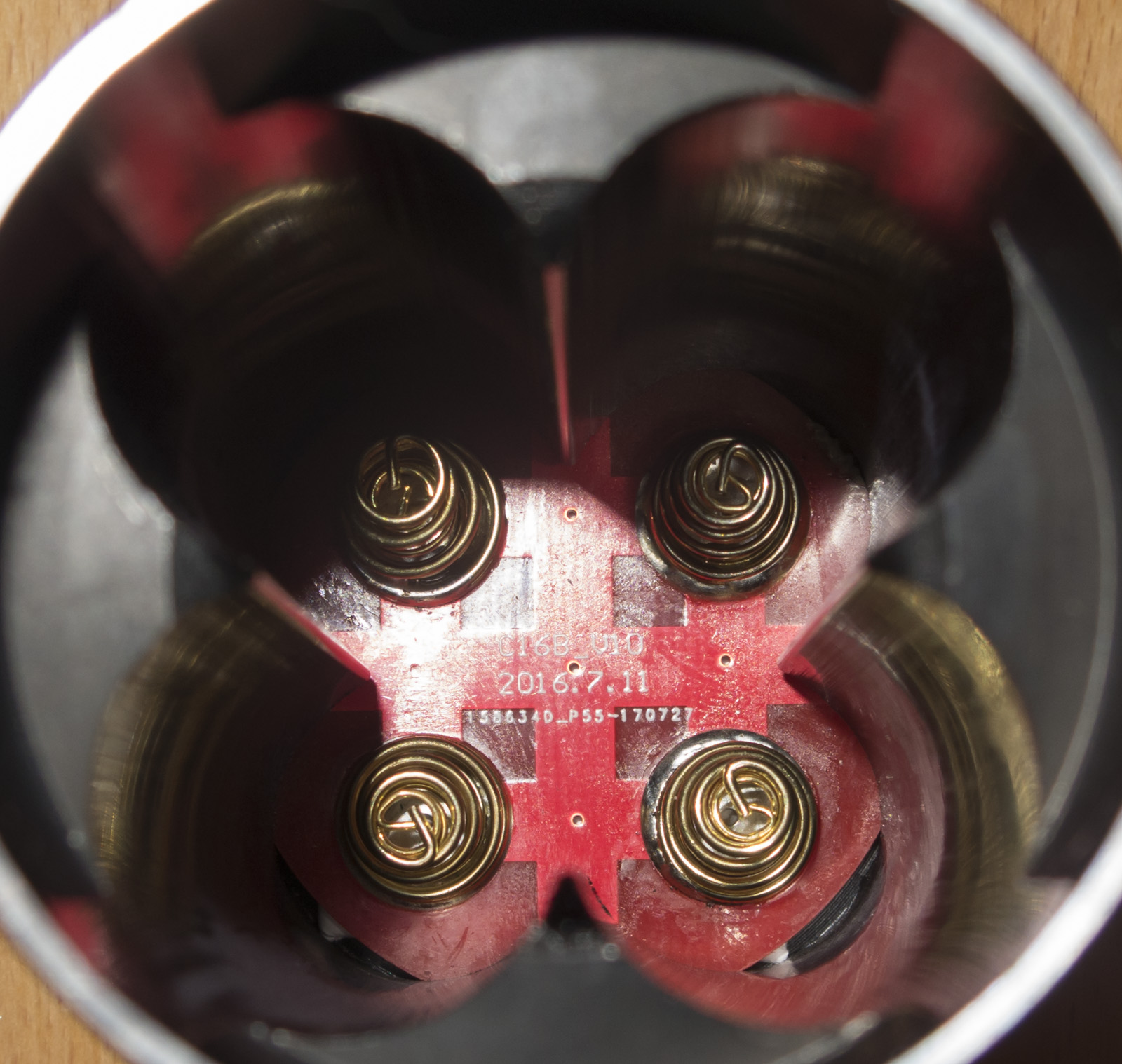 The mode spacing is good and a lot of modegroups availiable,
the moonlight has less than 1 lumen, in ramping the light can be set to over 100 brightness levels
The side switch status LED can be used with triple click to show the battery level
.
current Measurements

User Interface
The light uses NarsilM with a very complex UI and settings
http://budgetlightforum.com/node/54635
Modding:
First thing was to bypass the springs on the tail cap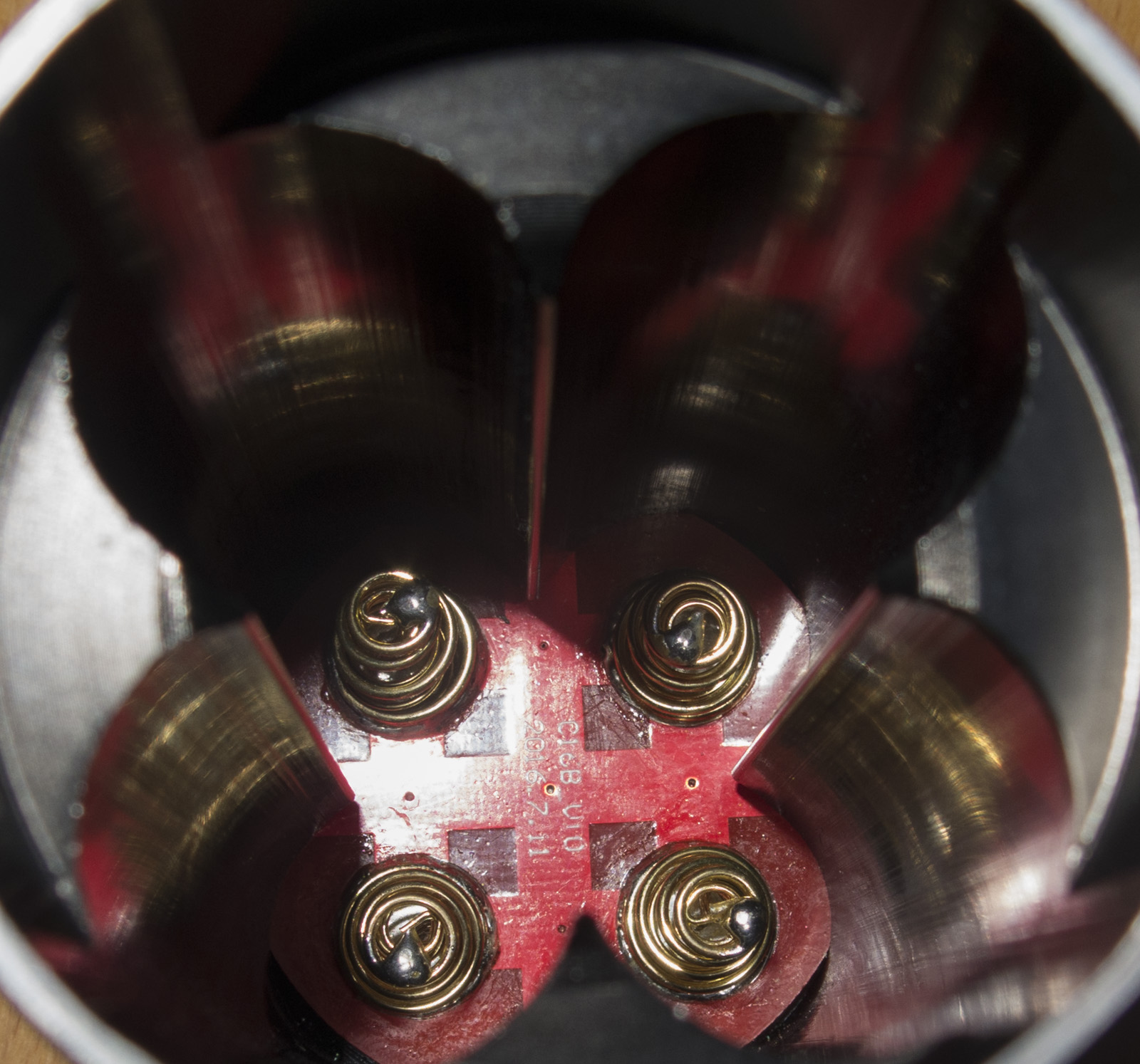 Loosening the reflector screw and bezel to center the LEDs to the reflector
Cut all the threads again to get the stuff out of them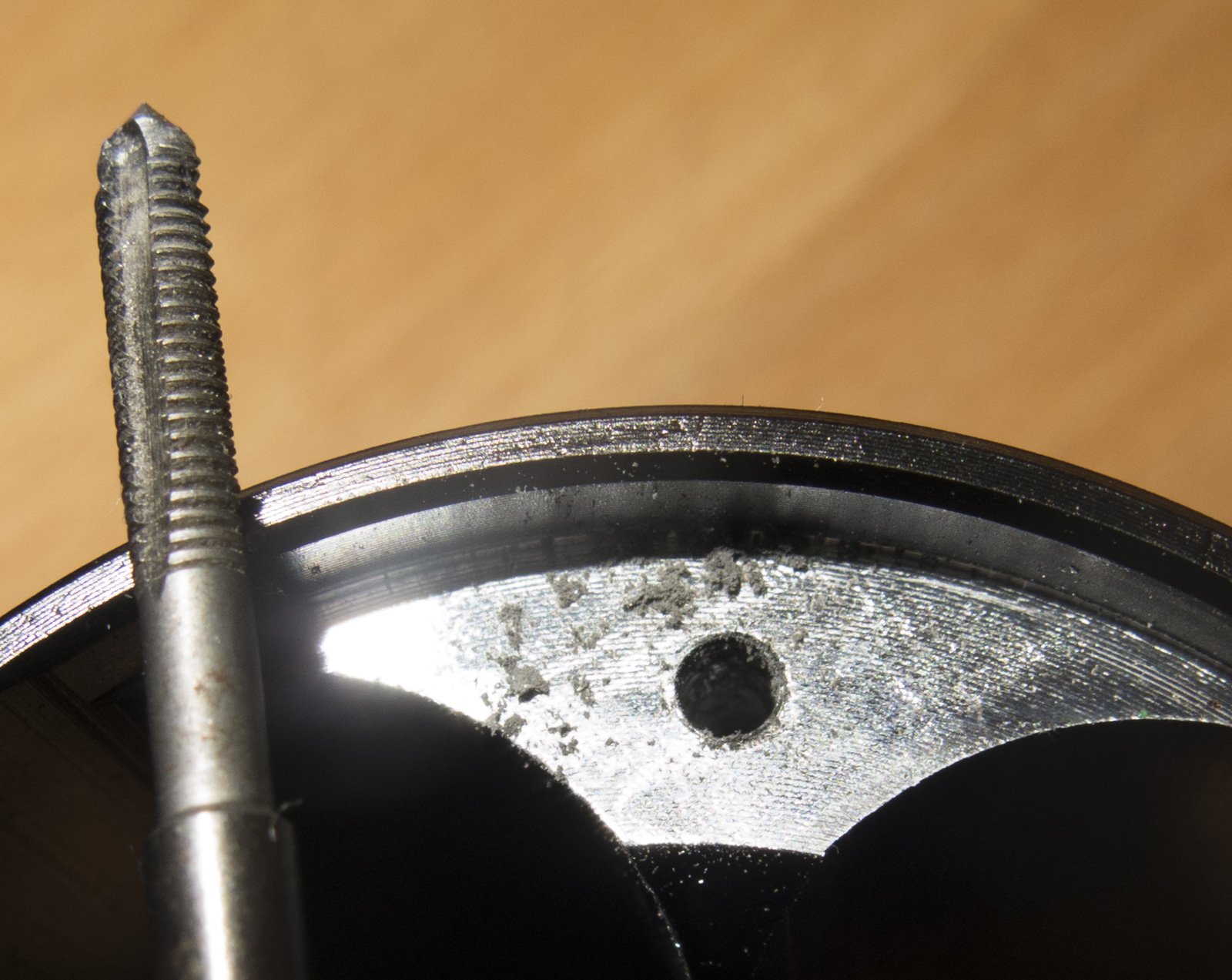 Switch PCB added resistor for both LEDs and choose white LEDs
Unsoldered LEDs and switch just holding my temp stabilized iron at 300°C at the other side
also skillet might work well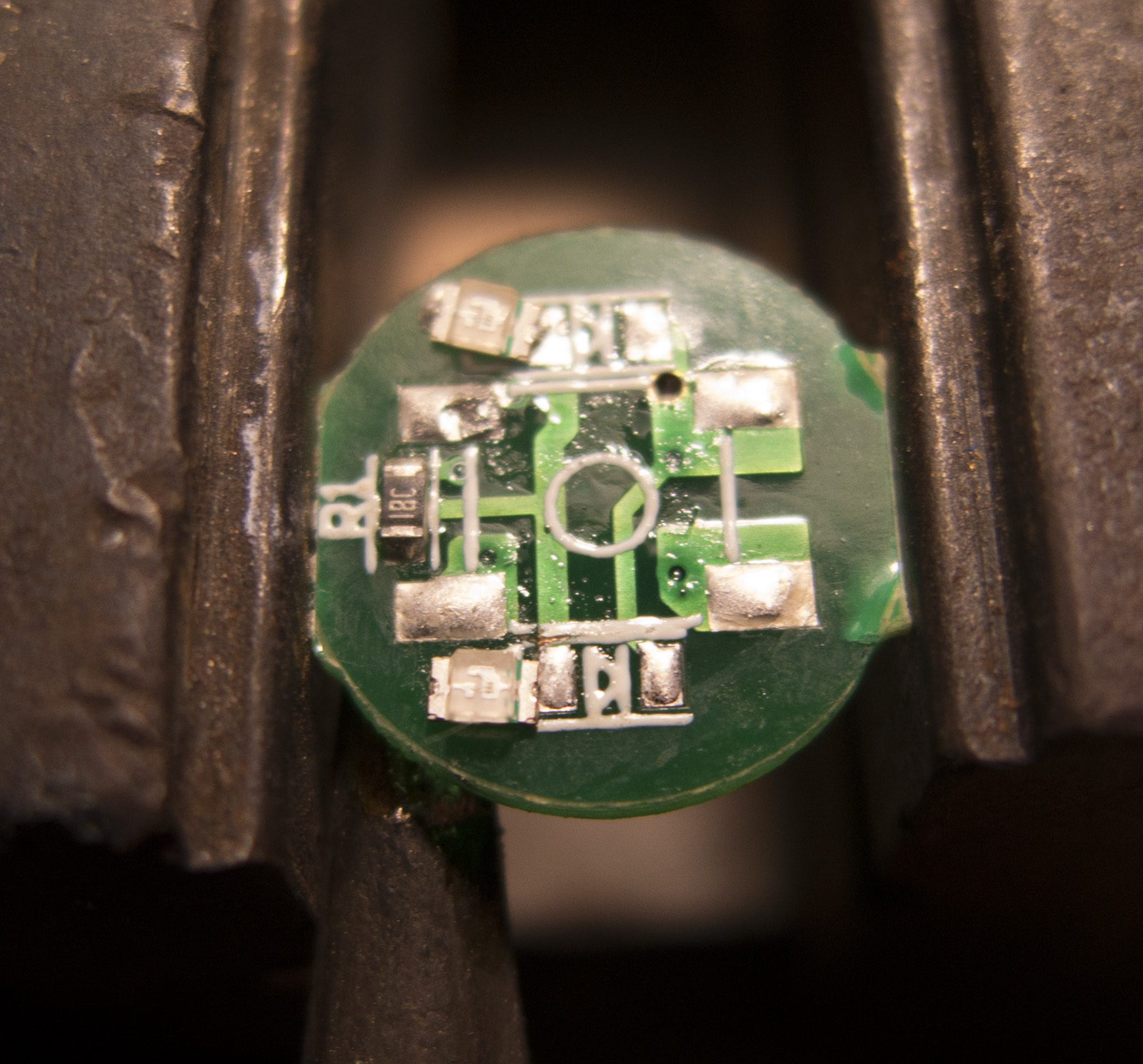 then cut the trace to one LED and add a resistor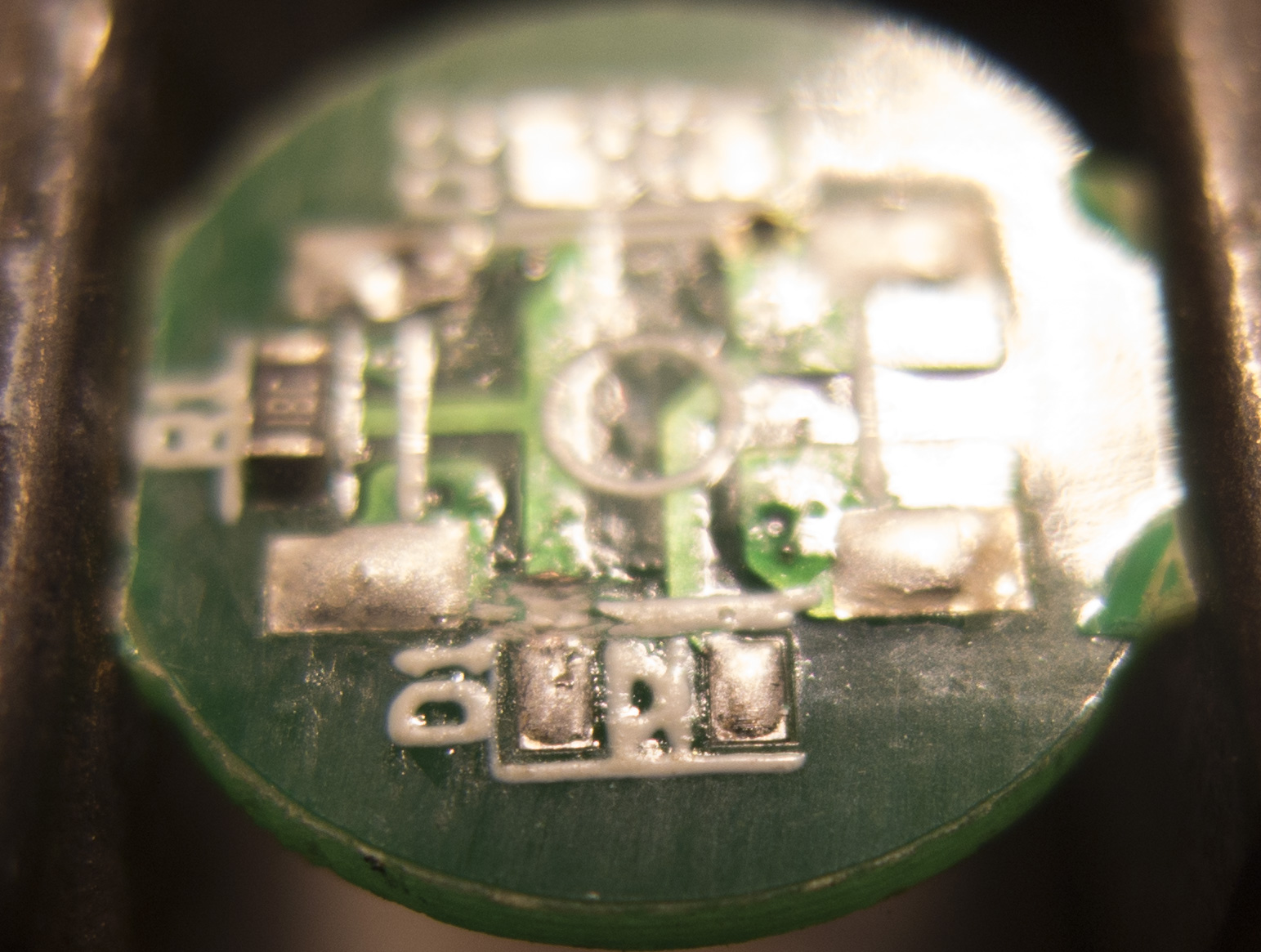 add solder paste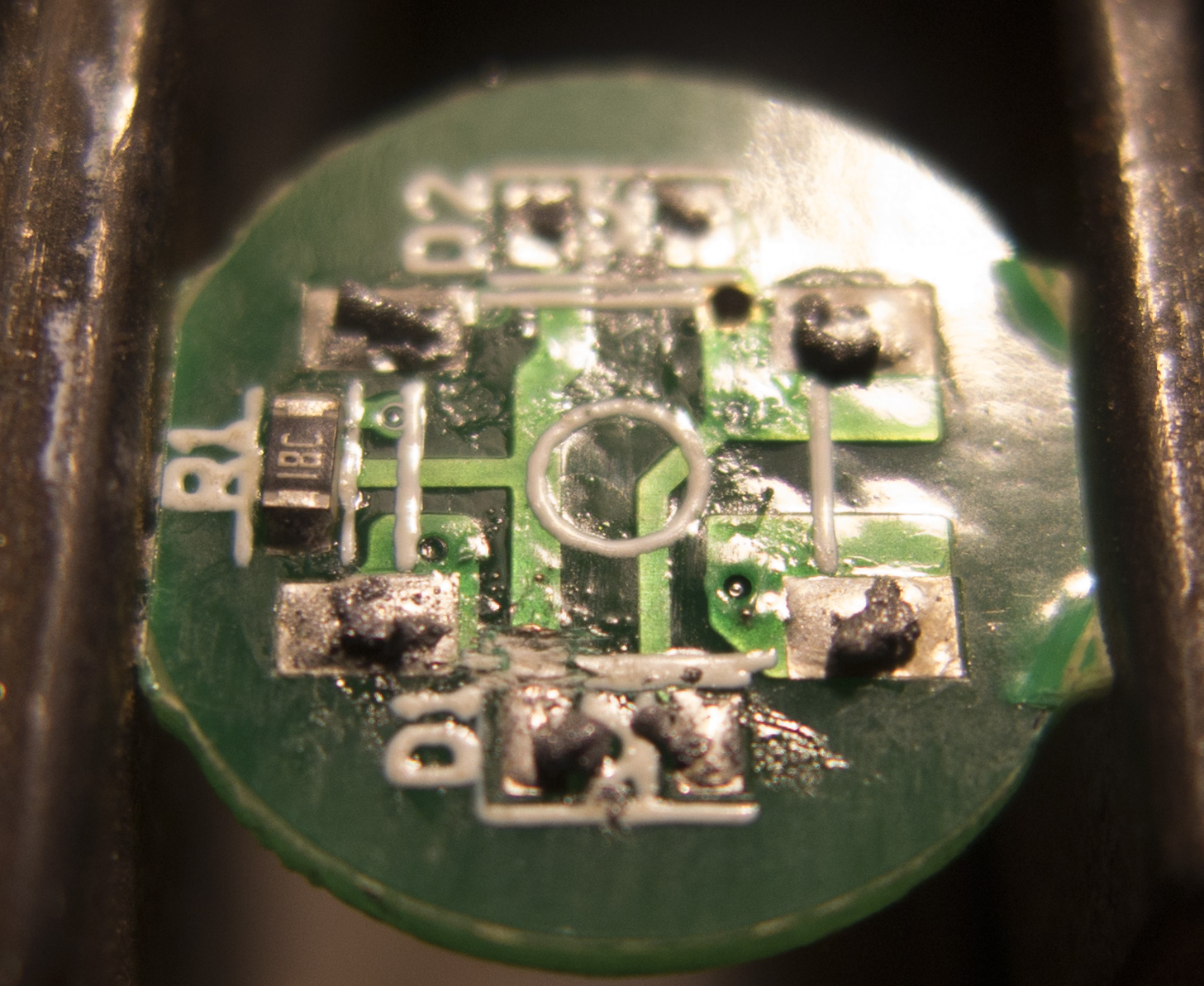 add resistor and wire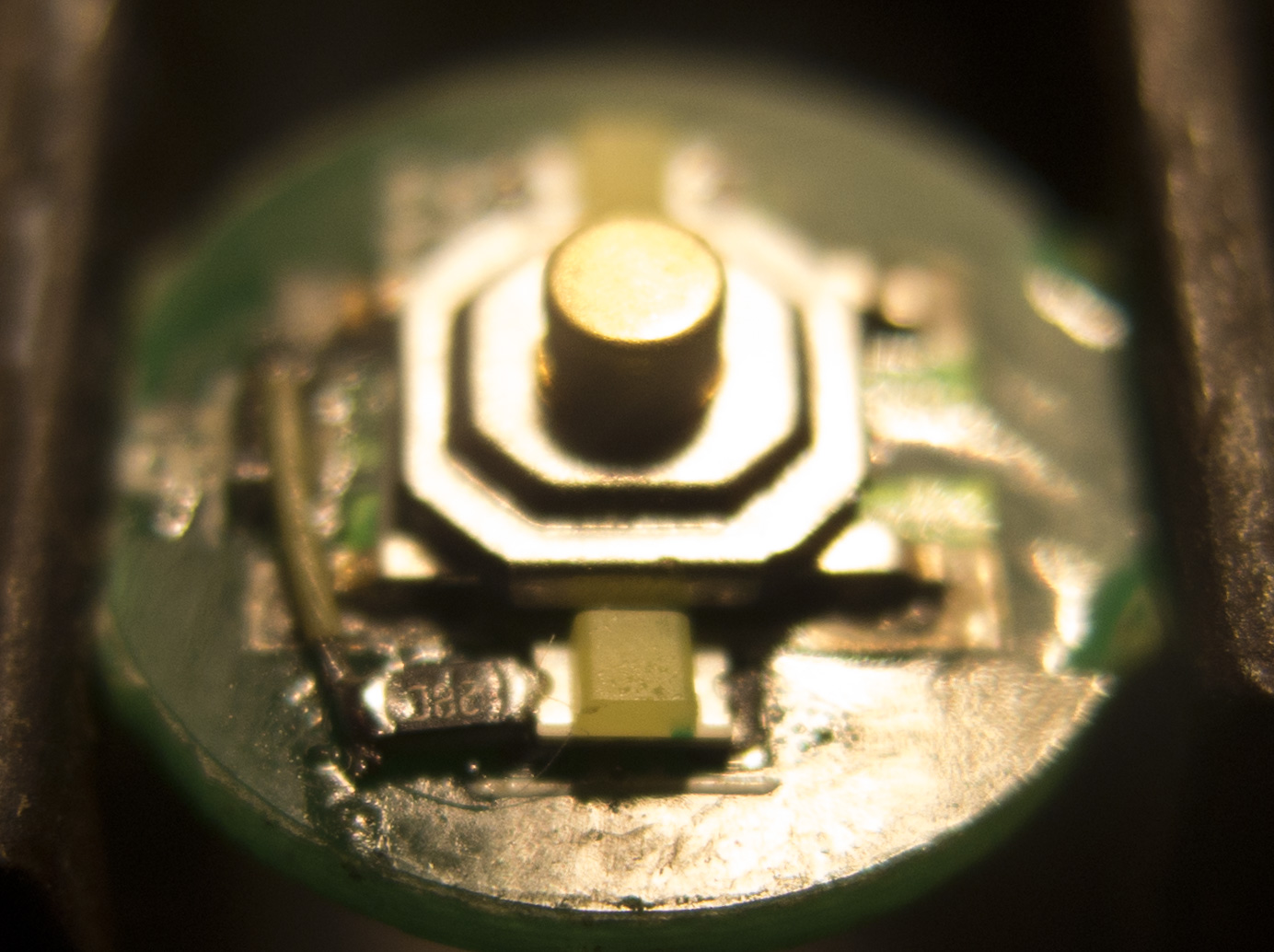 2 white LEDs with 19.1kOhms each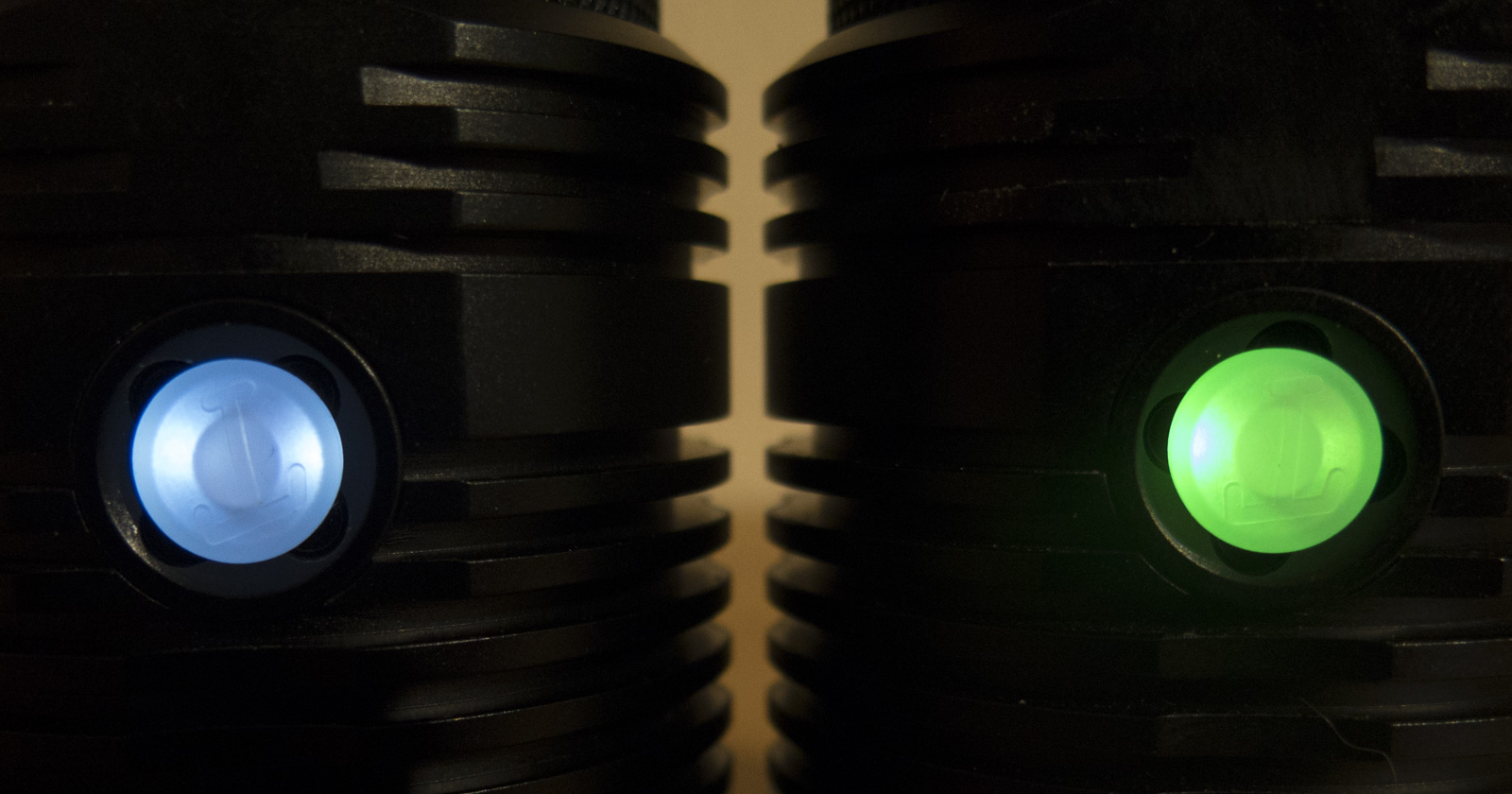 .
Beam shots
Control shot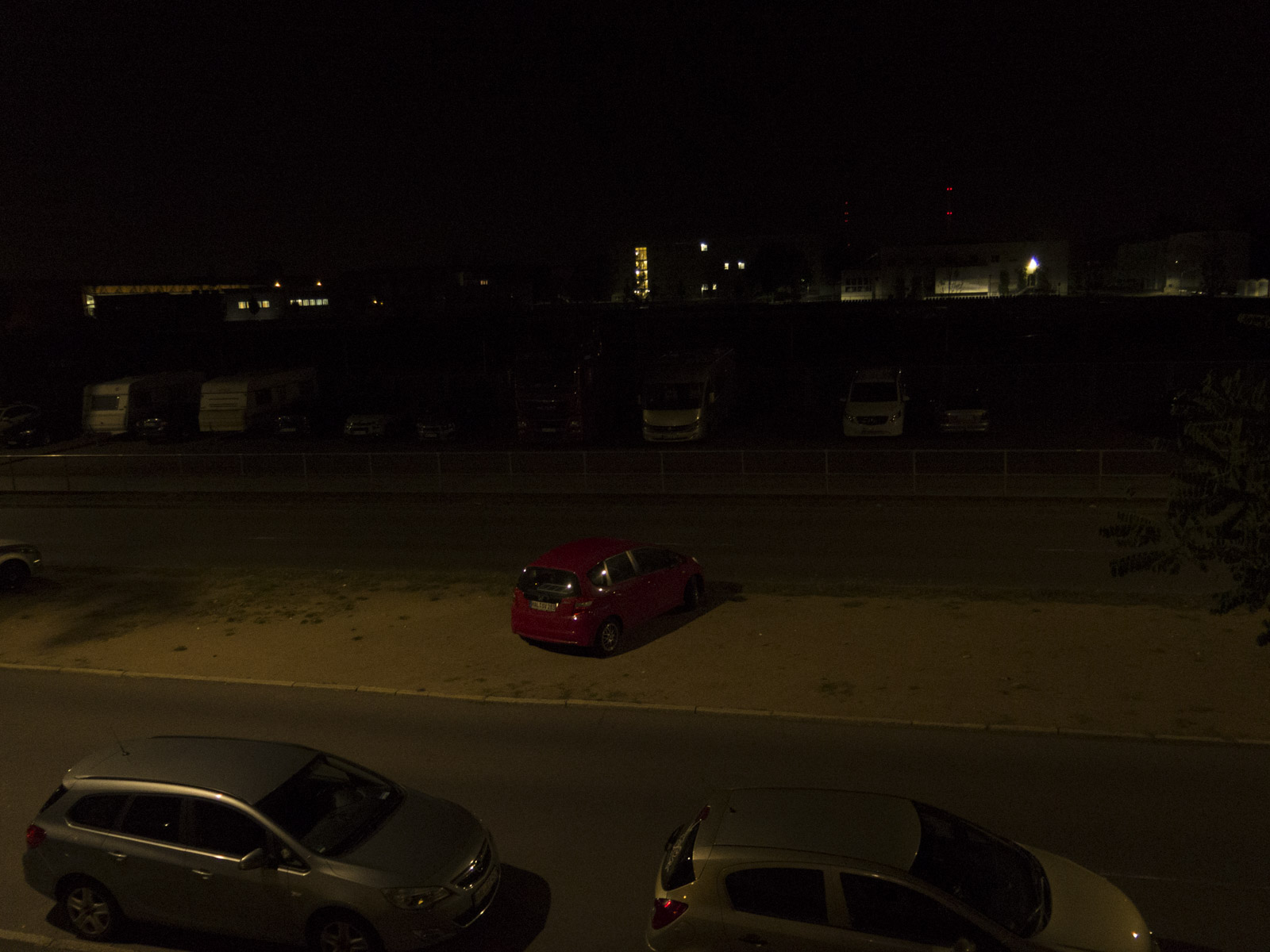 BLF Q8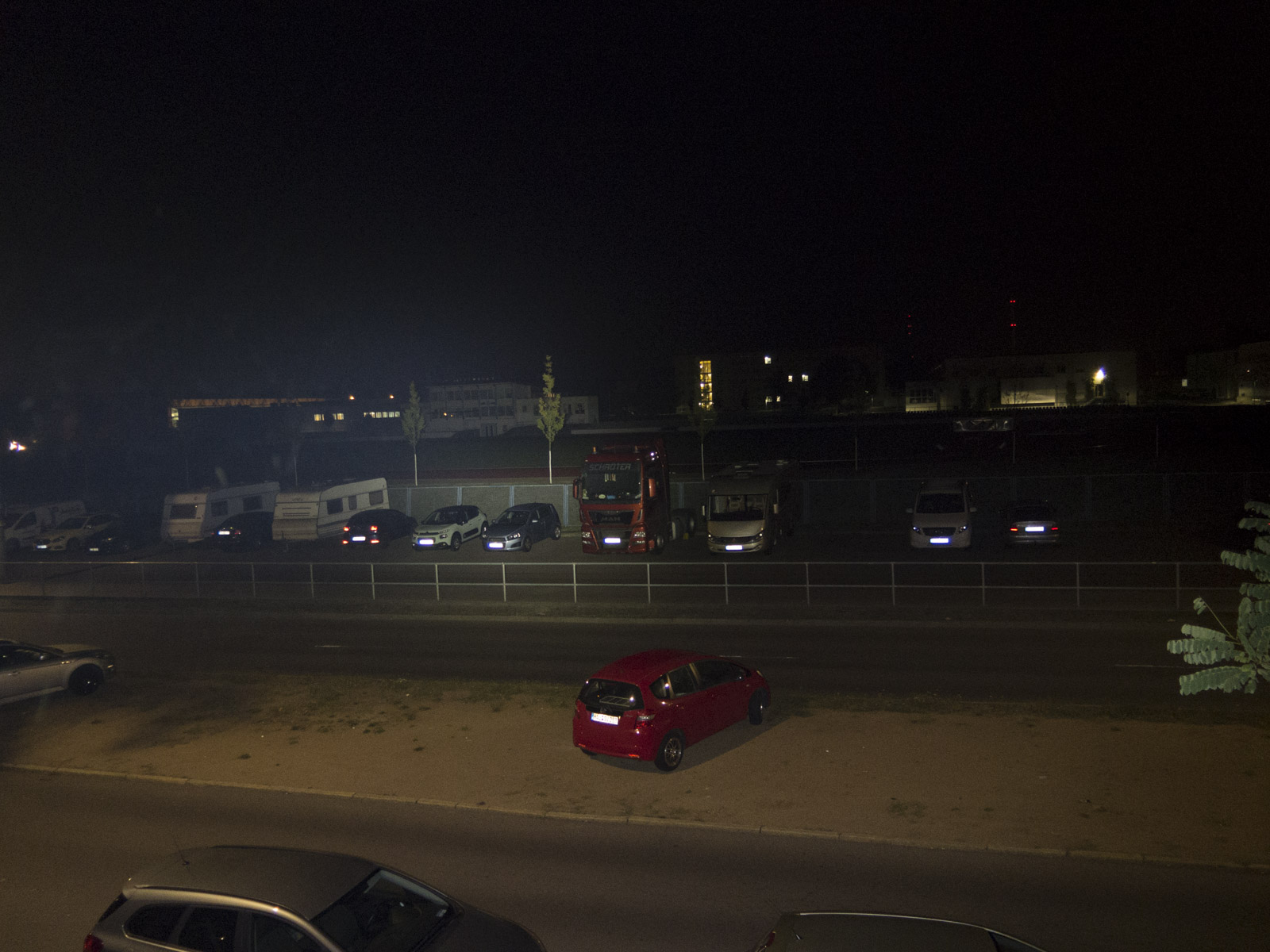 Klarus G35 with XPL HI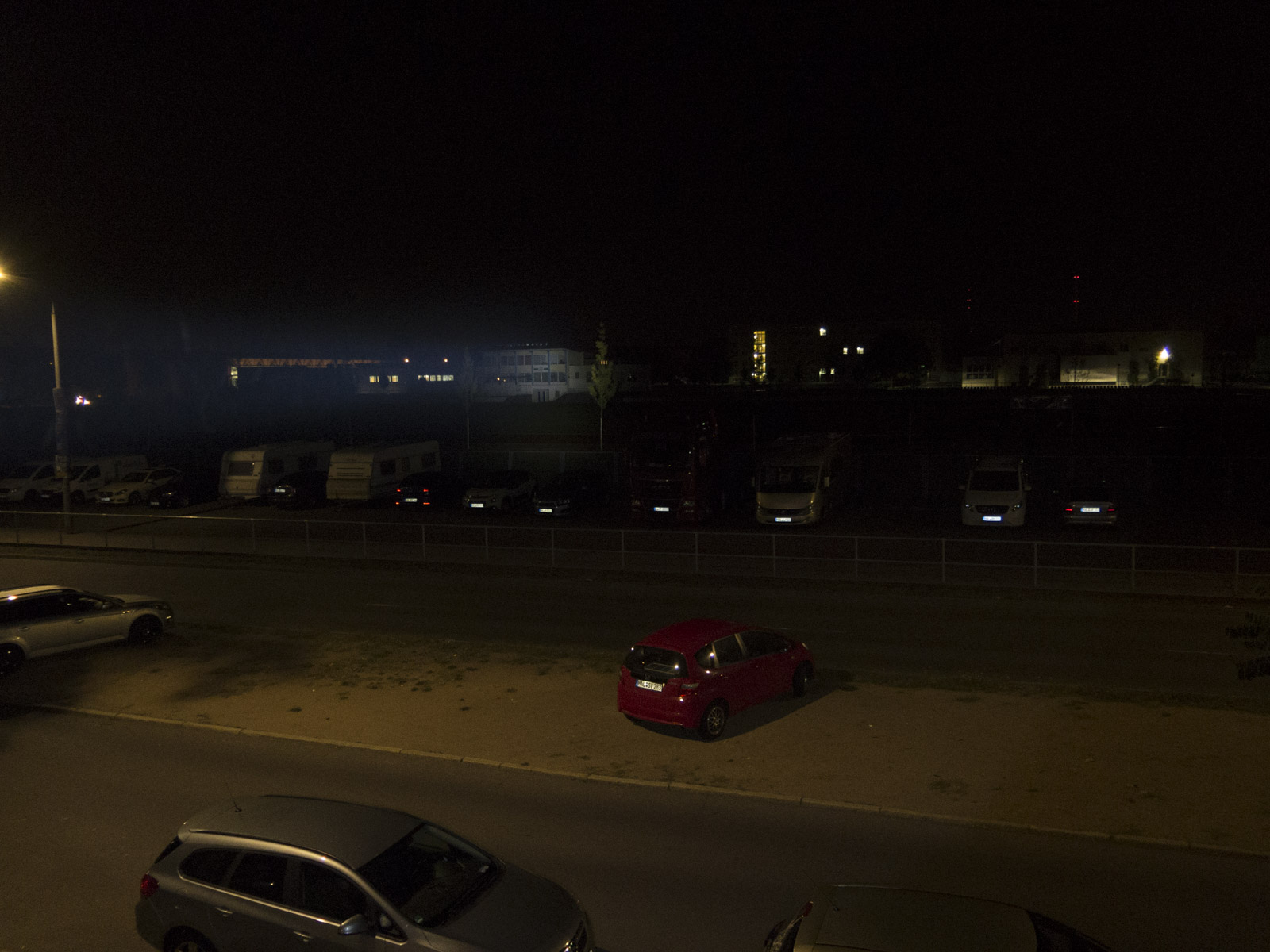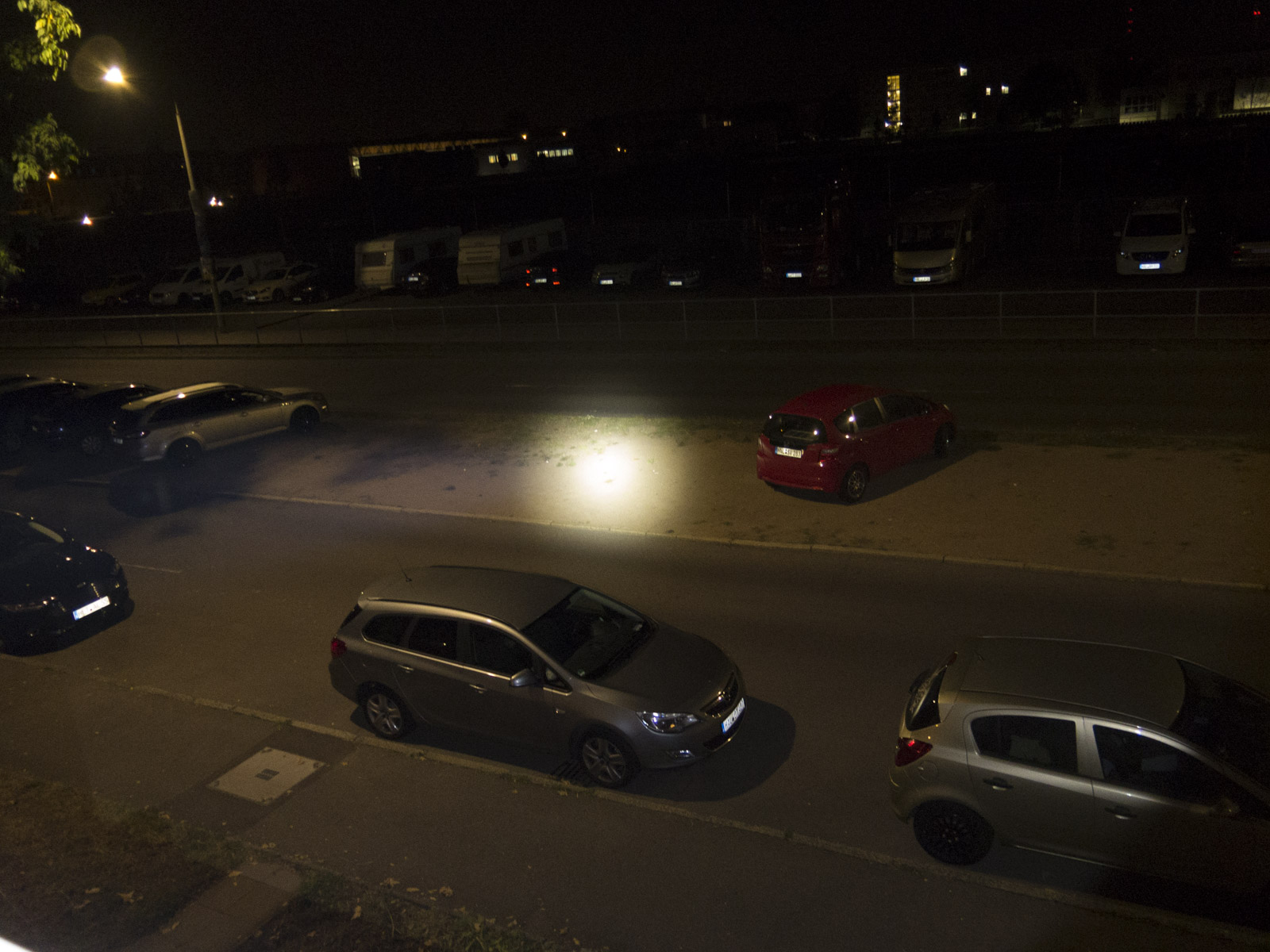 Astrolux MF01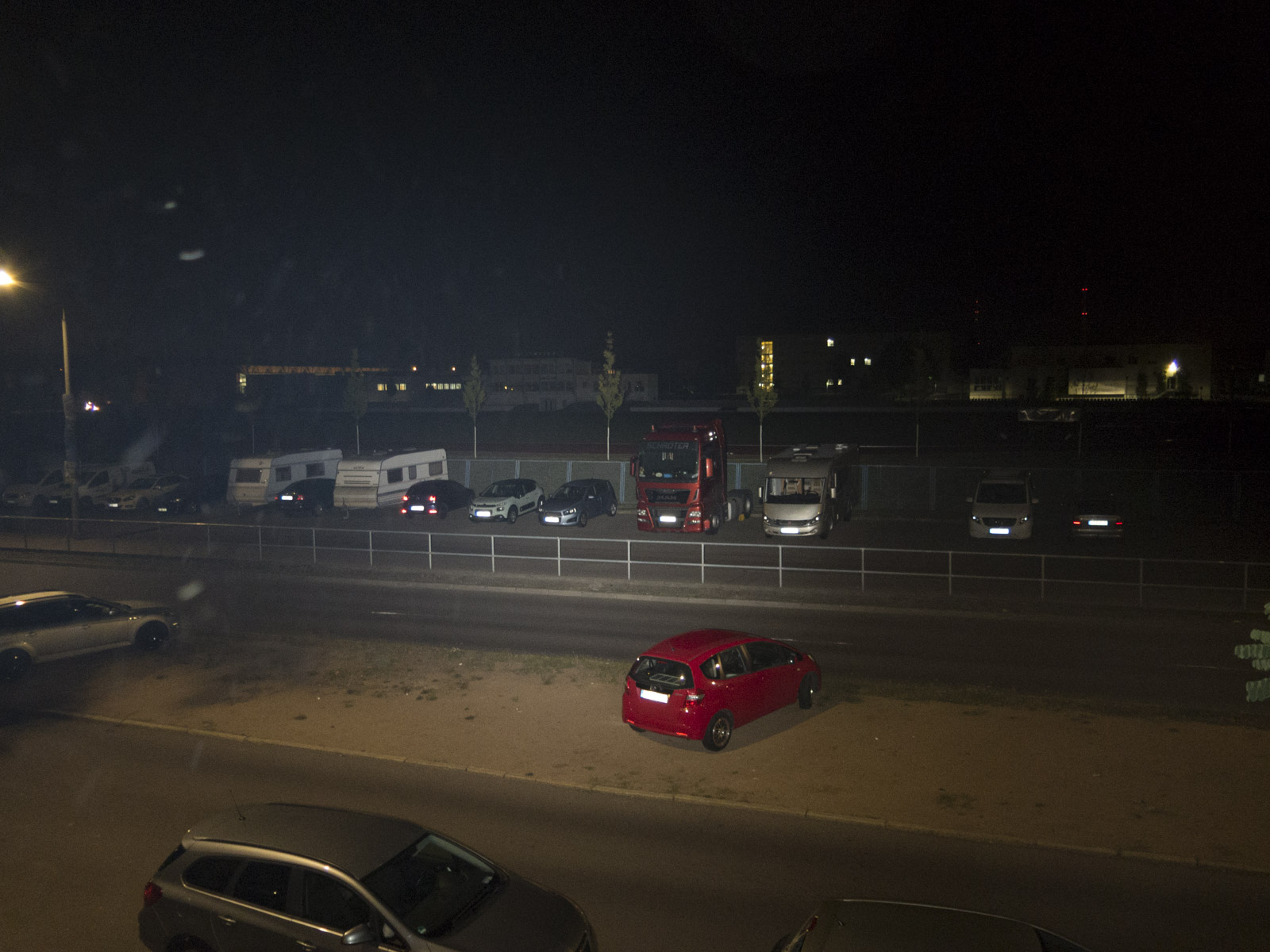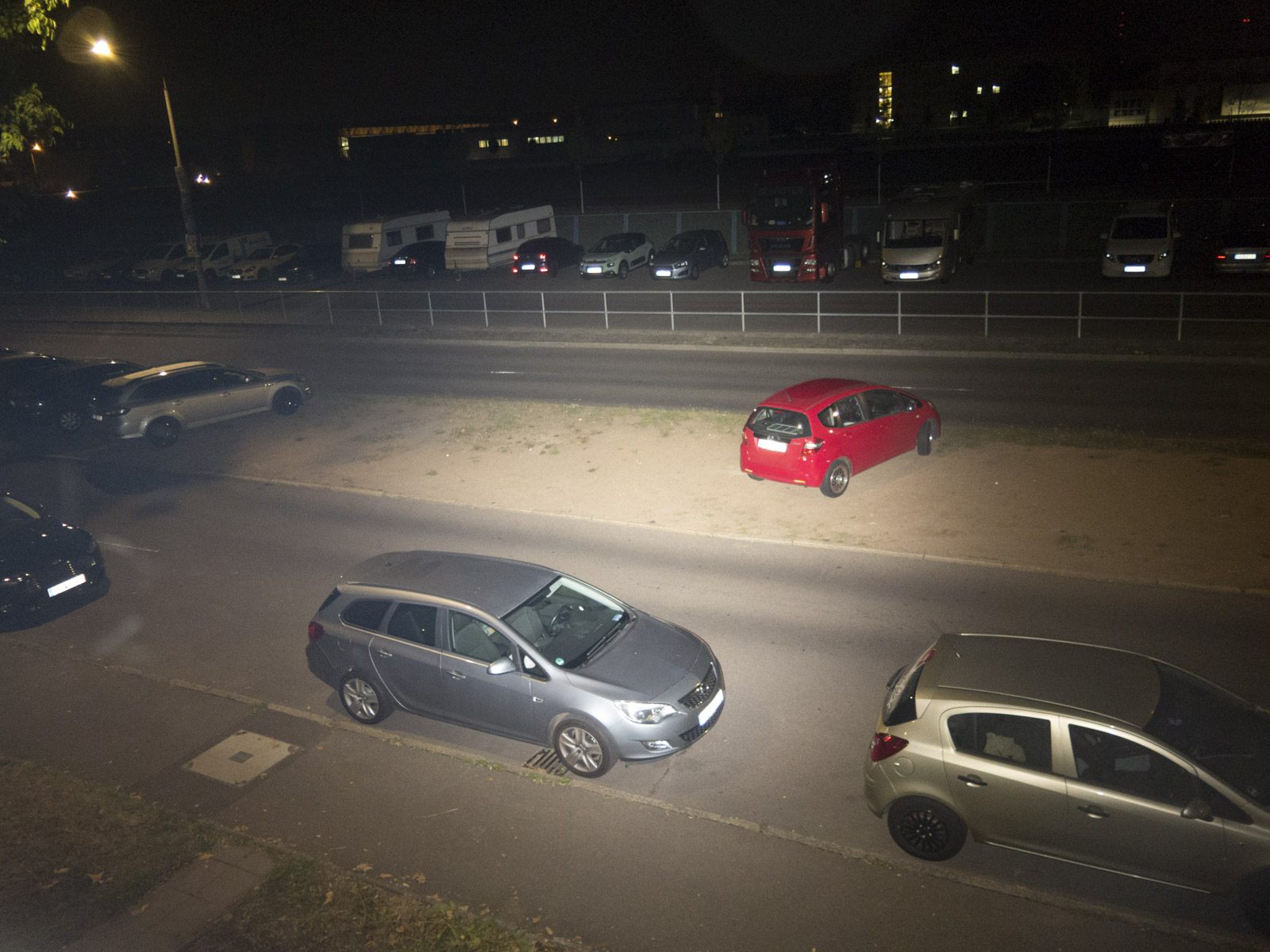 about 2m from Light to ceiling
BLF Q8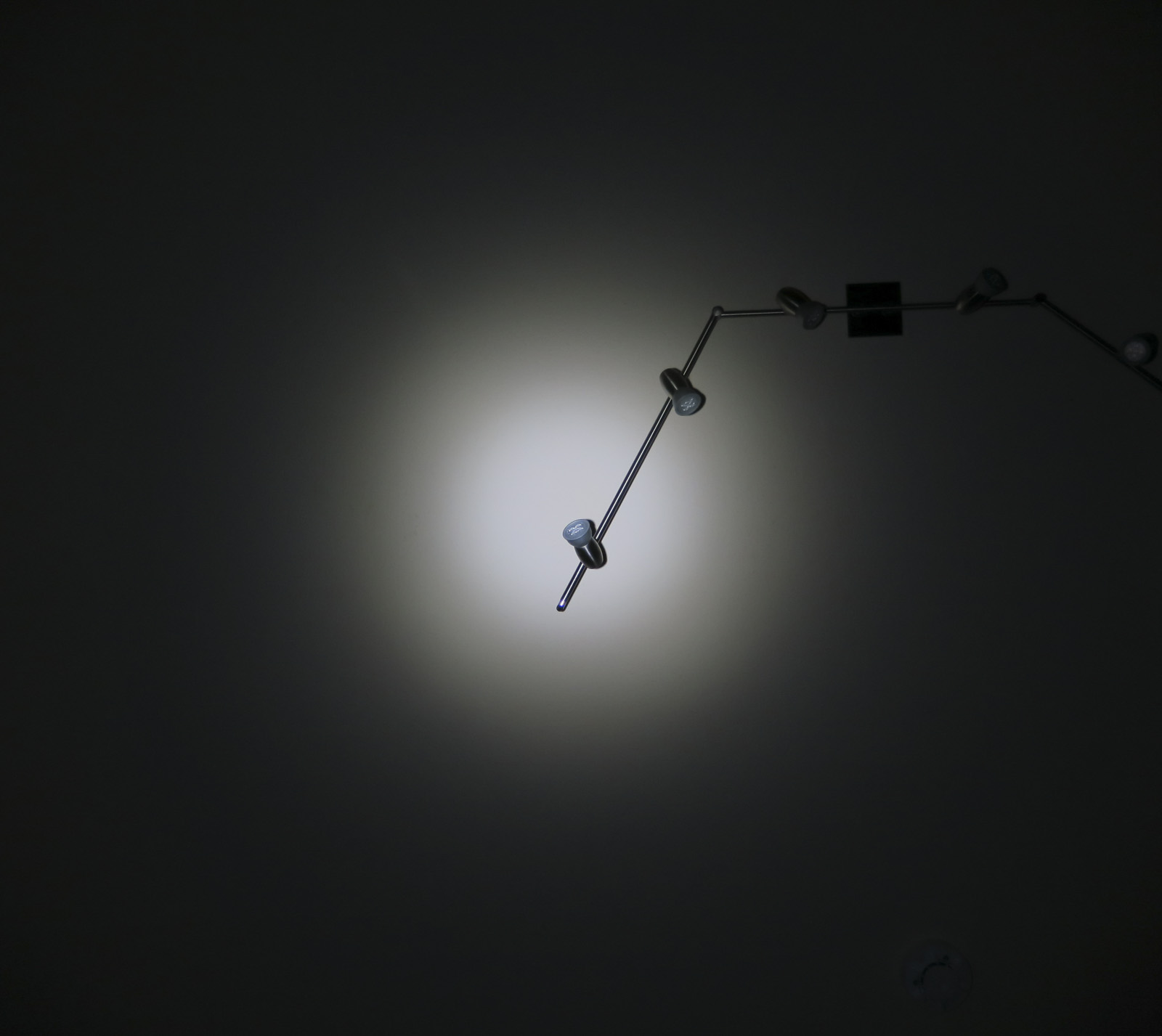 Klarus G35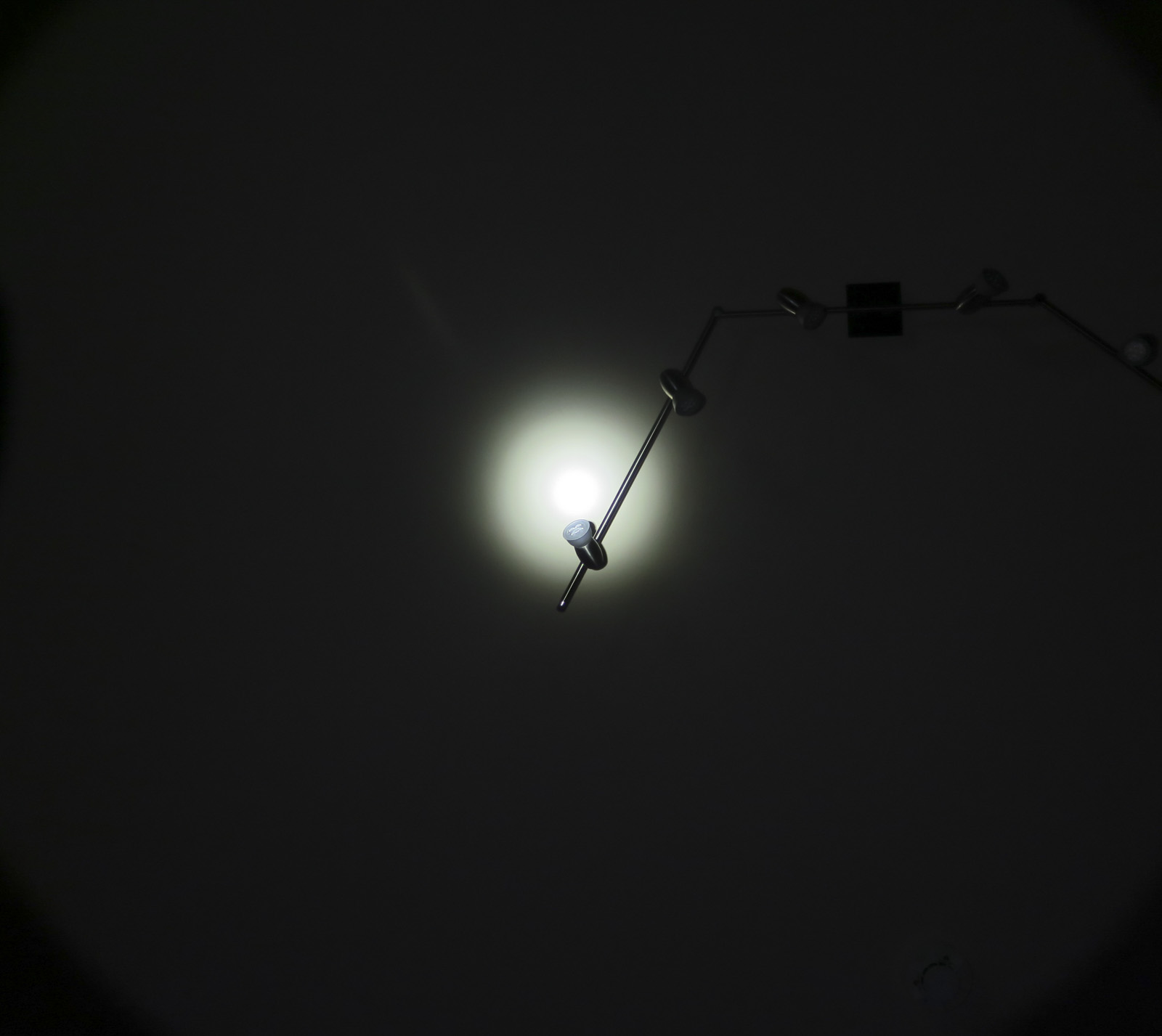 Klarus XT12GT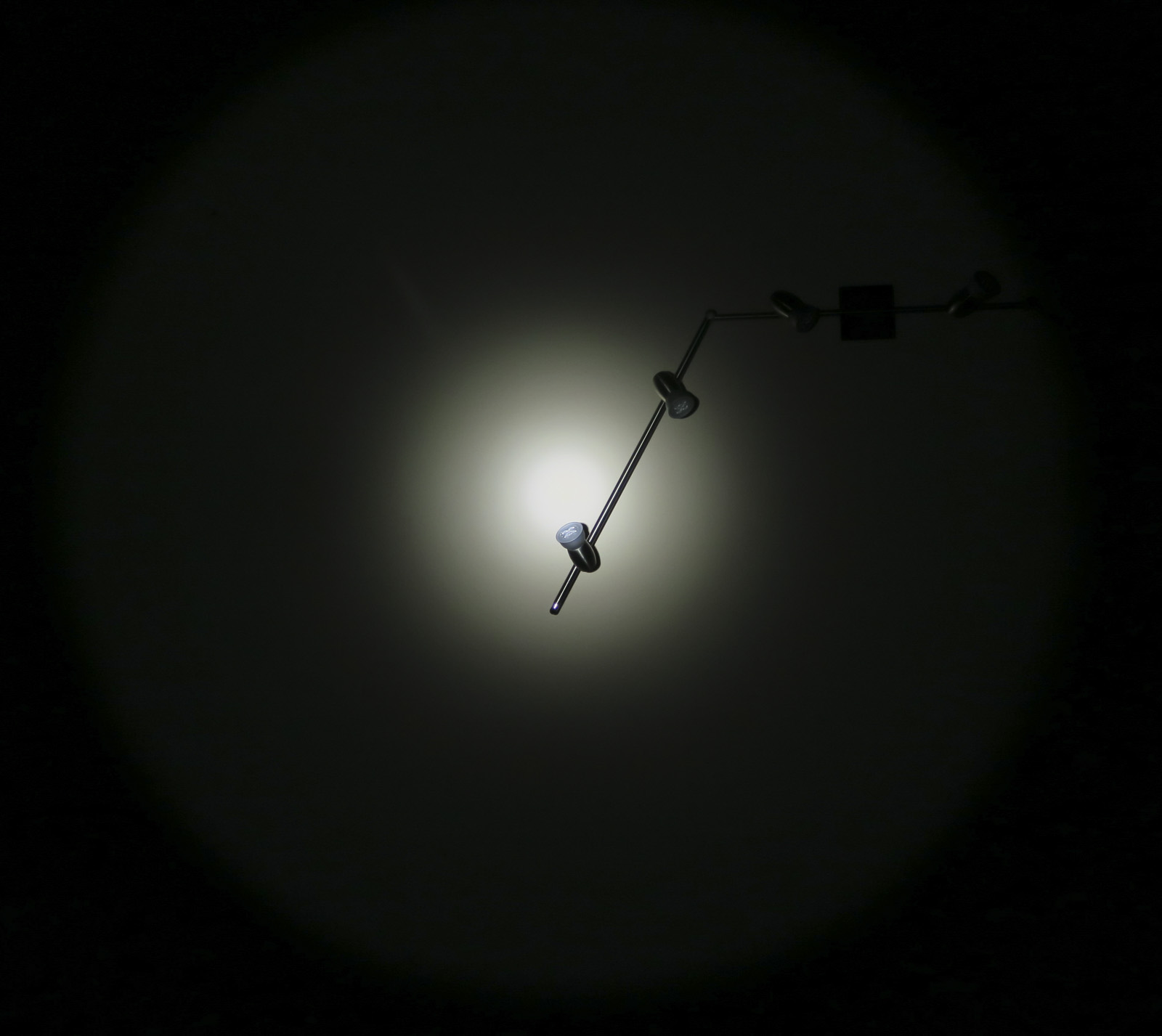 Nitecore P12 XML U3-3D NW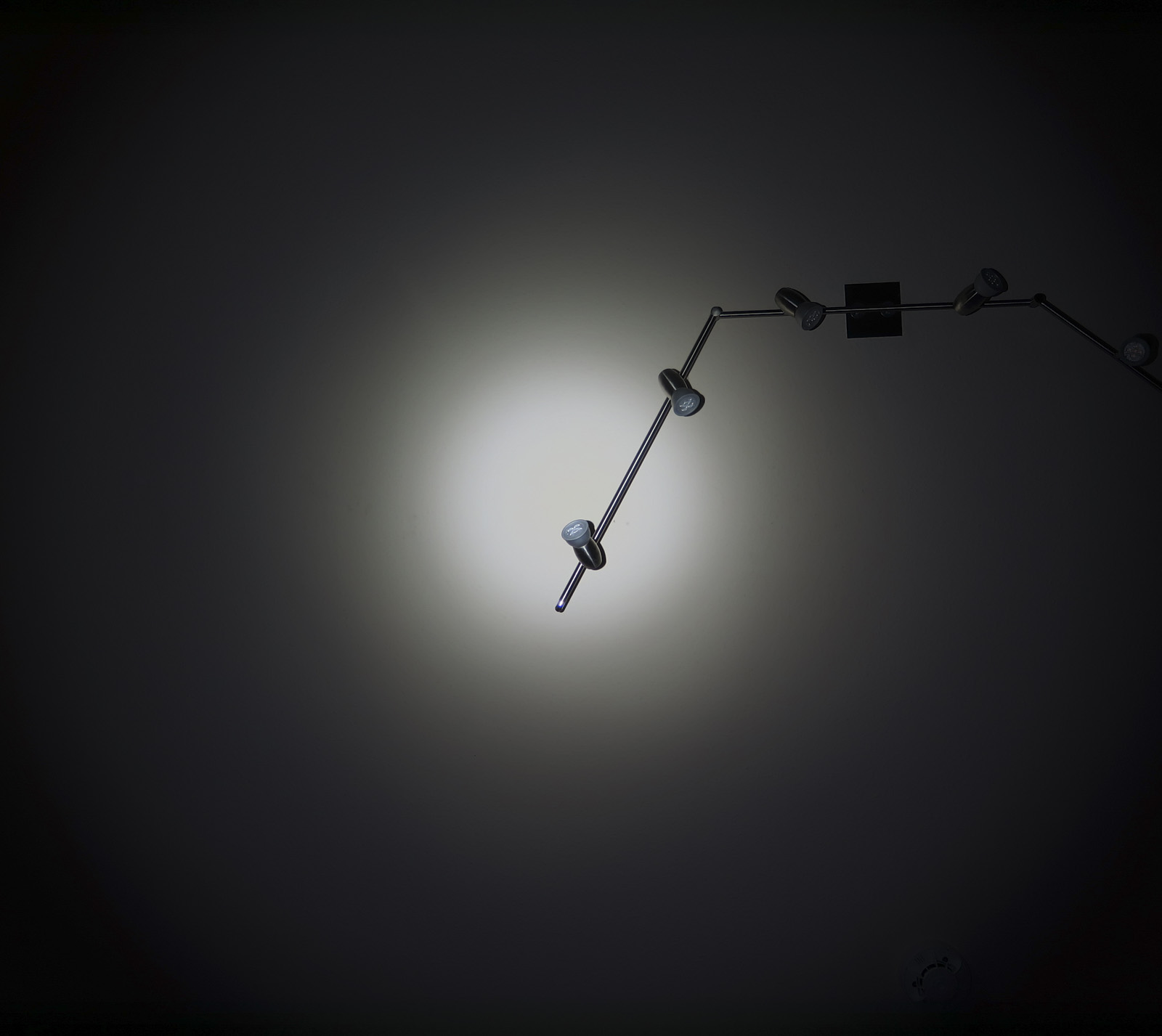 .
Conclusion
The light is mechanical build very well, just a little issues, most of them are easily fixable
Feedback from first batch hopefully leads to the minor issues fixed with further batches
The light has great potential to be modded.
Positive:
- mechanical very good production and engineering
- very solid head, DTP MCPCB screwed on the 5mm shelf
- one of the best firmware NarsilM, ramping or modes highly customizable
- good hotspot and throw, still nice amount of spill
- beam in high modes is a very pure white
- proper LVP and low battery warnings
- low resistance wiring in the head
- easy to mod this light everything is accessible within a minute
- minor production issues are known and the Miller is working to fix em on future batches
Neutral:
- uncoated lens, who likes can upgrade it
- uneven switch LED brightness
- screw heads partially damaged
- driver holes not wide enough
Negative:
- some dirt or glue that can reduce the max output on Turbo on the brass ring and on the tail board mounting area
this can be fixed cleaning the brass ring and tube
—
[Reviews] Miboxer C4-12, C2-4k+6k, C2, C4 / Astrolux K1, MF01, MF02, S42, K01, TI3A / BLF Q8 / Kalrus G35, XT11GT / Nitefox UT20 / Niwalker BK-FA30S / Sofirn SF36, SP35 / Imalent DM21TW / Wuben I333 / Ravemen PR1200 / CL06 lantern / Xanes headlamp
[Mods] Skilhunt H03 short / Klarus XT11GT, XT12GTS / Zebralight SC50+ / Imalent DM21TW / colorful anodisation
[Sale]
Drivers: overview of sizes and types
DD+AMC based drivers Anduril or Bistro OTSM 12-24mm, S42, 24-30mm L6, Q8, MF01(S), MT03, TN42  
Anduril or Bistro 8A buck driver for 20-30mm, MF01/02/04, TN40/42, Lumintop GT, MT09R

Remote switch tail DD board with FET
Aux boards:
Emisar D1, D1S, D4, D4S, D18, Lumintop FW3A, Fireflies ROT66, Astrolux MF01, Tail boards like S2+