you can buy Manker MK35 at ALIEXPRESS
AMAZON
I really like stuff what Manker do. 1st their product that I used was U11 which was really good for price\quality ratio. For such a new company they start was really impressive.
MK35`s been a long time in my wish list, so finally I want to share my thoughts about it with you.
There were some reviews already, hope i`ll add some more useful info to them.
SPECIFICATION
*Emitter: Cree XHP35 HI LED (CW and NW for your choices)
Maximum output: 2550 lumens for CW version (NW version output is about 20% less than CW)
Maximum beam intensity: 504100cd
Maximum beam distance: 1420 meteres
Working voltage: 11.2v – 16.8v (Overdischarge protection)
Driver: Most efficiency constant current circuit
Waterproof Standard: IPX-8 (under water 2meters)
Impact resistance: 1.5meters
Tail stand
Material: Aircraft-grad aluminum body
Surface treatment: Premium Type III hard-anodized antiabrasive finish
Lens: Toughened ultra-clear glass lens with anti-reflective coating
Dimensions: 188mm x 86mm (length x Head diameter)
Weight: 675 gram (without battery)
Accessories: O-ring *1, Lanyard *1, User manual *1, Holster *1
Brightness levels and runtime:
- Moonlight: 0.1-5 lumens 1500 hours,
- Low: 47 lumes 76 hours,
- Medium 1: 136 lumens 21 hours,
- Medium 2: 700 lumens 7 hours,
- High: 1600 lumens 2.5 hours ,
- Turbo: 2550 lumens (2550lumens last on 15 minutes than stepdown to 1600lumens) 2.5 hours,
———————————————-
PACKAGE
Thick cardboard box has quite simple design with only black print of MK35 on it. But it doesn't look cheap, I outta notice. Box successfully survived long journey from China to Russia without any trouble.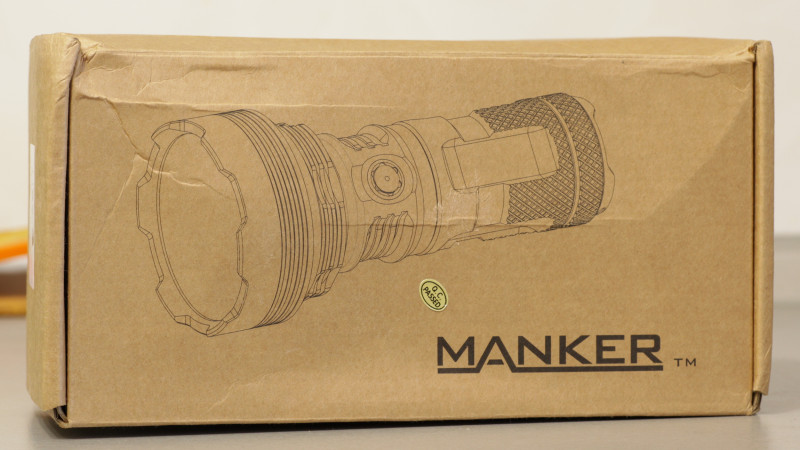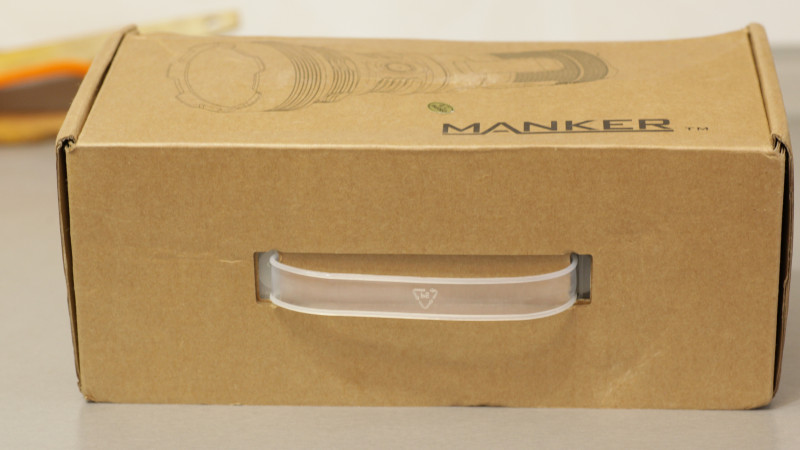 There are a lot of foam rubber inside, with holes cut for flashlight.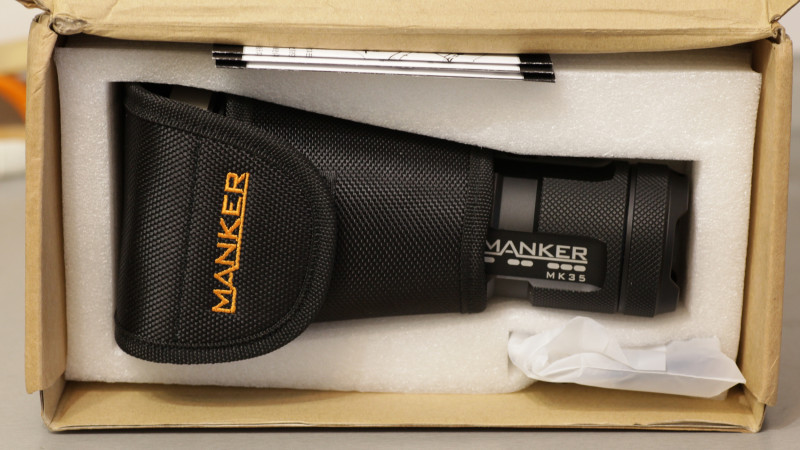 Package is simple and includes MK35, holster, lanyard, orings, and manual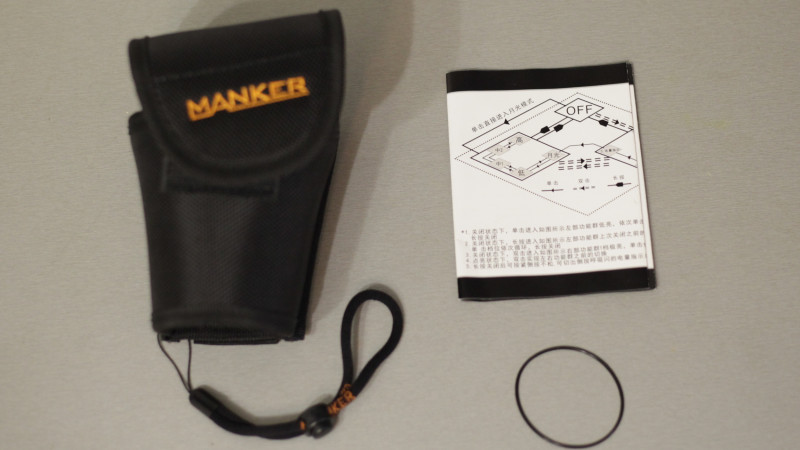 This is how MK35 looks. I find it`s design impressingly brutal. Really big, and really man`s thing!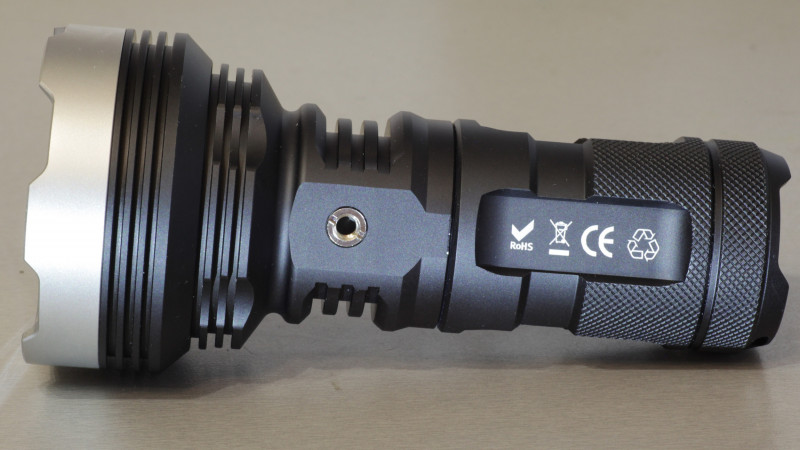 Well, as Iet`s see it with other lights side by side.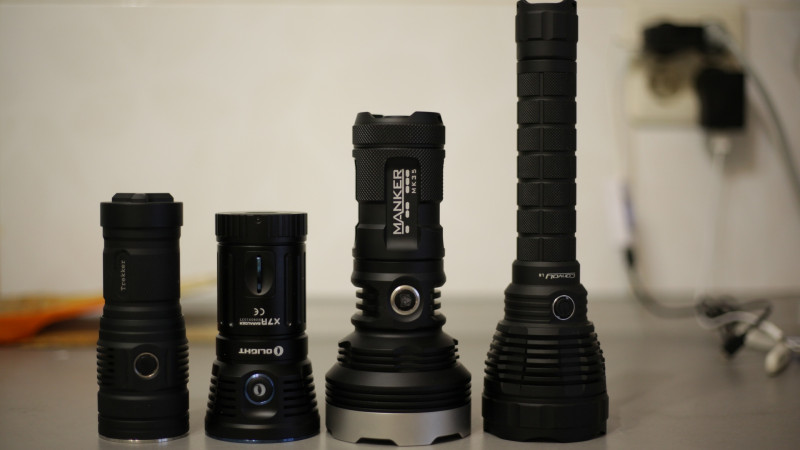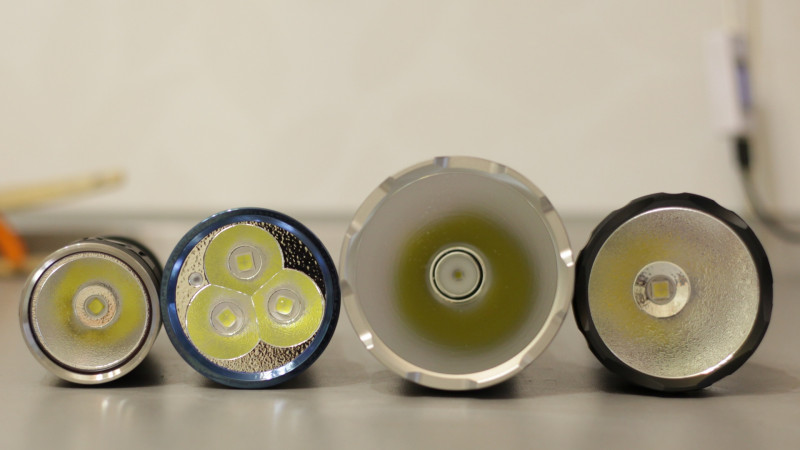 675g without batteries, 880 with 4×18650GA. I think that if you are going to use it all night long, shoulder strap (as one of Jacksman Hunter) would be a good addition.
Hoster is good.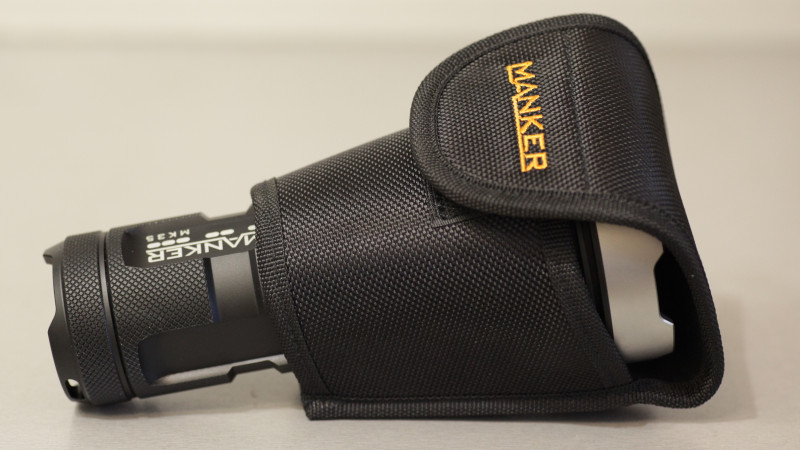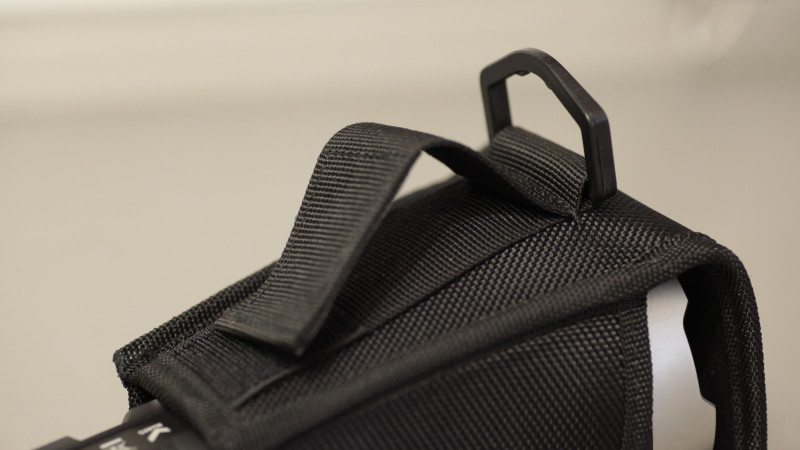 There are a pair of holes for lanyard + smooth wide round heel to provide good tailstand.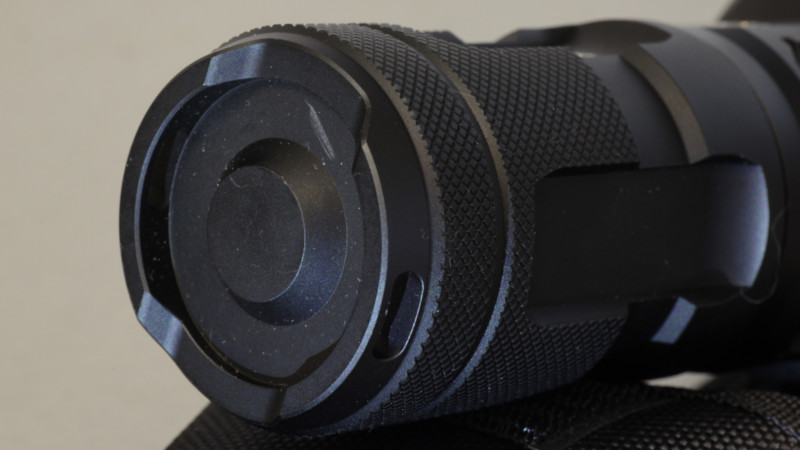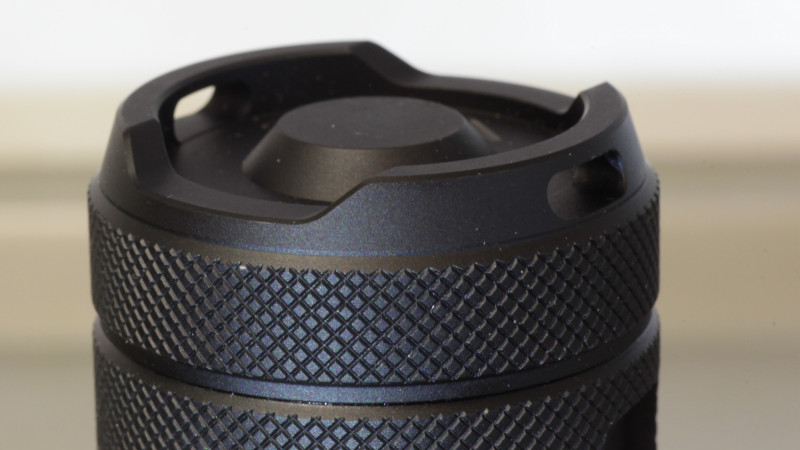 As MK35 is a heavy thing, I suppose that full-paracord lanyard will be more reliable.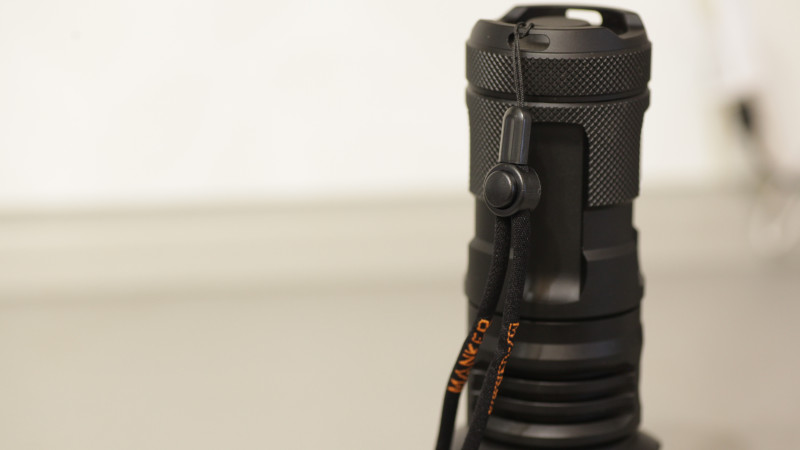 Threads at tail cover are well lubricated. Spinning contact plate is round and has a pair of positioning pins. That`s a good system which is oftend used in multi-batteries lights.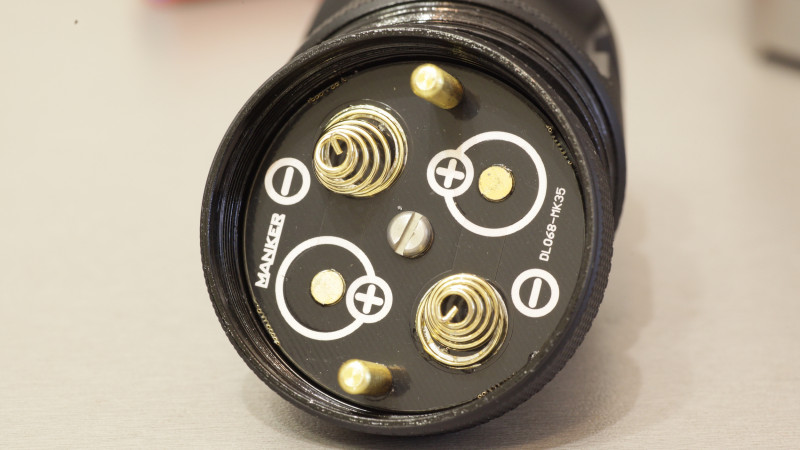 Rear side of this plate is wel lubricated and has support – o-ring.
Here I see the only unreliable detail. Both these positioning pins fell from contact plate, as they were just little bit soldered. I use butane soldering-iron to resolder it. And not they hold a way better. I recommend. That took me like 10 minutes to improve this.

Threads are rectangular and well lubricated.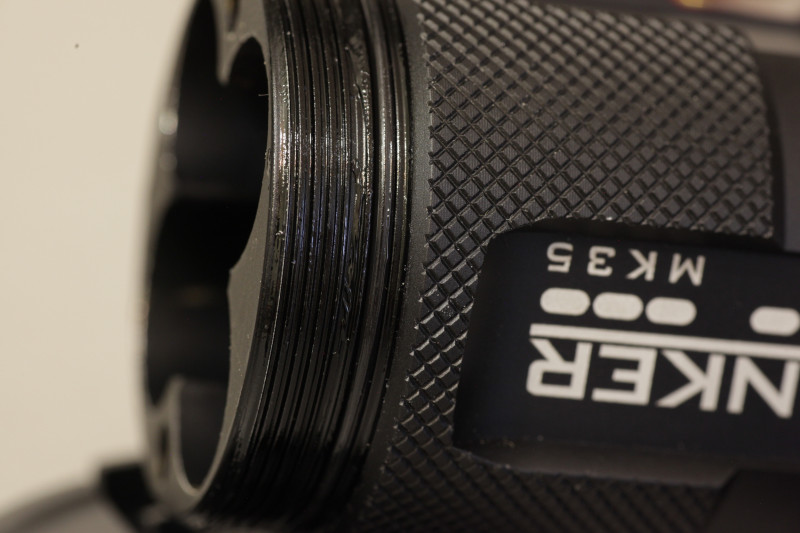 Body is a revolver-type, with 4 holes for batteries.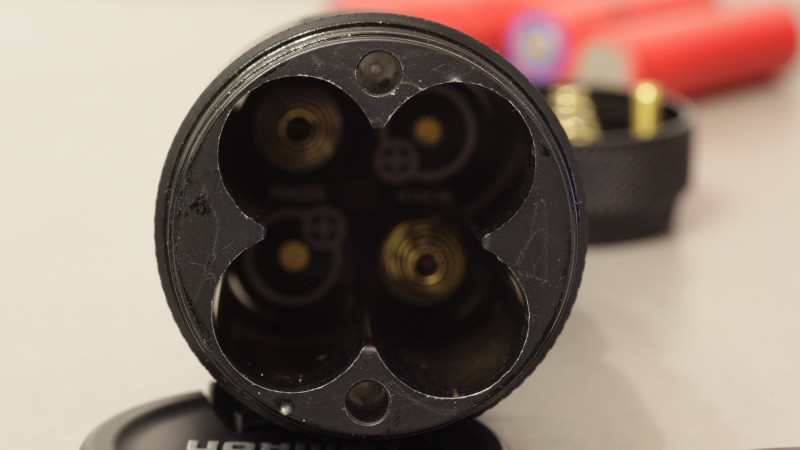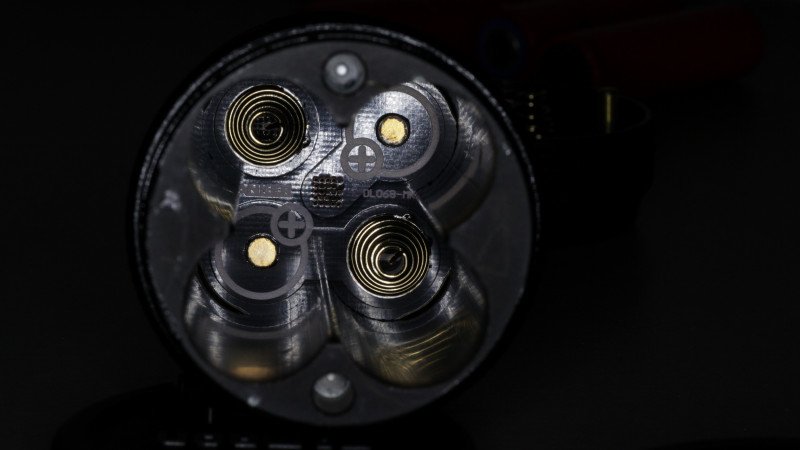 Knurling is regular, rhombic. There are some trenches cut in body to reduce weight.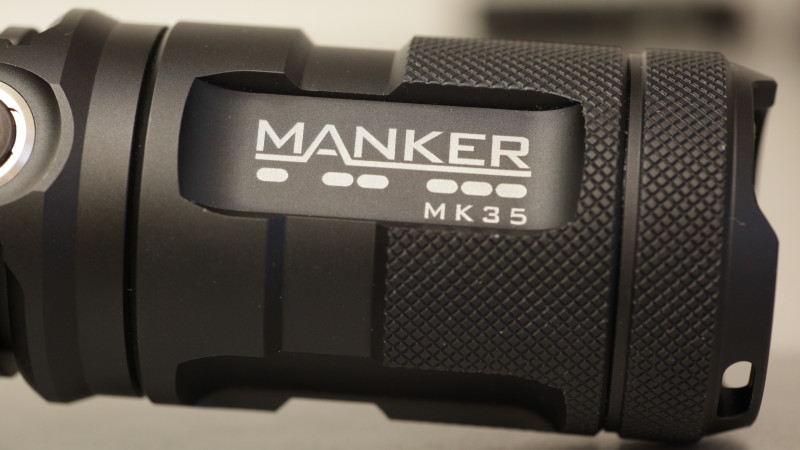 A, i`ve forgotten about one mode disappointing feature.
There is a tripod mount. And I have photo-tripod and monopod. None of them suits this mount, though cheap one, with smaller mount plate does easily.
I recommend manufacturer to move this mount hole 15-20mm away toward tail.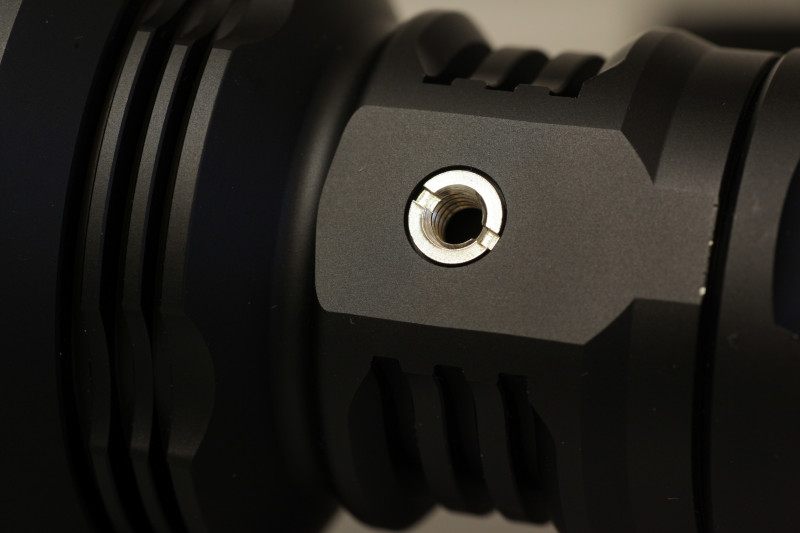 Contact plate at head seems to be cut by hand.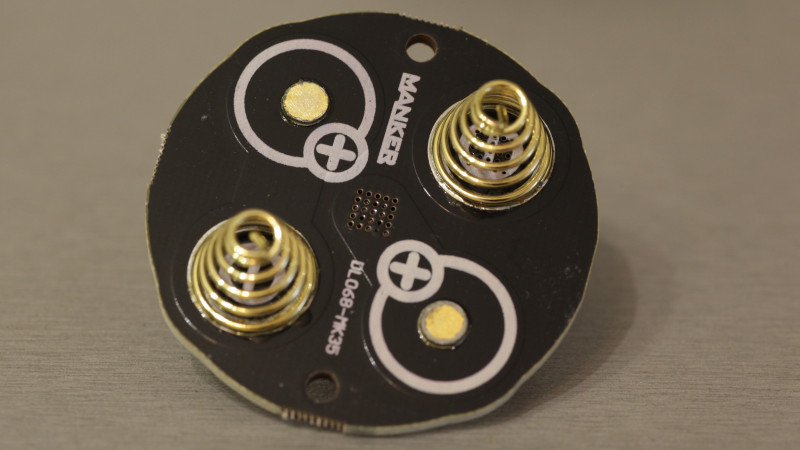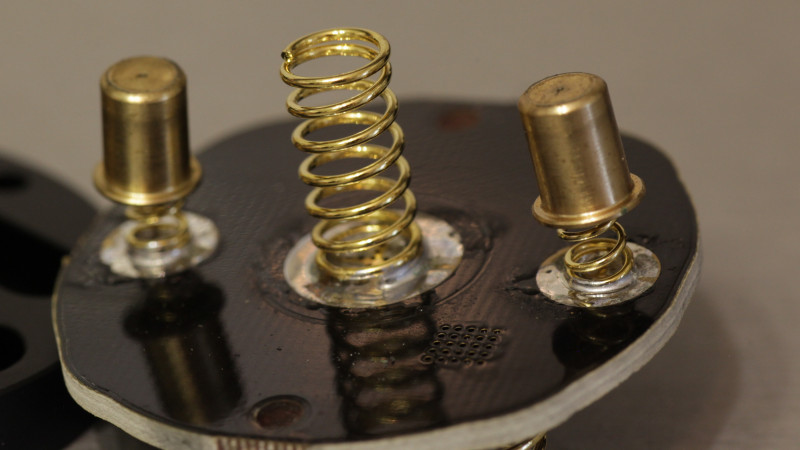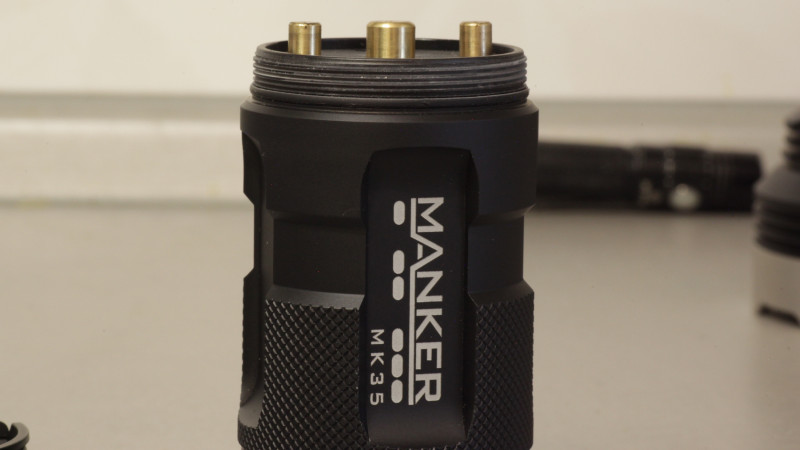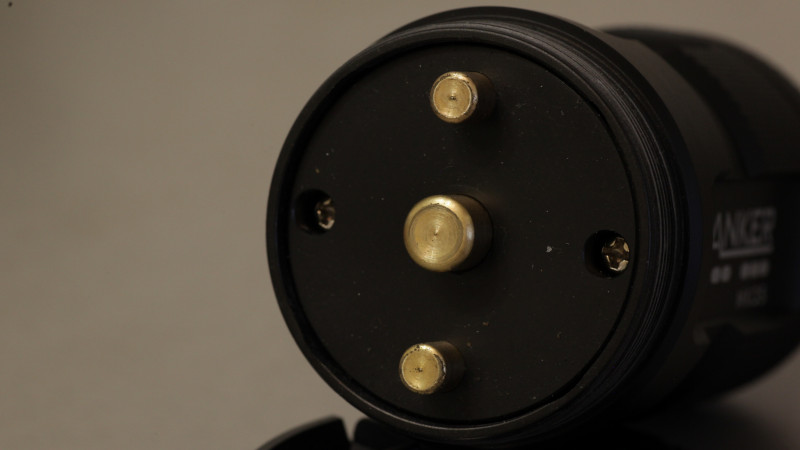 I have to notice that in my example threads at head has no lub at all. From one side – user has no need to unscrew this part. From other side I simply cannot see threads without lubrication )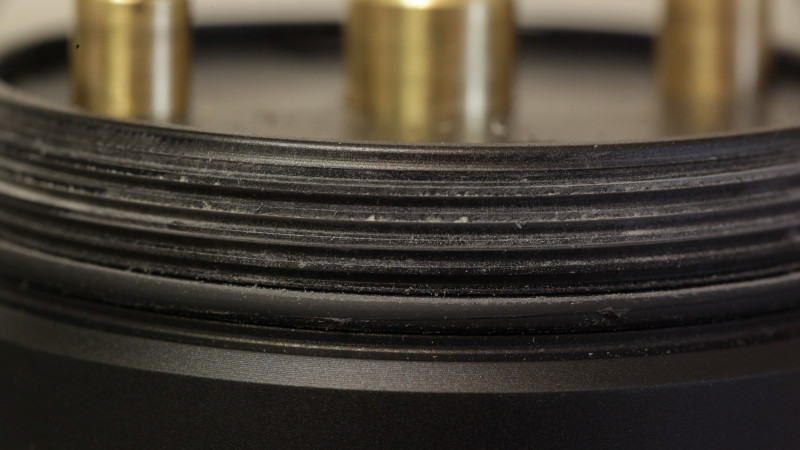 Button is big and is located on the opposite part from tripod mount. There is no problem with finding it in darkness – finger easily finds it.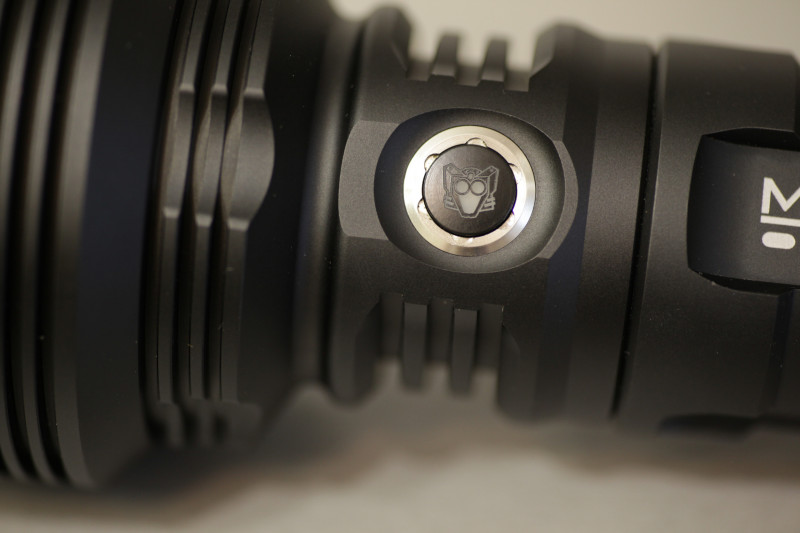 Button is convex, elastic with med-deep move and noticeable click. And, expectedly, it works for charge level indication.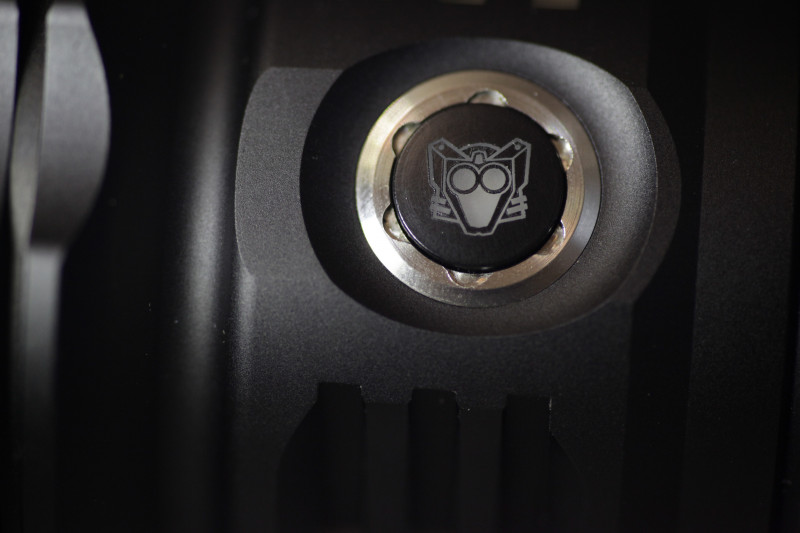 !https://pic.mysku-st.ru/uploads/pictures/03/92/45/2017/11/05/a55ae6.jpg" alt="" rel="lbox" />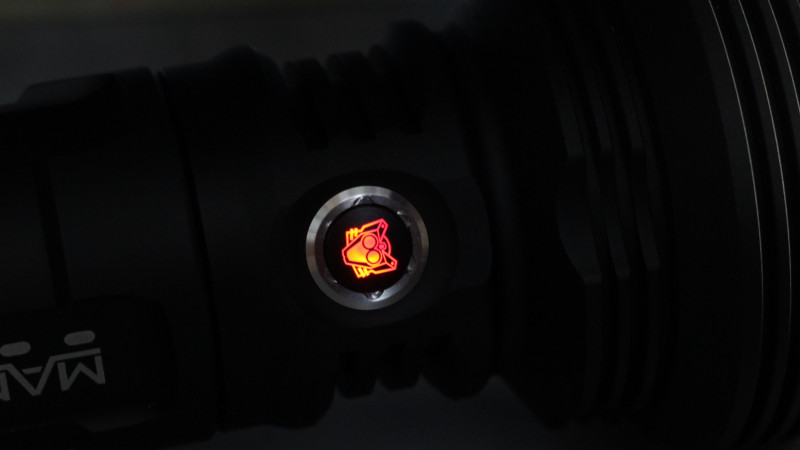 Contact plate at head also looks expectedly, we can often see this in similar lights.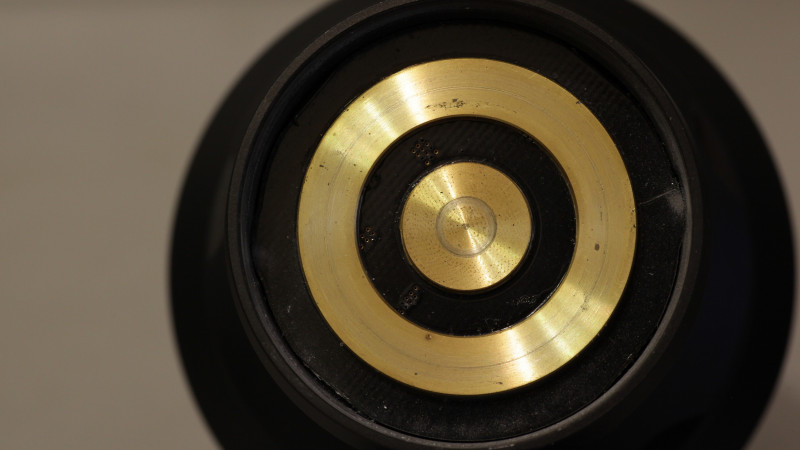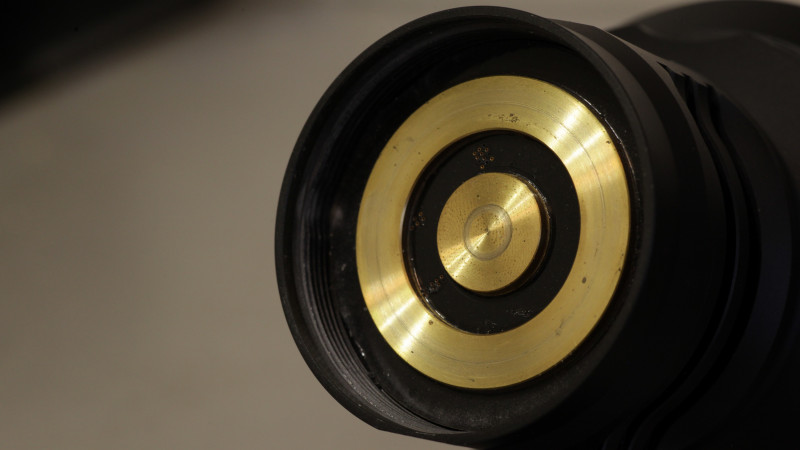 And that`s time to take a closer look at head. Wow, this a really big one. It seems that the closest rival is Thrunite TN42. MK35`s head is even bigger than the rest of body.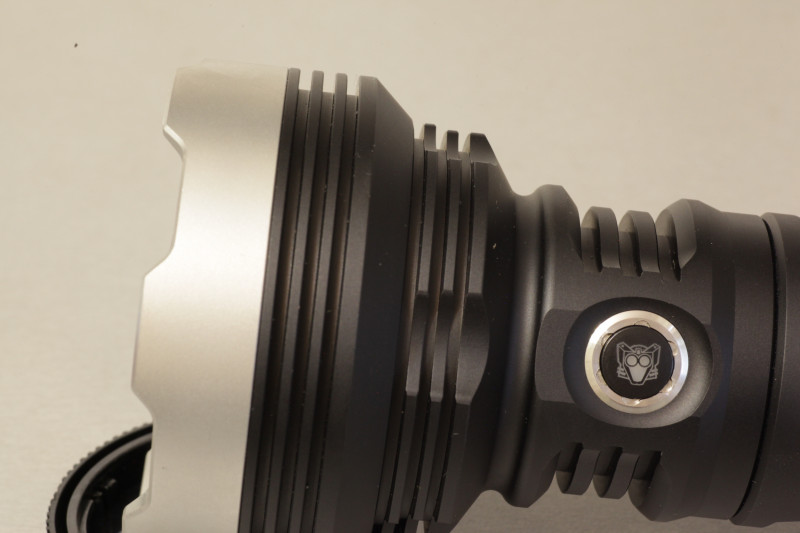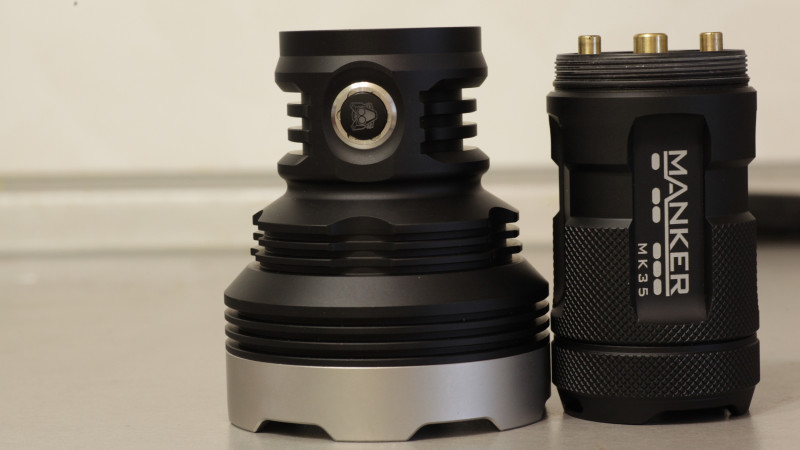 Though that's a non-tactic light, teeth of crown-shaped bezel are largest that I can remember from other lights. Glass is AR-coated.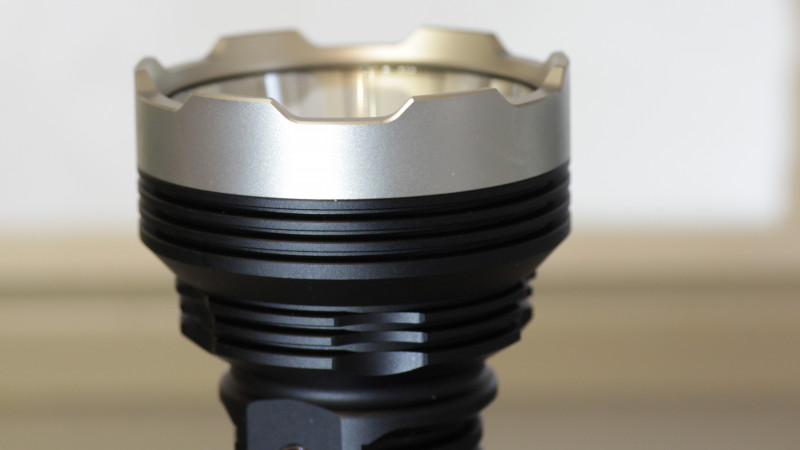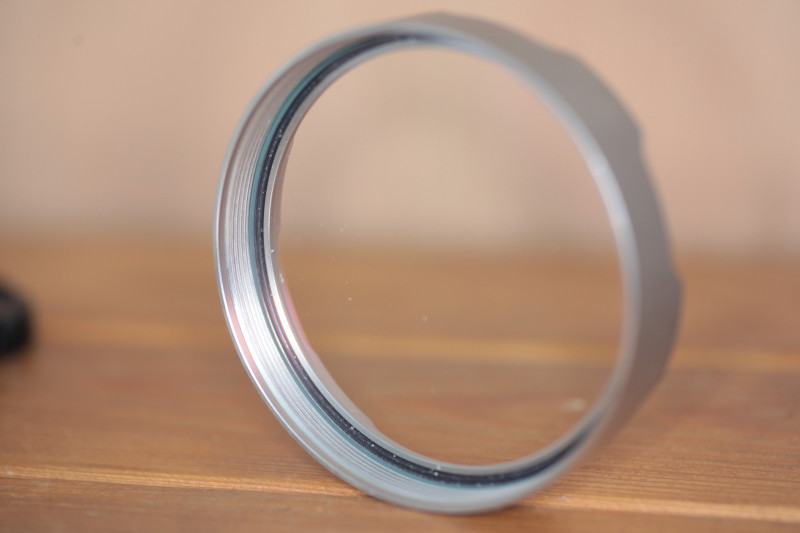 Cooling ribs are good in number and depth. Regarding to size of flashlight chances of overheating are sooo few.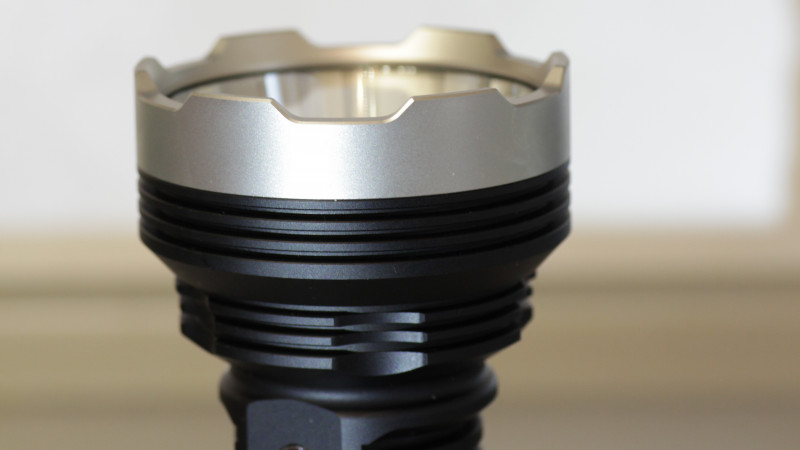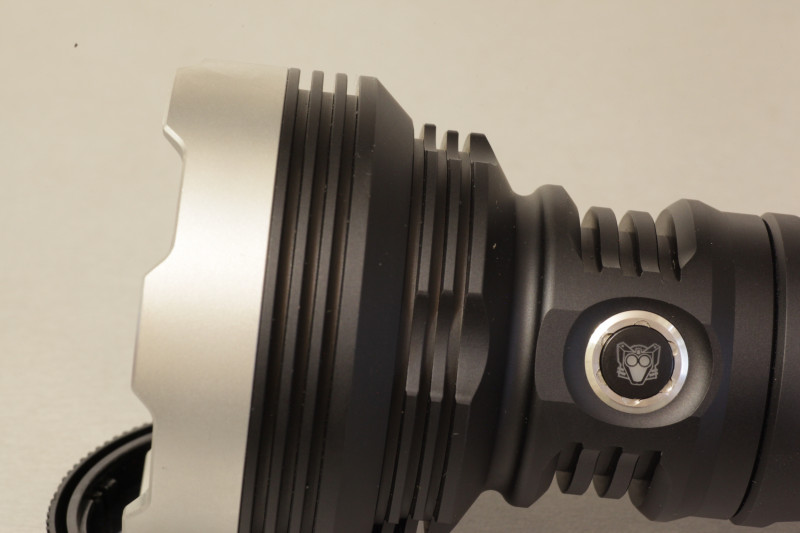 SMO reflector is about 7cm depth and 8 width. That is a really HUGE reflector. I think that only Gigathrower has larger one.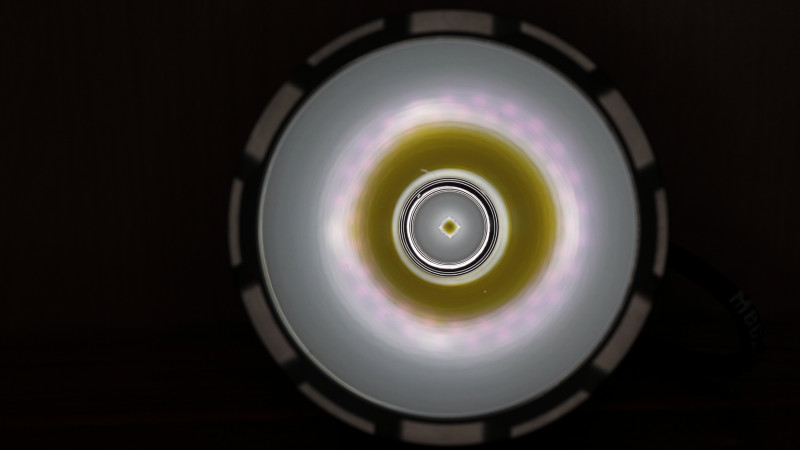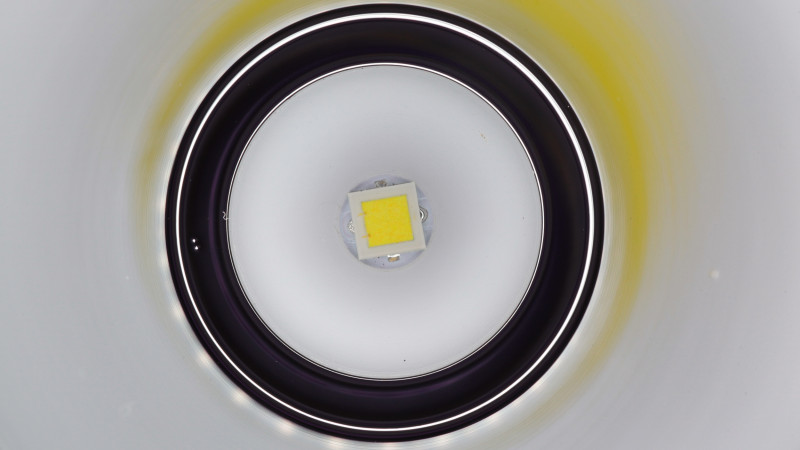 There is dedomed XHP35 on the bottom. Actually i`m used to seeing XHP at something more floody, and expected to see XPL-Hi here. Anyway, choice is great as I see results.

So, that`s all `bout appearance. Flashlight looks really, really cool. Grip is good. Build quality is good as well (though I seriously think that positioning pins needs better soldering at factory).
UI.
Manker is not such a company that release product with " 3 brightness levels and strobe\sos". They always do a lot of work with their UI, which I appreciate.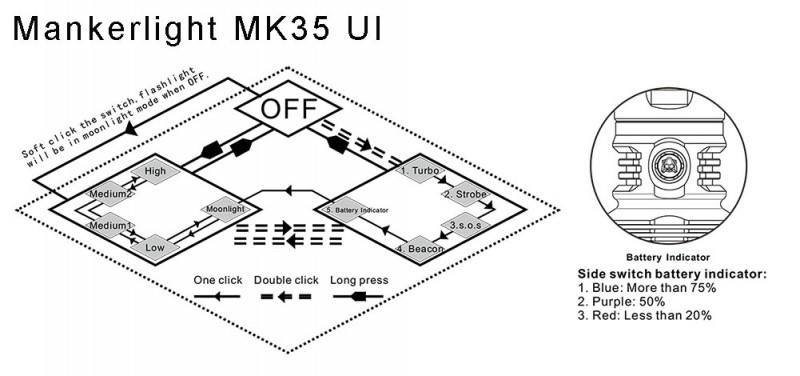 I`ll copy UI from product website.
UI is simple, but has one feature that I found disappointing – lockout mode. Though I easily lock flashlight, it takes me a while to unlock it. I think that is a matter of time and finally i`ll get used to doing it as easy as with other lights.
1. When the flashlight is off, one click, access to moonlight mode (left part of the figure), one click to circle: moonlight – low -medium 1 – medium 2 -high. Long press for off.
2. When the flashlight is off, longg press to access to the mode you last use as in left part of the figure (memory function), one click for circle. Long press for off.
3. When the flashlight is off, double click access to Turbo, one click for circle. Long press for off.
4. When the flashlight is on, double click to switch between the two groups (left and right part of the fiture)
Lock out:
One click – Double – Triple from any mode to lock out the flashlight (Only the battery indicator works when lock out)
Engineering Mode (Choose output level for Moonlight mode):
Long press for off and still hold on, the side button battery indicator will turn on and then quick click for 4 times to get access to engineering mode. One click to check different level and long press to make your final choice.
actually i don`t find any use for 0.1 brightness for such a flashlight…the fact that we are given a choice is good.
PERFORMANCE.
Manker offers 3500 and 6000K versions. I got 6500 (+20% of might to 3500K)
I haven't noticed any trace of visible PWM shimmering in shower test. I don`t think that there is a PWM-regulation, but impulse driver.
I use 18650GA for reviews, MK35 stops working when there is about 2.7v on batteries.
I couldn`t maage to measure amperage with 4×18650 system, so I asked manufacturer . Here is amperage that Manker engineer specify: 4ma, 10ma, 70ma, 430ma, 1.3a, 2.7a.
Beamshots show expectable light distribution.


I`ve got only one good thrower now, which is YLP Ballista 3.0. Here are some comparisons. Ballista is a little bit below "High" of Manker.


A lot of dust in forest let us clearly see beam`s shape.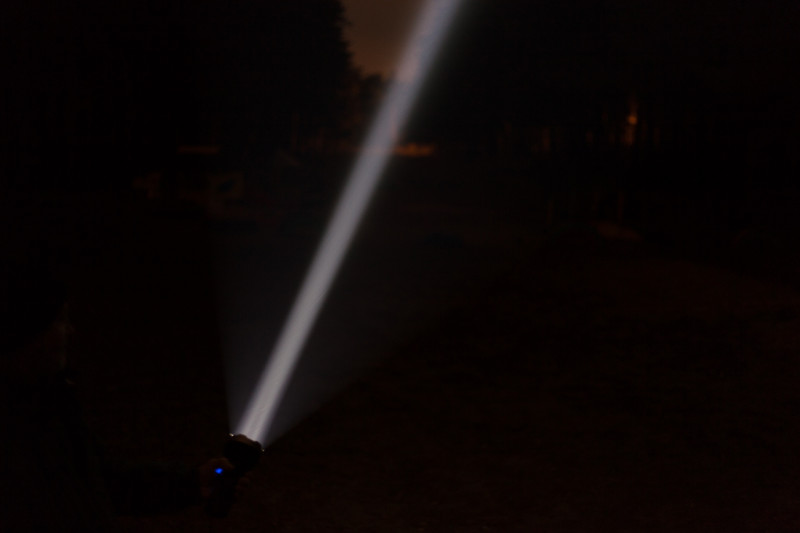 Stated 15 min of turbo is insignificantly shorter.
And the most interesting part. Throwing ability. What can I say. There is a good russian rude word "pizdets!". That meas something extraordinary (regarding to situation – good or bad). MK35 is "pizdets" throwing. It really blasts tonnel of light into darkness.
And in the distance where naked eye can see some details (about 200m) it gives also good side light.
About 100m to garages roof.

About 130m to building wall

About 250m to trees, low is not visible there.

About 300m to this house.

Here is a mistake, there should me High at the frame with MID.

About 500m to retranslate tower. No low-mid here as they cannot be seen.

Runtime charts are decent. As is expected , fan cooling didn`t show significant effect, because heat dissipation is decent as is. Well, user has 2 hours of constant really, really throwing light.
Runtime charts are clickable, you will see them in details
I decided to make separate chart for mid, as it is very long-lasting. Good mode, still throwing but long lasting as well. You can use it through the whole night.
OVERAL IMPRESSIONS
Extraordinary throwing ability. Unfortunately I don`t have TN42, but I`m seriously sure that it will not overperform MK35.
Of course, MK35 is not a light for regular use. That is a really specific light. But if you need as far as it is possible, need beam as long as possible – MK35 is a great choice with good runtime and excellent throwing ability.