Review example was provided by Fitorch.
You can buy Fitorch P26R at
➤ AMAZON
➤ ALIEXPRESS
➤ BANGGOOD
for years i`ve been buying batteries at Nkon.nl. sincerely recommend this store.
There are some other reviews of this lights, so i bed you can get a trustfully opinion about this thing, guys.
—————————————
I really like 26650 lights and prefer them to 18560 for best runtime and brightness. And, mostly, size is still compact to fit flashlight into pocket.
So, last year we`ve witnessed a lot of really bright lights which quilcky gained popularity. The most known trinity was: Olight R50 seeker, Klarus G20, Acebeam E50 Gen II.
I`m glad to introduce new product from new manufacturer. Company is new, but founders are long-time in flashlight business, they worked for Fenix, Klarus and Jetbeam.
SPECIFICATION.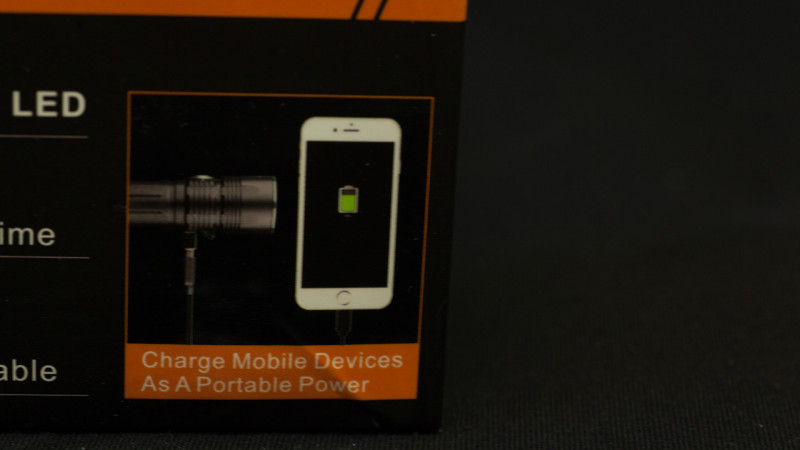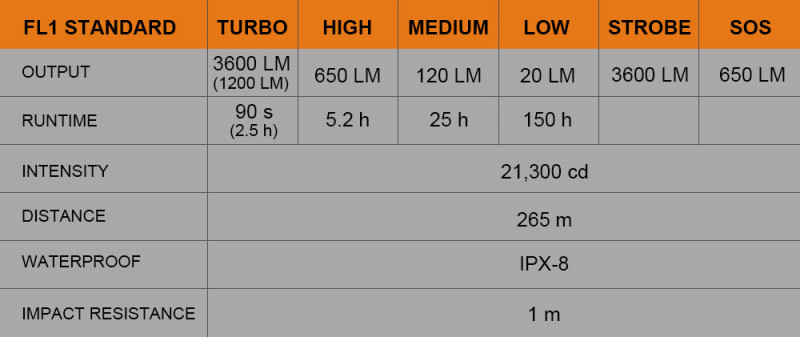 LED

: Cree XHP70
Input: DC2.75V-4.20V
Output: max 3600 lumen
Reflector: precise metal filmed
Glass: filmed mineral glass
Material : HA-

III

military hard-anodized finish aluminum alloy
Housing: Premium Type

III

hard-anodized anti-abrasive finish of black
Switch:Side Switch
Powered: 1*26650
Size: head: Ø 37mm х 31.8mm х 132mm
Weight: 136.5g (Exclude battery)
PACKAGE AND APPEARANCE
I was surpised to see such a good design. Printing is great with some UV-coating. It seems that guys already have brand-book. That`s an appropriate approach for a start. So, you get the same what you may expect from major brands.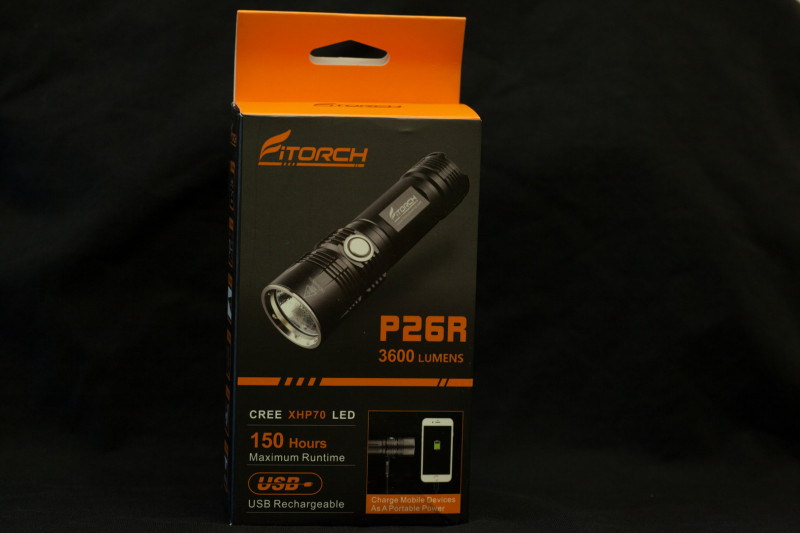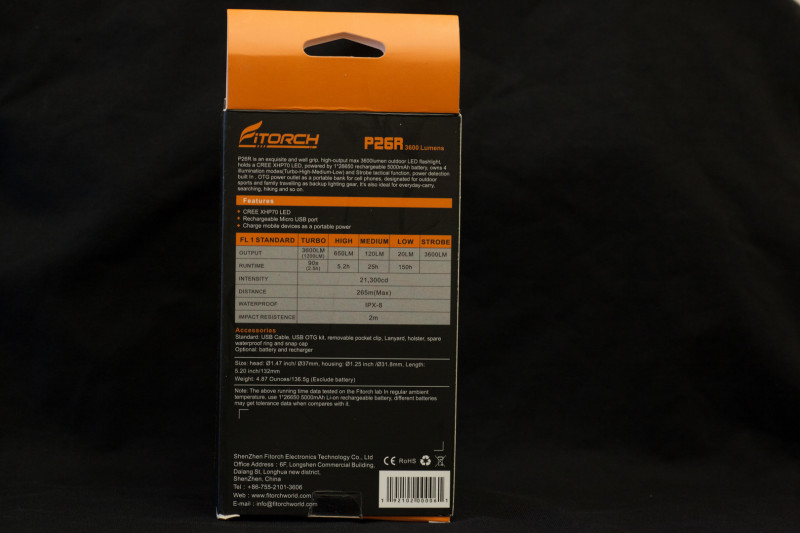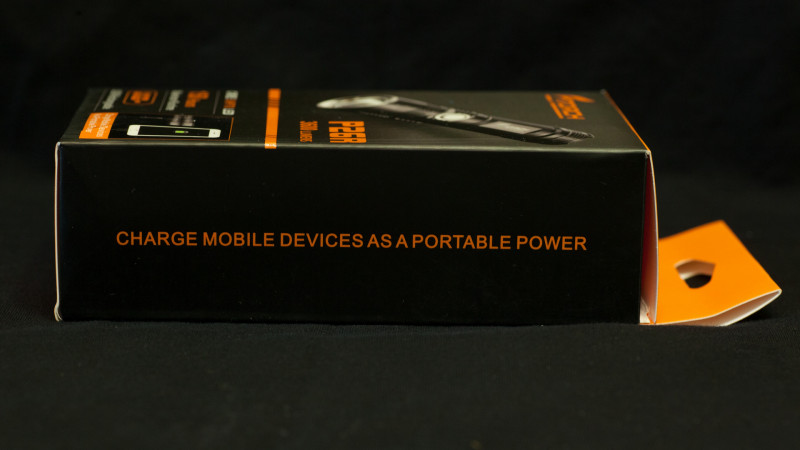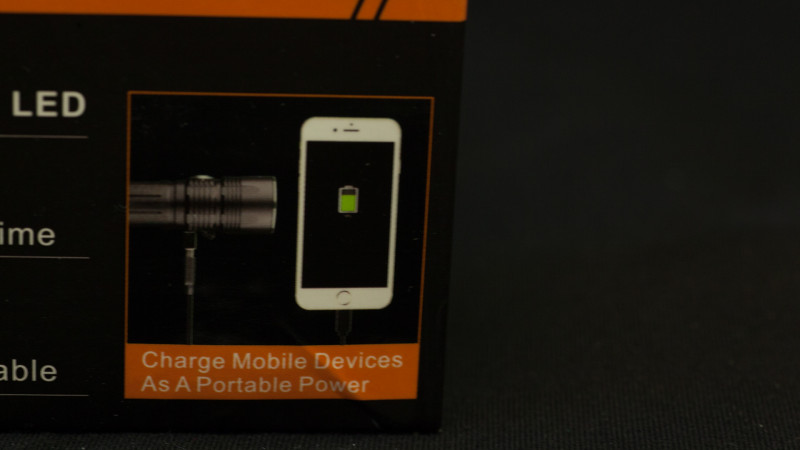 Package includes: flashlight, lanyard, battery, manual, o-ring, holster, OTG-adaptor, micro0usb-cable.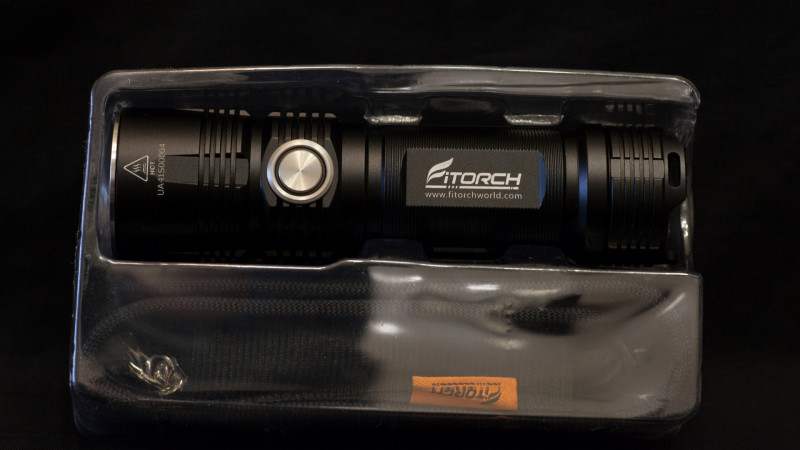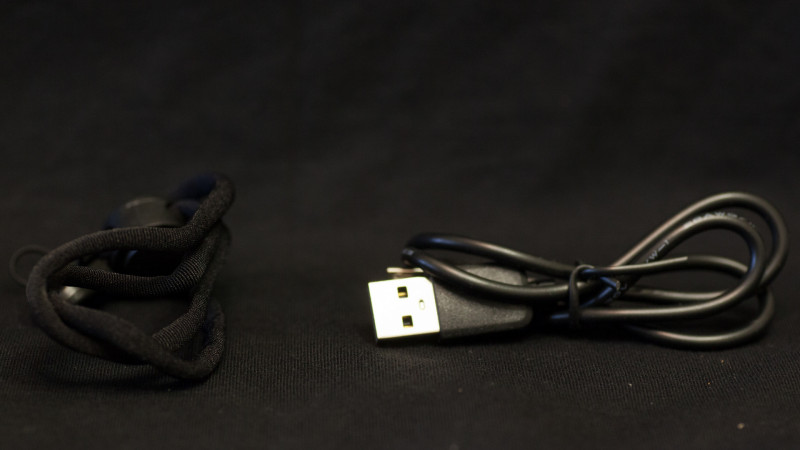 !https://pic.mysku-st.ru/uploads/pictures/03/92/45/2017/11/21/512959.jpg" alt="" rel="lbox" />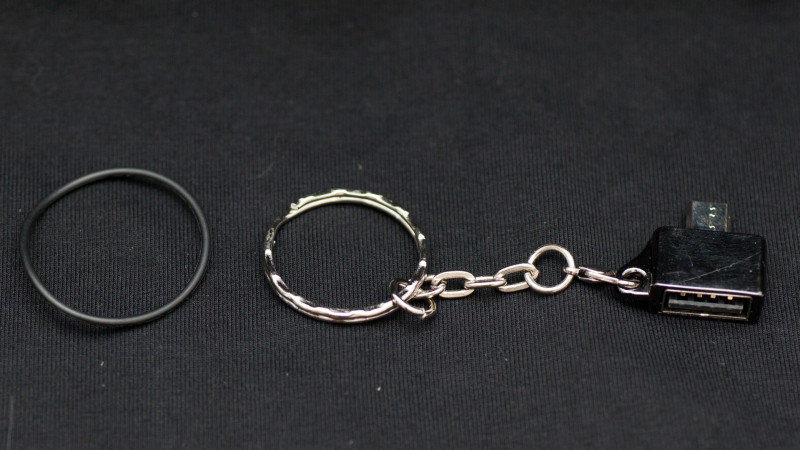 What I don`t like here is holster, which perfectly fits 18650 light, but is too tight for 26650. I mean you can fit P26R in it, but it will require some significant efforts.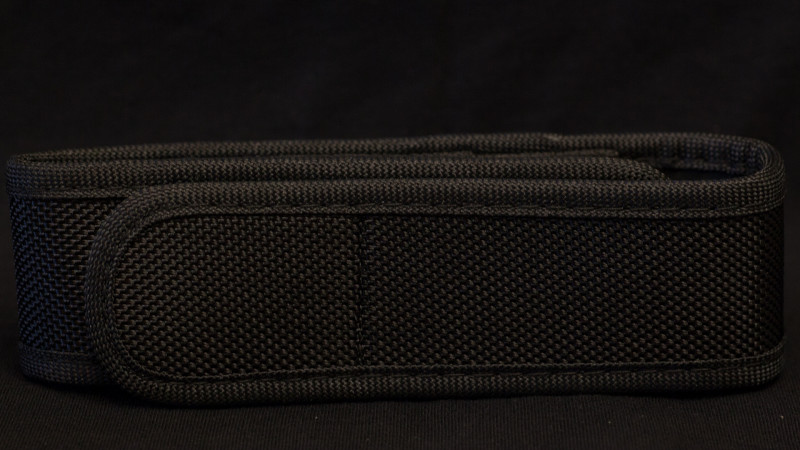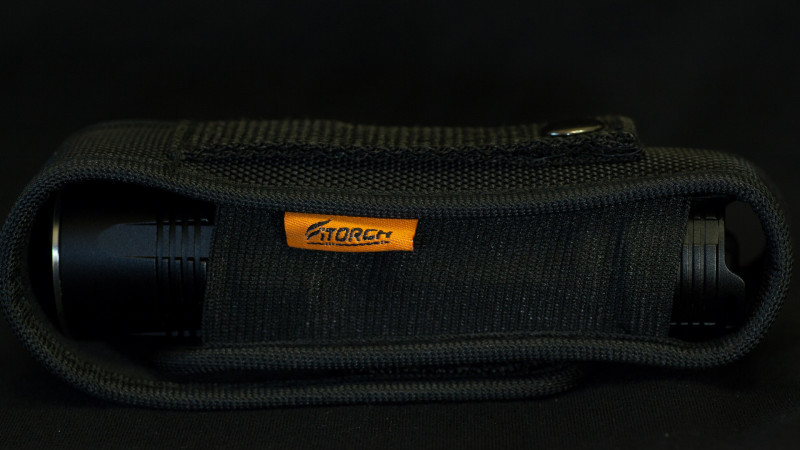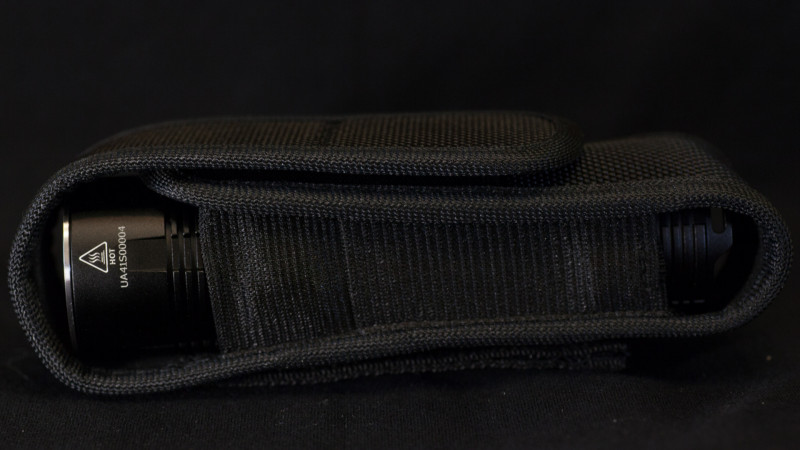 For me – P26R is EDC-sized light, please take a look, it will not be too much long or wide for carrying it in pocket .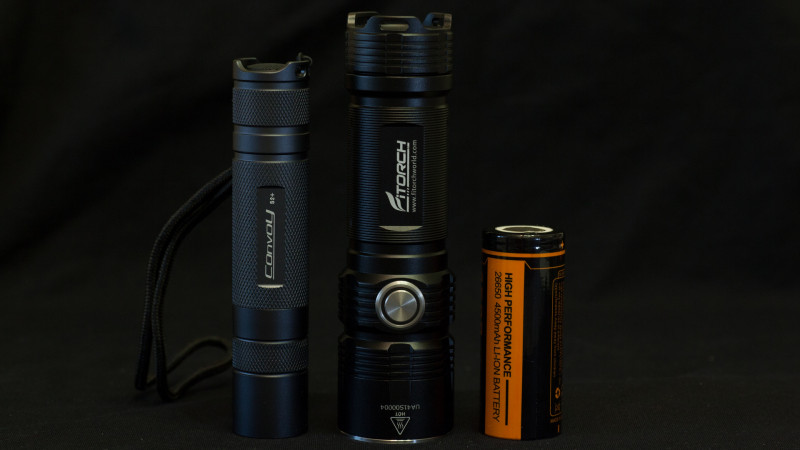 Appearance is good. Not "Wow!" thing (I haven't seen such among 26650 lights, to be honest), but just good accurate flashlight which definitely doesn`t have any trace of cheap-looking.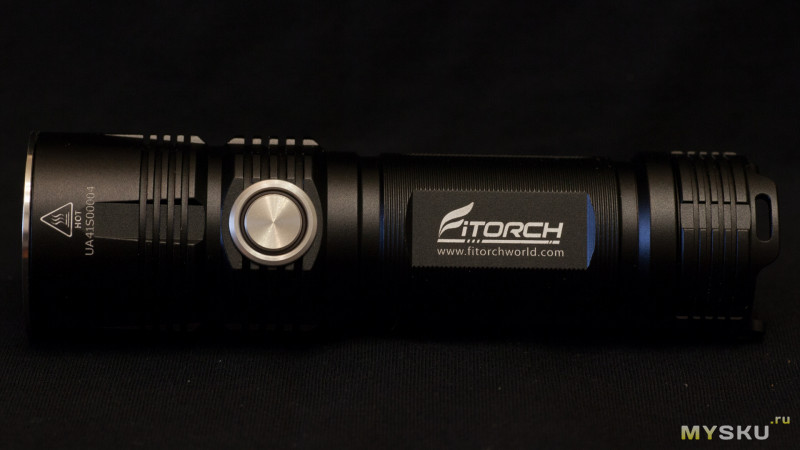 There are a sort of tripod at tail, with holes for lanyard. Tailstand? No problem, stable.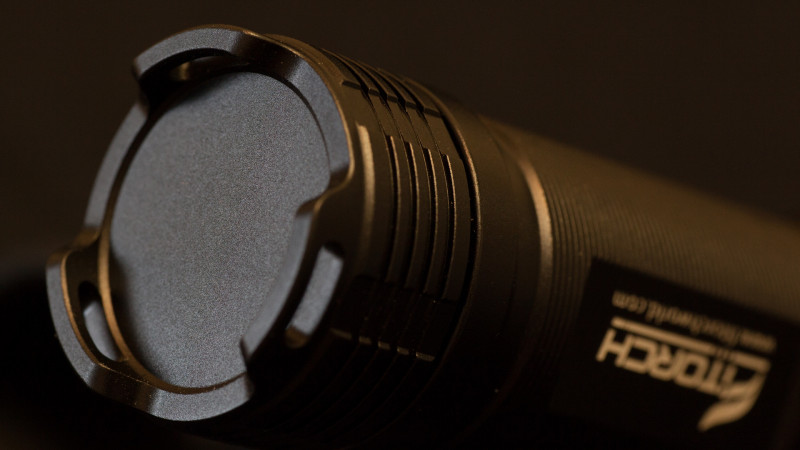 The thing I like is bypass, which is not an additions wire, as I used to see, but a smaller double sping inside bigger one. This is 1`st time I see such a construction and it impressed me.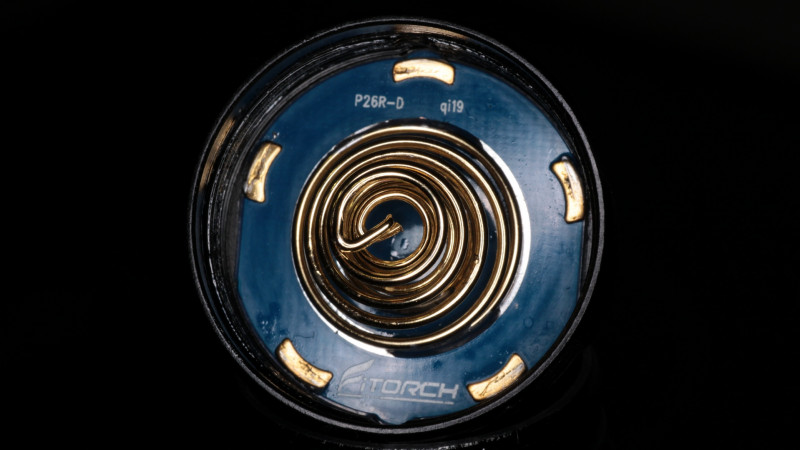 There are no spring from head, just contact plate. Well, I can understand this, as 2nd spring would result in at least 1cm extra length. For EDC light having just one sring is normal.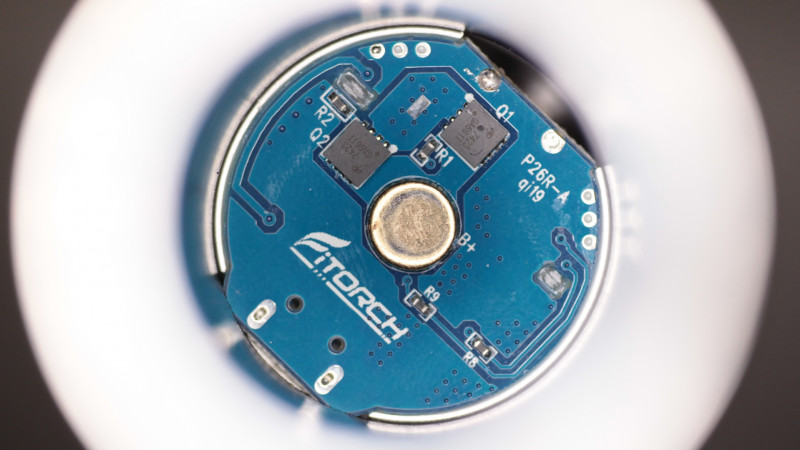 And here is a not cool part. Threads were really dry, I had to add some lubrication.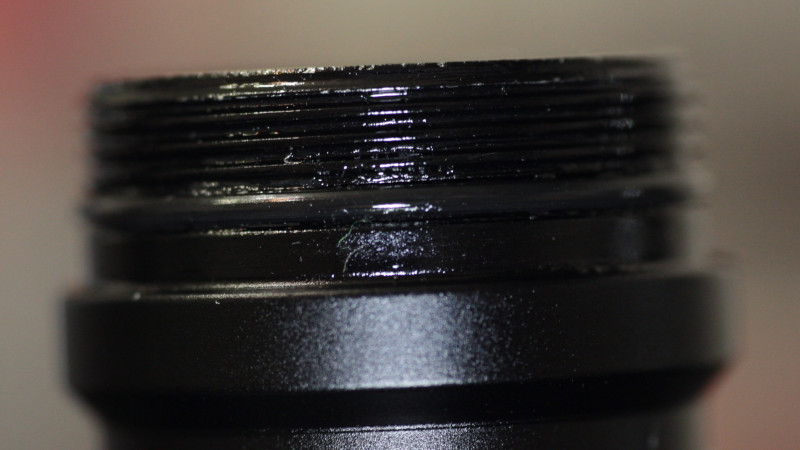 Concentrical knurling is quite simple, but grip is firm.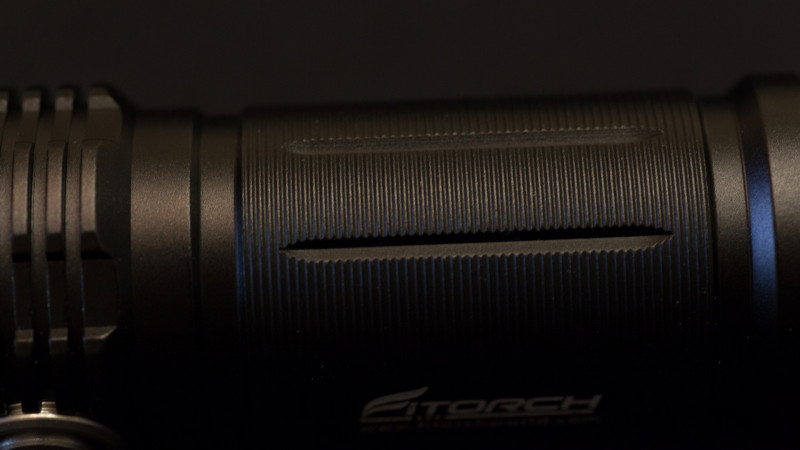 Logo and model name are printed at opposite smooth sides of body.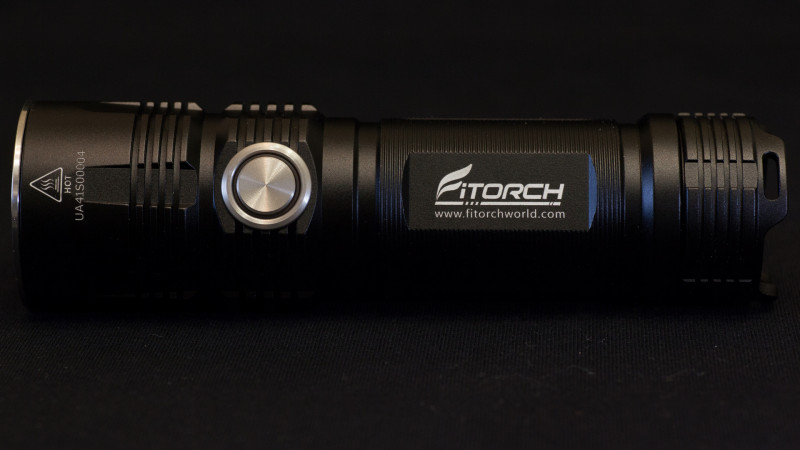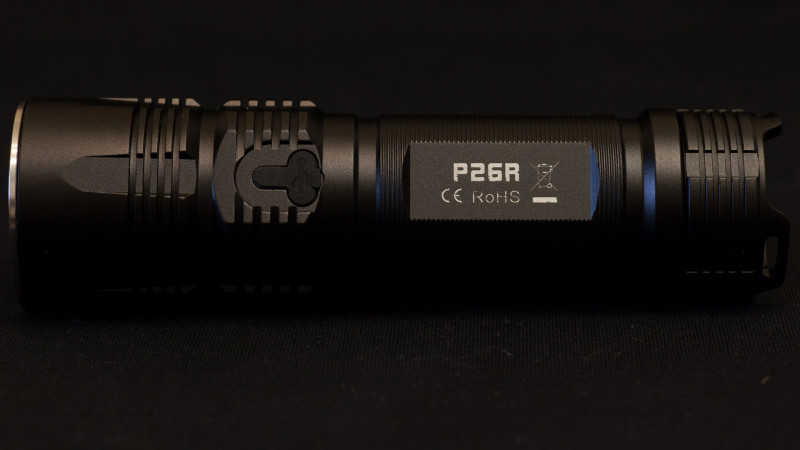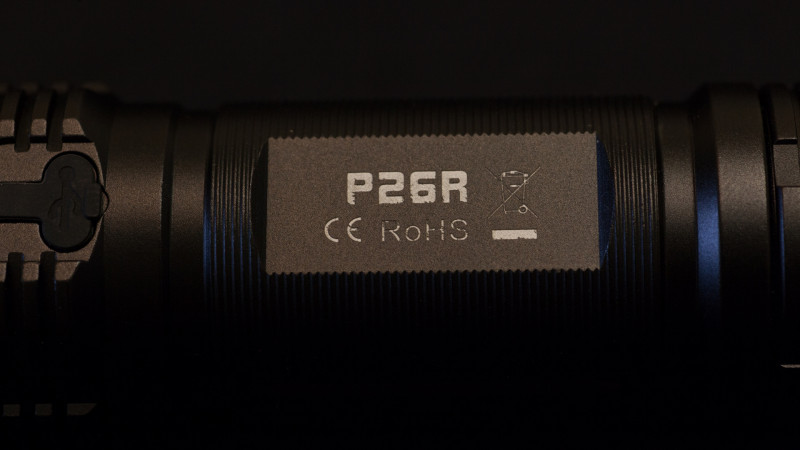 Button is an accurate and metallic. Click is med-deep. As you an expect, it also serves as indicator.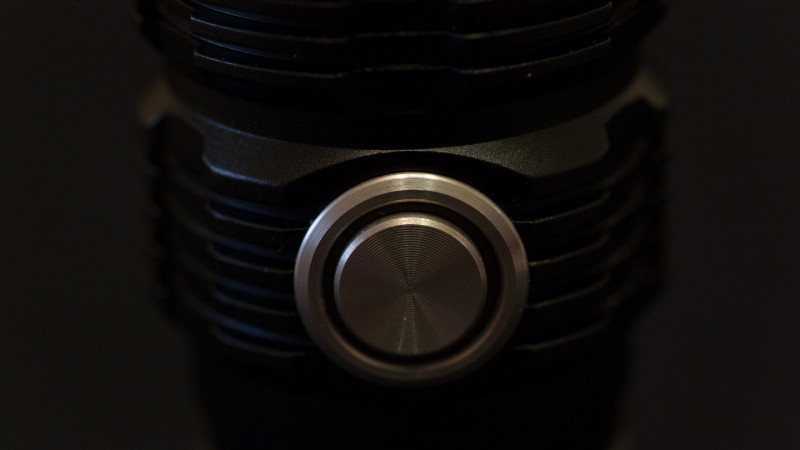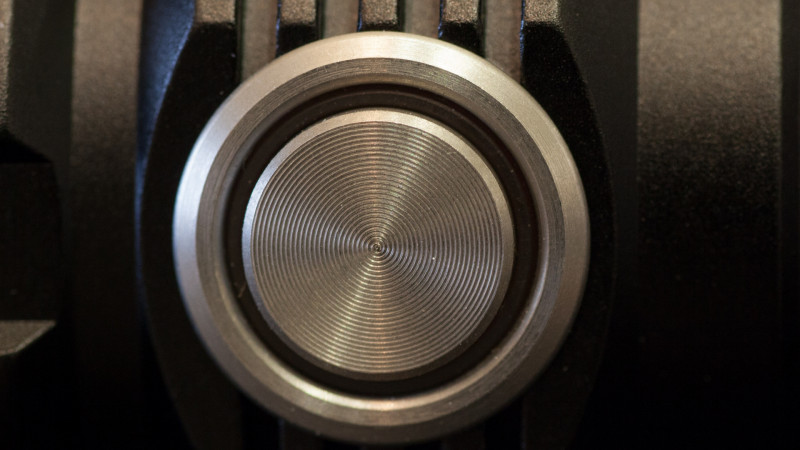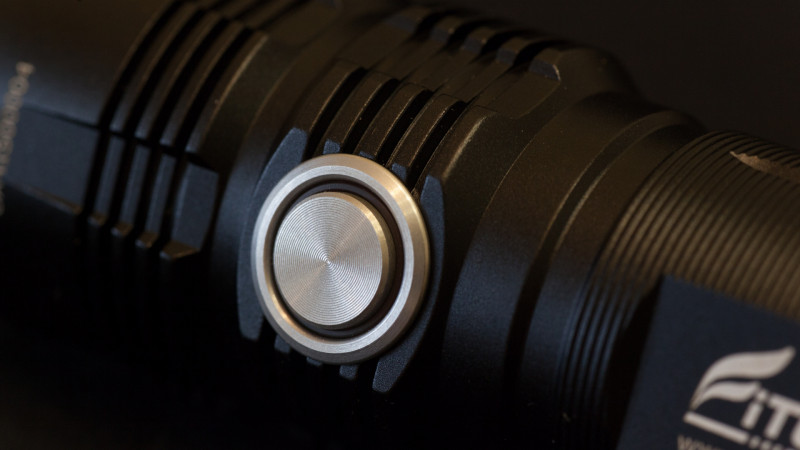 Micro-usb port is quite tightly covered by rubber plug.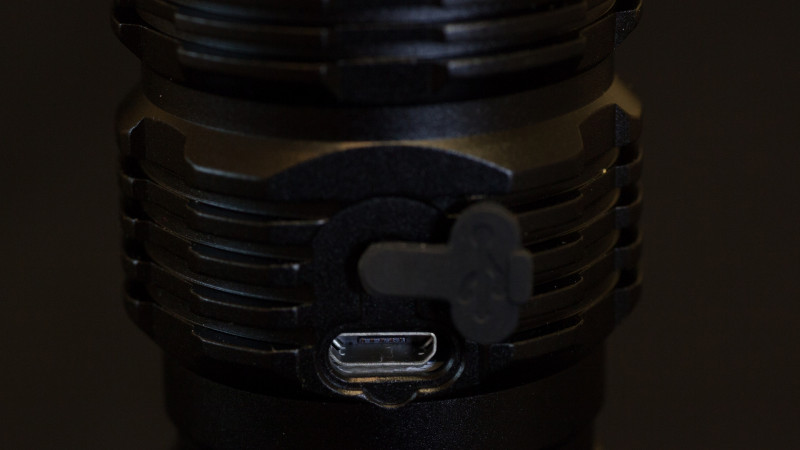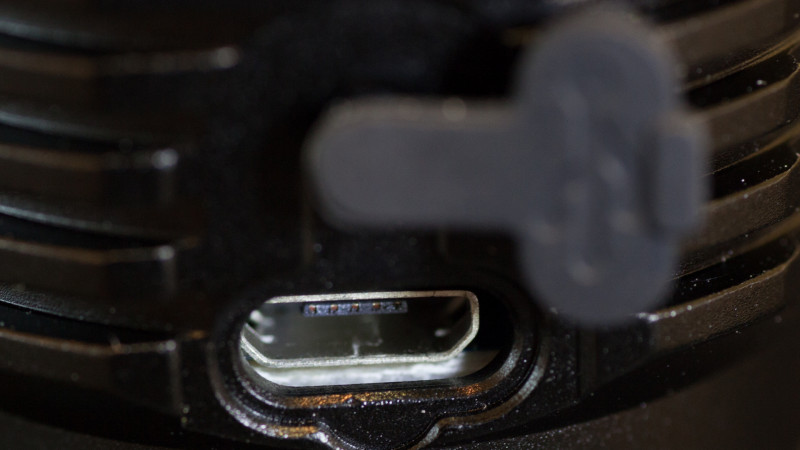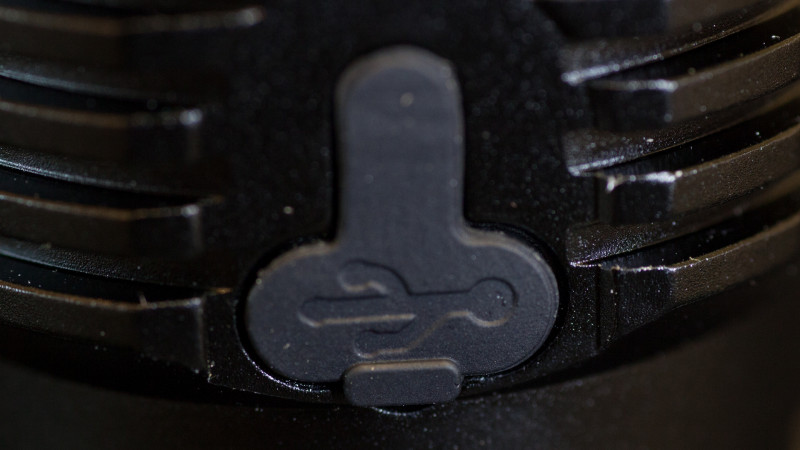 What you`ve seen above is no surpise, and here is a "ta-daaam" feature: with OTG adaptor P26R can be used as powerbank.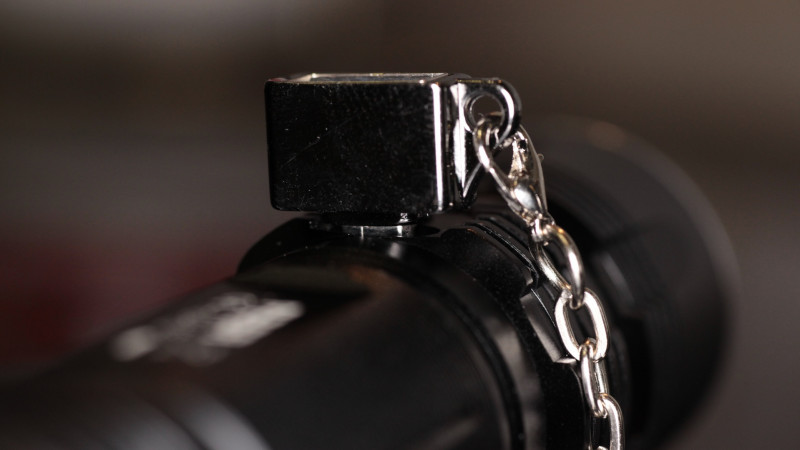 Red-Green indication in this mode.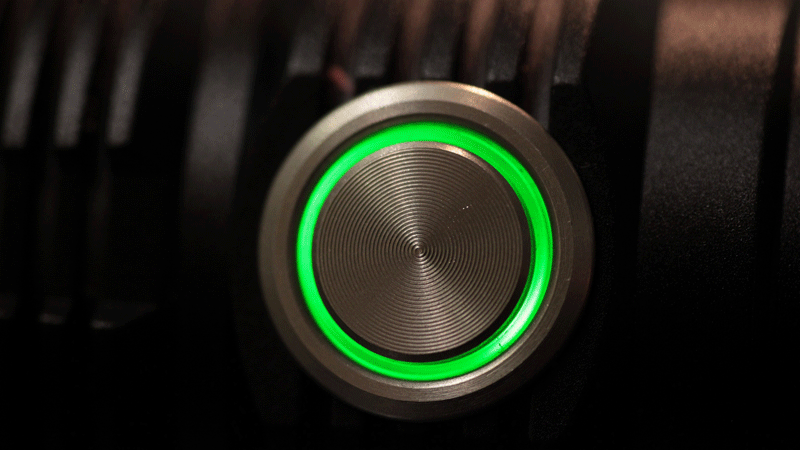 Cooling ribs are mid-depth, but they are good in number, not only at head, but at button part of body as well. Glad to see this.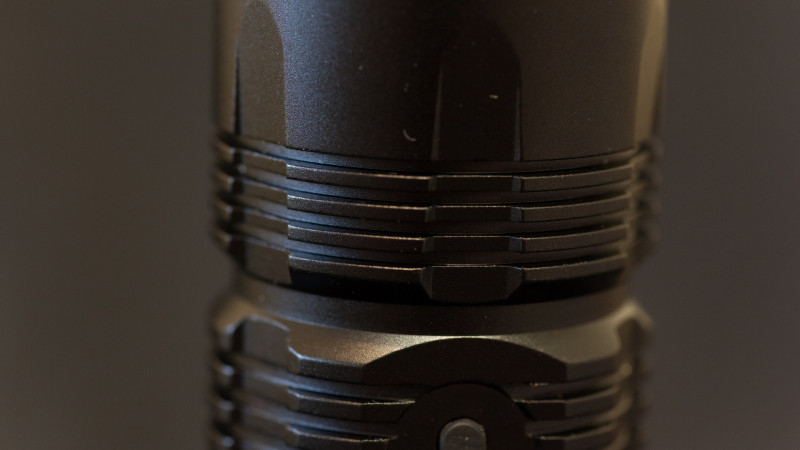 SMO reflector with XHP 70 on the bottom.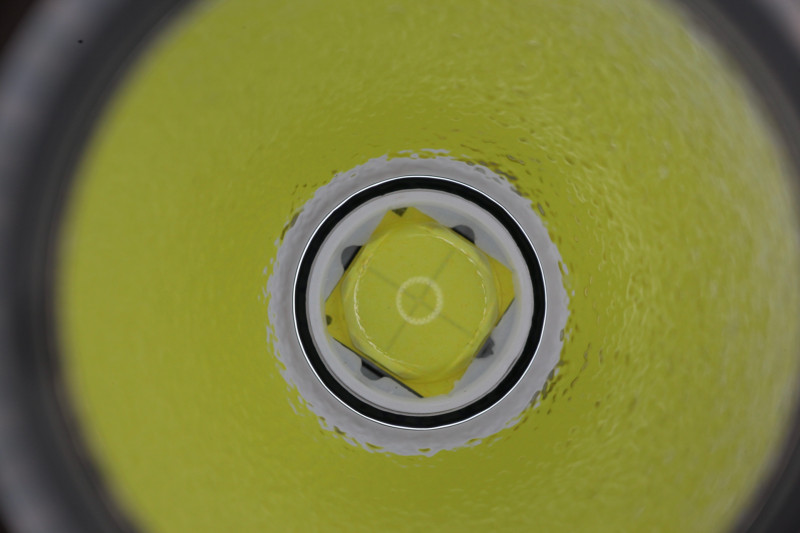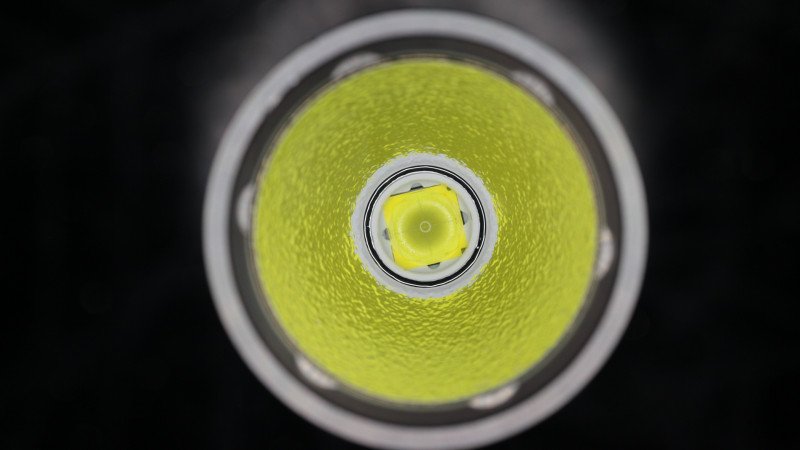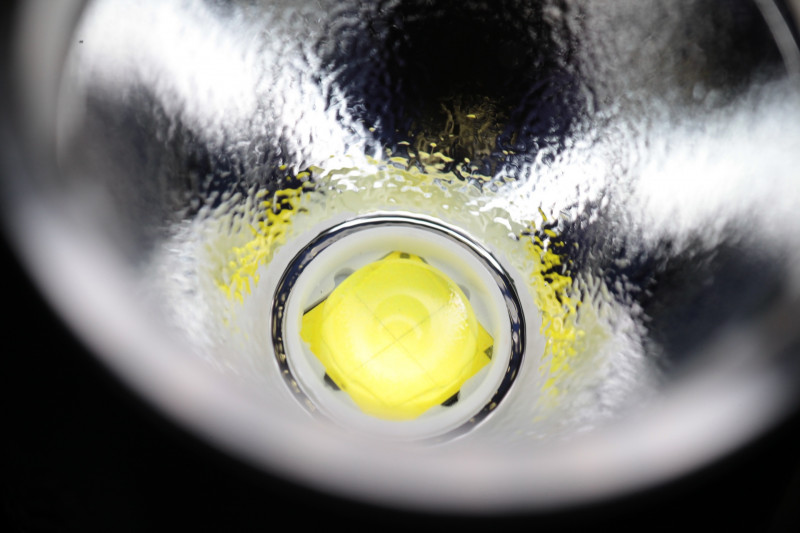 Well, what about appearance – good light, definitely good for a new company on market.
The only disadvantage of my light were dry threads.
UI
Simple, you`ll get used to it in minutes.
You can see it in THIS manual

PERFORMANCE
I haven't` seen any trace of PWM-shimmering at any mode.
Regular CW light.
Light distribution is exactly the same as you`d expect from 20-25mm deep SMO and XHP70, that is a good mid-range light that also be useful for close-range works.
Included battery was a great surprise, as i`ve seen about 5500mah at my Liitokala-500. I assumed that there is well known 26650 5000mah liitokala inside. And my measurements mostly prove it.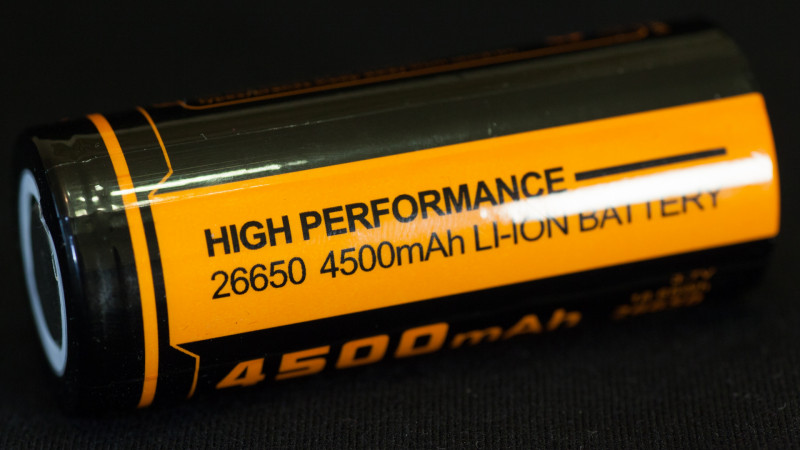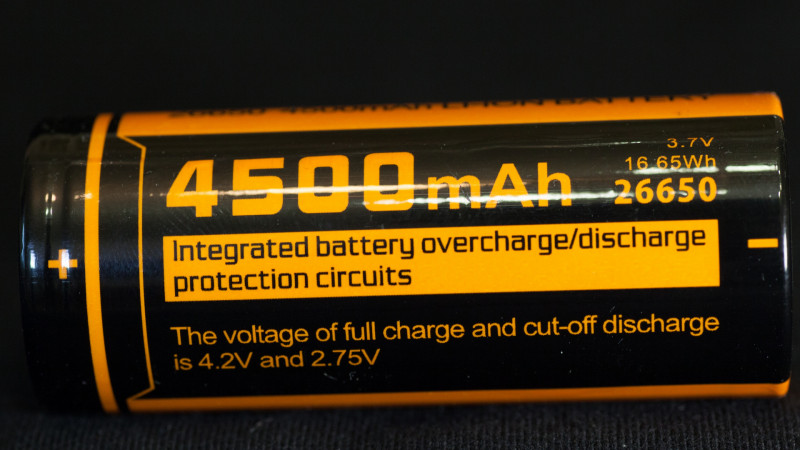 So, when I tried powerbank feature, I got 1.2A (unexpectably!) and 3580mah. 5000mah blue 26650 liitoakla resulted with mostly the same – 3420mah. So manufacturer underestimated its battery -)
At 3.15v there is cut-off and charging stops.
P26R can work in MID-LOW modes while charge your phone.
Runtime charts, yeah, time to take a look at them.
Included battery performes a hair better than Liitokala 5000mah.
Modes are ok, but i`d like to see 1200 and may be 0.5 as well. But something around 1200 is a strong need for such a light, I don`t want to wait for a stepdown from turbo.
The rest modes are ok.
Of course you cannot expect real throw here, that is not that light. But in turbo mode it can provided with good beam to show everything around at decent distance.

OVERALL
Good light, especially for new manufacturer. Build quality, performance and UI are good, set of modes is useful and (imho) lacks something around 0.5 and 1200.
Included battery is better than promised (usually we face opposite situation).