The light was supplied by Banggood, no compensation other than the light itself was received for this review
The light will be also soon availiable in NW
https://www.banggood.com/Astrolux-MF02-XHP35-HI-3000LM-Warm-White-Long-r...LED-Flashlight-1587M-p-1226952.html?rmmds=search?utm_source=bbs&utm_medium=lexel&utm_content=chendongling
The light was supplied by Banggood for a review, I am honest and will judge the light as it is with its pros and cons
.
Other reviews
Maukka fantastic review with a lot measurements
http://budgetlightforum.com/node/57916
.
Manufactory specification:
Product name: Astrolux MF02 XHP35 HI 3000Lumens Long Range LED Flashlight
Brand: Astrolux
Model: MF02
Emitter Type: XHP35 HI
Light temperature: 6500K
Light color: Cool white
Material: Aerospace grade aluminum alloy
Mode: Moon, Mid, High, Turbo + Tactical Strobe, SOS, Location Beacon
Lumens: 15 LM,350LM,1700LM,3000LM (Sumsang 30Q)
Runtime: 300h,25h,3.5h,2.5h (Sumsang 30Q)
Battery Configurations: 4 × 18650 battery (not included)
Switch Type: Clicky
Switch Location: Body side of the flashlight
Peak Beam Intensity: 630000cd
Impact Resistant 1.5m
Max Output: 3000lumens (Sumsang 30Q)
Range: 1587meters
Lens: Toughened ultra-clear mineral glass with anti-reflective coating
Reflector: Smooth Reflector
Waterproof: IPX-7 waterproof
Color: Black
Weight: 818g without battery
Size: 189mm x 84mm x 54mm(length x head x body diameter)
Still they use "Sumsang" Batteries for their lights and aluminium
.
Features:
-New Astrolux searchlight with a maximum throw of 1587meters
-Utilizes a XHP35 HI LED
-Powered by 4×18650 batteries
-Max runtime up to 300 hours
-Max throw up to 1587 meters
-One single switch provides access to all functions
-4 brightness levels and 3 special modes selectable
-Light off or Normal mode, click twice to enter turbo or click three times to enter tactical strobe
-High-efficiency boosting constant current circuit, stable property and physical reverse polarity protection.
-Direct thermal path(DTP) copper board
-Intelligent temperature control design, automatically reduce lumen output when temperature is higher than 55 degree in turbo
-Breathing light lock-up design, it detects voltage and battery percent
-Integration and high efficiency optical lens
-Constructed from aero grade aluminum alloy with HAIII military grade hard-anodized finish
-Standard 1/4 inch Tripod mount
-Waterproof in accordance with IPX7
-Tail stand capability
And quite some spelling errors that a simple browser or word indicates, no space after commas
.
The parcel arrived after 22 days shipping with to Germany which is a normal time from China.
Package and content:
The lights box came packed with a some wrap around and in a plastic bag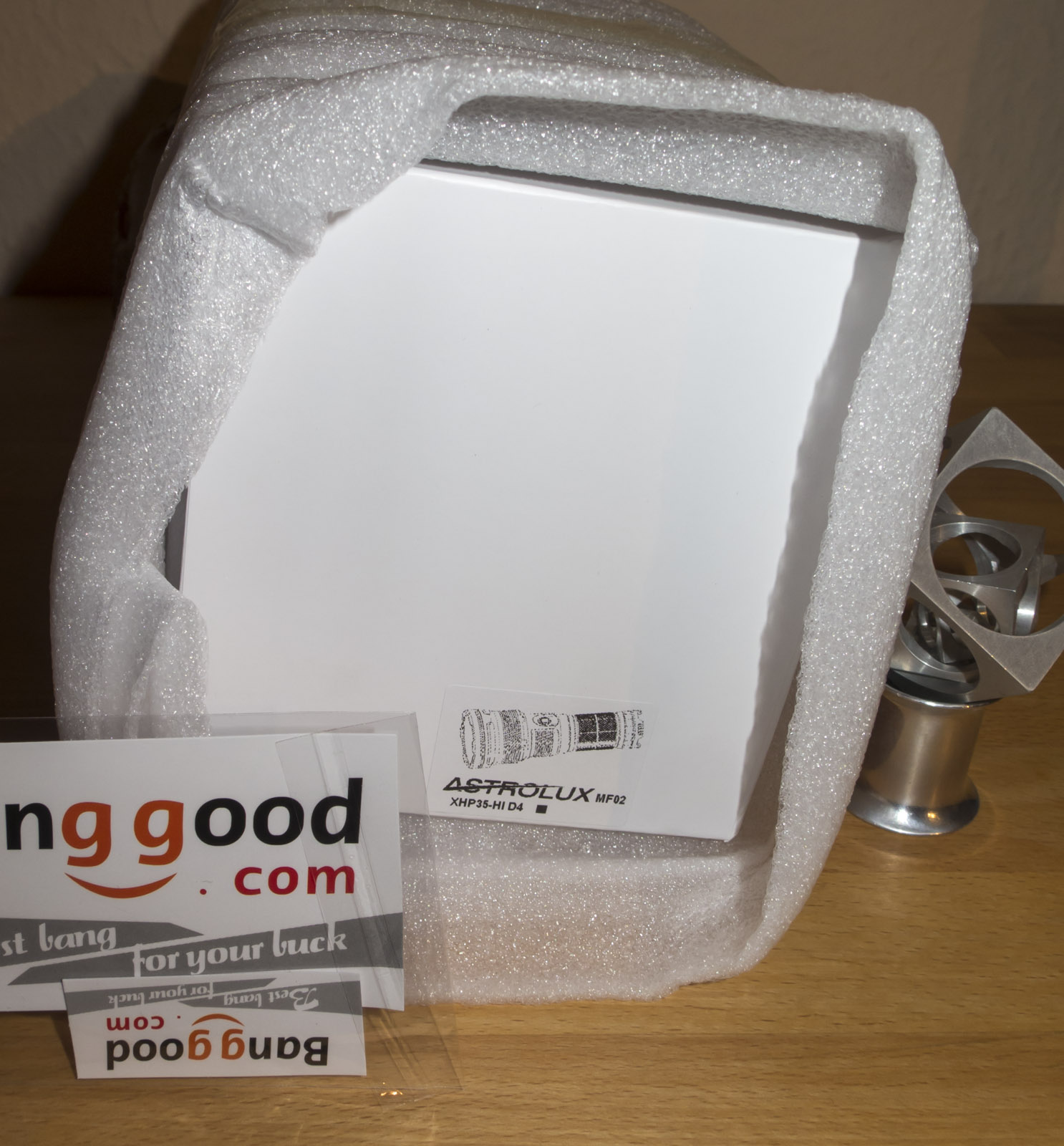 The light comes in a package similar to the MF01, but a lot bigger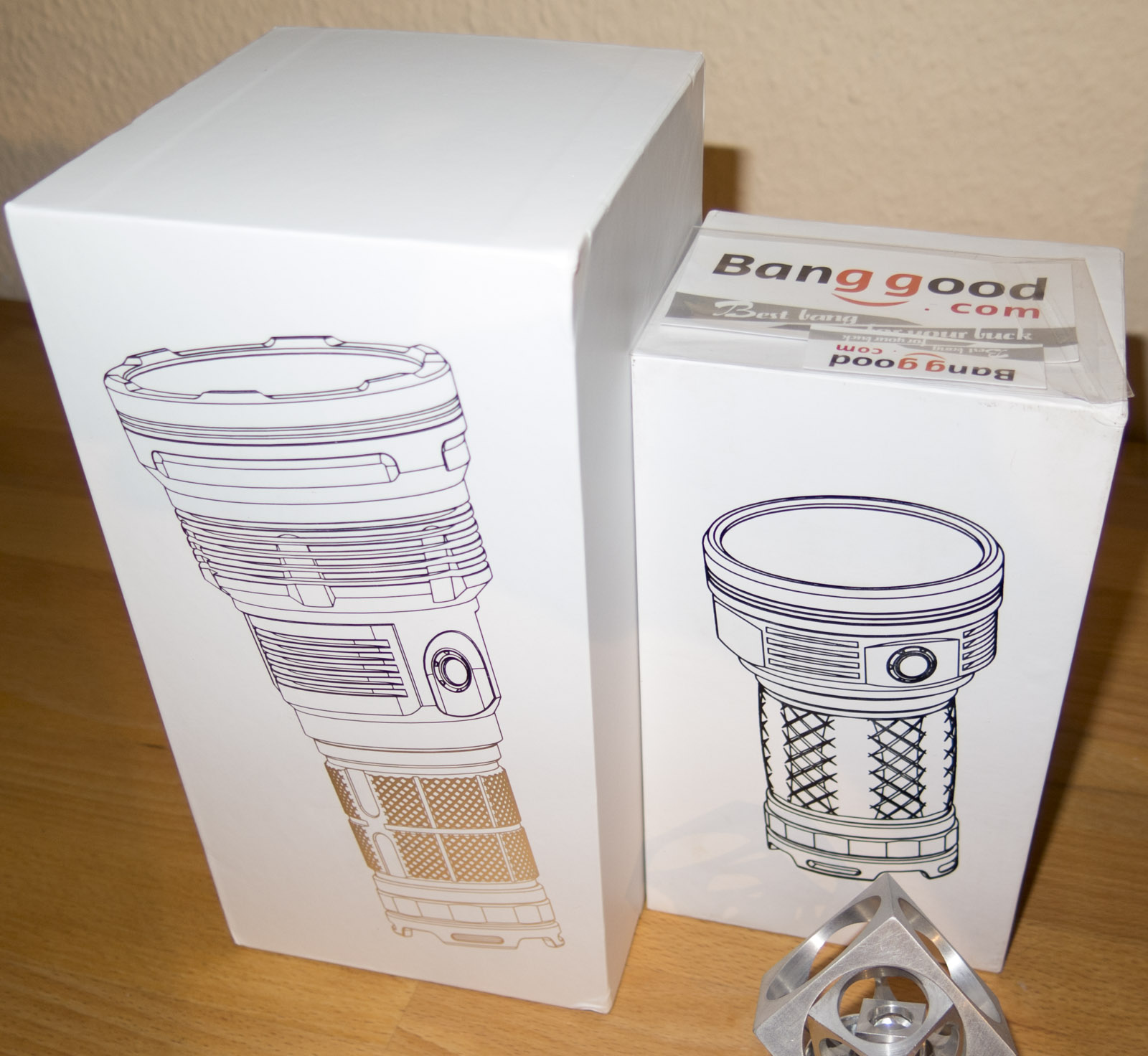 In the box is a plastic inlay with the light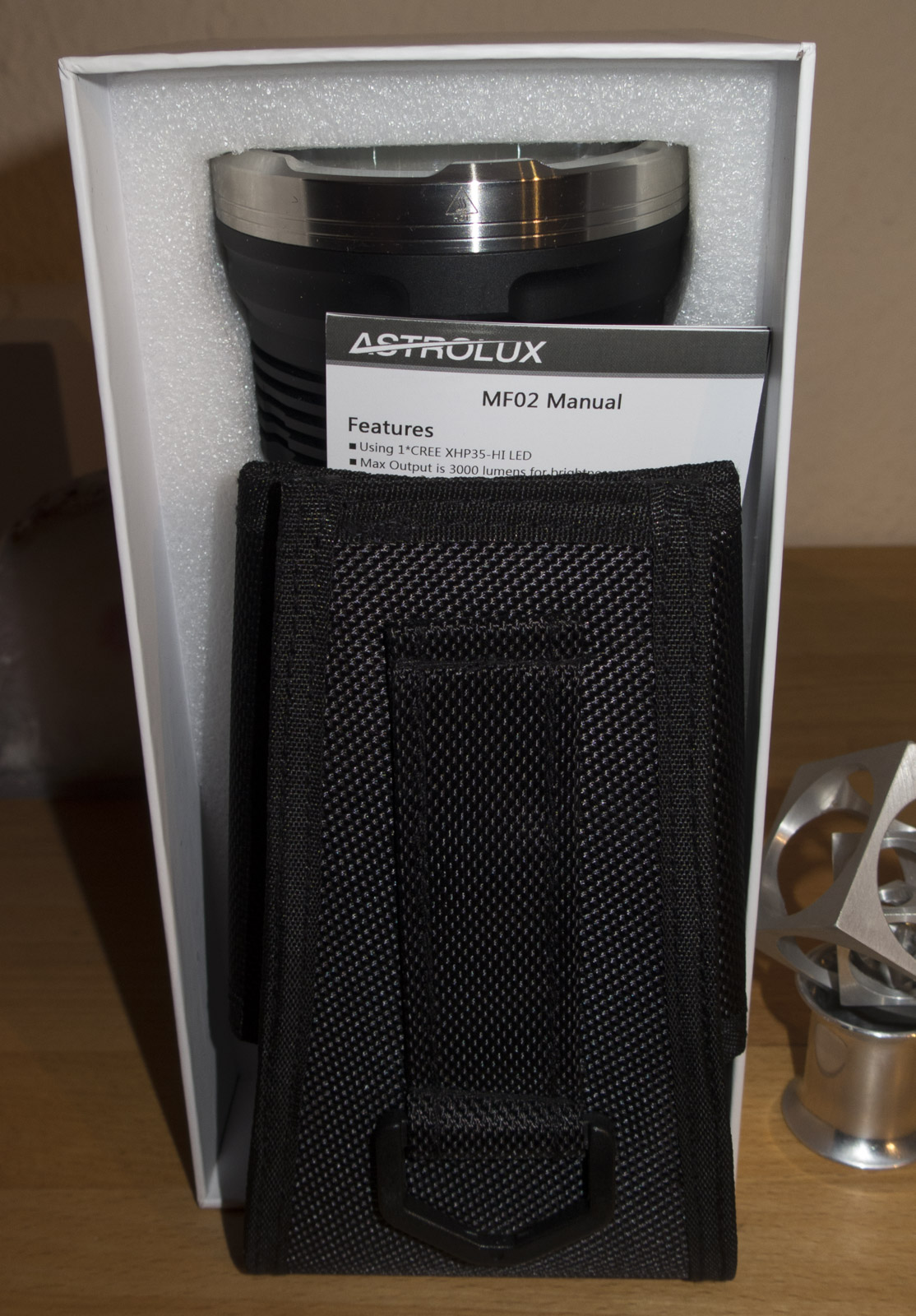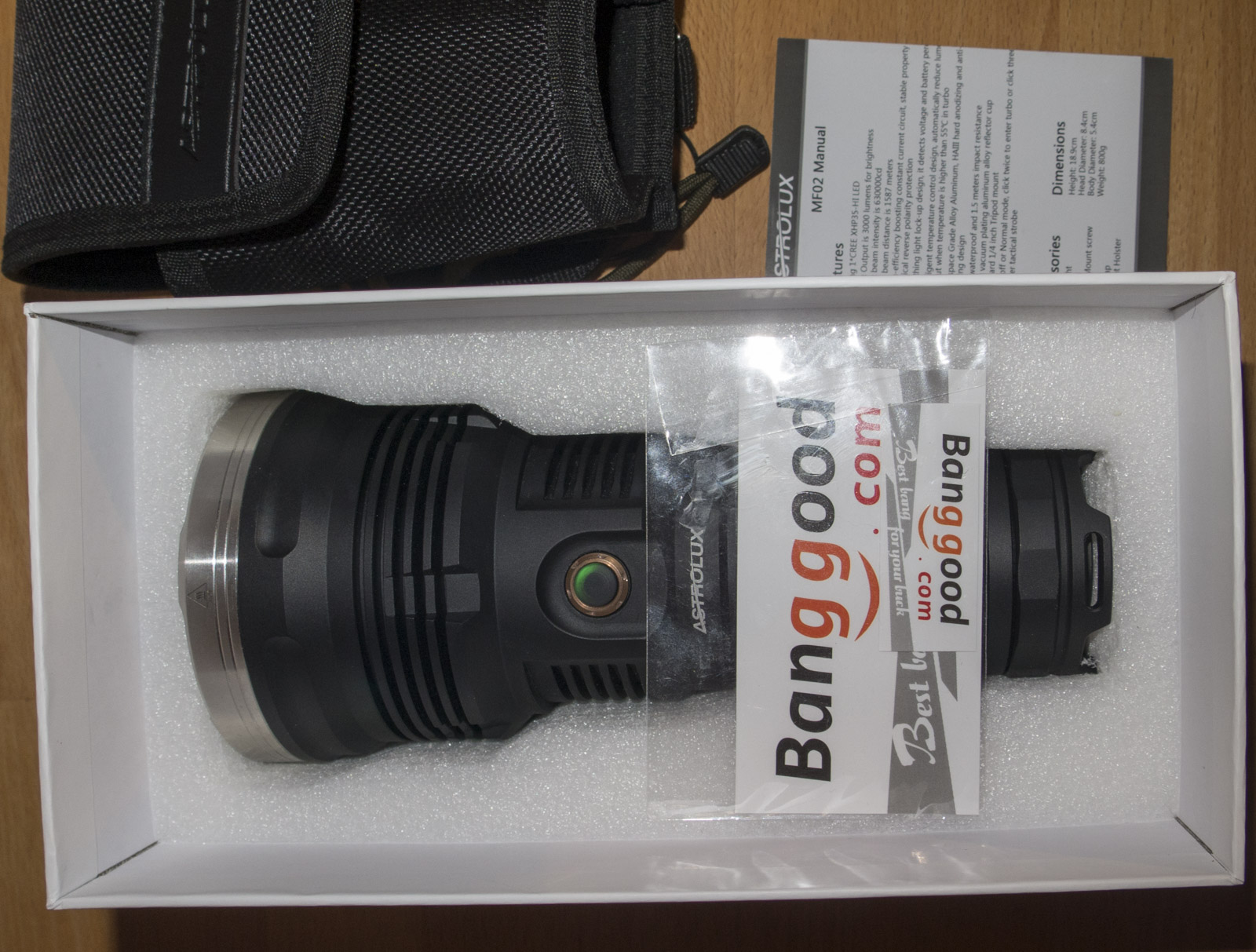 It comes with 2 spare O-rings, lanyard, holster, shoulder strap, tripod adapter, Lanyard screw and manual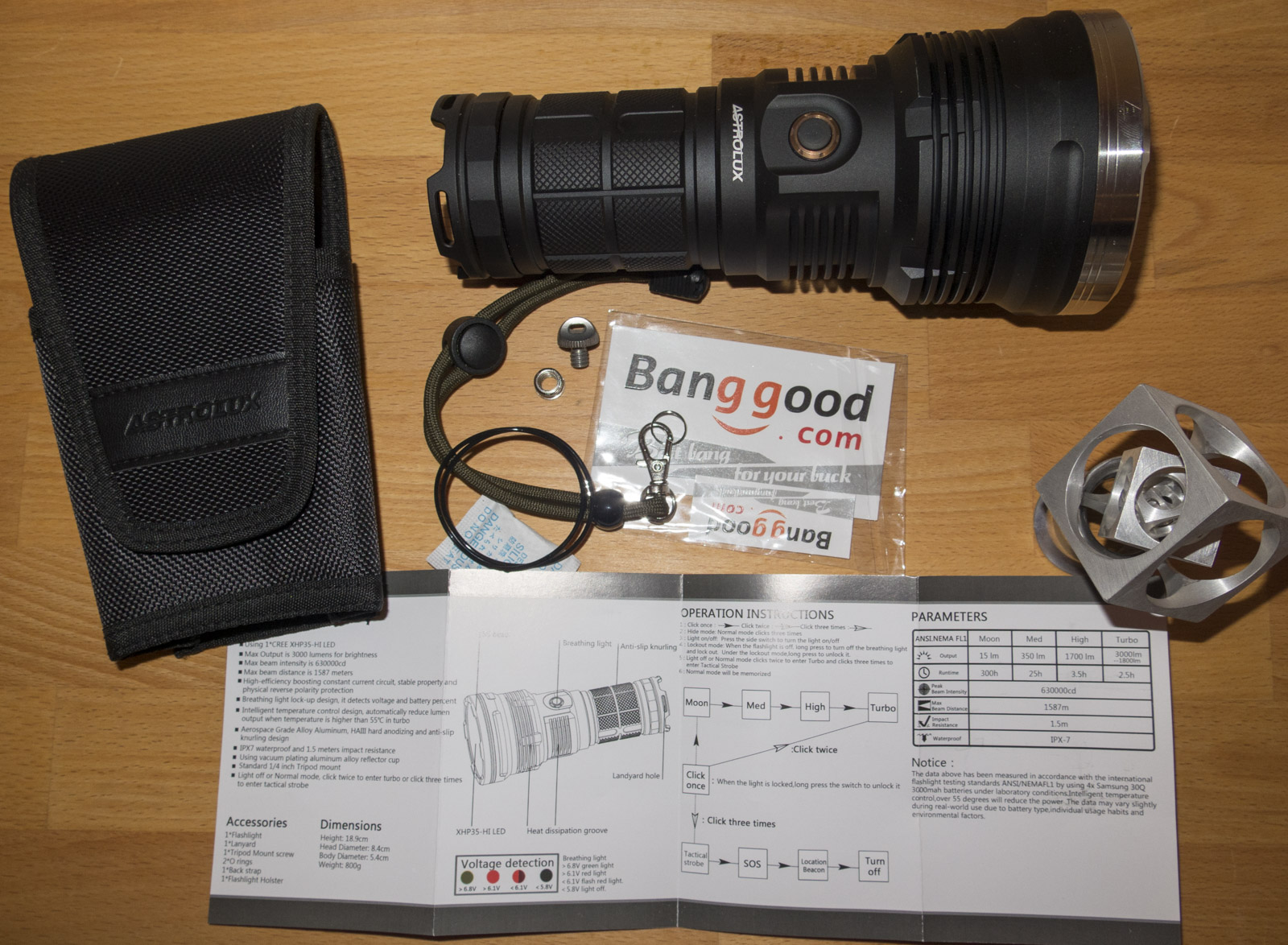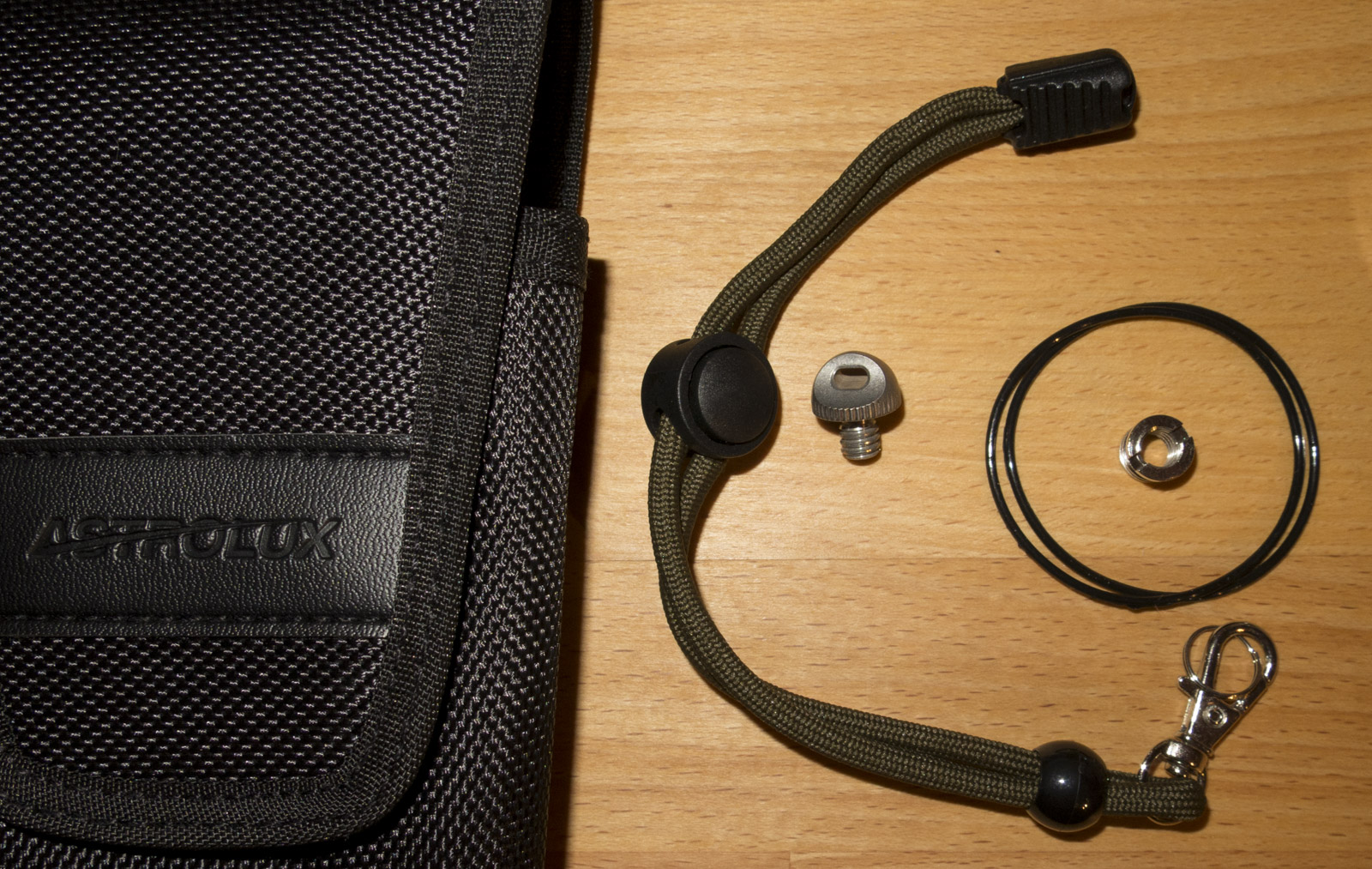 Photos of the light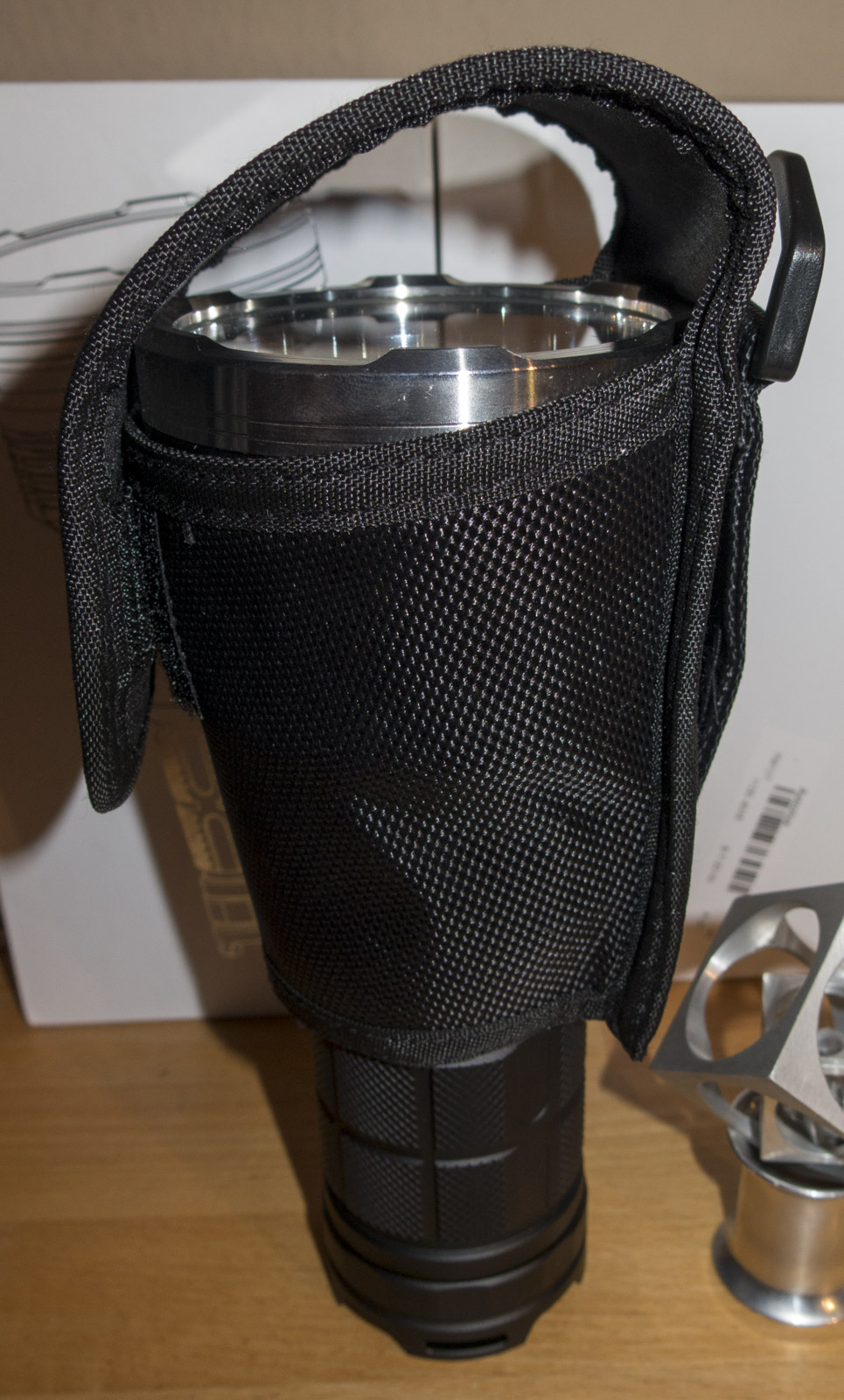 .
Comparison and teardown:
Size compared to other 18650 lights the MF02 compared to my other lights it is the biggest and heaviest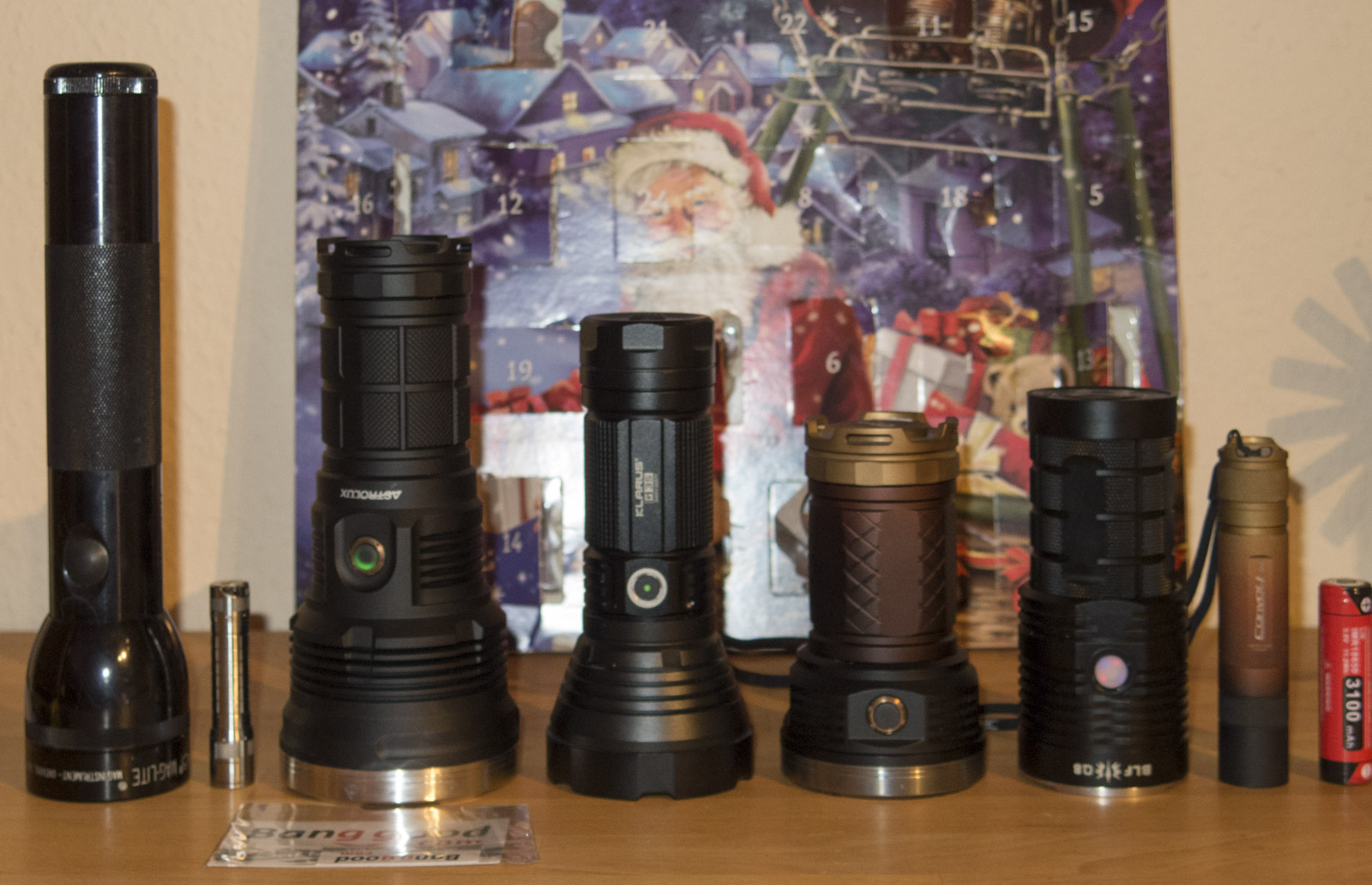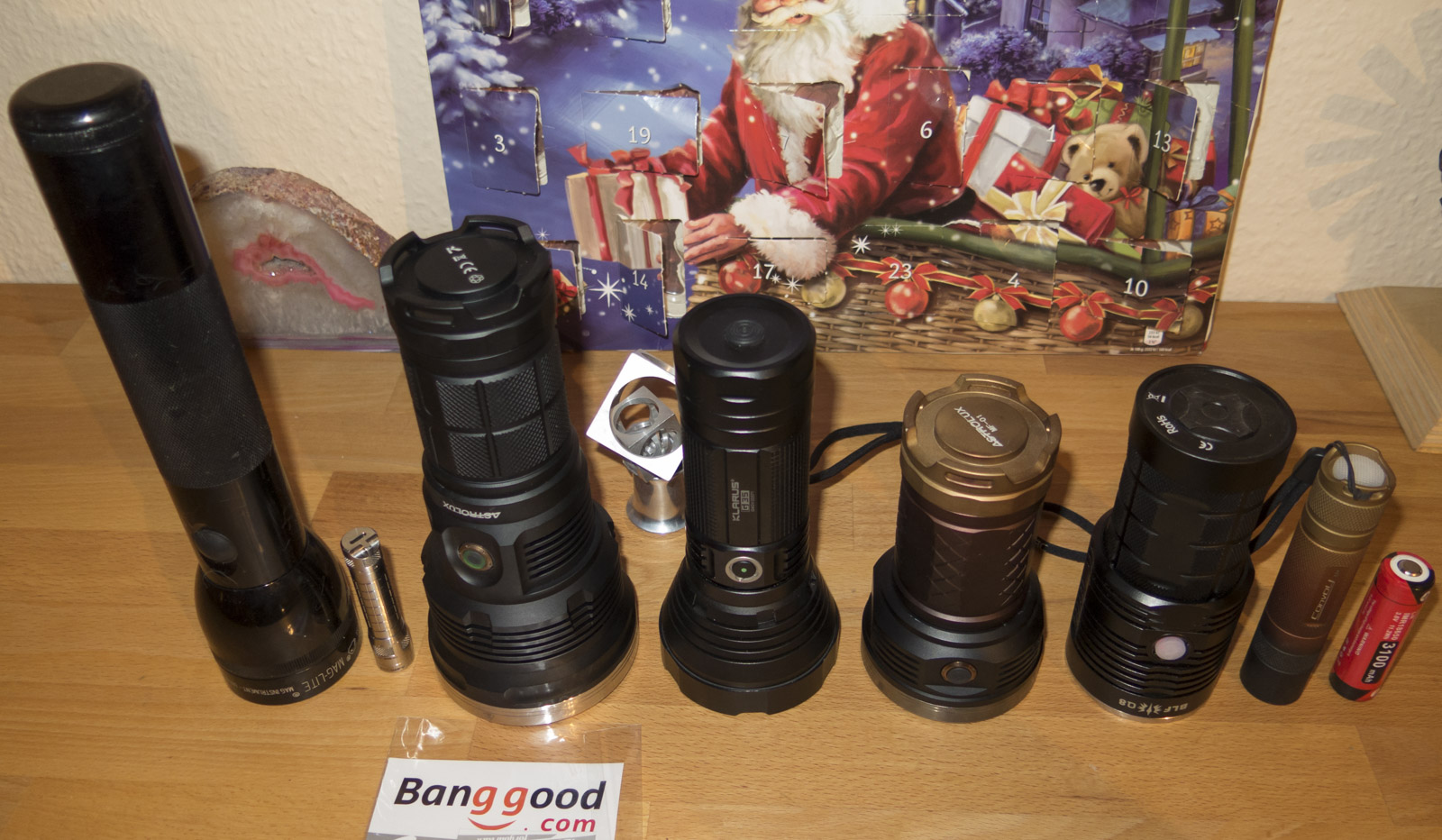 Beam color is cold around 6500K with a Cree XHP35 HI D4, the beam is very focused without obvious artifacts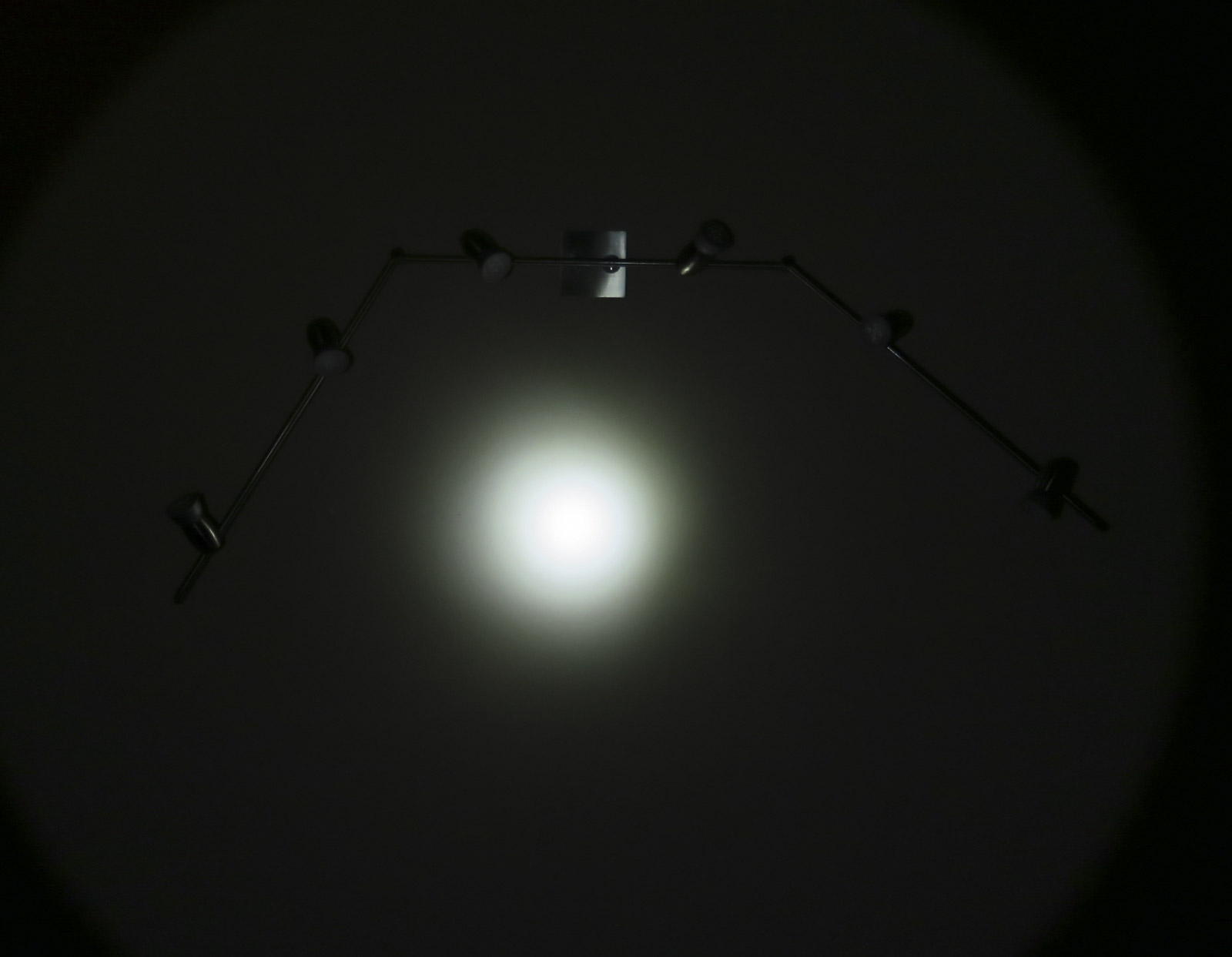 The LED is very good reflowed and the MCPCB is from a good quality
The heat paste is applied in a good amount and squeezed in an uniform thin layer
The reflector looks perfect and is free of dust particles that can be seen when the light is turned on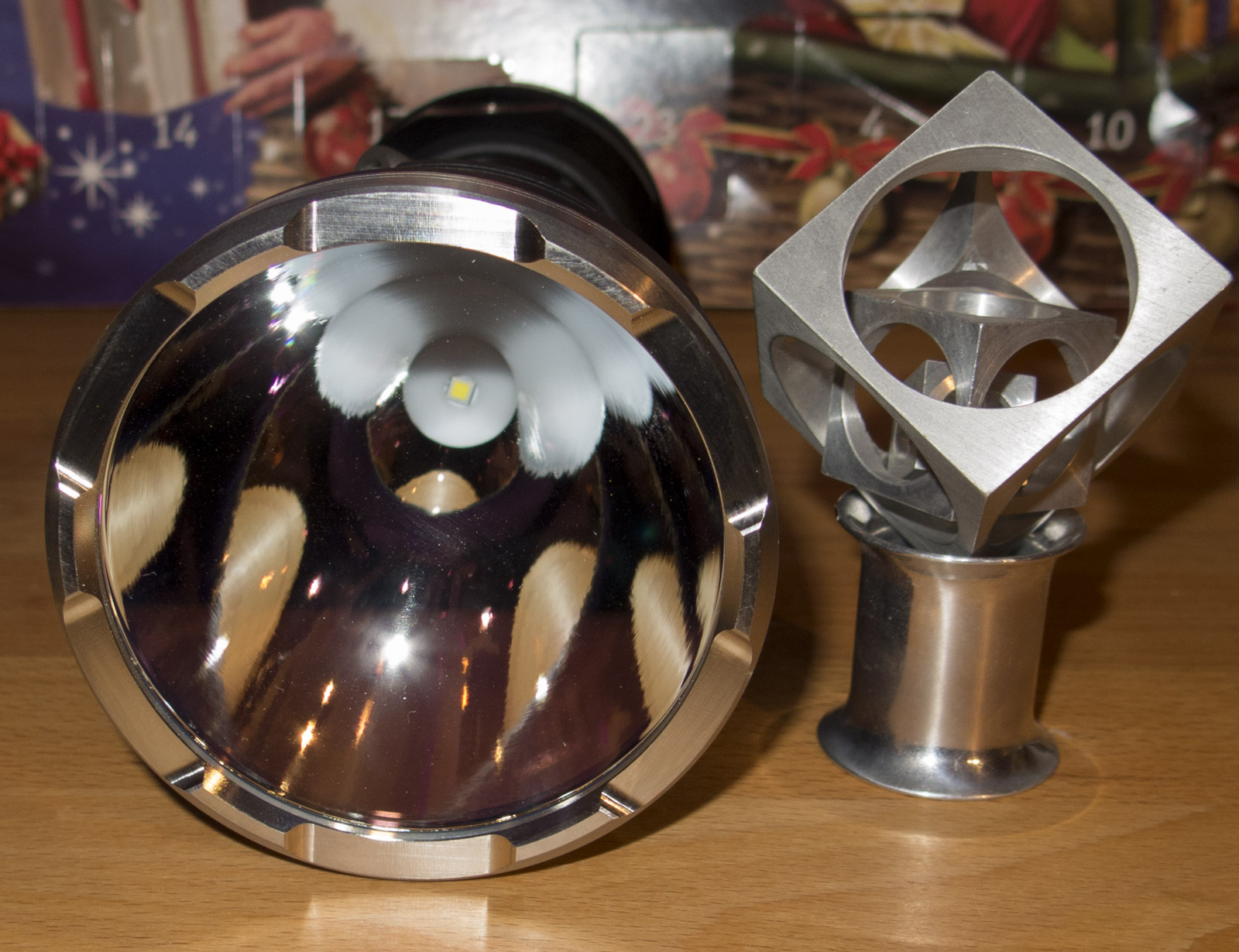 Most dirt is on the lens from first testing and my fingers, it came in almost perfect clean condition
Light color compared to other lights
from left to right the lights get warmer, picture taken @5000K camera setting
left Astrolux MF02, Astrolux MF-01 Nichia 5000K, BLF Q8 V6-3D 5000K, Klarus G35 modded 5000K

The lights bezel is glued, so it is hard to get to the LED, did not manage to get it open, but I will break in when I get to my parents house and tools
The light has a tail cap with a hole for a lanyard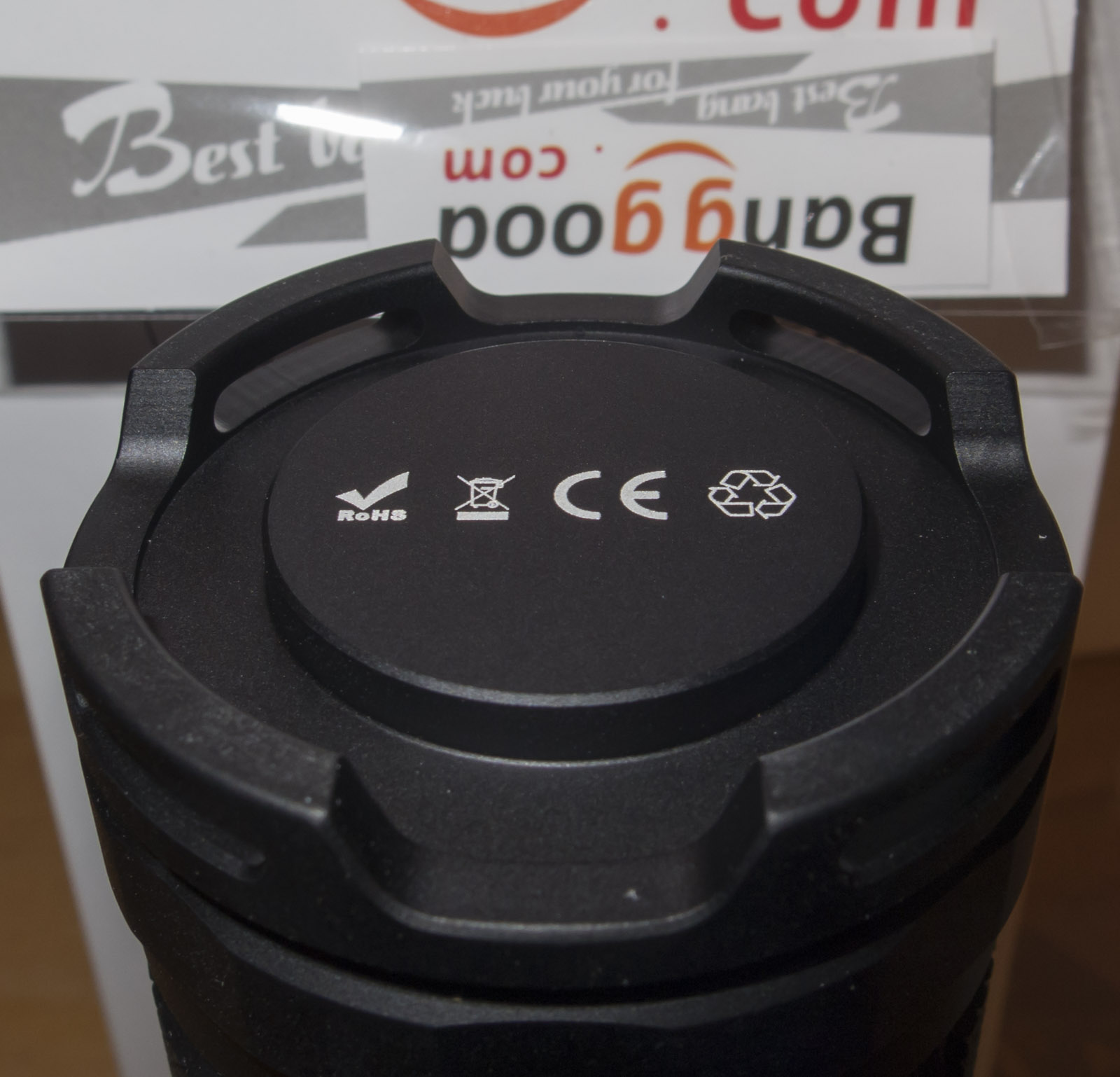 The light stands on the tail
.
The lens is really big and thick, and coated
The head has a diameter of 84mm and 71mm visible reflector

The light can be run by 2 or 4 18650 batteries, it is important to have them matched and with same charge level when inserting to prevent bad things to happen
The battery carrier is 2S/2P configuration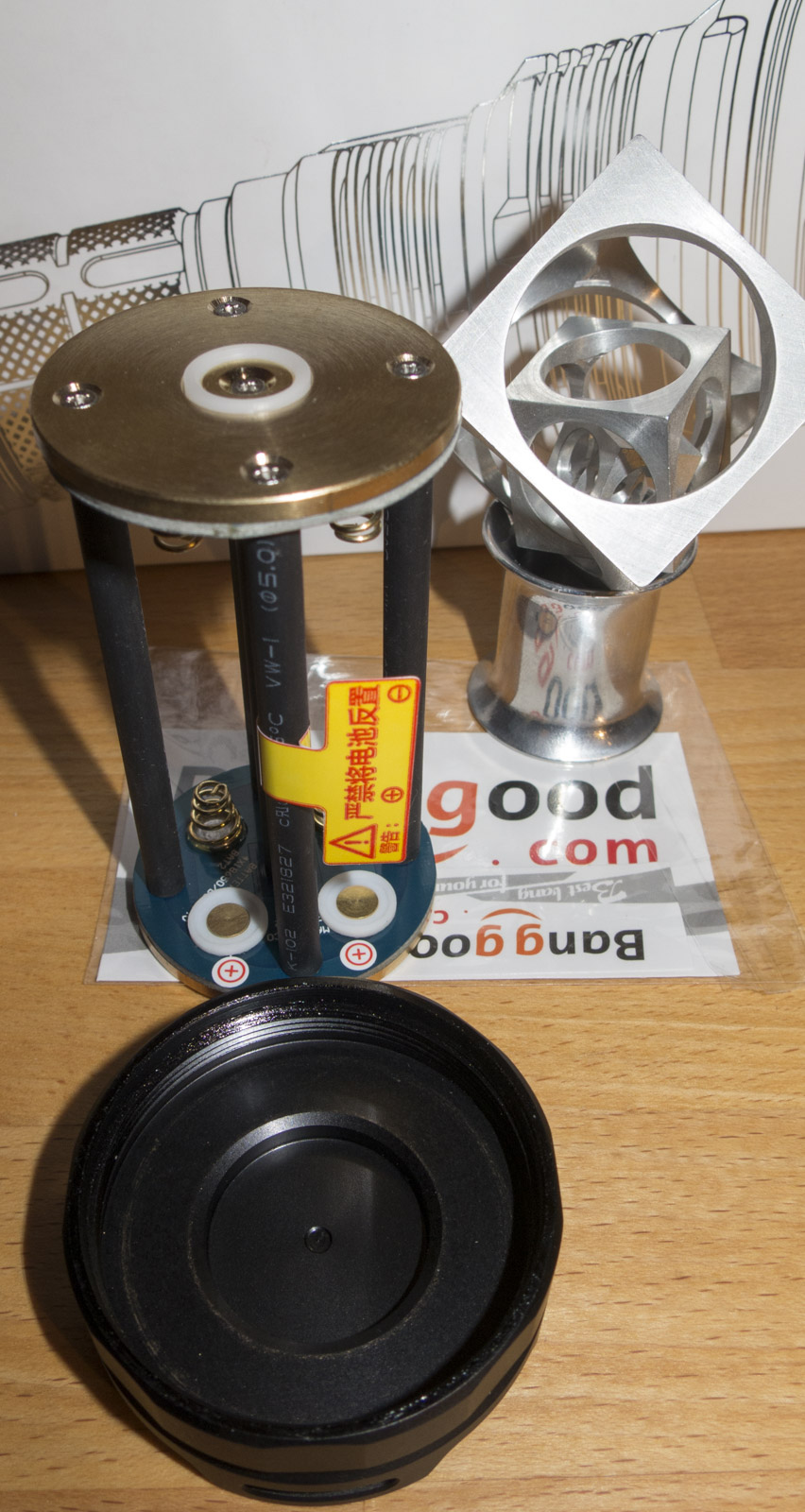 The driver is 47.5mm in diameter with 2 notches and 3 mounting holes
as size compare I put the BLF GT inductor next to one of the 2 stock ones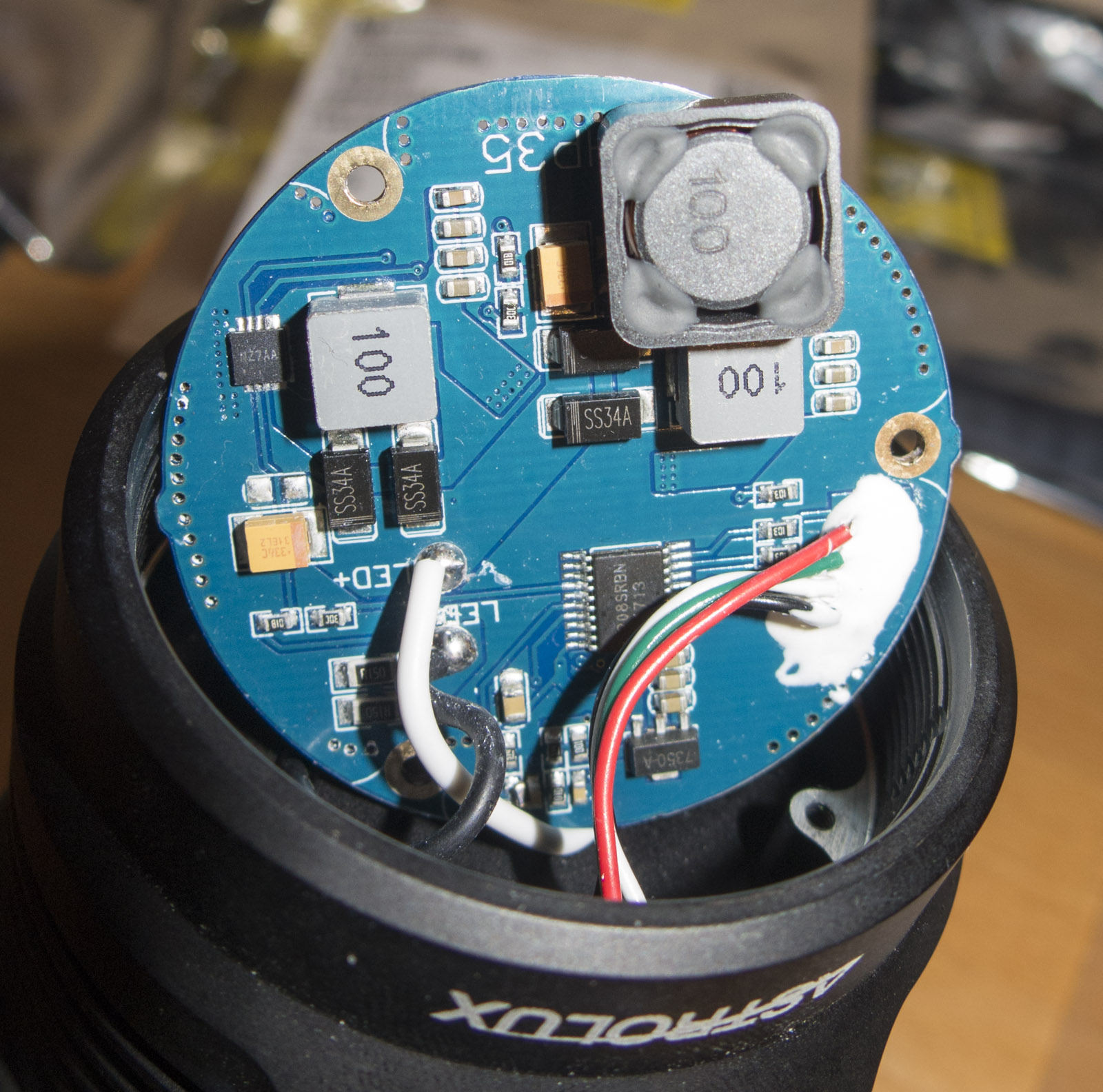 .
The light can be physical locked out by twisting the head or tail off a bit
The light lego with the floody MF01 head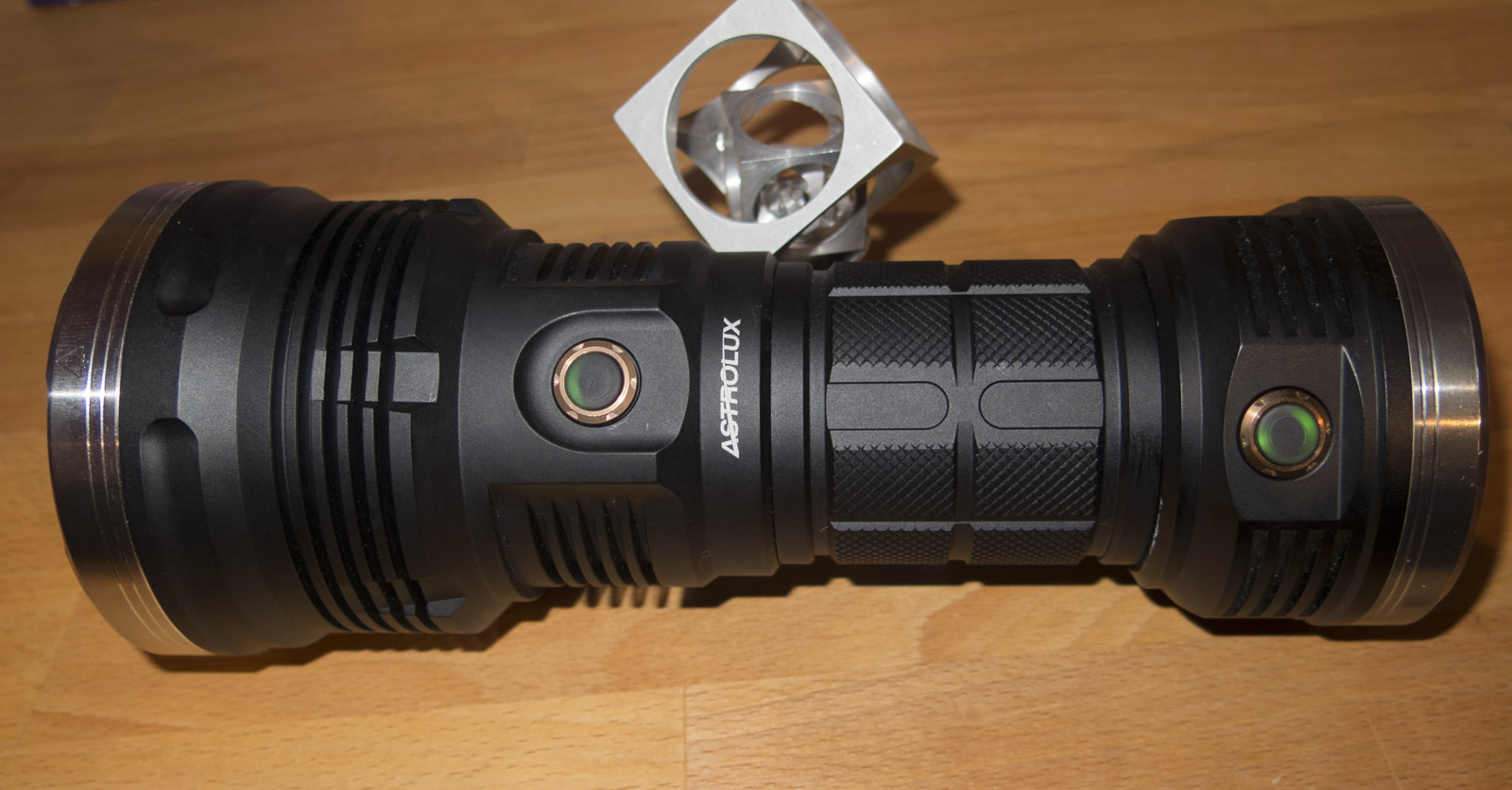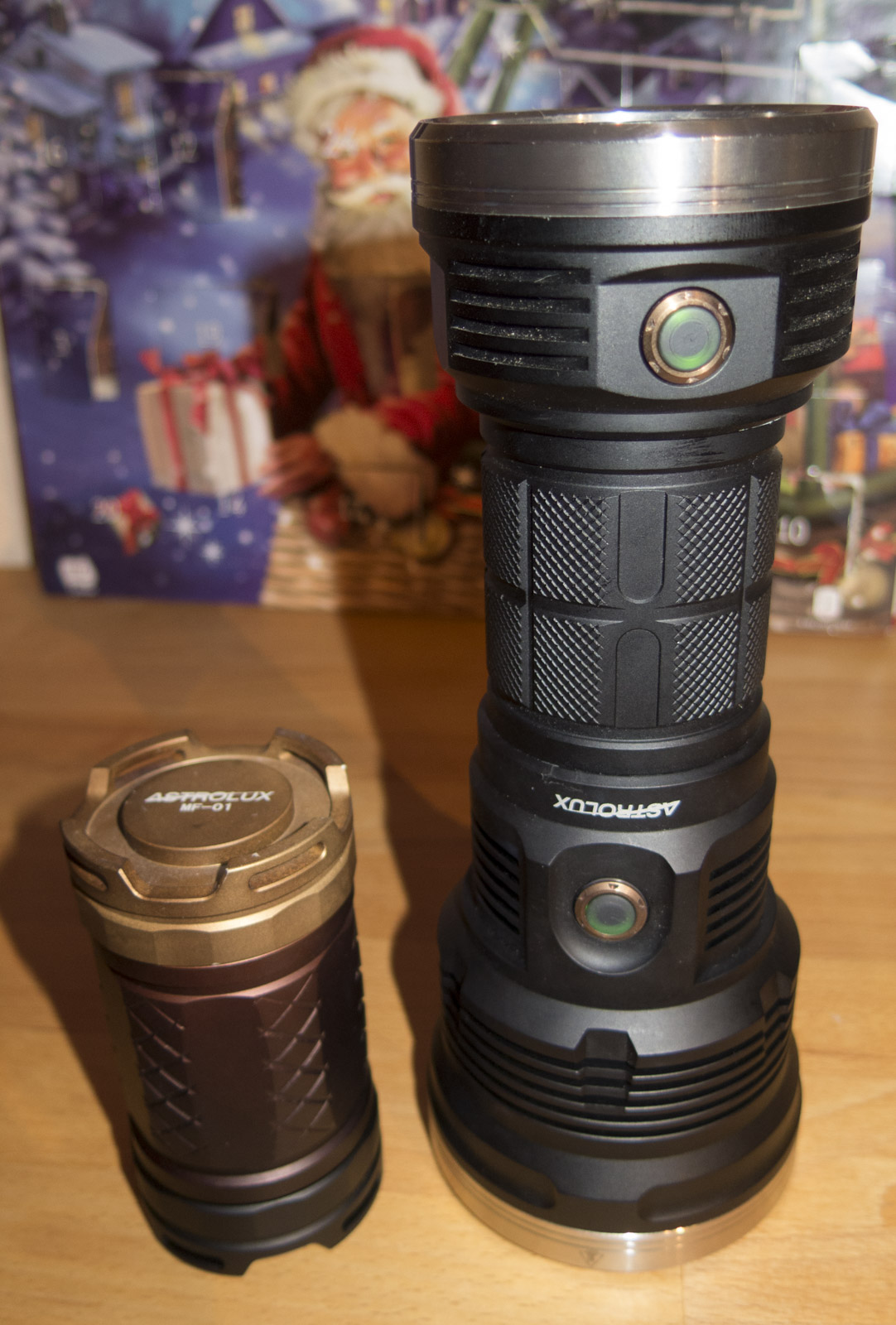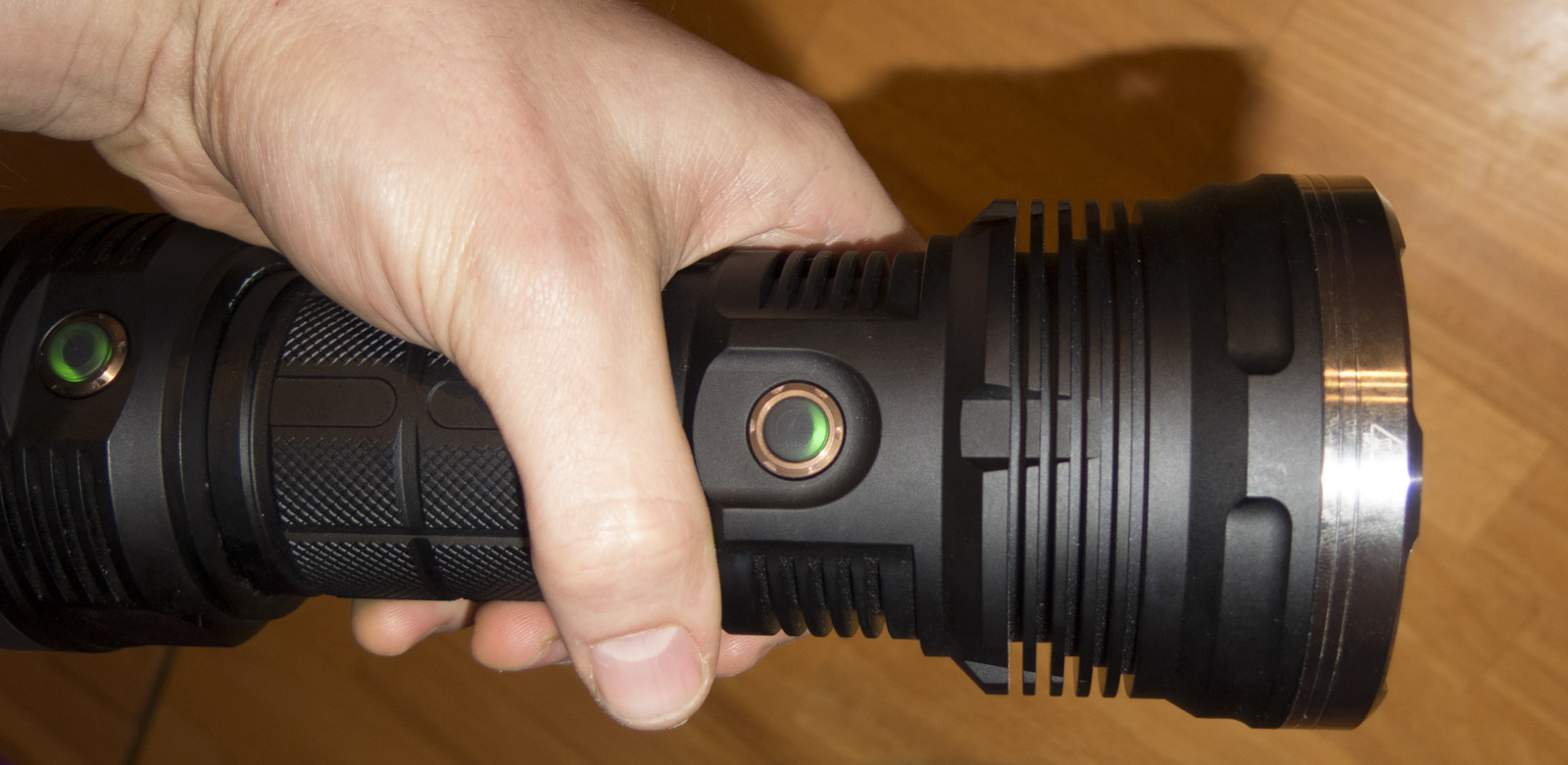 The Head
The big reflector with a single LED gives a lot of throw with a pretty small hotspot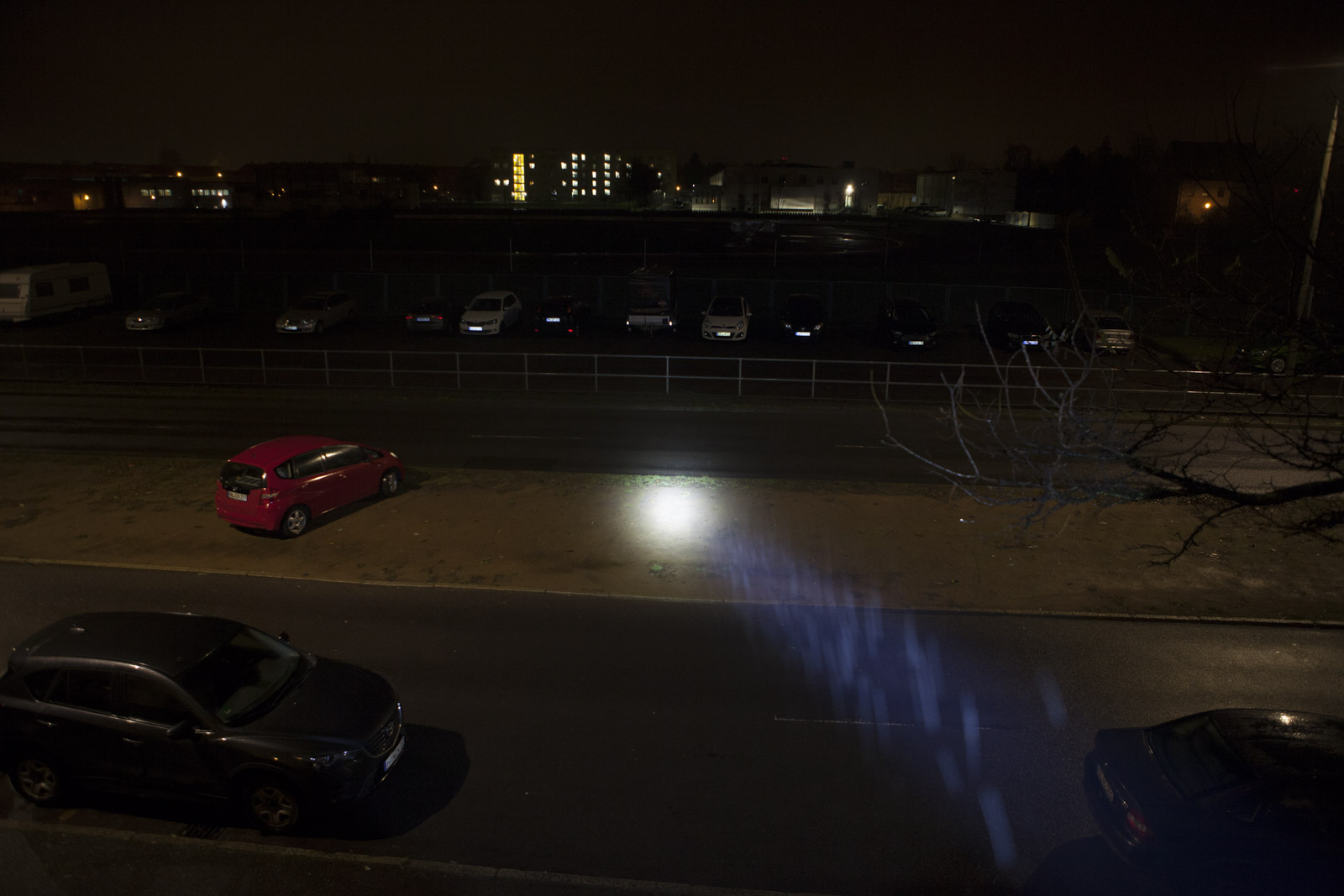 Size compared to is small brother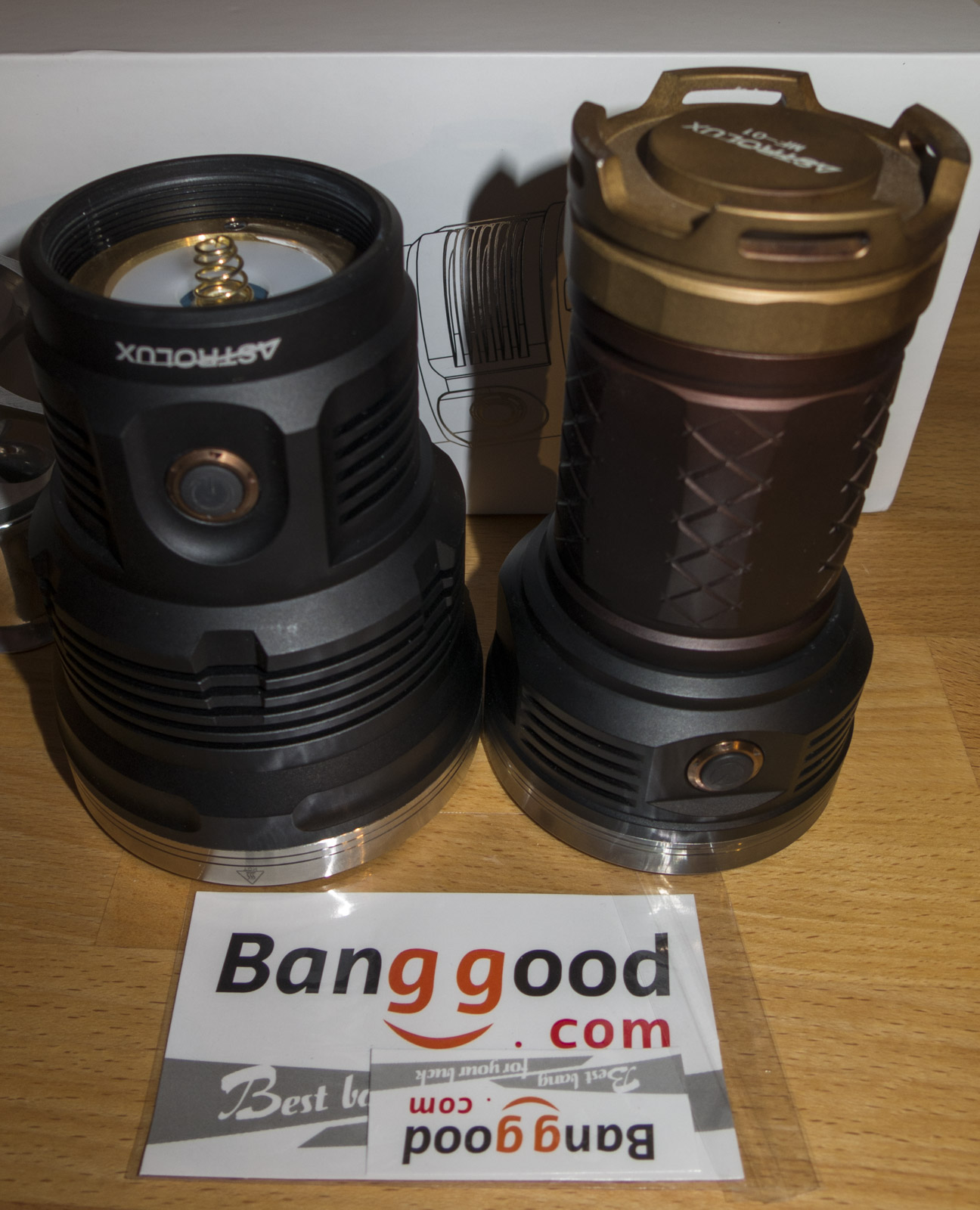 The LED is perfectly centered, the reflector has a little texture from production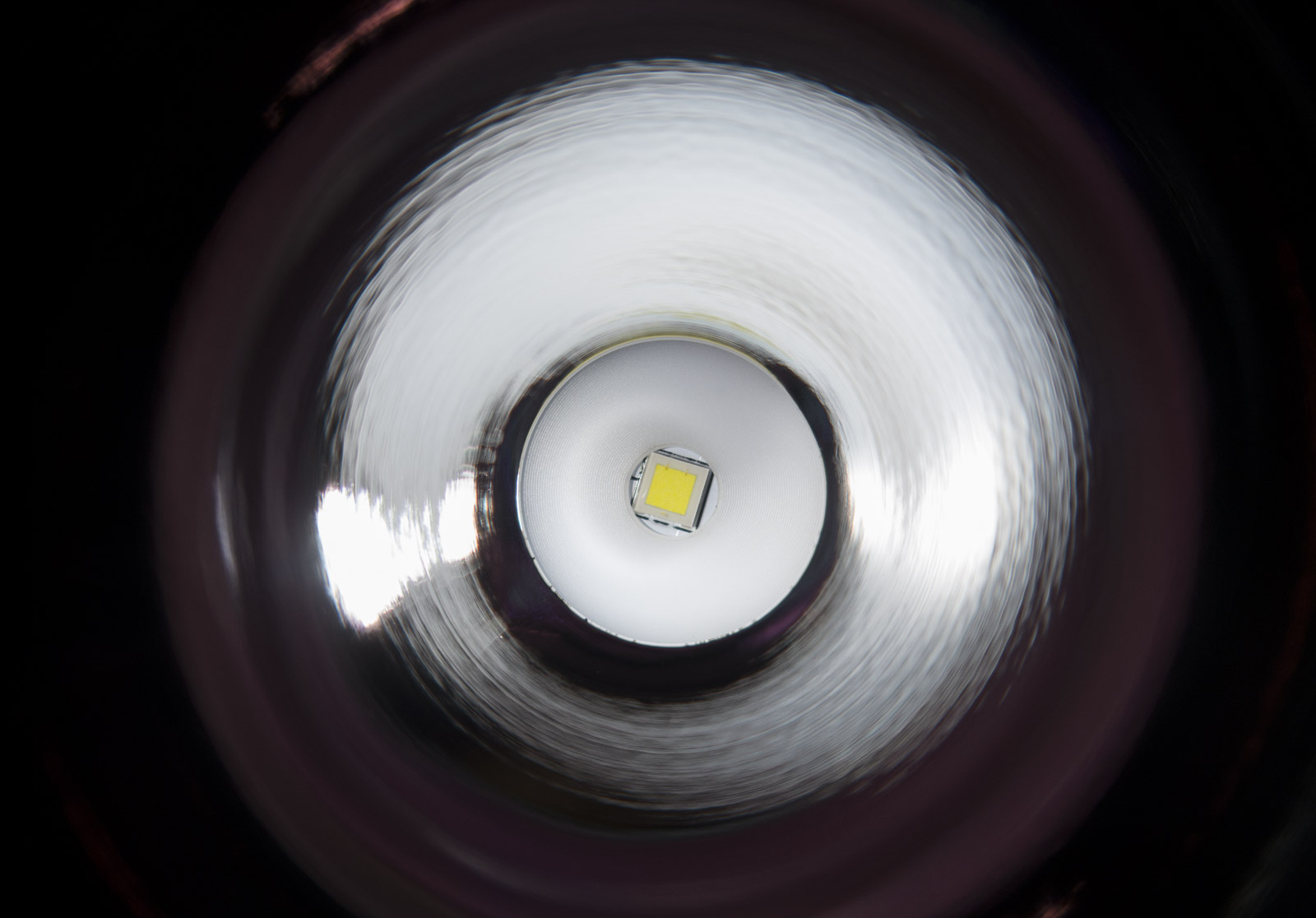 to see the LED cover the whole reflector you have to go away over 2 meters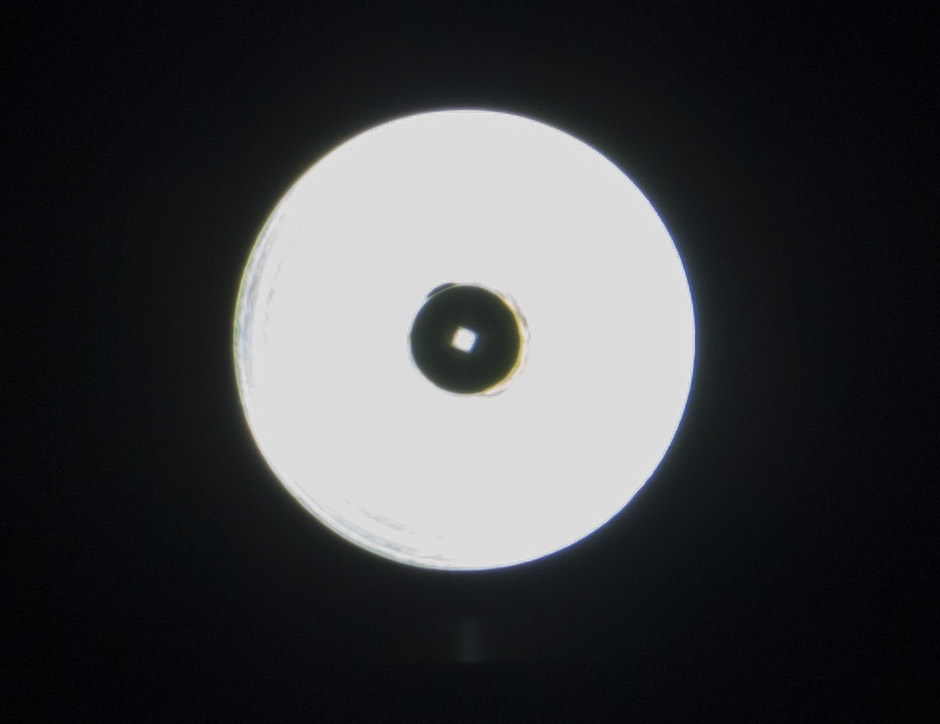 The switch board has a green and red status LED
The switch has a decent feeling but not as good as other lights
Unfortunately when carrying the light with shoulder strap the button is on the wrong side of the flashlight it would be better to have a point on the top to attach it, so it is also not needed to put the tripod screw in the light to attach it
The Waterproofing got better on the switch adding a O-ring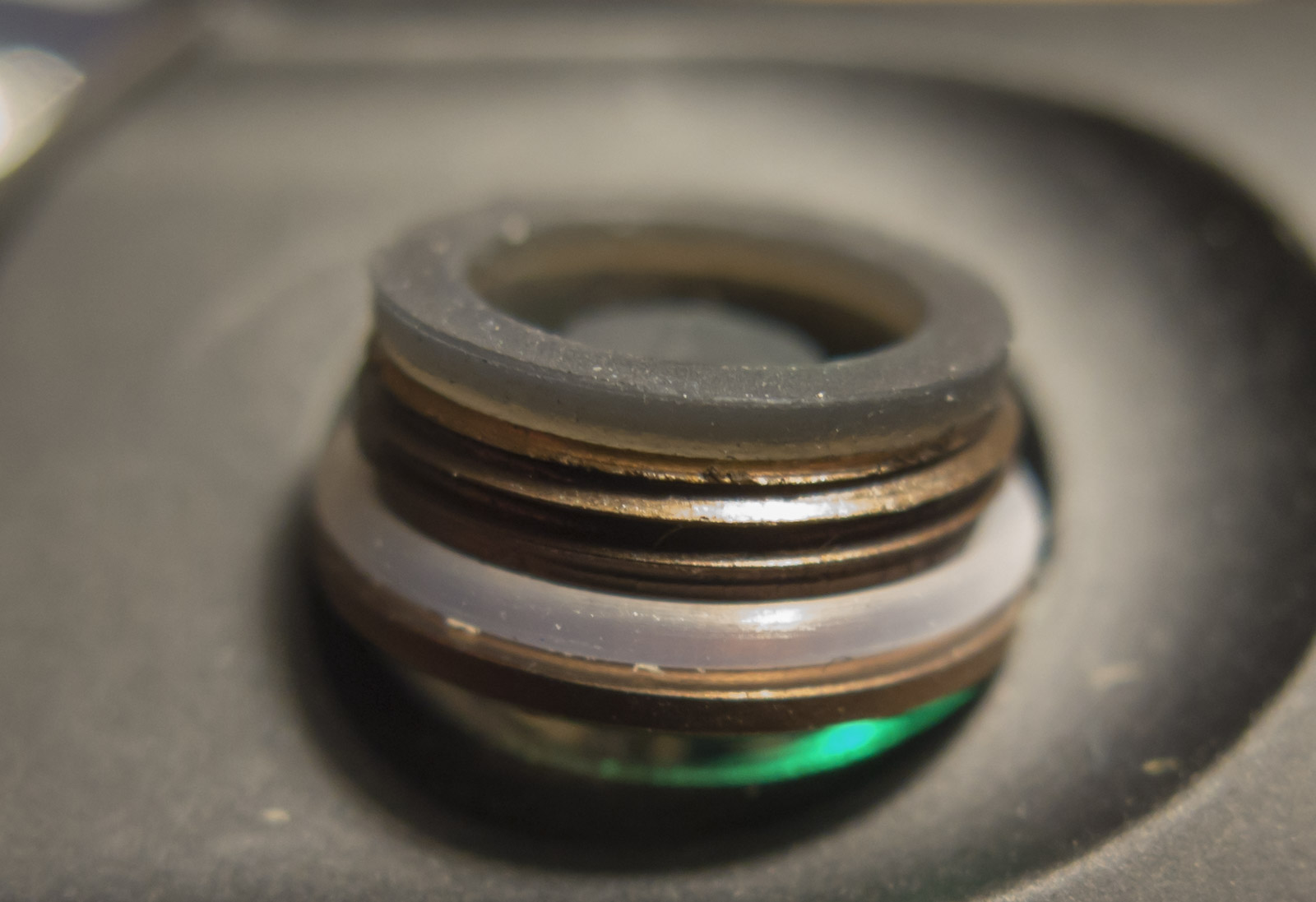 The head has a hot symbol on the bezel, but stays relative cool compared to the MF01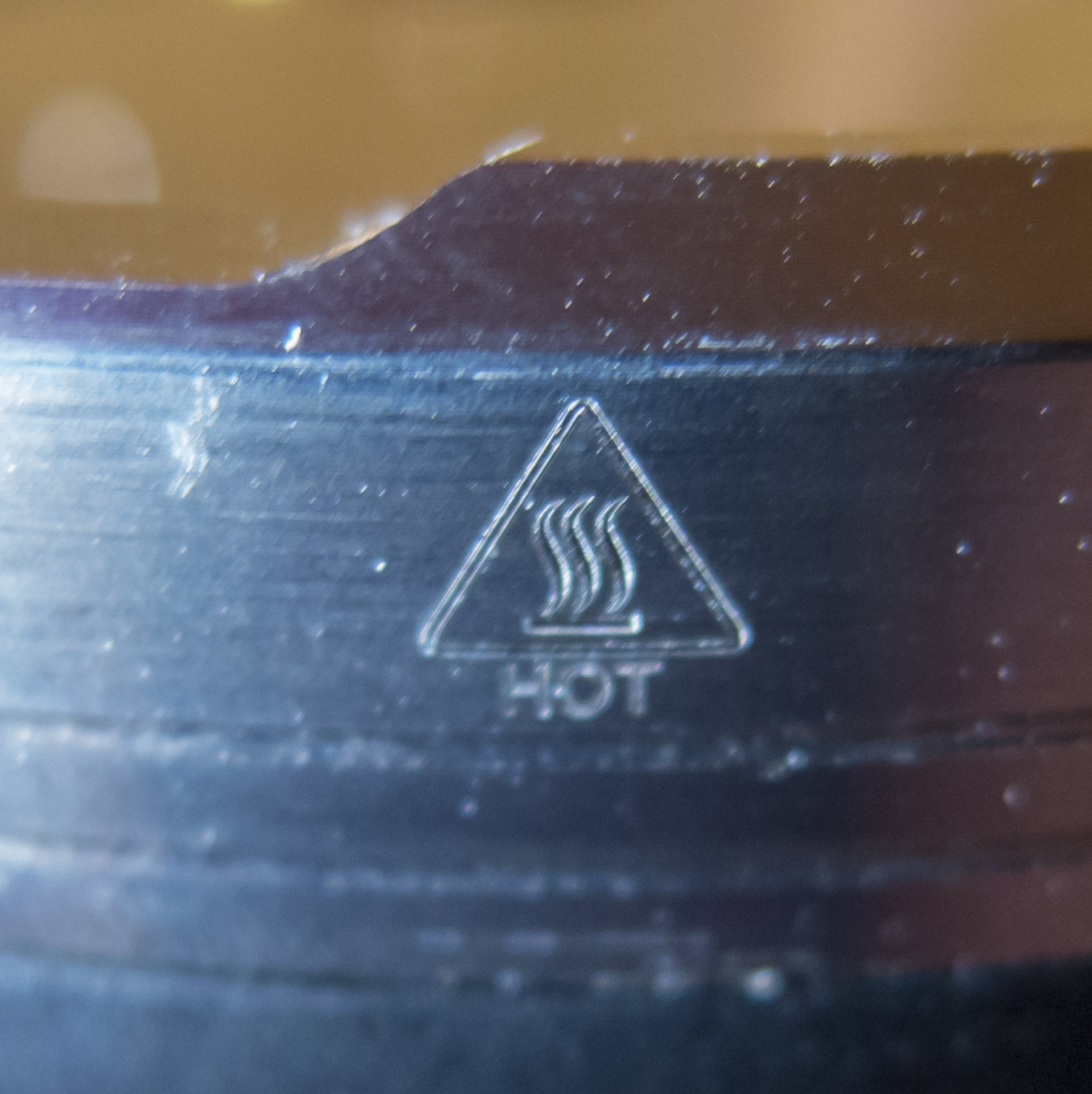 It has a plenty of mass to absorb and spread heat
The surface has on the head quite some cooling fins, the light will also never get really hot
The shelf is thick and the big copper DTP MCPCB does a good job spreading the heat
The heat paste is applied good and has all surface covered with a thin film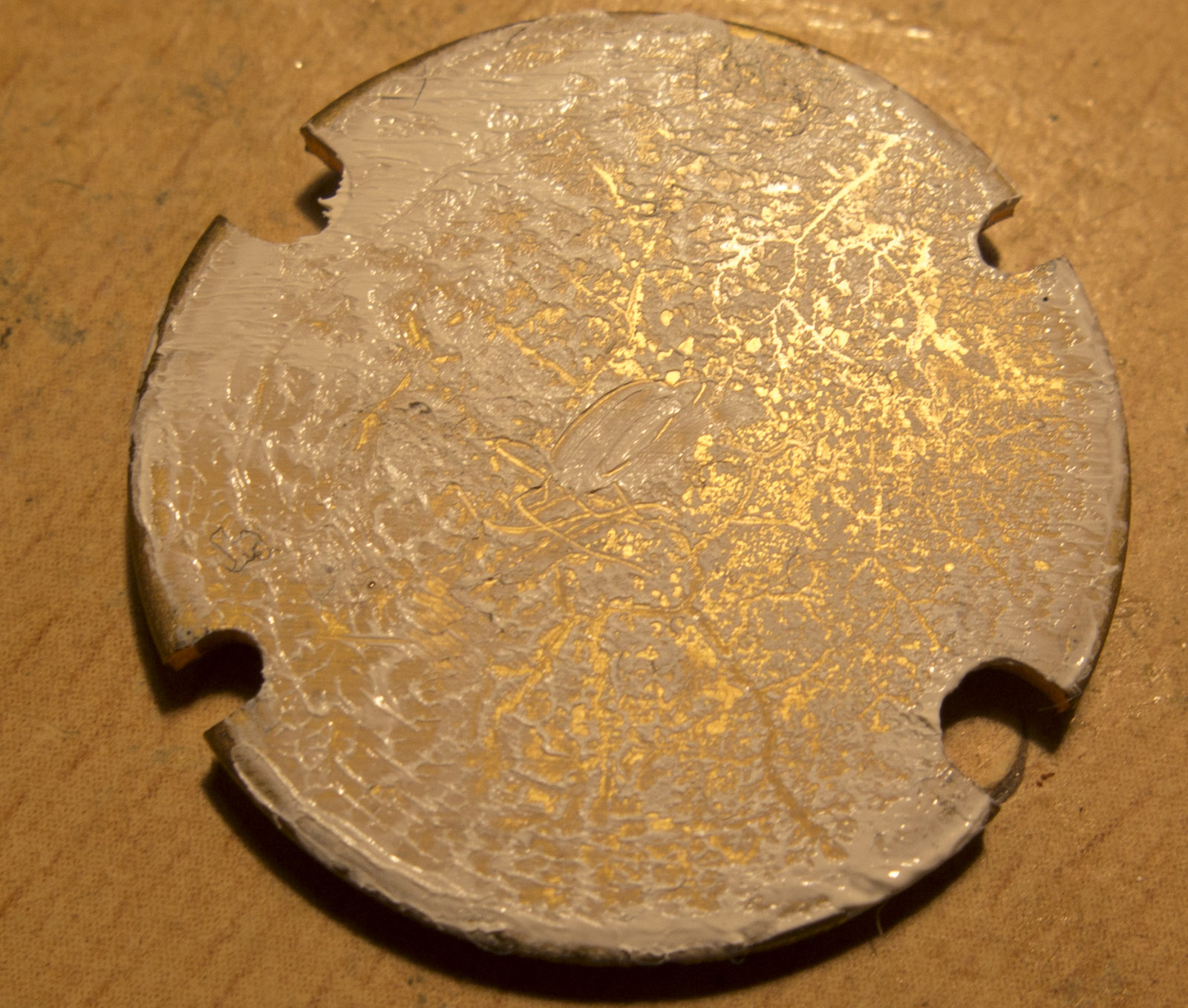 The back of the MCPCB is flat, but some dirt on the edge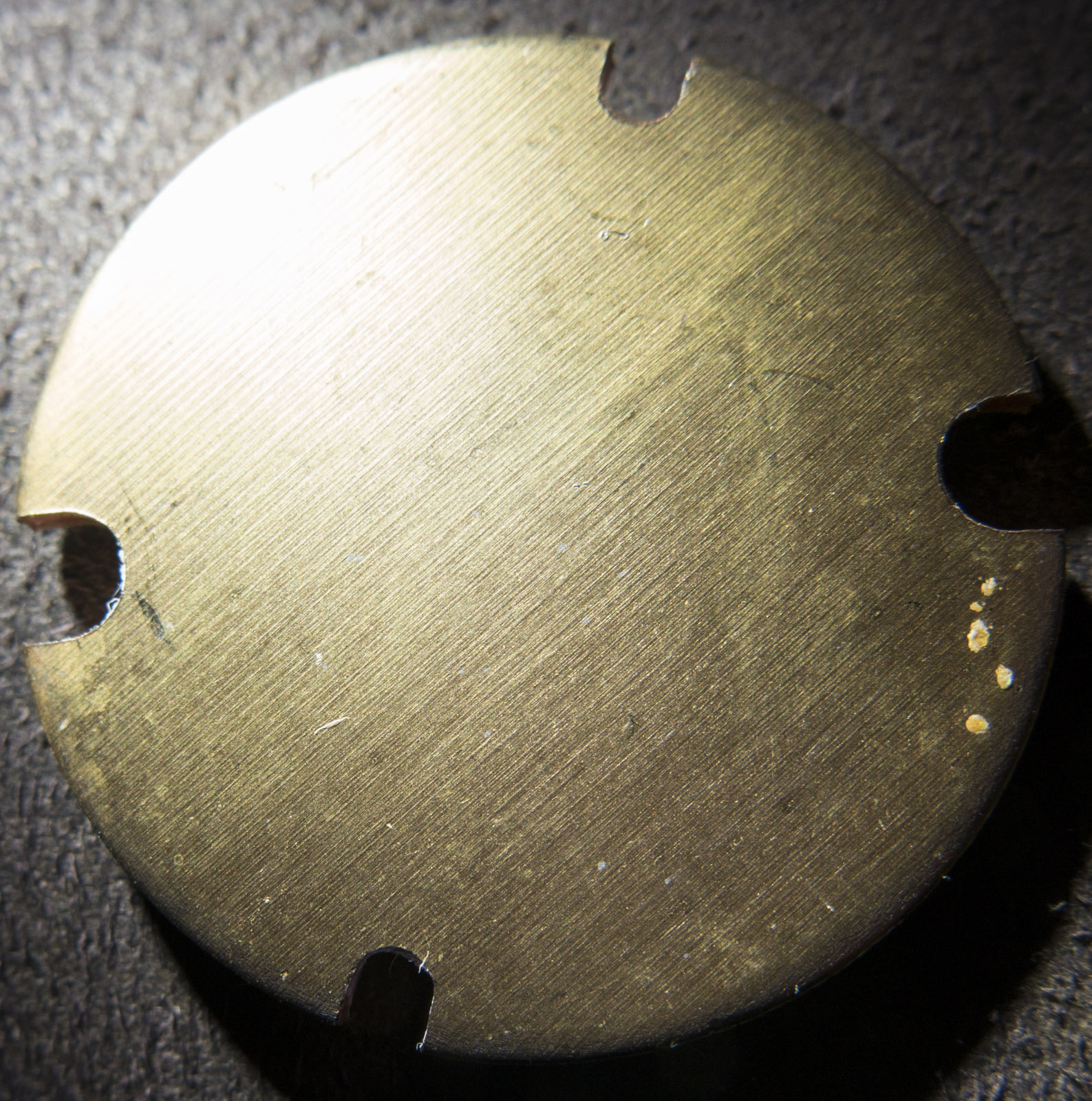 The lens is hardened AR coated glass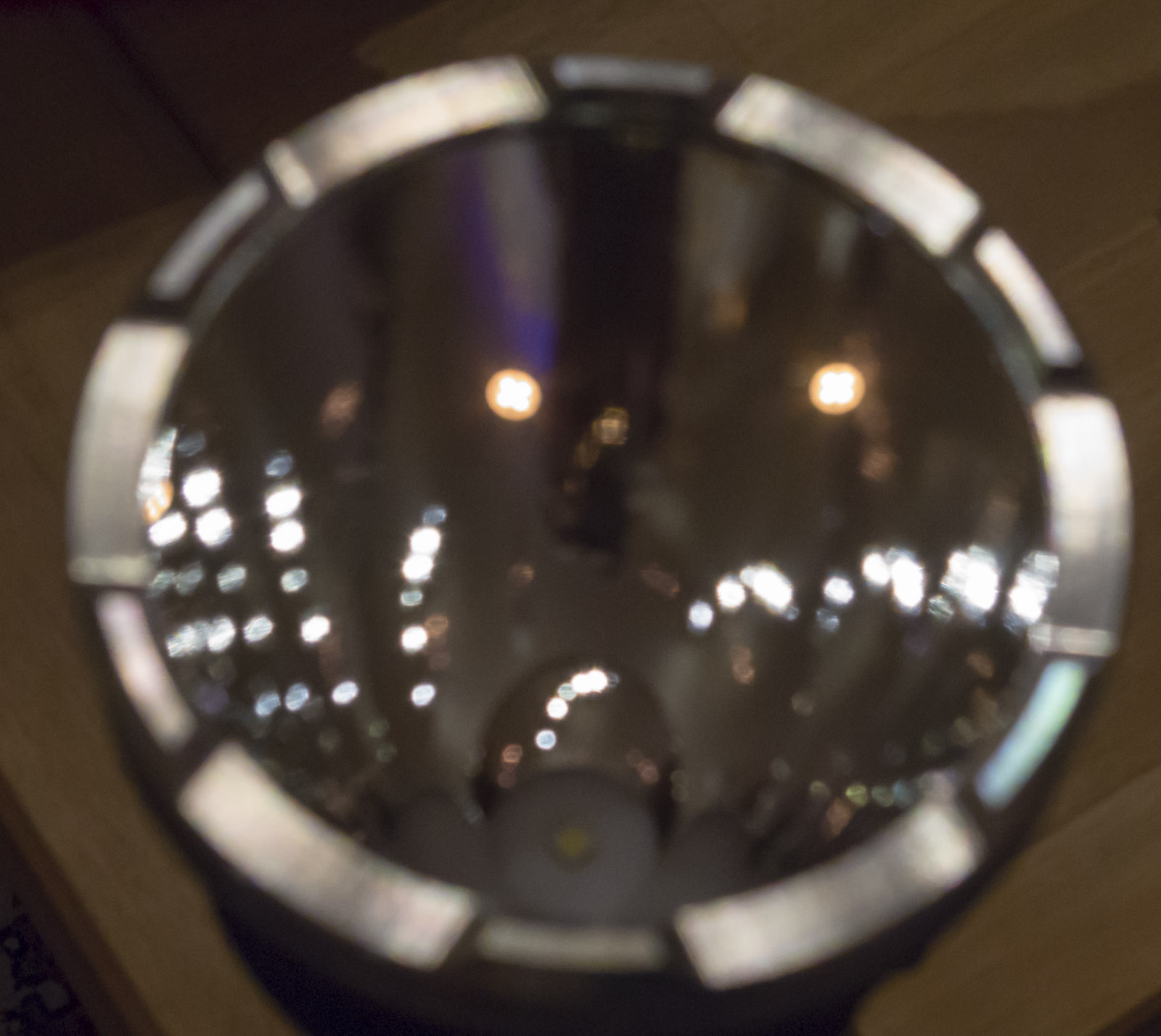 The bezel is glued, I needed heat to about 80°C to get it open on a piece of woof I had prepared to fit the bezel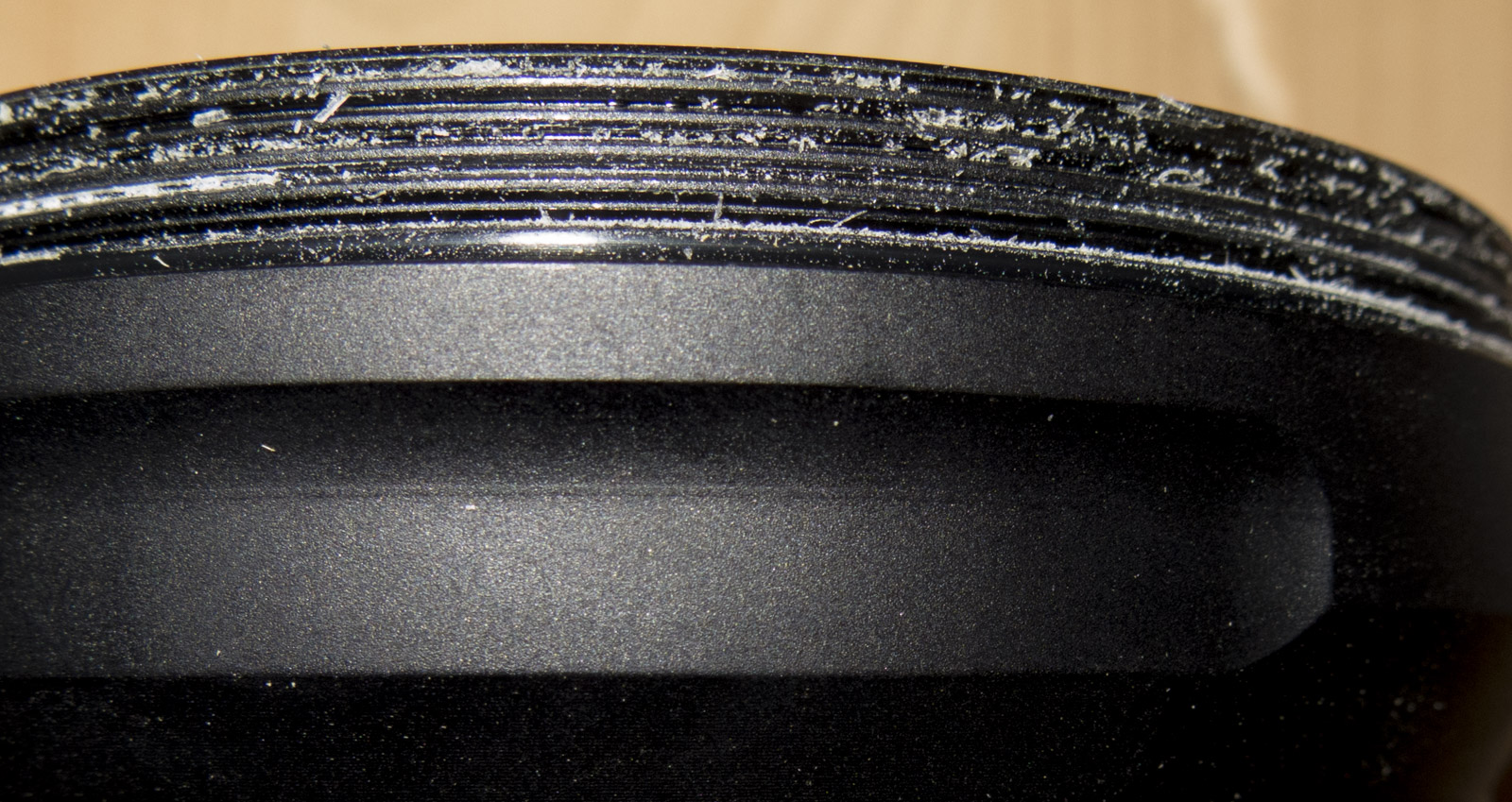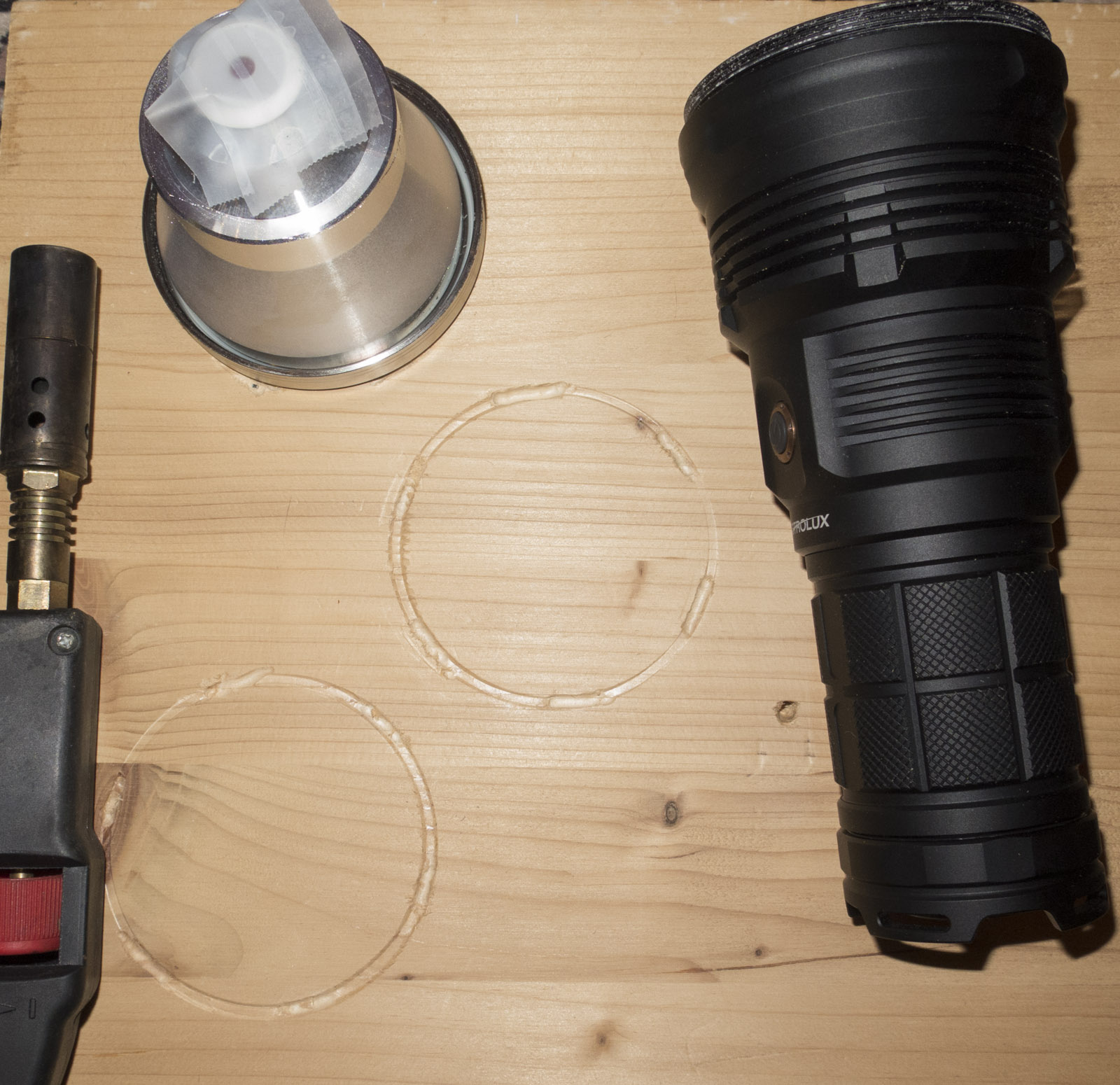 .
Tube and Tail
The tail cap is fully anodized and massive
The light is build for protected and unprotected batteries, unprotected need solder blob or buttons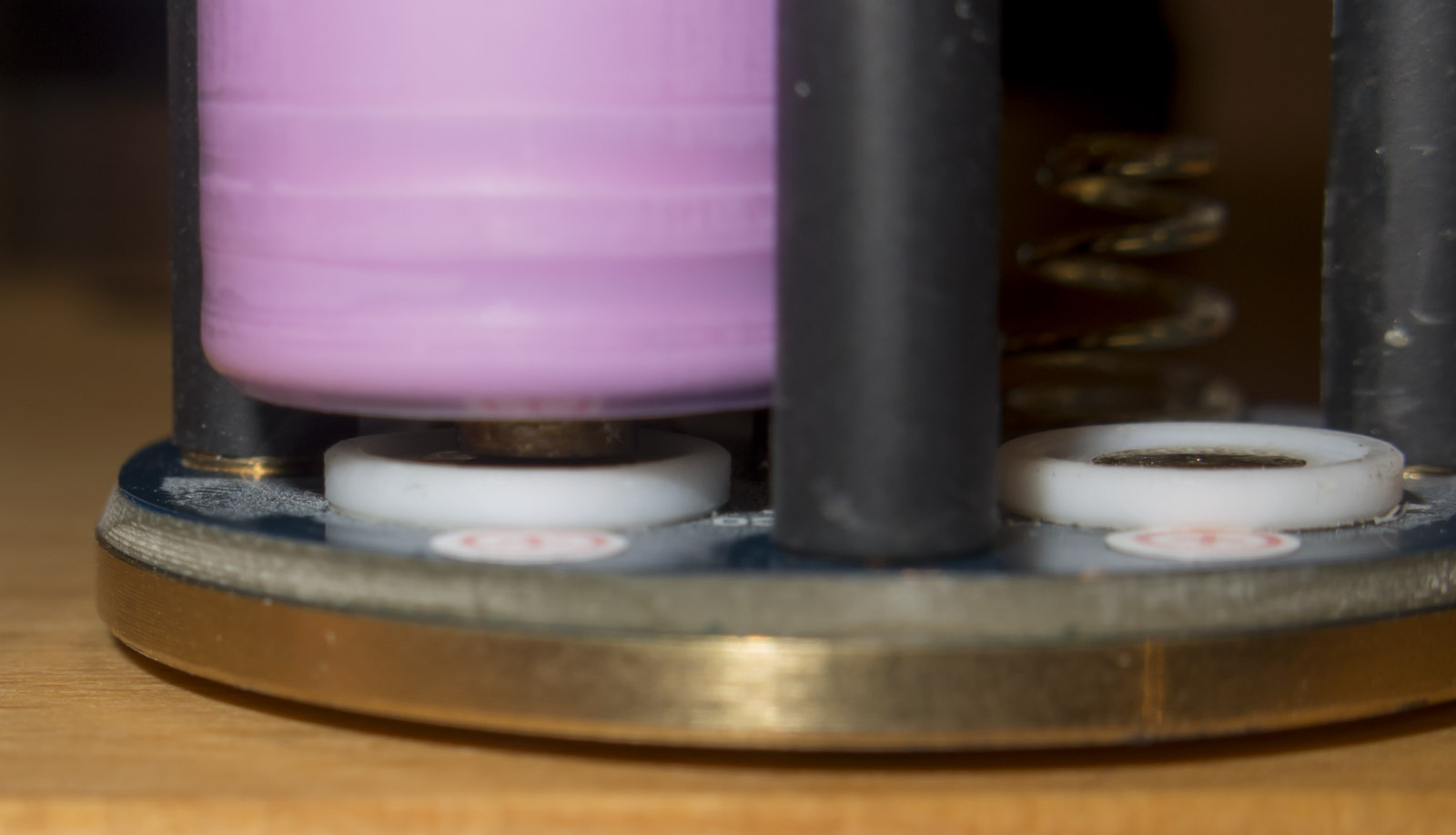 the light uses thick springs from a non magnetic material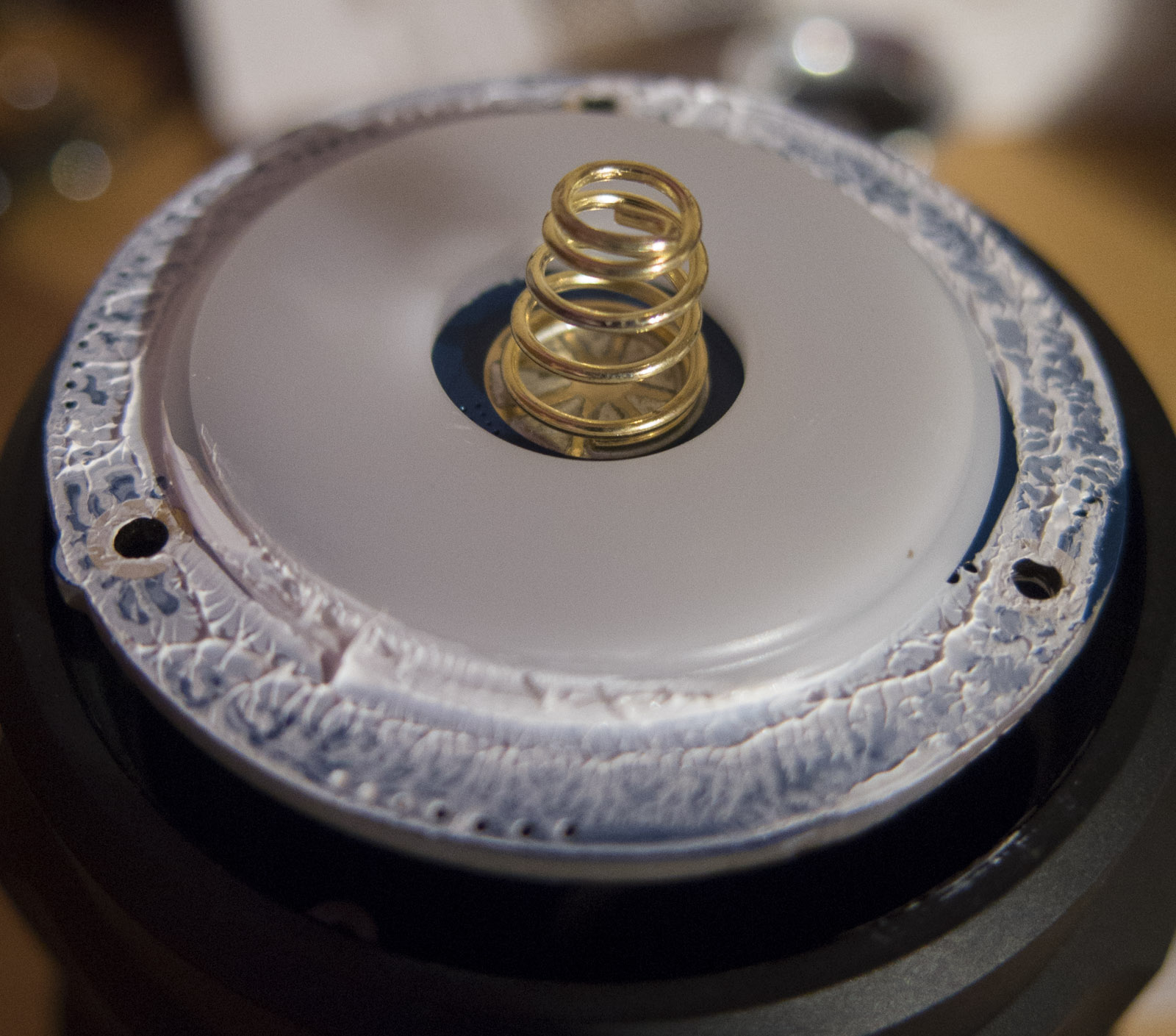 The light is waterproof, the tail cap thread is lubed, but the amount is OK, but the heads threads have no lubricant at all, both ends have an O-ring, the switch cover and bezel have also an O-ring
The threads are medium sized and triangular gut, this could be better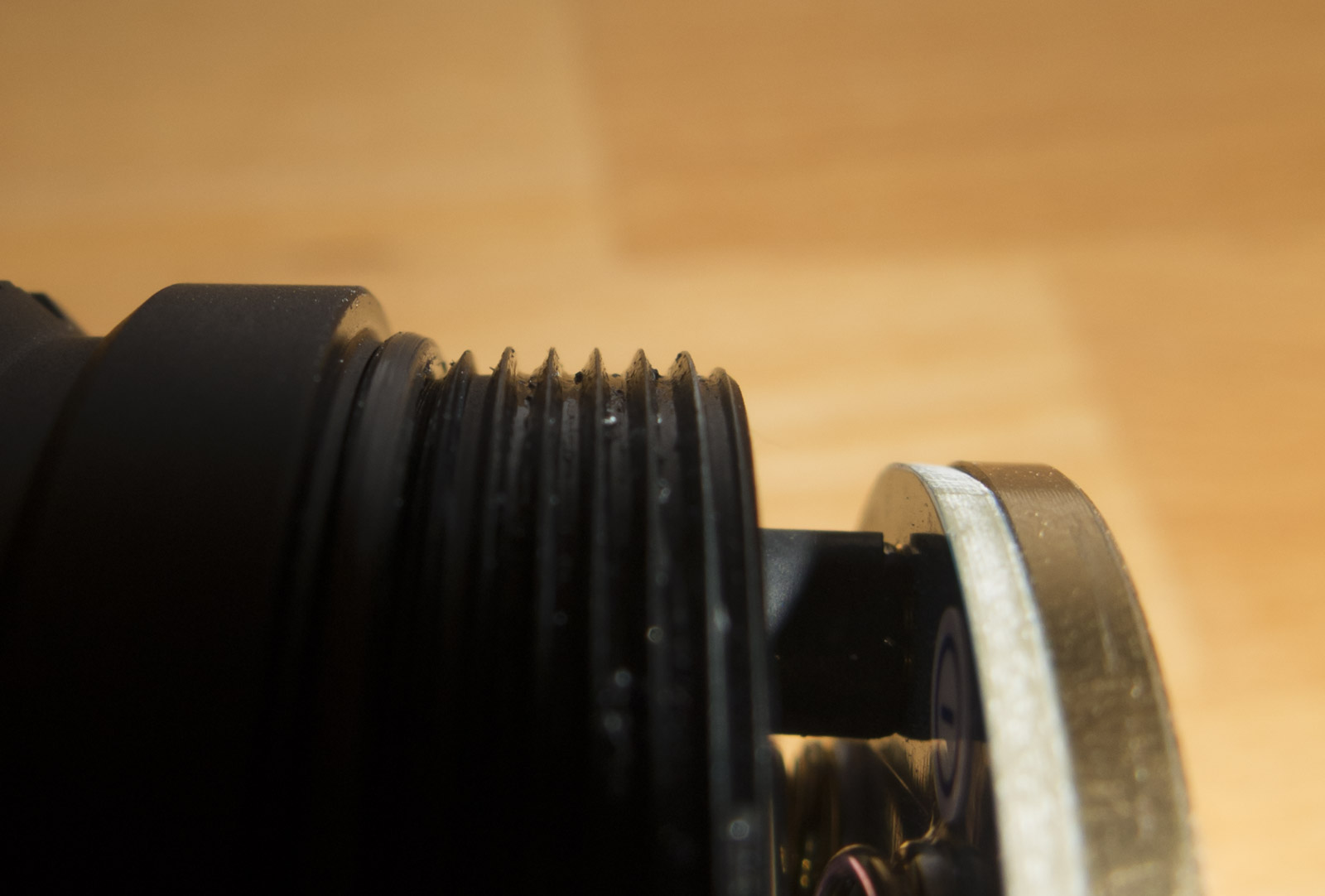 .
Driver and Battery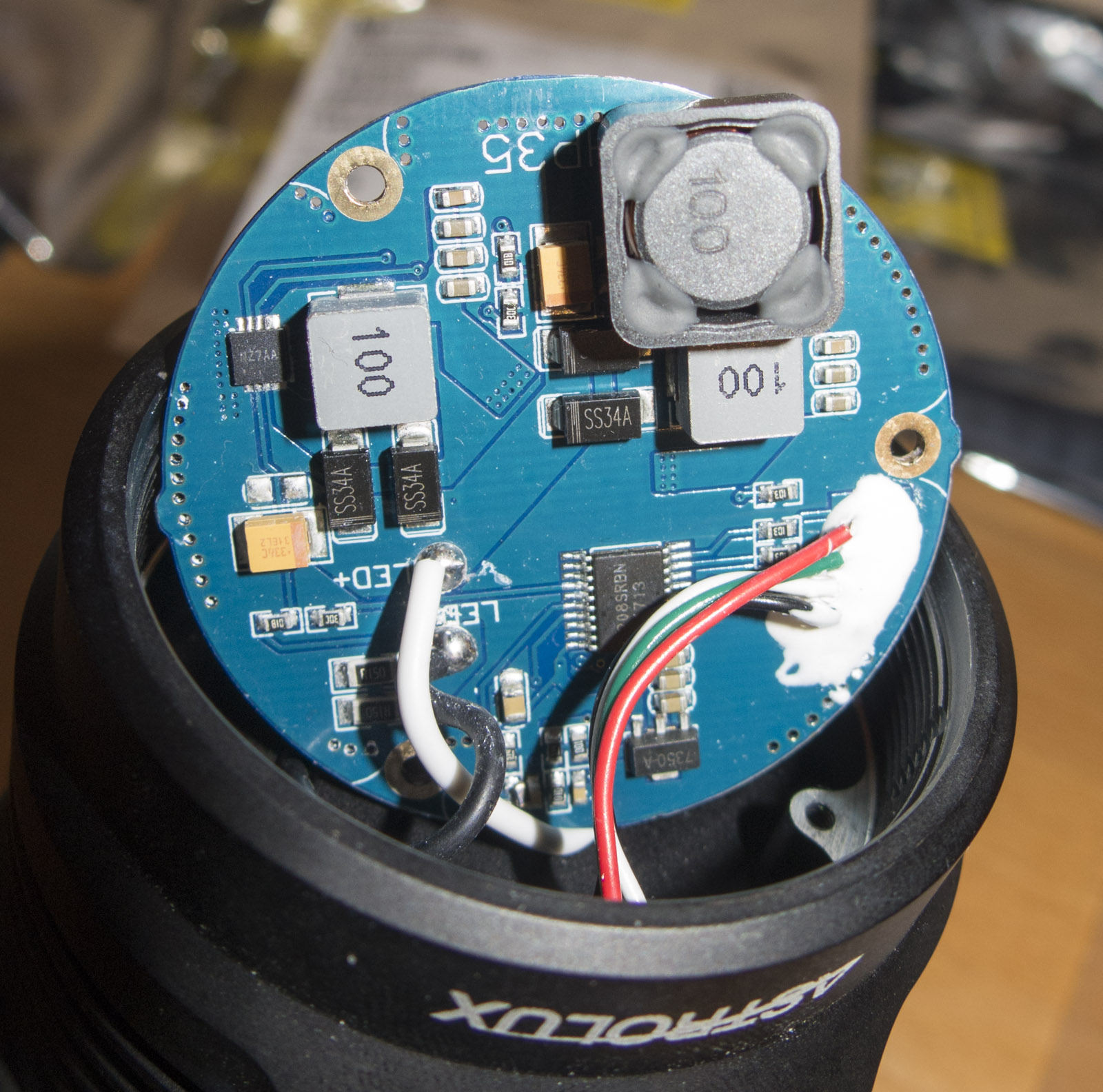 The driver has a spring from a not magnetic alloy
The driver is build very cheap and simple, 2 Boost chips with small 10mm 10uF inductors
2 Diodes in parallel, which may not share load evenly due to variations but should do fine at the low current
One boost regulator has 4 tiny Input caps the other just 3, at least the output capacitors are 2 big ones
The current sense resistors are 2 150mOhms in parallel
The light has no visible PWM in output, falling water drops make a straight line
The mode spacing is not so good, the low has about 15 lumens which is not really helpful at any distance worth having a thrower,
the high is a bit too much, no really visible difference from High to Turbo
The side switch status LED shows the battery level, turning red when the battery voltage gets too low
.
Measurements
I did not find the drive to do much here, as Maukka did there an awesome job in his review
http://budgetlightforum.com/node/57916
Basically throw and lumens numbers are quite below what was advertised
The standby drain is way too high even locked out
I measured here 15910cd @5.4m cold start
so this equals 464kcd at 1m
at 30s I measure 15100cd @5.4m
this equals 440kdc at 1m
the 30s mark did not drop much, so the thermal performance of the MCPCB is very good
.
Modding:
First thing was to remove the thermal Paste between the driver and Retaining ring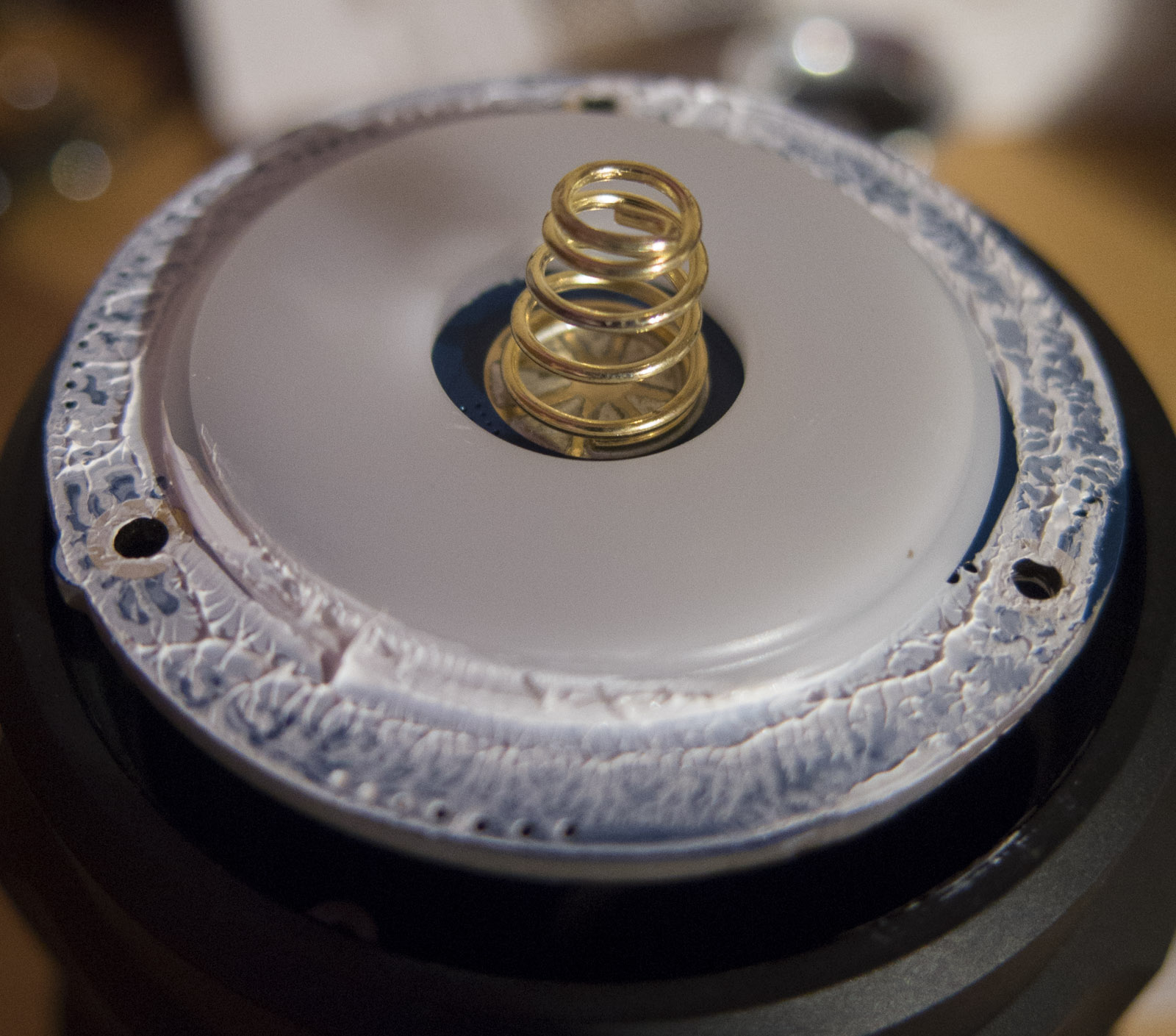 The driver screws were extremely loose, possibly because the heat paste squeezed more thin after assembly
This leads to all the battery current flowing through 3 loose M2.5 screws which is not good
Maybe some idiot production manager told the workers to apply the heat paste on the wrong side of the driver, to the body it improves the heat path to keep driver cooler
When reassembling the Driver I stripped one thread because the screws do not get deep enough in the holes

I fixed that drilling the holes in the retaining ring deeper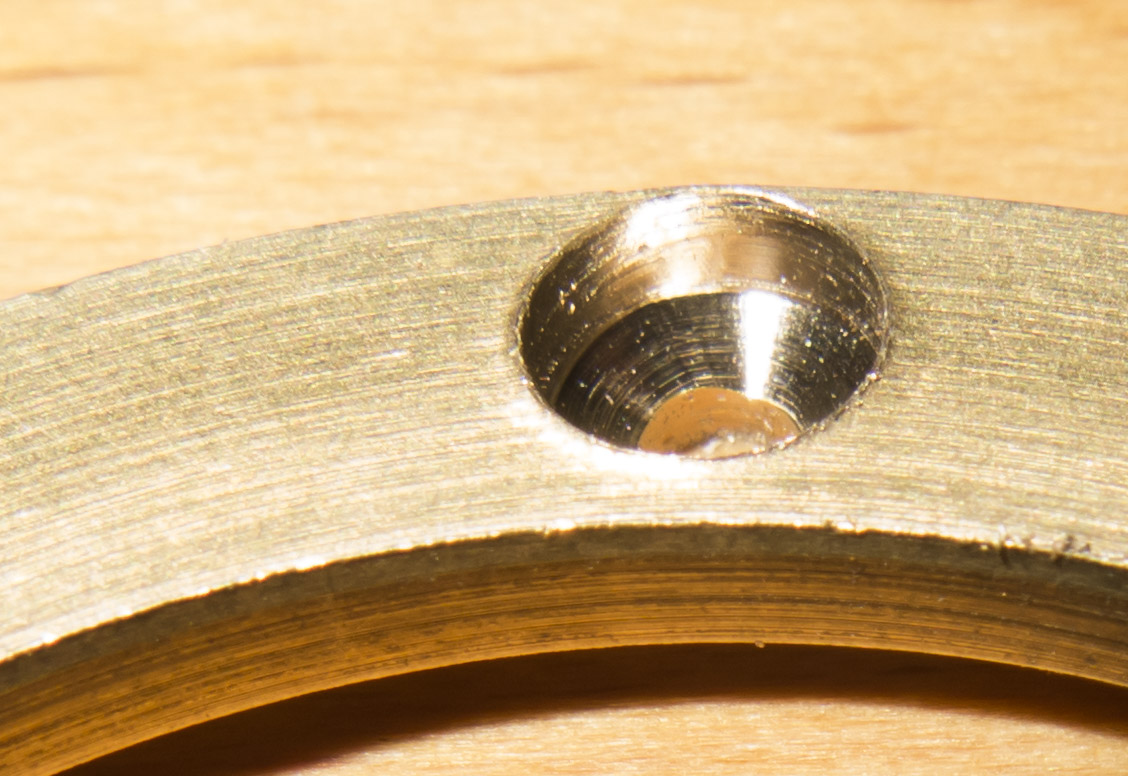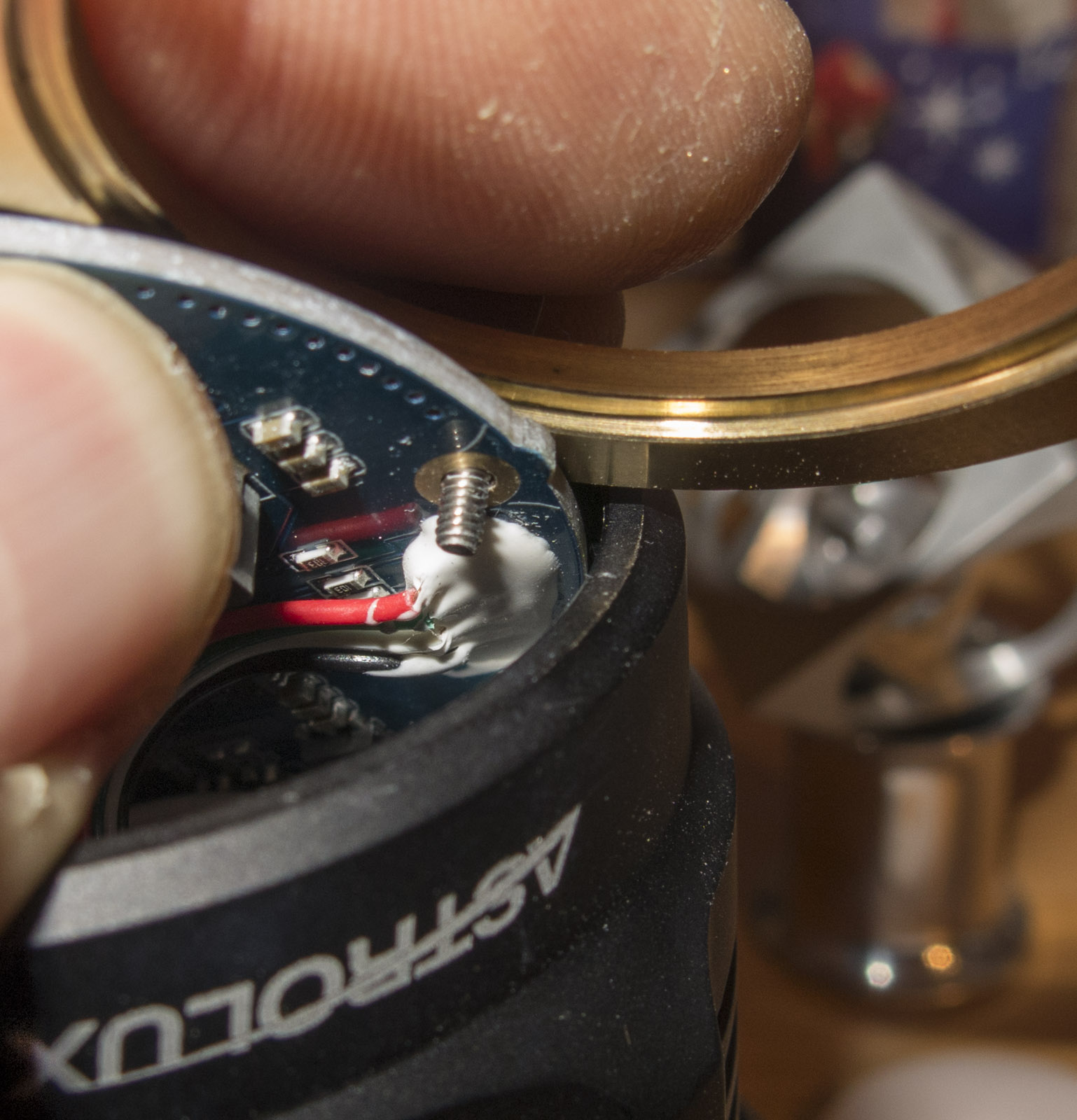 I managed later to open the head
Reflowed a XHP35 HI E2-3C on it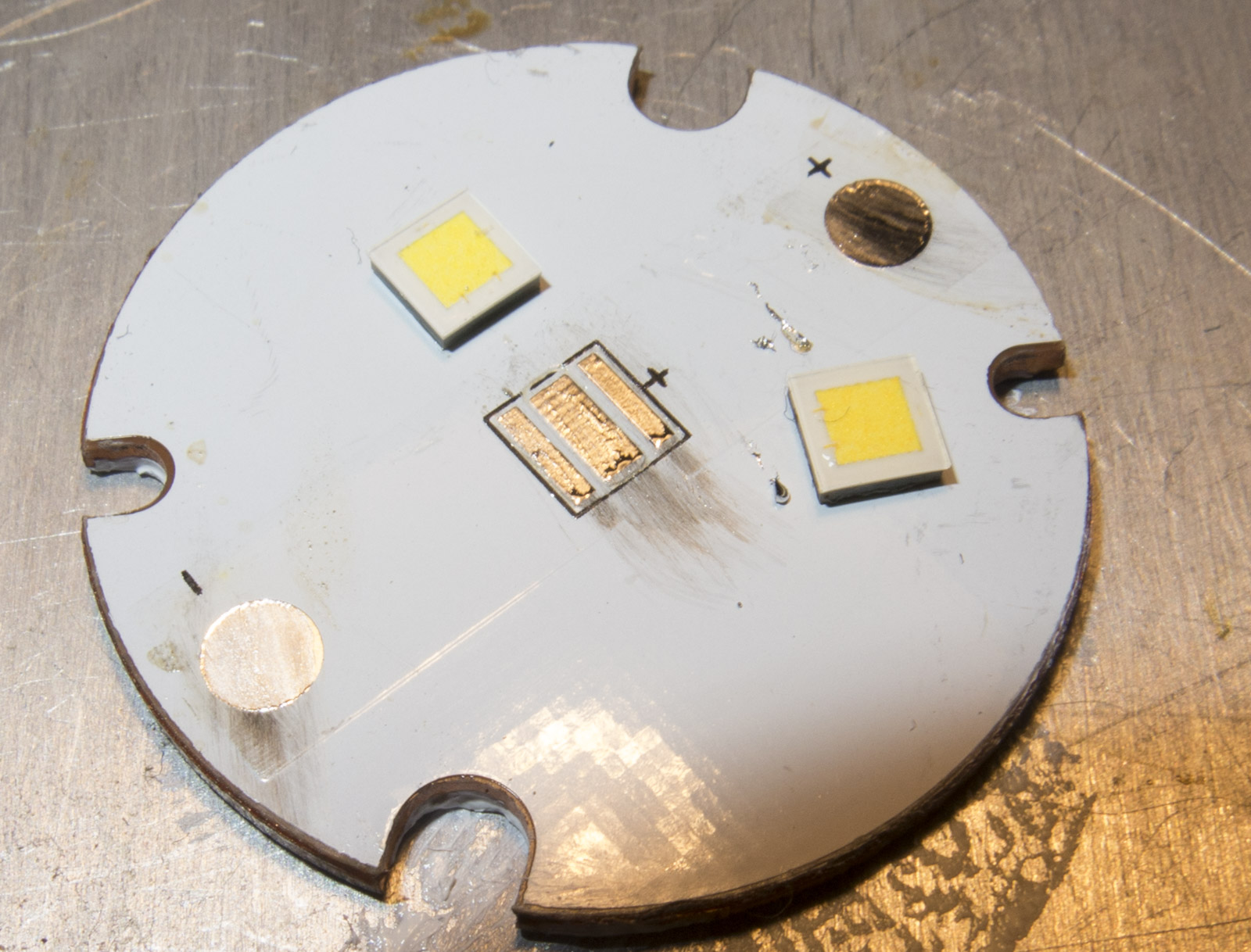 Measured 538kcd now
.
Beam shots
about 2m from Light to ceiling
MF02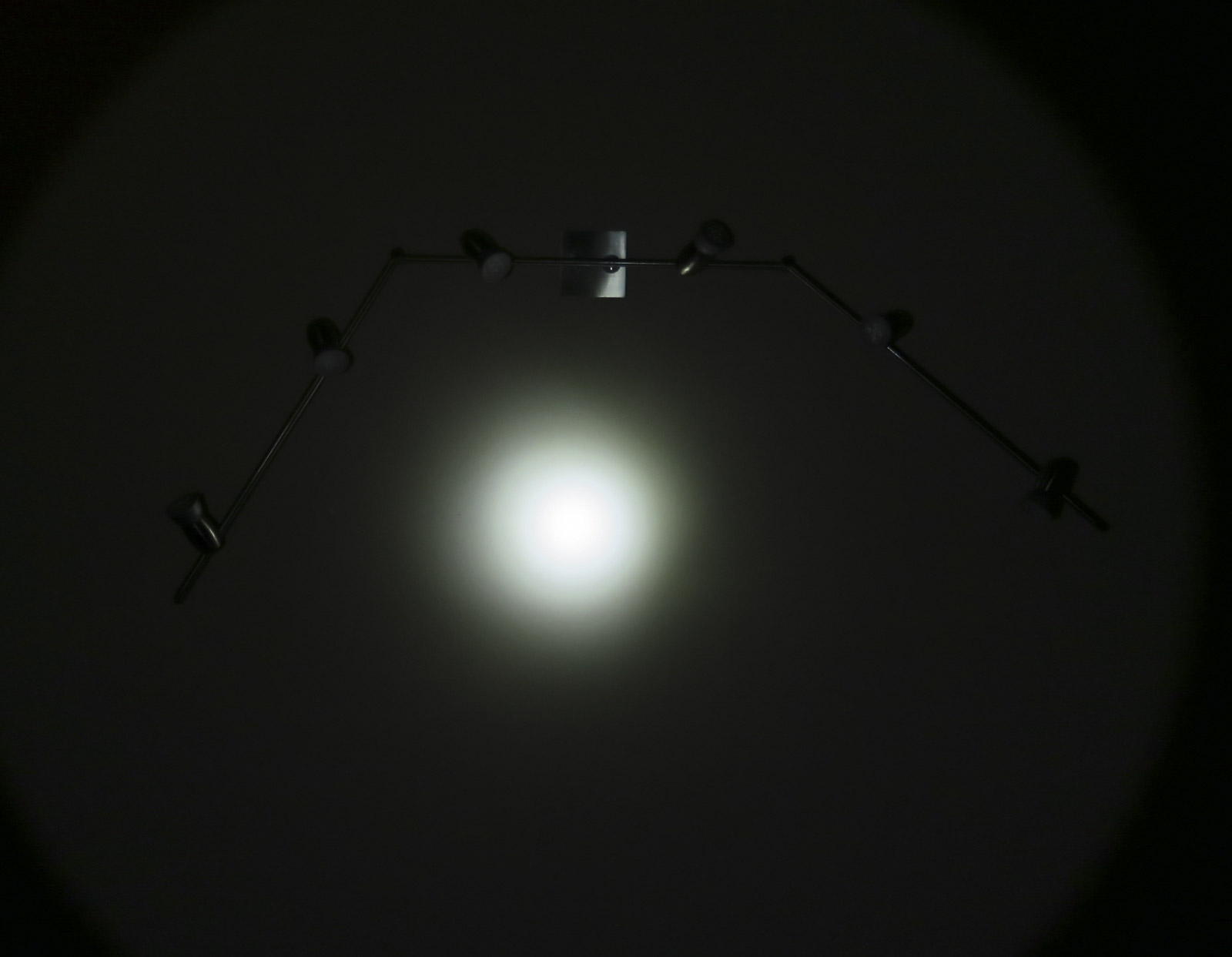 Klarus G35 with XPL Hi modded

BLF Q8

out of my apartment
Control shot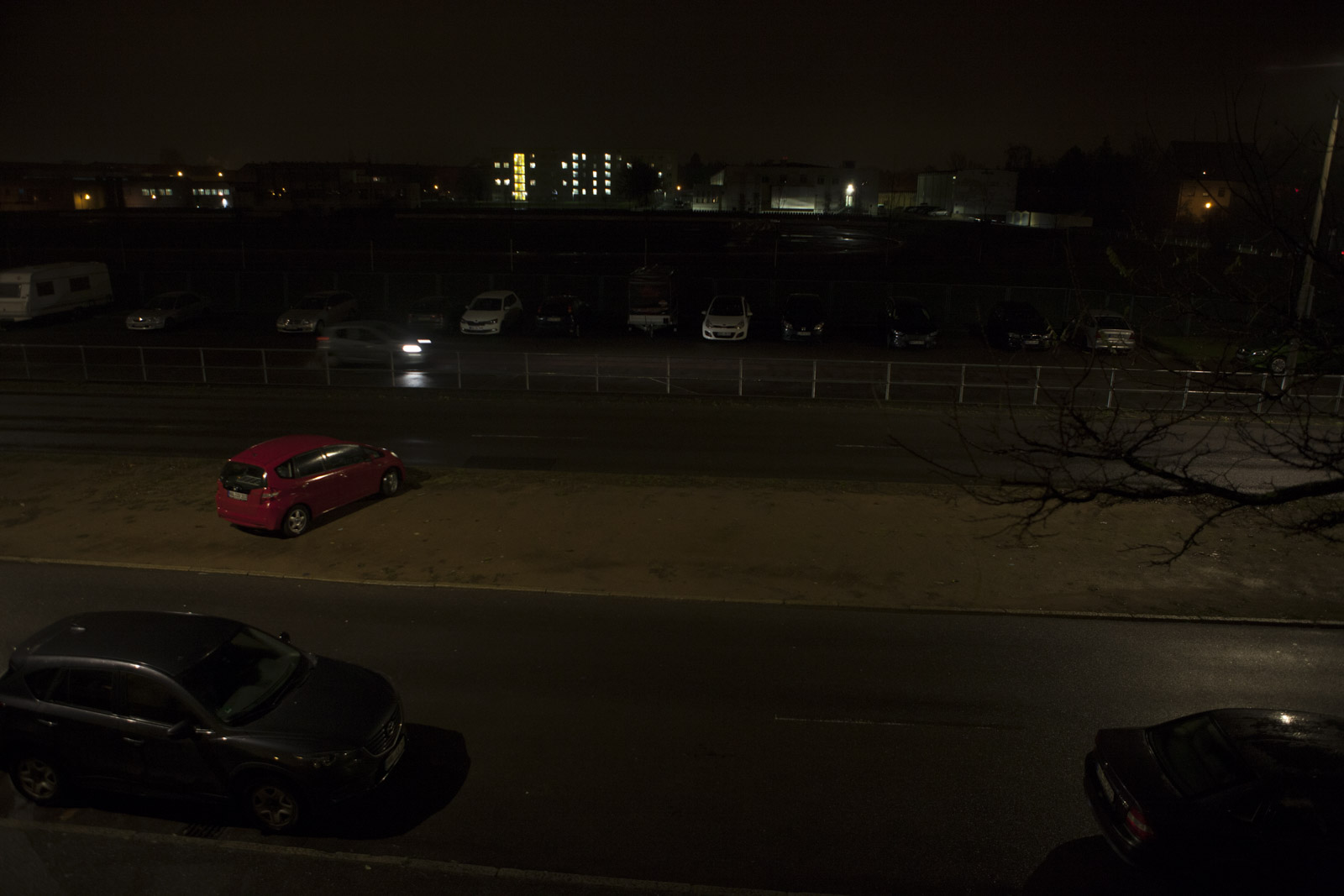 left MF02 and right side my modded 320kcd G35
low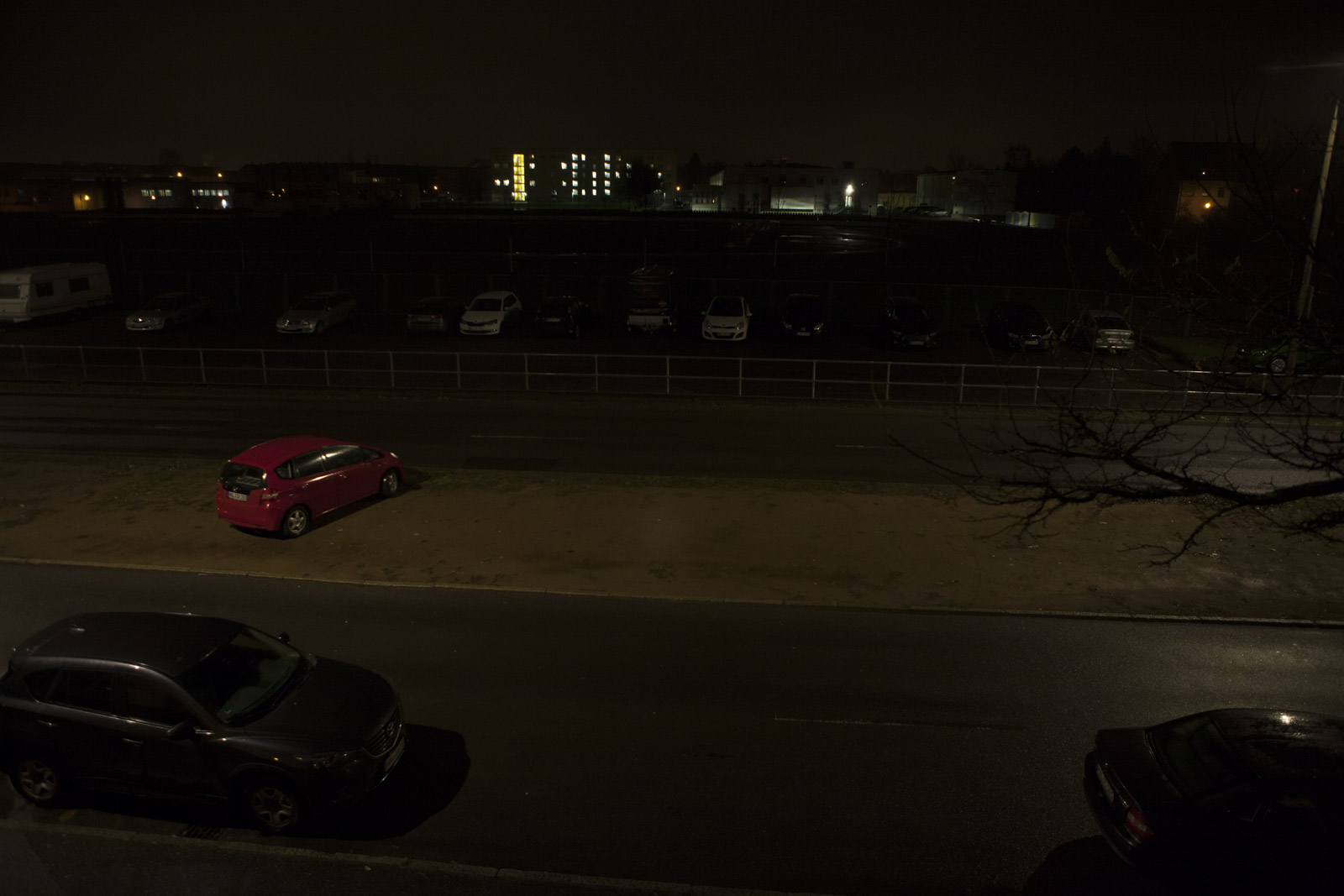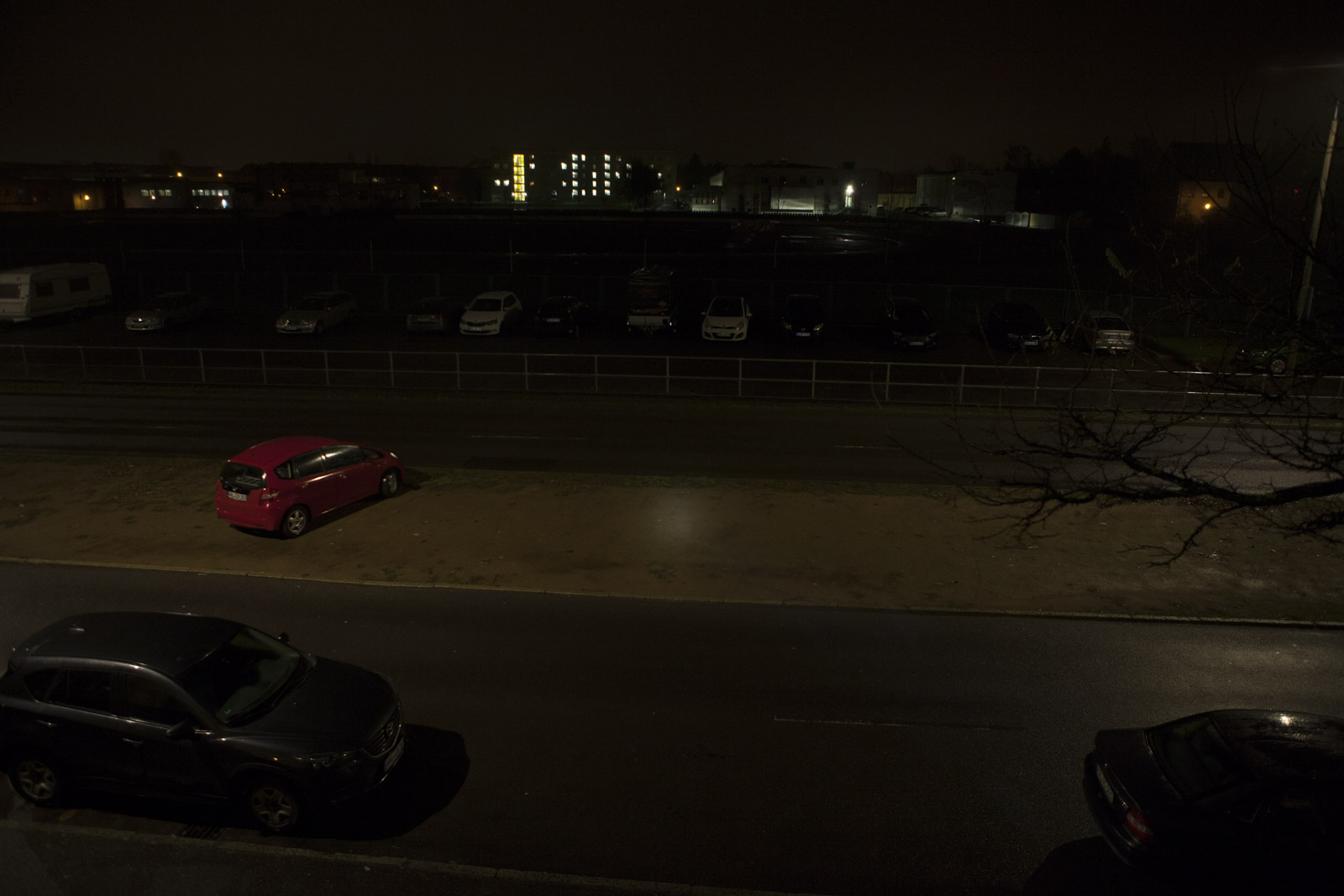 mid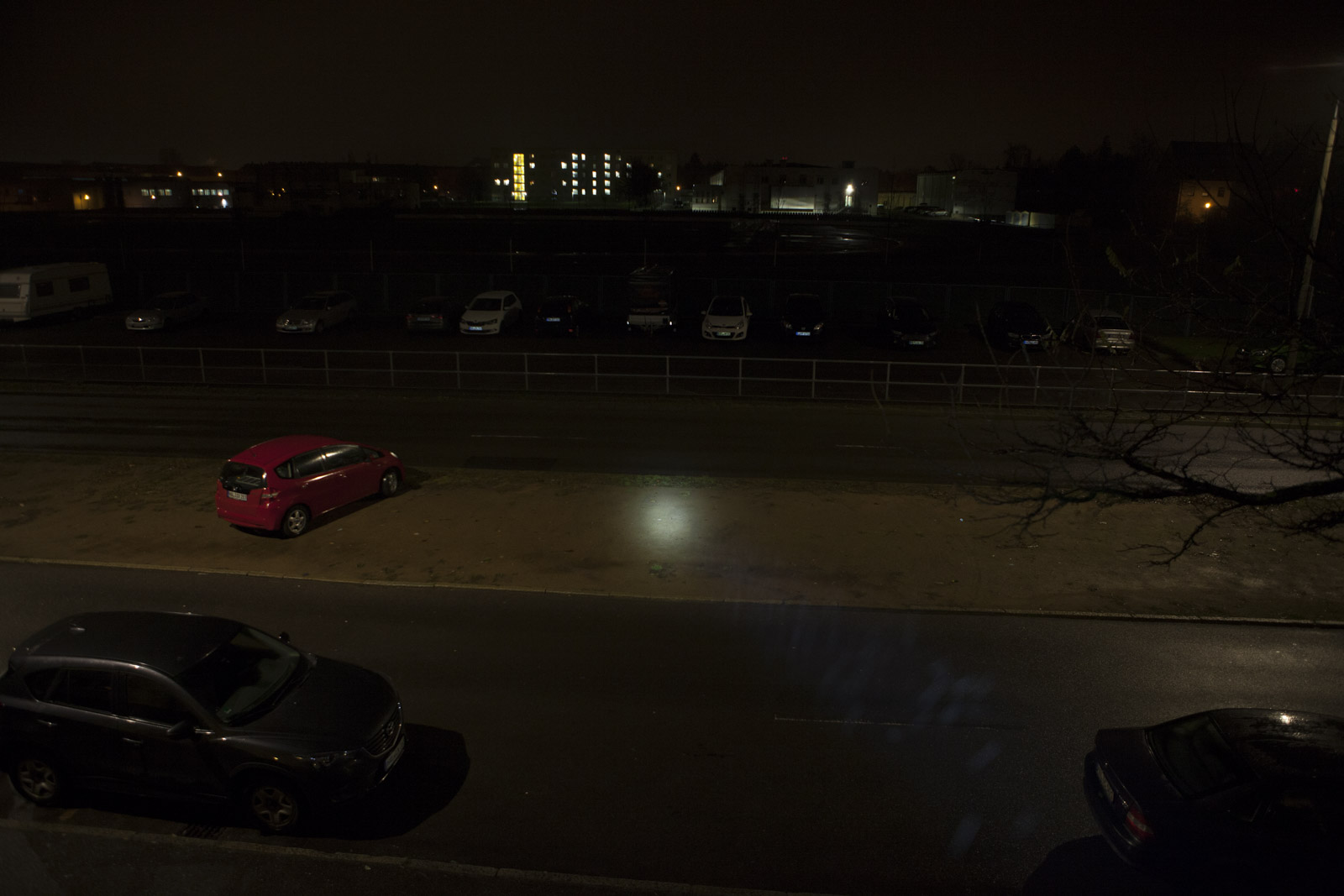 high

Turbo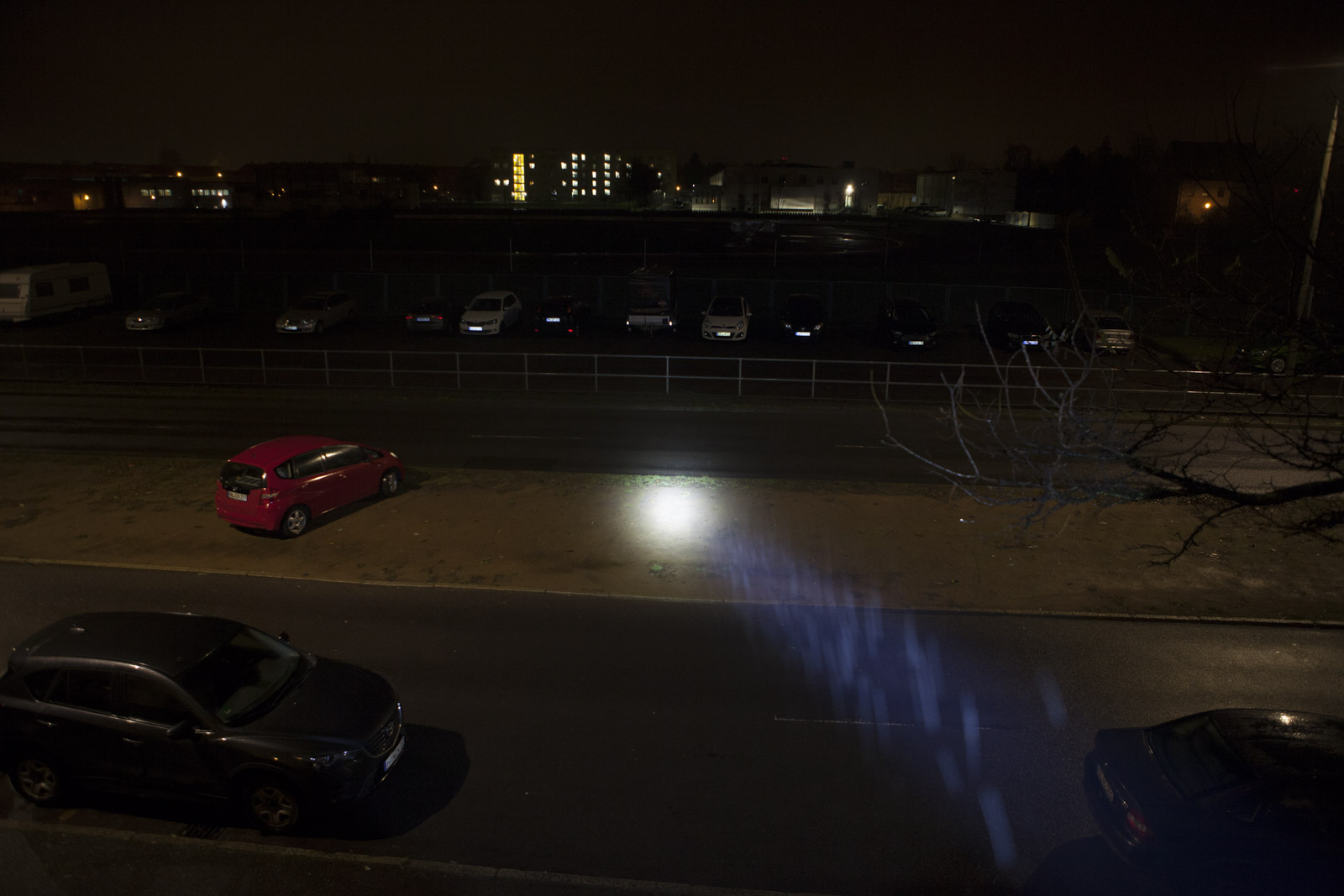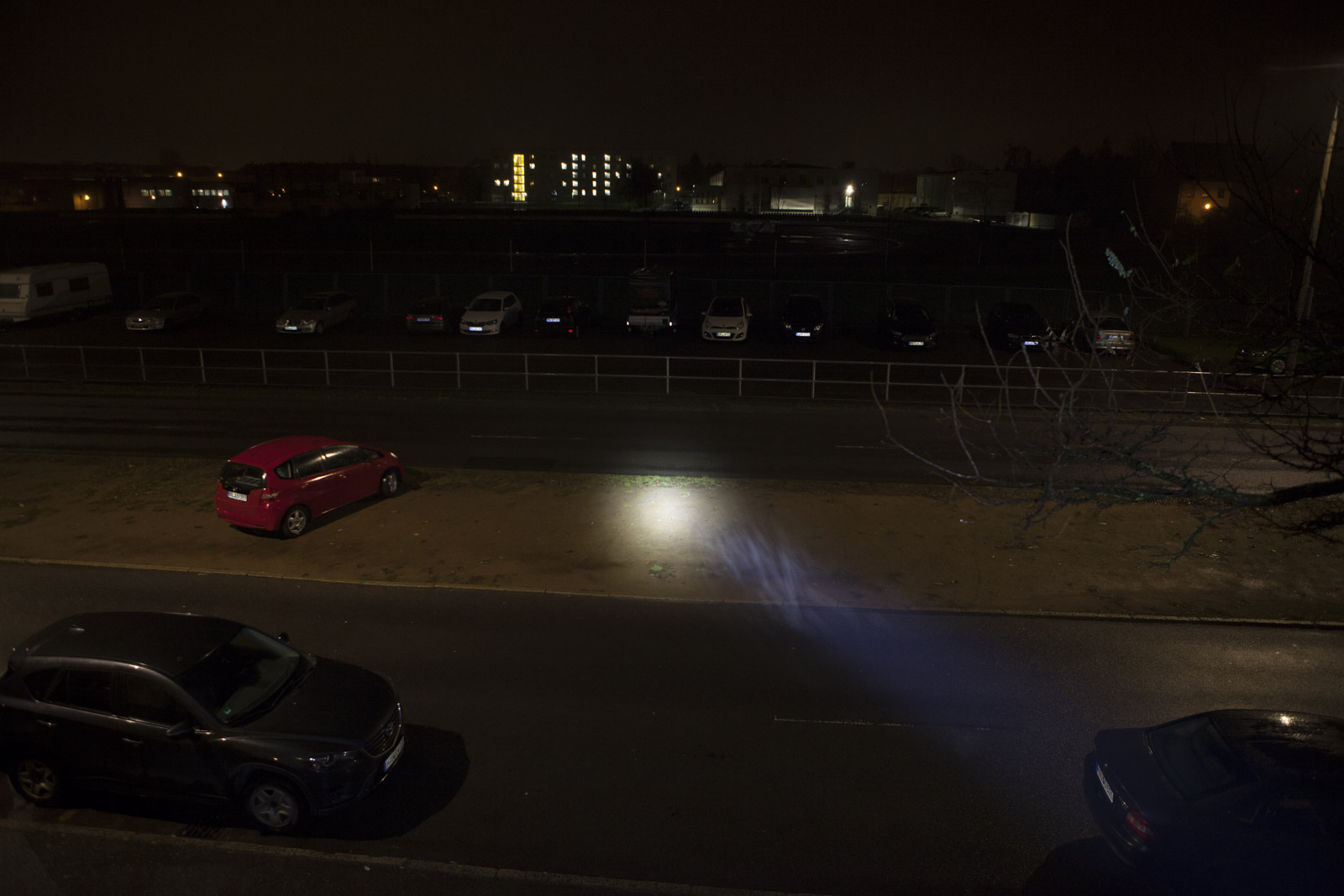 long distance control shot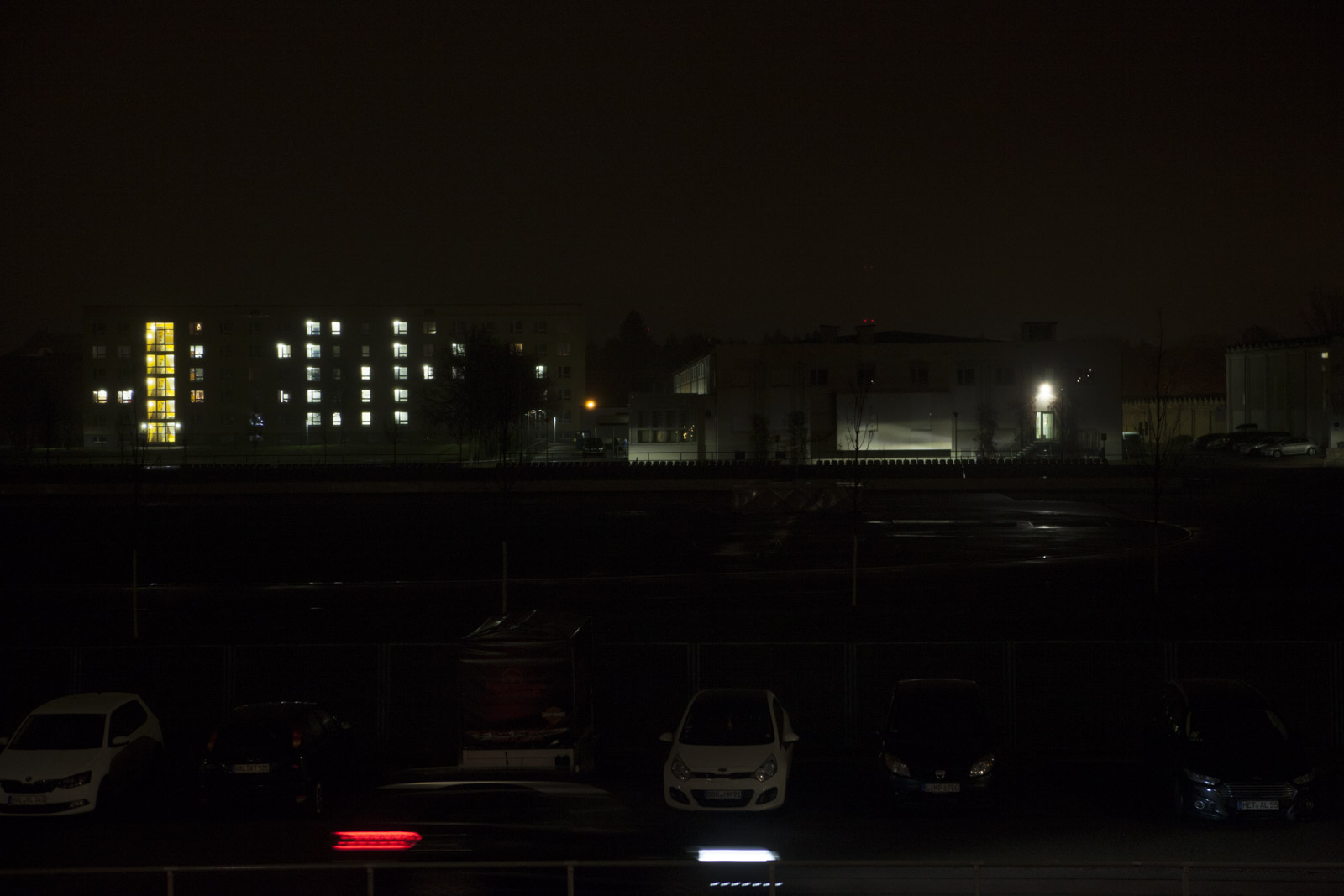 left MF02 and right my modded 320kcd G35
low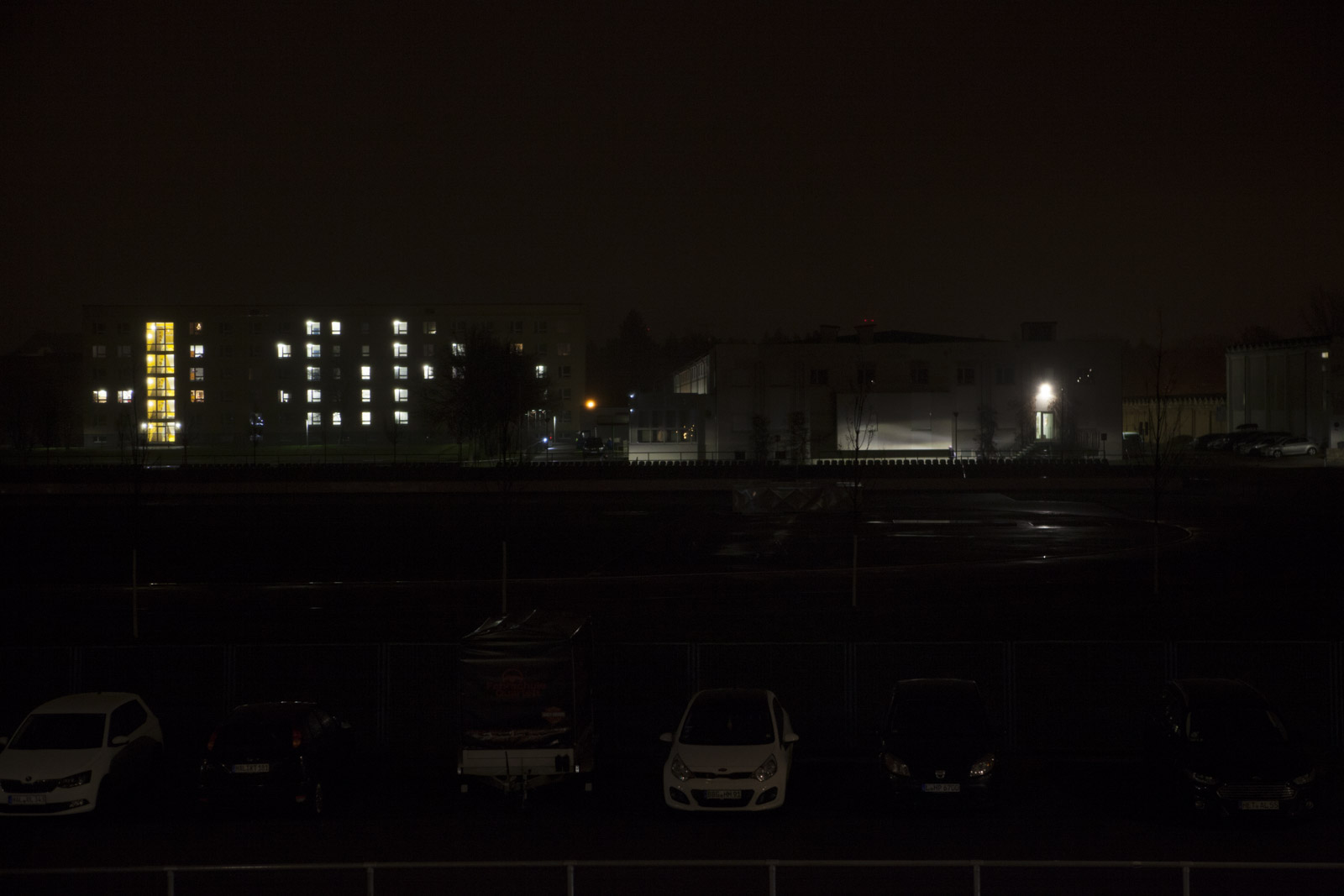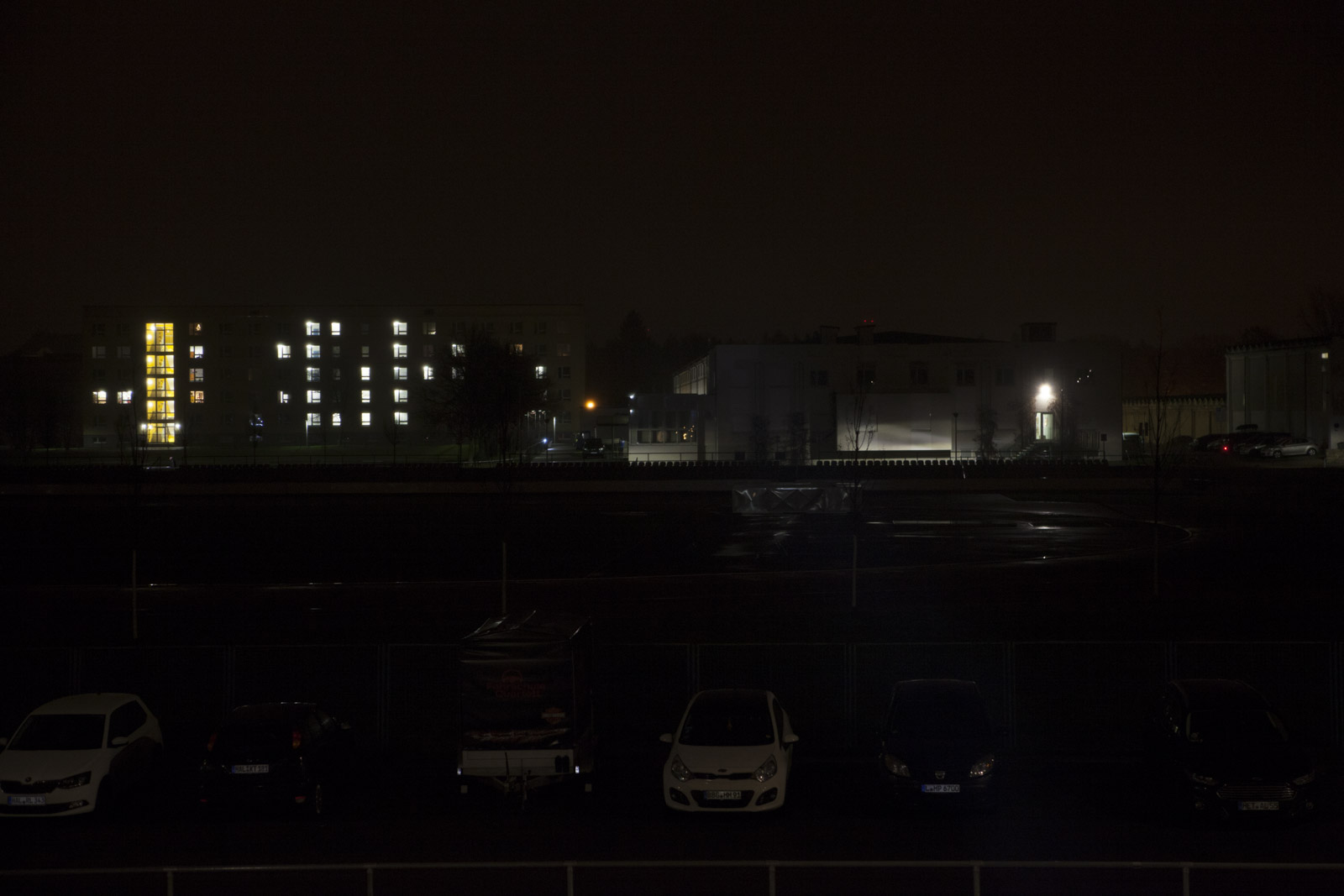 mid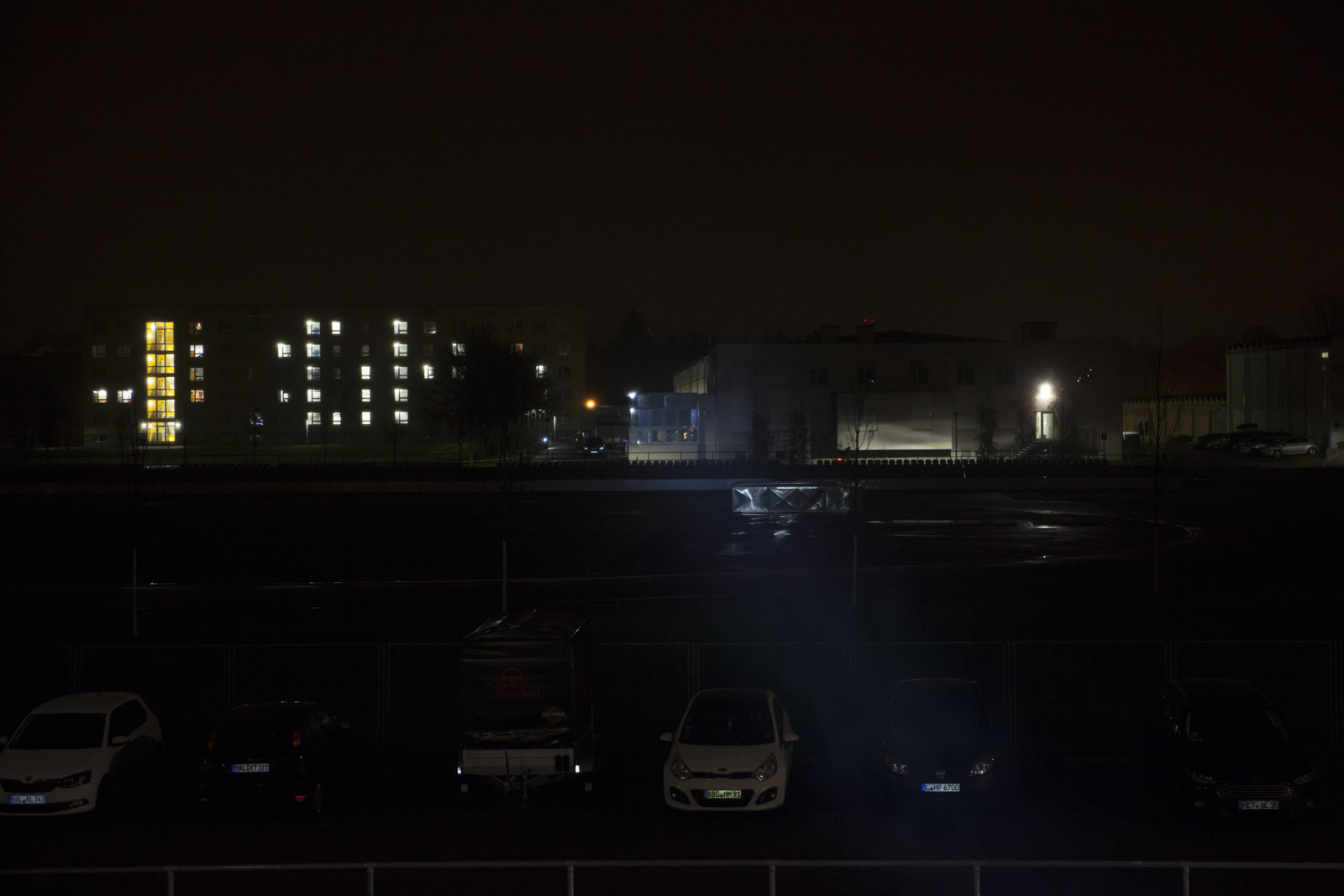 high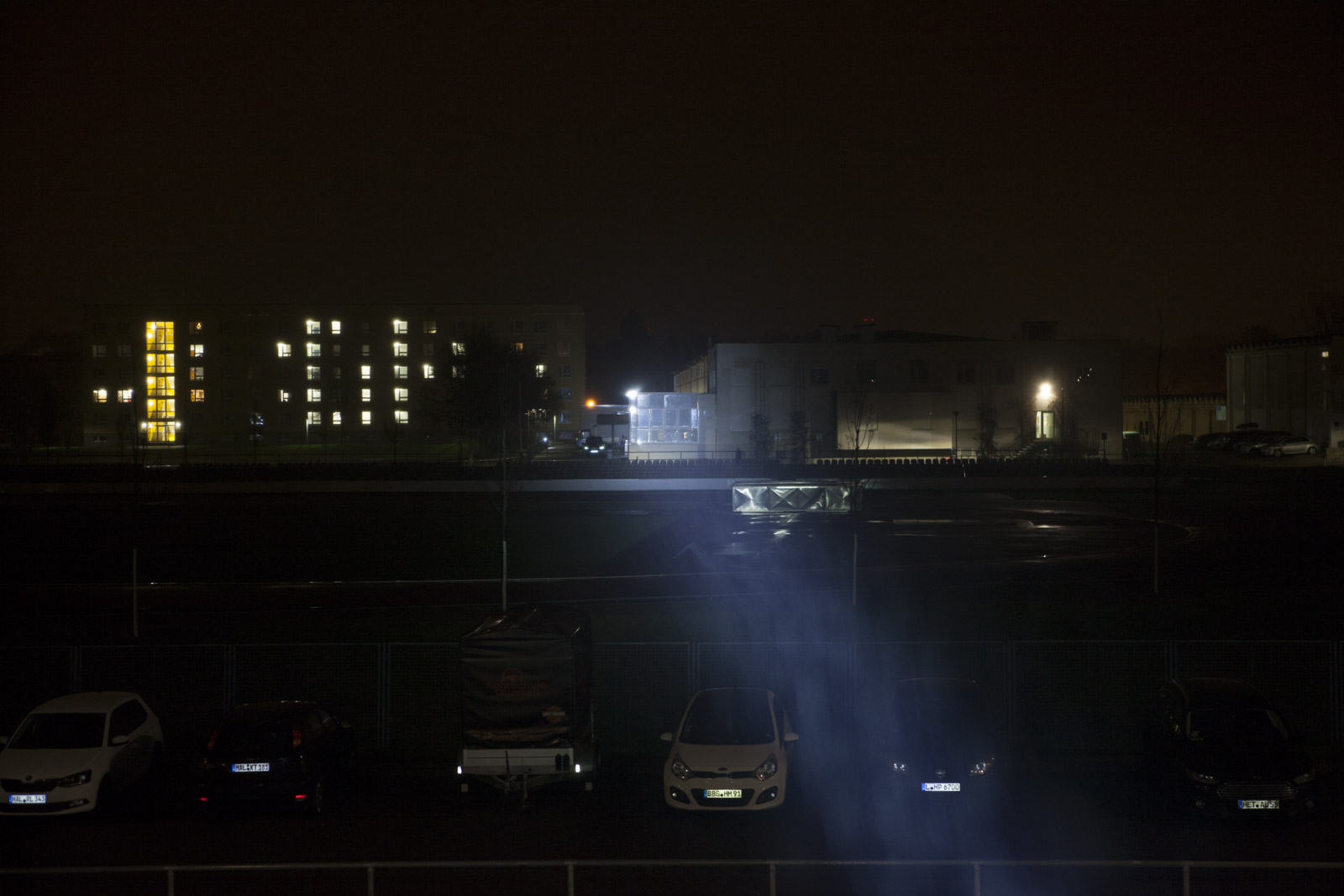 Turbo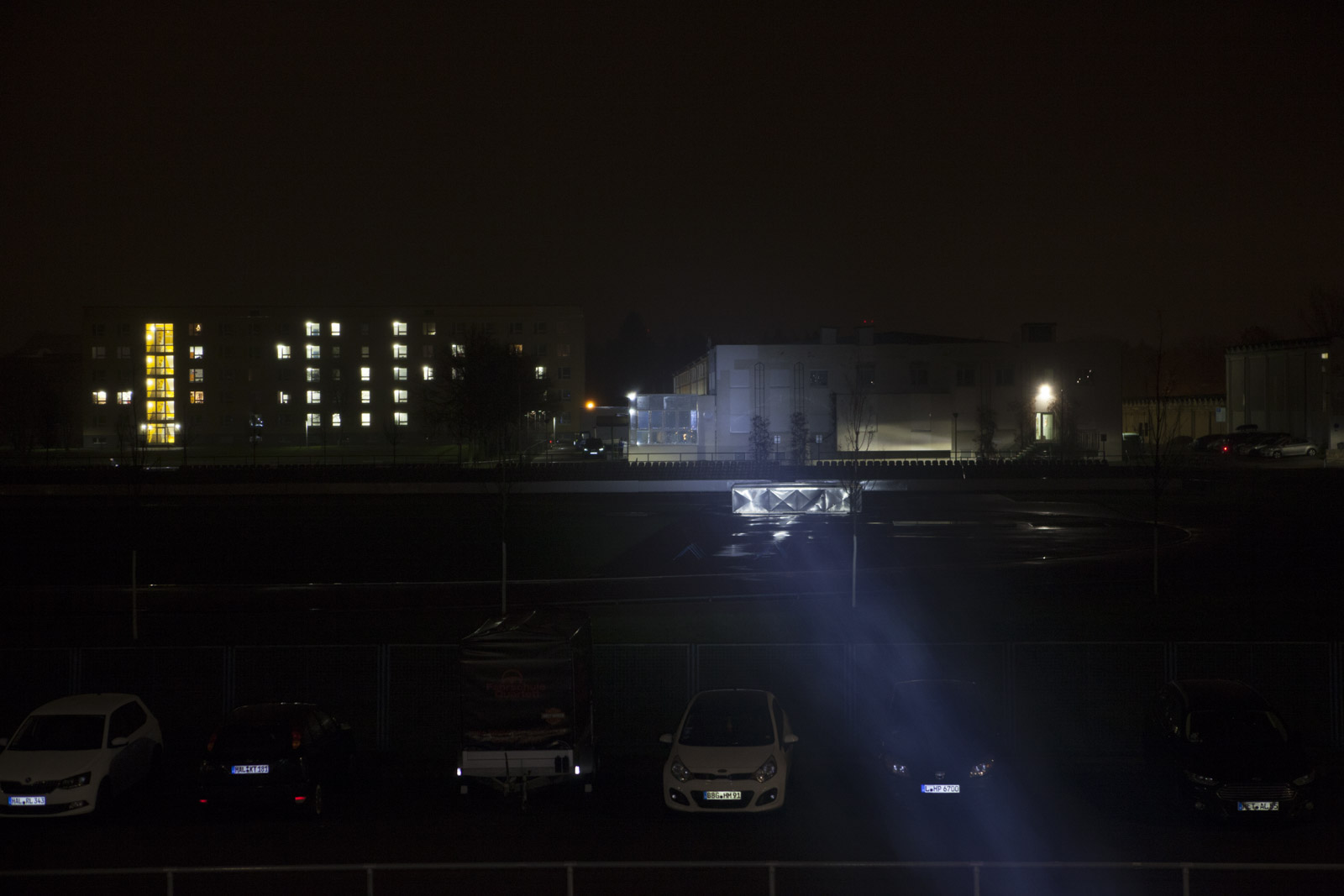 Compared to the Astrolux MF02 Nichia v2 driver @ Turbo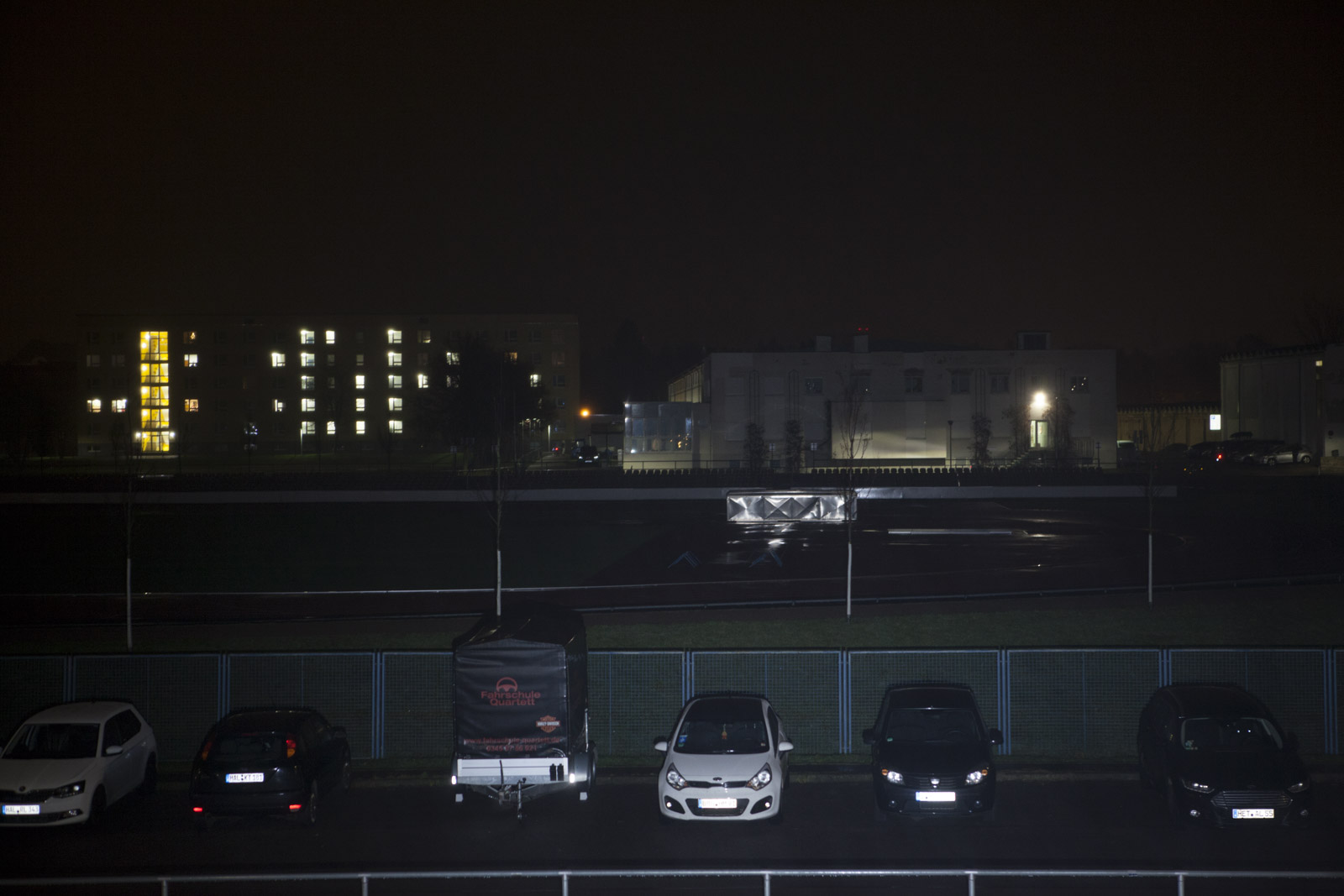 .
User Interface
The light has 4 modes and UI similar to MF01 v2
short press turns it on with last memorized mode
double press from Off and On go to turbo
short presses increase brightness mode order low to high
triple click from On and Off goes to blink modes, as short press goes to next one
Strobe—>SOS—>Beacon
Too bad you have to turn the light off to get out of Strobe modes
There is no way to turn the light on at low mode
Long click when off locks the light out
.
Conclusion
The light is an impressive thrower, but has some flaws and does not meet the advertised specs.
Driver got some faulty ones delivered, looks like they need to improve the drivers relativity and get some other improvements
Positive:
- mechanical well made
- very solid head, DTP MCPCB screwed on thick shelf
- AR coated glass lens
- good hotspot and massive throw
- proper LVP and low battery warnings
- low resistance copper alloy springs
- mechanical reverse protection in the carrier
- accessories are nice to have for a light with this size
Neutral:
- the UI could be better, it has evolved from the S42, but still not really good for enthusiasts
- High mode a bit to close to turbo
Negative:
- throw and lumens numbers are quite below specs
- standby drain is way too high even locked out
- Assembly with heat paste between driver and retaining ring is very bad
—
[Reviews] Miboxer C4-12, C2-4k+6k, C2, C4 / Astrolux K1, MF01, MF02, S42, K01, TI3A / BLF Q8 / Kalrus G35, XT11GT / Nitefox UT20 / Niwalker BK-FA30S / Sofirn SF36, SP35 / Imalent DM21TW / Wuben I333 / Ravemen PR1200 / CL06 lantern / Xanes headlamp
[Mods] Skilhunt H03 short / Klarus XT11GT, XT12GTS / Zebralight SC50+ / Imalent DM21TW / colorful anodisation
[Sale]
Drivers: overview of sizes and types
DD+AMC based drivers Anduril or Bistro OTSM 12-24mm, S42, 24-30mm L6, Q8, MF01(S), MT03, TN42  
Anduril or Bistro 8A buck driver for 20-30mm, MF01/02/04, TN40/42, Lumintop GT, MT09R

Remote switch tail DD board with FET
Aux boards:
Emisar D1, D1S, D4, D4S, D18, Lumintop FW3A, Fireflies ROT66, Astrolux MF01, Tail boards like S2+