Lloytron AAA 550mAh B014 (Green-black)


Official specifications:


Capacity: 550mAh

Chemistry: Nickel Metal Hydride


Maximum temperature raise at different discharge currents: 1A:+3,2°C, 2A:+6,6°C, 3A:+8,8°C
This is low capacity
AAA
NiMH cells.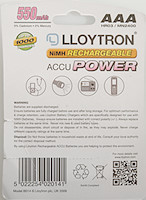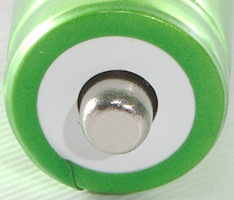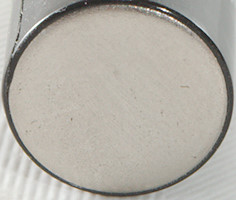 The discharge curves looks fairly normal for NiMH cells, the small capacity also means the batteries are worse at high loads.
Conclusion
The capacity is fairly low on these batteries as the rating specifies, this may mean they are better at handling over charge in equipment that spend a lot of time on the charger.
They look acceptable, but for normal usalge I would prefer batteries with higher capacity.
Notes and links
How is the test done and how to read the charts
Compare to other AA/AAA batteries: Alkaline/NiMH/Lithium