I got this flashlight from local dealer for Russian-speaking review, but decided that you, guys, may be also curious about new version of UC30. So, here it is.
Here is product page at manufacturer`s website.
you can buy Fenix UC30 at:
➤ AMAZON
➤ BANGGOOD
➤ ALIEXPRESS
➤ NITETORCH they generously offered 20% code HJK5KDNQ valid for all the items in store, including other brands
p=. SPECS

•130mm Length x 25.4mm Head diameter x 23.4mm Body diameter (5.1*1*0.9'')
•77 grams (excluding battery)
PACKAGE AND APPEARANCE
UC30`s package is a regular cardboard box in Fenix colors. Regular for A-grade manufacturers: good prints and decent design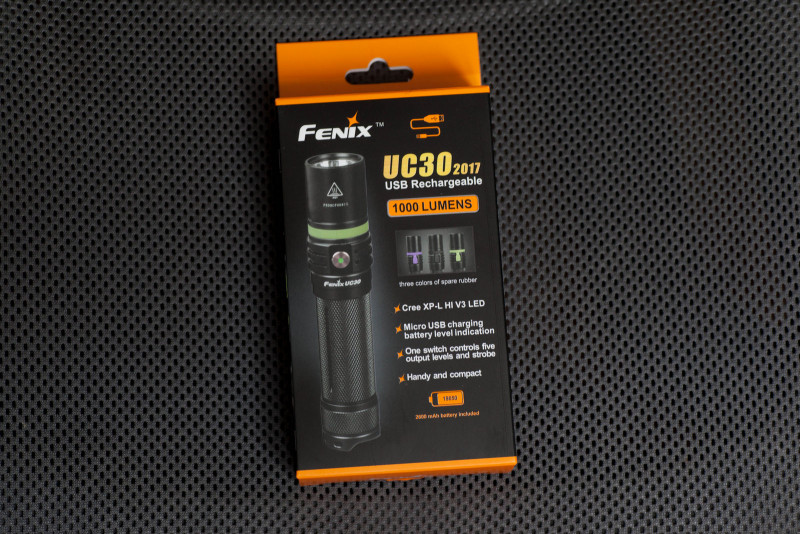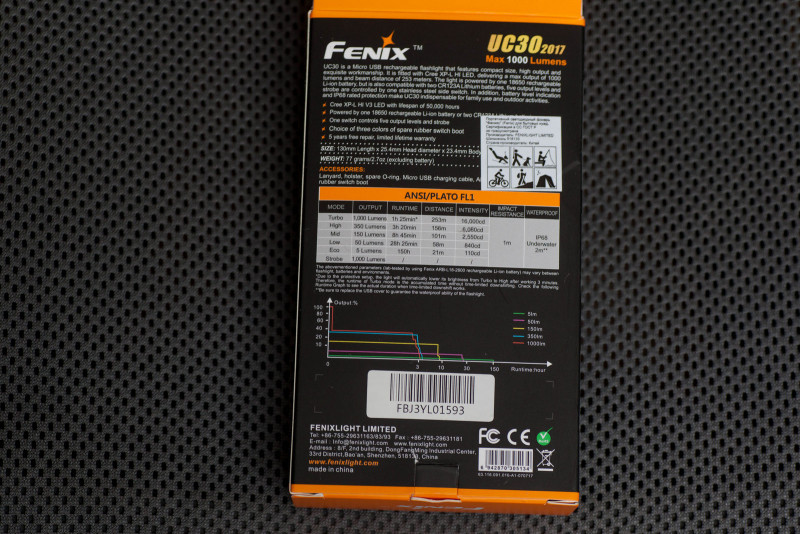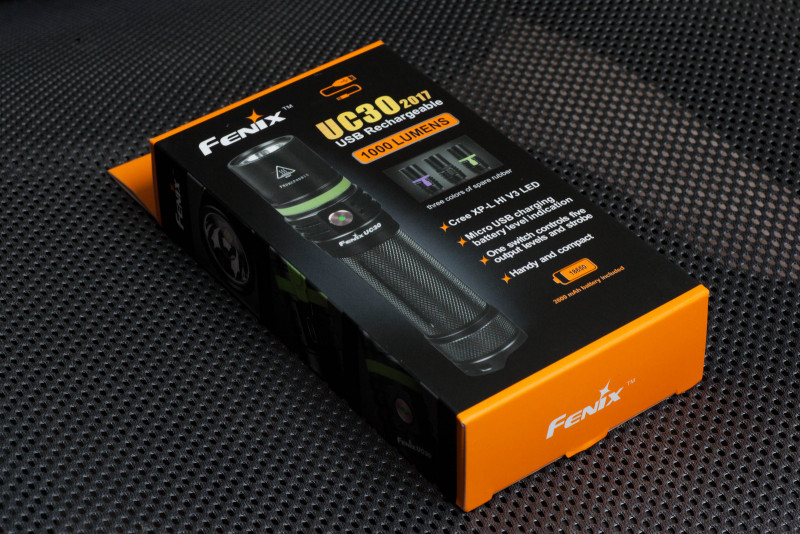 What impressed me a lot, impressed in a good way – was runtime chart. Not that one, that I once saw at Olight package, that chart took a Lobachevsky\Riman mind to figure out the scale of that chart. Of course even this is better than pic that we are used to see " 3hours in turbo". But this runtime has readable scake, and, well, my respect!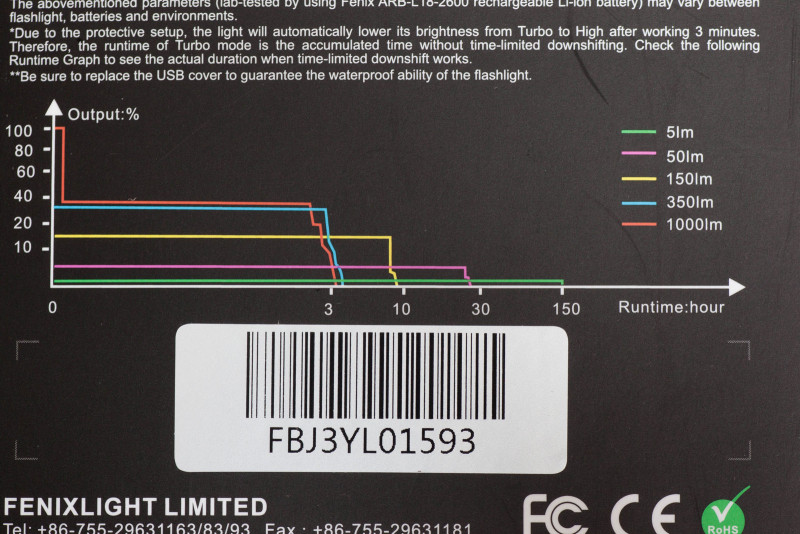 Package includes: UC30 with 2600mah battery, holster, lanyard, manual, micro-usb charge cable, orings.
The special feature of this model are a pair of additional spare rubber boots: black and vilolet ones.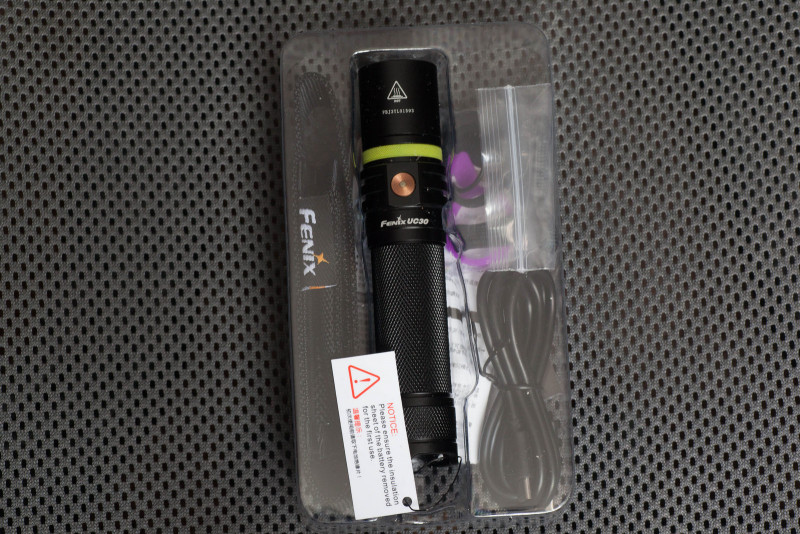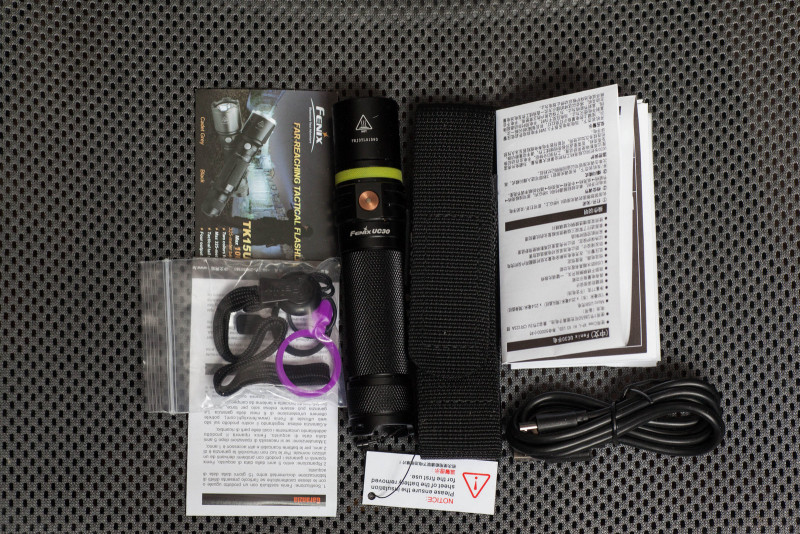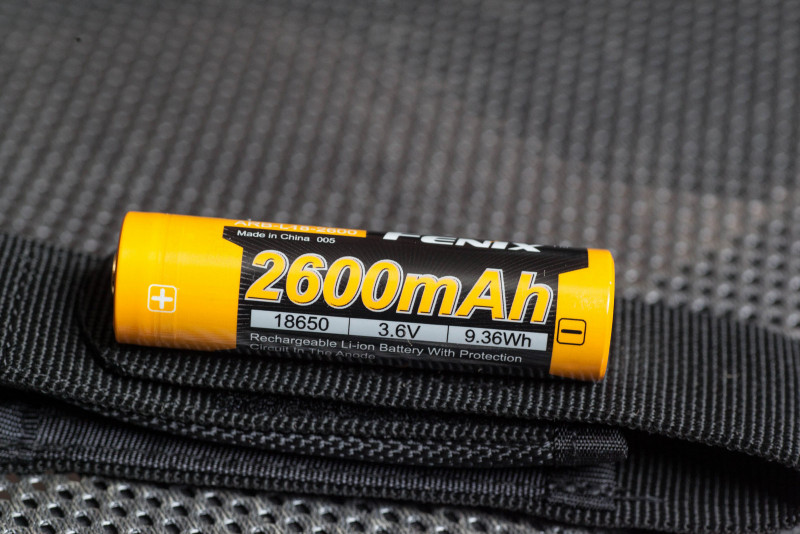 Here is UC30.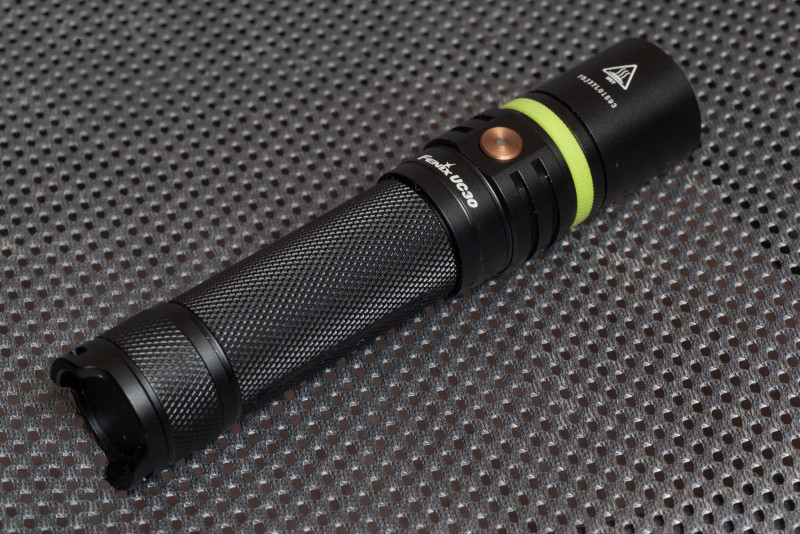 This model is EDC size, though I think that Fenix could make it 10-15mm shorter. But, it is still acceptable, almost as budget EDC icon S2+.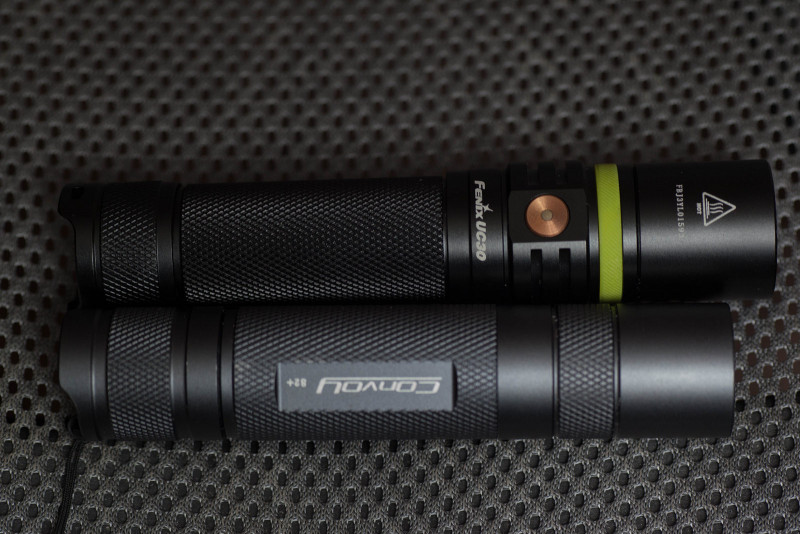 U-shaped tail can easily tailstand.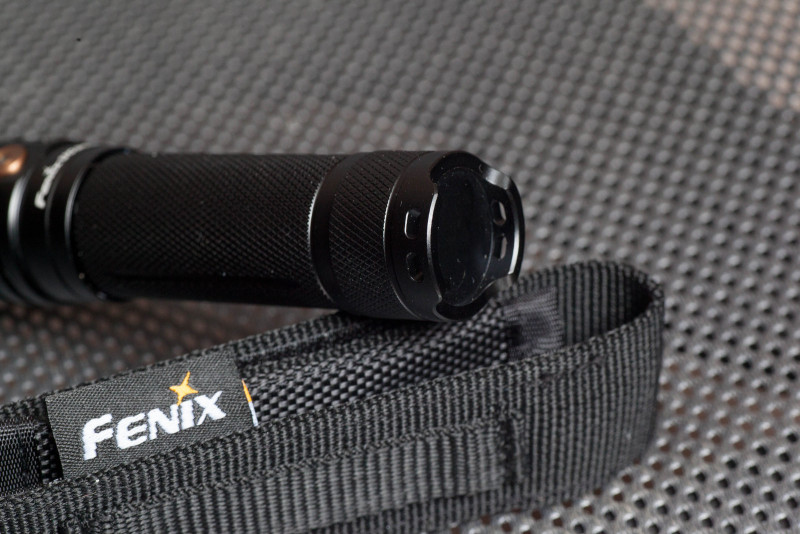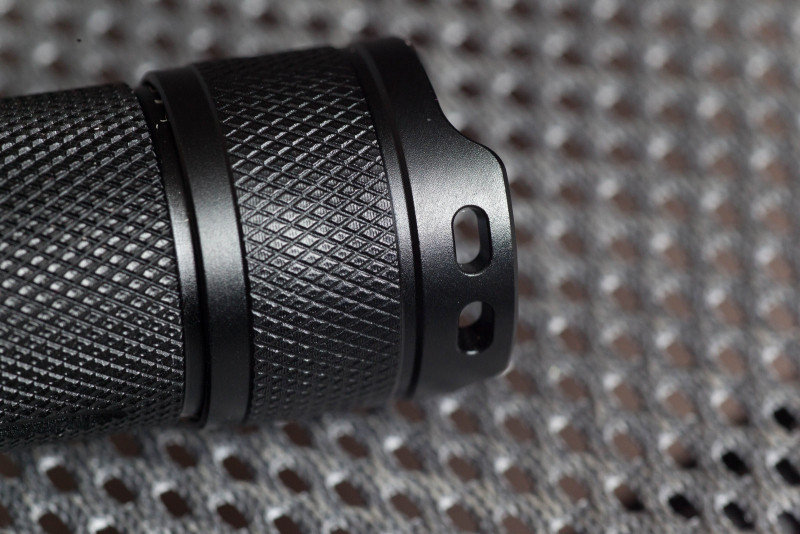 There is a thick spring at the tail. Threads there are well lubricated.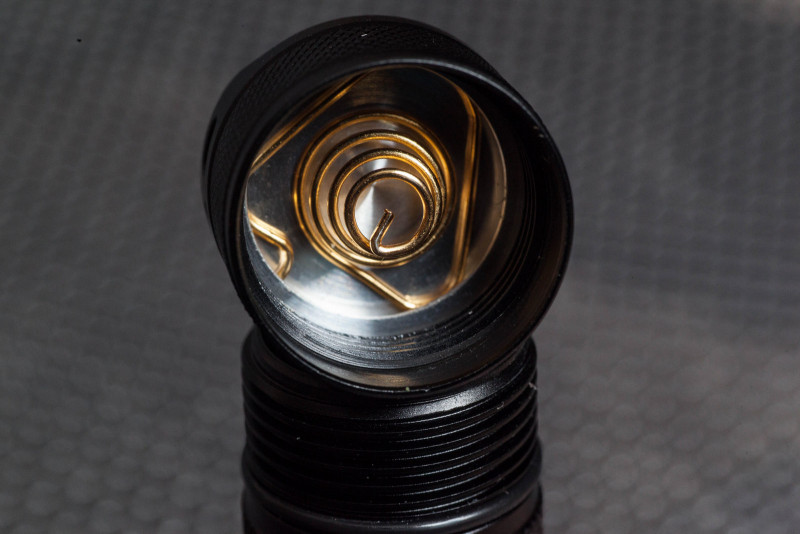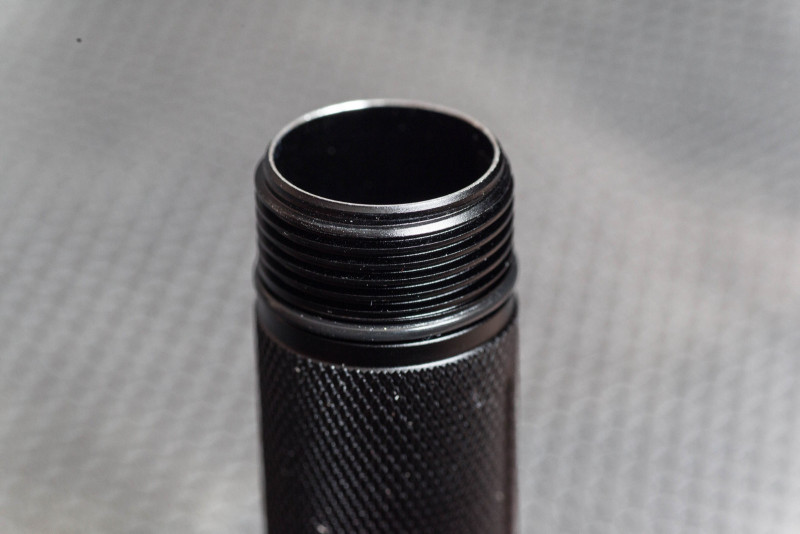 Good old rhombic knurling has an additional long " trenches" from tail to head. Grip is OK.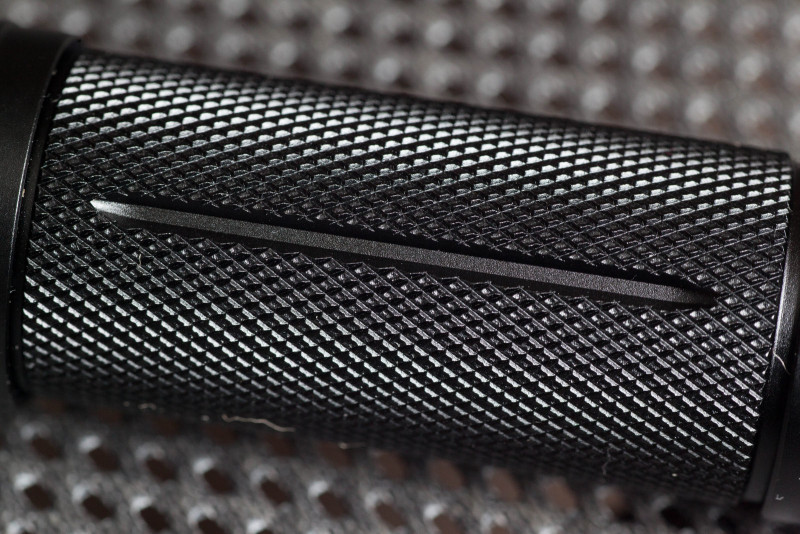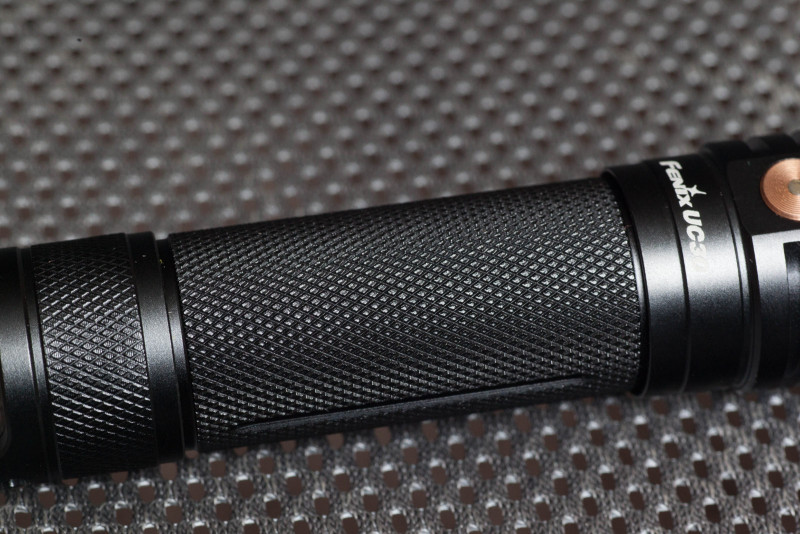 I was surprised (this time negatively) to see contact plate instead of spring at head. My worst expectations come true – UC30 doesn't support flat-top batteries.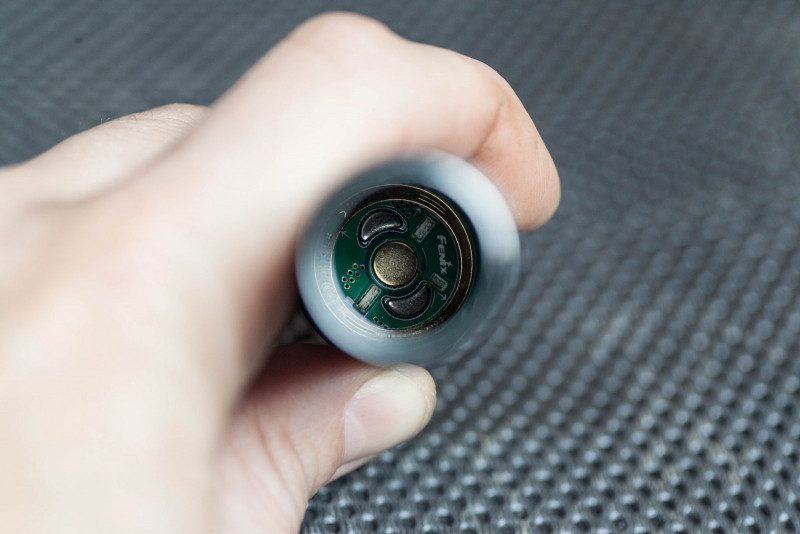 I couldn't disassemble head, seems that it is glued
Cooling ribs are what you expect to get from such flashlight – no more, no less. I mean, for such body they are ok, but still don't expect too much from them.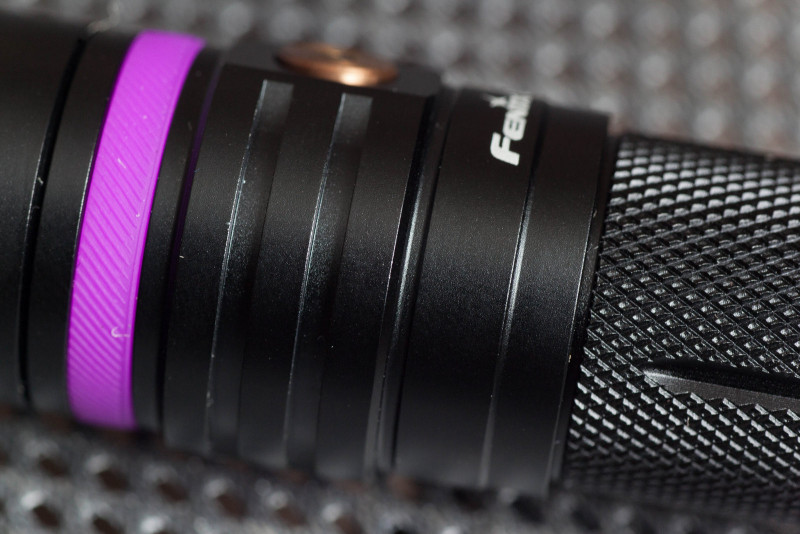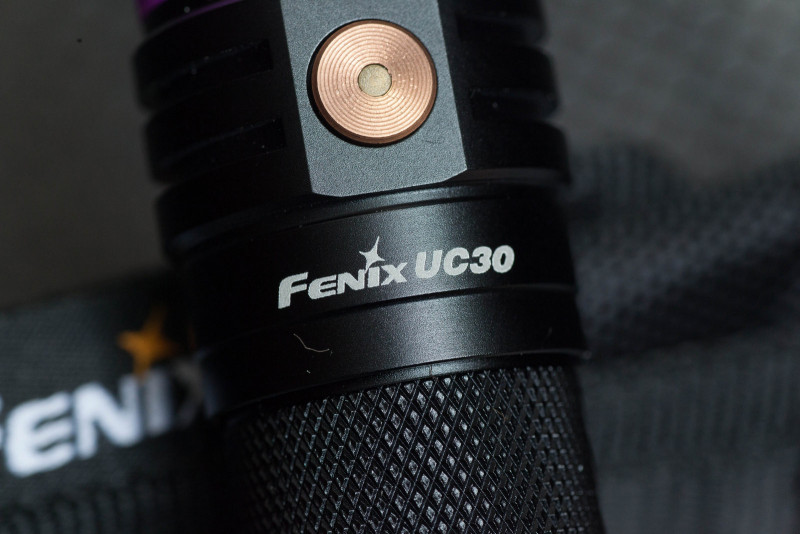 USB-charging port and button are located at opposite sides of head. And l like both of them.
Button is not aluminium, that is brass clicky ring, with LED in the middle, popular nowadays red-green indicator.
It is little bit higher than body, so Fenix has to take care about good lockout feature.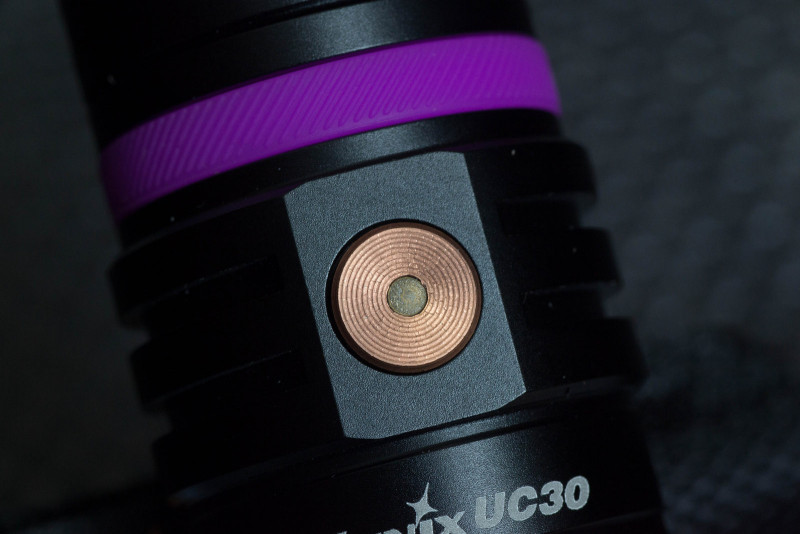 Micro-USB charging port is rare example, when marketing idea has a good effect on flashlight. Idea of adding spare rubber boots is really cheap in matter of these tiny thing`s cost, but it give user an opportunity to customise appearance of flashlight.
Green booth glows in the dark, but that is almost useless, coz it needs to collect some light – substance that you definitely lack when you use flashlight.
I also have to underline that plug of charge port is definitely the best that I tested. Plug fits REALLY tight, every time it takes me some time to stick my nail between plug and port. And usually that plug has a sort of tiny leg that goes through tiny hole into the body. For example, my CL25R does. And I punished my daughter a lot of times, when she pulled this plug away from camplight and I had to spend a lot of time sticking this leg back. Here, construction is absolutely another, you will not be afraid at all that you`ll loose this plug.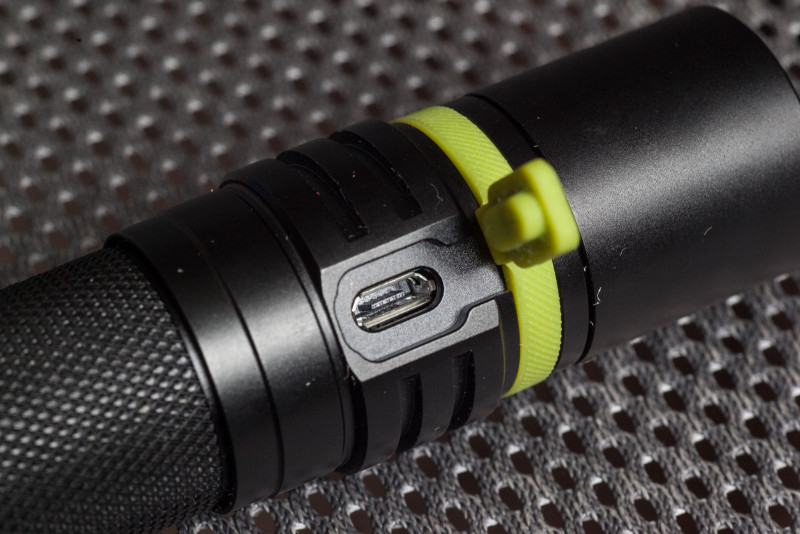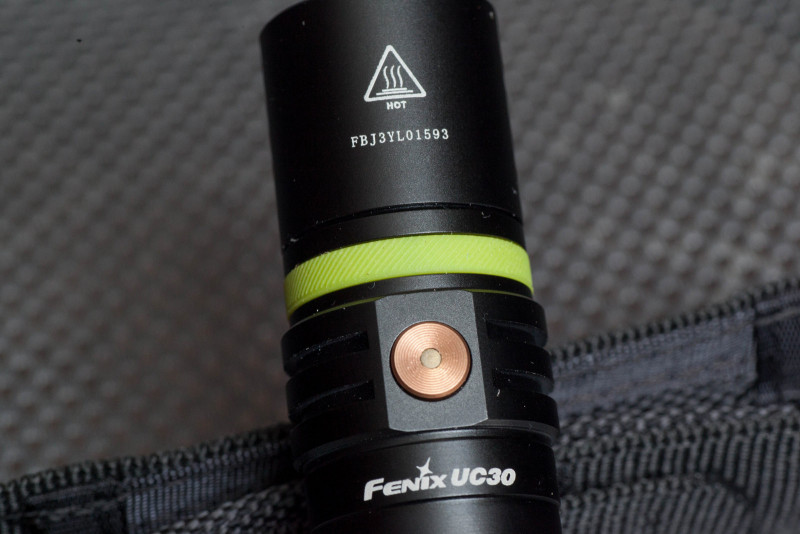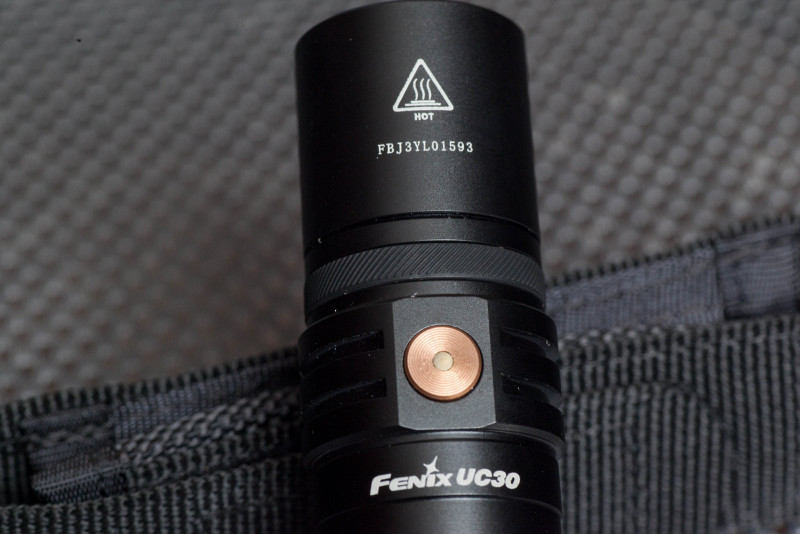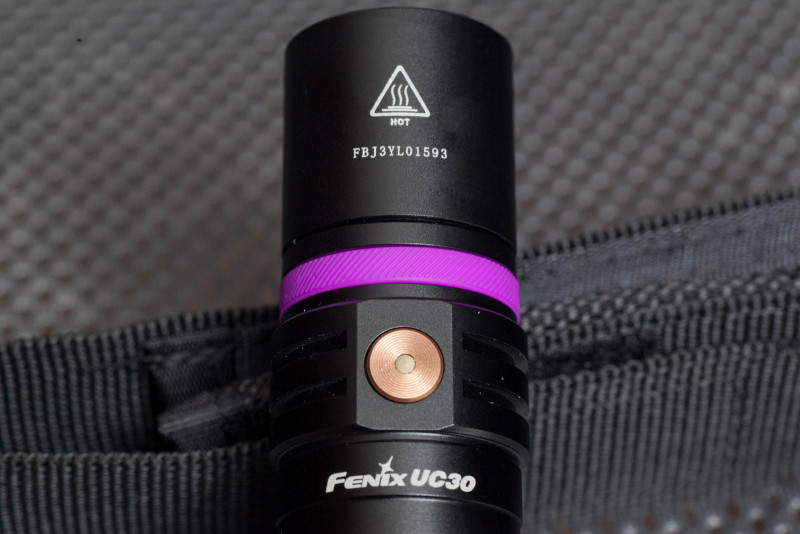 Glass is AR coated, bezel is not aggressive at all.
Hm, reflector is SMO XPL-Hi V3. I, personally, prefer OP in EDC lights. But there are different situation and that`s a matter of choice. I bet there are a lot of those who prefer more throw to diffused light, comfortable in close range works.
.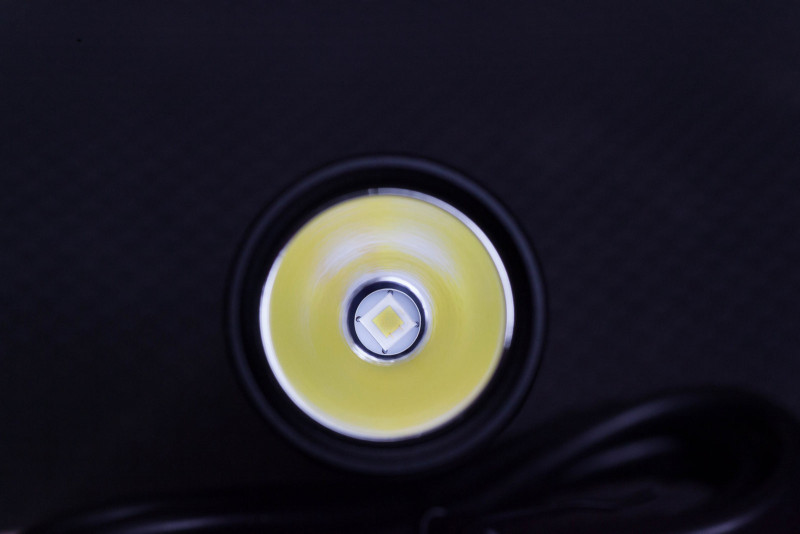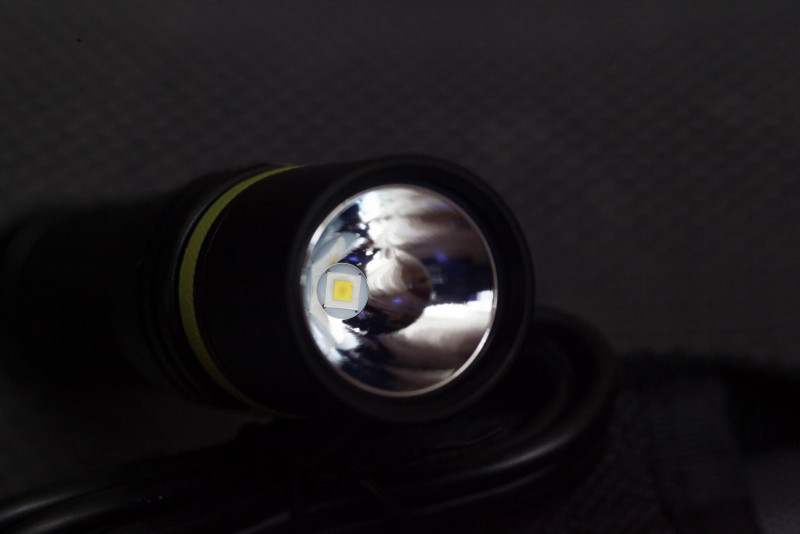 UI
Though that` is not as flexible as some modern lights have, it is still usable, just lacks momentary ECO\TURBO. Seriously, I don`t understand why such improvements, which take no expensces (well, you just program driver another way, that`s it, don't spend an extra buck) are not taken place.
That was CON. PRO is lockout, which is not a puzzle like I had with some other lights ("3 long presses, that howl like a wolf, than jump on your leg and make 15 quick half presses") and not potentially dangerous like simple 2 sec button hold (you can easily unlock flashlight when you press button in your backpack or pocket). Here, chances to unlock are really, really low.
Here is a PDF with manual.
At 1st I also had a question about strobe with 1.2 sec button hold activation, then I spent some time switching modes and got no occasional start of strobe, so that`s ok.
PEPRFORMANCE
Light is CW, but somewhat warmer than regular, take a look below:H03 NW, UC30, S2+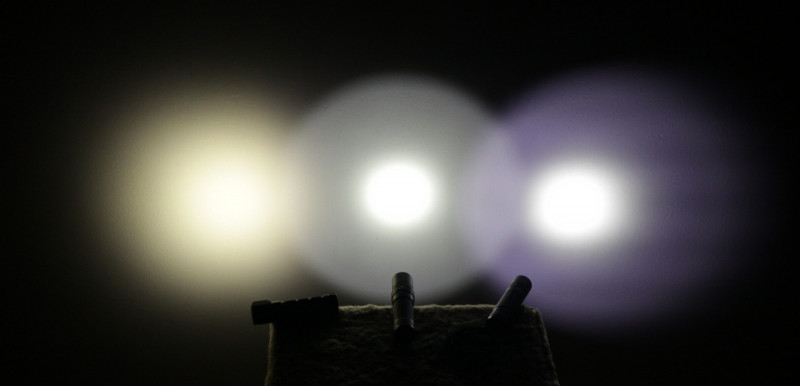 There is no visible PWM shimmering at any mode.
Charging amperage is good, 1A.
Of course, in this situation, light distribution is not the same as with OP reflector.
Here it is, S2+ on the right.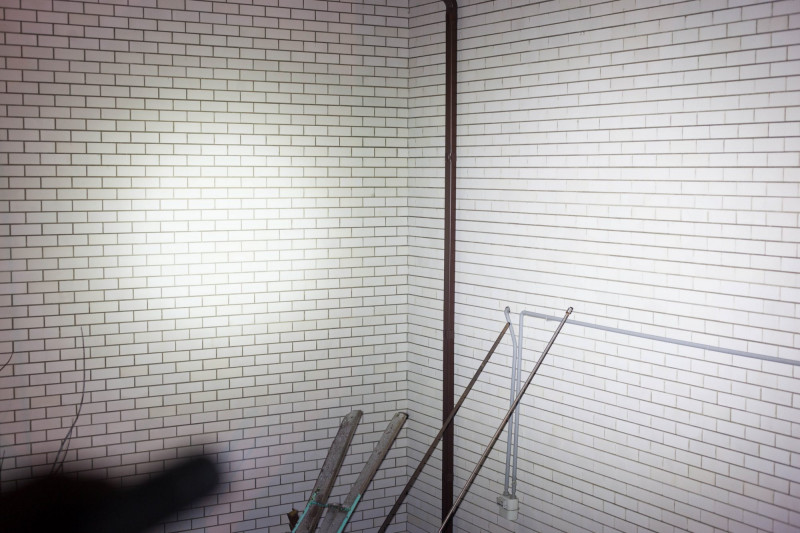 Still, I cannot call UC30 uncomfortable for close range works. OP lights are just better with this.
For it`s size, UC30 has a throw that`ll be enough for most of regular needs. But, of course, don't expect a serious throw from it.
Here is a 175m distance. Unfortunately, reflection from snow adds a lot to parasite city light, in darkness, pic would be better.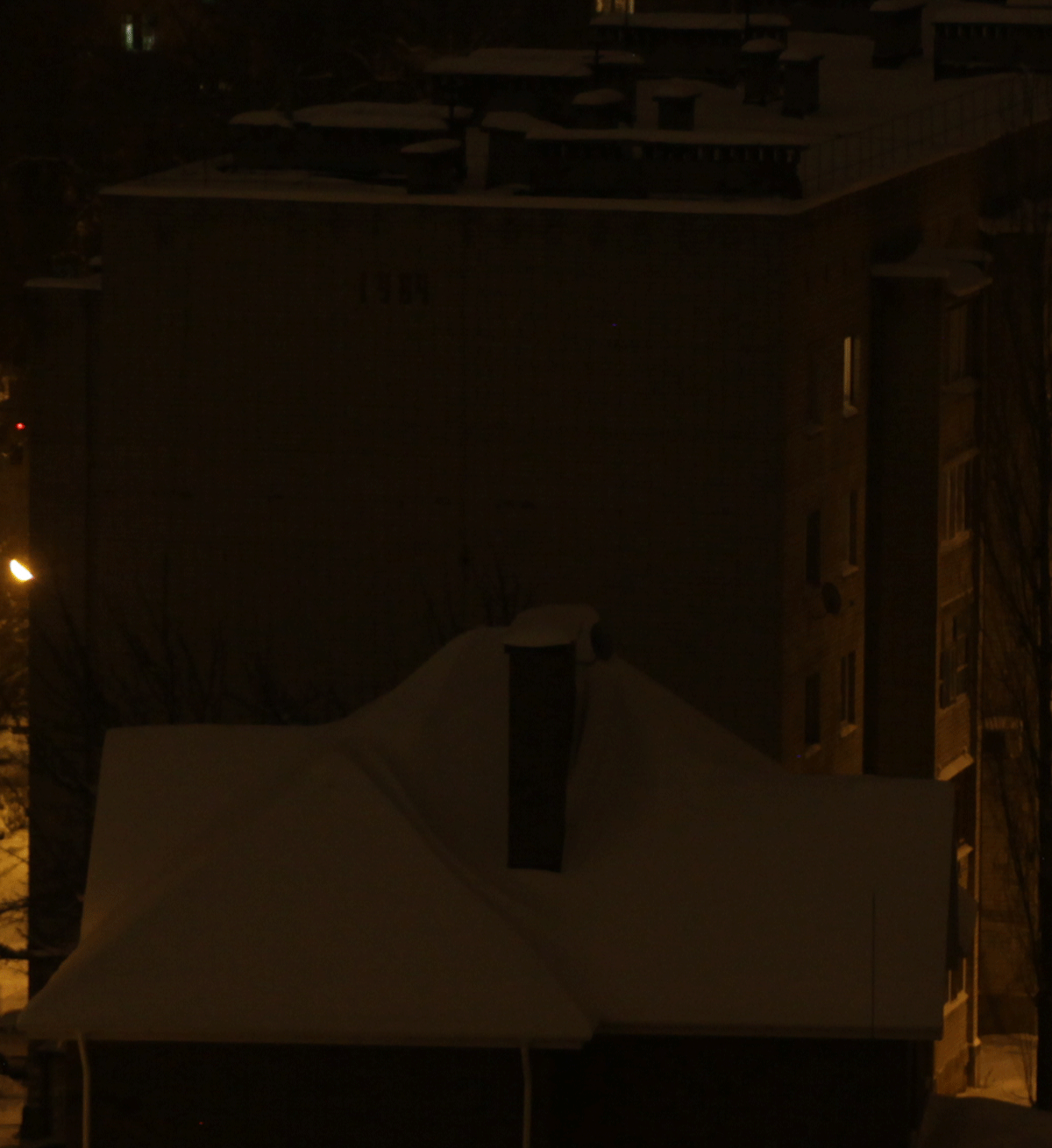 And here is a typical EDC distance.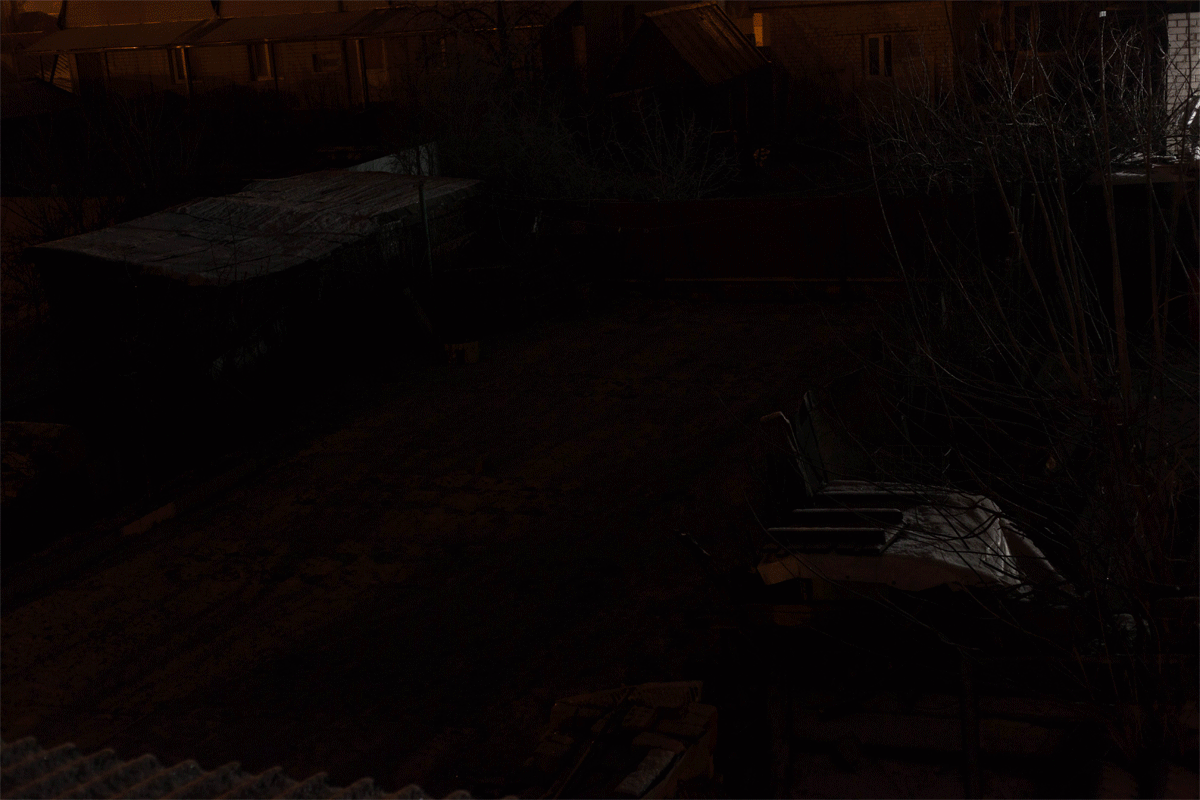 And visible difference with S2+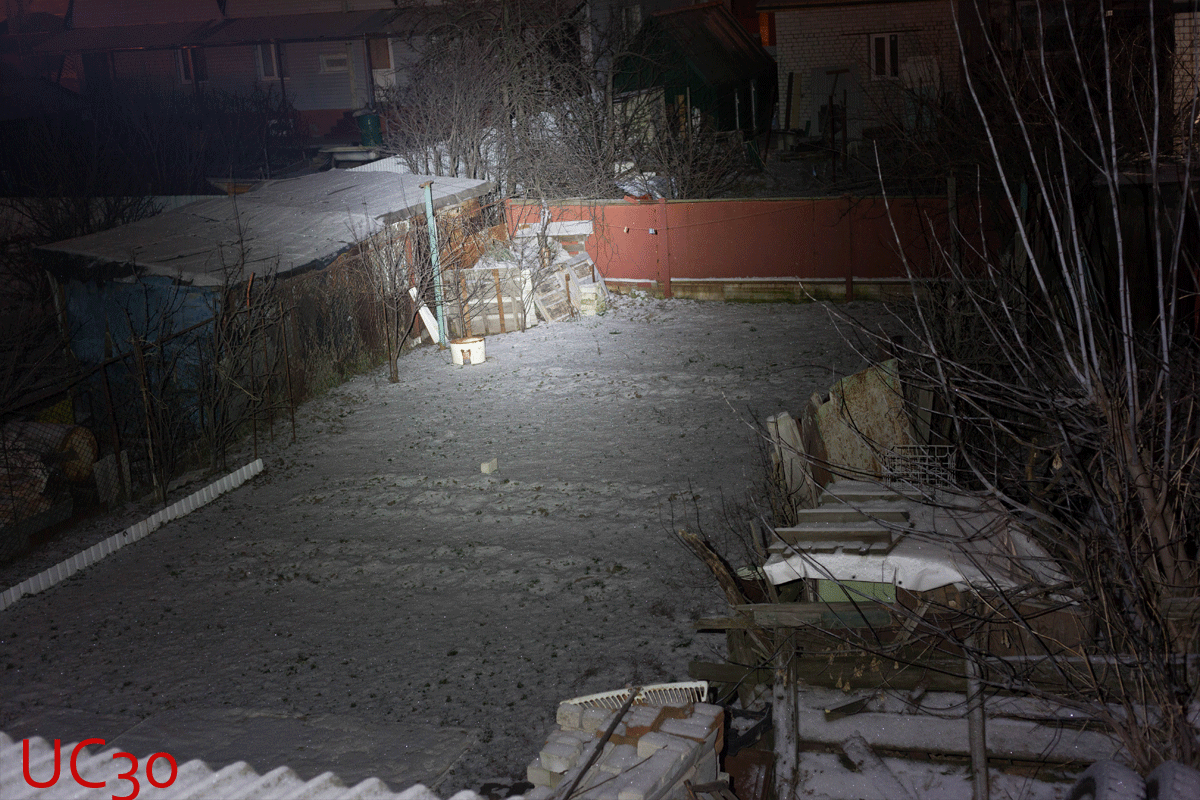 Turbo is too much for indoor use. Pic here in Turbo are overexposed in middle, at door. In reality light there is not that bright. But side light is the same as in reality.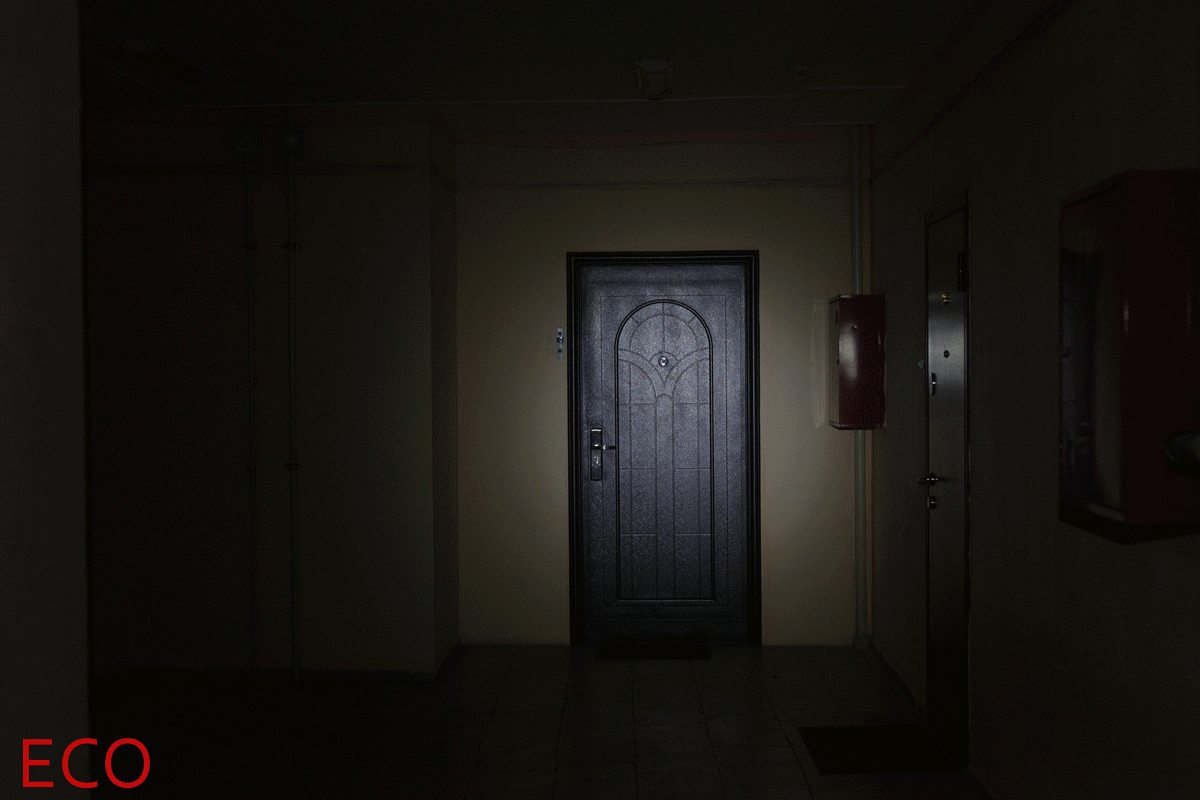 I have to remember that here is 3min turbo. If you start turbo over again after it, thermall regulation will decrease brightness. I think 3 minutes is enough for turbo.
5 hours of stabilized light in High is good! Having 3400mah battery inside will adds a lot to this time.

OVERALL.
Good EDC, with it`s PROs and CONs.
There are no any tech breakthrough in it, it is just workhorse which`ll give you light for most of needs.
So, let me evaluate functionality:
PROs
Simple UI with good lockout
RELIABLE charg port plug in 3 colors.
1A charge amperage
Good build quality
No visible PWM shimmering
Good throw for it`s size due to OP reflector (+-)
Good stabilisation
CONs
Only button-tops batteries.
No NW version
OP version would perform better in close range (+-)
Could be 10-15 mm shorter
No momentary access to ECO\TURBO
No intermediate mode between TURBO and HIGH (1st one could stepdown to something around 600lums)