Review example was provided by manufacturer. Here is a product page
You can buy Fitorch ER16 at
➤ AMAZON
➤ ALIEXPRESS
➤ BANGGOOD
for years i`ve been buying batteries at Nkon.nl. sincerely recommend this store.
*Main Features: *
• High-perfomance CREE XP – L LED, max output to 1000 lumens and beam distance to 150m
• 5 brightness modes: turbo – high – medium – low – strobe to meet your different luminous needs
• Side switch, one-handed control, easy to use
• Rechargeable, environmental and green
• Powered by 1 × 16340 (RCR123A) or 1 x CR123A battery ( not included )
• High-strength aerospace-grade Mil-Spec hard-anodized finish aluminum alloy body, durable to use
• Coated tempered resists impact glass in high light transmittance
• Mini-size and lightweight, portable and easy to carry
• Metal filmed reflector to create a high-intensity beam
• Power detection and indicator to make it convenient for you to know the battery situation
• Smart temperature control system assure stable output
• Lock Function to avoid triggering power on when torch puts into bag or holster
• Mode memory, can set up mode previously and access it once power on
• ATR ( Advanced Temperature Regulation ) technology temperature control to extend LED lifespan
• Low power warning to protect battery from hurts
• IPX-8 water resistance, 2-meter impact resistance tested
PACKAGE AND APPEARANCE
Flashlight has decent package, the same level of A-brands. Design and printing are at very good level.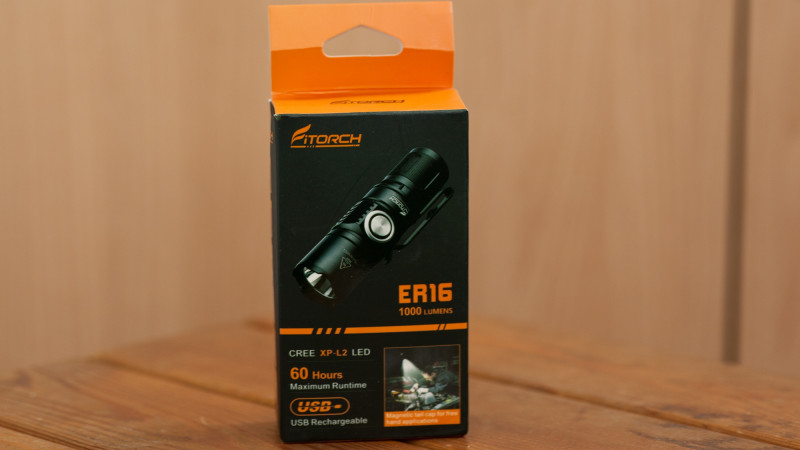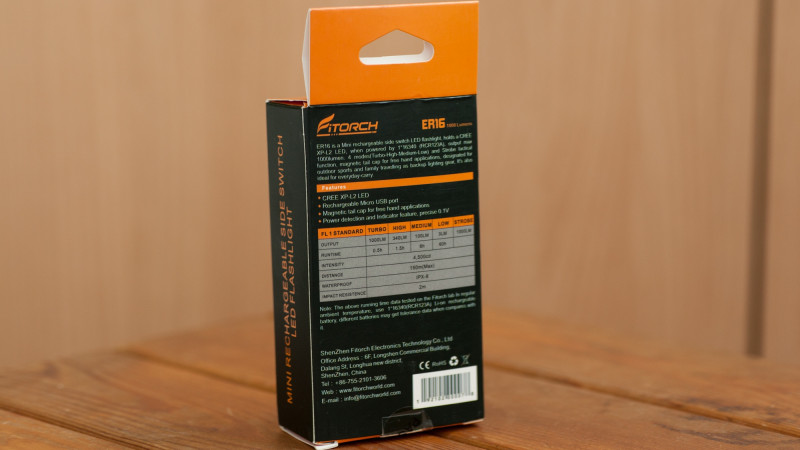 Inside, on regular transparent bed (btw, advise me a proper word, here my language skills are weak) lays: flashlight with battery, holster, clip, usb-charge cable, o-ring, manual.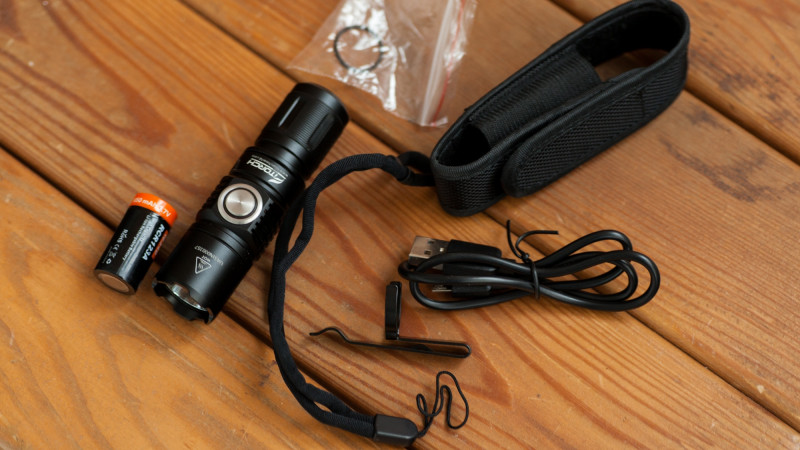 Hm, i`d like to see holster with some velcro strap and carabiner mount.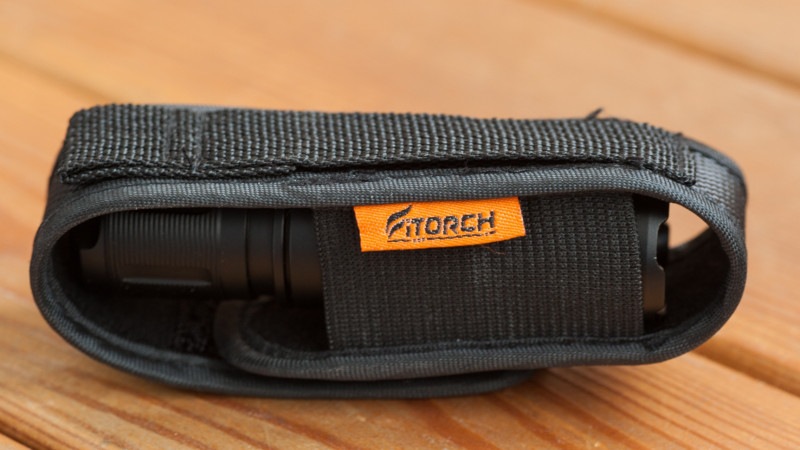 And here is review hero.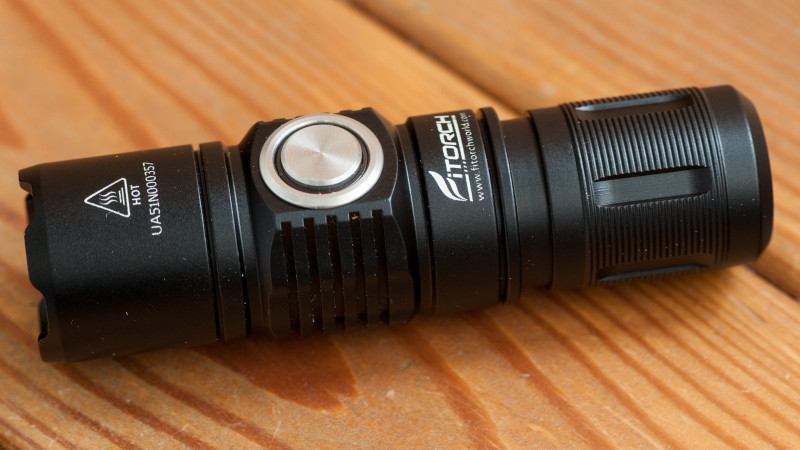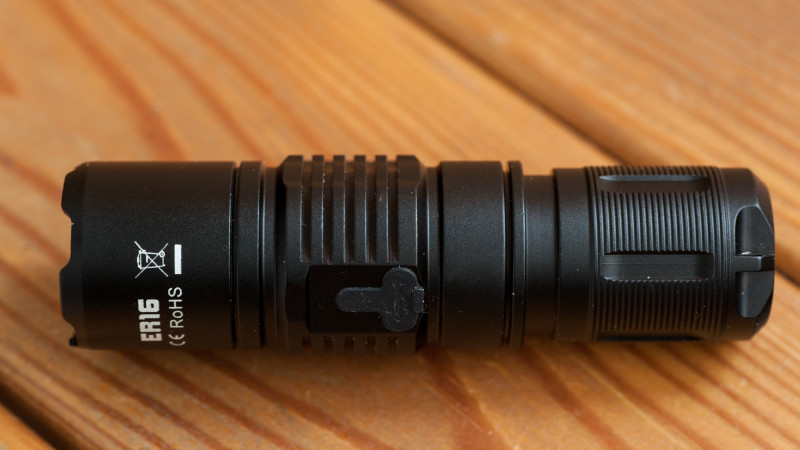 When i took ER16 from package i was surprised with flashlight size. I`d never expected 16340 flashlight to be THIS huge. It`s bigger than my old 14500 powered Xtar WK41, and way-way bigger than Klarus Mi1C, with it`s typical to 16340 light size. ER16 is 95х25mm, closer to 18650 light. Nevertheless, i must notice that it still doesnt take much space in pocket, as a regular AA light, which ER16 is alike.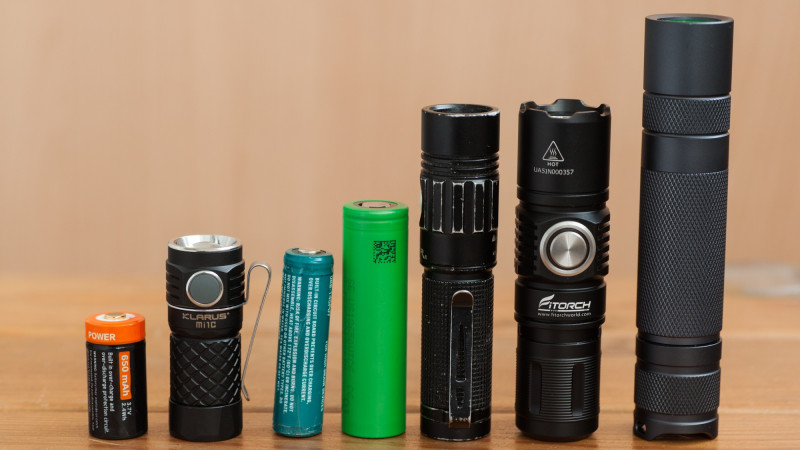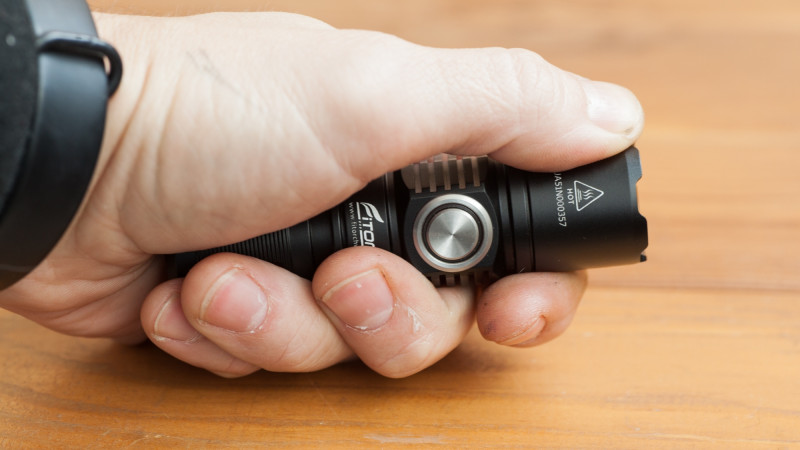 There is a hole for lanyard at tail.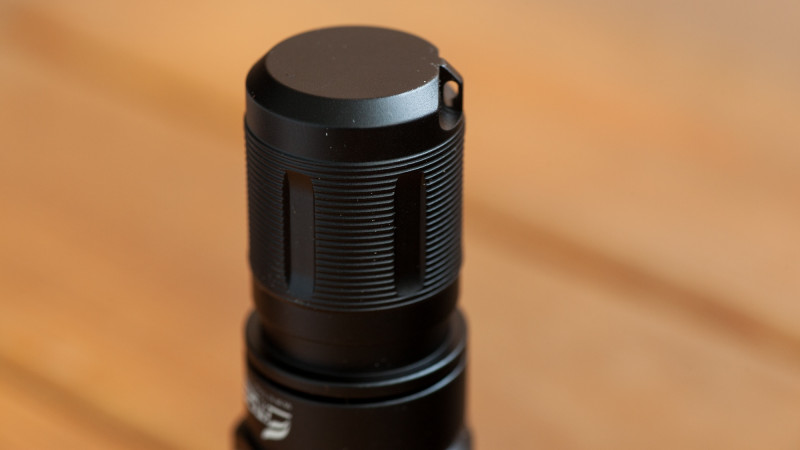 And there is a decent spring from tail. A strong magnet is hidden behind spring.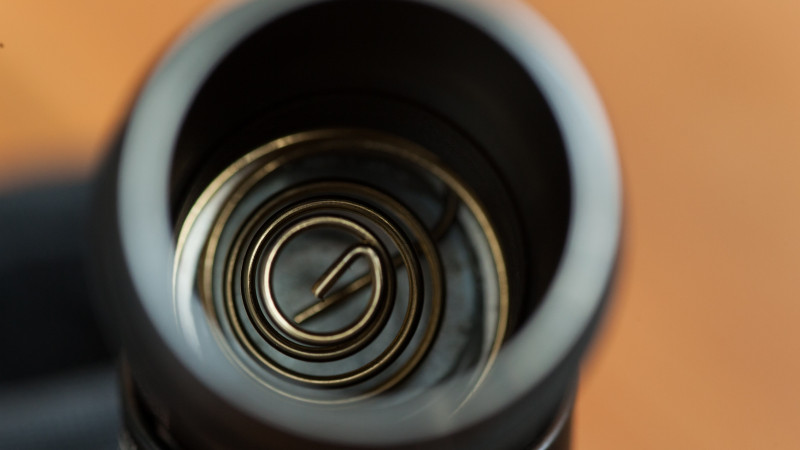 threads are well lubricated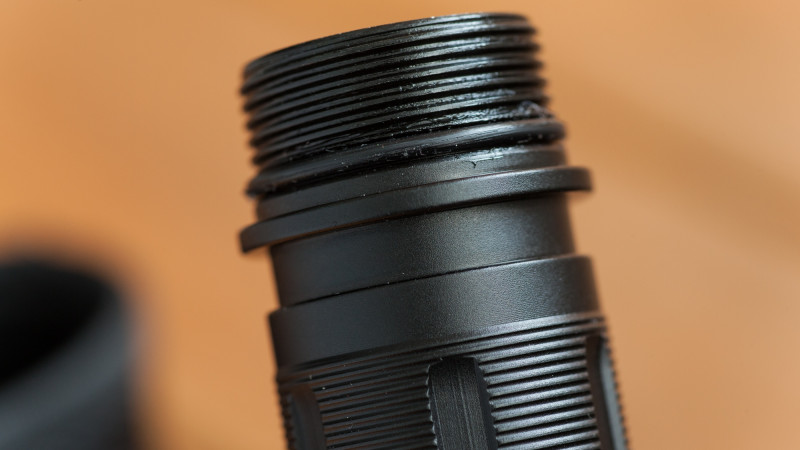 Though length is enough to place sring at head, there is a contact plate instead.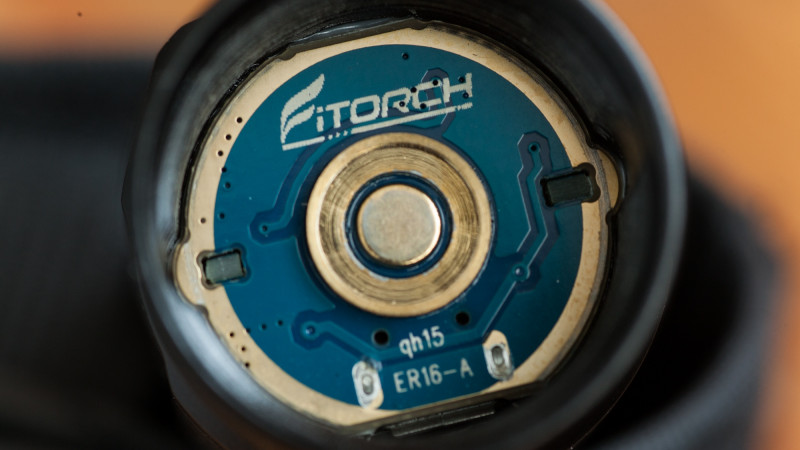 Clip sits really tight, and it require some force to be taken off. Nevertheless, anodising is great, it doesnt get scratched at all. Fitoch stares Mil-Spec standart here, probably someting like MIL-STD-810F. Also at the pic below you can see that knurling is only at tail, some concentrical lines, surrounding it.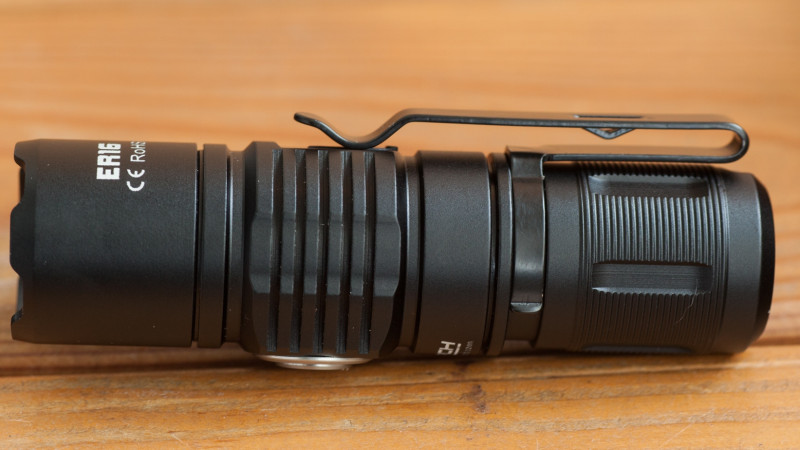 Traditionally, buttton and Micro-
USB
charging port are located at opposite sides. 1st is a pleasand metal thing, with red-green indicator ring around.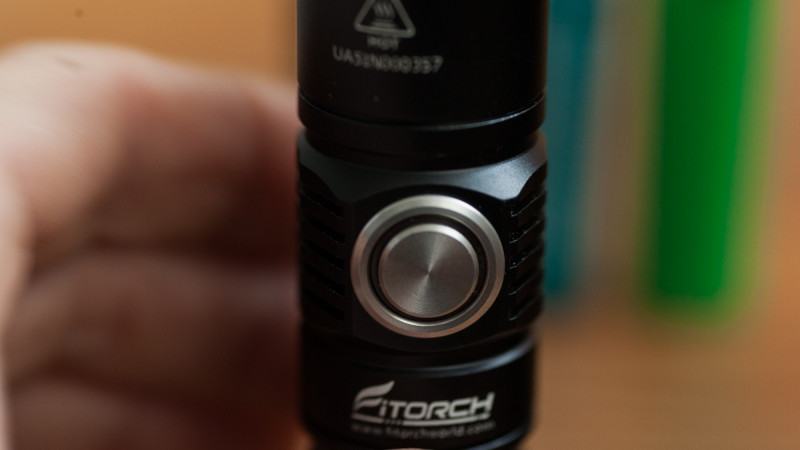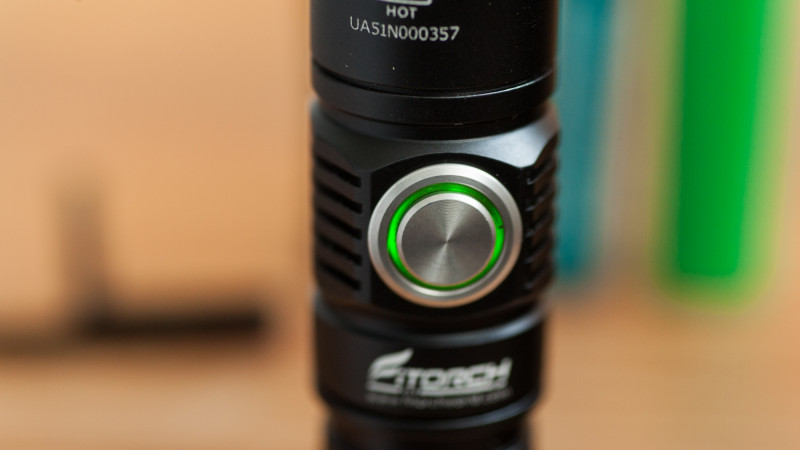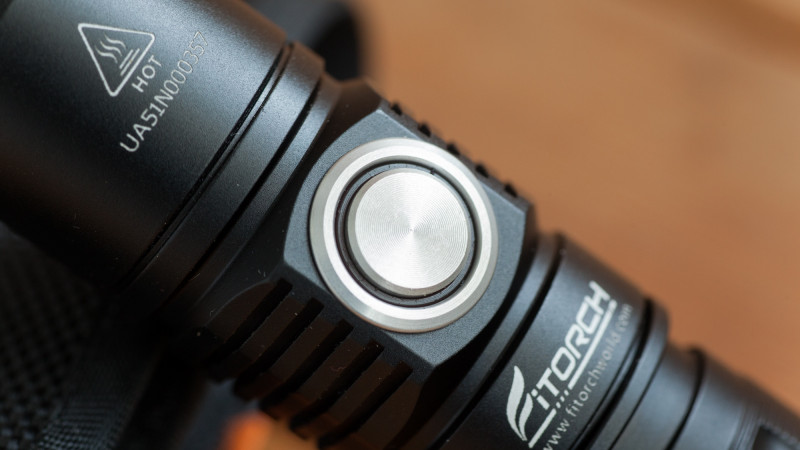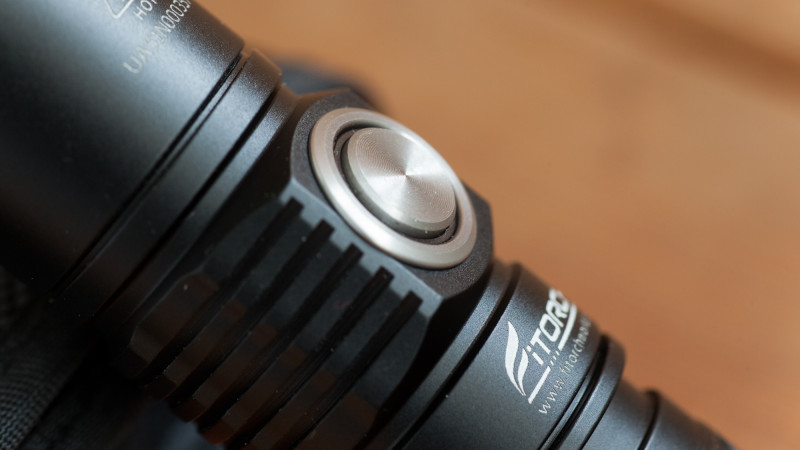 Rubber plug is small, but it still covers usb-charging port well, fits it quite tight. so i`ve got nothing bad to say. i`ve seen some better, and some worse pulgs. this one is nothting special, it does what it suppose to do and that is good.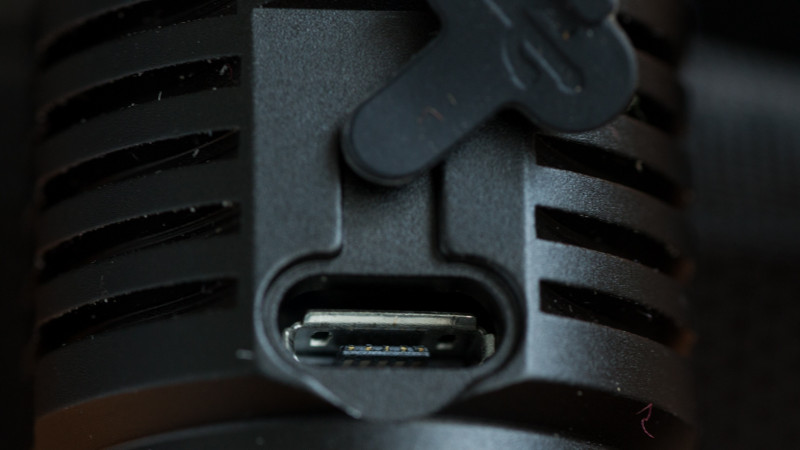 Head is almost the half of flashlight itself, can easily fit full-scale 18650 body, diameter is more than s2+.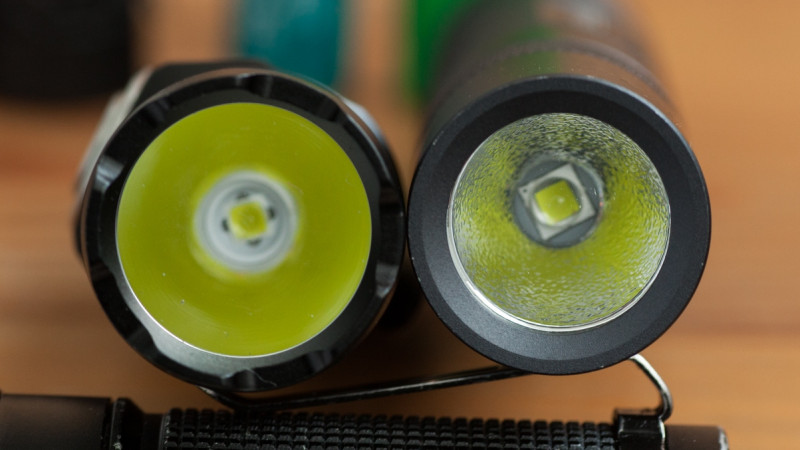 Aggressive bezel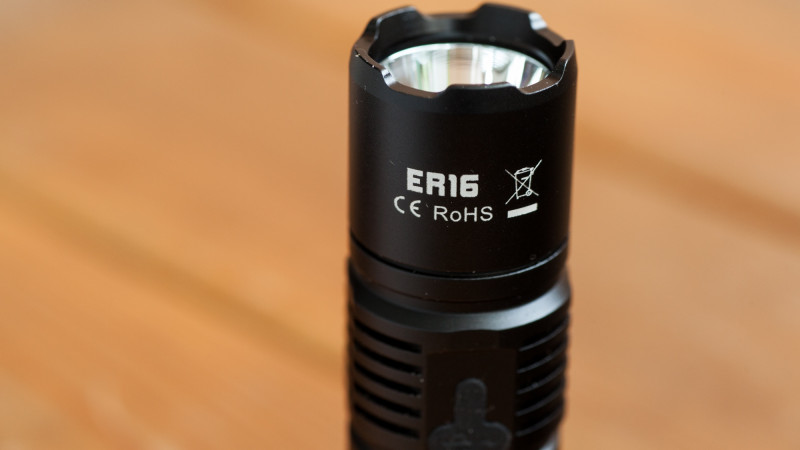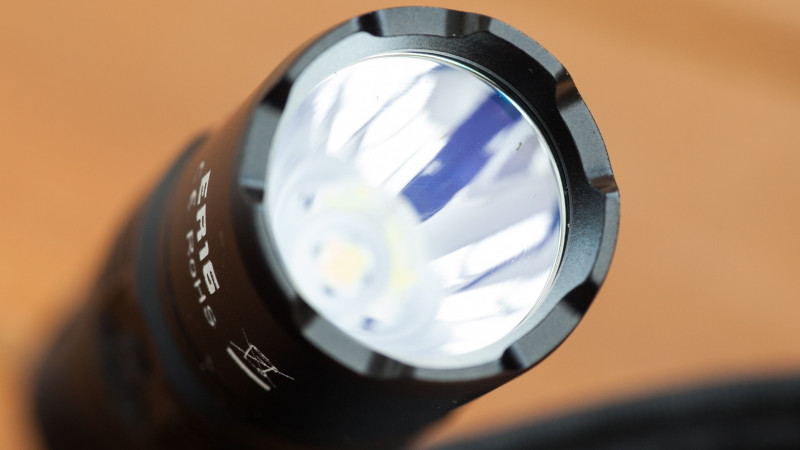 SMO reflector with CREE XP – L LED on the bottom. BTW, there is "L2" on the package.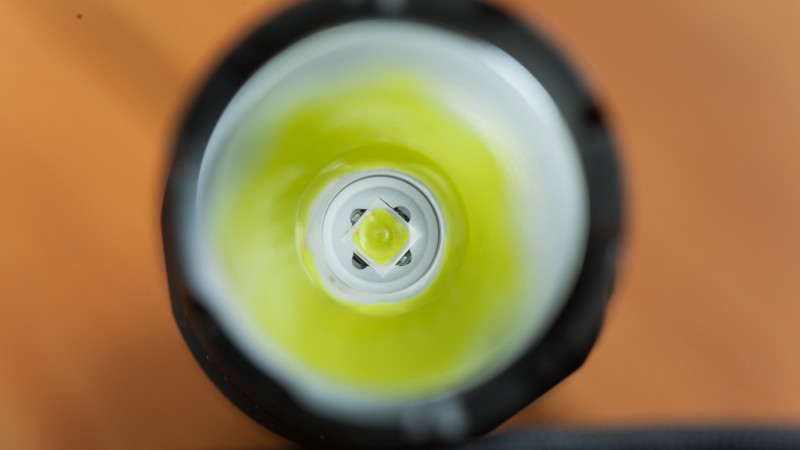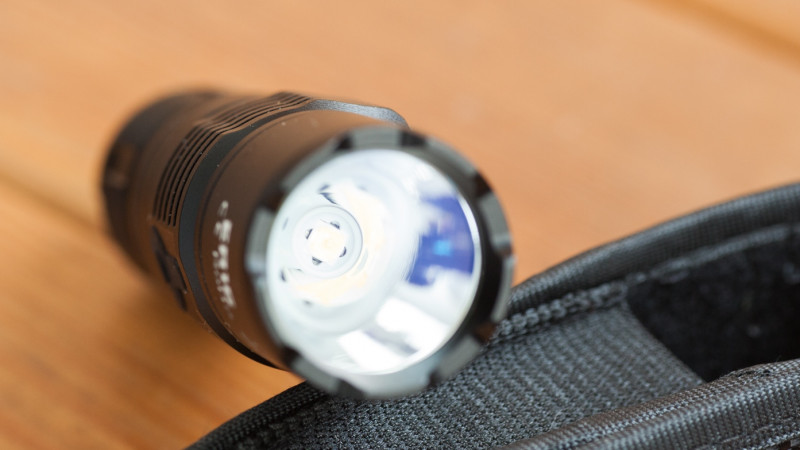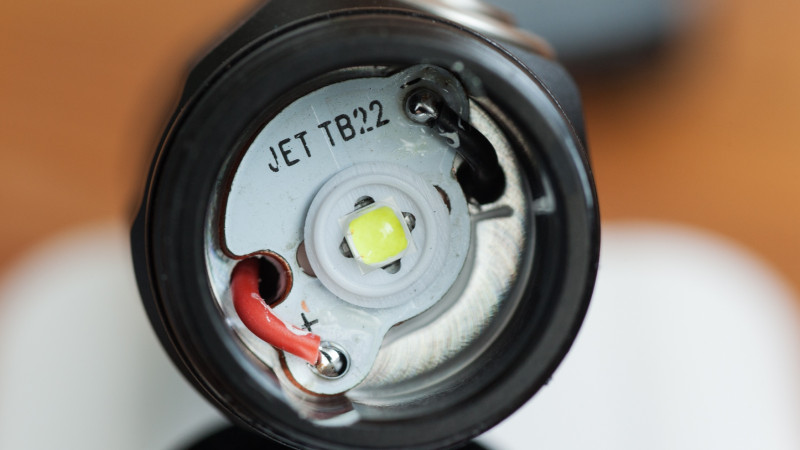 Coling ribs are small and shallow, but they are proportional to the size of this flashlgight. You cannot make `em bigger here.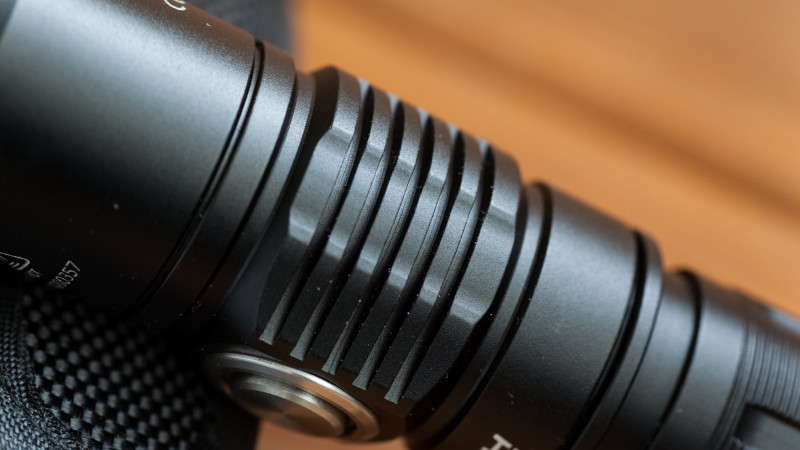 And here is strange moment. For some reasons, body diameter is definetely more needs of 16340. It reminds me Nitecore EC11 which had the same diameter for support of 18350. But nitecore has plastic cilinder 16340-18350 adaptor. Here the gap is open. To be honest, spring is quite strong and battery doesnt rattle inside. I`ve got no idea why diameter here excess requirements.
So, what is about apppearance, i`ve got no complaints. ER16 looks ok. nothing amazing, but ok. the only question is it`s size.
The advantage of 16340 battery is size, which allows to make REALLY smal flashlights with still serious output.
Here this advantage is sacrificed for opportunity to install big head with better throwing ability. well, in next part i`ll take into it.
UI

UI might be ok for me, even thouhg there is no momentary access to low-turbo.
but reverse mode order…well, i admit there is a purpose for this. but no matter how hard i try to imagine any advantage if it, i don`t succed.
UPD
While the owner's manual doesn't mention it, there is a quick method for reaching low mode. From the OFF position, press/hold the switch for just a bit (less than half a second) then release the switch to turn the flashlight on in low mode. It doesn't matter what mode was used last – you will go into low mode
PERFORMANCE.
Light is somewhere around border between NW-CF with visible hotspot.
Left to right: H03\ER16\S2+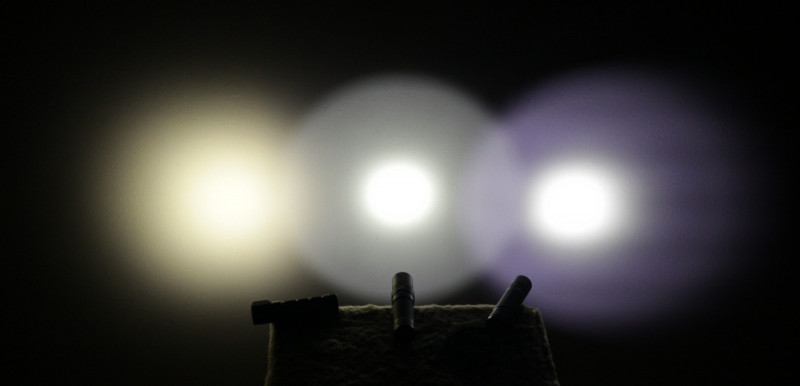 There is no visible PWM-shimmering at any mode.
Charge amperage is 1A, which i good for charge speed, but not ok for battery life (0.5C is preferable). But as long as we have 3$ soshine batteries, i don`t care )
Runtime chart is sad. it speaks for itself. I expect better from flashlight with such price tag.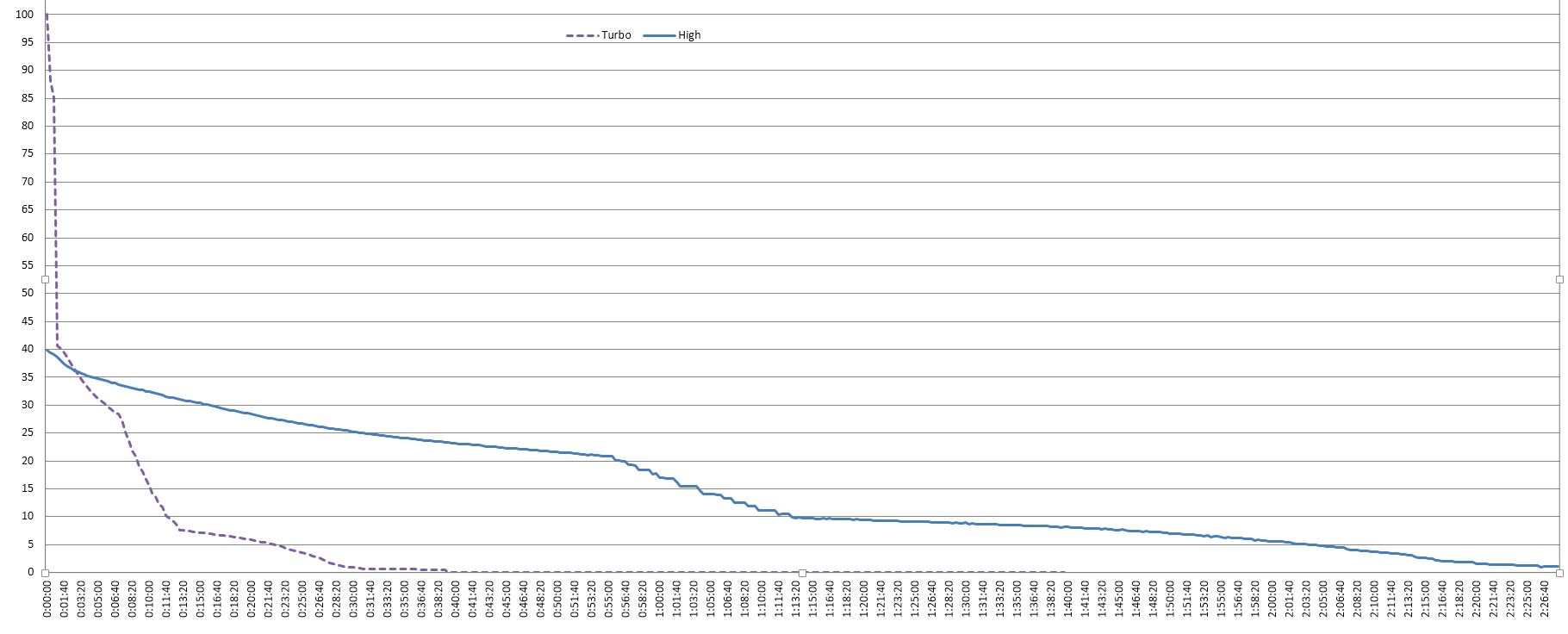 What about light, if you prefer a beam with more throw rather than comfortable work in close range, this light is ok for you.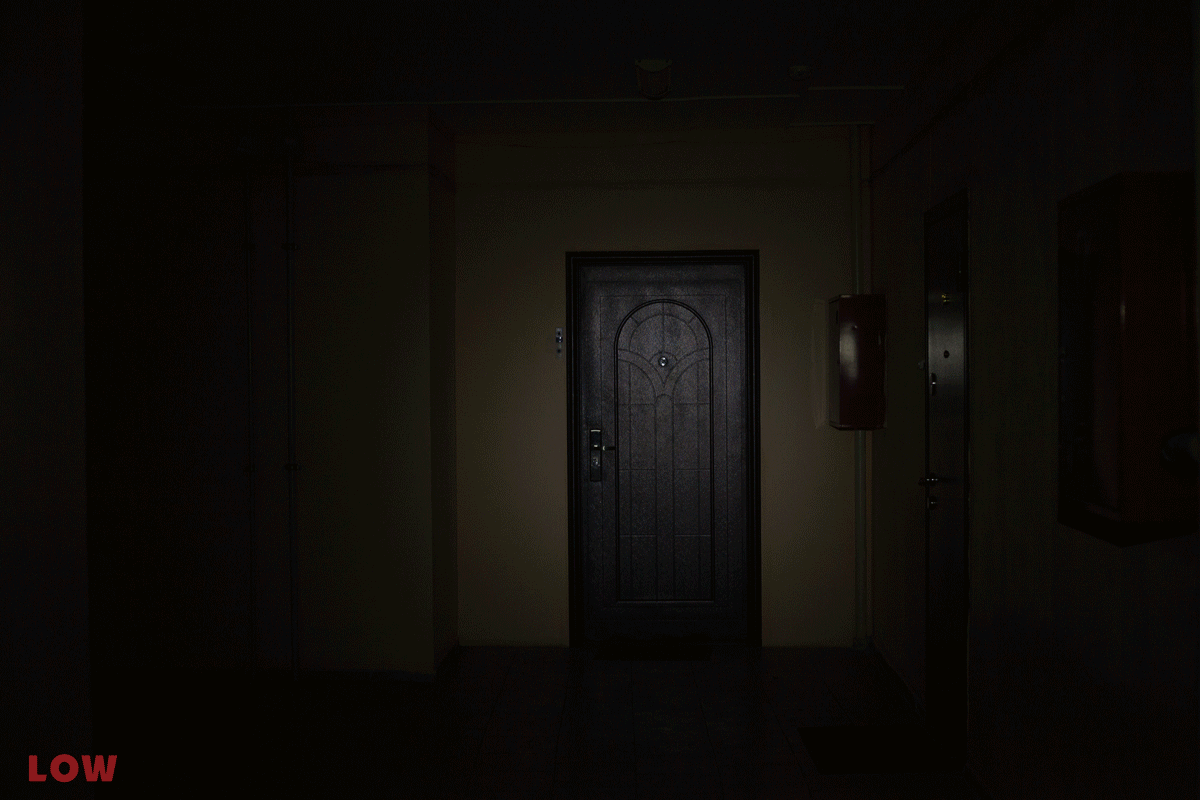 It`s enought for 20-30 meters range, though you have to keep in memory that tturbo is short and high is not stabilised at all. But for such distance, i think there will be enought light.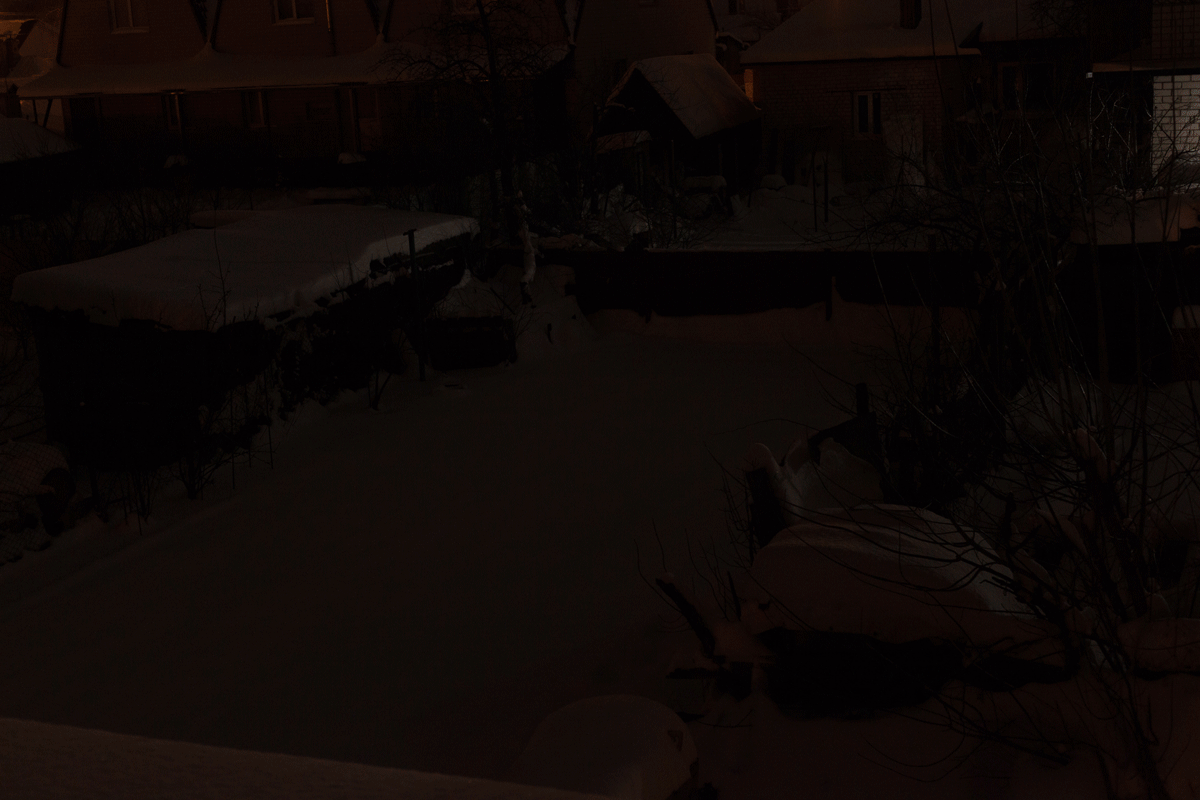 I think that stated 1000lums in turbo really exist here. (at least at fully charged batery)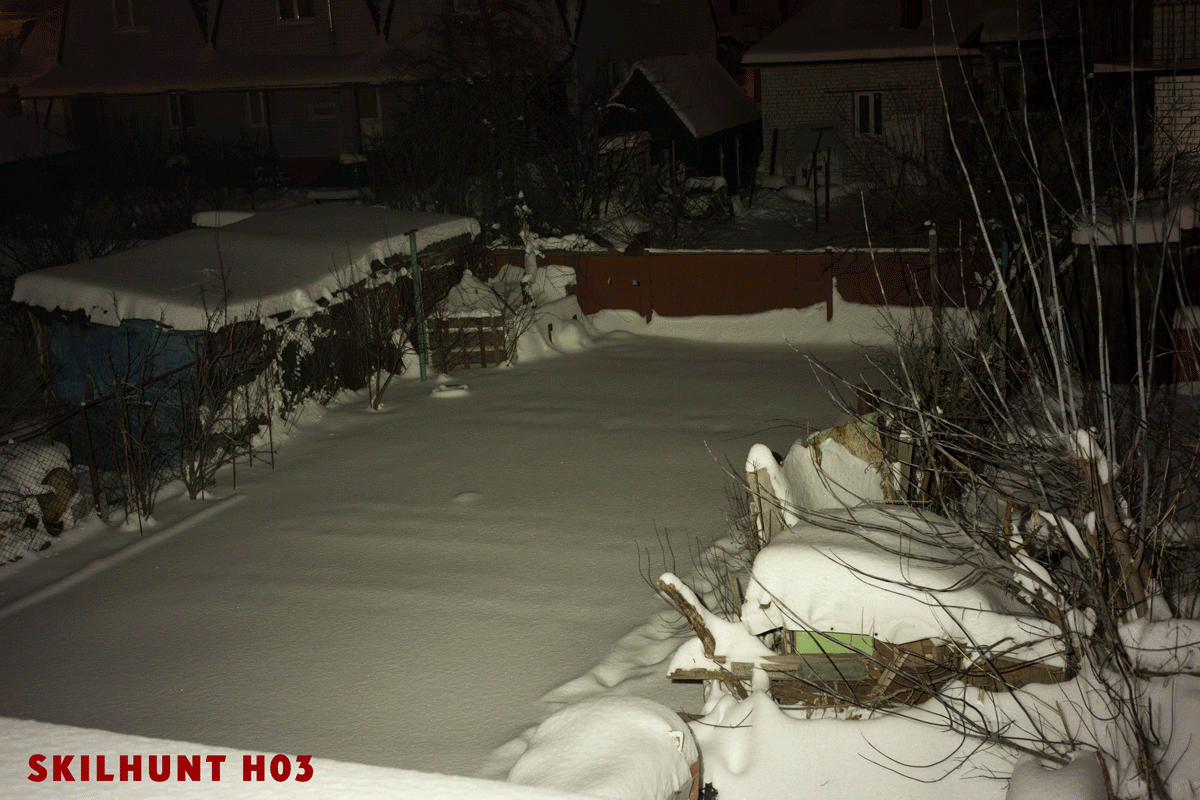 OVERALL
My impression is really controversal.
So, here are:
PROs
a) throw close to full-scale lights with SMO-reflectors, as reflector is full-sized, bigger than any AA\16340 lights that i`ve hold in hands.
b) built-in charging port.
c) build quality seems to be good.
d) tail magnet
e) no visible PWM-shimmering at any mode.
f) voltage indication
g) lockout mode
CONs
a) it`s bigger than 9 of 10 AA lights, not speaking of 16340. Yes, it is compact, but not like all the 16340 lights which are seriously smaller. It will not take space in your pocket, though.
b) light is no stabilised at all.
c) though turbo is bright for such a size, in reality it lasts seconds even with fully charged battery. After some use turbo mode will definetely be dimmer, in reality only high mode is usable.
d) T-H-M-L mode is not what you got used to. Turbo after Low may really blind you. And as there are no mode memory, be sure, you will be.
e) no mode memory