you can buy Nitecore HC70 headlamp at:
➤ AMAZON
➤ BANGGOOD
➤ ALIEXPRESS
➤ NITETORCH they generously offered 20% code HJK5KDNQ valid for all the items in store, including other brands
SPECs.
LED: Cree XM-L2 U2 LED
Battery Type Supported: 2× 18650 or 4x CR123A
Peak Beam Distance: 199 yds (182m)
Peak Beam Intensity: 8,300cd
Brightness Outputs:
Turbo: 1000 lumens / 2 hours 15 minutes
High: 550 lumens / 4 hours
Medium: 240 lumens / 10 hours
Low: 65 lumens / 30 hours
Ultralow: 1 lumens / 220 hours
IP Rating: IP67 (Waterproof)
Impact Resistance: 1.5m
Working voltage: 3.7-4.2V
Nitecore HC70 features:
Integrated Precision Digital Optics Technology (PDOT)
High-efficiency regulation circuit provides runtime up to 220 hours
Flood lighting system produces a wide 90-degree beam angle
Advanced temperature regulation (ATR) technology
Battery case can serve as a power bank to charge 2 devices simultaneously
Comfortable headband constructed from quality elastic nylon
Optics lens with anti-reflective coating
Constructed from rugged aero-grade aluminum alloy
Rugged HAIII military grade hard-anodized aluminum alloy
PACKAGE AND APPEARANCE.
Of course, as that is A-brand, you get decent package. So here it is as usually with Nitecore stuff: yellow-black cardboard box, with good printing. If you buy HC70 for a gift, it will be obvious that this headlamp wasn crafted in some noname basement workshop.
Package includes: headlamp itself, micro-usb charge cable, some spare fittings for cable (to help to attach), manual. No batteries included. For me as, as a reviewer that is not cool, heh ) But in reality, that is better, because usually brand batteries adds to price a way more than cost batteries with the same capacity (and probably with the same power cells inside).
In most of reviews i avoid any too exited words not to be blamed for prejudgment. Not here.
Battery block is amazing. You will not want to release it from hands. It is perfect tactilely and visually: solid metal bar with delightfully made oval with a logo.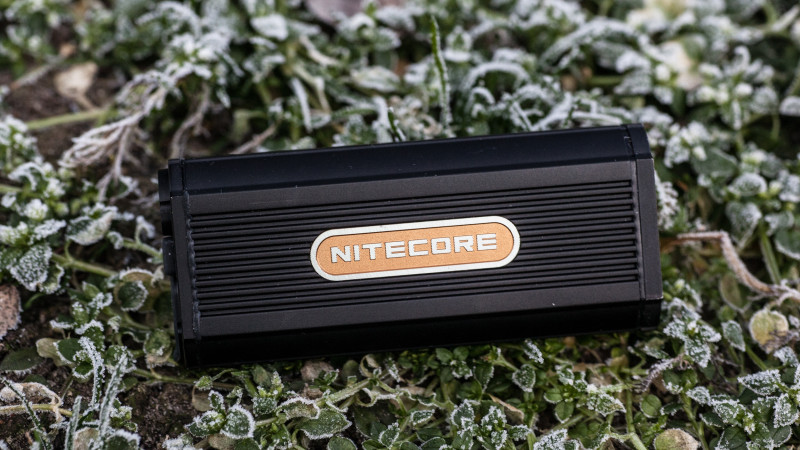 Seriously, how can I not feel emotionally here? That`s most successful attempt to add element of decoration in such a purely utilitarian thing – headlamp. Bravo!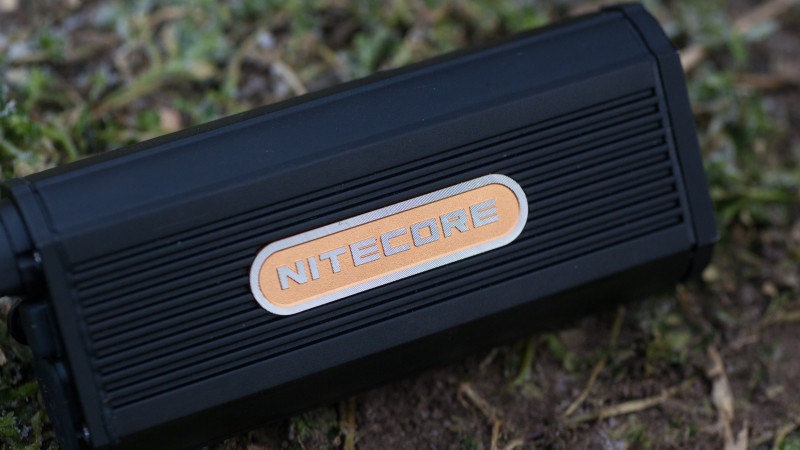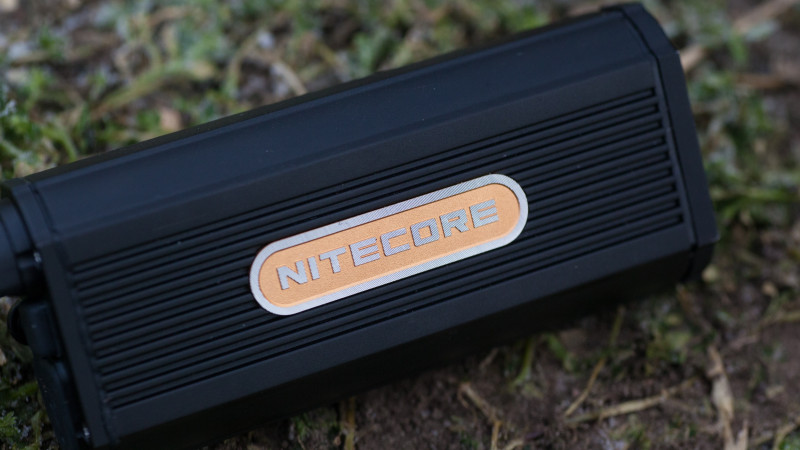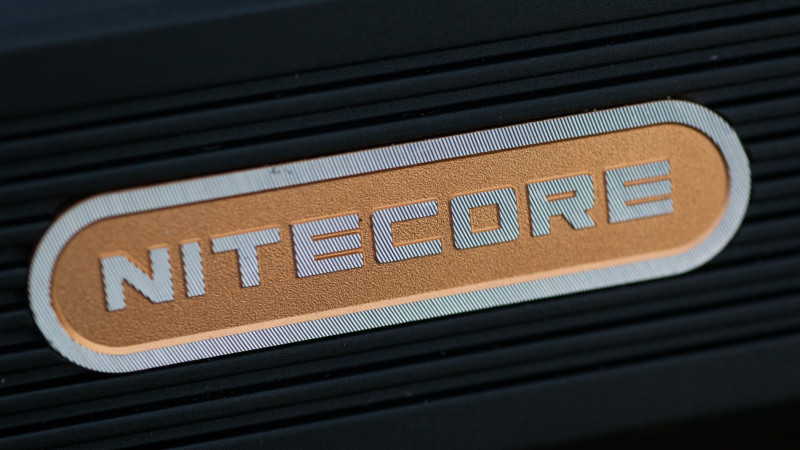 May be Lumintop Ant evoked similar emotion from me. For me, this battery block looks like Dispenser Magazine of some futuristic plasma-rifle.
Of course that`s all only for my taste of beauty. You can check my other reviews, where a wrote bad about bad, if you think that all those positive words above are caused that I got this thing for review and have only to praise it.
Here are connectors:
The one, which is used for head block cable, is open. At 1st I thought that it also need rubber cover, then I decied that in constant use you`ll loose it anyway.
Button and rubber 3-LEDs indicator are located closely to this connector.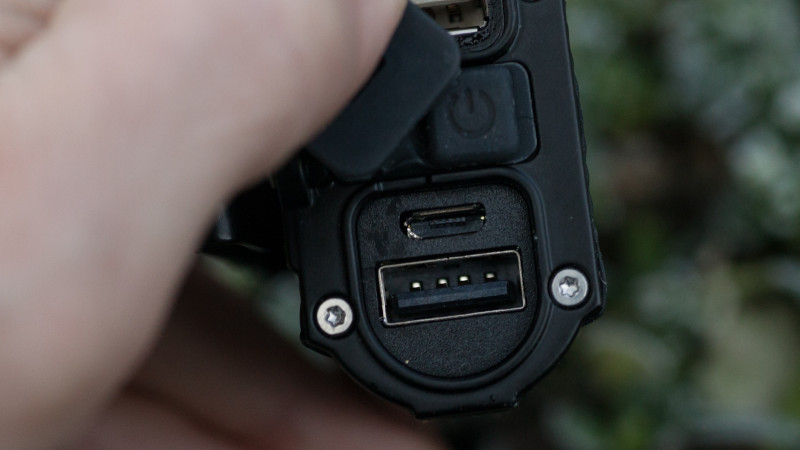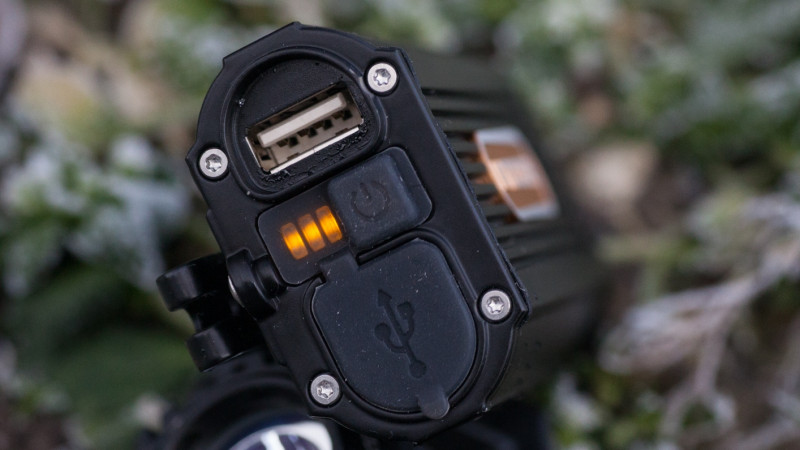 *USB IN\OUT *connectors have this plug, `coz most of time they are not used. Plug is really tight, which is good. There is a small tail, without which it would be tough to open.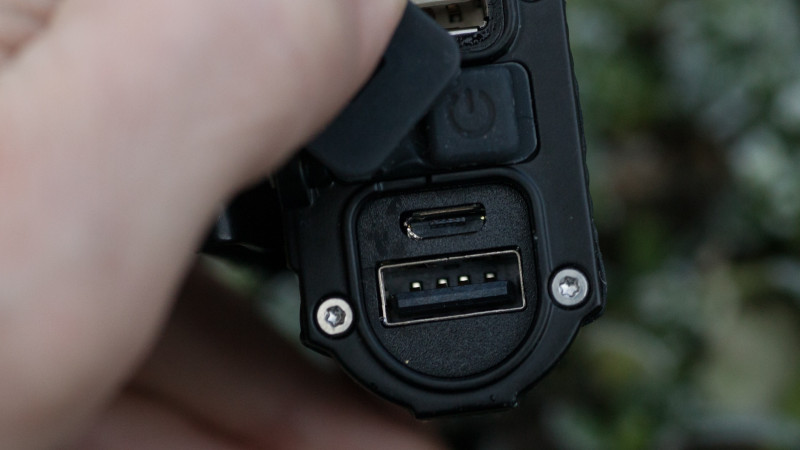 Clip is deep, with some nothes at battery compartment for better grip.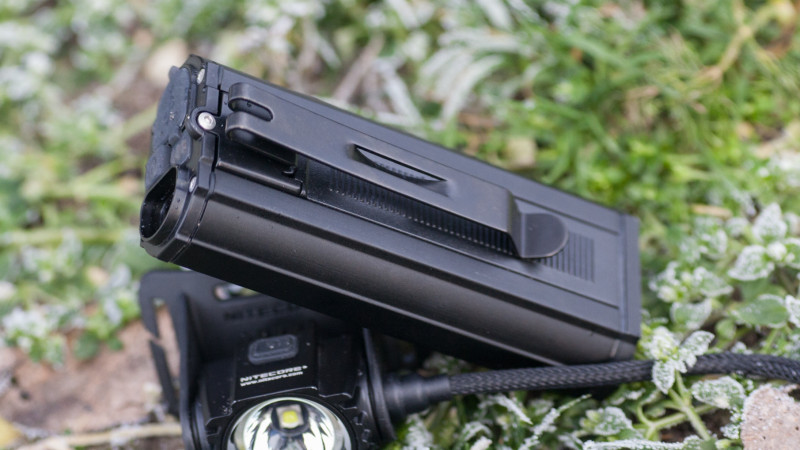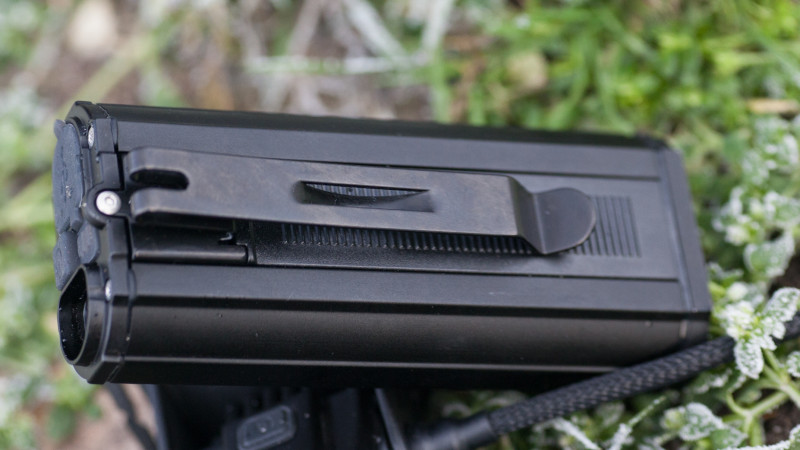 *Model name *at sides of battery block.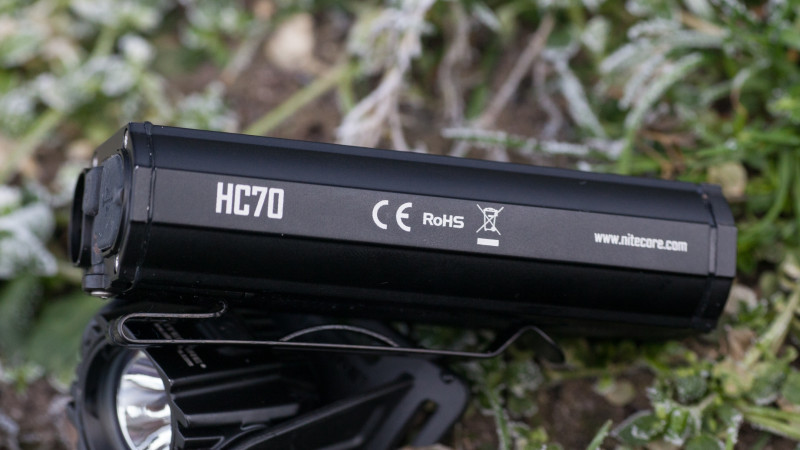 Do you see this cross-shaped black thing with "Nitecore" engraving? It `is being held by magnet to battery block cover and serves at screwdriver.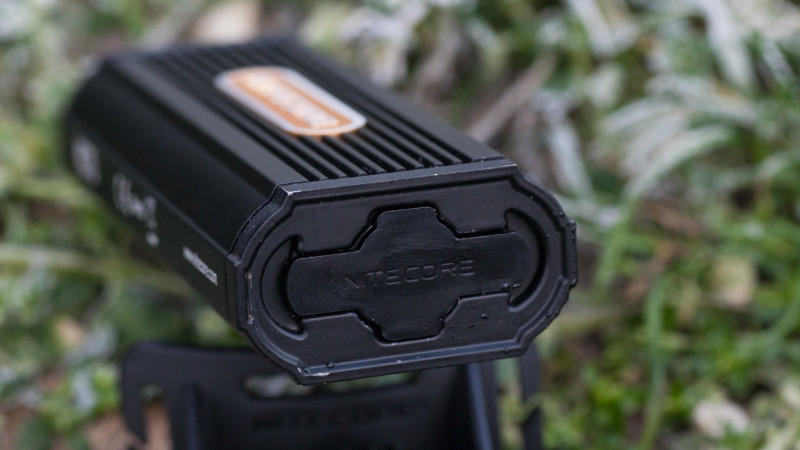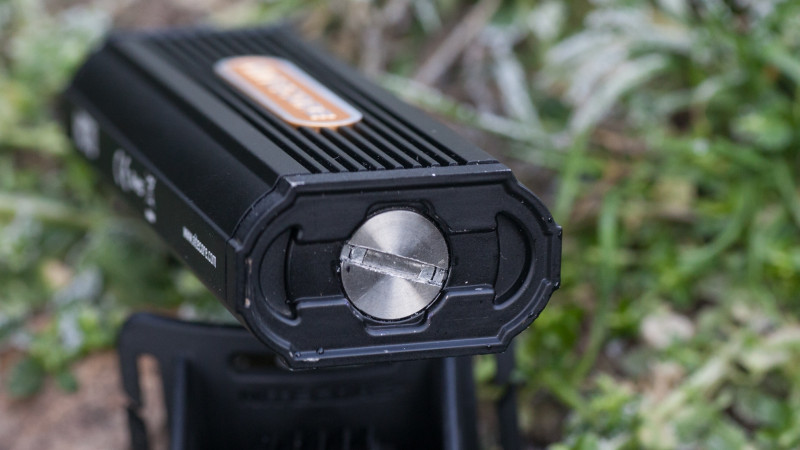 Hm, some aluminium dust at o-ring. And bad lubricated threads.
I have to notice that it took me some DAYS to figure out a proper way to close batter block cover.
Though it looks simple, in reality it is a tricky until you get used to it.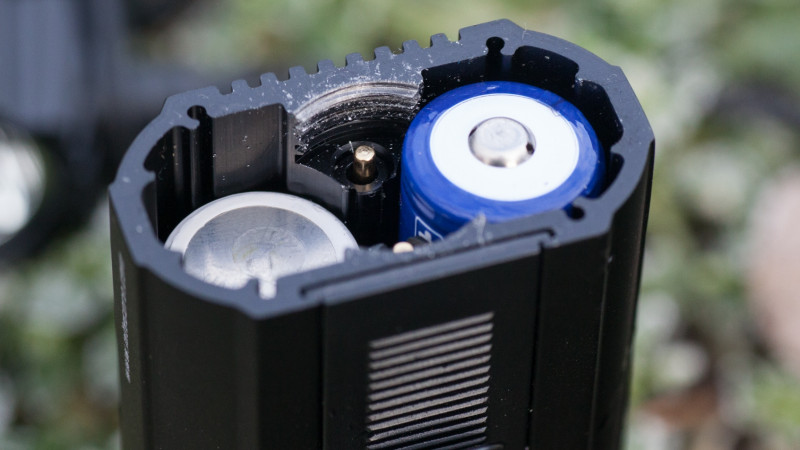 Though there are springs only from one side, HC70 supports flat-top batteries.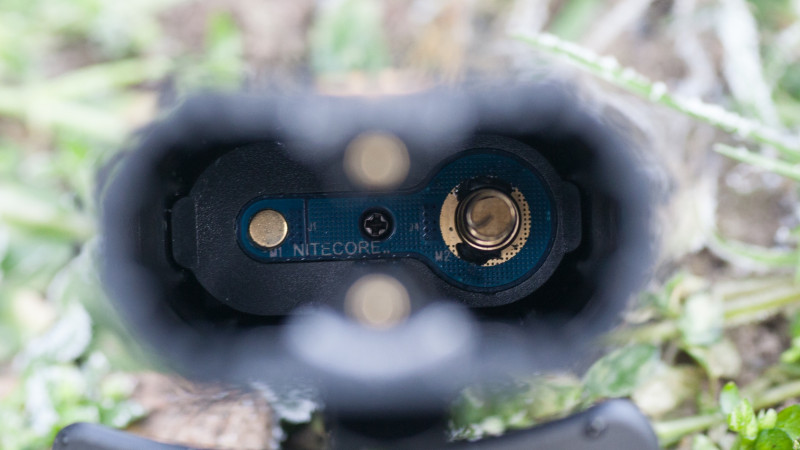 Some insides. BTW, cover here comes off with clip, but you can take it apart.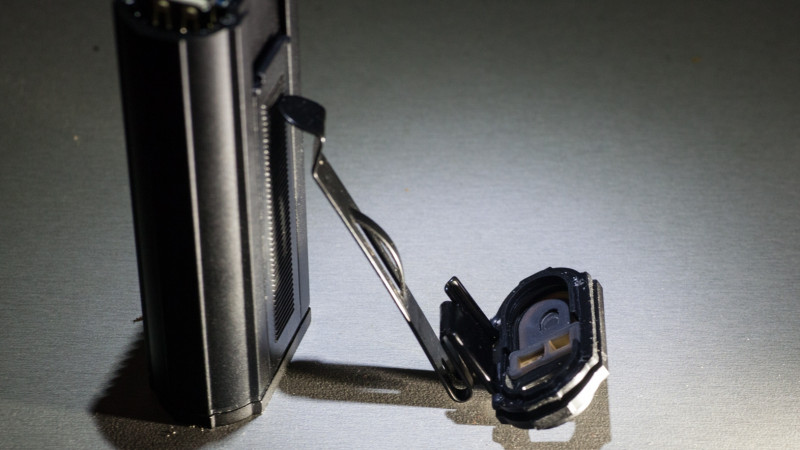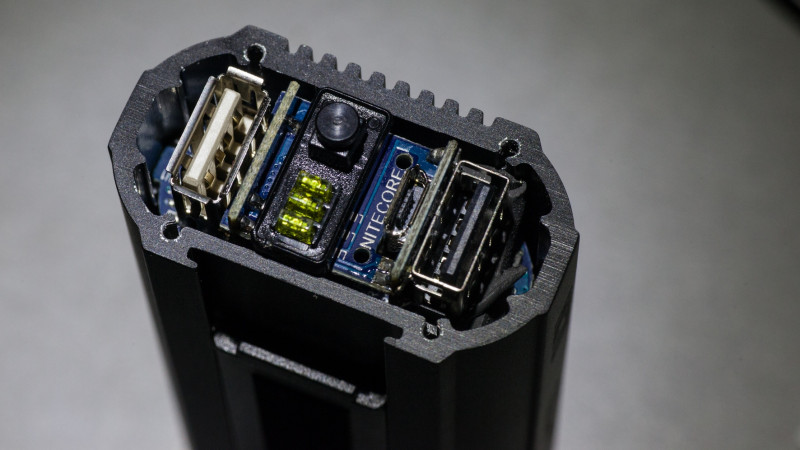 And here are HP30R and HC70 to compare them.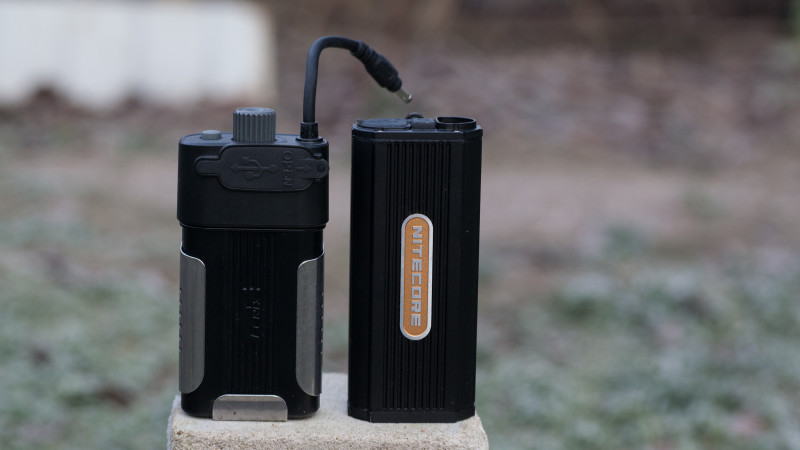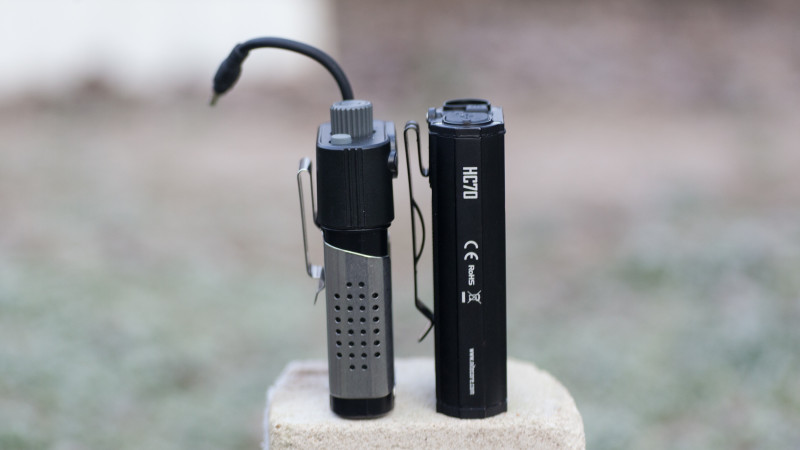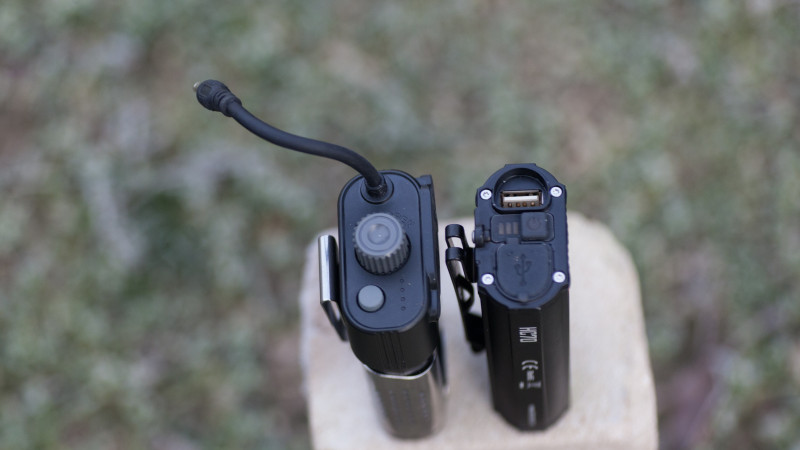 Aaaa…i`ve forgotten about cable )
It is nylon and way longer the one of HP30R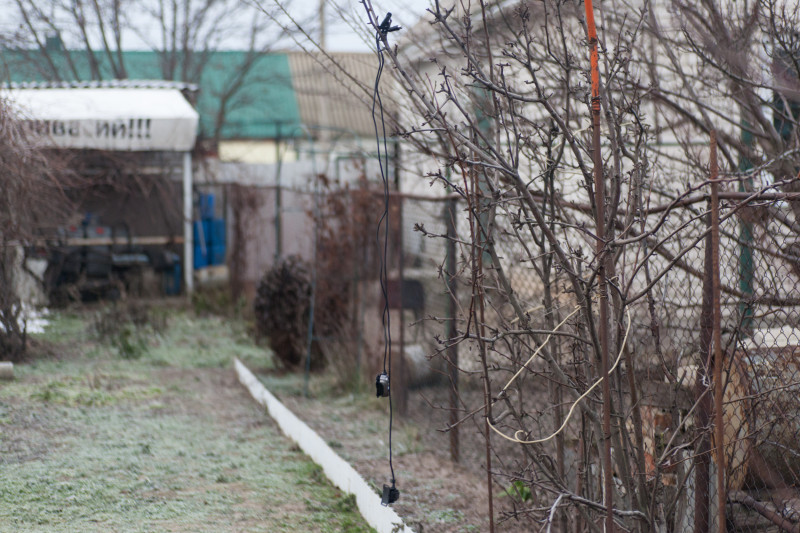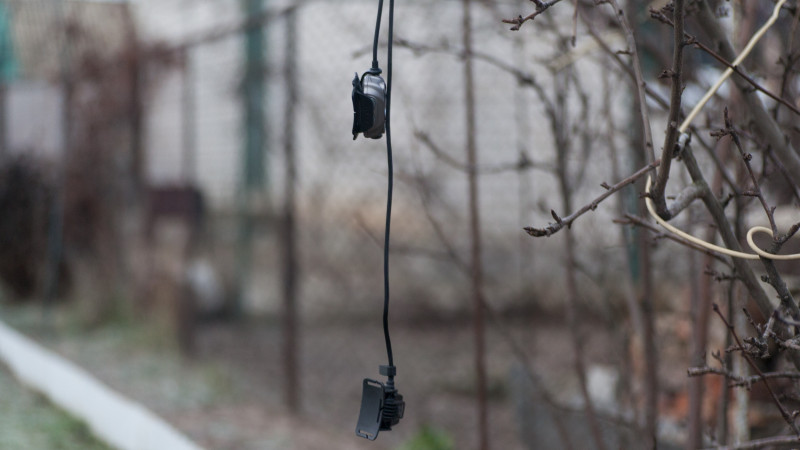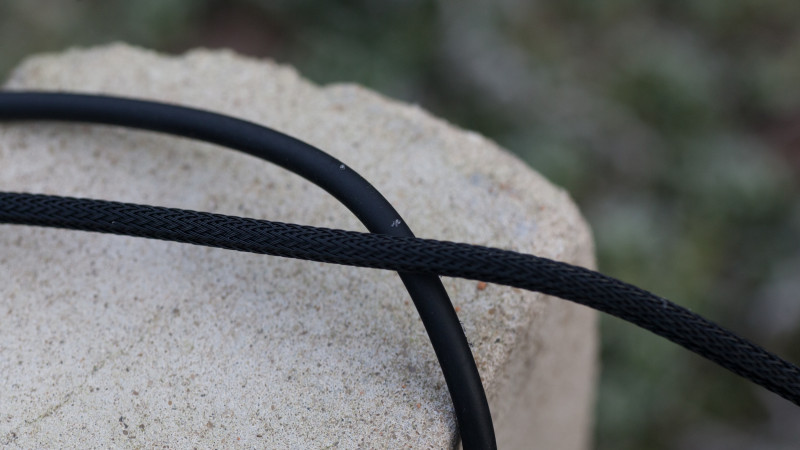 USB plug with o-ring fits really tight and deep in connector.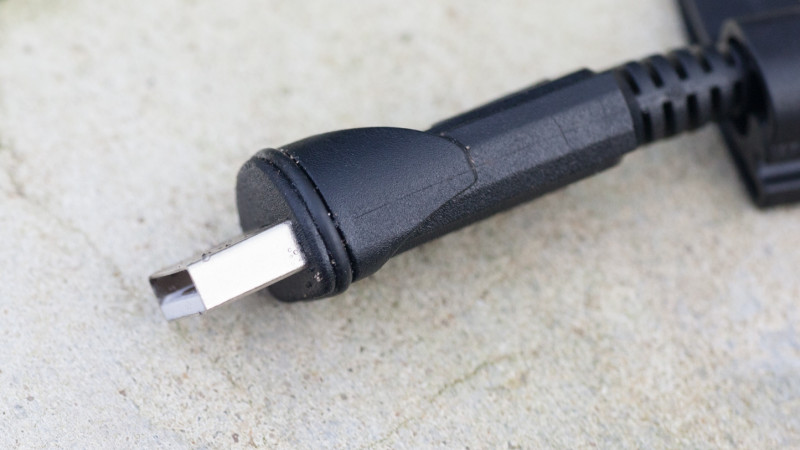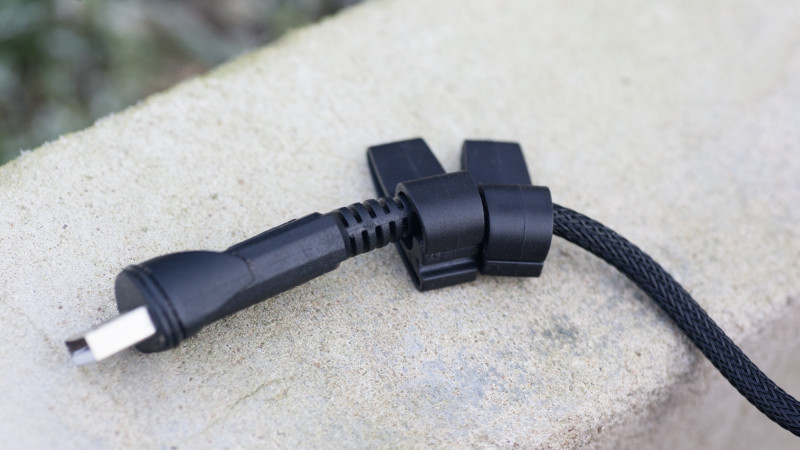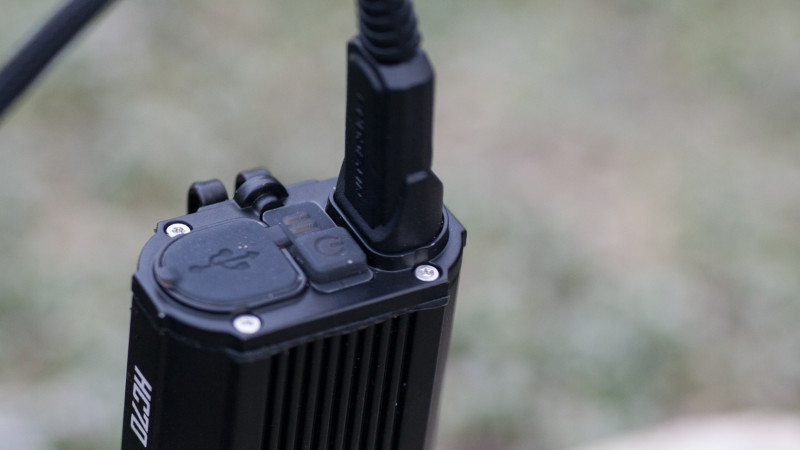 I think both the connectors are equally reliable.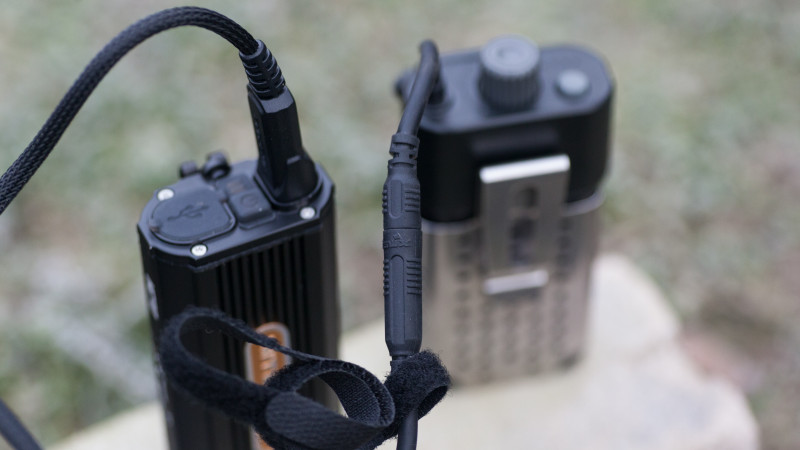 Cable spend 4 hours in freezer, -30c, and got stiff, but not like "rigor mortis" of cheap plastic that i`ve seen in 10$ headlamps (you know, these terrible zoomies). HC70`s one gets bent with applying some reasonalble pressure.
Here is a head block. Cubic thing with lots of cooling ribs. In matter of cooling it`s better than Fenix.

Adjustment angle is really wide, almost 180. No fixation, but it firmly keeps set position.
Here had is totally turned upside down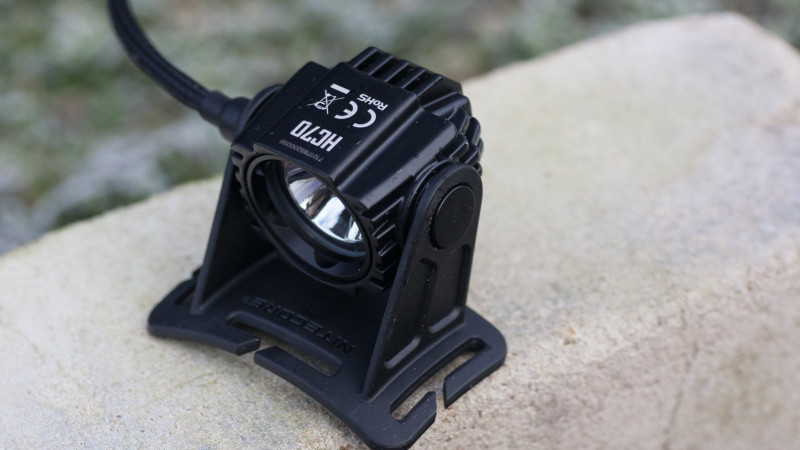 The only one rubber button is located on the top of head.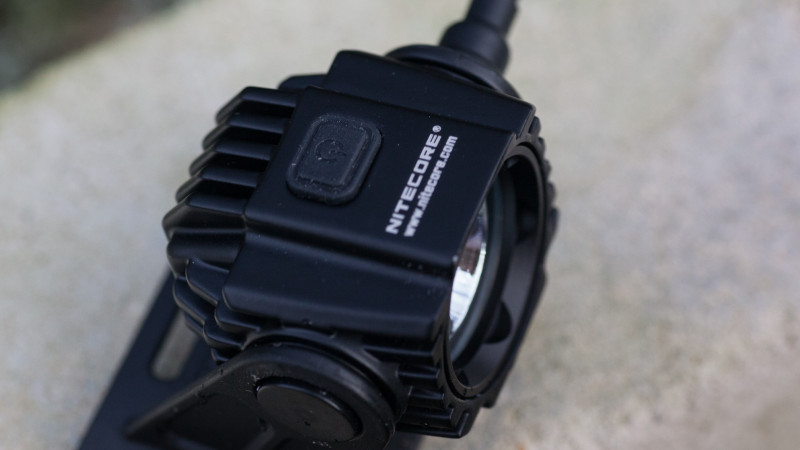 SMO reflector with good old XM-L2 U2.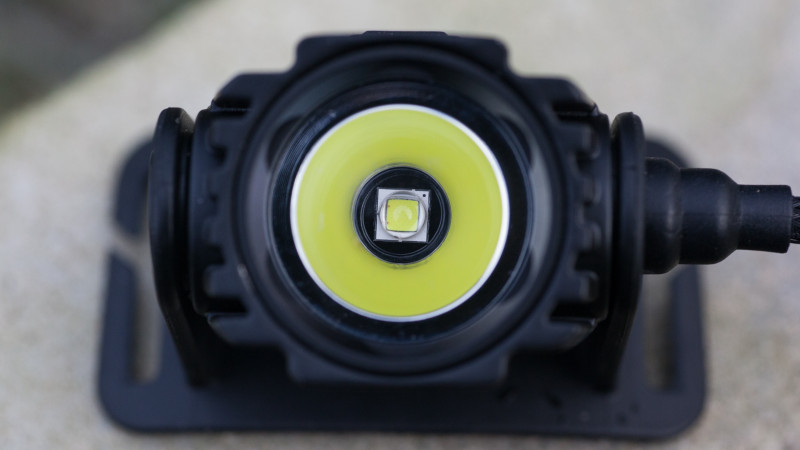 So, what is about appearance: 6 stars from 5. Excellent, seriously.
What about constructive: I also evaluate it high, but I also notice that it`ll definitely take your some time to get used to close battery block a proper way.
UI
Quite simple. It will not take much time to get used to it.
Battery block button – ON\OFF power, providing lock in\out function.
Indicator near it: 3of3: 70-100%, 2of3 – 35-70%, 1of3 – less then 35%.
After 12 hours of non-working, battery automatically turn off.
As there are 2 USB connectors,* you can plug head block to USB-OUT connector, and head block will work!* Without High-Turbo, but still – it`ll work!
And the sweetest thing is that you can plug head block to powerbank and it works (without H\T again). It means that if you don`t have spare batteries ( or charge them) you still can get light from head block.
Last summer I reviewed Olight H1 nova and highly evaluated the same feature (though short cable did this feature a way less useful then with HC70).
Bravo, again.
For the rest, there is part from manual.

PERFORMANCE
Though there is stated CW, I feel it closer to NW, warmer than light of HP30R
As there is SMO reflector, light distribution is typical to it. As reflector is little bit than HP30R`s, sidelight is wider.
There is no visible PWM-shimmering in any mode
Charging amperage – 1А. But don`t expect too much from it, 10-11 hours to fully charge batteries. I wish Nitecore made 2A here.
Powerbank feature: battery block can charge 2 devices at the same time, with total 2A.
PLEASE use protected cells in this case, because in PB mode HC70 discharged my 18650GA down to 2.05v! Cutoff in regular, headlamp mode is 3.2 (for turbo).
I `ve seen 1.87 with 4.8v. Anyway, that is decent number.
From pair of 18650GA I got 4200 mah (good ratio, keeping in mind 3.7 to 5v transformation)
And here are alive examples: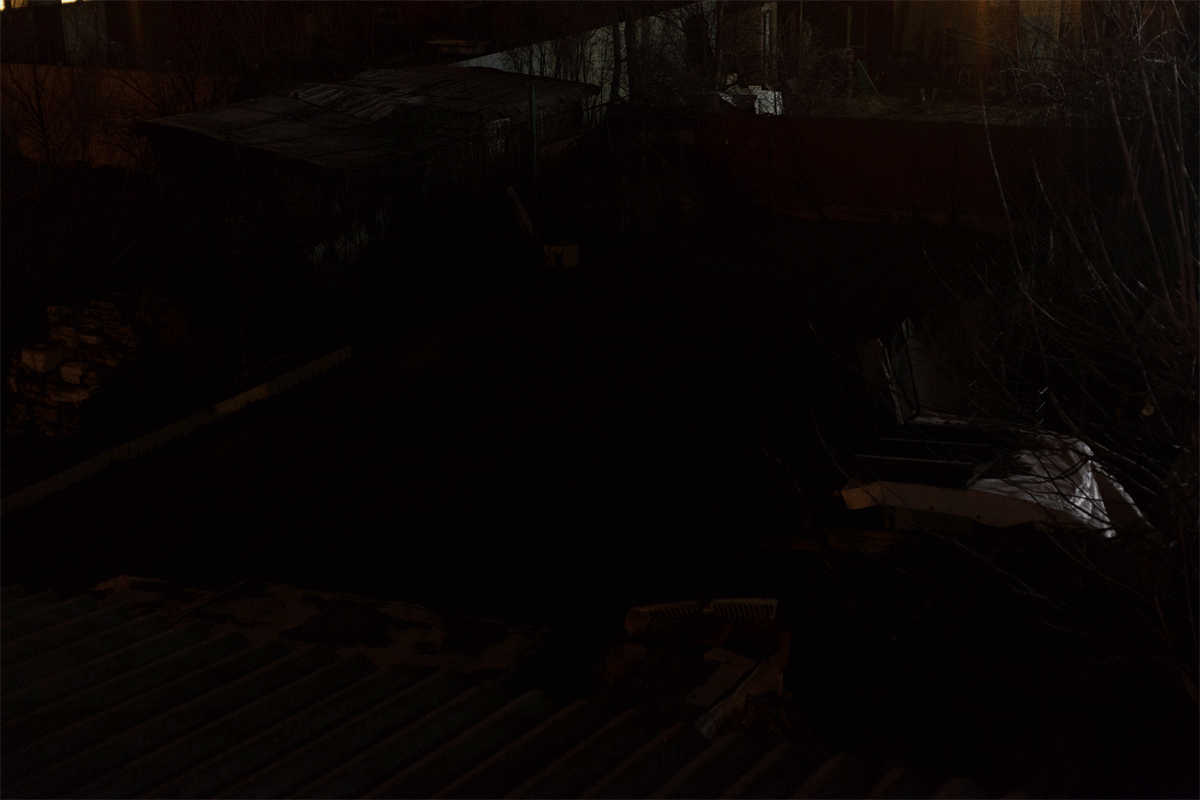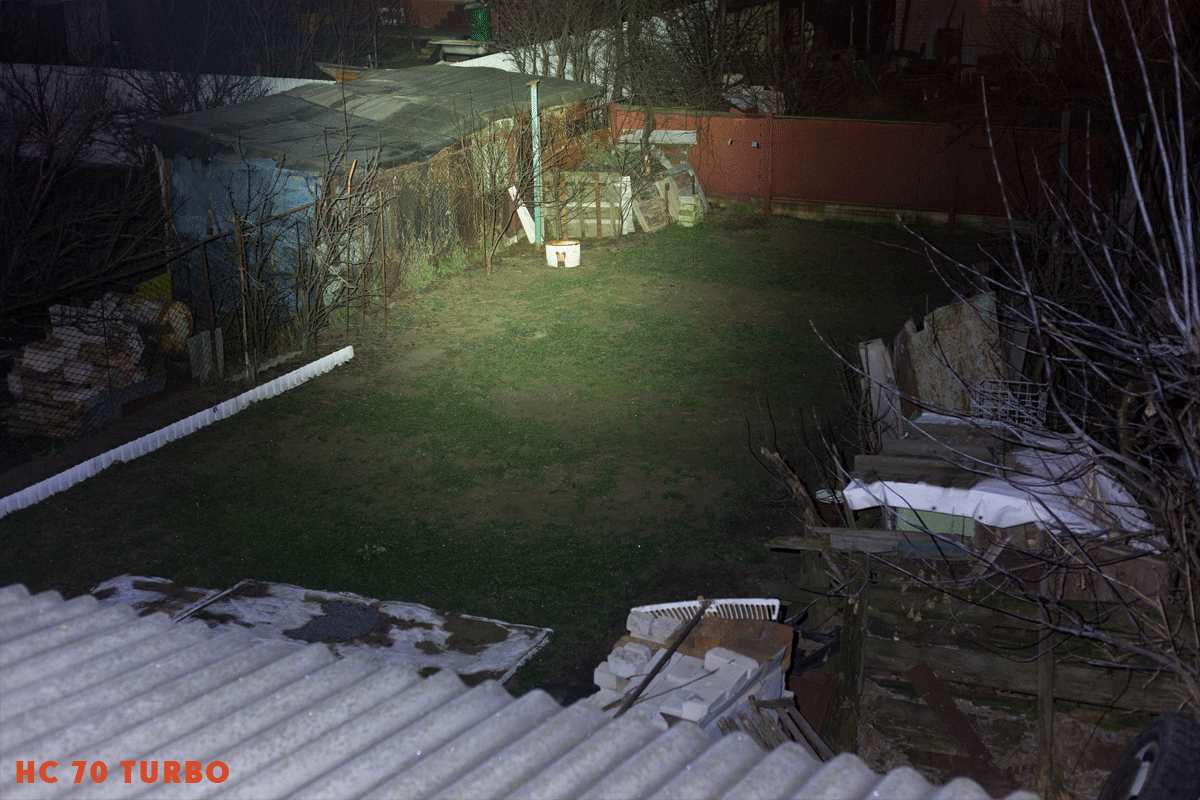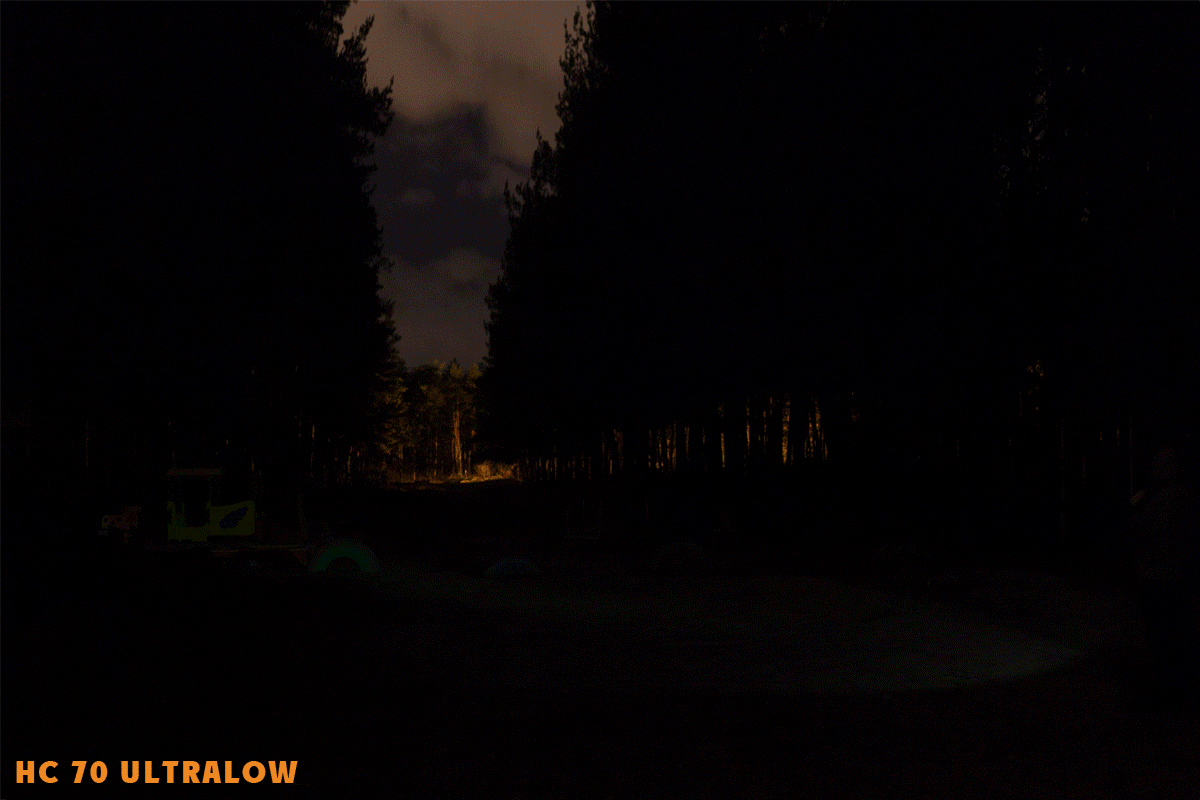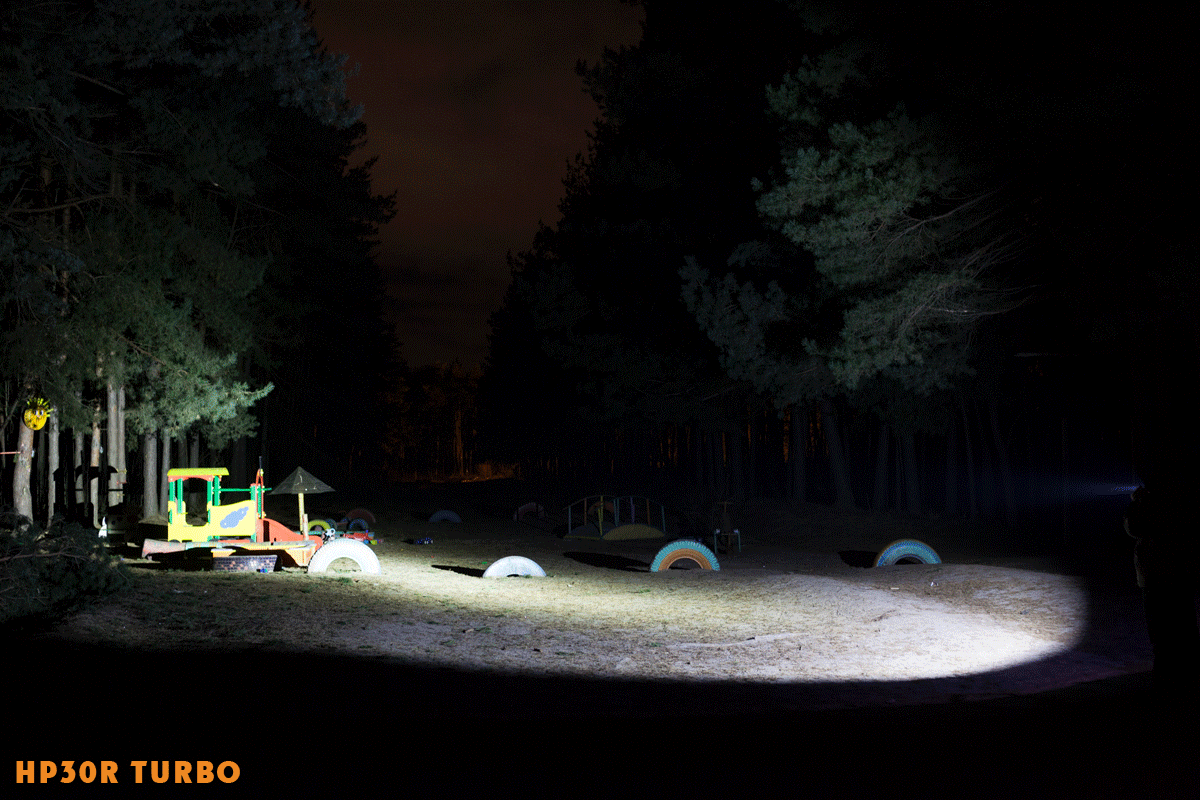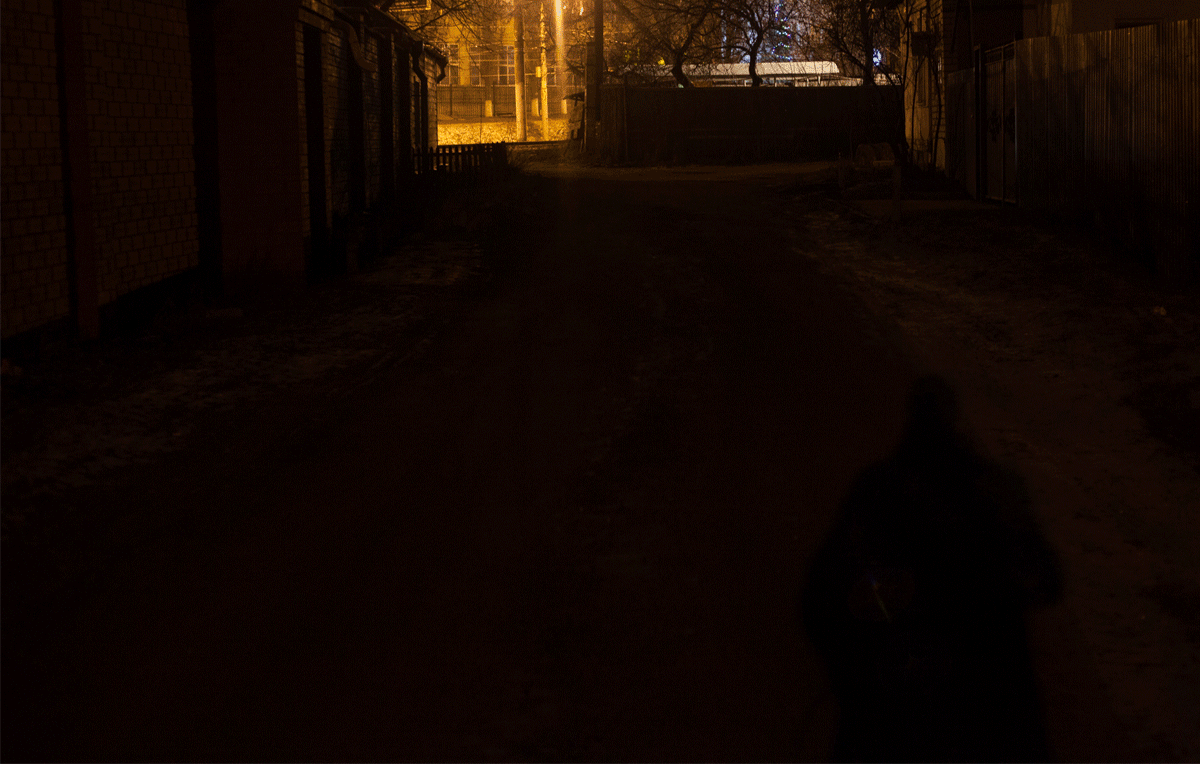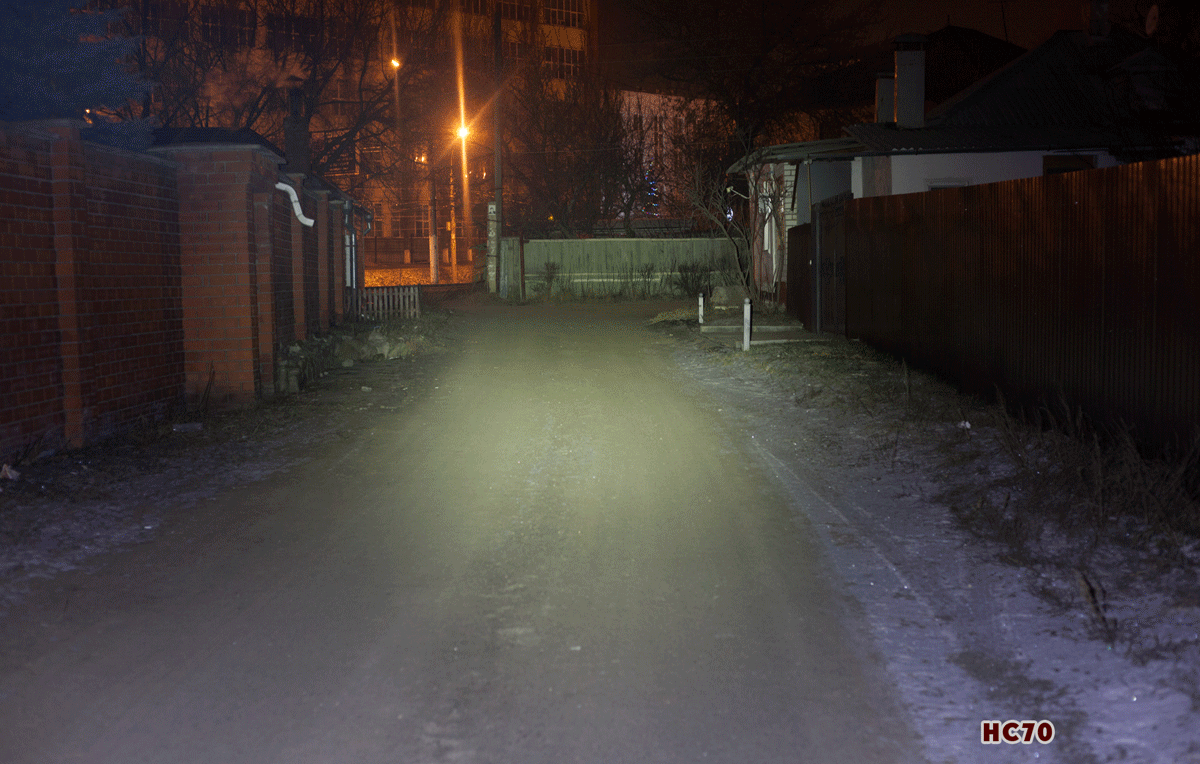 I was surpised to see that HC70 overperformed stated 181meters. In 99 of 100 situation we get opposite, don't we ?
Distance to wall is 175 meters, and there is still some reserve of throw.
Of course light here is not that bright, HP30R is brighter little bit (not to mention regular C8).
But for headlight – good result.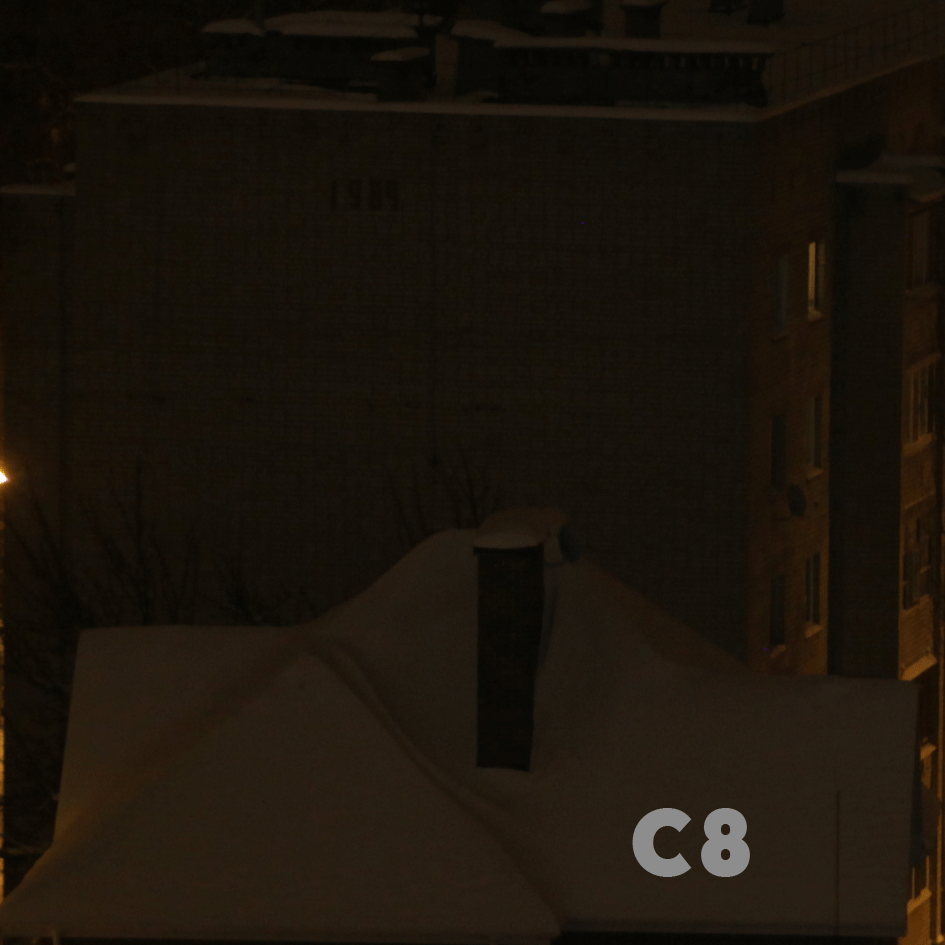 Stabilization and runtime are good.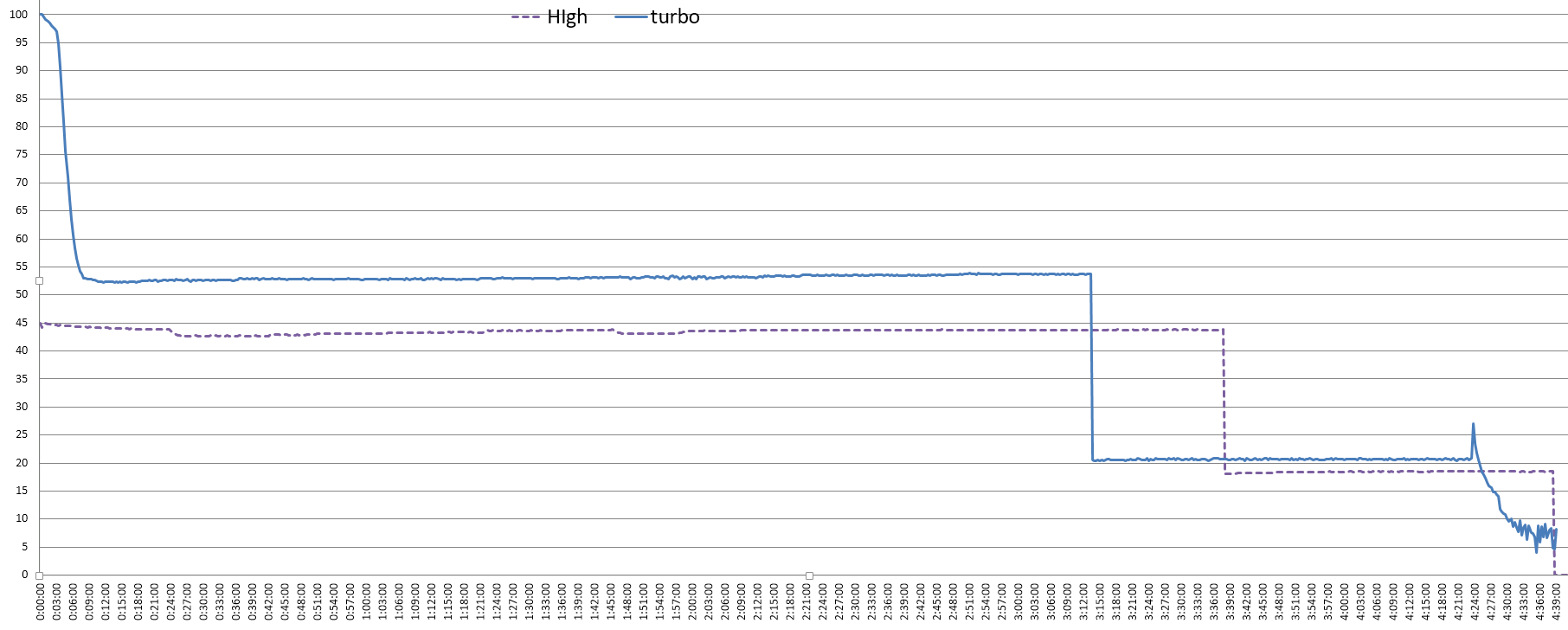 OVERALL.
I cannot judge HC70 in matter of speleotourism which it was designed for. I can only say that appearance and construction both are at the top level.
Light is not as comfortable for close-range work as would be one with OP\TIR (it is just "good" not "very good" for it), it`s more middle-range worker.
But still, it`s not classical "piercer" and in 1m distance you can just turn first pair of modes and work without any trobles. I only mean that OP\TIR would be better, but this one is also ok.
I highly evaluate "light from usb" feature, that enable you to use headlamp connected to powerbank while your batteries are being charged. If you carry
something like 50000mah Maxoak in your backpack, you`ll forget about darkness for week in this case -)
with 69$ price tag i consider it to be a really good choice.