review example was provided by manufacturer.
here is link to product page at Lumintop website at at official store at aliexpress. Nitetorch store with 20% off sidewide code HJK5KDNQ
—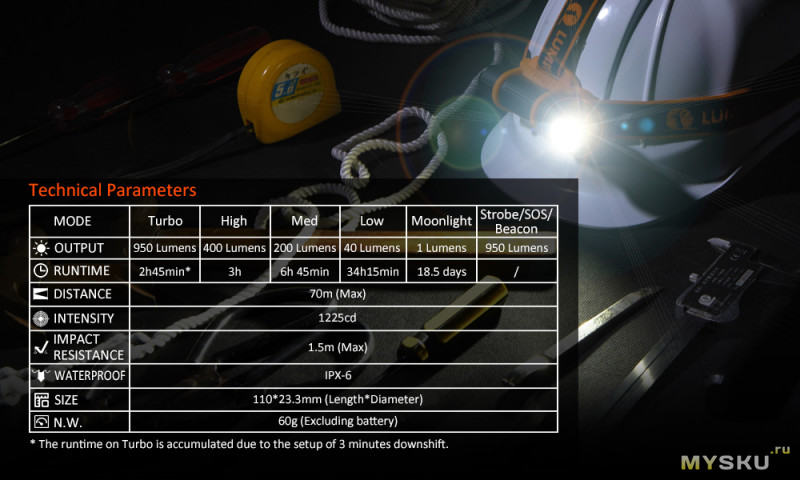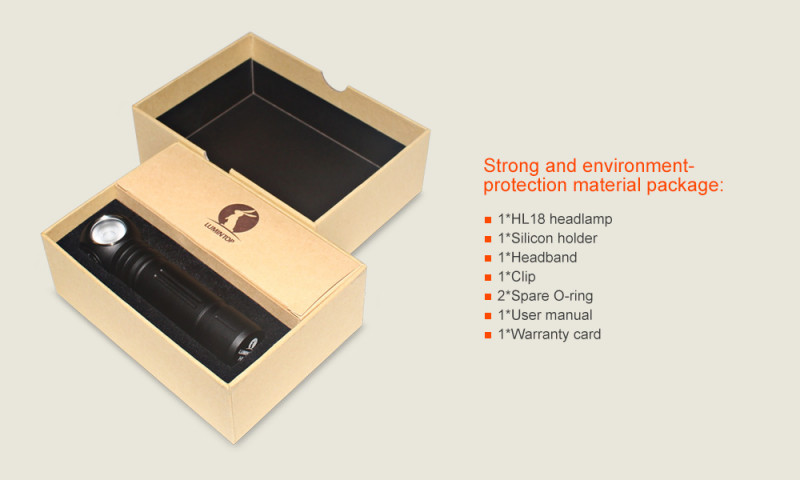 Main Features:
• Utilizes Cree XP – L HD LED with a lifespan of 50000 hours
• Max 950 lumens output and 18.5 days max runtime under Moonlight
• Made of aerospace-grade aluminum with premium Type III hard-anodized anti-abrasive finish, 1.5m impact resistance
• One switch controls 5 output levels plus Strobe, SOS and Beacon
• Micro USB rechargeable, with charging and low voltage indicator, easy to know charging situation
• Silicon headlamp holder makes a comfortable wearing
• Detachable reflective and anti-slip sweat-block headband
• Detachable stainless steel clips allows more wearing manners
• Magnetic flat tail cap with tail standing ability
• Multifunction serve as a headlamp, angle light or flashlight
• Floodlight design creates a smooth and comfortable flood beam
• Compatible with 18650 or two cold-resistant CR123A batteries ( not included )
• Waterproof, suitable for rainy weathers
PACKAGE AND APPEARANCE
As usually – solid thick beige cardboard box with logo on the front side and some specs at rear one. This box may be not full of design "this and that"s , but will easily survive journey to you postbox.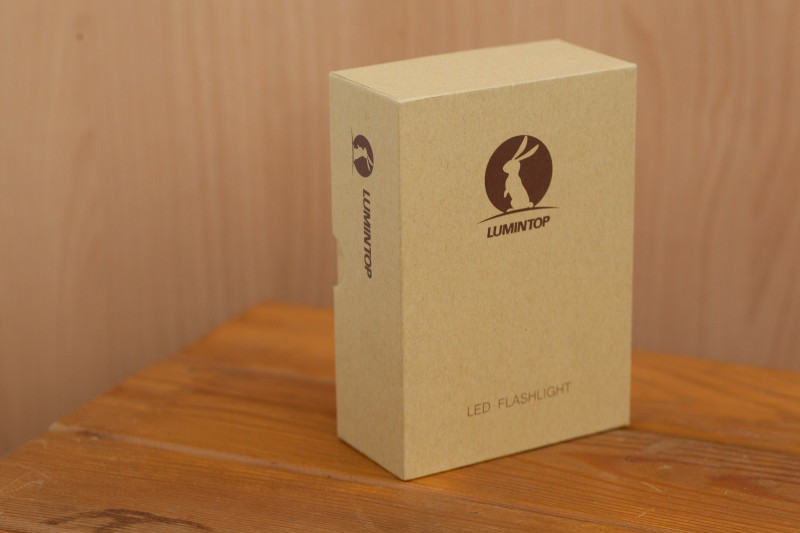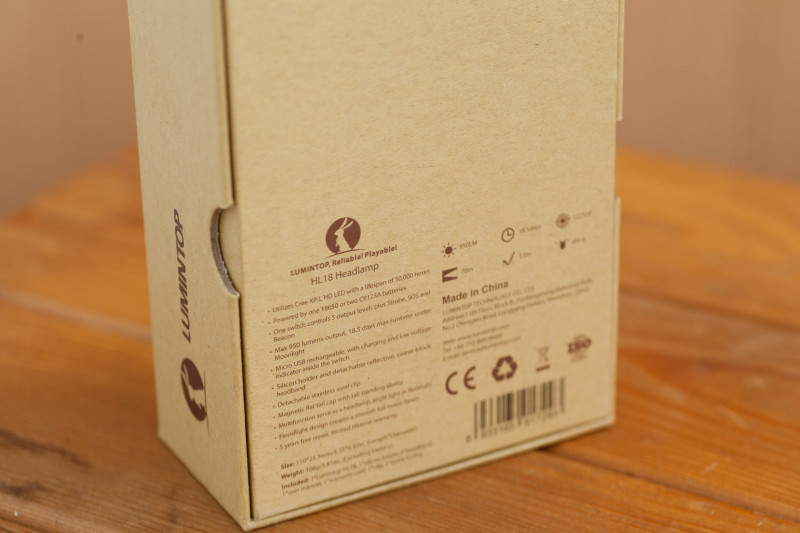 Inside, in black foam rubber, lays HL18. Next to it there is a another small section with the rest of includes: lanyard, clip, o-ring, manual and warranty card.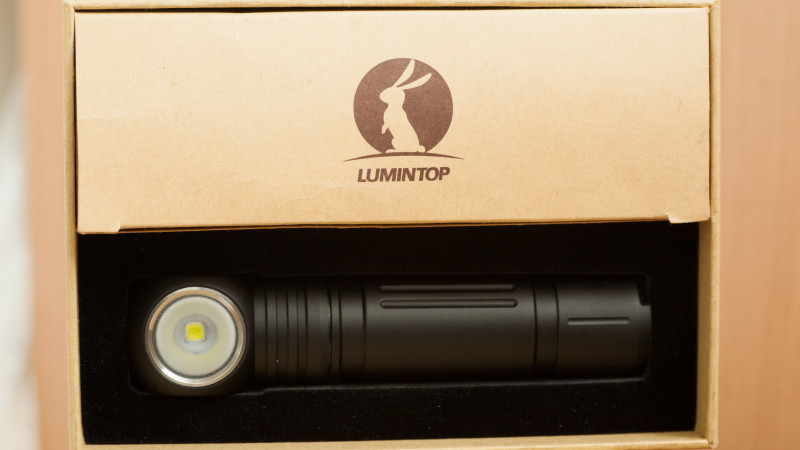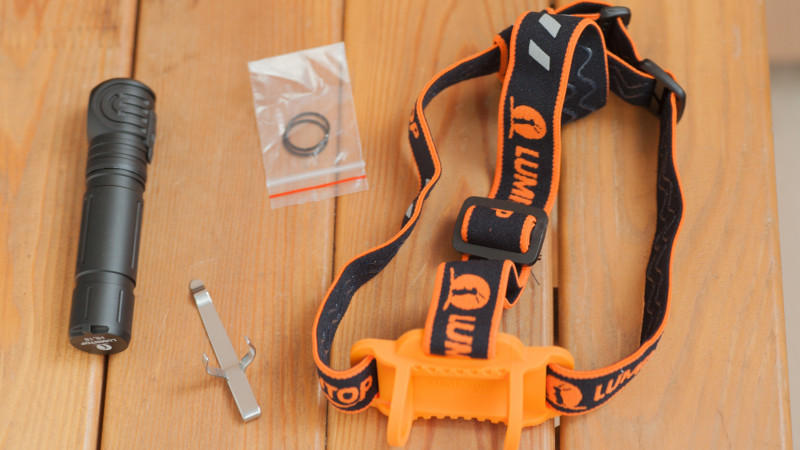 As a box, HL18 is definetely not a design this thing, example of "haute couture" in flashlight industry. Design is qiute simple,but still too good too be be regarded as part of budget segment, mid-level one.
Here and below i will make some comparison with H03, which is well known and most of you own. As you can see, HL18 is little bit longer. But that doesnt make HL18 long headlamp, that is only because H03 is sooo short.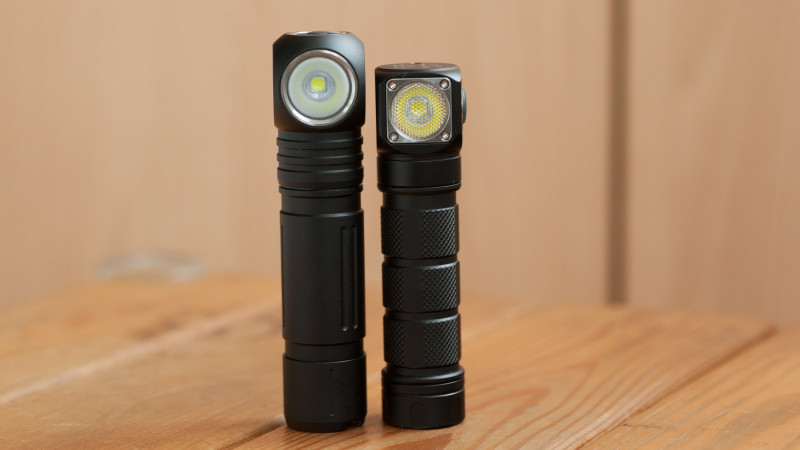 Some view from rear side.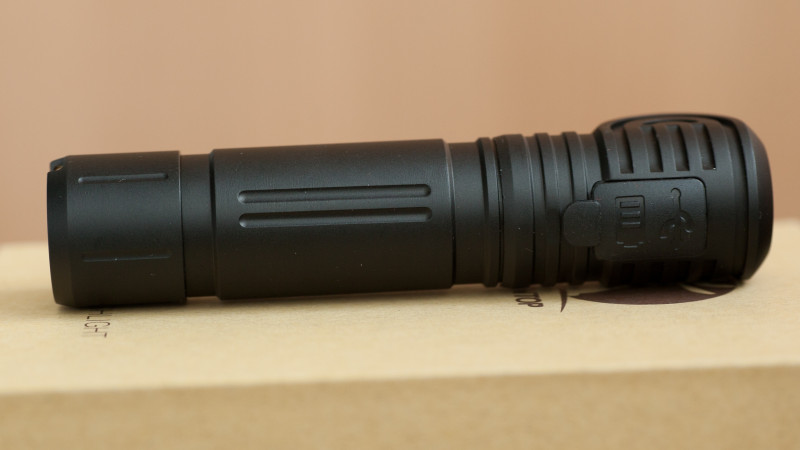 and more detailed view.
There is a small lanyard lace at the tail. There you can see model and brand names as well.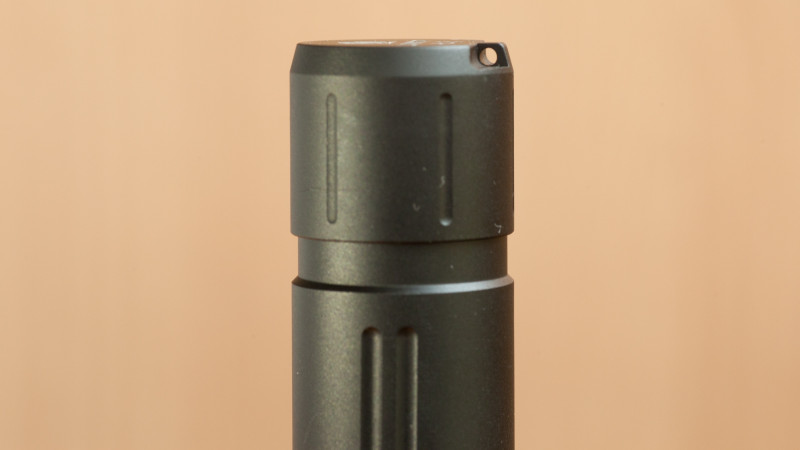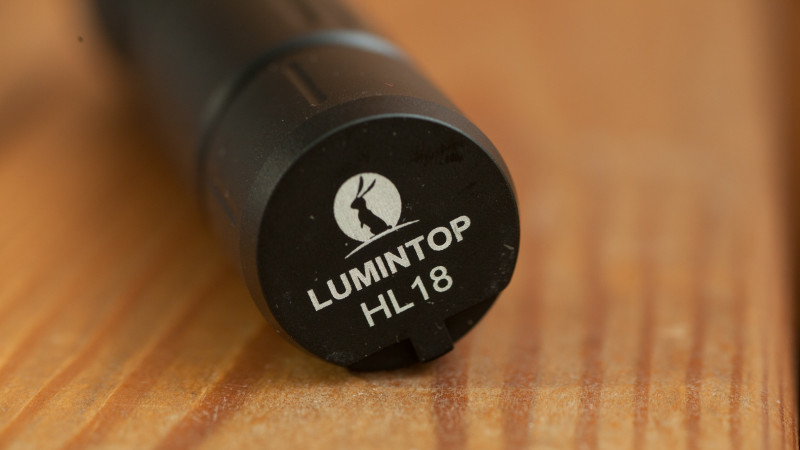 Tail spring is thick, with magnet hidden below. Last one is really strong, it holds equipped headlamp horizontally with no problem even when touches metal surface with just some part of tail.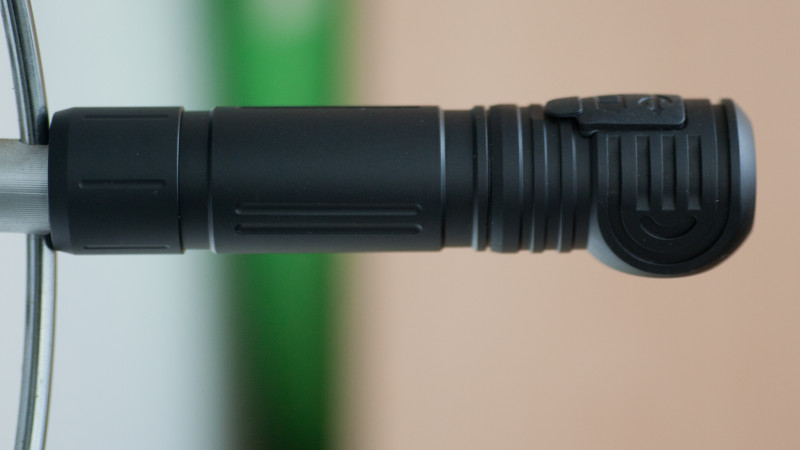 Some other constant and temporary citizens of my fridge, for example.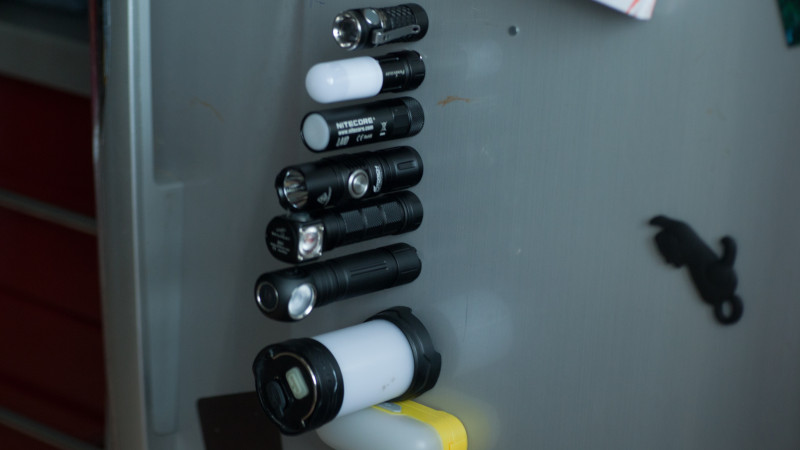 Rectangular threads are well lubricated.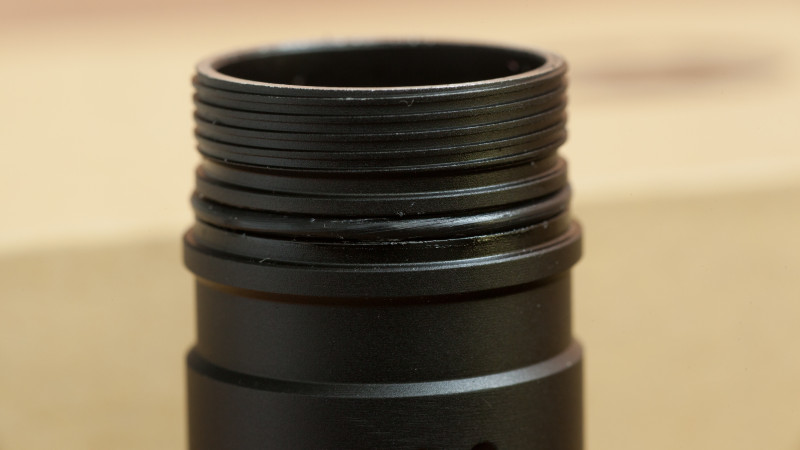 There is almost no knurling (in meaning that we used to). As it is headlamp, firm grip in hands is not an important as with regular flashlight. But, still, i don`n know why Lumintop didn`t pay attention to some decoration. Some "pineapple" knurling will add a lot to appearance and nothing to cost price.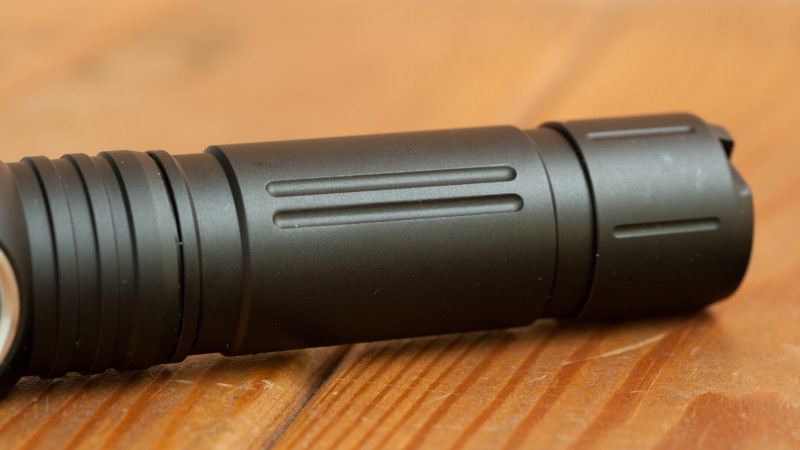 There is string at head, not as think as tail one.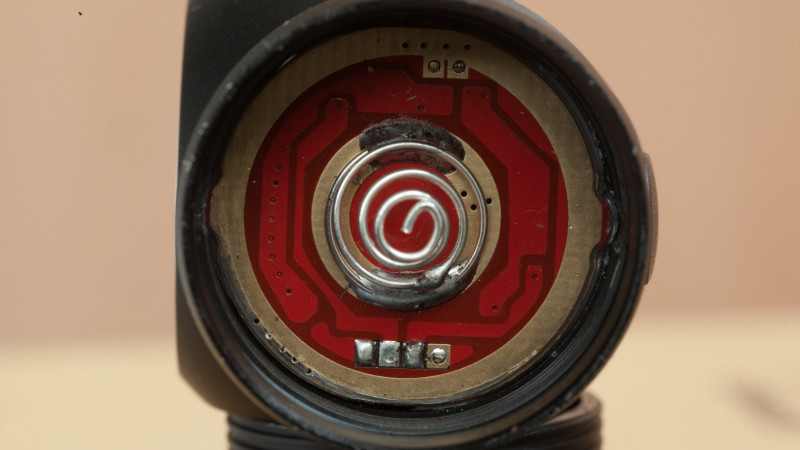 As Gallia and most of L-shaped lights, HL18 is divided into three pieces.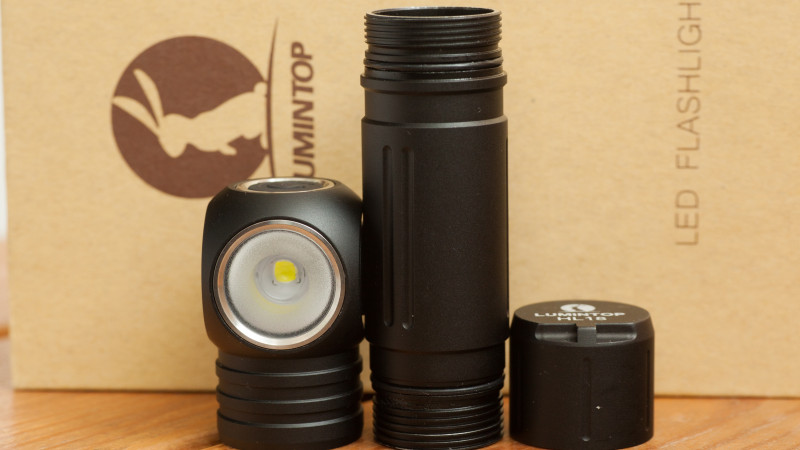 Here is time to write about head. Actually, bodies of HL18 and H03 are of the same length. HL18 has built-in micro-USB charge port with result of extra length of head, comparing to H03. But there is just 1cm difference, 10vs11 cm, not that much, isnt` it?
As there is no charge port in H03, there are decent deep cooling ribs at rear side of the head, while HL18 have them distribute all over the whole surface of head. They are not that deep, but i consider totall effective space of both headlamps are equal.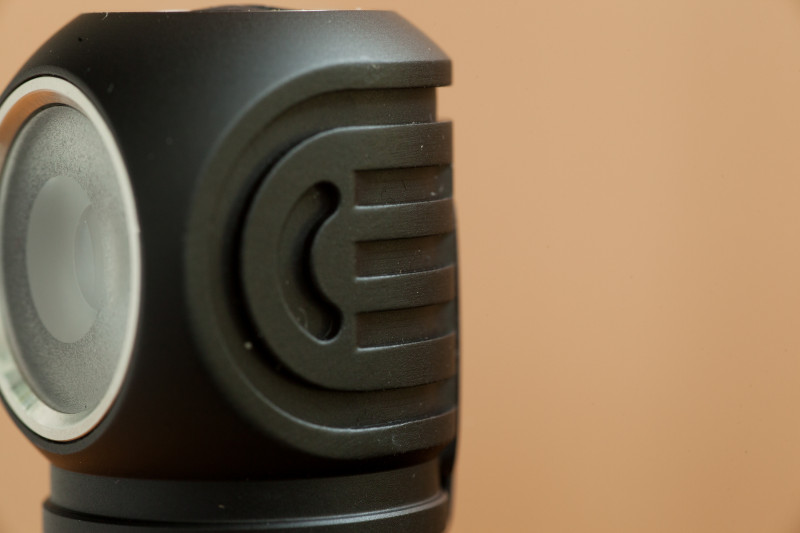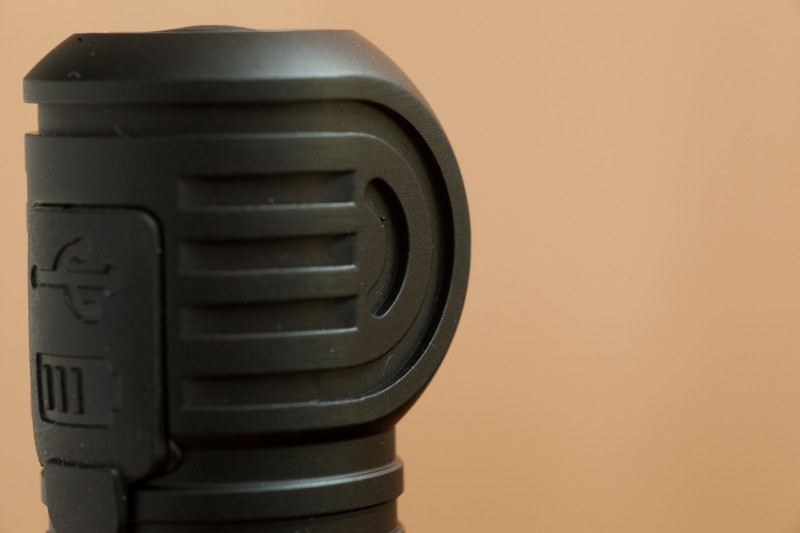 Micro-USB charge port plug fits really tight, I have to press it down with nail. Good plug.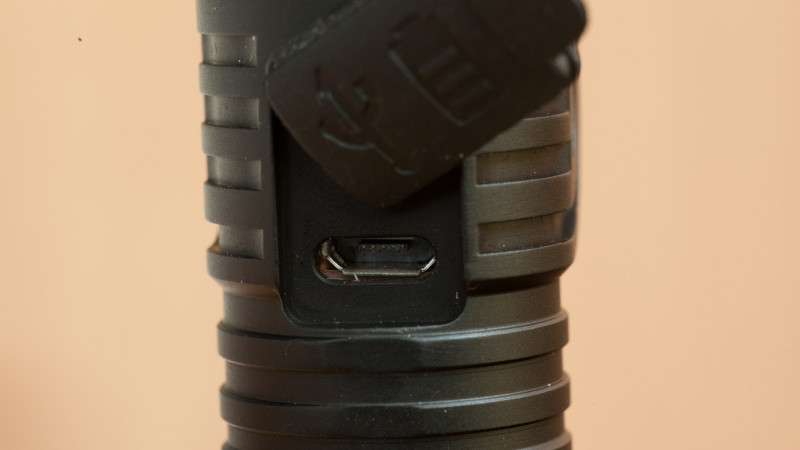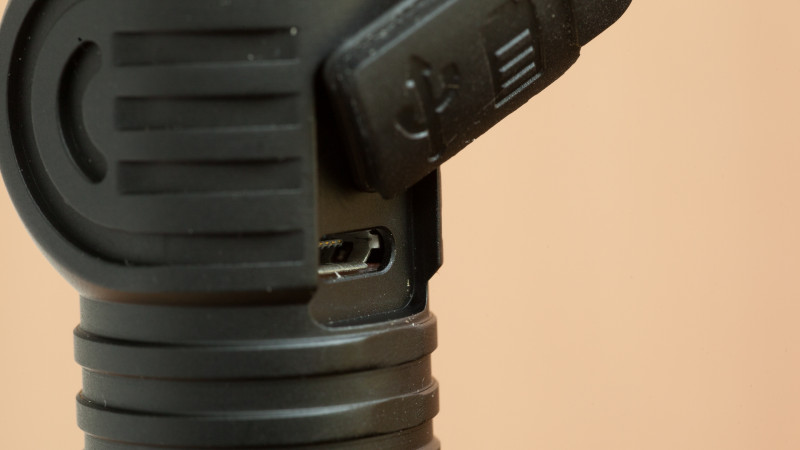 Button occupies whole upper side of head, so you can locate it easily.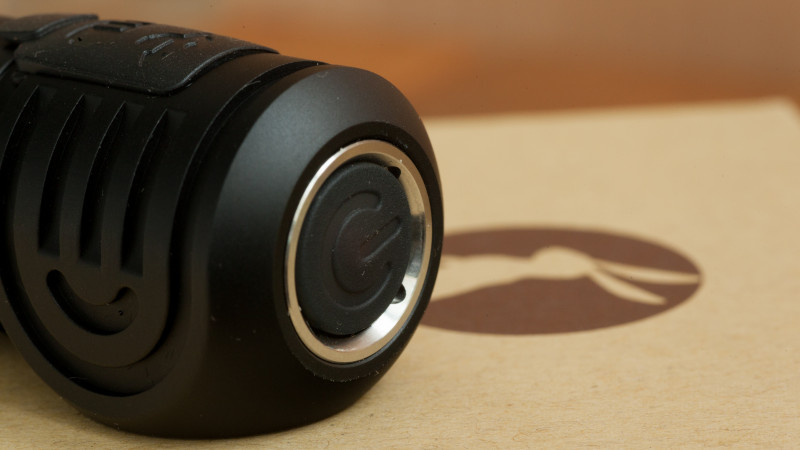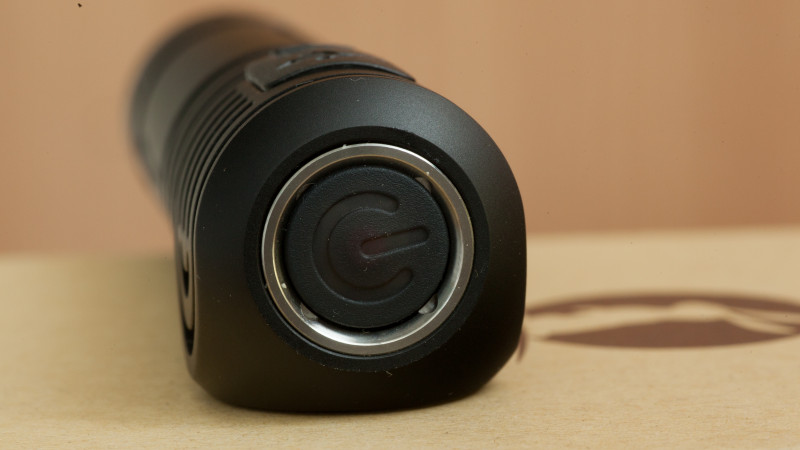 TIR-optic is unusual, with Cree XP – L HD on the bottom.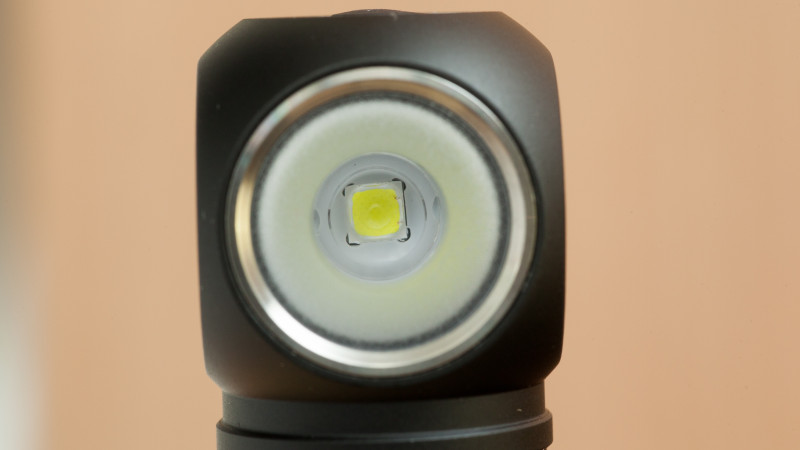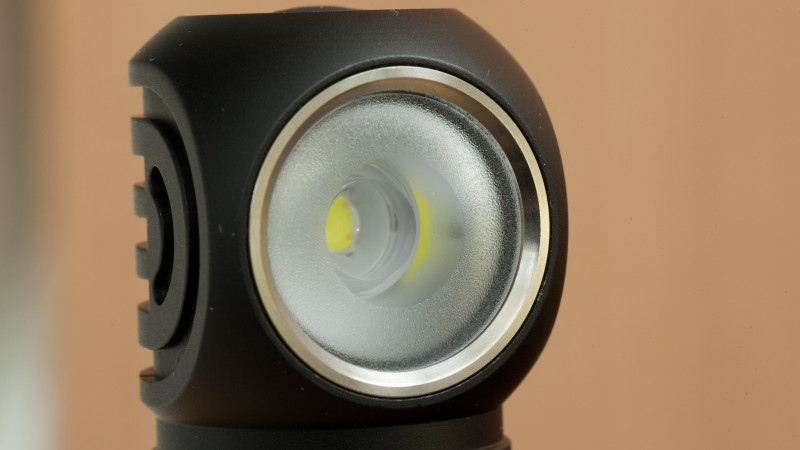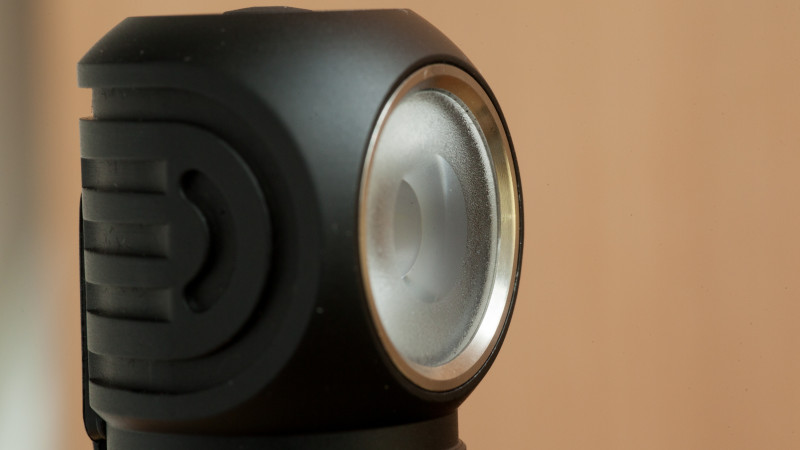 Headstrap is decent. Orange light and light-reflective straps are good for safety. And there are gel stripes, which`ll keep headstrap firmly.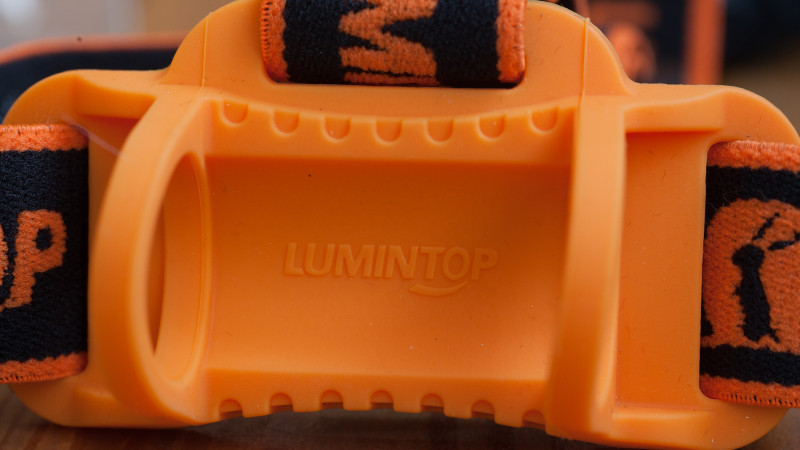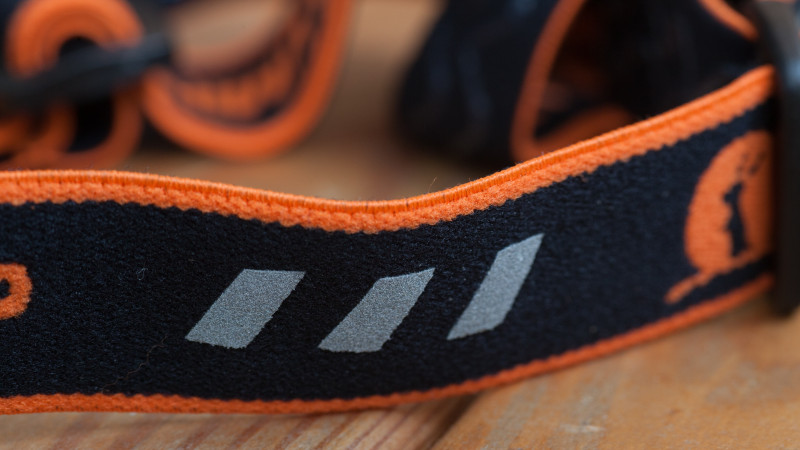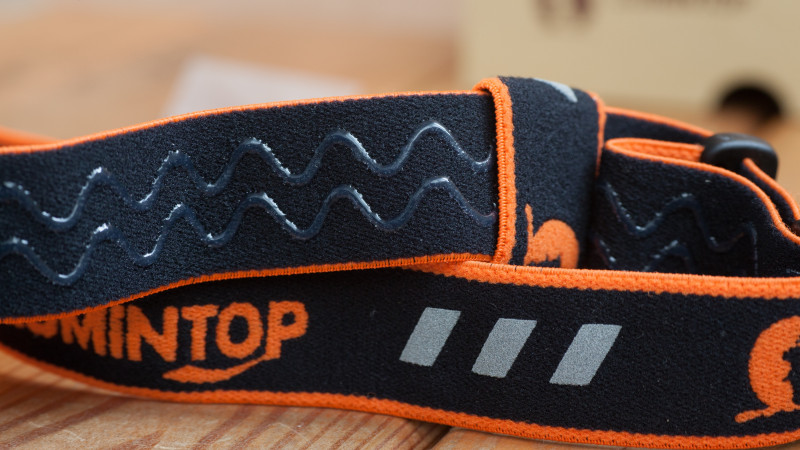 There is a part of headstrap that covers part of plastic that may press user`s nape.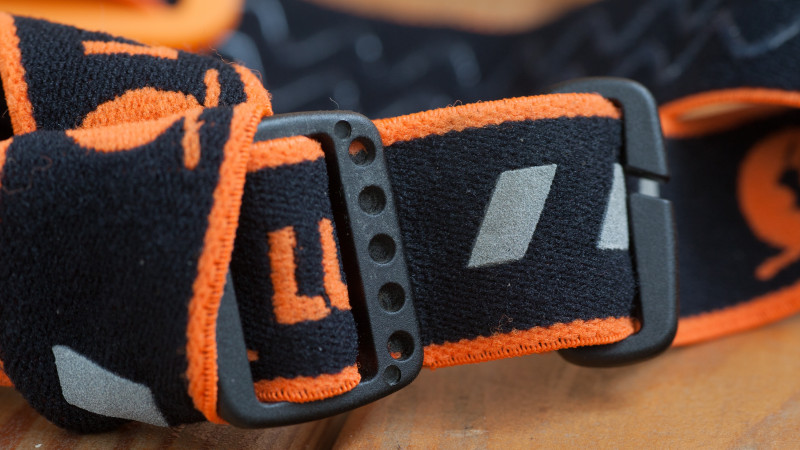 overall impression about appearance are positive, though i avow that design is simple.
UI
General mode: Press the switch for ON, another press to cycle through Low-Med-High-Turbo; long press the switch for 2 seconds for OFF. Next time you turn on the lamp, it will memory and enter the last used output level.
Moonlight: When the lamp is OFF, press and hold the switch for 1 second to enter Moonlight, another press to enter general mode.
Flash mode: Under Moonlight, double press the switch to enter Strobe, press to cycle through Strobe -SOS-Beacon.
Lock-out/Unlock: Under OFF, long press the switch for 5 seconds till flash to lock the lamp. Under lock-out statues, click or long press the switch can momentary light up on Low until release. To unlock the lamp, just loosen the tail cap and cut off the circuit.
Mostly, i like UI. It is simple and convinient. The only doubtful thing feature here is lockout. from one hand you have to unscrew tail, to cut circuit – once i have to do it, i can use the same to lock-in. good old Convoy style.
from the other hand, this non-keep-button-pressed-to-unllock method enables user to get LOW while button is being presses.
i suppose that some other combination of lock-in\lock-out actions would be better, like 2clicks+hold. Here you still can get LOW in lock mode + dont have to unscrew tail and screw it back, there are no chance to occasionaly activate flashlight.
Anyway, even this is a significant progress for Lumintop, whose UI always was "complicated" as crowbar.
PERFORMANCE
No PWM-shimmering in any mode, good, good.
I was surprised to witness VERY diffused light distribution. I thought H03 has one due to faceted TIR optic, but no, review hero generate full-lit wall of light with absolutely no hotspot (unless you lean it directly to wall). Of course, that is good for close-range works. BTW, below is a vivid illustration of tint difference, i`d estimate HL18 is about 5500K.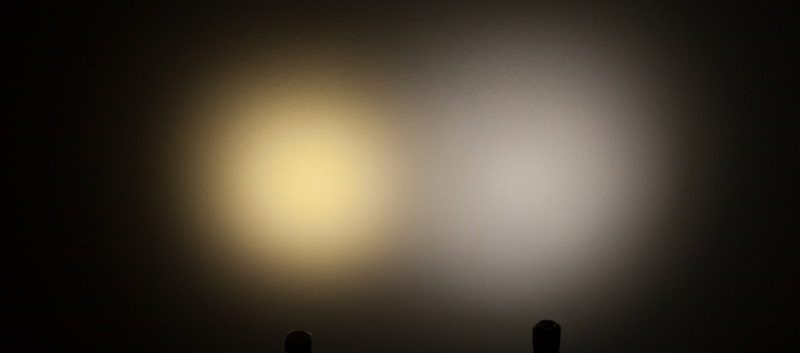 Charge amperage is strannge, not 0.5, nor 1A – 0.75A. I don`t remember seeing any intermediate amperage before. Though 0.75 is significantly better than 0.5, i still don`t understand why manufacturer didnt use 1A.
Btw, there are no discharge protection. Comments to my russian version of review were controversal, with PROs and CONS. Like " I don`t wanna my headlamp turn off suddenly, need light as long as it possible" \ "i don`t wanna ruin my battery". Well, i dont see any trouble in this: you get red light discharge indicator (slow blinks when reaches 3.2v, quick blinks when reaches 2.8v, and see that light itself is dim. And, guys, there are such a thing as protected battery.
Anyway, during runtime tests, i discharged battery down to 2.6 and expected that HL18 wouldnt see it. USB-tested`ve shown 0.0A..i was about to grab my Xtar MC1, which i use for deeply discharged batteries, when i got 1mah at display, after some minutes 2mah…and then it started to charge like it should be. So, charge circuit here seems to be ok in case of low voltage.
Light is well stabilized . I used pair of 18650GA.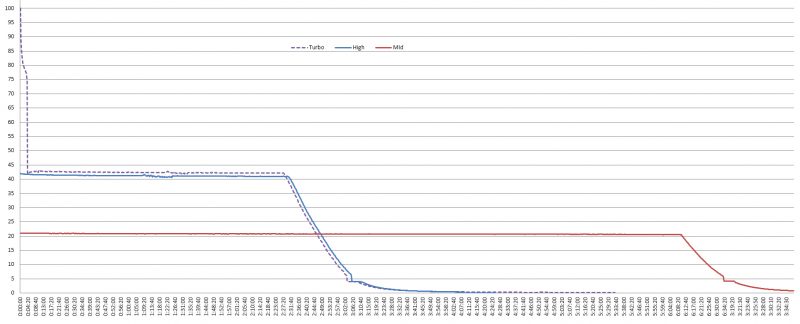 I tried 2-3 times, Turbo lasts 176 sec. so stepdown here is time-regulated,I prefer this to thermal one, because in open air last one results in "zigzag". 3 minutes is enough for all the needs, then in situation of urgent need, you can still sacrifice LED for it, and turn turbo on and on. (though i think 2-3 times will not cause any harm to LED).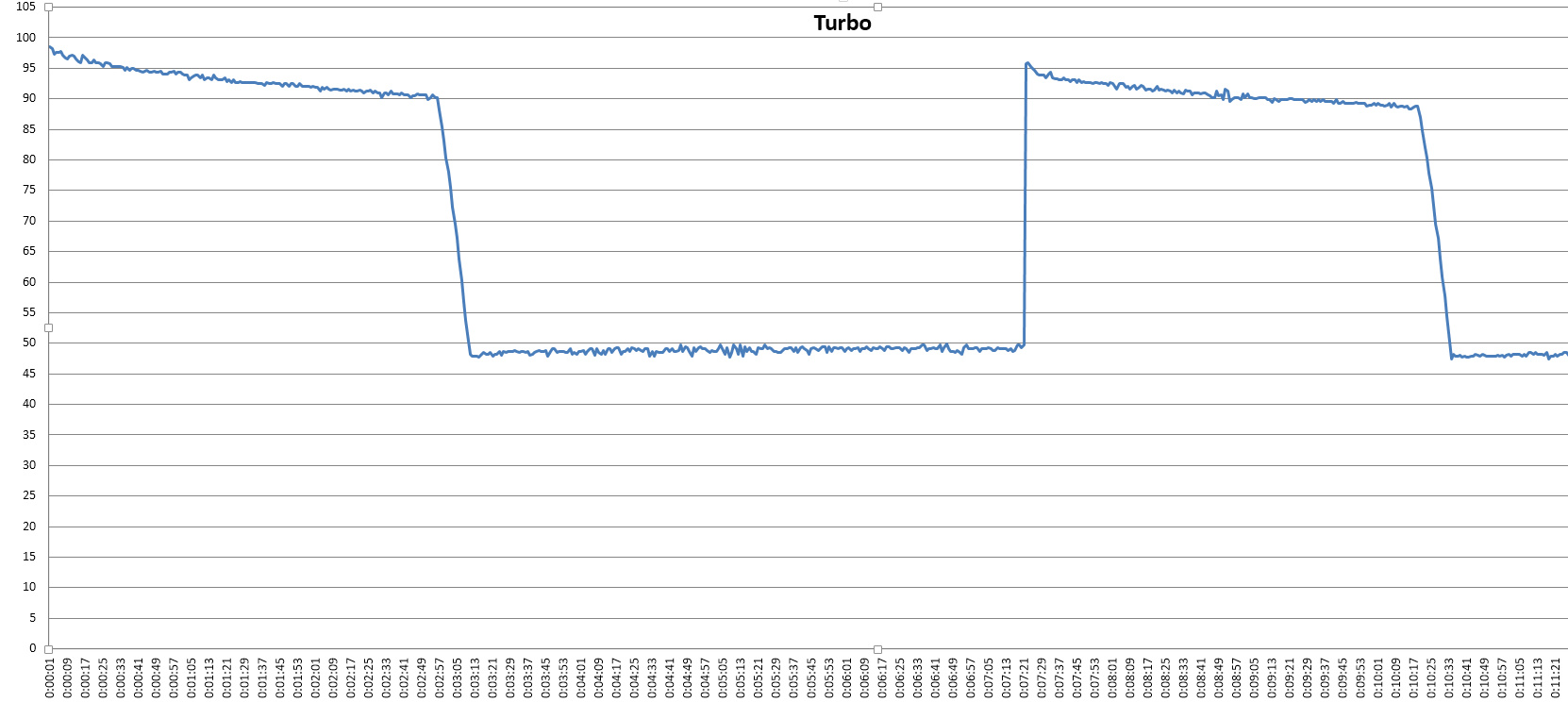 950 lums that Lumintop states are (i strongly believe) for 2xCR123A. With 18650GA luxmeter count turbo 2 times higher than High mode = 400*2=800 lums. Though even this is enough for headlamp, i still don`t like silencing this in specs.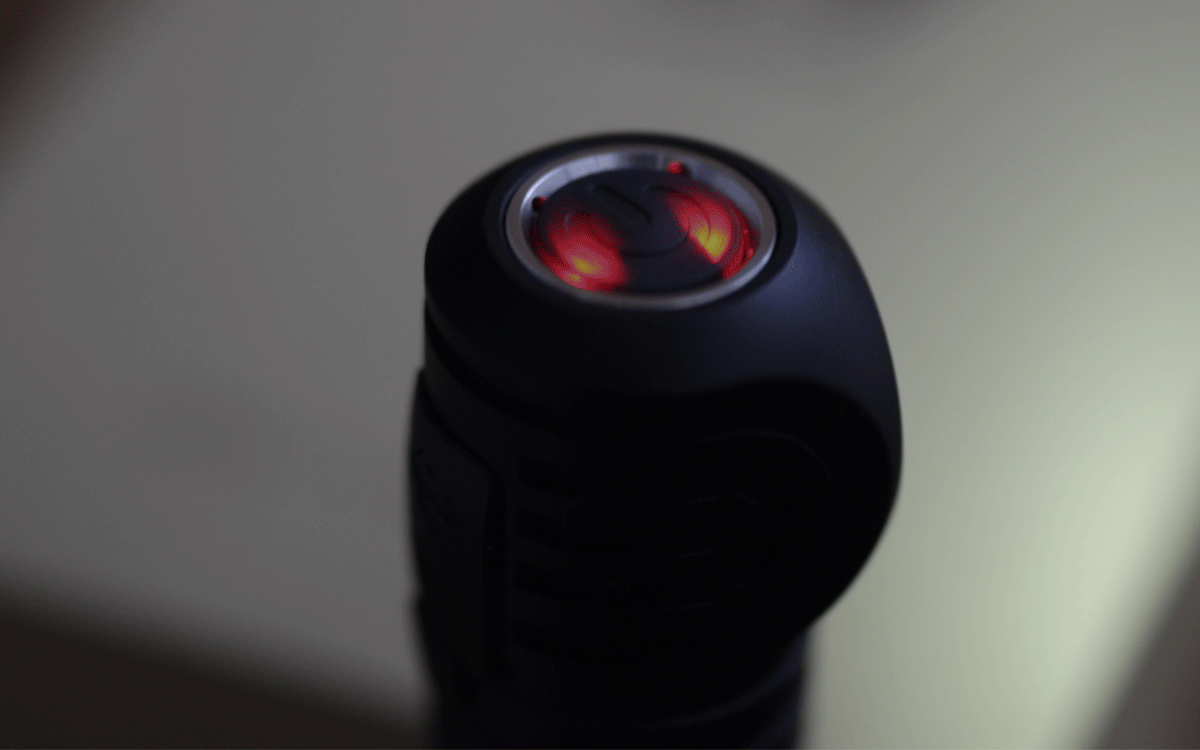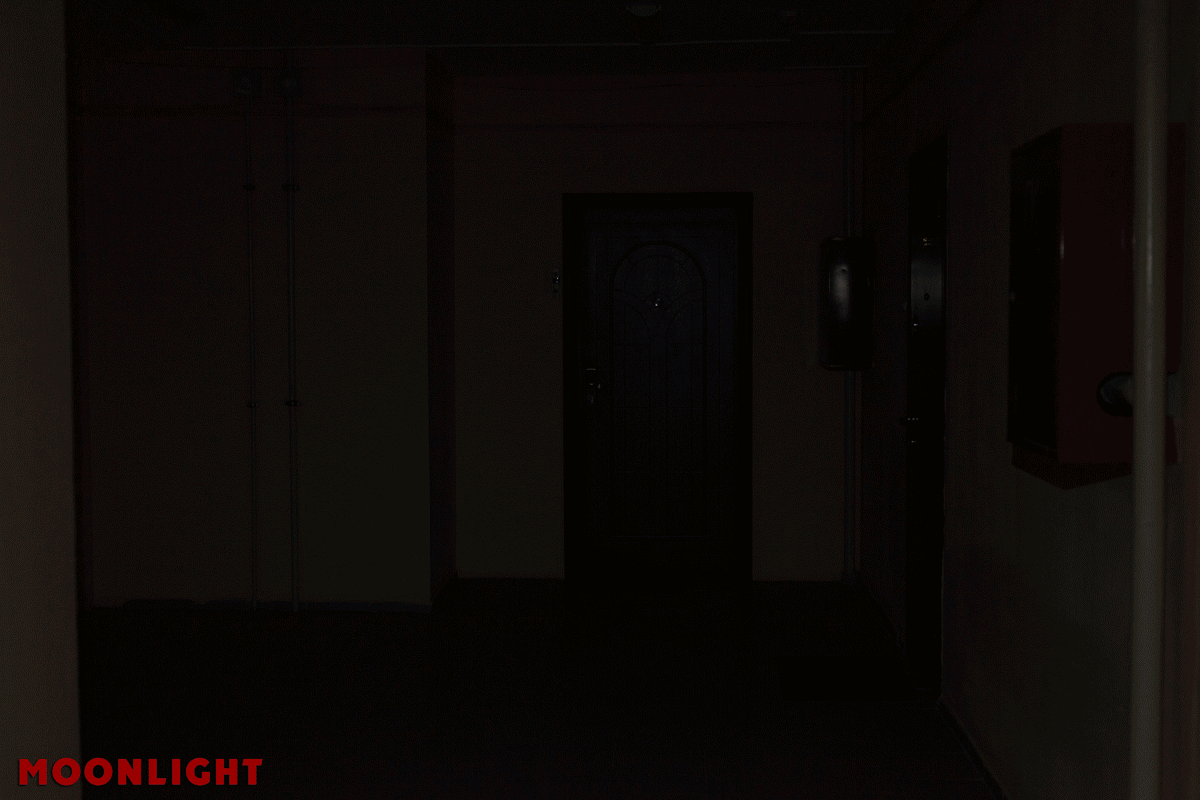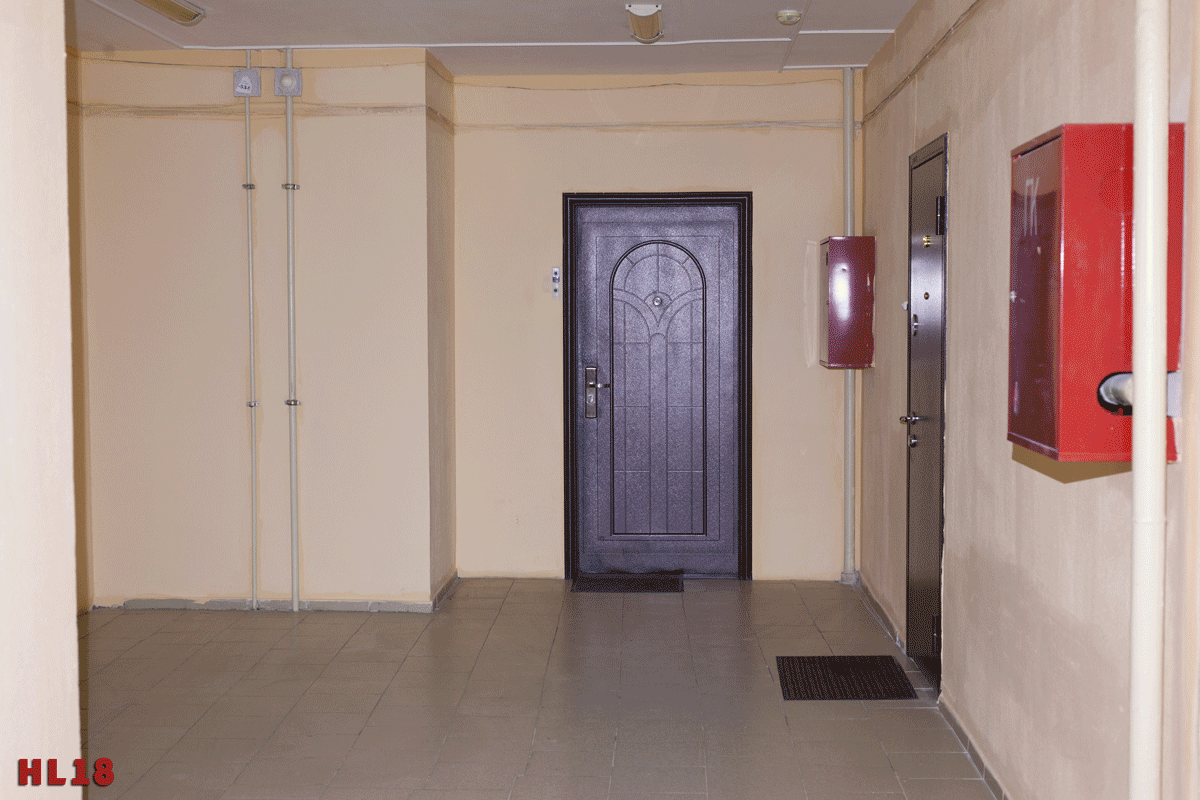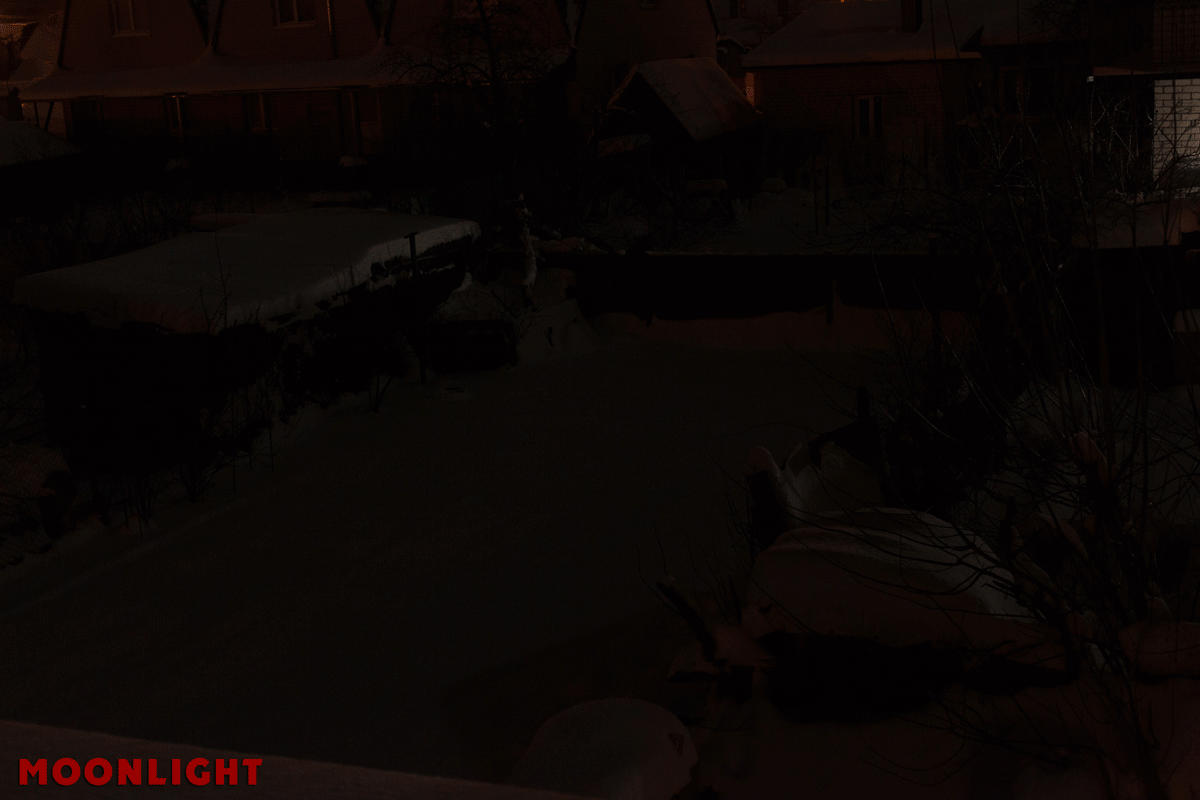 OVERALL
Nevertheless simplicity of design, HL18 has good functional and excellent headstrap. Light is especially good for close-range work.
For the price of extra 1cm length, users get standart micro-usb charge port. Though there are a pair of doubtful things (and what model lacks is?), i like HL18. Especially like for the fact that it was A WAY better than i expected. Seriously. I think that if Lumintop keep on the same level with it`s full-scale flashlight (small ones are damn good already, i adore Ant and HL AAA) that will be a breakthrough for them.
So, if you need L-shaped headlamp with biult-in standart micro-USB charge port and close range light, HL18 can be taken into account. And i hope my review will help with this.