The light was supplied by Helius, no compensation other than the light itself was received for this review
The light was supplied by Helius for a review, I am honest and will judge the light as it is with its pros and cons
.
Manufactory specifications:
- Led: CREE XHP35 HI LED
- Battery: 2*18650 batteries
- High-performance metal smooth reflector, double-sided AR coated lens
- Output & Runtime:
Mode High Middle Low Strobe
Output 1500LM/800LM 500LM 35LM 1500LM/9Hz
Runtime 1.5Mins/1.5Hrs 4.5Hrs 30Hrs /
Working voltage range: 6 – 8.4V
- Material: aircraft-grade aluminum with premium type Ⅲ hard anodized anti-abrasive finish
- Weight: 228.5g (excluding the battery)
- Dimension: 158mm (L)*45mm (D)
- Beam Distance: 412m
- Peak Beam Intensity: 42500cd
- Waterproof to IPX-7 standard (underwater up to 1m)
- Impact Resistance: 1m
- Charging time:3.5h (Tested by Helius 2600 mAh 18650 batteries)
Charge Base parameters:
- Input:12V/2A
- Output: 8.5V/1A
- Work Temperature: 0-45 ℃
- Transmission distance: ≦10mm
- Color: Black
- Material: Aluminum alloy
- Plug the adapter into the DC port, the power indicator turns green
- Recharging Indicator lamp
When being charge, the light is blue. When charging is complete, the light turns off.
- Package includes
• 1 *Omega VI Flashlight
• 2 *18650 rechargeable batteries
• 2 *Waterproof O-rings
• 1 *Wireless Charge base
• 1 *Adapter
• 1 *User guide
The parcel arrived after 12 days shipping with DHL in Germany
.
Package and content:
The lights box came with DHL, but was relabeled in Sun Logistic centre as many Chinese packages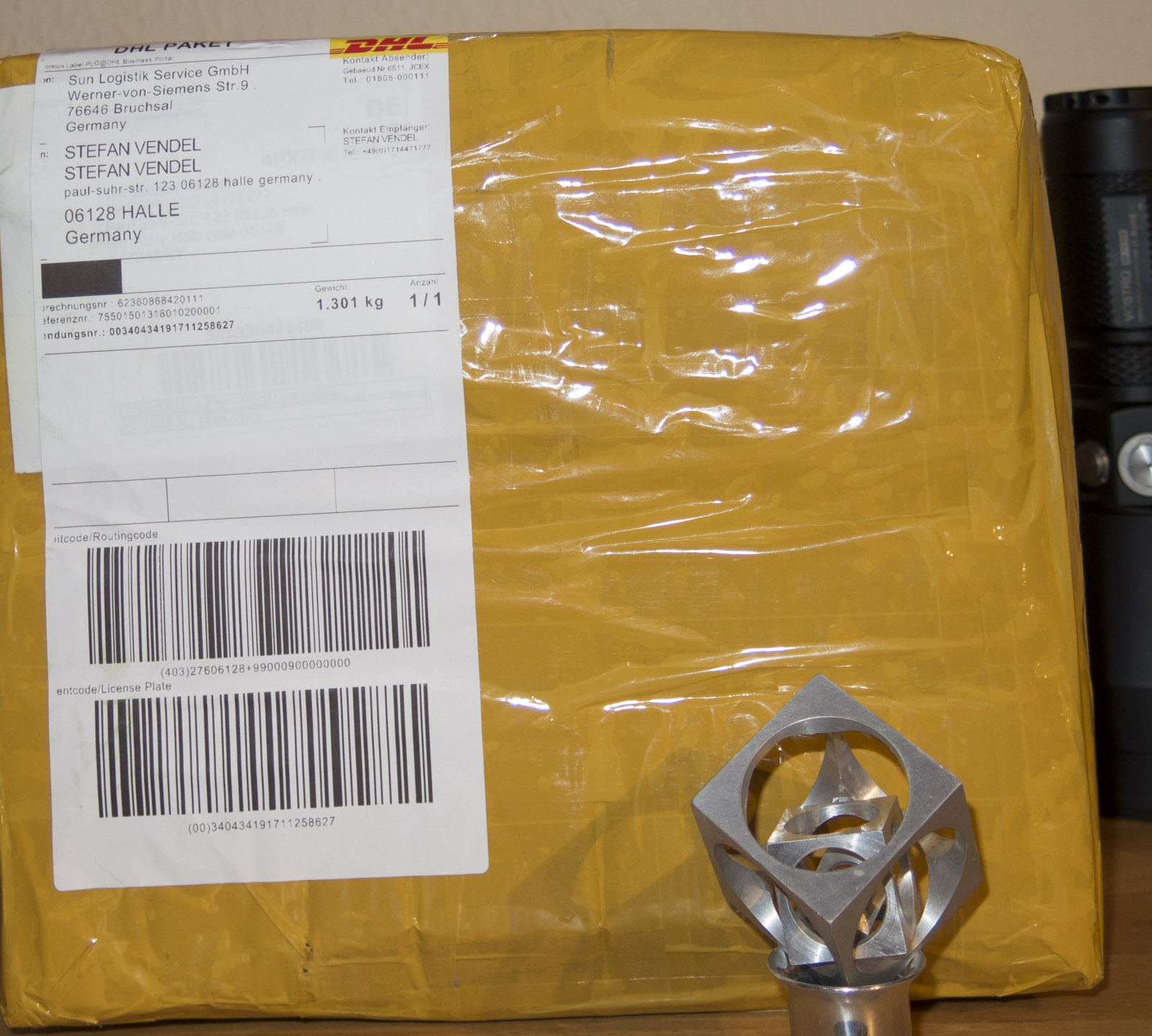 It comes in a box with bubble foil around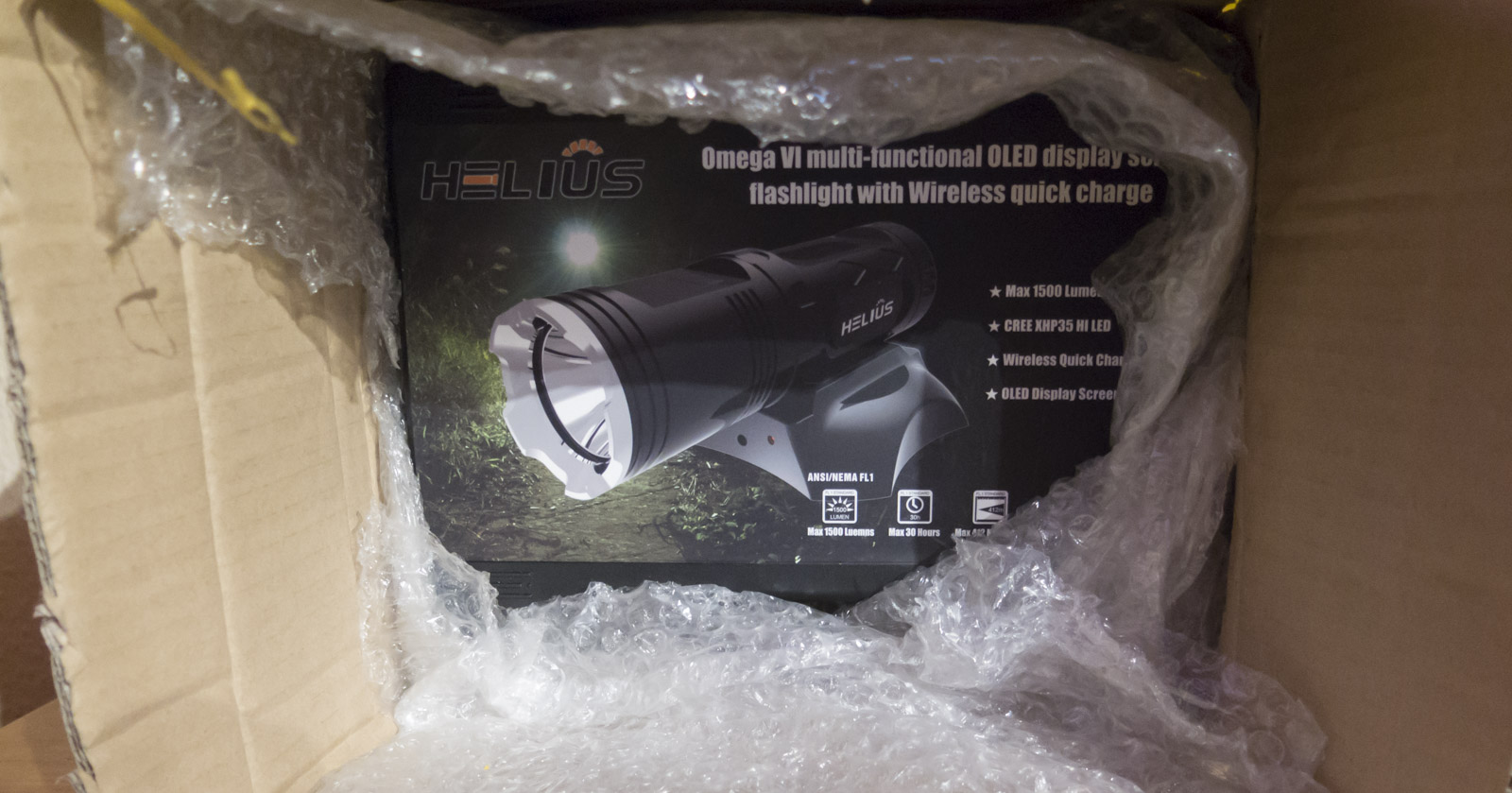 Main light specs printed on the box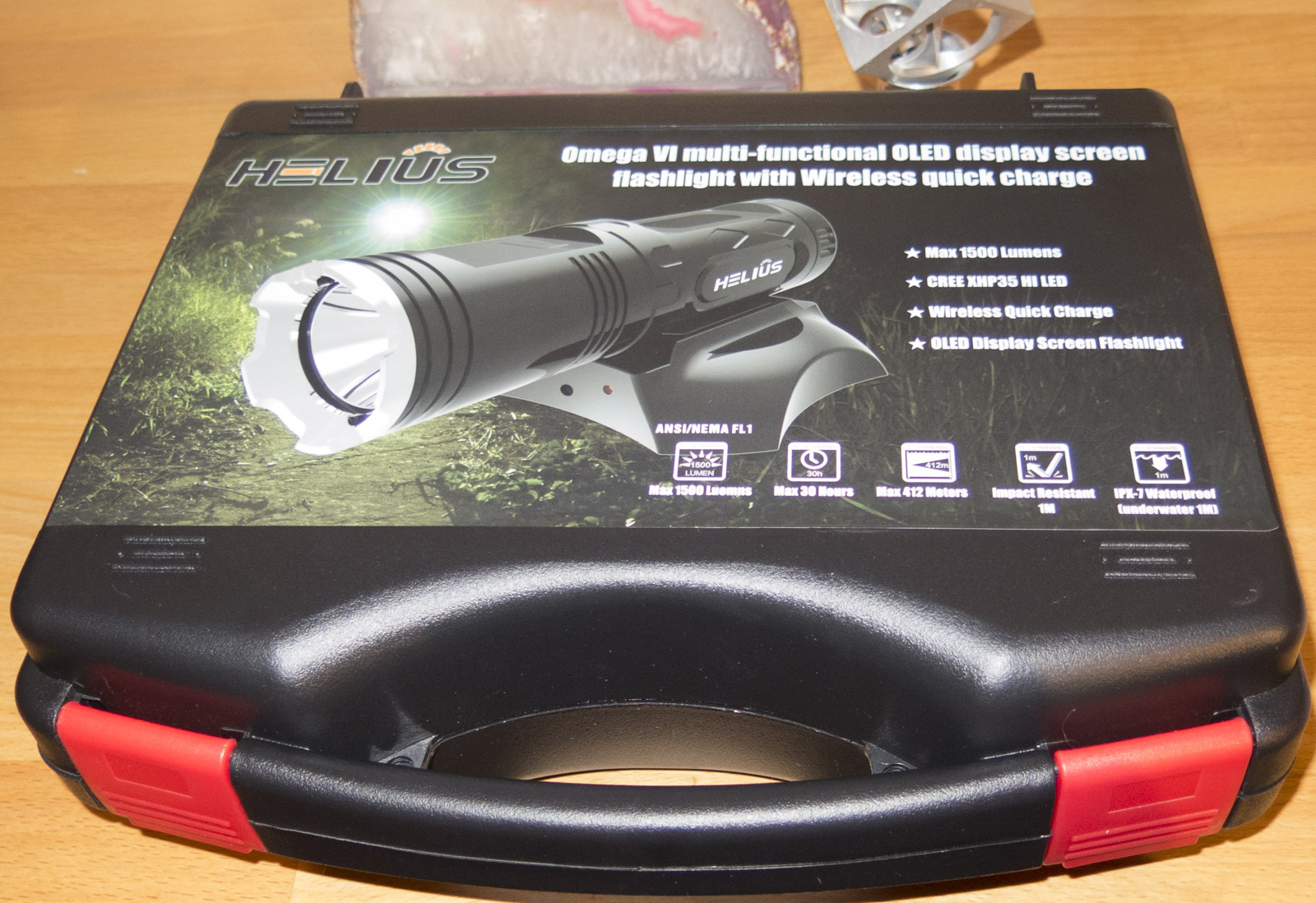 Box quality is good it is sturdy I got similar boxes for other equipment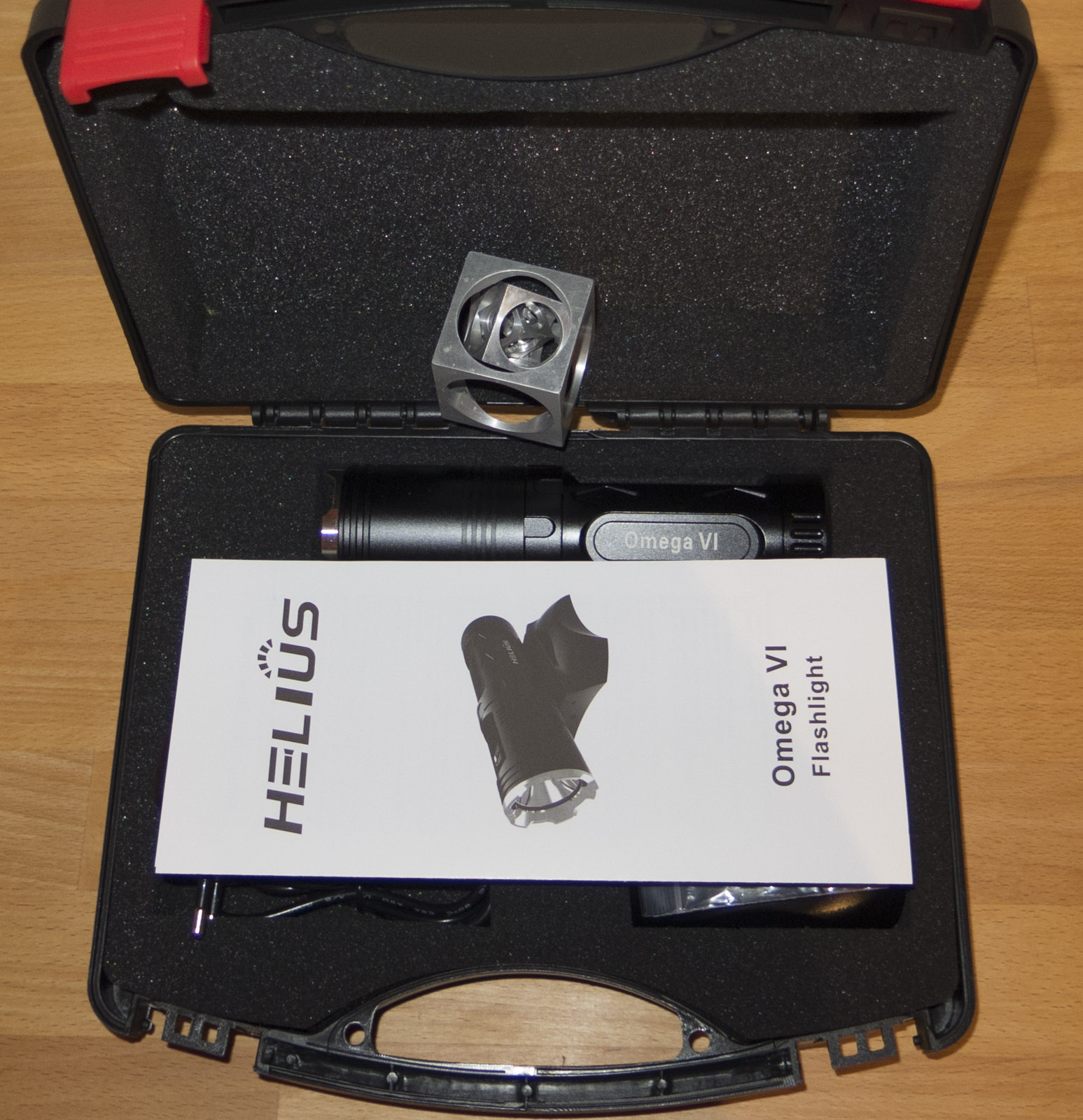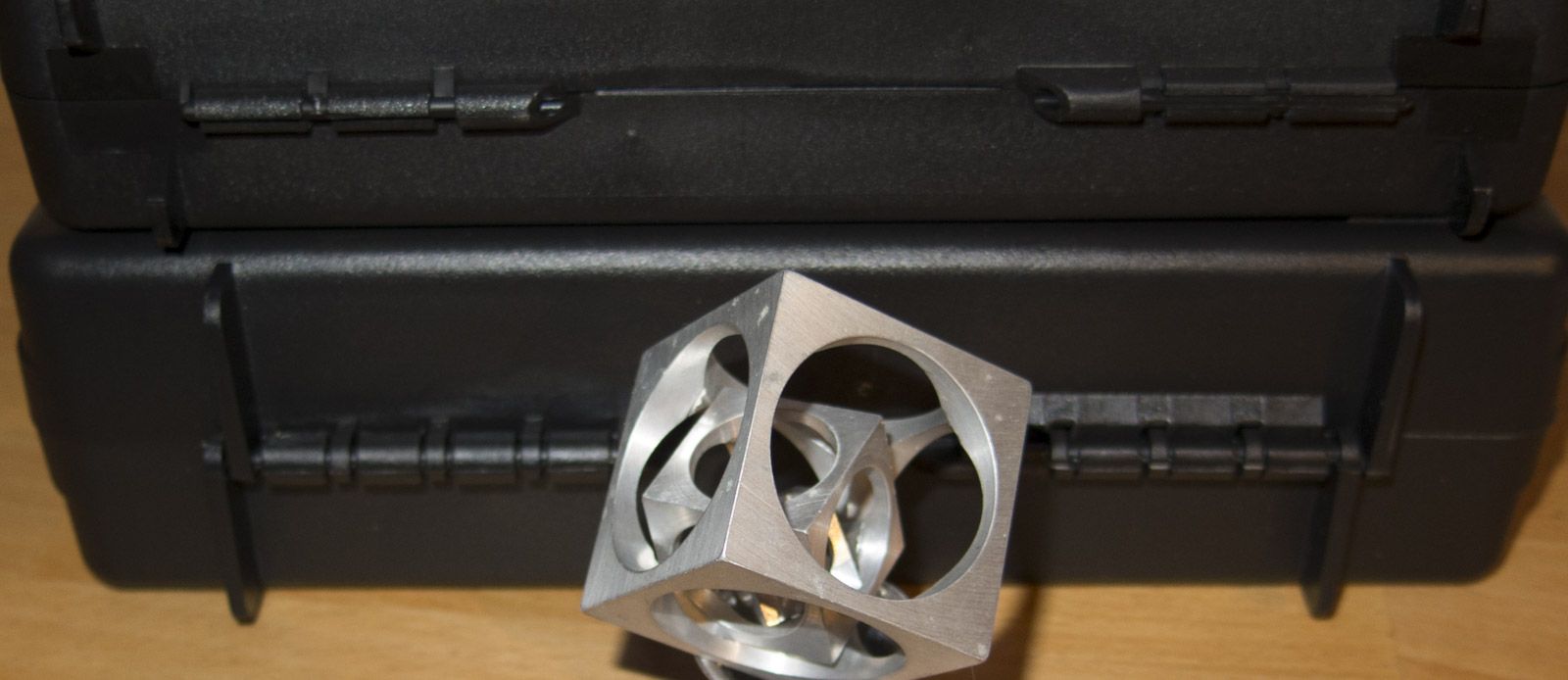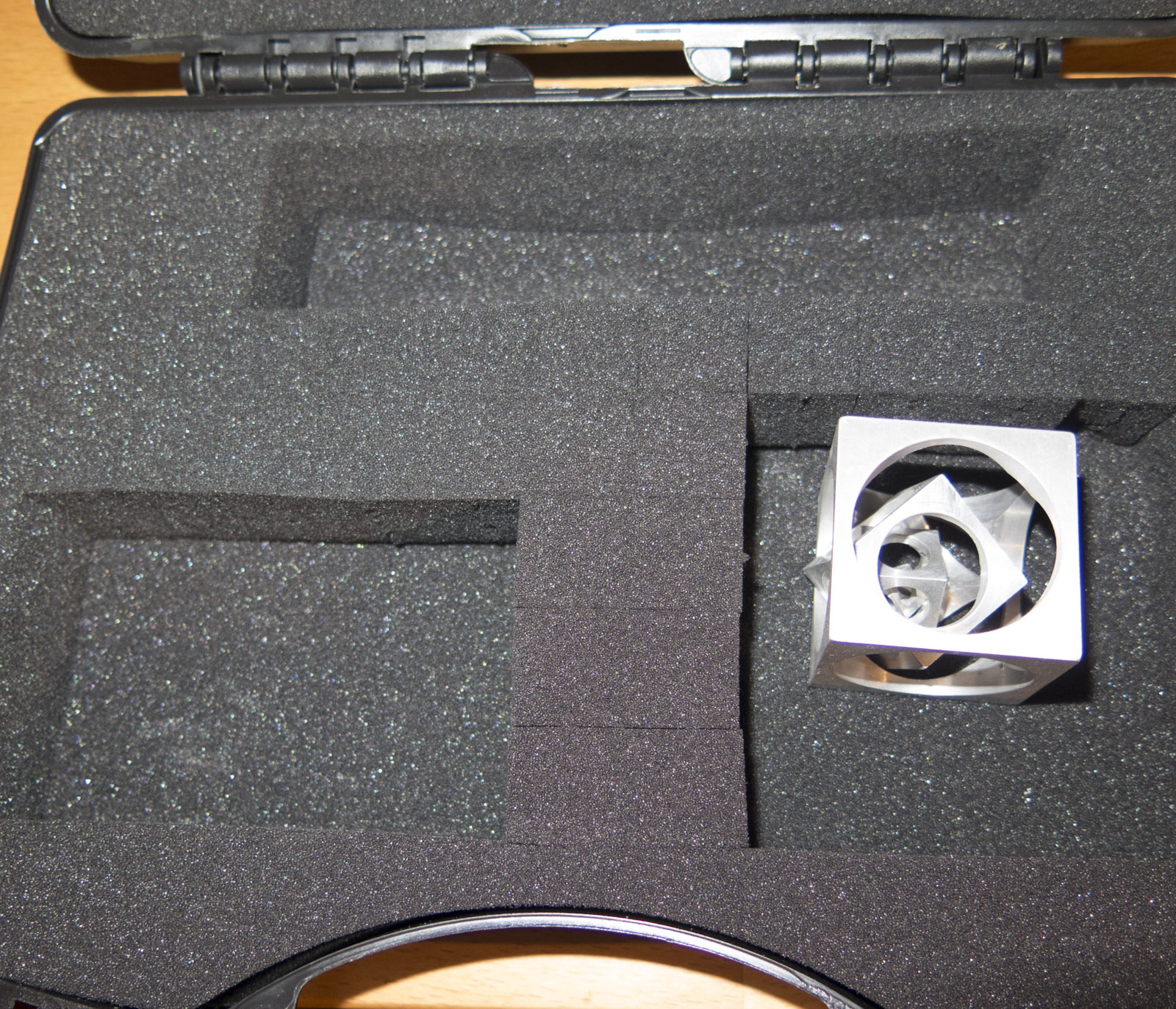 First impression of the light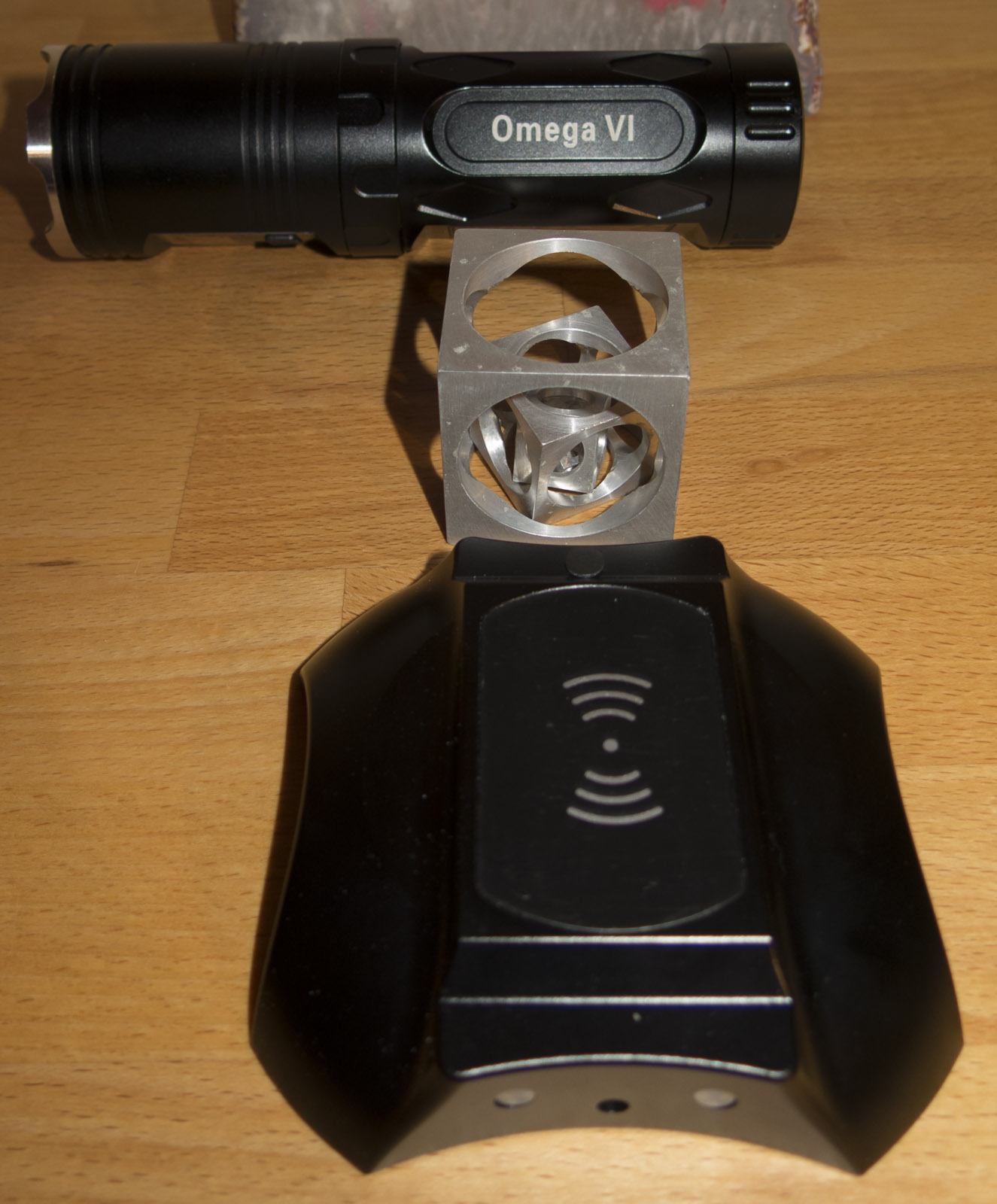 Accessories:
2 protected batteries,
wireless charge base,
12V power adapter,
spare o-rings,
manual
and storage box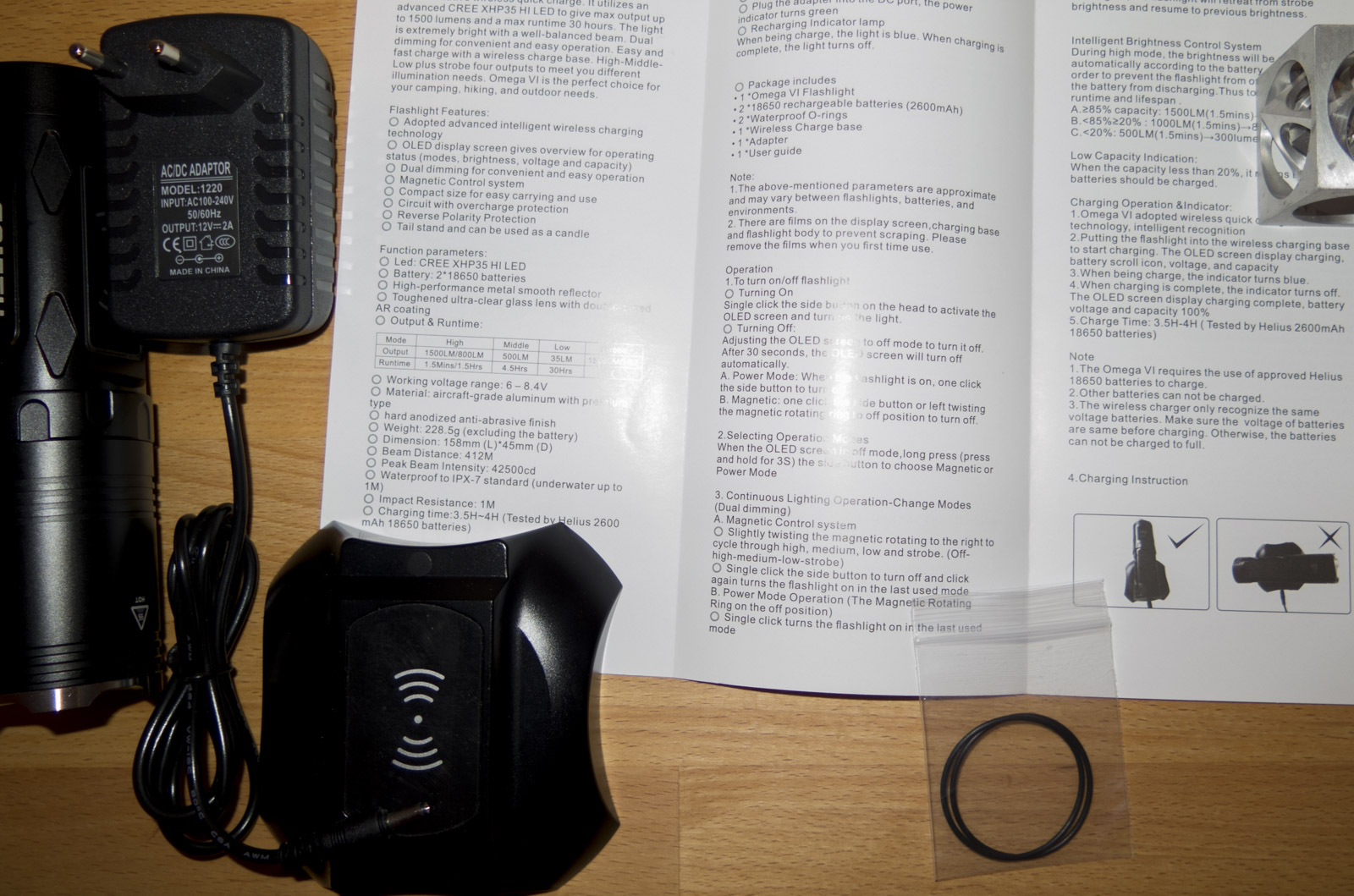 Manual
manual is in English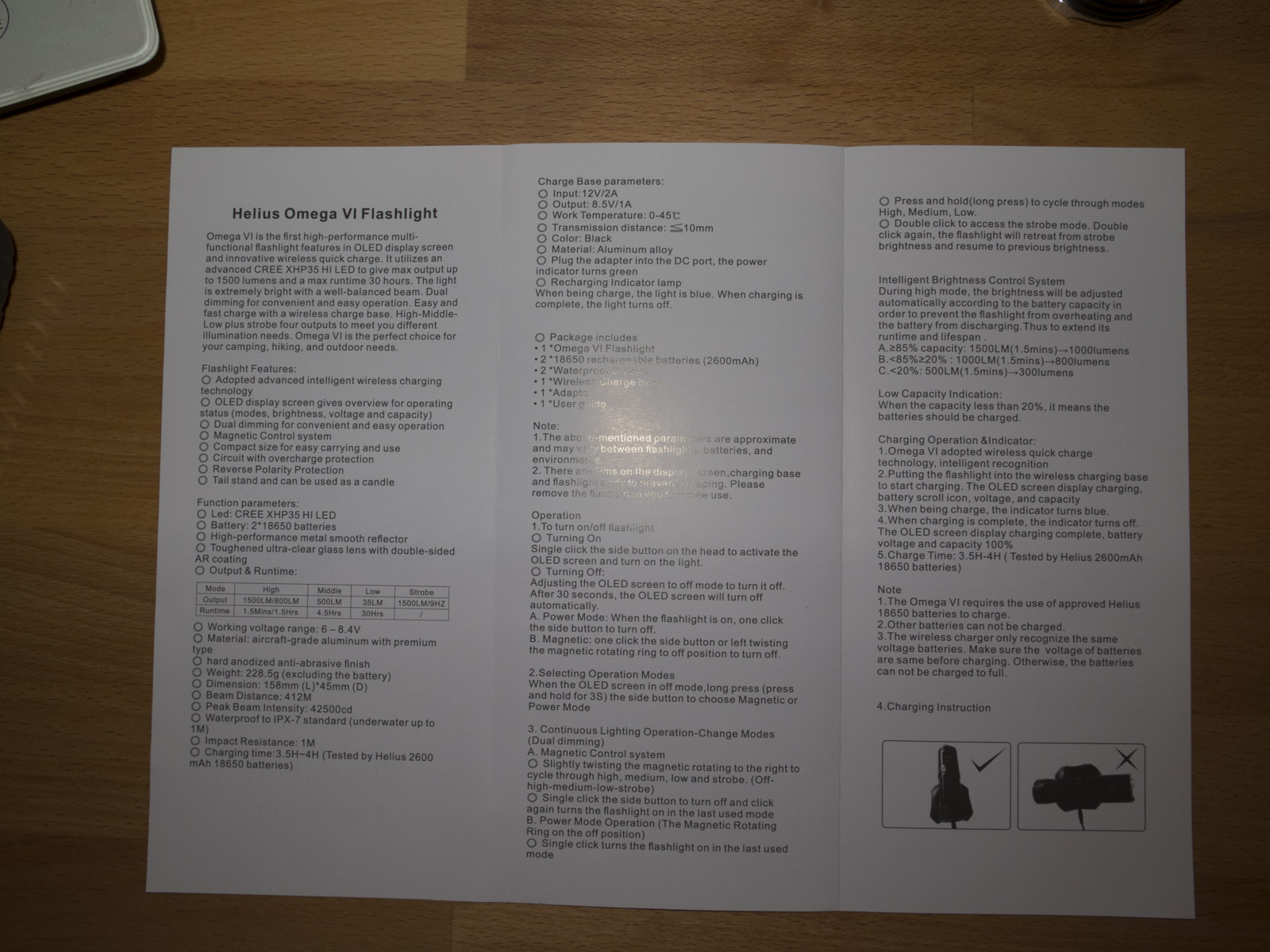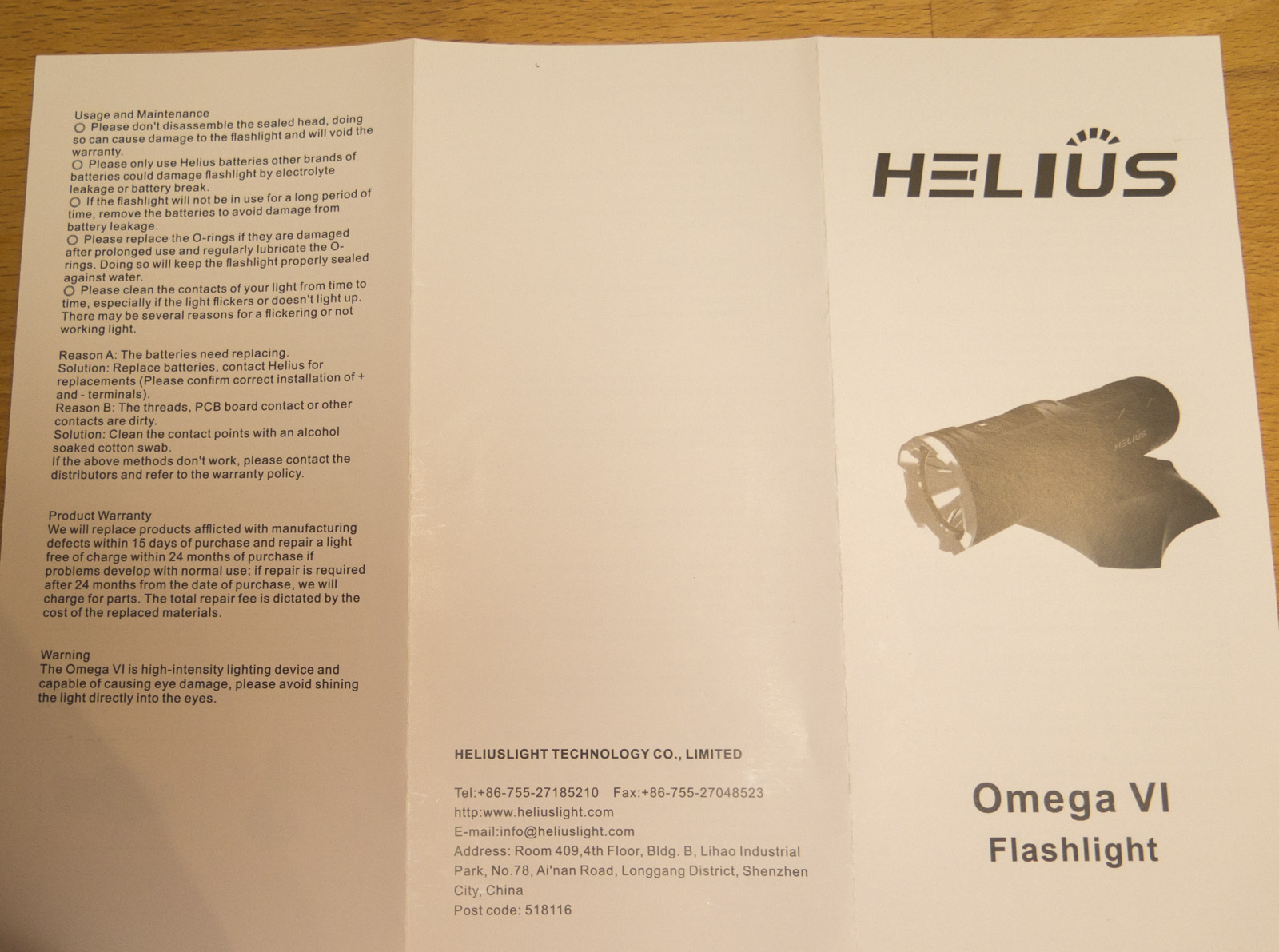 .
Photos of the light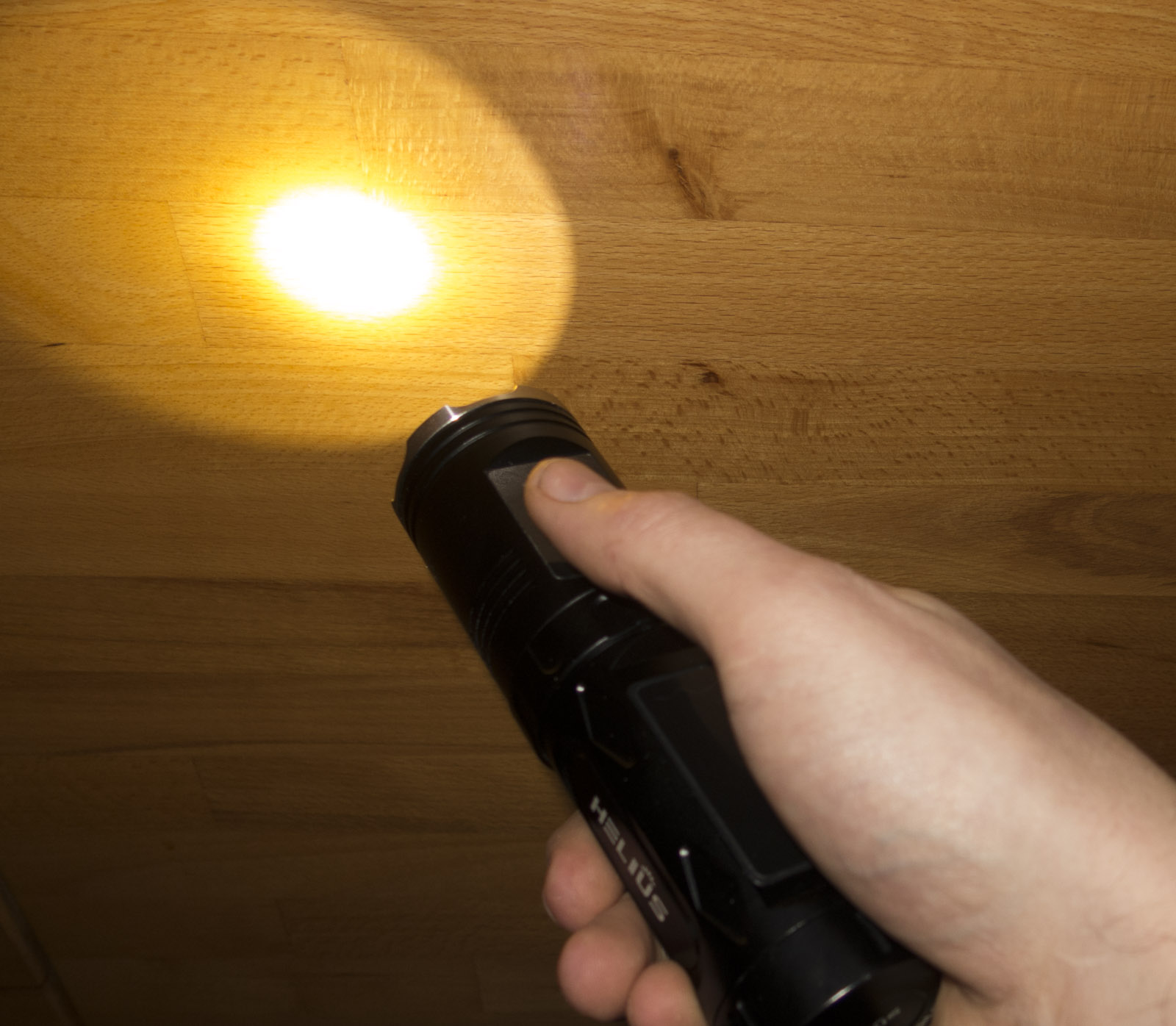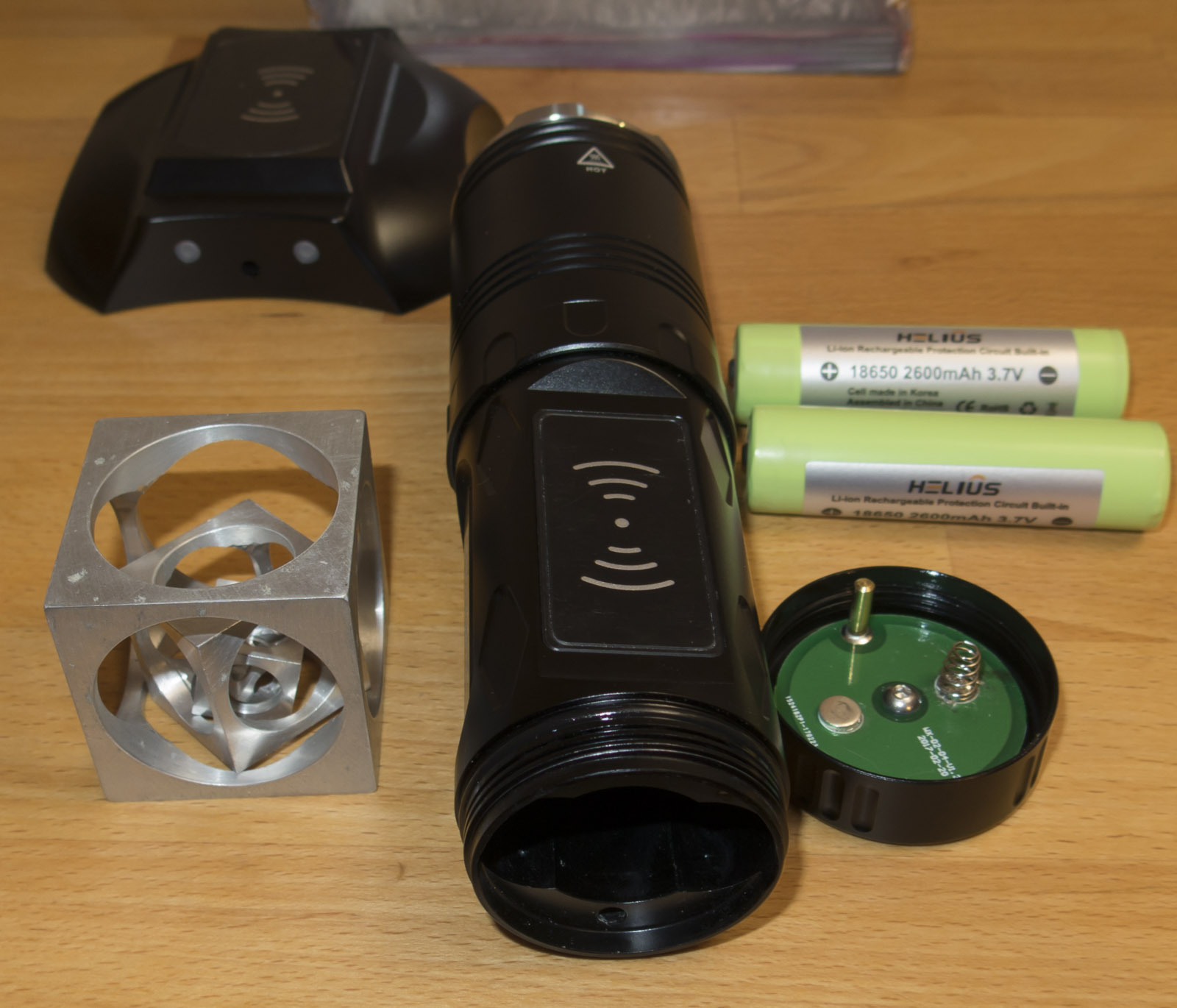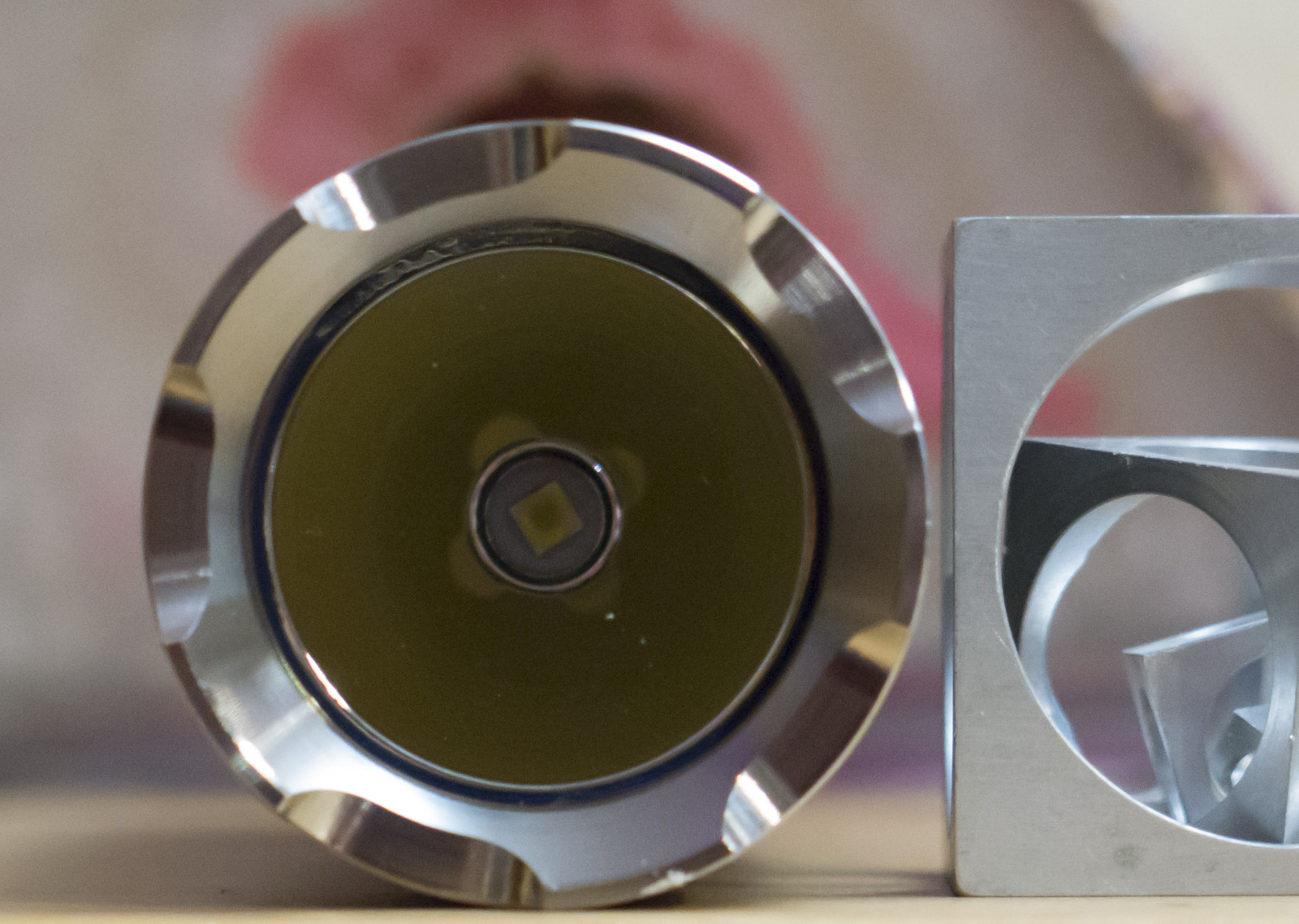 .
Comparism and teardown: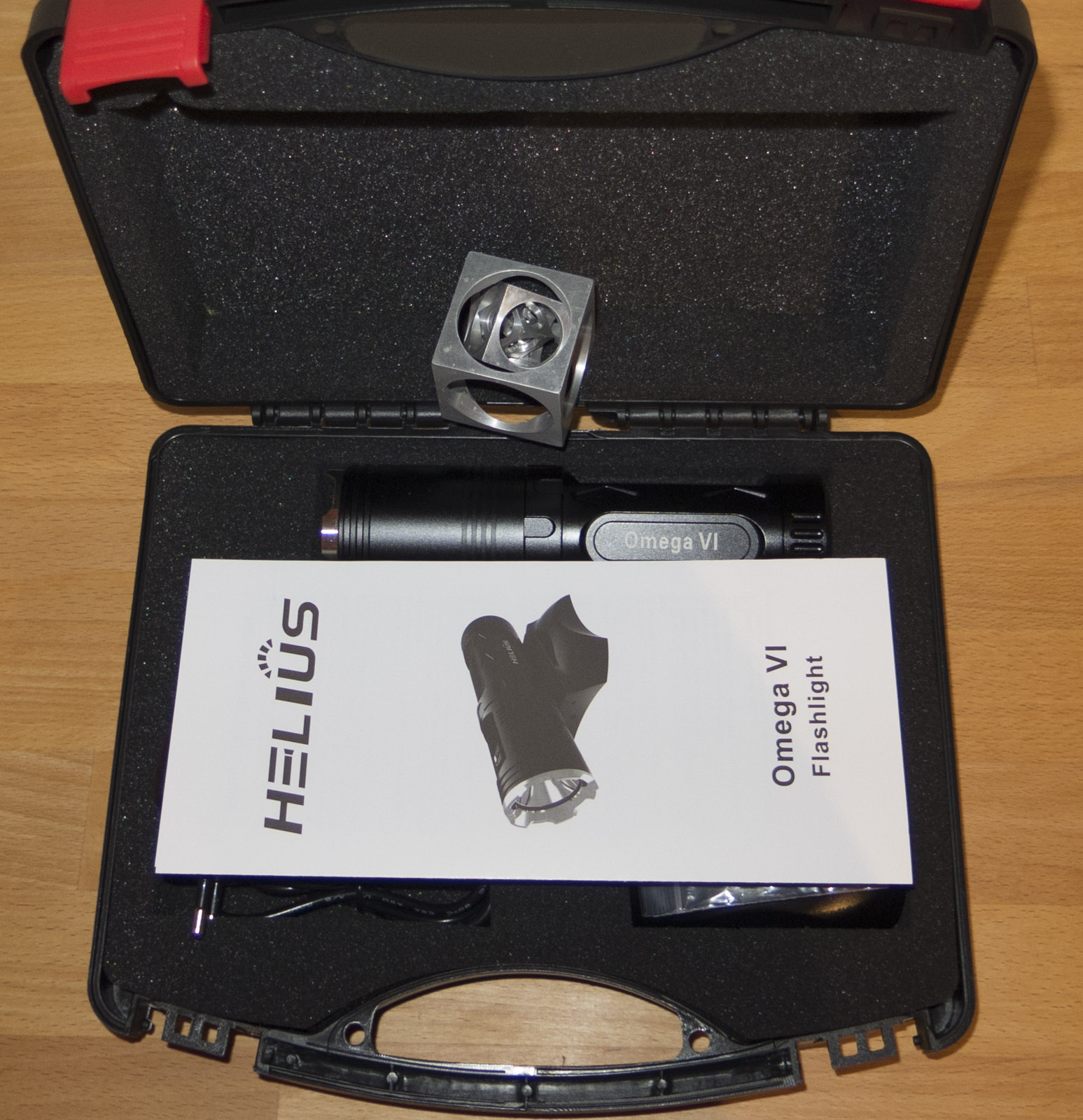 Size compared to other common 1x, 3x and 4× 18650 lights the Helius is medium big, but on similar size more output or throw is available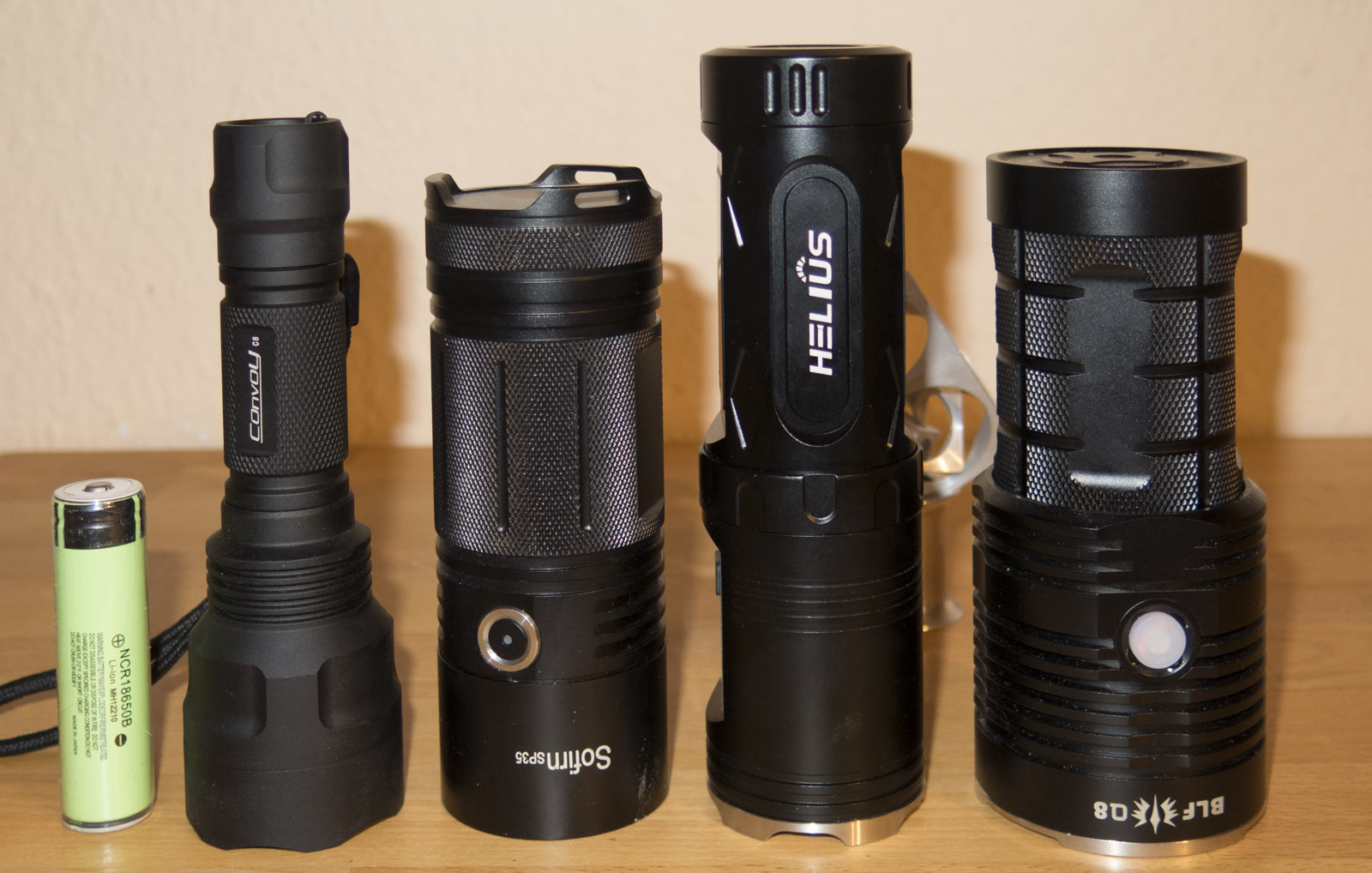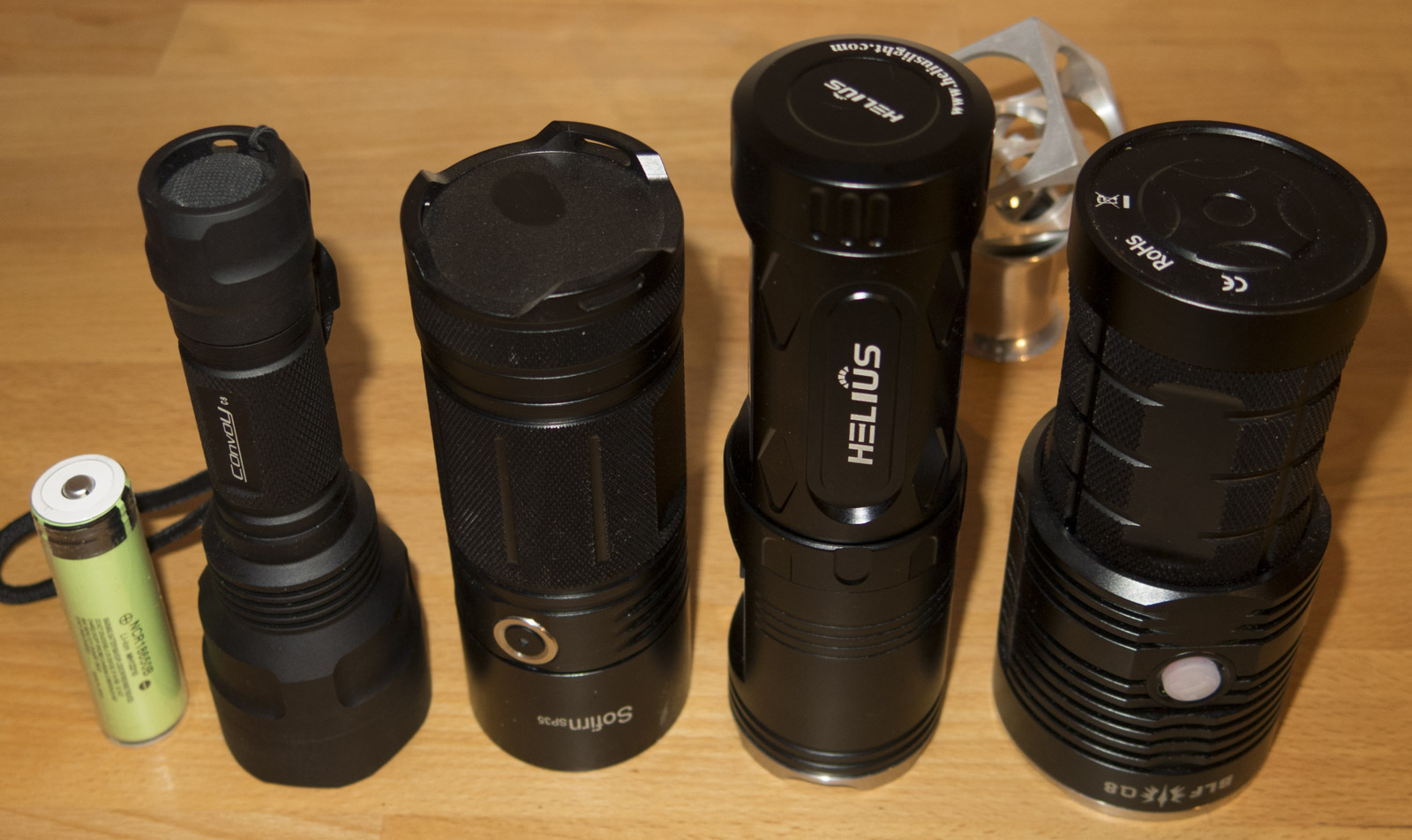 Beam color is little cold neutral with around 5500K with a Cree XHP35 HD LED, the beam is without reflector cause artifacts
Light color compared to other lights:
from left to right the lights gets colder, picture taken @5000K camera setting
left Sofirn SP35 mod XHP50 4000K CRI90, Astrolux MF01 Nichia 5000K, BLF Q8 V6-3D 5000K, Helius Omega VI 5500K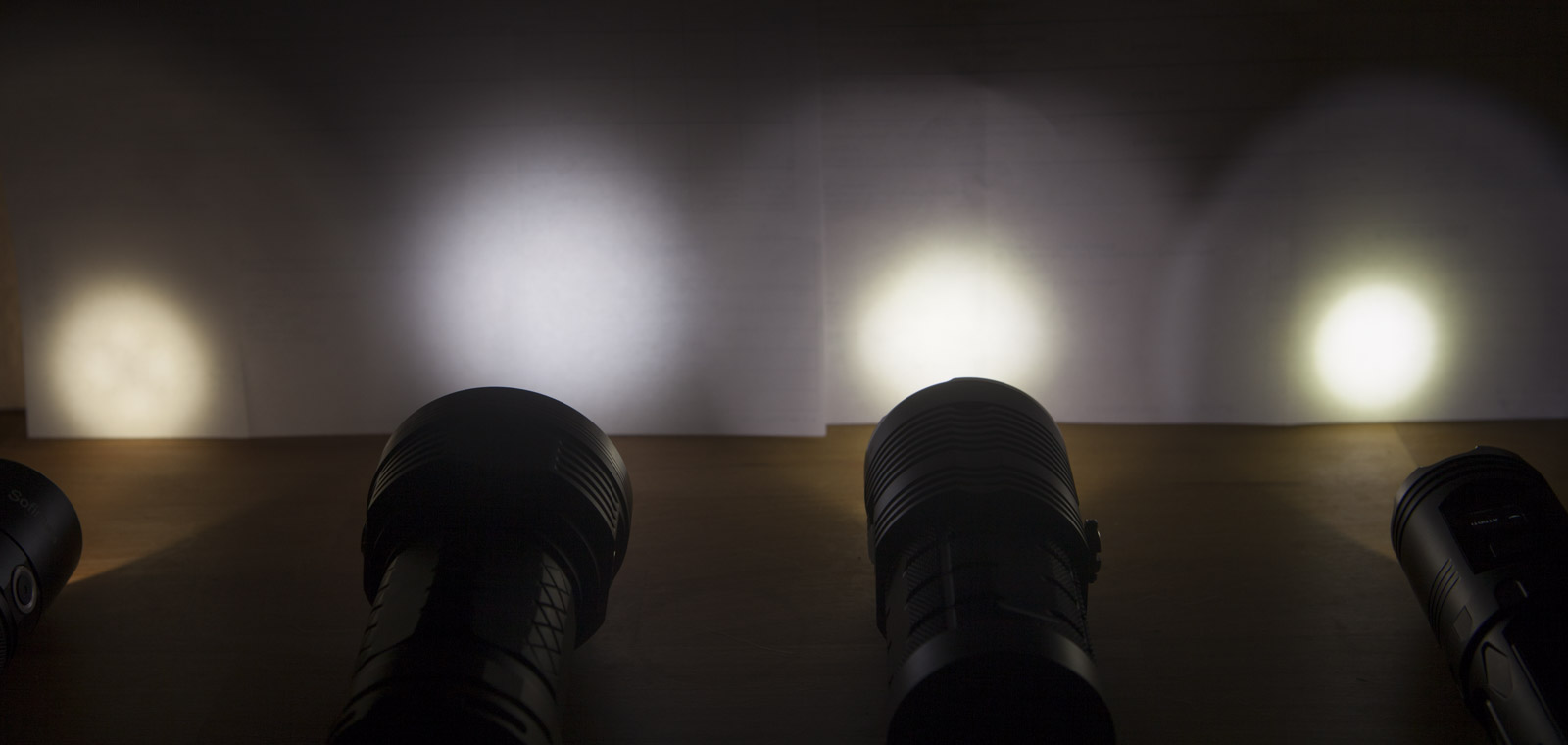 Asking for the LED color and flux Helius delivered other parameters they wrote it's a E4 5700K one
Under UV the light is between 5000K and 6500K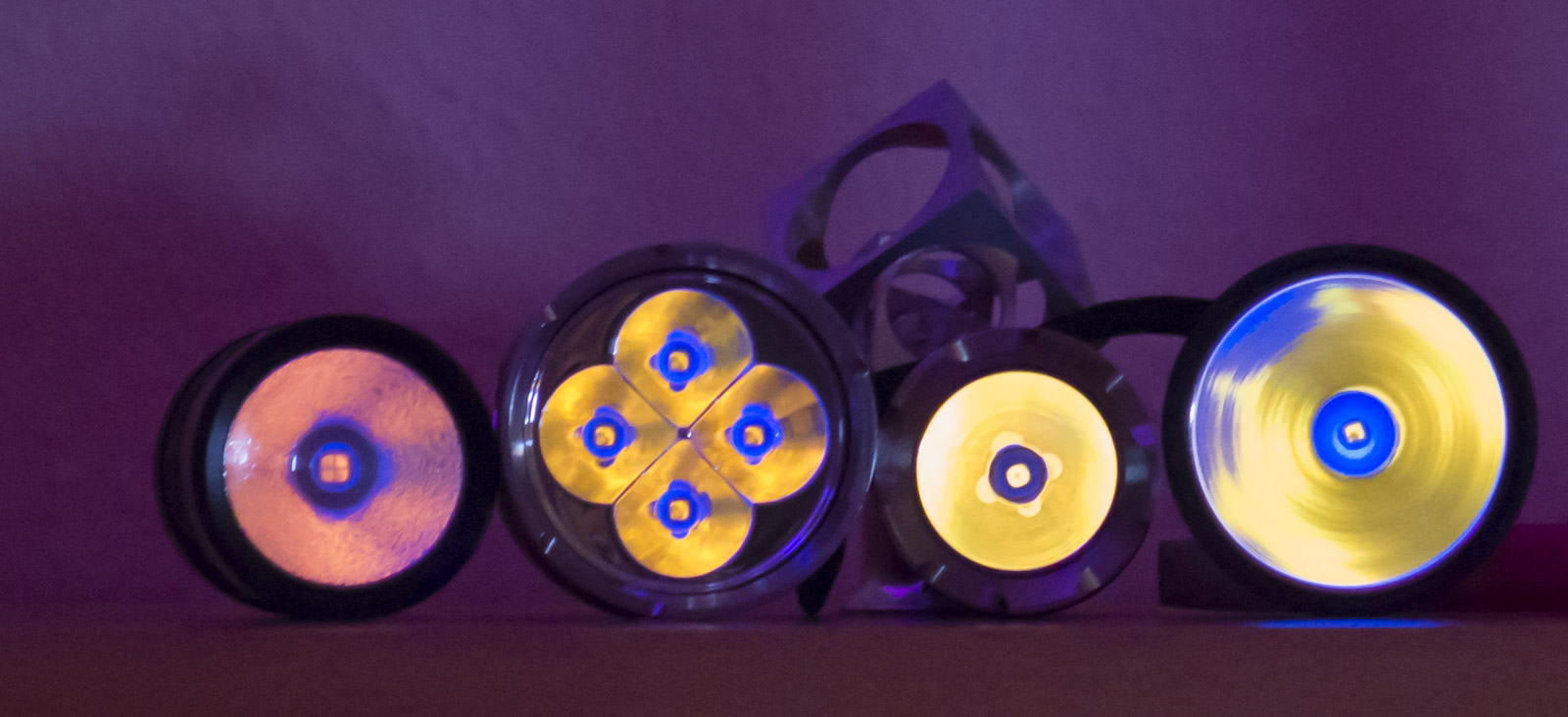 The lights bezel is not glued, so it is easy to get to the LED
The light has a tail cap without any hole for a lanyard
The light stands on the tail as its flat and weights 395g with batteries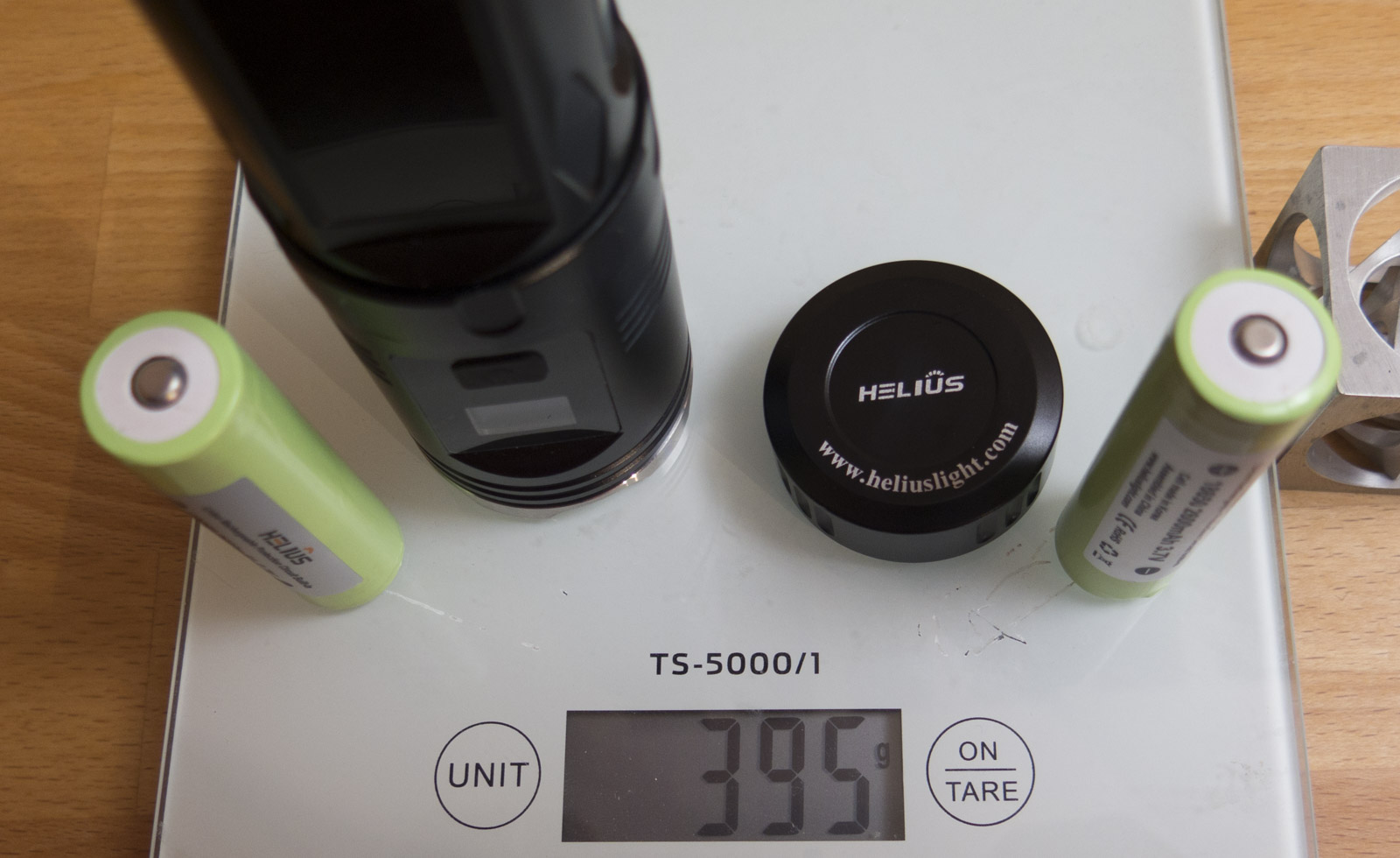 The lens is AR coated
the coating has the typical cheap blue color than most Chinese lights have
Compared with a Klarus G35 seems like same quality coating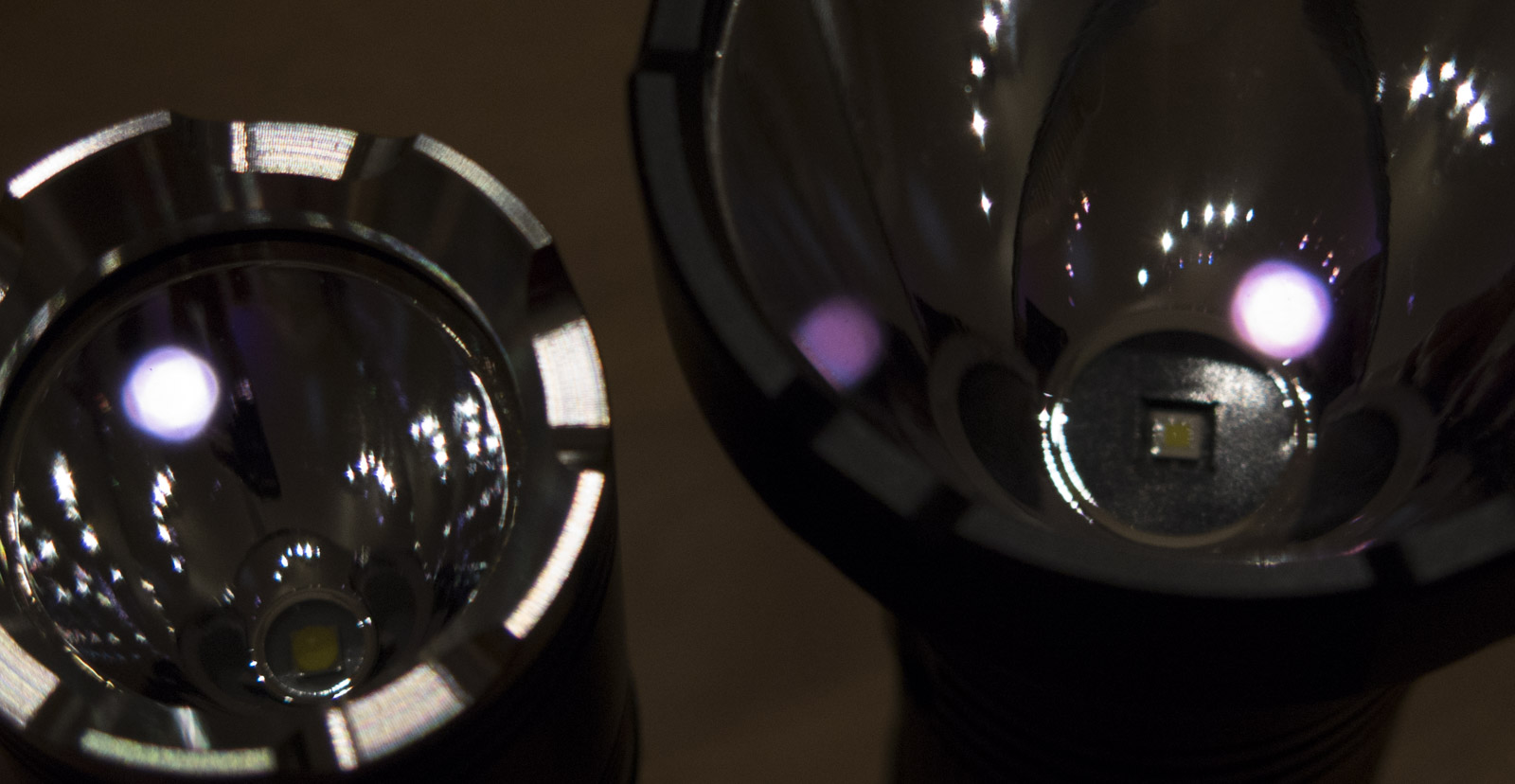 The head has a diameter of 45mm and 30mm visible reflector
What I discovered first time on a reflector is that a very fine machining pattern seems to act to slit daylight into a rainbow under some view angle
Also the reflector is compared to the lights diameter relatively small 38mm should be possible without any problem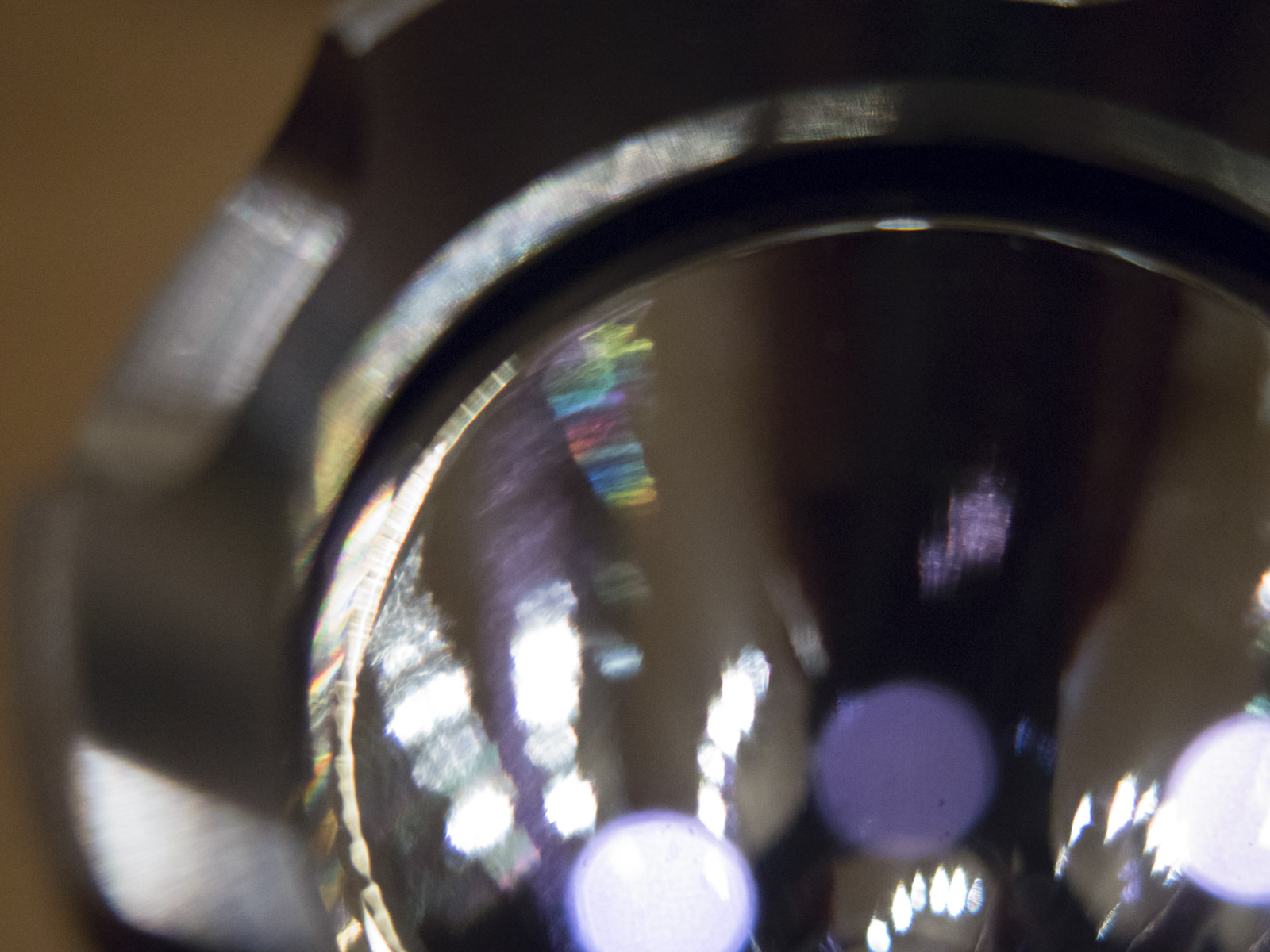 Other lights like Klarus G35 does not show this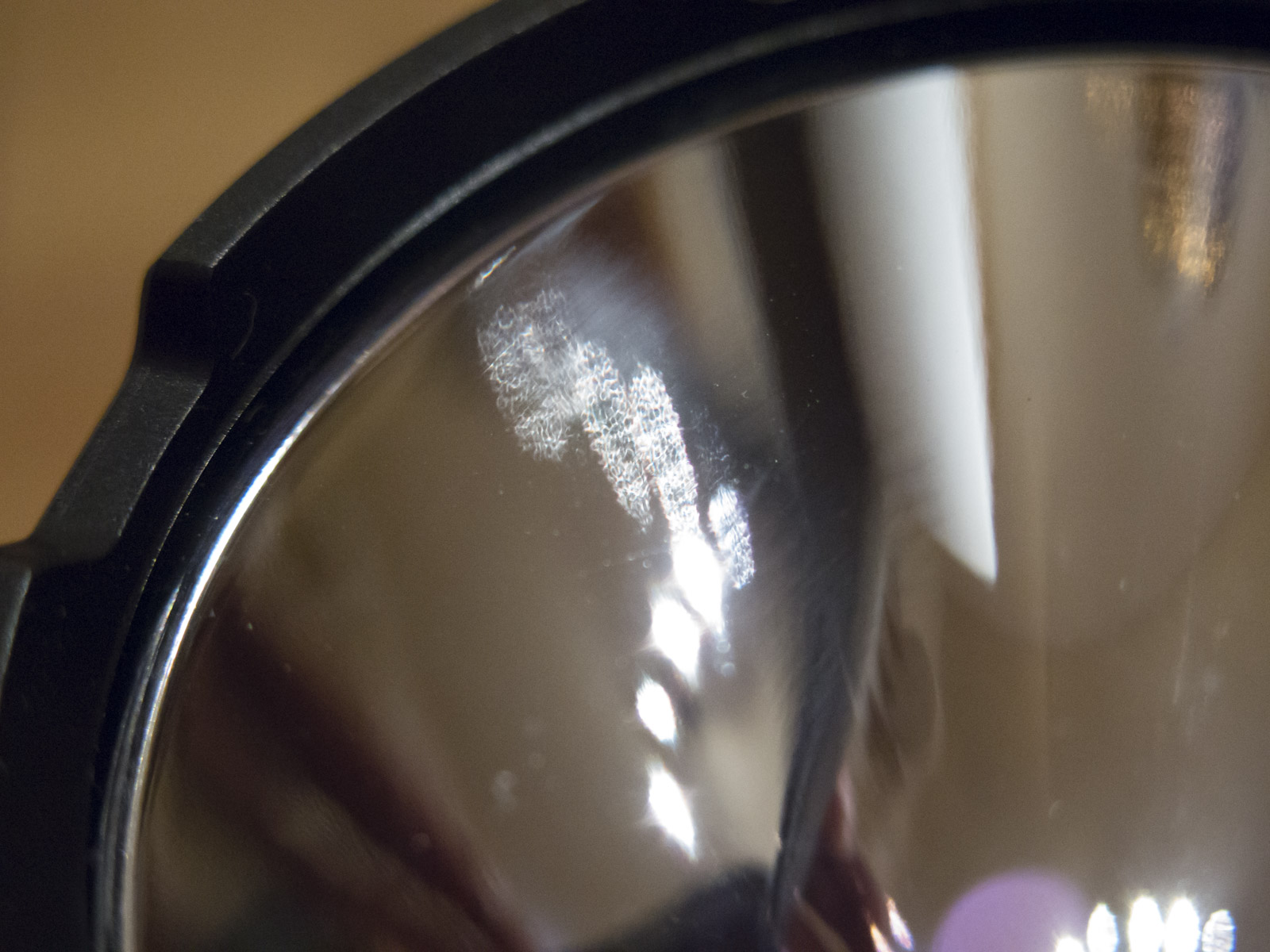 The light can be run 2 18650 batteries in series
The magnetic base is made from Aluminum and relative heavy, not ideal for travelling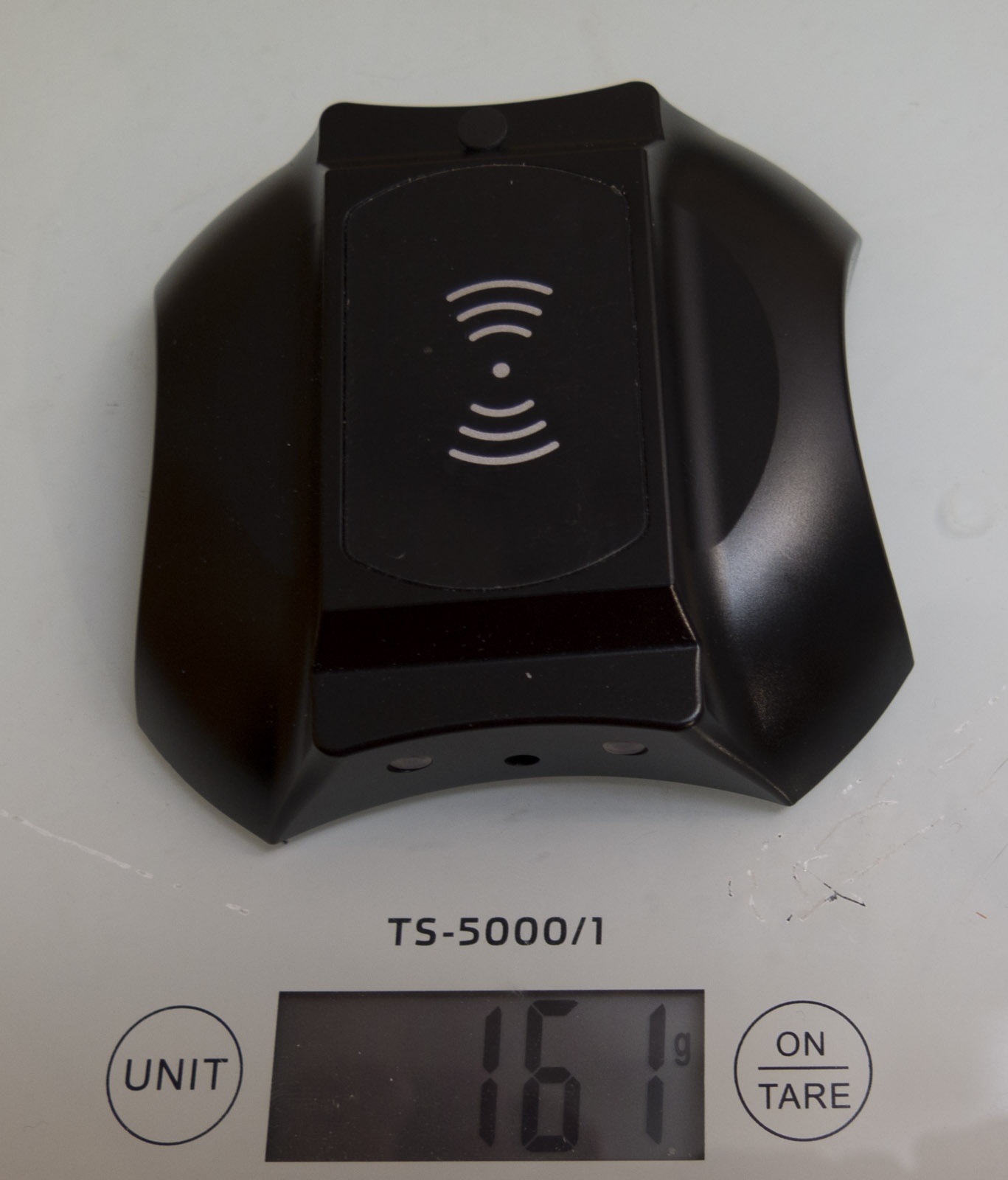 The PSU adapter is too light to be a good stuff inside, compared with a other similar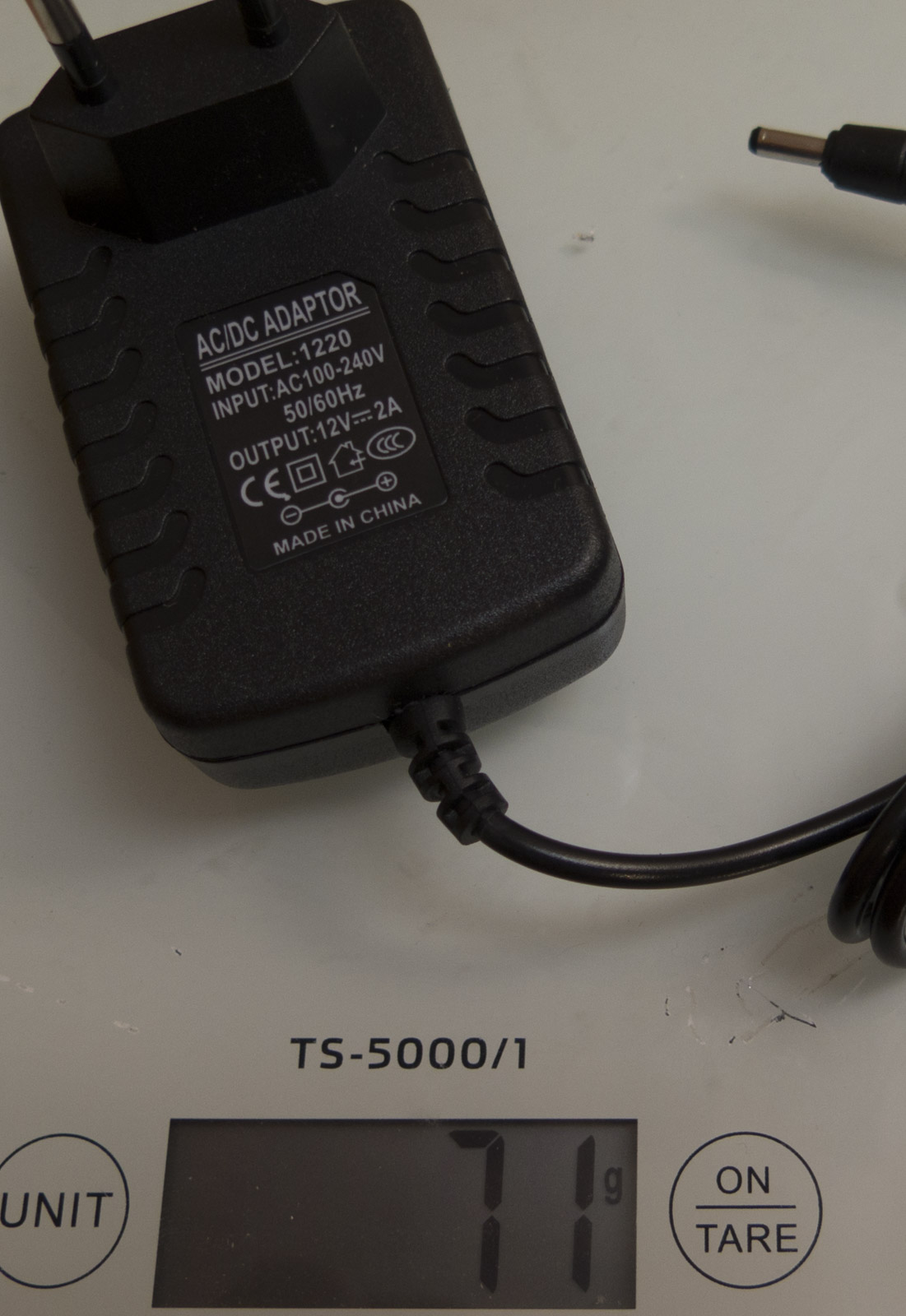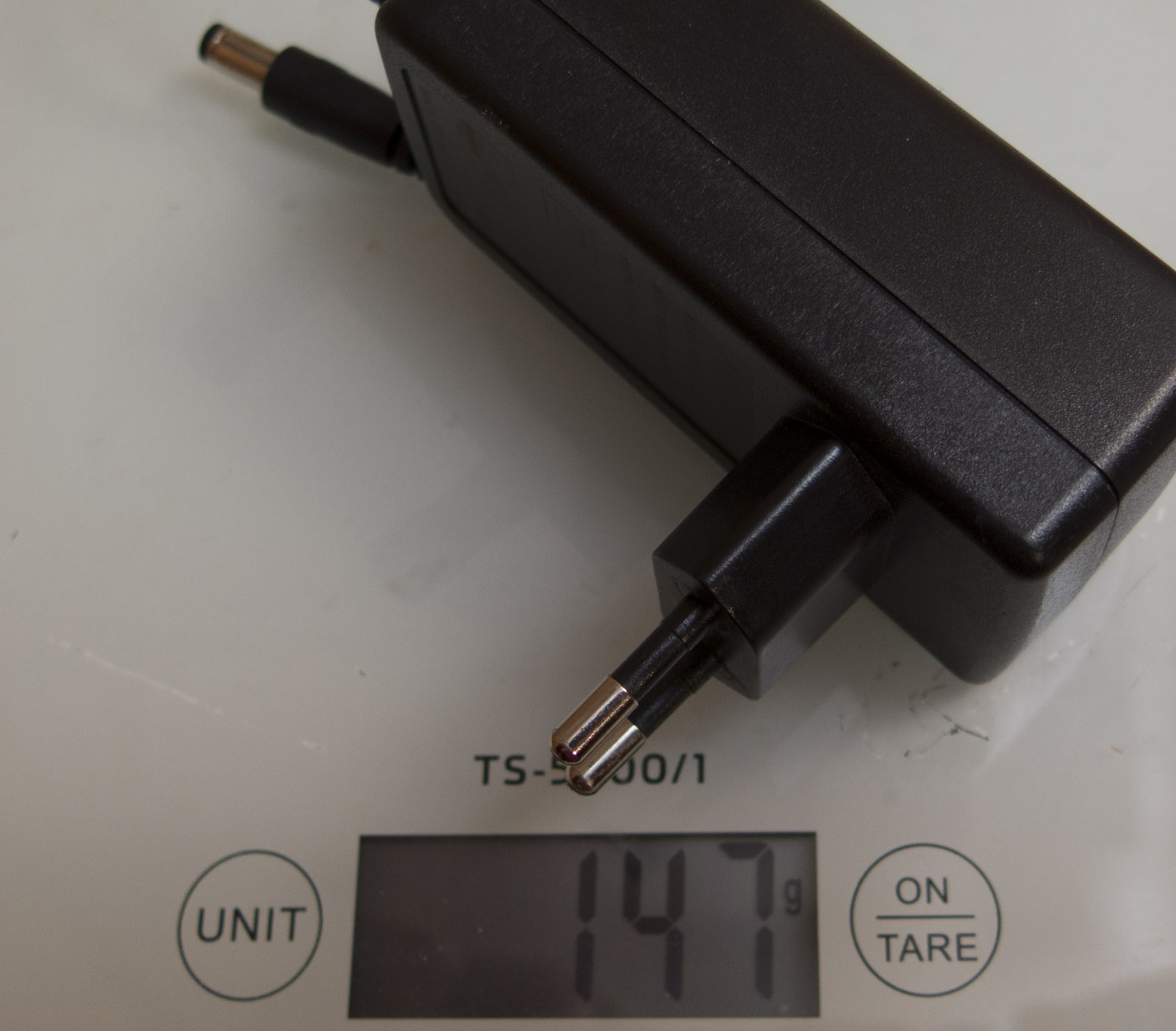 The light can´t be physical locked out by twisting the tail cap
The whole box is a little over 1kg heavy, too heavy for a 2×18650 light, even a really big light like TN42 in box with 2 batteries has about that weight
.
The Head
The relative small reflector with a single XHP35 HD gives a beam profile compared to many EDCs with XPL HI LED
The LED centering is slightly off
The Reflector has no centering connection to the MCPCB it is screwed in the head and the MCPCB is not screwed to the shelf
The only optical status this light has is the OLED display
The side switch has a good feeling and direct click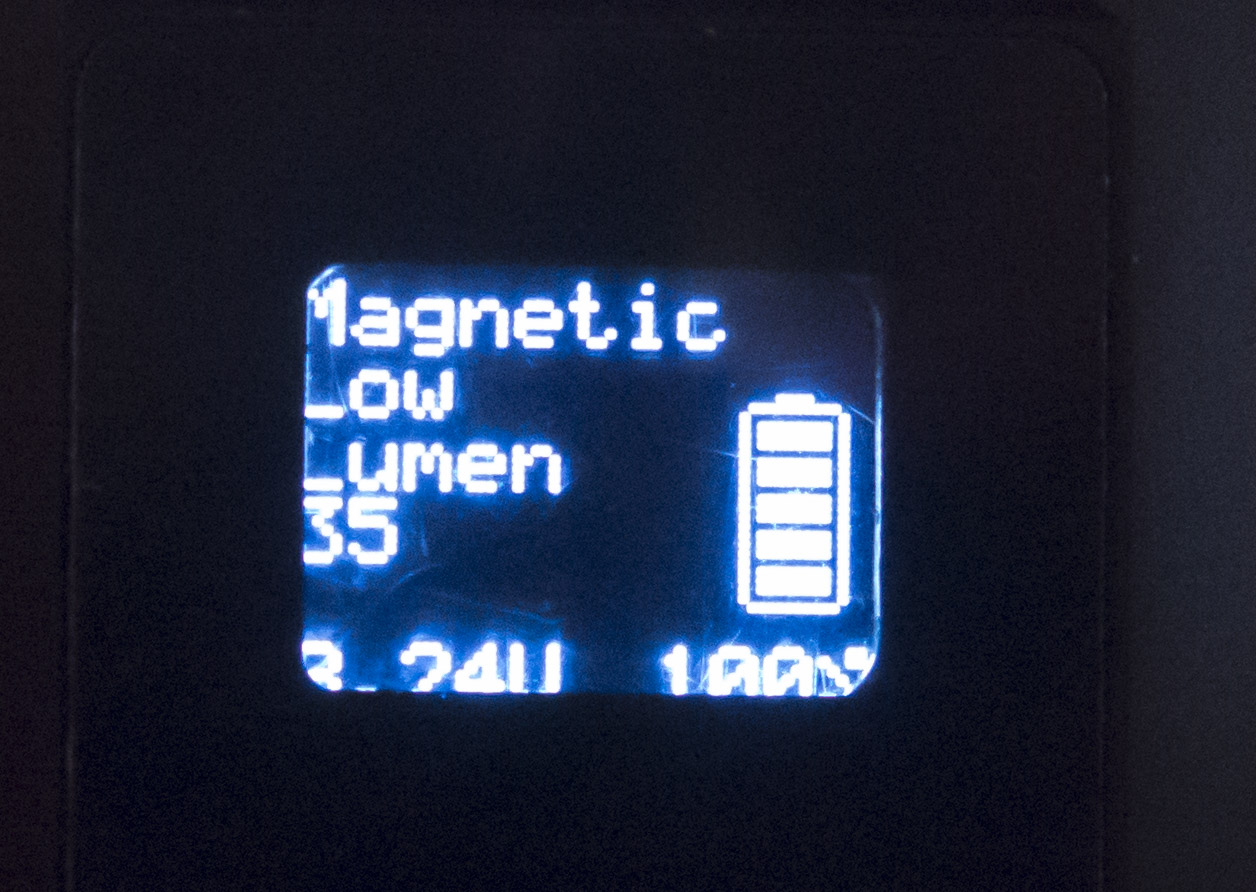 The main issue I see on the head is the cutout for the display is too small, you can't read the full display from one angle
Also the display cover is very thin plastic sheet glued on that surface, a glass window would be a lot nicer, a sharp thing in your pocket can penetrate it easily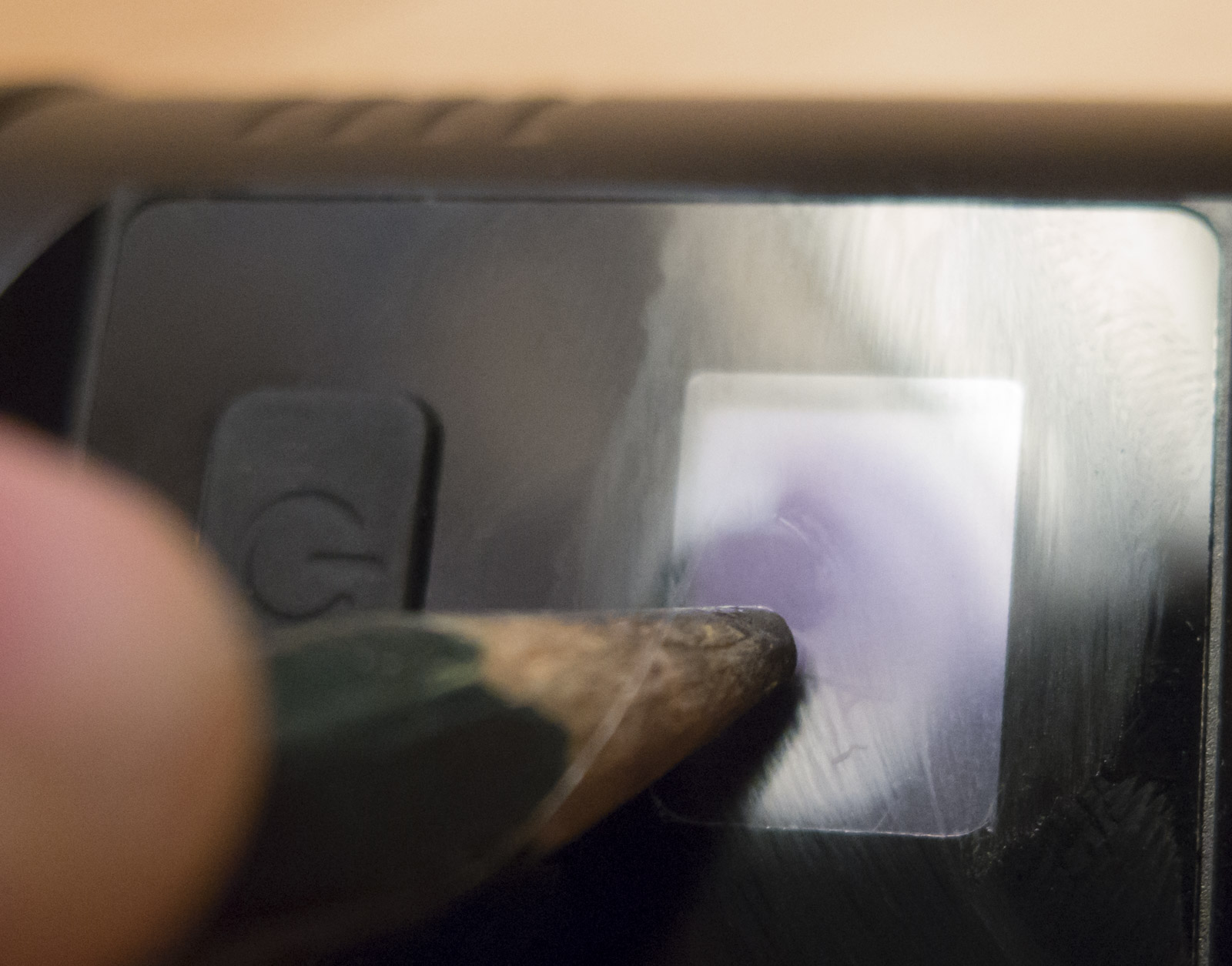 The magnetic selector ring is pretty loose and rattles
The light shut down between 2 resting position which I do not like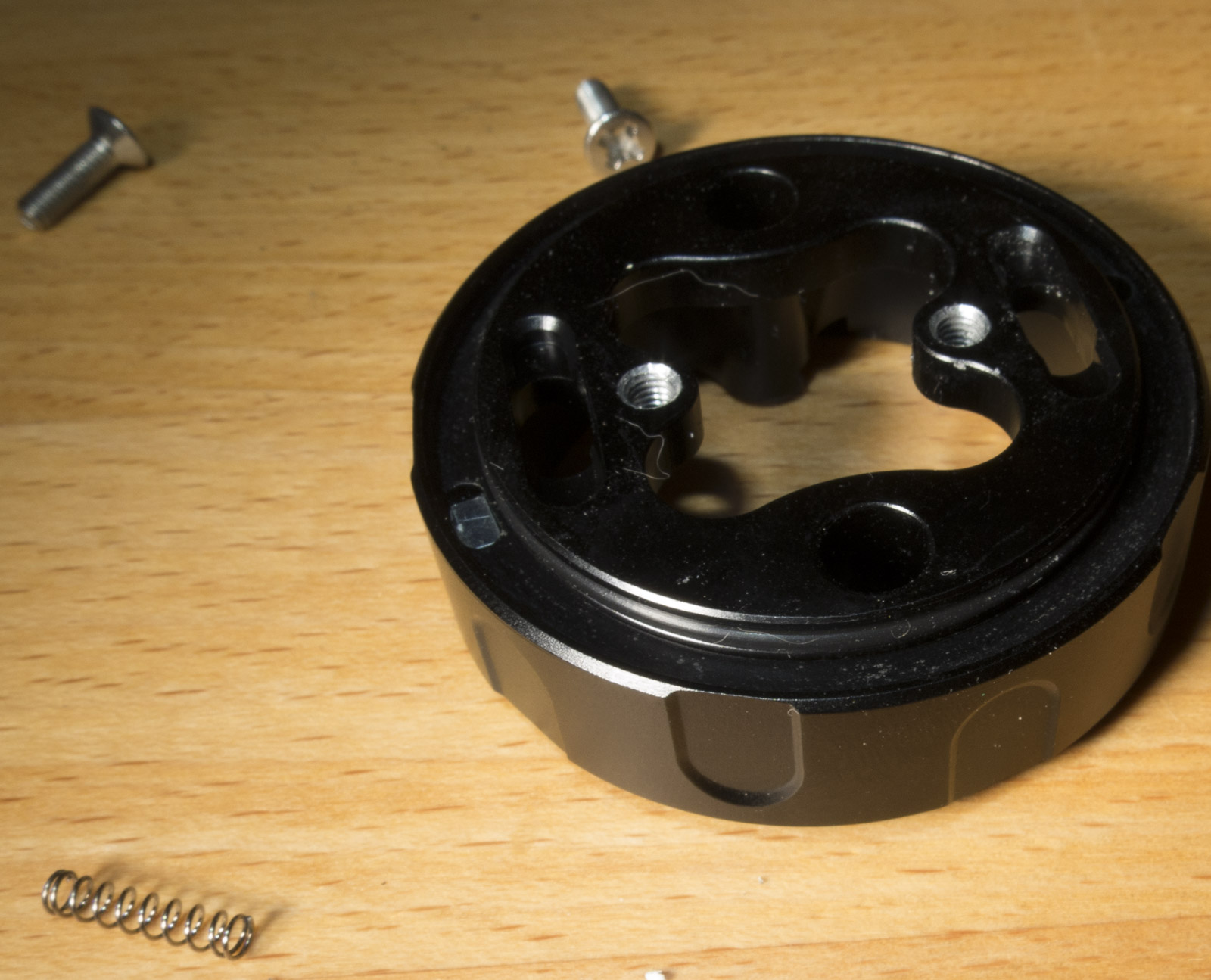 .
Tube and Tail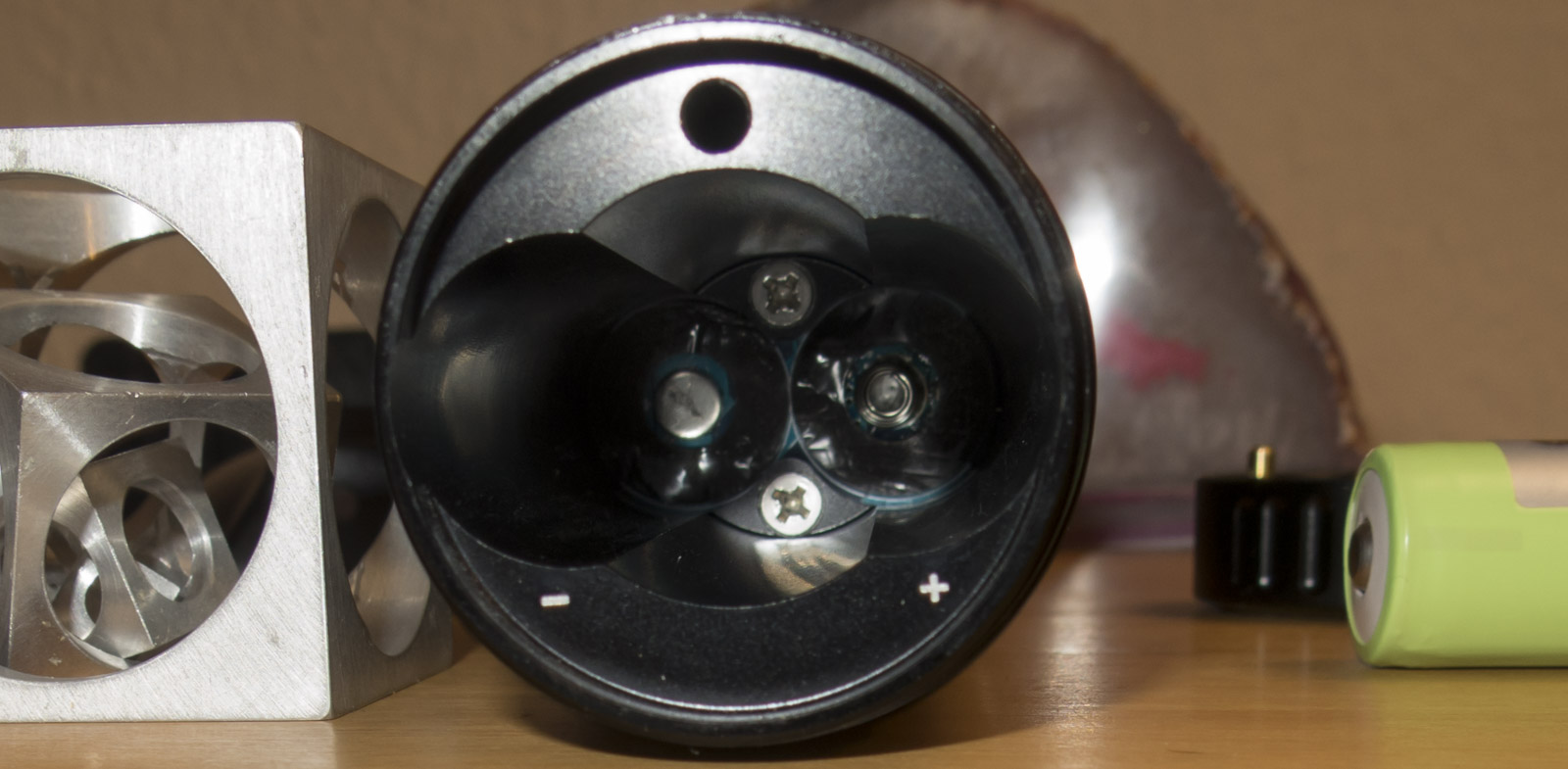 The tail cap is fully anodized, with a centering screw to rotate and one alignment bolt to fit in the tail tube

The light is build for protected batteries, unprotected button top flat tops fit but are rattling in the light
The Helius batteries come inside the light shipped with a black insulating disk to prevent standby drain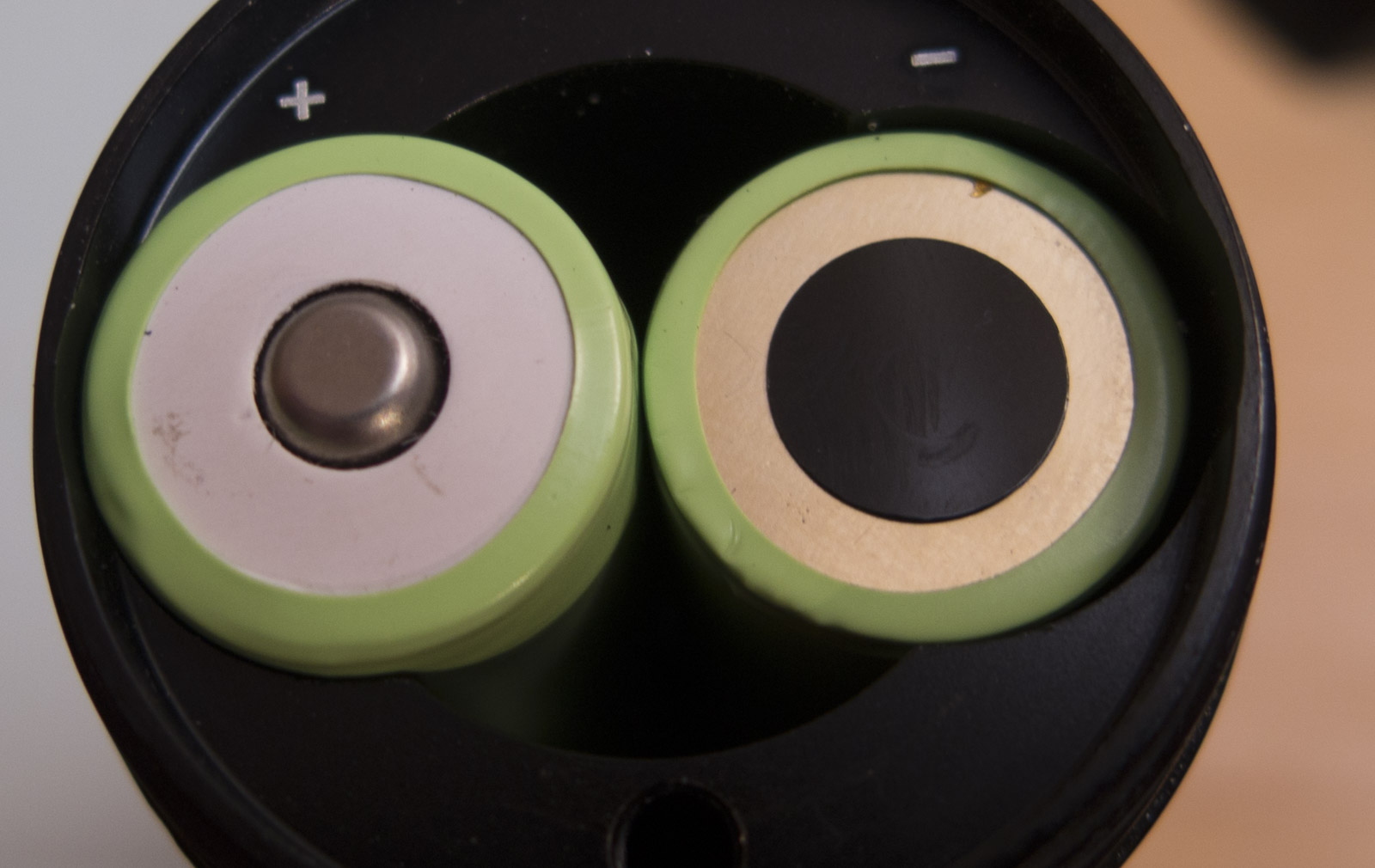 The light is waterproof, the tail cap thread is lubed, the amount is OK and has o-rings between all parts of the light
The threads have a good size and square cut, this is perfect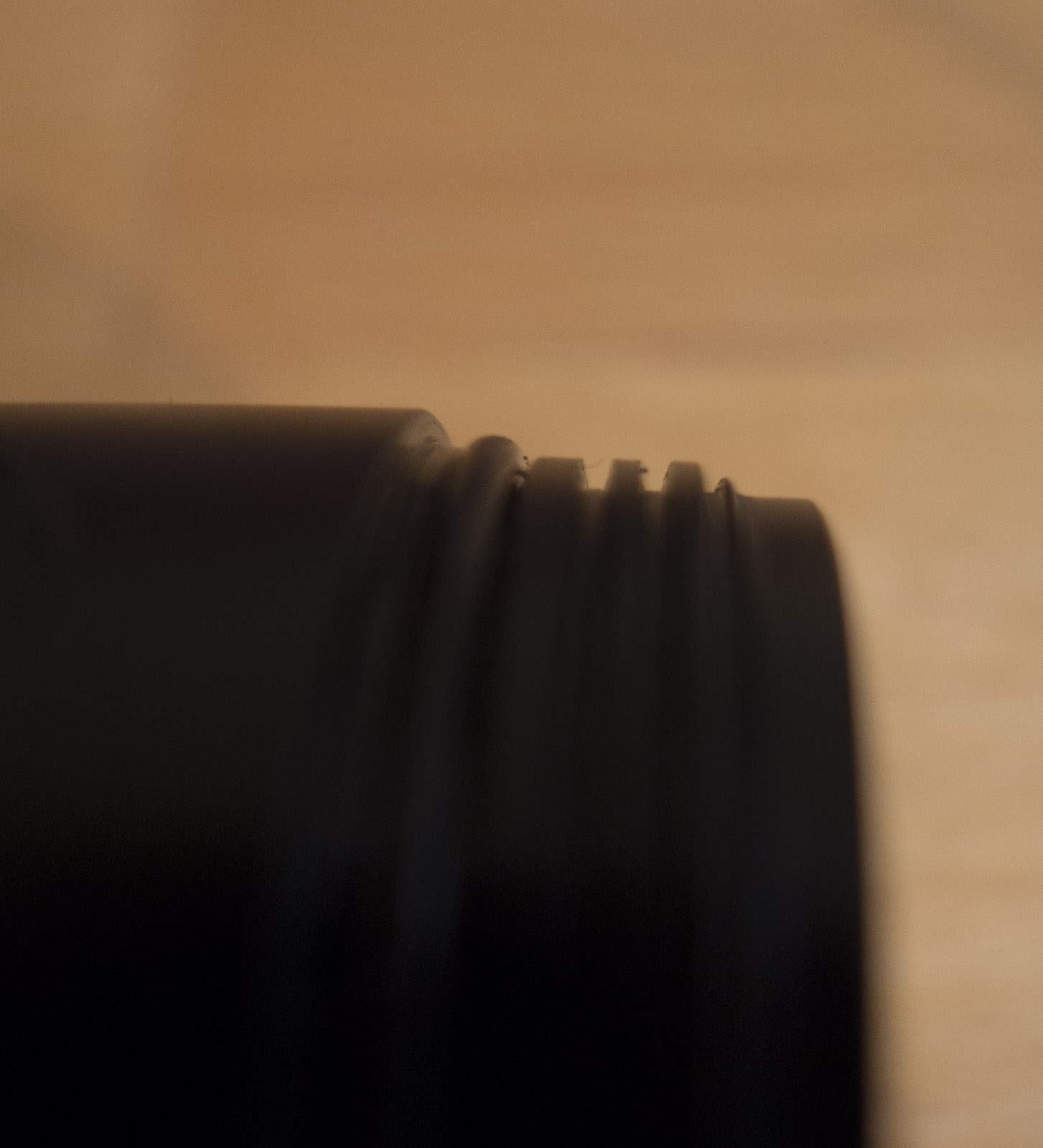 .
Driver and Battery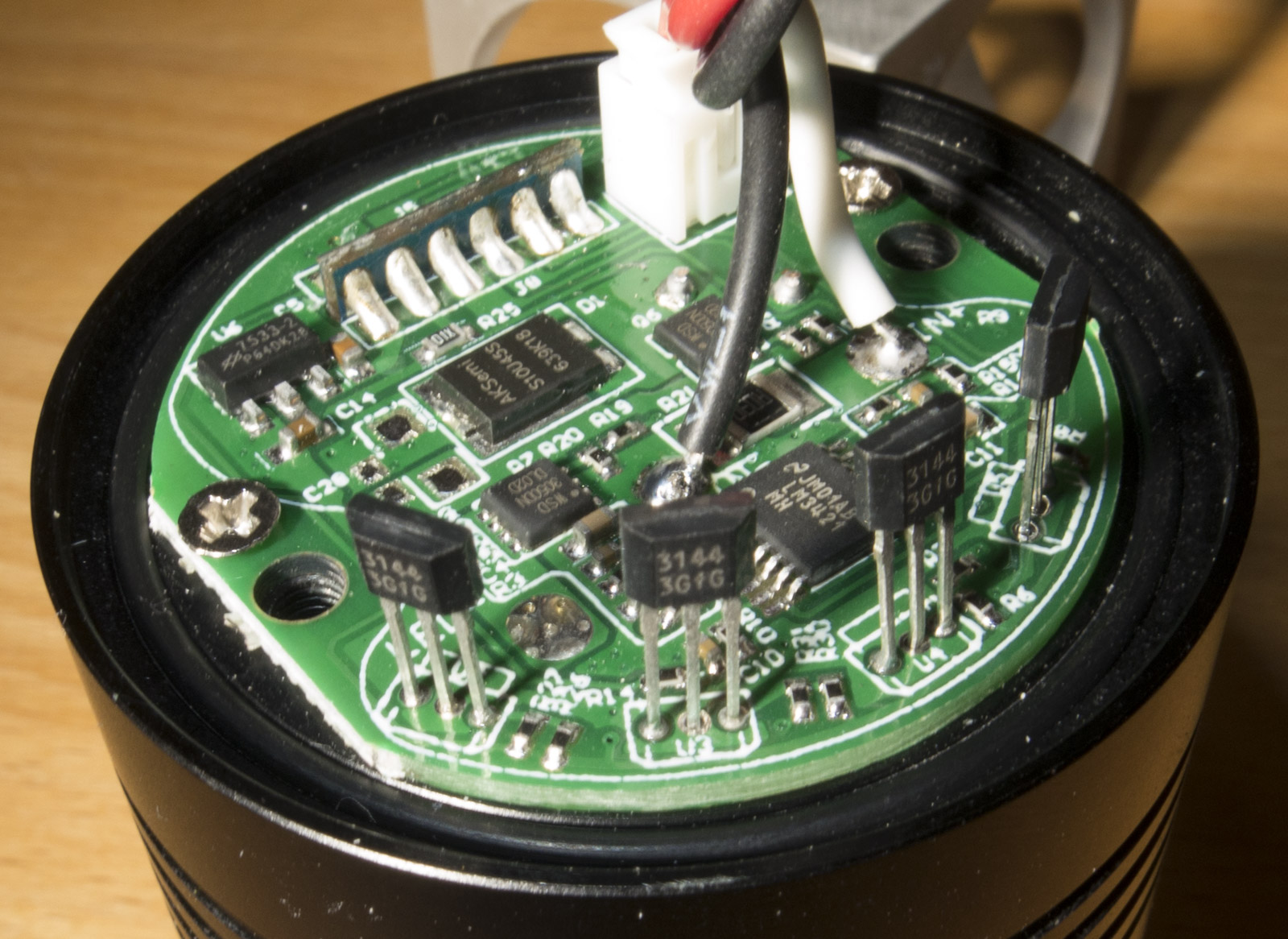 The driver is well hidden inside the light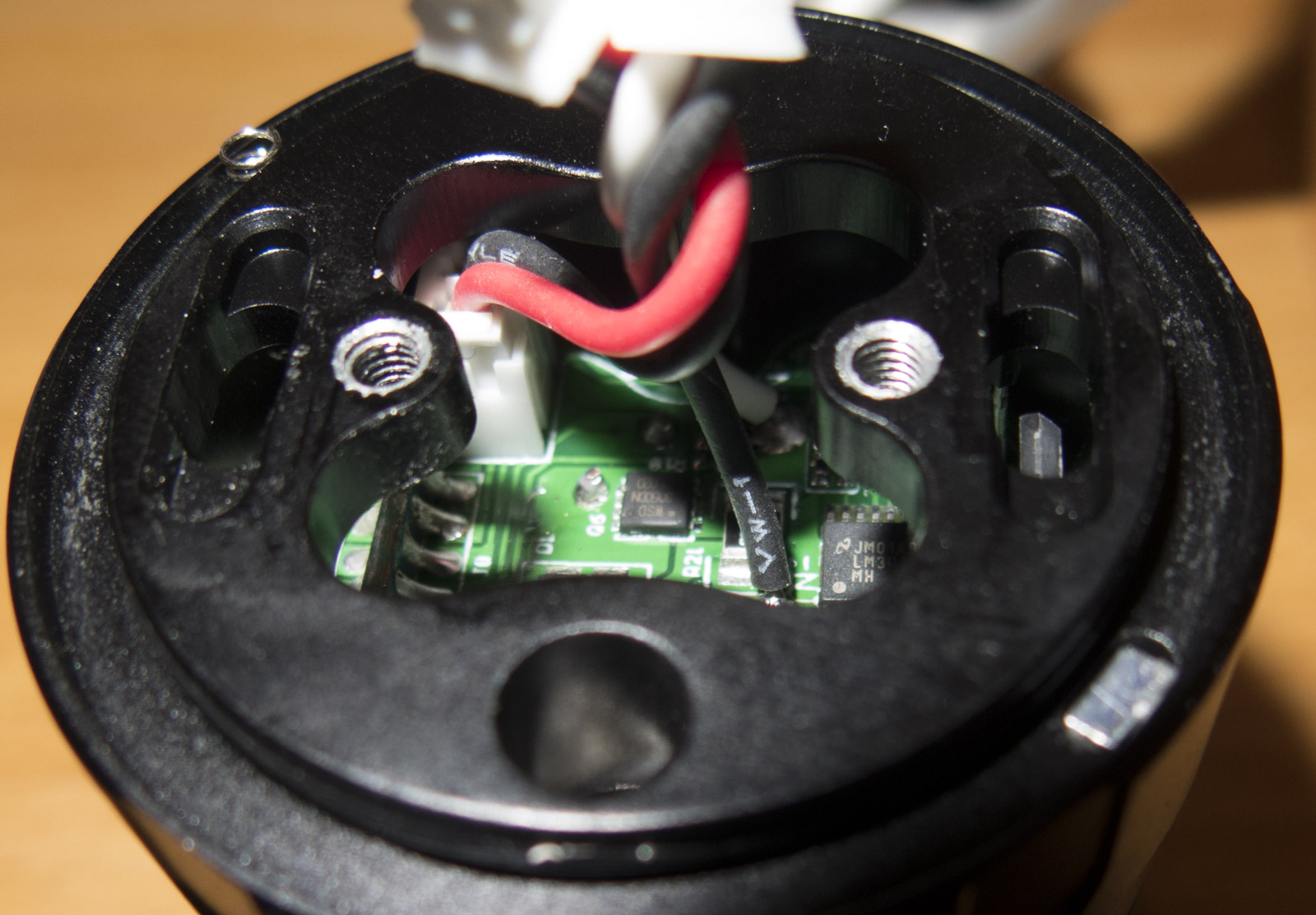 I can't pull it out completely as it is connected with the OLED display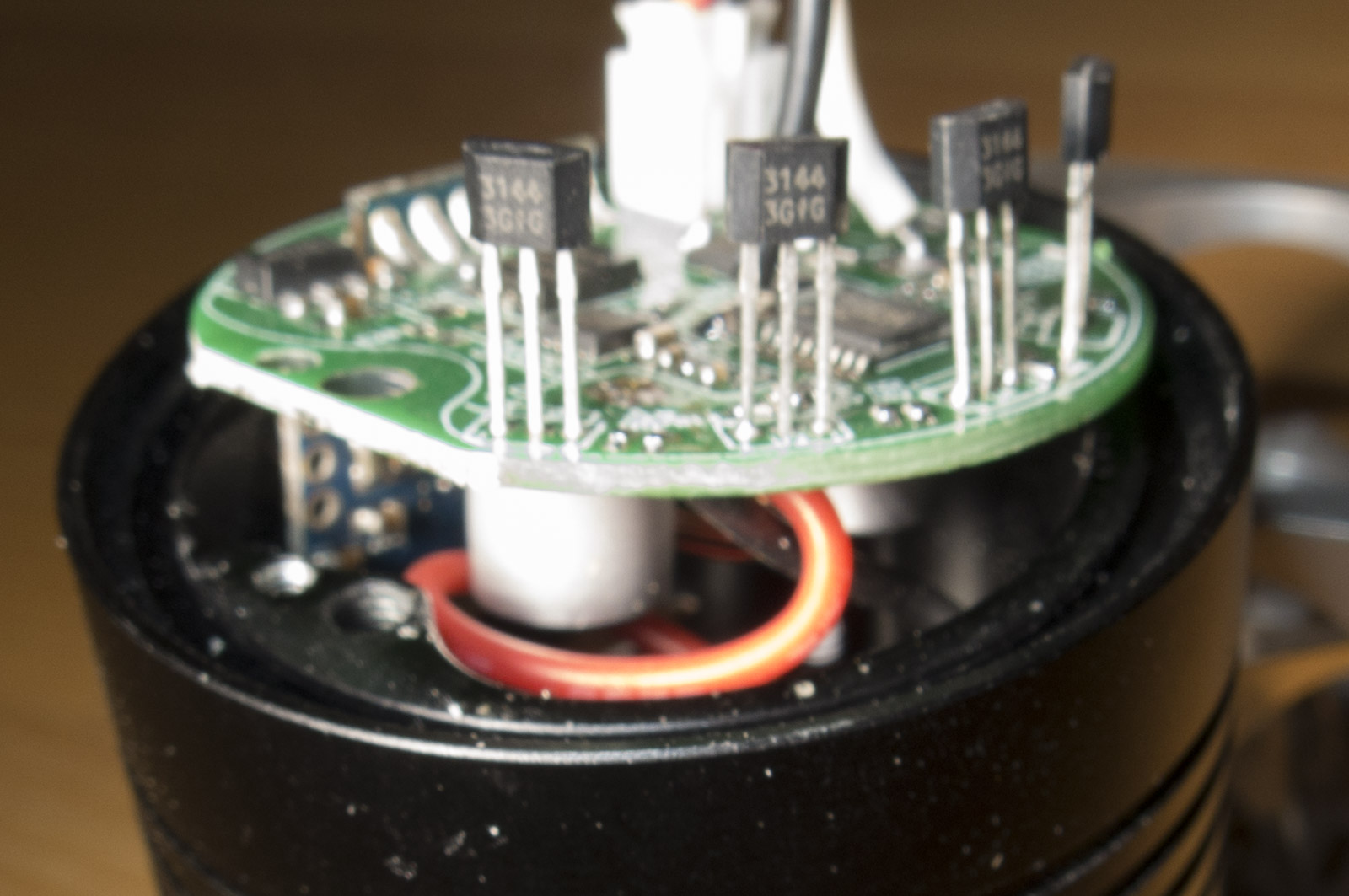 The drivers contact plate has a spring from a magnetic metal like steel, on it are as well the coil for wireless charging and the charge driver connected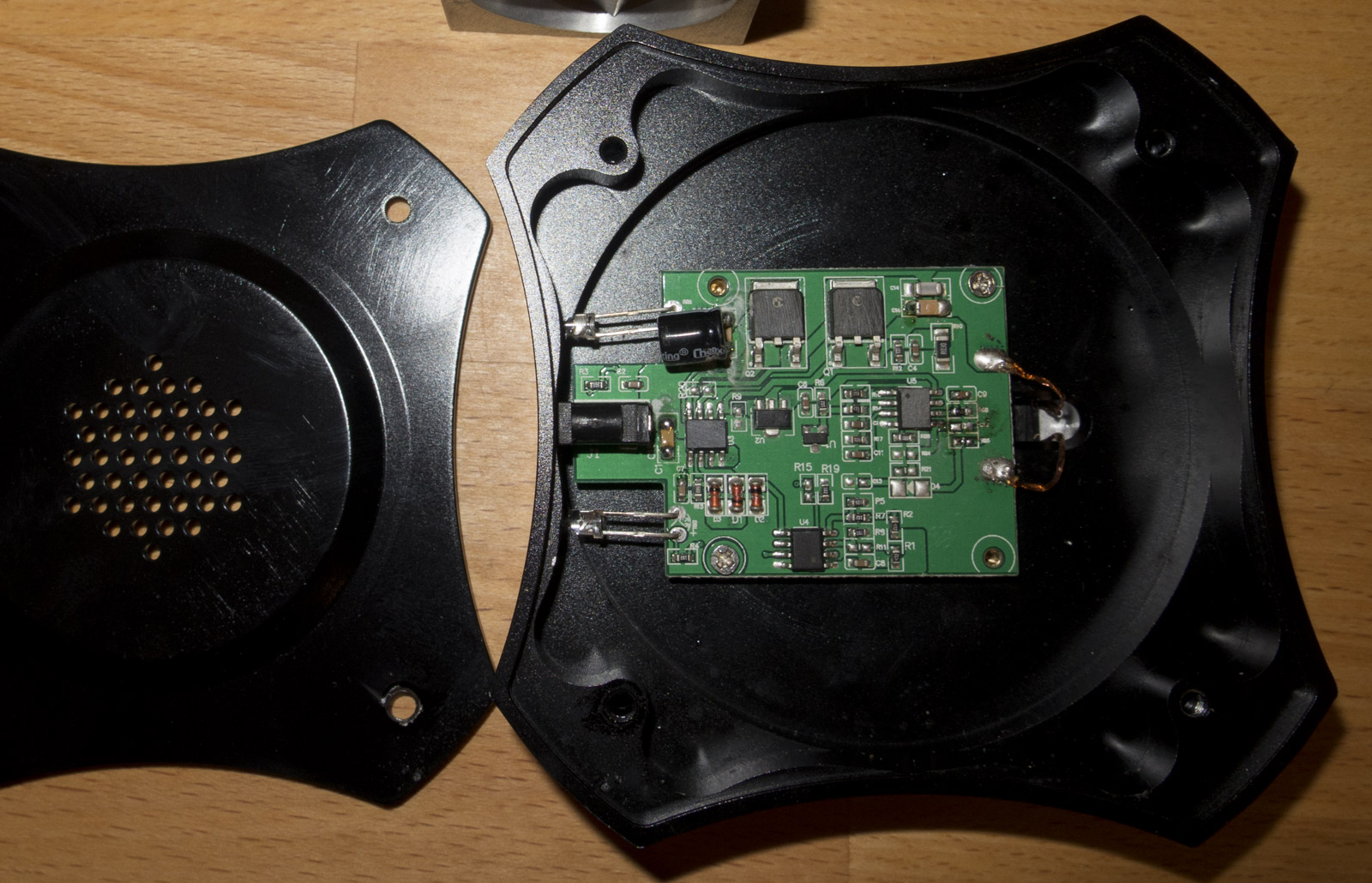 The drivers charge board is hidden in the tubes side it is behind a plastic plate that is sealed with an o-ring and glued in place
This plastic is very soft and will be scratched very fast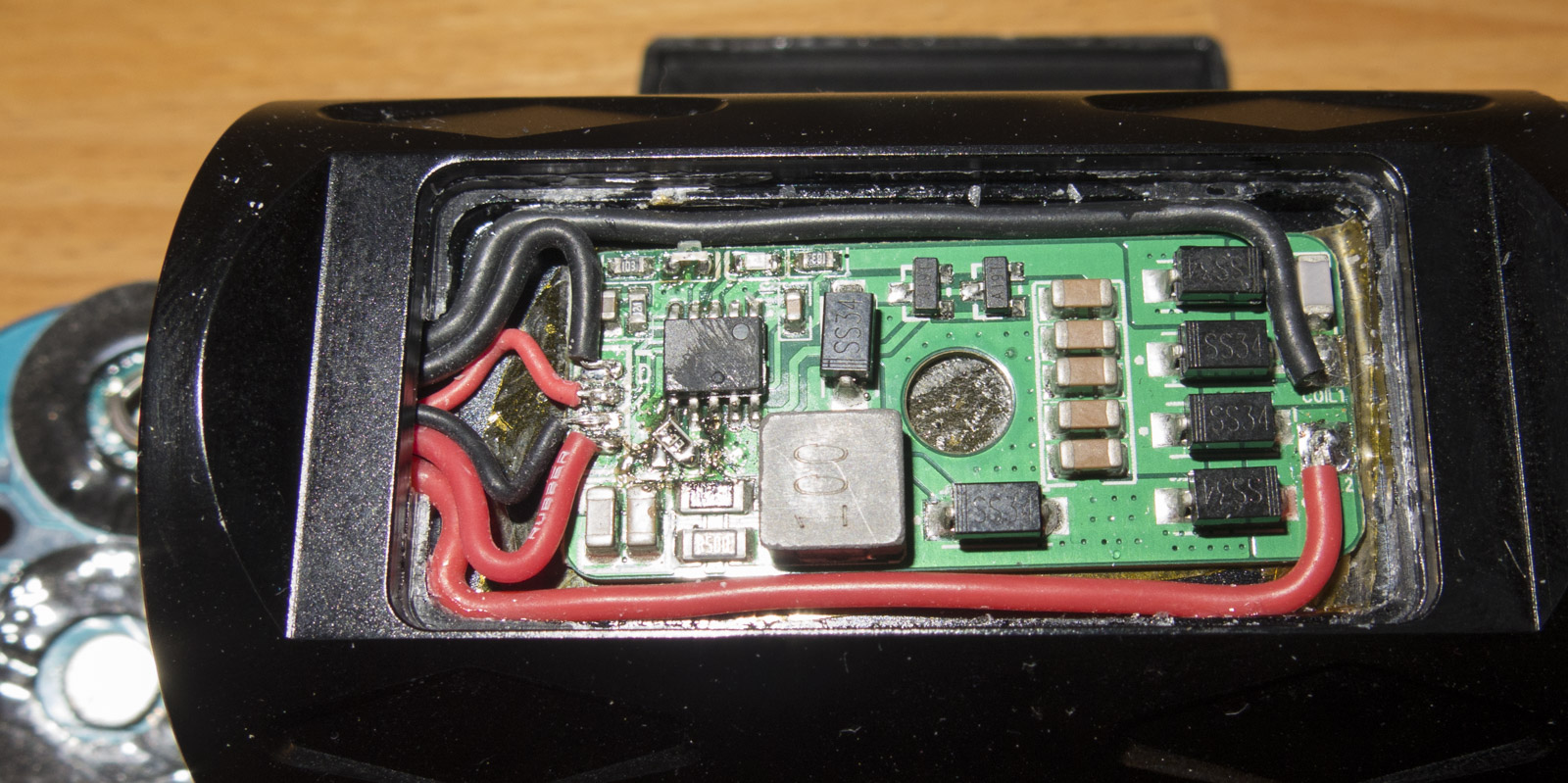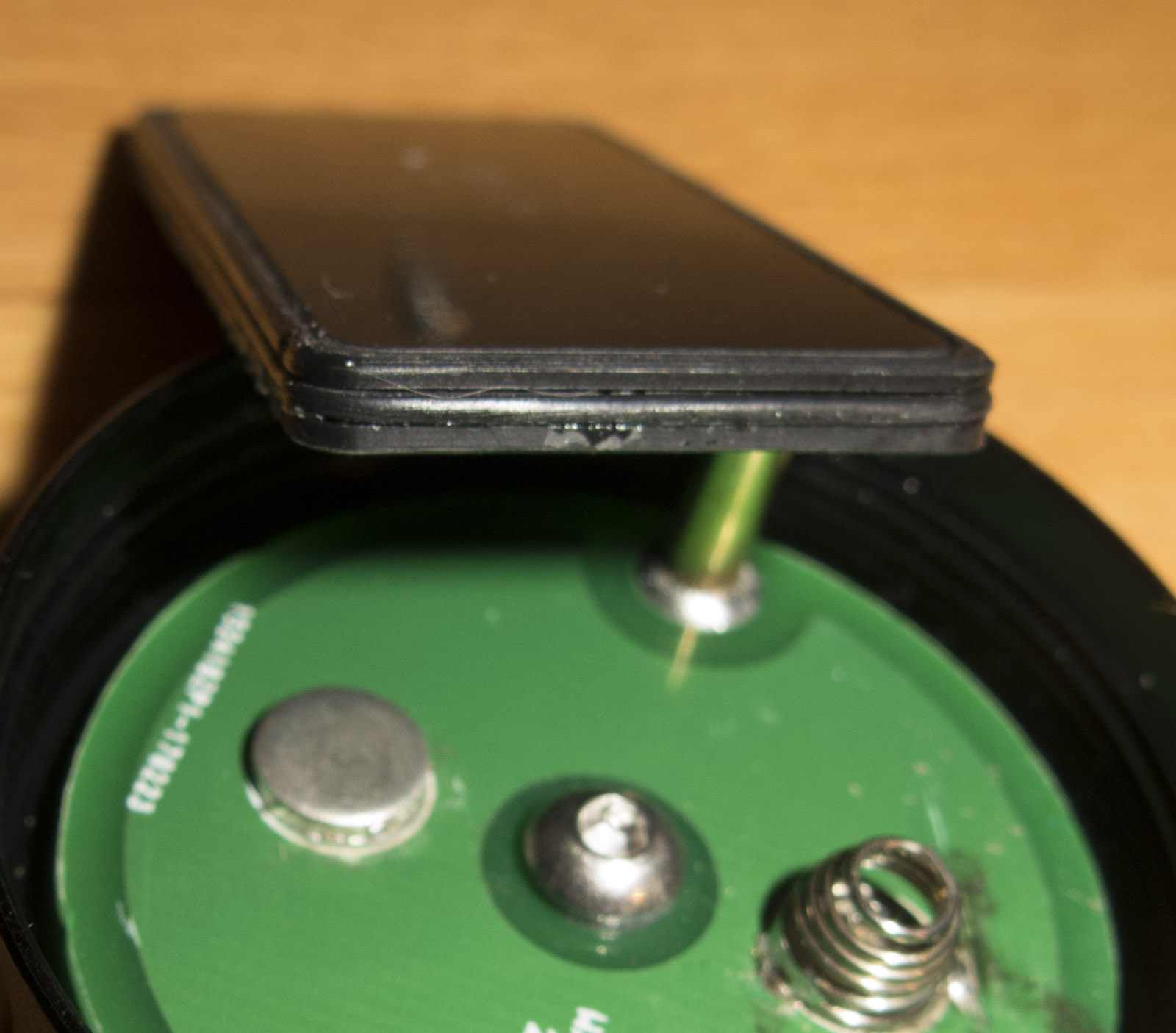 Other side has a coil behind an identical cover which has also the wireless charge symbol printed on it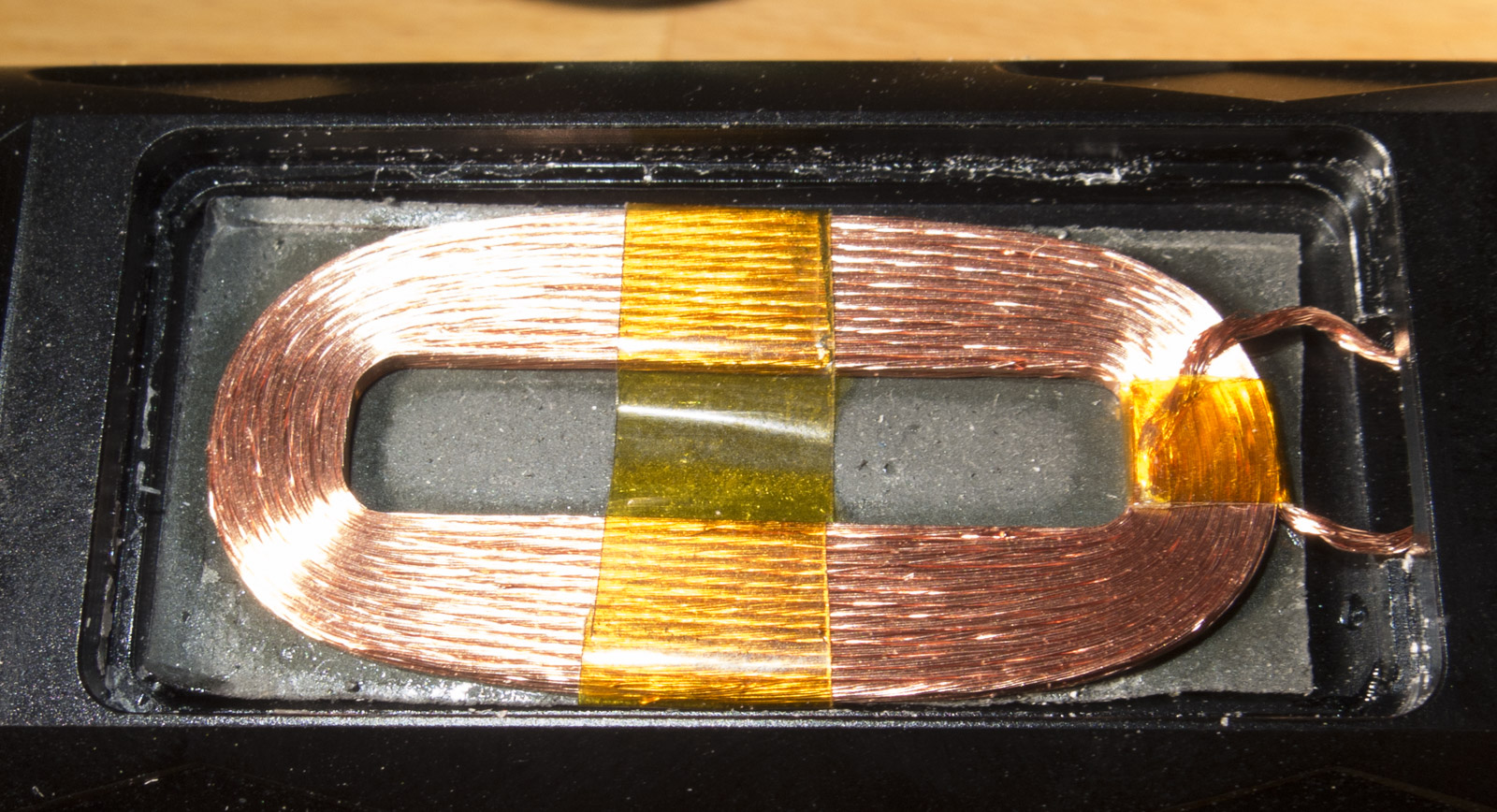 In my Turbo torture tests those springs got way too hot and sagged on both ends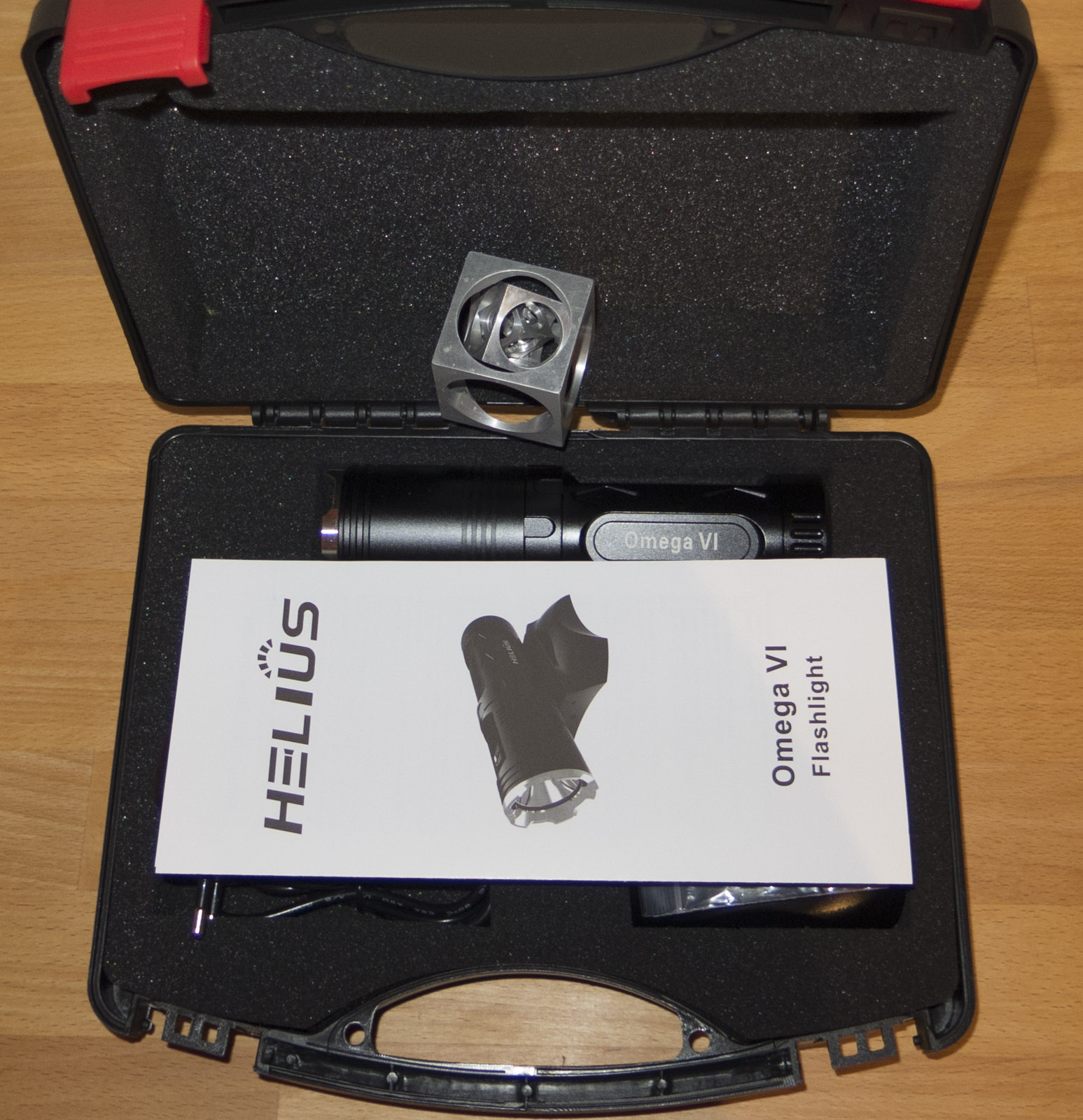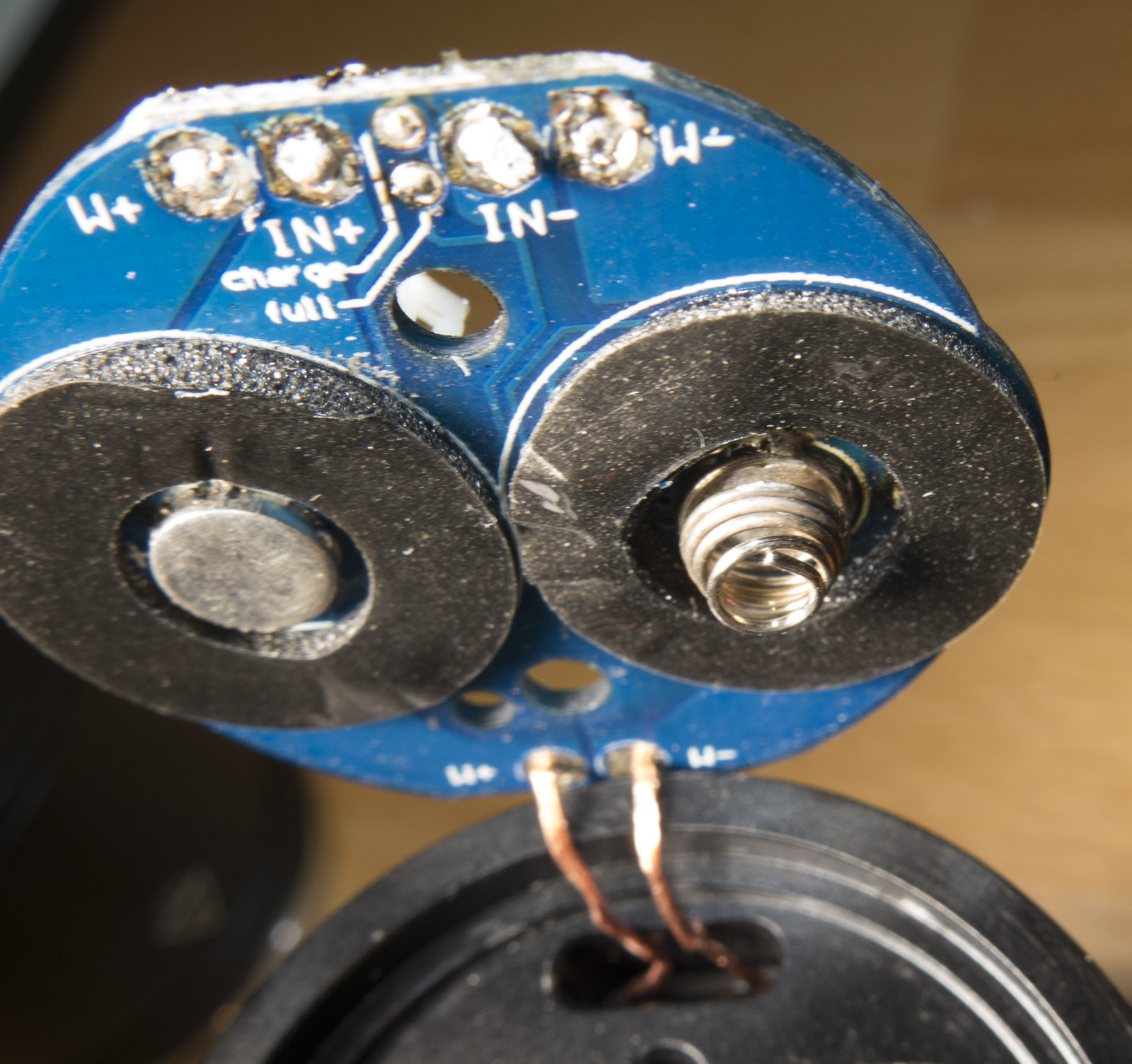 Here you can see even the insulating disk is partially molten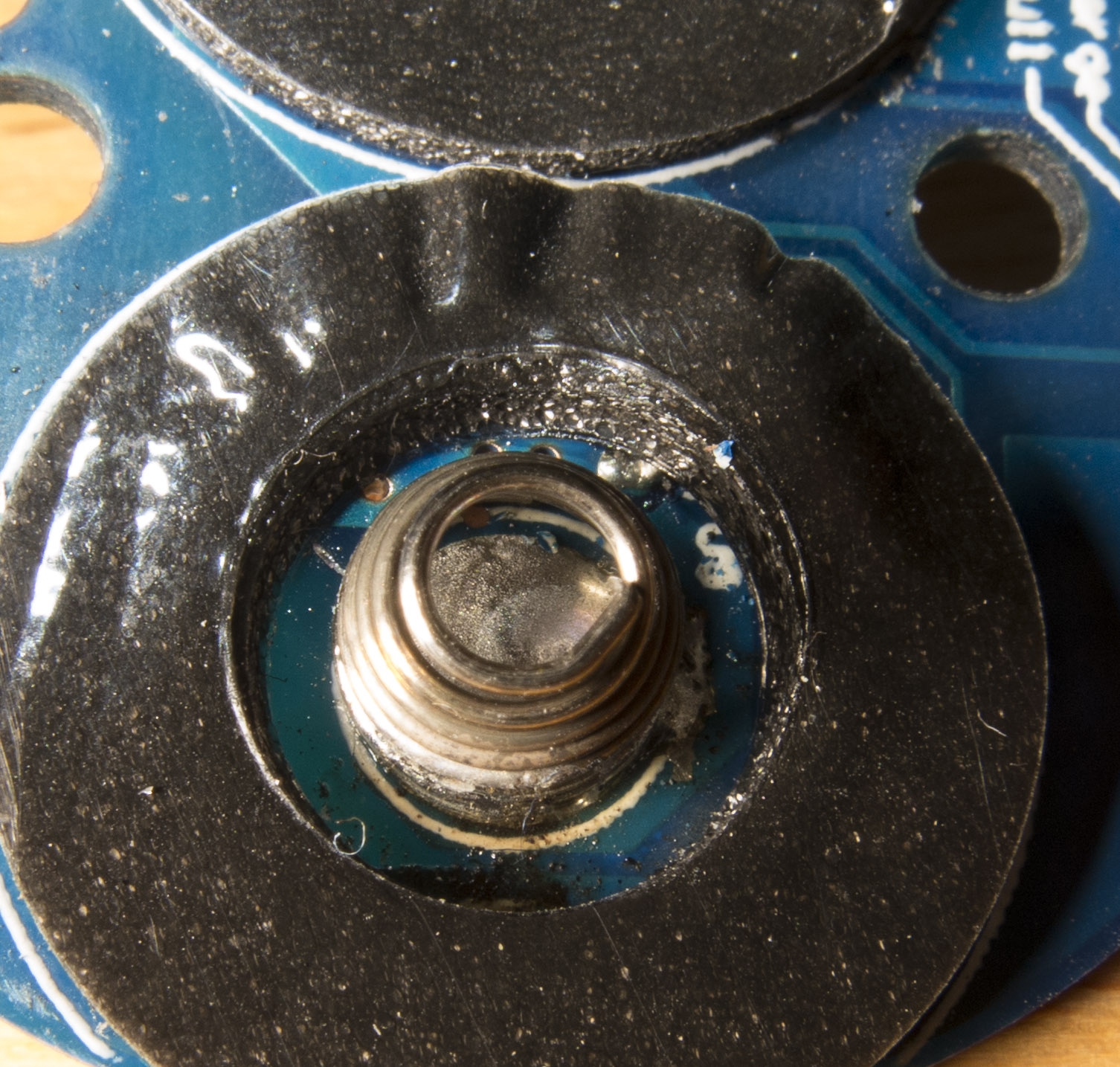 The lights voltage readout is not good, it does not measure anywhere near the cells, with original springs the readout was a lot too low on turbo mode
The light has no visible PWM in output, falling water drops make a straight line
The light has a some mass to absorb and spread the heat from the LED
But in extended turbo test switching up after timed step down the light gets up to 80°C hot on the head while the handle stays relatively cool, the heat transfer to the handle is not good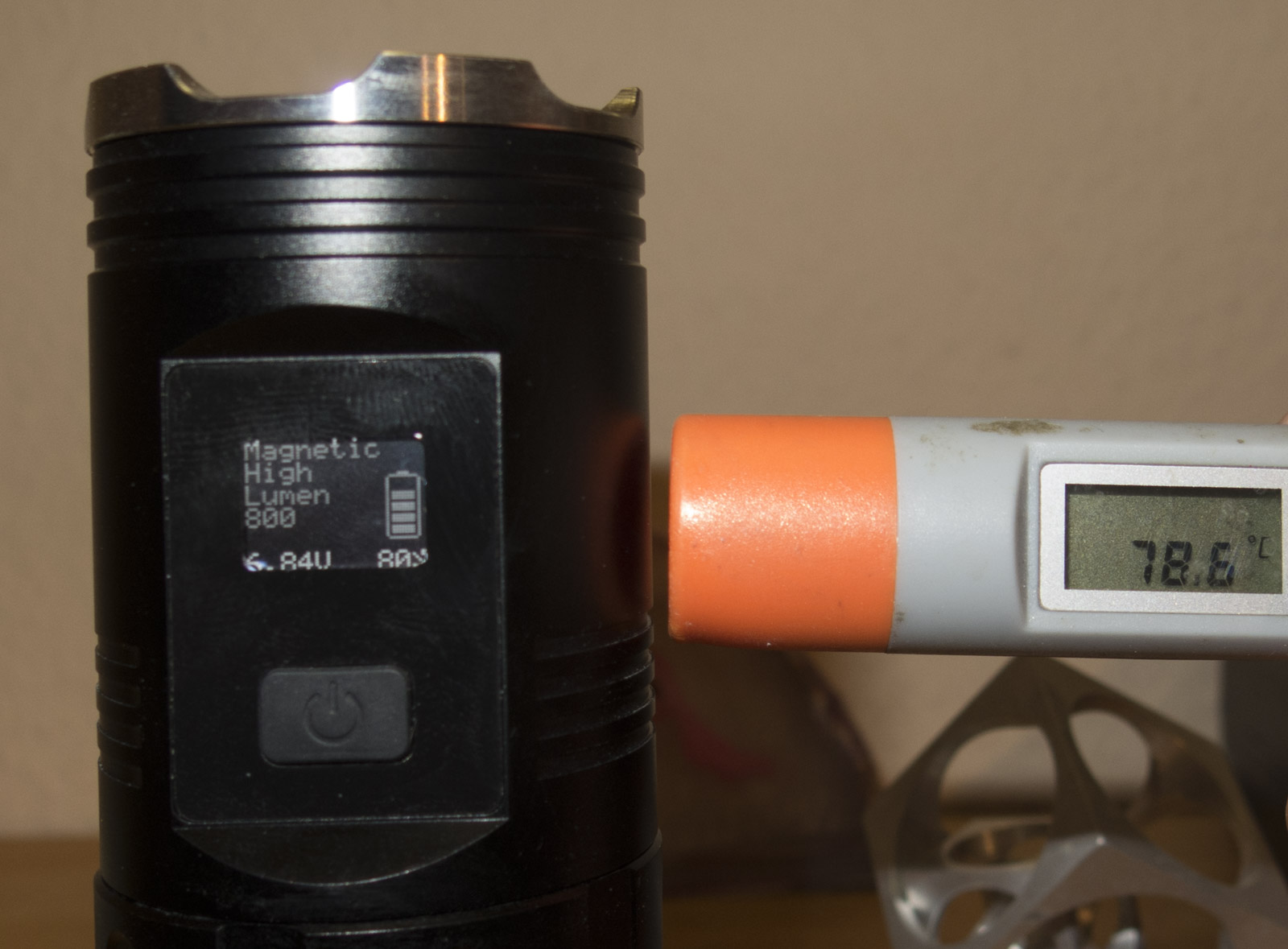 The batteries are Panasonic NCR18650-PF with a weight of 48.5g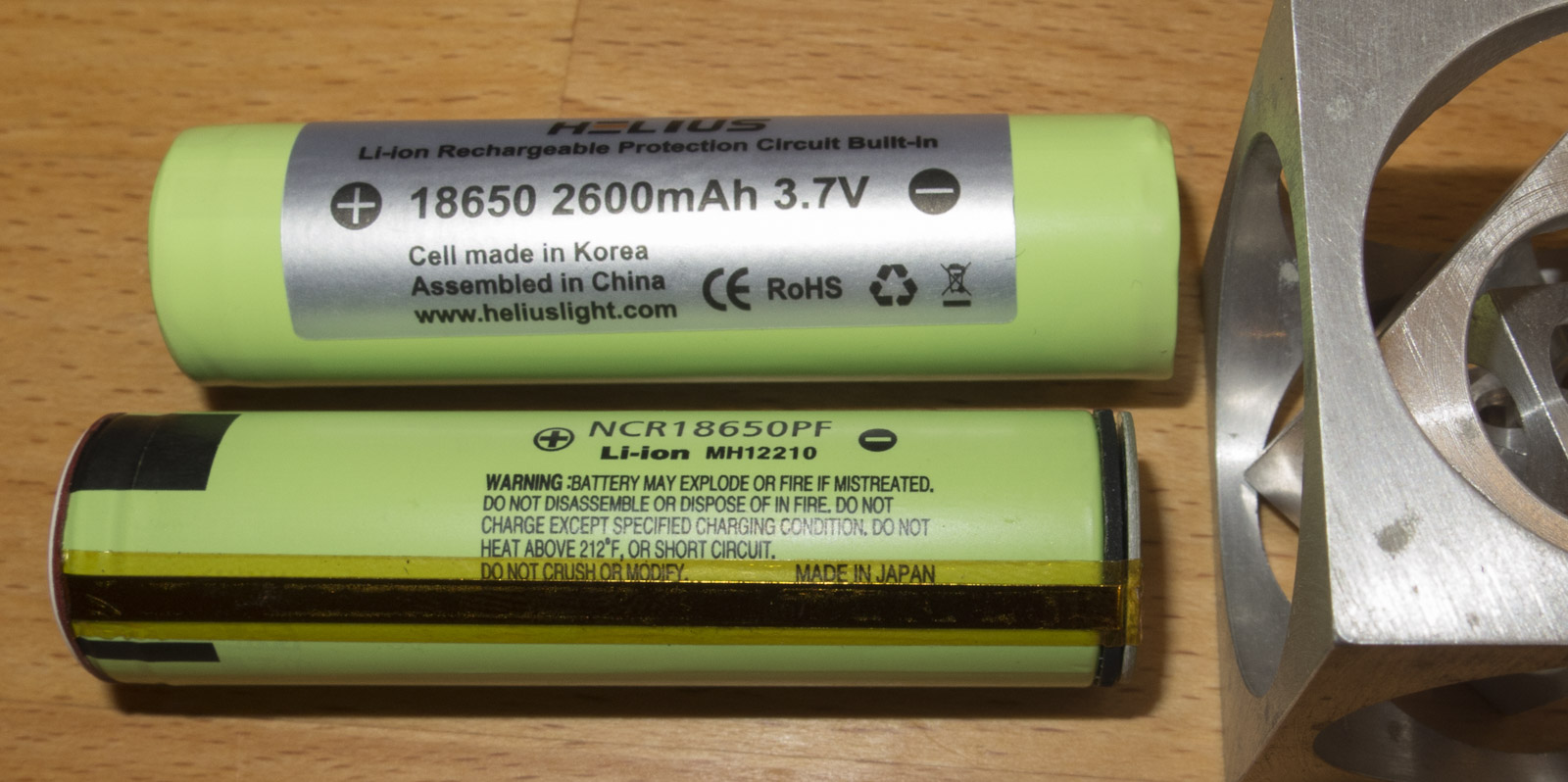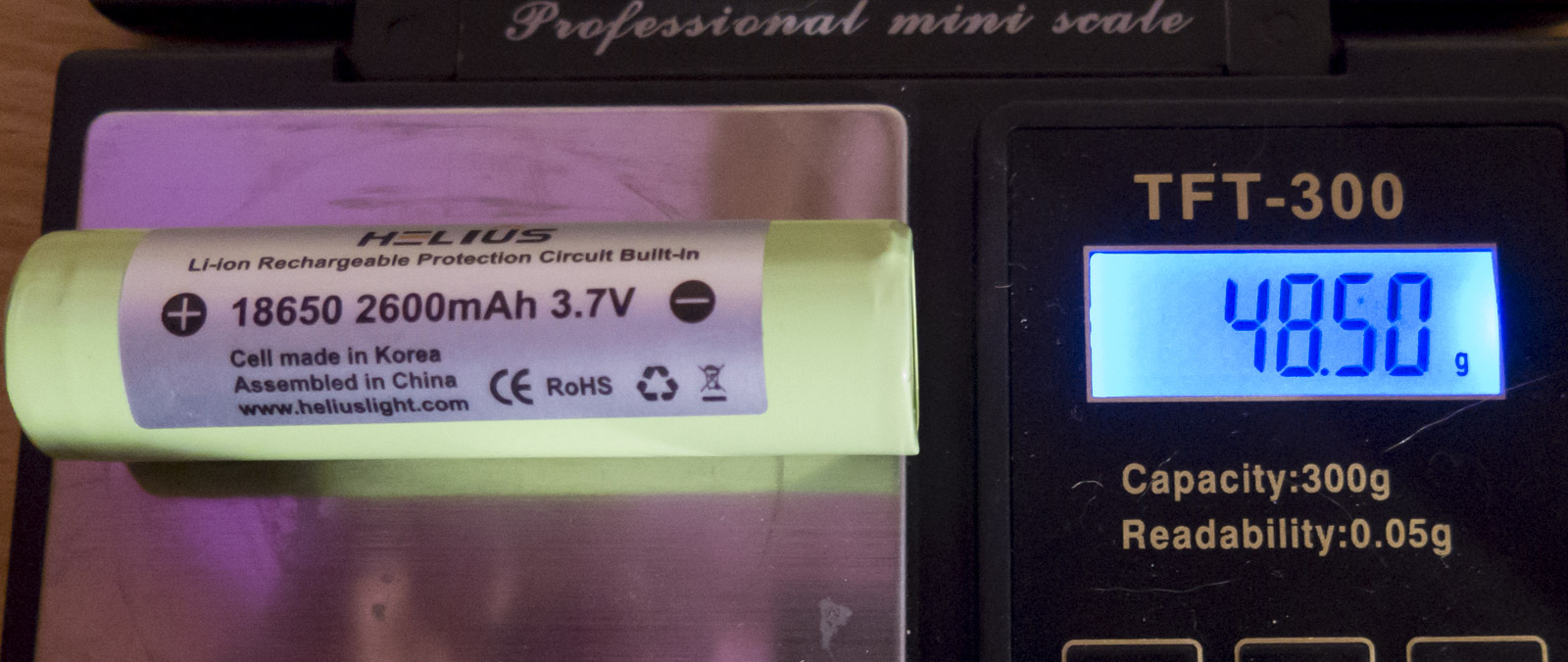 The Cells showed 60 and 80mOhms on my charger, this is a common reading for good protected cells, but not balanced well
10A 2950mAh from Datasheet, not latest cell for max capacity, I did not find any test for this cell so far I guess it performs well in this light
The mode spacing is not good, the light has no moonlight lowest level is 35 lumens
The light has only 3 modes 1500 Lumens max, which steps down 500 lumens and 35 Lumens
additional it has one Strobe mode
3 Modes in modern LED lights is just not enough at least a 1 Lumen mode missing
Also below 85% battery capacity the lights highest mode is only 1000 Lumens, which is pretty poor with 10A cells it should be possible to run down to at least 50% capacity
.
Measurements
I measured 1280lux at 6m
So it has 46kcd at 1m
the light is specified with 43500cd and XHP35HI LED which is not correct on my sample it has the HD version with dome, with a HI it would throw a lot more
Tail Currents for each mode:
Samsung INR-30Q @4.06V
Low 60mA 0,5W
Medium 1,0A 7,5W
Turbo 3.5A about 25W
Of course those numbers change with battery voltage
The light has no temperature control it steps down to 1000 then 800 Lumens, but switching off and on gets back to full output
Doing this the light gets very hot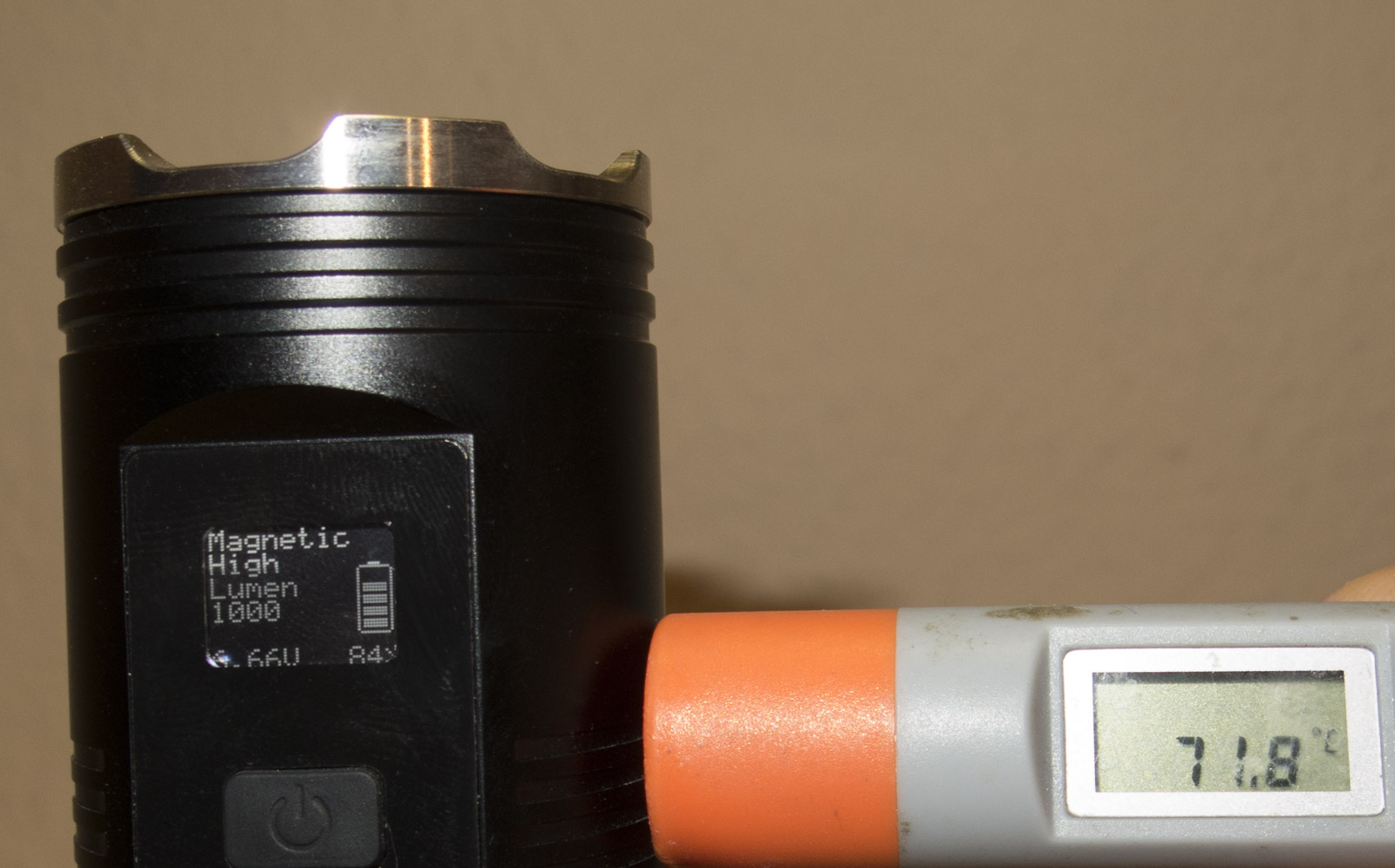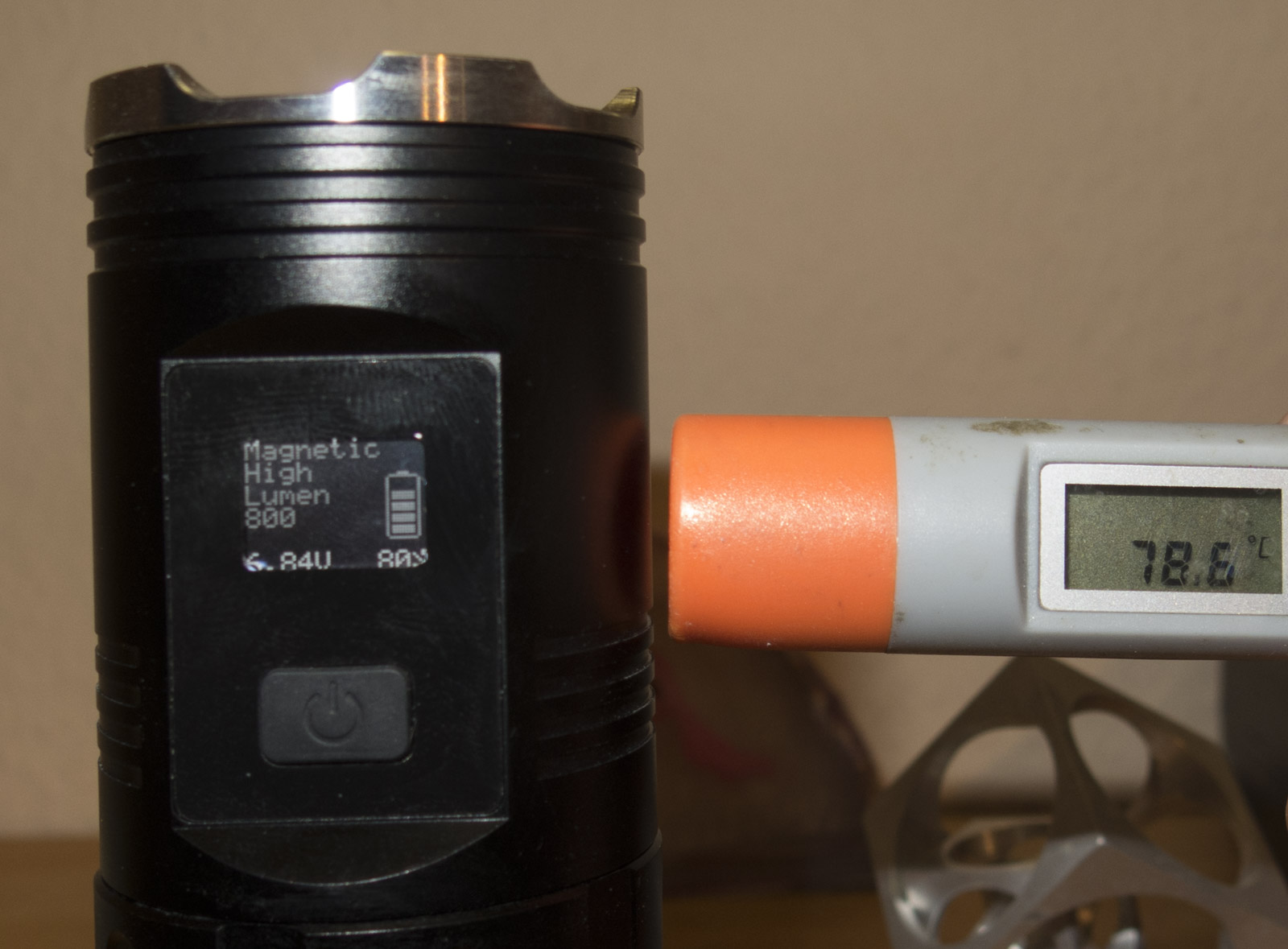 .
Modding:
I had to replace the sagged springs
.
Beam shots
2m to ceiling
Helius Omega VI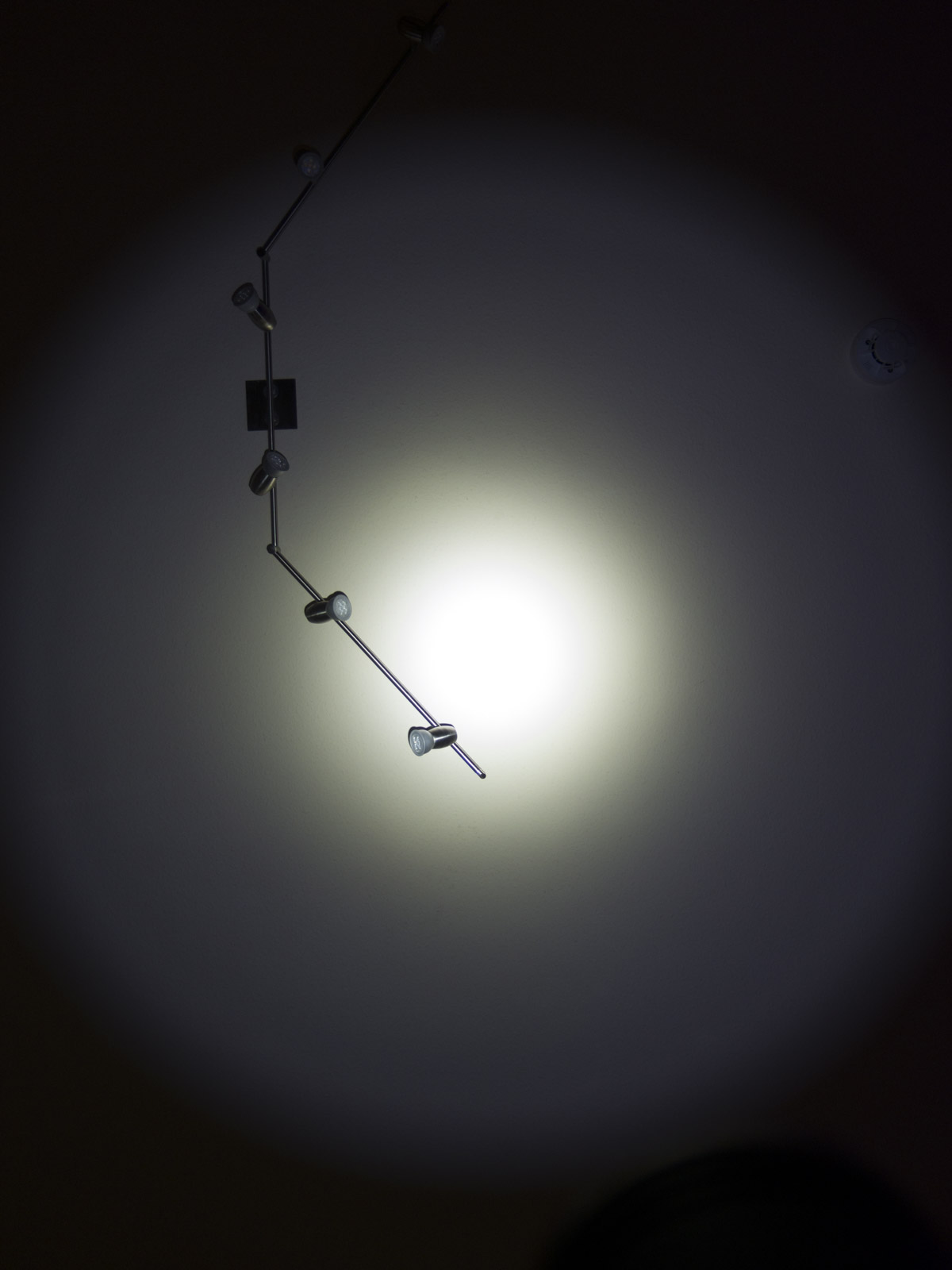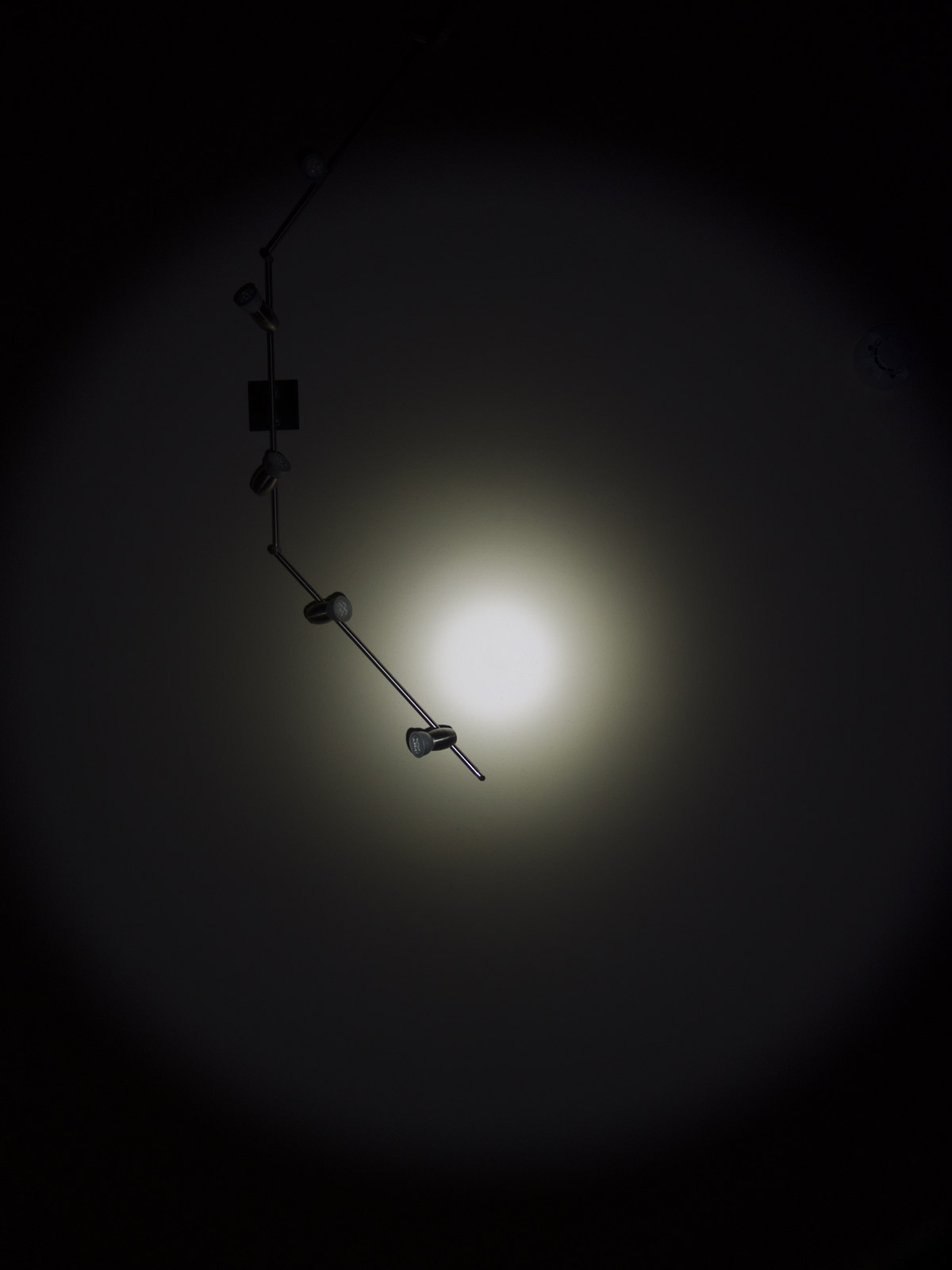 Nitecore P12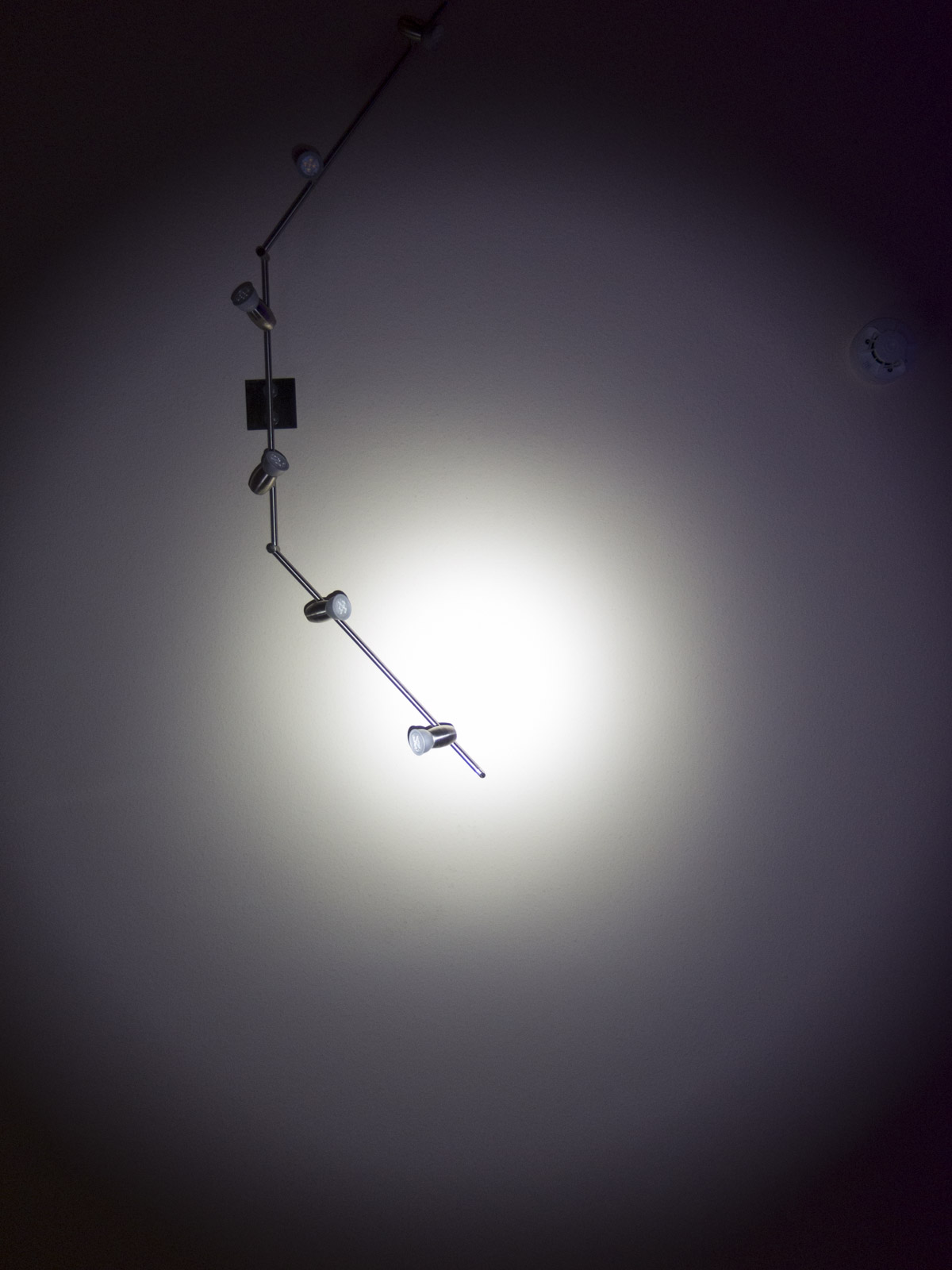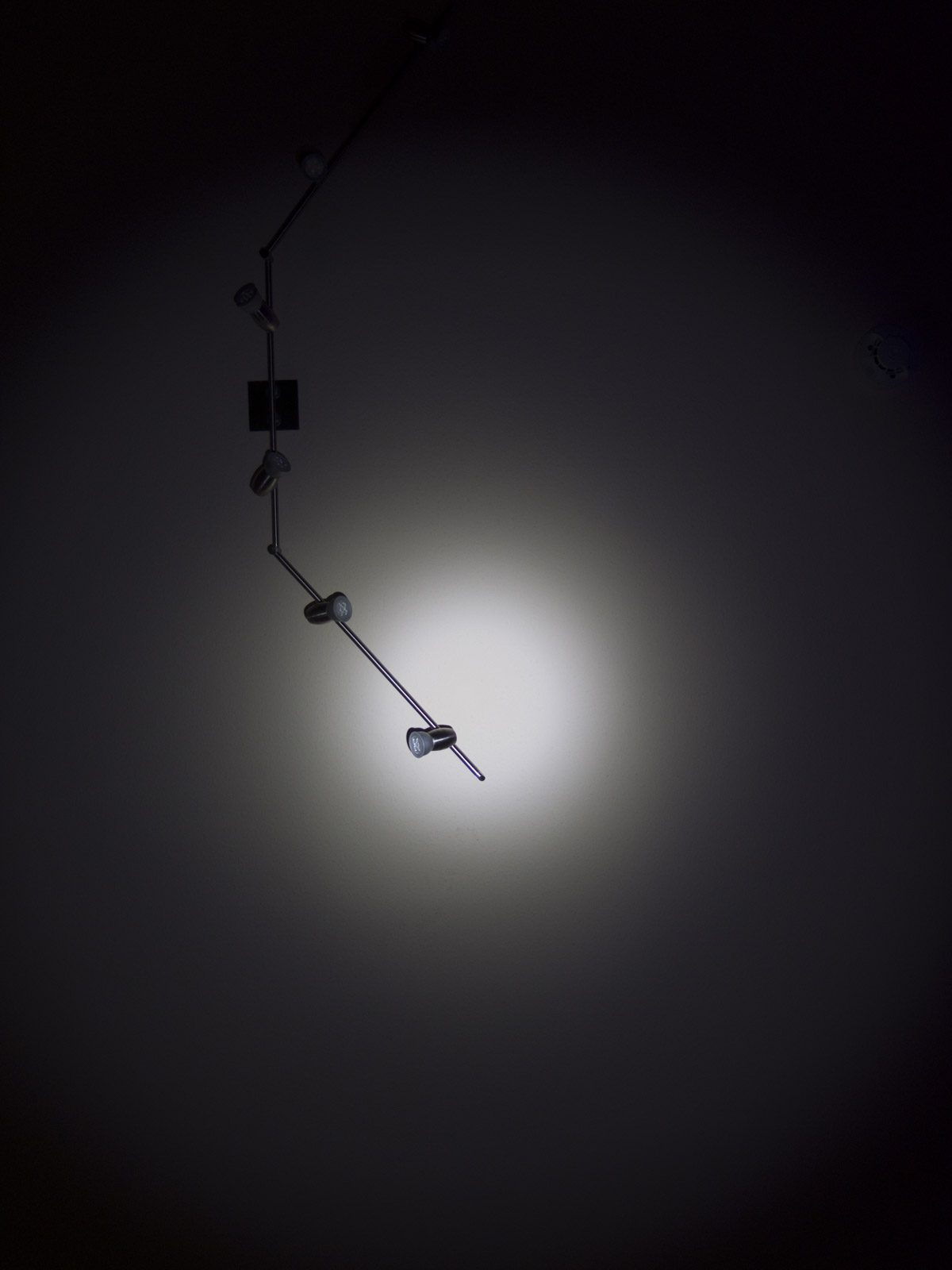 BLF Q8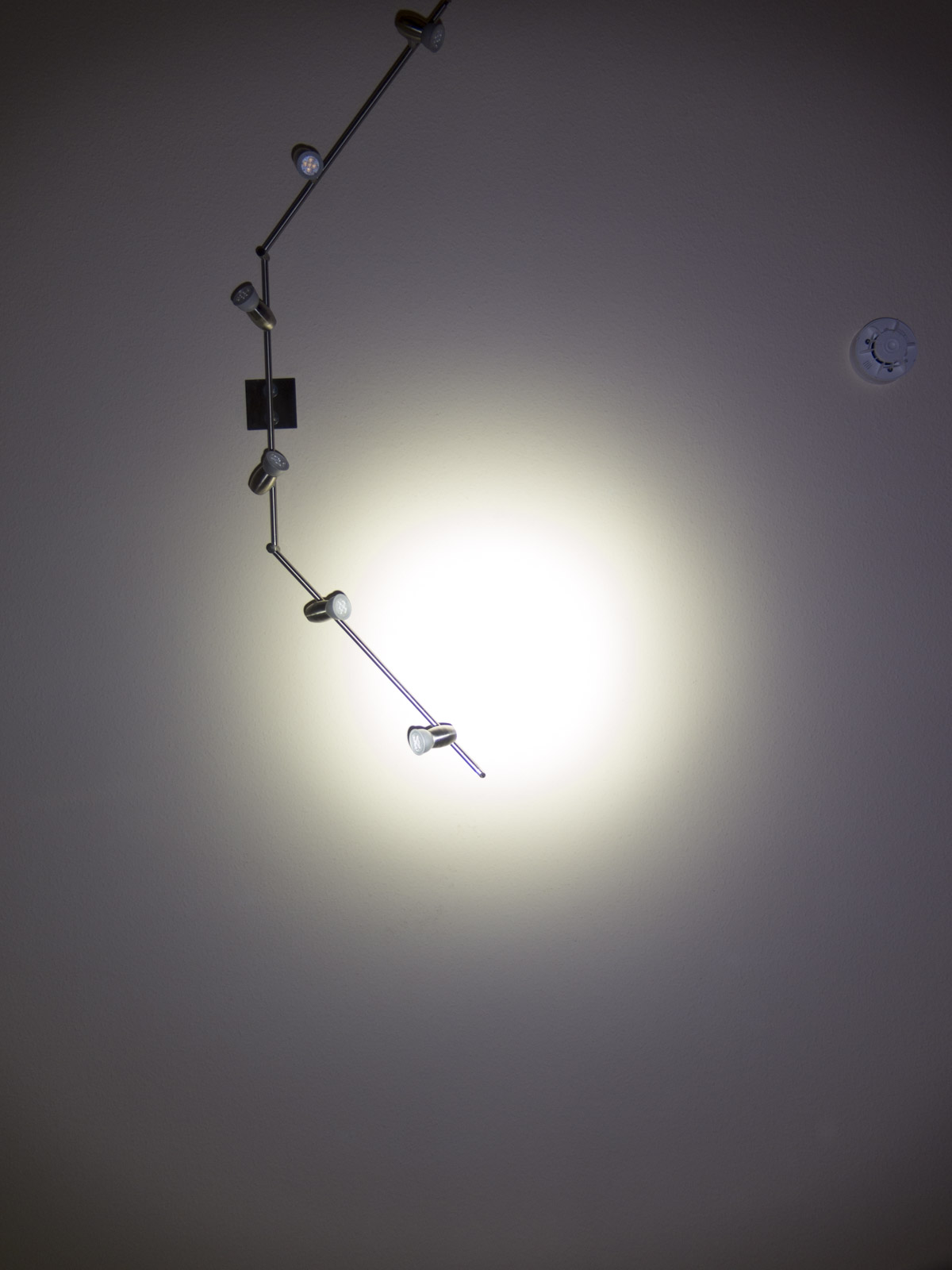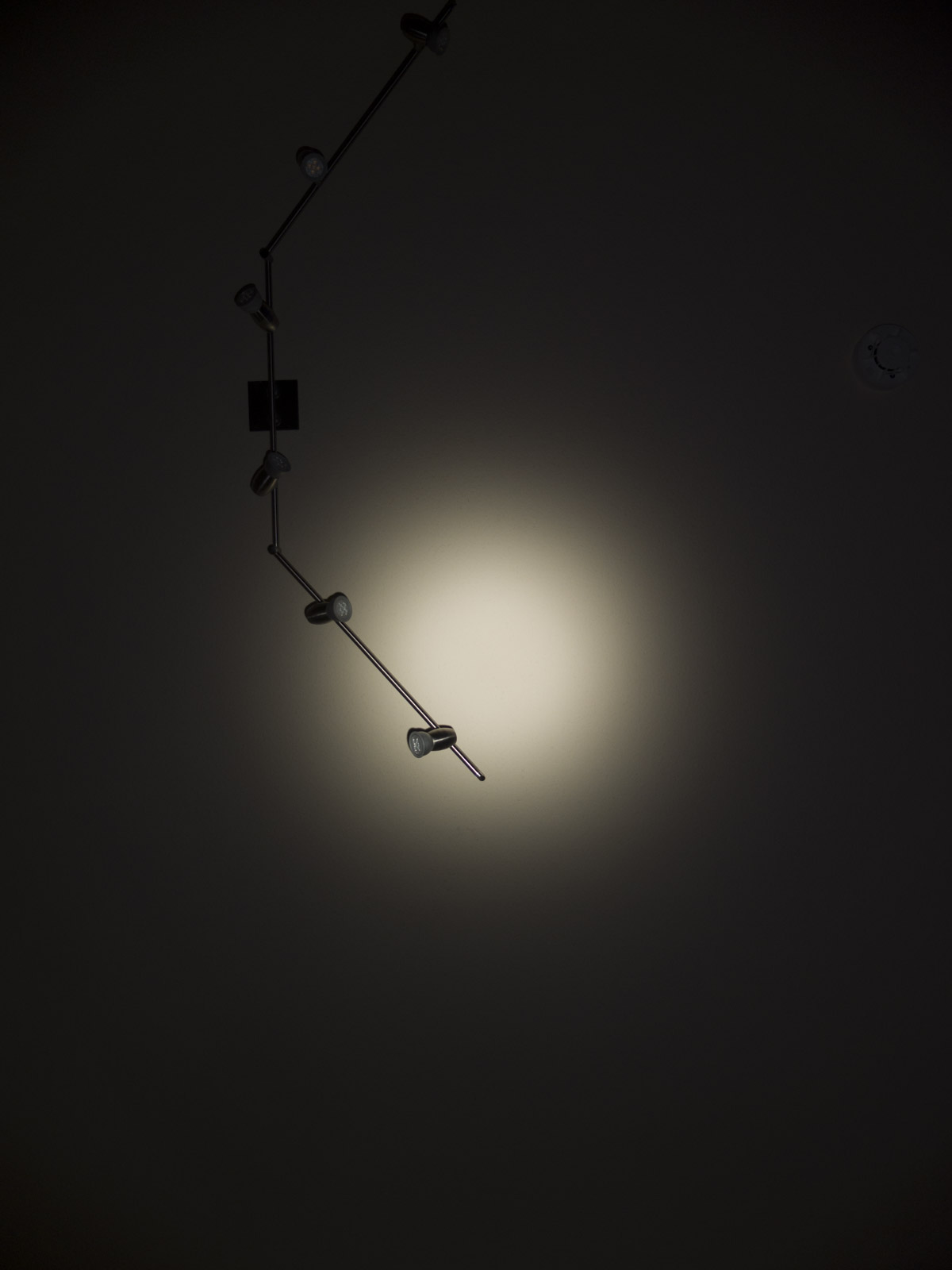 Sofirn SP35

.
User Interface
Turning On
Single click the side button on the head to activate the OLED screen and turn on the light.
Turning Off:
Adjusting the OLED screen to off mode to turn it off. After 30 seconds, the OLED screen will turn off automatically.
A: Power Mode: When the flashlight is on, one click the side button to turn off.
B: Magnetic: one click the side button or left twisting the magnetic rotating ring to off position to turn off.
Selecting Operation Modes :
When the OLED screen in off mode,long press (press and hold for 3S) the side button to choose Magnetic or Power Mode
Continuous Lighting Operation-Change Modes (Dual dimming)
A: Magnetic Control system
- Slightly twisting the magnetic rotating to the right to cycle through high, medium, low and strobe. (Off-high-medium-low-strobe)
- Single click the side button to turn off and click again turns the flashlight on in the last used mode
B: Power Mode Operation (The Magnetic Rotating Ring on the off position)
- Single click turns the flashlight on in the last used mode
- Press and hold(long press) to cycle through modes High, Medium, Low.
- Double click to access the strobe mode. Double click again, the flashlight will retreat from strobe brightness and resume to previous brightness.
.
Conclusion
The light should introduce magnetic charging with OLED display.
The light has many little design flaws and is too heavy compared to similar lights, especially travelling with the whole package it is too big and heavy.
Most disturbing was that the springs got very hot and sagged, so I had to replace them.
1500 lumens from an E4 XHP35 HD is not impressive for a 2×18650 light not is the throw anywhere near similar sized lights with XHP35 as the reflector is with 30mm pretty small compared to 45mm light diameter.
Positive:
- outside machining and anodisation is good, but some things could be better
- XHP35 HD has a nice neutral 5500K color and good tint
- AR coated glass lens
- DTP copper MCPCB
- proper LVP
- internal charging of the batteries
Neutral:
- reflector is too small for a light with this diameter
- could have used 3500mAh 10A cells, good is that the PCB has a relative low resistance
- PSU for the magnetic base is too light for a quality one
- tube side parts to cover wireless charge made from very soft plastic, polycarbonate would be much better
- too big and heavy for a 2×18650 light
- 1.5min timed step-down, no transition
- no lanyard hole
- some errors in specs and manual like XHP35 HI LED
- operating with magnetic ring the light goes out between 2 resting position, even if you turn it fast
Negative:
- OLED display hard to read because the hole in the body is too small
- light can only maintain 1500 Lumens above 85% battery capacity
- springs sagged using light a long time in Turbo
- Display cover is way too thin and soft will be scratched way too fast
- many little things like small edges on the body, no centering piece for the LED and other small issues with the build quality
—
[Reviews] Miboxer C4-12, C2-4k+6k, C2, C4 / Astrolux K1, MF01, MF02, S42, K01, TI3A / BLF Q8 / Kalrus G35, XT11GT / Nitefox UT20 / Niwalker BK-FA30S / Sofirn SF36, SP35 / Imalent DM21TW / Wuben I333 / Ravemen PR1200 / CL06 lantern / Xanes headlamp
[Mods] Skilhunt H03 short / Klarus XT11GT, XT12GTS / Zebralight SC50+ / Imalent DM21TW / colorful anodisation
[Sale]
Drivers: overview of sizes and types
DD+AMC based drivers Anduril or Bistro OTSM 12-24mm, S42, 24-30mm L6, Q8, MF01(S), MT03, TN42  
Anduril or Bistro 8A buck driver for 20-30mm, MF01/02/04, TN40/42, Lumintop GT, MT09R

Remote switch tail DD board with FET
Aux boards:
Emisar D1, D1S, D4, D4S, D18, Lumintop FW3A, Fireflies ROT66, Astrolux MF01, Tail boards like S2+