Somebody mentioned overload trip current when asking me something about batteries, this got me thinking, can I test it?
The answer is yes and it was fairly easy to rig the equipment for it. I used a computer controlled electronic load and a computer controlled power supply (the power supply is used to reset the protection with).

Here is my first test results: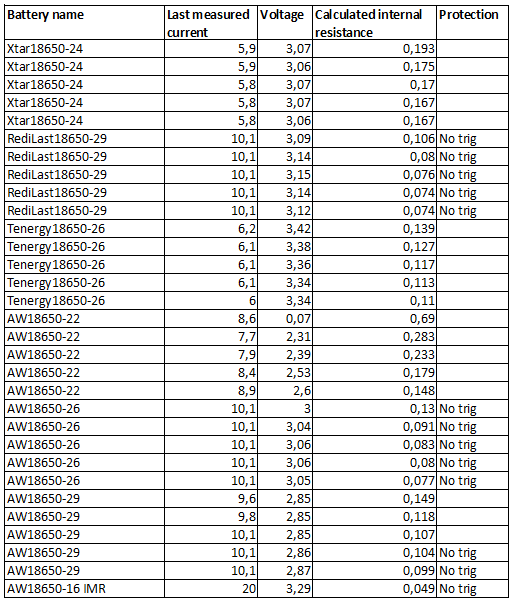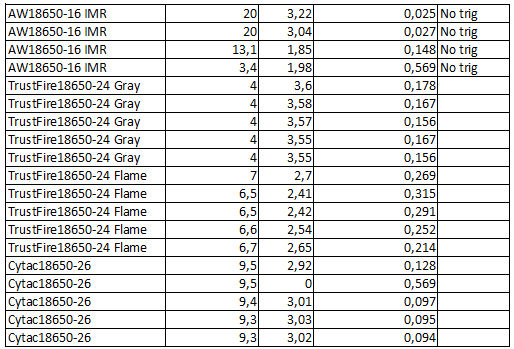 I am using a current limit of 10 ampere and a lower voltage limit of 2 volt, i.e. if the current get above 10 ampere or voltage below 2 volt I stop the test and says the protection did not trip. With the unprotected IMR cell I increased the current limit to 20 ampere and did empty the battery during the 5 minutes testing time (This was mostly for fun).
Most of the cells are about a year old and comes from my 18650 roundup test, i.e. the specifications may have changed.
I did each cell 5 times, to see how stable the trip point is, some of the cells got rather hot during the test.
A few times the test shows 0 volt at the trip current, this is because I measure current and voltage at different time and the protection did trip between these measurements. This does also mean that the actual trip point is 0.1 ampere below the value in the table.
 For some of the batteries the trip point looks more like the under voltage trip point than a over current trip point.
The internal resistance is calculated from the voltage drop between 3A load and the trip point


Here is a look at the raw data for a few tests (My recording stops at the sample just before the protection trips):




The above curve has a regular slope, this means that the internal resistance calculation is valid for this cell.




With the IMR cell, only the first run is valid for internal resistance calculation.

I expect to include this test as part of my future LiIon tests, but will probably only include the lowest trip current measured and nothing else.