Review example was provided by Nitecore. Here is a product page.
You can buy Nitecore GP3 at
➤ AMAZON
➤ ALIEXPRESS
➤ BANGGOOD
➤ NITETORCH they generously offered 20% code HJK5KDNQ valid for all the items in store, including other brands
for years i`ve been buying batteries at Nkon.nl. sincerely recommend this store.
—
As far as I understand, no flashlight manufacturer played in the camera-light market, so Nitecore is 1st to produce such a thing. And (spoiler!) they succeeded.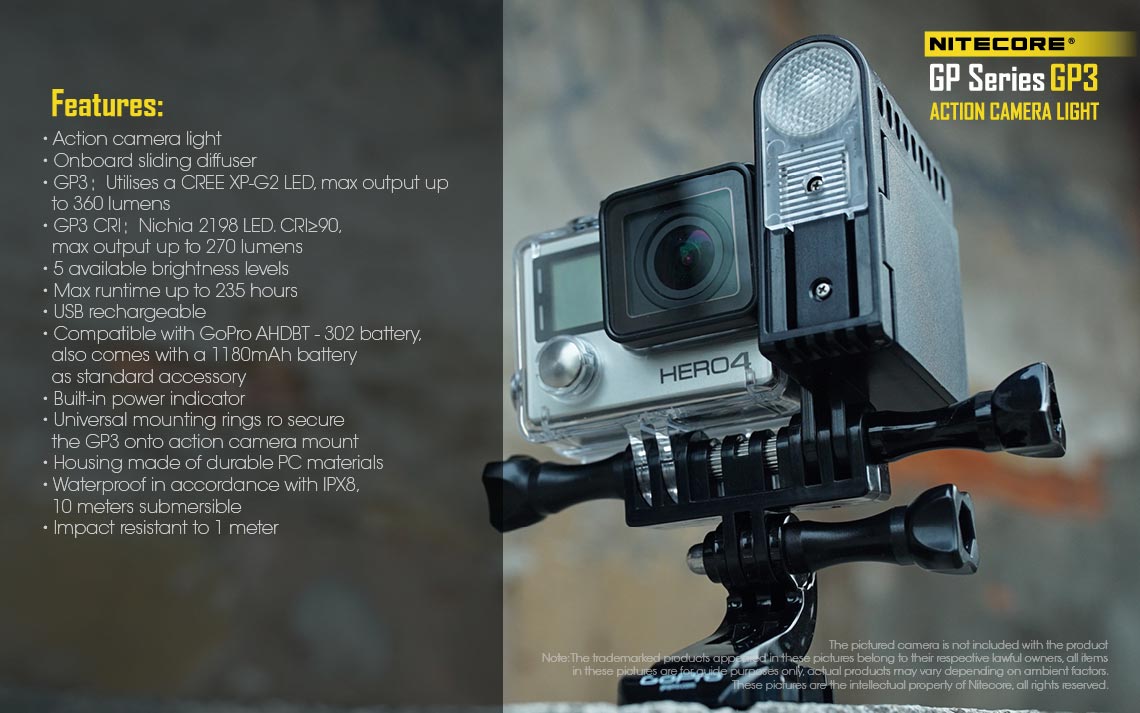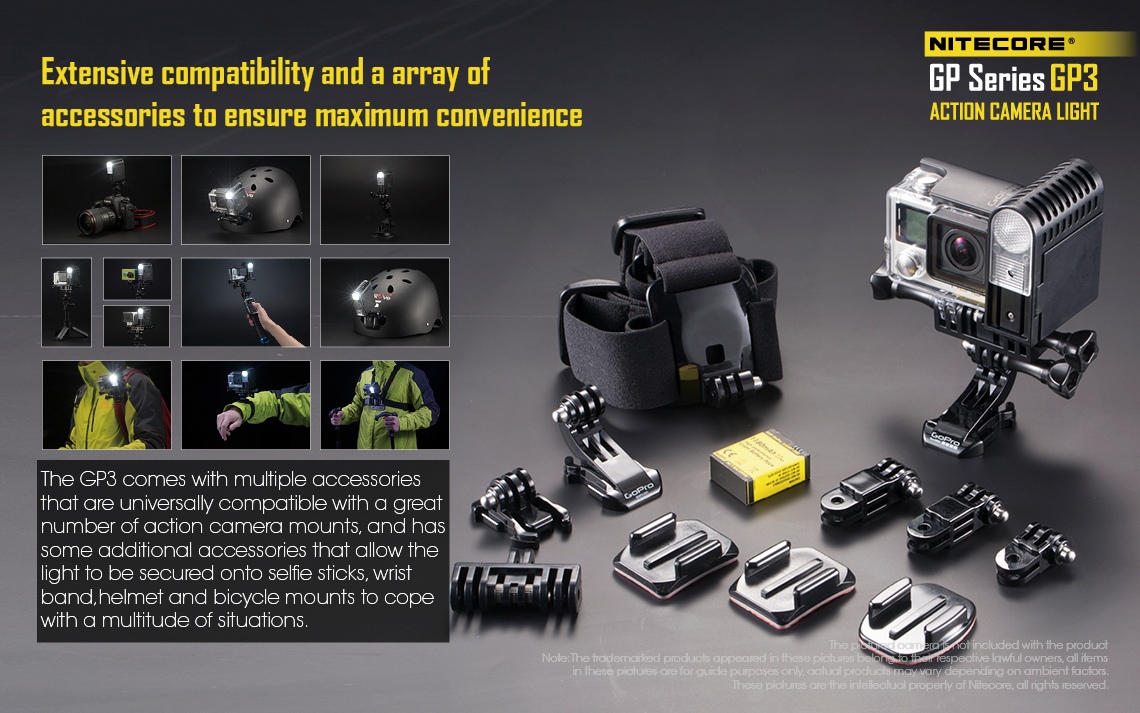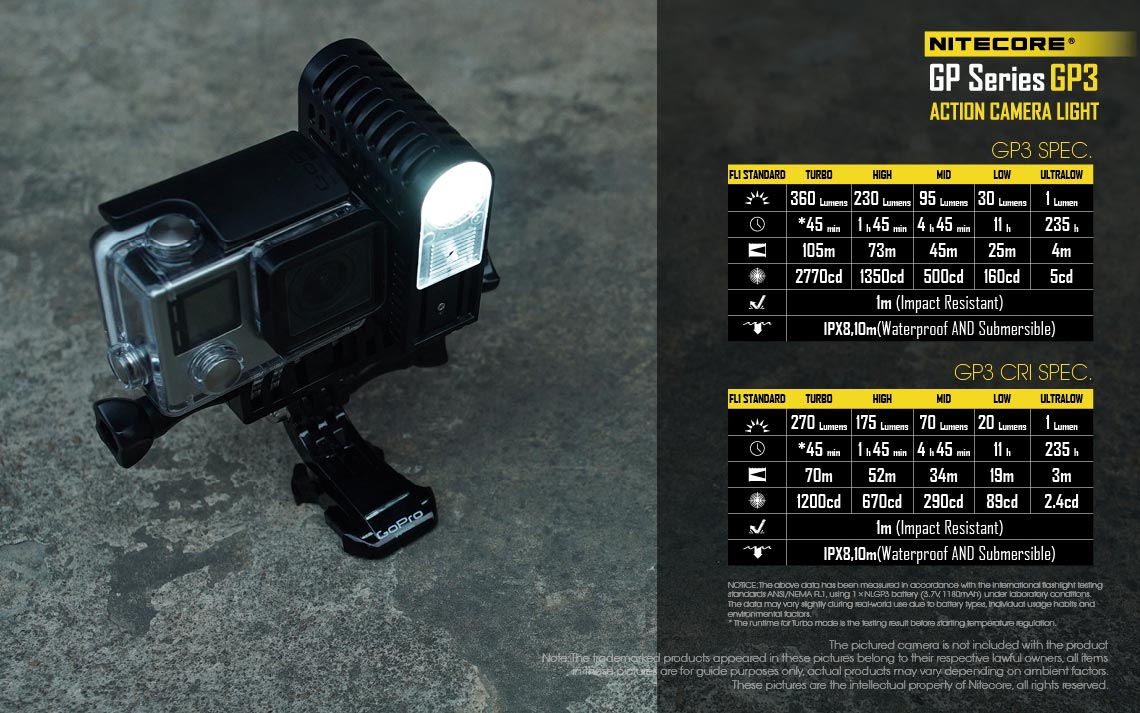 Time of GoPro domination passed, and if anyone wants to buy action-camera, that provides with decent picture, that would cost just 70-100$. So, there are a lot of people who own such devices. A lot of bloggers, a lot of those who just make videos to keep precious moments stored. Problem is that most of action-cameras nowadays require good illumination, in other case video will be saturated with noise.
I`ve spent some time looking for on-camera light for my Canon Mark II and the bought well-known plastic plate with lots of LED. If you ever seen guys with cameras, shooting video, I bet you`ve seen this camera lights as well, they all look alike. Yes, that works, but device is qiute big, definitely fragile and non-waterproof. I suppose there are professional camera lights, but price tag leaves them for professionals. And, still, i`m talking about full-size cameras, hot-shoe mounted lights, not action one. There are few lights for them, and cheap ones look cheap (and, I suppose, performes as well) and expensive ones are…yeah, expensive. Much more than GP3 which is really affordable and cost only about 40$.
PACKAGE AND APPEARANCE
If you `ve seen (and, as I post review here – you`ve seen) any Nitecore flashlight, you`ve seen them all. Nitecore experiments with electronic, LEDs, UI, but stay loyal to all-known yellow-black boxes with rare exceptions like TIP X-mas edition.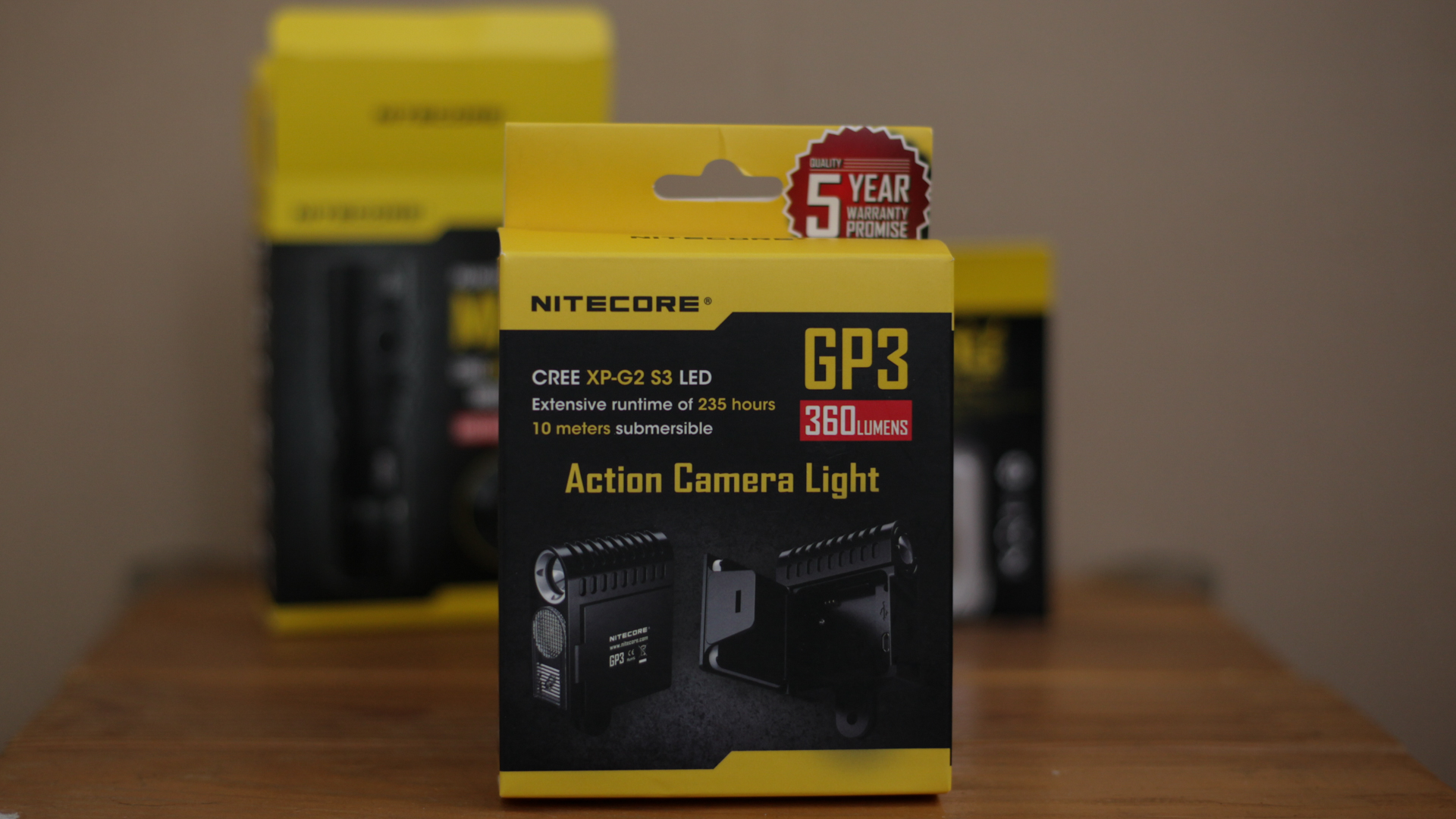 Package doesn't include a lot, but it include all the most needed parts: camera and battery themselves, mount and pair of fastening bolts for it, USB-charge cable. Product page says there are some other part to mount GP3 available, I suppose there may be simple pack (like I get) and "all include pack"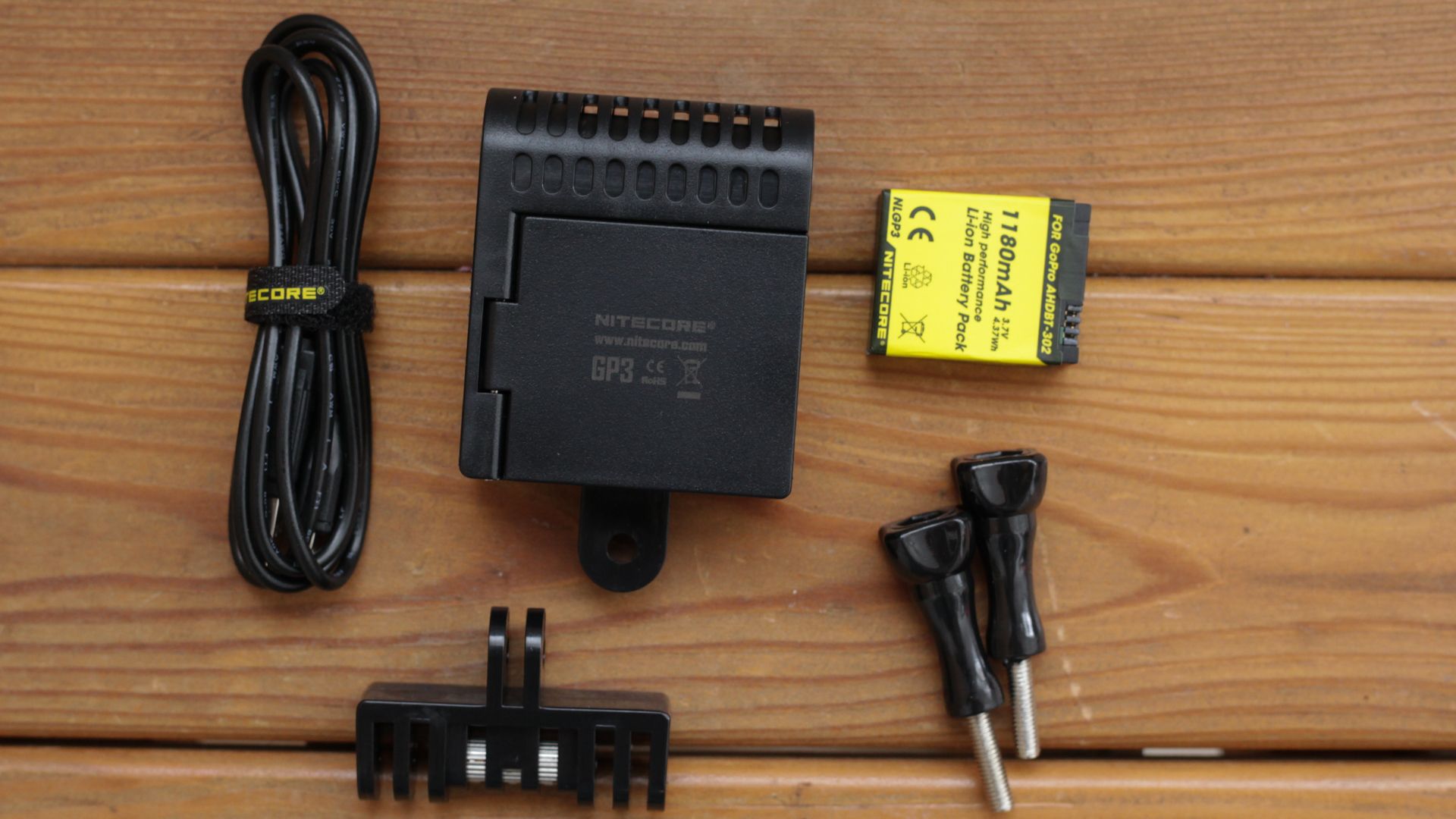 And, here it is from all the sides.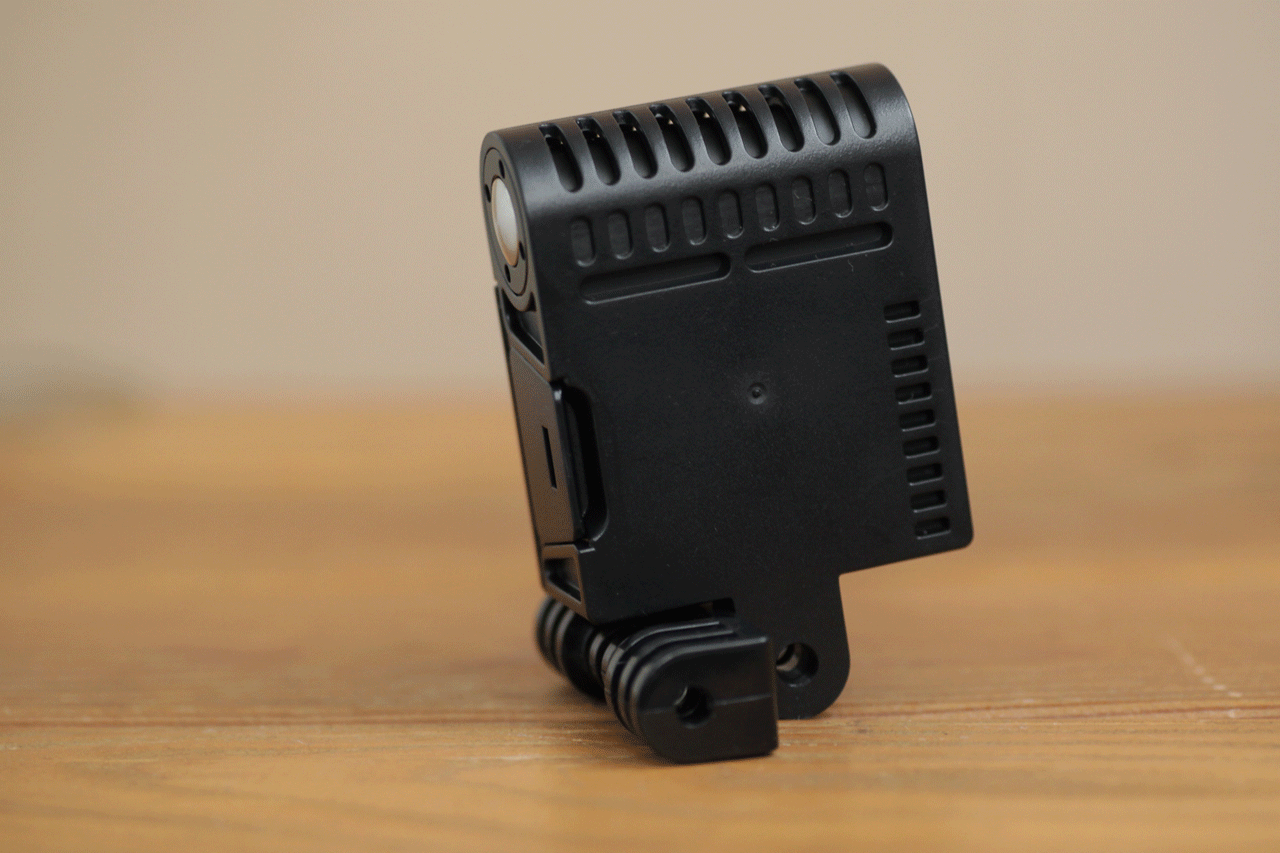 Camera light is quite compact, and comparable to action camera itself. 57.5х25.4mm and 87g
Being mounted side-by-side, they looks like they were created for each other.
When placed to common mount, GP3 and camera are fixed there with pair of bolts, that let you to adjust degree of movement of them both.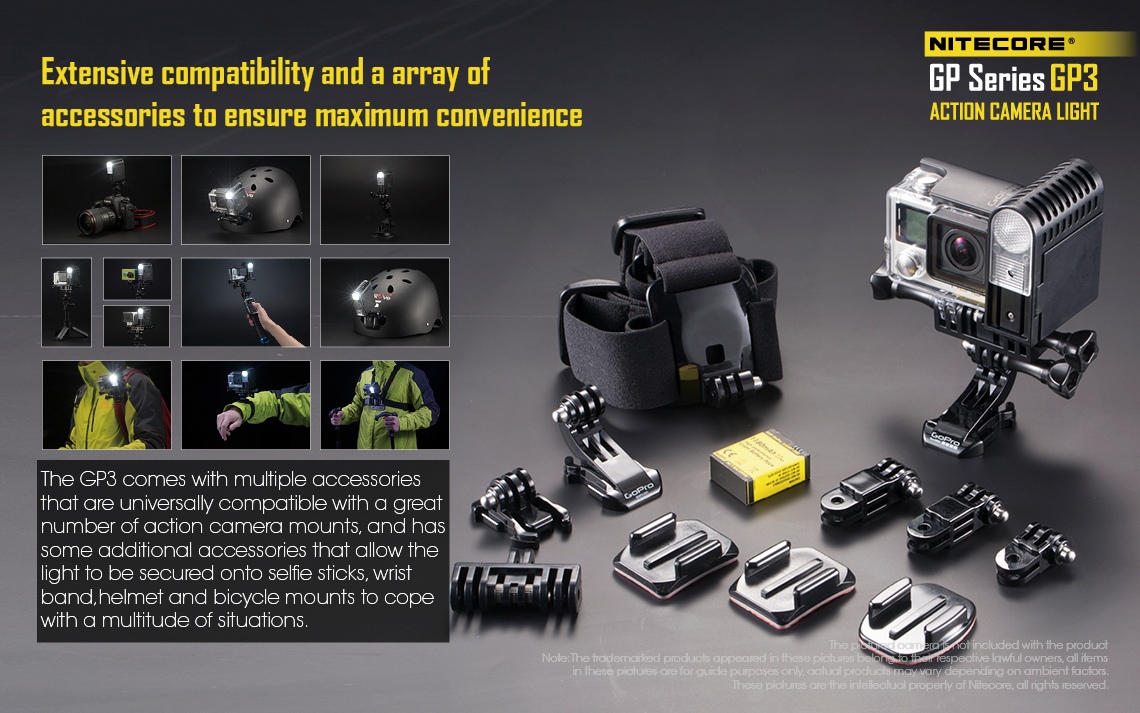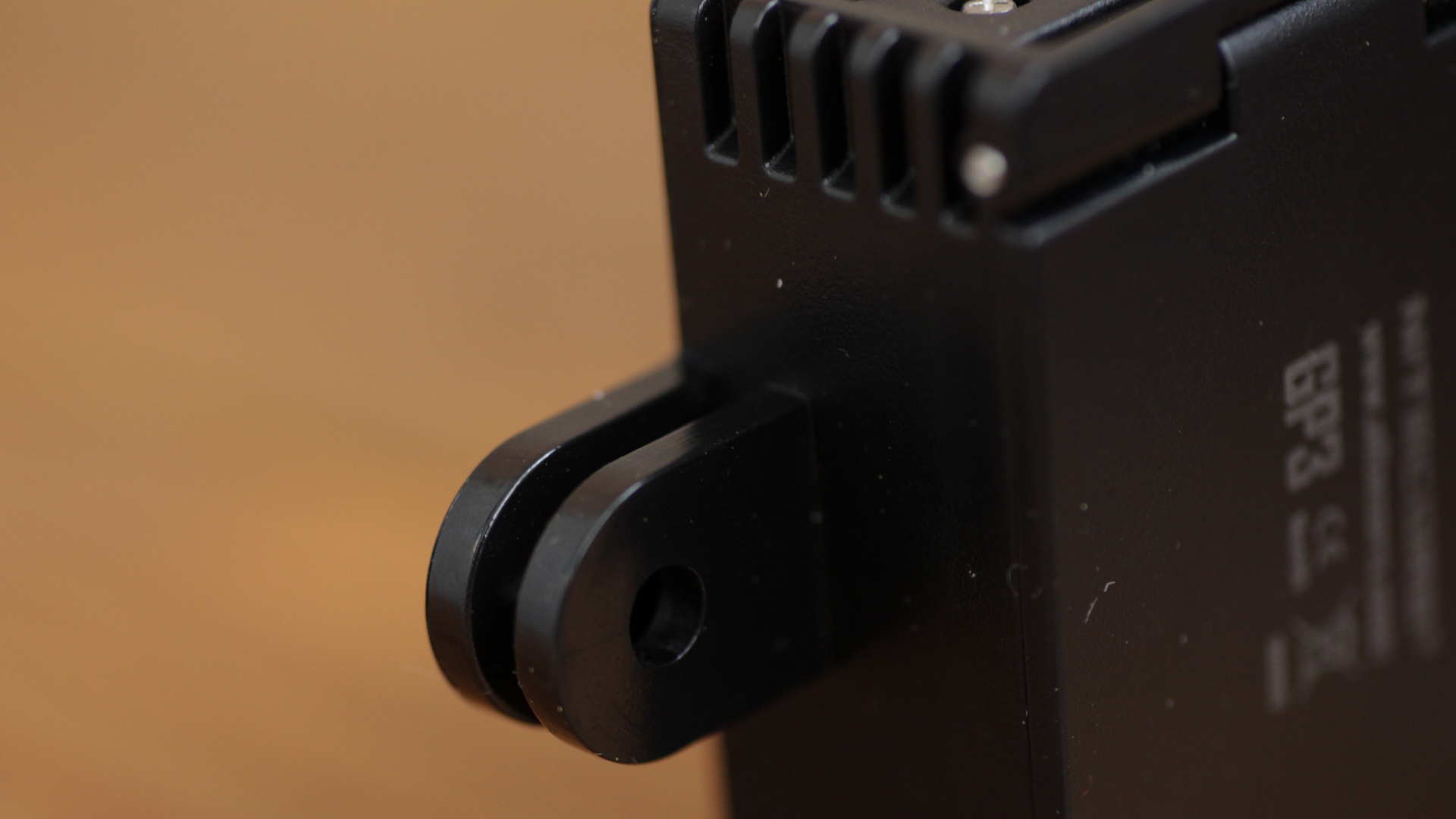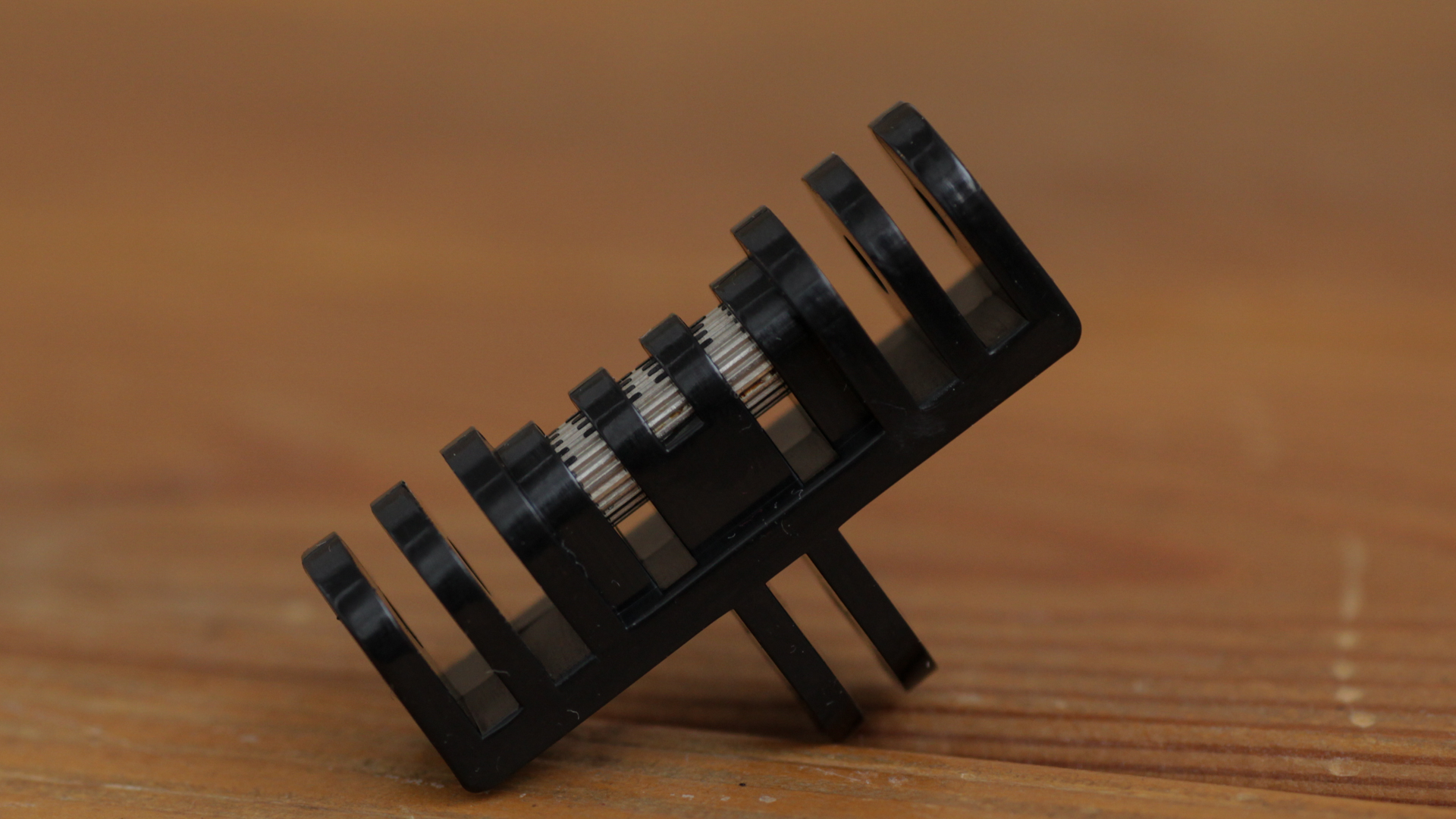 And, in more details.
GP3 is solid plastic box, from visible inspectation I don't see any bads in build quality. No gaps, scratches, and anything that usually signalize about bad quality.
Battery compartment cover bears brand and model name labels. Opposite side of body is blank. As far as i see, there is no difference between XP-G2\Nichia versions besides different letters at package box.
Top of body looks like gun silencer, seems those holes provides ventilation.
Battery compartment cover has kinda of isolation gasket, GP3 has decent waterproof – IPX8, and tecnically you can scooba dive with it. I put light inside jar full of water, it worked perfectly.
There are also simple blue blinking LED indicator inside this compartment and USB-charge port near it.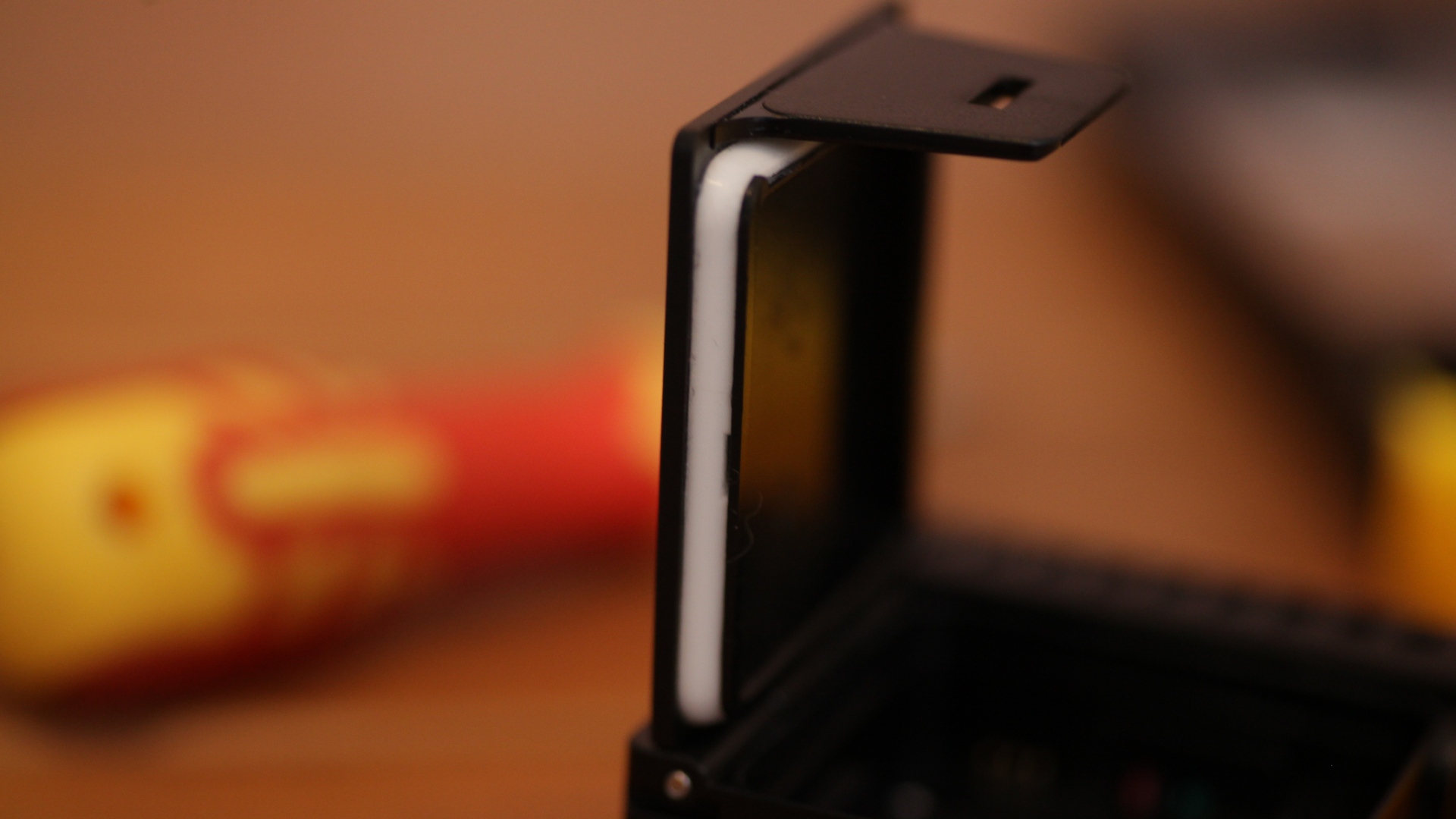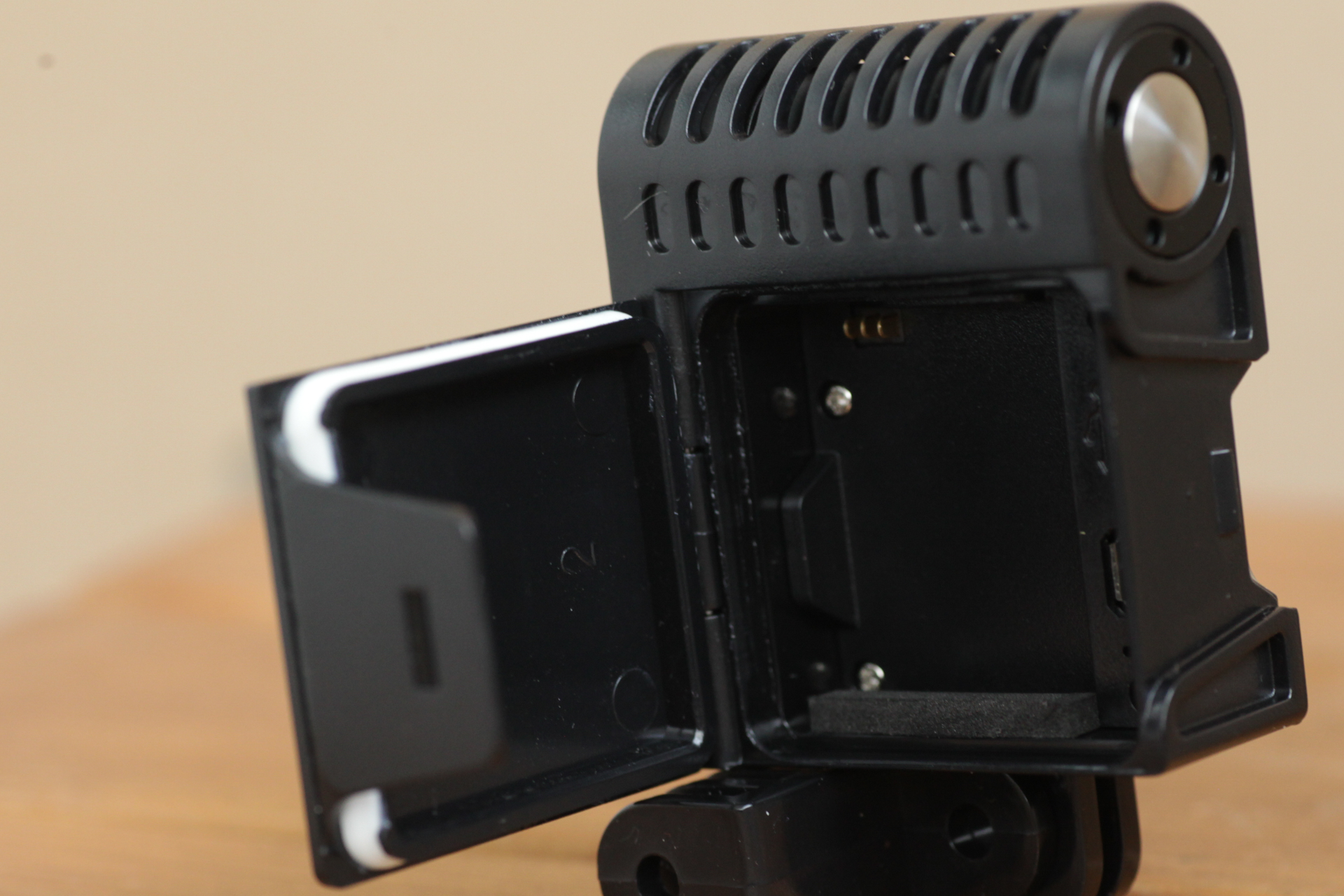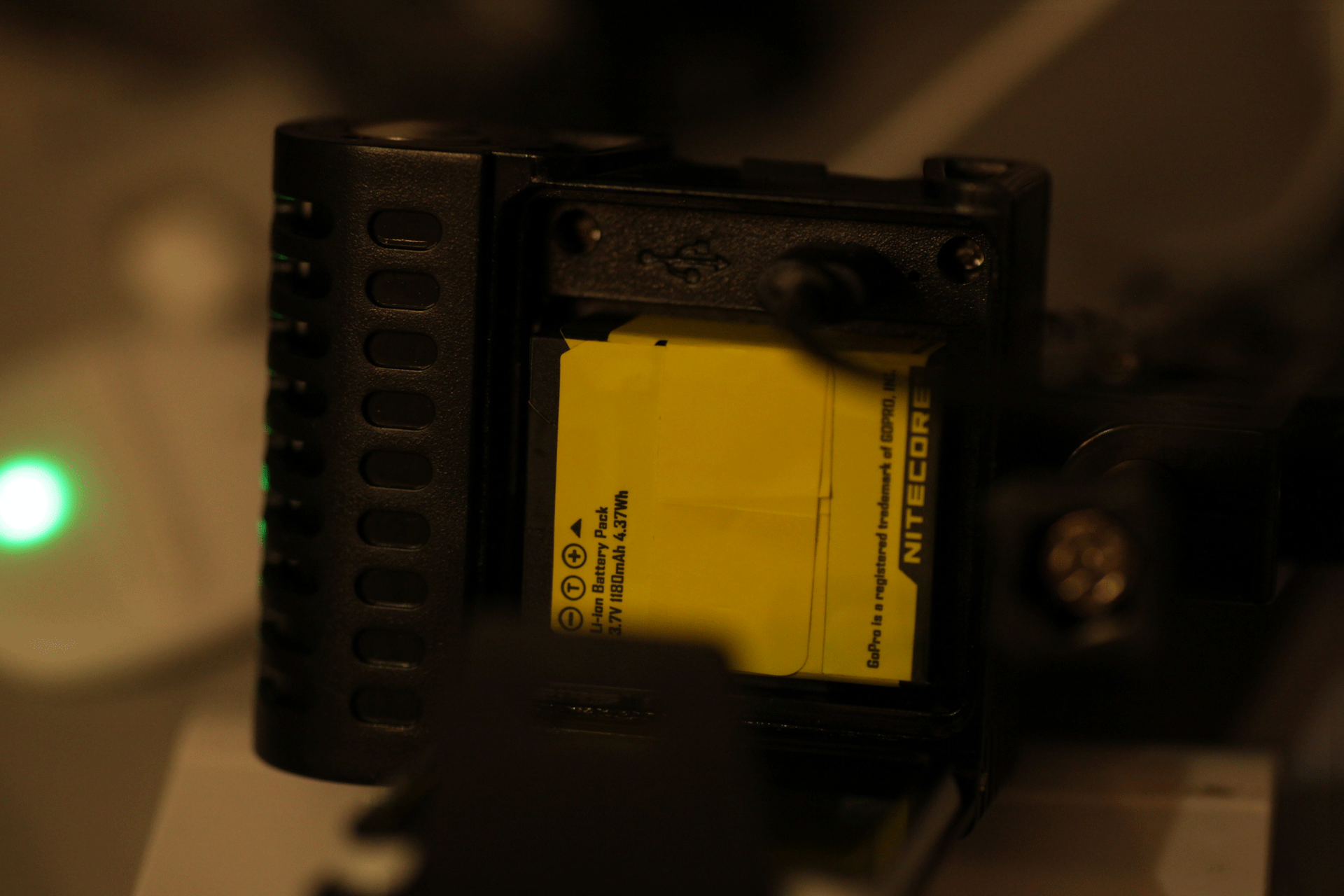 Battery is small and I think that this-is GoPro standart battery, which meand you can easily buy new ones and have good power backup. Charge amperage is good, 0.5A, i`ve measured about 1100mah, which is almost stated capacity, good.
I opened up plastic bottom of battery comparrtment, and all i was able to see was rear part of MCPCB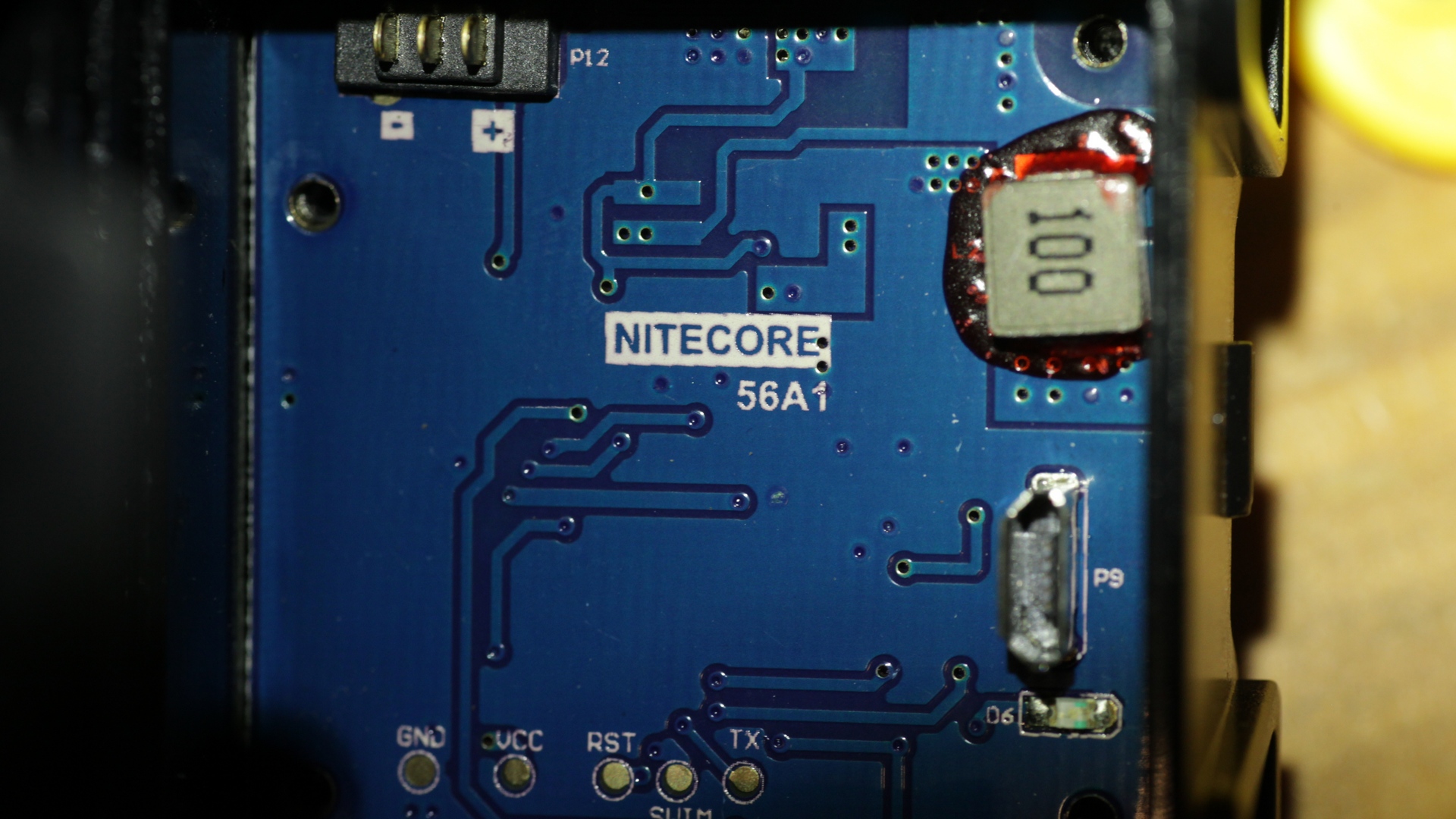 2 more screws? Get rid of them! and…again, nothing intersting, they just hold plastic plate that keeps moving diffusor. So, i tried to look inside GP3, but it`s body is sealed, so that`s all acces that user has.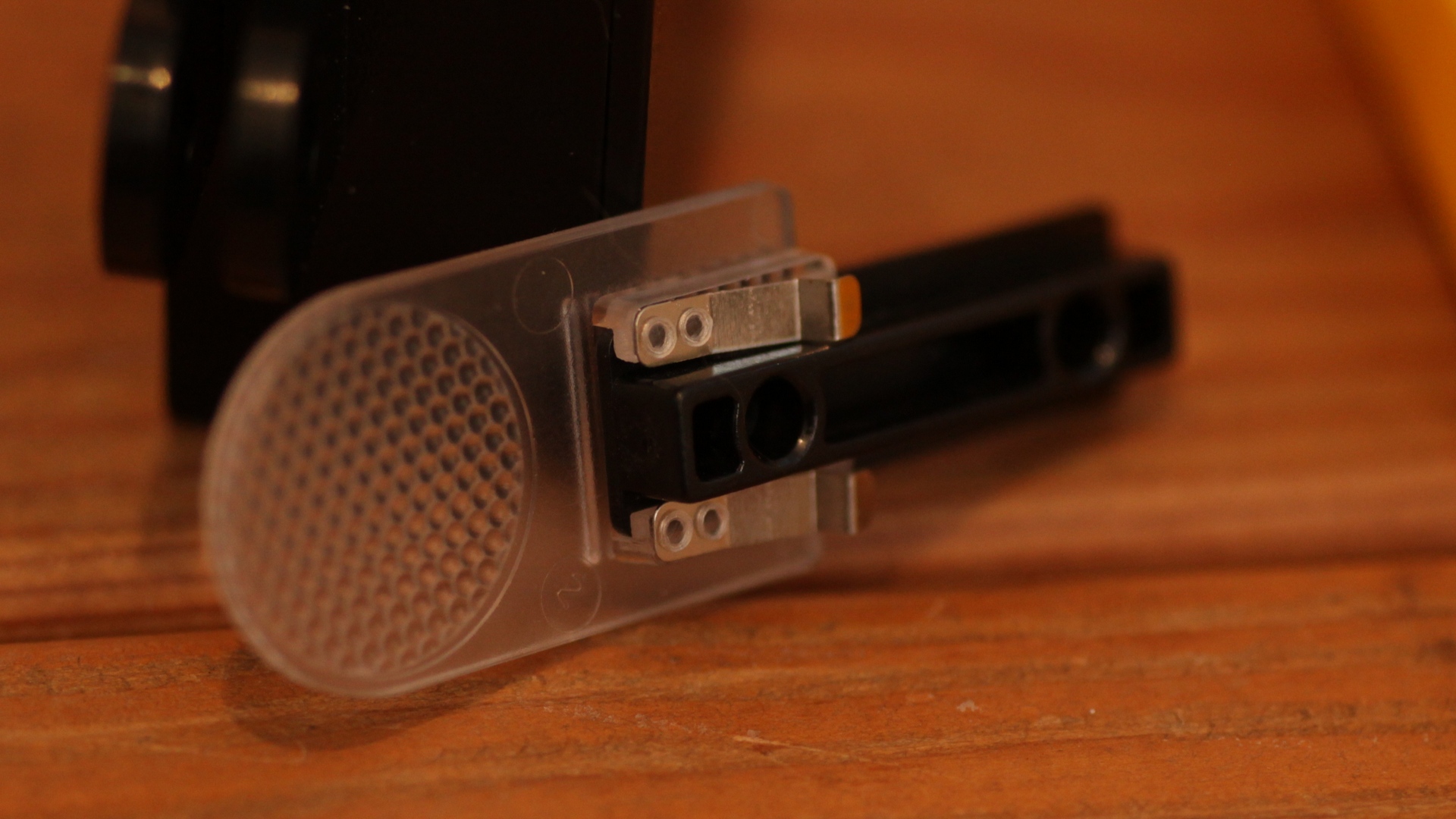 Button is mid-size metal round, non-clicky.
And, LED. As i`ve mentioned, there is choice of XP-G2 S3 and Nichia. Innovating feature of this model is sliding diffusor for spot\flood light.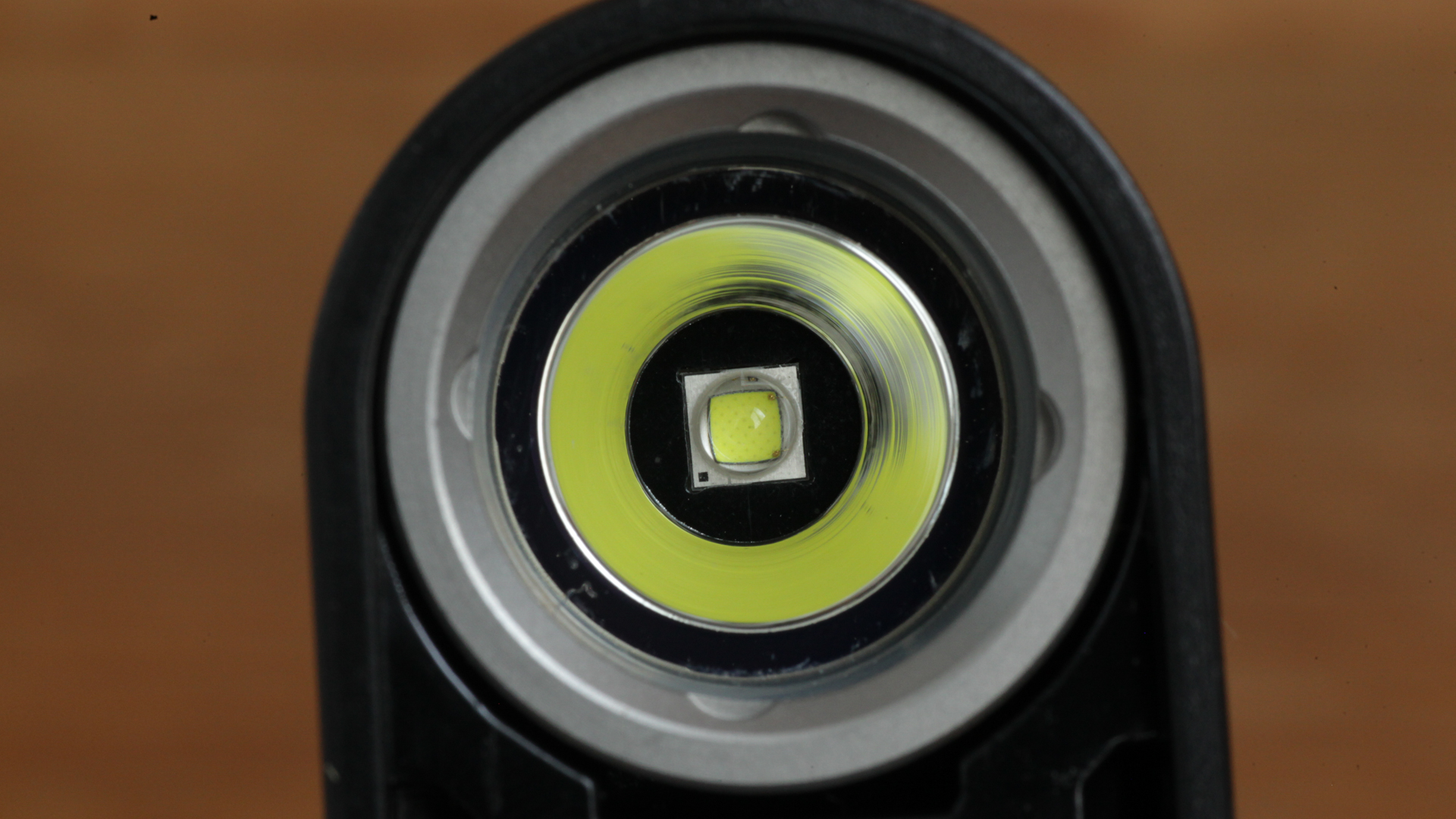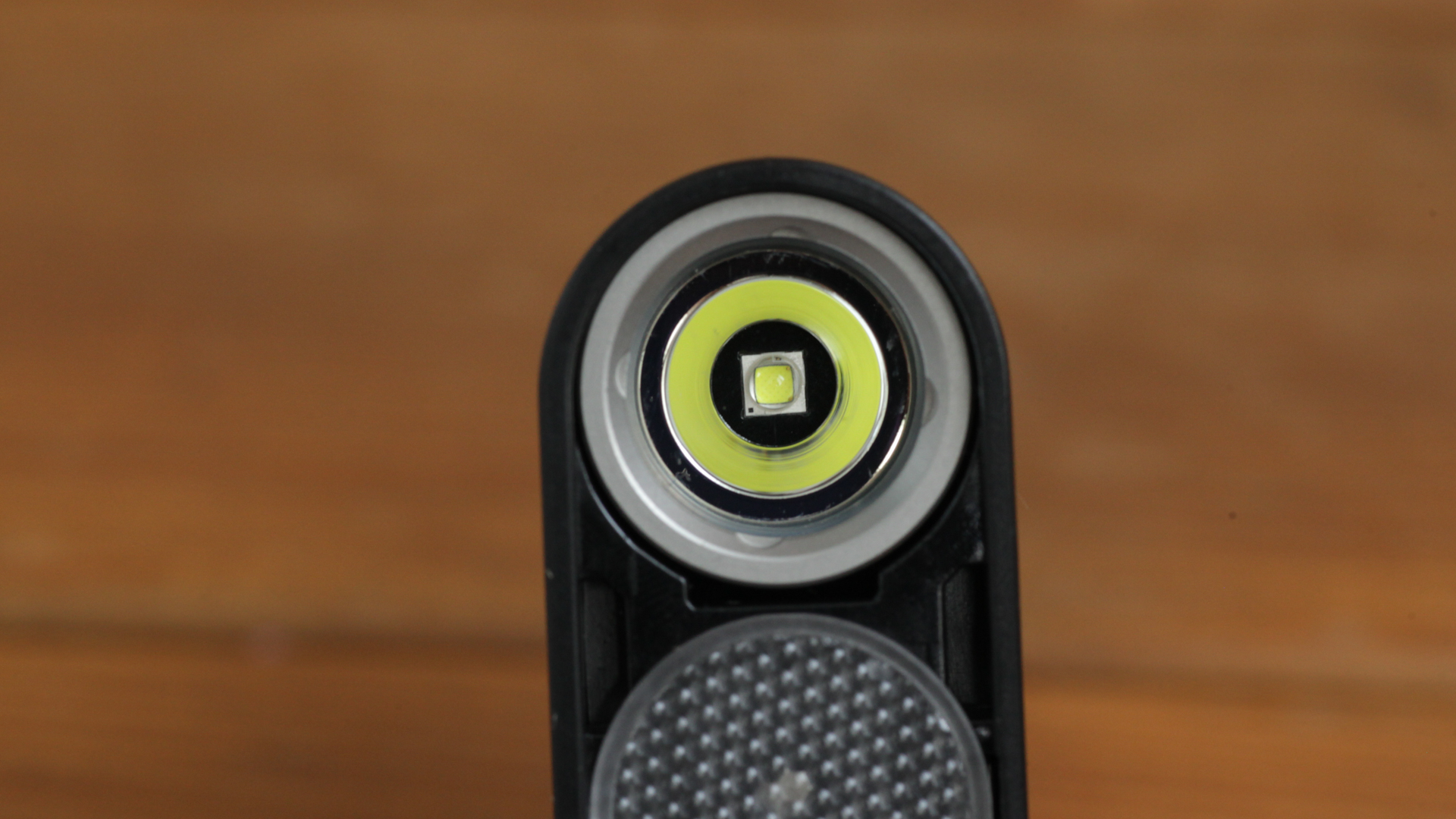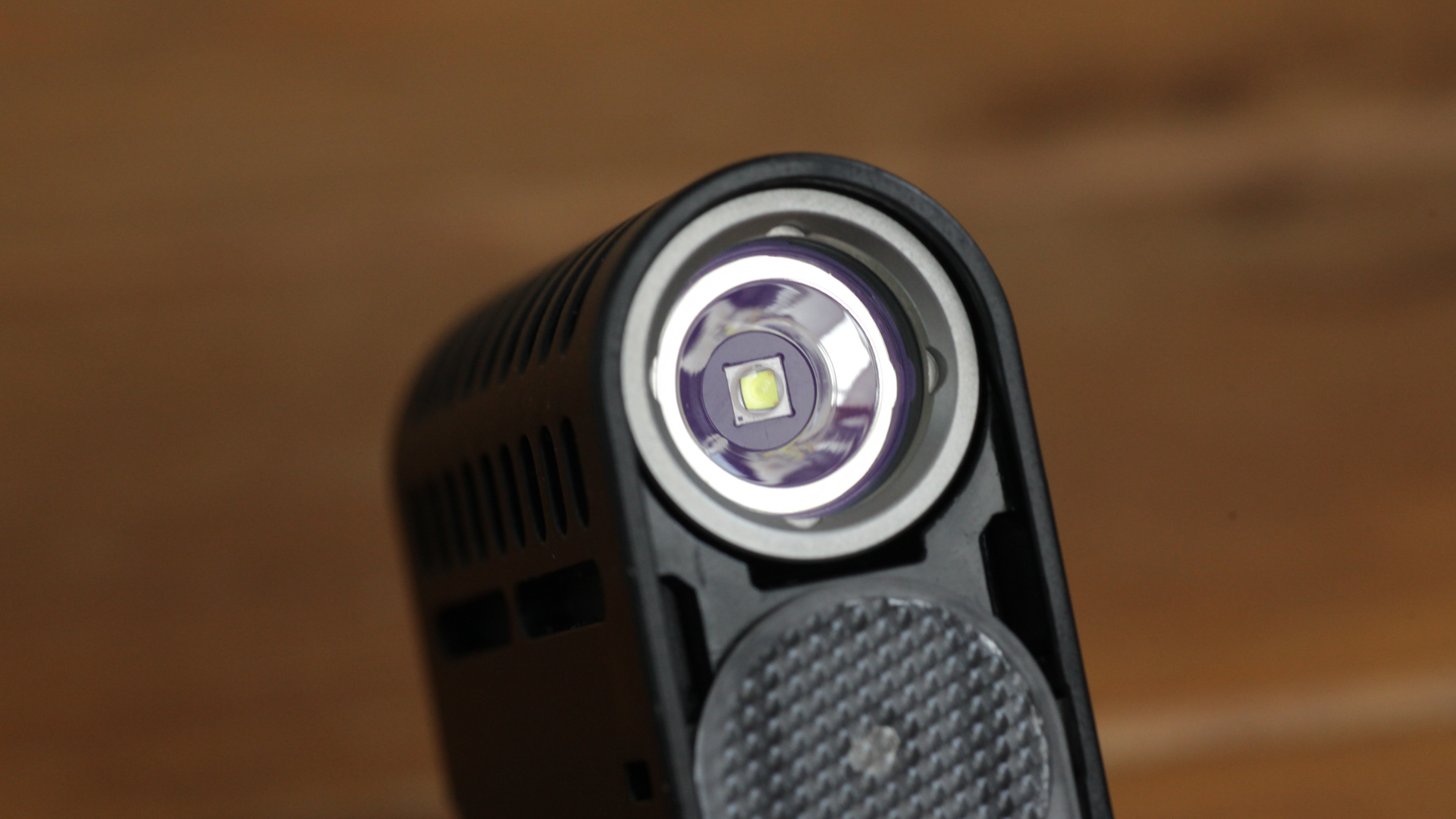 UI
UI is really, really simple.
ON\OFF with about 1 sec hold button, cycle through modes with short clicks.
there is a mode memory.
That`s it.
you cannot go wrong with it, it is really simple.
PERFORMANCE
XP-G2 is CW, but good cw, with 5000k (Nichia has the same temperature)
NO visible PWM-shimmering in any mode, including ultralow. That is crucial for video.
Some comments for video and photos below.
1) FLOOD mode redistribute light, and is better for indoor use, outdoor it may be too dim. This also will erase overexposing from center of frame, which may take place with SPOT mode in close range use.
XP-G2 is brighter and seems to be ideal choice for amateur use, Nichia is definetely more correct in matter of CRI, but that is for professional use. I didnt feel that my videos with XP-G lacks colours.
2) For video below i used:
camera lense 50mm STM, one of most known lense around. 3.5 aperture \1250 ISO. That is not "light" lense, 77mm lenses like "L"s will give even brighter pics.
camera 5D Mark II.
2) MODES
ultralow and low are dim and this makes video more cold, you have to consider adjusting color temperature this case.
ULTRALOW:
good for shooting movies like The B"lair Witch Project". Too, too noise with action camera, a way better with DSLR. I think in couple of years action cameras will give better pics even in this mode.
Only for SPOT mode, flood is almost invisible.
LOW
Can be used indoor, though is still noisy. DSLR performs not bad in this mode, i was surpised. In some case can be used even in FLOOD mode.
MID
Good mode for indoor use, in some cases for outdoor. Outdoor: up to 2 meters (more with worse pic). Most of noise is gone.
Runtime is very good in this mode.
HIGH
Definetely working mode. May be too bright for indoor, here you have to decrease ISP or use FLOOD mode.
As you have 1 and a half hours of stabilised brightness in this mode, it seems to be best choice. If you need more time, buy spare battery, that`s affordable.
No noise, you can play with aperture\ISO to make best quality of video.
Fully working outdoor.
TURBO
Too bright for indoor use. Excellent for outdoor. Of course , that is not long lasting mode, but for some reason you have abiltiy to turn light really on.
and here are runtime charts;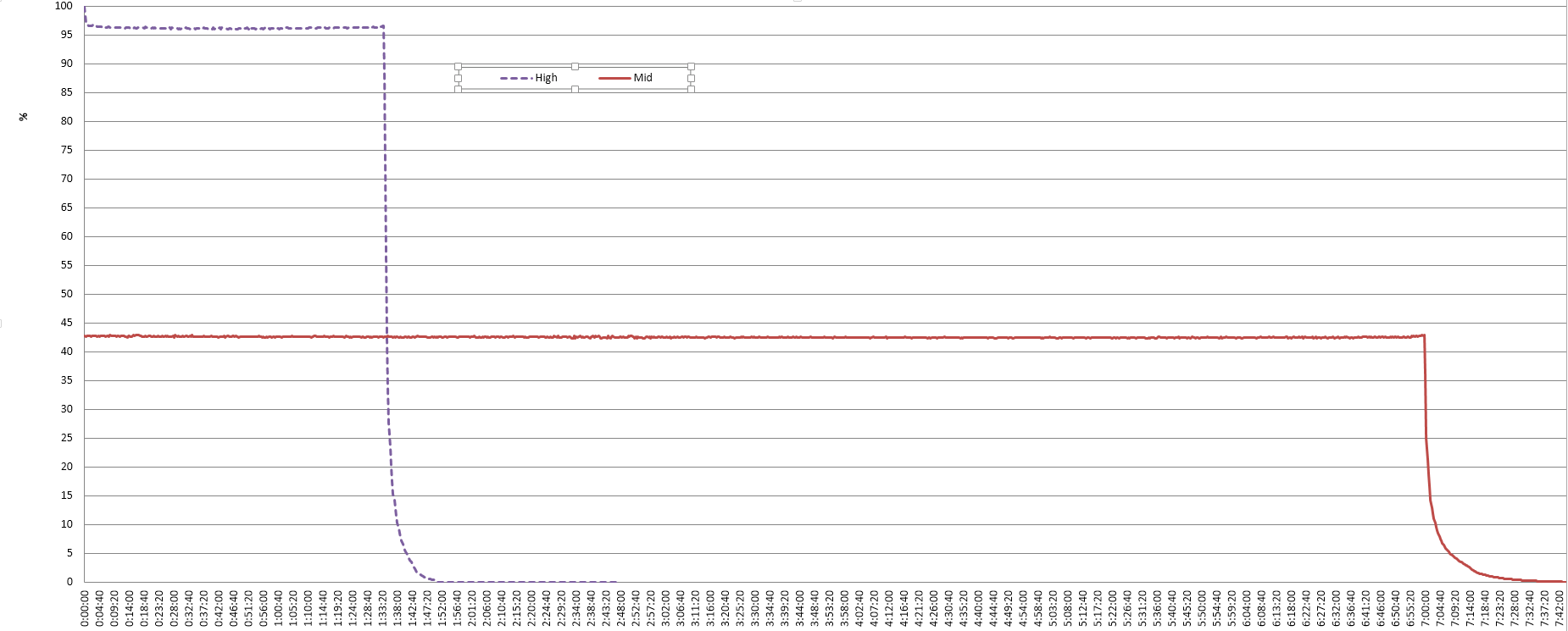 I thought that cooling will have serious effect, in reality almost none.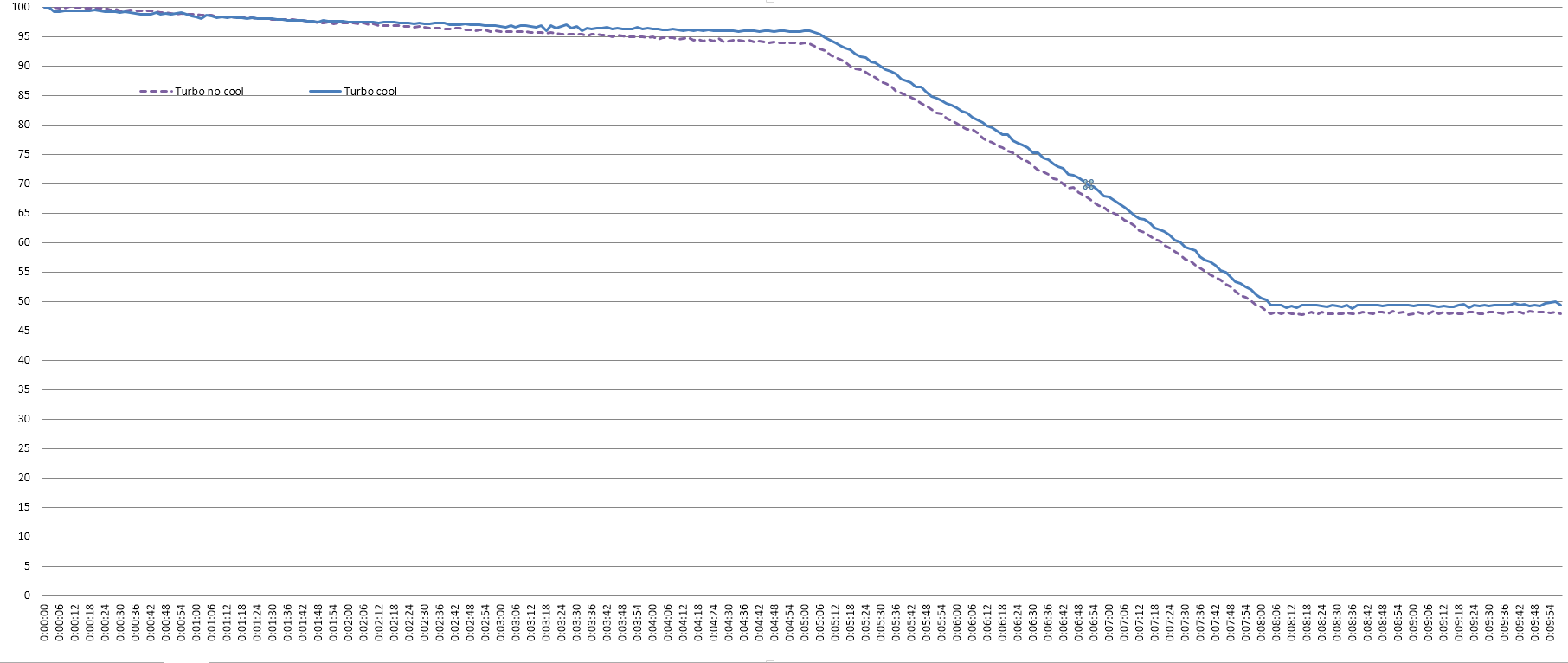 and all this alive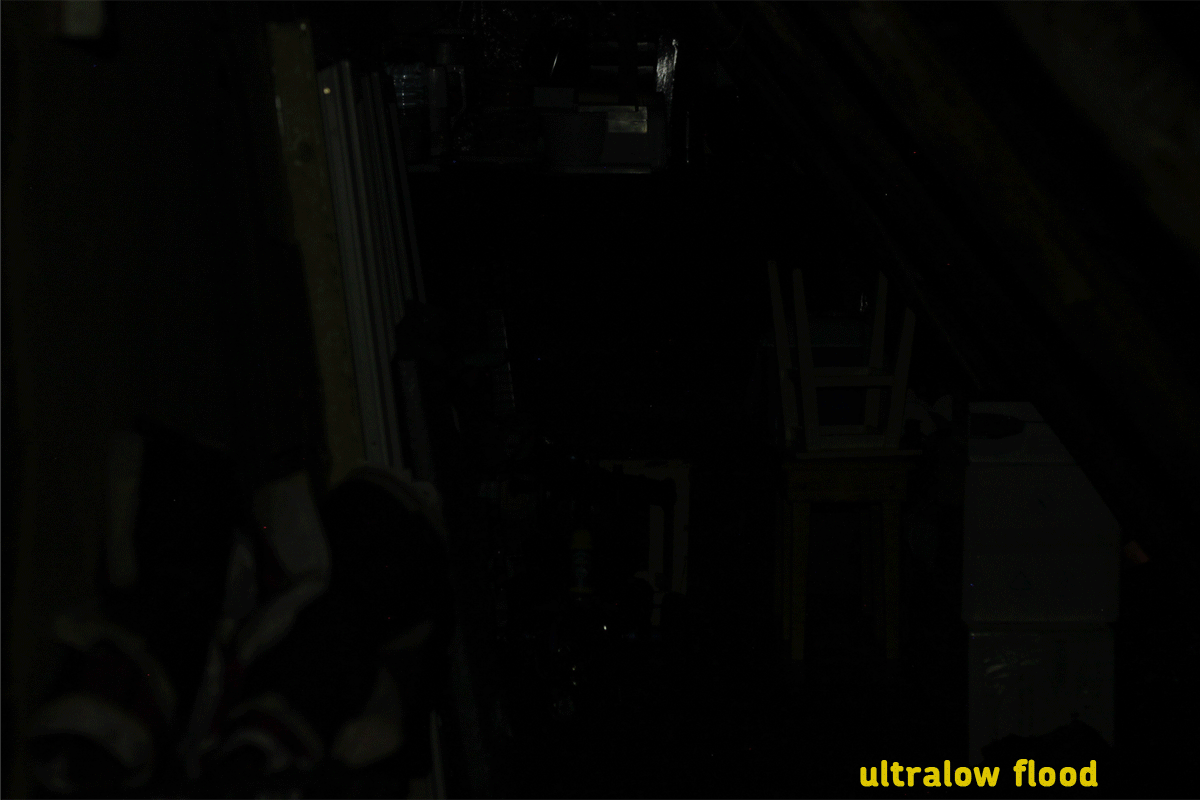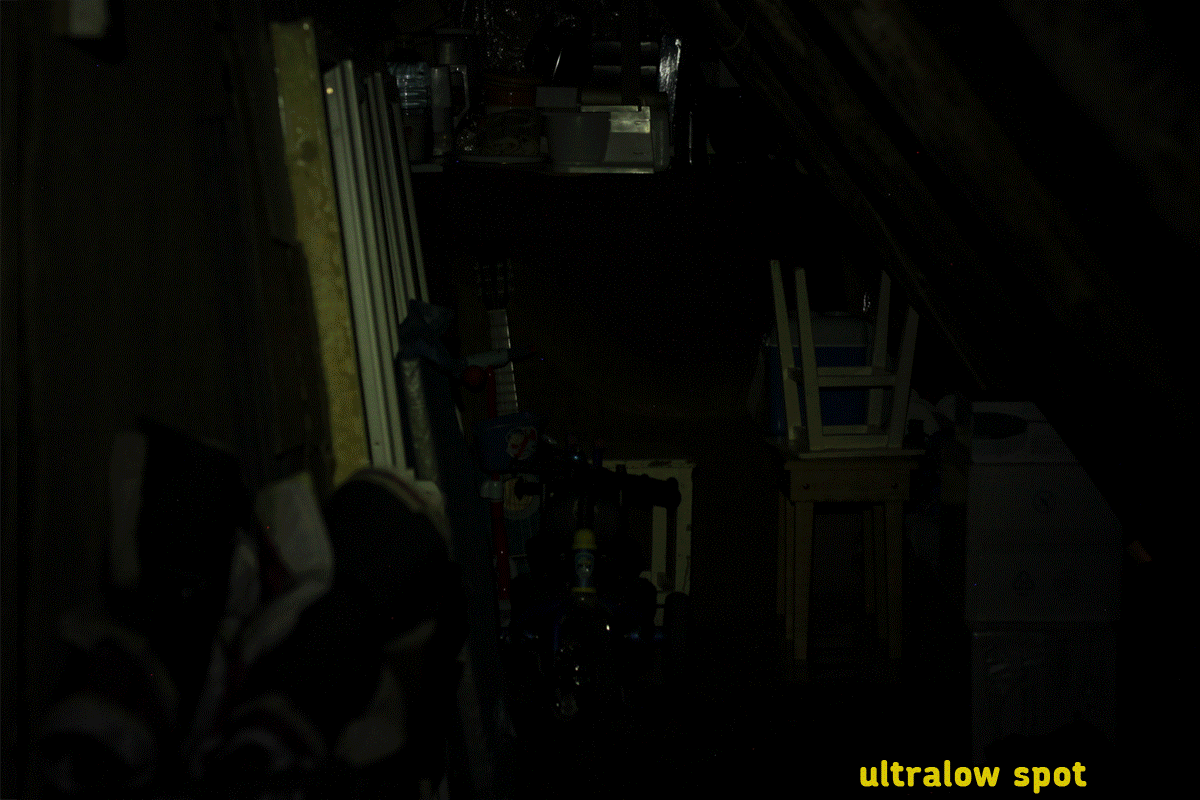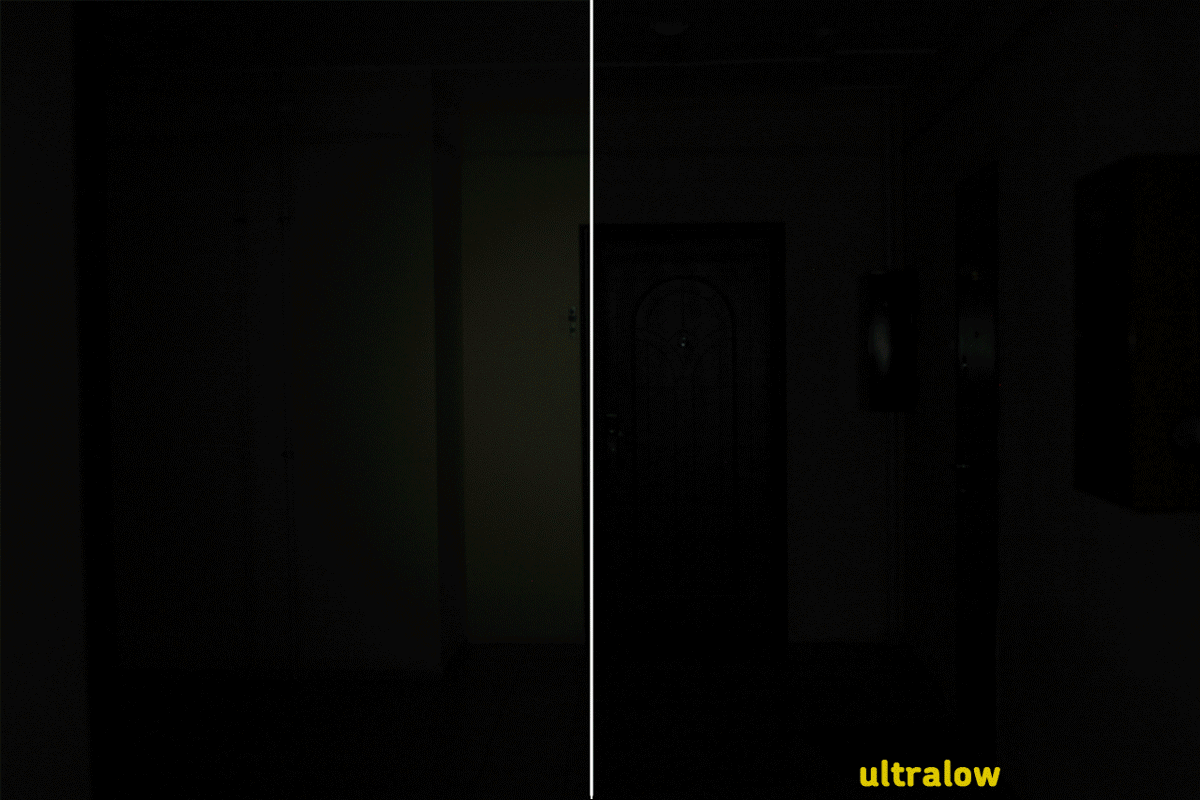 And, most important part, video.
OVERALL IMPRESSION
Interesing thing. I`ve never met something similar and seriously consider GP3 useful thing for its good price\light\quality\ui ratio
With such a price, i bet GP3 will find a lot of users.
I really see no CONs in this model, besides adding hot-shoe adapter to package for full-size camera use.