Short review of XANES 1305
I bought this light from Banggood several months ago and I really like it, so I thought I'd post a short review.
I paid for the light and was not asked to do a review on it.
I got it on sale for $7.69, but it's currently $11.69 ($9.98 on Aliexpress)
It makes an excellent auto/emergency light, I leave it in my car.
It's very similar to the NEBO "Big Cryket" light, which has stepless dimming, however the Nebo doesn't have the flashing mode for the red COB light, which IMO makes it less suitable for use as an auto/emergency light. It also is not advertised to accept a Li-ion (it runs on 3xAAA), and it's 3 times the price.
.
Main features:
Adjustable head for any position, including straight and 90 degree angled.
Tail magnet to stick on the car body, under hood, trunk etc.
Dual

LED

system for Flood/Throw and Dual Color (white/red) modes.
Steady-on or flashing modes for the red

COB

ring light.
Regular XM-L reflector

LED

for general use and longer throw.
Circular

COB

LED

ring light (red or neutral white) provides a floody beam for close up use.
1× 18650 battery or 3xAAA with the included adapter. (may also fit 21700 see details below)
Rubberized Hand grip
Things I like:
The flashing red

COB

LED

's are useful as a electronic "road flare" or traffic warning light.
Compared to the main XM-L

LED

the white

COB

LED

has a noticeably warmer tint, more towards neutral.
It has a top/side switch that works extremely well and has a great feel for a budget light. Not sure if it's an e-switch but it may be.
The tail is a wide flat base that makes it stable to set on the ground and angle the light directly to where you're working to change a flat tire, etc.
The tail magnet is strong enough to hold the light securely in any position, including upside-down.
The rubberized textured inlay on the body tube provides an excellent grip.
It has a sturdy removable pocket clip, and although it's a larger light the clip can be employed for hands-free use when clipped to the front of your jacket, pocket or belt. (with the head angled)
The main XM-L LED (Lattice Bright) has a pretty good white tint, it's a cool white but I've seen a lot worse. The COB ring light on the other hand is a more neutral tint, noticeably warmer than the main LED. Of course the output is not real 1500lm but it's fairly bright for it's purpose. I'm guessing around 500-600lm for the center LED, maybe about half that for the COB ring.
The light does not have USB charging.
My measurements show it should also fit a 21700 cell, or possibly with only a minor modification. (I do not have one to try yet)
The I.D. of the battery tube is over 23mm, and length is about right (a 69.8mm 18650B fits snugly, but no problem, tail cap fully threads on)
A 21700 Samsung 48G is listed as measuring 70.15mm and at 4800mAh it rivals the capacity of some of the better 26650's.
Worst case scenario is maybe clip off some of the super long (+) spring to shorten it.
.
User Interface:
(Single Click ON and continue Single Clicks to Scroll through all modes and back to Off)
From Off: Main light – COB White – COB Red Steady – COB Red Flashing – Off
.
(Stock photos):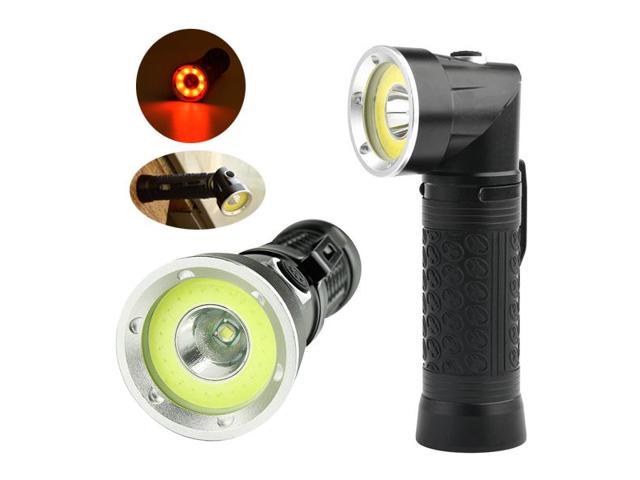 .
.
.
Mfg. Specs:
Emitter Type: XM-L T6+COB
Material: Aluminum alloy
Mode: T6 White,

COB

White,

COB

Red,

COB

Red

STROBE

Lumens: 1500LM
Battery Configurations: 1×18650 Battery (Not included)
Voltage Input: 3.7v
Switch Type: Clicky
Switch Location: Head of the Flashlight
Max Output: 1500Lumens
Range: 50-100m
Carrying : Pen clip
Waterproof: Life waterproof ability (Not diving)
Color: Black
Weight: 164g (without battery)
Size: 14cm x 4cm x 3.5cm (Length x Head x Tail)
.
The driver measures aprox. 26.5mm…………………………………………….. It's secured by a threaded retaining ring….Super-Size (+) spring!

.
.
The reflector for the center LED is a "Hybrid" type; half textured / half smooth:

I haven't tried to remove the bezel or disassemble the light any further.
Tail threads are standard I.S.O metric type and work smoothly after lubing.
Length of the tail cap threading is a bit short (photo below) but it's not a problem.
.
The tube walls are very thick and strong (slightly over 4mm thickness).
The battery compartment inside is very wide (slightly over 32mm I.D.)
I Installed silicone "Vape bands" on the cell for better fit and prevent rattle, which worked great, you could also use a few O-rings instead.


I'm happy about the larger I. D. because the of the possibility to fit a 21700 cell.
.
For the light to be used as a traffic wand I created a makeshift diffuser cone using a mouthwash bottle cap and a wide rubber band to hold it on.
(broccoli band)

The only real cons I can see so far:
The head has a slight amount of play when in the straight position, however it's very tight in the angled positions.
It's somewhat lacking in overall brightness.
Tail cap threads are non-anodized (so no lockout).
Lockout isn't really a big deal since it's not really a carry light, and the switch is stiff enough that it's not prone turning on by accident. I'm not sure if it's an e-switch or "micro" clicky, (if there is such a thing) it feels more towards an e-switch compared to the tail clickys. I have to look into how to check for parasitic battery drain, I've not tried that before. I'm guessing just put the meter in series with the battery and set it on one of the lower DC voltage scales?
Conclusion:
For the price this is a very useful light with a lot of features. I highly recommend it for keeping / leaving in the car as a back-up light and and for roadside emergencies. It has also been very reliable, I haven't had any issues at all and I actually use it a lot. (going on 4 months) I like that the white COB light is more towards a neutral tint. The adjustable angle head, floody COB light, extra wide base and magnetic tail make it a great work light, I'm also happy about the possibility to fit a 21700 cell.
USB charging would have been a nice feature, however it would add to the cost. Keeping a spare cell in the car is probably best anyhow since it would take (3-5?) hours to recharge with USB. A strobe function for the main LED would have been nice as an added "emergency" feature, but only if its activation was a "hidden" mode, I don't mind scrolling through the four modes, but I wouldn't want a bright strobe to be part of that. Overall the outputs could be brighter but it works okay for what I use it for. Maybe output could be boosted by stacking or bridging one of the resistors, but I wouldn't know which one.
Links:
Banggood: https://www.banggood.com/XANES-1305-XM-L-T6COB-1500Lumens-Foldable-Magne...LED-Inspection-Flashlight-p-1202261.html?rmmds=search&cur_warehouse=CN
Aliexpress: https://www.aliexpress.com/item/JIGUOOR-1305-XM-L-T6-COB-1500Lumens-Built-in-Battery-Foldable-Magnetic-Tail-LED-Inspection-Flashlight/32860838996.html
More listings (search) on Aliexpress: https://www.aliexpress.com/wholesale?catId=0&initiative_id=SB_2018041313...
—