The light was supplied by Fasttech, no compensation other than the light itself was received for this review
The price can be lowered with the code BLF by 5%
This is my 1. light that was supplied Fasttech for a review, I am honest and will judge the light as it is with its pros and cons
.
Fasttech specification:
Classification
Product Type LED Flashlight
Aesthetic
Color Black
Material Aluminum HA-III
Construction
Water Resistant Yes
Waterproof IPX8
Electronic Components
Low Voltage Warning Yes
Reverse Polarity Protection Yes
Flashlights
Flashlight Modes Turbo > Hi > Mid > Low > Ultra-Low > Strobe > SOS > Beacon
Lens Type AR Coated Optic Lens
Mode Count 8
Reflector Type Metal Smooth/SMO
Switch Placement Head
Switch Type Clicky
Tail Stand Yes
Light Sources
Color Temp Range 6500K +
Light Source BIN E2
Light Source Brand Cree
Light Source Color 6500-7000K
Light Source Model XHP35 HD
Lumens (Max) 1800 LM
Power & Batteries
Battery Capacity (Mfg Rated) 2500 mAh
Battery Form Factor 18650/CR123A/RCR123
Maximum Supported Battery Length 70 mm
Required Battery Count 1/2/2
Specifications
Estimated Usage Time 30Min-300H
Manufacturer
Brand Nitecore
Package
Package Type Plain
Package Contents 1*LED Flashlight, 1*Lanyard, 1*O-ring, 1*English User Manual, 1×2500mAh 18650 Battery
Dimensions metric
Depth 25.4 mm
Height 128.7 mm
Width 25.4 mm
Product Weight 78 g
FastTech
SKU 8847200
DATE LISTED 9/8/2017
Details:
The Nitecore EC23 is a high performance compact flashlight utilizing a Cree XHP35 HD E2 LED to emit a scorching 1800 lumen output.
One of the brightest flashlights of its size, the lightweight and compact EC23 can be easily stored in pockets, packs or bags for quick access to light anywhere you go.
Powered by a single IMR 18650 battery, the EC23 has a max runtime of 330 hours and a max beam intensity of 16,200 making it perfect for outdoor use and everyday carry.
The EC23 can also be powered by normal 18650 batteries, 2x CR123A or 2x RCR123 batteries in a pinch. (We recommend using the Nitecore IMR 3100mAh 18650 battery which can be added via the drop down menu.)
An innovative all-in-one control switch located on the side of the flashlight allows easy one-handed operation of five brightness levels and three special modes.
The addition of a tailstand provides the ability to light up an area and frees up hands for working or maneuvering.
A combination of features such as Advanced Temperature Regulation which regulates output and adapts to the ambient environment and an IPX8 rating ensure the EC23 is a premium EDC flashlight for all-weather applications.
Nitecore EC23 Specifications:
• LED: CREE XHP35 HD E2 LED
• Battery Type Supported: 1× 18650, 2x CR123, 2x RCR123
• Peak Beam Distance: 278yds
• Peak Beam Intensity: 16,200cd
• Brightness Outputs:
• Turbo: 1800 lumens / 30 minutes
• High: 980 lumens / 1 hour 30 minutes
• Medium: 300 lumens / 4 hours 45 mins
• Low: 55 lumens / 22 hours
• Ultra-low: 1 lumen / 330 hours
• IP Rating: IPX8, 2m
• Impact Resistance: 1.5 m
• Head diameter: 25.4mm
• Tail diameter: 2.4mm
• Working voltage: 3.7-6V
Nitecore EC23 Features
• Utilizes a Cree XHP35 HD E2 LED
• Maximum output of up to 1800 lumens
• Integrated Precision Digital Optics Technology
• Innovative single button interface
• Integrated power indicator light displays remaining battery power
• Reverse polarity protection
• Anti-reflective coated optics lens
• Constructed from aero grade aluminum alloy with HAIII military grade hard-anodized finish
• Waterproof in accordance to IPX-8 (2 meters submersible)
• Tail stand capability
The parcel arrived after 13 days shipping with to Germany which is fast from China.
.
Package and content:
The light comes in a package typical for Nitecore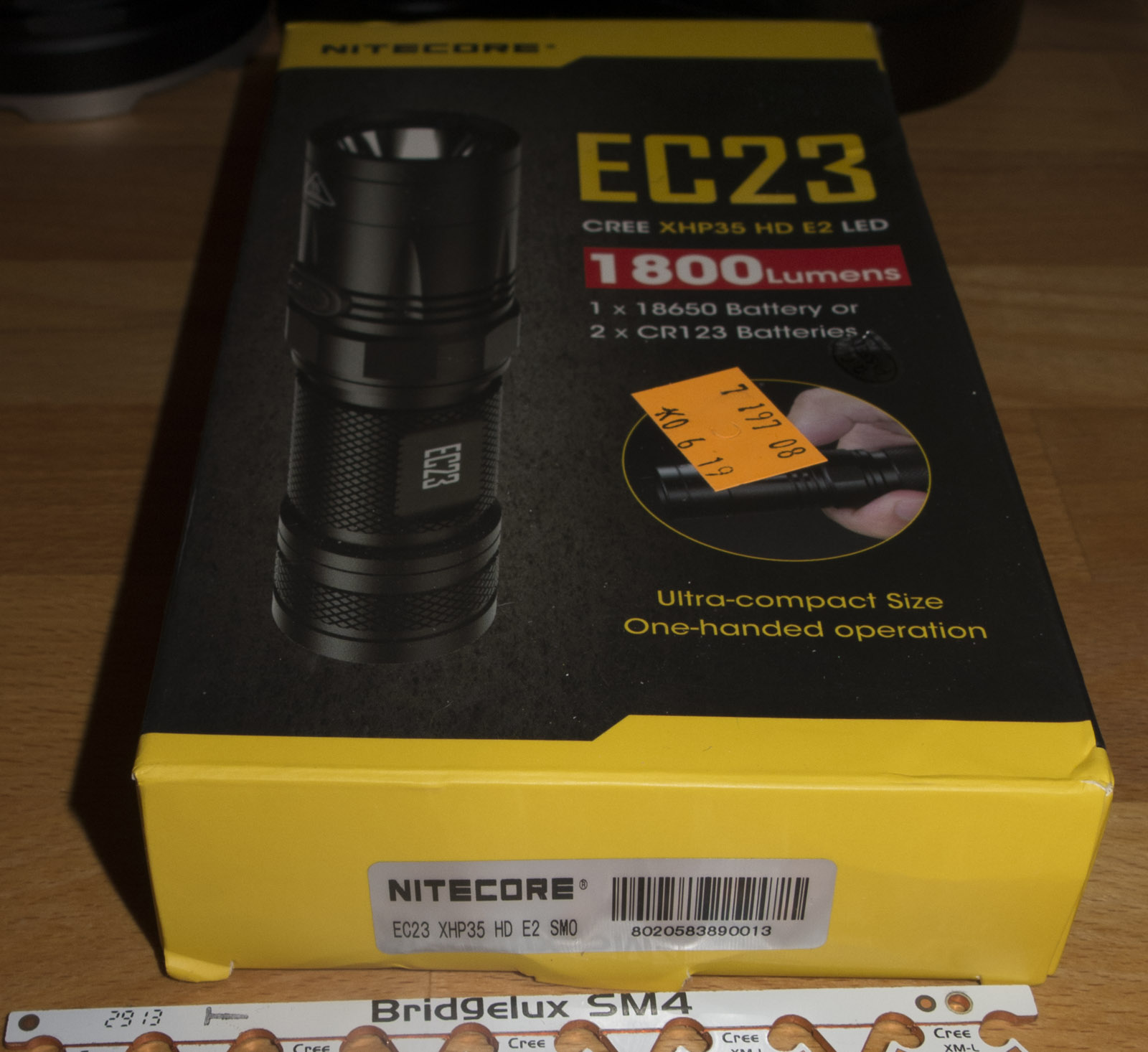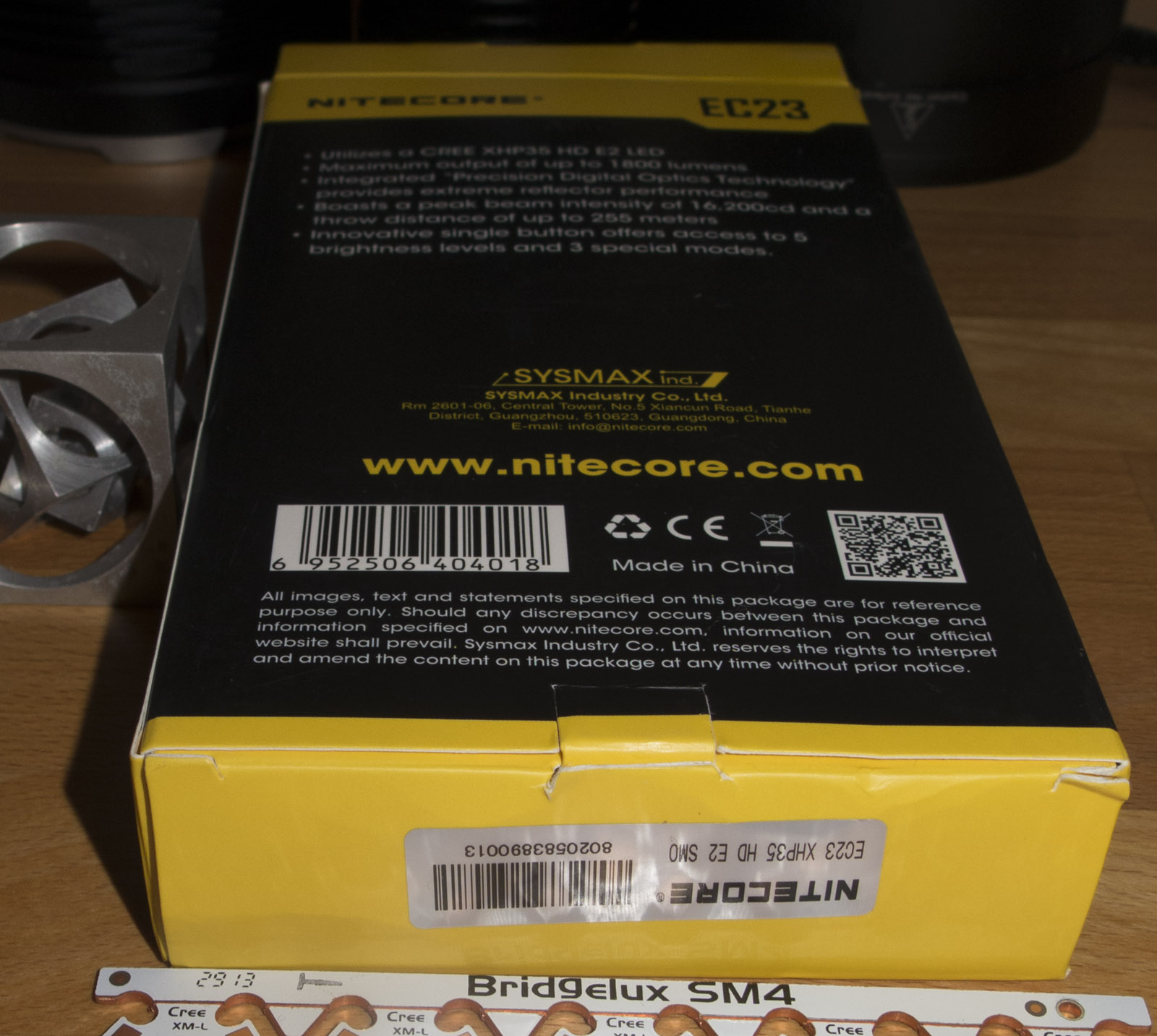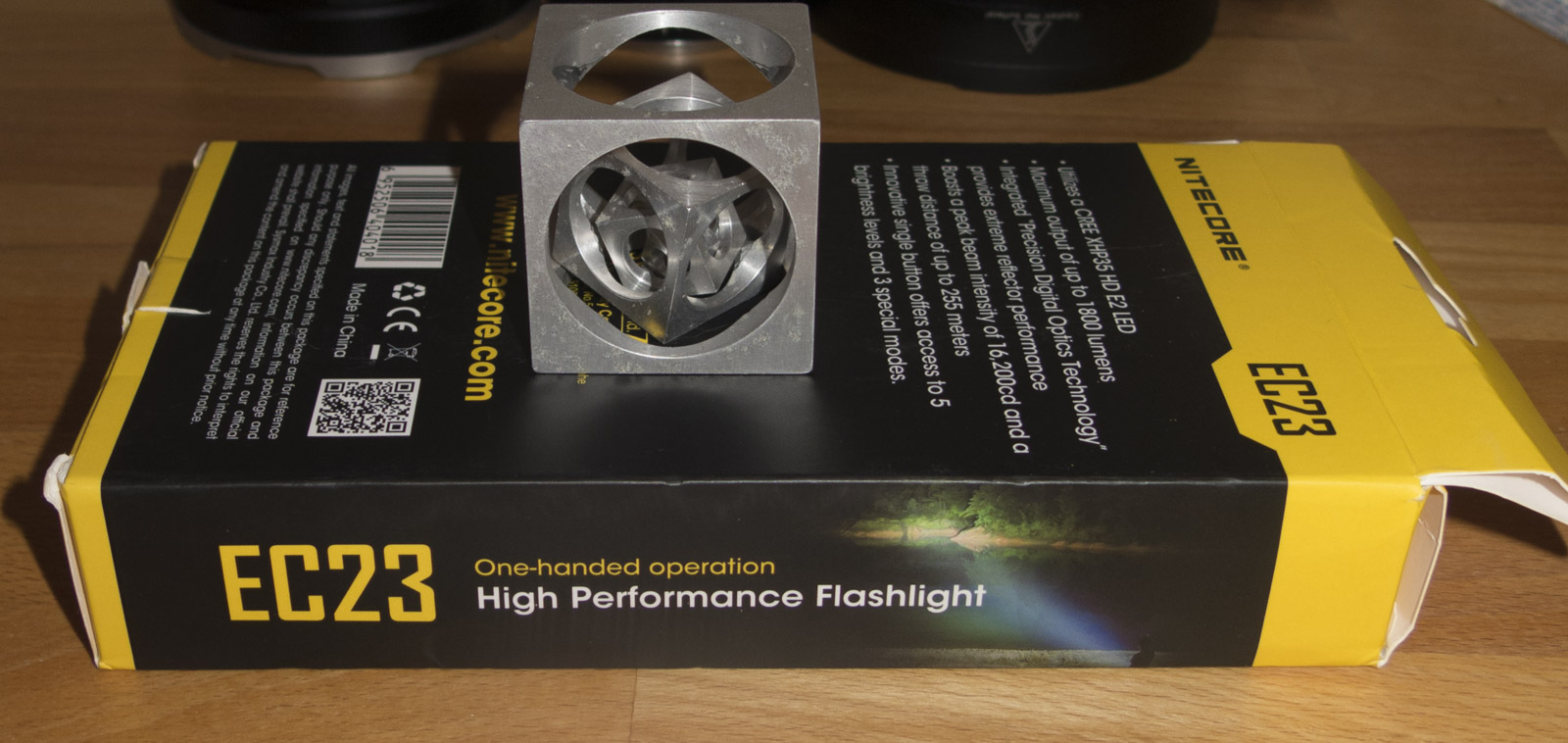 In the box is a plastic inlay with the light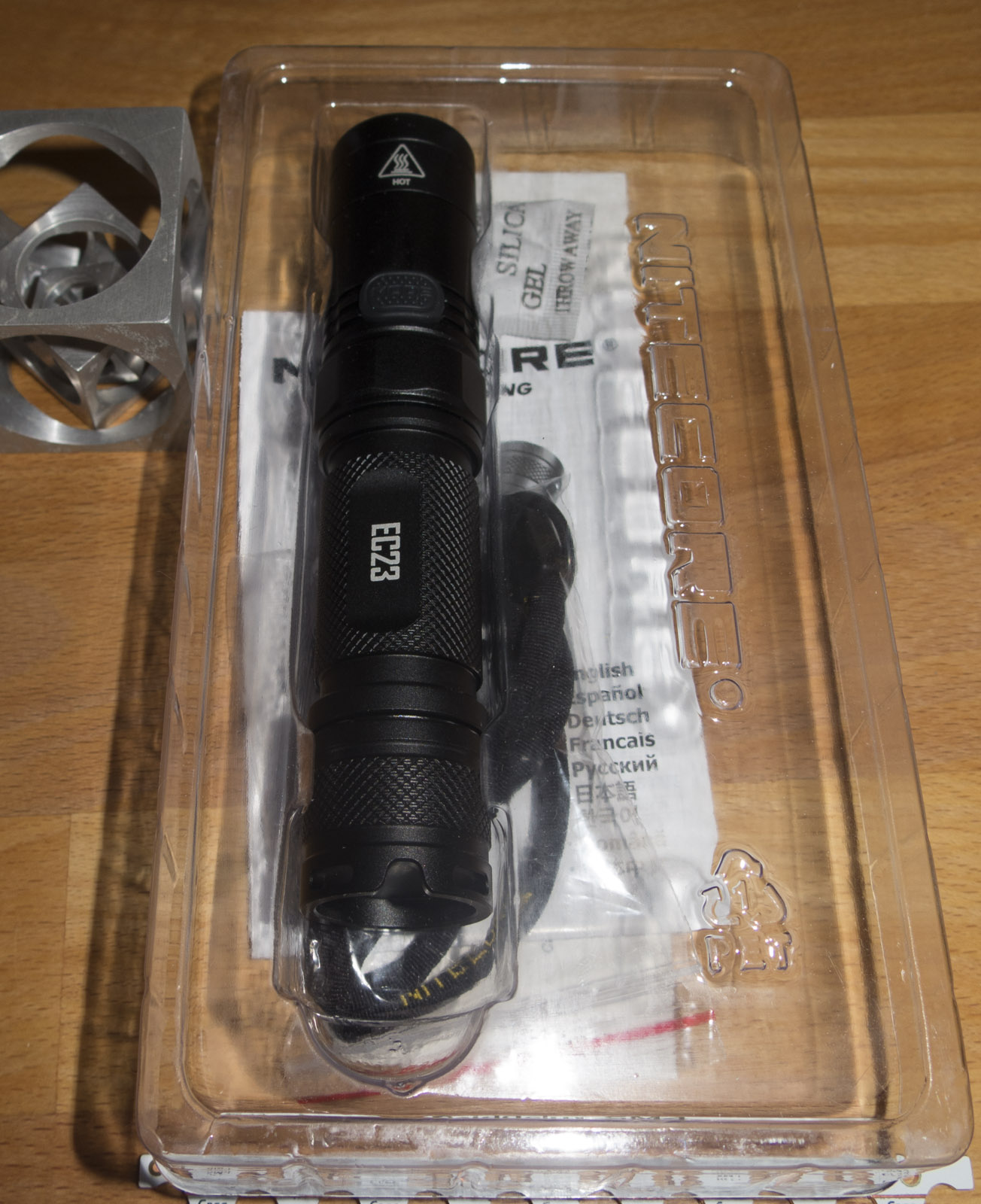 It comes with 2 spare o-rings, lanyard, warranty card and manual


the manual comes in 9 languages and the translation is good
.
Photos of the light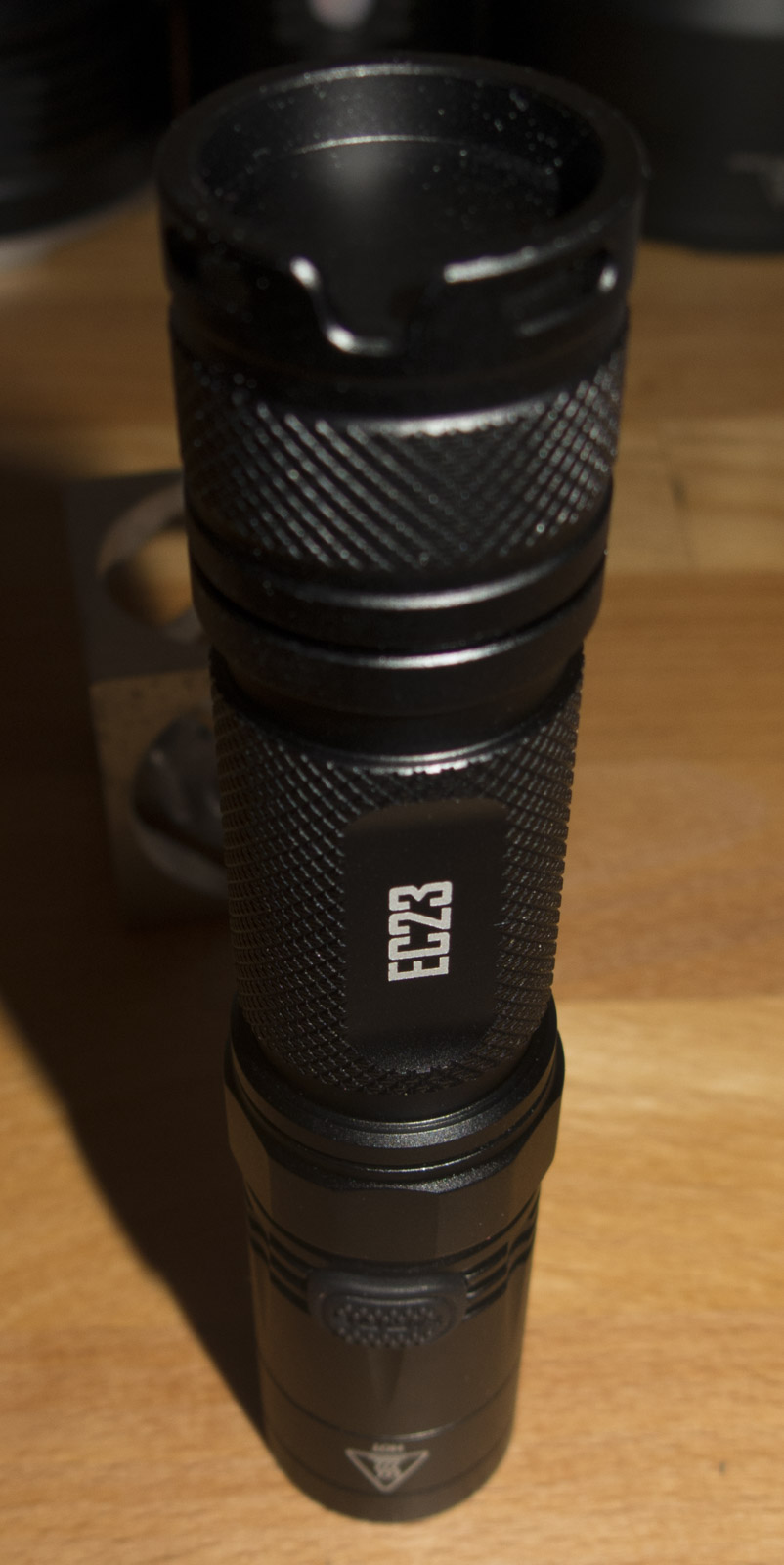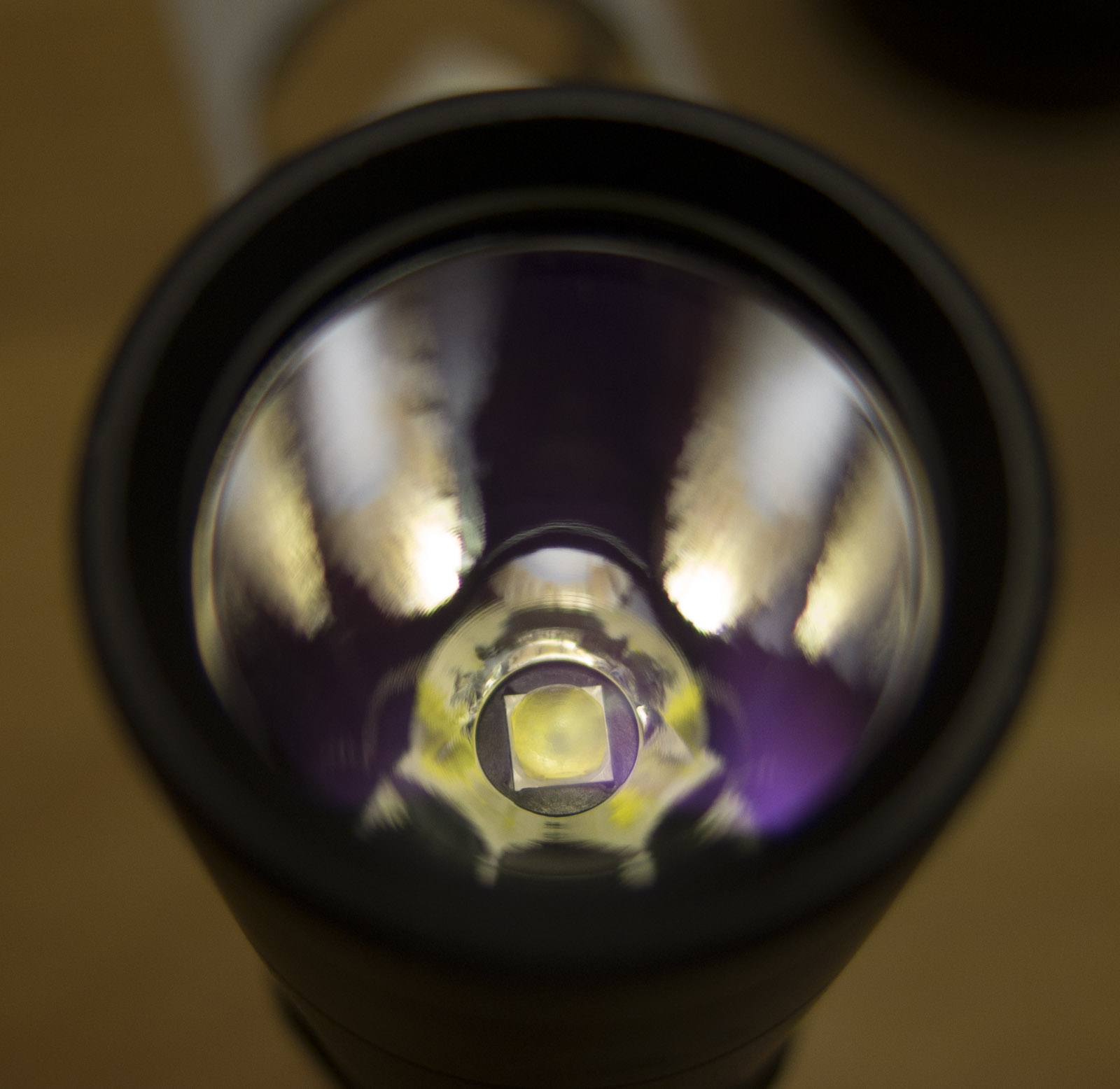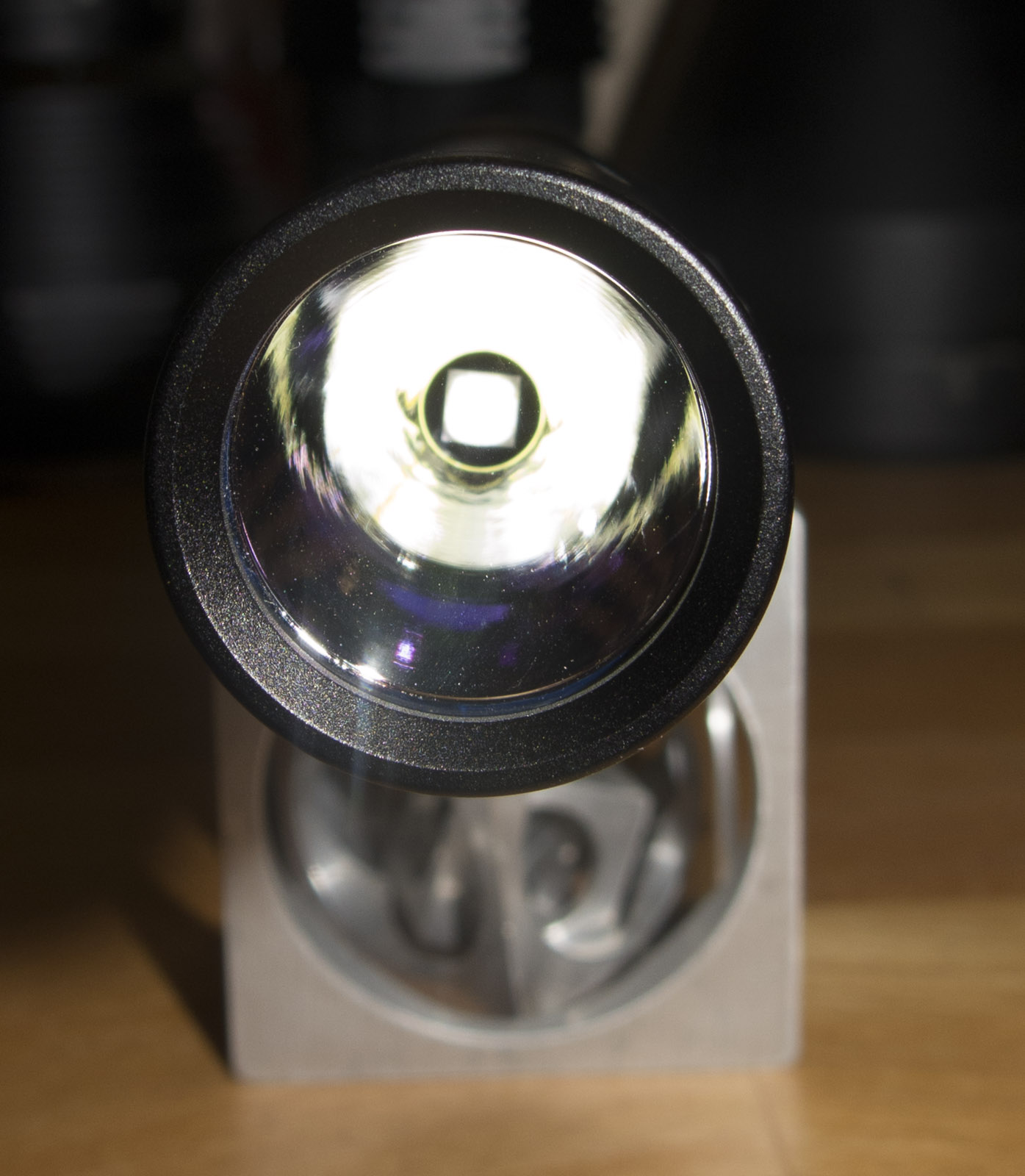 .
Comparism and teardown:
Size compared to other 18650 lights the G35 compared to my other lights the biggest but not heaviest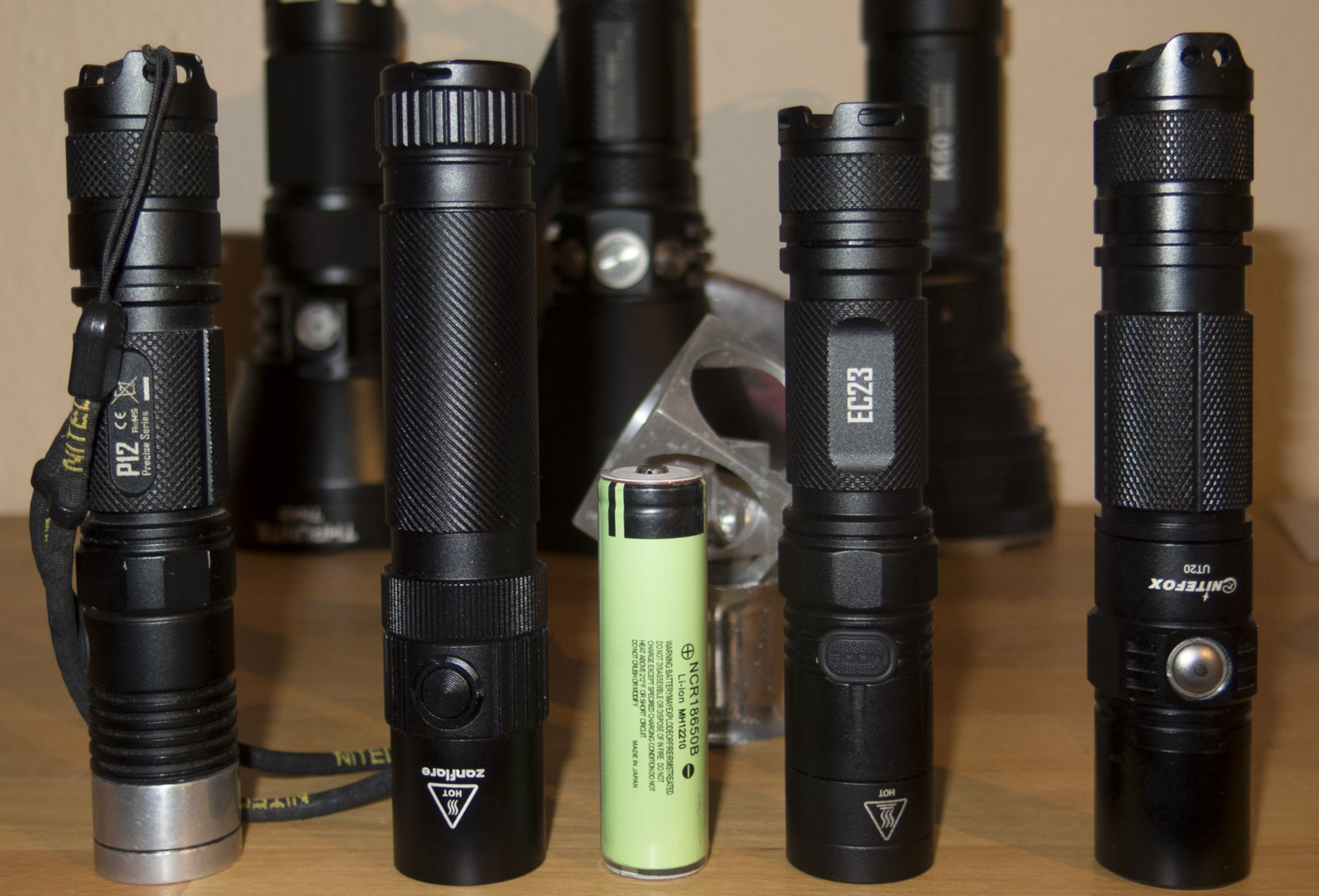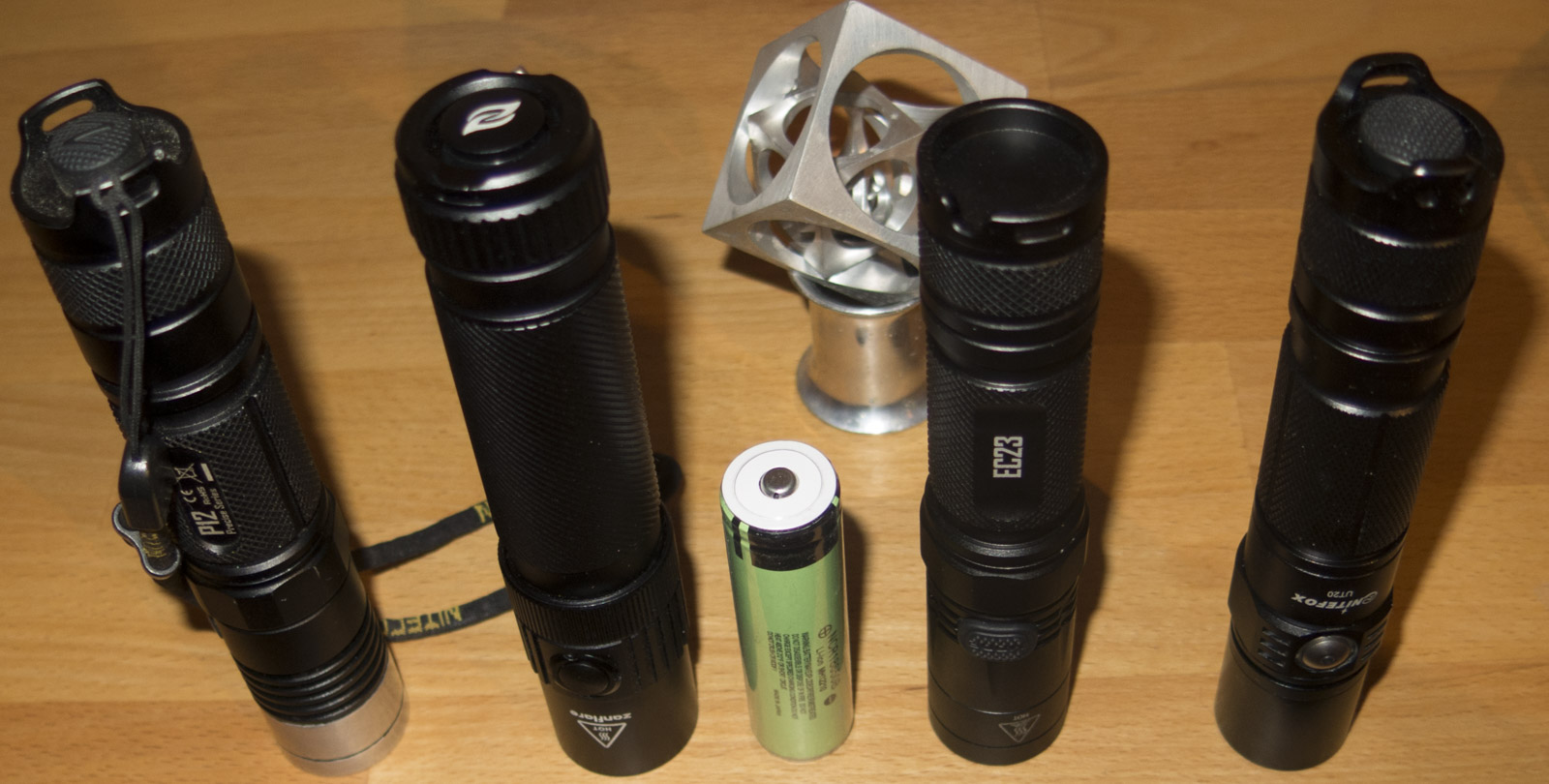 Beam color is cold around 6500K with a Cree XHP35 HD E2, the beam is a mix of flood and throw for a normal 18650 EDC but it shows a pronounced donut hole with tint artifacts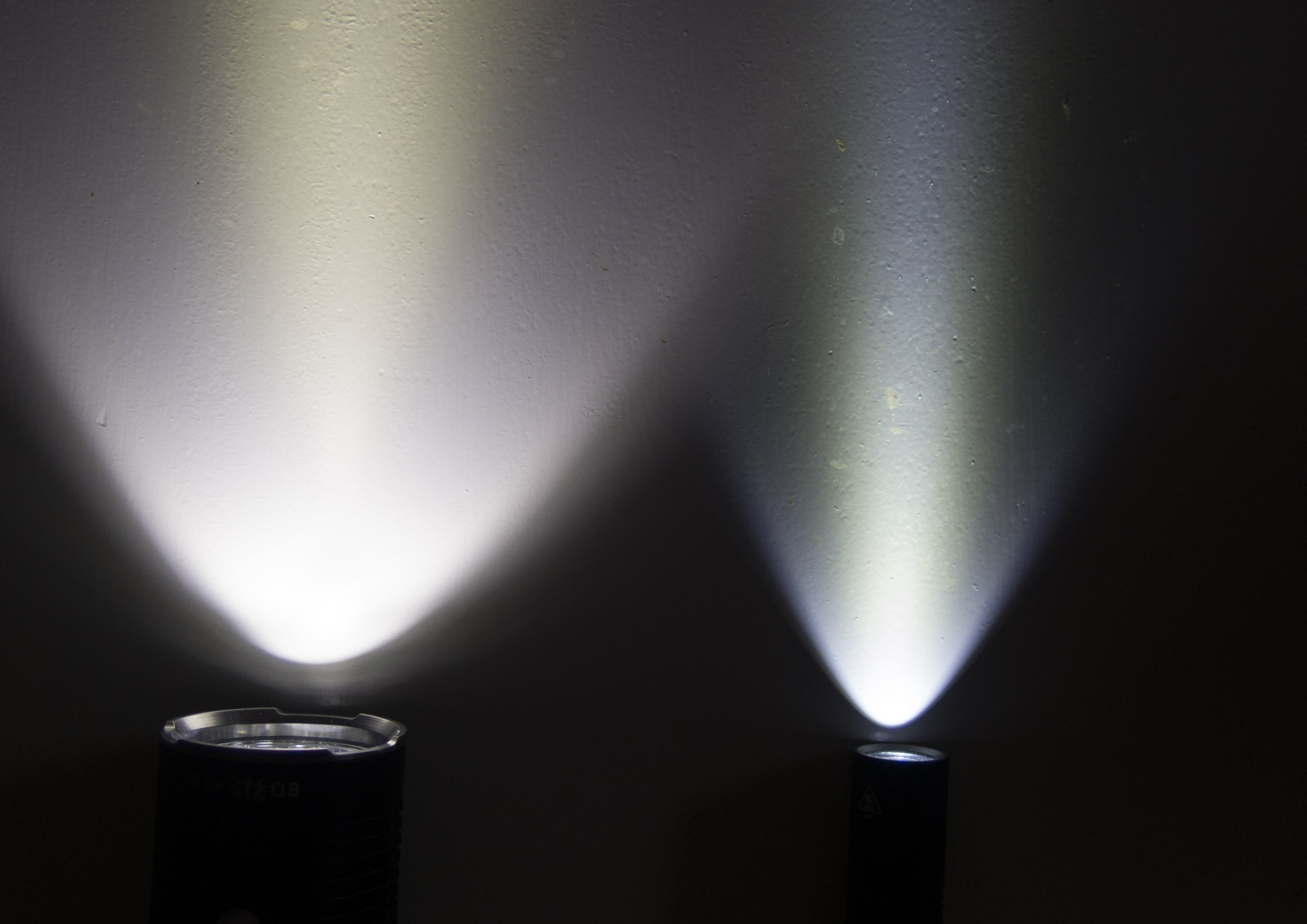 The reflector has no imperfections and is free of dust particles that can be seen when the light is off
The lens is AR coated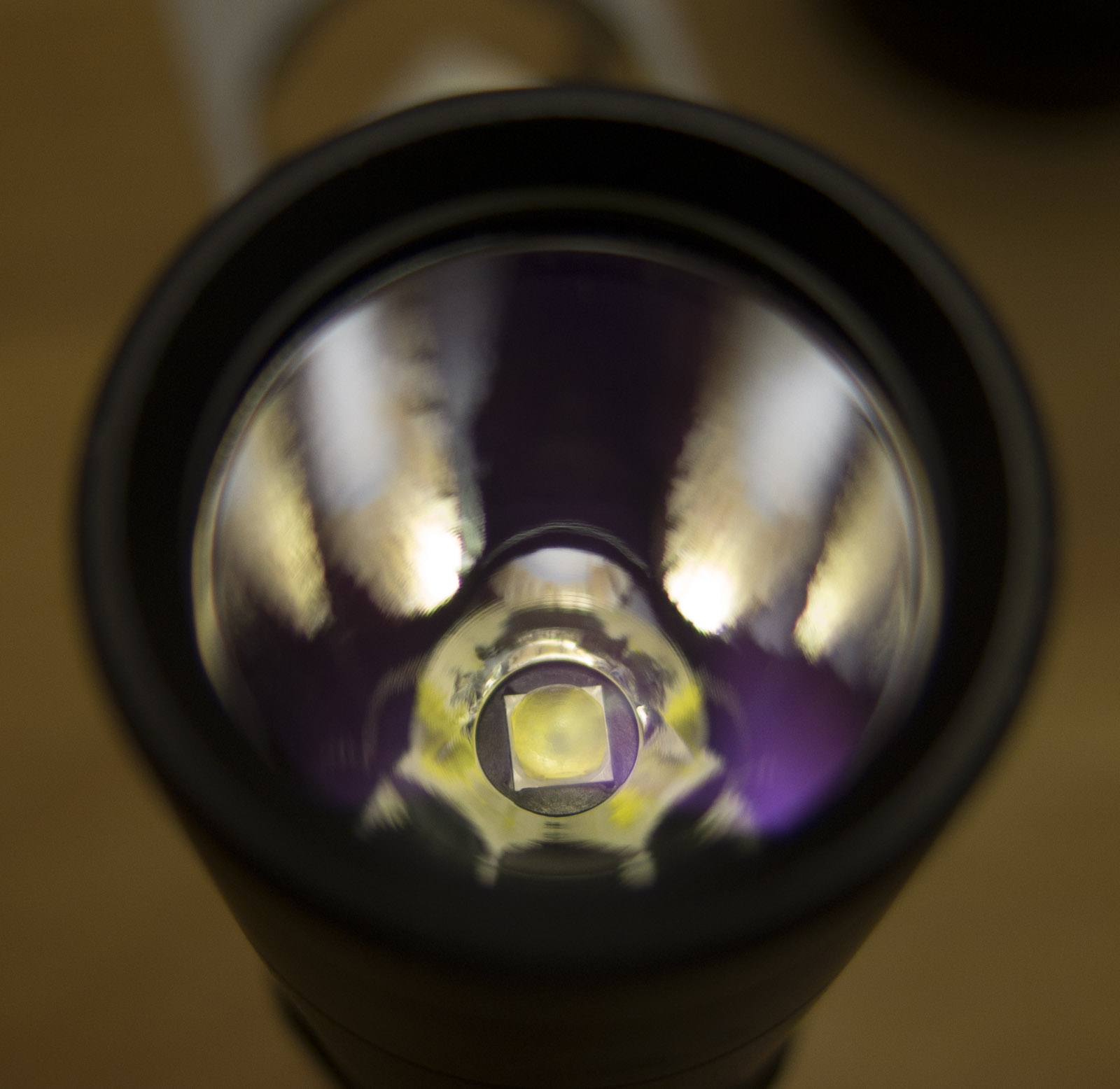 Light color compared to other lights
from left to right the lights get warmer, picture taken @5000K camera setting
left Nichia 5000K, Nitecore EC23, XPL HD 6500K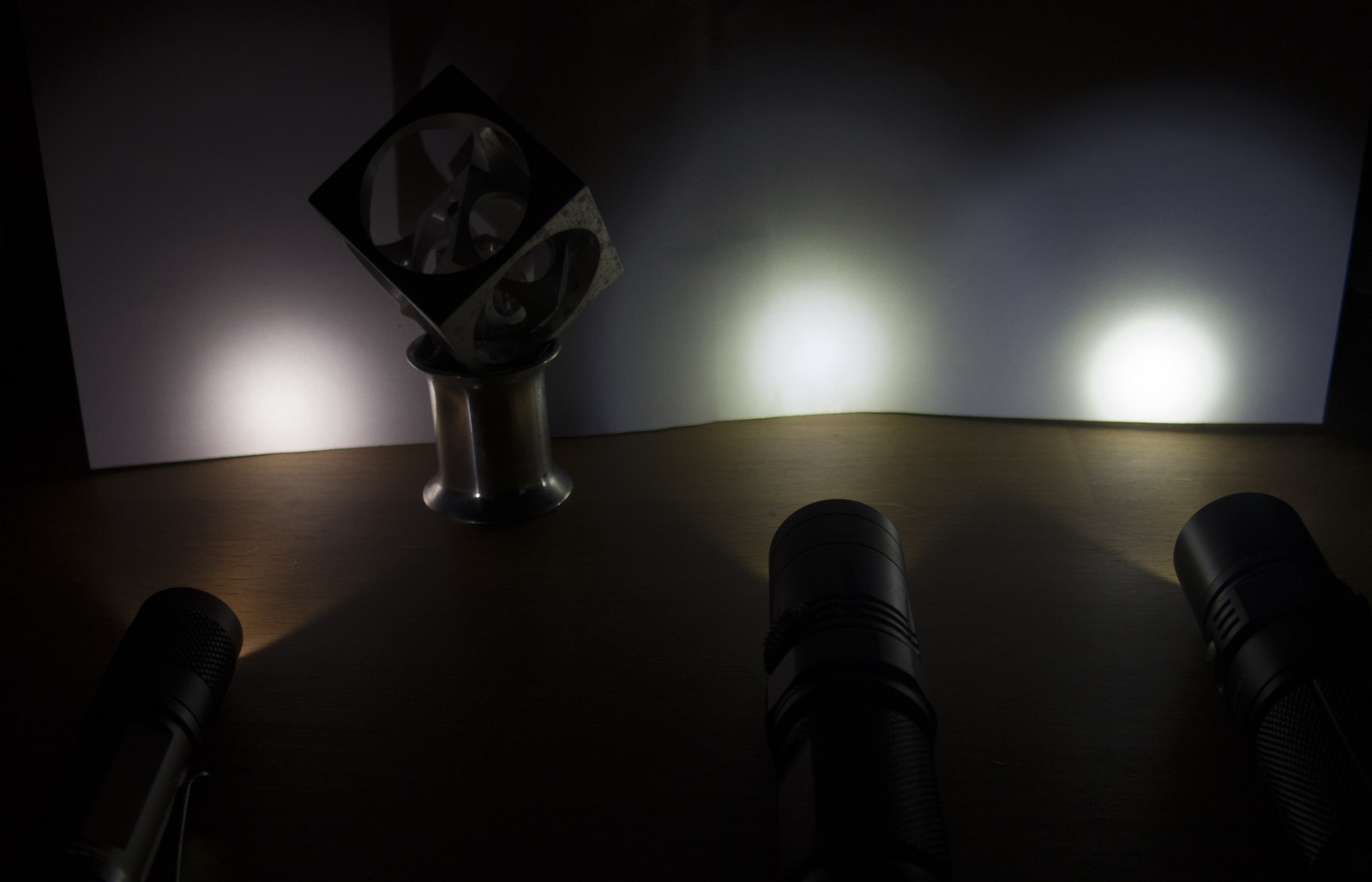 The lights head is heavily glued with red locktite
The light has a tail cap with two holes for a lanyard
The light stands on the tail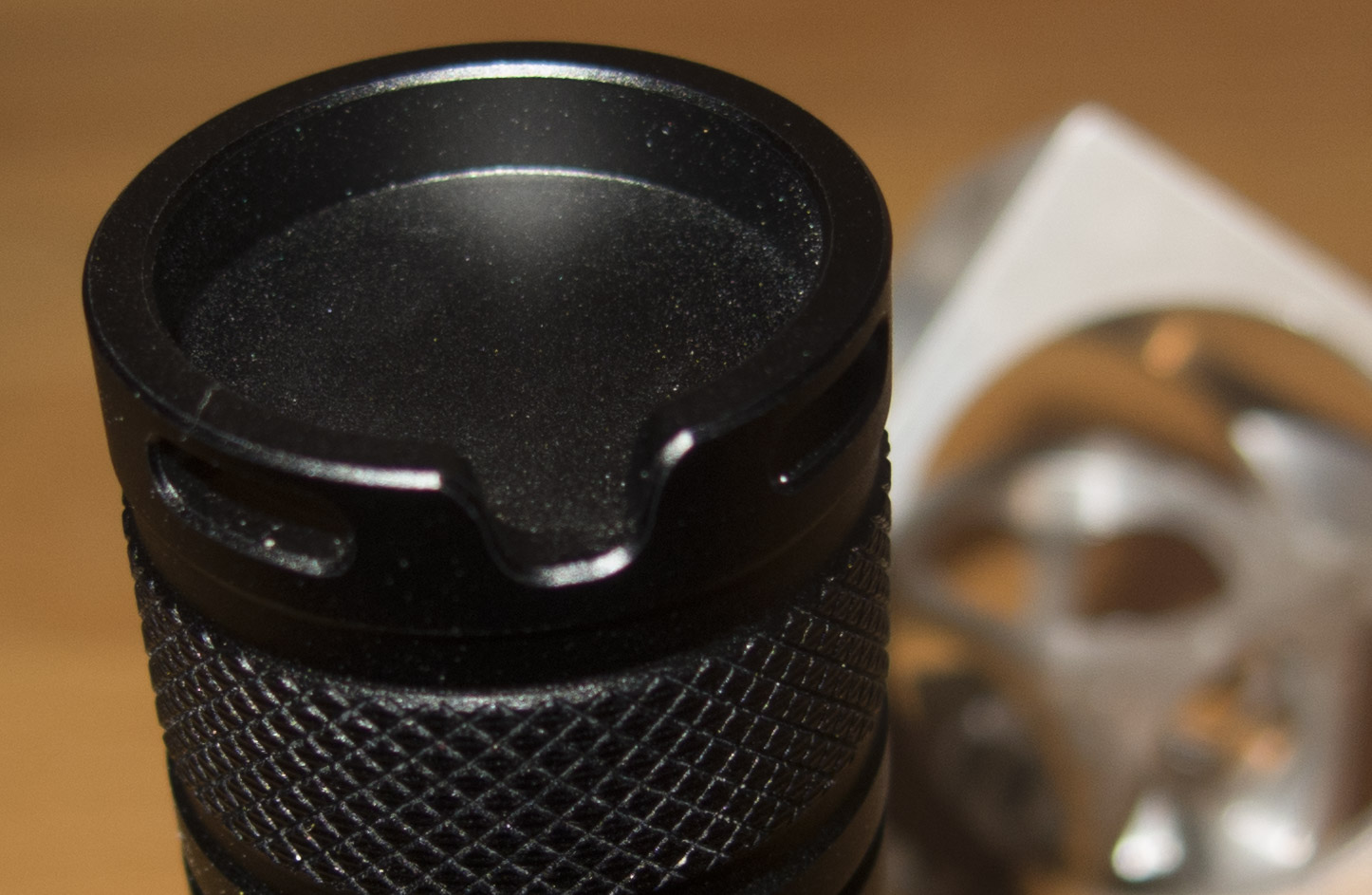 The head has a diameter of 25.4mm 19mm visible reflector
The light can be run by one high drain 18650 battery which is included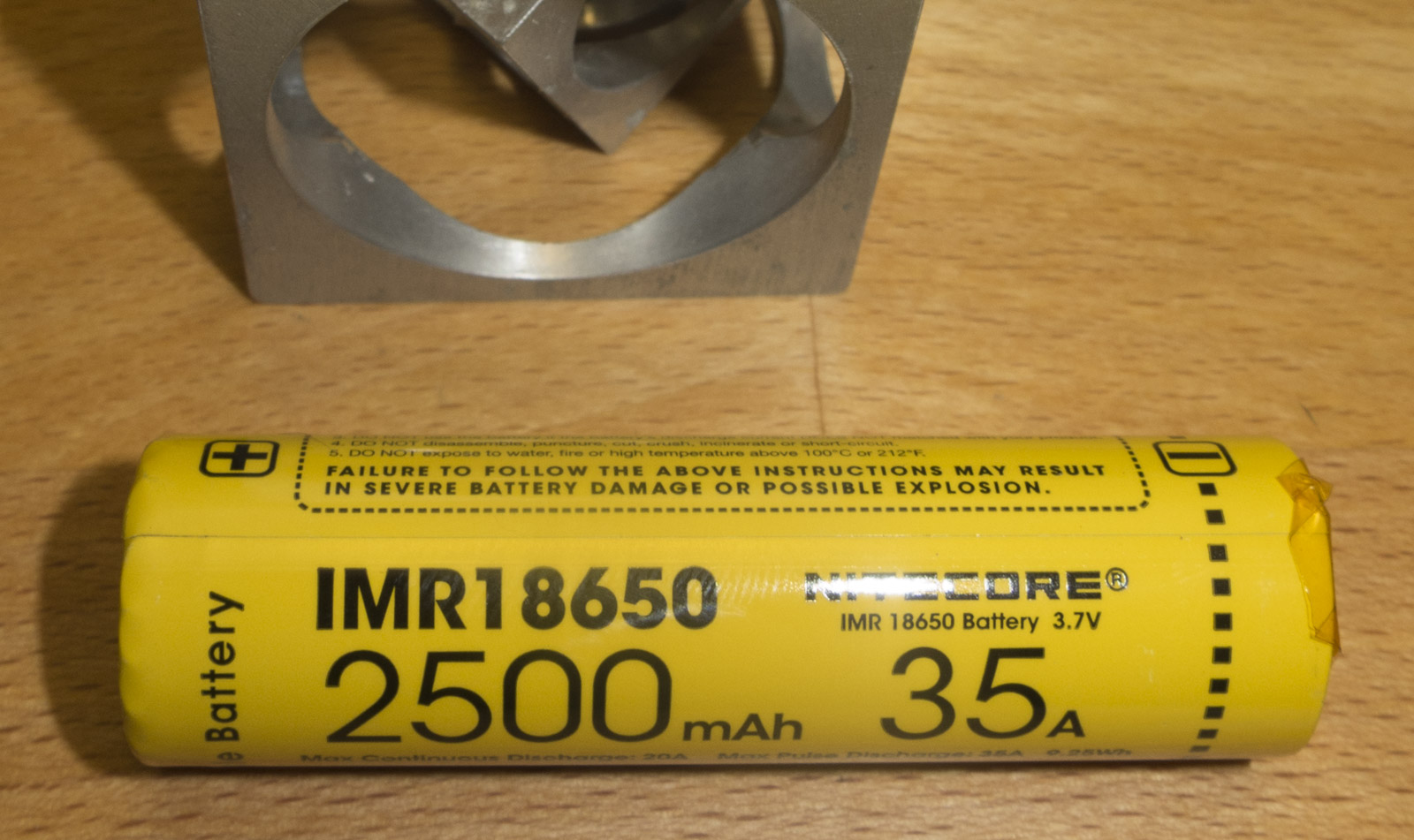 the battery is in the light insulated with Kapton tape
The light can be physically locked out by twisting the tail cap or tube to the head
The Head
The tube light has 25.4mm diameter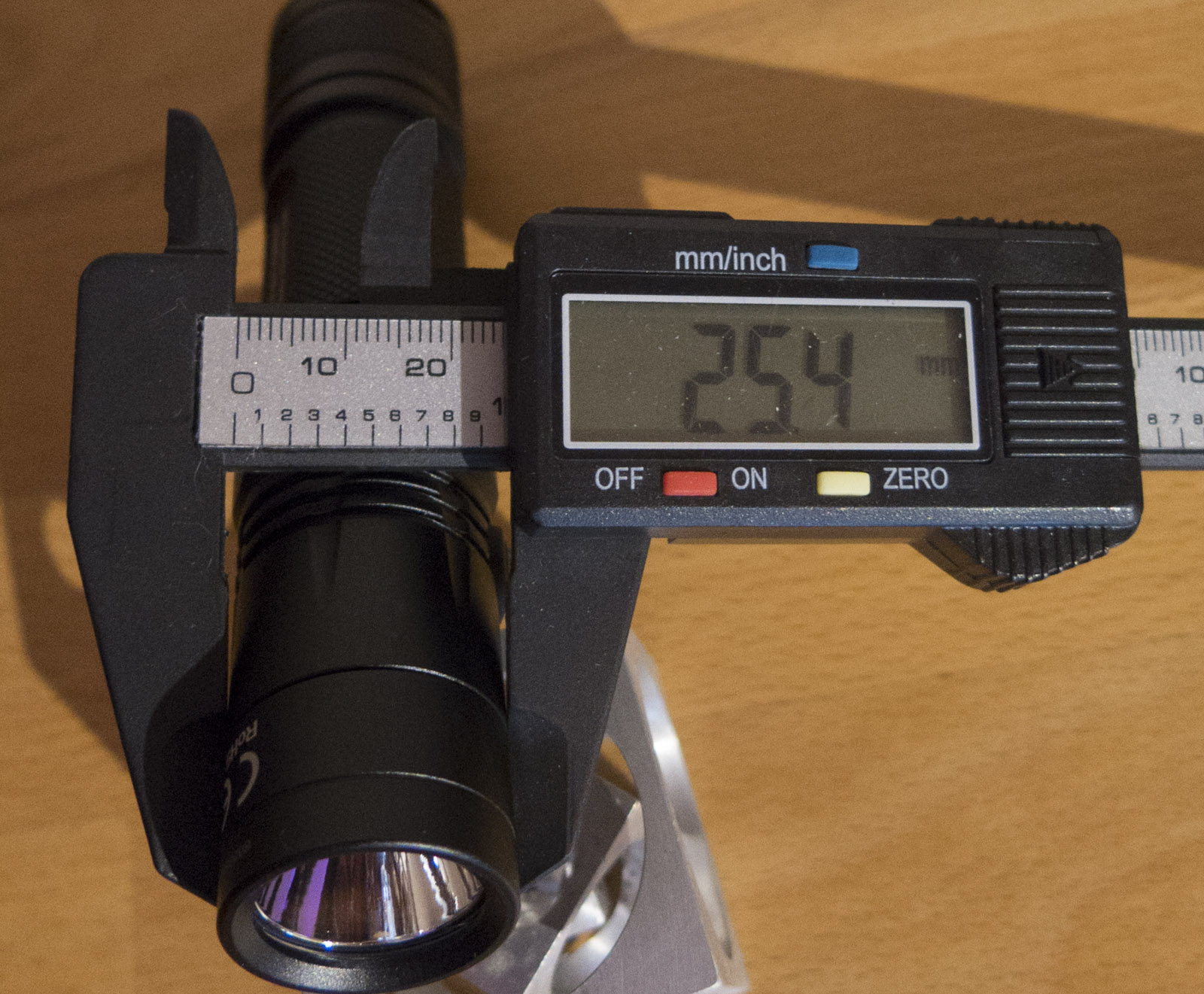 The light is waterproof, the tail cap and head o-rings and threads are lubed
.
Tube and Tail
The tail cap is fully anodized and has a spring board glued in it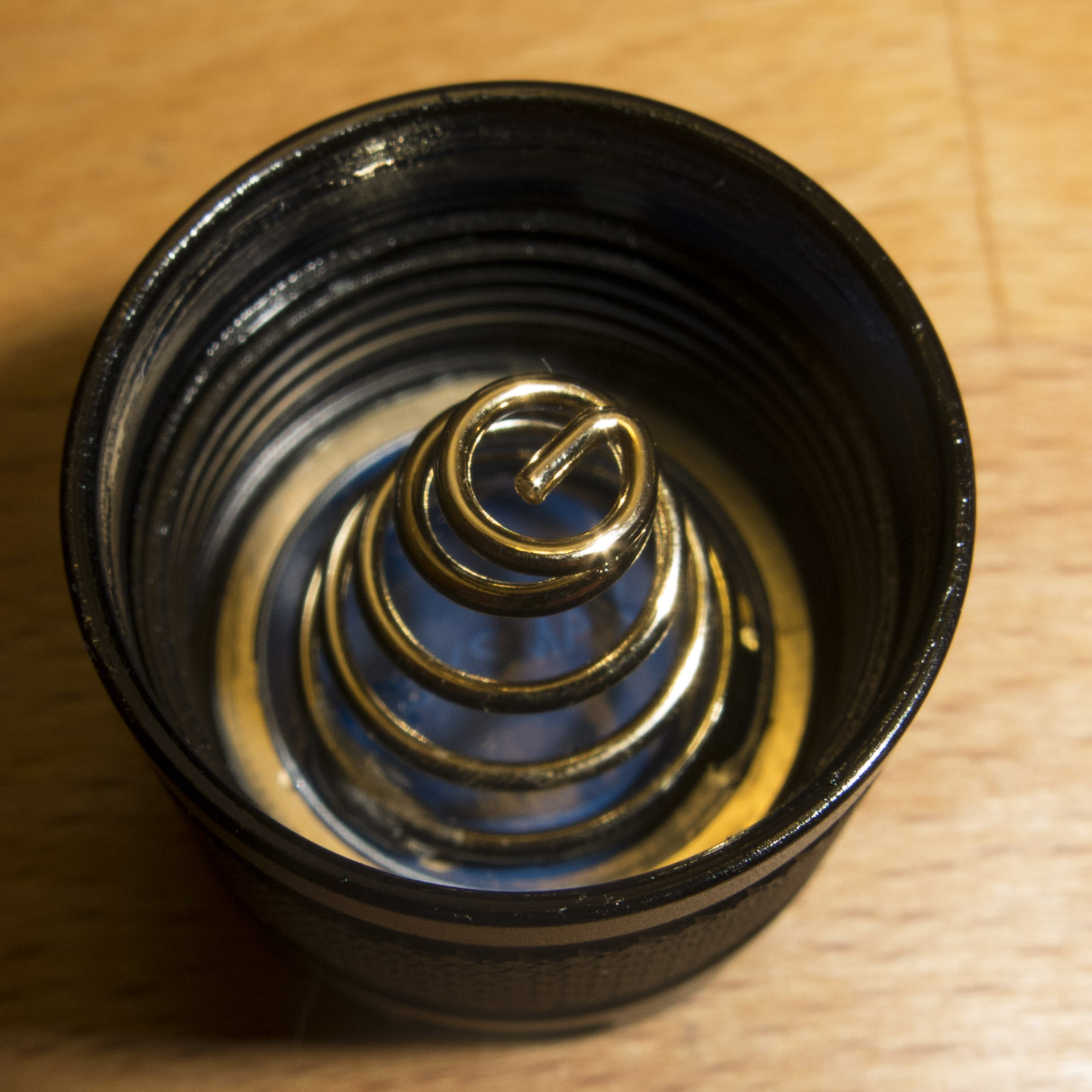 the tube is build for one battery, my Klarus High drain batteries with 69.7mm barely fit, it's hard to screw down the tail cap with it, the spring gets fully compressed and the battery gets pushed pretty hard to get the tube to make contact

The tube threads are square cut and fit nicely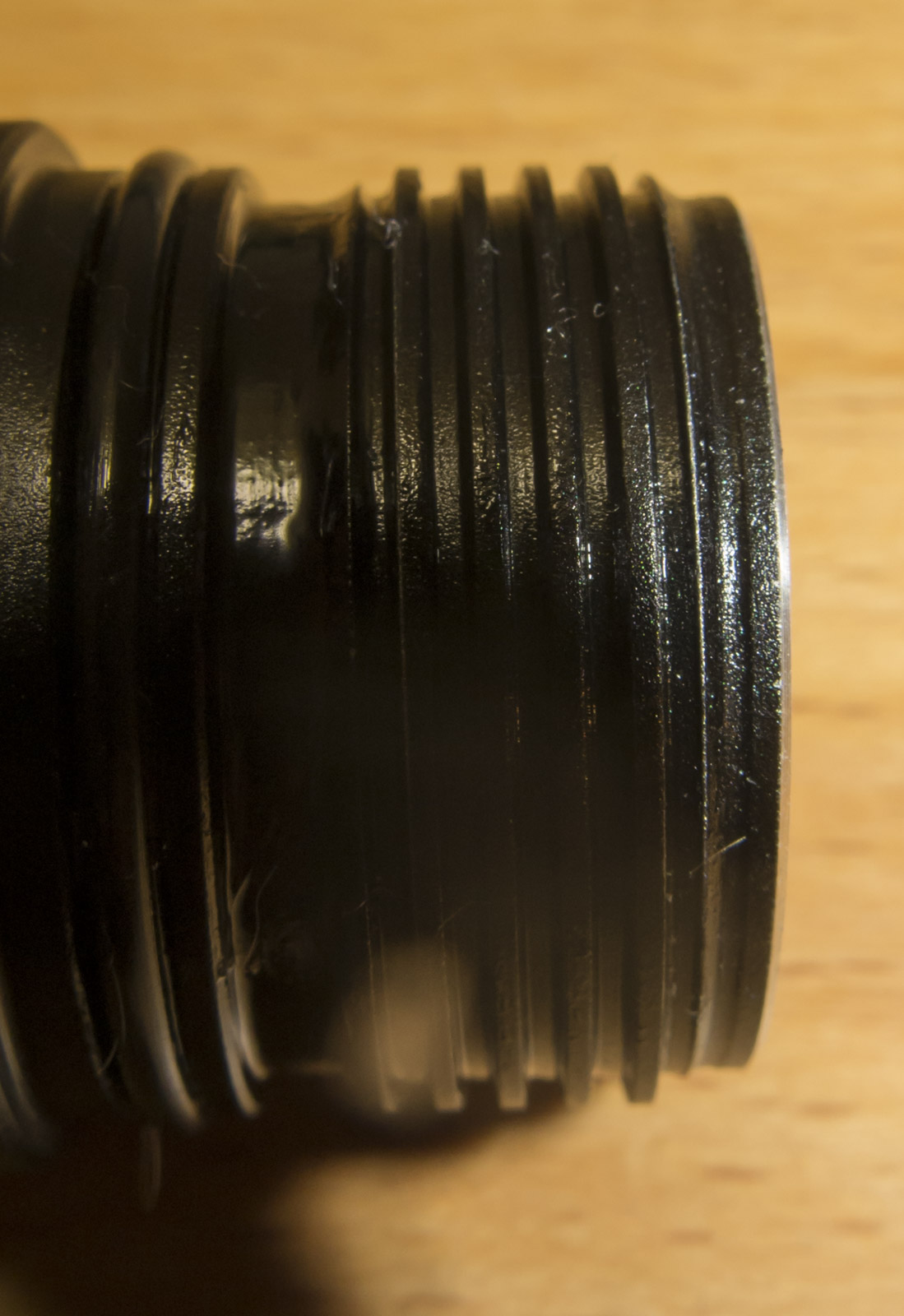 .
Driver and Battery
The light shows no PWM in any mode using falling water drops
The battery is a high drain with 2500mA, I tested it with about 2500mAh under 1.5A discharge and 39mOhms in my Miboxer C4-12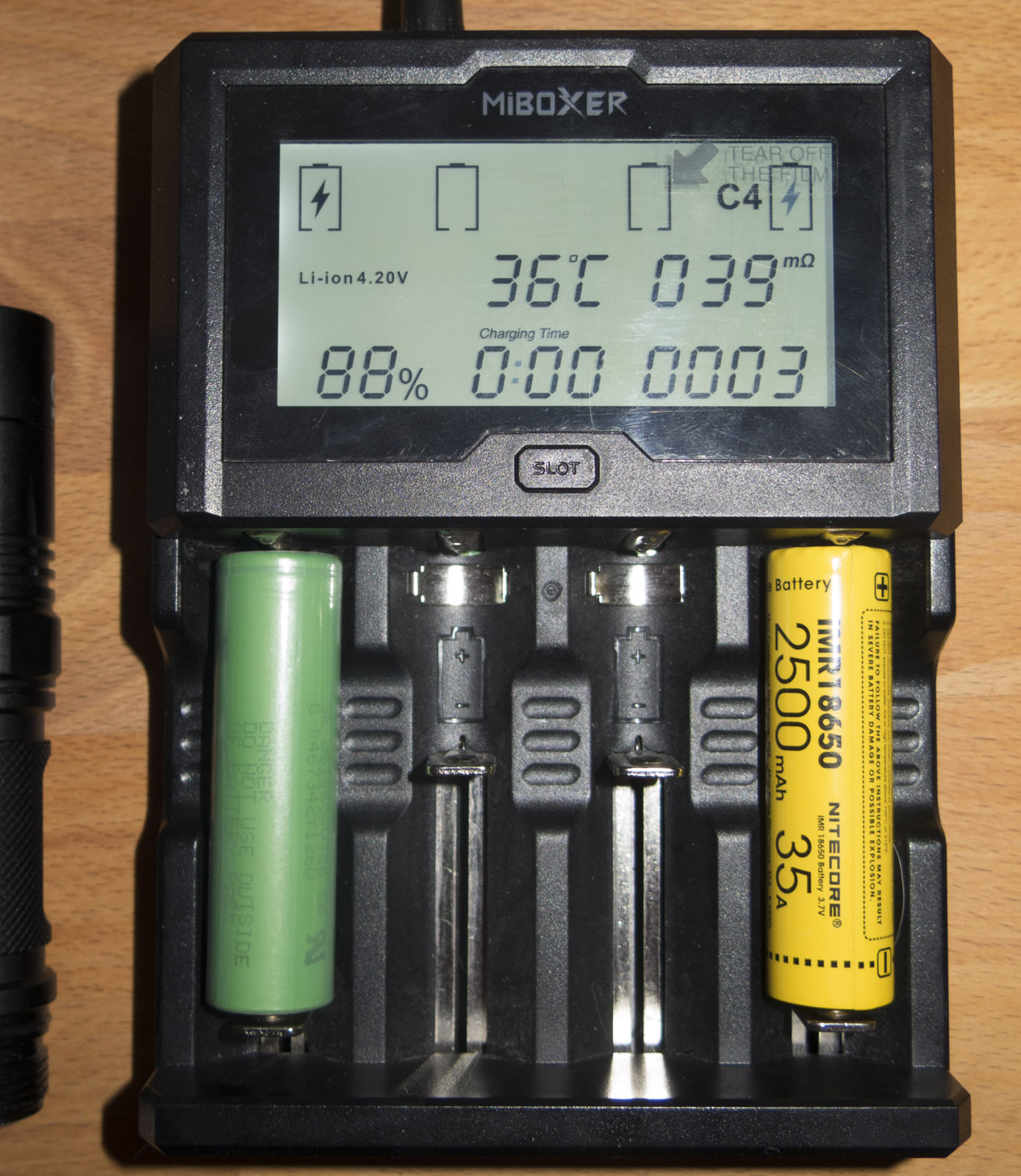 The light has a some mass to absorb and surface to spread heat, the tube is relatively thick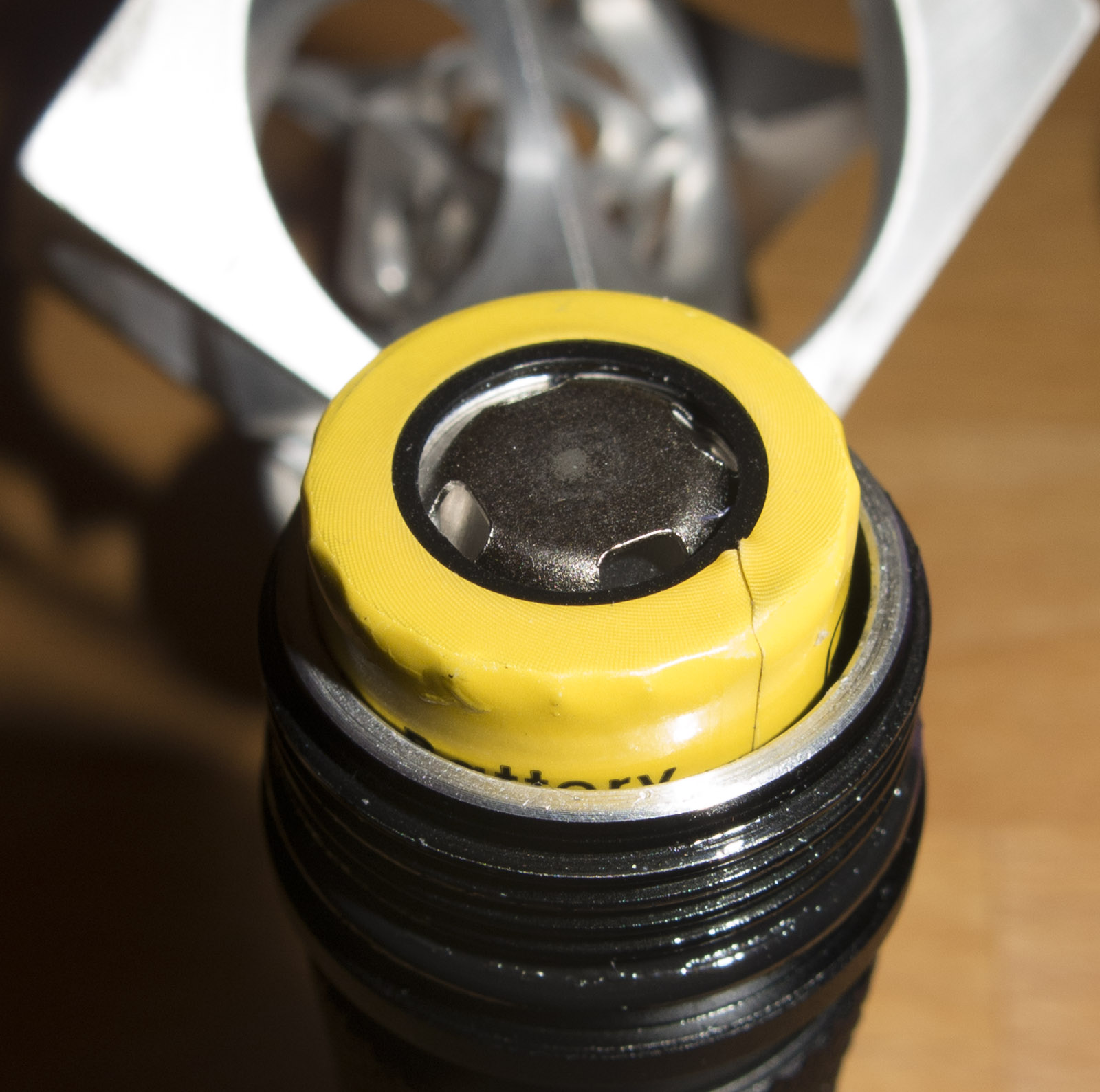 The light steps down at 61°C head temperature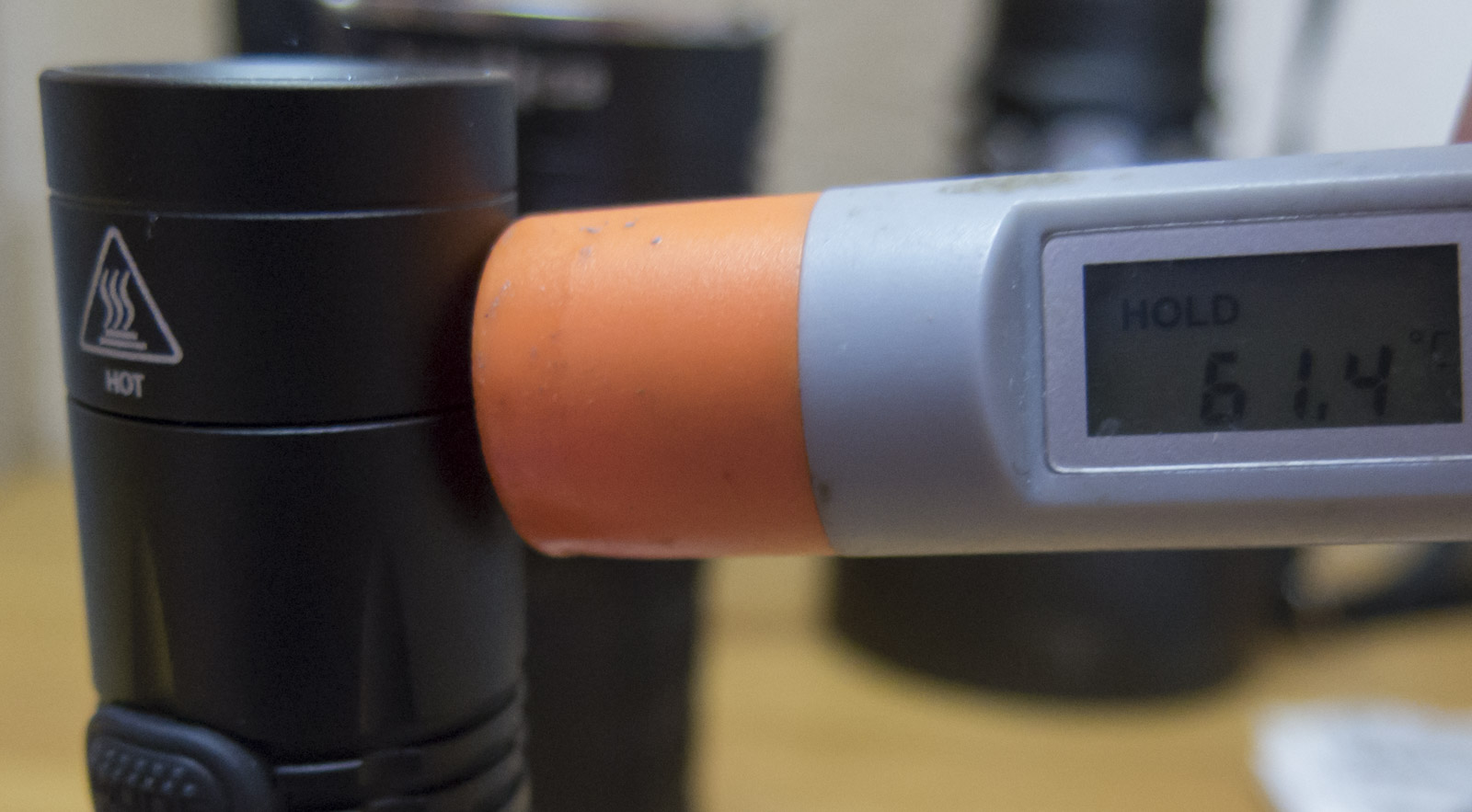 Activating turbo after the step down again reaches a max. head temperature of 70°C, the light immediately steps down when that hot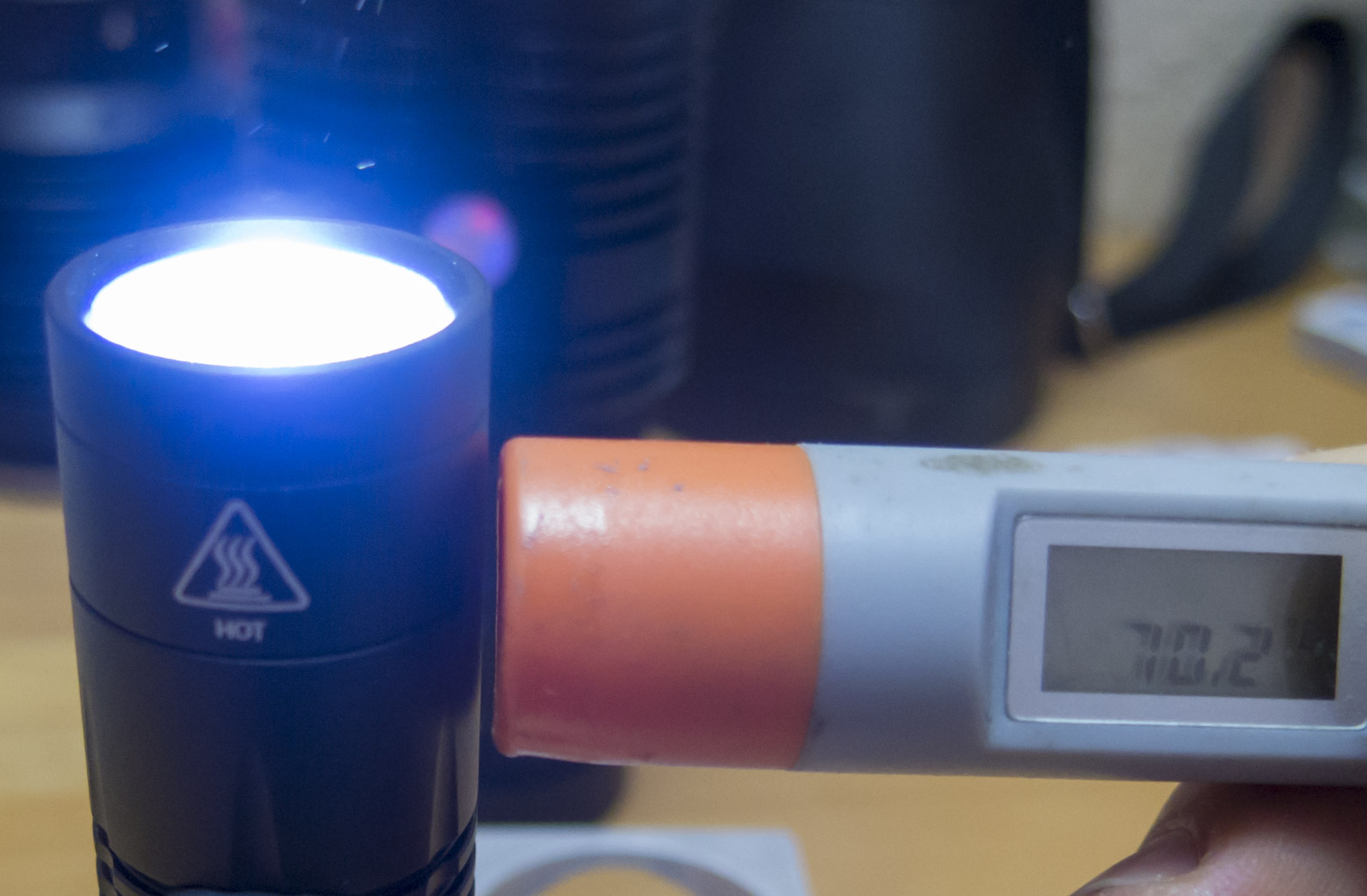 the light uses a single solid contact on the driver and a big thick copper alloy spring in the tail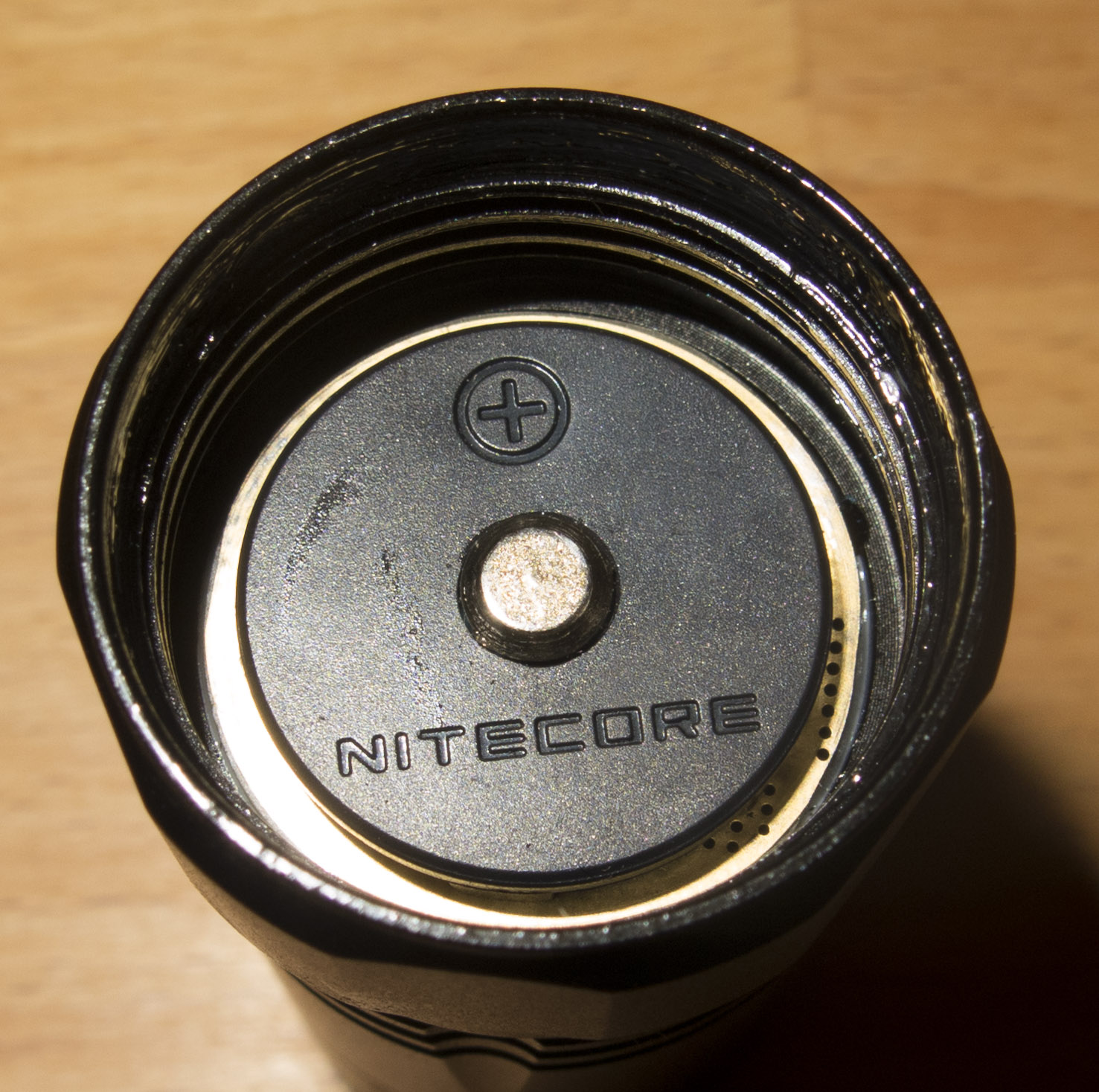 The mode spacing is OK, the moonlight has about 1 lumens
The light uses a boost driver for the XHP35
M 13mA
L 120mA
M 580mA
H 2.4A
T 6.5A
The side switch status LED shows the battery level when the battery is connected it blinks 4 then 2 times for 4.2V
Also when the battery gets low it will start to flash to indicate to charge the battery
Modding:
It is very hard to get to the LED as the lights head is glued, I will try to change focus to eliminate the donut hole and put a NW LED in it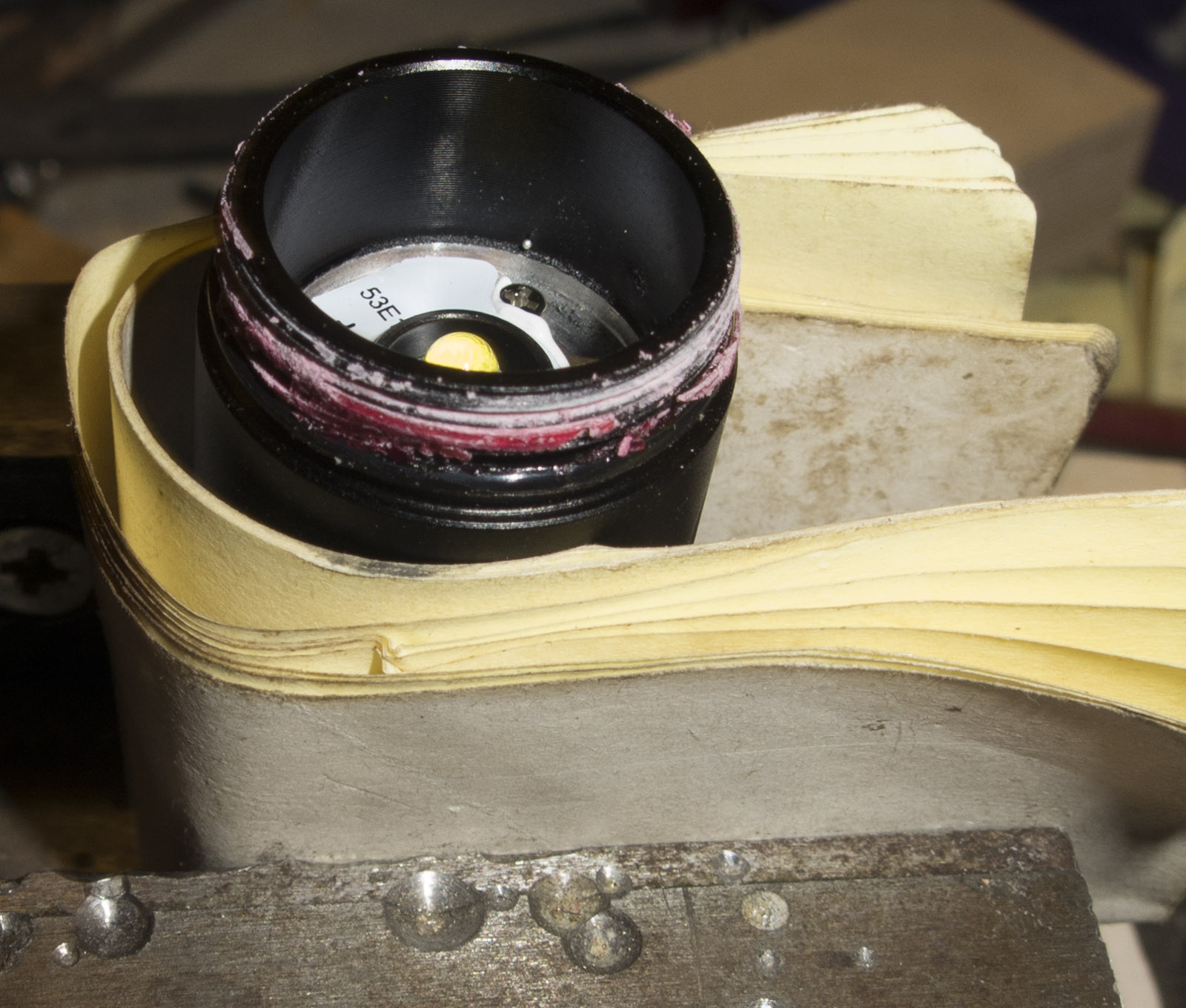 .
Beam shots
about 2m from Light to ceiling
Nitecore P12 XML2 U3-3D NW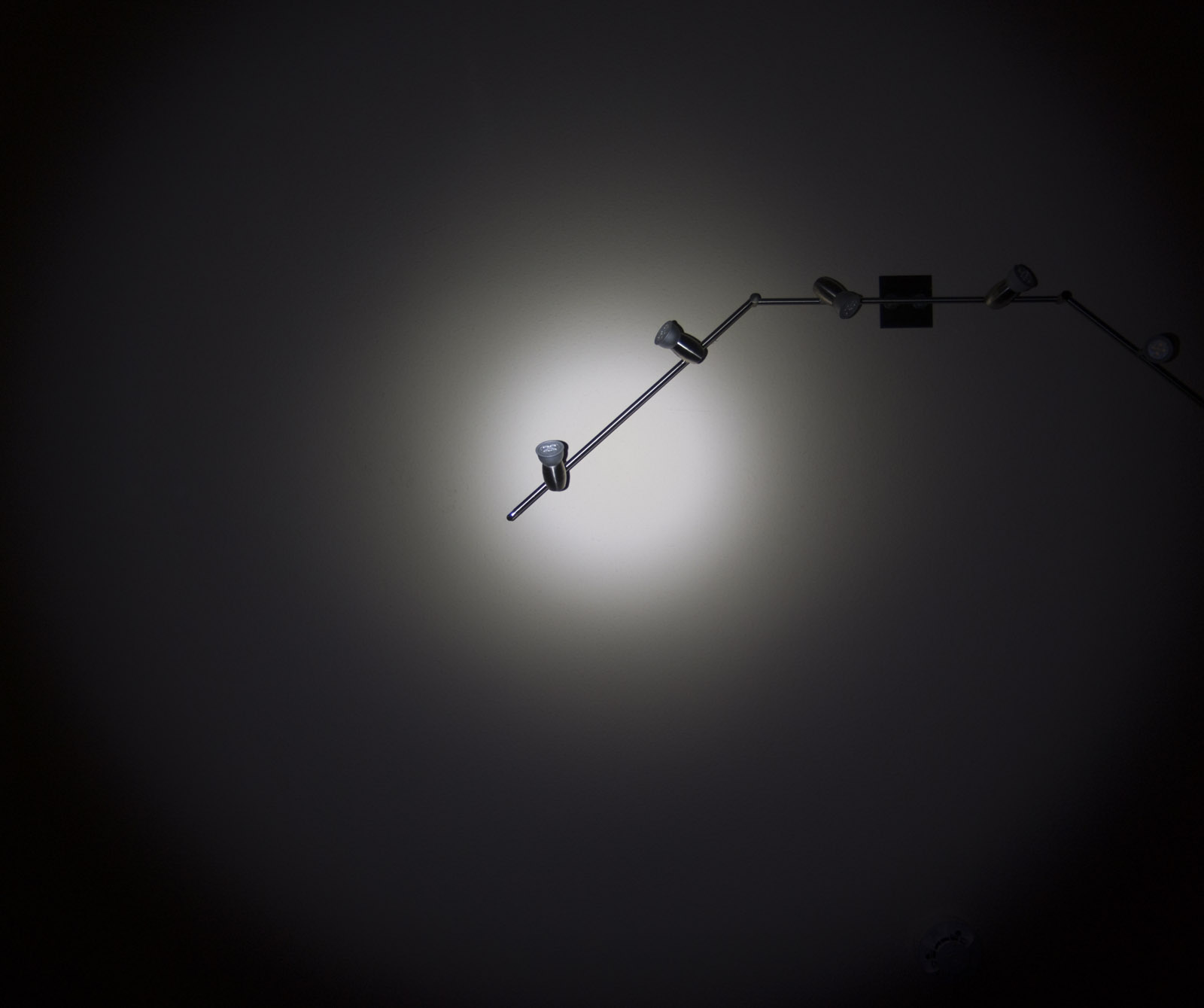 Nitecoe EC23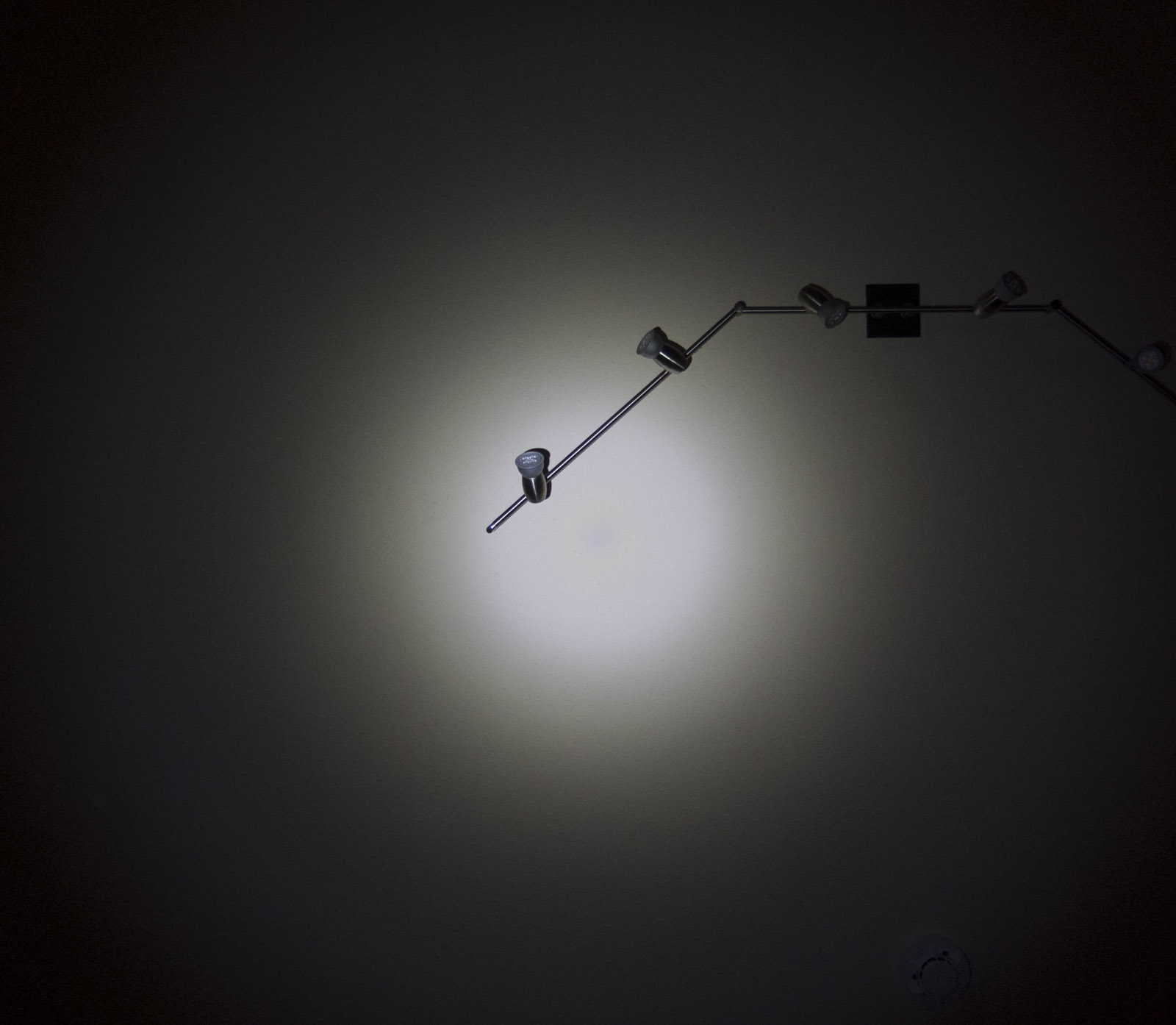 Zanflar F1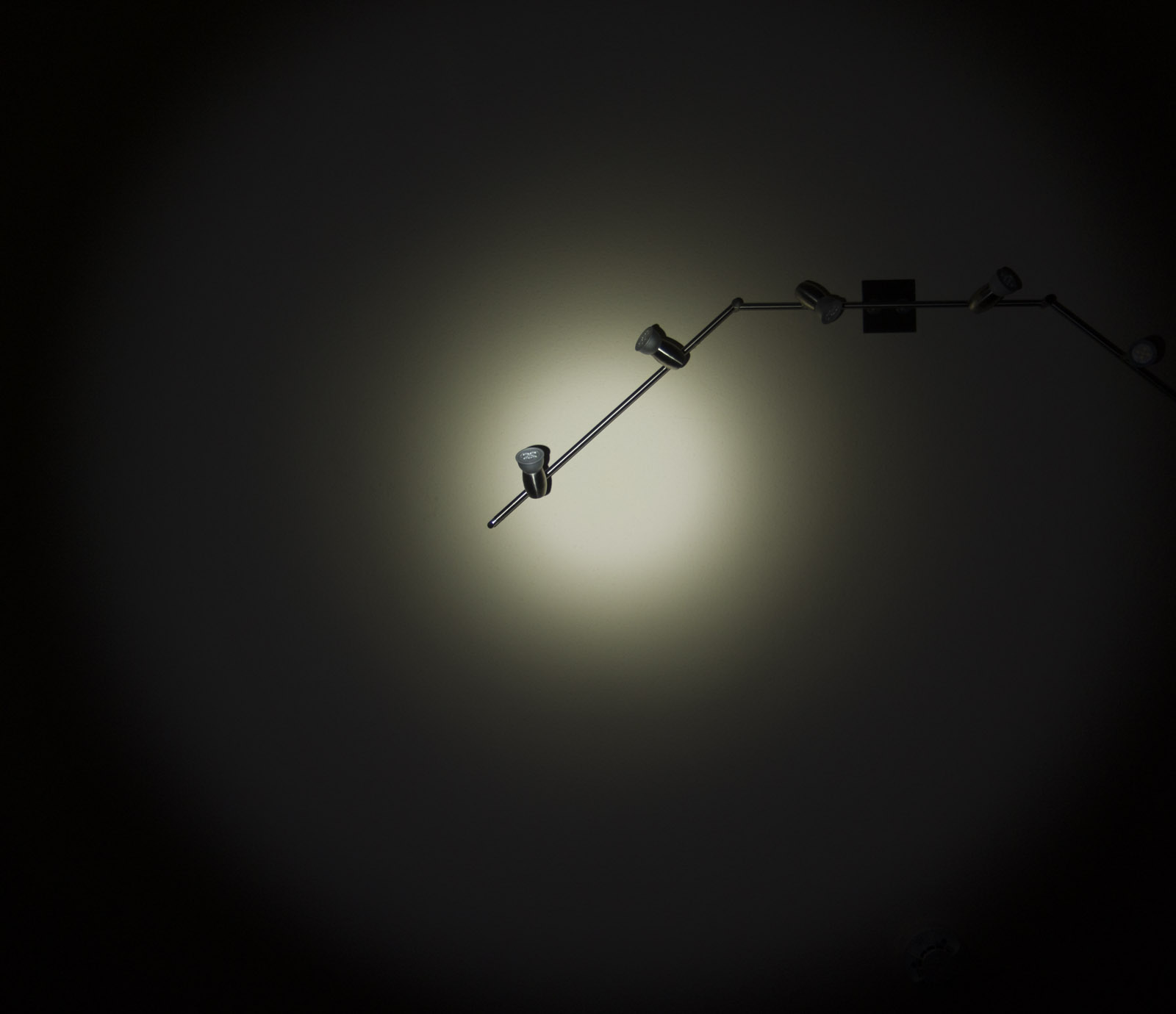 User Interface
The light has a strange UI
I would describe it as sort of forward clicky with a momentary Turbo
short click for on and off
from Off 0.5s long press for moon
 
from Off 1.5s to get to turbo
within 3 seconds after switching on hold the button to cycle modes, this mode gets saved
after the light is on more than 3 seconds a long press goes into momentary turbo, a short press switched the light off
triple click to get into strobe from on or off, hold button longer than 1 second to get to the special strobe modes SOS and Beacon
.
Conclusion
Positive:
- mechanical very good production and engineering
- solid head, DTP MCPCB
- AR coated glass lens
- proper LVP and low battery warnings
- low resistance copper alloy springs
- good moon mode and mode spacing
- good thermal management gets a lot output for some time
- good high drain battery with 39mOhms and 2500mAh
Neutral:
- the UI is strange but if you are used to it is useful, just changing normal modes after the light is on is not possible, you have to turn the light off for a moment, but it has then a momentary turbo
Negative:
- Donut hole in the beam, so reflector focus is not right
- head is glued, so hard to fix donut hole or change to NW emitter
—
[Reviews] Miboxer C4-12, C2-4k+6k, C2, C4 / Astrolux K1, MF01, MF02, S42, K01, TI3A / BLF Q8 / Kalrus G35, XT11GT / Nitefox UT20 / Niwalker BK-FA30S / Sofirn SF36, SP35 / Imalent DM21TW / Wuben I333 / Ravemen PR1200 / CL06 lantern / Xanes headlamp
[Mods] Skilhunt H03 short / Klarus XT11GT, XT12GTS / Zebralight SC50+ / Imalent DM21TW / colorful anodisation
[Sale]
Drivers: overview of sizes and types
DD+AMC based drivers Anduril or Bistro OTSM 12-24mm, S42, 24-30mm L6, Q8, MF01(S), MT03, TN42  
Anduril or Bistro 8A buck driver for 20-30mm, MF01/02/04, TN40/42, Lumintop GT, MT09R

Remote switch tail DD board with FET
Aux boards:
Emisar D1, D1S, D4, D4S, D18, Lumintop FW3A, Fireflies ROT66, Astrolux MF01, Tail boards like S2+