Review example was provided by manufacturer. Here is a product page at Nitecore website.
All the full size-photos you can also see here.
you can buy Nitecore EC22 here at
➤ ALIEXPRESS
➤ AMAZON
➤ NITETORCH they generously offered 20% code HJK5KDNQ valid for all the items in store, including other brands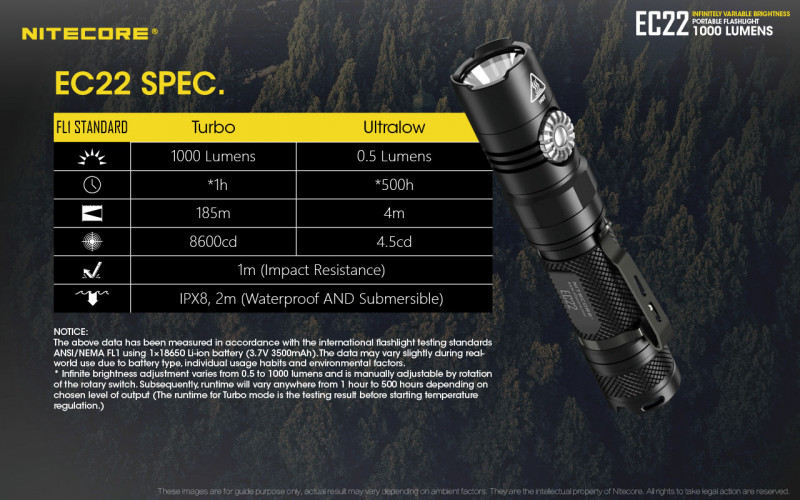 PACKAGE AND APPEARANCE
My review example was send as-is, with no box. That is no problem, because any of you who`ve bought Nitecore`s stuff, got the same yellow-black cardboard box.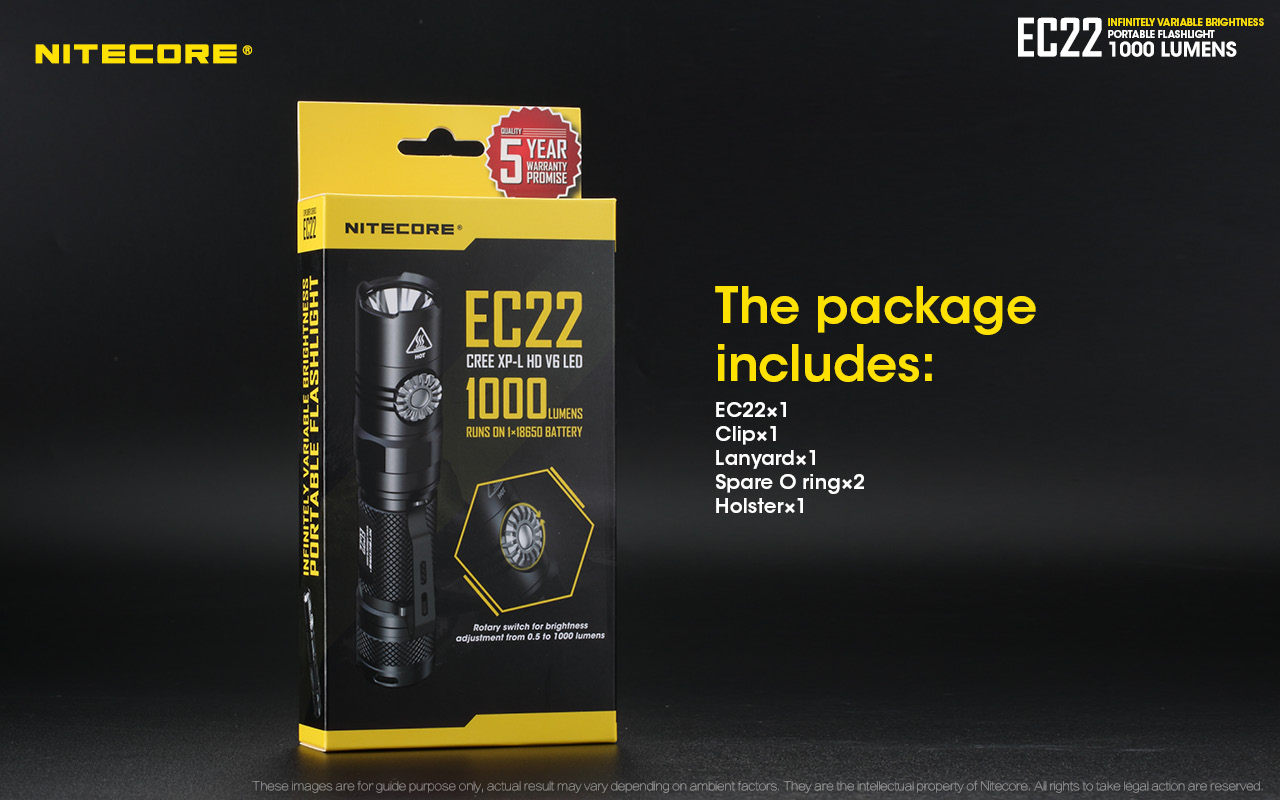 In my case, I got solid semi-transparent cocoon with something dark inside.
Well, I can do without box, as long as main parts included. And they are:
Flashlight, clip, a pair of spare o-rings, lanyard. Holster also should be included.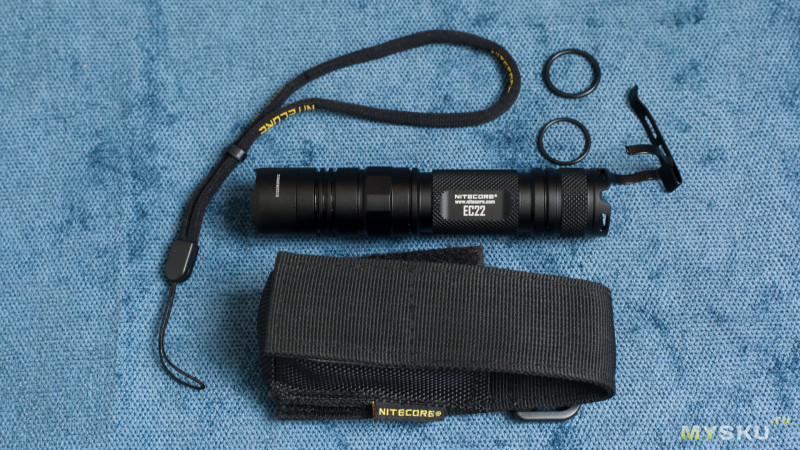 I assume there it is the same as with MH23, good holster with some ways to attach it.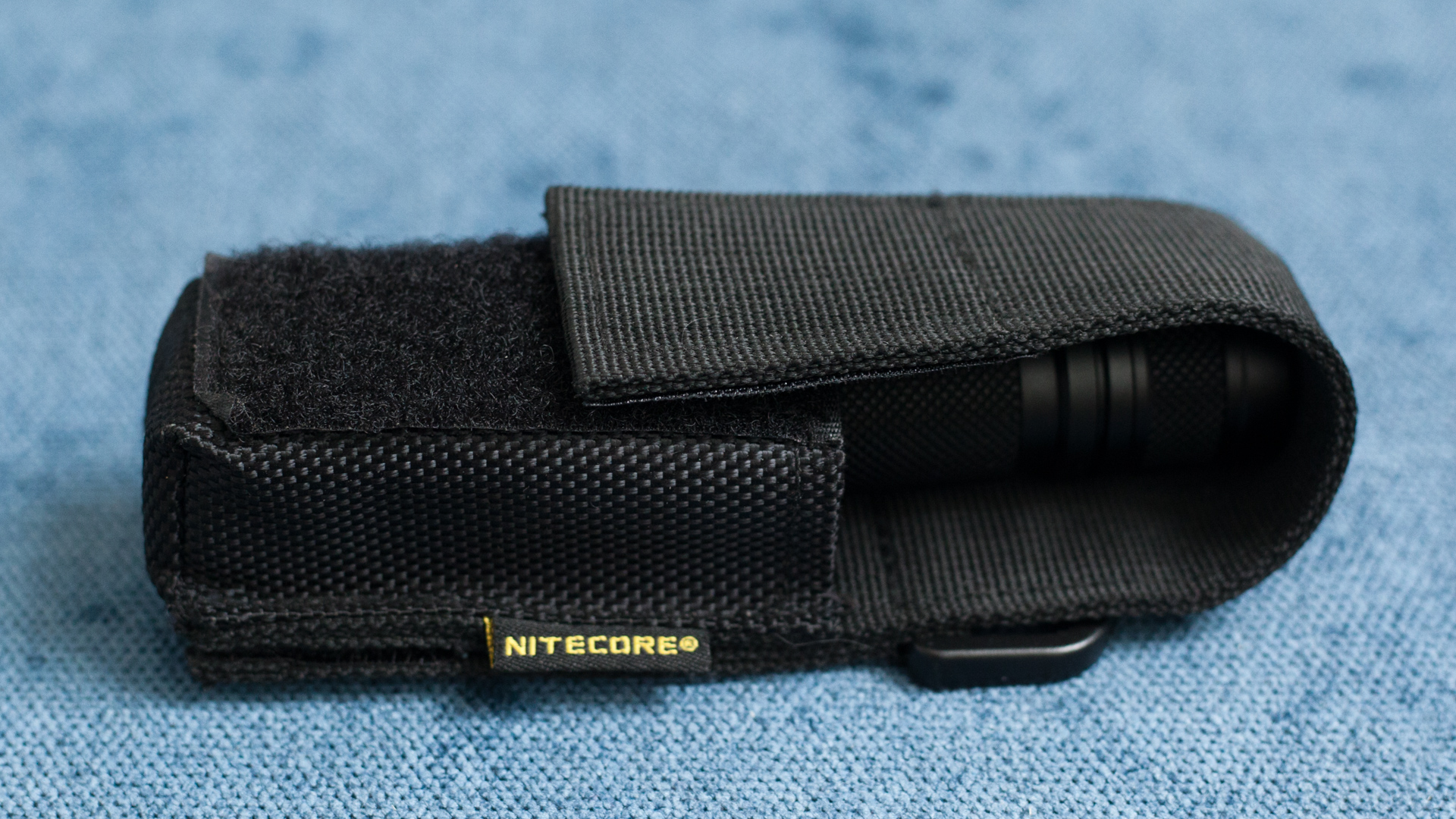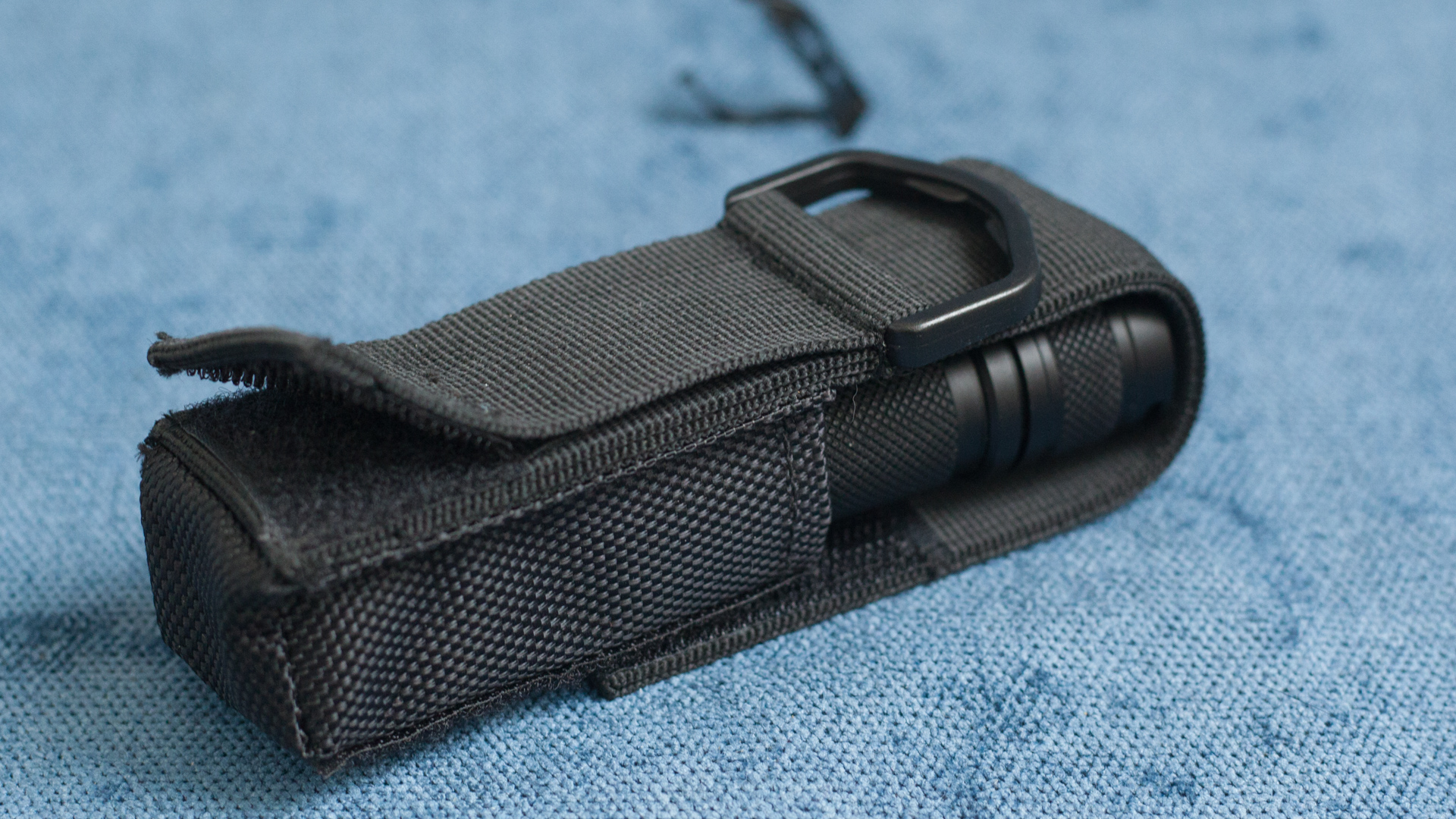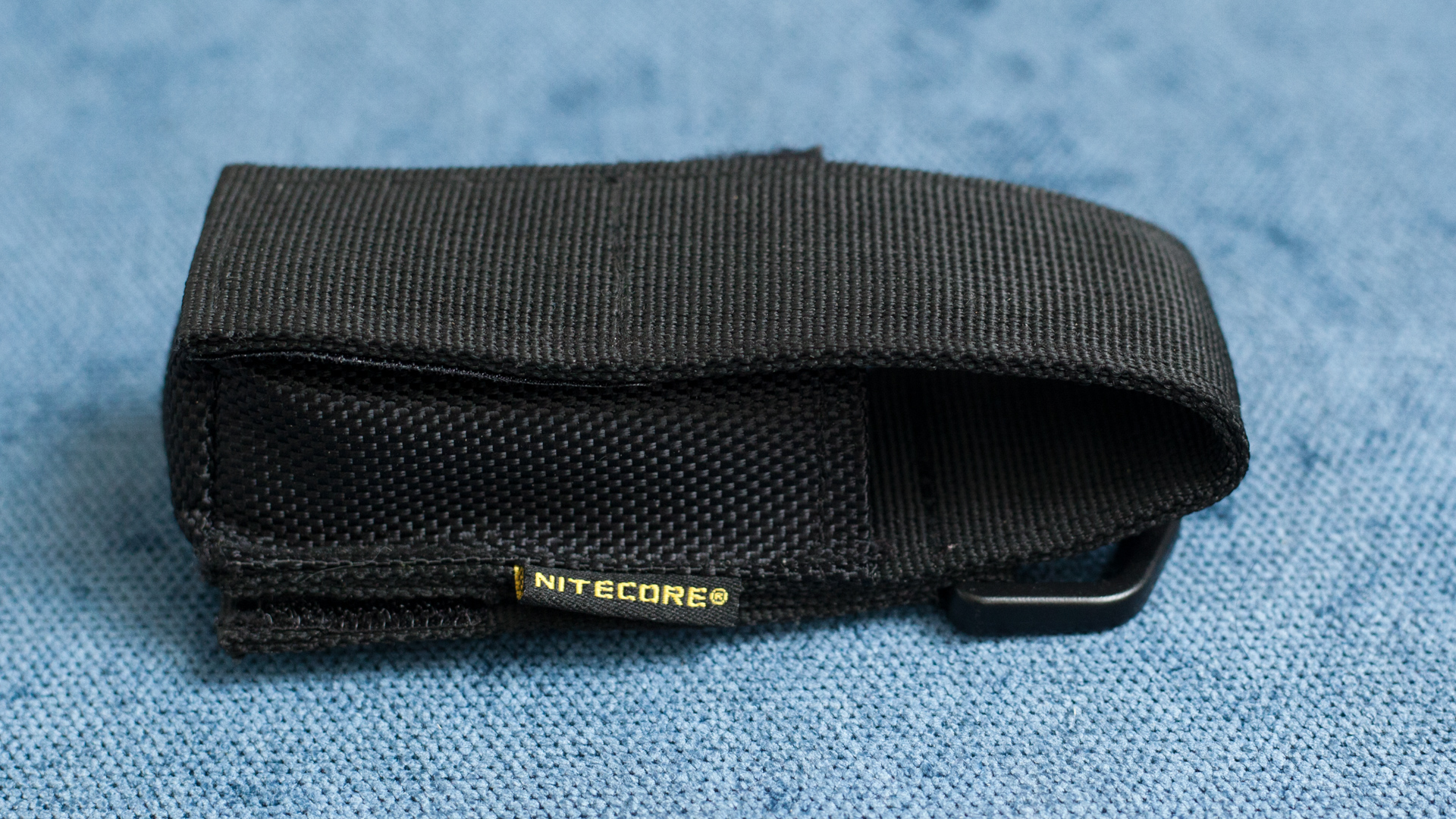 And here it is, EC22. For me, it`s length (12,8cm) is definitely more than what I consider to be comfortable for carrying in pocket. But, still, it is ok for EDC use, as a lot of flashlights have the same length. I`d prefer 1-2 cm shorter. BTW, width is 25,4cm, weight only 77g.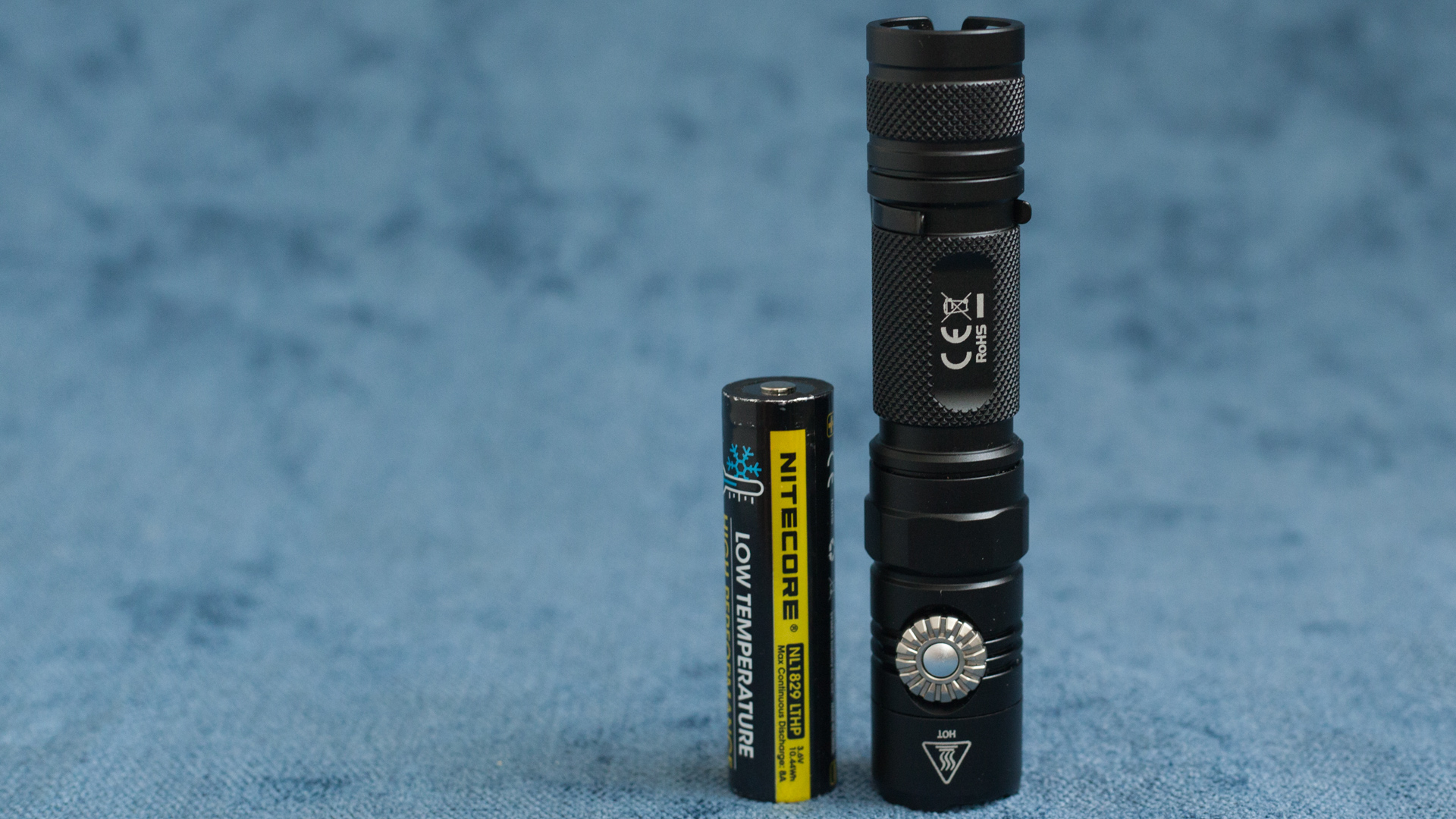 Overall, in hand EC22 feels definitely comfortable.
Hope that GIF is good enough to give you clear view of this flashlight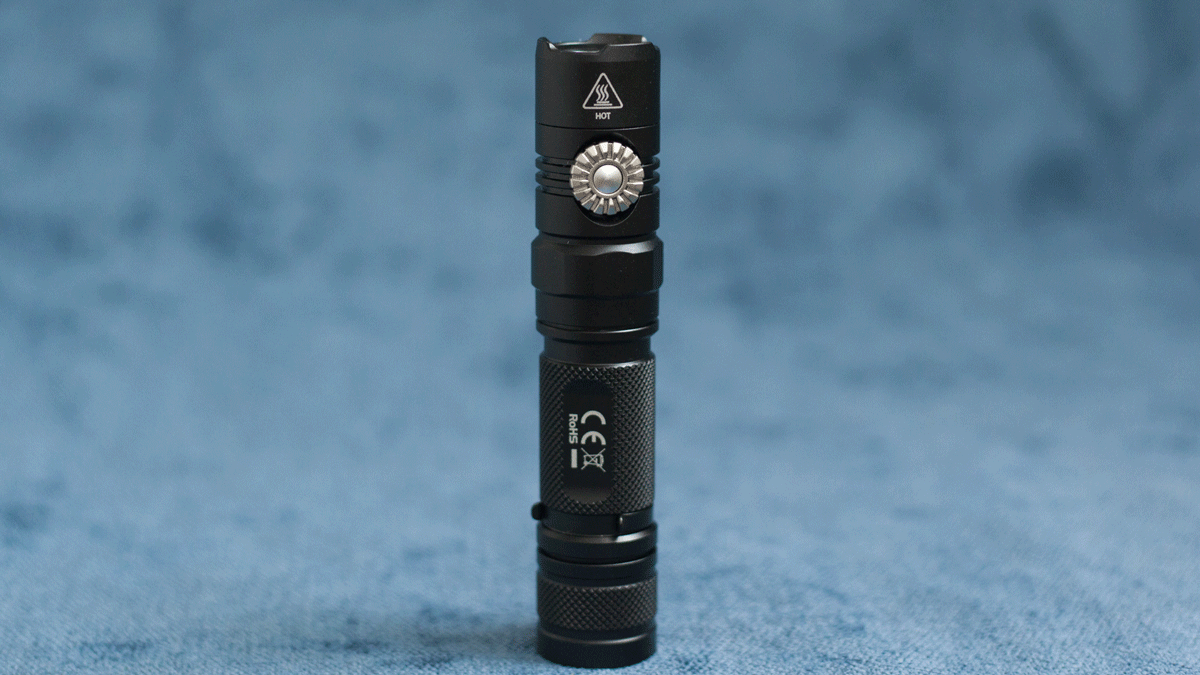 And one more static photo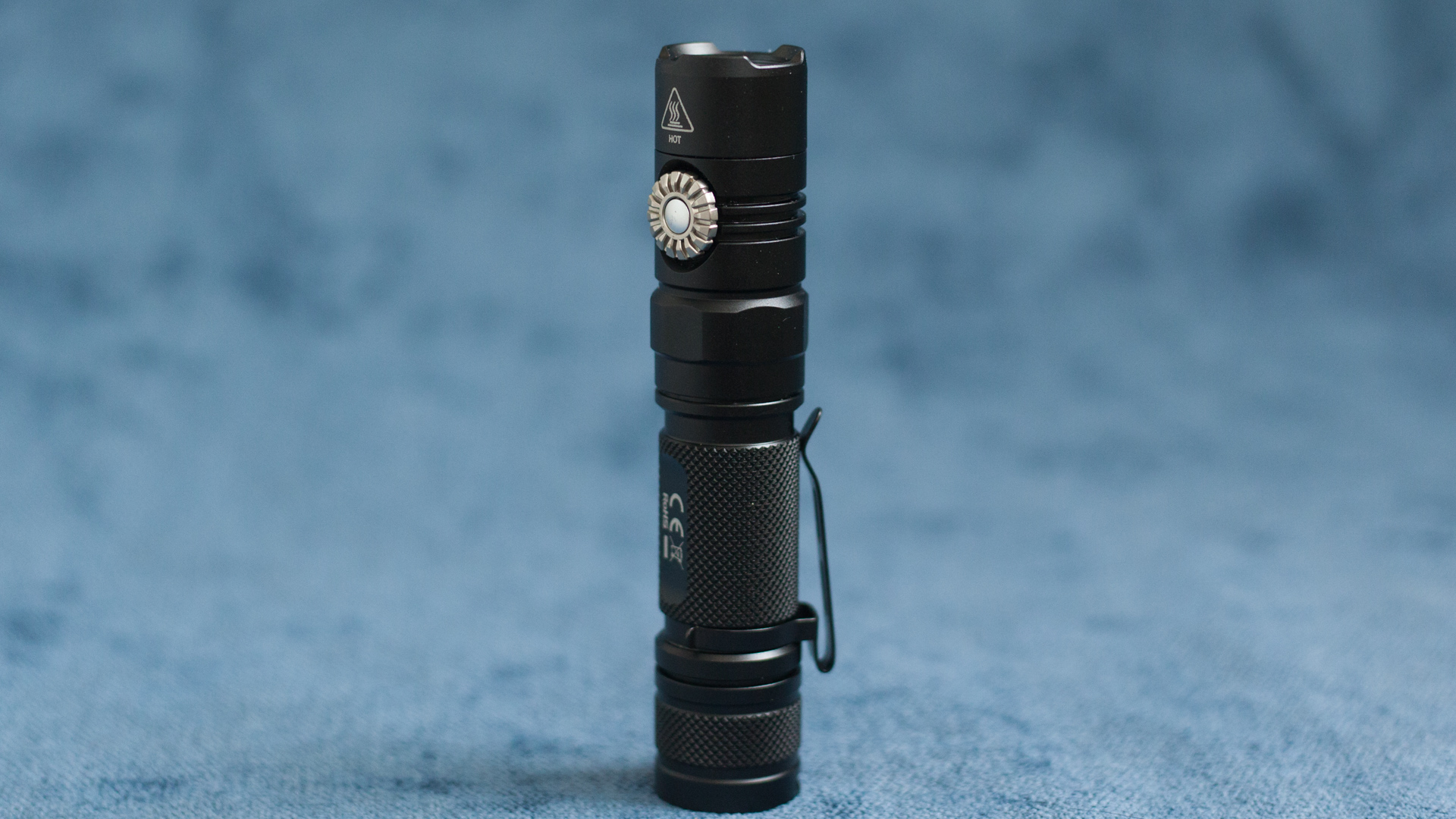 There is no any flashlight industry "haute couture" design – EC22 is a simple flashlight, just workhorse. You grab it, choose an appropriate brightness and use it.
As usually, opposite sides have some info like model and manufacturer name.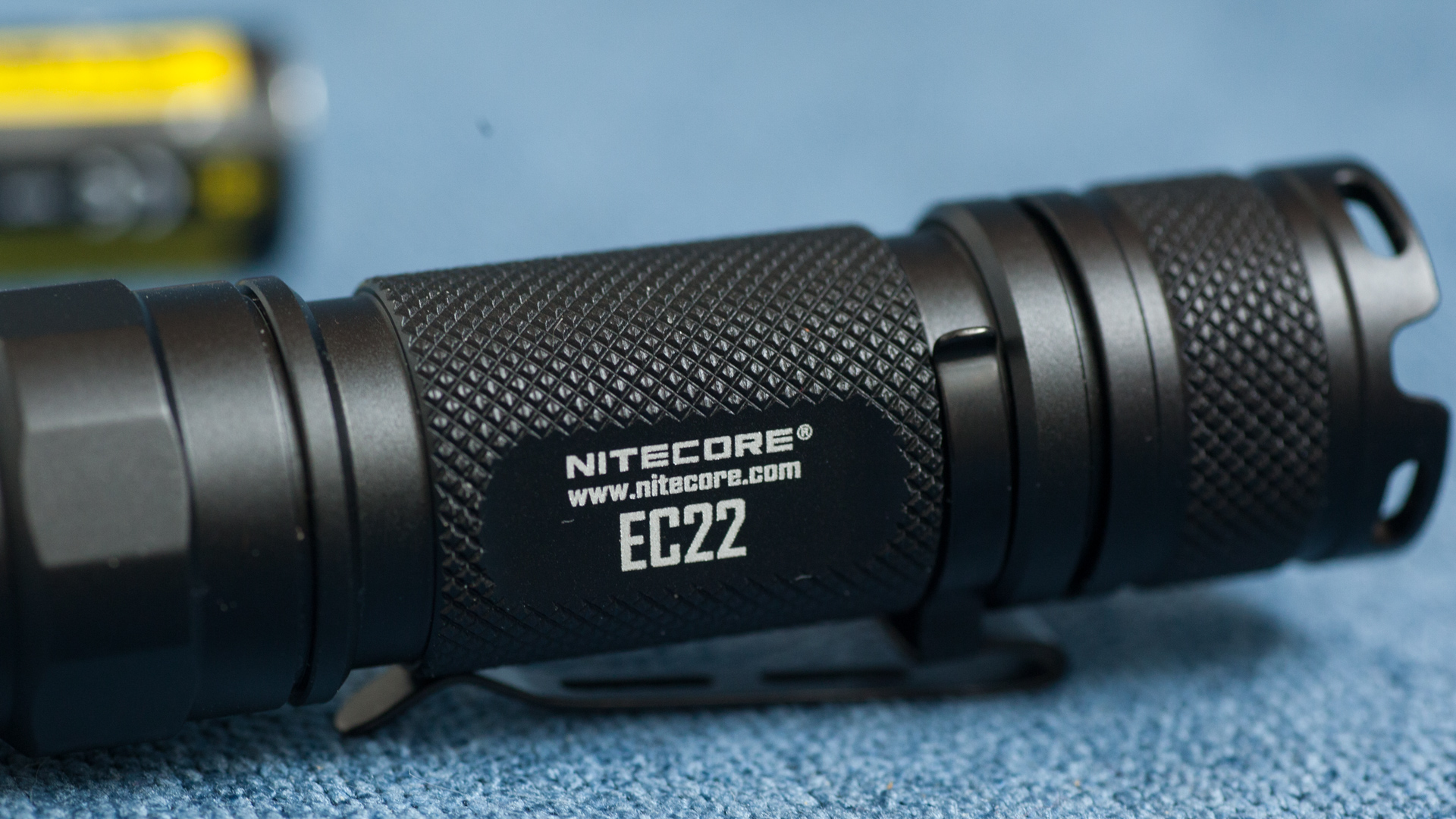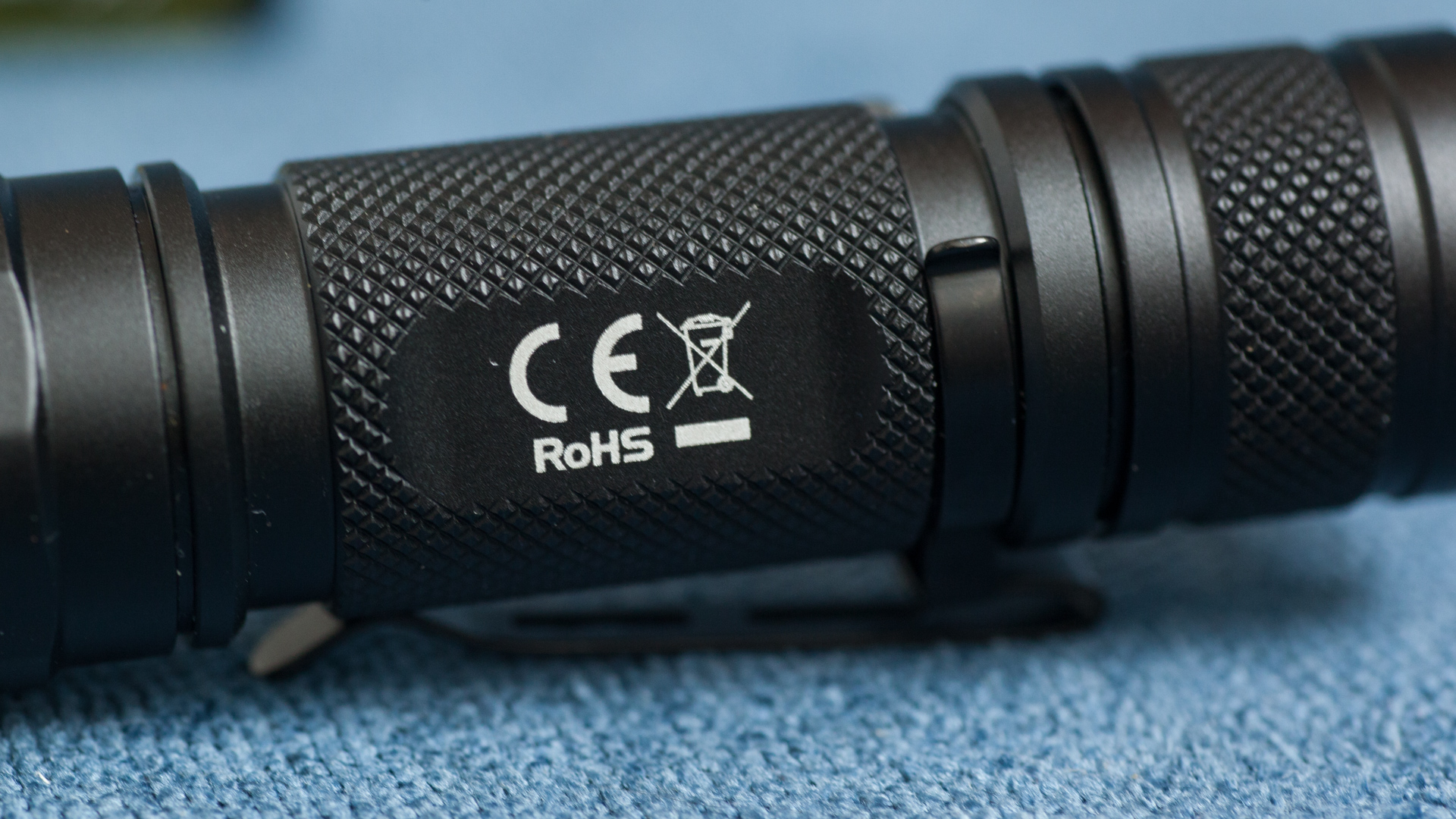 But there is an unusual feature that immediately attracts attention here – disk of brightness regulation. It lays in shallow groove and little bit bulge from body. No backlash. EC22 fully withstood sinking in jar full of water. Flashlight states IP8, all I can test is jar deep sinking. I`d put a bearing between disk and body, to improve isolation.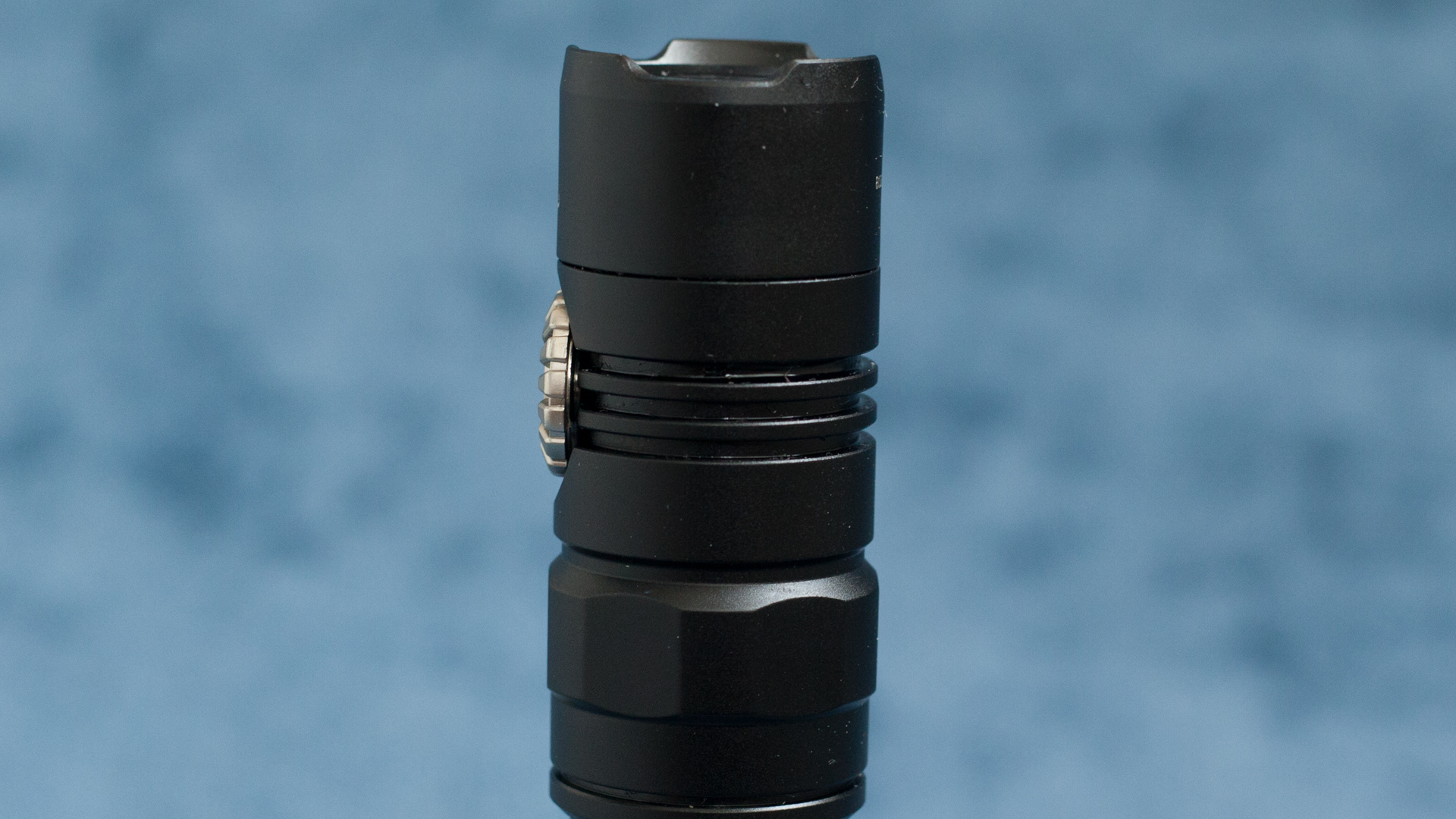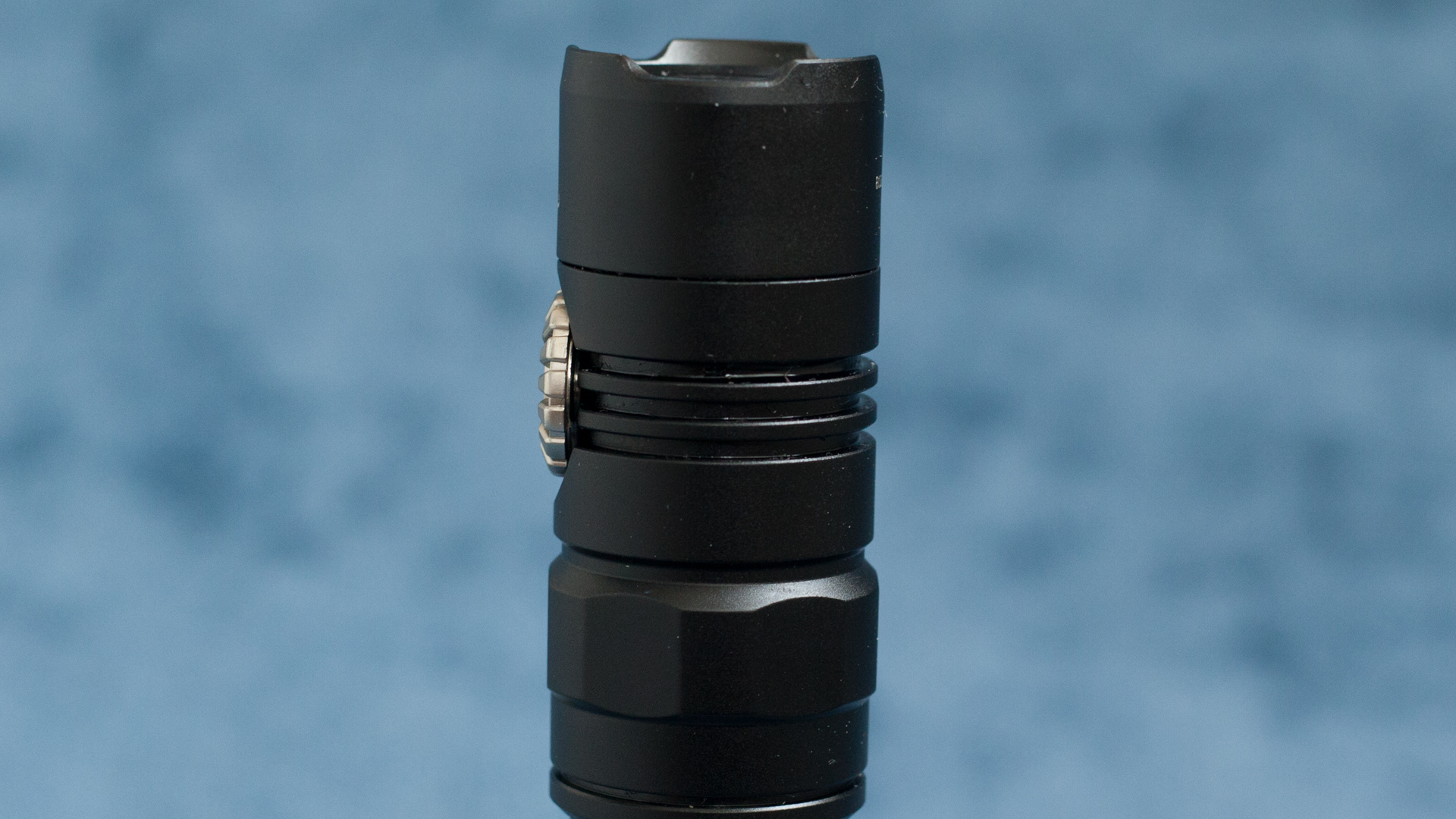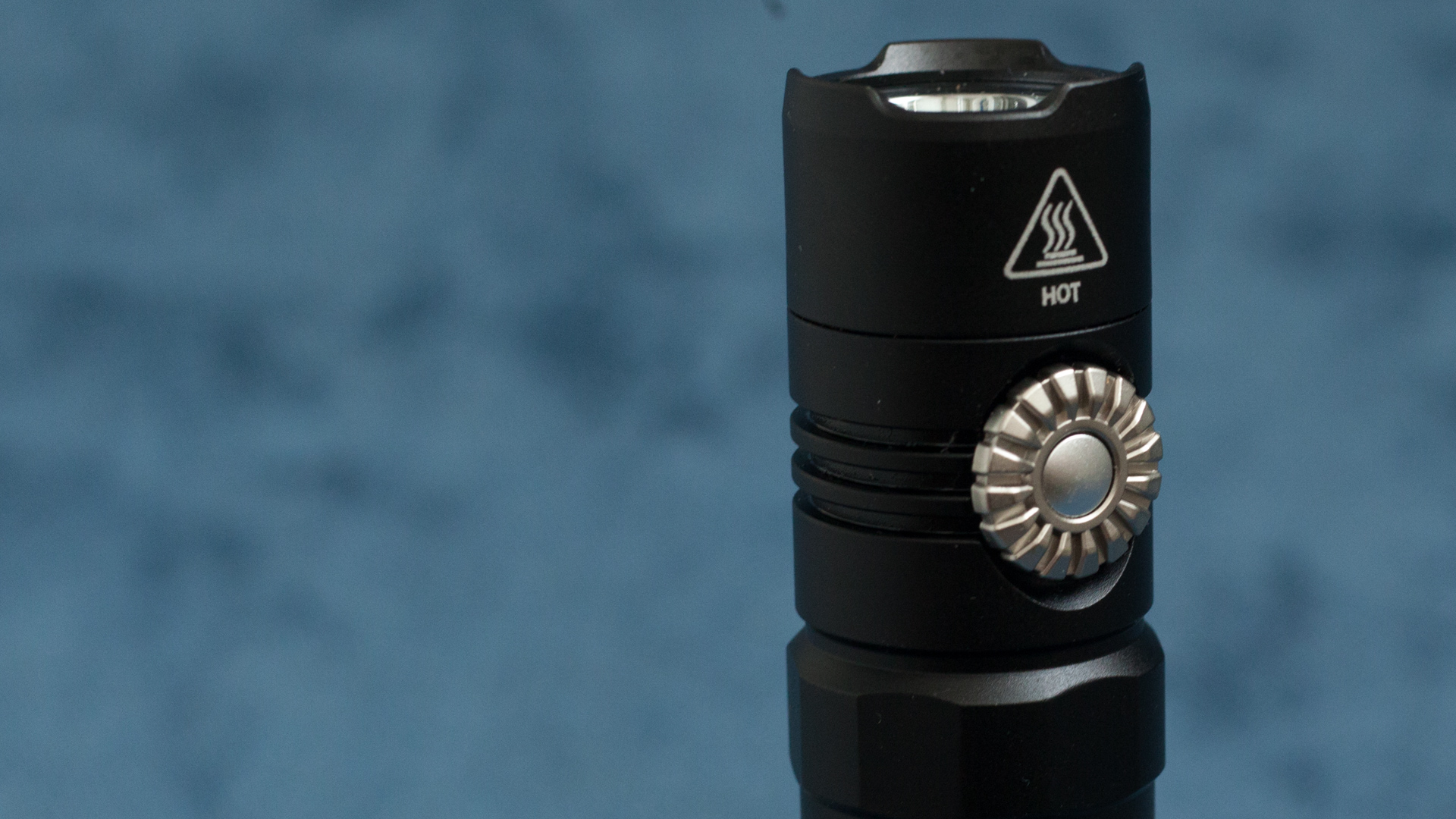 I think that tail can be 5-7 mm shorter without part with holes for lanyard. Last ones can be placed in the side of body, like in MH23. And, as well, flashlight body itself also can be 3-4 mm shorter. See, I put protected button-top battery, and still it lays so deep.
But, again, this only make sense when we speak about carrying flashlight in pocket. For hand grip little bit longer may be even better than little bit shorter.
Spring in tail is excellent, really thick.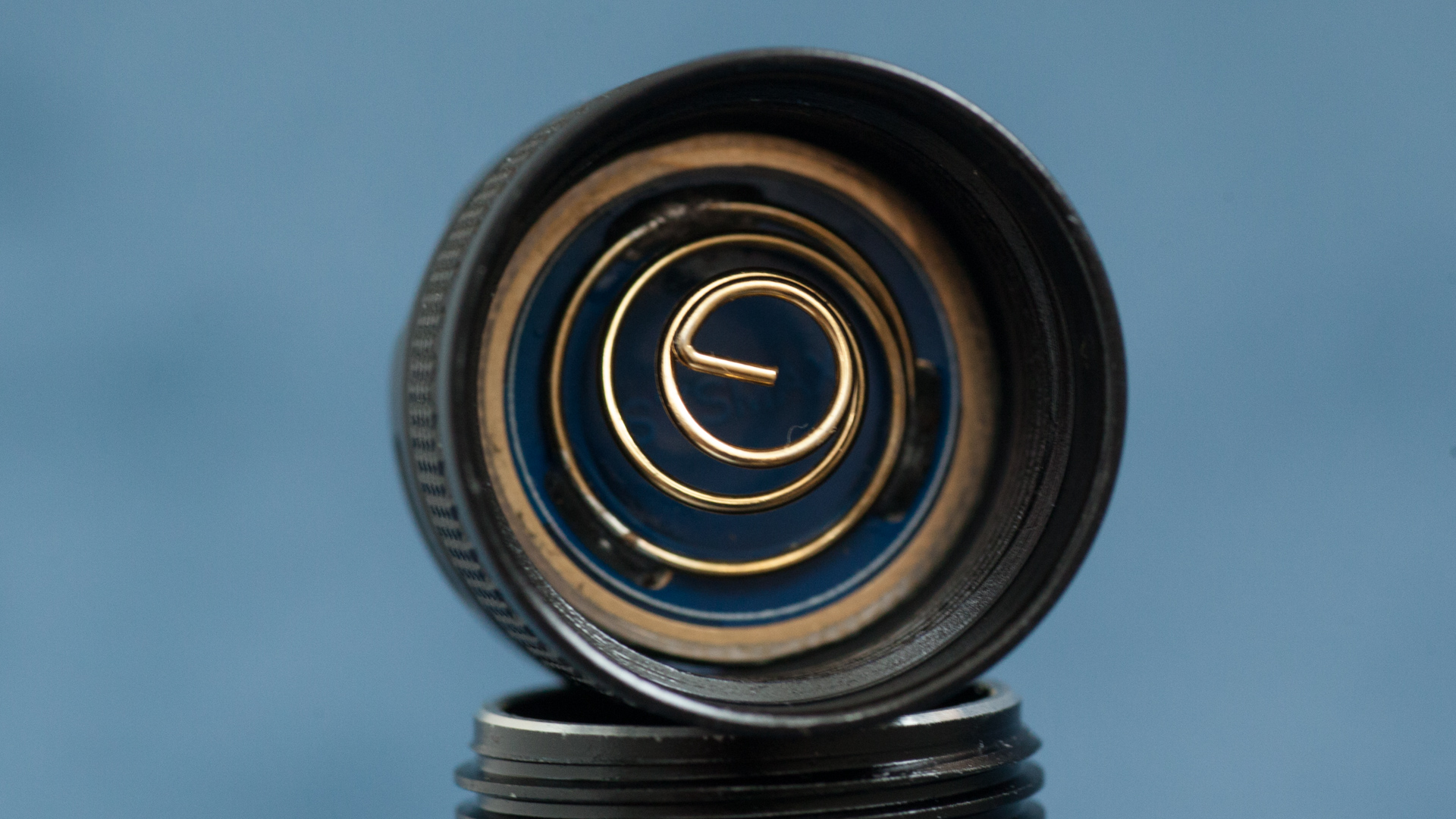 Knurling is traditionally rhombic, definitely enough for good grip.
Both tail and head can be detached, uncovering thick lubricated middle part threads.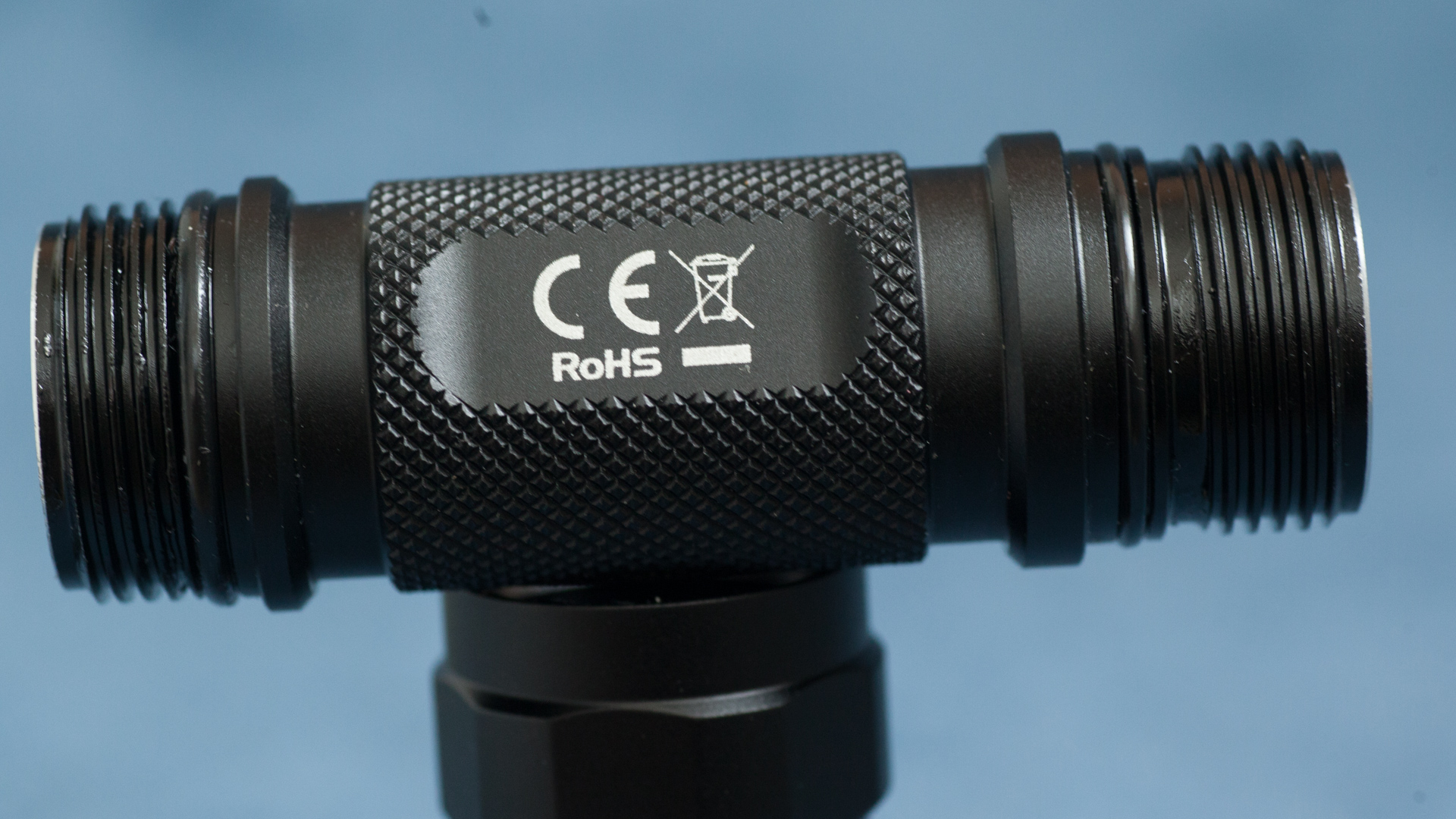 You can attach clip in 3 positions. There is also hole for lanyard.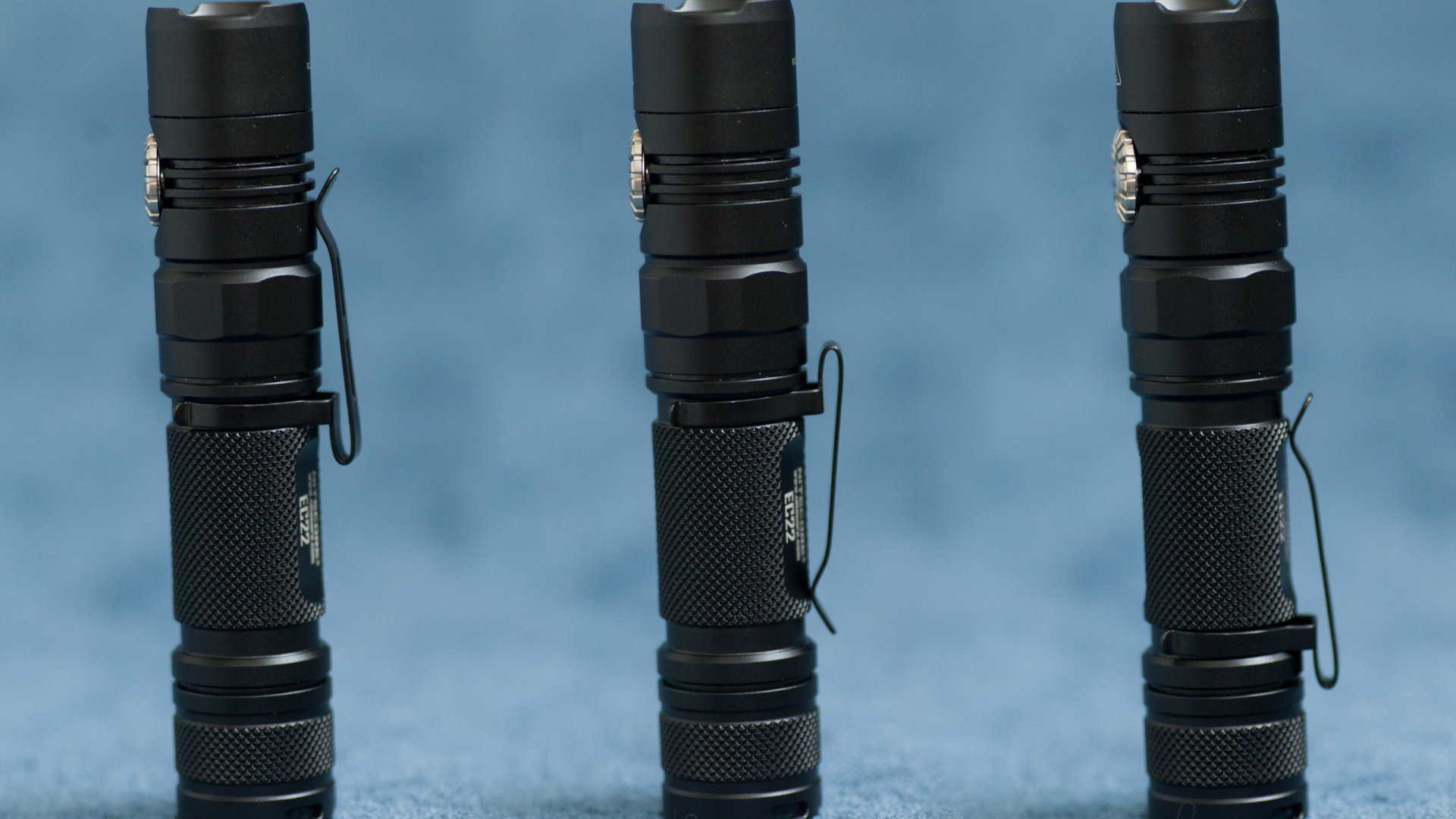 There is no spring at head, just contact plate. E22 fully works with flat-top batteries.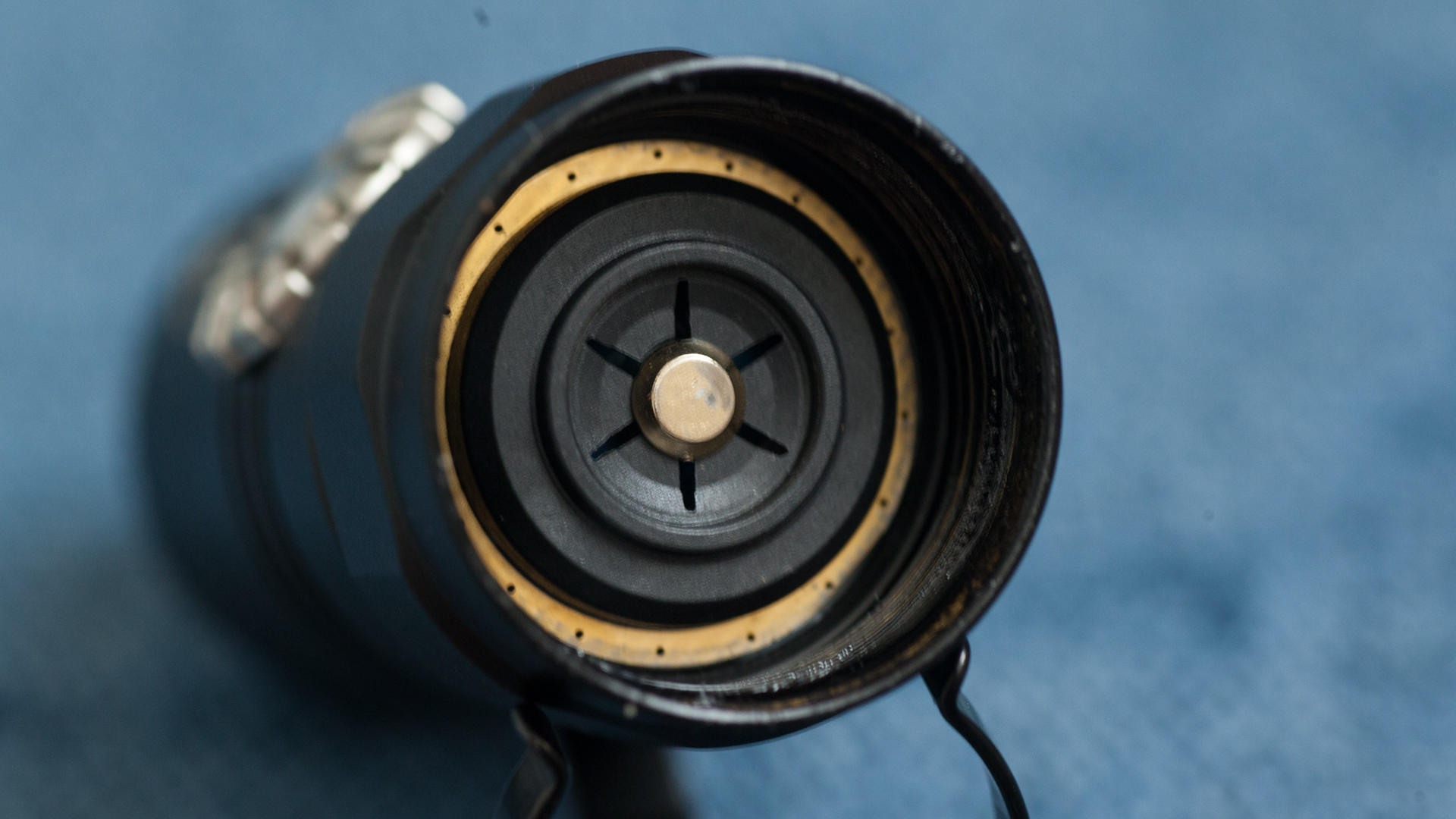 Comparing to head diameter, cooling ribs are quite deep.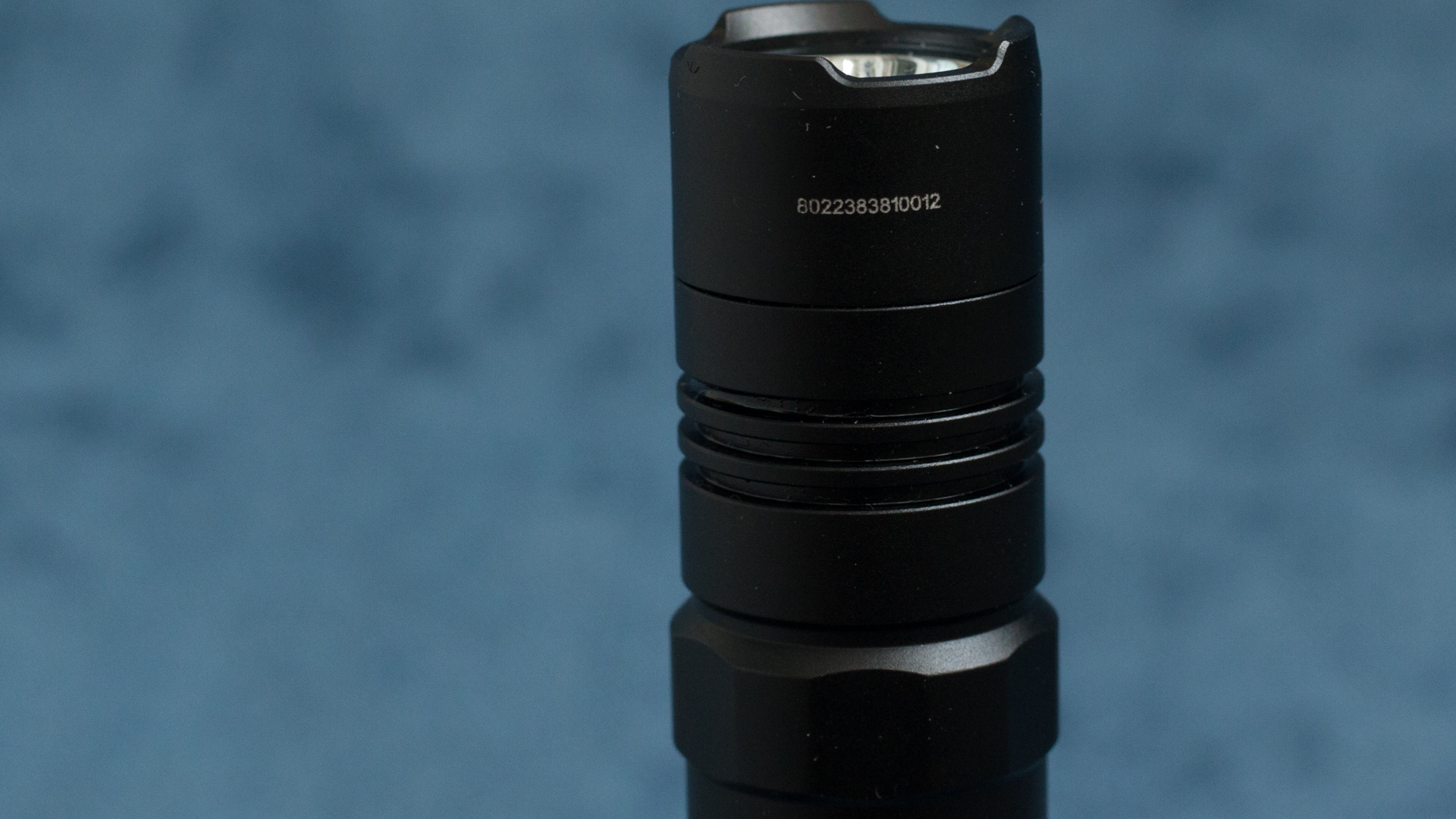 Head is glued, I couldn't disassemble it.
Little teeth at bezel is more design feature that real helps for self-defence. Reflector is not big, I think about 15mm deep, SMO with XPL-HD inside.
Comparing to head length, reflector could be longer, but I`d prefer more convenience in close-mid range use ( and I believe E22 is supposed to be used within this range) to little bit more throw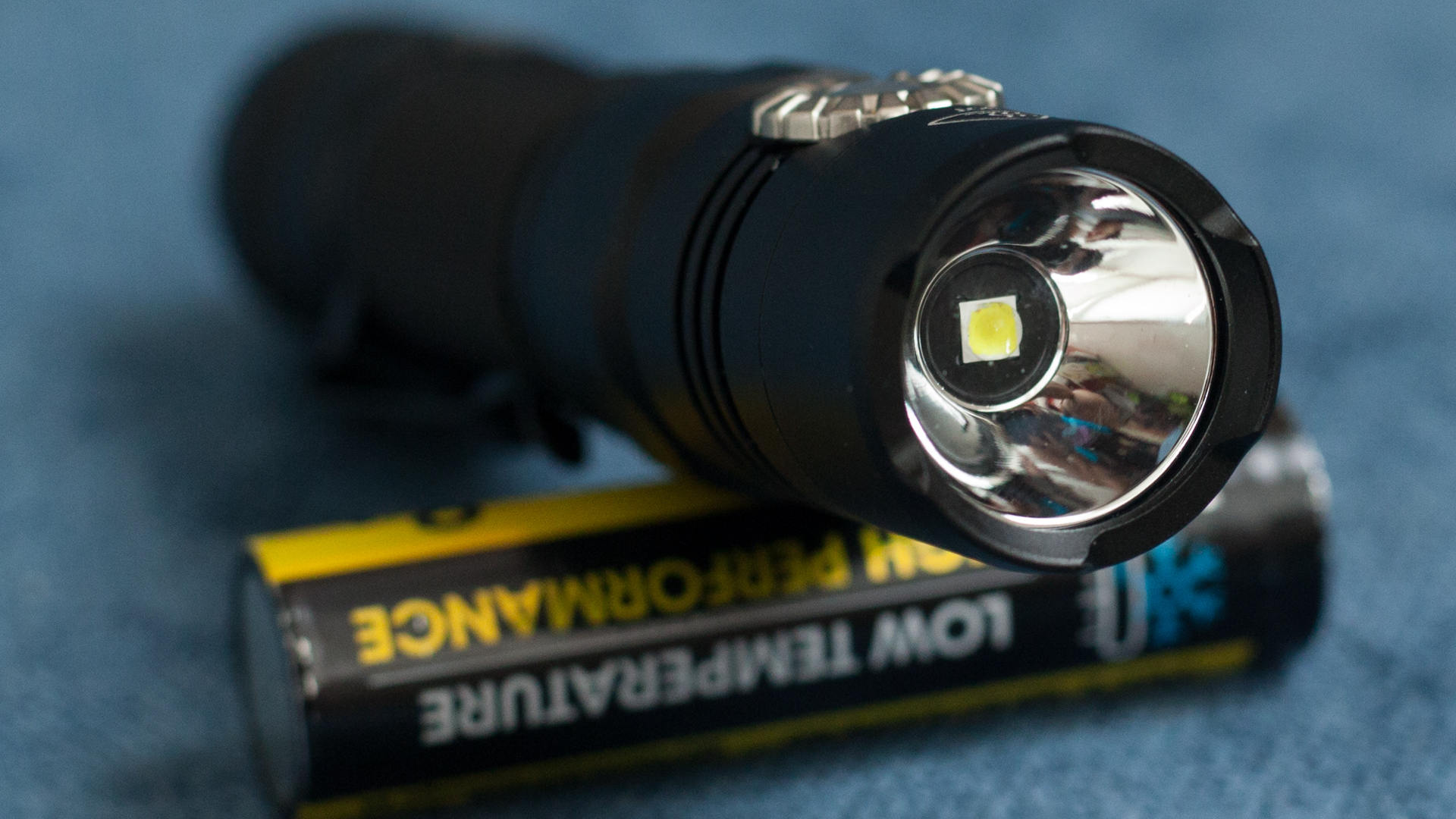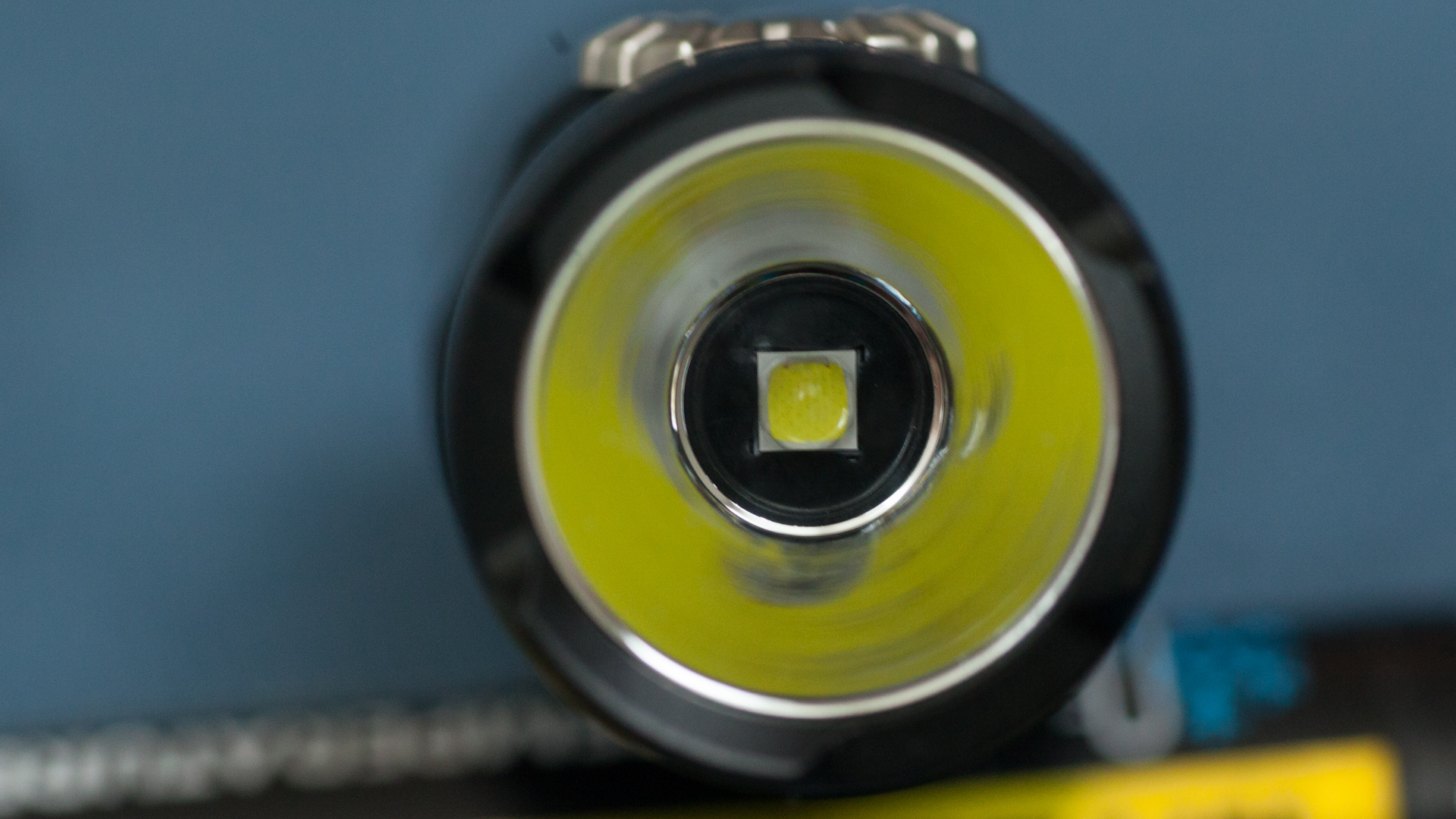 UI
All UI spins around spinning regulator disk. Choose needed brightness and use it.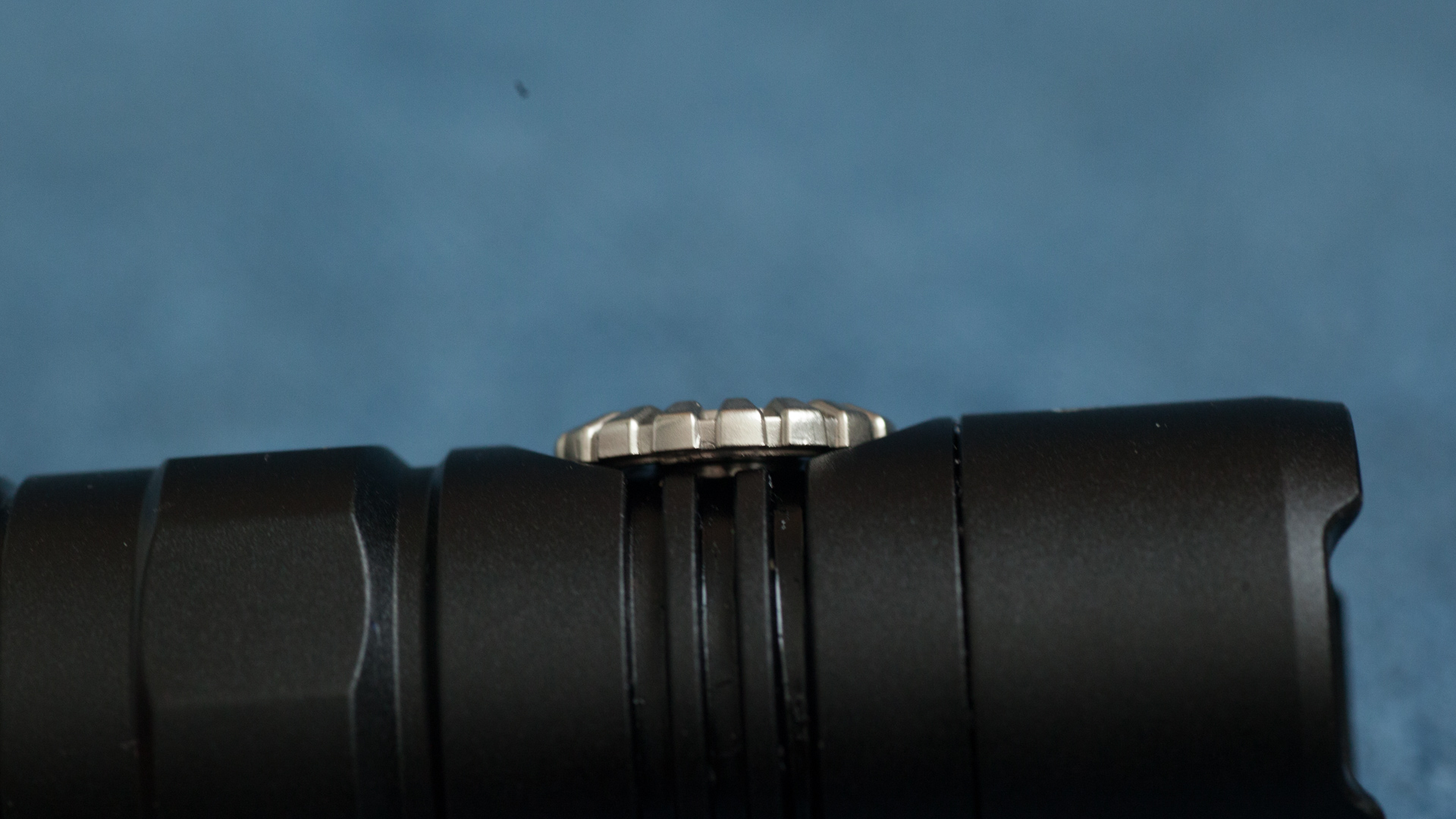 You have 180 degrees sector of brightness adjustment. For me, as for reviewer, it`d be more convenient if there would be some numbers like 20-40-60% etc. But that is for review needs, for regular use it makes no sense at all.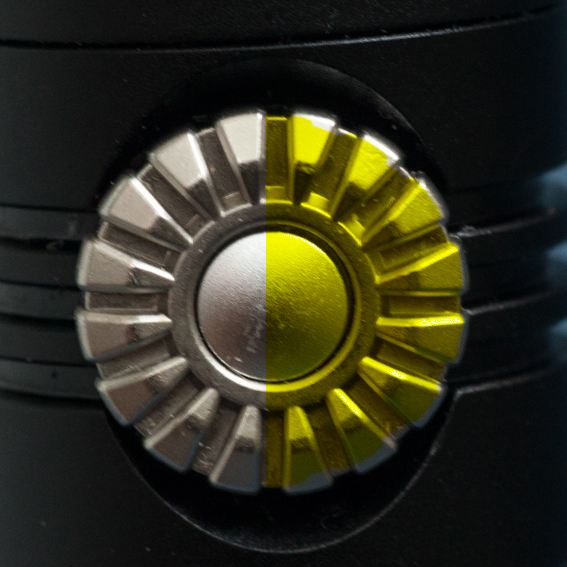 There is small locking in 0% point, you have to press a little bit to move disk. That prevents from occasional turning on.
There is no Strobe\SOS\Beacon.
Lock in\out by simple unscrewing tail.
After test use I find stepless regulation very convenient.
PERRFORMANCE
I thought that light would be simple, but in reality I got good, close to NW tint and convenient light distribution. Good,good.
Compare it with MH23, which is more throwy and CW.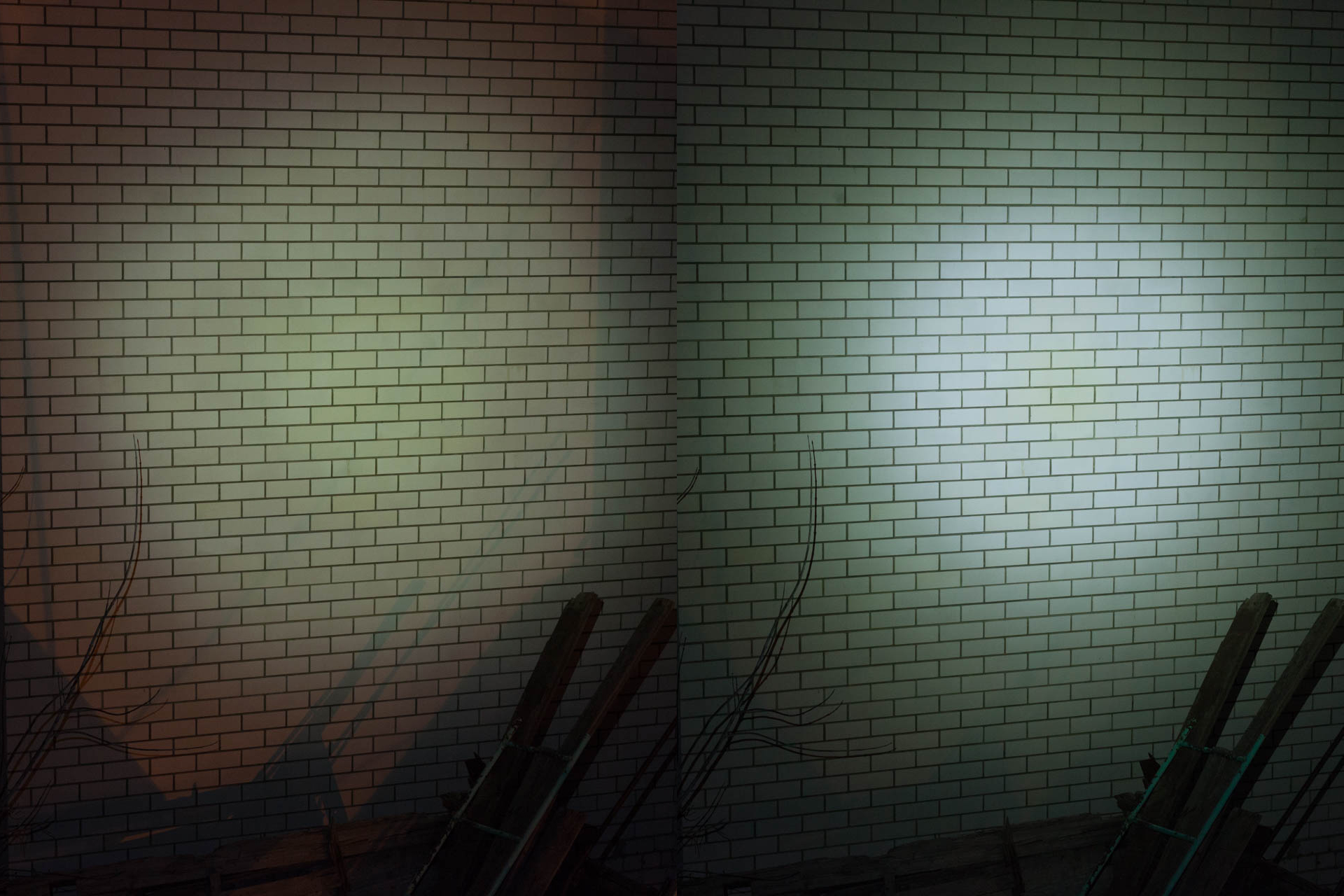 2nd surprise, pleasant surprise, was no PRW-shimmering even at lowest mode.
Of course, if light is good at close-mid range, it is evenly poor at far end. And vice versa, with an exception of super-bright floooders.
So, here you have some light at 200m range, just enough for urgent needs, to tell T.Rex from schoolbus.
I`d say that useful range of EC22 lays within about 100m radius.
Here it is 0-100% at 175m distance.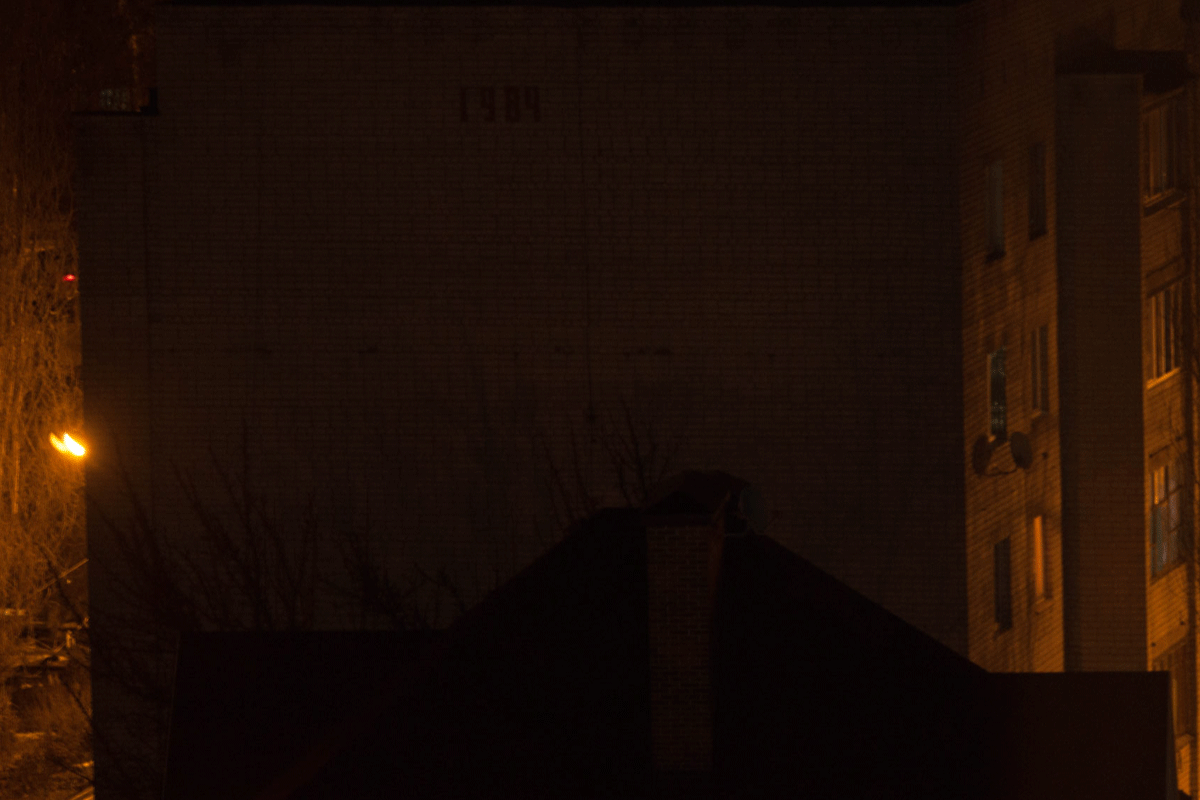 And in usual situation EC22 performs very well.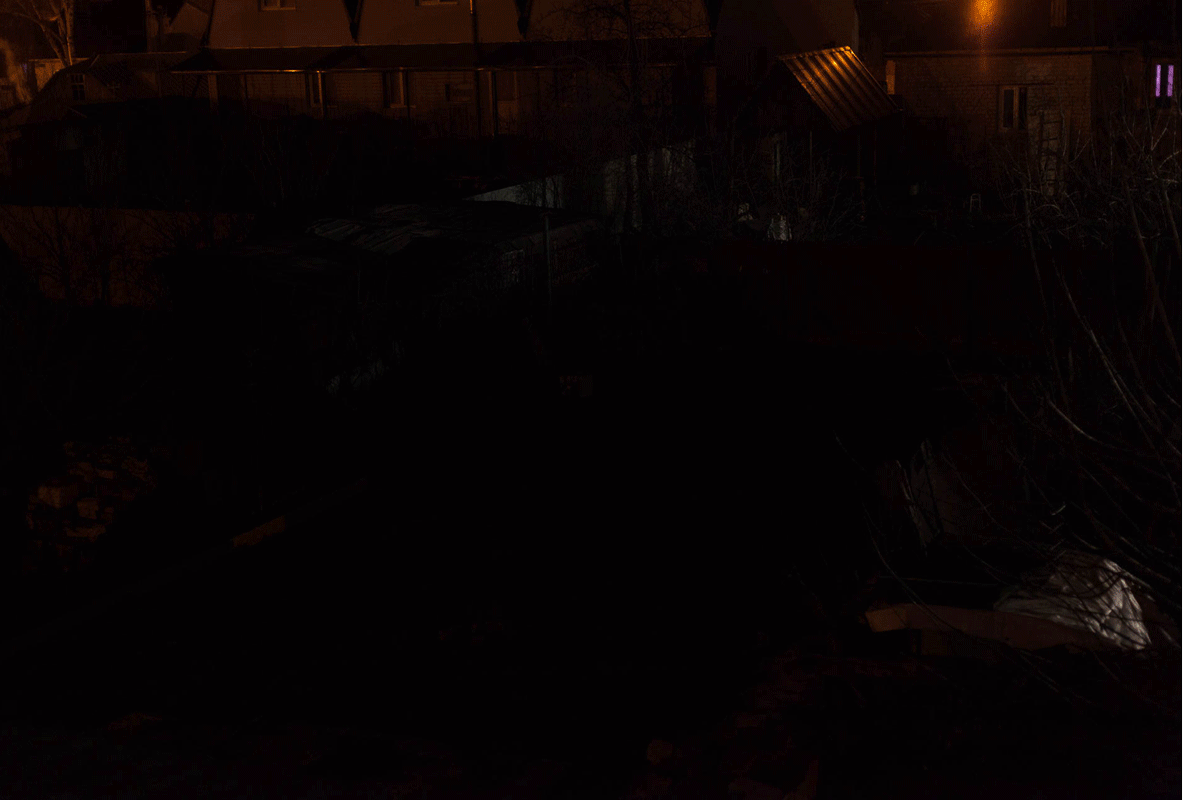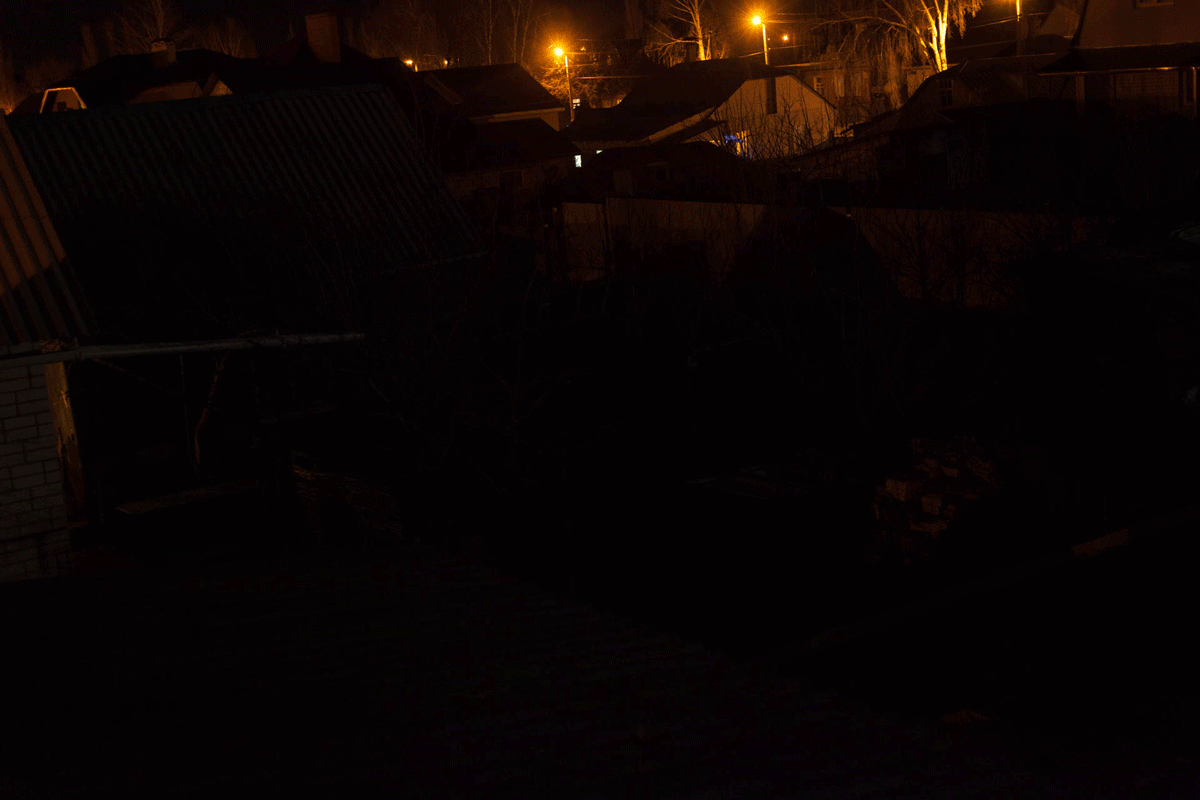 Runtime test were made with 2900mah Nitecore 1829LTHP.
Light is good stabilized at 50%. At 100%, with no cooling, after stepdown, it is also good stabilized.
Thermal regulation is good, not aggressive ( I mean saw-teeth) under cooling
When being cooled, stabilization changes to something more typical to linear driver.
So, overall, stabilization is good. Stepless regulation is specific stuff, so I didn't know what to expect. That`s why what i`ve seen here positively impressed me.
OVERALL
Positive.
That is simple flashlight with convenient UI and good NW light with no PWM-shimmering.