I am looking at doing a new battery test to replace my 2011 test, I have switches to some new equipment with considerable better precision and more automation.
This thread is for good ideas about what to include in the test, both measurements and batteries.
One source of error was the charging, first year I uses a WF139, in the 2011 test I used a hobby charger, and I both test there was a variable amount of time before I did the discharge (Doing a discharge 5 minutes after charging or 24 hours after charging does not give the same result). This time I am using a computer controlled power supply. This makes it possible to set any charge parameters and I have very good precision on them. In the test run I show here I had 4.168 volt just before starting the discharge test for all 3 runs (i.e. the charge was the same within 1 mV).
As charge parameter I used:
Minimum charge current: 100mA, charge voltage 4.2 volt (This is the same as a hobby charge on 1A LiPo setting). Then wait exactly one hour (+/- 1 second) before starting the discharge.
For the discharge I have replace my CBA with a computer controlled electronic load, this can be used to do all kind of discharge and load tests with. This does also allow me to do 4 terminal measuring, i.e. no problem with connection or wire resistance.
I plan on doing discharges at 0.2A, 0.5A, 1A, 2A, 3A and 5A, but for the test run I only did the 3 high discharges.
Are there any interest in doing one or two constant power power discharges, i.e. discharge with 10 watt and see how long the battery lasts?
It is also possible to include the internal resistance, but the question is how to calculate it, as can be seen in my test of the current protection, it is not easy to always get the same value.
The test will also include a test of the current protection, my trial run is posted here.
At the current time I am plan on doing RediLast, AW, intl-outdoor.com, Callies, TrustFire Flame, more will be added.
The capacity curve will look like this: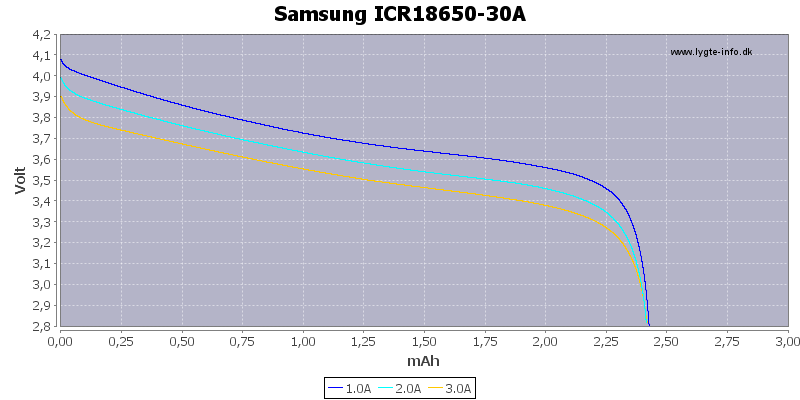 If there is interest, I can also do this kind of curve (i.e. with time scale):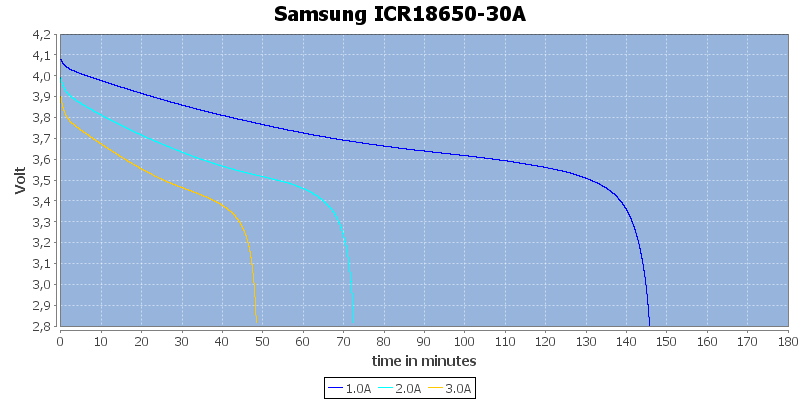 When doing the measurements I do get a energy graph for free and will include it: