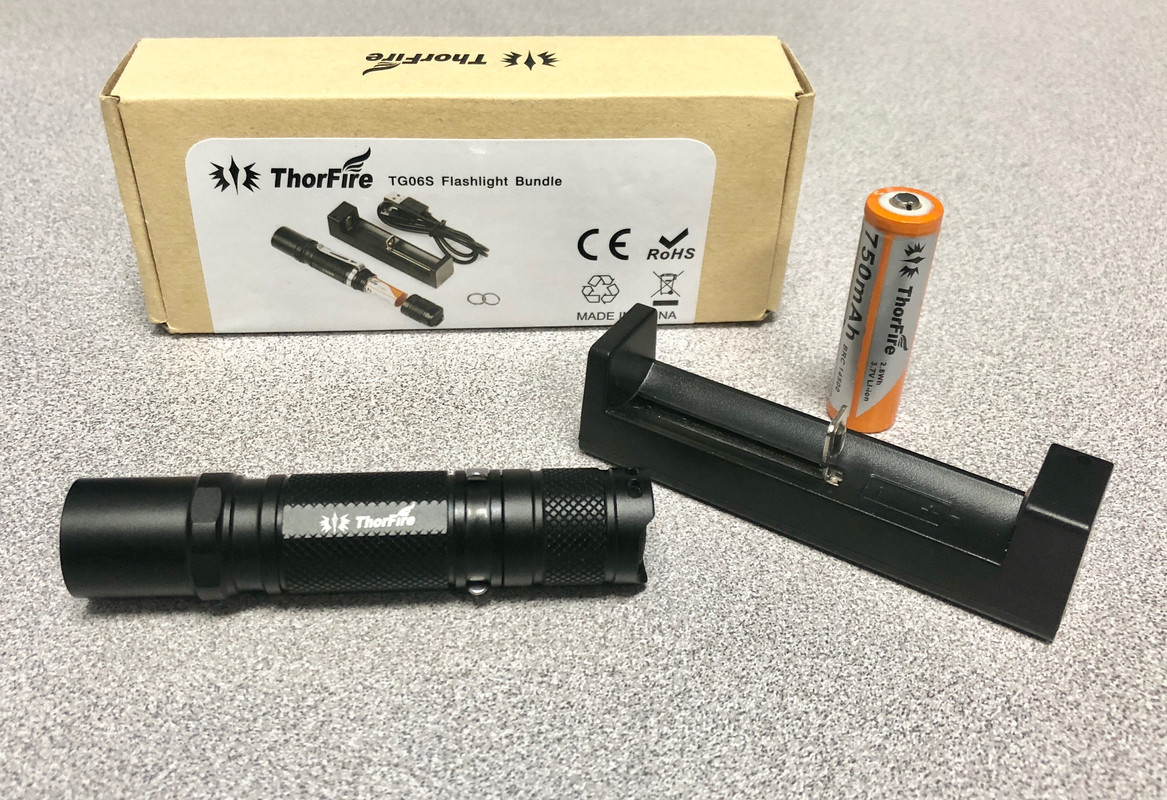 Thorfire TG06S Review 
A while back Thorfire contacted me via this forum and asked if I was willing to review both the TG06S and the TK18 if they provided them. Since the Q8 has been my favorite light since it arrived I immediately agreed.  I know there are a number of reviews out there on both lights so I won't focus my effort on an enthusiast's deep dive into the specs, showcasing beam shots or nitpicking tint. Instead I will look at the performance of the TG06S as an overall value proposition in a very crowded market place.  Thorfire made no request regarding the style or tone of my review in any way. First up is the TG06S.
TG06S Kit, MRSP: $24.80 
Cree XPG2 –R5 LED; 500 Max Lumens on High
1 Lumen Moonlight Mode and 500 Lumen Hidden Strobe Modes
Requires Single 14500 Battery (included) or 1.5/1.2v AA (not included)
.75A Micro USB charger (5v power supply is required but not included)
INITIAL THOUGHTS:
Operation:
The UI is simple and intuitive.  A half press of the switch moves you through H-M-L-MOON. Light will always start on high.  A double press activates the strobe.
Build:
The build quality is above average. The switch is crisp with a satisfying travel and click. The knurling could be more pronounced. The finish on my review unit was flawless.
Performance:
Overall I rate the performance as acceptable. On high, the light will noticeably step down after approximately 3 minutes. I do not have a way to measure it but I am guessing it goes from 500 lumens to around 300 lumens. This is based on it still being brighter than the 200 lumen setting. I also feel like the moonlight mode is somewhat crippled. Since the TG06 has no memory you have cycle down to that mode each time making it less useful in certain situations. 
Charger:
Thorfire states:  "Battery charger has over charging protection, short circuit protection and reverse connect protection."  These are great safety features, but I am quite finicky about my battery chargers and do not plan to put this unit into service. 
Battery:
I have read good anecdotal reviews of Thorfire brand batteries and in my limited use of the included 14500 cell, I would tend to agree this is a adequate choice to power the light. I do recommend the use of a Li-Ion cell with the TG06S as its performance is severally throttled with an alkaline battery. In a quick test, leaving the light on high, it was still running strong after 1 hour. This is another indication to me that the light runs around 300 lumens after step down. The rated run of 35 minutes on high (500 lumens) was completely inaccurate with my unit but the 1h15m runtime on medium (200 lumens) appears to be perfectly plausible.
WOULD I BUY IT? 
I have spent my own money to purchase the TG06S (the review unit is my second unit). It is fantastic budget flashlight and I would be surprised if there is a better value available right now. Personally, I would pass on the kit due to the unknown quality of the charger and purchase just the flashlight. After coupon, it is available for $13.50 on Amazon with two day Prime shipping. The TG06S has been a pleasure to use and carry and I do not believe you will regret adding it to your collection.
—
Current Favorites:
BLF Q8, Thrunite TC20, Convoy L6