Excited to reveal to the BLF community, the Adaptalux Glow.
Current Status:- IN DEVELOPMENT
The Glow
The Adaptalux Glow is a new type of flashlight, lamp and lantern that I have designed to provide light in a smart and dynamic way, intended to fit in with any lifestyle. The Glow is designed to last a life time, by combining highly engineered parts with high quality materials. This thread is for following and contributing to our product development over the next year and building an interest list for BLF members. All images used are of our latest prototypes.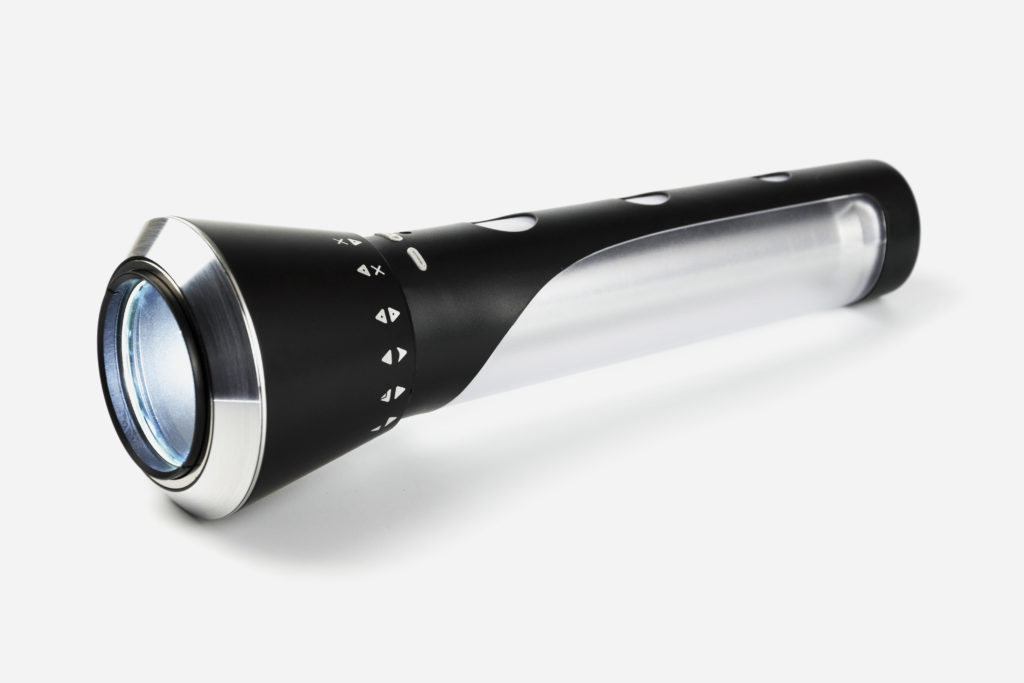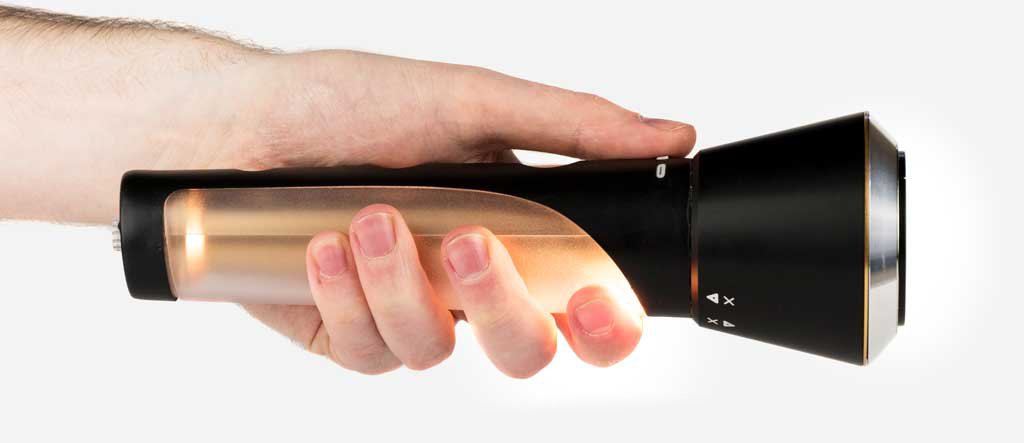 Key Features
Smart Sensing Technology - Designed around dynamic smart sensing technology, which allows you to fluidly switch between use as a flashlight and lamp. 
9 Lighting Modes - Select a lighting mode by twisting the head.
Included Rechargeable 18650 3.7V Battery -  The battery is easily accessible and can be replaced with spare 18650 batteries if needed.
Wireless Charging - Charge the Glow with a magnetic wireless charging stand.
Magnetic Head - Magnetic head for magnetising the Glow to metallic surfaces. 
RGB Colour Changing Lamp - Choose from 9 lamp LED colours.
Variable Brightness - Vary the Torch and Lamp brightness.
Weather Proof - Our aim is to make this product weather proof and durable, allowing it to withstand outdoor conditions.
Smart Sensing
The Glow knows when you are using it as a Torch and when you are using it as a Lamp due to its smart IR sensor. The Glow uses integrated smart sensing hardware and software. This has been combined with a patent pending head assembly to achieve stable and wide angled surface detection, even when LEDs are on. 
9 Lighting Modes
The Glow has 9 lighting modes that can be selected by twisting the head. 
Dynamic mode: Switch effortlessly between the flashlight and standard lamp mode. Choose any lamp colour and vary the brightness.
Candle Mode: Switch between a flashlight and a natural flame-like flicker lamp effect, without the dangers of fire. 
Nightlight mode: Set the Glow down in nightlight mode and the lights will dim to a low level. Select from completely off, dim or a pulsing effect. If you need something in the night, pick the glow up and the flashlight will be activated. A great mode for children and adults at night.
Alarm Mode: Fall asleep and wake up naturally. This mode simulates a sunset and sunrise, to help encourage a natural sleep cycle. Set the number of hours you would like to sleep for and let the Glow do the rest. Again like night mode, the flashlight will activate if picked up in the night, without interfering your alarm timer.
Lava Lamp Mode:  This mode transitions through all the colours in the RGB spectrum when placed down as a lamp. Speed or slow down the transition using the buttons. Perfect for ambient lighting in a darkened room for a mesmerising and relaxing atmosphere.
Lantern Mode: This mode deactivates the sensor and turns both the lamp and flashlight on. This mode is great for camping or working in dark environments. Easily hang the Glow up in a tent, campsite or caravan to create a spotlight with an ambient coloured glow. 
Lamp Lock: This mode deactivates the smart sensing and locks it in lamp mode. You can change the colours and brightness as usual.
Flashlight Lock: Again same as above, but this time locks it in flashlight mode.This mode comes with a SOS flash at the touch of the colour changing button and you can also change the brightness.
To view our 5 second short videos of the different Modes, please see this Youtube playlist.
Looks
The Glow is an evolution of the classic 'home' flashlight. With its recognisable and familiar profile it has been re-imagined into an innovative product, to meet the needs of a modern day lifestyle.
At its heart is an aerospace grade aluminium core that allows for effective heat transfer and reflects the light from the LED Lamp outwards. Customisation is incorporated into the design, allowing you to choose from various anodised colours to make the Glow suit you and your home.
All aluminium parts are CNC machined and matte anodised using etching to form a matte finish. The anodised also offers greater protection.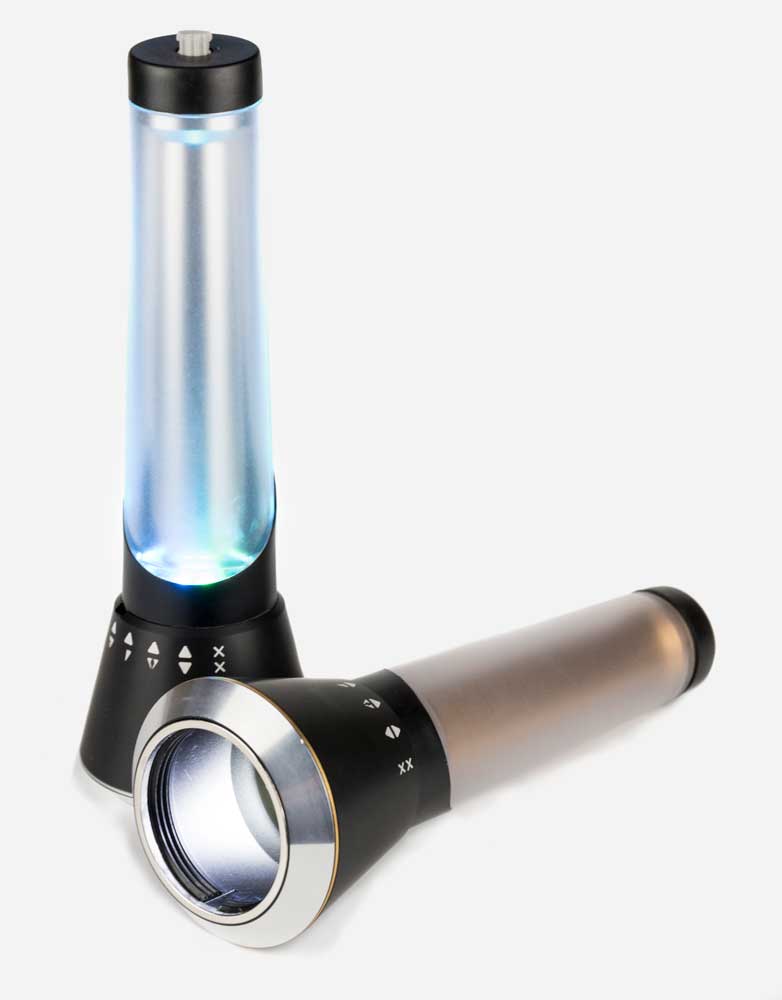 Pricing
Target price to be determined very soon. 
Emitters
Currently, in this prototype we are using CREE Emitters.
The main Flashlight uses a Cree XM-L2 LED Chip. The Lamp uses Cree XLamp LED Chips (Warm white, Red, Green and Blue). We do have in mind Nichea LEDs for the next prototype, your suggestions are very welcome to help us get the best lighting from this product.
Torch brightness: We are aiming for around 500 - 1000 lumens.
Internals
Custom Double sided Aluminium LED board with embedded smart sensing software and hardware.
Aluminium head and core for efficient and stable thermal dissipation.
Intelligently engineered head twisting for lighting mode selection.
Simple Push buttons for colour changing and brightness control.
Integrated magnetic wireless charging.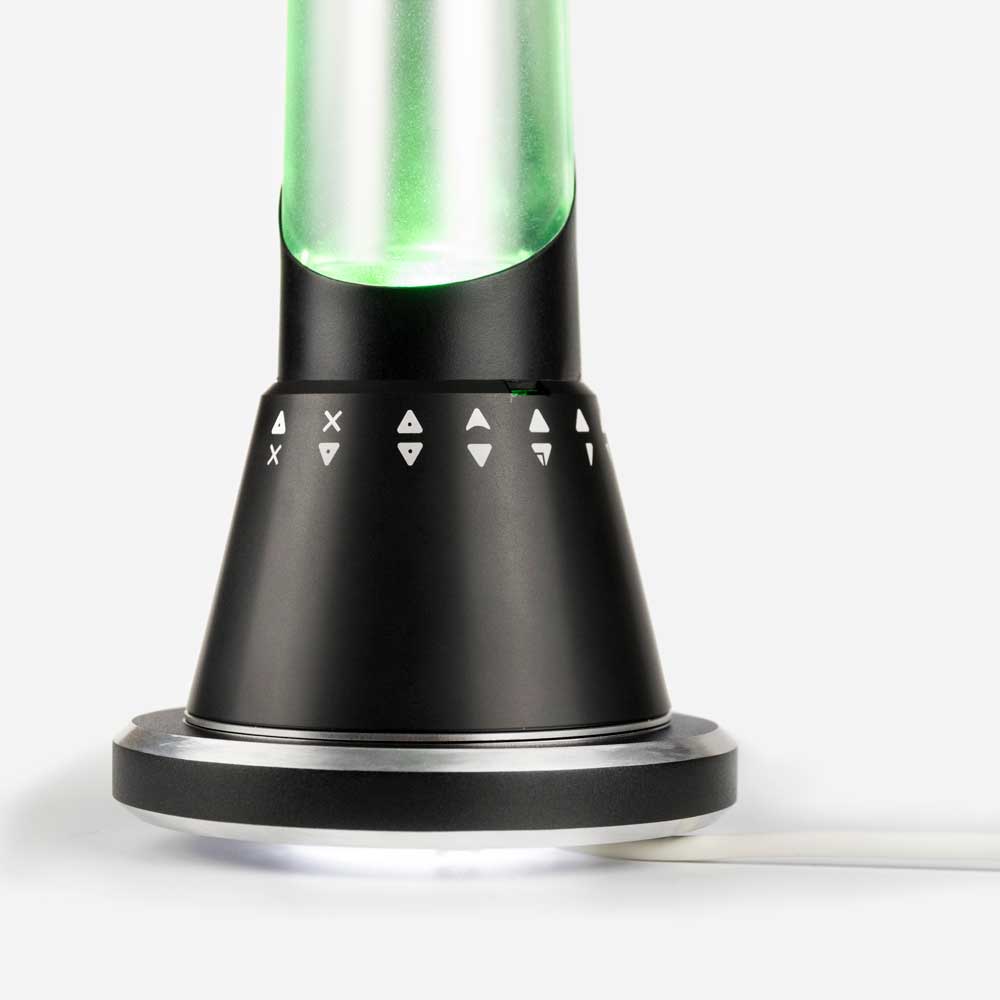 Optics
You may see from our current prototype photos that some models have a lens, some don't, this is because this element of the design is very much in development still. Both convex lenses and TIR lenses are still up for testing, situated in different positions in the head. We will post much more on this when we come to test more variations.
Customisation
Every product we design has an element of customisation. With the Glow you can choose between 5 exciting core colours, Silver, Gold, Rose Gold, Red and Blue. We may expand the colours available in the upcoming months.
We will also be offering premium straps and belt clips in due course with the Glow.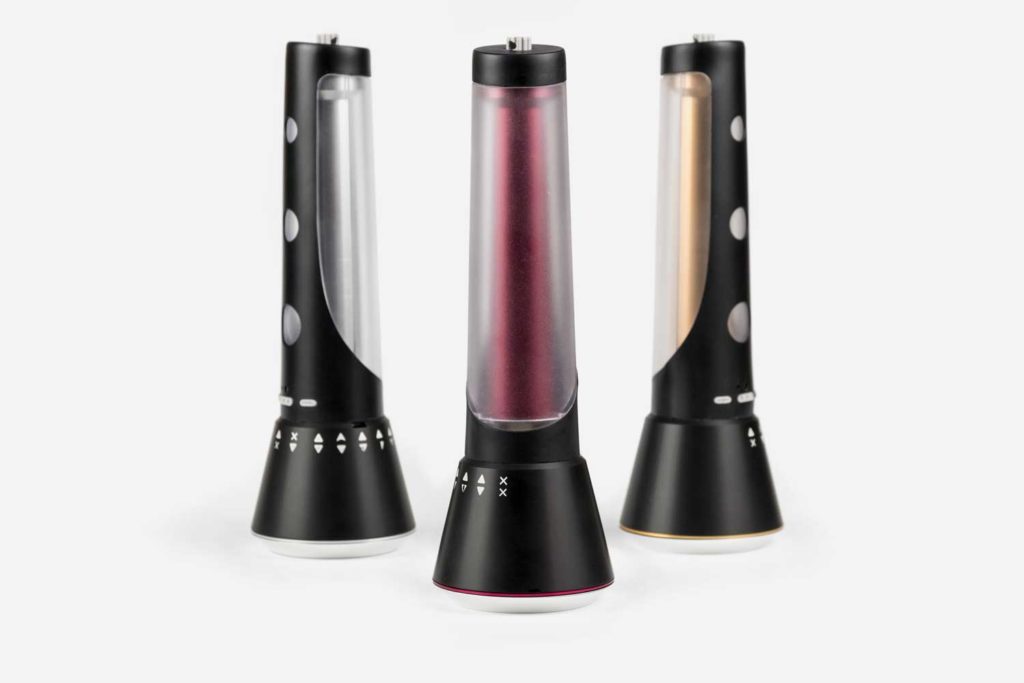 Time Plan
This is our rough time plan. Subject to change depending on funding and development factors.
June 2018: Kickstarter campaign. We have done 3 of these now for various products, always smashing our goal. We would love for you to help us out for this campaign! Early bird backers will get a limited edition discount. If you would like to help promote the campaign, PM me.
July - December 2018: Final developing with your suggestions, more prototypes and of course more testing.
Jan - March 2019: Arranging our suppliers for batch production.
April - June 2019: Small batch run with more testing. Any further optimisation will be introduced in this phase.
July 2019: KS, BLF pre-orders & pre-orders shipping.
August 2019: On public sale for immediate shipment.
About Adaptalux Ltd
Beginning the story with Adaptalux Studio, I raised over £107,000 for this product on Kickstarter from my bedroom and brought the product to life single handedly after I completed my Product Design degree at Bournemouth University. Over the last 3 years we continue to grow and the team has turned from just myself, to a team of 3. You can see the first campaign here and visit our website for more studio information!
The Glow is our second major product release since the Studio, hoping to expand our innovative product design philosophy into the more generalised lighting market. 
How can you help?
This thread has been created for the BLF community to help us make further developments to the product throughout this exciting project. We would like you to feel very much apart of the project and we are open to any suggestions and questions.
There is an interest list post below, where I will generate a list of interested users. If you are interested, please let me know by posting "Interested." in your response.
More Information 
About the Glow:- CLICK HERE. (You can also sign-up for the latest information, so we can deliver updates straight to your inbox).
About Adaptalux:- CLICK HERE.
I will continually update this thread as we get updates, new images/videos and developments. When I come to update it I will add a dated change log!
Thanks all,
Sam the Inventor.