In this video I show the awesome superpower of the XHP70.2 in a giga-thrower. See how to swap the emitter and boost the driver current.

.
.
Please let us hear what you think
5/20/18 Update
To answer the question about sustainability I did a test with the final version of the light from turn on to 90 seconds. The output is quite stable because of the large copper mcpcb, however the light does heat up very fast. I took the temp readings on the lowest part of the "neck" piece. I would say realistically at 60 seconds you should power it down, by 90 seconds touching it gets a little sketchy.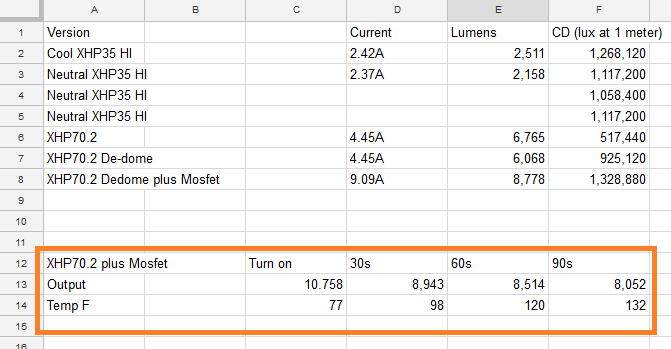 .
.
.
Speaking to the "dark cross" issue. I know others have said their reflector created a dark cross using this LED. I tried the reflector from my first batch of the group buy, as well as the two that arrived recently and did NOT get this from any of them. However, the second two reflectors were not tested until after the dome of the LED had been removed. I also tried using 2 other thicknesses of isolator with the reflector I used in my video. 2.5mm is thickness from the factory, so I tried a 2mm and a 3mm. None of these produced a dark cross, but they did seem to effect the corona and hot spot a little. At a quick glance I would say that the 2mm one reduced the corona, and the 3mm one increased it.
A final note. While I do take care to produce the most accurate number sets that I can be aware that I am working with a brand new light meter which I have only spent about one hour calibrating my system to. Six lights from preferred sources were used, but fine tuning is still needed.
—
In Him (Jesus Christ) was life; and the life was the light of men. And the light shineth in darkness; and the darkness comprehended it not.
http://asflashlights.com/ Everyday Carry Flashlights, plus Upgrades for Maglite.