Angryfox Playfox E11 Review
I no longer recall how I first learned of Angryfox flashlights, but I do remember being mesmerized with the product offerings and the name itself (more on that in a bit). I wanted to purchase the E11, but couldn't find it for sale anywhere in the US (that is no longer the case) so I contacted Angryfox and asked about buying the E11 straight from them. They agreed and some 5-6 weeks later I was the proud owner of my latest flashlight (plus 1 – their K2 model was sent for evaluation purposes: that review can be found elsewhere on BLF).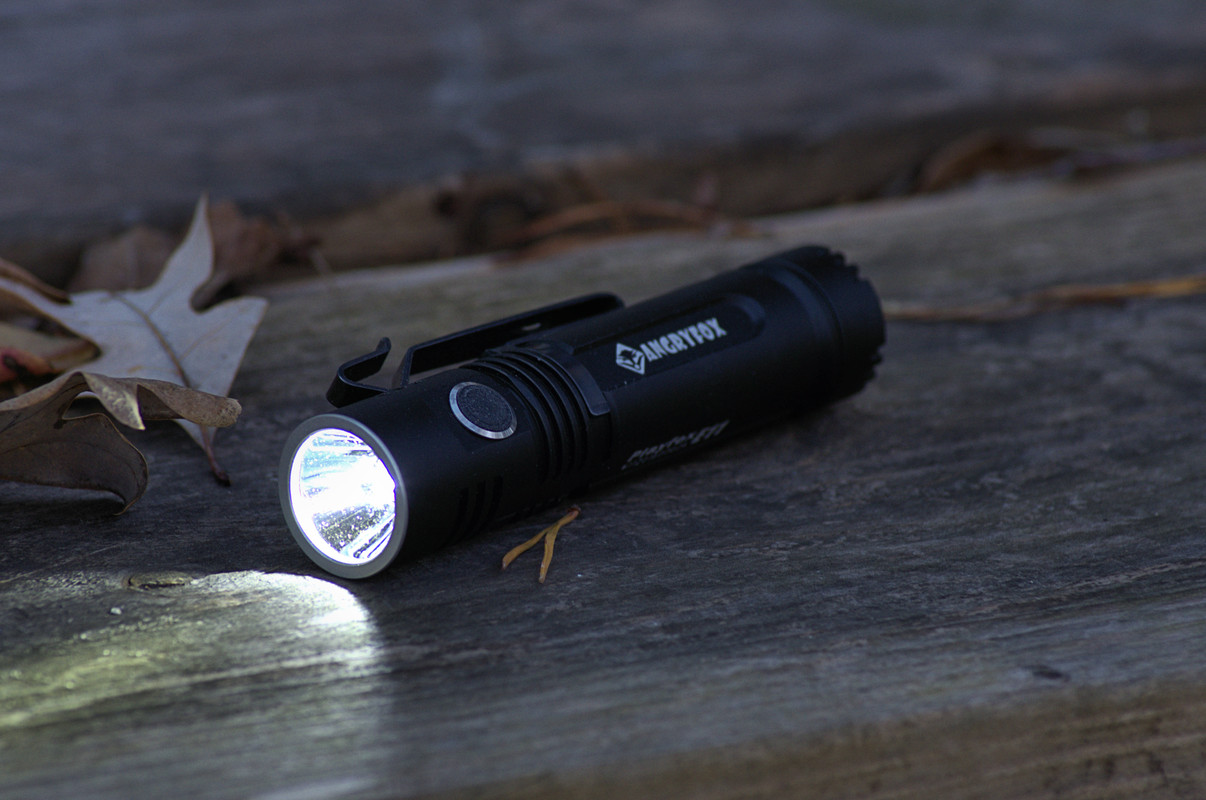 About the name, Angryfox:
The following is lifted from my K2 review..
"Angryfox is a new company; established by a group of flashlight revolutionaries who have joined together with one common goal: making professional, fun, flashlights. The name Angryfox is derived from the Chinese meaning of Angry (striving) and Fox (a wise, wild animal) – a combination that personifies all that Angryfox stands for: a flashlight company that is striving to make outstanding, innovative, products for outdoor use and more."
As I mentioned above, I purchased my E11 direct from the company, but that is no longer necessary because Angryfox now has it's own Amazon store (newly opened).
Angryfox Amazon page for their Playfox E11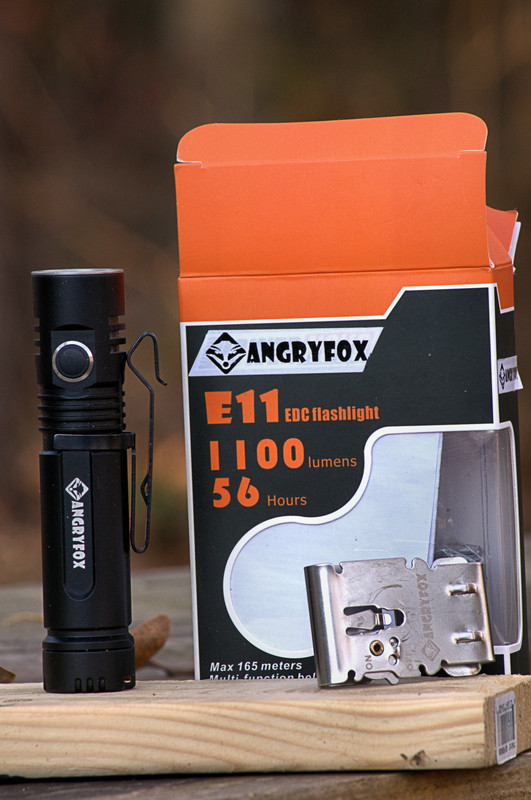 The E11 lists, on their Amazon store, for $49.96 as of this time (06/09/18). That is pretty close to what I paid for it when I bought it direct (from Angryfox) some 8 months ago. With time and steady use under my belt, I consider that a great price for what the product offers. I'd buy another, should I lose mine, without thinking twice about it.
I've owned the E11 for a good number of months now, and most of those days I've carried the E11 as my daily user. That in itself isn't all that unusual: I've owned (and carried) the same Zippo lighter for roughly 20 years now, and there are plenty of people who have carried their favorite EDC items for years as well.
The times when I haven't carried the Angryfox E11 are when I've been testing out a competitive product – some purchased, but many were sent for evaluation purposes. My rough guess is that I've used and tested some 100 flashlights or so during the time I've owned the E11: with a good number of those other flashlights being in the same general category of lights (easily carried in a front pocket and powered by one 18650 cell).
To my recollection I've liked all of those various lights; some more than others, naturally, but all have been decent, or better, products that are still used (and loved) by their current owners (I've donated over half of the flashlights I've used/tested to people who were in need of a quality flashlight). I have kept most of my favorites though – for the most part anyway (there are one or two that I wish I had kept for myself, but that's a story for another day).
There's a reason why I'm still carrying the Angryfox Playfox E11 on a daily basis: it is far and away my favorite flashlight in the category.
It is difficult to specify why one product is favored over all others you've tried. Seemingly one could list the attributes, or benefits, and just leave things at that. But that doesn't tell the whole story because the sum of the "parts" don't always add up to the whole. In other words: while the attributes/benefits are strong selling points, they don't tell the entire story by themselves (together or separate). There's more, and it is that which is difficult to explain.
I like products that work, day in, day out. I want my tools to be there for me every time I need them: rain, shine, hot, cold; it doesn't matter what the conditions are, I want my tools to work as they should. That, to me, is far more important than fancy do-dads that make us ooh and awe in the showroom, but fail miserably when the planets aren't aligned perfectly.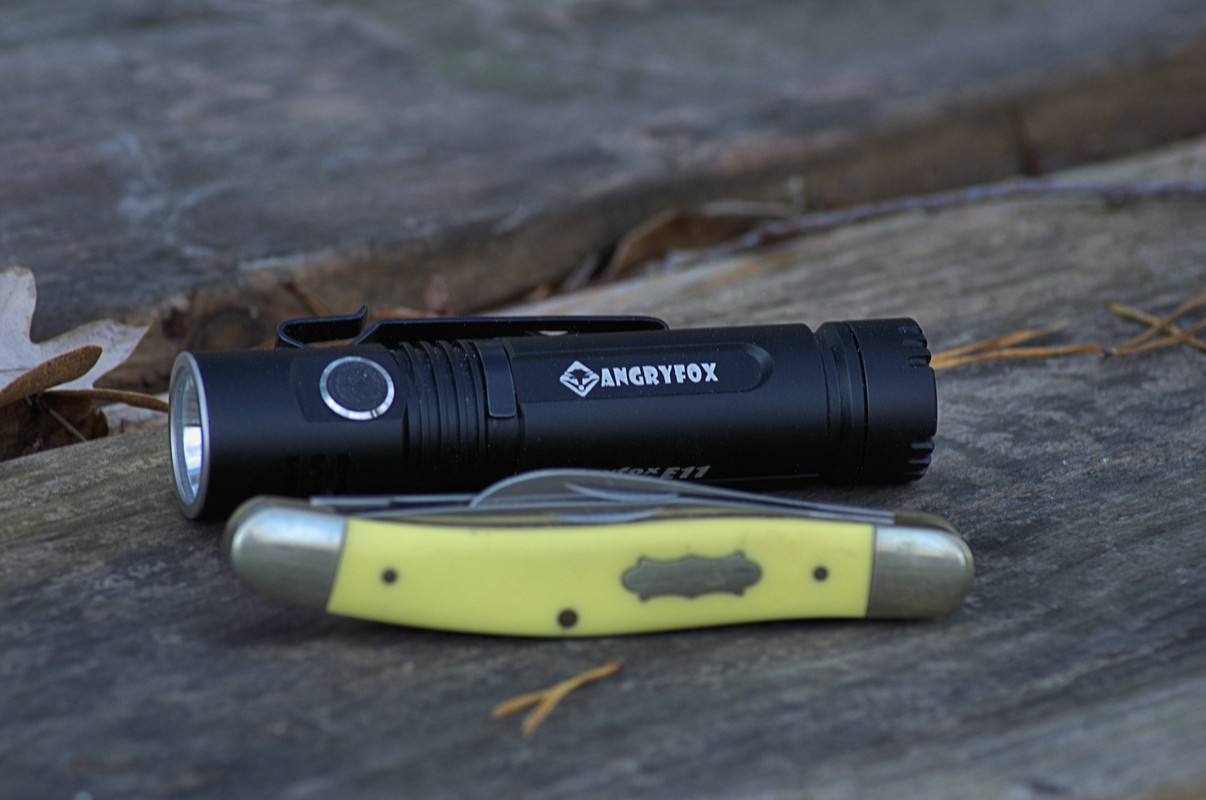 The E11 does exactly what it is supposed to do – it works. Every time. And all I have to do is charge the battery up when needed. No hassle, no fuss; it is there when I need it.
At 4.13 inches in length, and .90 inches in diameter (just a hair more than a nickel) the E11 is extremely comfortable to carry, all day, in my front pants pocket. Depending upon which pair of pants I'm wearing, I sometimes don't bother using the clip when I'm carrying the E11 – it's small enough that it carries well down in my pocket, without being bothersome or difficult to extract when needed.
Fit and finish is superb. The build quality is fantastic – light in weight, yet more than sturdy enough to take the expected abuse dished out with daily used tools. I've dropped my E11 more times than I care to admit, and it still works as it should. I've used it in the rain, in the snow, in the heat, and in the cold – and it works every time. And it still looks great too.
The clip is the best on the market. Nothing else comes close. It is reversible, so it can be carried head up, or head down. Clip it to the brim of your cap, or your belt. Clip it to a wrist band, or hang it on a wire/string – you can hang it at an angle so you can direct the light exactly where it is needed, or you can hang it straight down or up: whatever you need.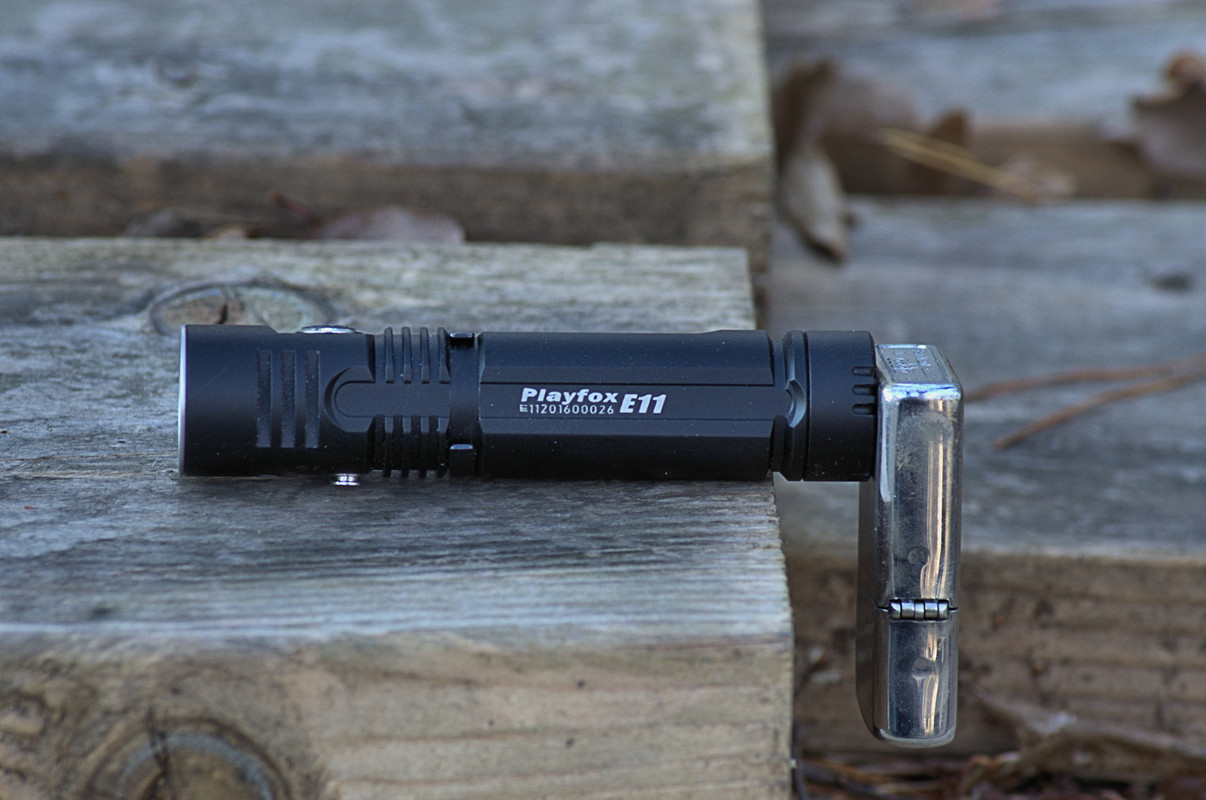 Or use the magnetic tail to position the E11 where it is needed: it's strong enough to hold the E11 steady on all but the slickest metal surfaces (it does slide a bit on really smooth surfaces). I can't begin to tell you how frequently that attribute has come in handy. The tail cap does have an attachment area for a lanyard and it tail stands with the best of them. I'm not sure if mine came with a lanyard, or not. Anyway, I don't have a lanyard on mine.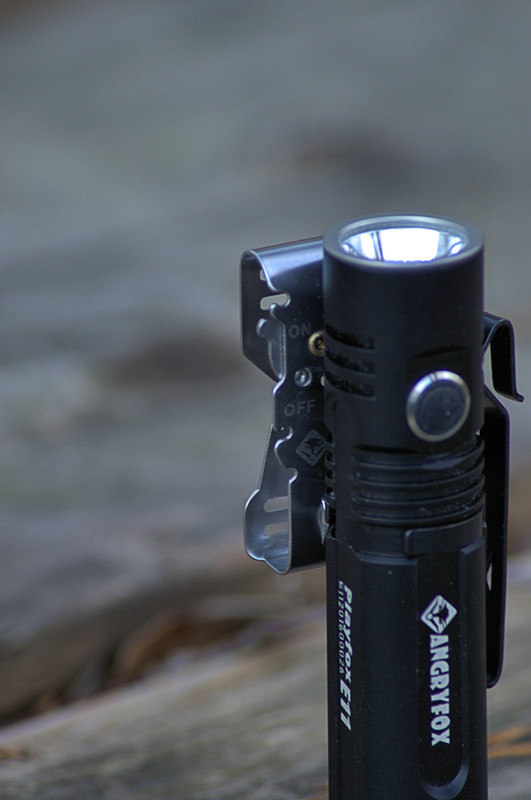 Did you notice the little silver protrusion, opposite side of the switch? That's another innovation that the E11 features. It is the attachment point to the included "belt buckle" – as Angryfox calls it – that was included in the package I bought. It will fit belts up to 1.75 inches in width, and up to 5/16 thick. There's a small lever on the side of the "buckle" that locks the E11 into place. On the backside of the "buckle" are slots that will fit straps and the like (up to 7/8 of an inch wide) for use with a wrist strap or a head strap (sold separately, I believe).
To be honest, I don't use the "buckle." I don't like having things strapped to my belt, and the E11 fits so easily inside my pants pocket that it just isn't necessary for me. Your mileage may vary.
The U/I is straight-forward and simple. Click to turn the light on or off. Double click to go to turbo (from on or off). Press and hold the switch to change modes (while on) – low, medium, high. I hate strobe, so I'm thrilled that it is hidden (3 rapid clicks, from on or off). There is a beacon mode that I do like – from the off position, press and hold until the light blinks, then release. Low mode is reached by pressing and holding (from the off position) until the light comes on (past the blinking) – about 4 seconds.
The switch has a solid feel to it; not a hint of sponginess, but not too stiff either. Feedback is excellent and the surface has a good bit of grip to it. In fact the entire flashlight has a certain "grippiness" to it – thanks in large part to the placement of the cooling fins and the overall size of the E11. The grip is certainly much better than I would've originally guessed, given the smooth exterior on the body itself.
The tail cap is removable. The battery goes in positive side toward the head (the E11 does have polarity protection). The threads are well cut, smooth as glass, and properly lubricated from the factory. The tail cap features just a smidgen of a spring.
Cree XML2 U2 led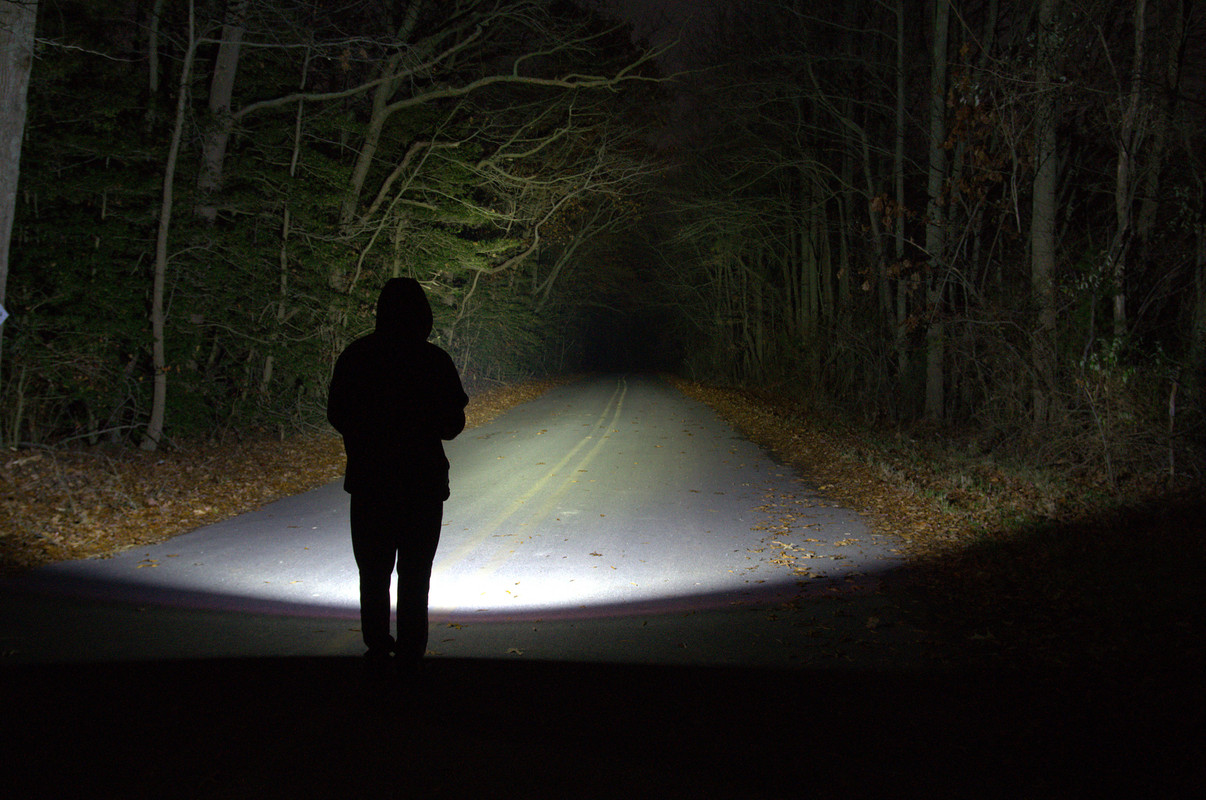 Max is 1100 Lumens – with a stated run-time of 2 hours and 15 minutes. The light is protected, so it will step down when it gets hot. In practice I have not noticed it stepping down at all, but I don't use turbo for more than a few minutes at a time anyway.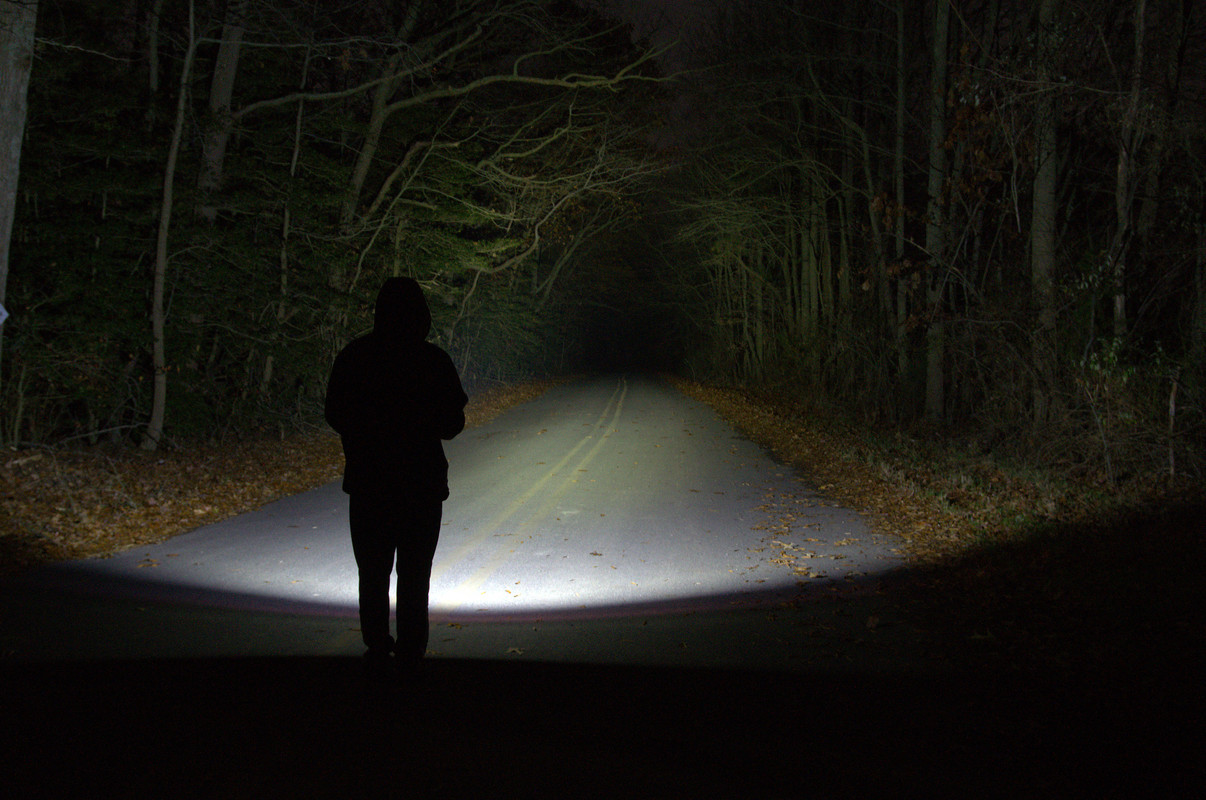 High is 500 Lumens – with a stated run-time of 4 hours.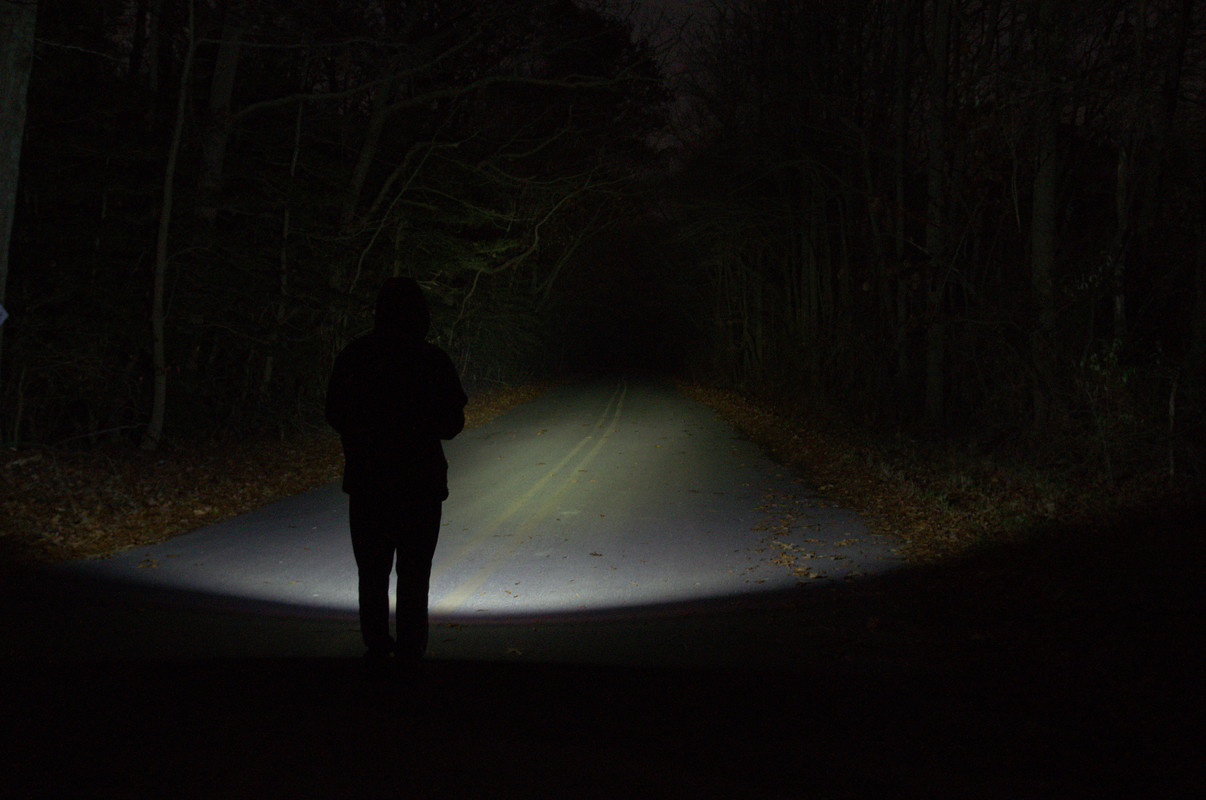 Medium is 160 Lumens – with a stated run-time of 11 hours. This is probably my most used mode, and the battery lasts a long time in my use.
Low is 30 Lumens – with a stated run-time of 75 hours. This is probably my second most used mode.
Maximum distance is stated to be 170 meters. My guess is that the usable distance is somewhere around 90 meters or so.
The E11 is drop resistant to 1.5 meters. (I can verify that – I've dropped it many times from that height and above). It is also waterproof to 2 meters (IPX-8). I cannot verify the 2 meters, but I have had it soaking wet numerous times – including rain, snow, and puddles of water.
Features
Powered by 2 CR123 batteries, or 2 16340 batteries, or 1 18650 battery.
Switch lock
Discharge protection
Digitally regulation
Polarity Protection
Anti-roll body design
Slip resistant body design
"Rattlesnake" Clip
"Belt Buckle"
Mode Memory
Magnetic Tail Cap
Tail Stands like a champ
Toughened ultra-clear glass lens, with anti-reflective coating.
Drop resistant to 1.5 meters.
Waterproof to 2 meters (IPX-8)
Warranty – 5 years (after 5 years, owner pays for parts) (Warranty listed on company website)
I could not find the specifics on the reflector, but it appears to be made of glass.
The beam is a cool white; to my eyes pleasant and effective. It is a very nice mix of flood and throw; perhaps a bit more biased toward the flood spectrum, but it throws quite well for such a small flashlight. I find the beam profile to be exceptionally efficient for daily use.
I think of flashlights as tools, mostly because that is what they actually are. Some tools are very specific in purpose, while other tools are far more general. To me a general purpose tool – something that does everything well – is one of the best tools to have in your arsenal. Sure there are lights out there that throw a lot further, and there are lights available that make it seem like you've got the Sun in your hand, but those are specialized tools and they aren't very good choices for day to day use.
And they cost an arm and a leg – far more than the $50 price tag of the Angryfox E11. I think the average user will find the E11 a much better investment for their uses – real, common, everyday uses that Average Joe America faces: fixing the sink, the car, the steps, walking the pooch, or camping with the family.
I guess that's why the E11 is my favorite EDC flashlight. It does everything well, and it flat out works every time I need it. That makes the E11 indispensable in my mind.