Gearbest sent the Utorch S1 Mini for me to review.
This wasn't my first choice though, in fact my first choice wasn't even a light, but a rangefinder. I thought it would be a useful tool for flashaholics however stock was low (and it was probably too expensive for a casual reviewer such as myself) so GB noped that idea. I was then given a choice of 2 lights – the Xiaomi power bank light or the S1. I chose the the Xiaomi as I thought it might be a light my wife would like and cotinue to carry in her purse for longer than 4 weeks, however that light was then noped because it turned out there were no shipping methods available at that time. Dang, not off to a good start with reviewing for GB! As a result I was left with the hard choice of the S1 Mini or the S1 Mini. Now I hope this isn't a spoiler, but I chose the S1 Mini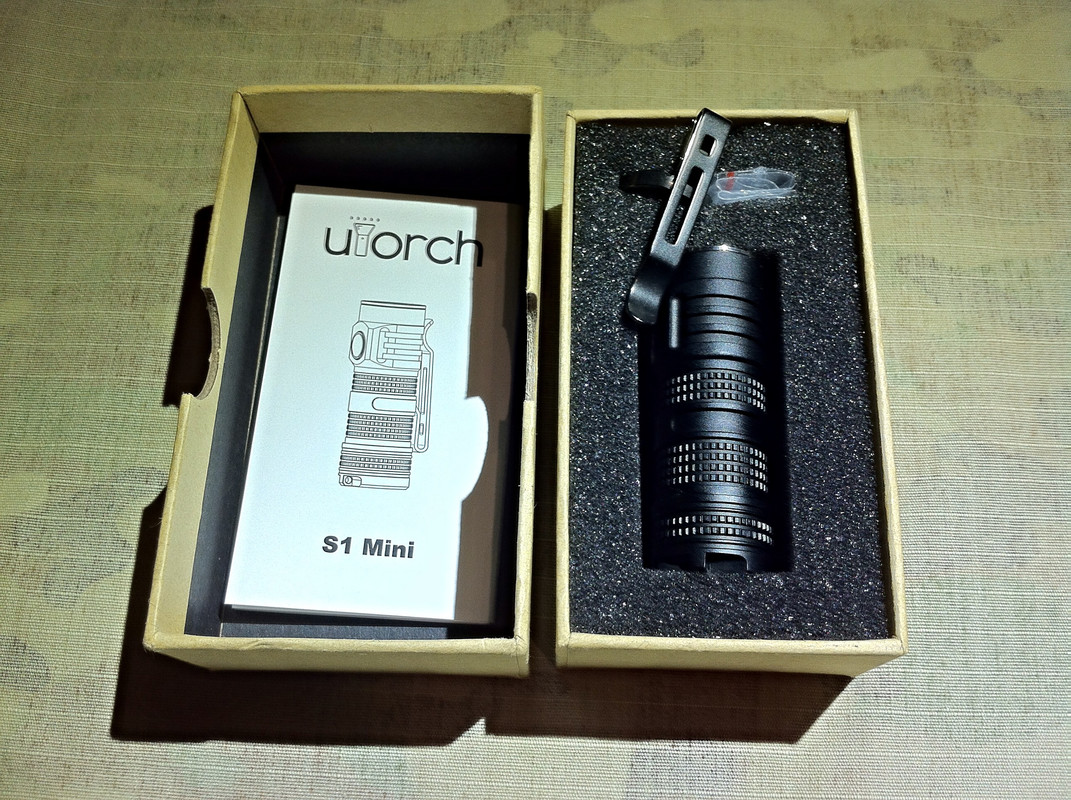 After reading a couple of reviews I wasn't particularly excited about the S1 but despite the time consumed I enjoy "attempting" reviews and chose the "5000k". I figured I'd write this review and then gift the S1 to someone. By golly was I wrong!
I really don't know what it is about this light. As mentioned by others it is far from perfect, and however inexplicable it might seem, it really is a favourite and has become my bedside and go-to house ( make that apartment) light. But why you ask? Well, it is likely most people have read a number of the excellent S1 Mini reviews provided by other BLF members, so in lieu of a traditional review I will pose some questions to myself and try to figure out just why I like this little light so much.
Could the appeal be the novelty of this being my first fixed aspheric? Highly unlikely, aside from size it doesn't vary much from a zoomie that is stuck in flood mode.
Maybe the appeal is the lovely tint? This is highly likely a contributing factor. I really like the tint that is listed as 5000k but it is somewhat warmer, I suspect due to the aspheric lens but couldn't get the bezel loose to confirm. I am pretty average at guessing tints but based on the tints of other lights I would guess the S1 Mini is somewhere around 4000k?
Perhaps the appeal is because Mrs mapache doesn't object to the beam profile when I navigate through the bedroom late at night? This is another highly likely contributing factor. The smooth(ish) beam profile with its barely visible hotspot and hard cut-off combined with sub lumen (0.5) moon mode makes this light perfect for those late night bedroom navigations. (And no, not a euphemism for anything other than keeping me from falling over in the dark) At a distance of 1m the beam spread is ~1.6m in diameter, and at 2.2m the beam spread is ~4.5m. There is a visible ring on the outer edge of the beam when wall hunting which I suspect is a reflection from the bezel. The beam also has a slightly squared off profile, but I haven't noticed either of these artefacts during "normal" use.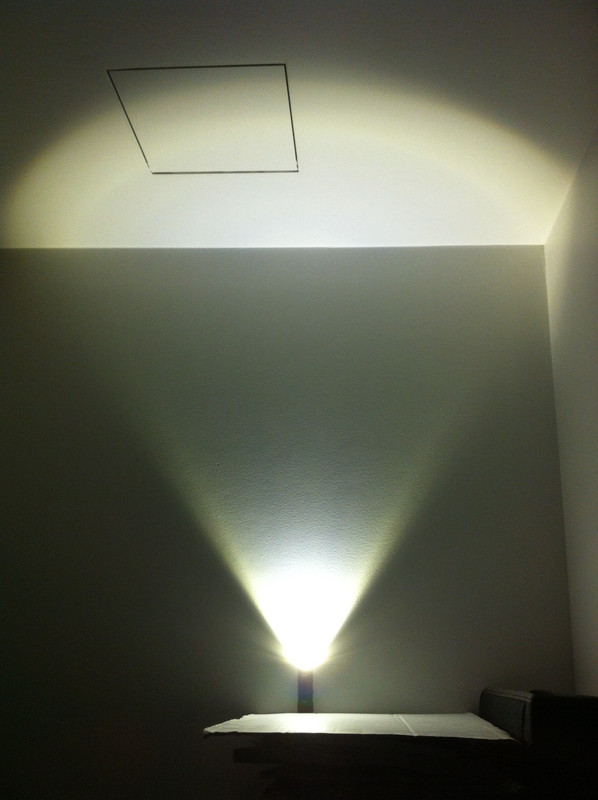 The compact size? (of the light, once again not a euphemism) This is likely a contributing factor. When I first unboxed the S1 Mini I couldn't believe how compact it is. It regularly gets clipped to the collar of my shirt if I need to get up around the devil's hour for any medications. However, one downside is that since it is so compact I have forgotten to remove the light from my shirt after returning to bed.
Could it be that I like the UI? Highly unlikely. I am not a fan of the hold for 2 seconds to switch off interface. I do like the direct access from off to moon – activated with a 2 second hold. I like the lockout/momentary function – activated with a 4 second hold.
On paper the mode spacing – Moon 0.5lm; Low 7lm; Medium 100lm; High 600lm doesn't look so good, however in real life the jump from 100 to 600 works well and isn't intense like I thought it would be, not that I really use anything other moon or low. It's probably because I am so used to single click off lights, but did I mention that I don't like the hold for 2 seconds to switch off? One nice feature is the slow increase in brightness between modes. If accidentally clicked from medium to high, a quick follow up click will put the light back into low before it reaches full brightness.
For those that like tailcap readings they are –
Moon, too low to measure
Low, 0.01 amp
Medium, 0.16 amp
High, 1.89 amp
Maybe it's the clip? I like the colour of the clip, when I first opened the box I thought it might be blued. In the bezel up configuration the clip is too long and protrudes past the tailcap.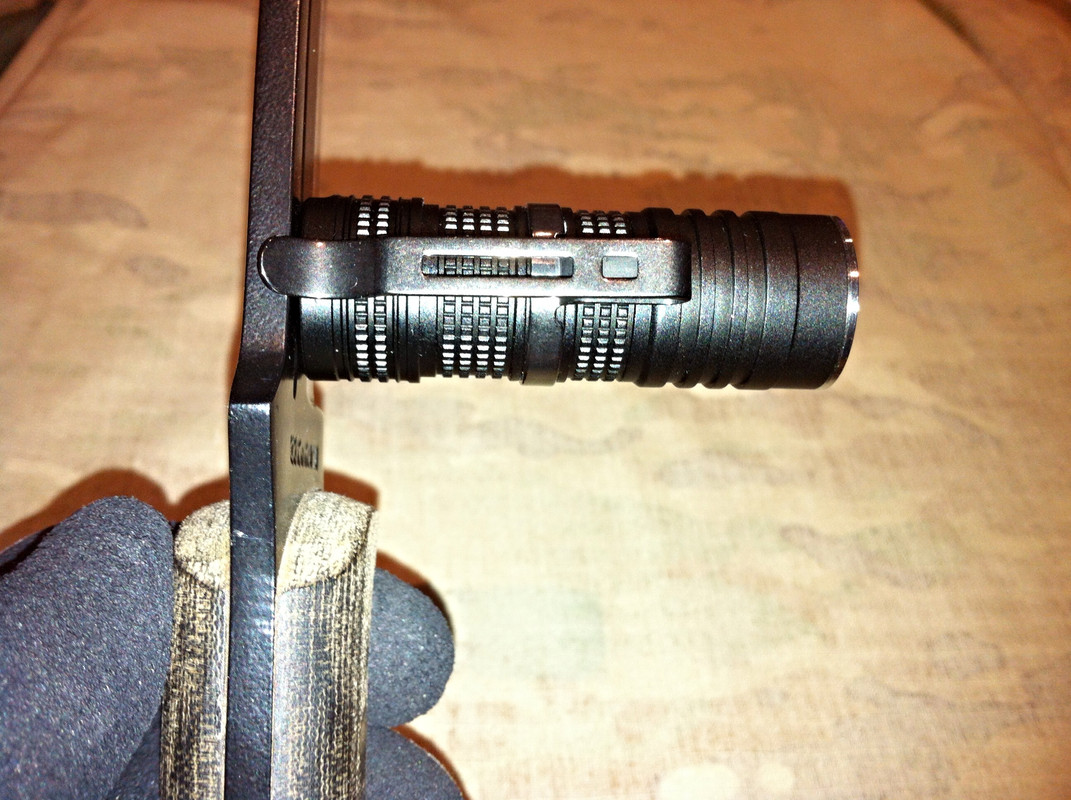 In both bezel up and bezel down the "wings" are either too tight or the wrong shape and move within the channel on the tube. Additionally, and despite how careful I was, the clip still scratched the tube whilst I was installing it
Strangely enough not in the channel but along the edges.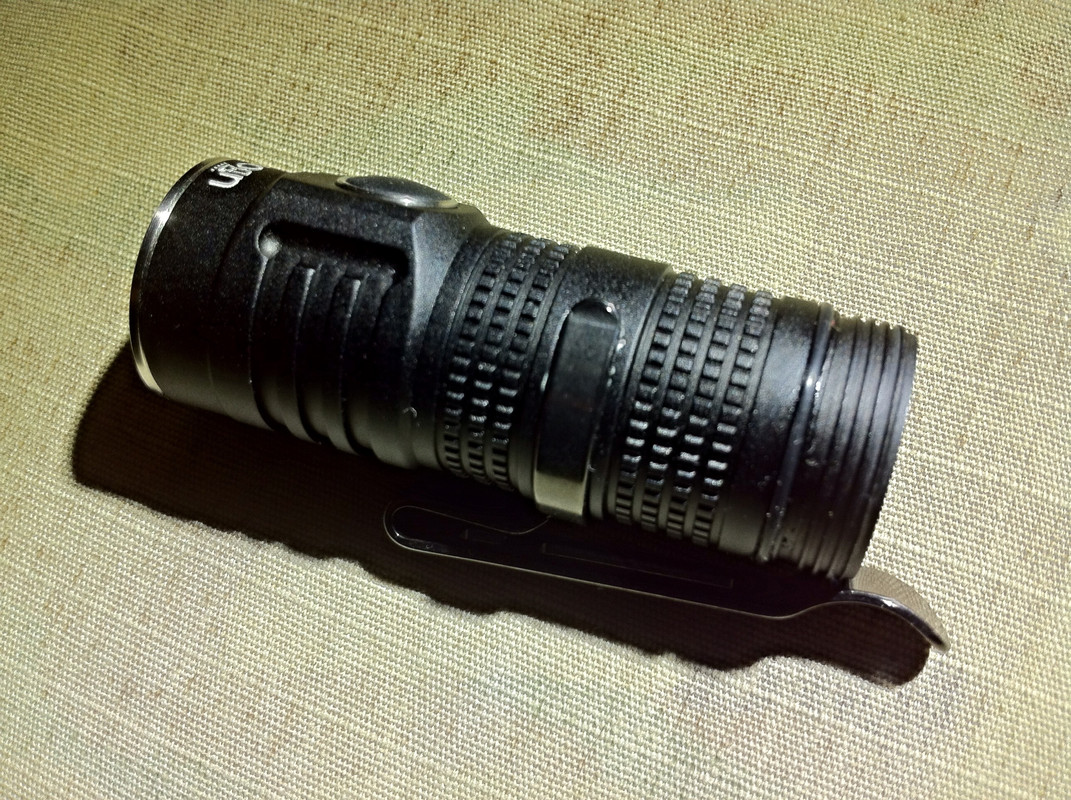 Did the included battery contribute to the appeal? I have a few 16340s so it's not likely, but extra batteries are always nice. The included battery is an integrated rechargeable Lumintop 16340. I've used the charging function a couple of times and it seems to work well with cutoff being at exactly 4.2V, however I will be just as likely to charge it in a regular charger.
Could it be that Utorch has imbued the S1 Mini with a glamour? I think this is another of the highly likely factors for why I like this light so much despite its flaws.
It is also worth mentioning that there is also some kind of magic in the tailcap. As you can see in the following image, the spring is in the shape of The Eye of Providence, and thus it allows the light to stick to ferrous objects.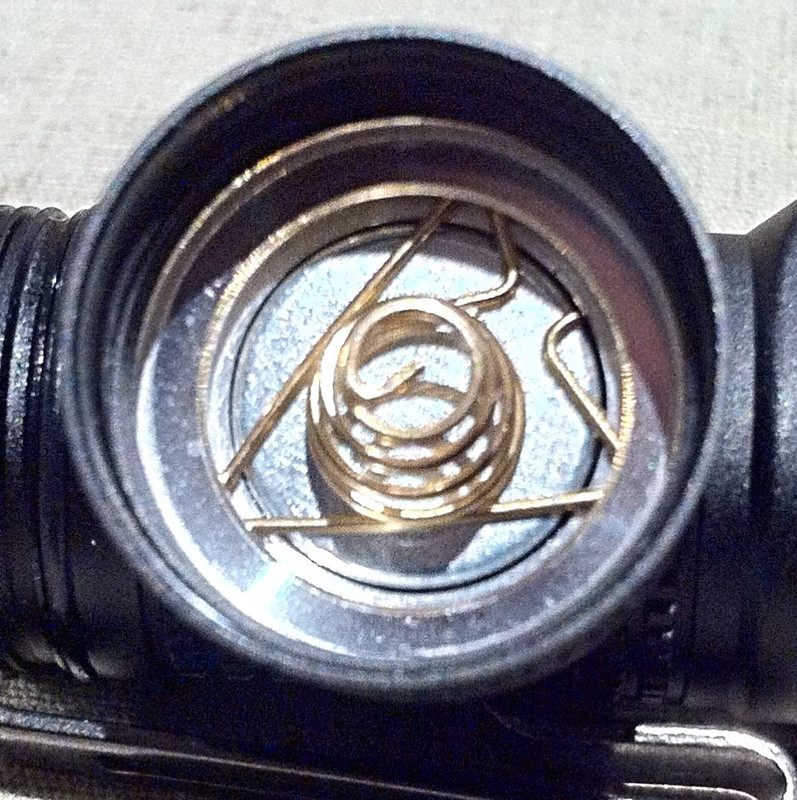 Then again, it could just be that the S1 Mini makes for a brilliant indoors/close quarters light if one can live with the imperfections. It fits my indoor/medication/bedroom navigation needs better than any other light I have used.
I suspect this light will be somewhat divisive with it's reasonably unique features and a number of people are going to love it whilst others are going to dislike it. I am definitely in the love it camp for now and will update this review if anything changes over the next few months.
GearBest asked me to include the above link as an affiliate, maybe for tracking to see if people like my review? They also asked me to check out their big Mid-year Promotion and include a link. If I find any bargains that haven't already been shared I might post them in my rarely updated deals thread