Nitecore MT42 was provided by Nitecore for review. Here is product page at Nitecore website.
You can buy Nitecore MT42 at
➤ AMAZON
➤ ALIEXPRESS
➤ BANGGOOD
➤ NITETORCH they generously offered 20% code HJK5KDNQ valid for all the items in store, including other brands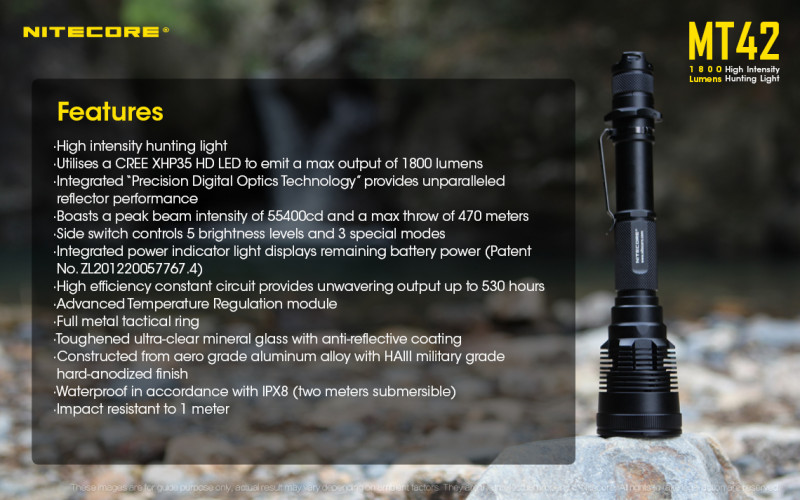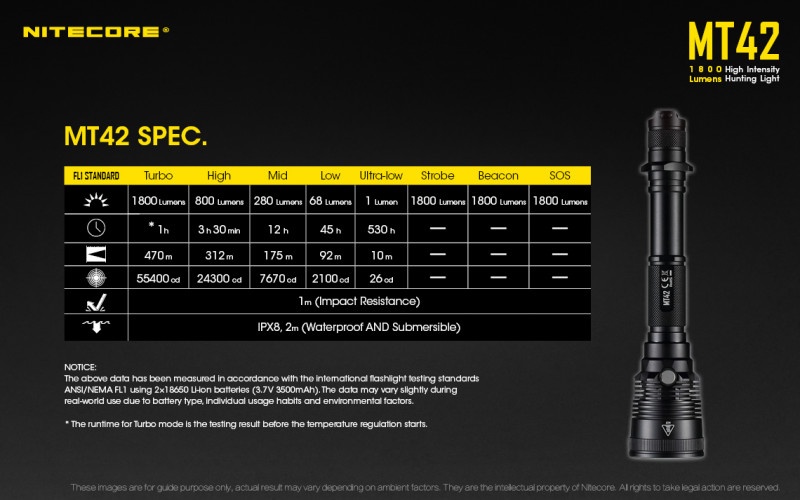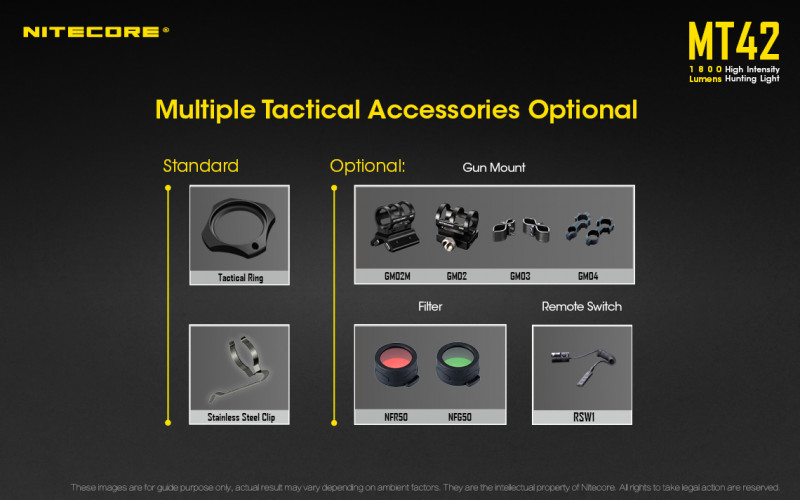 PACKAGE AND APPEARANCE
My set come without box, but, of course, in regular situation, buyer gets it. The same yellow-black box, that all of us known.
And as well, my set doesn't include holster, though manual says it should be included. All the other parts are on the pic below: MT42, Lanyard, Pocket clip, Spare o-rings, Manual
And, btw, here is the link to manual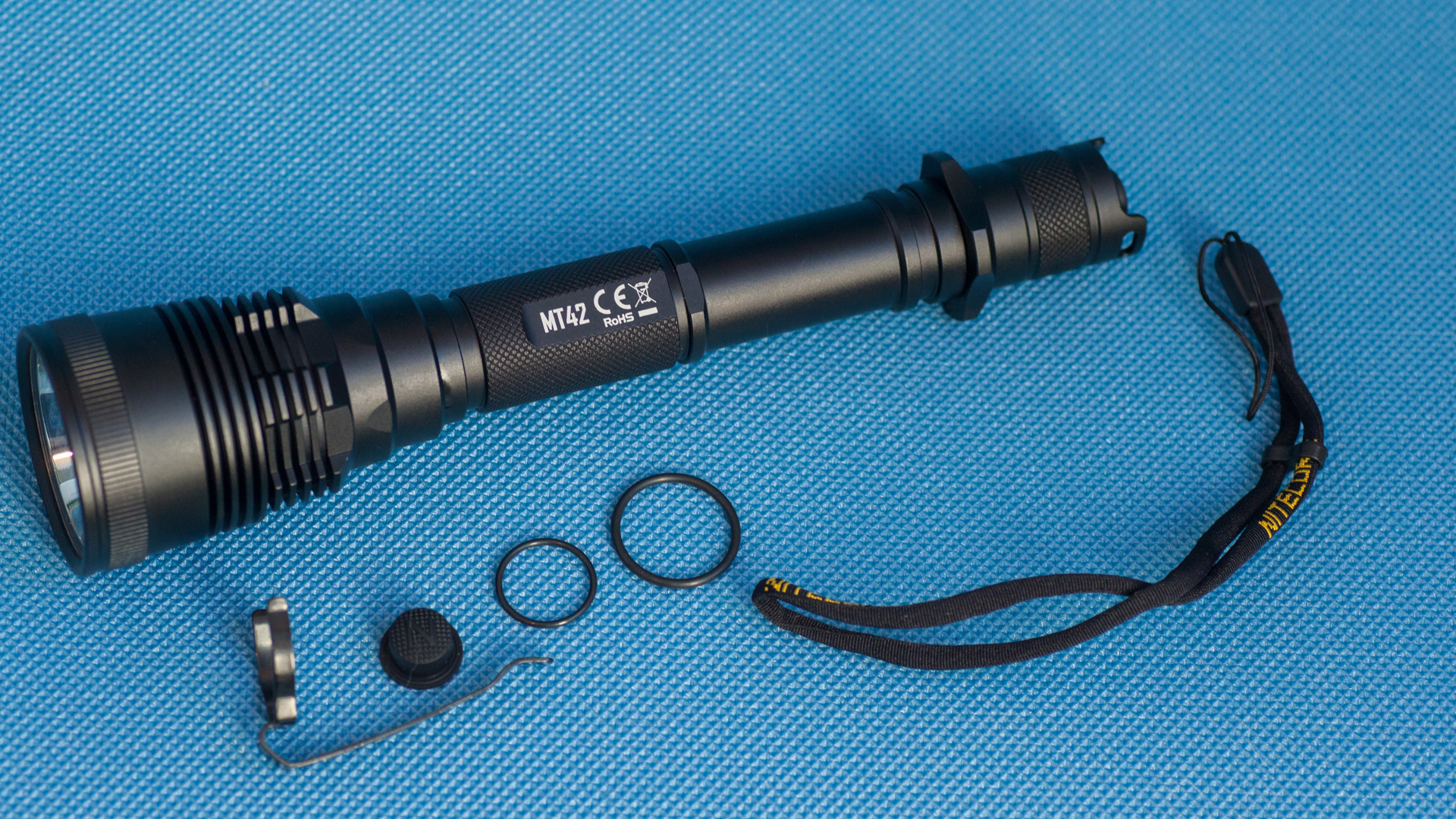 There is a bunch of optional accessories for this model.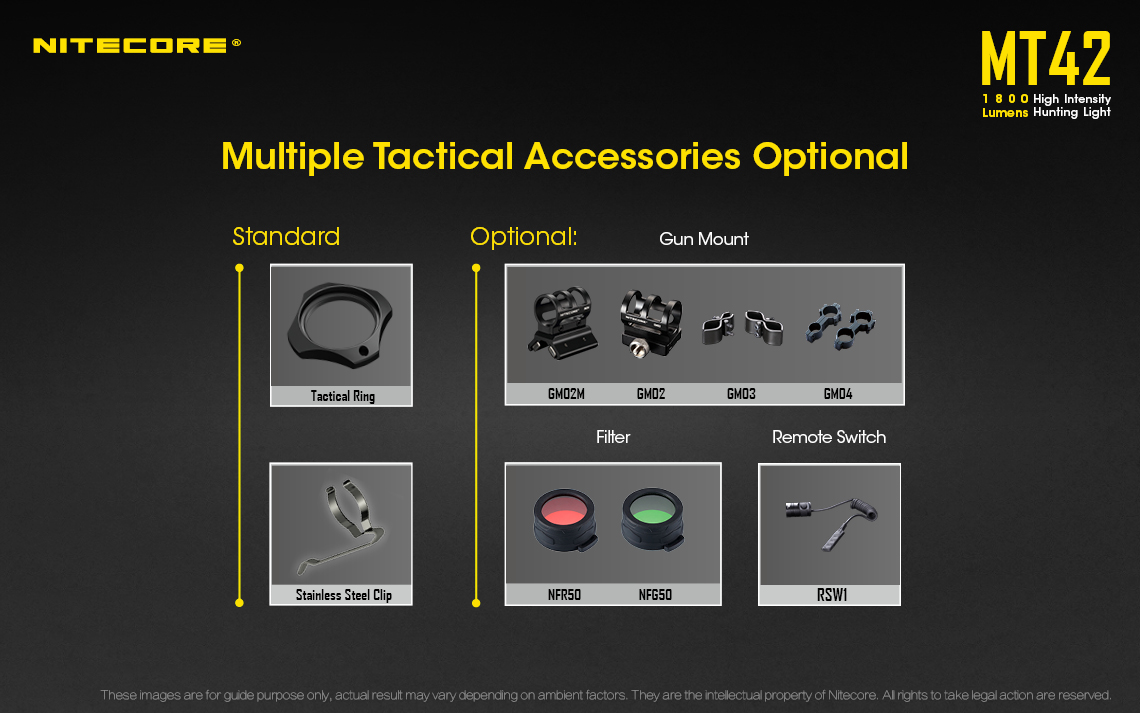 MT42 looks good, though it is definitely not a high-design thing. Just solid accurate body, that pleases both hands and eyes. Yep, that`s not a pocket light as well, with 2×18650 inside it is 228х50х22.4mm and 232g (no battery weight). But, still it is far away from 2×26650 beasts, and lots of 2×18650 "piercers" are wider at head. Here head is still acceptable in size, weight is well balanced and grip is firm.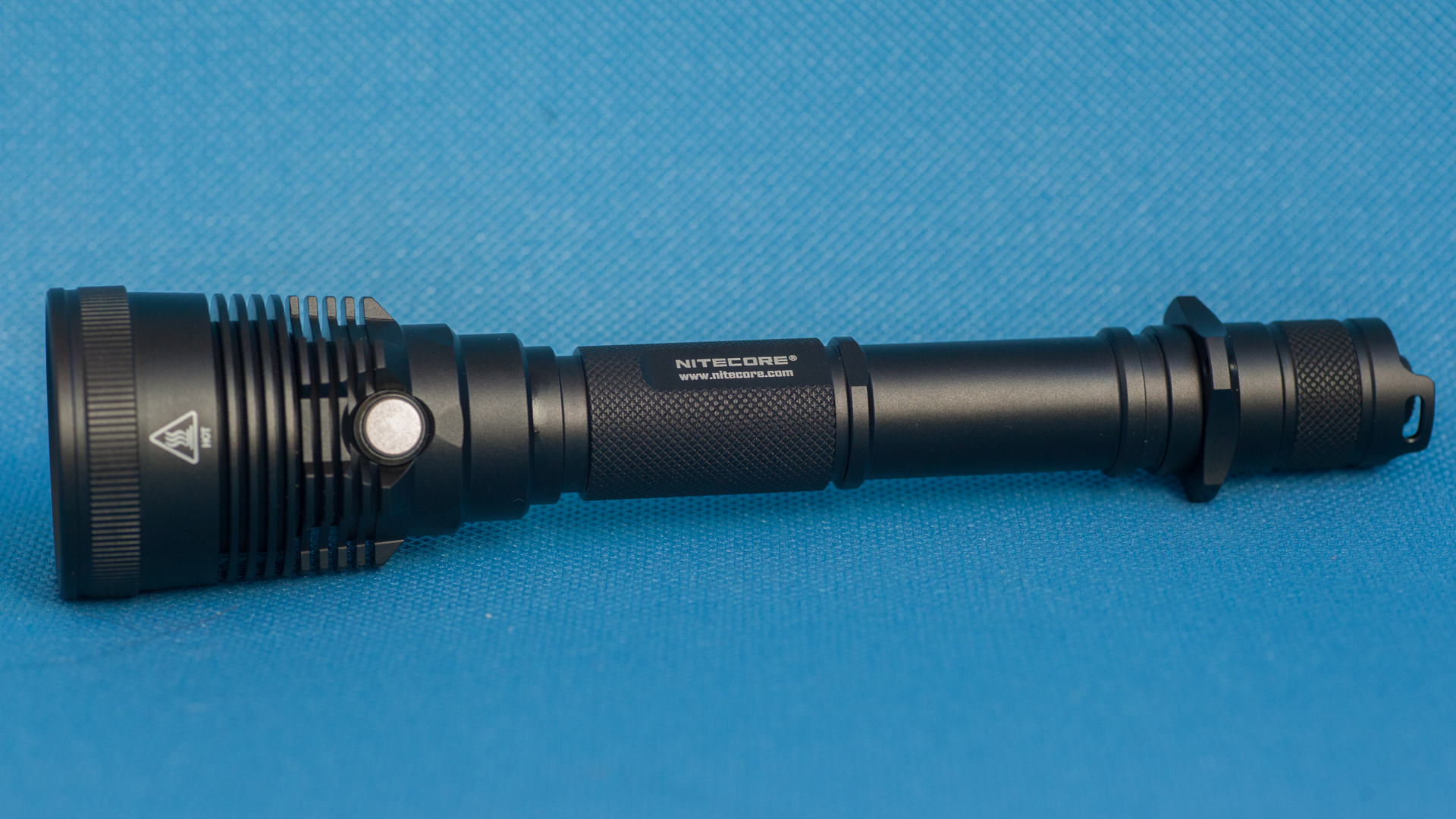 As far as I understand, the logic of making part of body smooth, with no knurling is based on the fact that this light is supposed to be attached to rifle. And in this case, knurling may be damaged, smooth round part of body is better choice. What about influence on grip – nothing at all, as there are tactical ring by the tailcap and small ring by the center of body.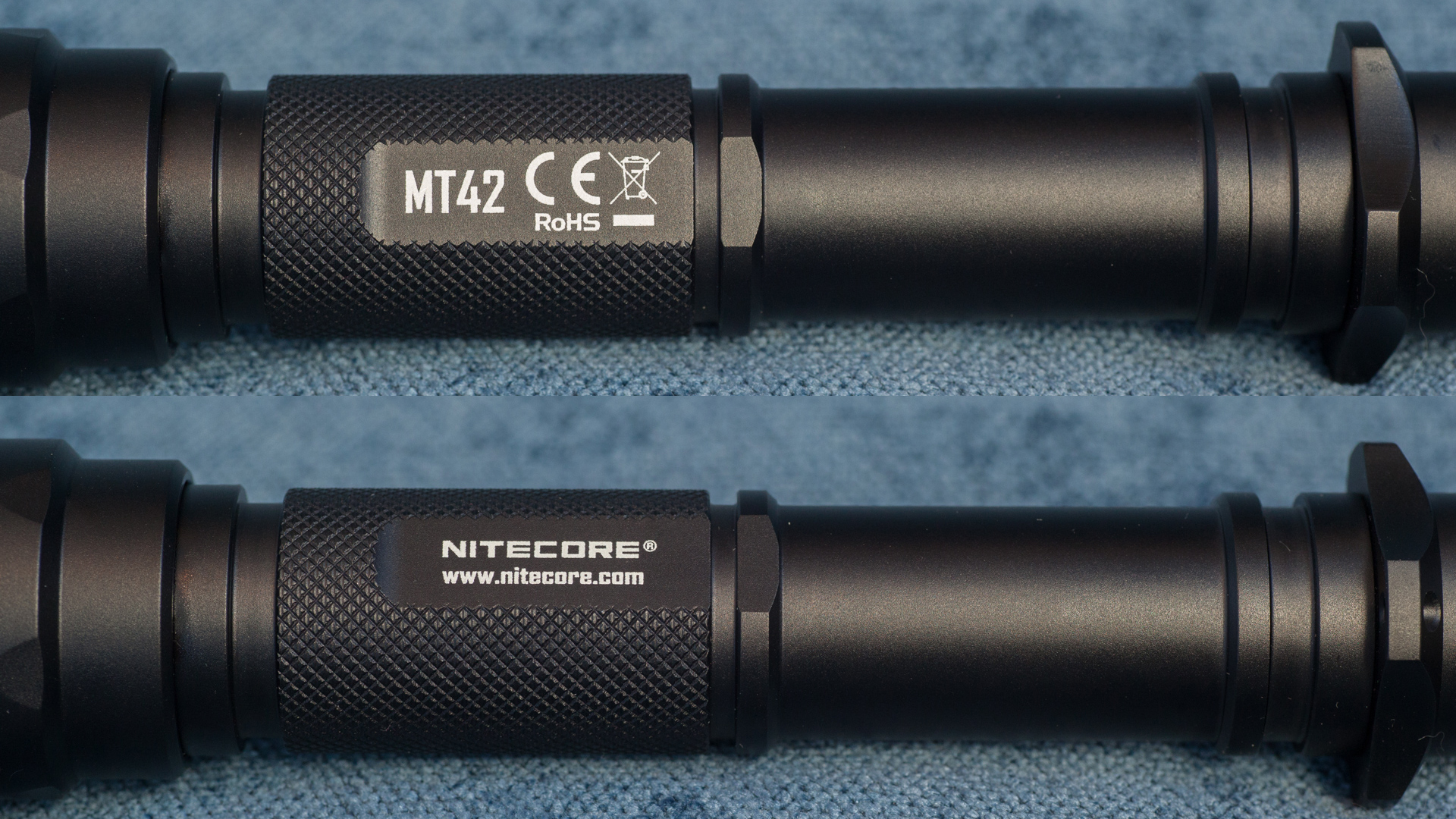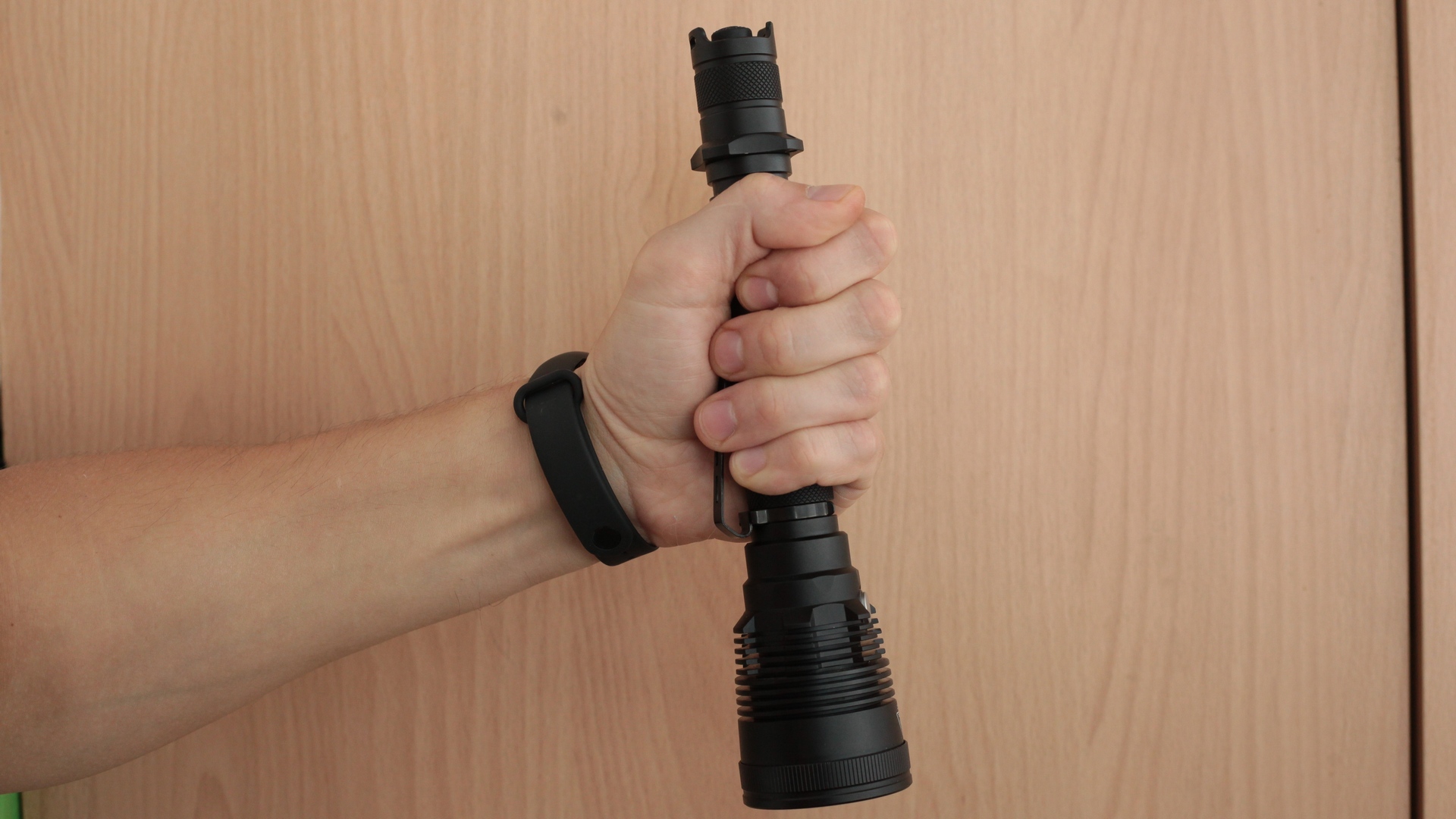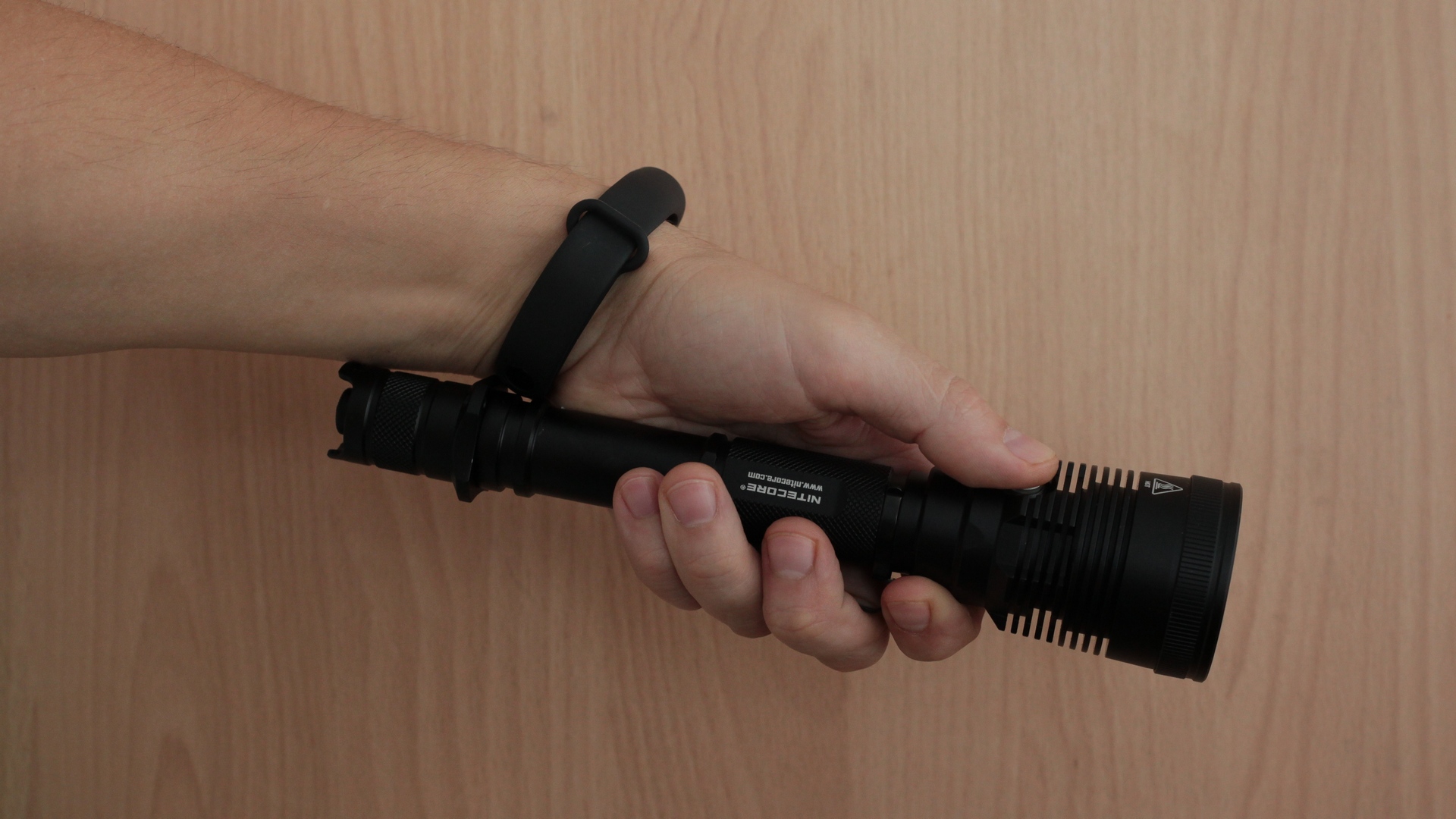 For the rest, knurling is traditional, rhombic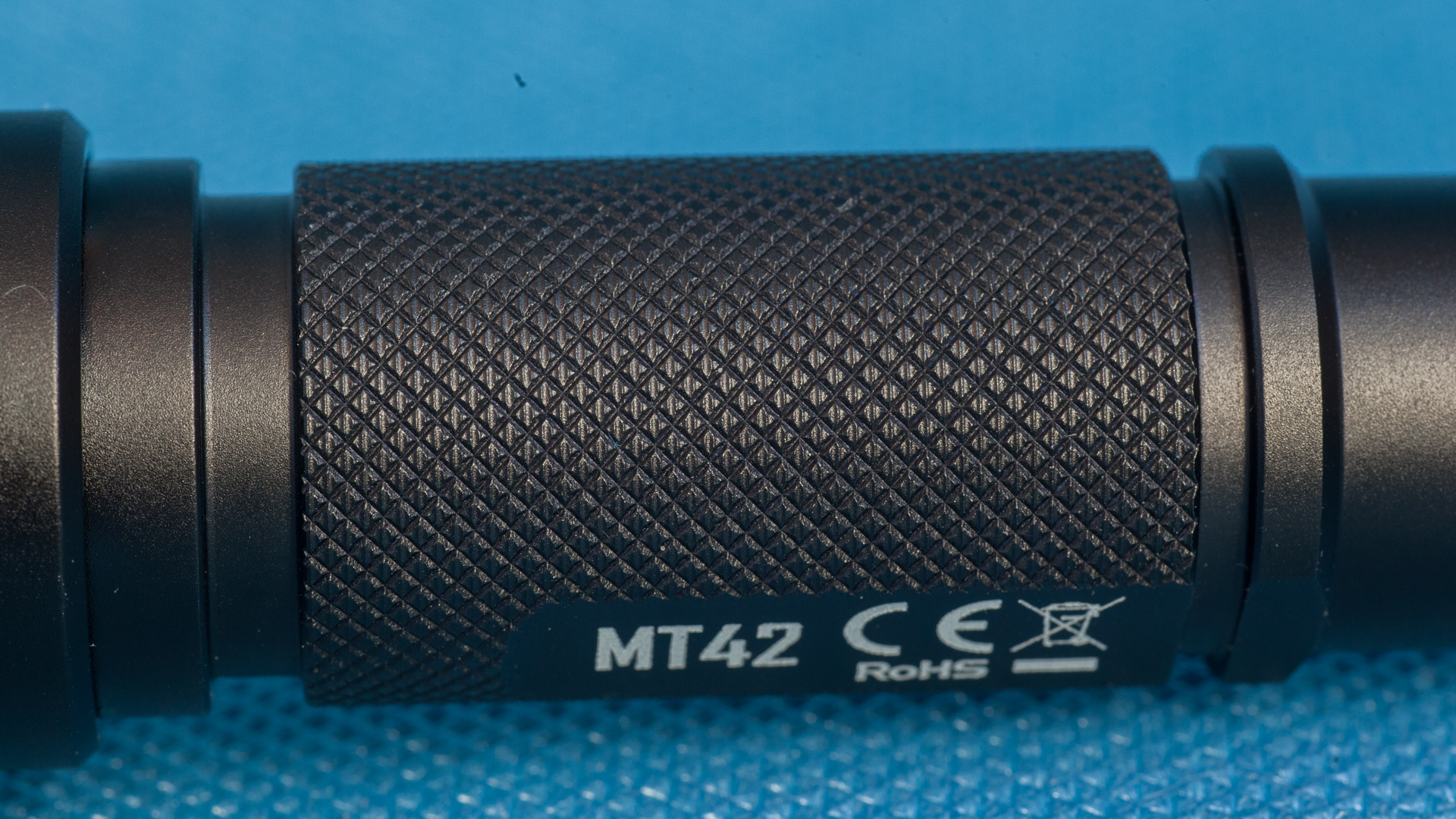 BTW, tactical ring is removable. Threads are well lubricated, tailcap moves on it smoothly.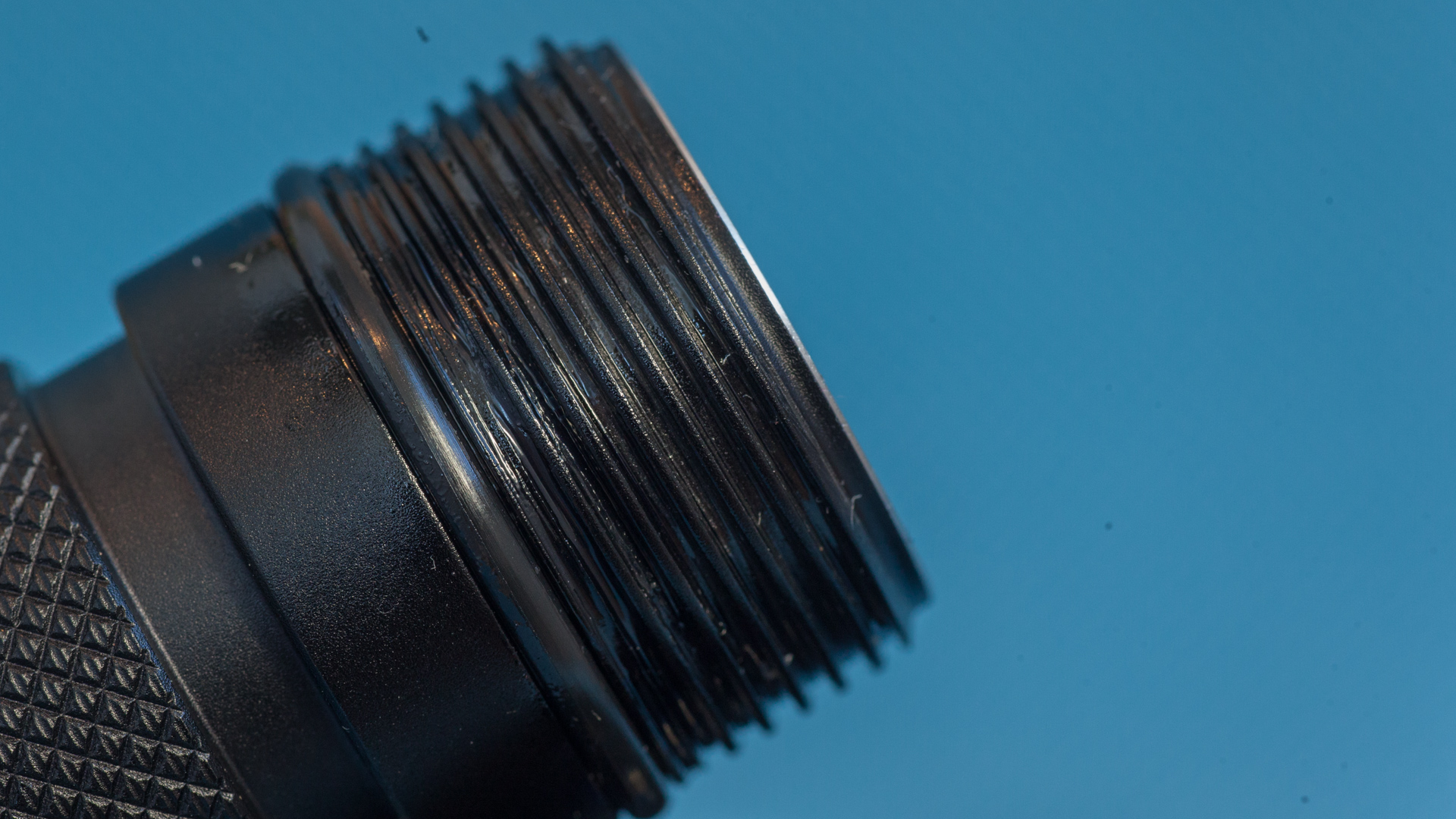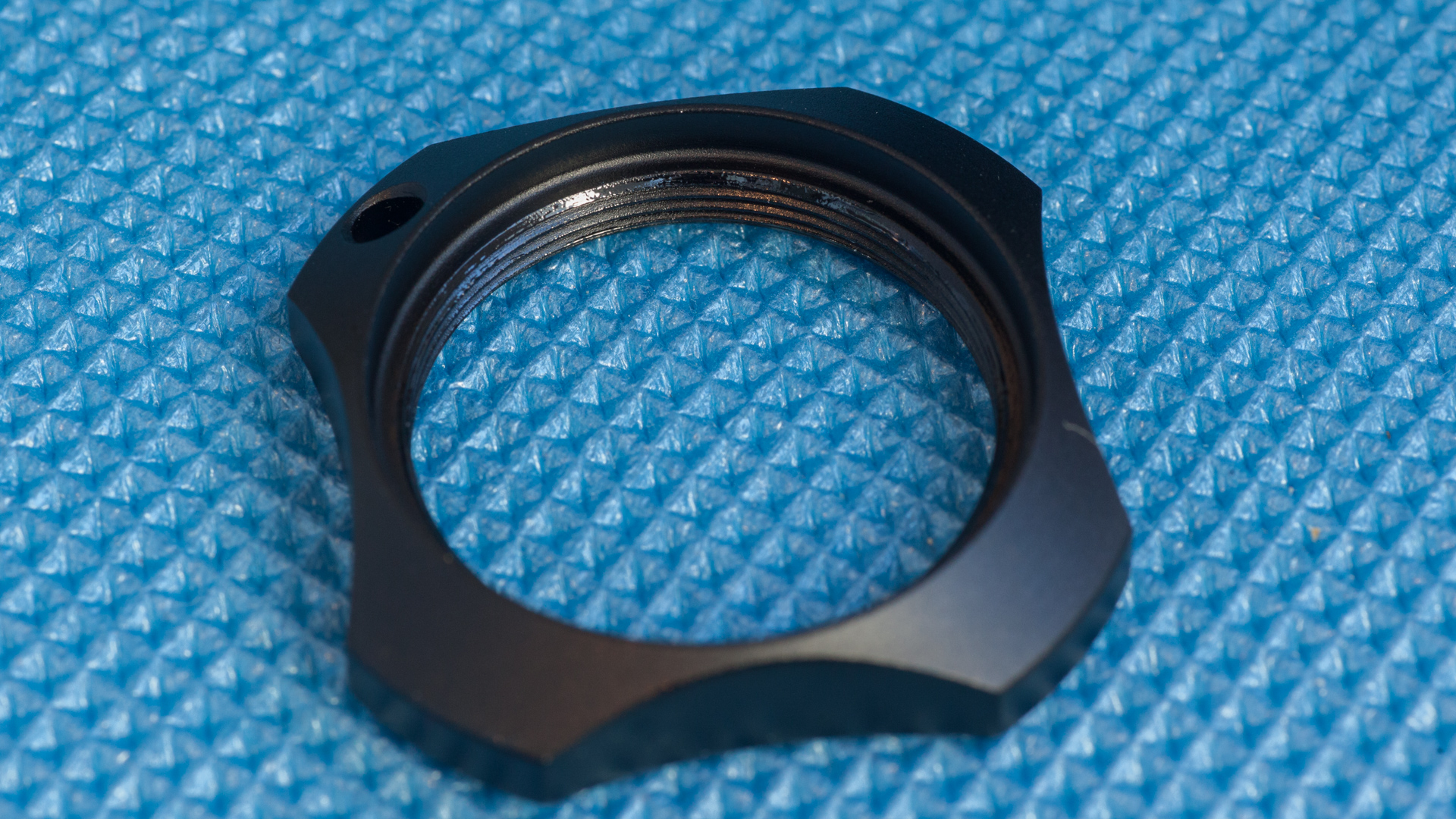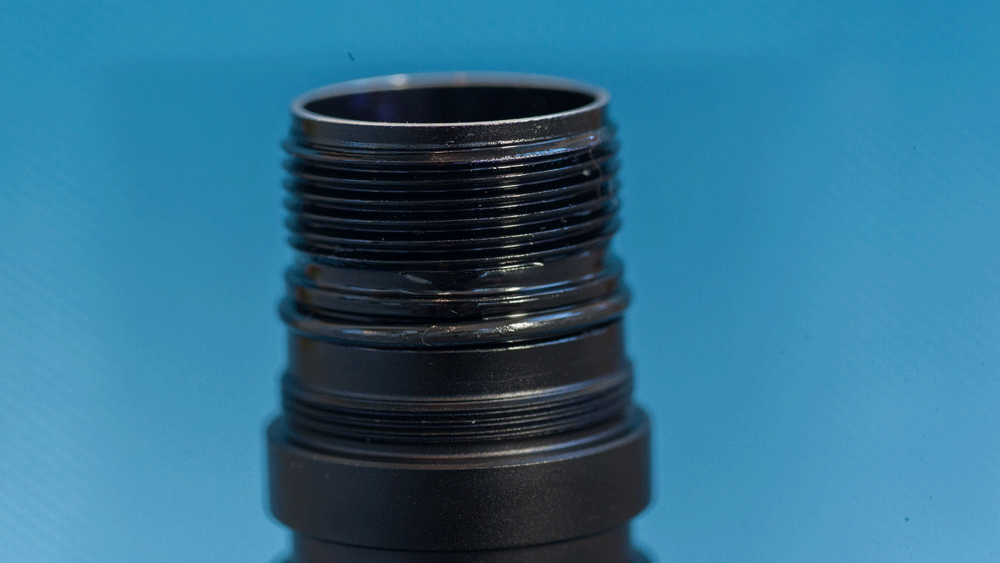 Clip can be positioned in either way, as you want.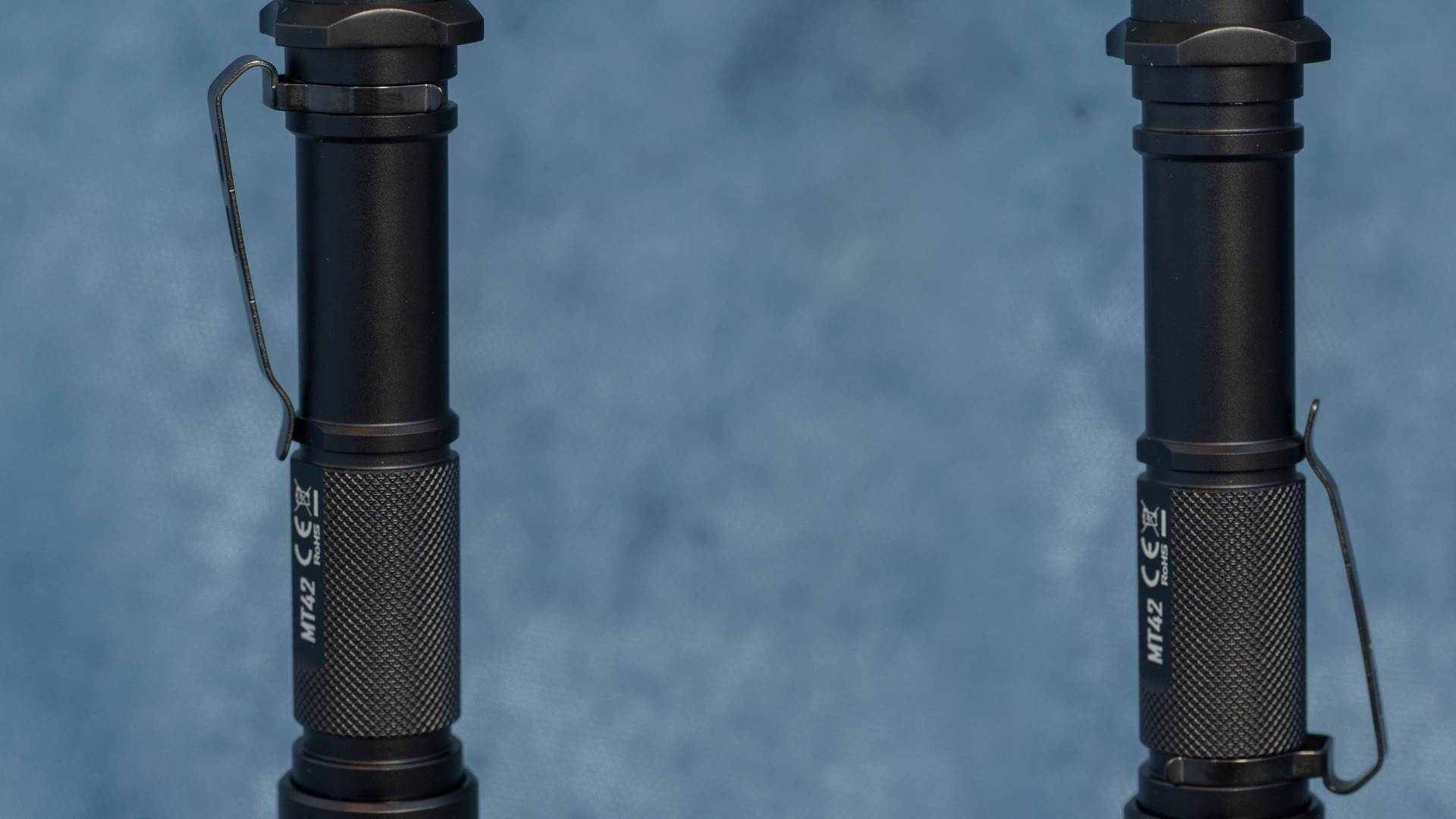 With some time spent on this, you can mange to put MT42 vertically, but that makes no sense, center of masses is too high + borders of tailcal are U-shaped.
Though button is little bit lower than them, finger gets on button easily.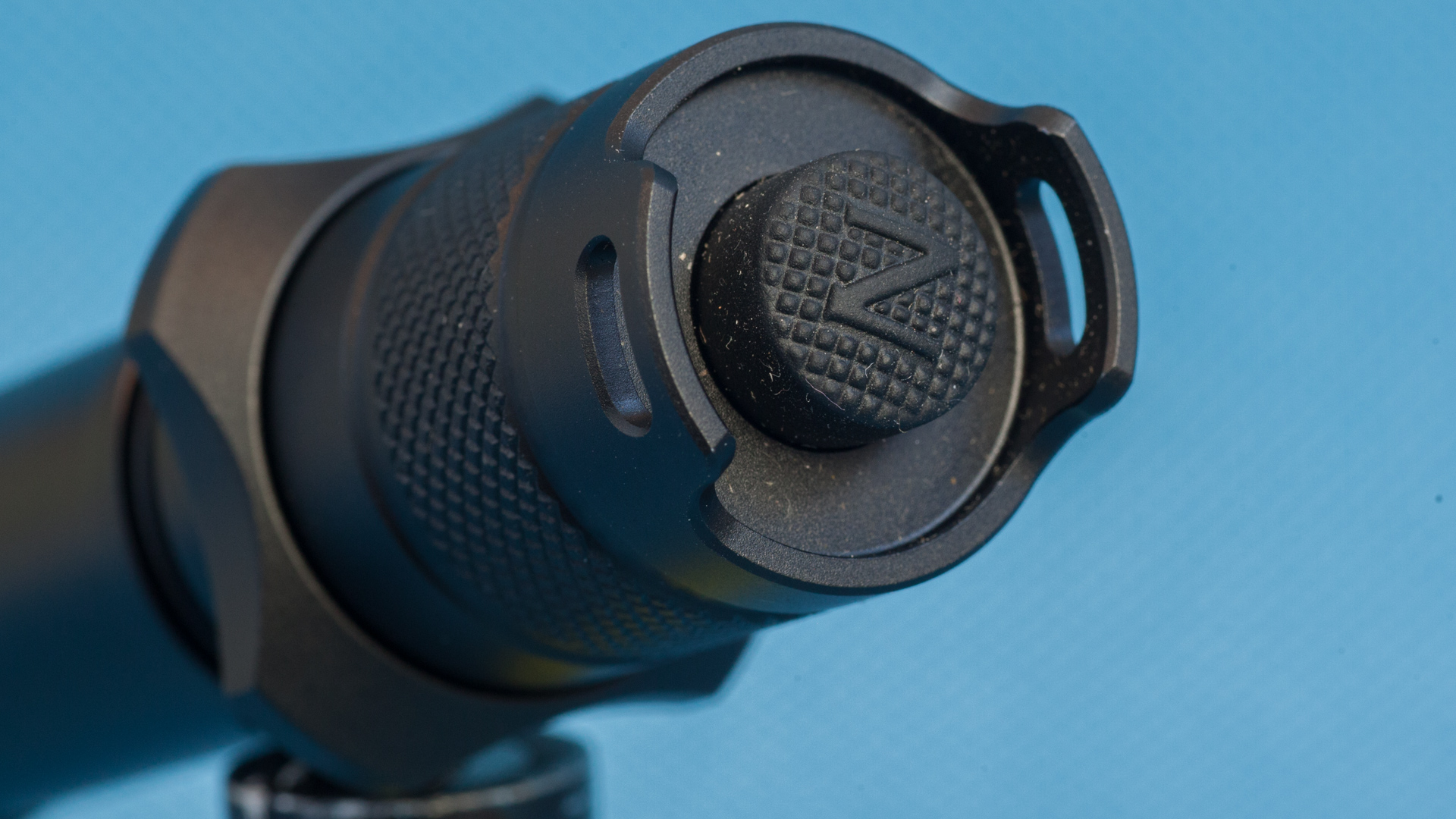 There are a pair of springs here, to deal with amperage at turbo.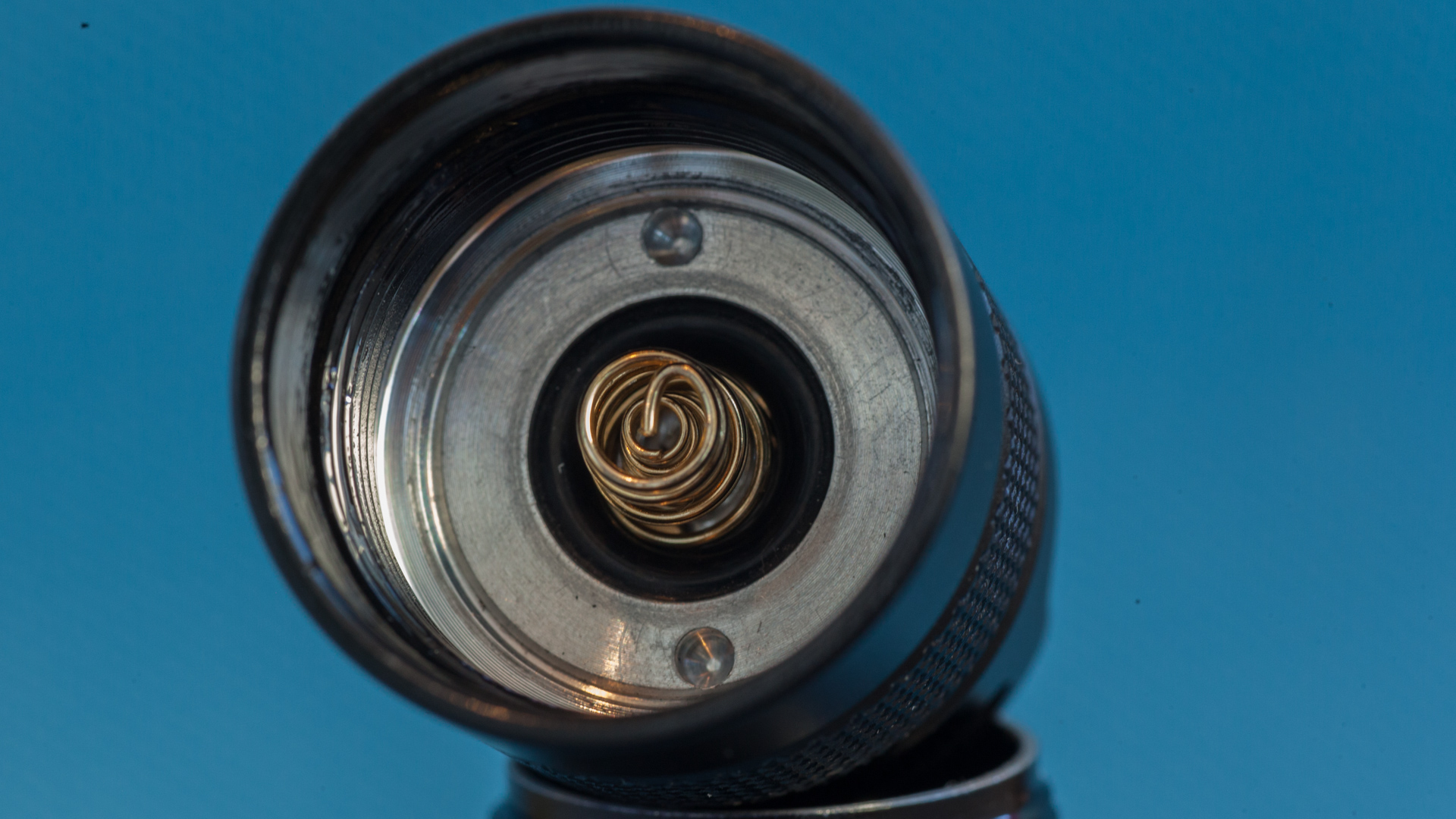 Contact plate from the side of head is unusual, looks like levitating ring with spring under it. I don't see any PROs and CONs for this, think that Nitecore could place plastic cover upon driver with hole for regular spring in center.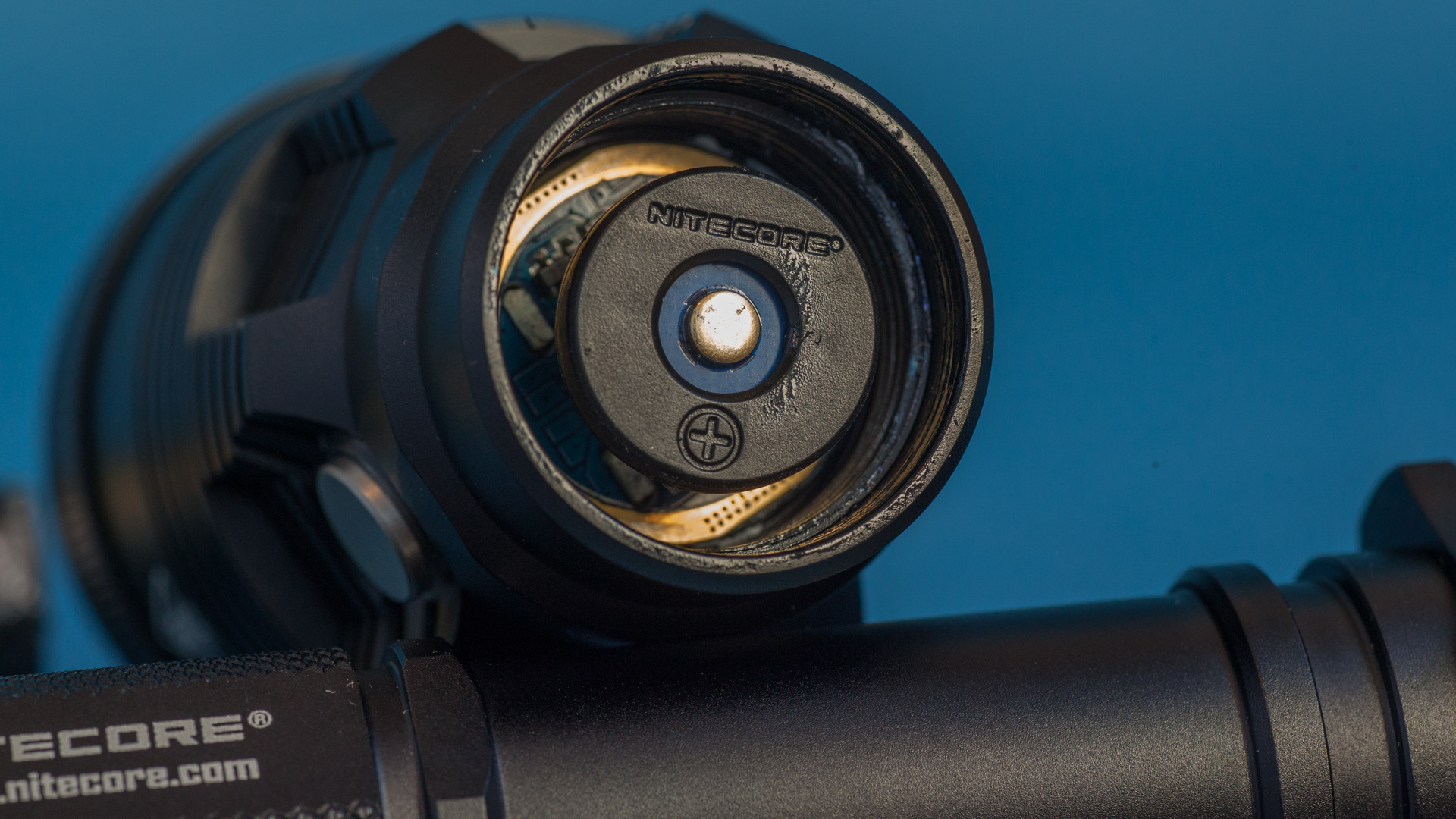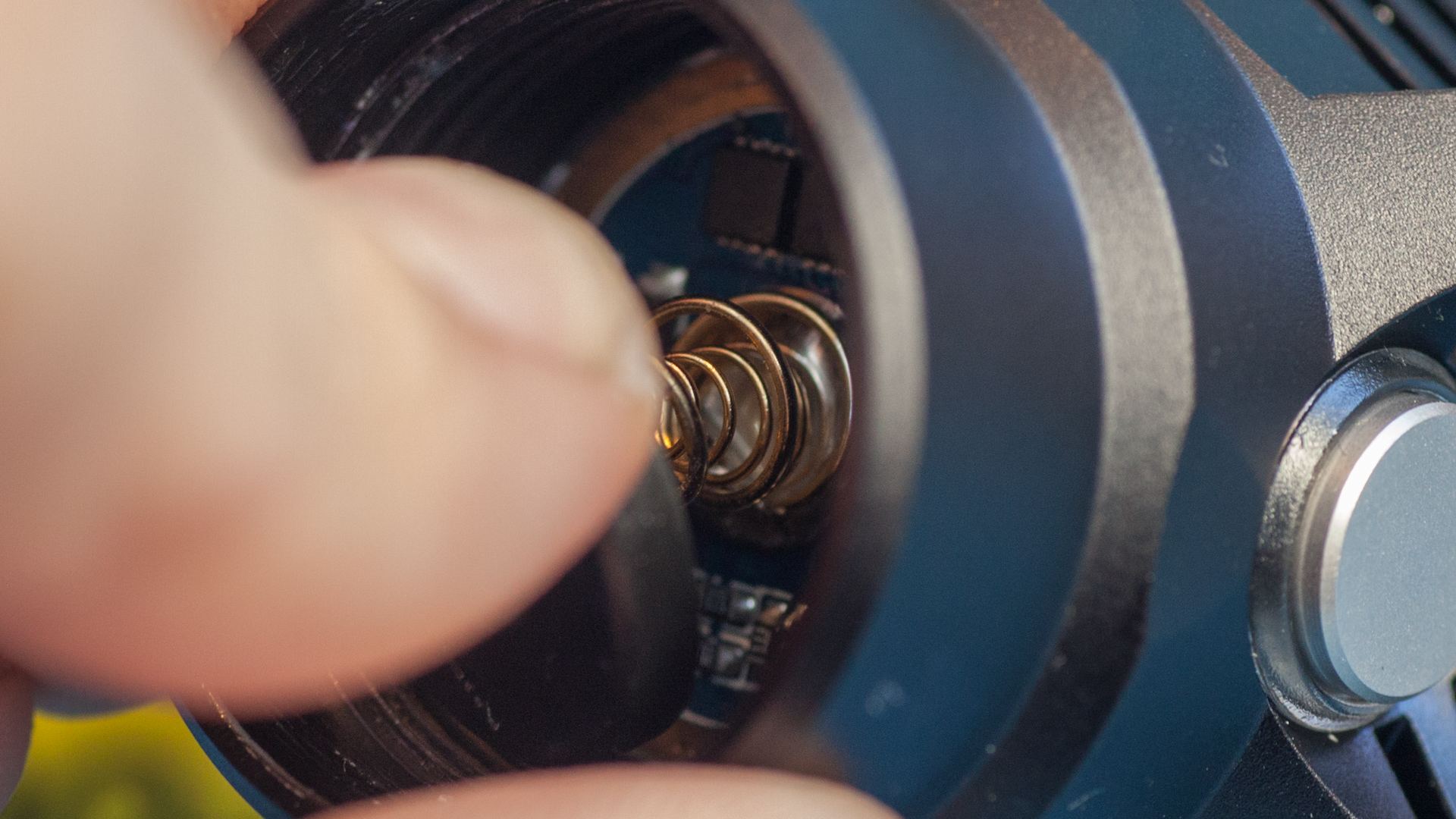 There are bunch of cooling fins, as much as possible and they are as deep as possible.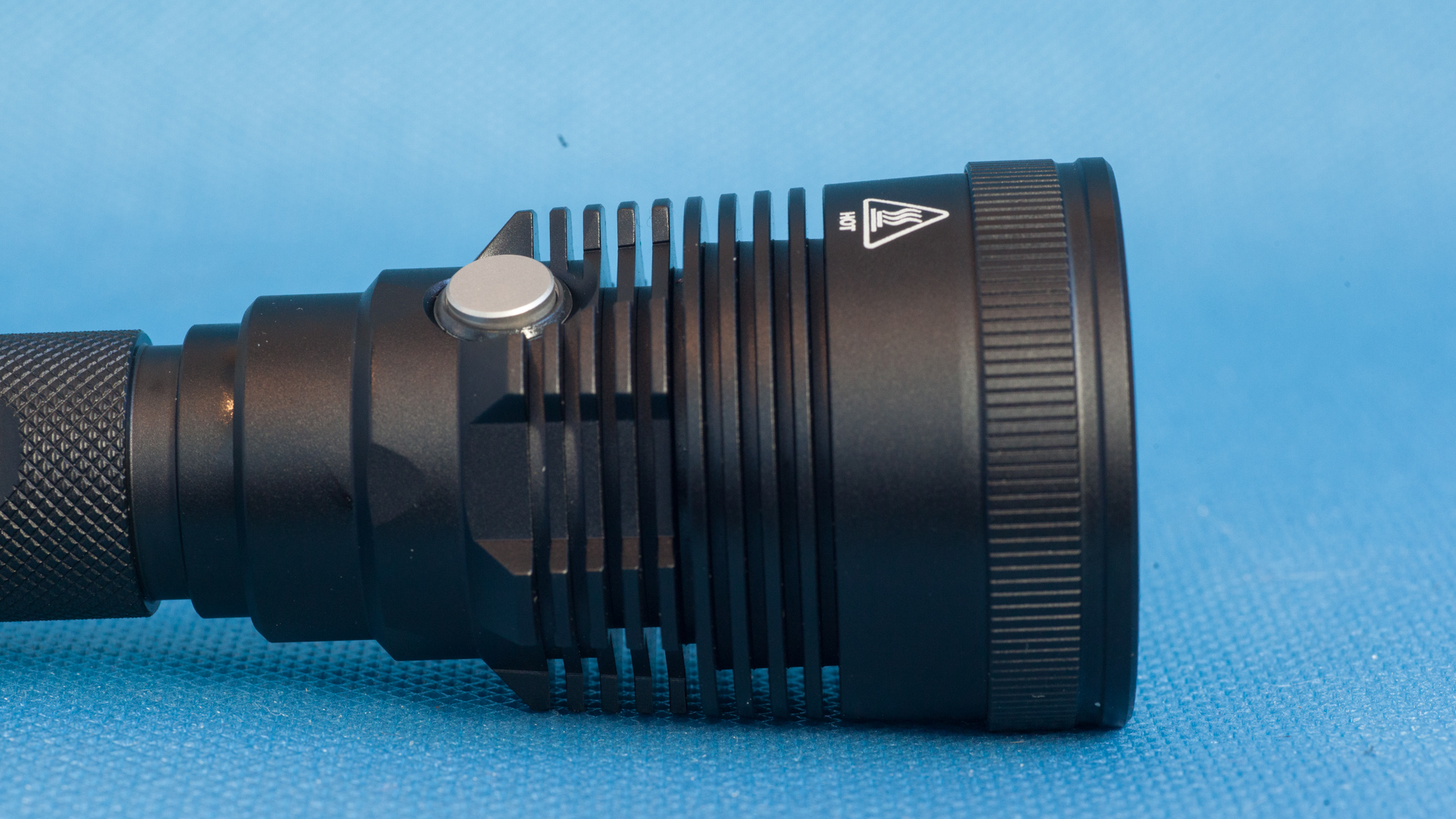 I don't know if placing button where it is now had some intention, but it is definitely better to place it exactly there, so chances to press it occasionally are low. And that is no problems for finger to locate it as well.
Actually, as tail button work for lock-out, user can keep pressing button with no result ) but still, that is good. BTW, as button has indicator ring around it, "button locator" feature would be cool.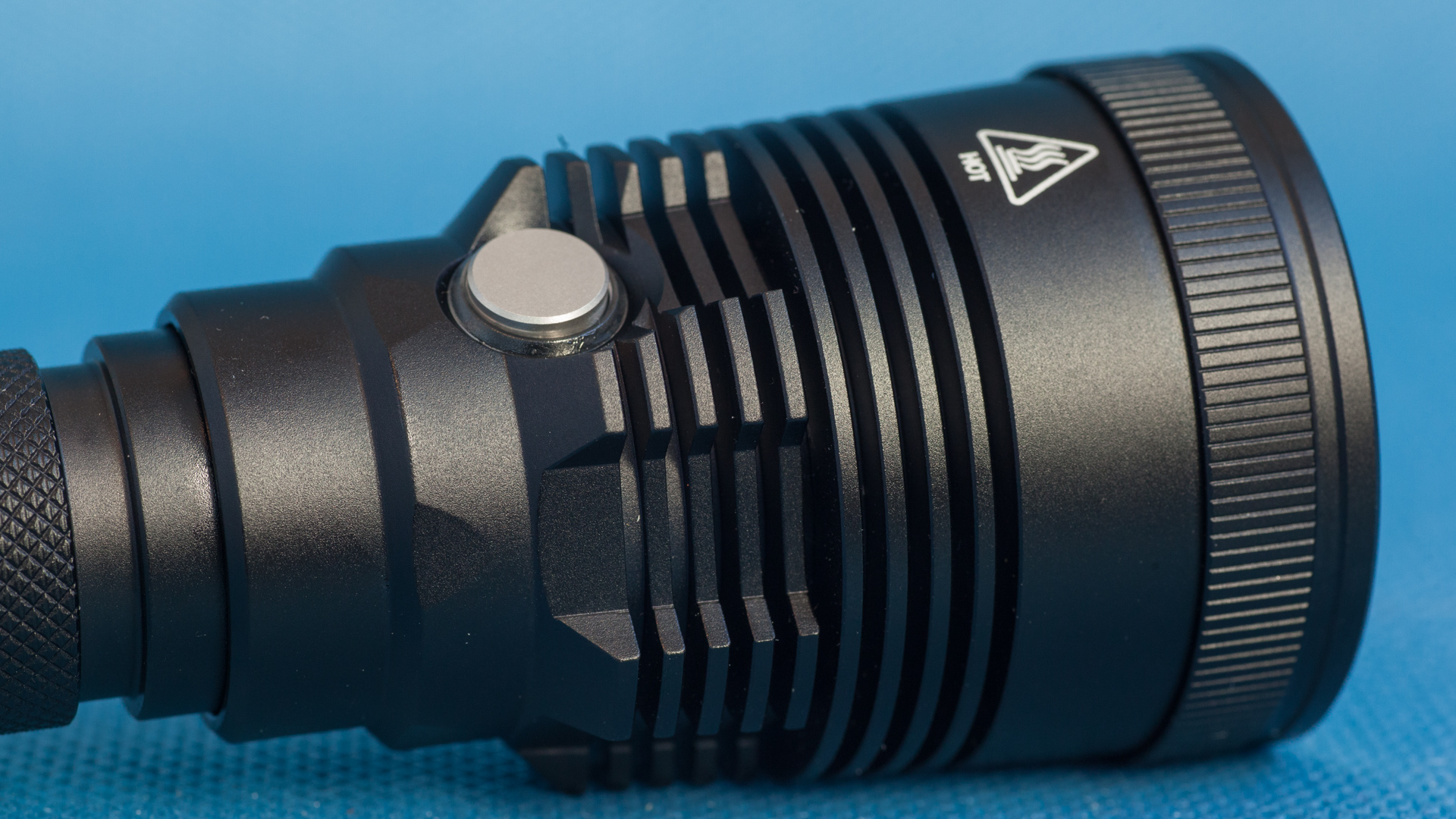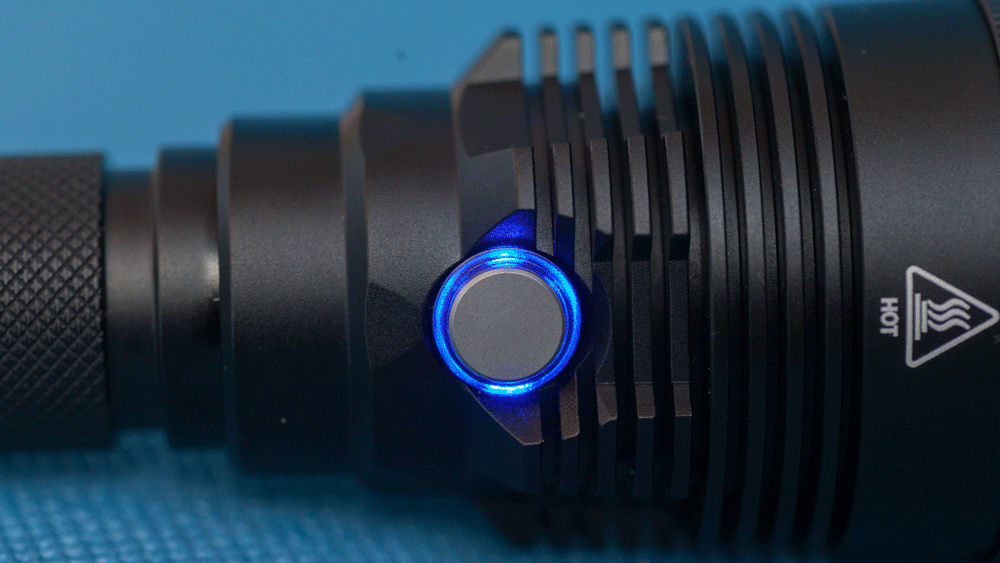 Glass is toughened, AR.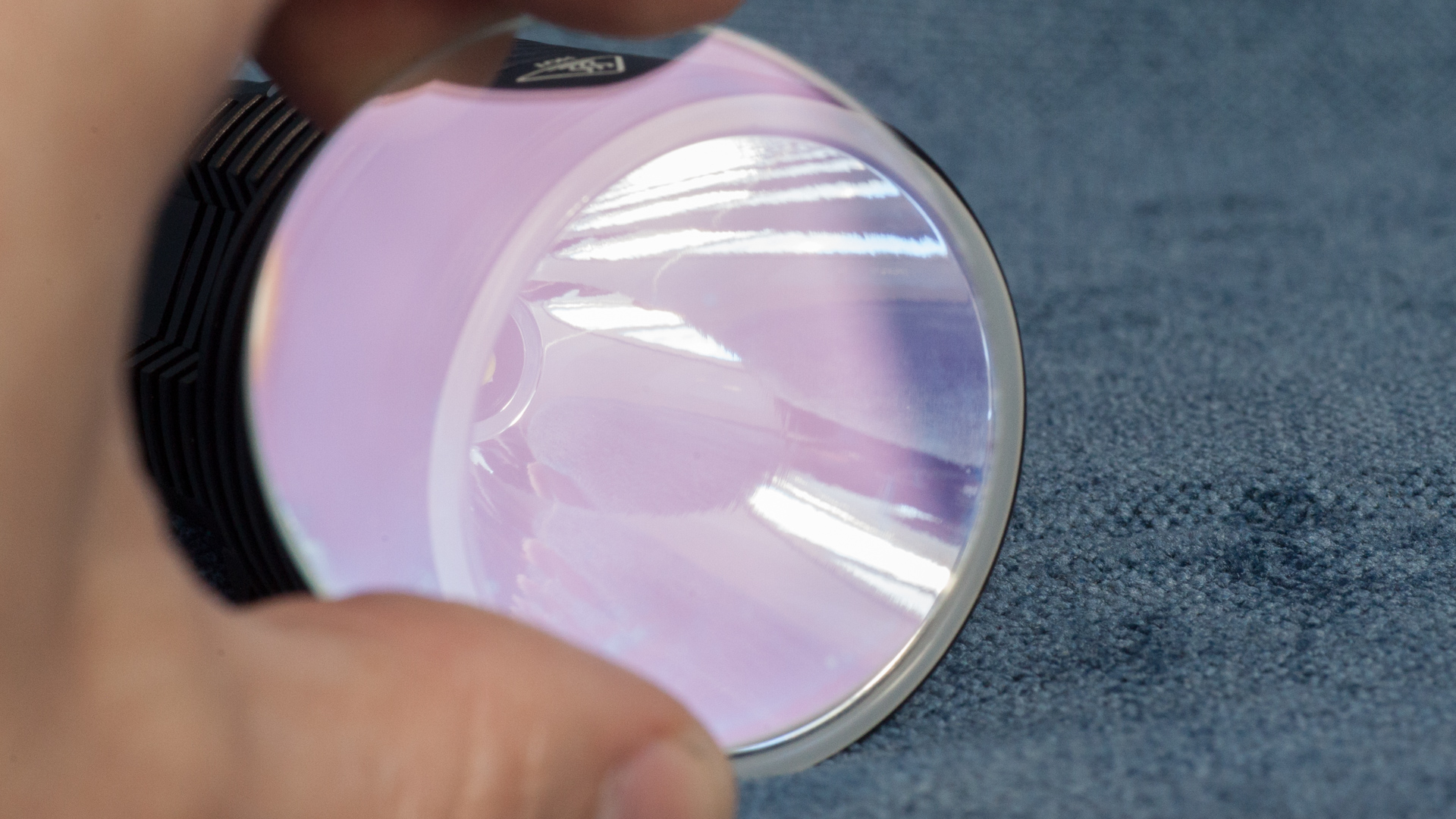 There is SMO + XHP35 HD under it. That is better than having Hi, as HD leaves wider sidelight. With being such bright, MT42 has decent throw anyway, but with such sidelight it is also not uncomfortable in short range as could be in case of classic "piercer".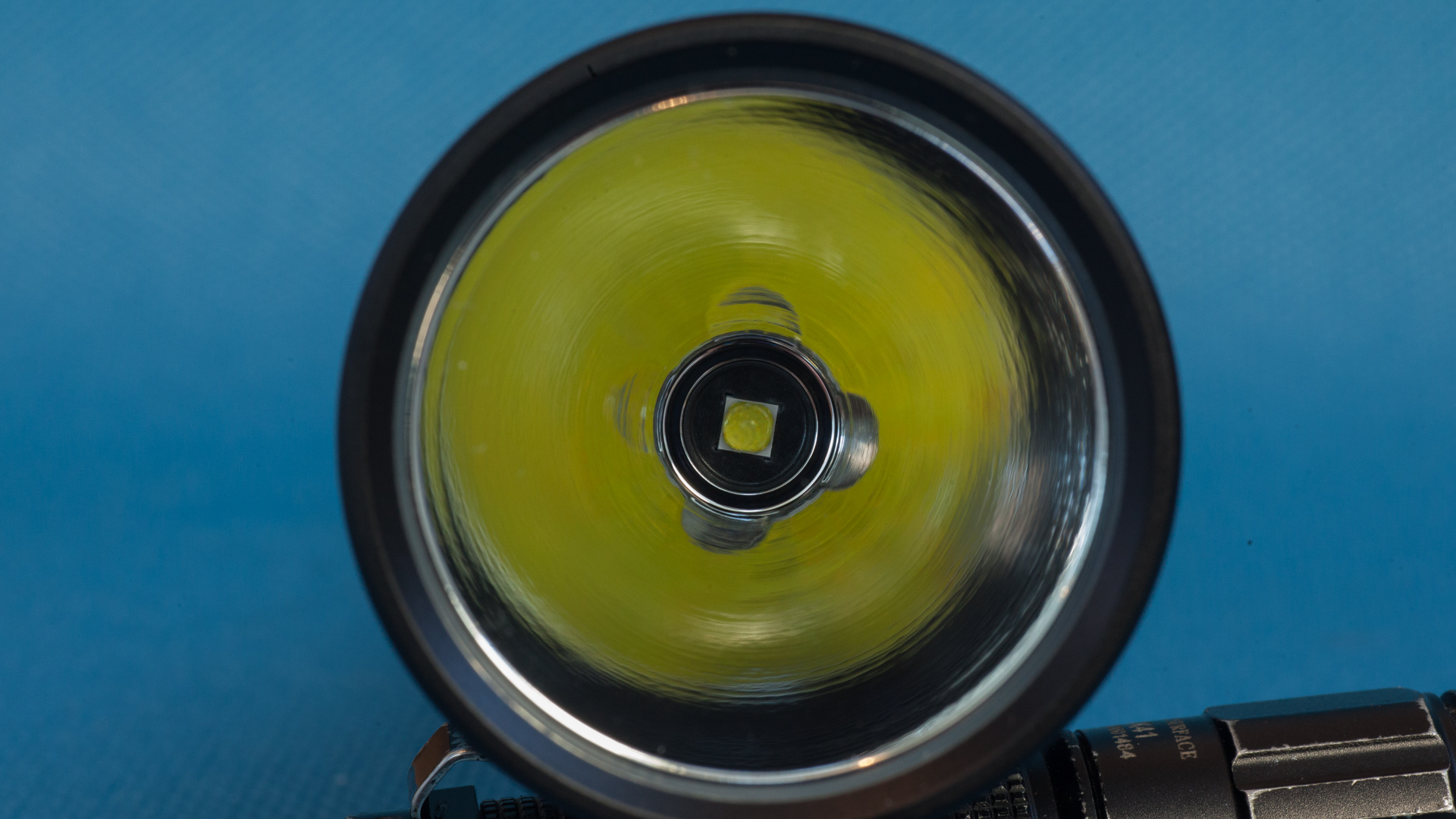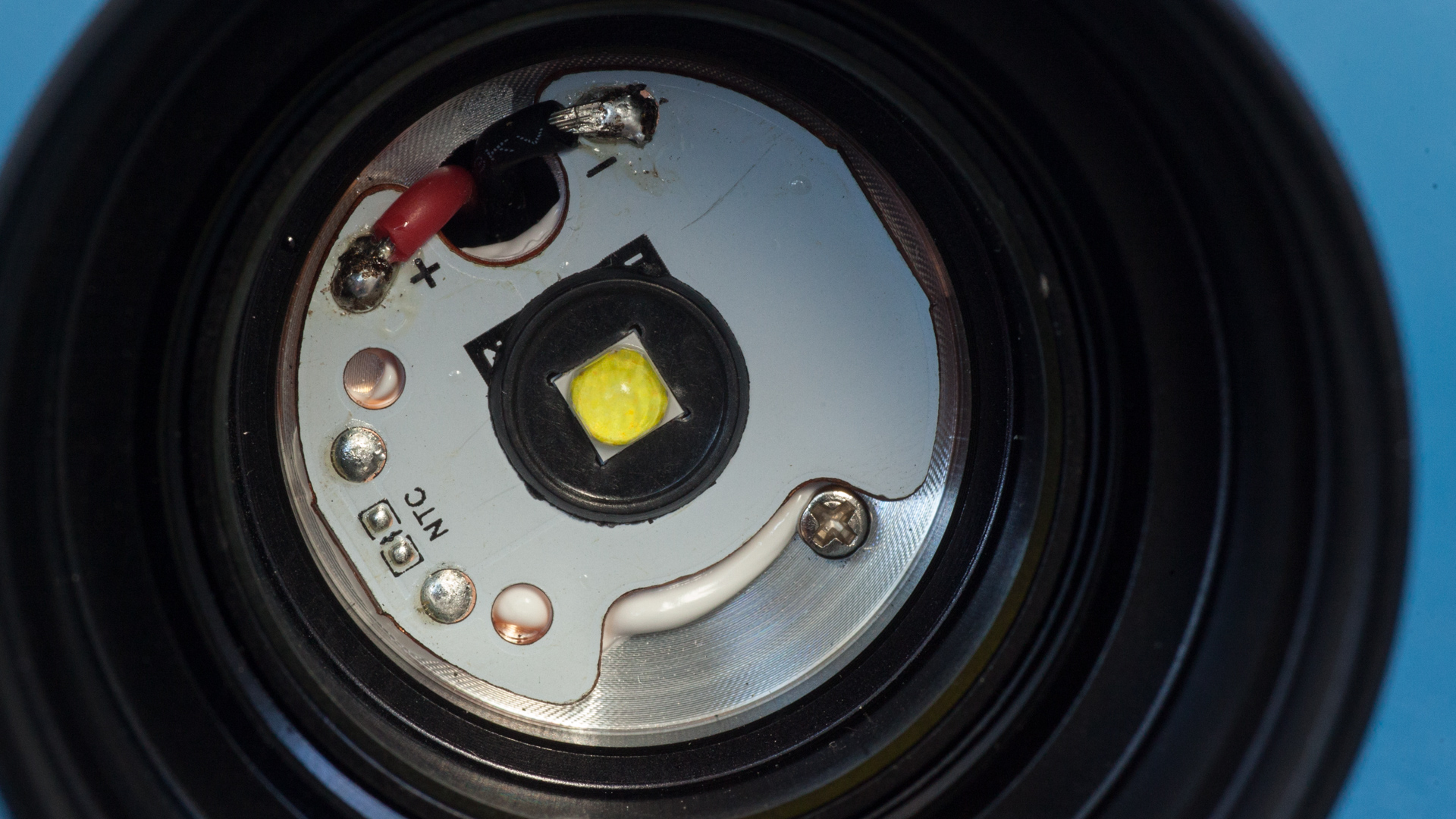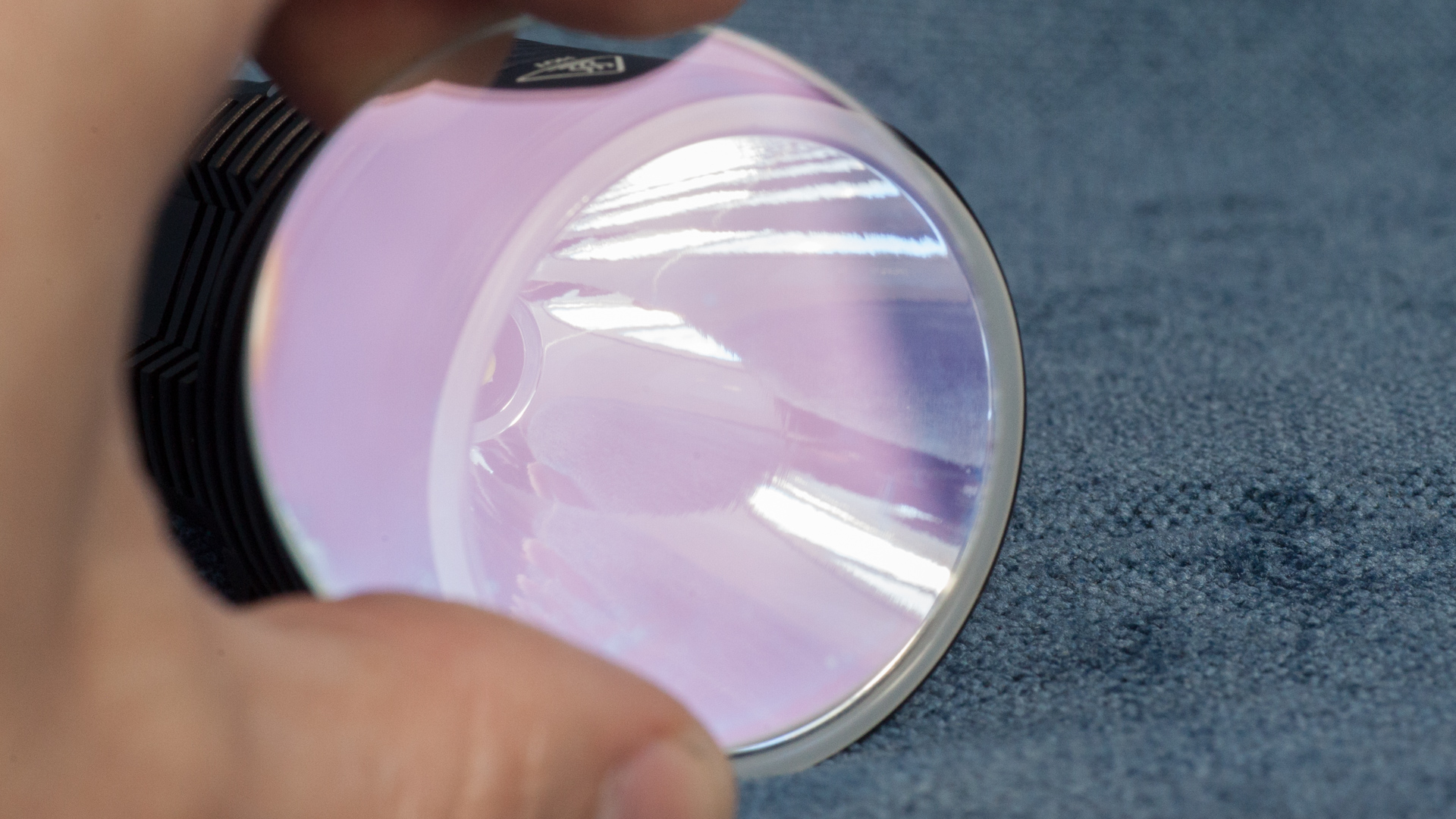 UI.
I like ui, it is convenient and simple.
What I don't like – light turns on after battery check.
May be instant LOW would also be usefull
PERFORMANCE
No PWM-shimmering at any mode.
Light is* CW, 6000k. *Though at 1st I thought it is warmer, as there is yellowish halo around hotspot. As far as I remember, that is typical for SMO + XHP35 HD.
*Light distribution *shows good balance, as I mentioned before, sharp central beam + still bright sidelight.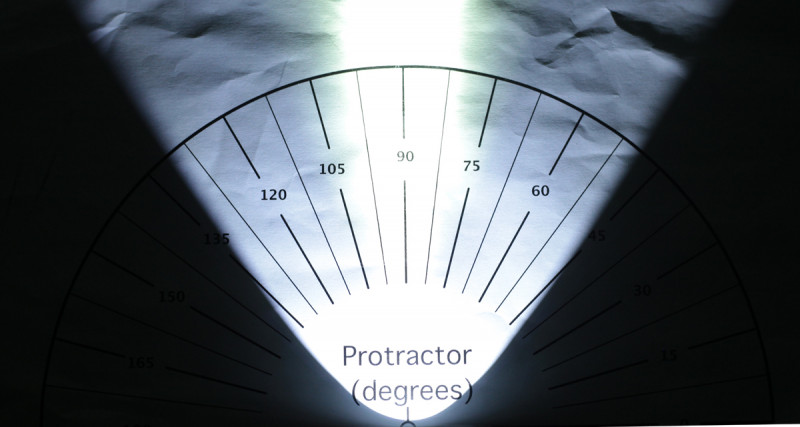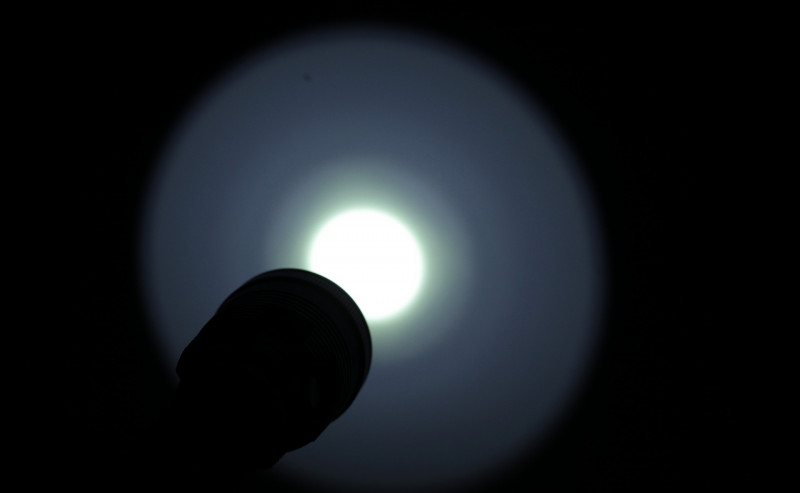 Amperage 0.005\0.068\0.26\0.92\3,5
BTW
, may be there is a overdischarge protection, but I haven't seen it as light falls to ultra-low mode in which it can work for ages, until user turn light off. Button blinks crazy in this case. No chance to miss it.
Light is well stabilized, also you can see influence of thermal regulation. Being cooled MT42 shows good smooth line in turbo, with no "saw-teeth"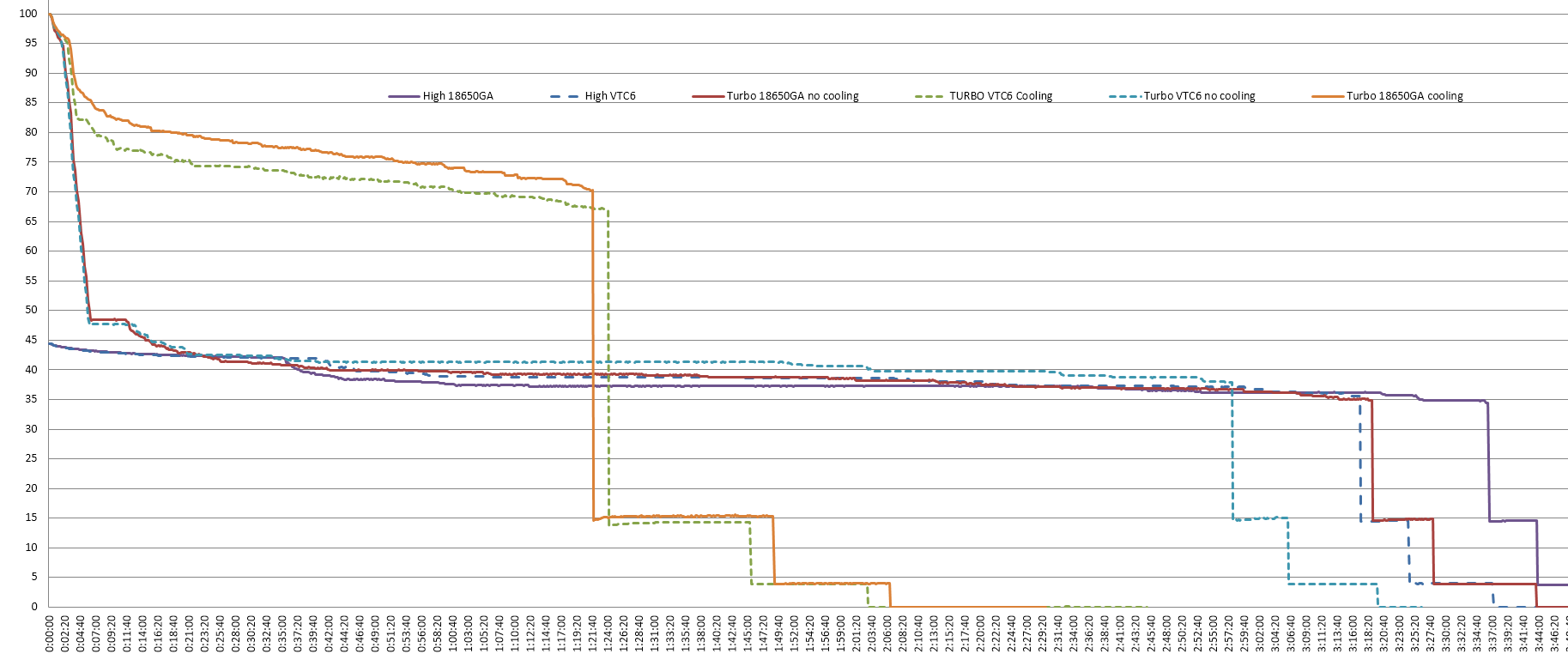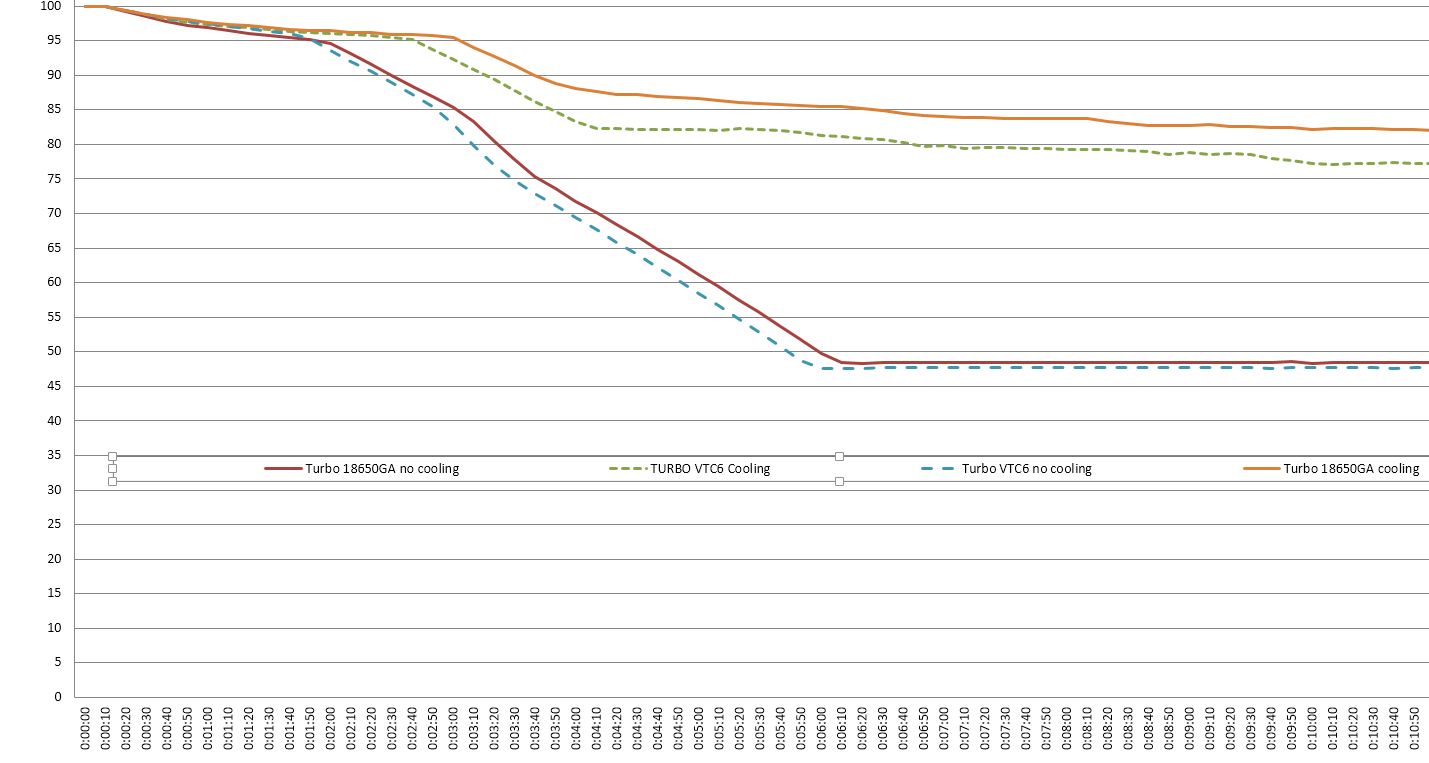 20m range is not the proper distance for MT42, but at least pics show that even ultra low is enough to make things in this range visible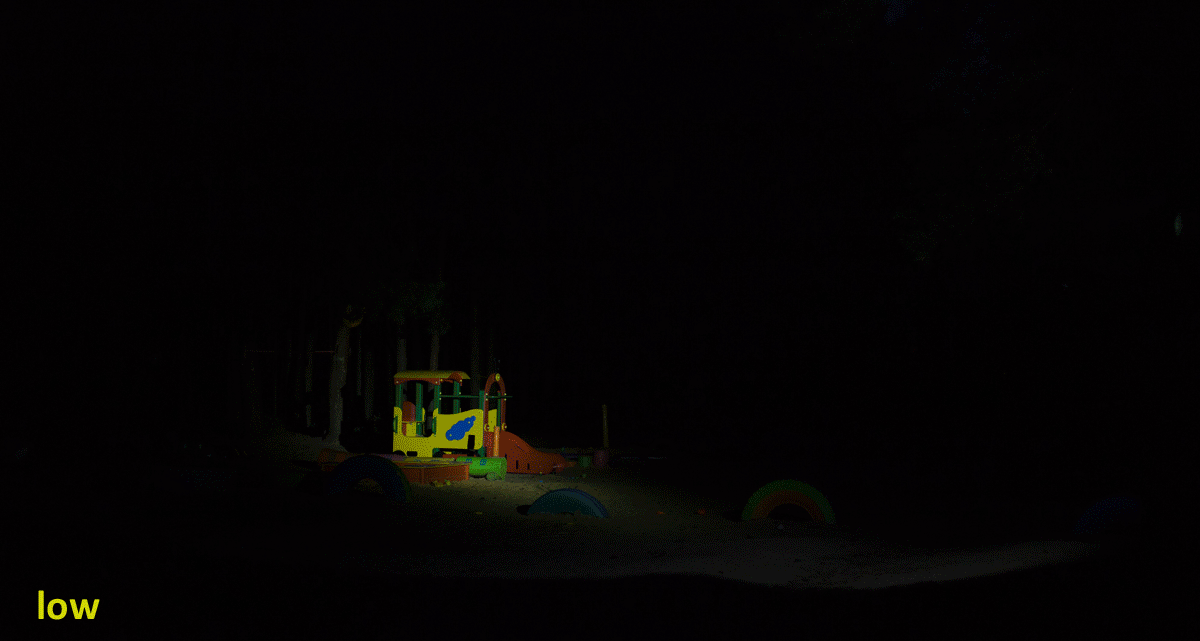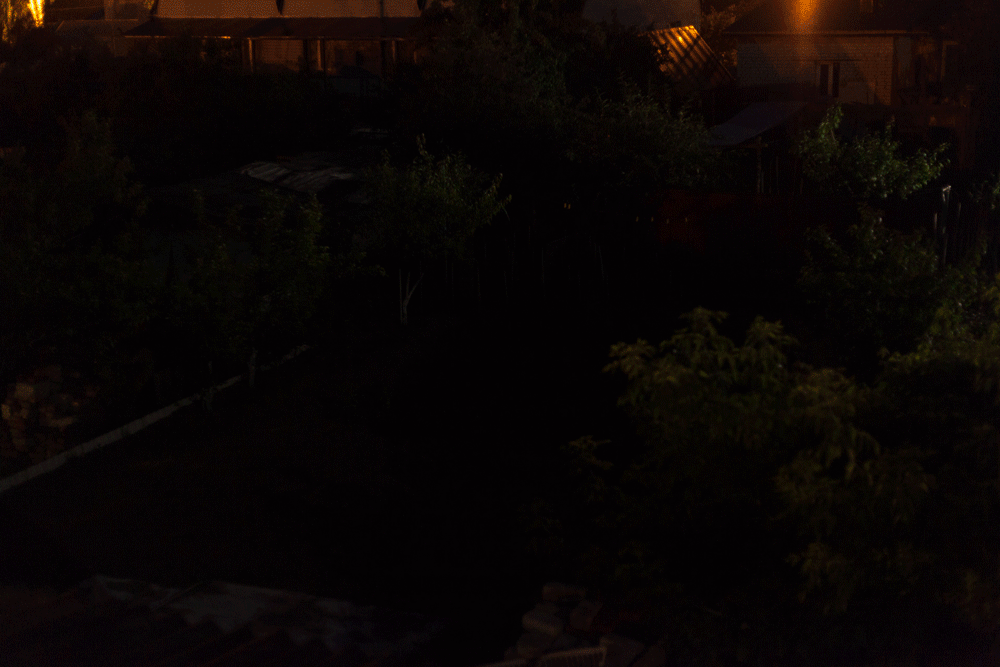 And about 100m range is a way better, it fully reveals potential of this light. I thing this best work range for it, as MT42 performs good in HIGH, and this is the level that Turbo falls to after stepdown.
175m shows that in turbo MT42 has good throw with bonus of bright sidelight.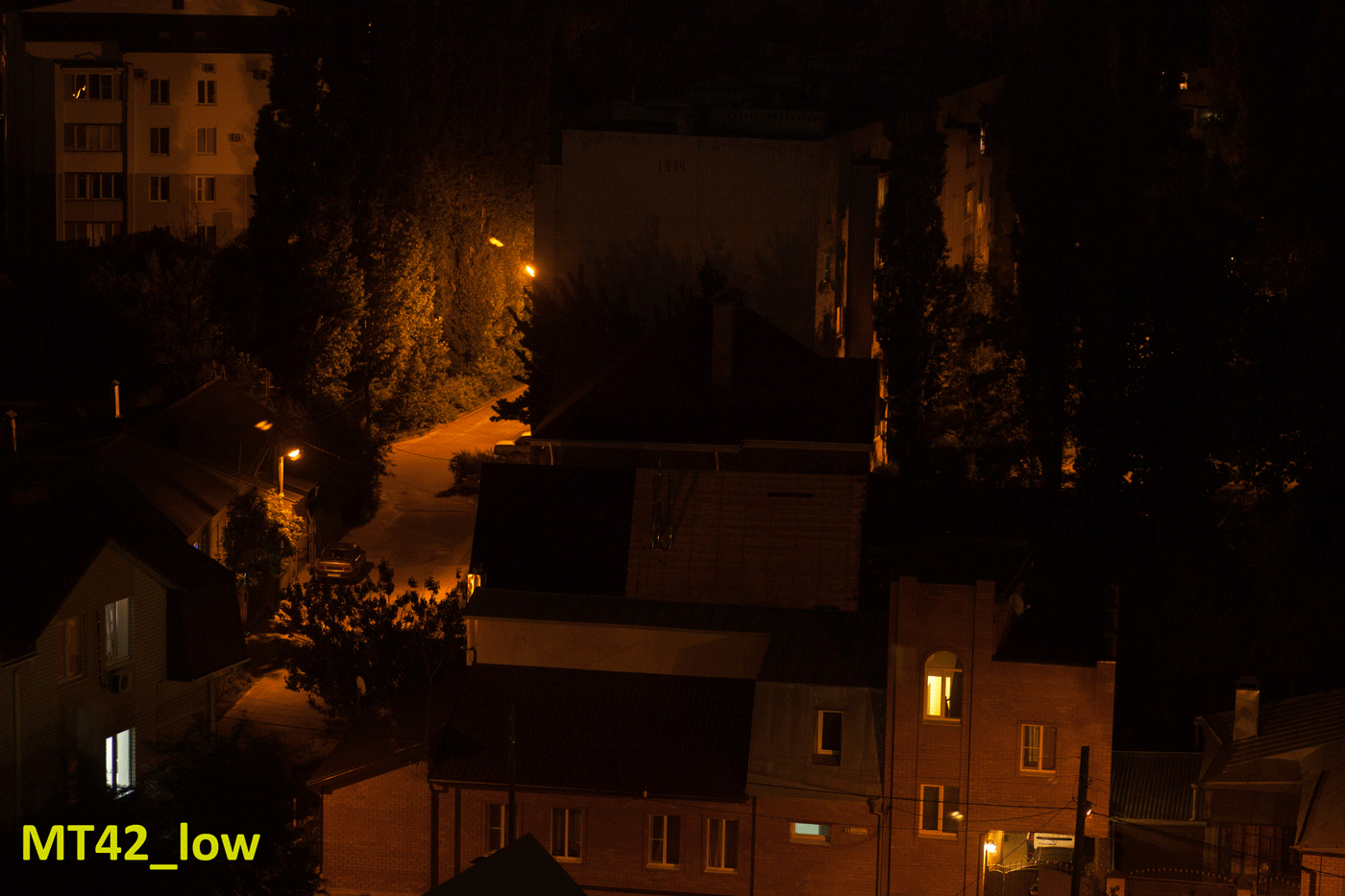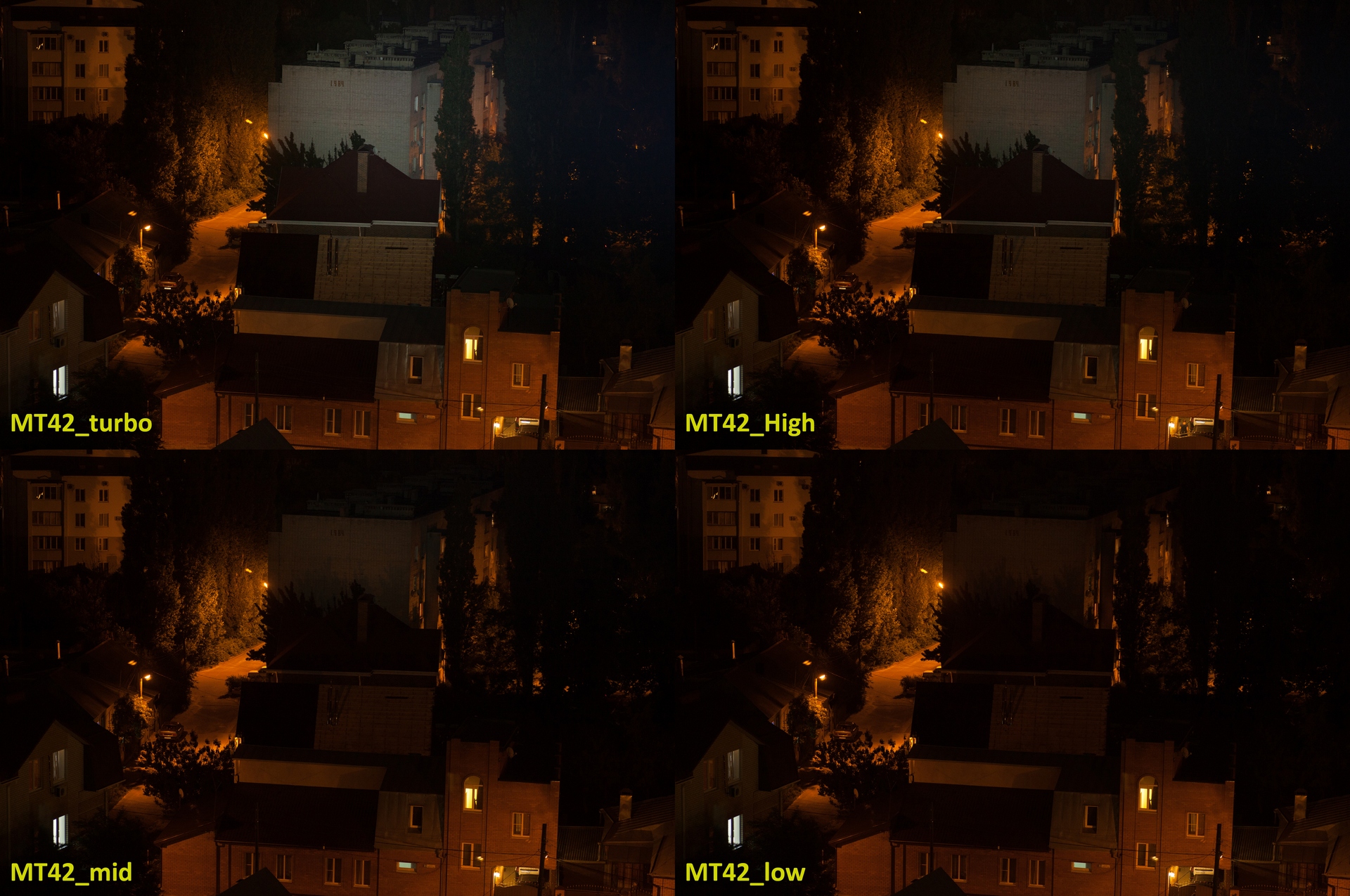 OVERALL
+ I don't see anything to complain about build quality and\or appearance.
+ What about performance – I like balance of decent throw and sidelight.
+ UI is ok for supposed use.
+ no PWM-shimmering
+ good set of modes
- it gets activated after battery test.
- no instant ultralow
- no NW version