One more update of Fenix flashlight. This time it is UC35.
Here is a product page at Fenix website.
You can buy Fenix EC35 V2 at
➤ Aliexpress
➤AMAZON
➤ NITETORCH they generously offered 20% code HJK5KDNQ valid for all the items in store, including other brands
And vivid chart of differences.

PACKAGE AND APPEARANCE
Standart Fenix box that all of you have already seen and met. Good design, good print and cardboard.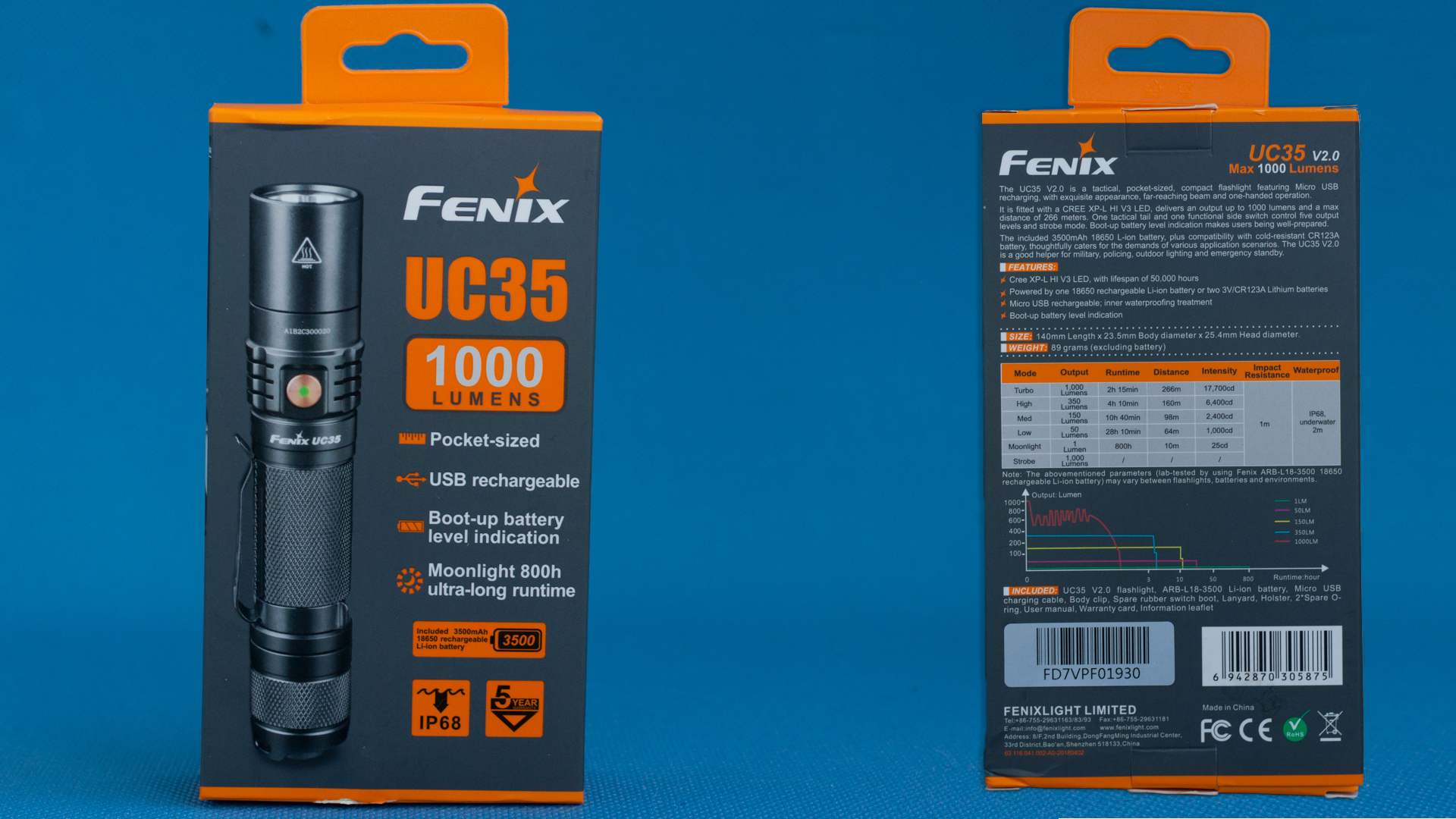 I like that Fenix started adding runtime chart at the rear side of package. That is way better than regular "2.5 hour in turbo" without mentioning stepdown.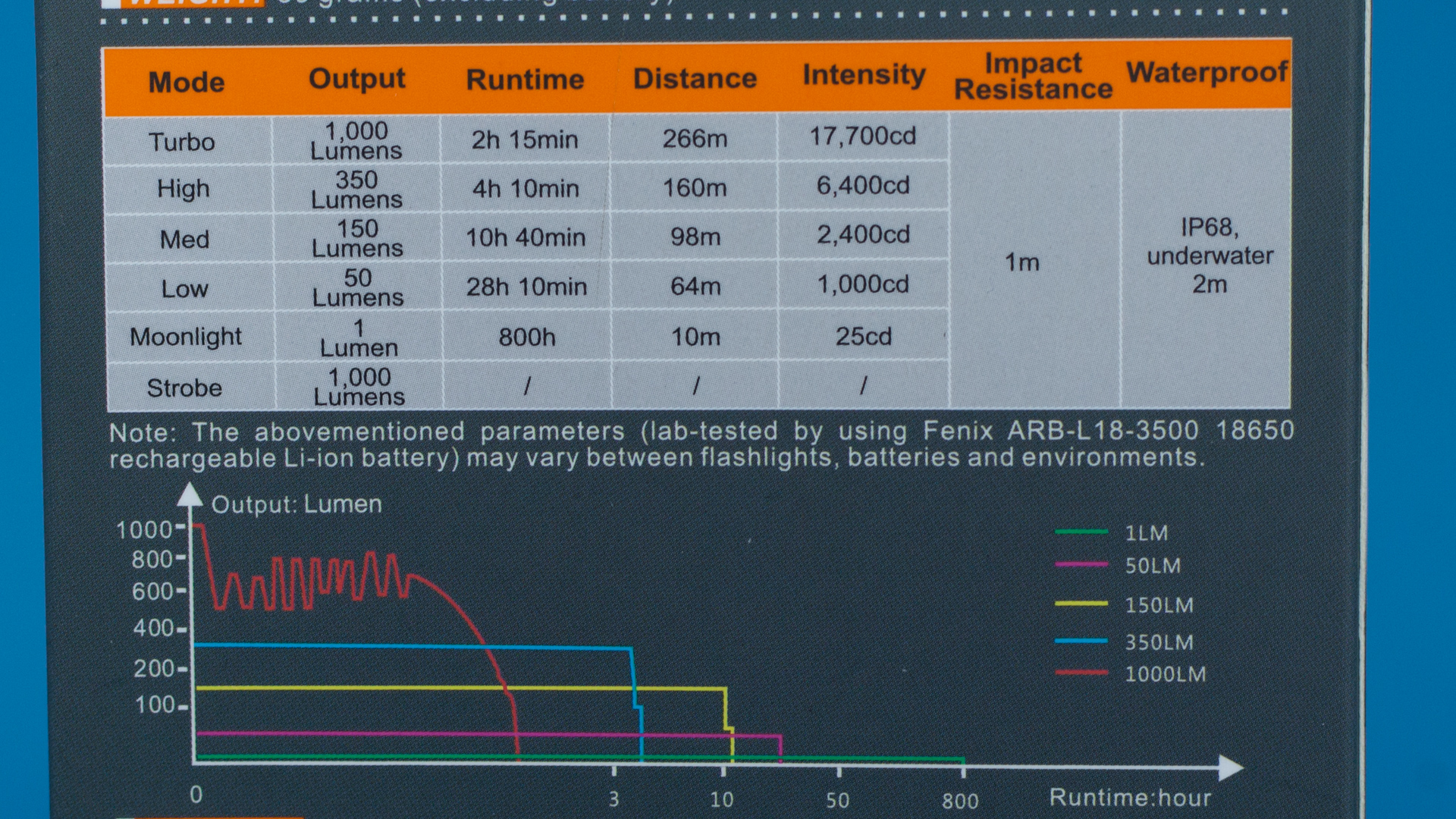 Set includes a lot of stuff, all the necessary things are here: flashlight, ARB-L18-3500 (3500mah), USB charge cable, lanyard, spare o-rings + rubber button, holster, чехол и manual\warranty card.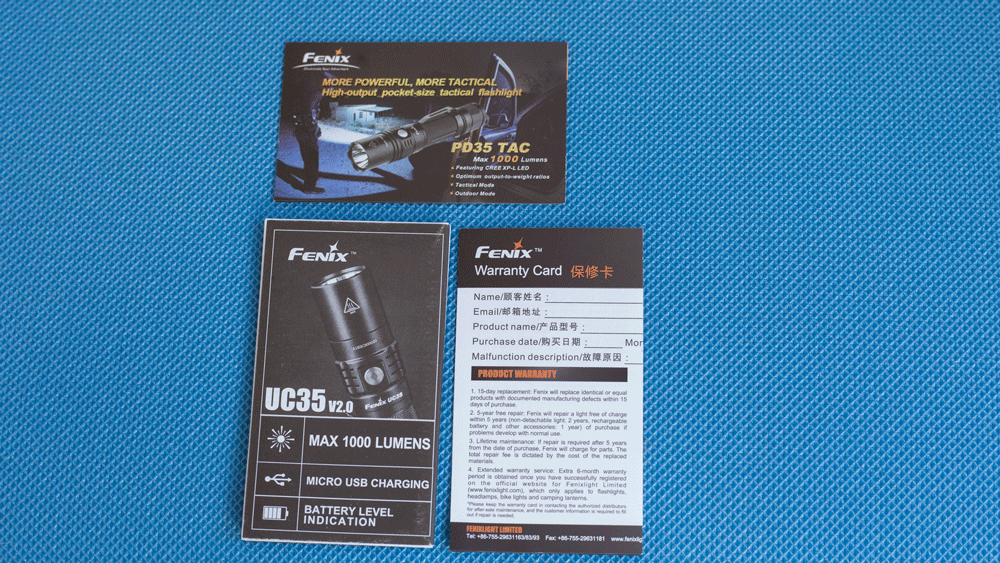 Holster as holster, nothing special, just good holster.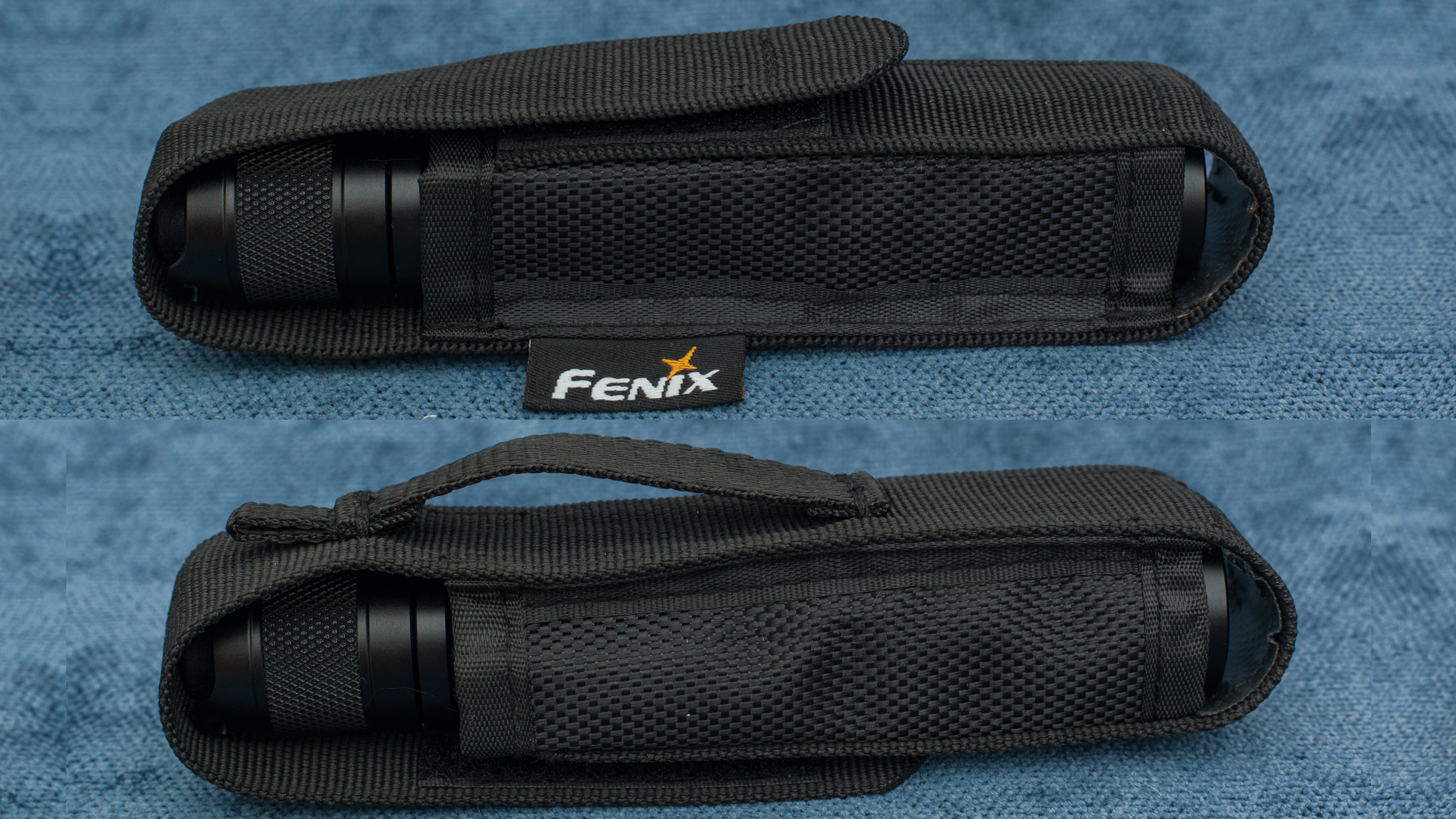 And here is UC35. No "this and that" design decorations, it looks quite simple, the only thing that impress from the start is button.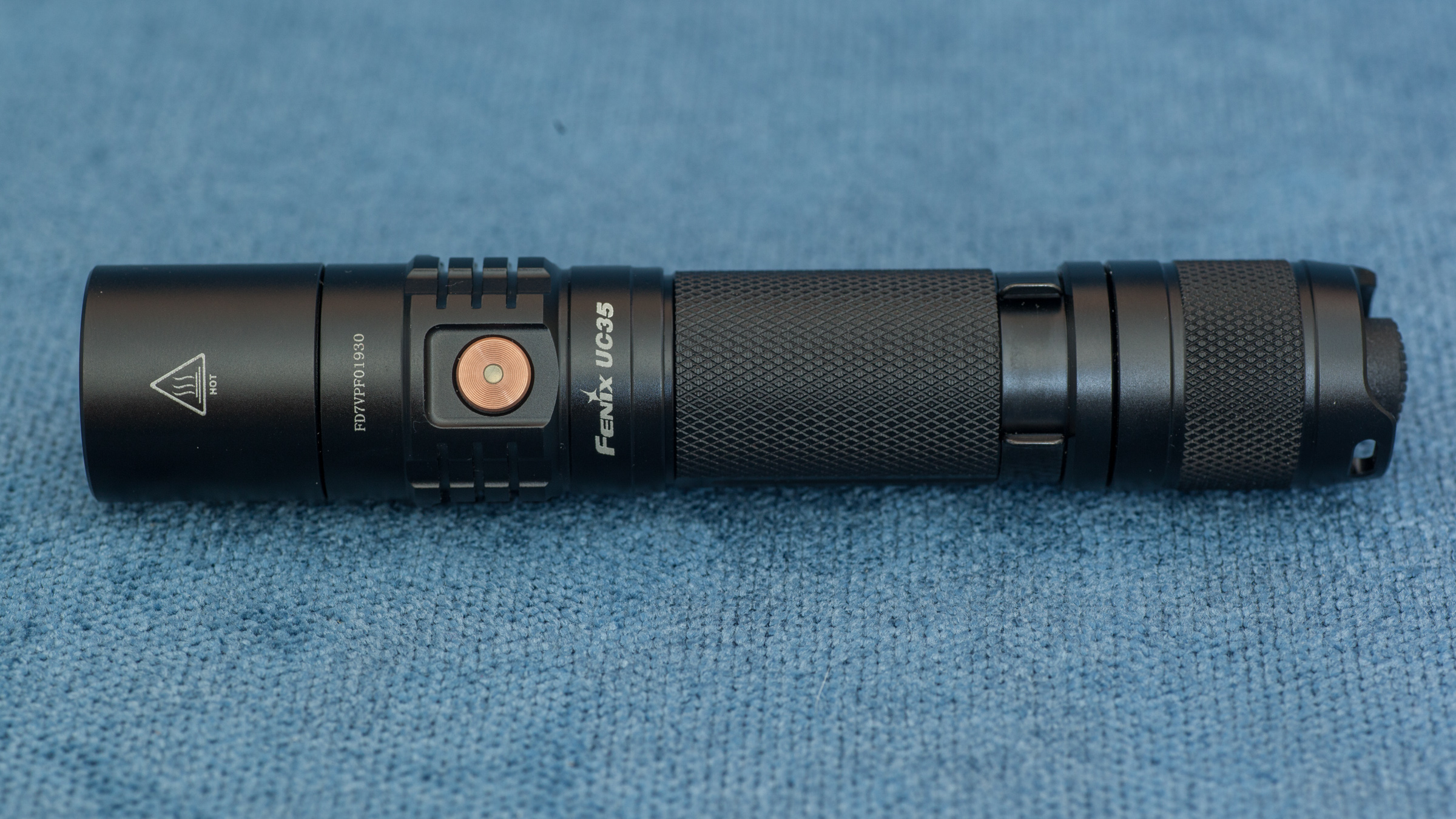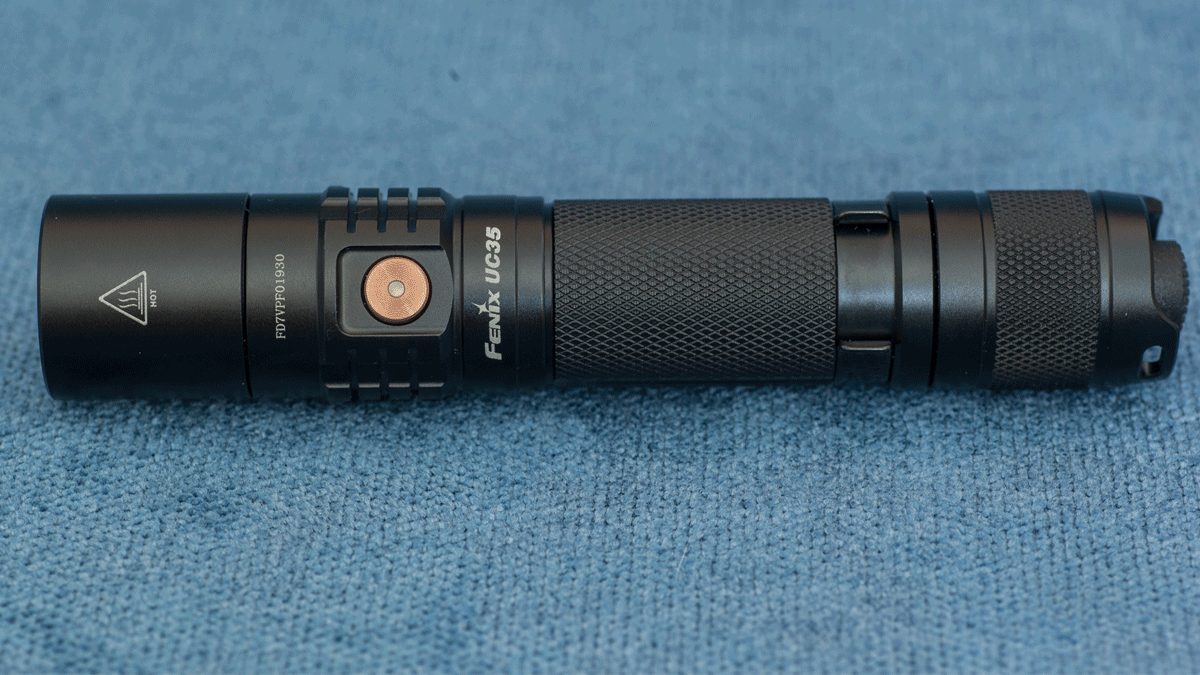 Flashlight definitely walks the edge of EDC size, being significantly longer than S2+, 140mm in some case may be a big number for pocket light, but in hand this length is OK.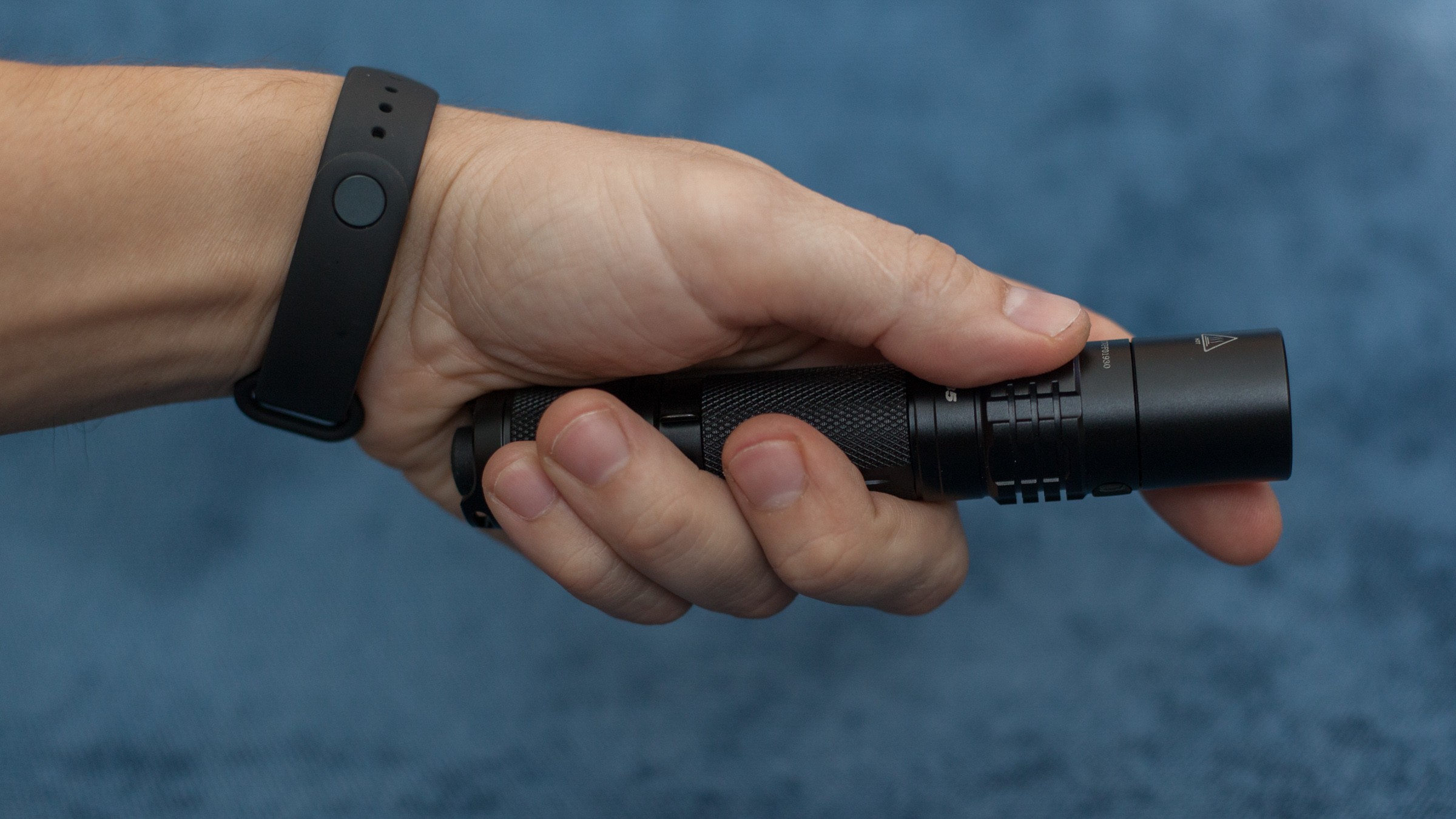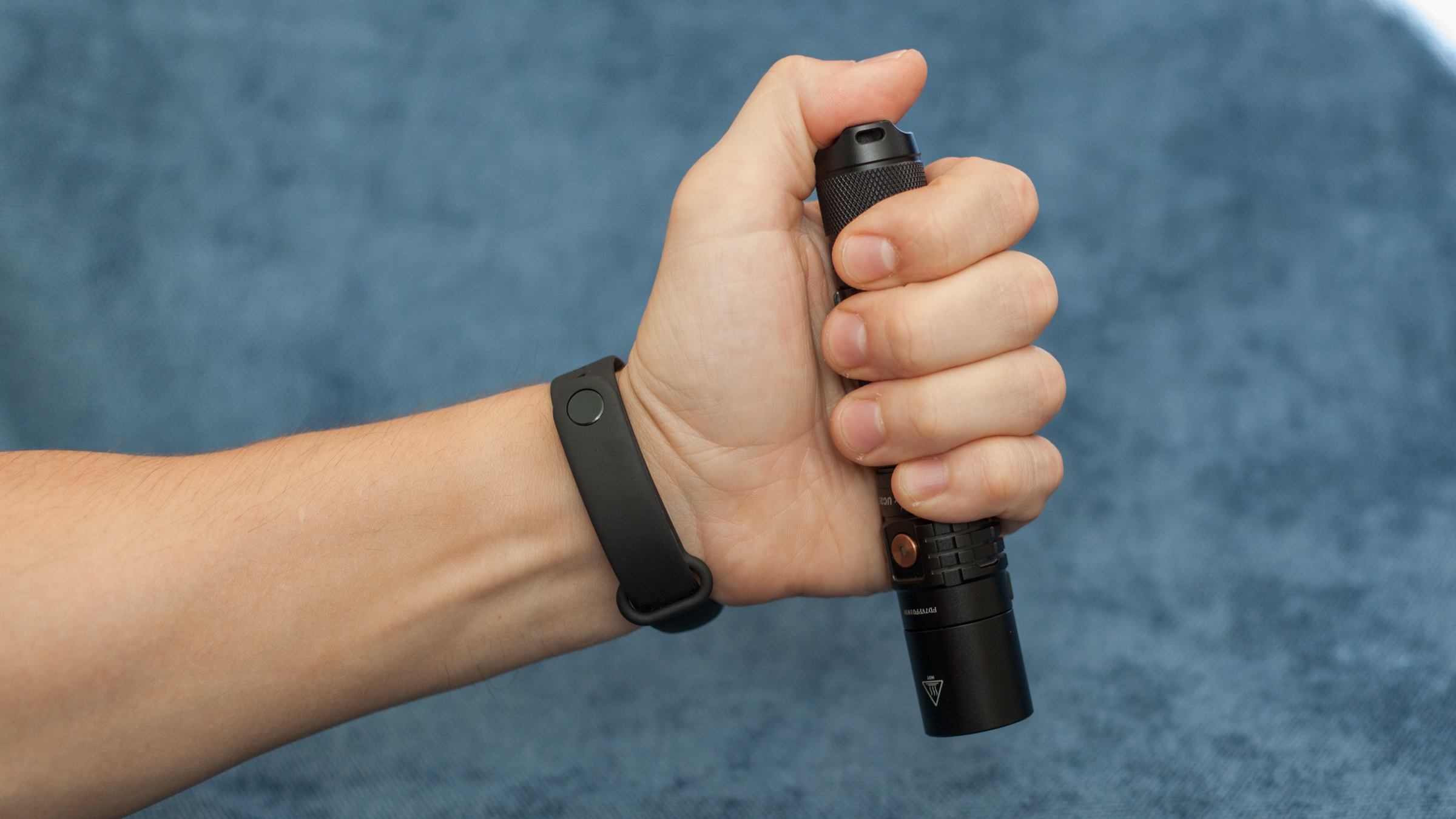 Still, comparing to some other lights, UC35 is gentle as ballet dancer -)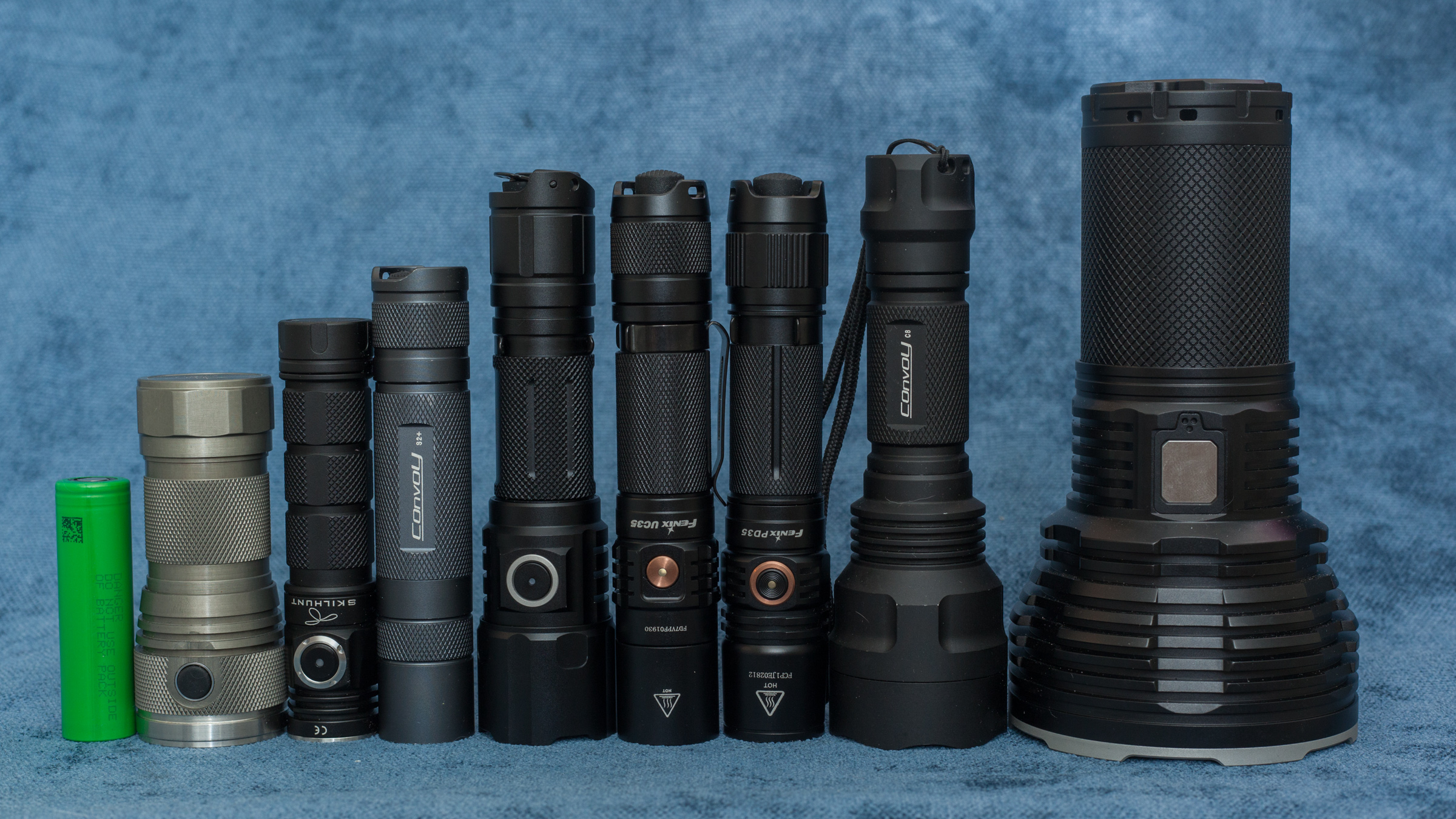 BTW, I got PD35 v2 at the same time, as you can see visual difference is minor.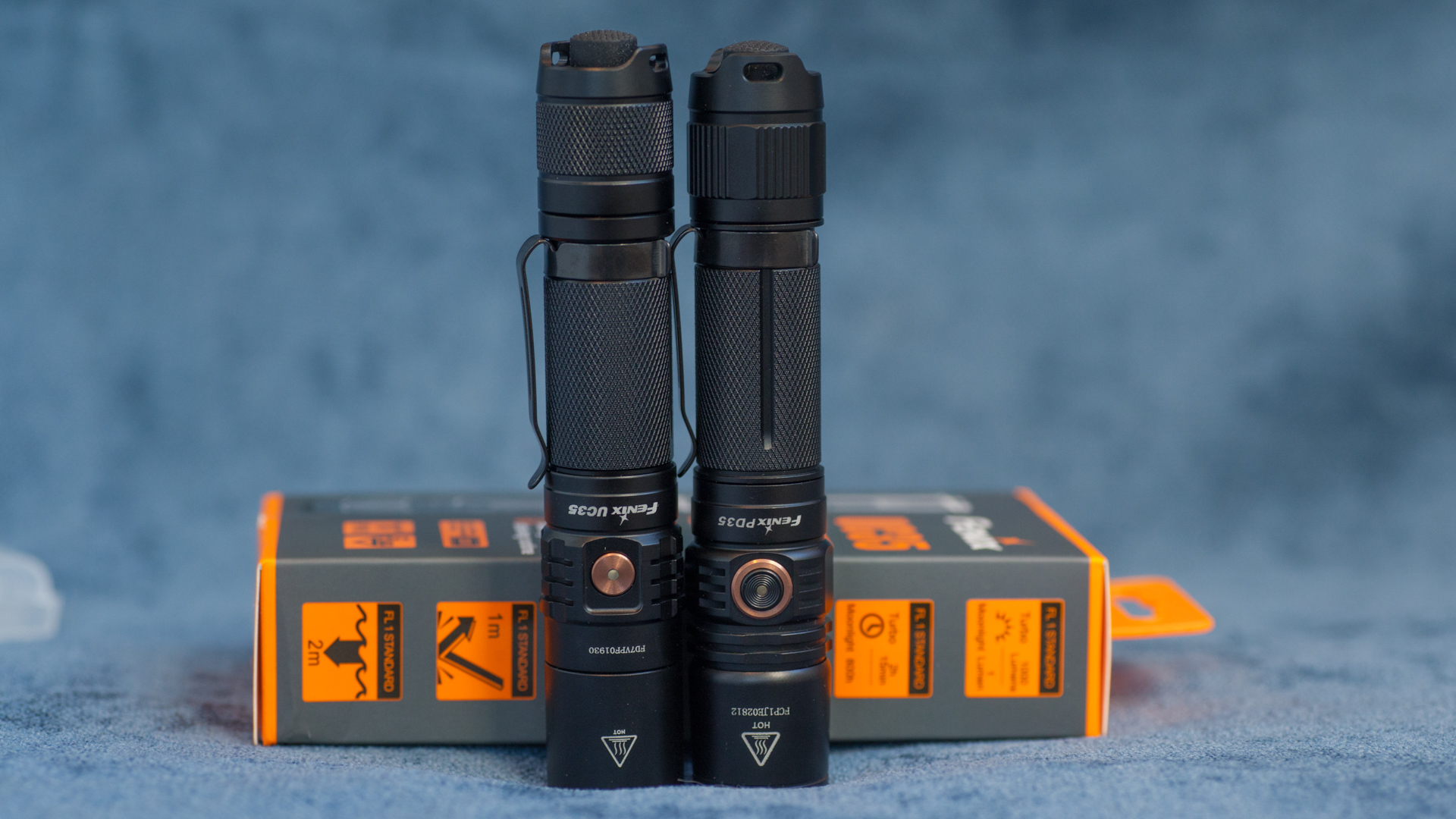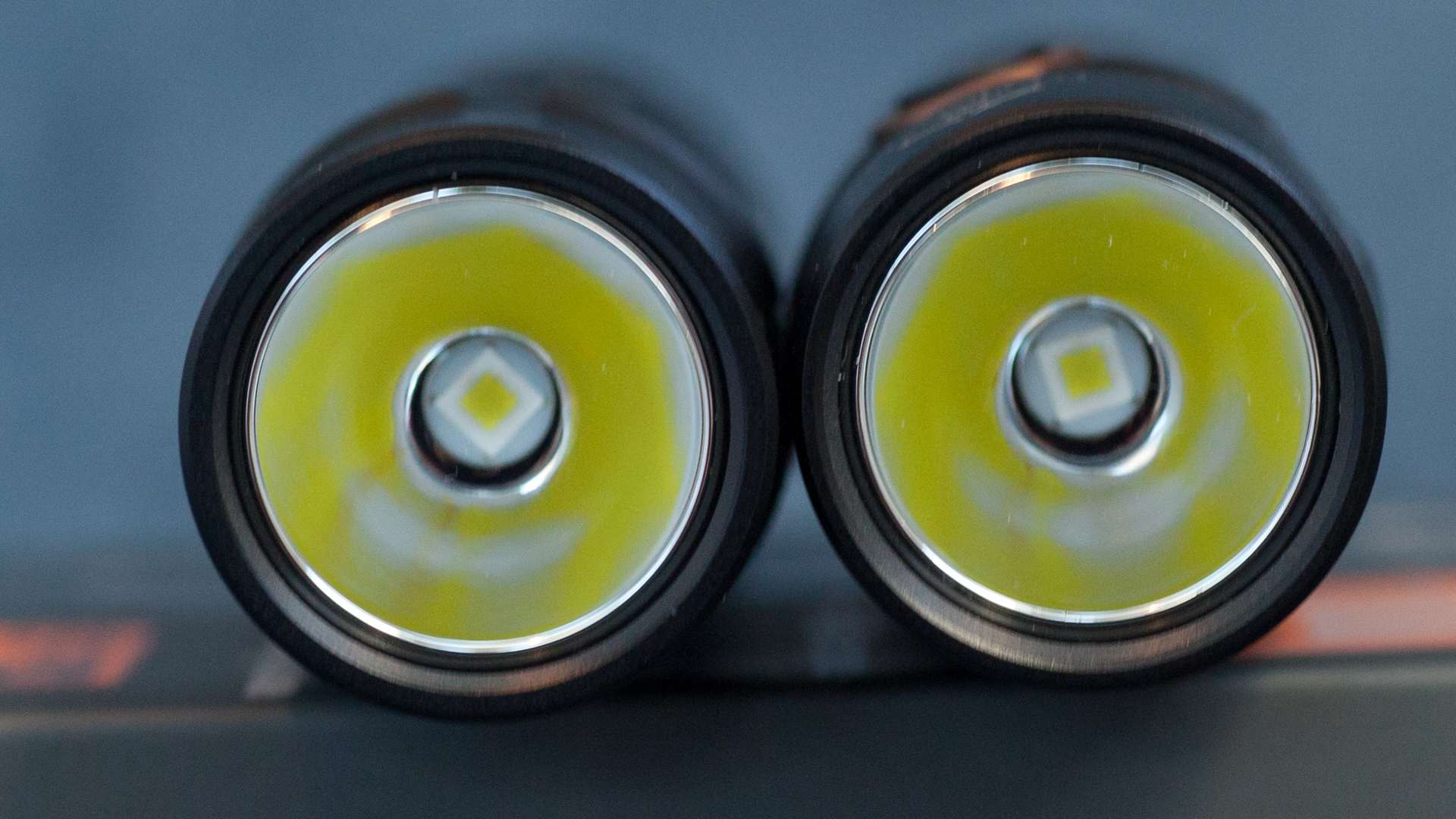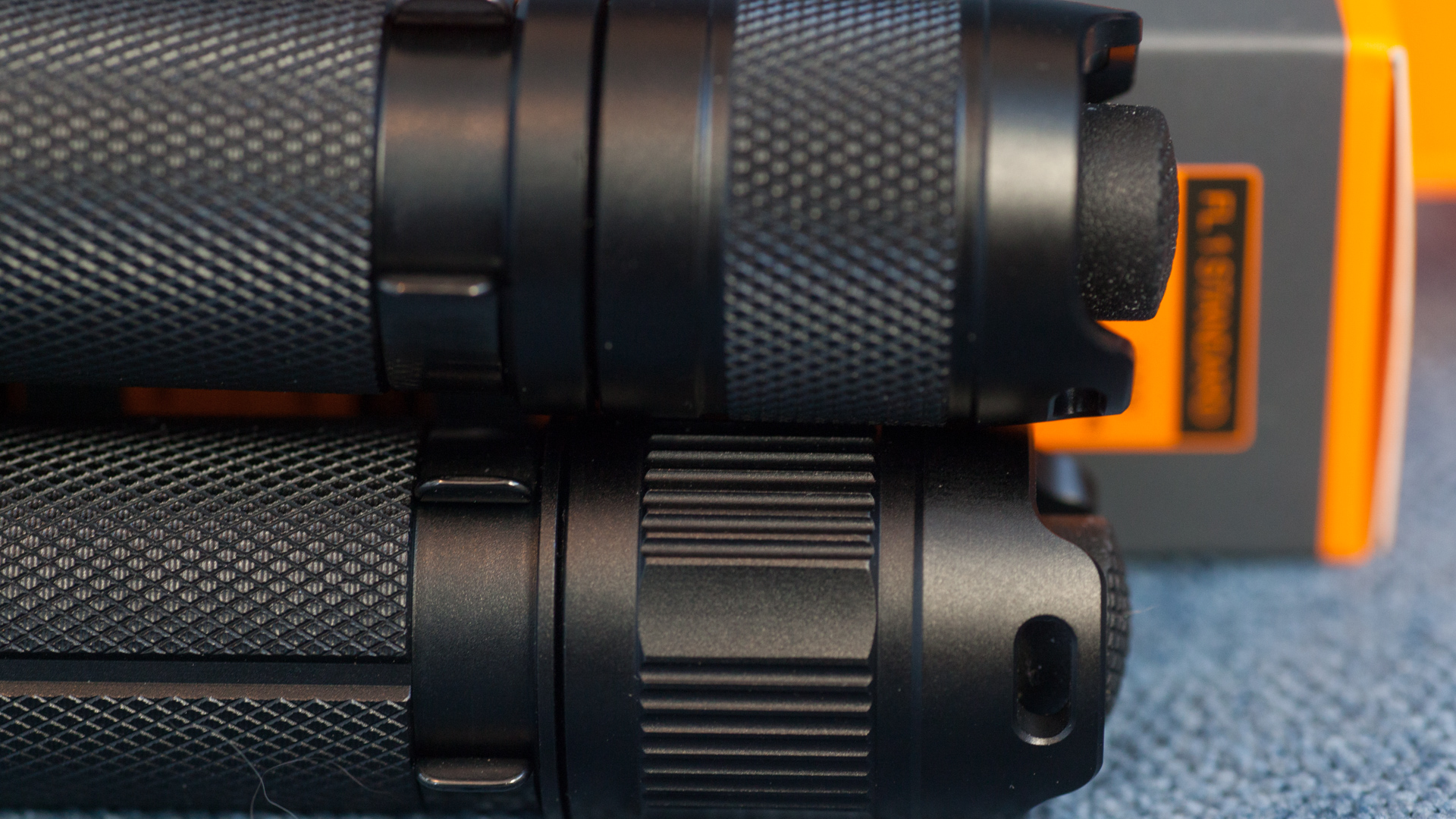 Tail is U-shaped, no tailstand as button is too long for that. Though, I don't think any user of this light will need tailstand. Tailcap knurling is quite catchy, so it is easy to take tailcap off even with gloves on.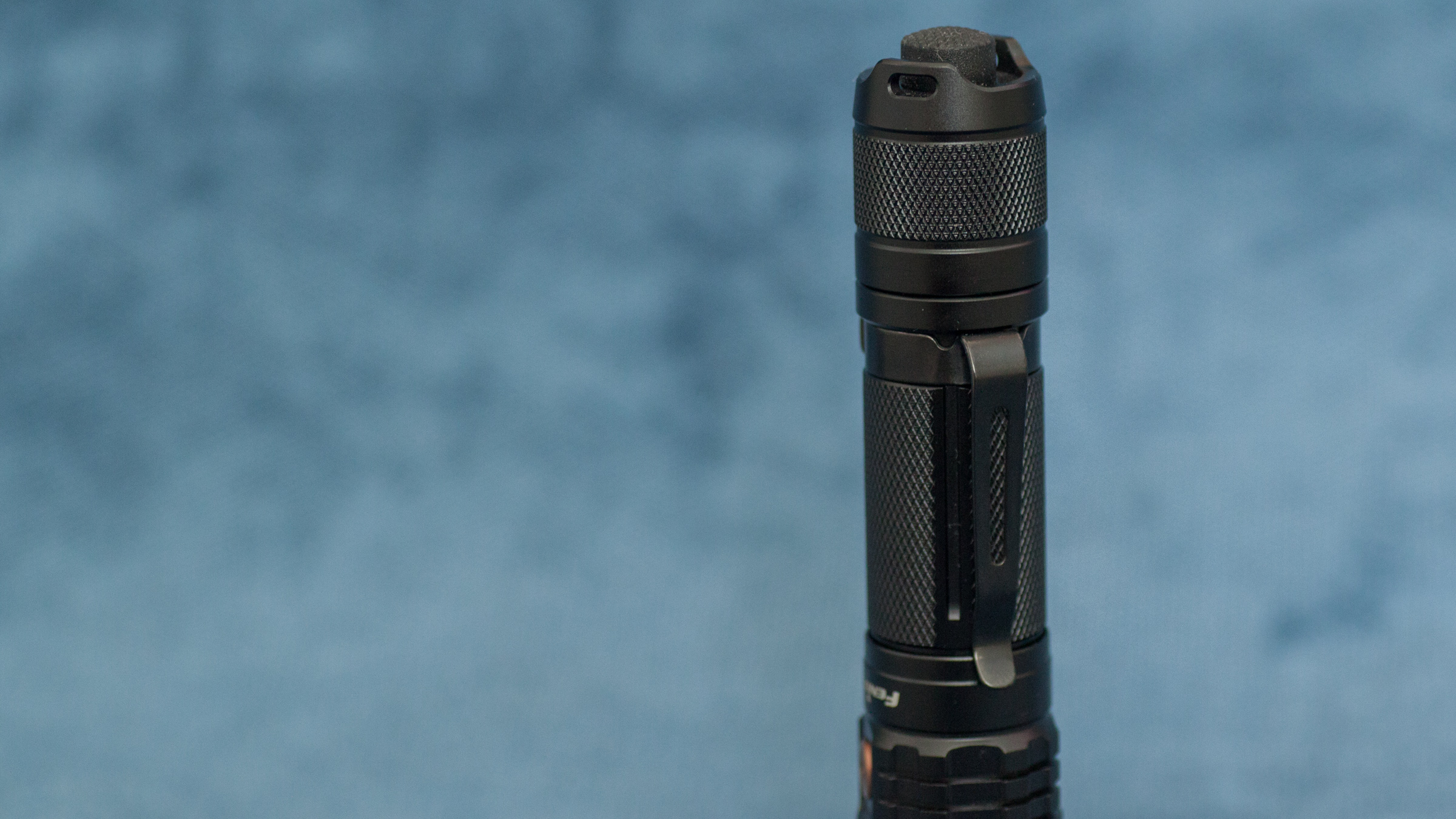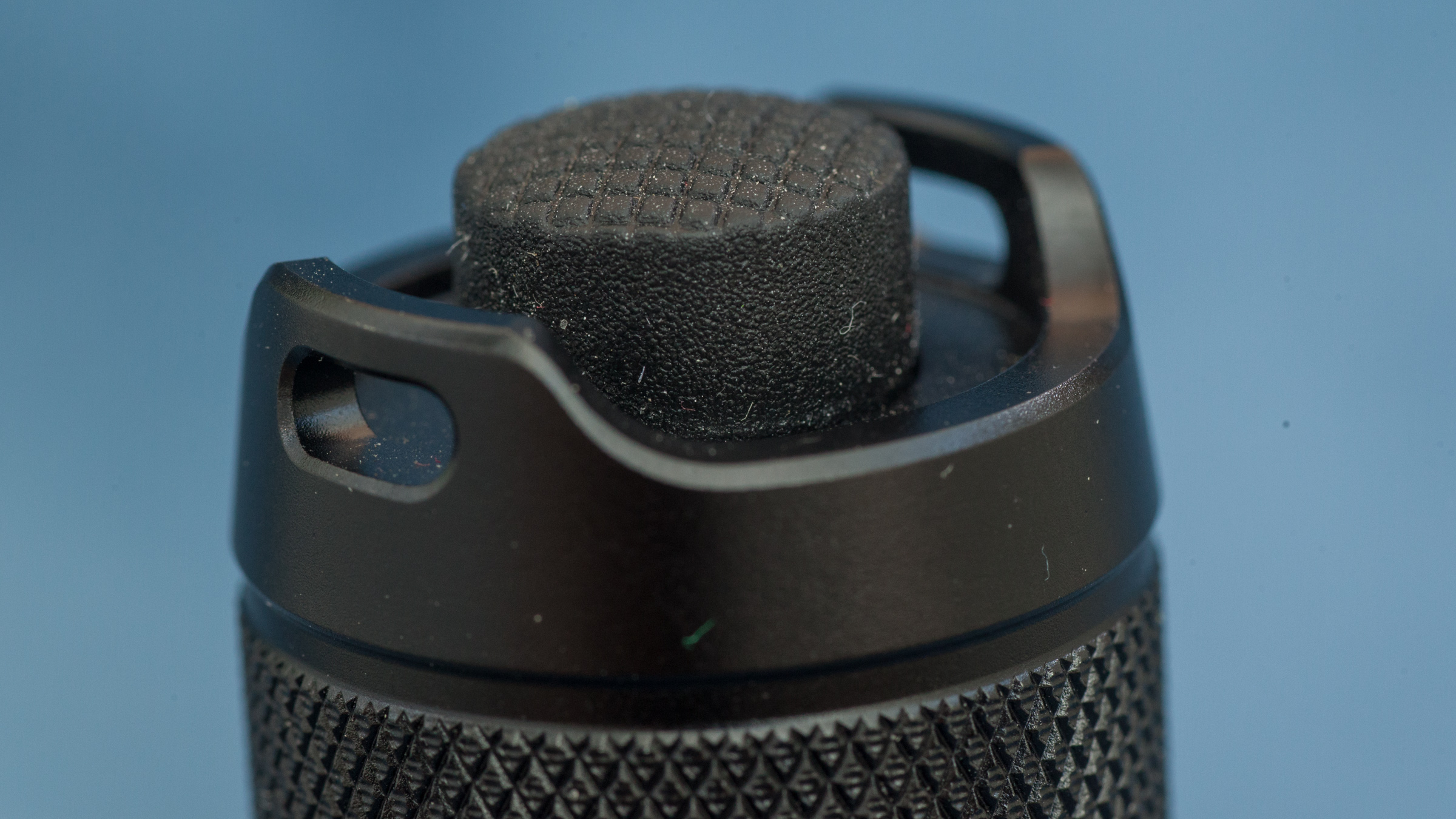 Spring there is thick, threads are well lubricated.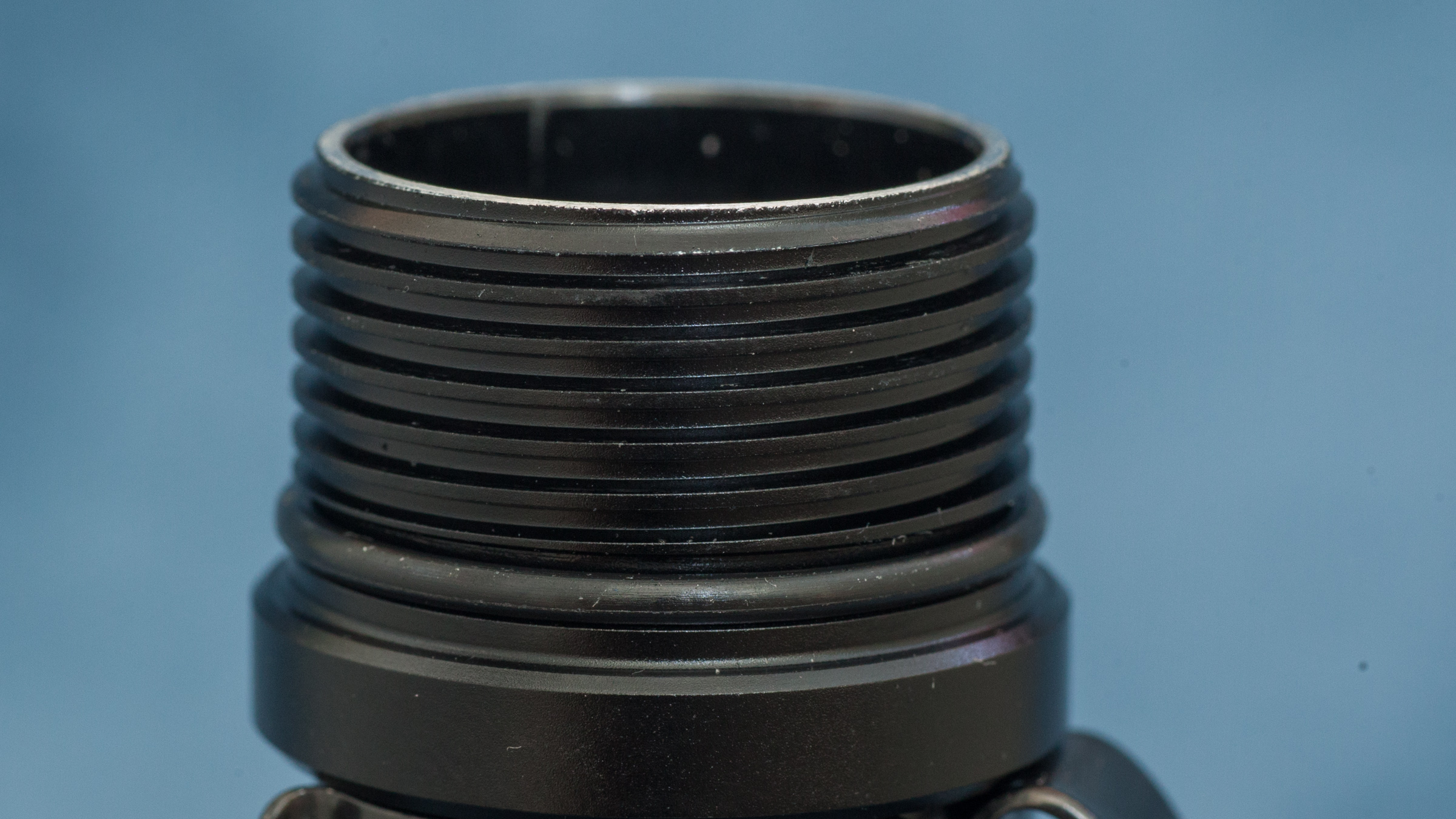 Knurling – good old rhombic.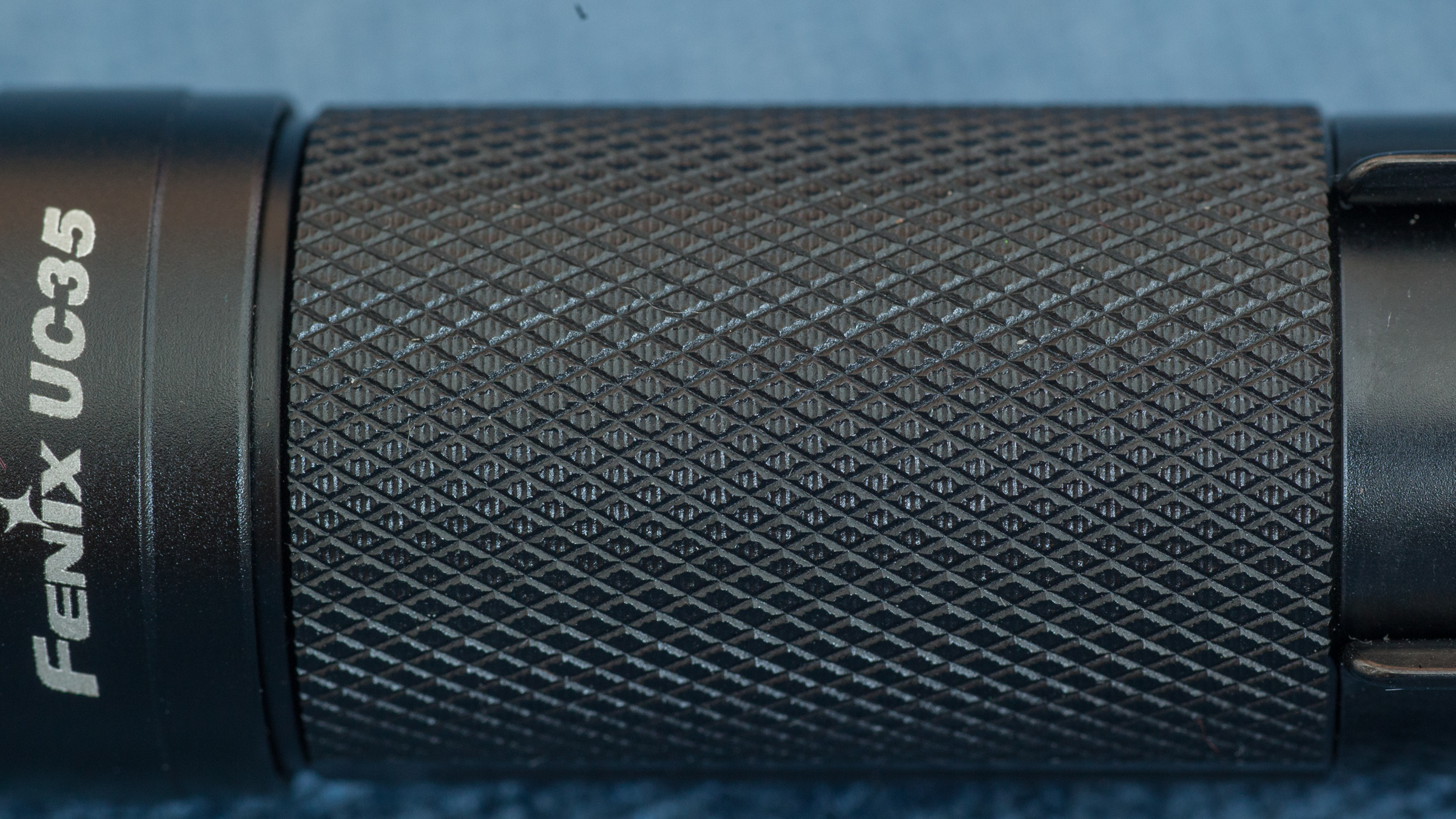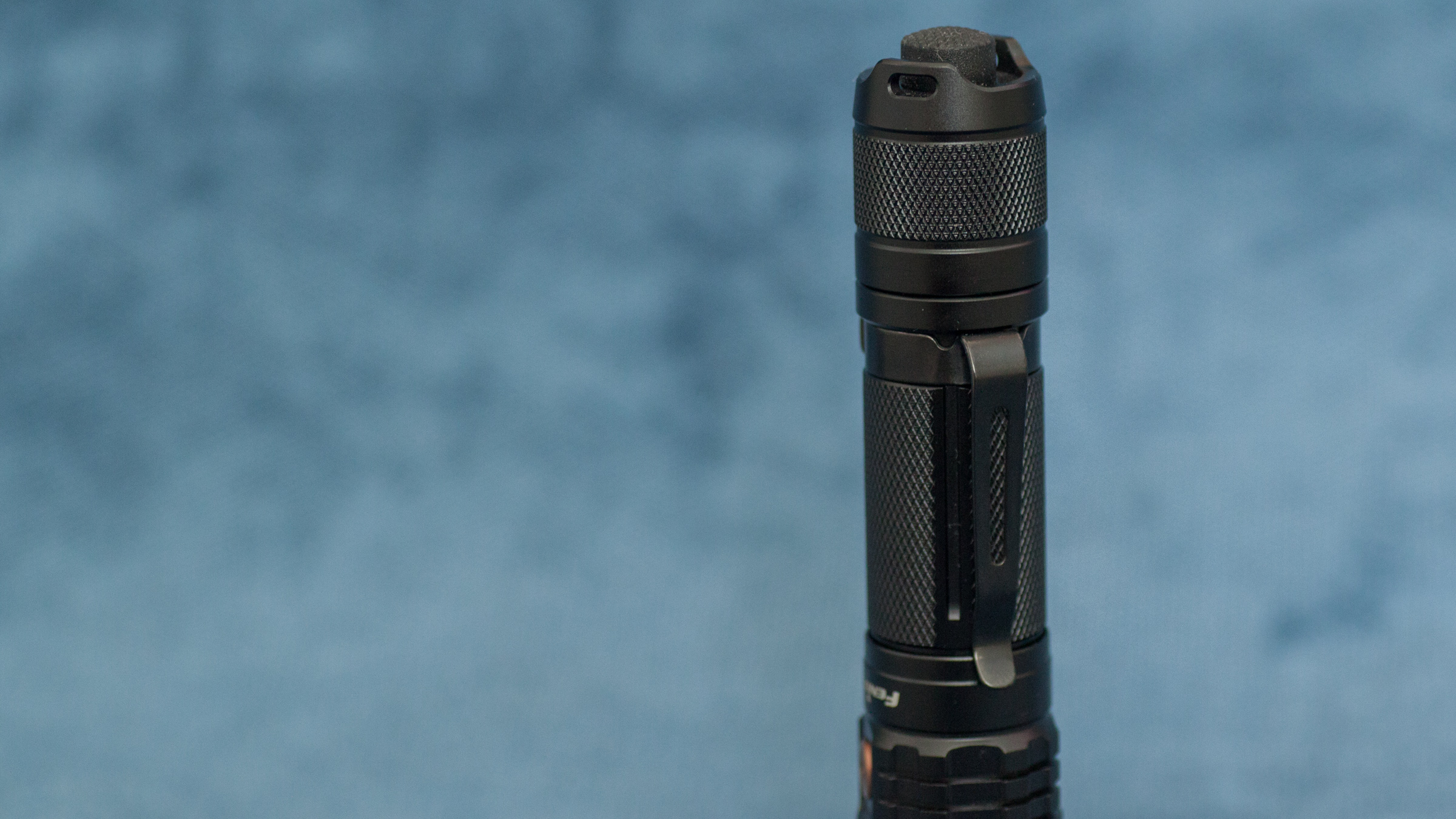 Grip is good, diameter of body is usuall.
There is no spring at head, but contact plate instead. I don't like this, though understand why manufacturer keep on follow this decision. BTW, 1st versions of UC30\35\PD35 had springs there.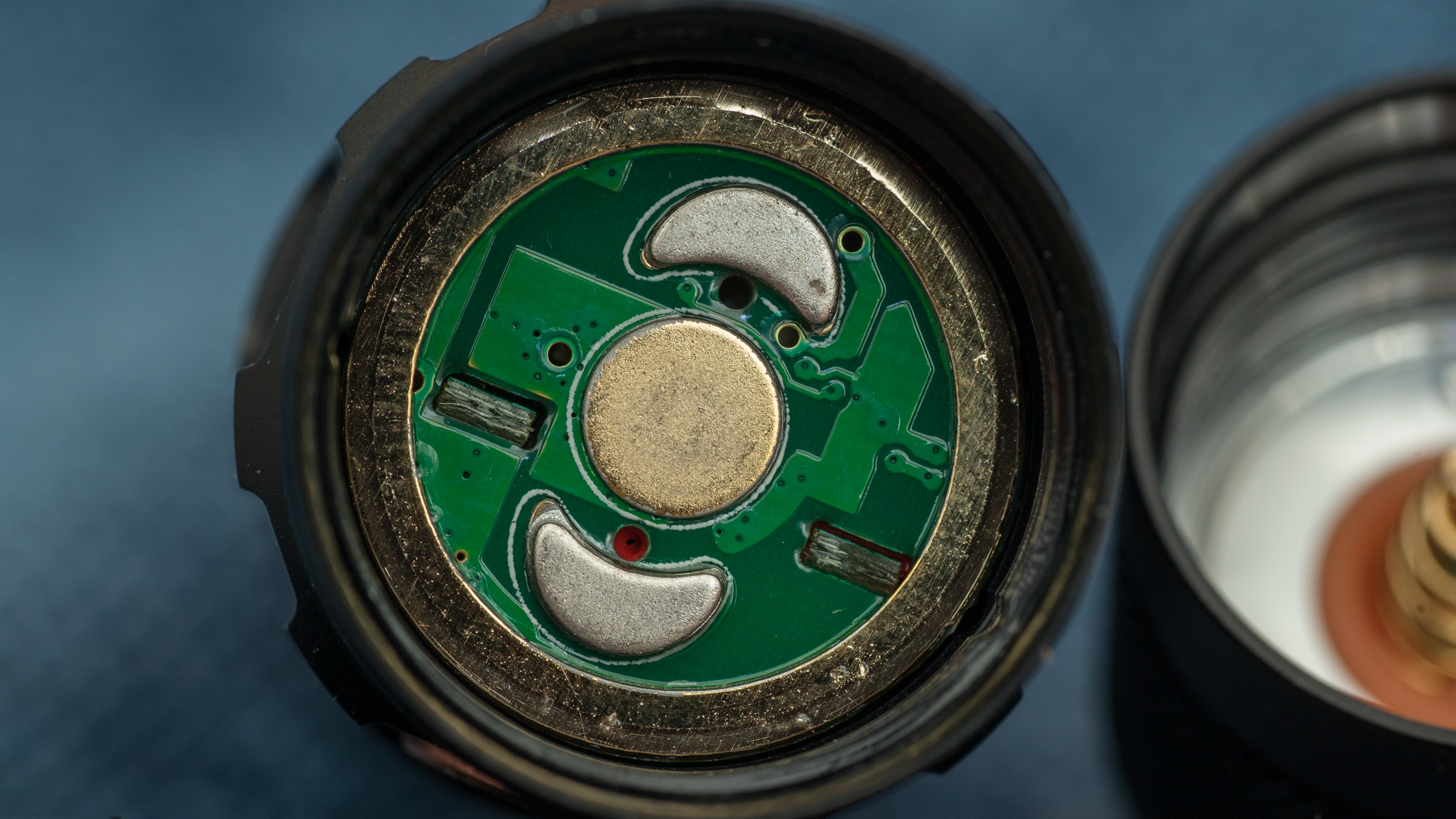 Flashlight can be disassembled into pieces. Threads are different, so you cannot turn middle part to re-position clip. Last one has only one position.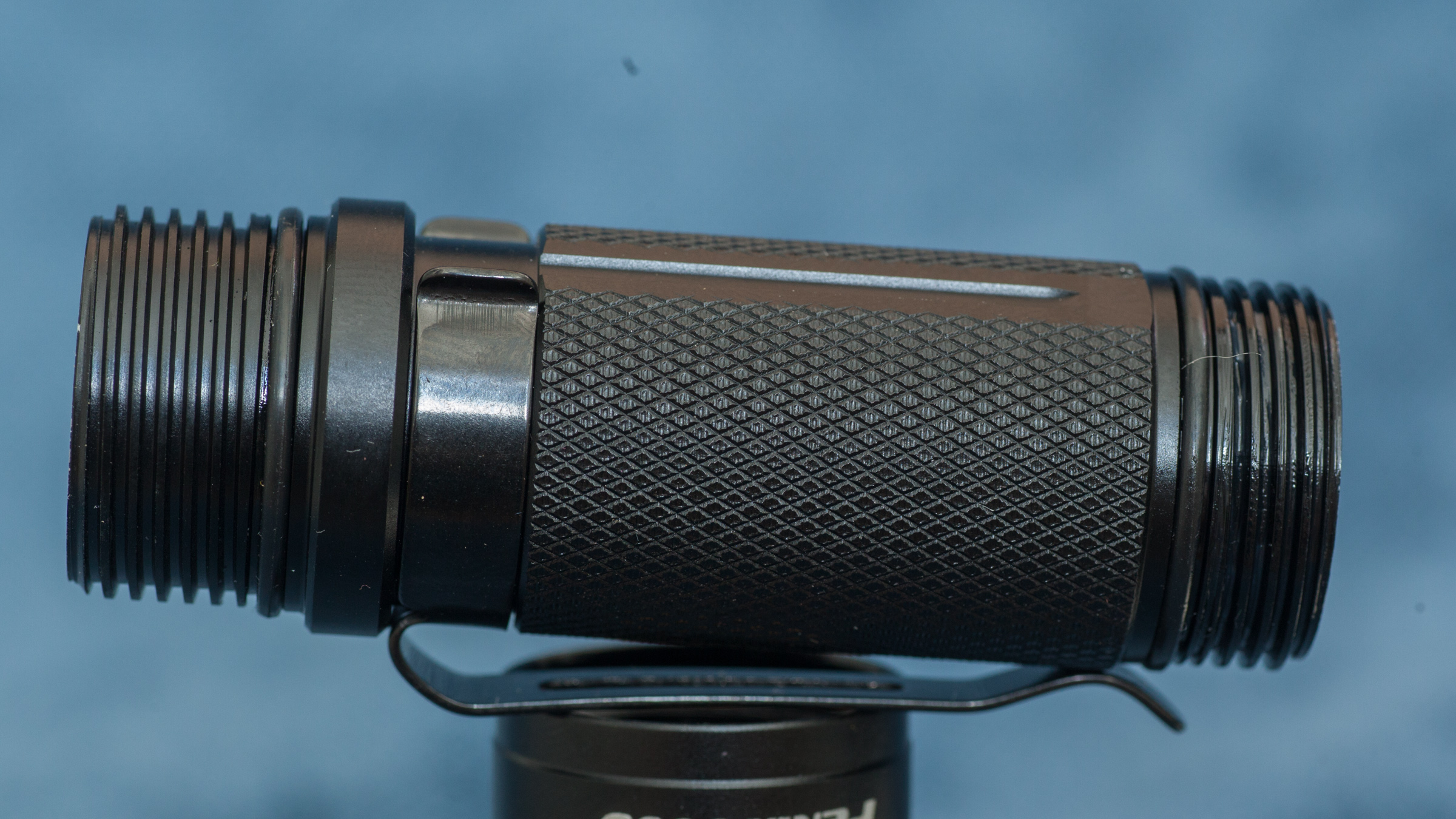 Size of cooling fins are exactly what you can expect from such flashlight. They are not that big, but you cannot do anything other here.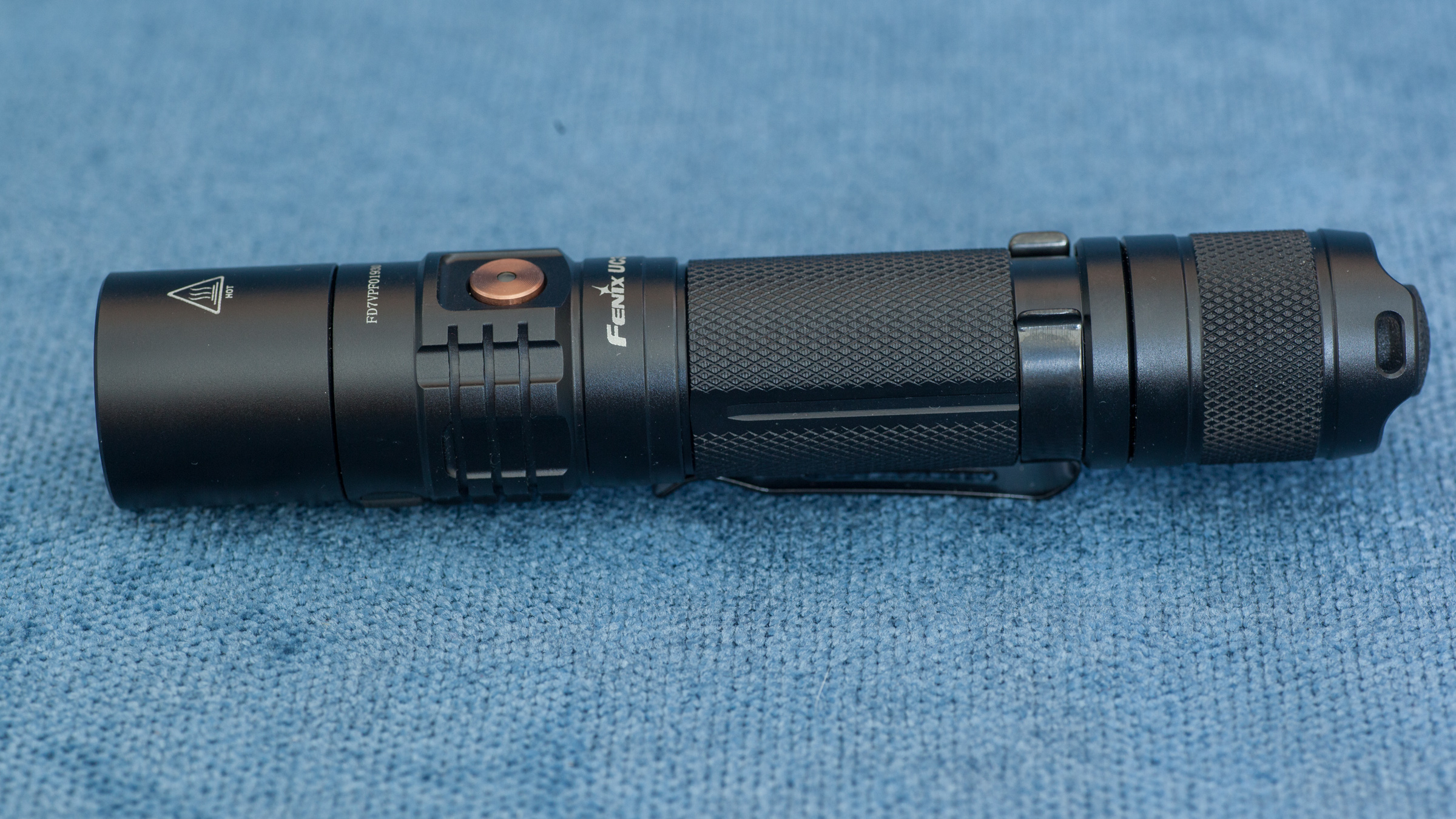 As usually, charge port and button are located at opposite sides.
I like button, which looks and feels good. Metal is stated "anodizing SS", with eye of indicator LED in the centre.
Button is clicky, little bit higher than flashlight body, so normally that would raise question about lock-in\out. But as there is tailbutton, we can consider this problem solved.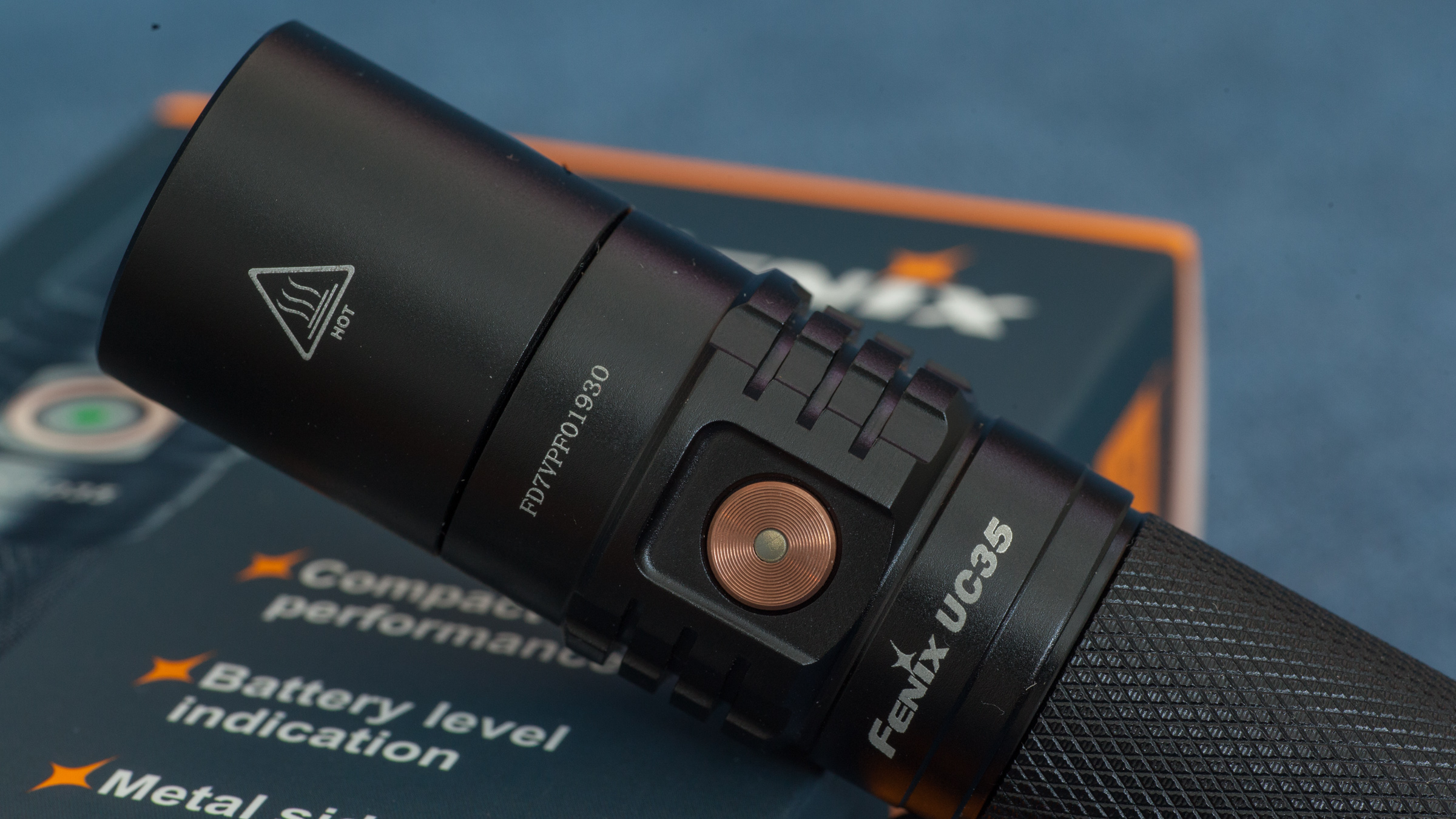 Rubber plug of micro-USB charge port is tight and feels reliable, but i like rubber ring of UC30 V2 more.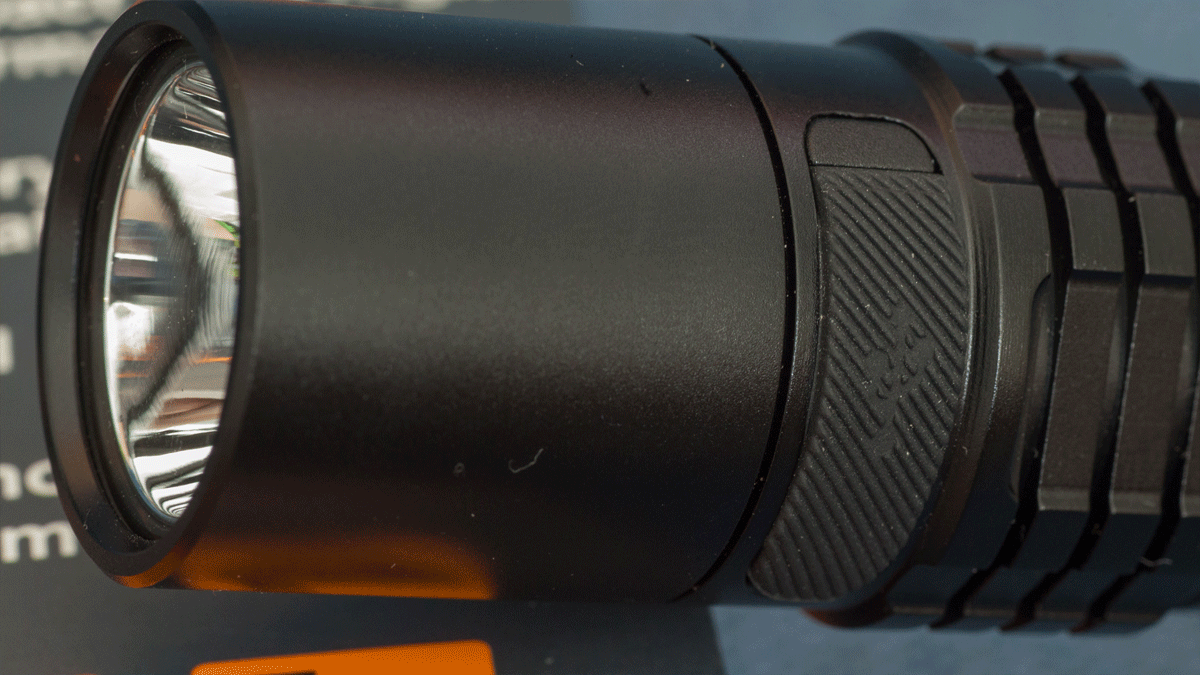 Glass is AR\toughened.
As it is usually with Fenix with such models, you have no access to head. That is no problem as you have warranty and people, who want customize flashlight, would pick other light.
Bezel is smooth, so is reflector. I`d pick OP, but I suppose Fenix preferred throw to sidelight. And, well, Fenix also tries to position this model as tactic, which definitely requires SMO reflector, at the bottom of which sits XPL-Hi V3. Strange decision, I don't see any tactic potential here at all.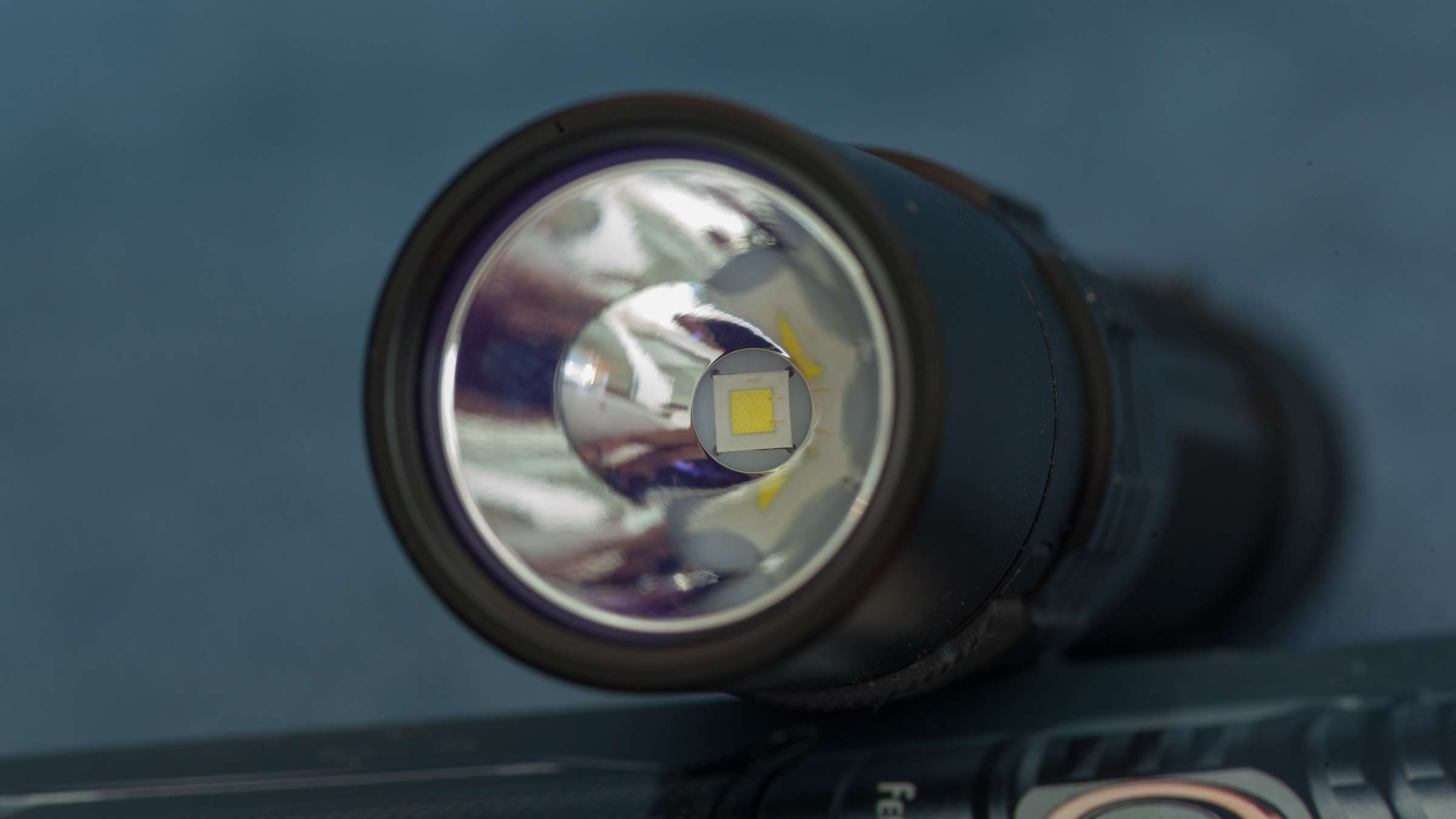 UI.
As usually. Simple UI for simple needs. It has it`s PROs and CONs.
Tailcap – ON\OFF
Sidebutton – eco\low\mid\high\turbo with clicks.
No access to turbo\eco, but keeping sidebutton pressed activates strobe, that is the only reference to being tactic.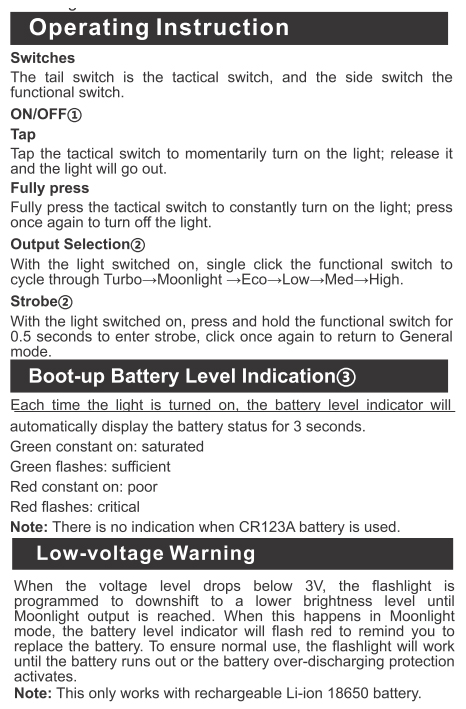 PERFORMANCE
No PWM-shimmering at any mode. 6000K
Here you can see that UC35v2 is closer to C8 than to S2+\DQG.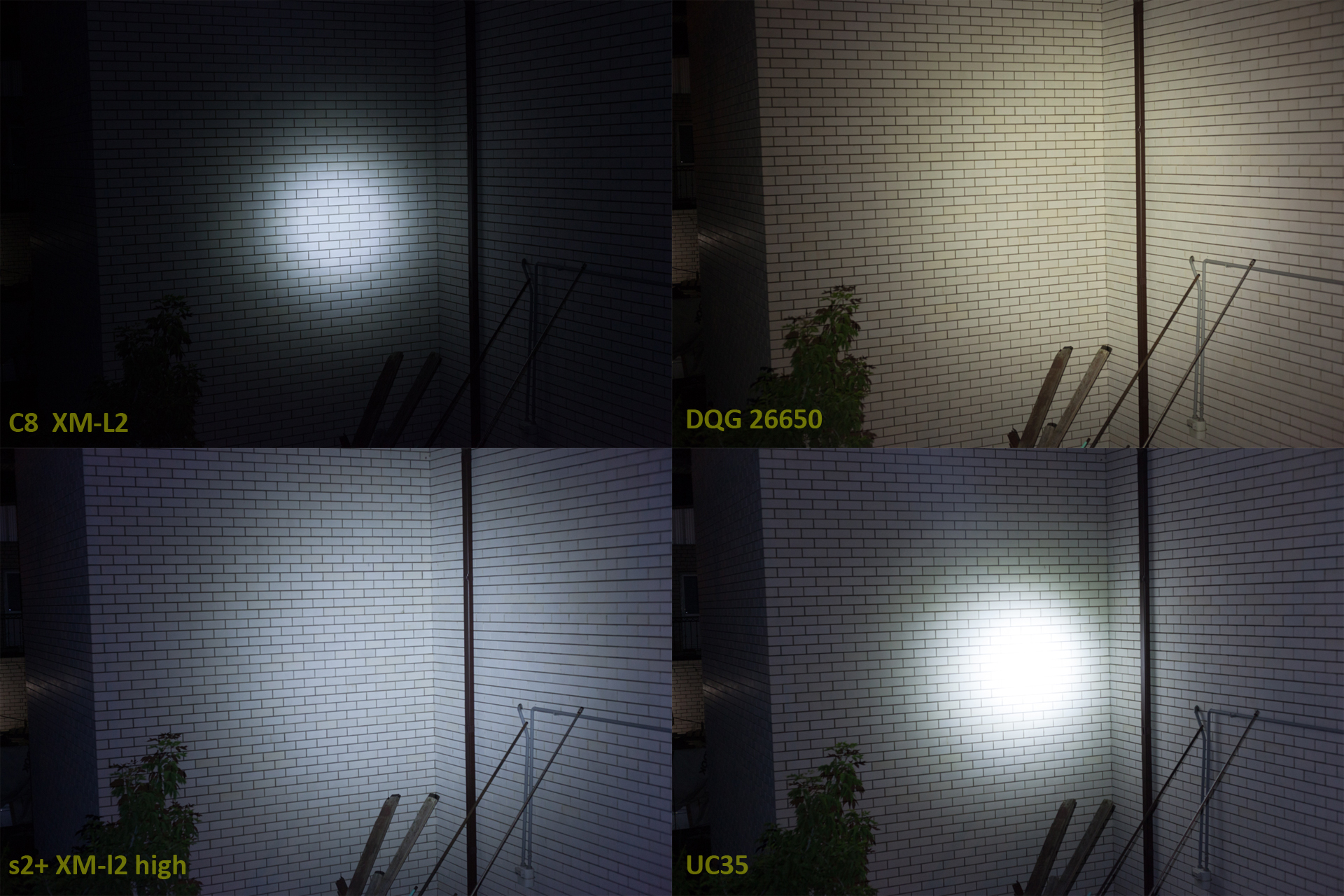 BTW, included battery is good, I checked it with Lii-500 at 0.3A – norm test shows stated capacity. That is great as they might put 2600mah to set.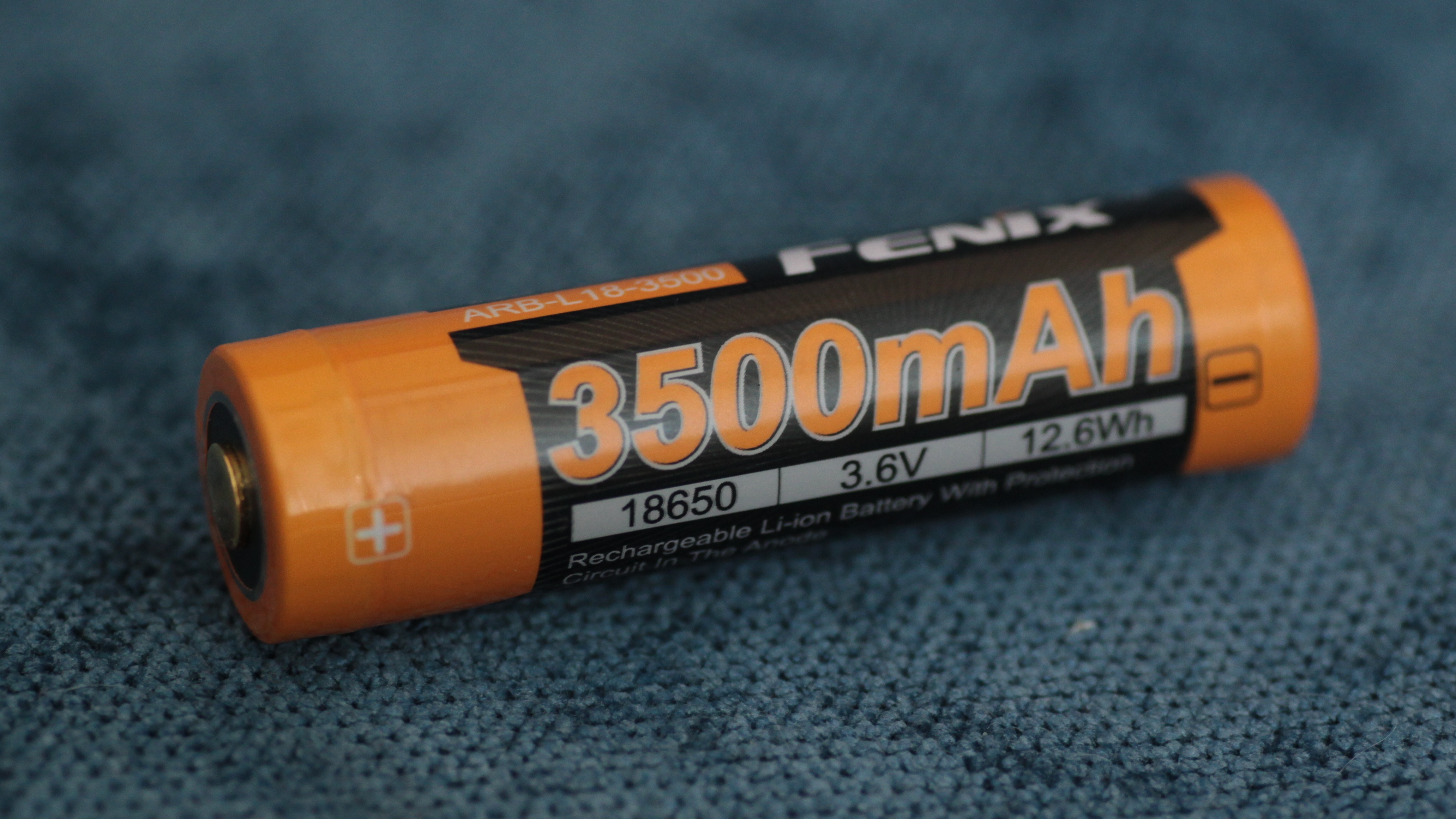 Charge amperage is good – 1A
Amperage: 0.04-0.11-0.32-0,9-2,5A
And examples below.
I suppose this flashlight is intended for those, who needs more throw than sidelight. But, still, UC35V2 is ok for close-range use.
175m is not that distance that such flashlight is good at. But, still, in turbo, UC35V2 shows good throw. For pocket light with small reflector it is significantly good.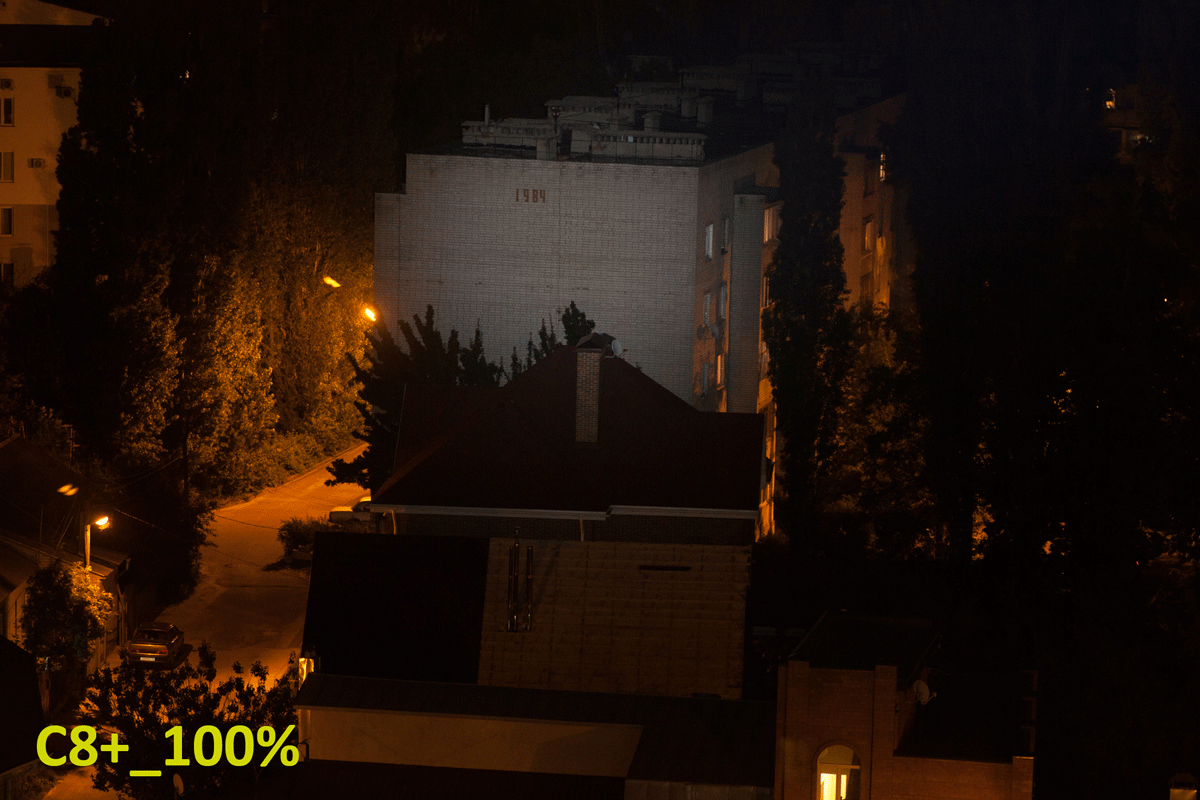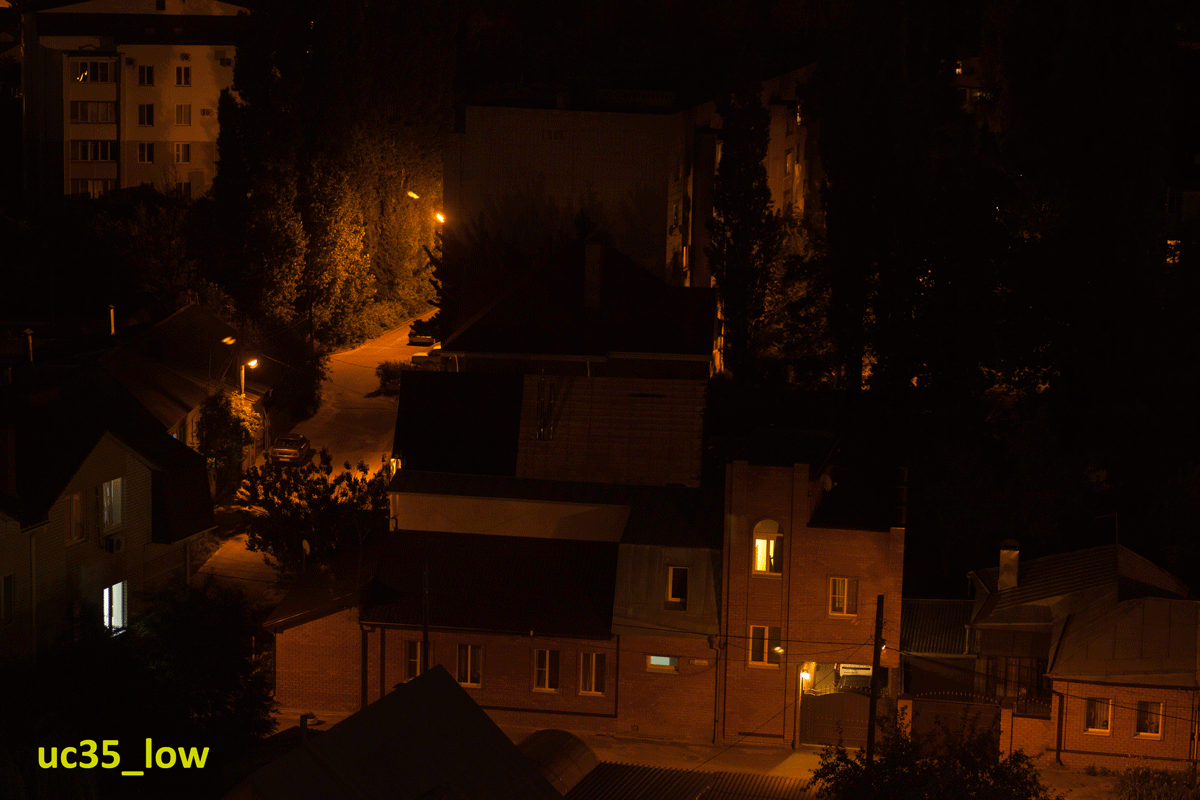 And here is typical EDC distance, 10-15m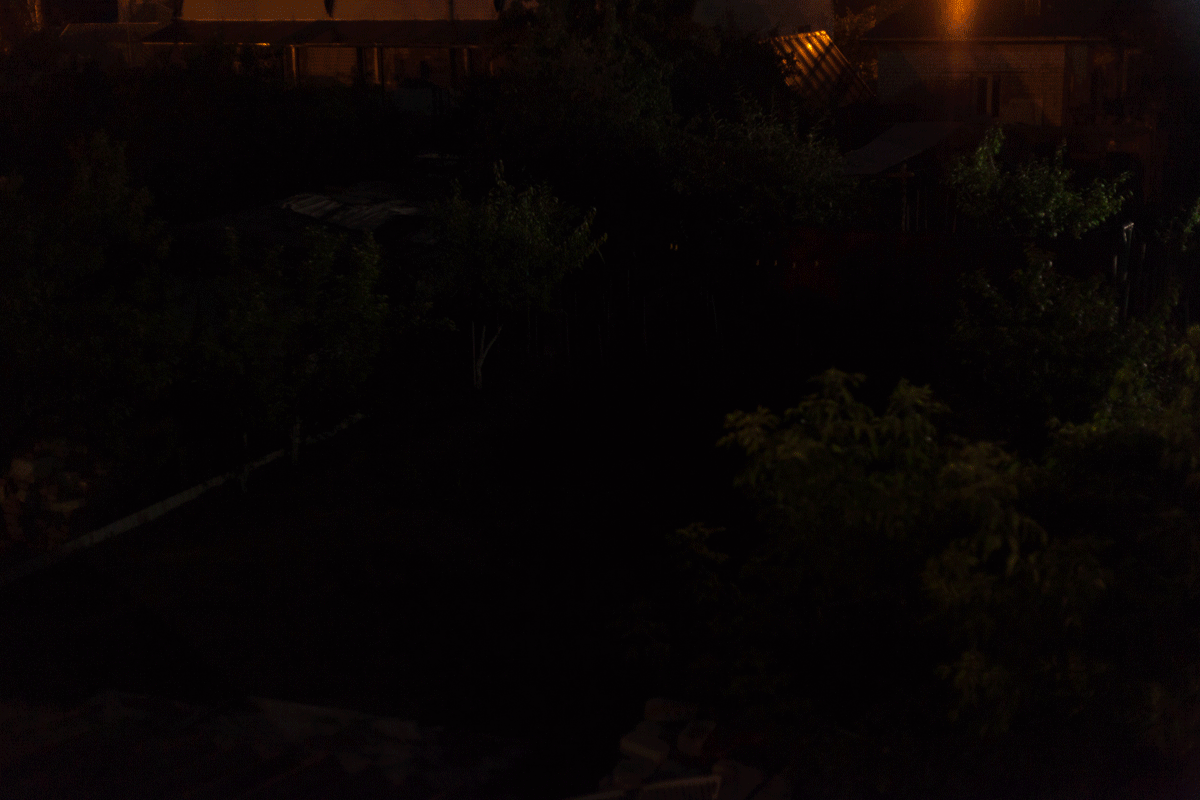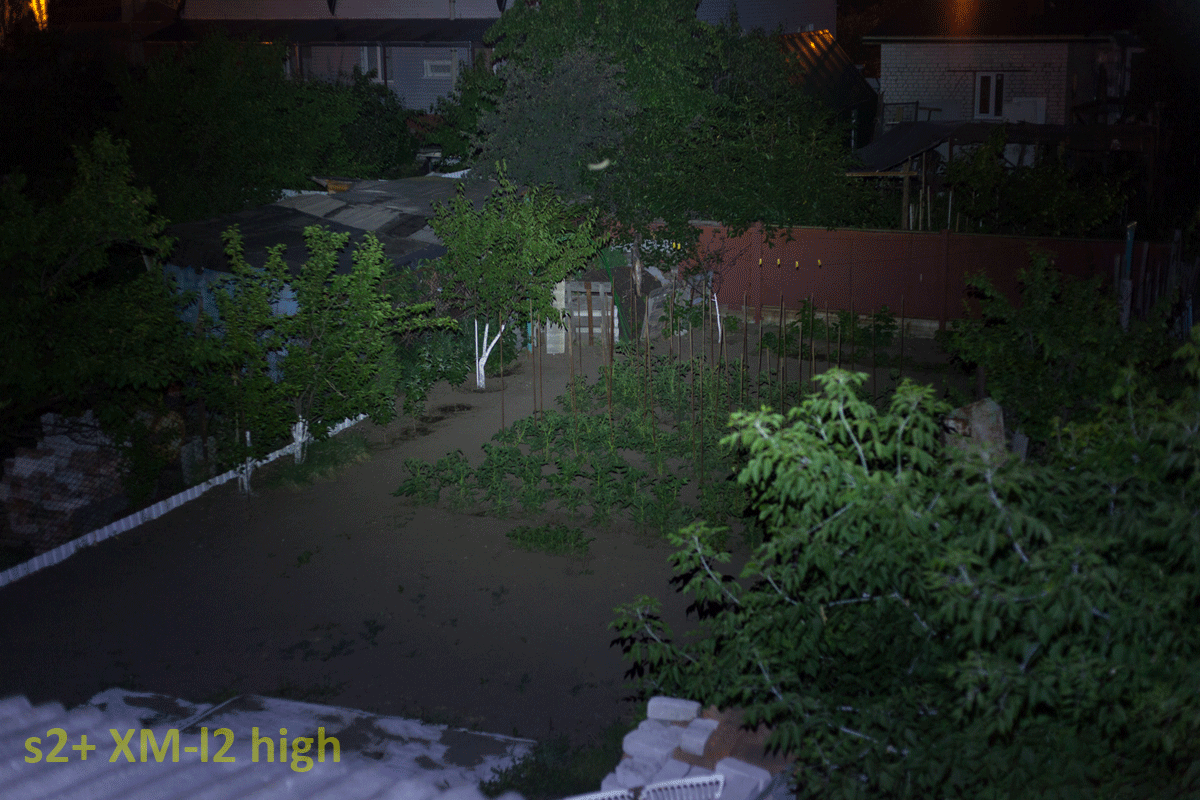 It performes well at intermediate distance of 50-70m, though only in High and Turbo.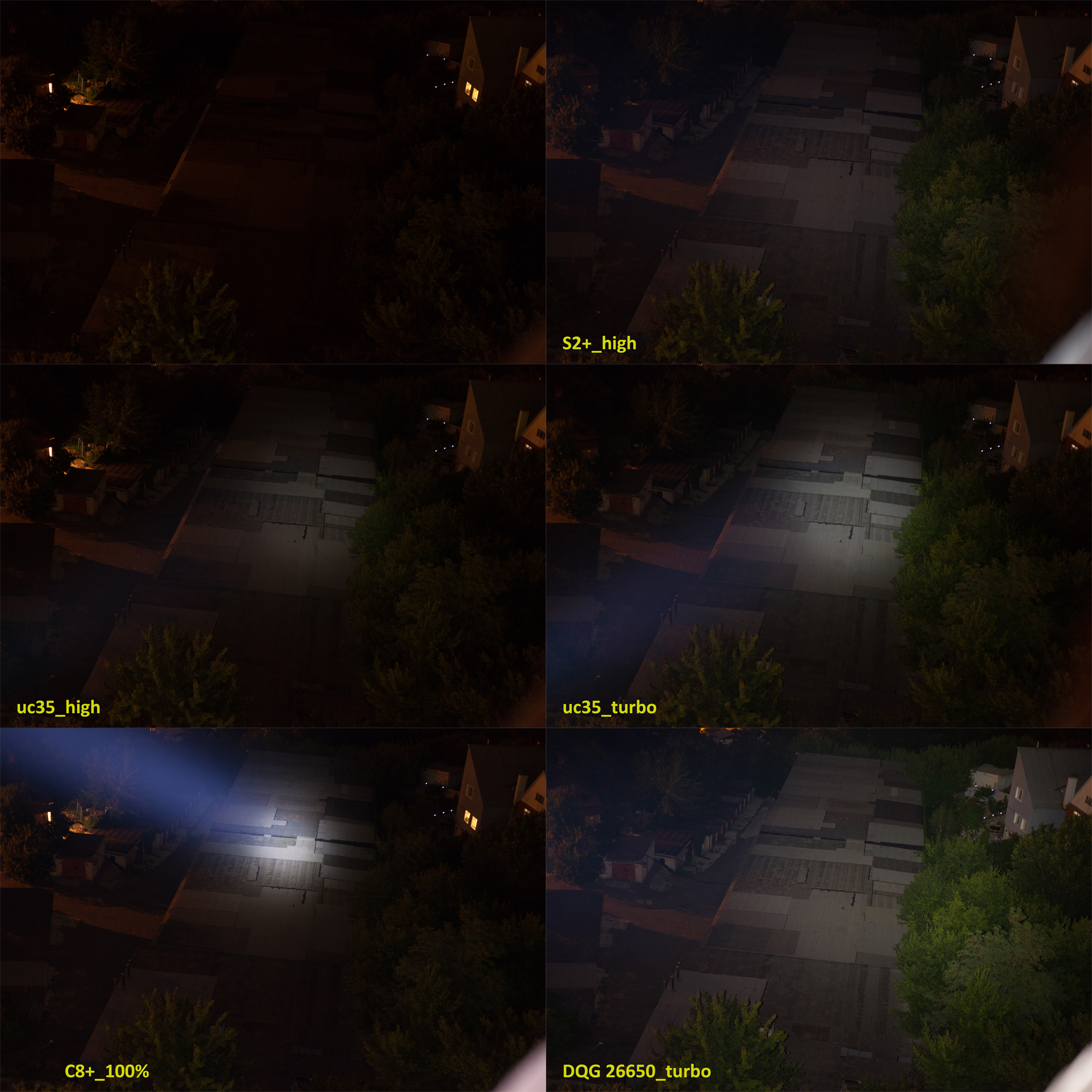 Thermal regulation is too aggressive, with no cooling turbo results in "sawteeth", for example UC30V2 has better one. With cooling it is way more smooth. But, still, turbo is turbo, it is supposed to be used in short time. So that may not be serious trouble if you use it for 1-3 minutes (and outdoor even may not witness this zigzag).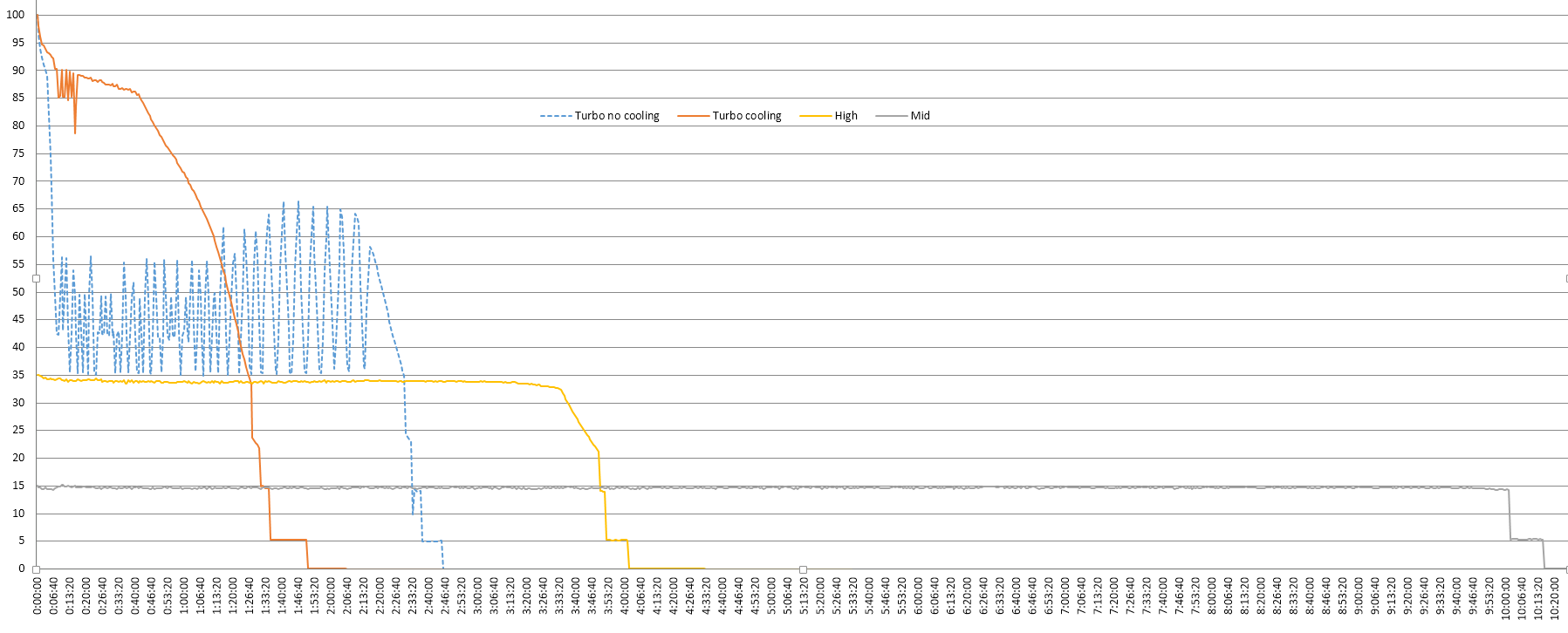 All the rest modes are well stabilized, runtime is good as well. 3 hours in turbo – decent time!
I`d pick mid for indoor use, and in this mode user get 10 hours of stabilized light.


OVERALL.
I don't see any tactical features here, that is 100% EDC light, with only more throw that most of other EDC have. Tailbutton and instant strobe are good, yes, but that is still EDC light.
I tested UC30\35\PD35 and I can say that they are mostly the same flashlight with different tuning. So user can precisely pick what he she wants
For the rest – simple reliable EDC light for usual EDC needs
PRO
Simple UI (+\-)
Good rubber plug
1A charge amperage
Indication
Good build quality
No visible PWM-shimmering
Light has good throw for such compact reflector.
Good stabilization
CONS
Doesn't support flat-top batteries
No NW version
No direct access to ECO\TURBO
I`d like to see it 10-15mm shorter.
Saw teeth in TURBO