_There a so few 21700 lights, as this battery is so new. Fortunately, Acebeam again demonstrates will to go ahead market, as they did with they super-bright stuff. So they looked forward again and produced flashlight with such promising battery. That is 3rd Acebeam that I got, and as K60 and EC50 GENII this one made positive impression.
_
Here is a product page at Acebeam website.
here is product page at Nkon.nl
you can buy Acebeam EC65 at:
➤ Acebeam official website
➤ AMAZON
There is choice for lumen-hunters and those, who want "correct" light – XHP35 HI and Nichia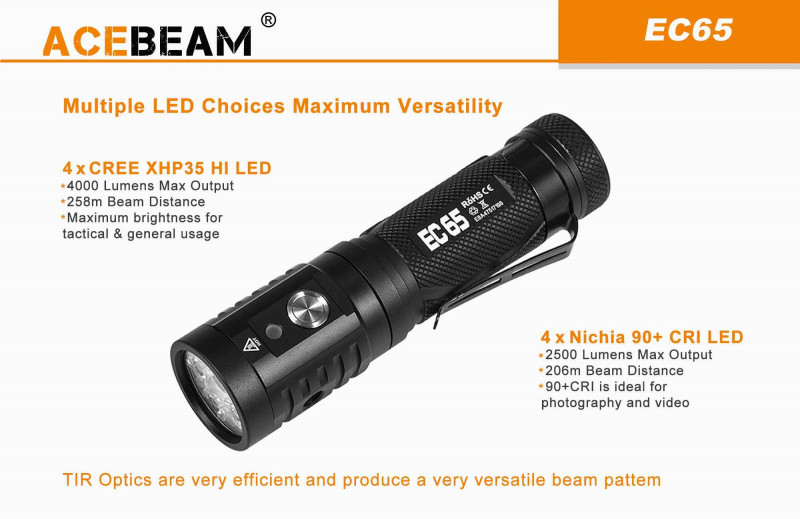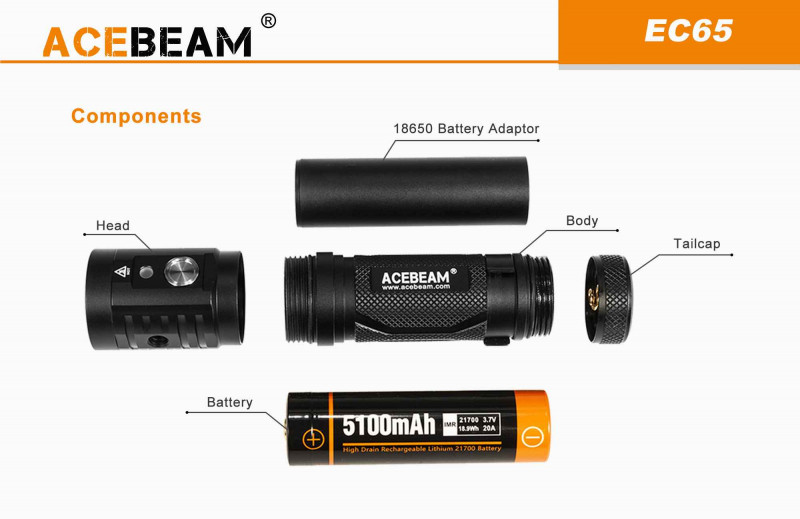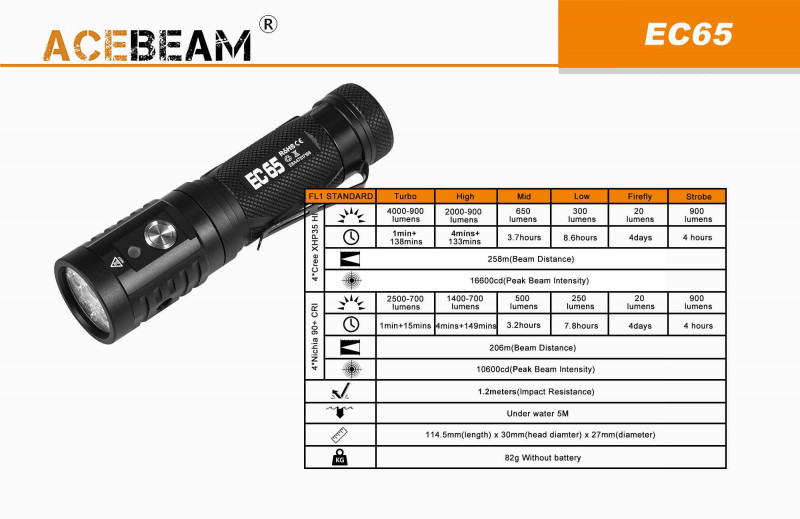 specs:
Option 1:
1:4* Cree XHP35 HI LEDs
2:Smooth TIR lens
3:Max Output 4000 lumens
4:Powered by 1*21700 5100mAh rechargeable Li-ion battery (included)
Firefly: 20 lms, 4 days;
Low: 300 lms, 8.6 hours;
Mid.: 650 lms, 3.7 hours;
High: 2000- 900 lms, 4 mins + 133 mins;
Turbo: 4000 – 900 lms, 1 min + 138 mins;
5:Max beam throw: 258 meters
6:Peak beam intensity 16600cd
Option 2:
1:4* Nichia 90+ CRI LEDs
2:Orange peel TIR lens
3:Max Output 2500 lumens
4:Powered by 1*21700 5100mAh rechargeable Li-ion battery (included)
Firefly: 20 lms, 4 days;
Low: 250 lms, 7.8 hours;
Mid.: 500 lms, 3.2 hours;
High: 1400 – 700 lms, 4 mins + 149 mins;
Turbo: 2500 – 700 lms, 1 min + 151 mins;
5:Max beam throw: 206 meters
6:Peak beam intensity 10600cd
Impact resistant: 1.2meters
Waterproof: under water 5 meters
Size:114.5mm (Length)*30mm (Head dia.)*27mm (Tube dia.)
Weight: 82g (without battery)
Carclo TIR Lens: product highly efficient optics with a hug variety of beam shapes
Type-C USB rechargeable port for fast charging
Digitally regulated output- maintains constant brightness
Over-heat protection to avoid high-temperature of the surface
Made of durable aircraft grade aluminium
Premium Type III hard-anodized anti-abrasive finish
Toughened ultra-clear glass lens with anti-reflective coating
PACKAGE AND APPEARANCE
Well, that is not a cheap light, and paying 100+$, you get all the possible. Package is great – thick well designed box with magnet cover. Good design, good print quality, good cardboard.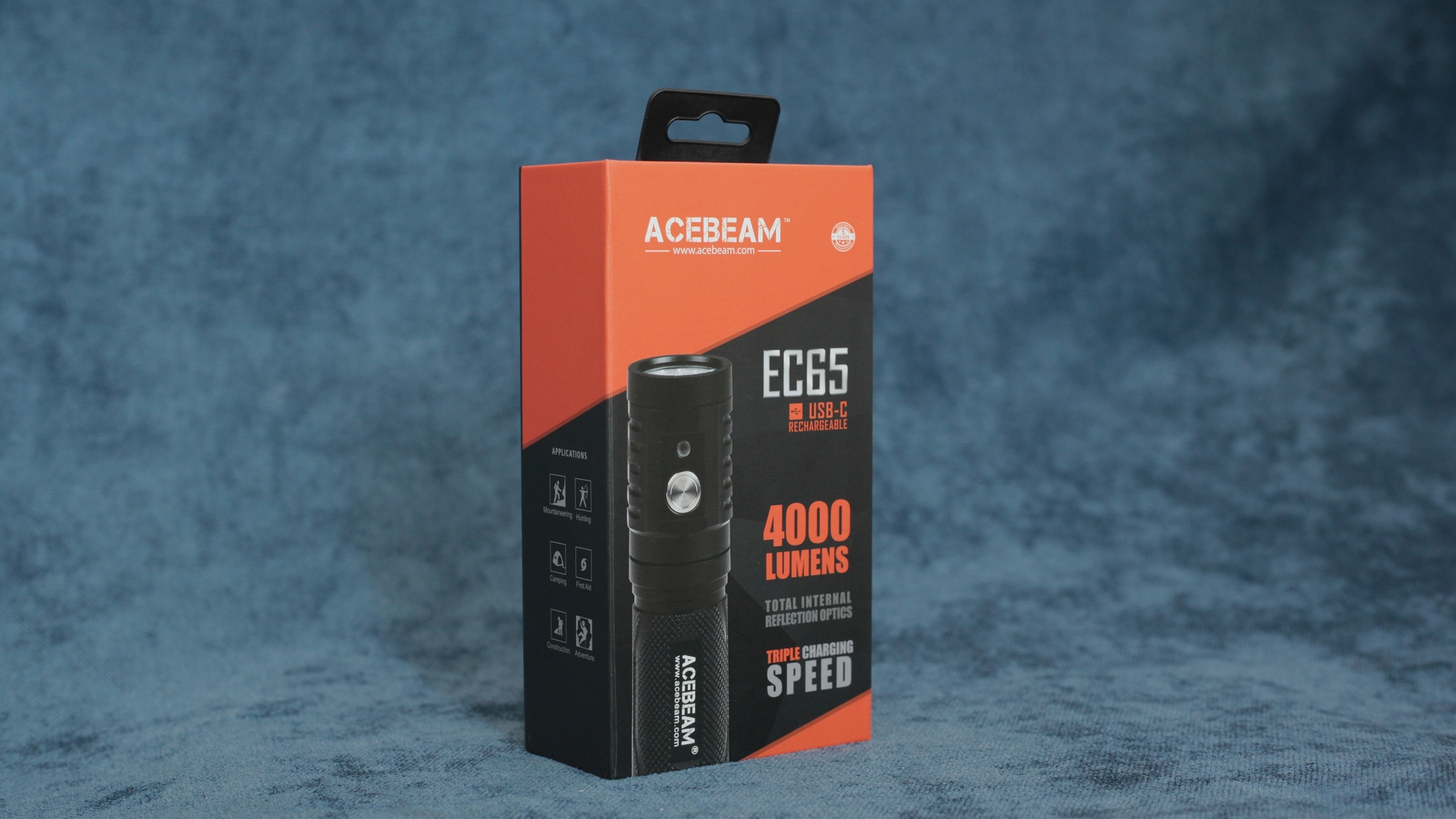 Set is usual, with only addition of 18650 to 21700 adaptor. And, there is a surpising exclusion – no lanyard included.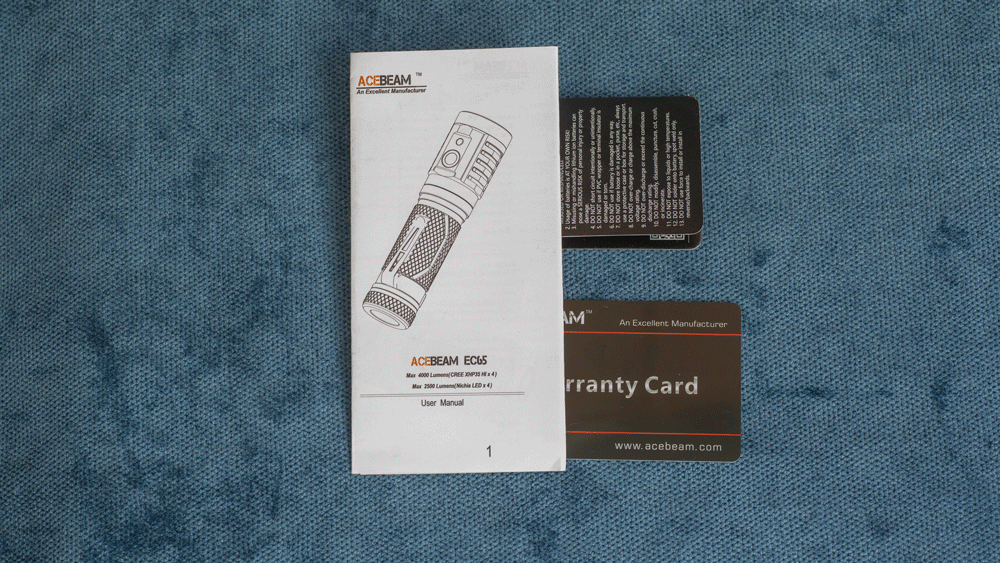 I think lot of you haven't seen 21700 (I did 1st time in my life), so what I can say is that difference in size, comparing to difference in capacity is soooo minor. 21700 is larger than 18650, but in real use they are mostly the same size.
BTW, I was surprised to see that no-name cheap zoomie fully supports 21700 ) . I bet no one who use such light will bother to buy 21700, but, still that is info and I share it.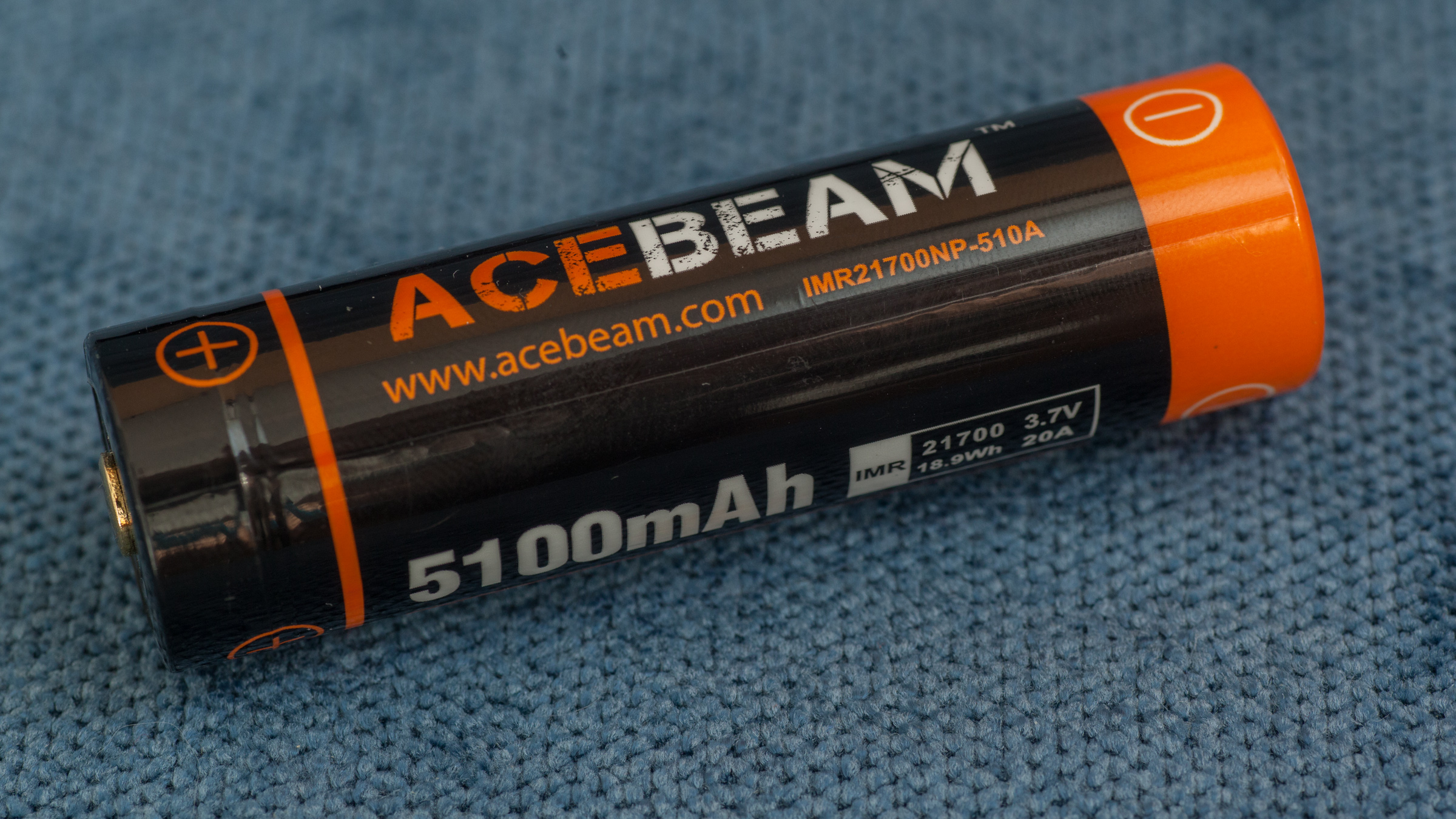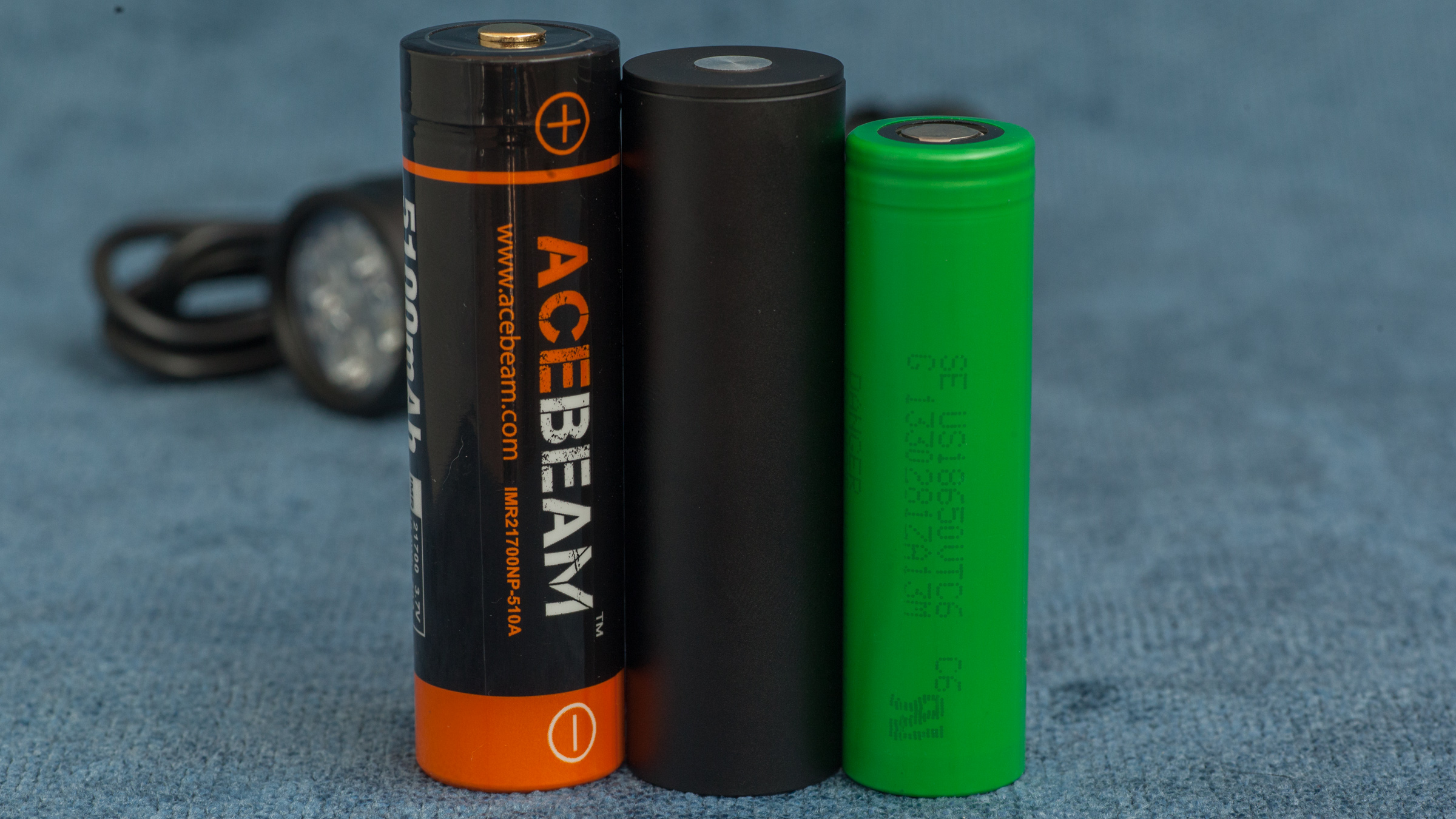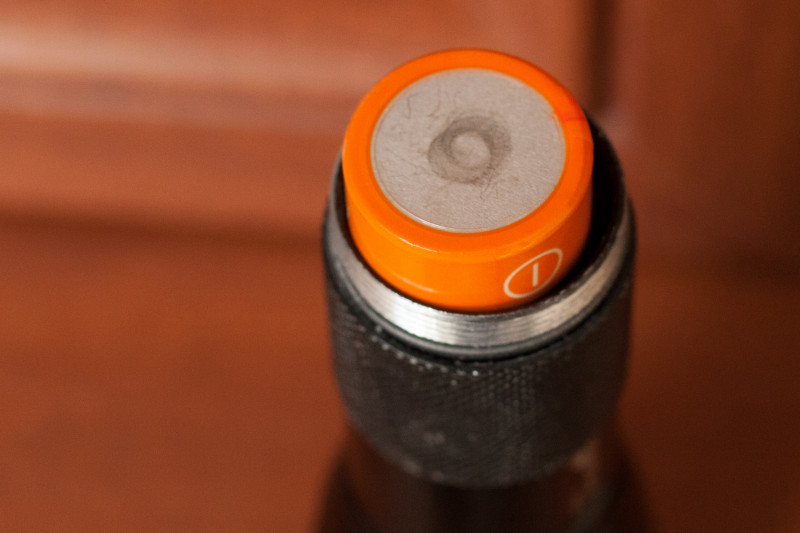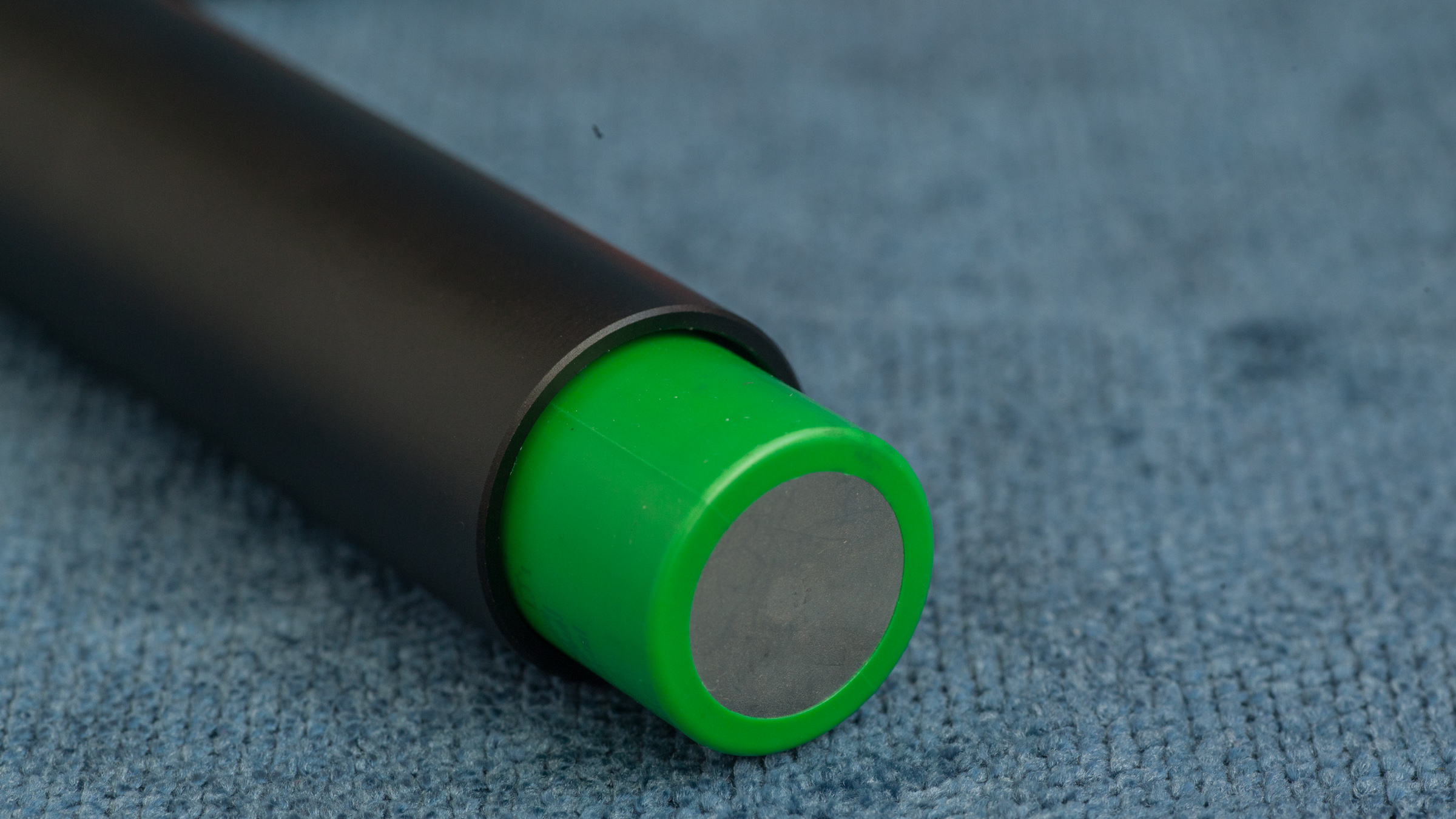 And here is E65 itself. Larger battery has almost no influence on flashlight size, it is still compact, there are lot of 18650 stuff that are bigger. 114х27х30 mm, and 82g weight. Definetely compact stuff.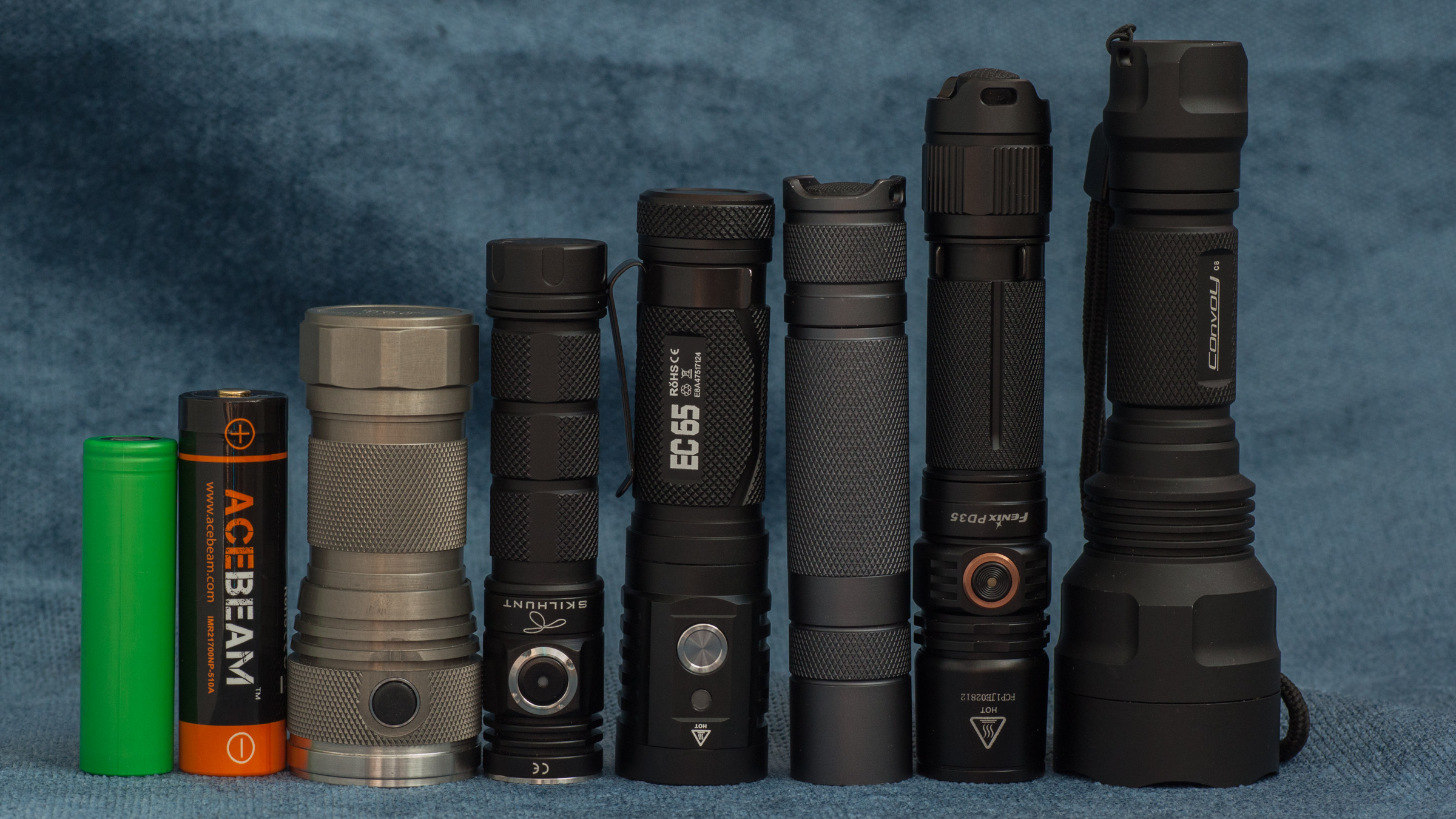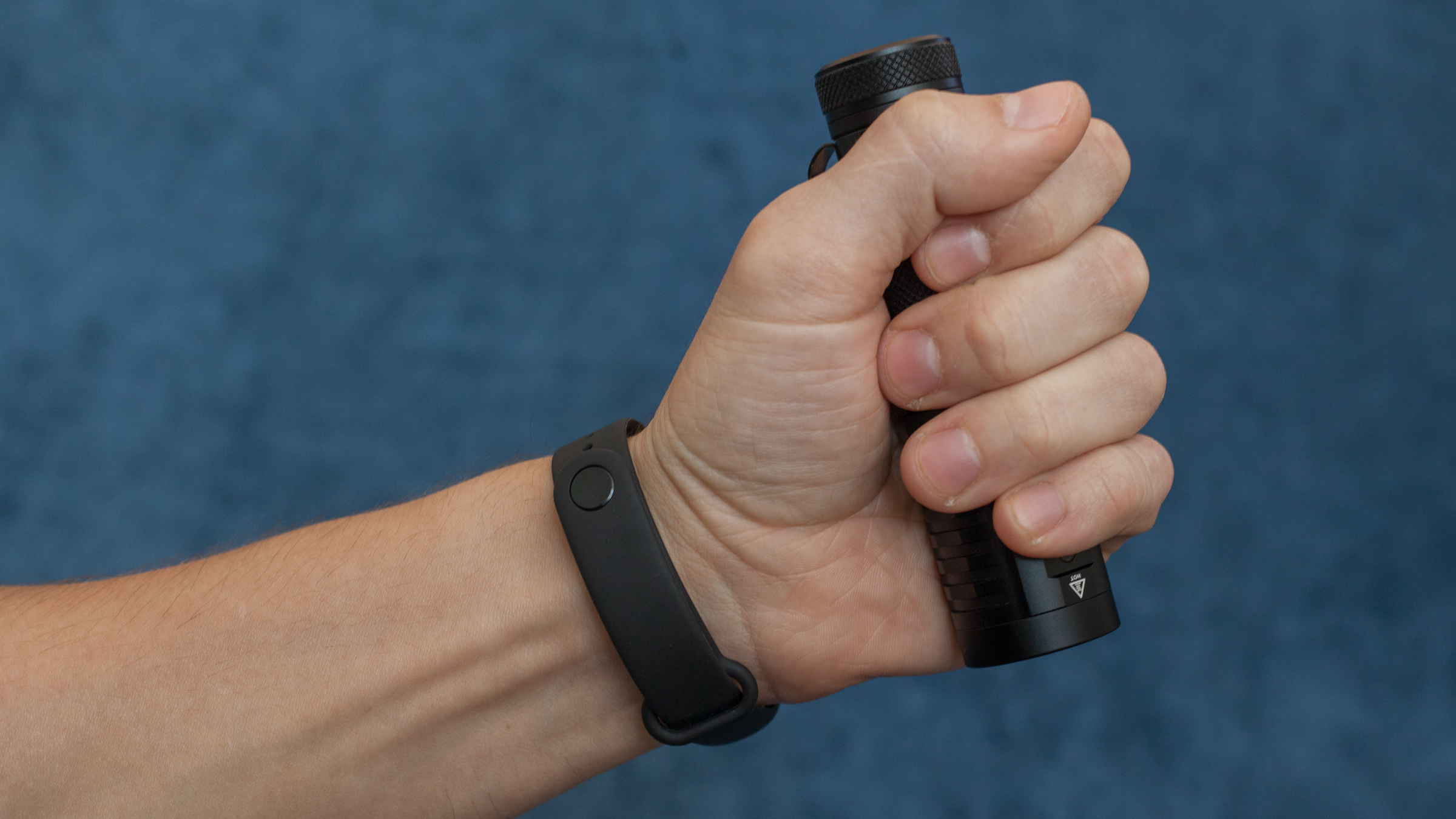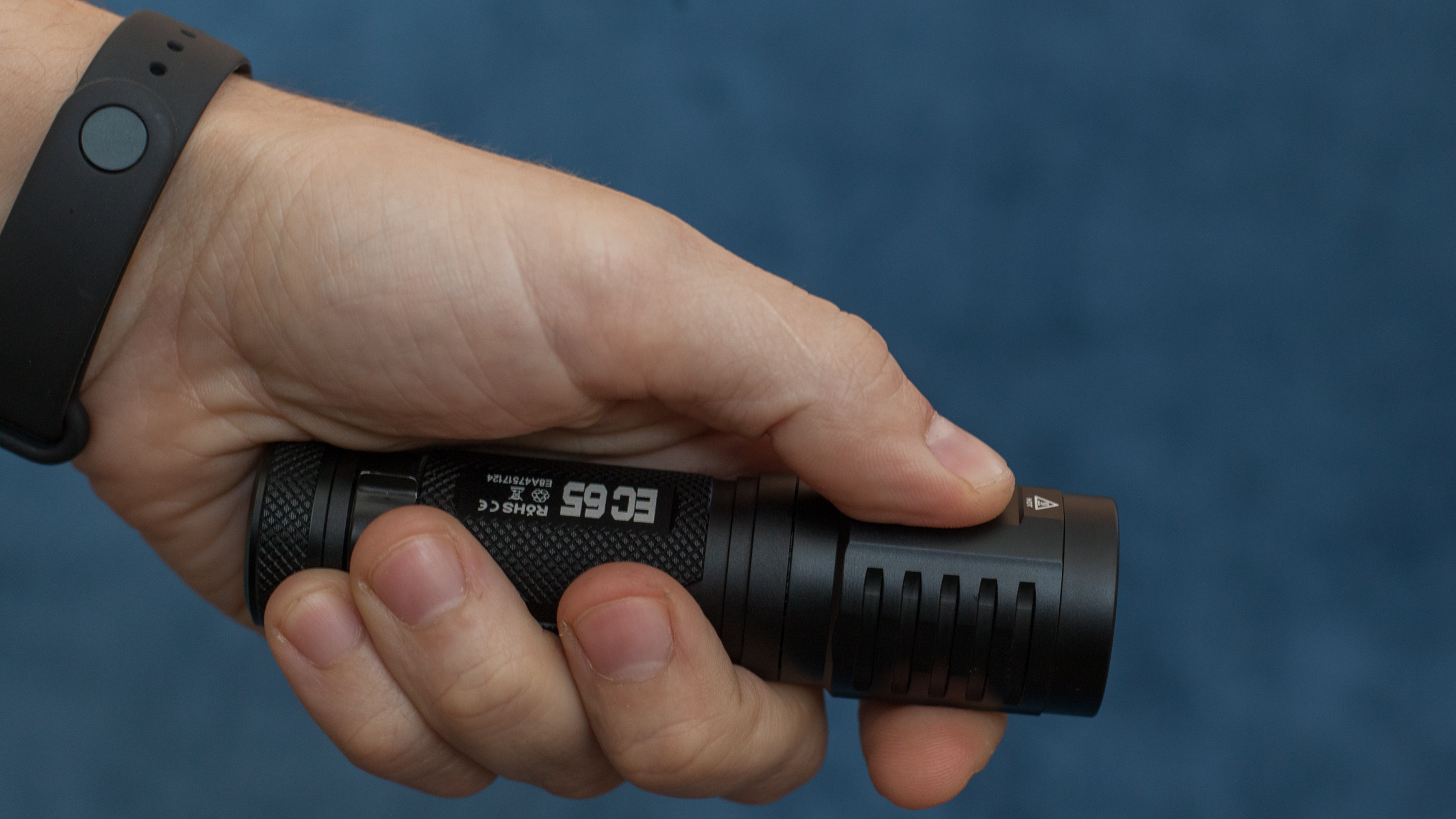 Flashlight is accurate, solid, with black matte anodizing. Clip sits really tight, I couldnt take it out.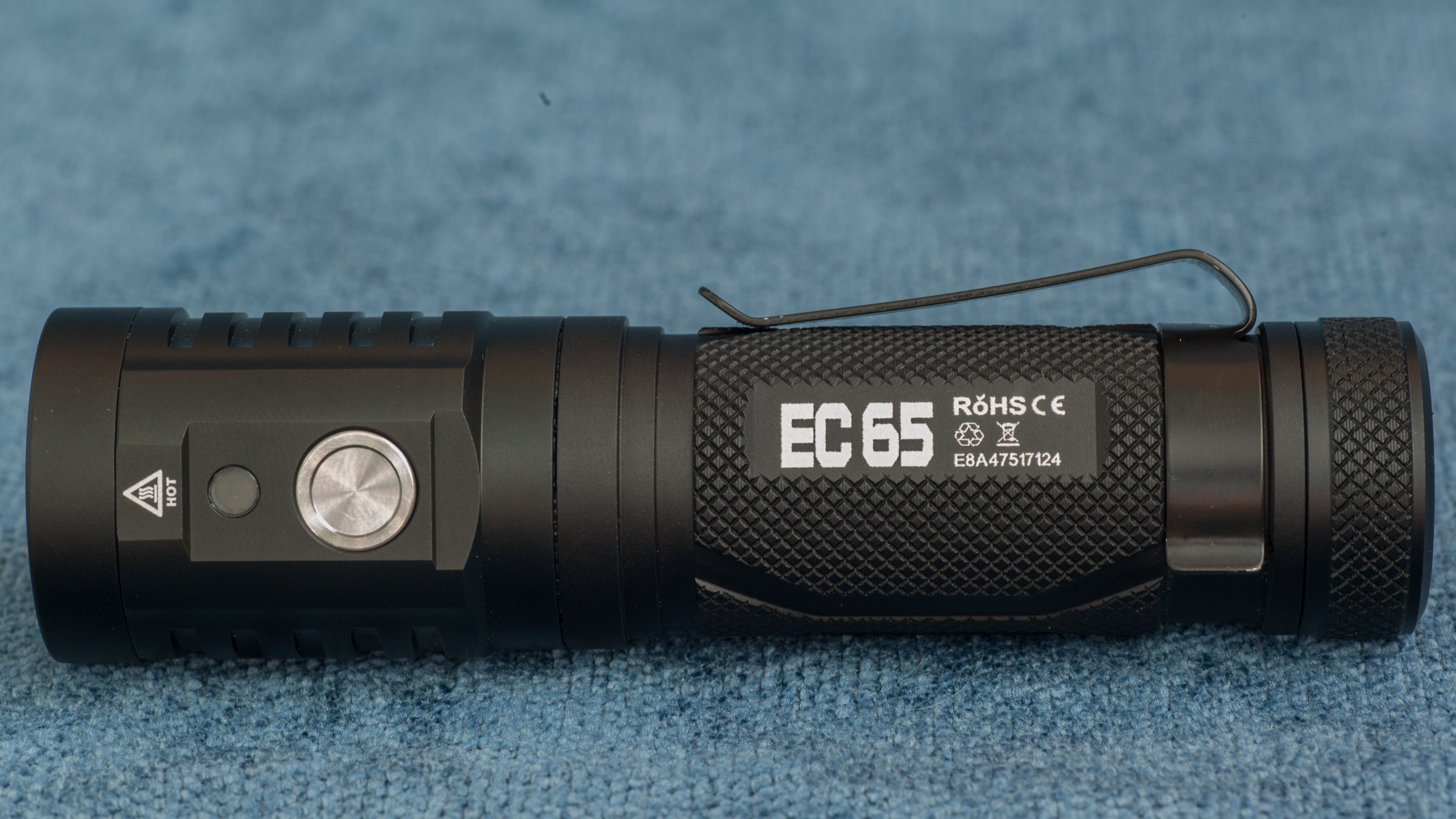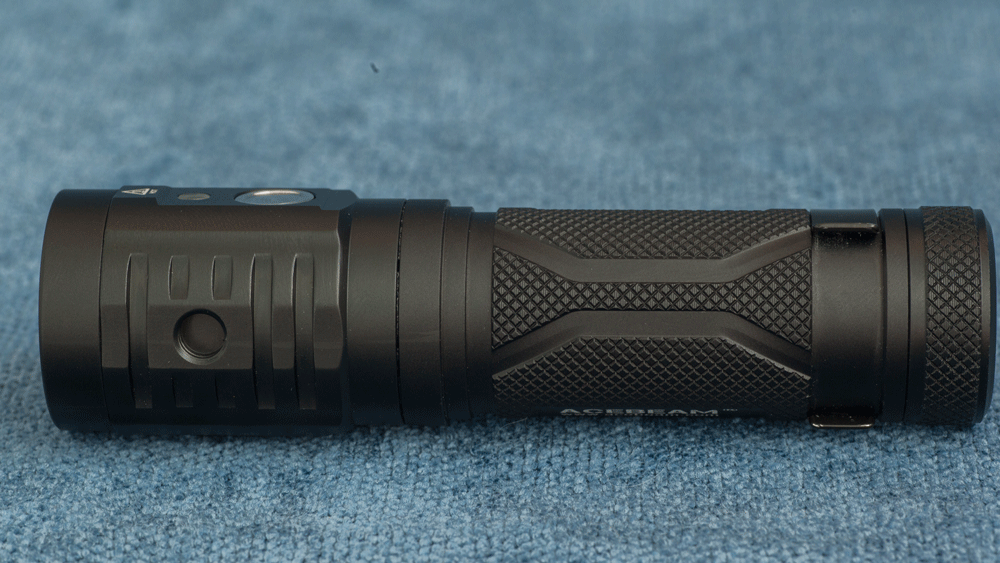 I like knurling, that reminds me some space-ship interior decoration from SF movies and games.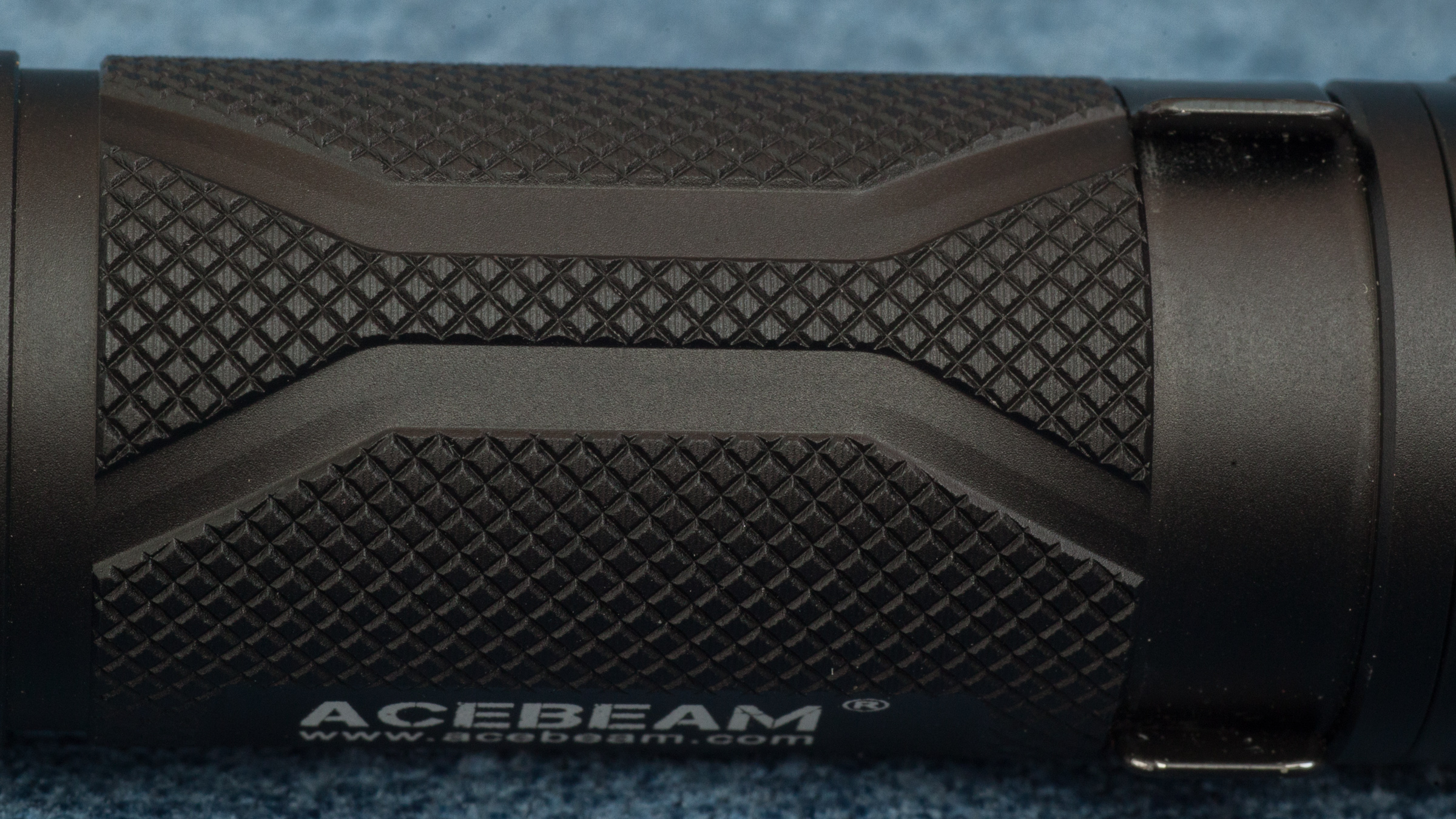 As usually, there are two flat opposide sides with model and brand names.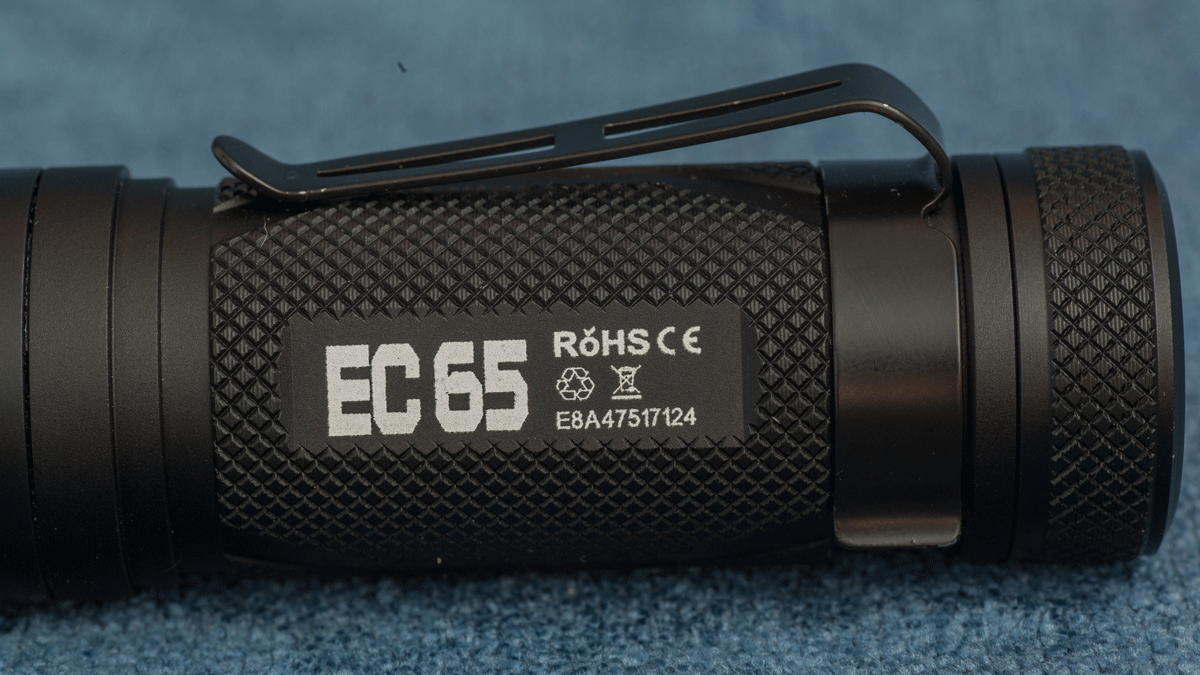 Tail is flat, may be adding magnet would be good idea.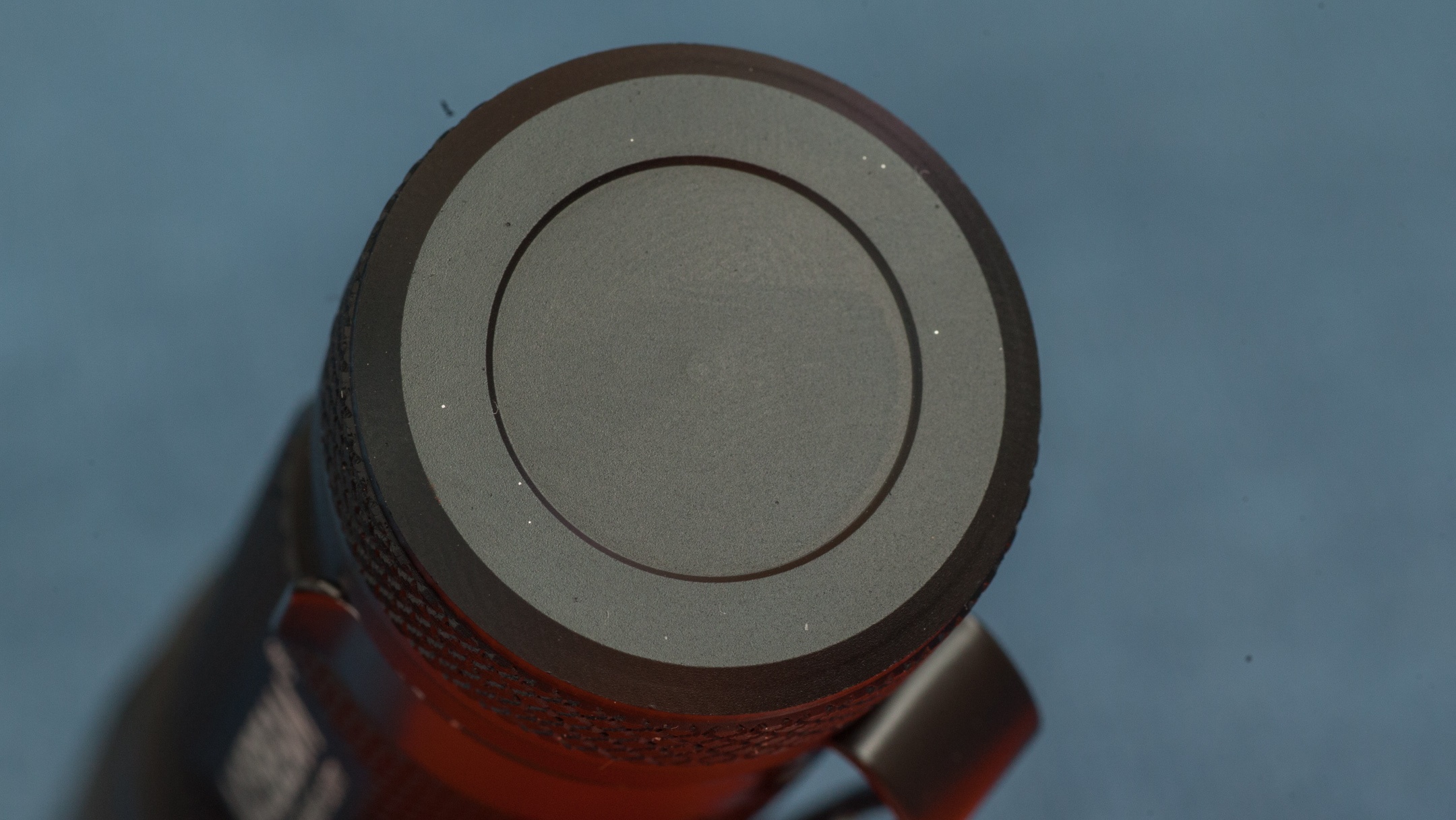 Spring is thick and reliable.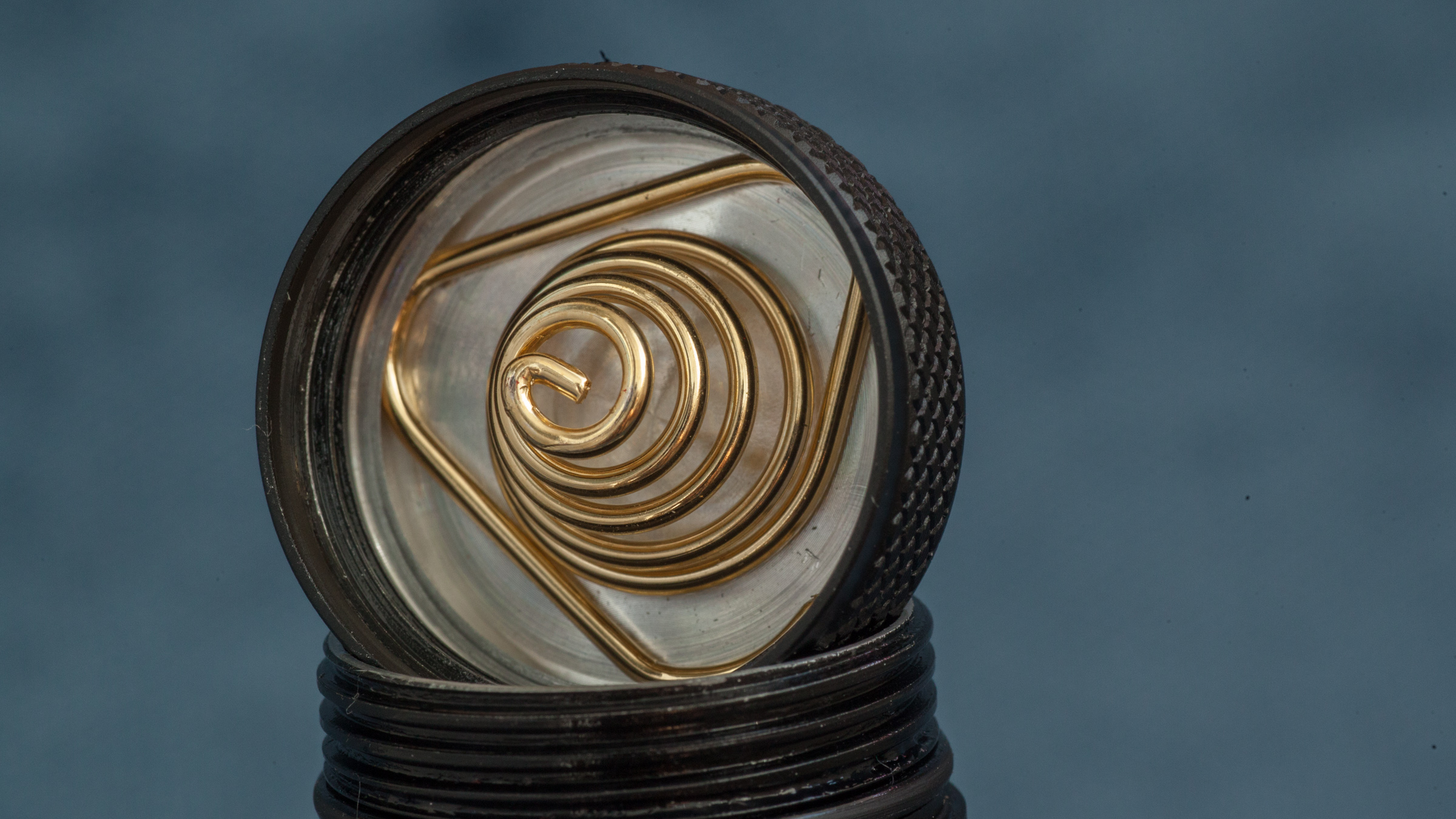 Threads are big and well lubricated. Just 3 threads, but tailcap sits on them firmly.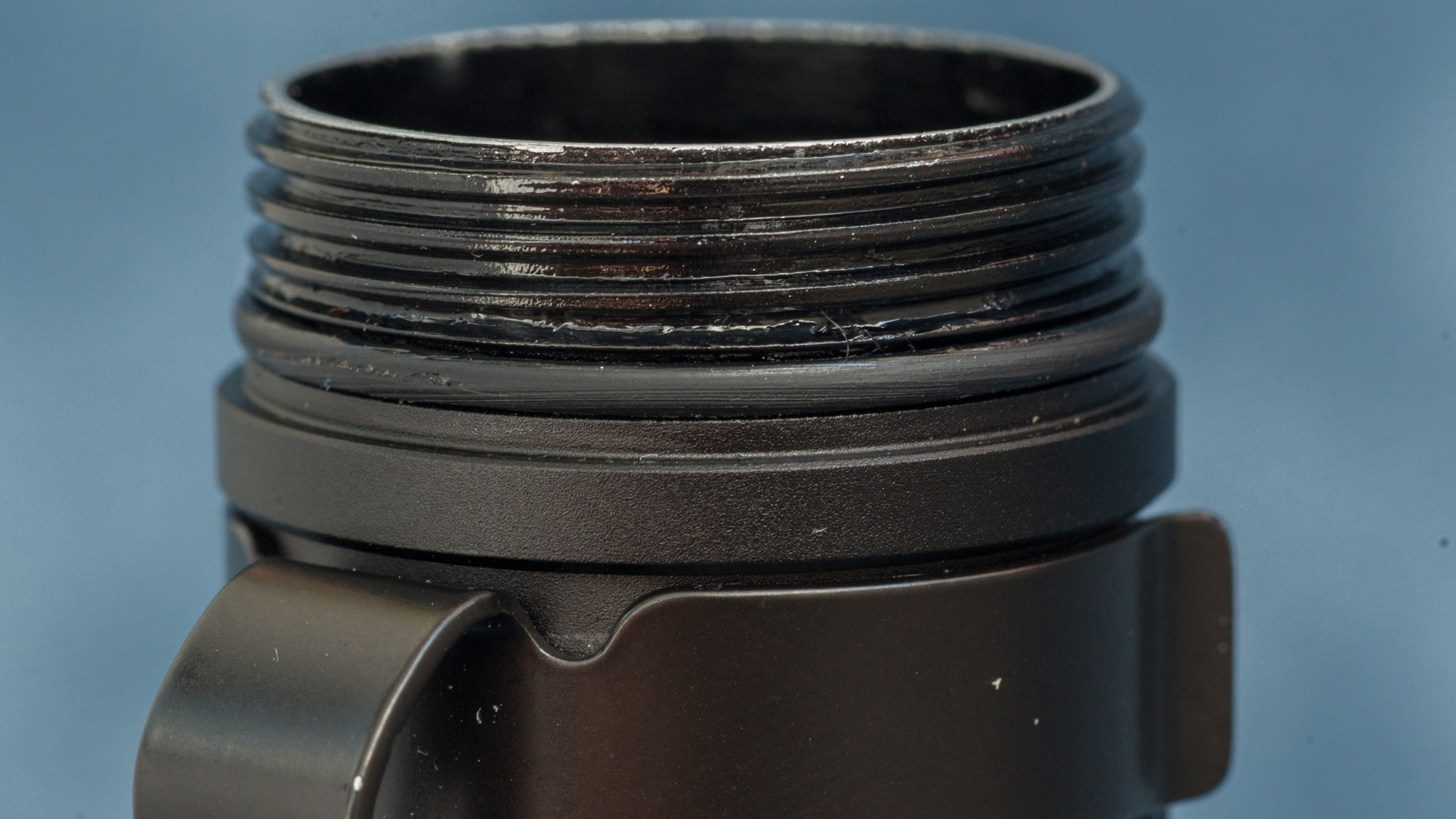 Spring at head is equally thick.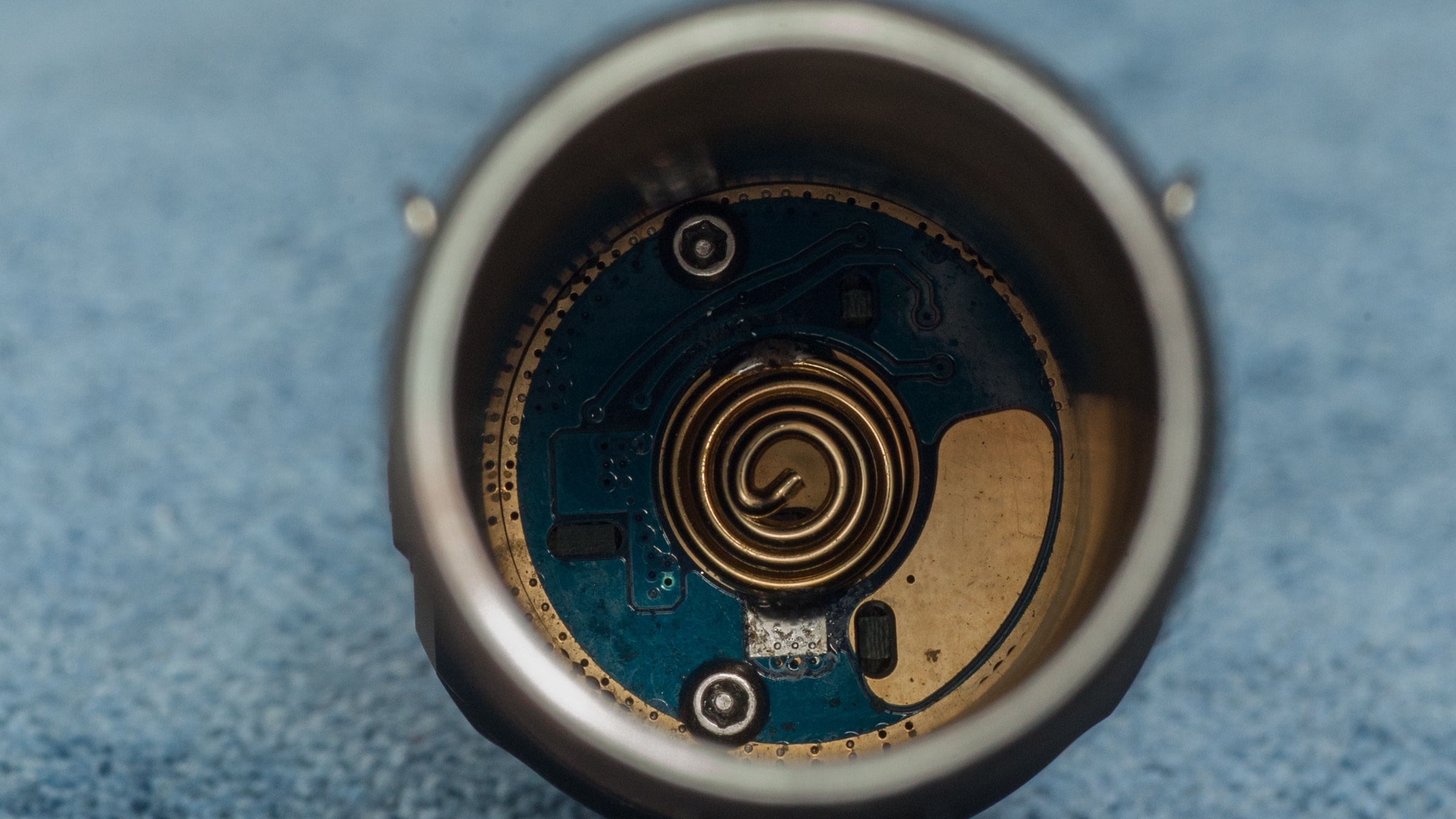 I was surprised to see tripod mount here, that is not decision often met, I remember only
Haikelite H03 \ BLF GT. And they are big lights. So, for photographer, Nichia version of EC65 would be a good tool.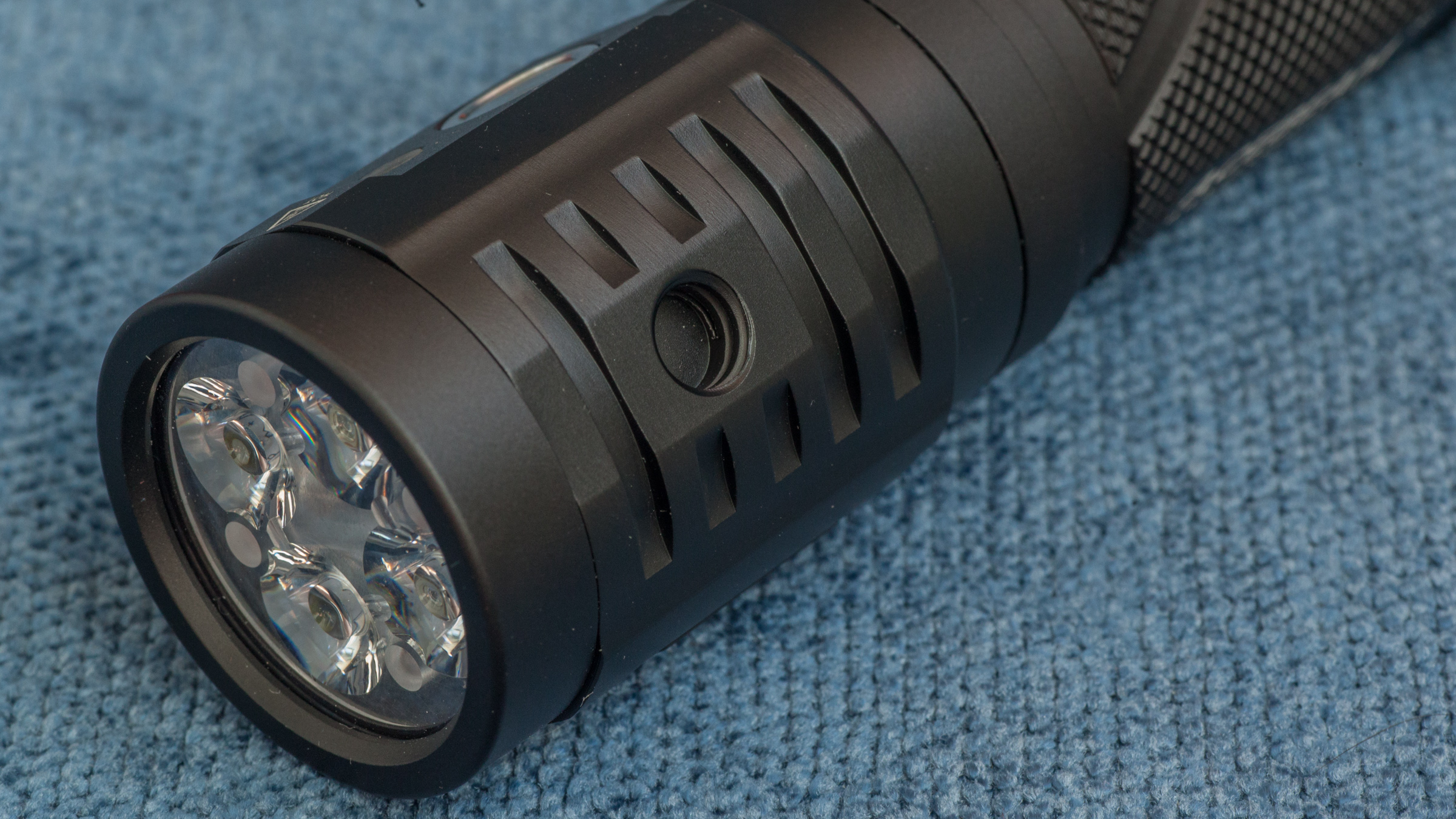 Cooling fins are shallow and wide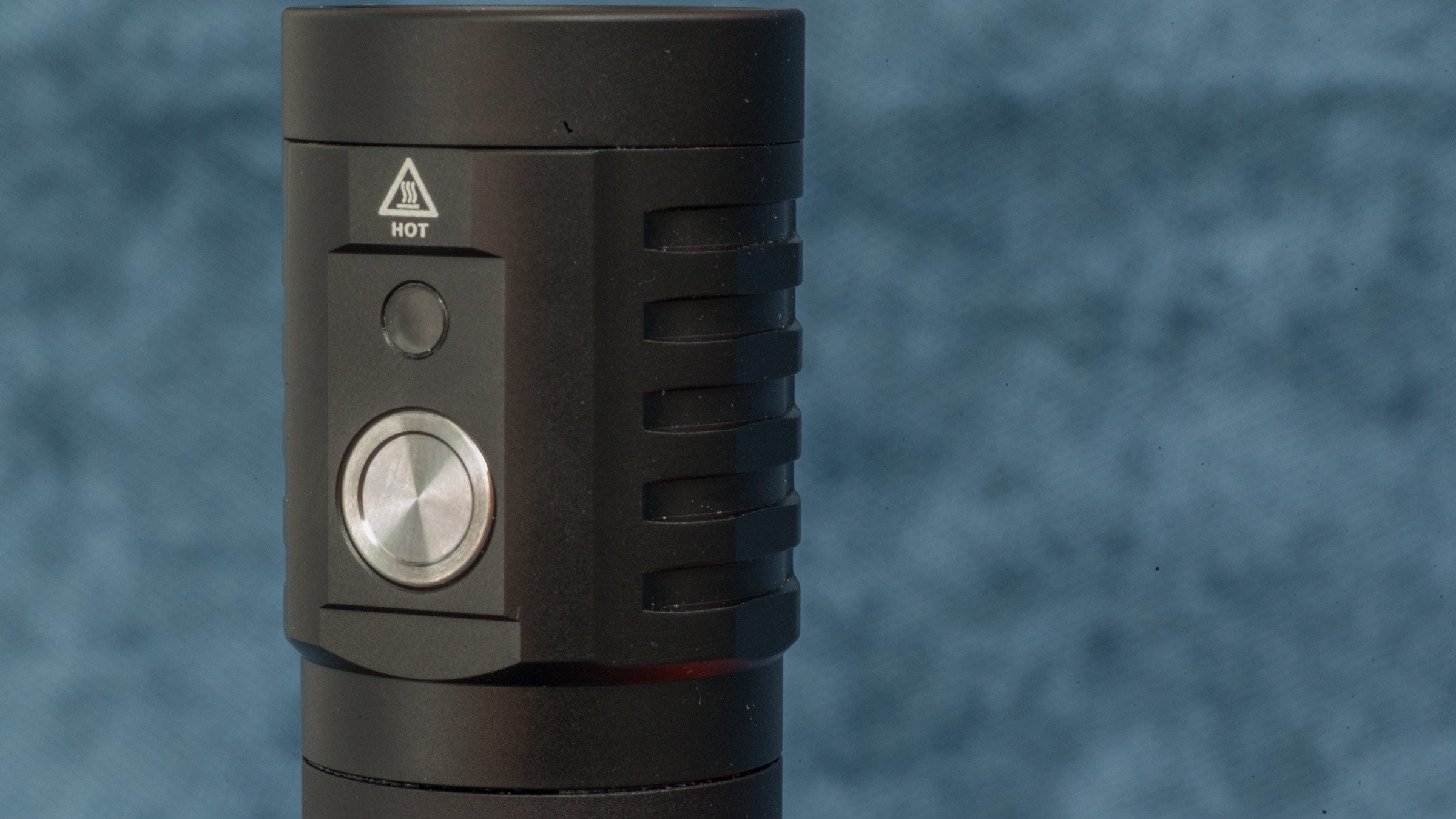 Besides innovative 21700 battery, Acebeam installed type-c. Great! Cover is thick and tight. But, still, I vote for adding spare cover to package.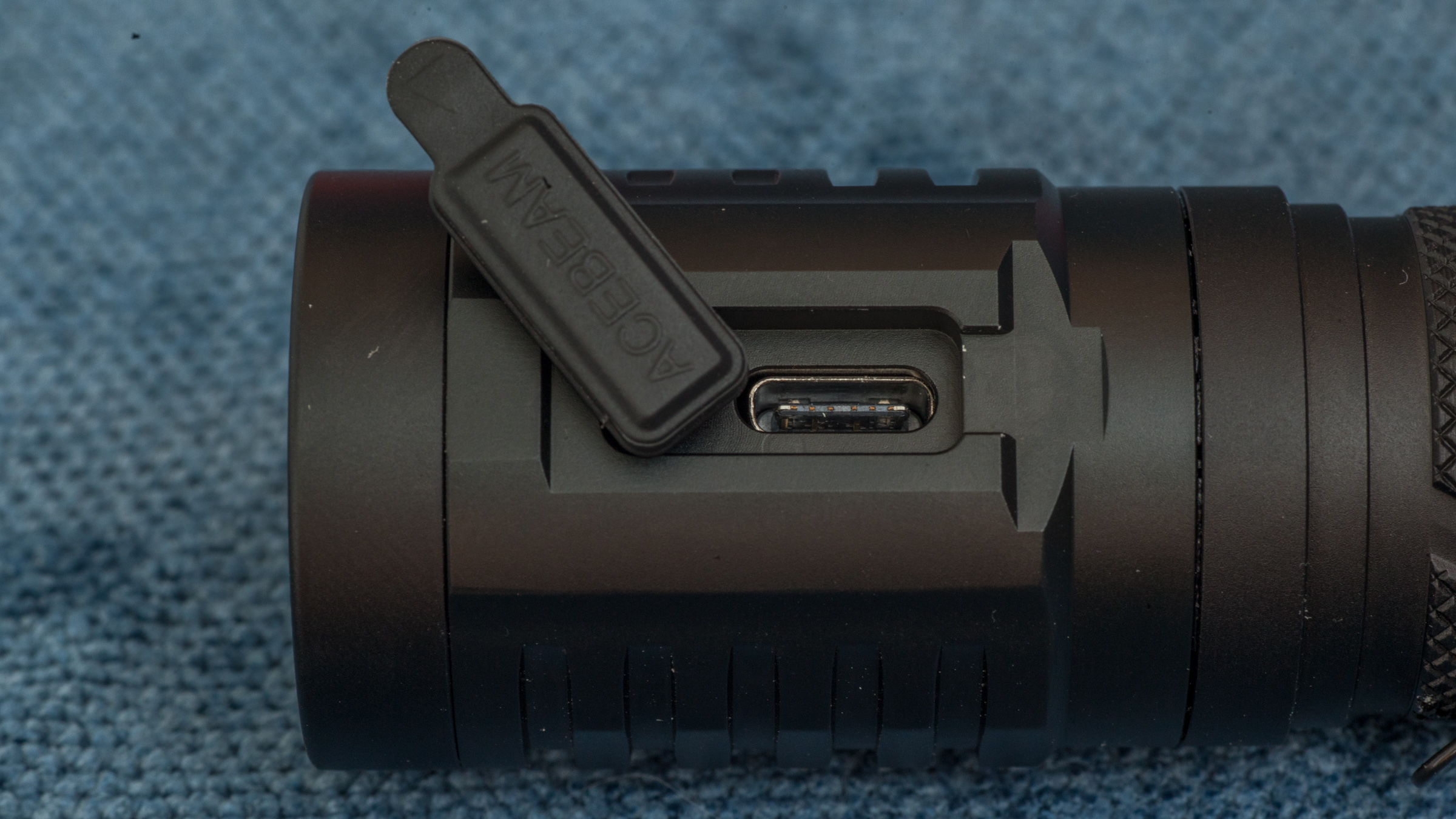 One more unusual feature – button is concave. I`ve already met such buttons and find them useful, as chances to occasionally press it are low, and to my surprise finger locates button easy.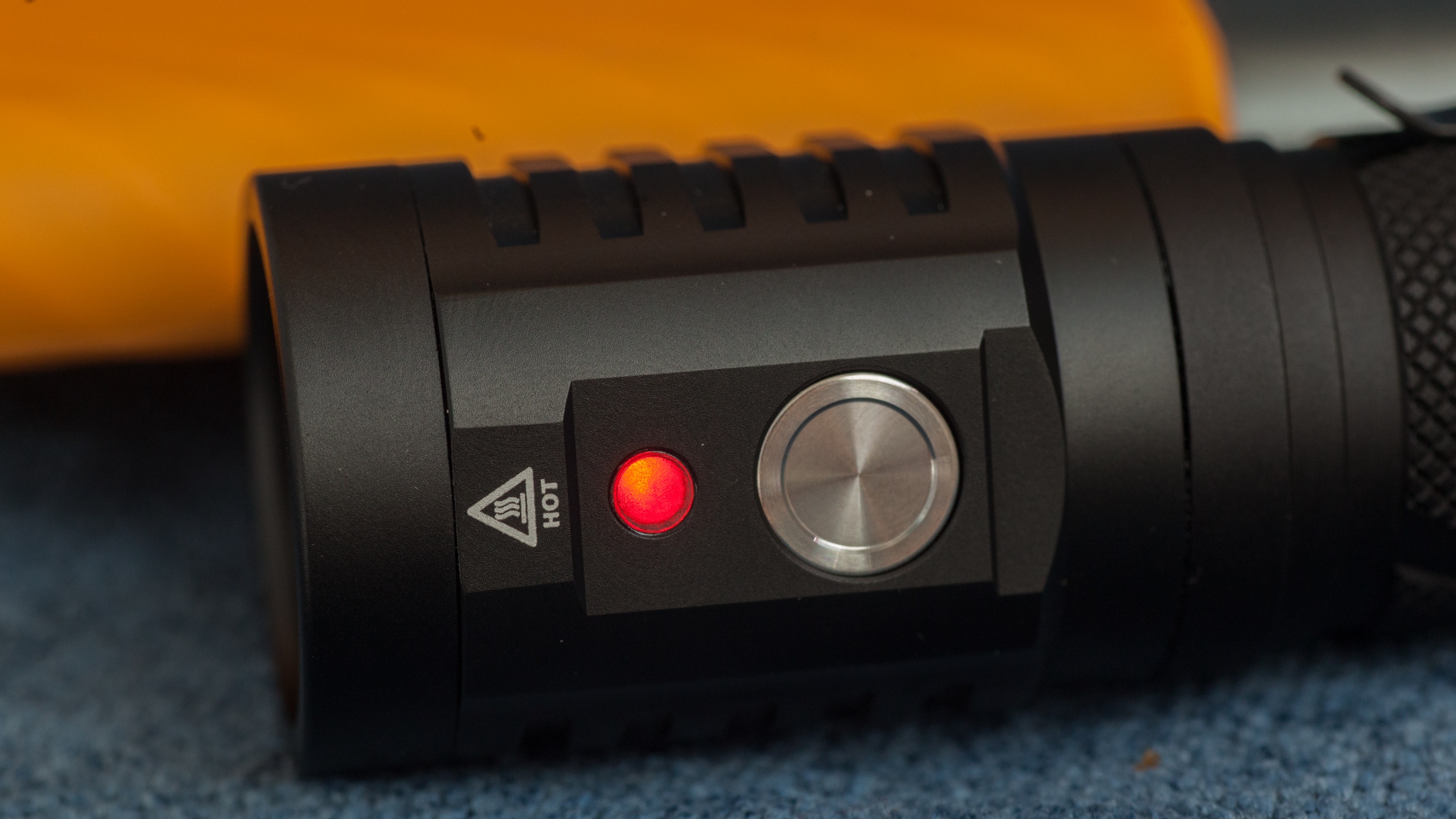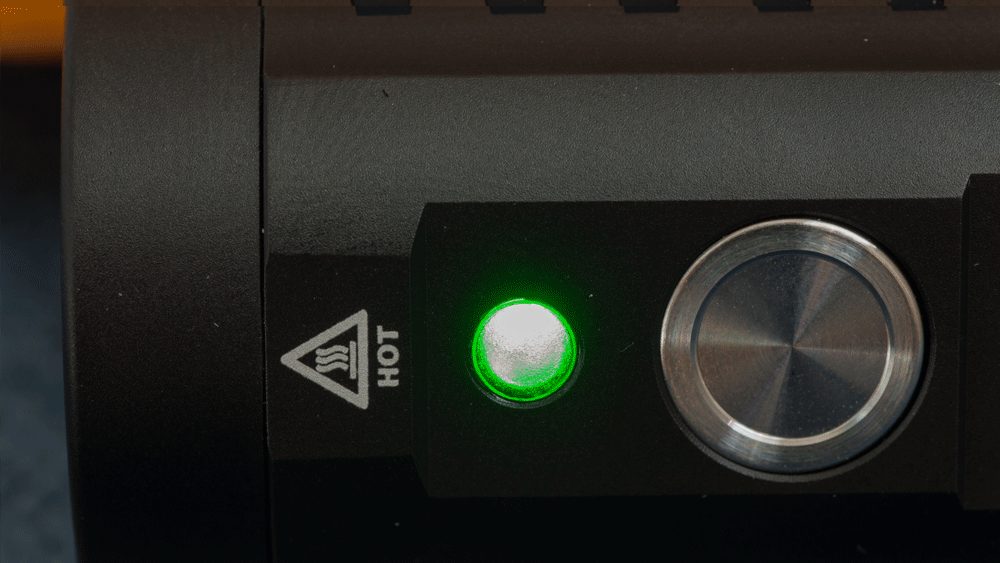 Triples-quadriples are not often met decisions, I mostly see them in lights that combine correct tint (nichia) with good brightness. And here the same: users, who want more lumen, get 4xXHP35 version, other ones may have 4xNichia (i`d pick this one). Carclo optic.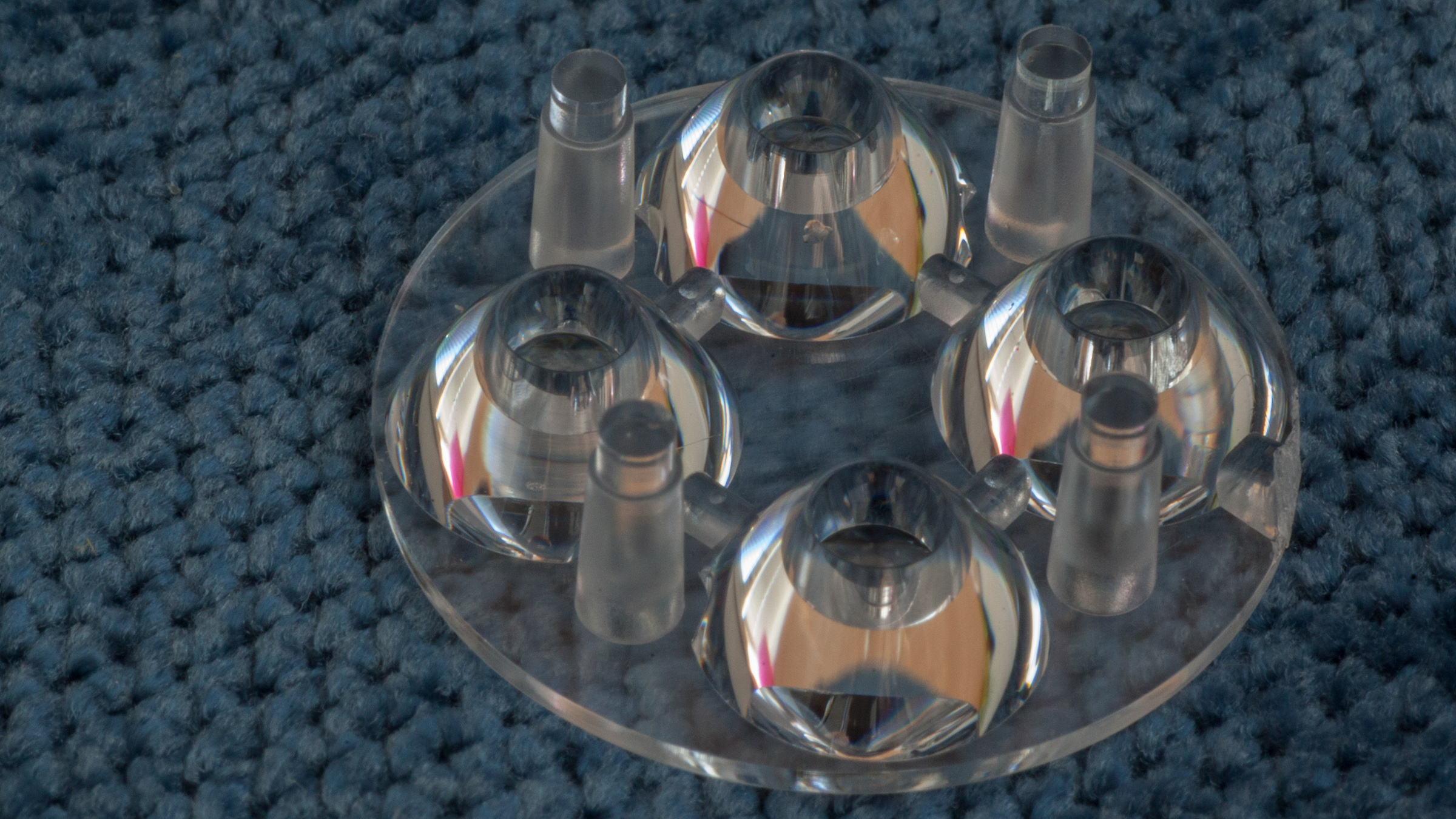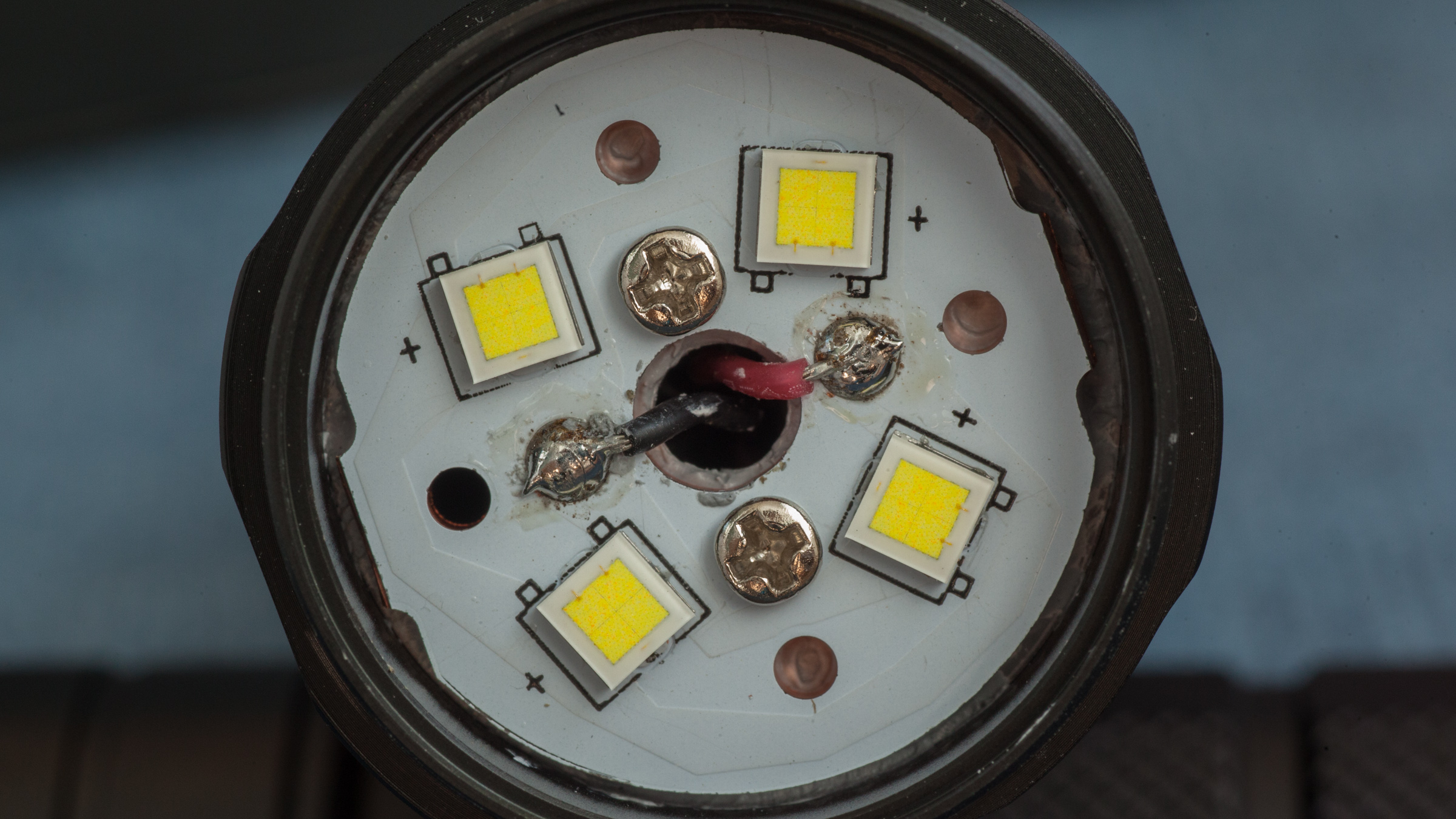 I couldn't unsolder copper plate, as there is almost no space between LEDs, and I was afraid to burn them. But looking at it from different angle you can see how thick it is.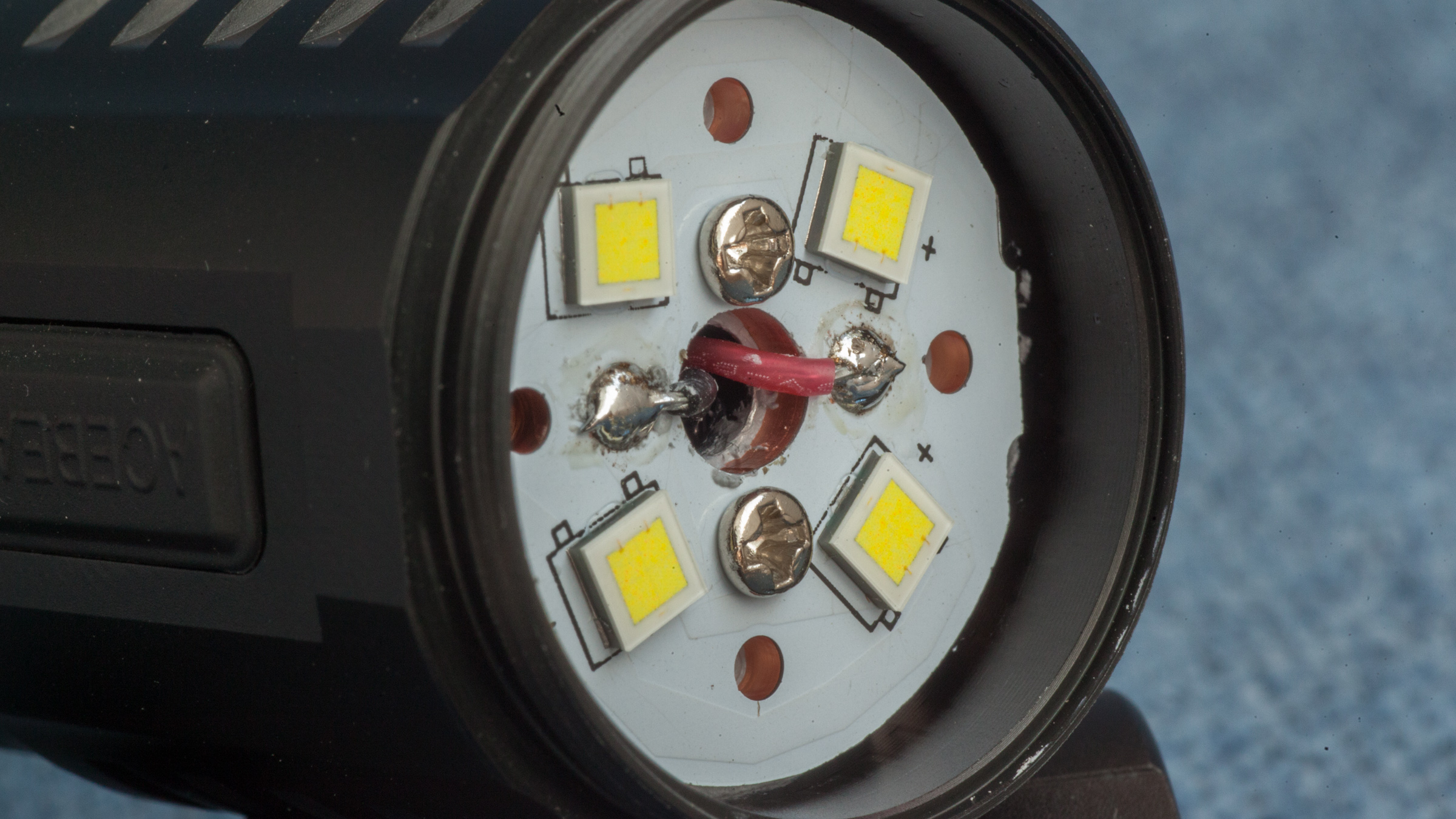 Led is toughened, AR. Like all the glasses in good light, actually, that is the feature no manufacturer tries to save dime on.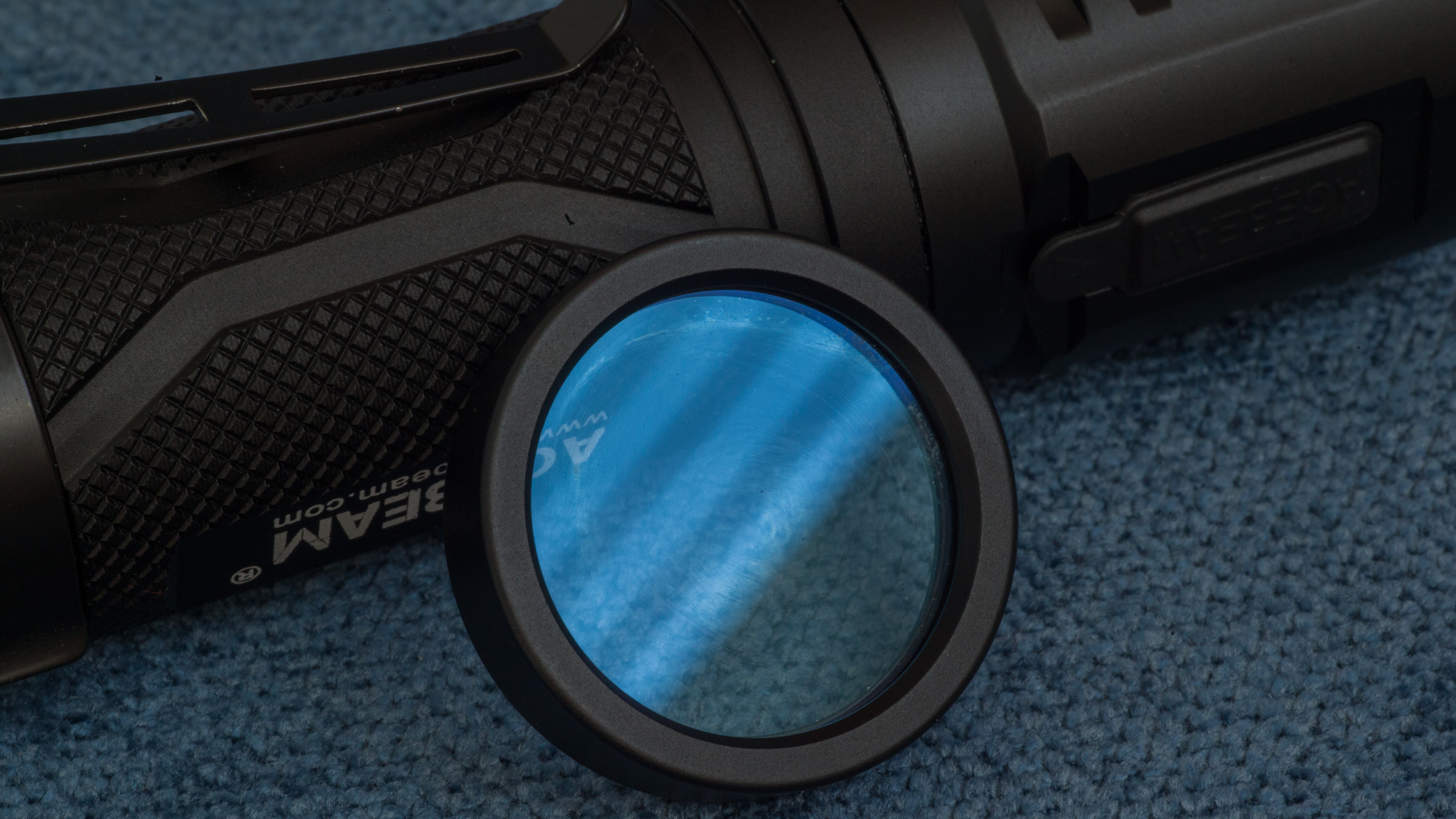 So, that`s all. EC65 looks good. Build quality is good as well.
UI
Simple.
From off:
Click side switch to turn on the light on the last mode used (low, mid, high only)
Double click for turbo, long press to go back to low
Triple click for strobe, long press to go back to low
1 second long press for lowest output (firefly)
3 second long press for electronic lockout, 3 second long press to unlock
From on:
Click to turn off
Hold switch to advance to the next mode (low-mid-high-low…)
Double click for turbo, long press to go back to low
Triple click for strobe, long press to go back to low
PERFORMANCE
In my case – 6000K.
No PWM-shimmering.
CRI 70
Light is liiiitle bit green in center, as you may expect from XHP35. For ordinary use – OK, if you look for perfect tint and temperature, pick Nichia version.
For example, comparing with CW S2+ XM-l2.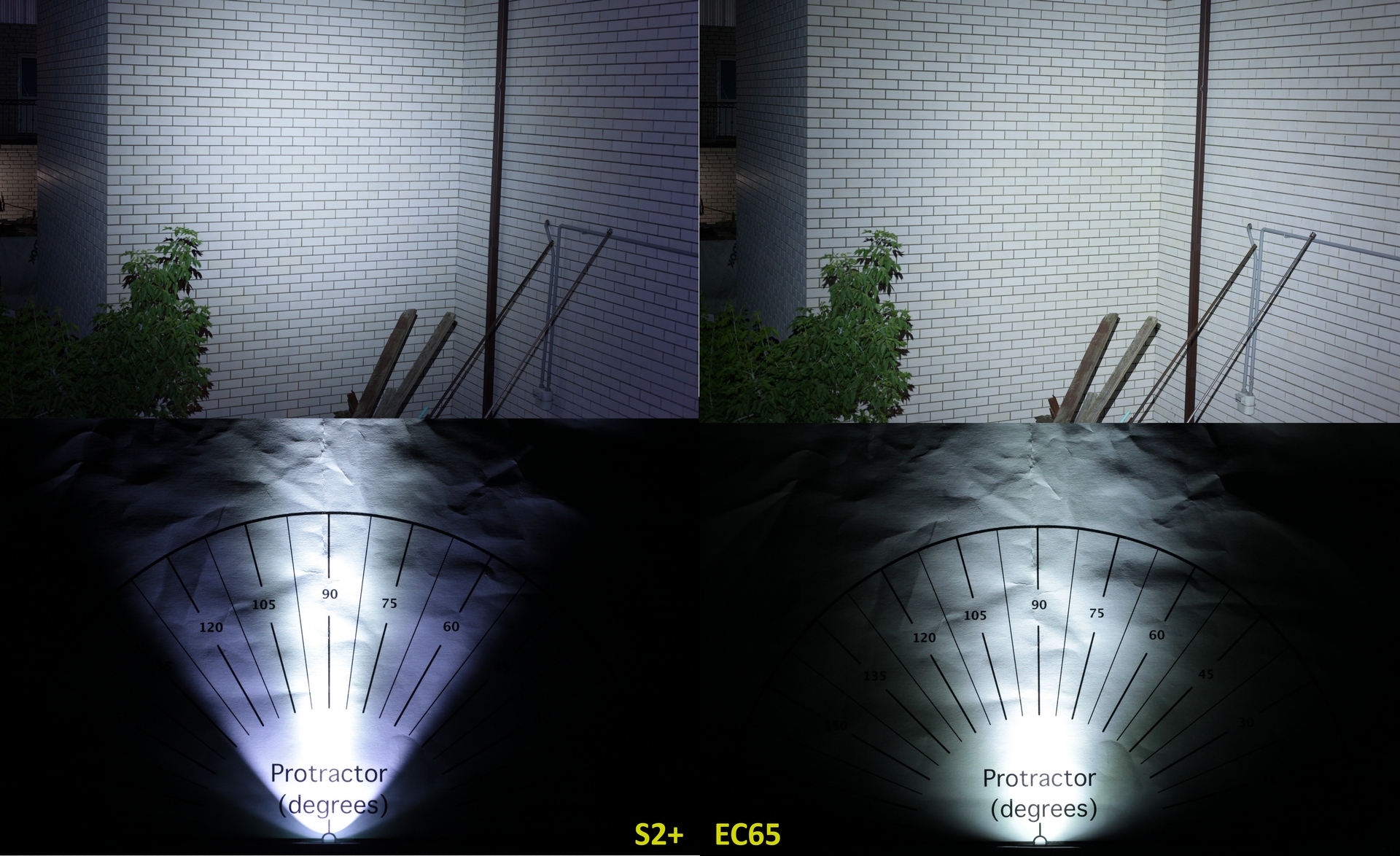 Charge is great, 2.2А and about 3 hours, bunch of light will only charge half of 1865 battery within this time. And , yeah, type-c!
For process of charging charts I want to leave a link to Maukka`s review.
Battery is real capacity.
Maukka used Samsung 30T battery and result was different from included battery.
Don't overevaluate this. In this case light will get too hot for real use. Even with included battery it will be challenge to hold light in Turbo barehand.
And even so, after stepdown EC56 is extremely bright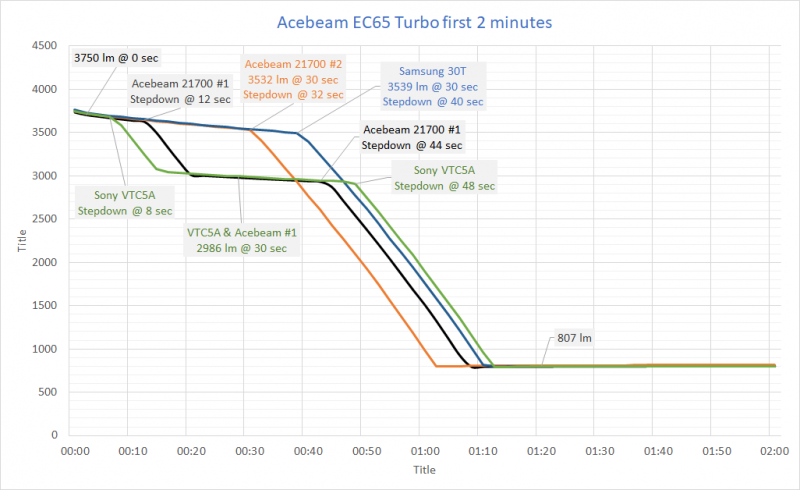 SPECs say about time stepdown, but I don't see it.
There are influences of:
а) voltage. You acheave max brightness only with fully charged battery, then it`ll be lower (but still super-bright for such size).
б) thermal regulation. It can be seen in turbo, but HIGH demonstrates most visible difference.
Maukka says that he`d choose other settings for thermal regulation, I don't agree. In other case light may be too hot for real use. Here, as it is, regulation is well balanced.
What about temperature, in TURBO EС65 is hot. You can hold it but that is not easy.
In high situation is better, I can hold flashlight with no problem. But head is really hot, really.
==
And my charts, you can see difference between VTC5A \ VTC6 and vivid influence of thermal regulation.
I ws surprised with such fall with VTC6, see no reasons.
б) VTC5A shows the same with and without cooling. I ran several tests, result was the same.
I agree with Maukka that adaptor badly influences here. But, at least, we are given opportunity to use 18650. And in case you use it and your 21700 is drained, I bet that in this situation you may deal with this fall in turbo.
Overall, stabilization is good.
15-20meters range.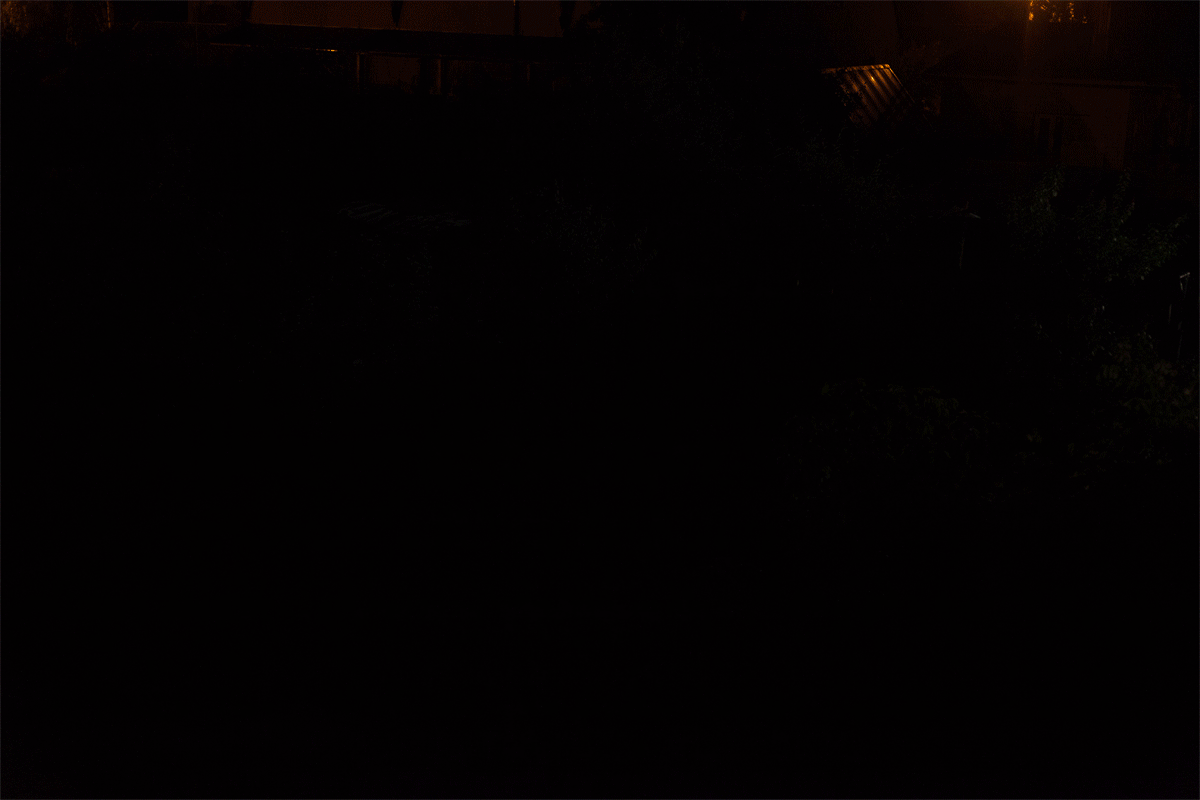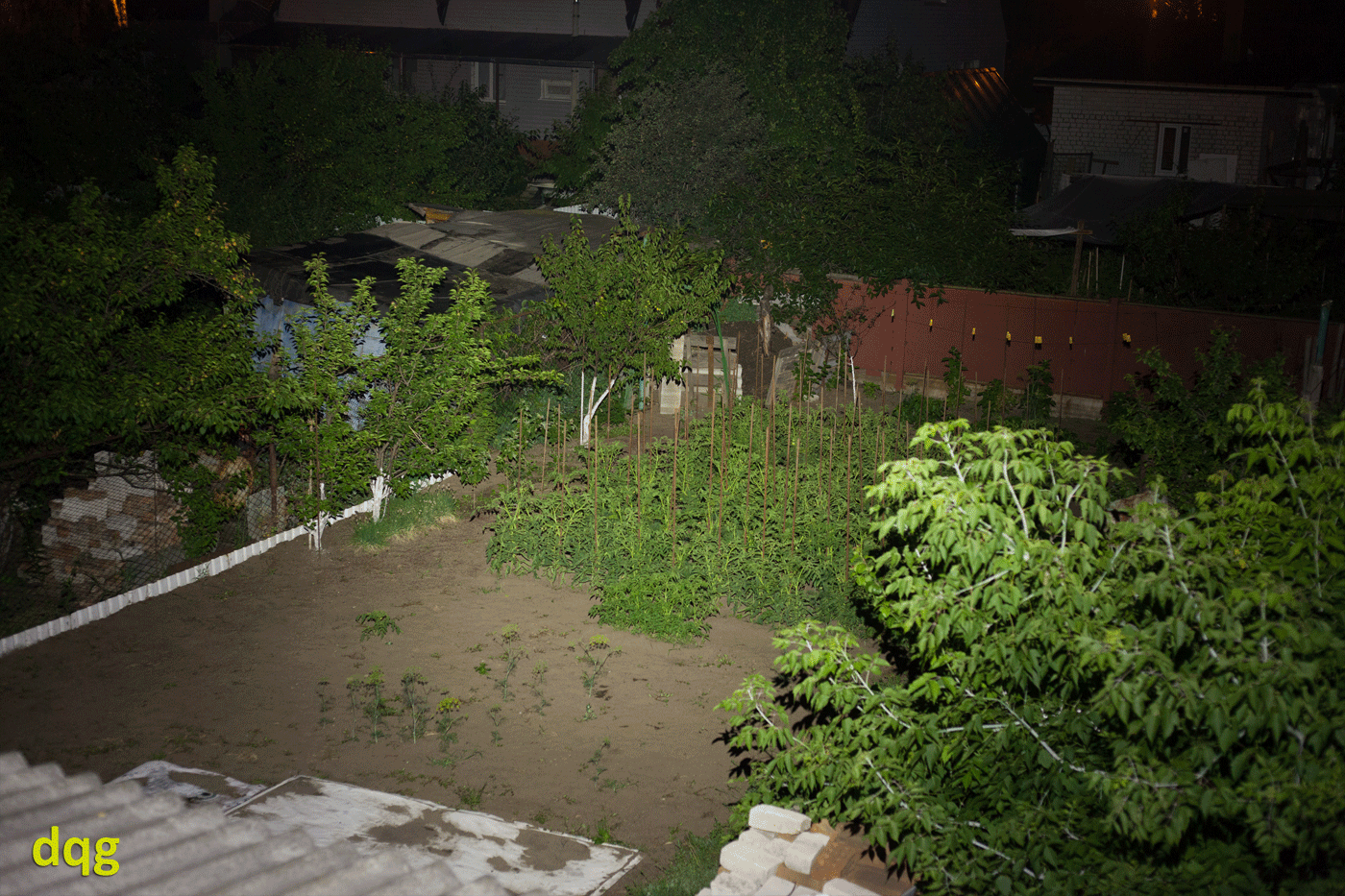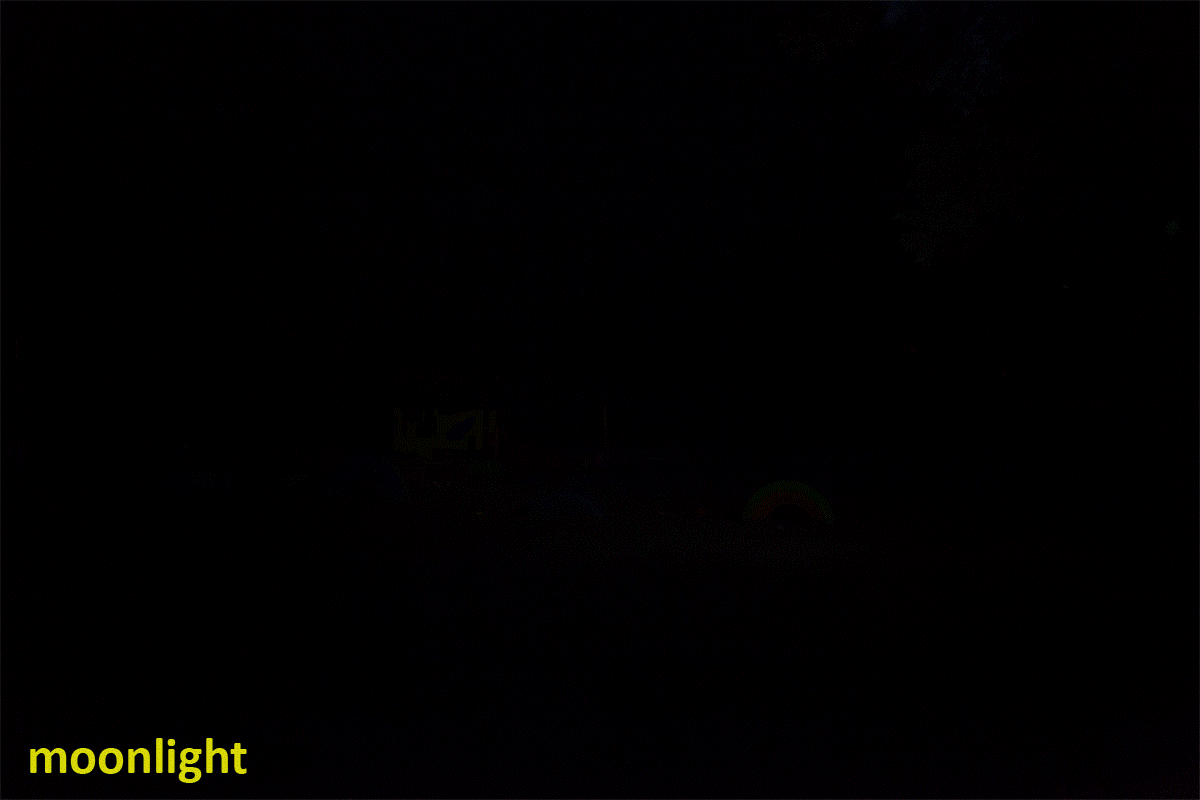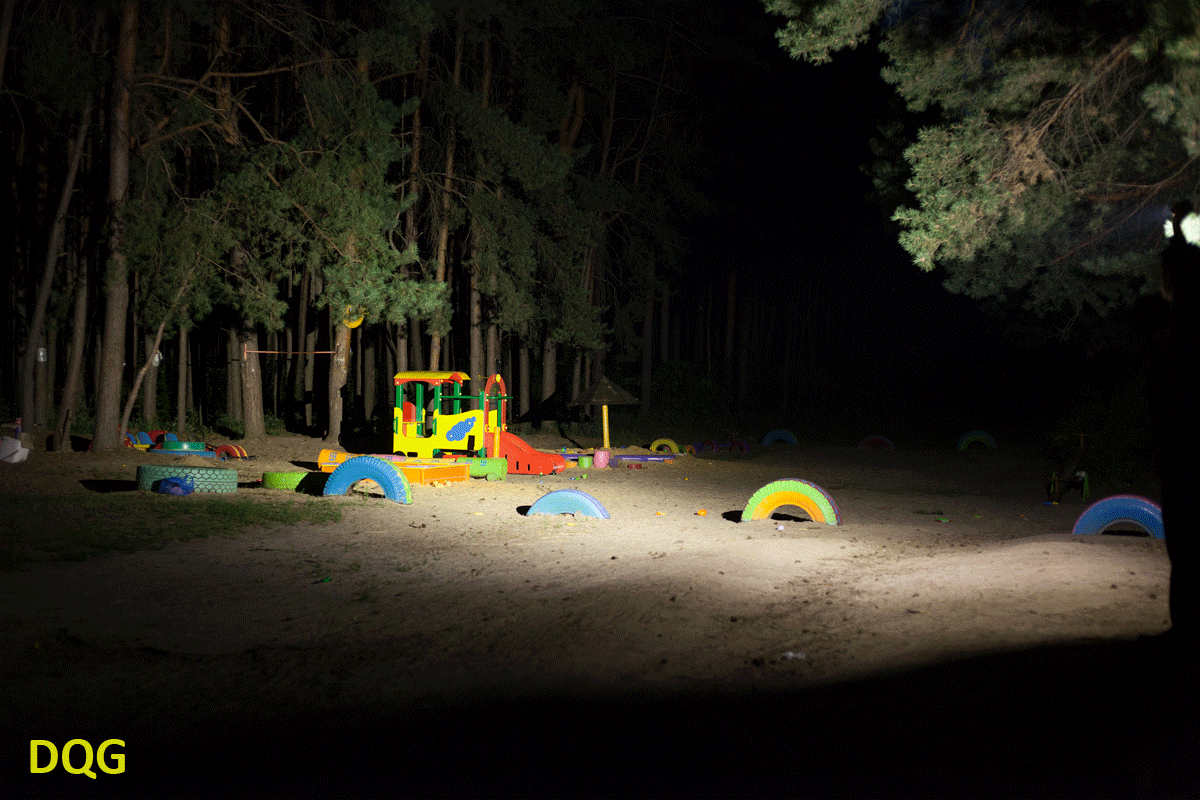 Of course you shouldn't wait real throw from this light. That is flooder. But that is powerfull flooder, so in turbo you still can use it to illuminate distant things with widest sidelight as bonus.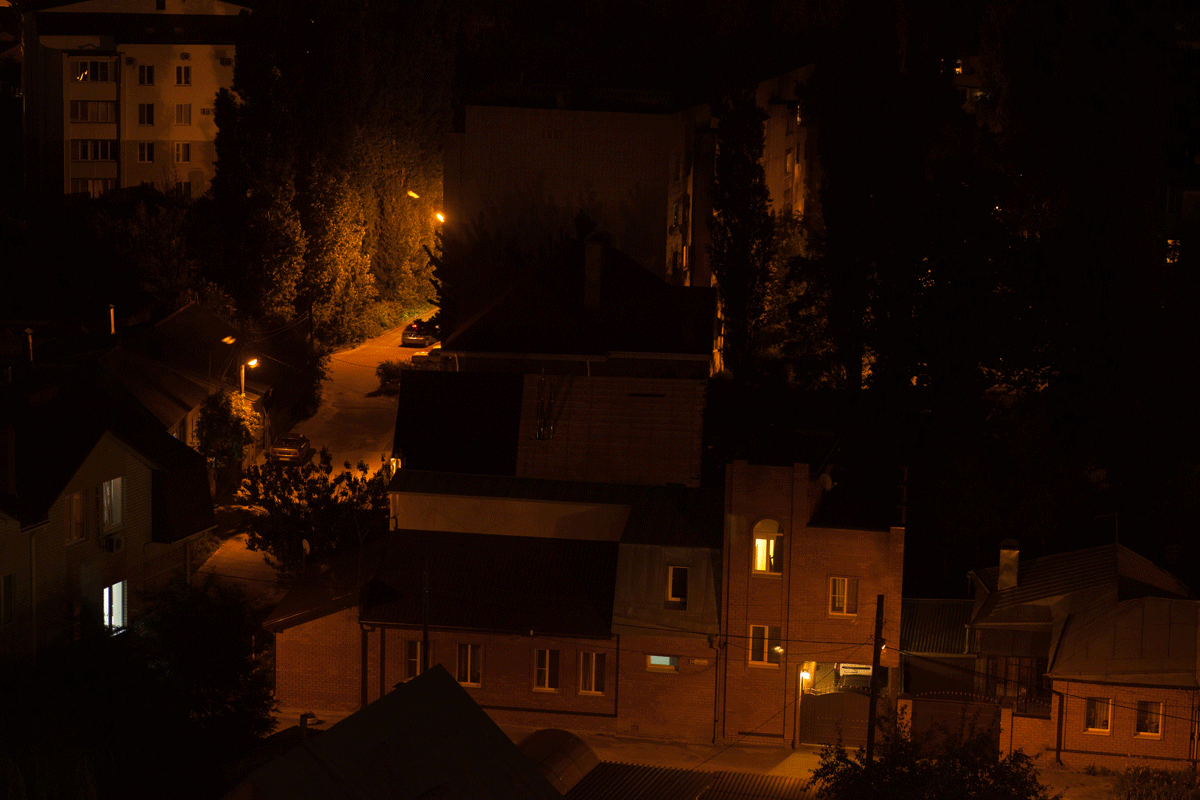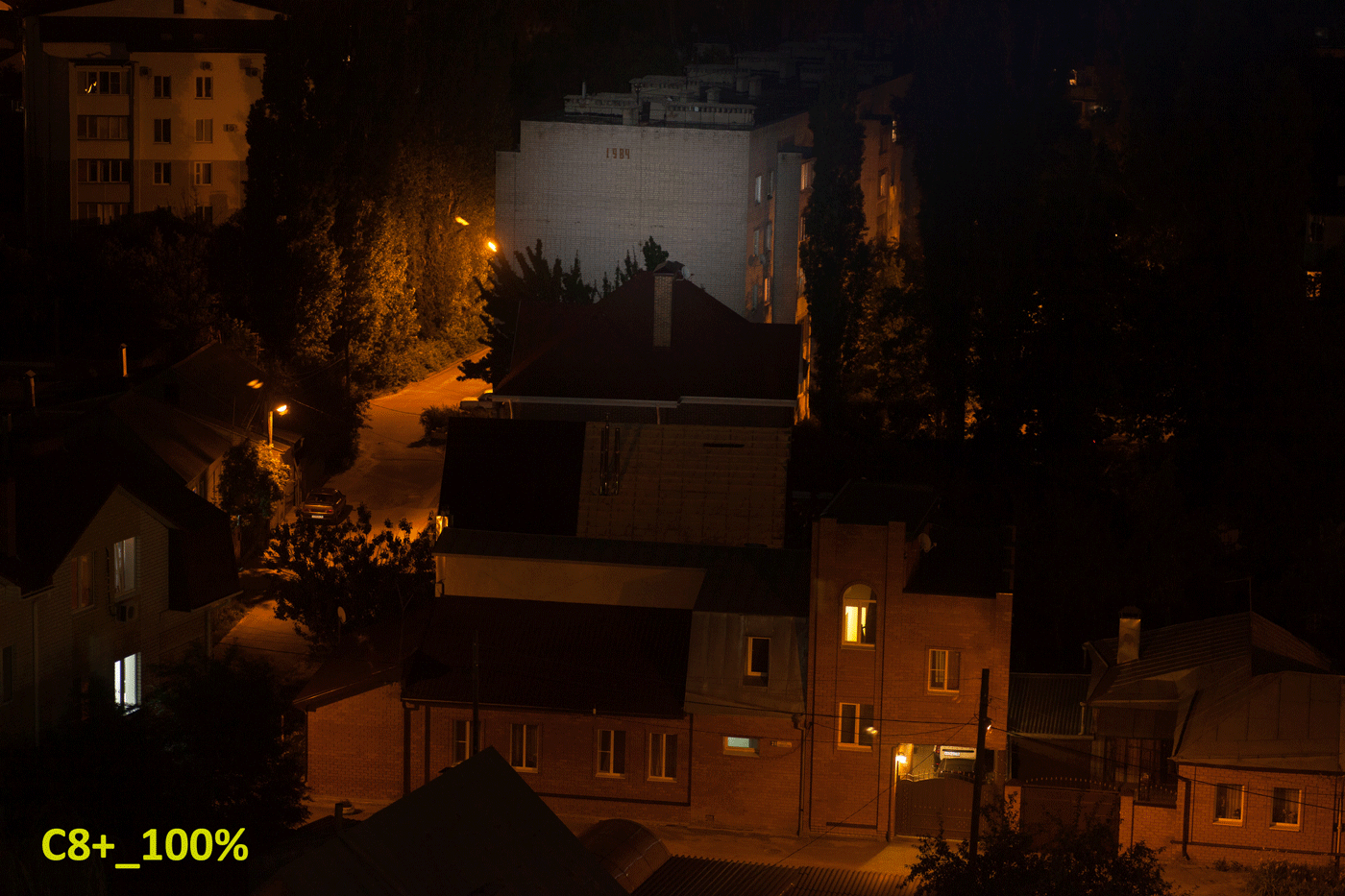 At 70-100 meters situation is better.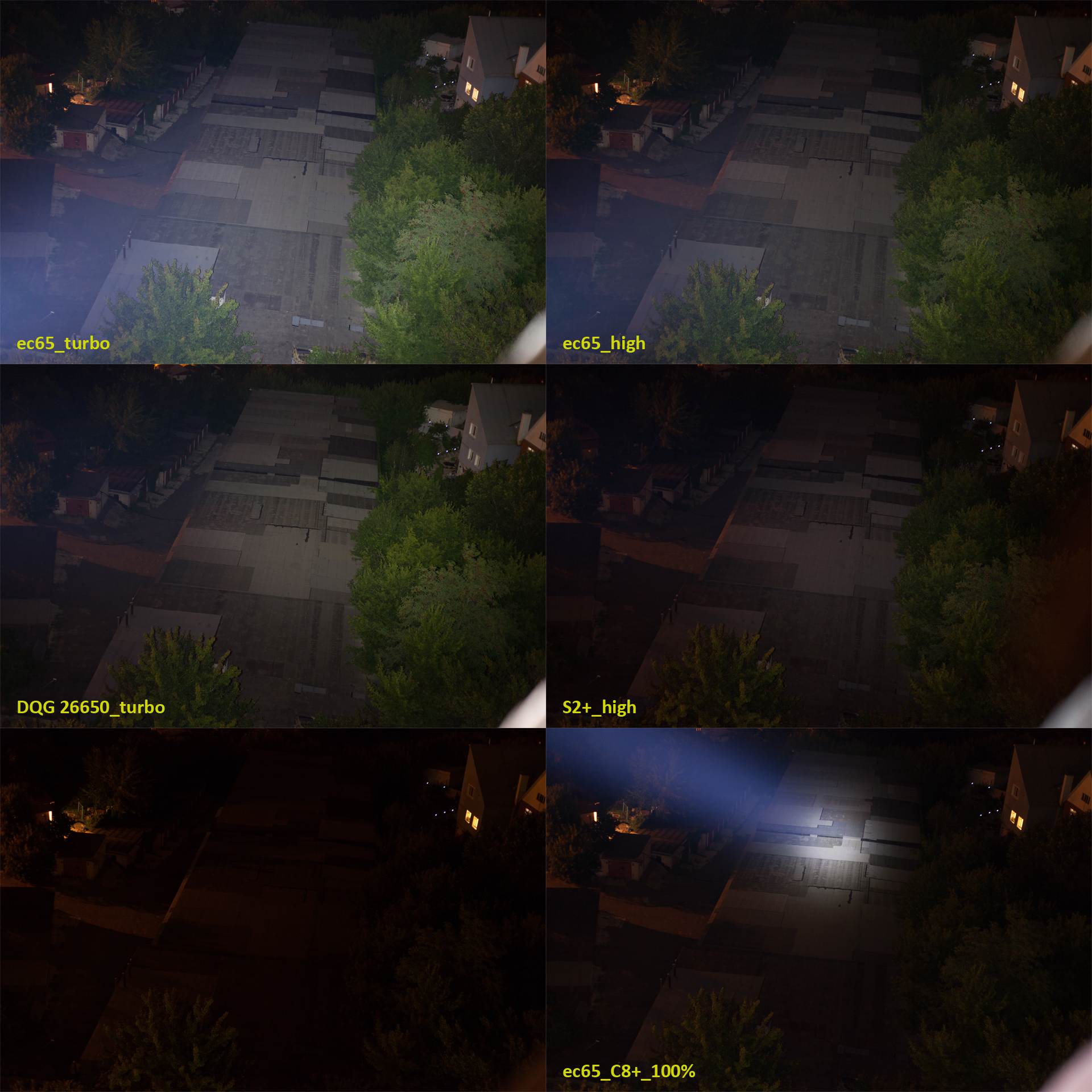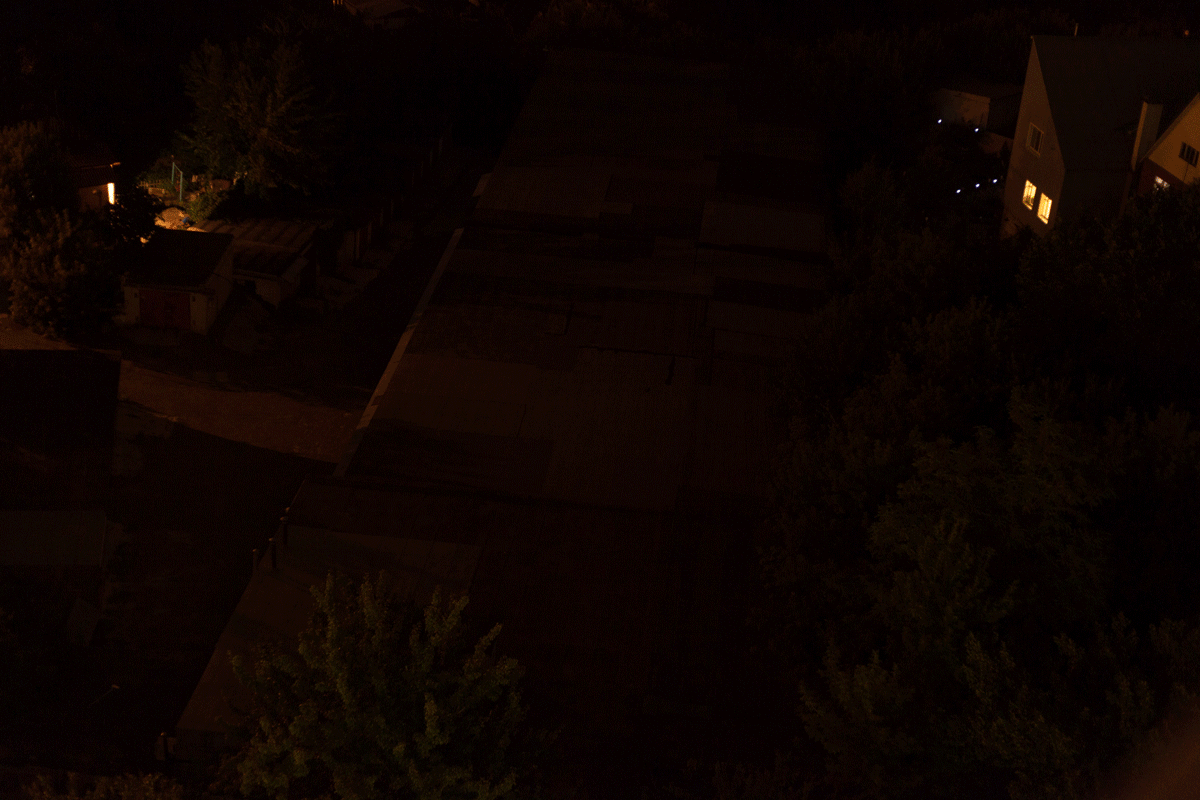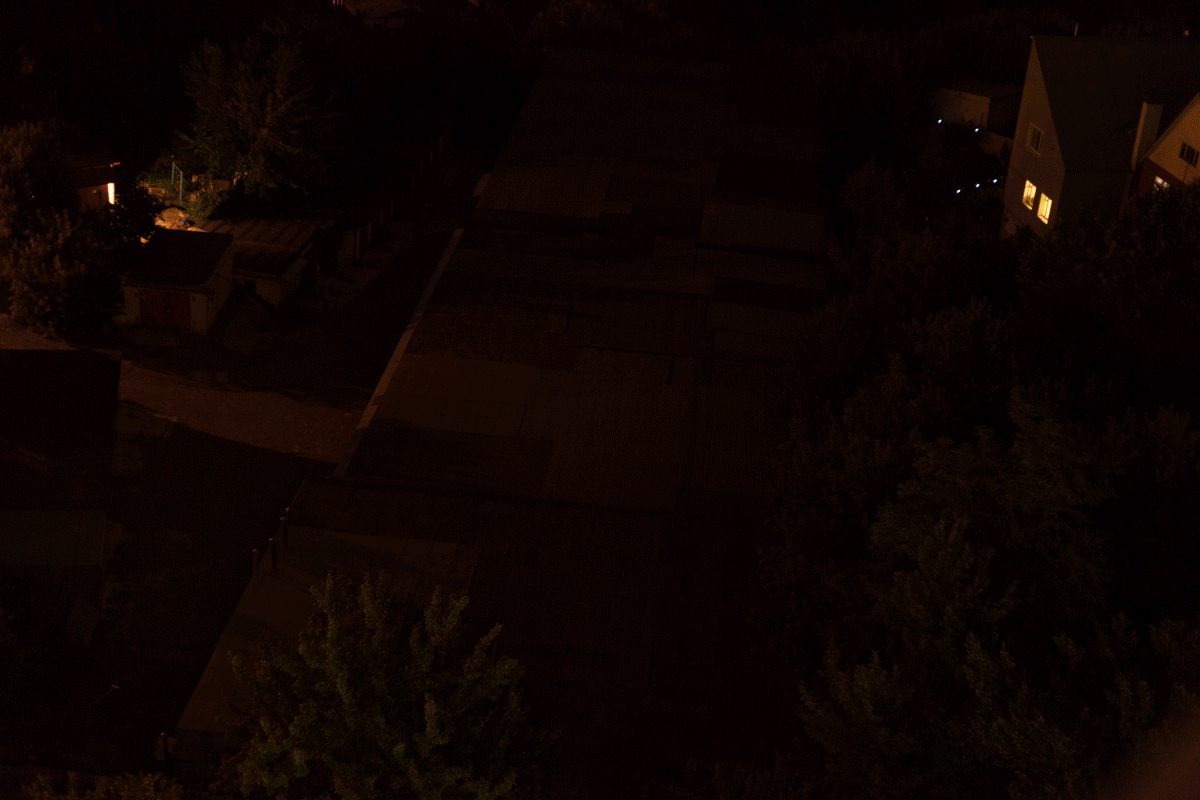 OVERALL
I see 21700 lights as potential market hit. It lets keep the same size of body and gives you much more rutime.
Again, Acebeam made a great flashlight.
—-
+ appearance and build quality
+ choice of bright and correct light – XHP\Nichia
+ UI
+ good stabilization and thermal regulation
+ 2А Type-C charge
+ really bright for it`s size
+ no visiblePWM-shimmering
- lack of 0.5-1lum and something around 100.
- max brightness can be achieved only with 1st start of fully charged battery
- 18650 performs significantly worse in turbo than 21700