A lot of flashlight manufacturers tried to find success with zoomies. I tested several and mostly wasn't that happy with them. Klarus went further and decided to mix their well-known tactic lights with zoom optic. Lets take a look if they succeed.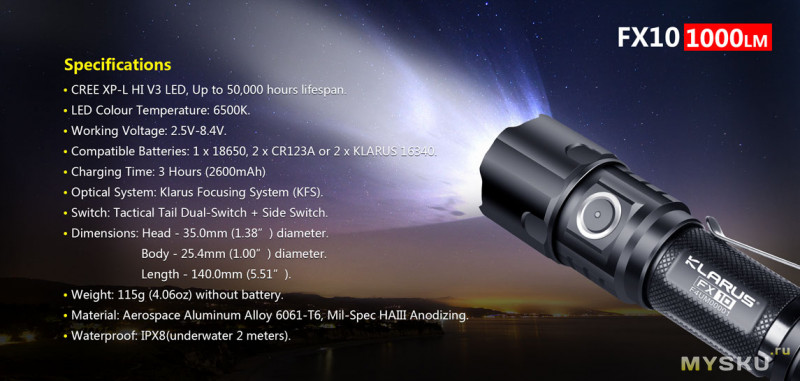 You can buy Klarus FX10 at
➤ AMAZON
➤ ALIEXPRESS
➤ BANGGOOD
Specs:
• CREE XP-L HI V3 LED; Extreme floodlight and spotlight beam capability; max beam distance up to 300 meters.
• Klarus Focusing System(KFS), next-gen patented optical lens(patent number: 201820399580.X) with ergonomically designed adjustable focus/zoom, modify output from spotlight to floodlight easily; even and soft flood light pattern will dazzle users.
• Optical-grade Polycarbonate Lens, superior light transmittance, long lifetime, resistant to oxidization, high temperature, and ultraviolet ray.
• 2600mAh 18650 battery included, max output up to 1000 lumens.
• Patented tailcap dual-switch and side switch design,suitable for all types of scenarios and easy to operate.
• Intuitive User Interface: One Touch Strobe; One Touch Turbo; One Touch Low; Mode Memorization; SOS; Side Switch Lock Out Function; Battery Capacity Indicator, Convenient USB Charging; ITS (Intelligent Temperature protection System); Quick Mode Change.
• Compact and Lightweight.
• Patented Tactical Tail Dual-Switch Control; non-visual tactile one-handed operation in the dark, intuitive to operate.
• Two interfaces: Tactical Setting; Outdoor Setting.
◇Tactical Setting: Classic KLARUS XT series control. One Touch Strobe; One Touch Turbo; versatile in all capacities.
◇Outdoor Setting: Specifically designed for the wilderness. One Touch Low; One Touch Turbo; Multiple output levels with memory, SOS function; suitable for all needs in Hunting, Hiking, Camping or Search and Rescue.
• Common Micro USB recharging port protects against moisture, dust and sand.
• 1A recharging current; brings the light quickly back into action.
• Intelligent Digital Charging Module; monitors charging progress for safe and fast recharging with over-charging protection.
•Intelligent Temperature Protection System(ITS), monitors and auto-adjusts output levels in real-time to keep LED and crucial component safe for the best balance of performance and equipment safety.
•Battery Capacity Indicator shows remaining battery capacity any time.
• Springs at bezel and tail resist shock and drop damages.
• Reverse Polarity Protection; eliminates damage from incorrect battery orientation.
• Aero-space Aluminum alloy body with CNC machining; Mil-spec hard anodizing (HA III); lightweight and robust.
PACKAGE AND APPEARANCE
Good package, both in design and material. A
ctually, it would be strange if I got something bad with brand flashlight.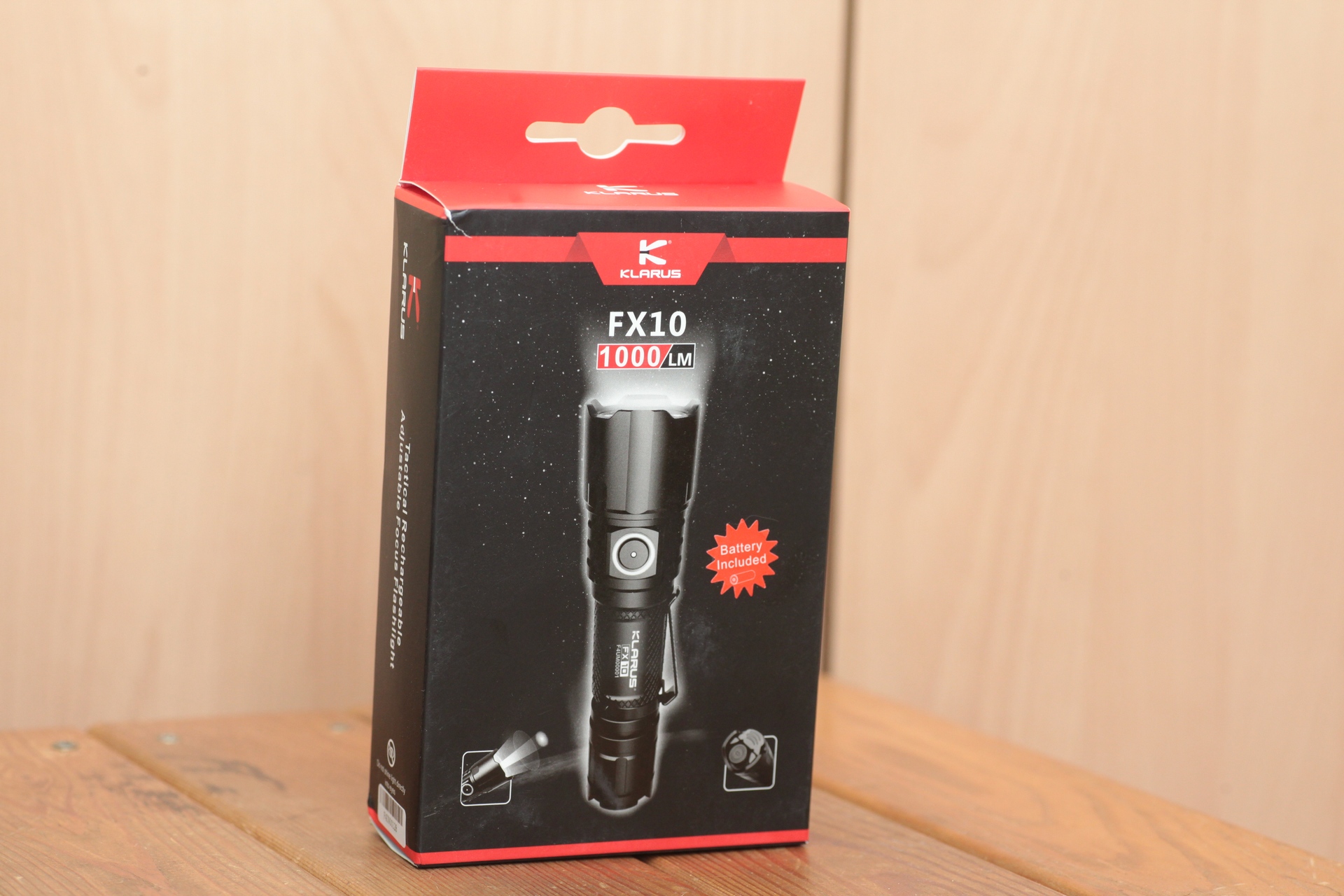 Set includes: flashlight, charge cable, holster, lanyard, manual, battery, o-ring.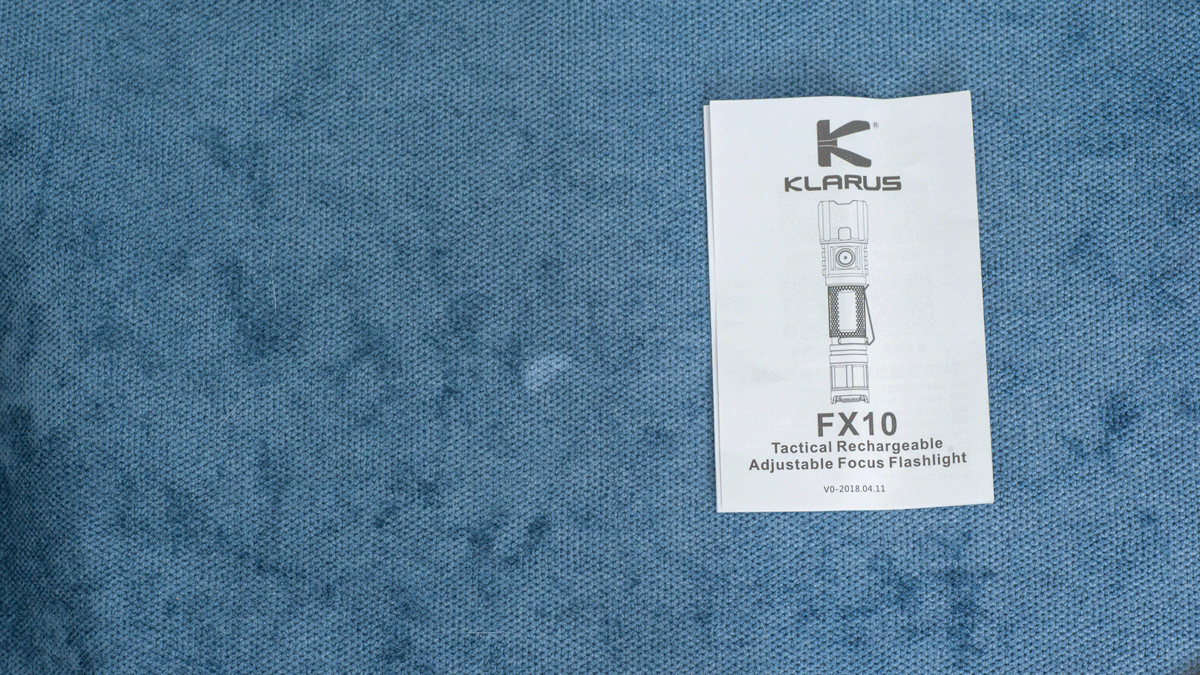 There are optional stuff as well: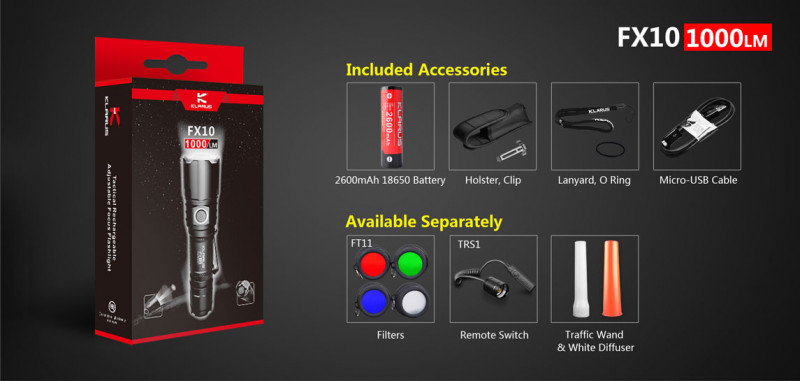 FX10 is not that big, but definitely bigger than EDC lights. Typical tactical flashlight in length and wide.
140х35х25.4mm, 115g without battery. Grip is good, no complaints.
Strange that there is no tactical ring at tail. But even without it grip is good, again.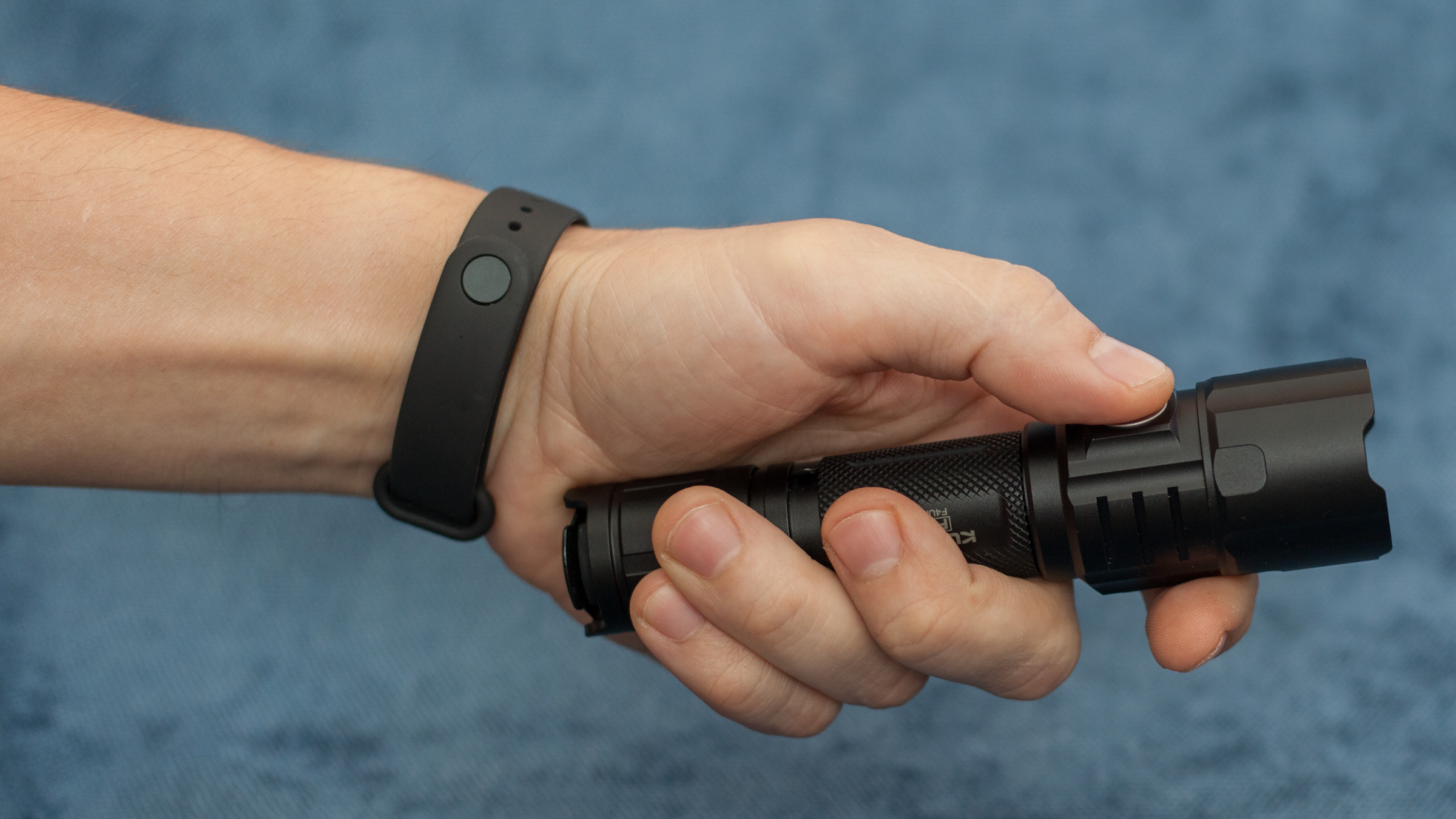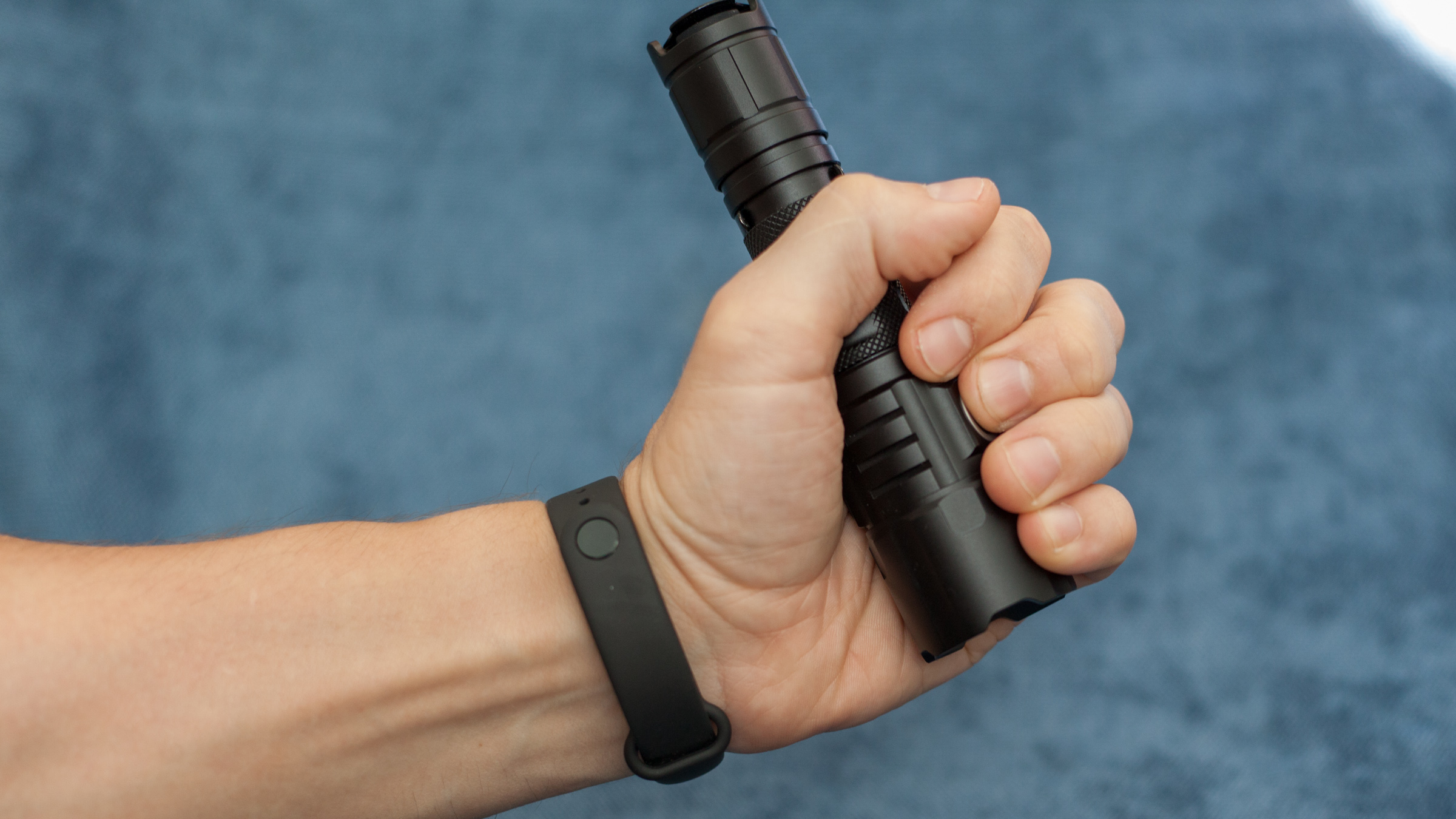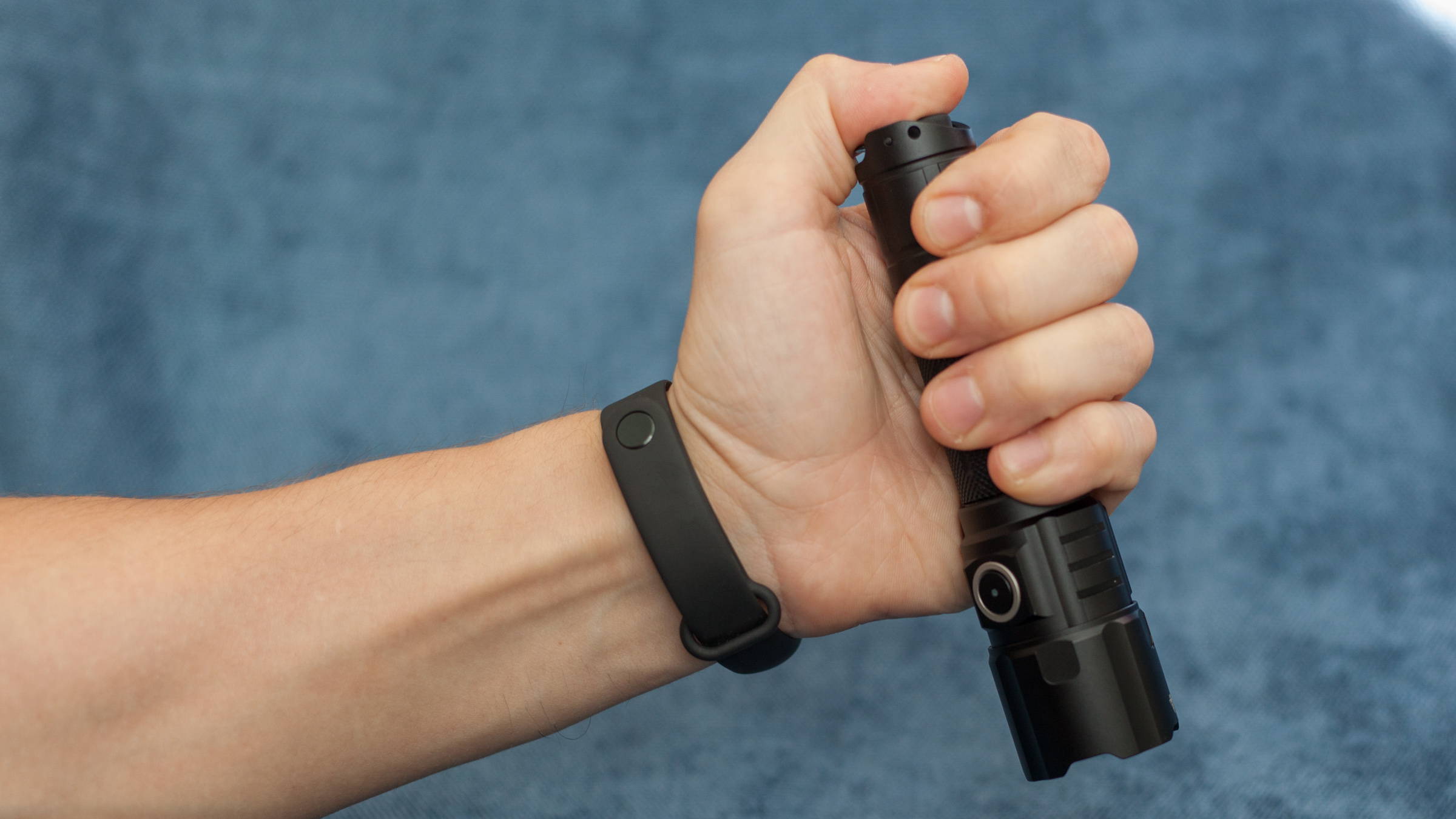 Design of FX10 is good. As a fan of Klarus tactical stuff, I cannot complaint – I got what expected to get.
Clip is one positioned to my surprise, though size allows to fit one more place for clip, for reverse position.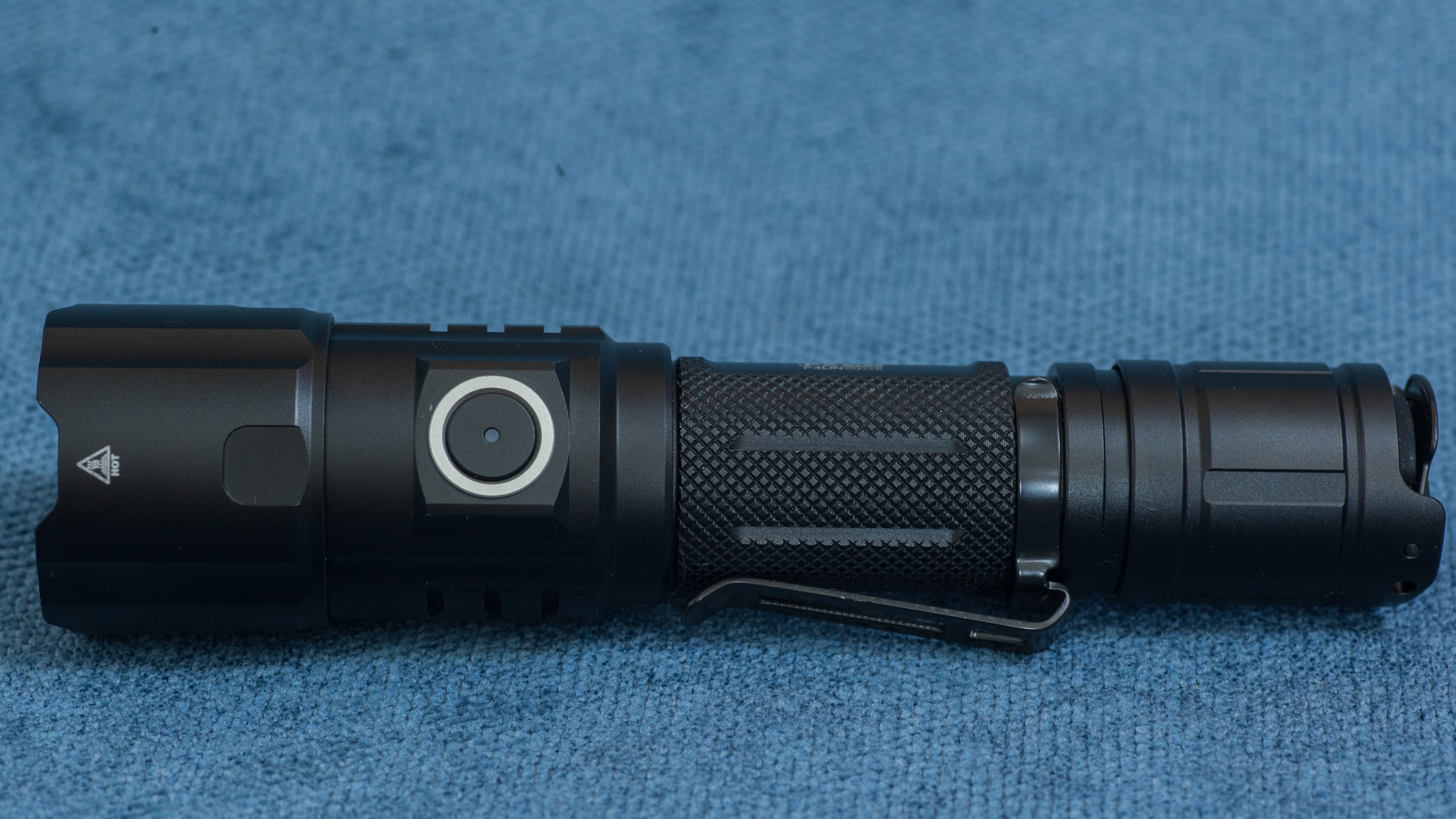 As before in most of Klarus tact lights, there are pair of power and mode buttons at the tail. Sides of tail cap are П-shaped, not U-shaped, so it can tailstand. But, to be honest, I see no use of it, as center of masses is so high.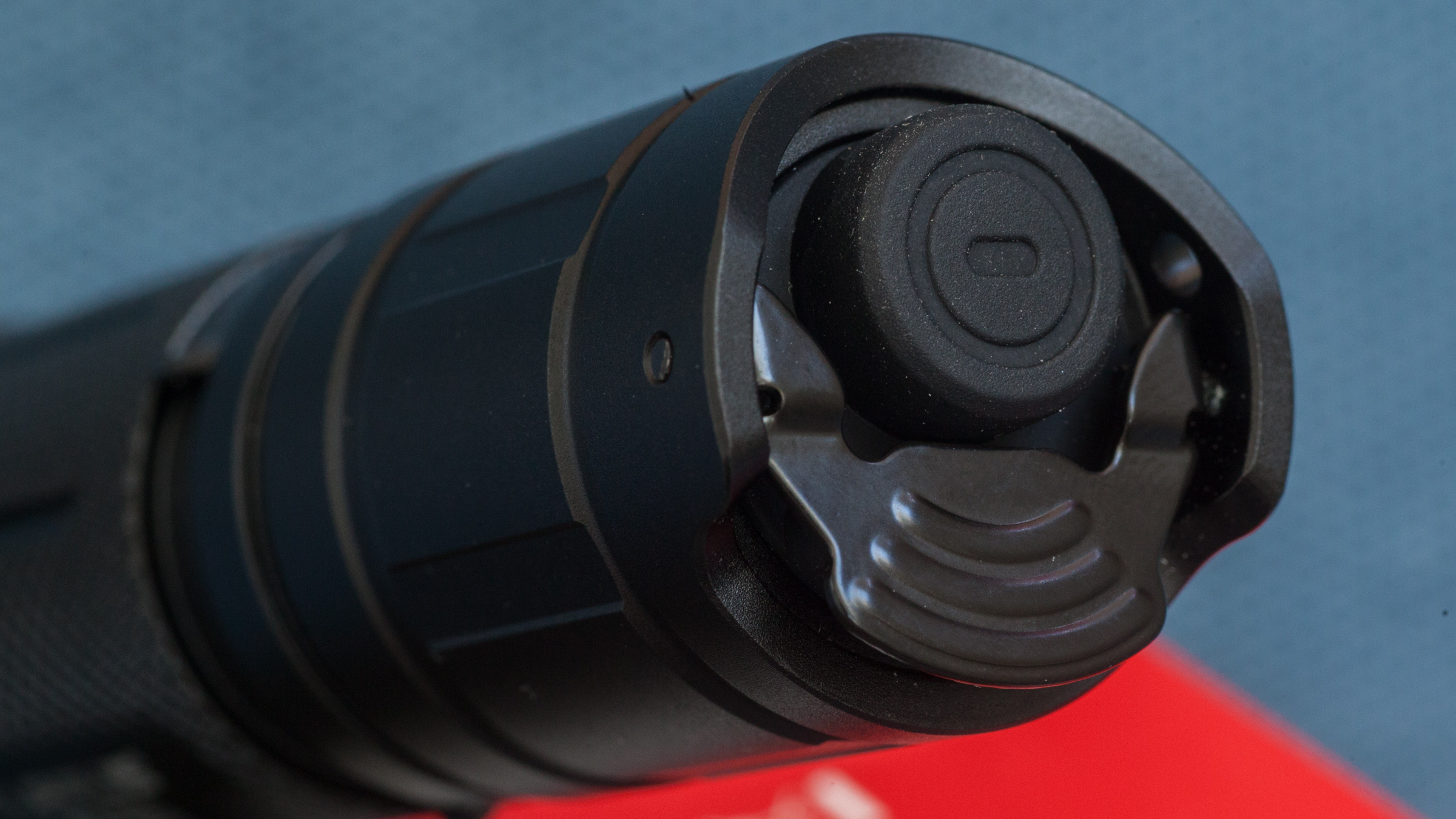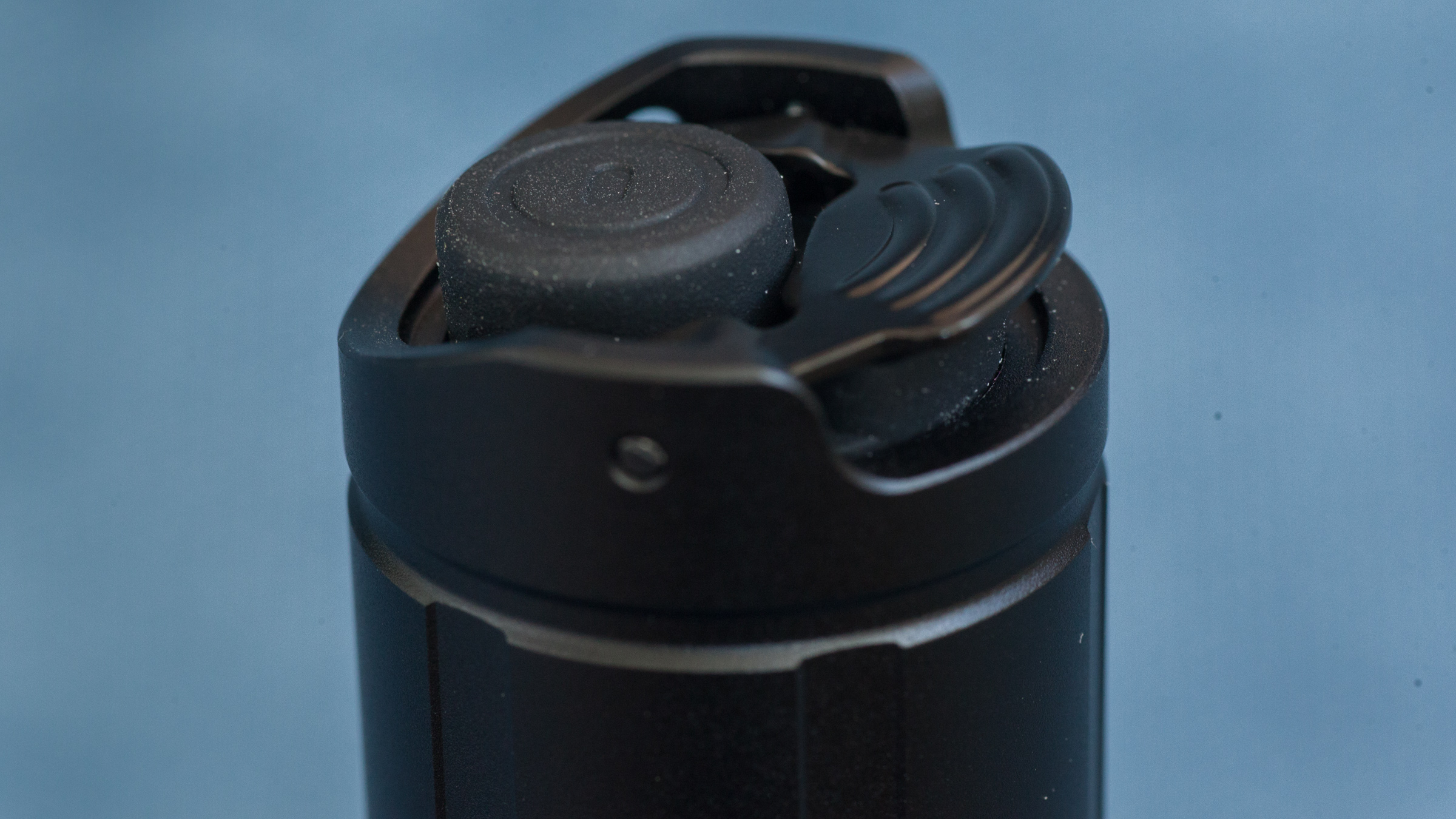 Spring is double, glad to see that such construction can be see more and more often.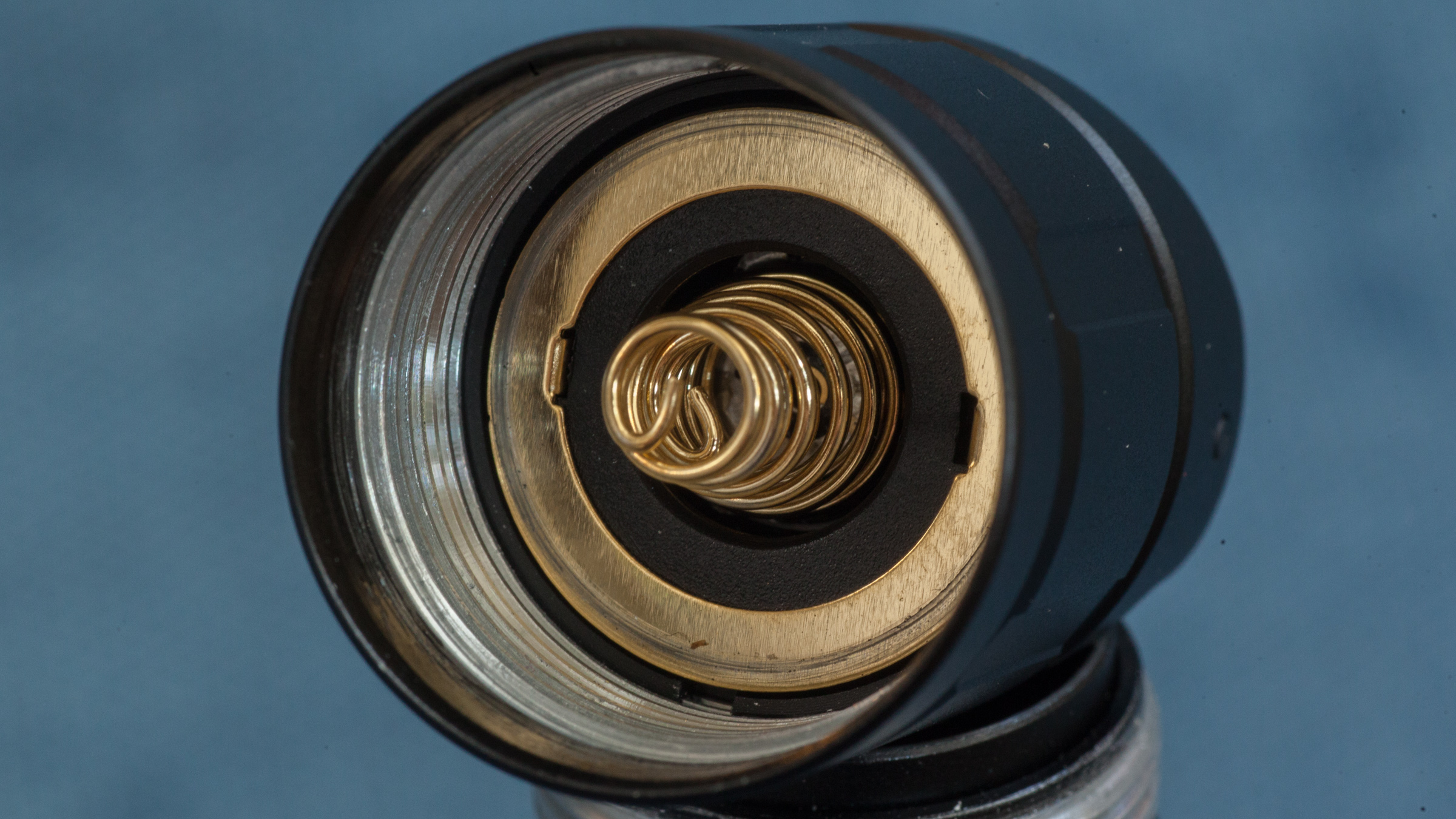 And there is spring at head as well. Body is disassembleable (at least, you can – but it will be tough challenge). I don't think that user of FX10 would be interested in customization. And warranty covers all the bad situation that may happen.

Threads are excellently lubricated.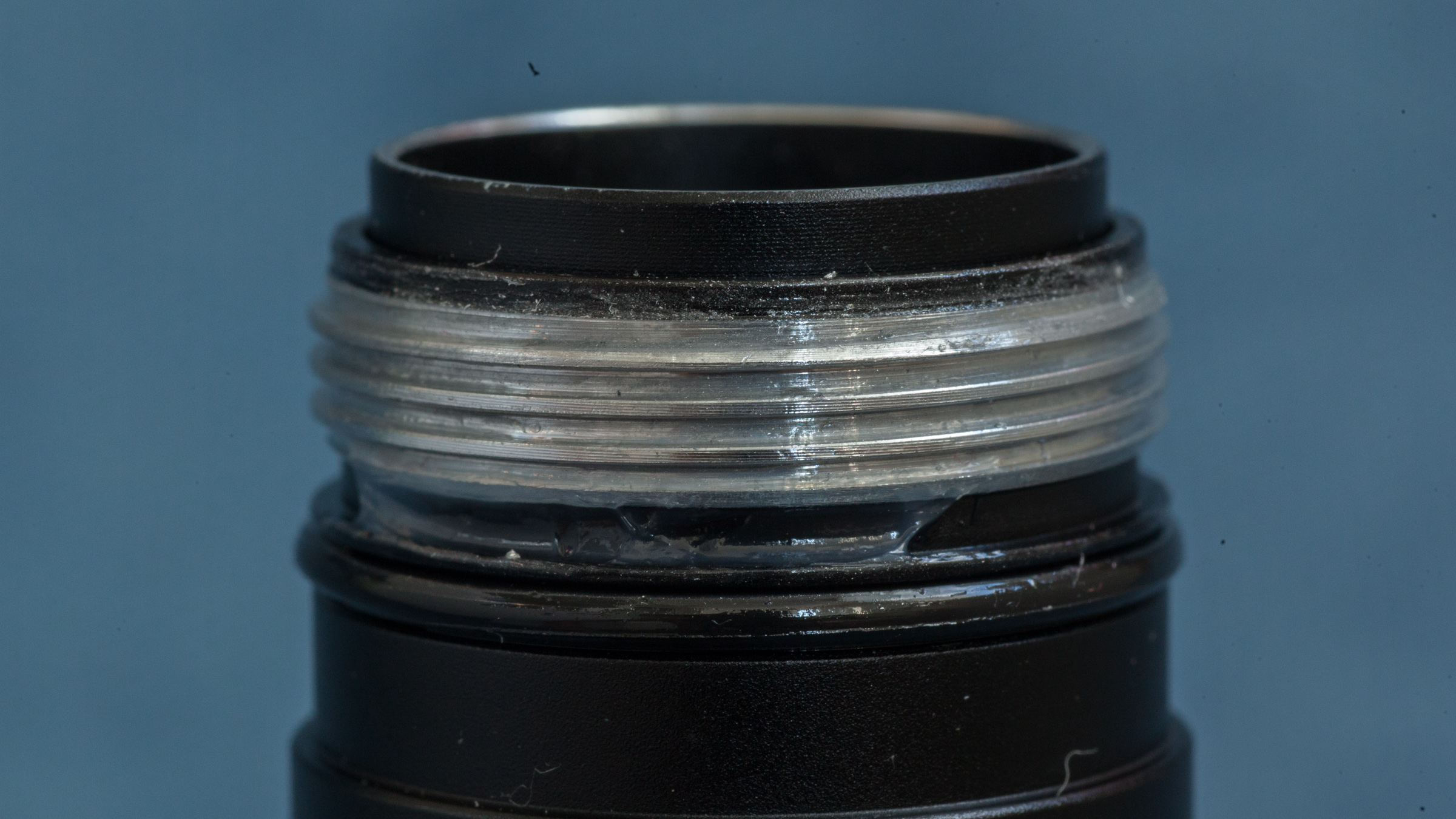 As there are a pair of buttons at the tail, it results in having additional inner tube pressed within body.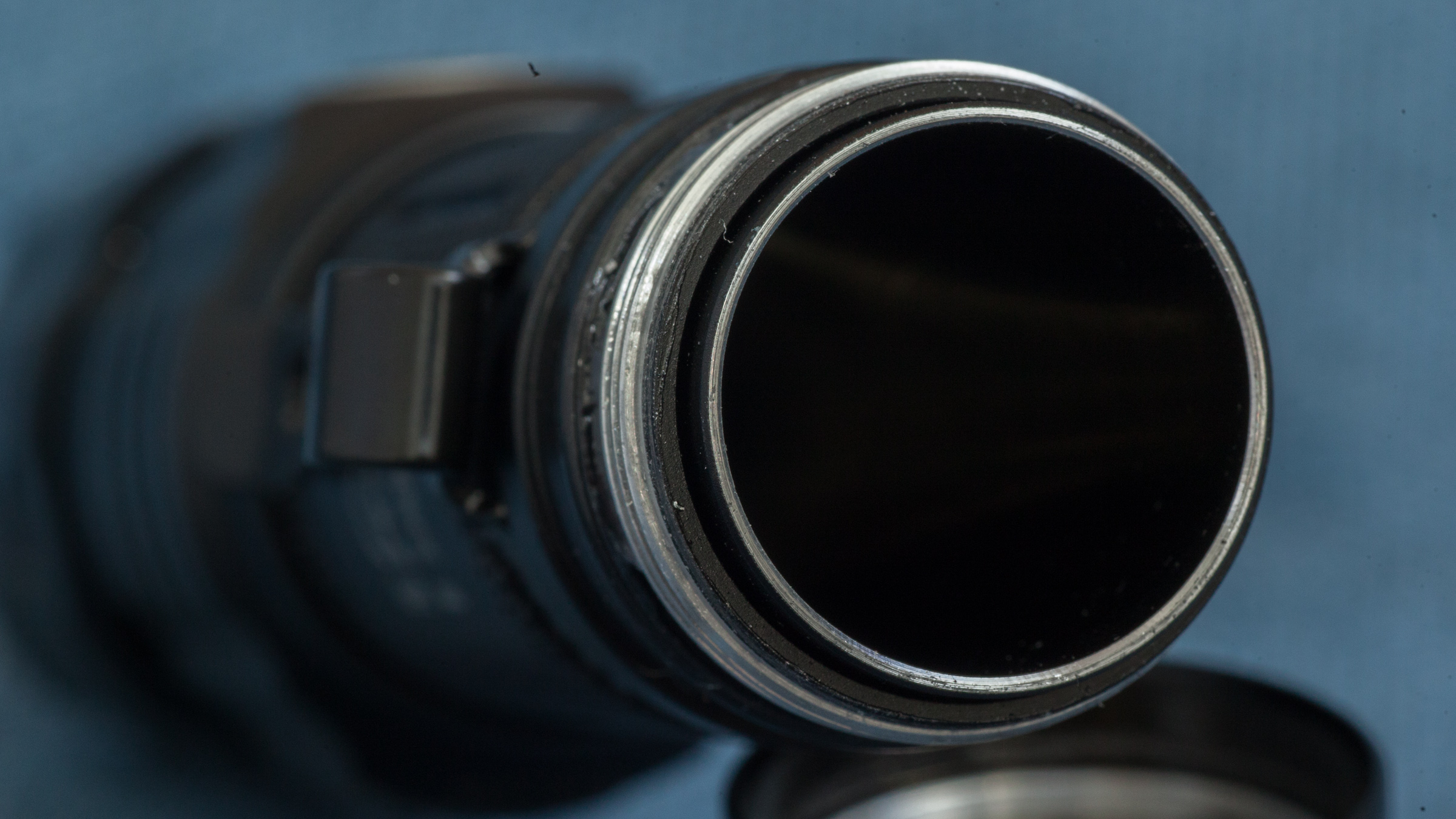 Knurling is ok for firm grip. As usually, flat part with model and manufacturer name engraved.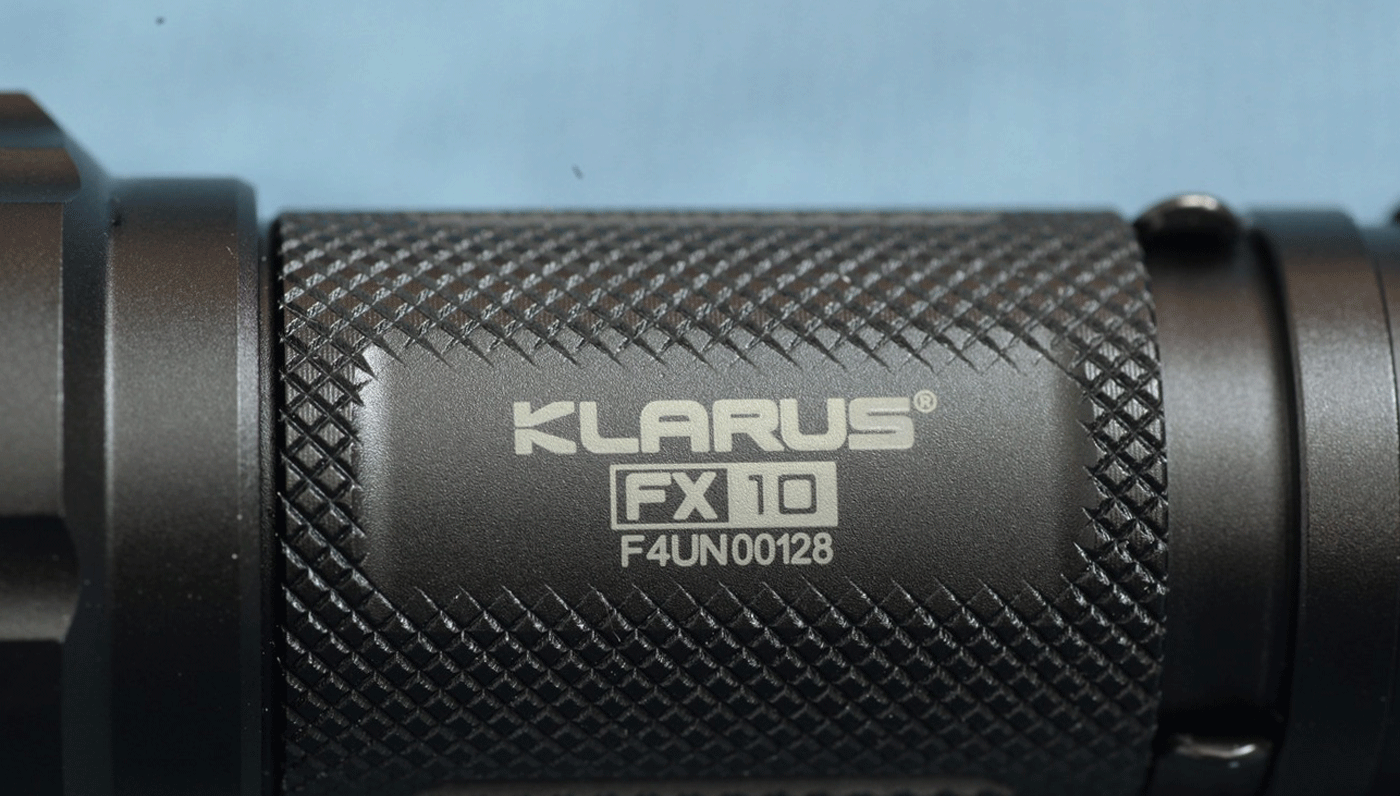 Sidebutton is a small ring, surrounded by metal ring. Of course, it has indication feature.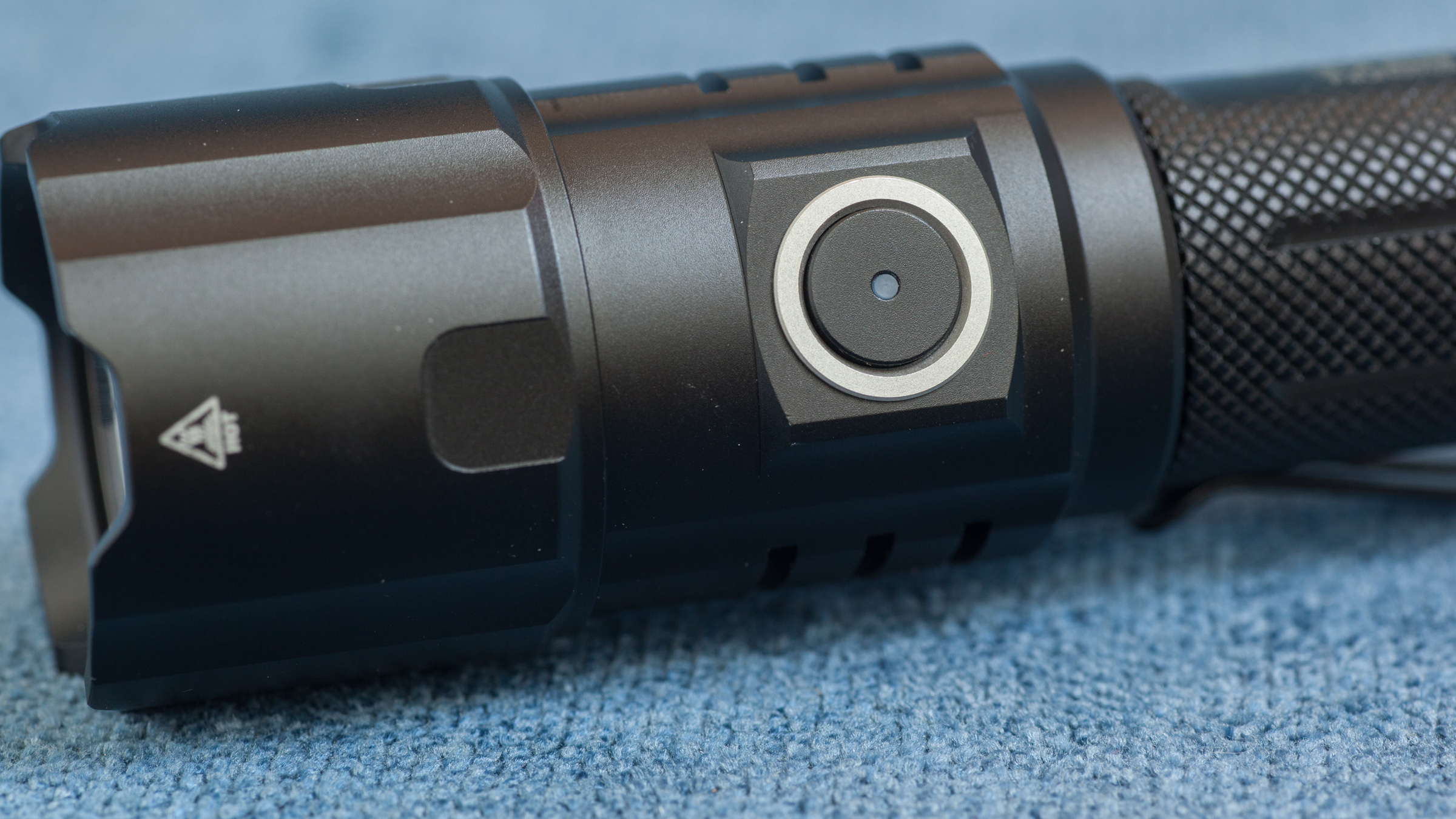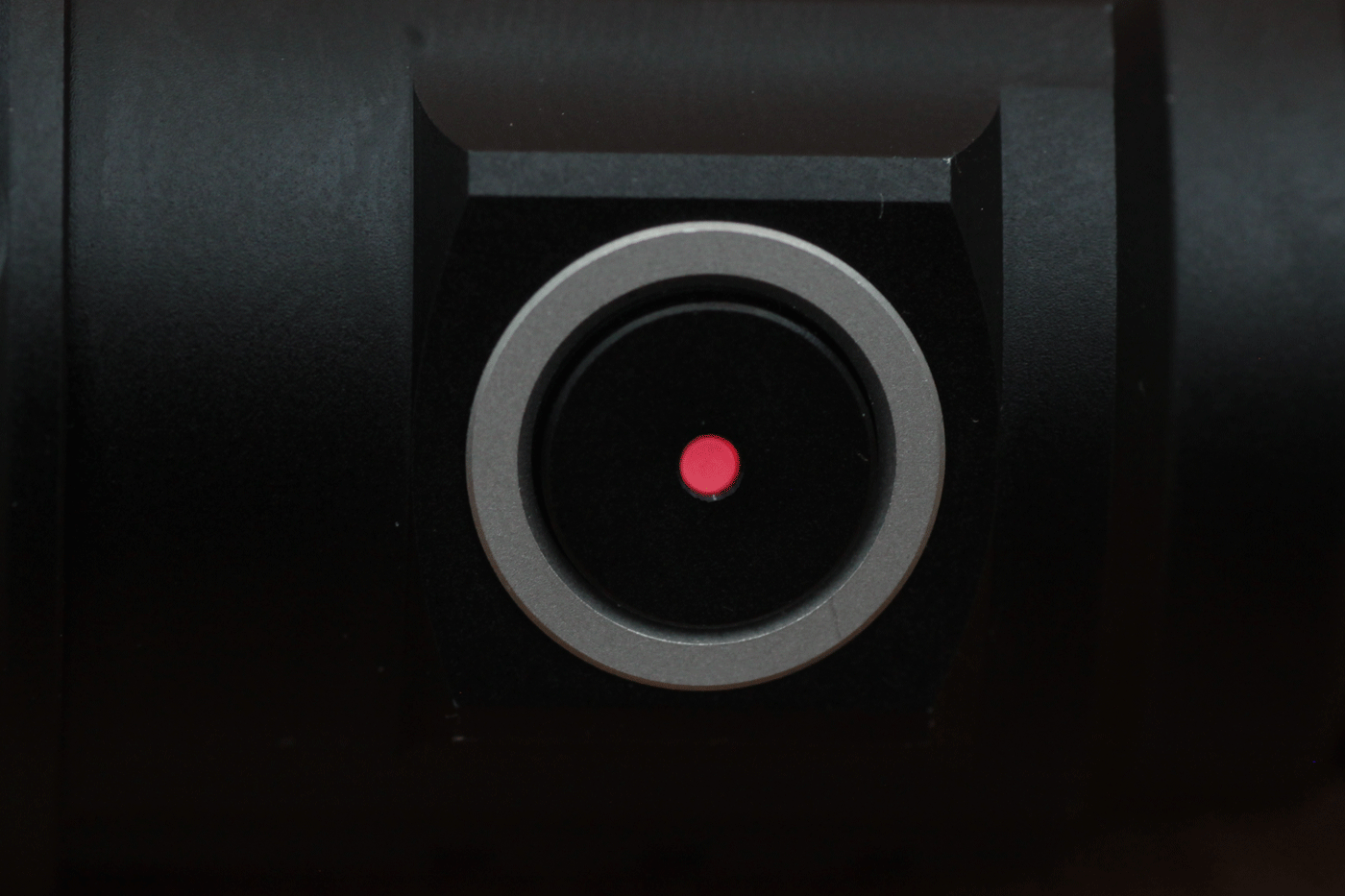 There is a charge port at rear side. Rubber cover is tight.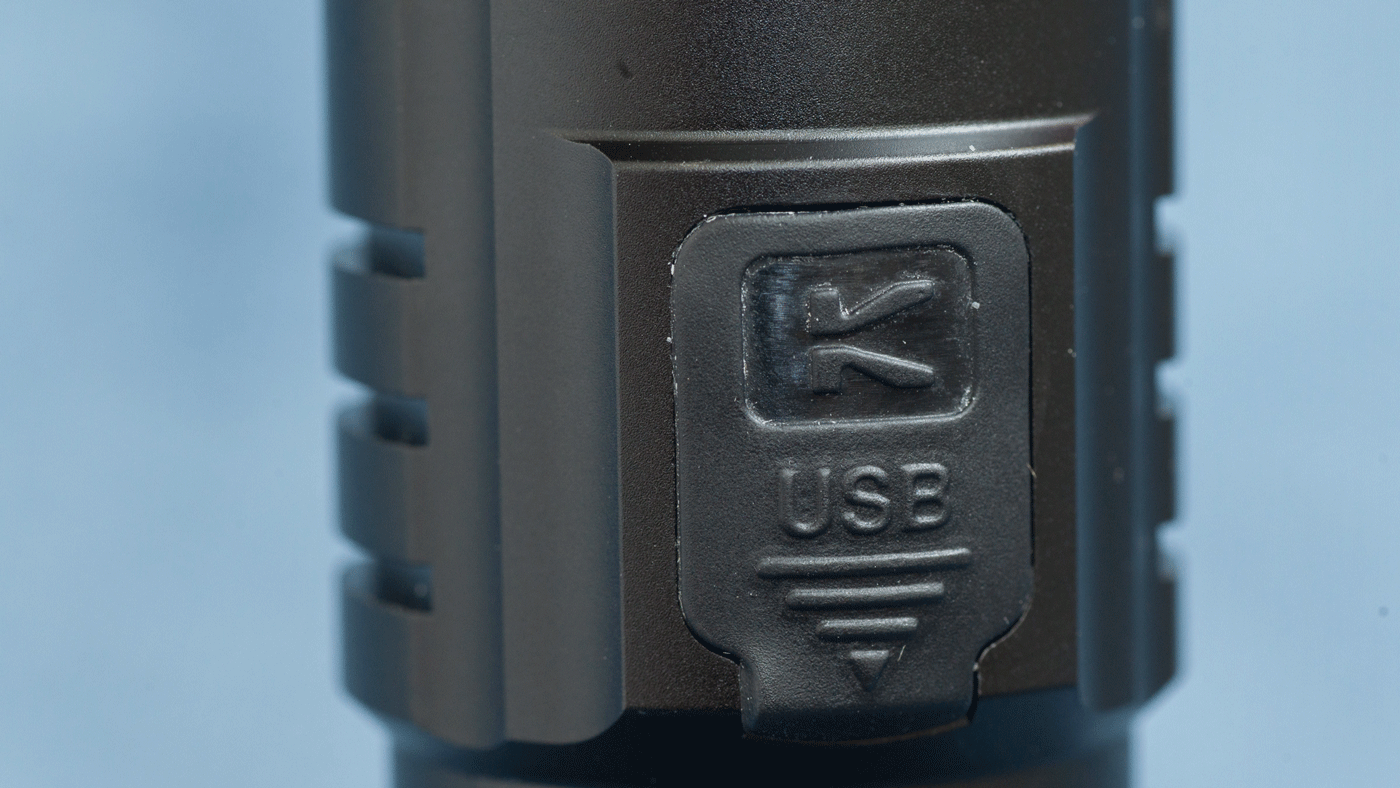 There is just few cooling ribs, though they are wide and deep. Not impressive.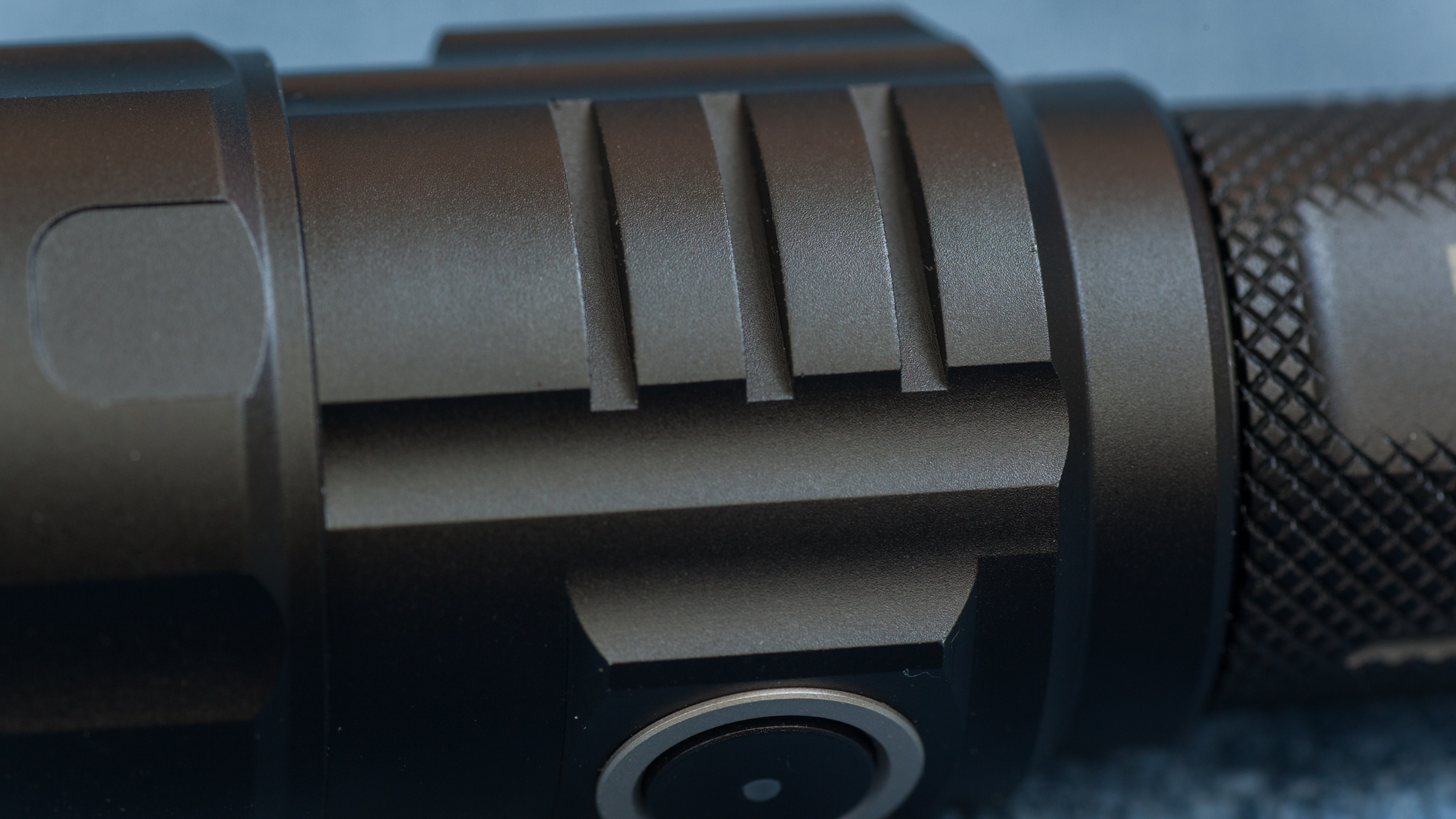 Bezel is aggressive. As lense acril and matte, I cannot make clear pic of CREE XP-L HI V3.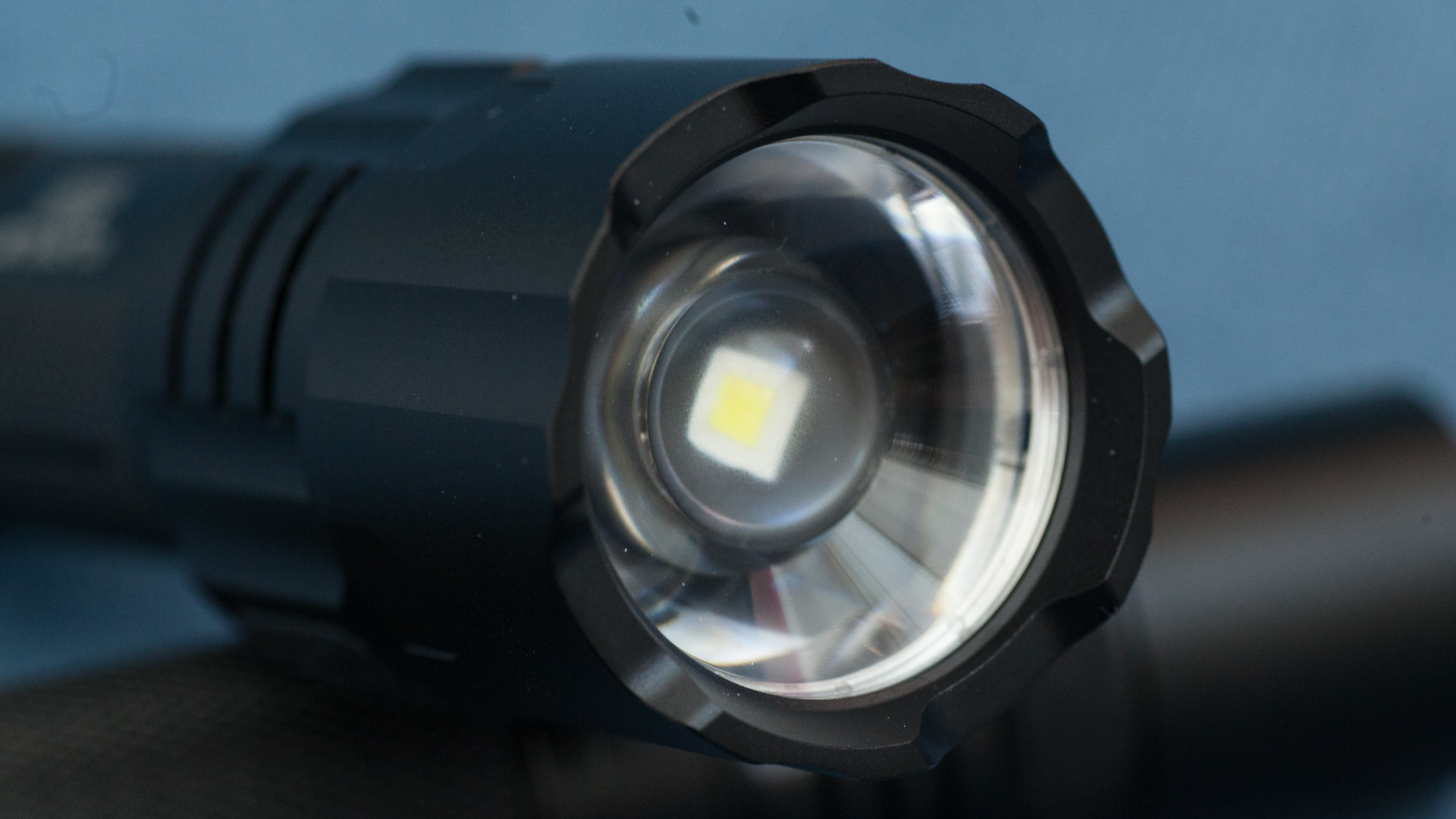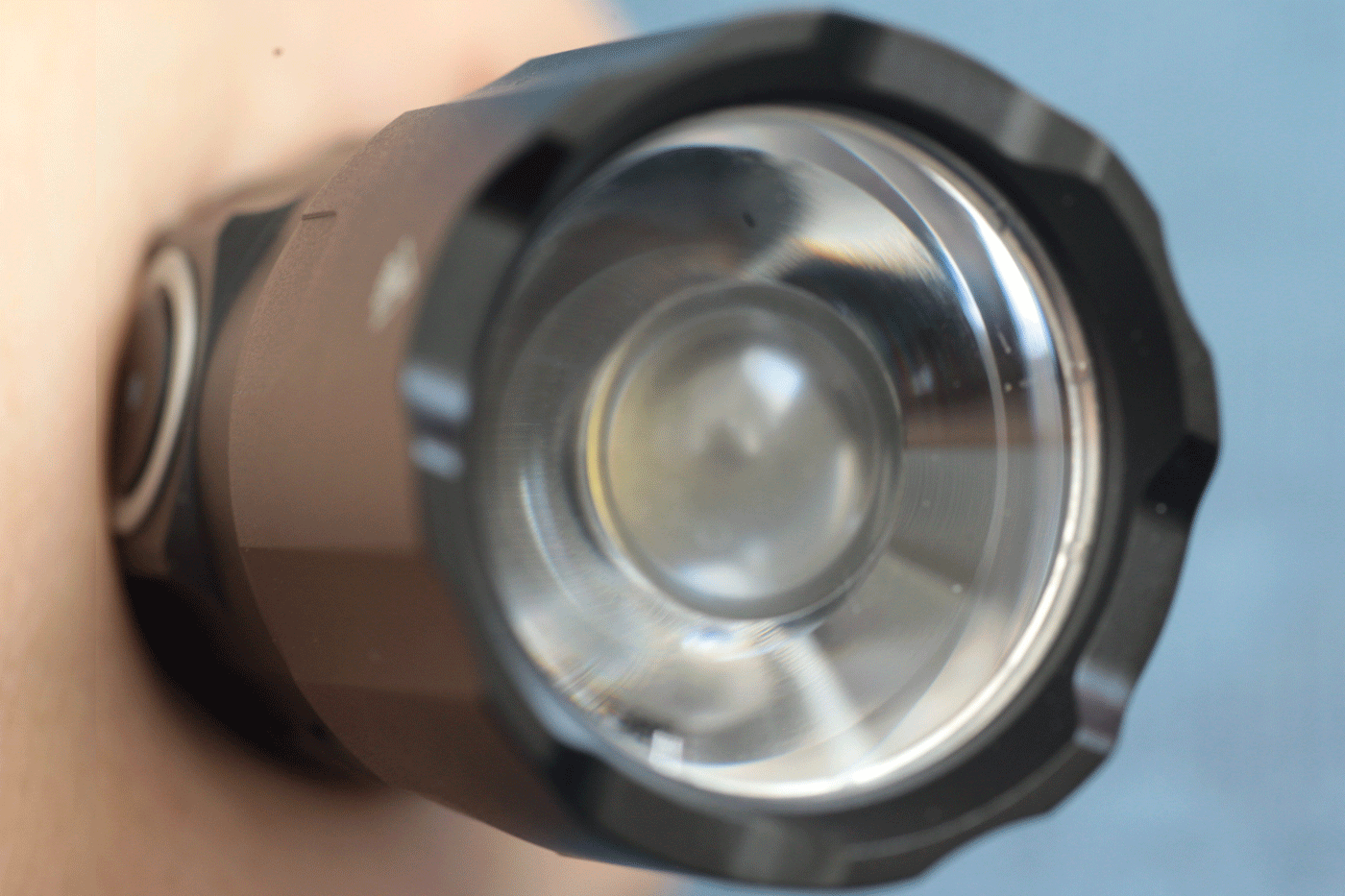 User adjusts focus with twisting head. It is possible to do with one hand, but it`ll require certain force. In real use I don't think there will be real need in rapid close-long movemend. And i`d better vote for keeping focus stable, rather them for quick adjustable loose focus.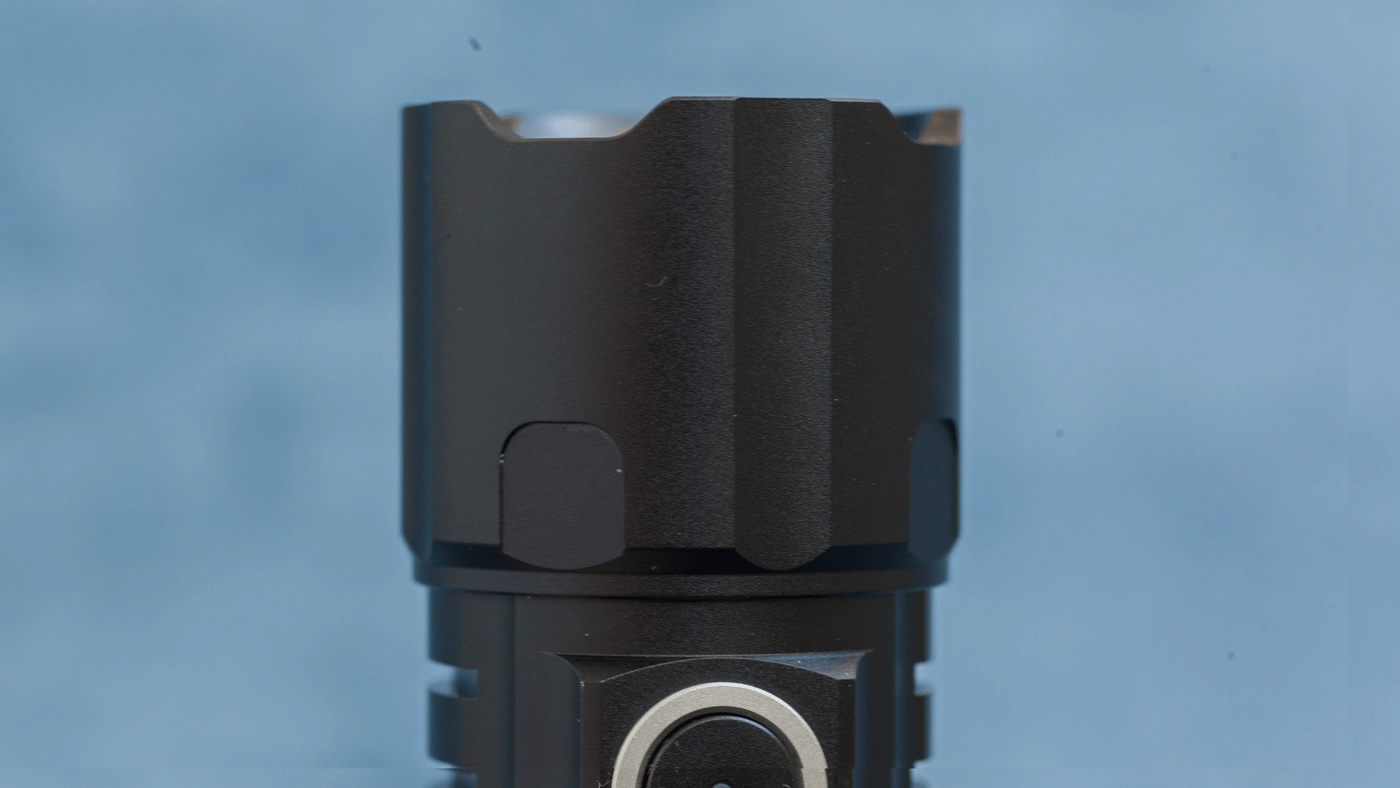 FX10 spent like half an hour jar deep, and this dive session didn't influence flashlight performance.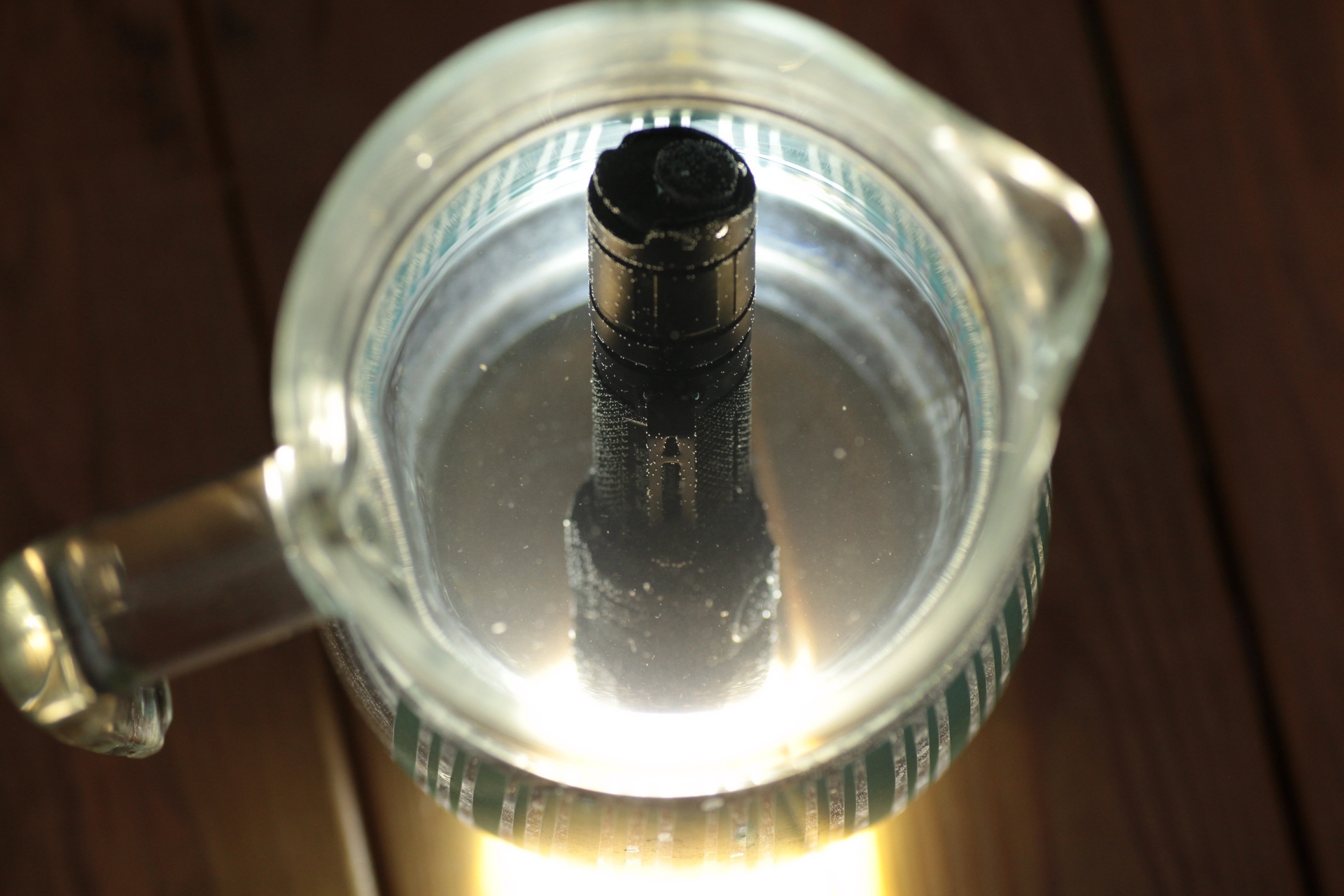 What else…2600mah is a cheap from KLarus. They decided to save some cents though could add good 3000+ battery.
Cut-off voltage specified as 2.75v, but I easily discharged battery to 2.6v and believe it could get worse. So, only protected batteries.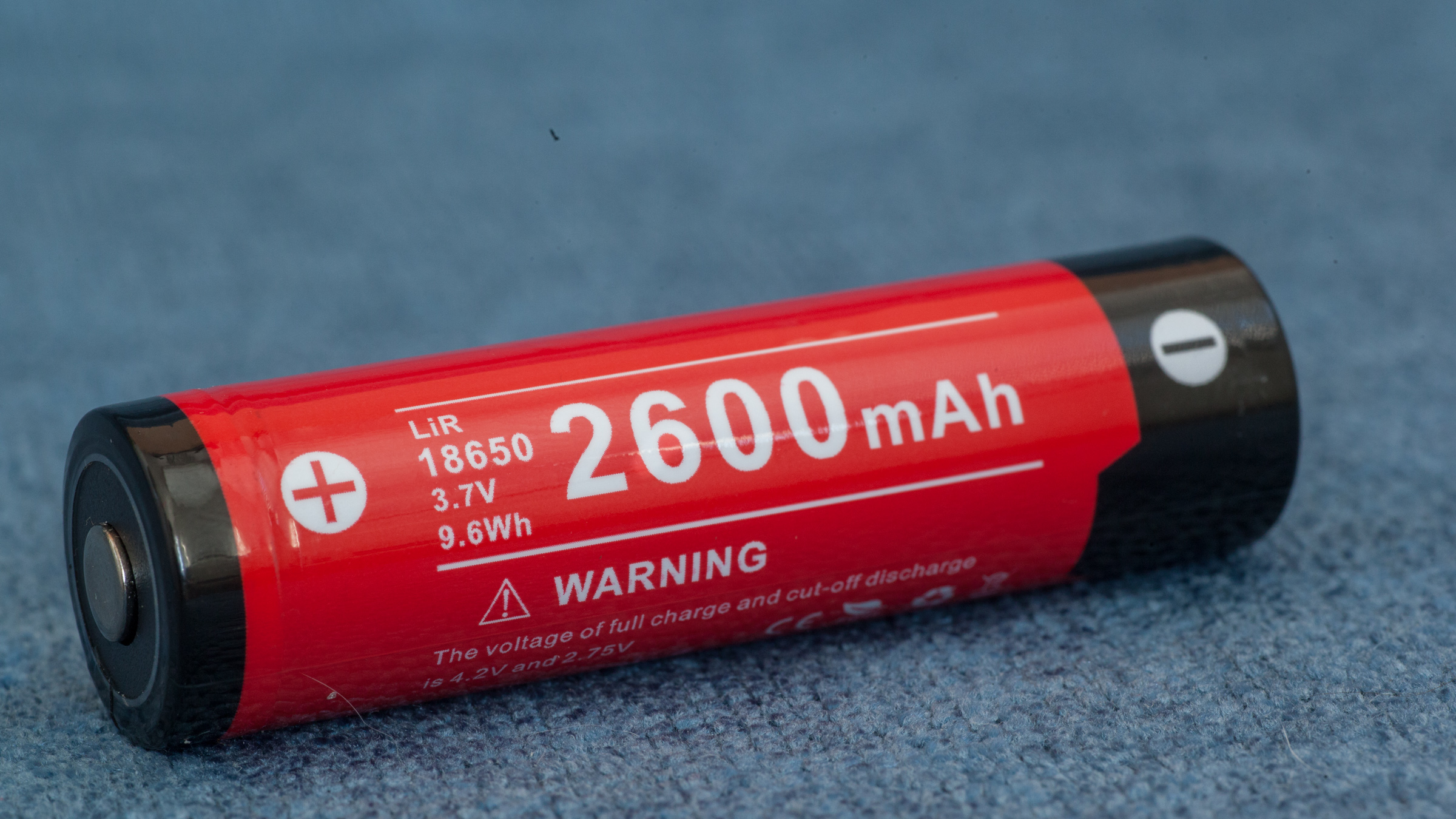 Charge cable is good. With load connected , it shows: 1А 5.17v, 2А 5.14v, 3А 5.08v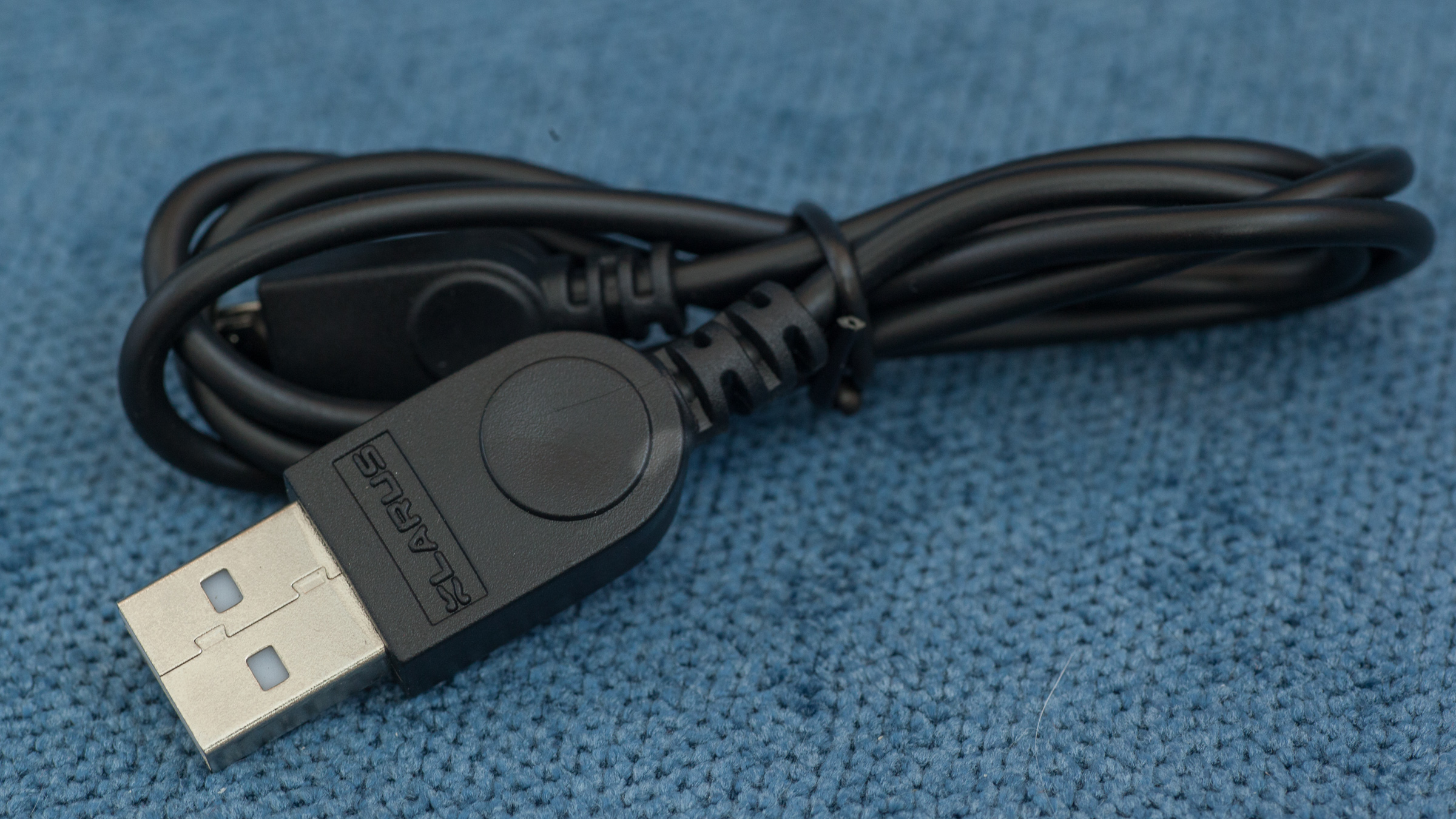 Holster as holster. Nothing special, just ok for real use.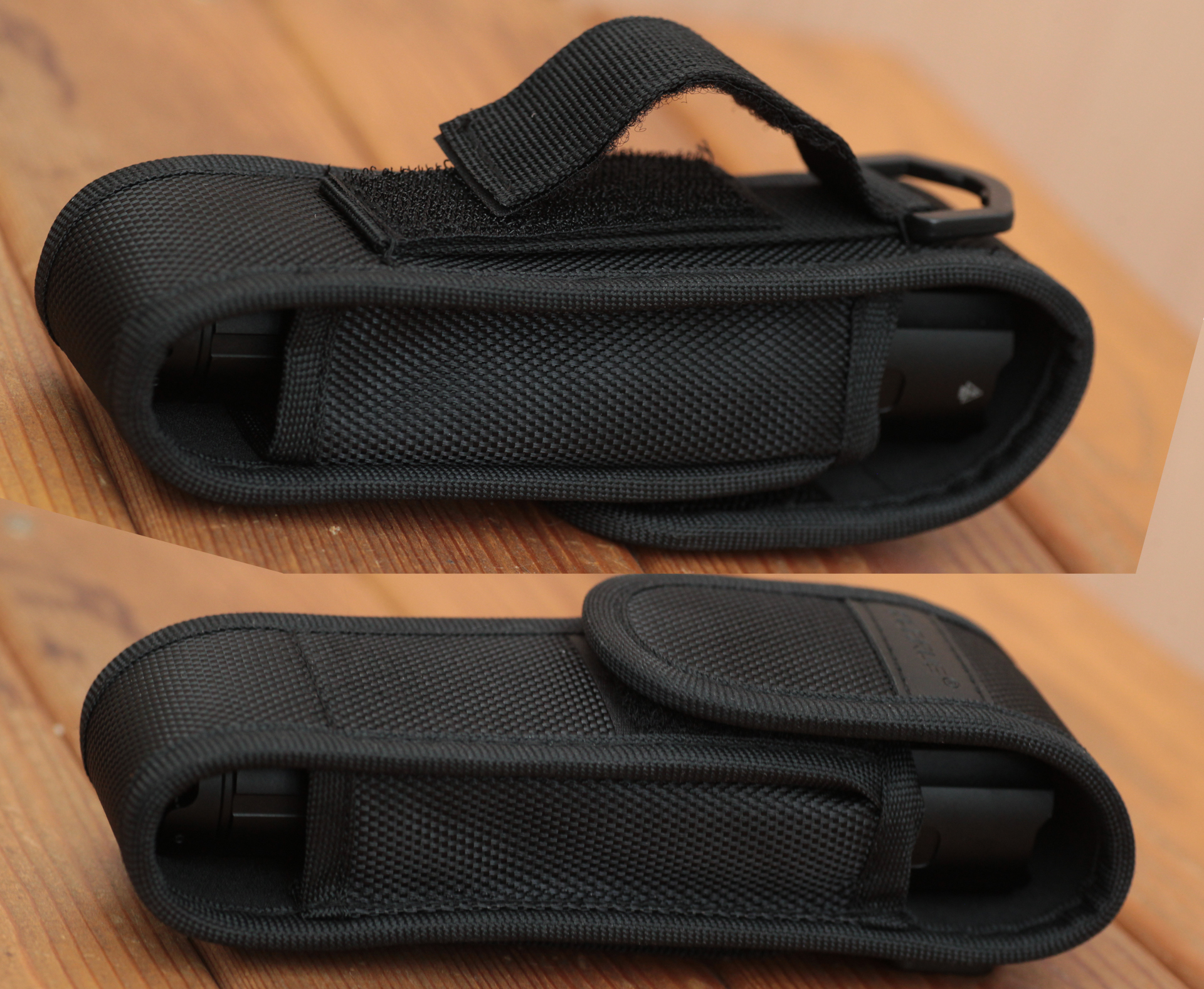 Well overall it looks good, it doesn't look like kinda of Frankenstein of tactical light and zoomie.
UI
Always liked klarus UI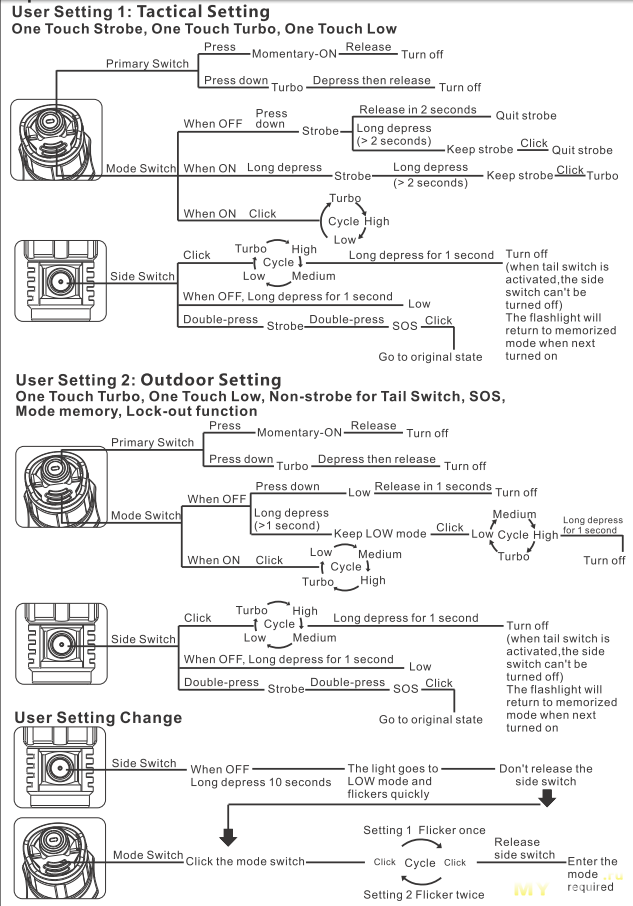 PERFORMANCE
6500К. Hm, dont think that for tactic needs warmer tint is the crucial need. But, well, why not 6000K?
No PWM-shimmering at any mode.
Light distribution is that you may expect from zoomie, but better than it could be with aspheric lens.
Matte TIR gives good diffused hotspot. Though, you still can see halo at long focus. BTW, one guy from fonarevka tested several zoomies in good sphere and result was encouraging. TIR optic doesn't have ignificant losses, though aspheric and frenel have a really lot.
FX10 vs S2+ XM-L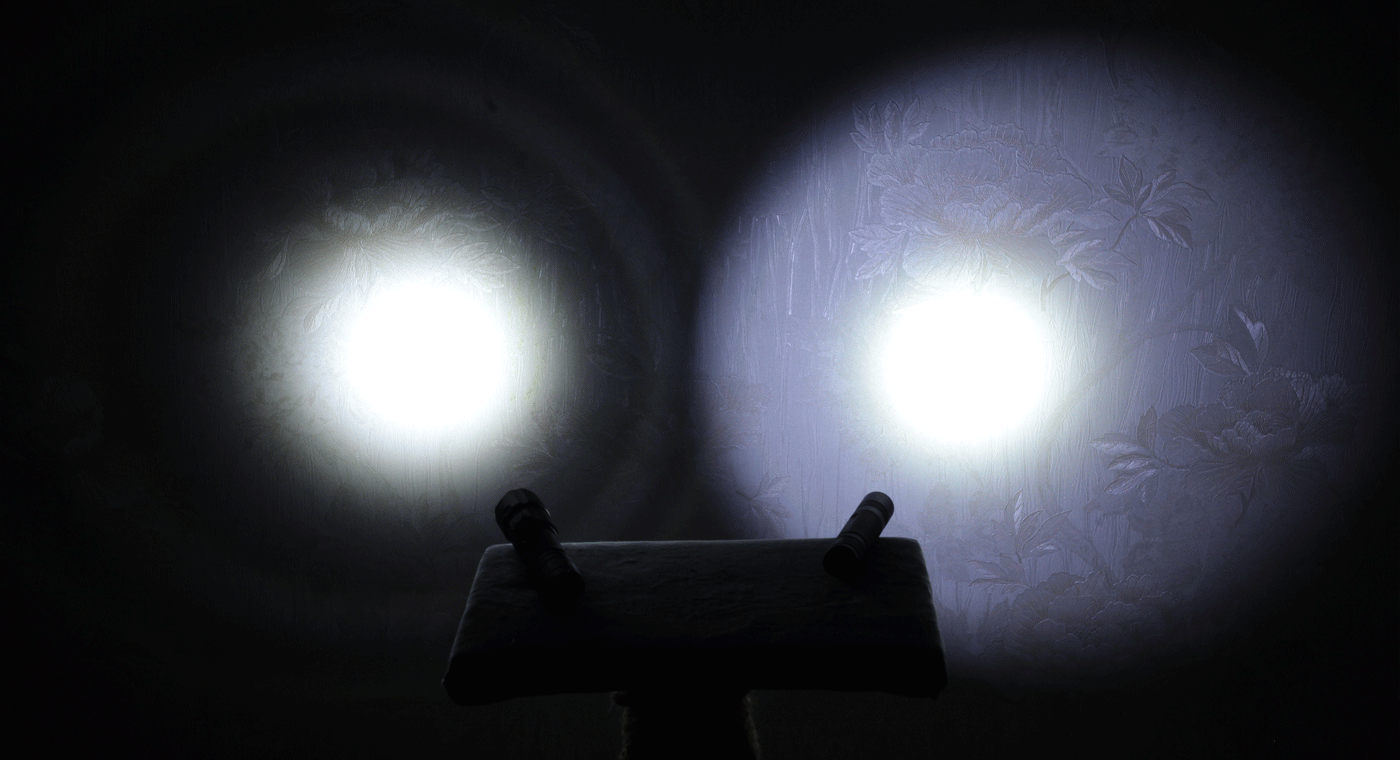 Change of focus.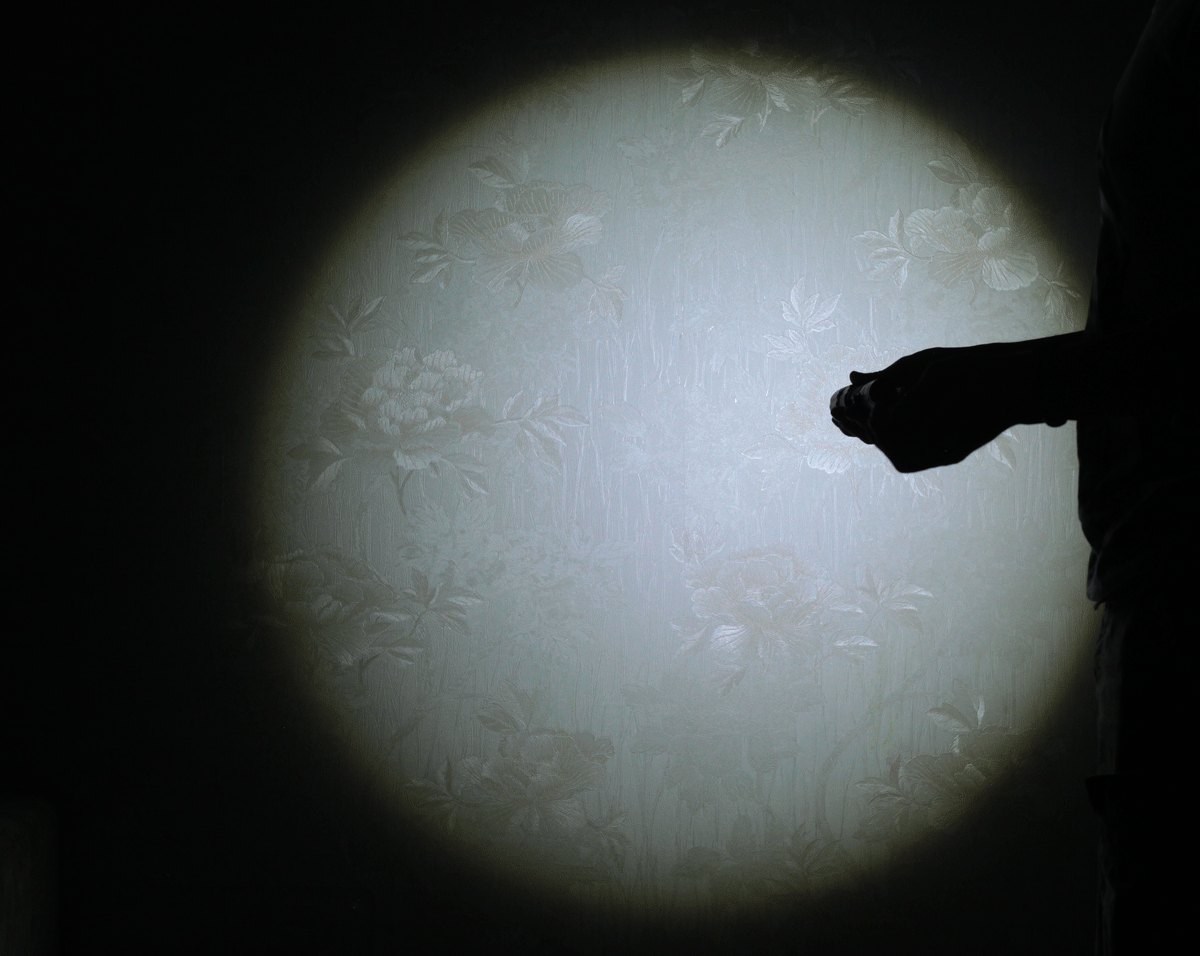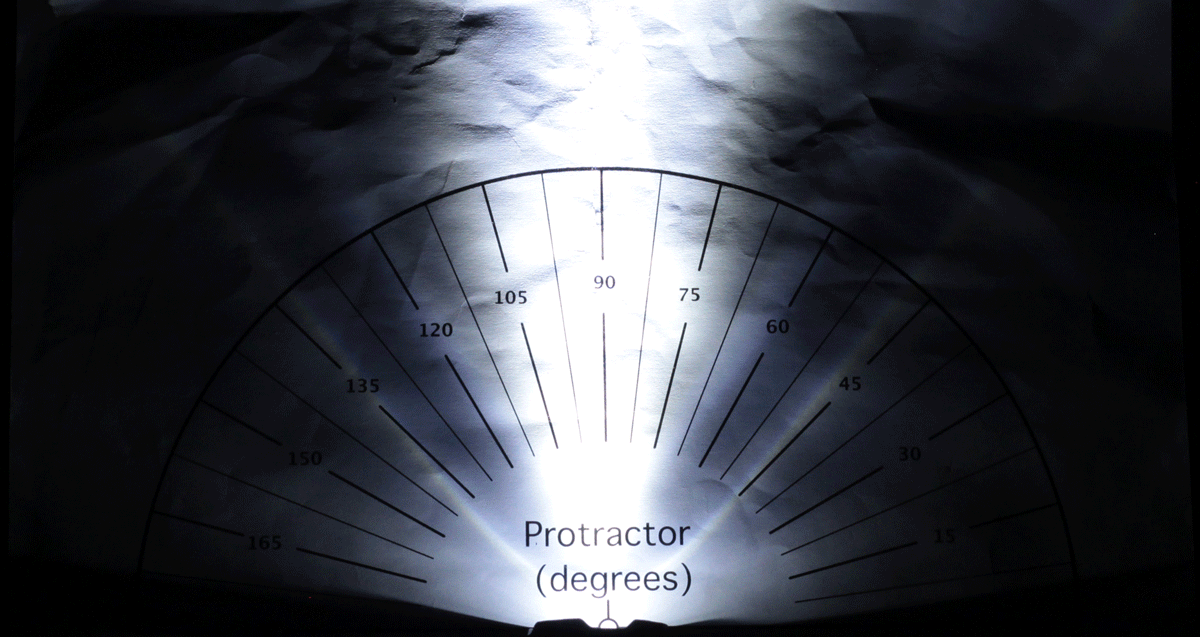 If we take shortest focus as 0 and longest as 1, i`d pick for 0.3-1
1A charge as promised.
low 0,016A \ mid 0,178 \ high 0,92A \ turbo 1.9A (test wires are thin)
Turbo is about 4min with sawteeth while cooling.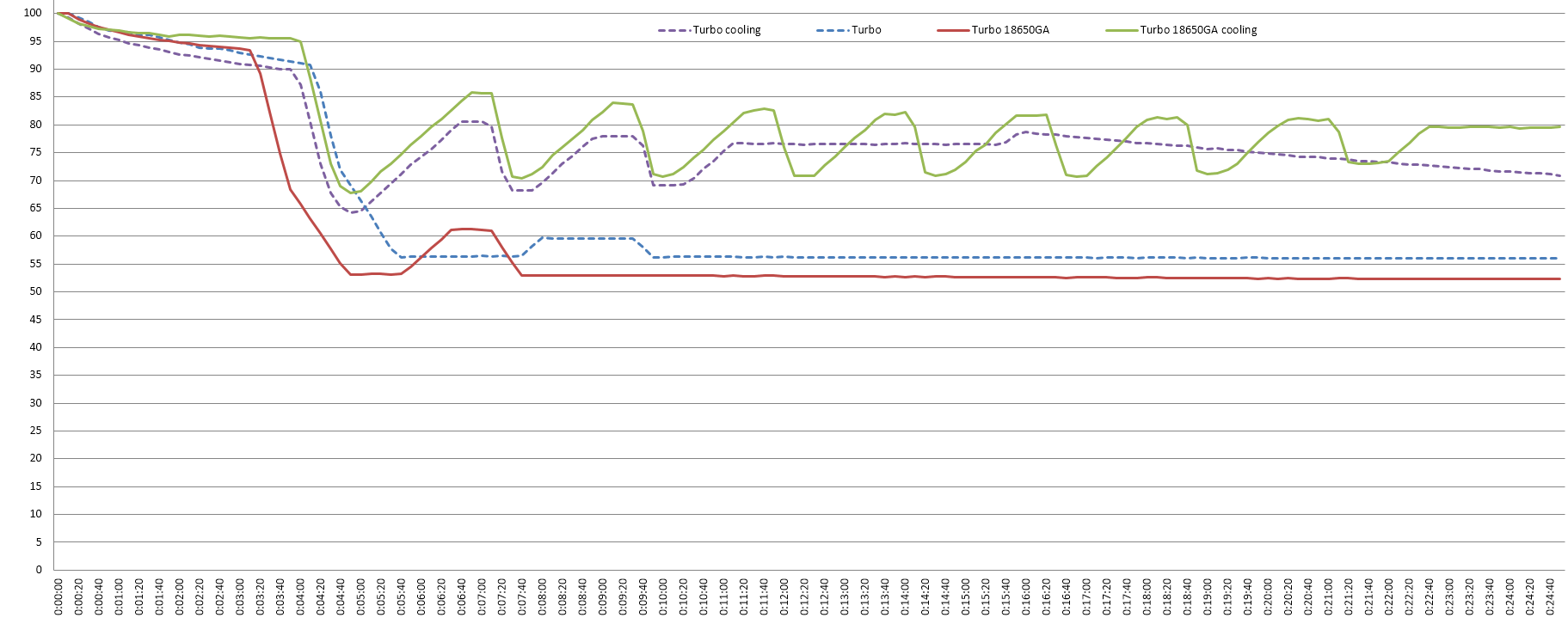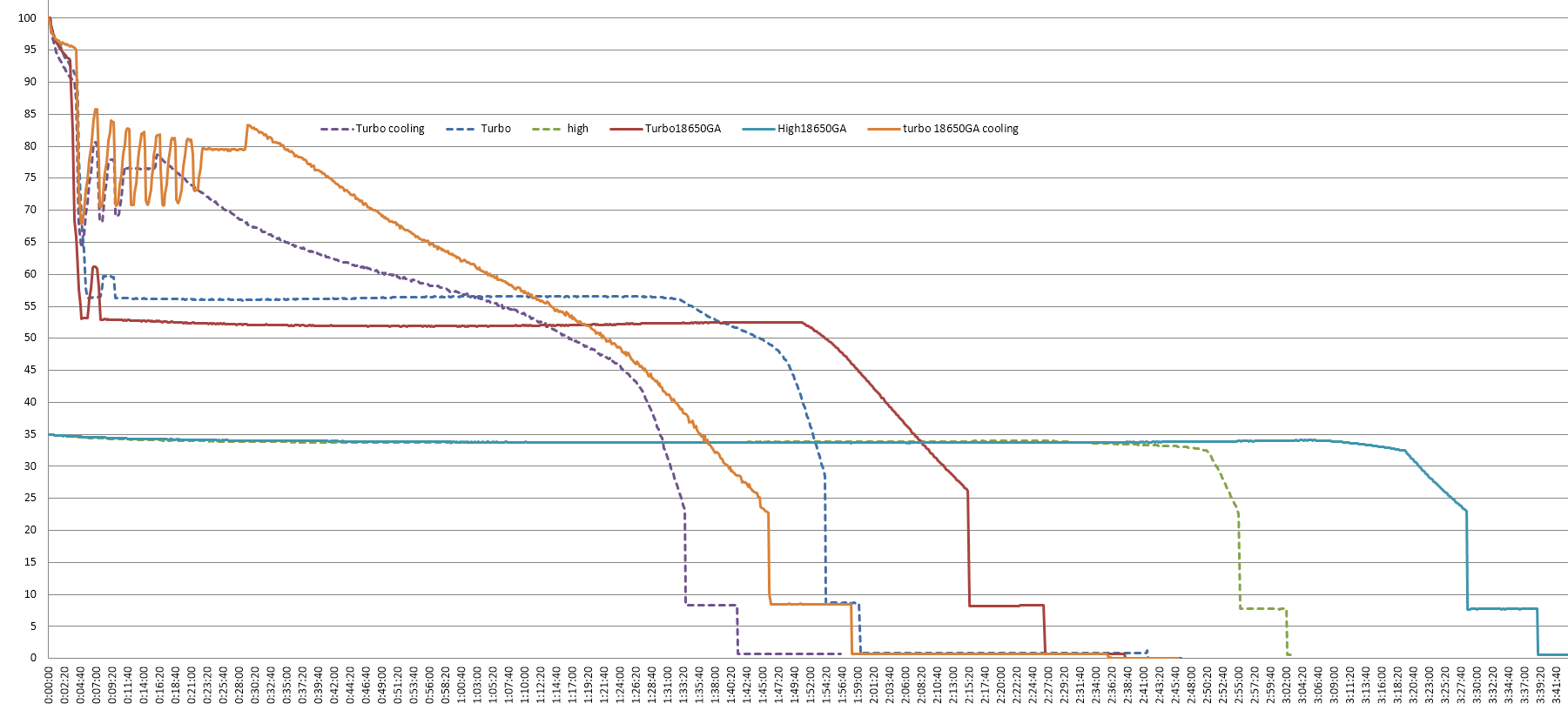 I really think that Klarus might add some mode at the level like brightness from stepdown. That is uncool that I have to wait for stepdown to reach really useful level.
At 175м range it performs worse than specialized cheap C8 XML2. And comparing to Fenix UC35V2 XPL-Hi , the one with similar LED , Klarus looks better.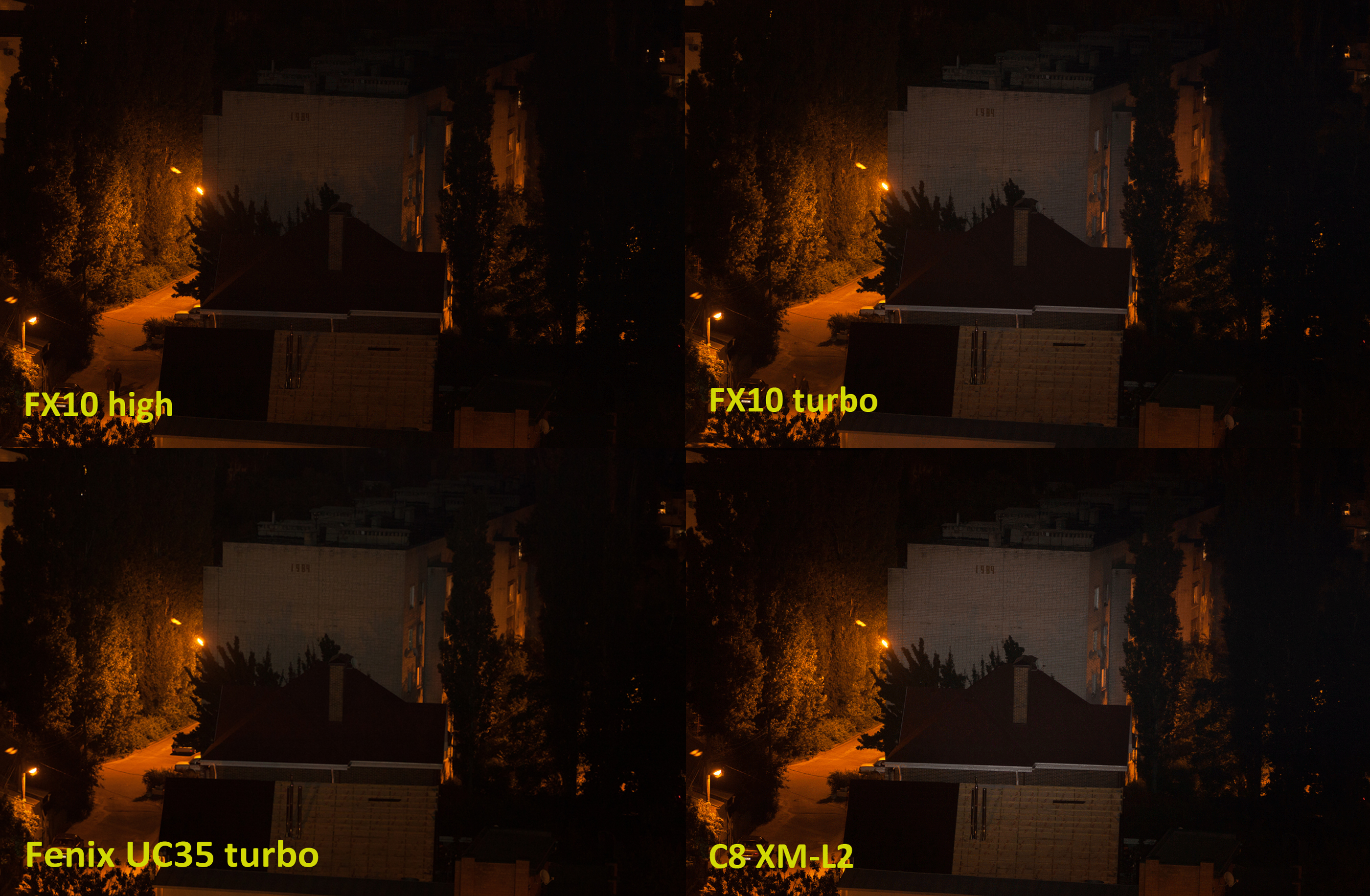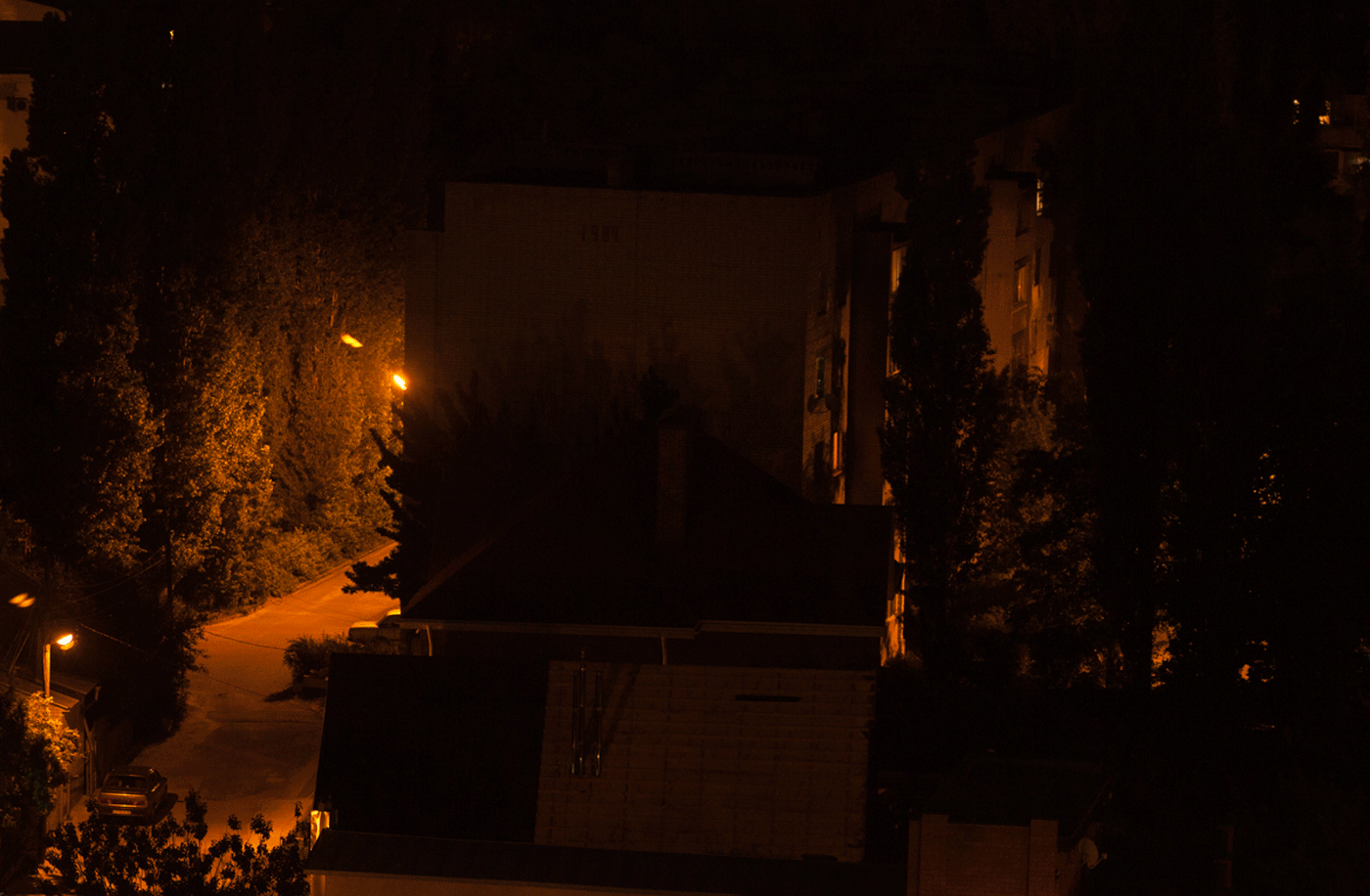 Short focus performes best at range within 20-30m. But you have to understand that as this ring is evenly lit, you have to turn max modes on to see things at this range. that`s why I vote for 0.3 focal range. At shortest position this focus may be useful only indoor or at short distance. From 0.3 light is much more useful.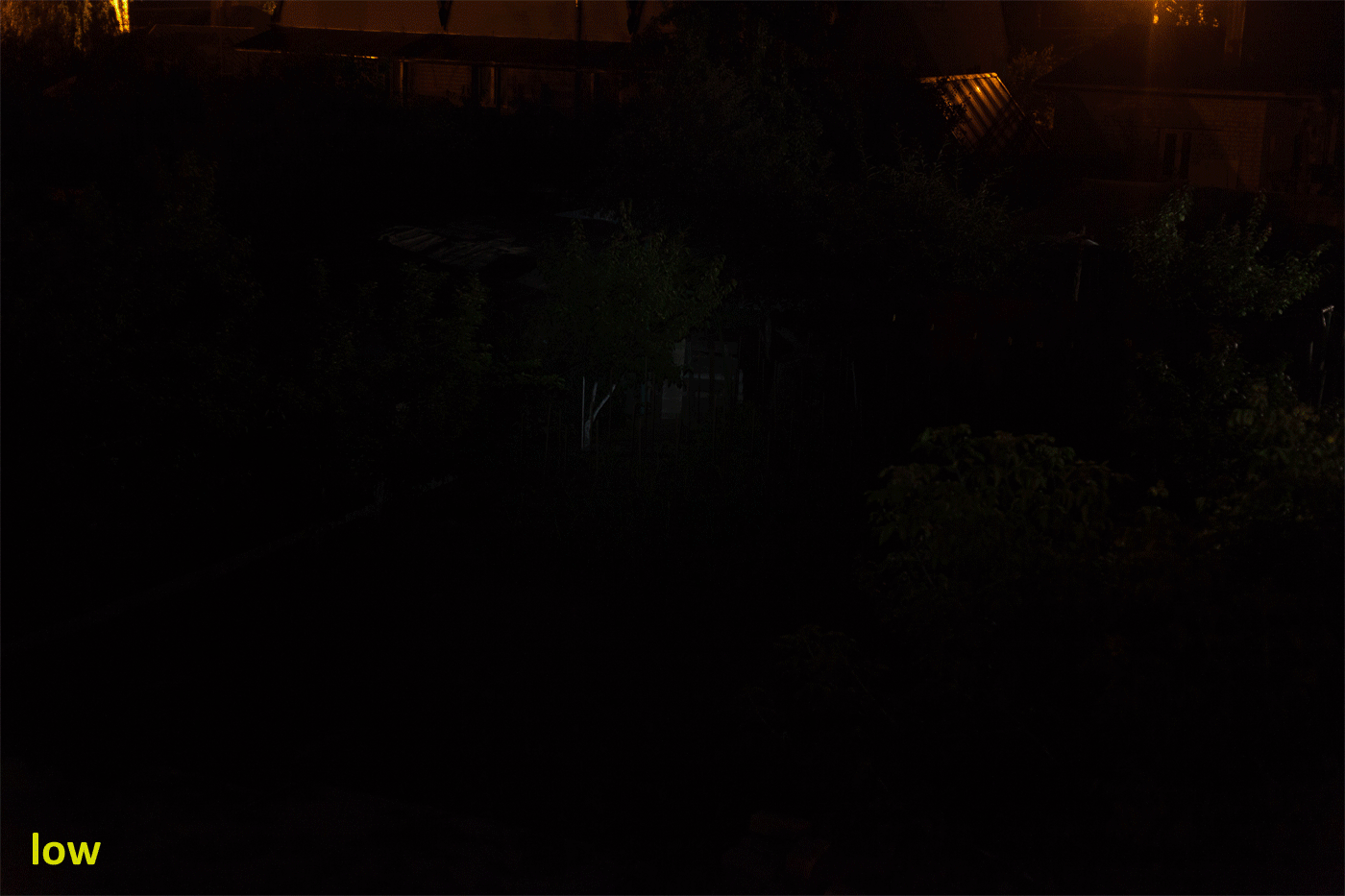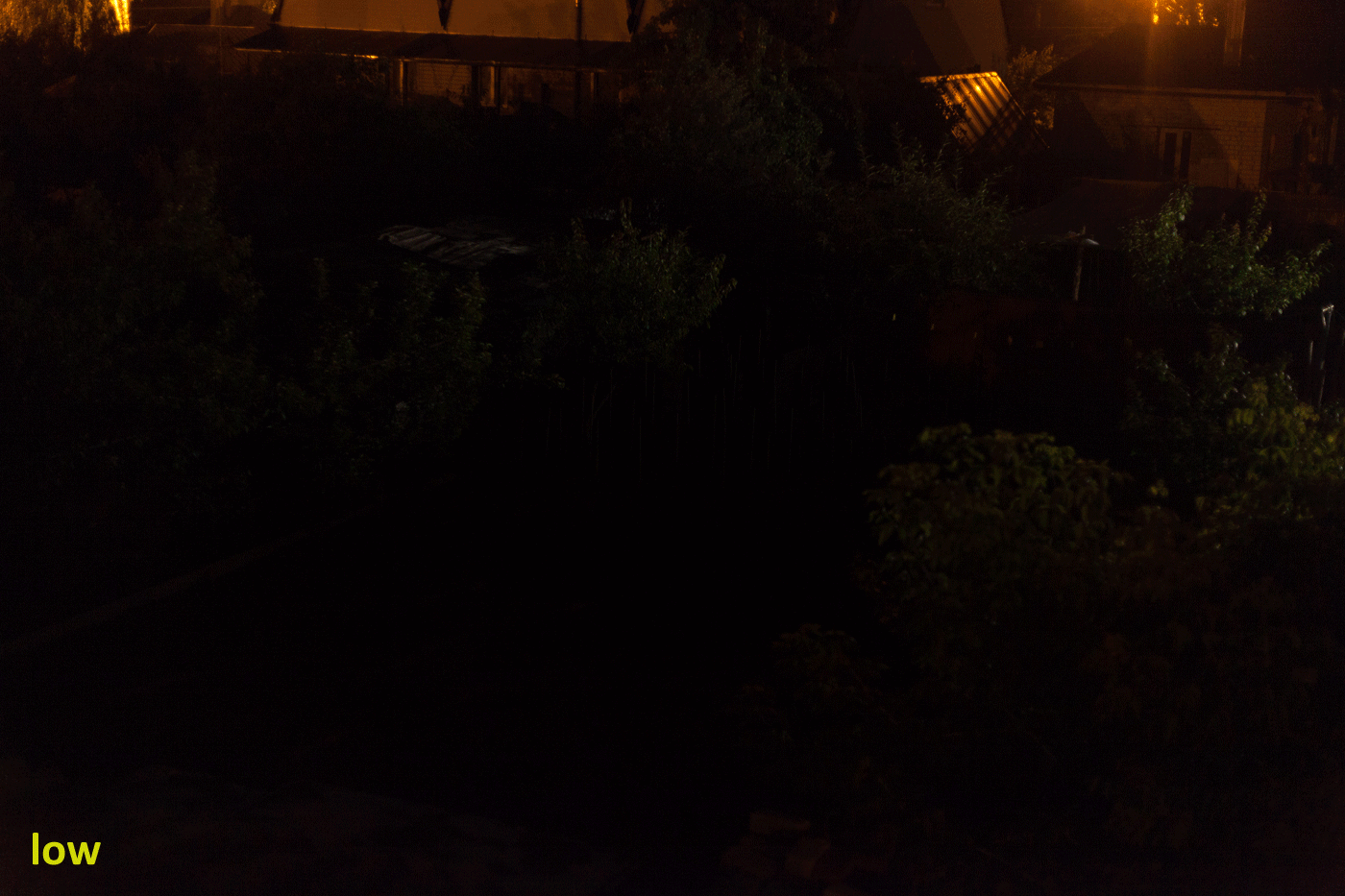 BTW, I grabbed cheapest zoomie, well known s*tfire sort, see difference at max modes.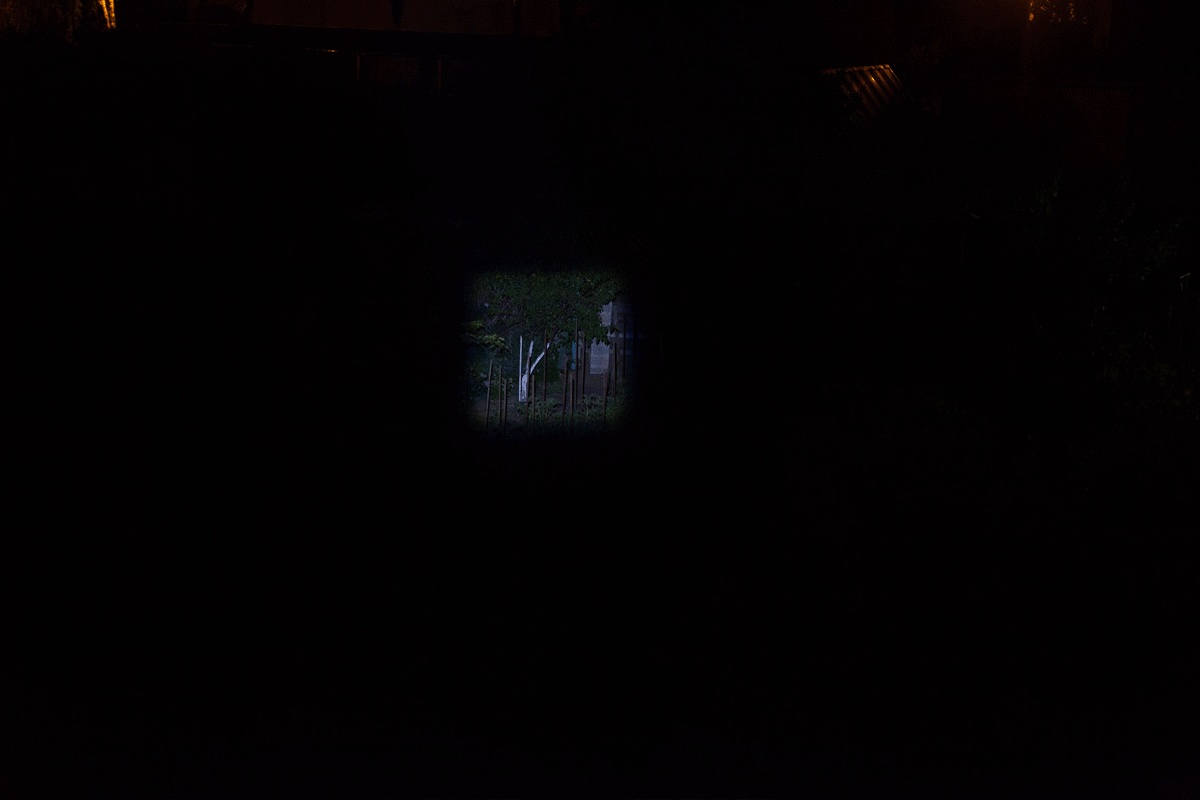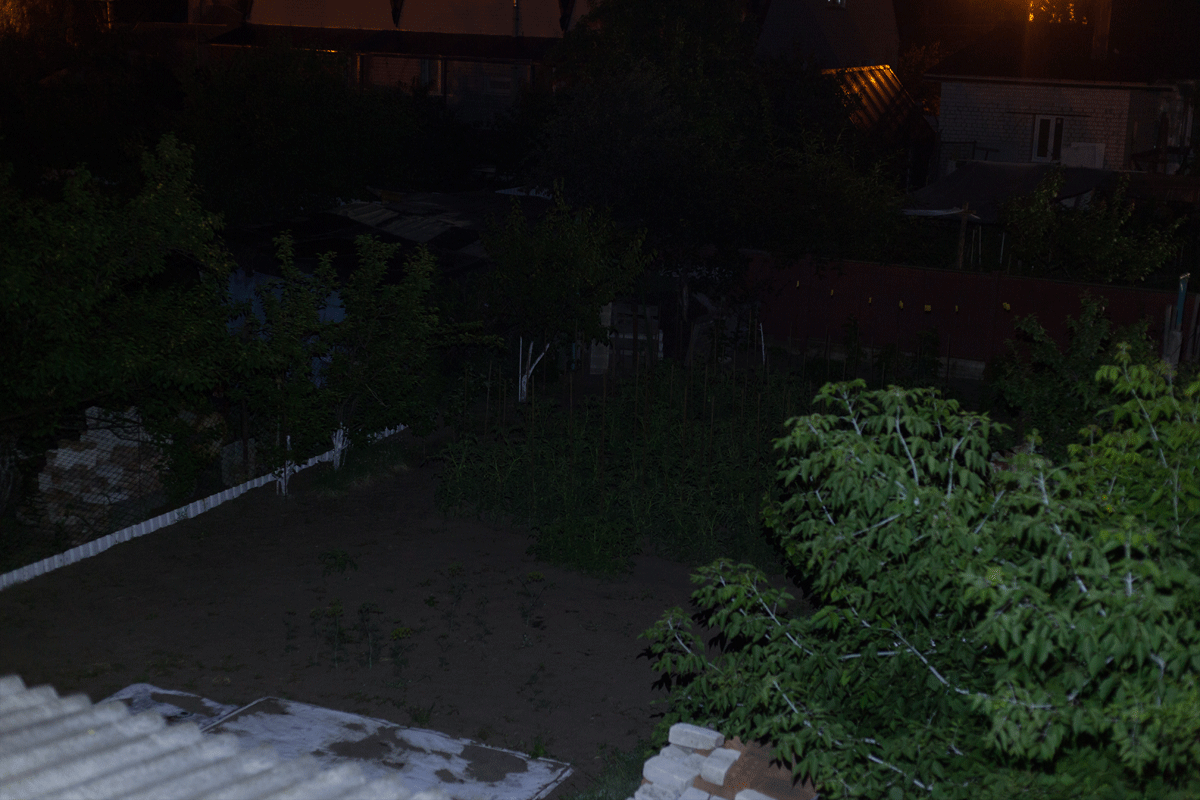 And short-long focal range at each mode
So, expectably – specialized lights performs better. Thrower is better at long range and OP EDC light is better at close one. But – of course, FX10 is better at long range than EDC and at short range than thrower.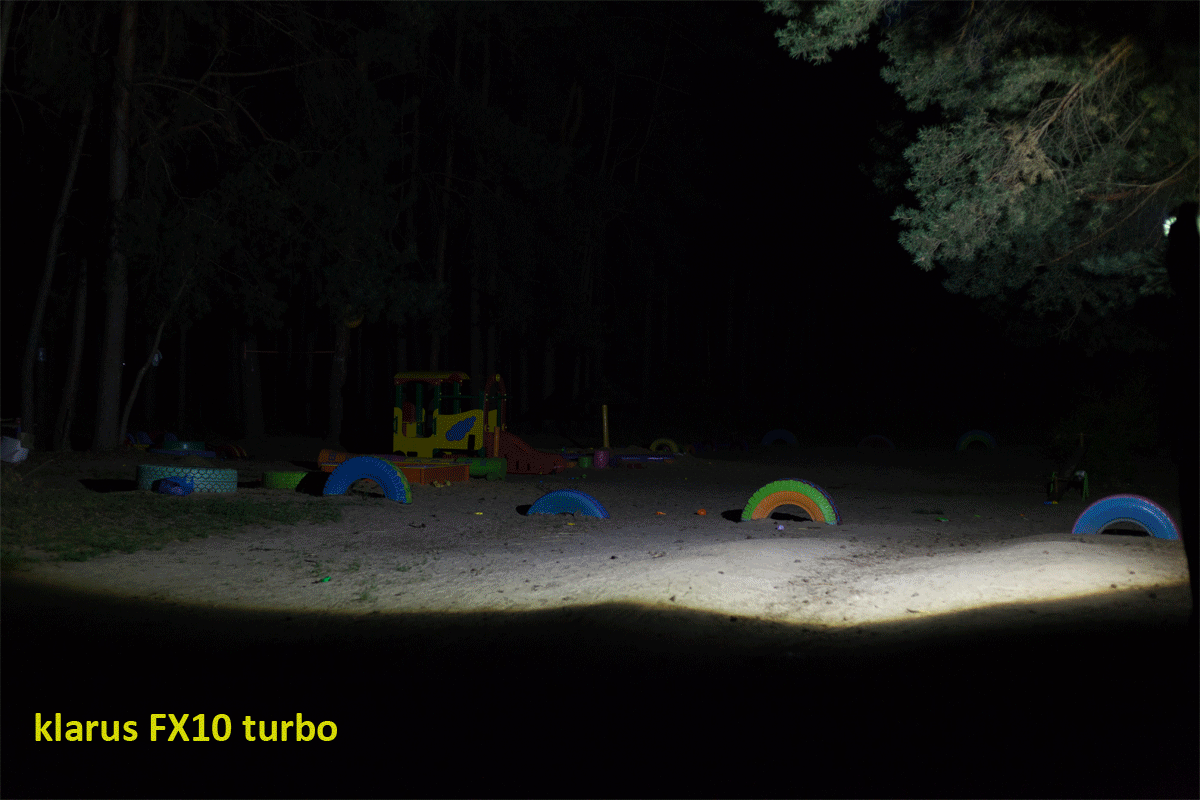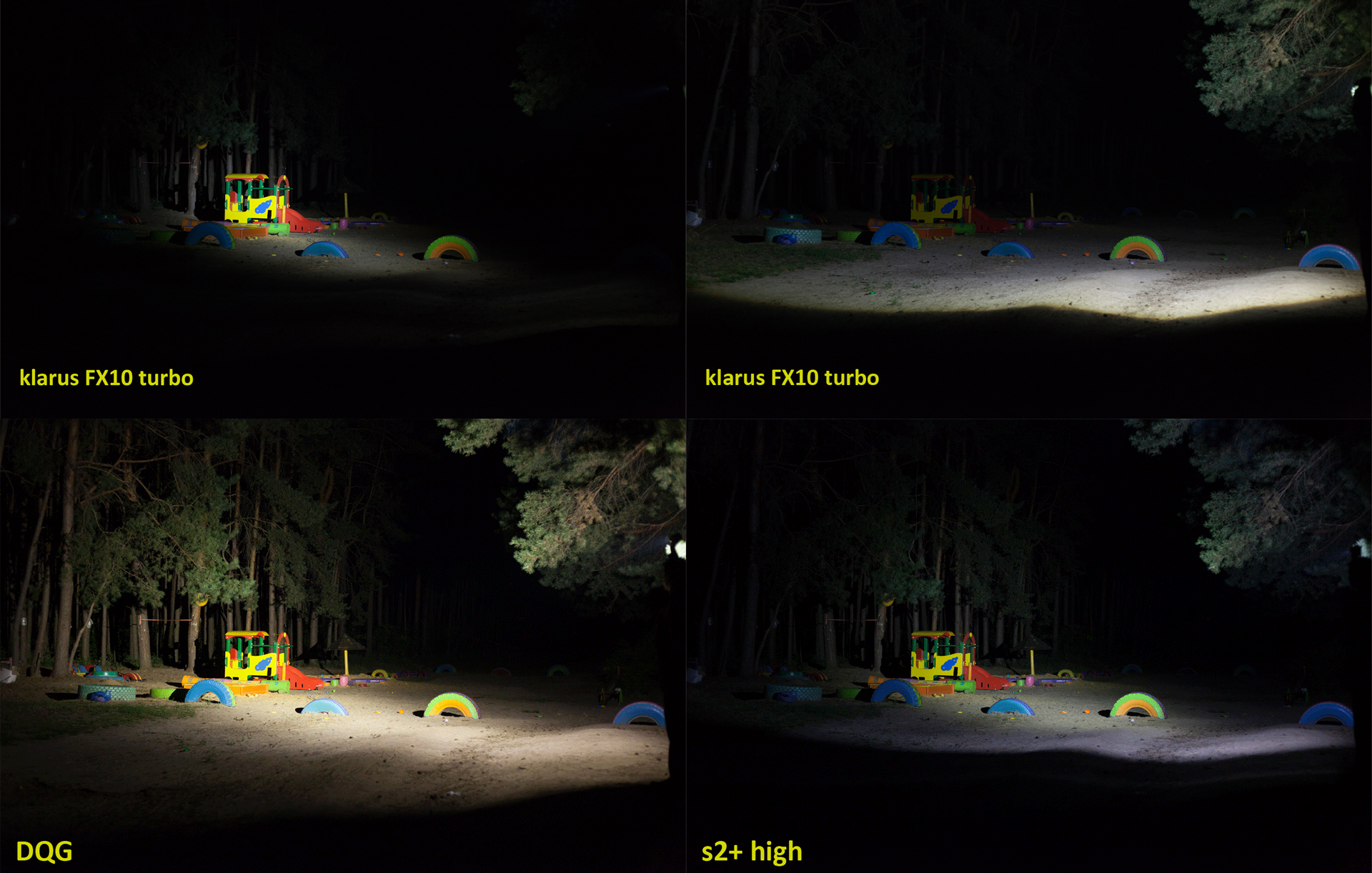 OVERALL
FX10 looks good and doesn't have visible lacks of build quality and construction.
Not being part of TA (hunters\military ) I cannot seriously evaluate it usefulness as mixture of zomie and tactical light.
What I can say is that as zoomie, this light performs better than other optically similar stuff that I tested.
+ build quality
+ flexible ui and lots of buttons
+ at long range performs better than I expected
+ 1А charge amparage
+ universal light
+ no PWM shimmering
+\- stabiliszation is ok, but still it has sawteeth in turbo
- universal light
- 6500К
- reverse mode order
- 2600mah battery included
- no voltage cut-off
You can buy it here at Gearbest