1st, initial EC4 was released 3 years ago and became the very 1st brand flashlight that I owned. Heh, a lot of different version in EC4 model line have been released since then, keeping the same basis – solid 2×18650 metal brick body and good light for most of common needs.
So, that`s time to tell about freshest version, build upon XHP35.
Here is a product page.
you can buy Nitecore EC4GTS at
➤ AMAZON
➤ ALIEXPRESS
➤ BANGGOOD
➤ NITETORCH they generously offered 20% code HJK5KDNQ valid for all the items in store, including other brands
• High-performance blazing searchlight
• Utilizes CREE XHP35 HD LED, with a maximum output of 1,800 lumens
• Maximum peak beam intensity of 39,220cd and maximum throw of 396 meters
• Made with unibody die-cast technology
• Thumbscrew lock on tail cap doubles as a tripod connector
• Crystal coating technology combined with "Precision DigitalOptics Technology" for unparalleled reflector performance
• High efficiency constant circuit provides stable output up to 380 hours
• Dual switch design enables quick switch to 5 levels of brightness and 3 special modes
• A power indicator beneath the Power switch indicates remaining battery power (Patent No. ZL201220057767.4)
• Incorporated Advanced Temperature Regulation module
• Toughened ultra-clear mineral glass with scratch resistant coating
• Constructed from aero grade aluminum alloy with HA III military grade hard-anodized finish
• Waterproof in accordance with IPX8 (2 meters submersible)
• Impact resistant to 1 meter
• Tail stand capability
Length: 155mm (6.1")
Head Diameter: 40mm (1.57")
Tube: 40mm×29mm (1.57"×1.14")
Weight: 171g (6.03oz)
PACKAGE AND APPEARANCE
The same package that Nitecore uses for all it`s products, exluding some limited stuff like Concept, TM10K etc. so you get well known yellow-brick cardboard box. Design and print quality are both good as usually as well as protection from travel accidents.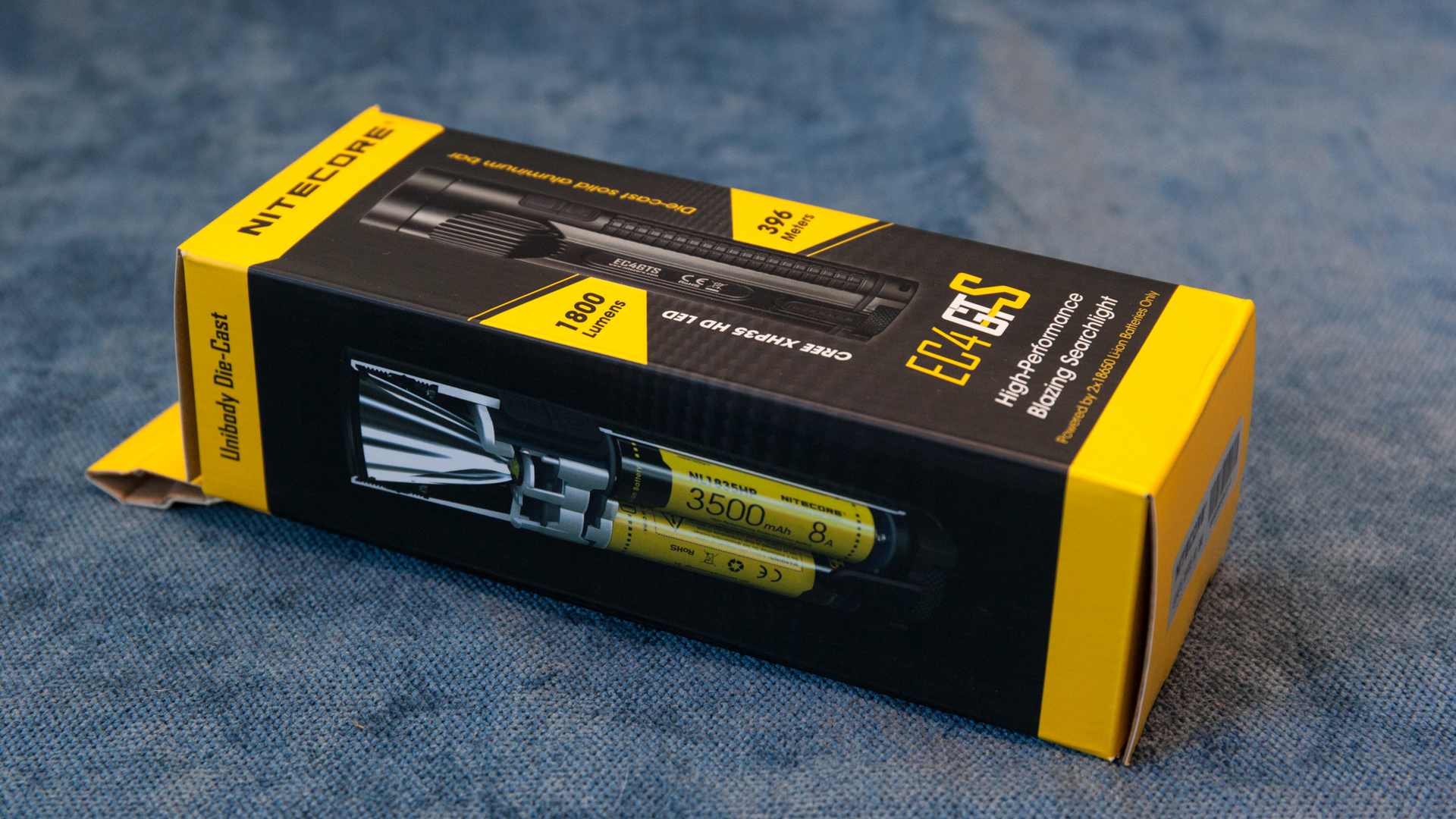 Package includes: EC4GTS, lanyard, manual, holster.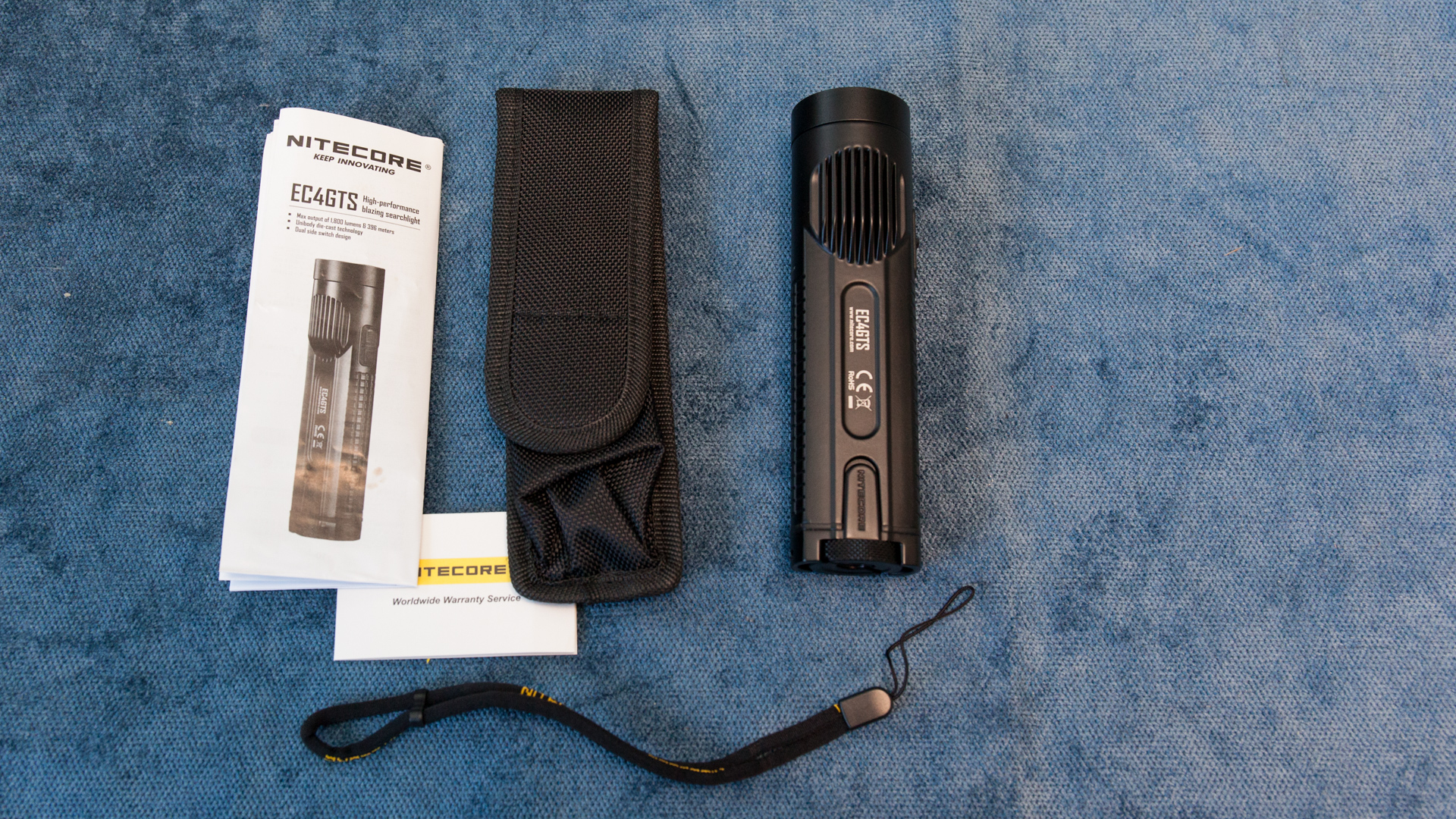 Holster is ok, well, holster as holster. Most of these things are alike.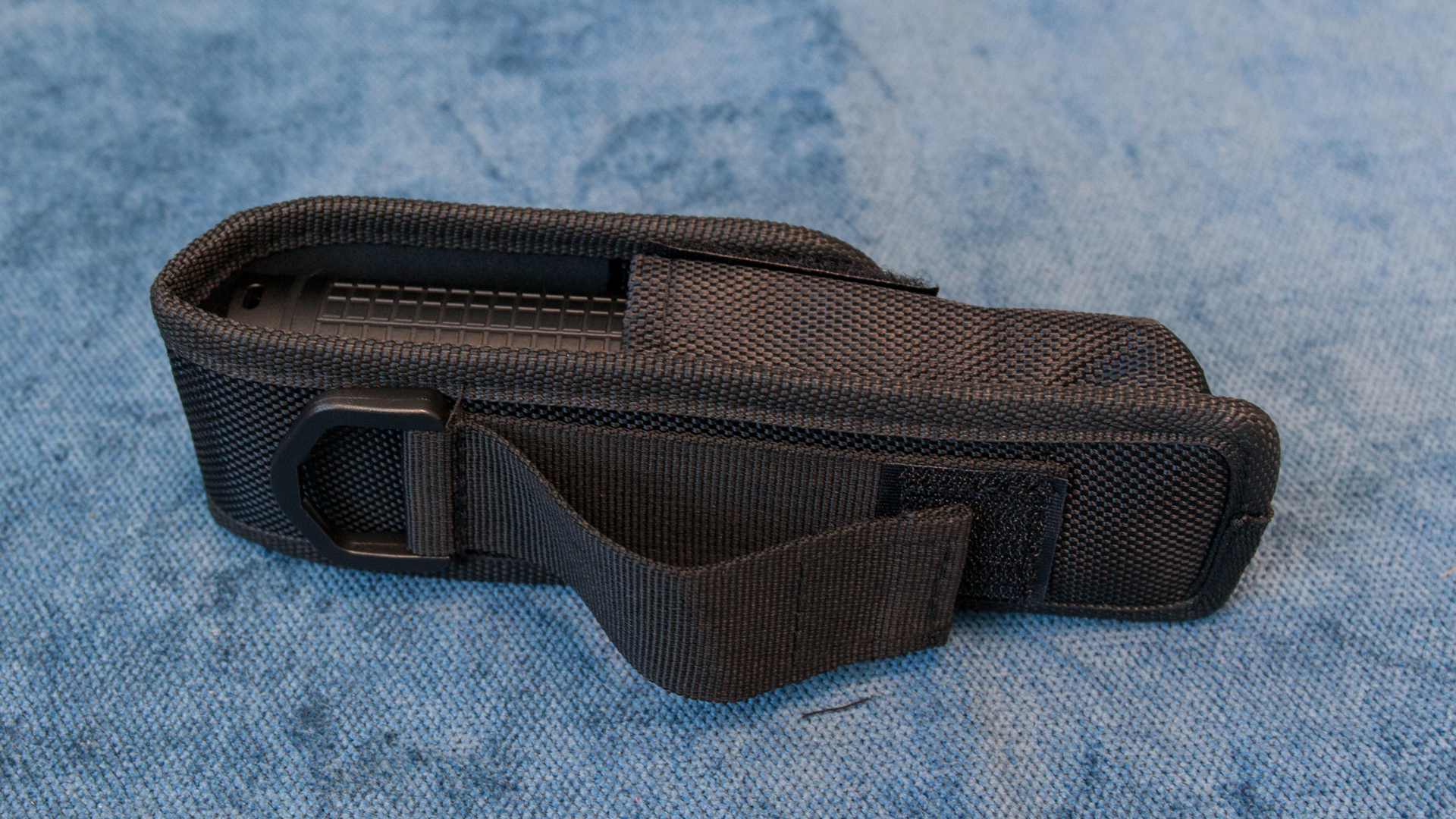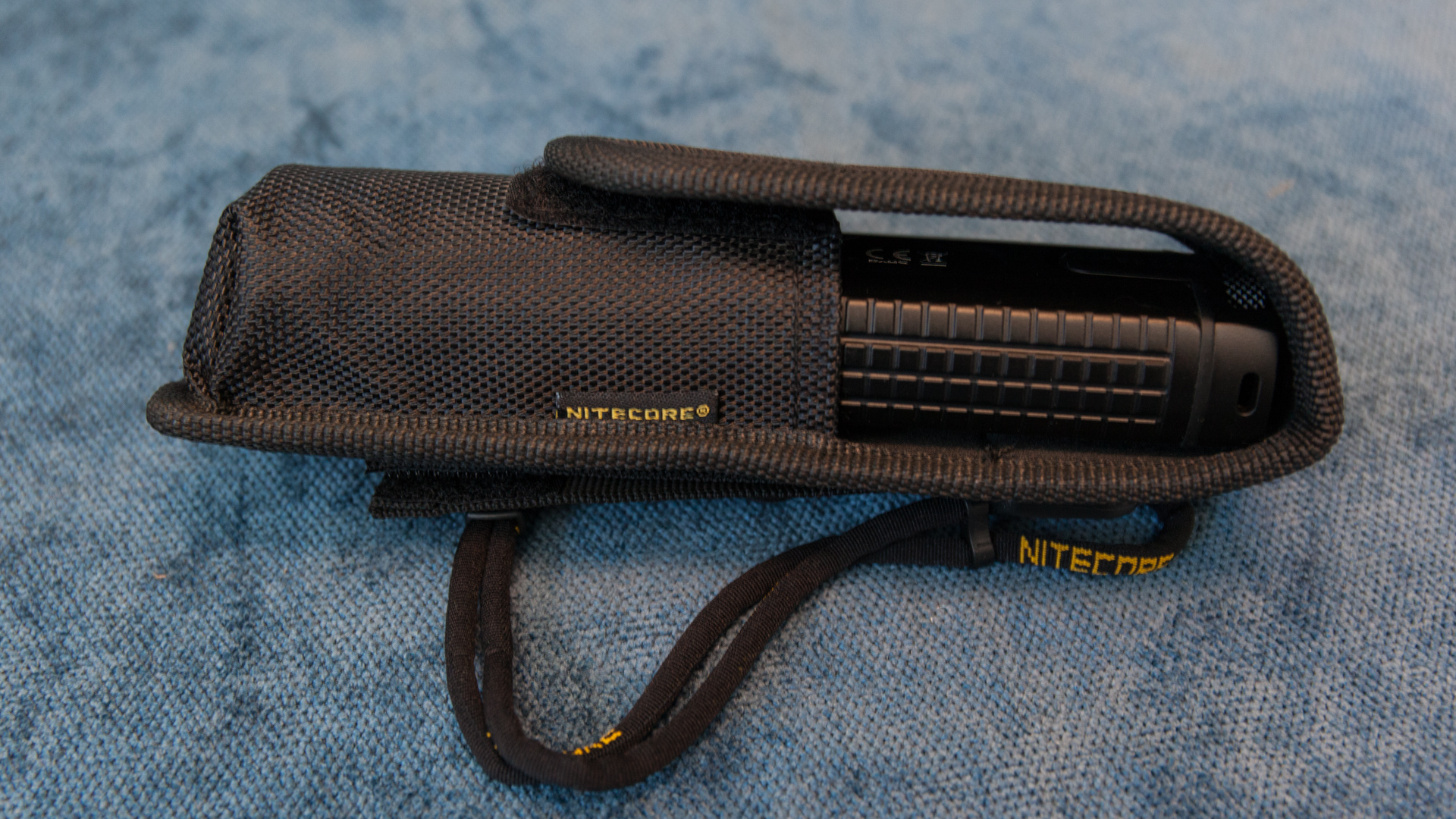 Nitecore EC4GTS is definitely not a compact thing, that you may label EDC with it`s 155х40х25 mm body and 40mm head diameter. Nevertheless, neither it feels like something bulky, most of tactical flashlights have the same size. So you can carry it around being stored in pocket of jacket.
Of course head might be shorter, but that would result in absolutely another light distribution.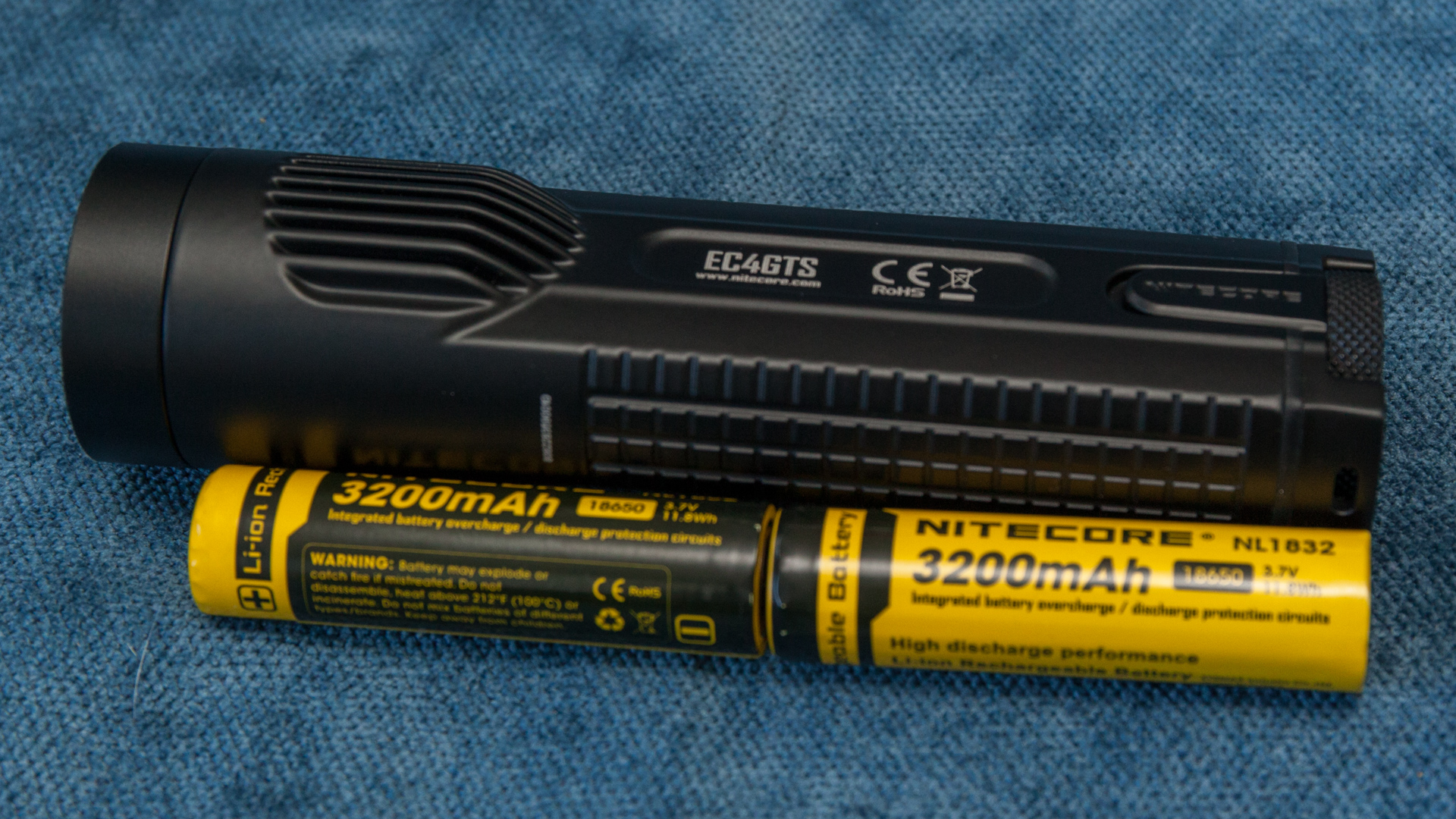 I like how EC4 looked like, kept on liking appearance of other EC4s and do like how EC4GTS feels and looks like. This is not that appearance that you often meet, so visually it stands aside from majority of other models. In a good way, I must add. 3 years is time long enough to show that this appearance is not an occasional experiment. It got popular, and it demonstrates good functionality as well, in firmness of grip and in adding extra runtime with 2×18650 from-factor.
Grip is really tight and comfortable.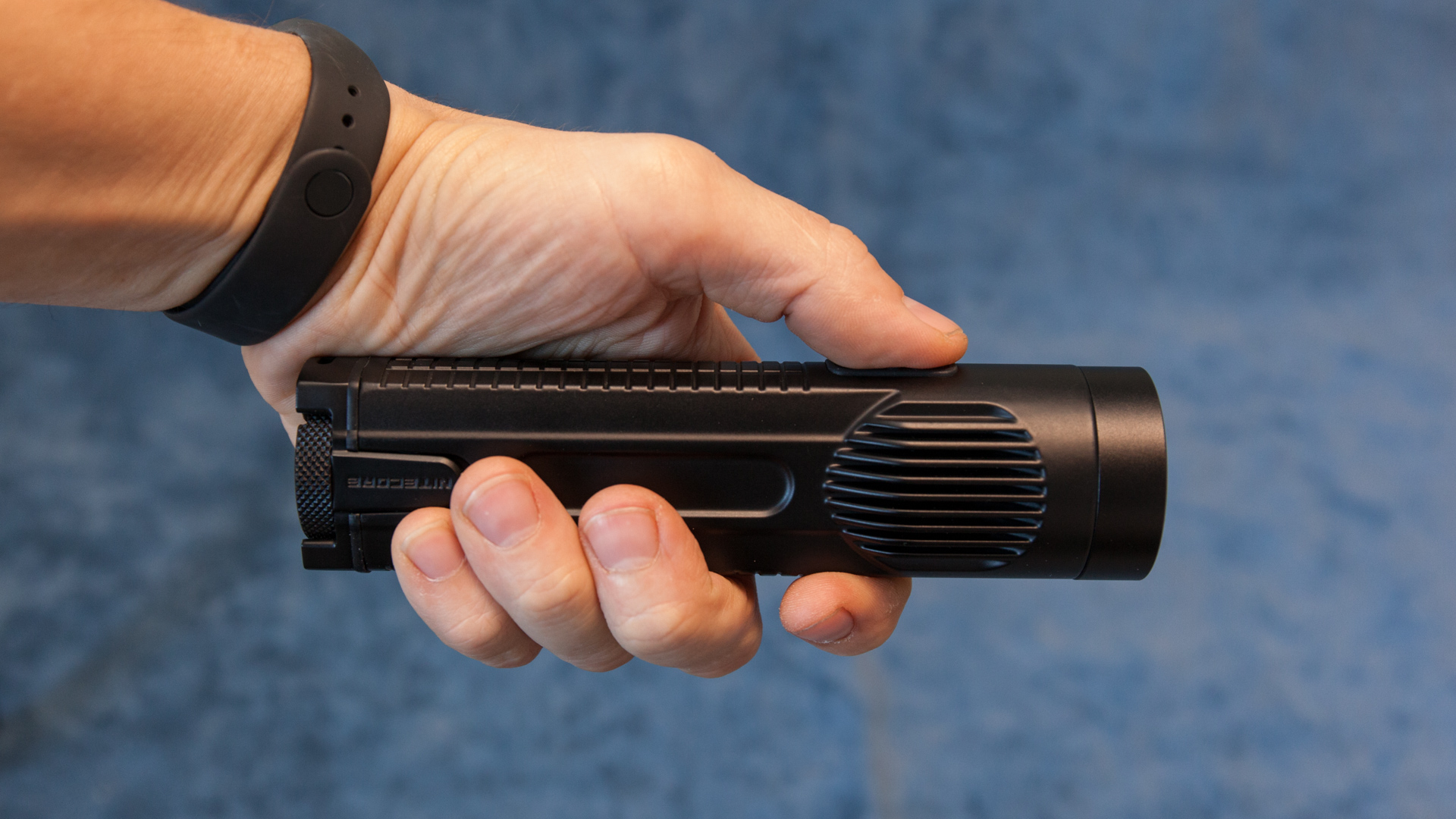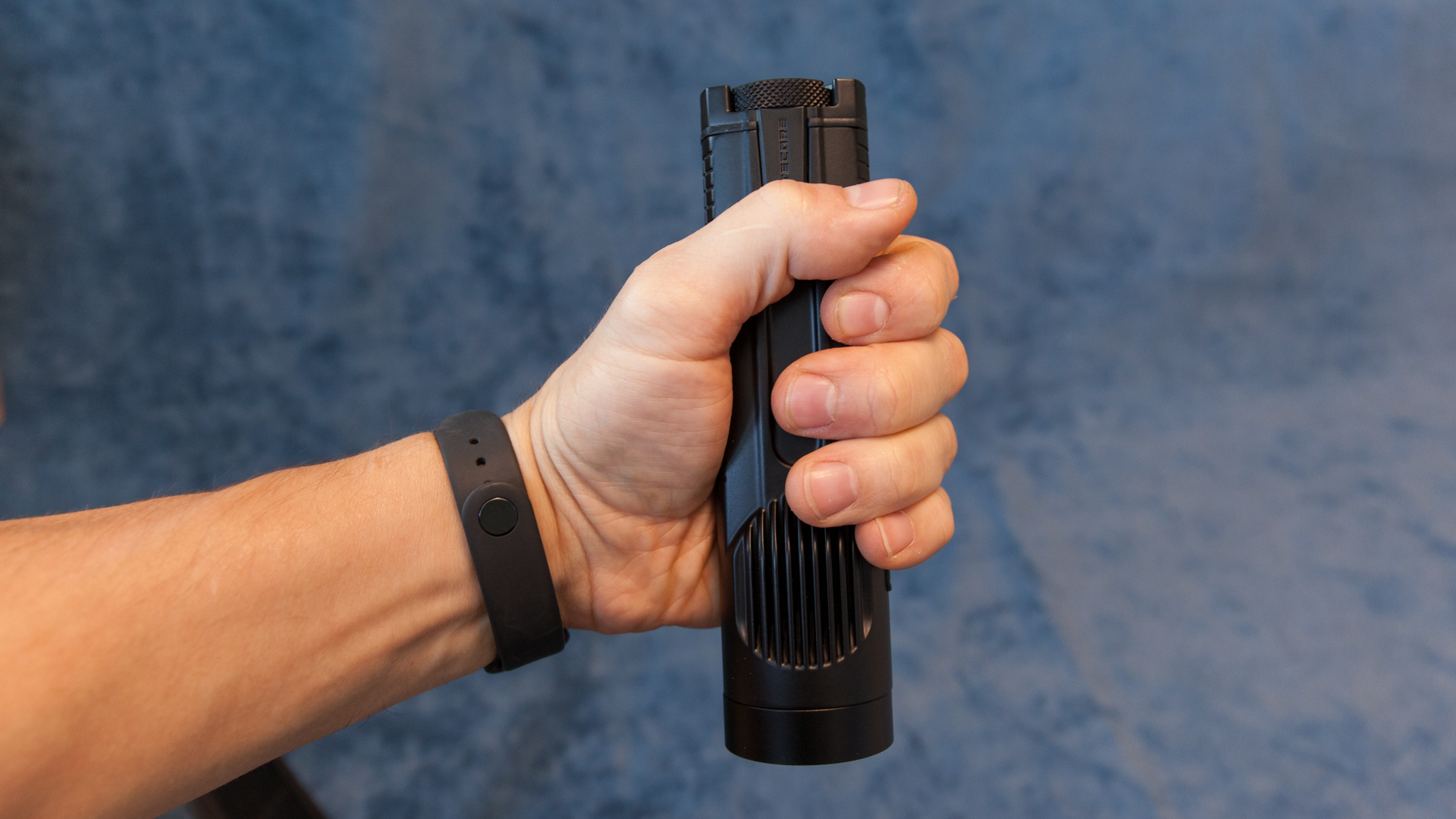 There is no usual pineapple-rhombic knurling, there are a bunch of large squares. They are raised enough to feel their influence on grip.
There is a small lace for lanyard at opposite sides right by the tailcap.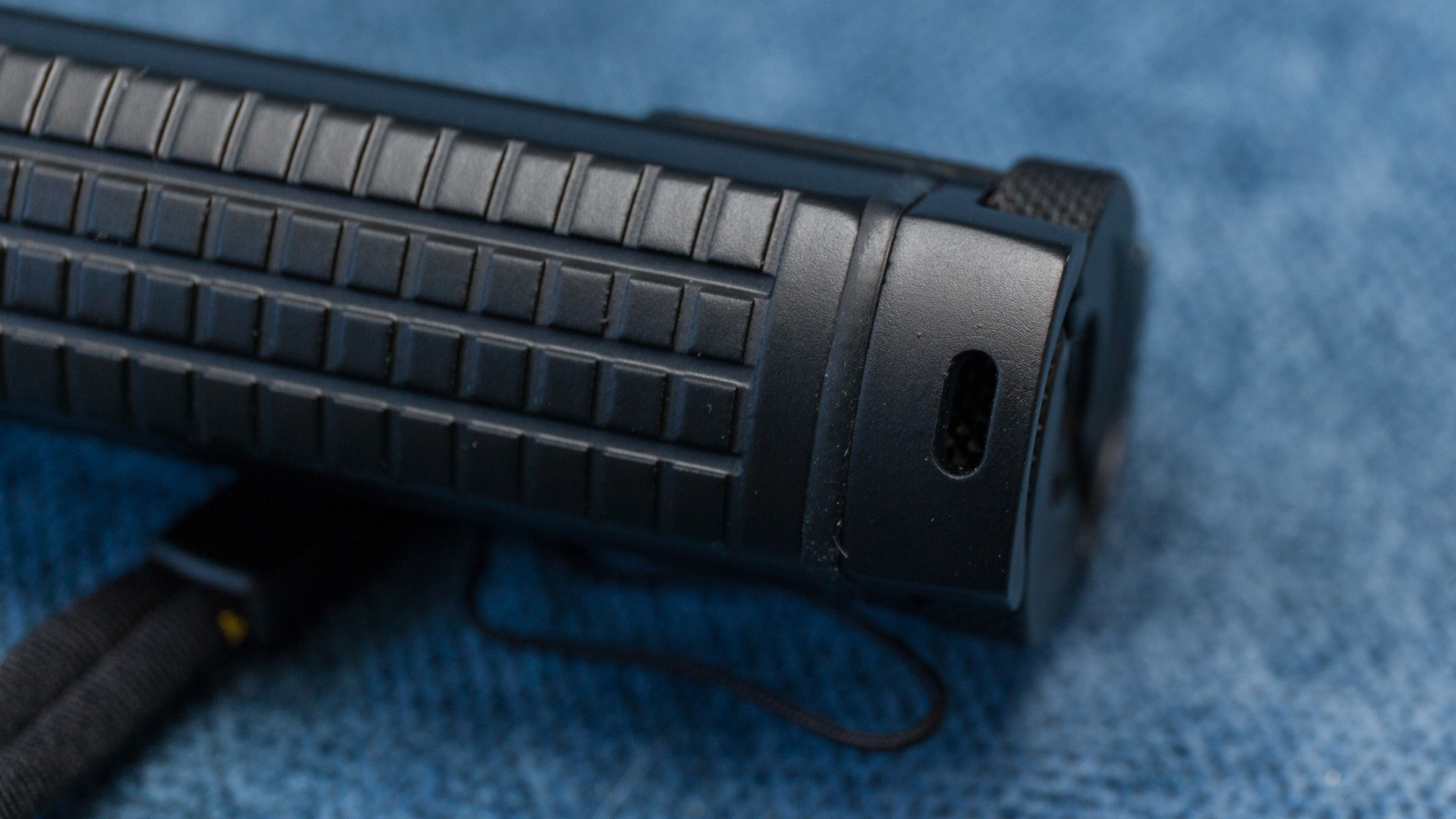 The only print here is a model name at one side. Another one is blank. Though these long sides are smooth, there is a long groove at each of them, and fingers lays exactly upon this grooves. So, grip is comfortable, again.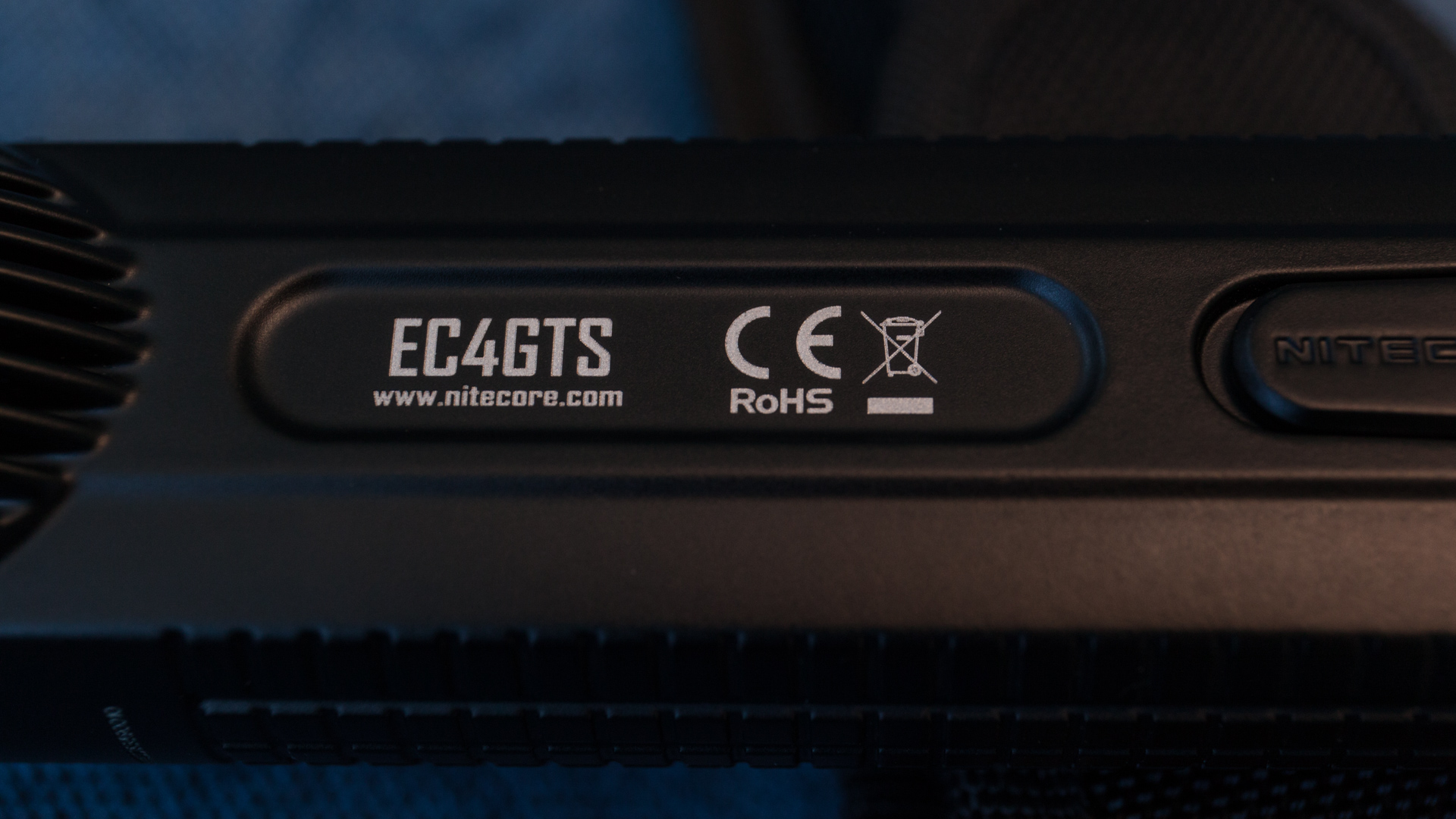 Tailcap is unusual. To be exact, it was unusual in 2015, we`ve got used to it since then. So here is nothing sensational. Just rotate it and get to battery compartment. Tailcap (it`s round rotating part is covered with notches, so it`s good for grip. You`ll feel it when work in gloves, or in cold season). Another cool feature is small groove where you can place knige or key and use it as lever arm. That is good when tailcap is closed too tight, or in winter, again.
There is a tripod mount as well, nice and helpful feature for lots of situations.
Tailcap is smooth, can tailstand.
There is a bad side, as well. Again, Nitecore says us "button-top batteries only". I understand logic of this, but as owner of dozens of flat-top batteries cannot accept it )
Spring are not think, but once they are double, who cares.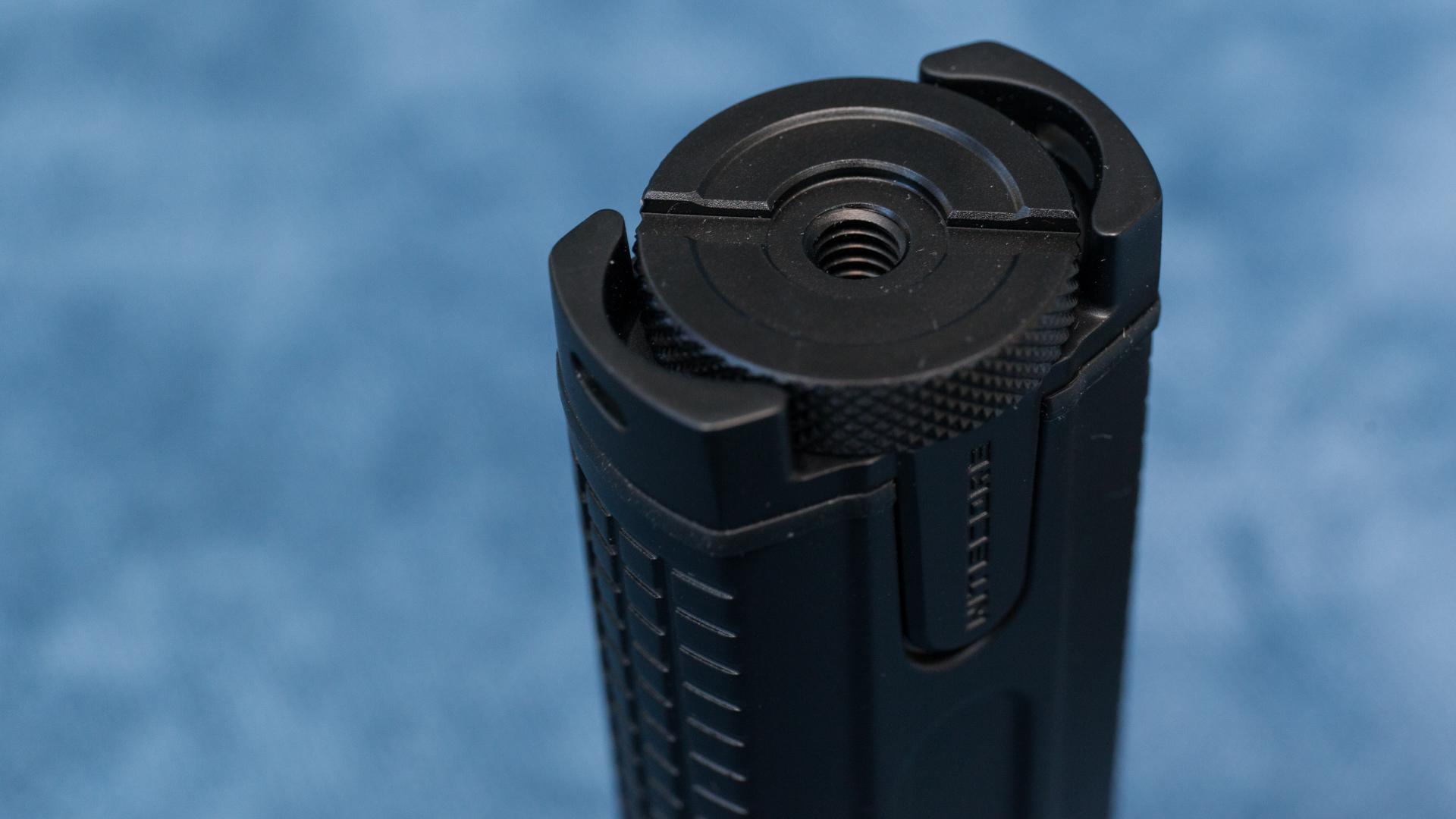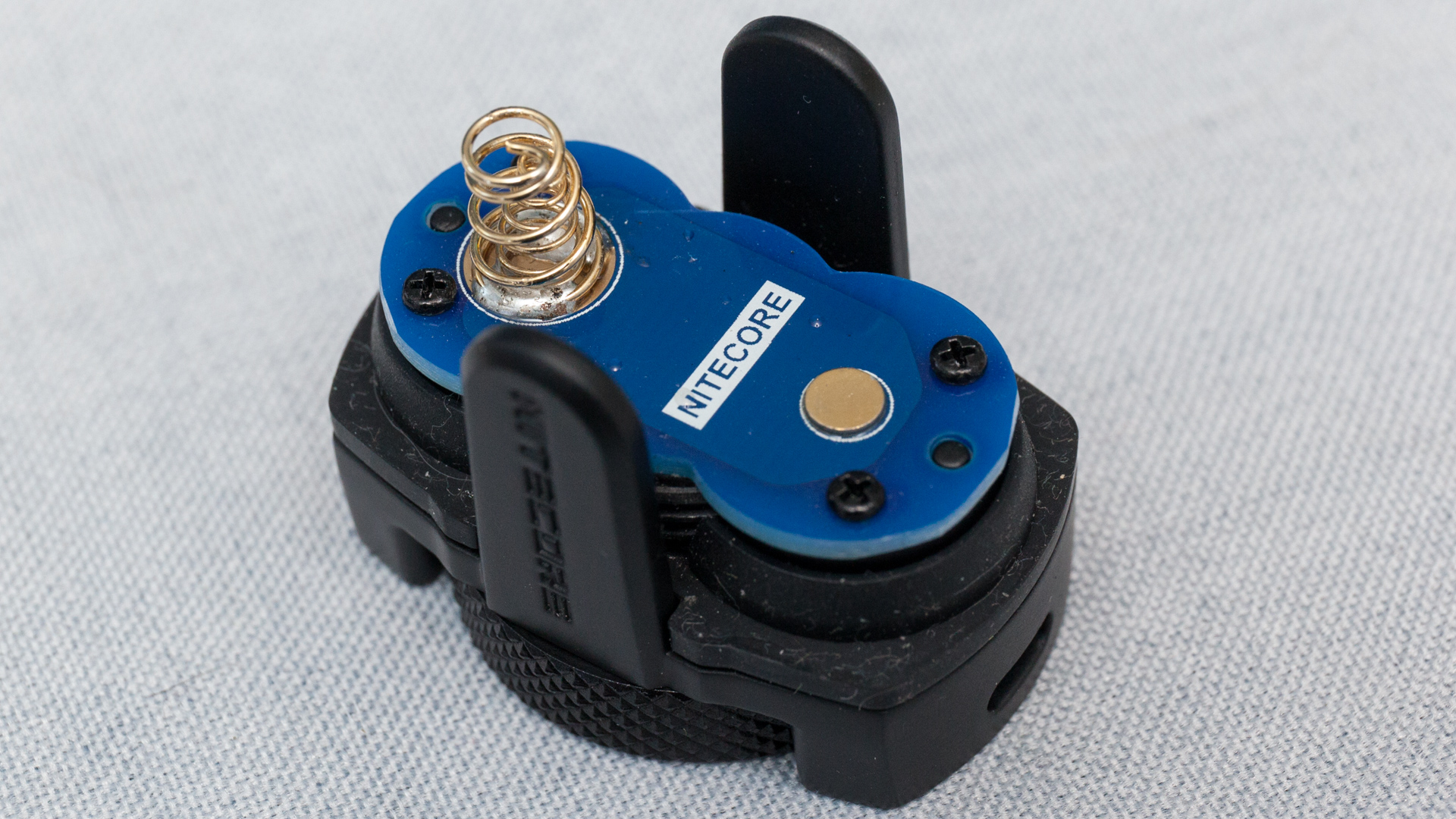 Threads seem to have graphite lubrication. Tailcap moves on them smoothly.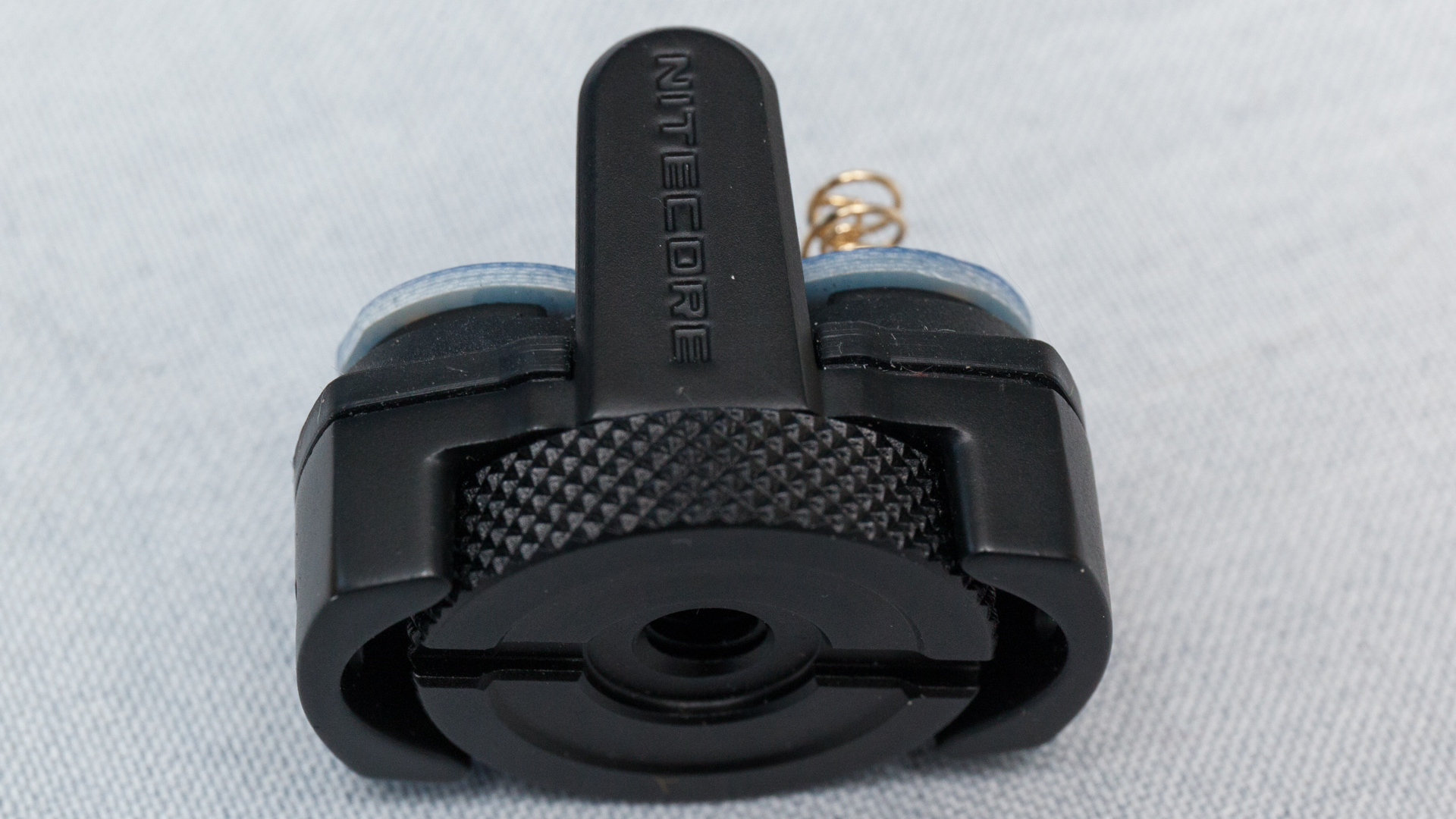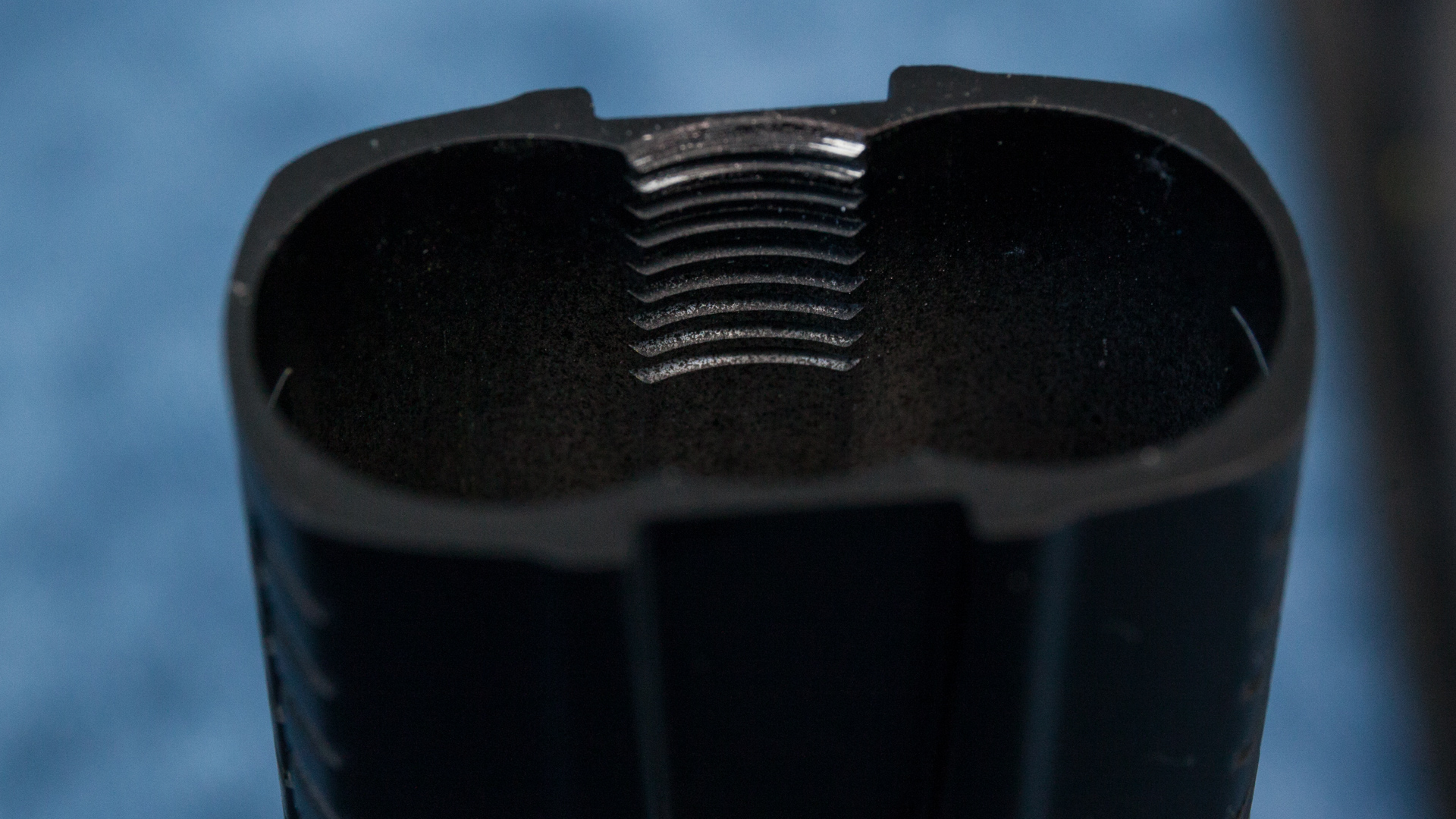 BTW, you can feed Nitecore EC4GTS with CR123 besides 18650.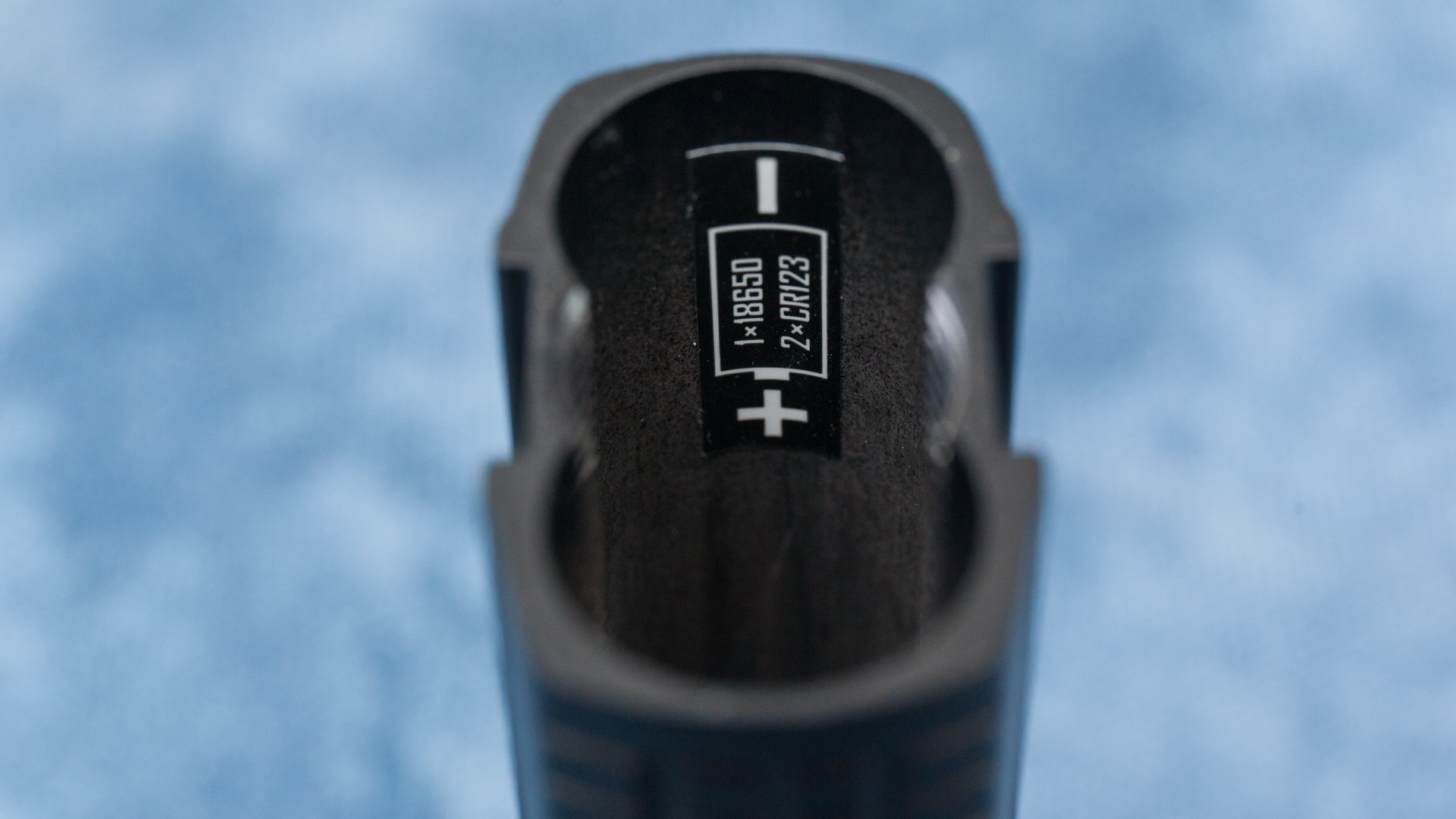 No matter how drunk or exhausted you are, there is no chance to position tailcap wrong way, batteries are at different level.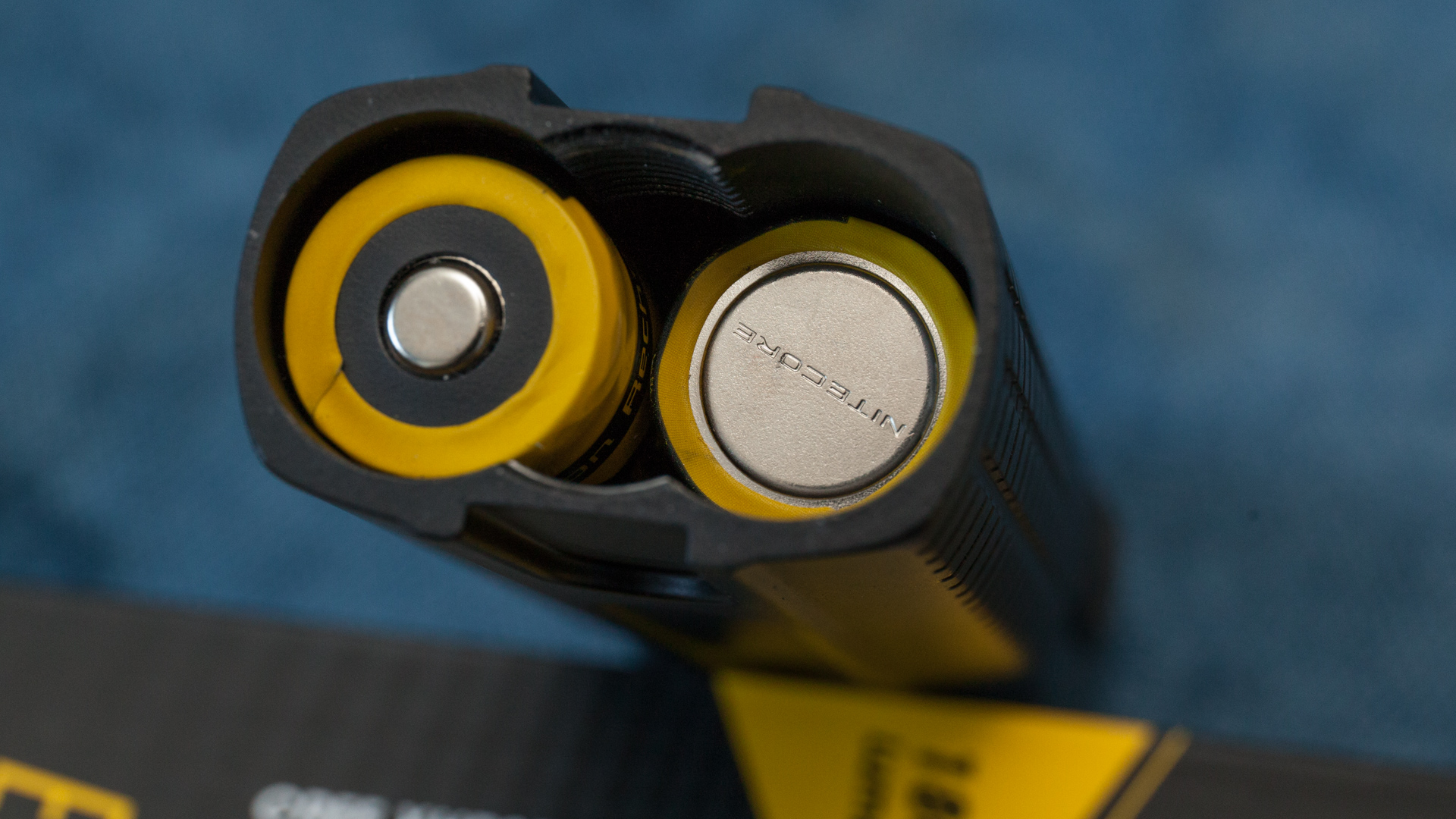 There are a pair of 1cm square buttons. Though they are not that high, I don't feel there will be problems with finding them: there are LED indicators + other part of head is completely smooth, so there is t tactile contrast between them and surface of head.
Additionally, as Nitecore EC4GTS body is rectangular, it kinda self-positions itself and buttons are always pointed upward, to your fingers.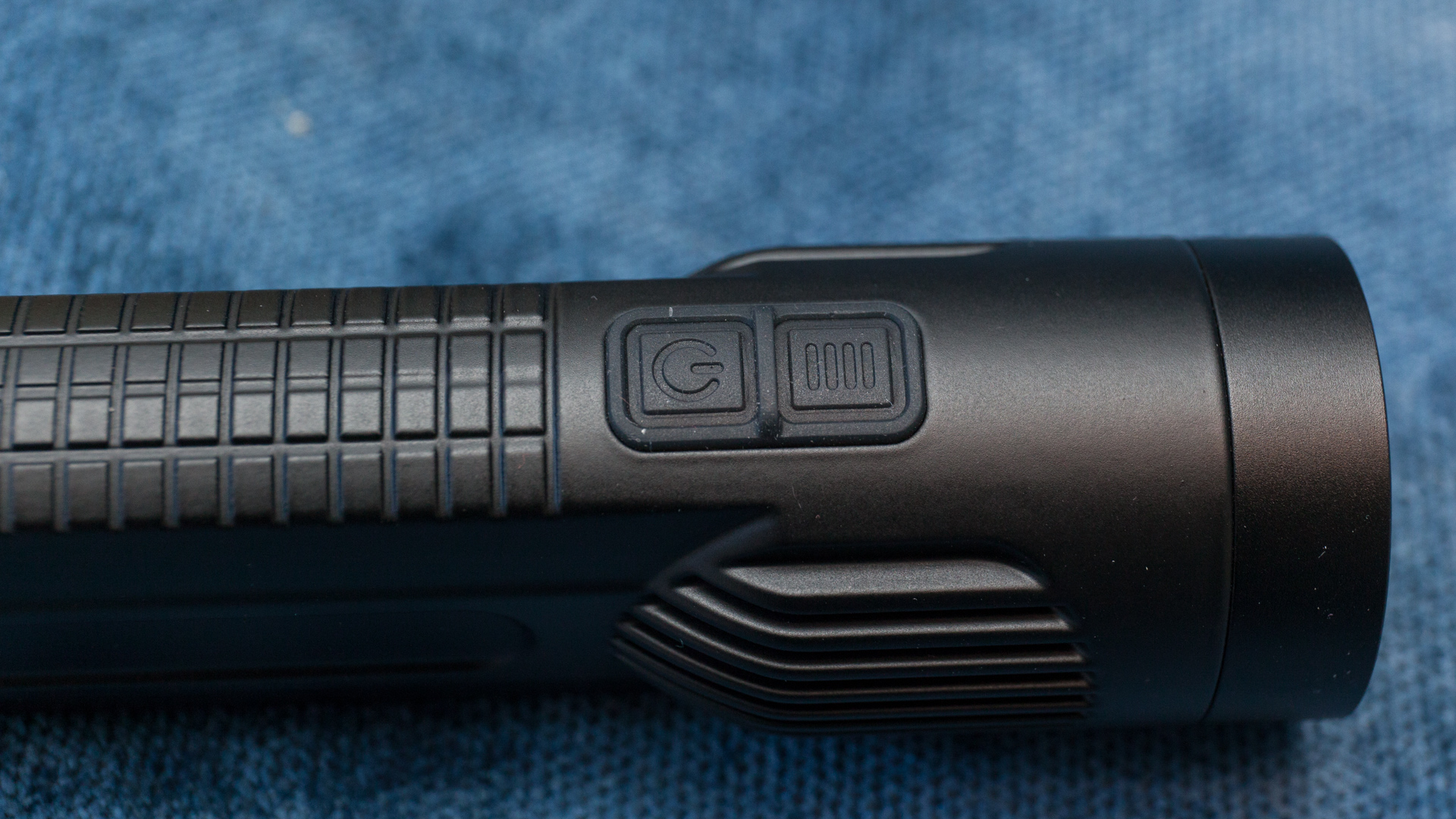 Flashlight has big cheecks. All they are covered with deep and numeral cooling fins.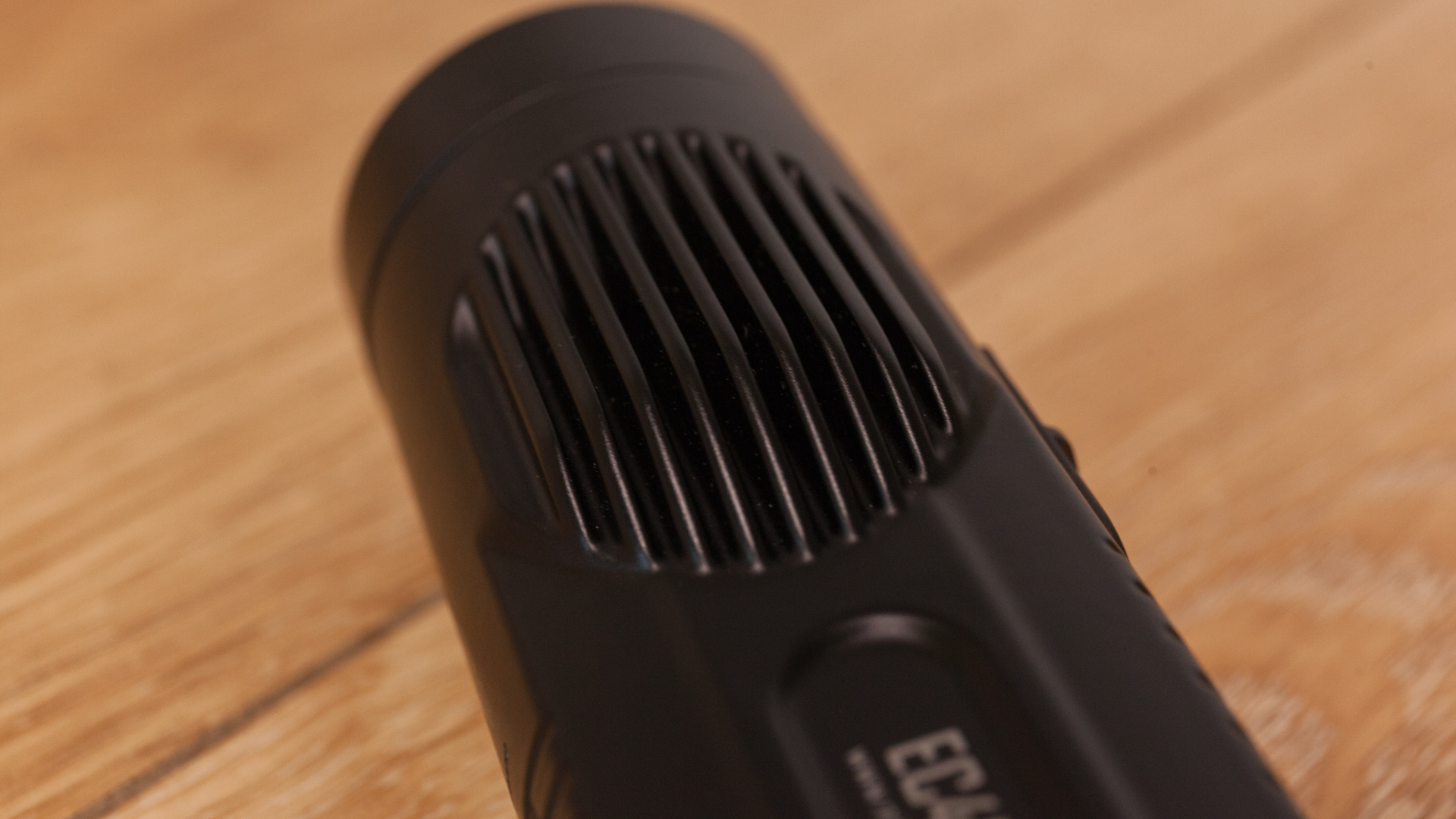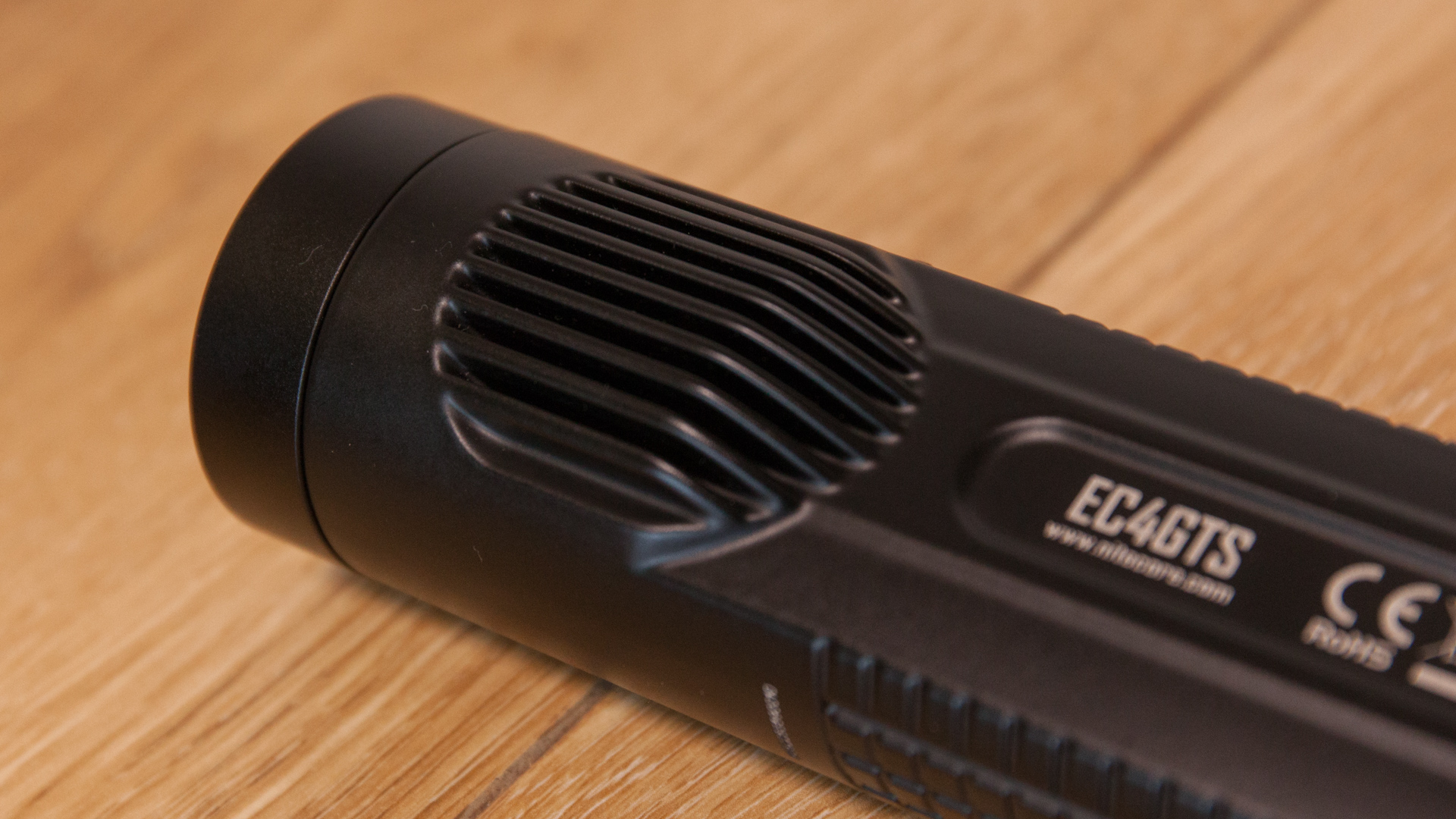 This time, yeah, I can disassemble head and inspect insides like XHP35 on the bottom.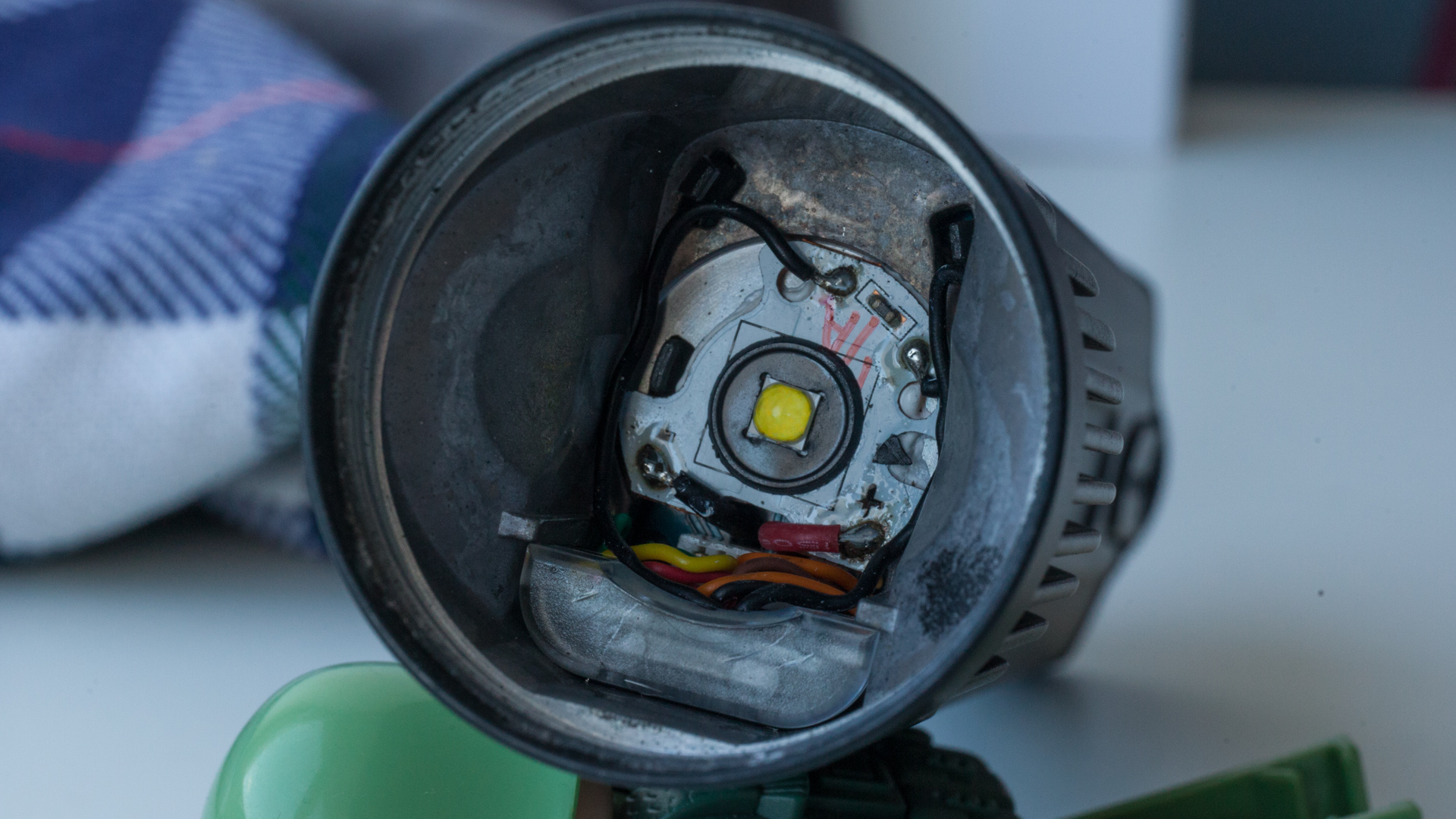 Or glued (seems to be) smooth reflector (34mm diameter and 40mm long).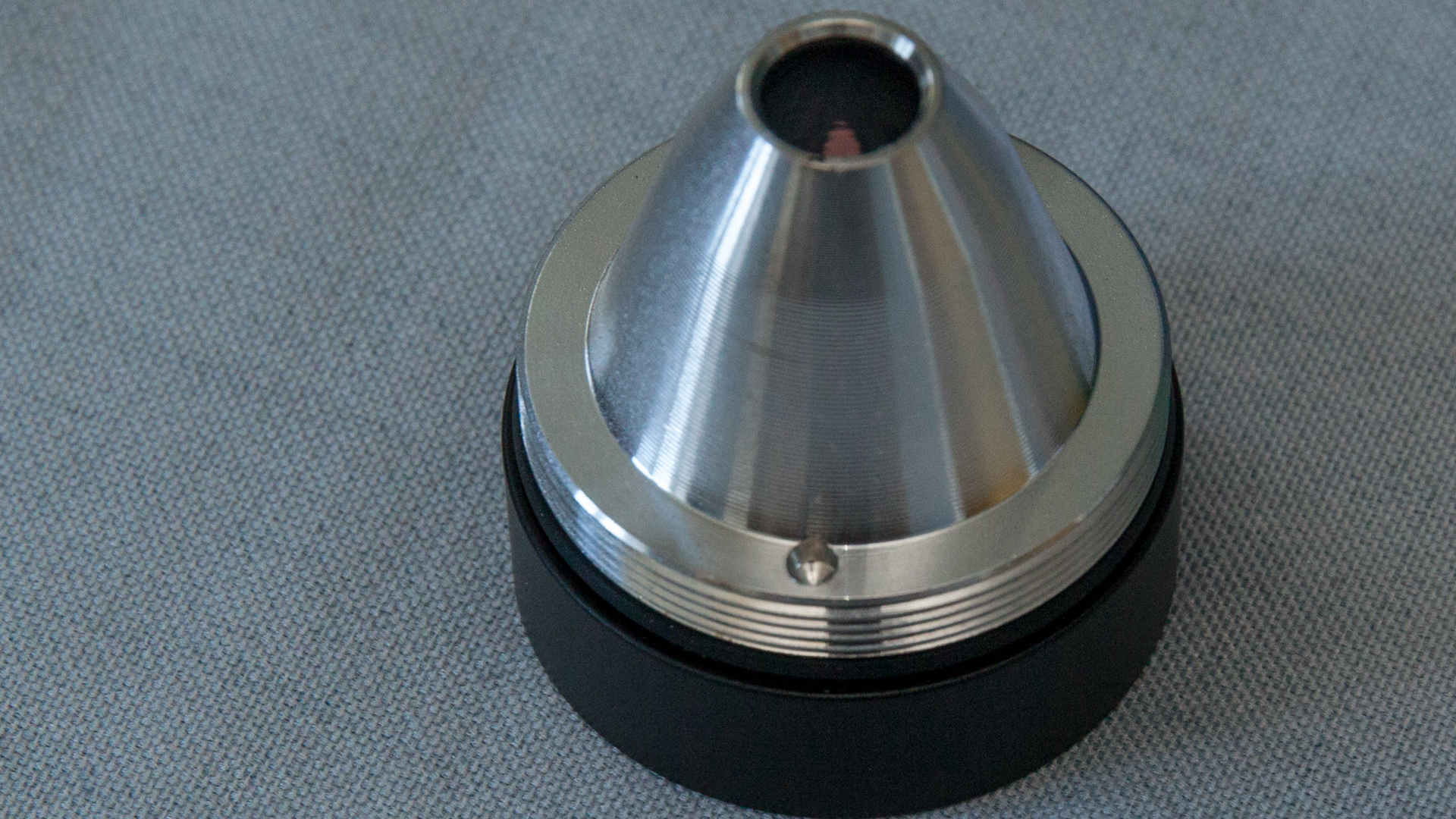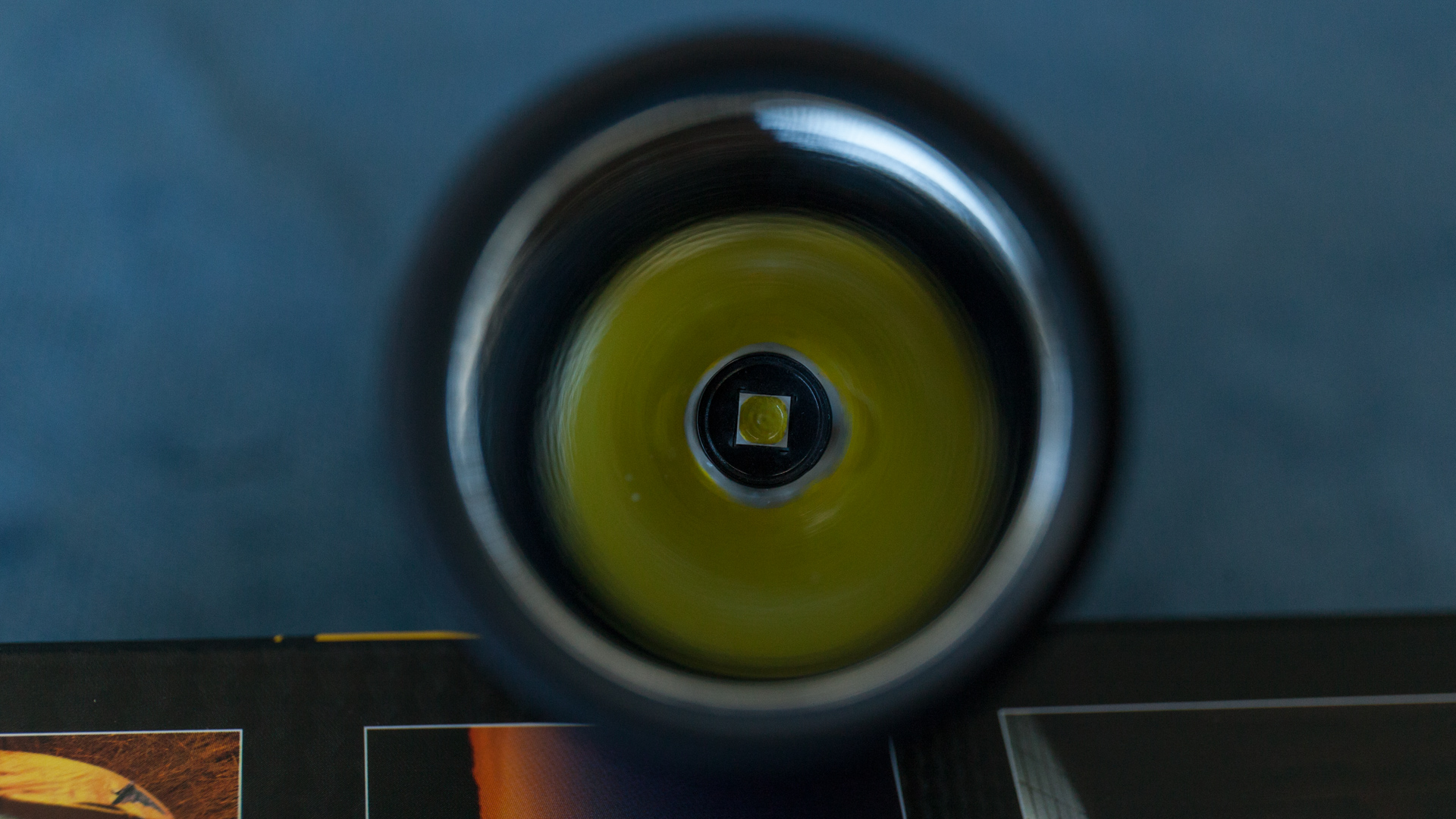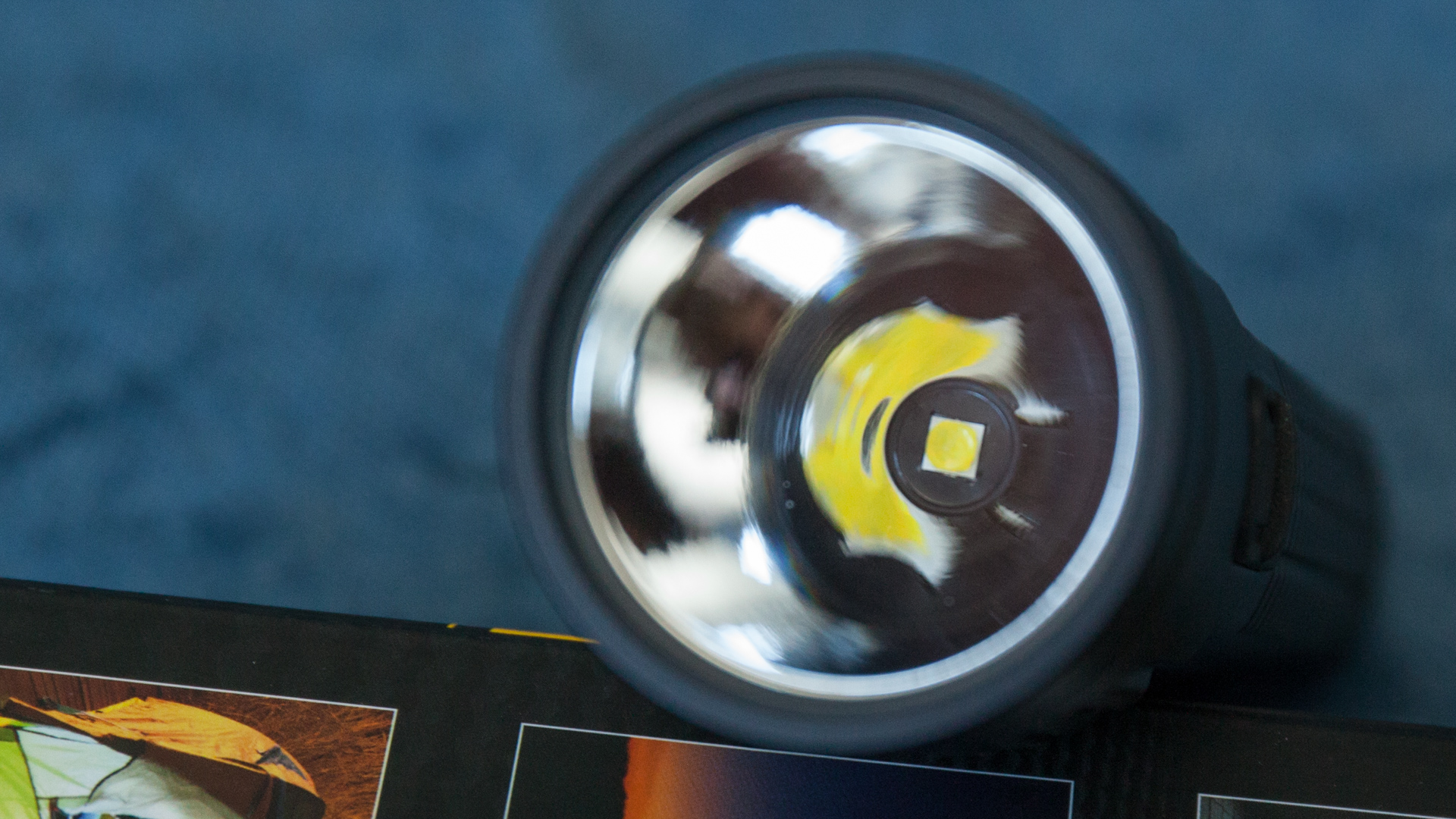 Summarizing, though design is the same as it was, that is because Nitecore hit the aim right at the very 1st time with rare example of experimental form-factor which survived through years. It pleases both eyes and hands. I haven't found anything no complaint about in neigher in build quality, nor in construction ( besides "button-top only")
UI
Not complicated. You cannot say it`s that flexible, but you cannot say it`s too simple as well. It is reasonably, with some good features as well. Good for ordinary user and doesn't annoy experienced one. (at least me).
On/Off
To Switch On: When the light is off, press the Power button to switch it on. To Switch Off: When the light is on, press the Power button to switch it off.
Brightness Levels
When the light is on, press the Mode button repeatedly to cycle through brightness levels of Ultralow, Low, Medium, High and Turbo. The flashlight will return to the previously used brightness level after being turned off and on again.
Direct Access to Ultralow/Turbo
Direct Access to Ultralow: When the light is off, press and hold the Power button to switch directly to Ultralow. Direct Access to Turbo: When the light is off, press and hold the Mode button to switch directly to Turbo. Instant Access to Turbo
• When the light is on, press and hold the Mode button to switch to Turbo. Releasing the button will go back to the previous level.
• When the light is off, press and hold the Mode button for more than 2 seconds to switch to Turbo. Releasing the button will switch off the flashlight.
Special Modes (Strobe / Location Beacon /

SOS

)
When the light is off, quickly tap the Mode button twice to switch to Strobe mode. Then press the Mode button to cycle through other special modes (Strobe / Location Beacon / SOS). Press the Power button to exit special mode.
Lockout / Unlock
Lockout mode is designed to prevent light from accidental activation. In Lockout mode, the flashlight consumes a negligible amount of power, and the buttons are locked and do not respond to clicks. Set the light to Lockout mode when it is kept in a backpack or anywhere there is a likelihood of accidental activation. The standby time in this status is up to 12 months.
Lockout: Press and hold both Power and Mode buttons simultaneously until the LED flash once to indicate that the flashlight has entered Lockout mode.
Unlock: In Lockout mode, press and hold both Power and Mode buttons until the light turns on to unlock the flashlight. The light will go back to its previous level.
Location Indicator
To switch on the location indicator, press and hold down the Power button to turn off the flashlight when the light is on. A blue indicator underneath the switches will flash once every 2 seconds to indicate the location of the flashlight. The standby time in this status is up to 6 months. Turning on the light again will automatically switch off the location indicator.
Power Tips
When the batteries are replaced, or the Mode button is pressed when the light is off, the blue indicator will flash to indicate the remaining power of the batteries:
Flashing three times indicates that the power is above 50%;
Flashing twice indicates that the power is below 50%;
Flashing once indicates that the power is near depletion and the batteries need recharging as soon as possible.
PERFORMANCE
CW, no PWM-shimmering at any mode. Well, old EC4SM was NW. And I don't like that Nitecore ignores NW versions.
Light distribution is better for at least 3-4 m range and on, from this distance it is really good. As Nitecore labels EC4GTS "high performance blazing searchlight", that makes it minor inconvenience. Though, if needed, you can use it within 2m range, I only mean that other lights will be better within this range.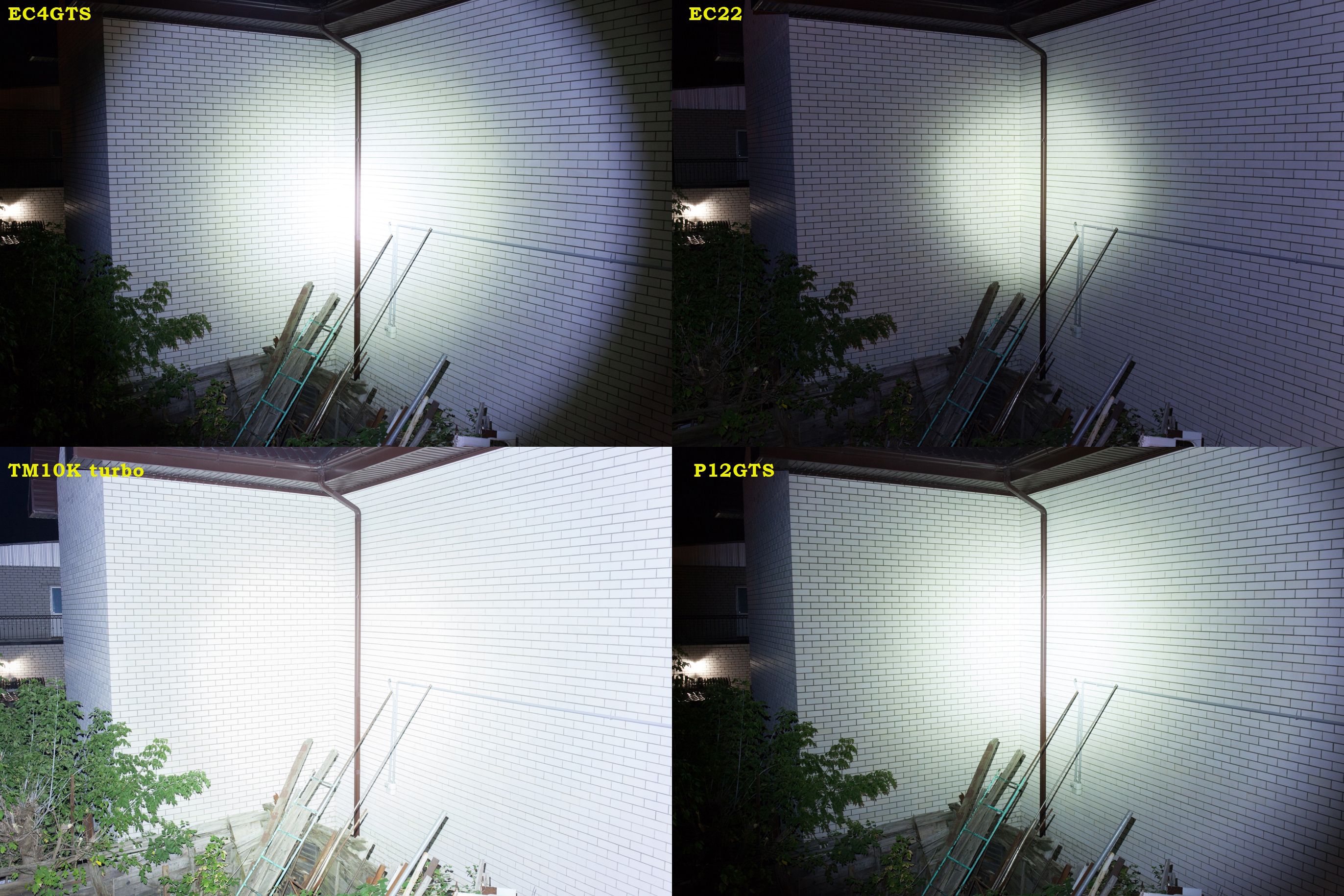 Thermal dissipation is good, body is big enough to handle even turbo. As I believe that EC4GTS is supposed to be used outdoor, where is always some wind cooling, you may expect runtime line this flat like here in chart, because both thermal regulation and stabilization here are definitely better than I expected. Well done.
High is fully stabilized even with no cooling.
Flashlight gets hot to the point still comfortable, it`s not like playing "hot potato" with flashlight.
I used pair of 3200 protected Nitecore batteries.
Mid is good as well. That is bright enough for camping\walking around use, and runtime provides you with about 12hours of constant light, nightlong illumination.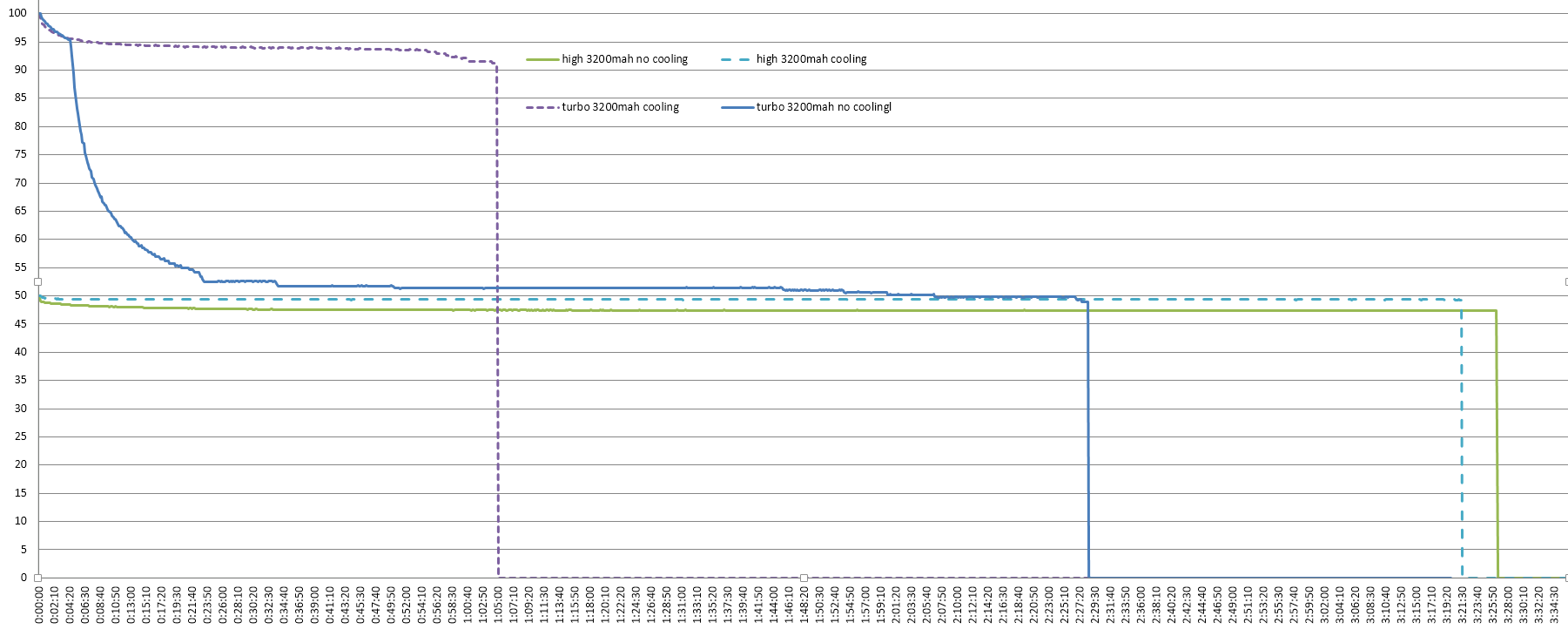 I picked some other Nitecore stuff: EC22 as EDC flashlight with shallow OP reflector, new Nitecore P12GTS as to illustrate how anoother size of reflector can influence resulting light (both Nitecore EC4GTS and P12GTS has the same output in TURBO), MT42 as long thrower and TM10K just because I have this one and that may be interesting addition for readers.
Flashlight is definitely excessive for garden distance, no surprise, performing well better outdoor in forest.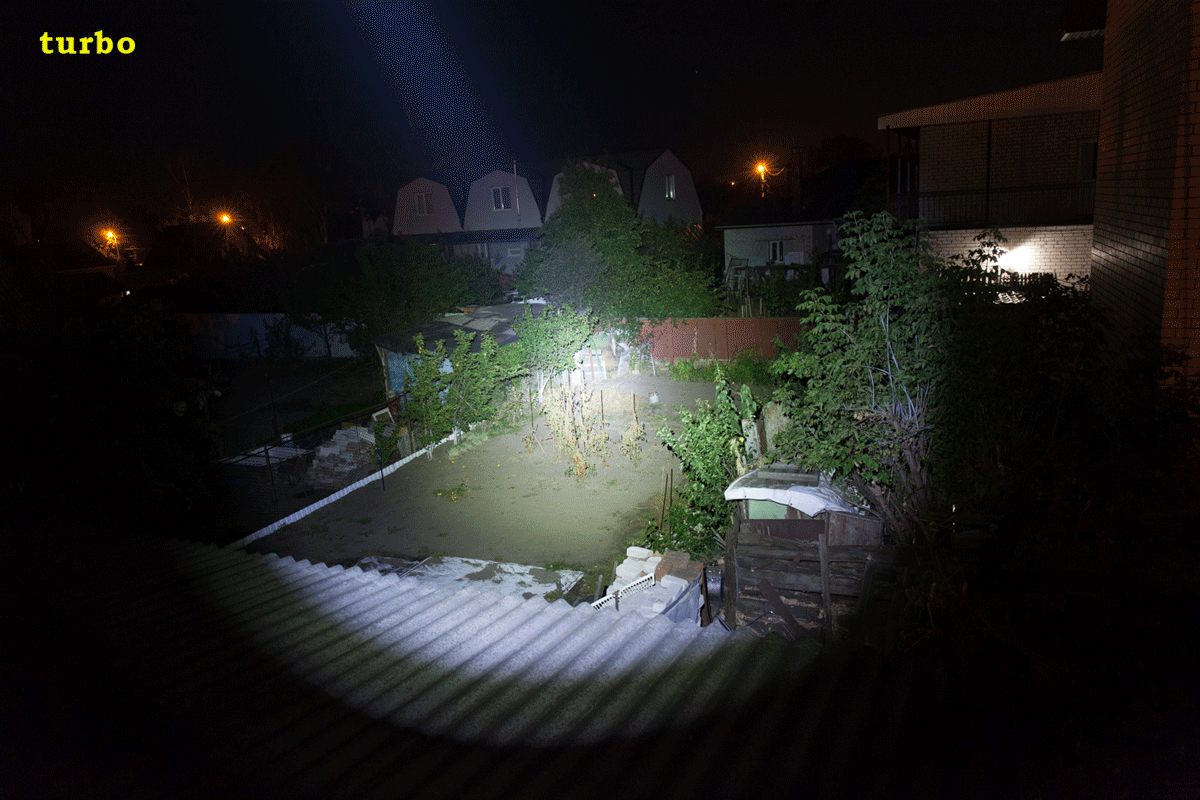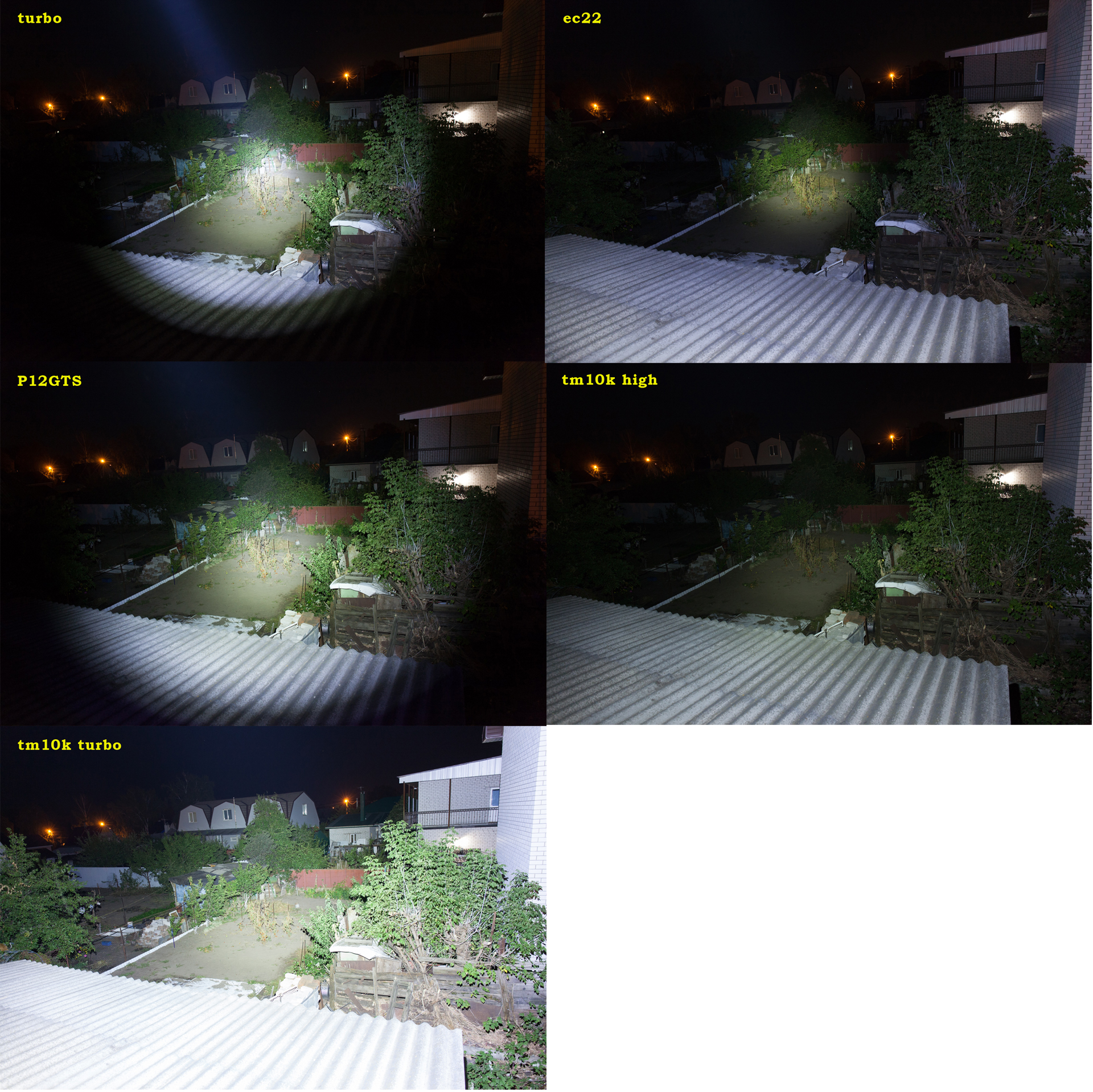 Of course, it doesn't show wonders of throw, that is another sort of flashlight. But within range, say, 200m, everything well be clear as EC4GTS have good balance of hotspot and sidelight. You will see thing further this range, but things should be bigger as well to see them. I believe that in 2015, it would hit the market with such output, throw and stabilization.
view from 14th floor at garage roof
i also checked throw at 350m distance to this building. Well, no surprise E4GTS performes worse than specialised thrower, but still even so it is powerfull enogh to give useful illumination. You still wll be able to tell if there is anyone at balcony or not, for example. With HI version, I bet, pic will be better.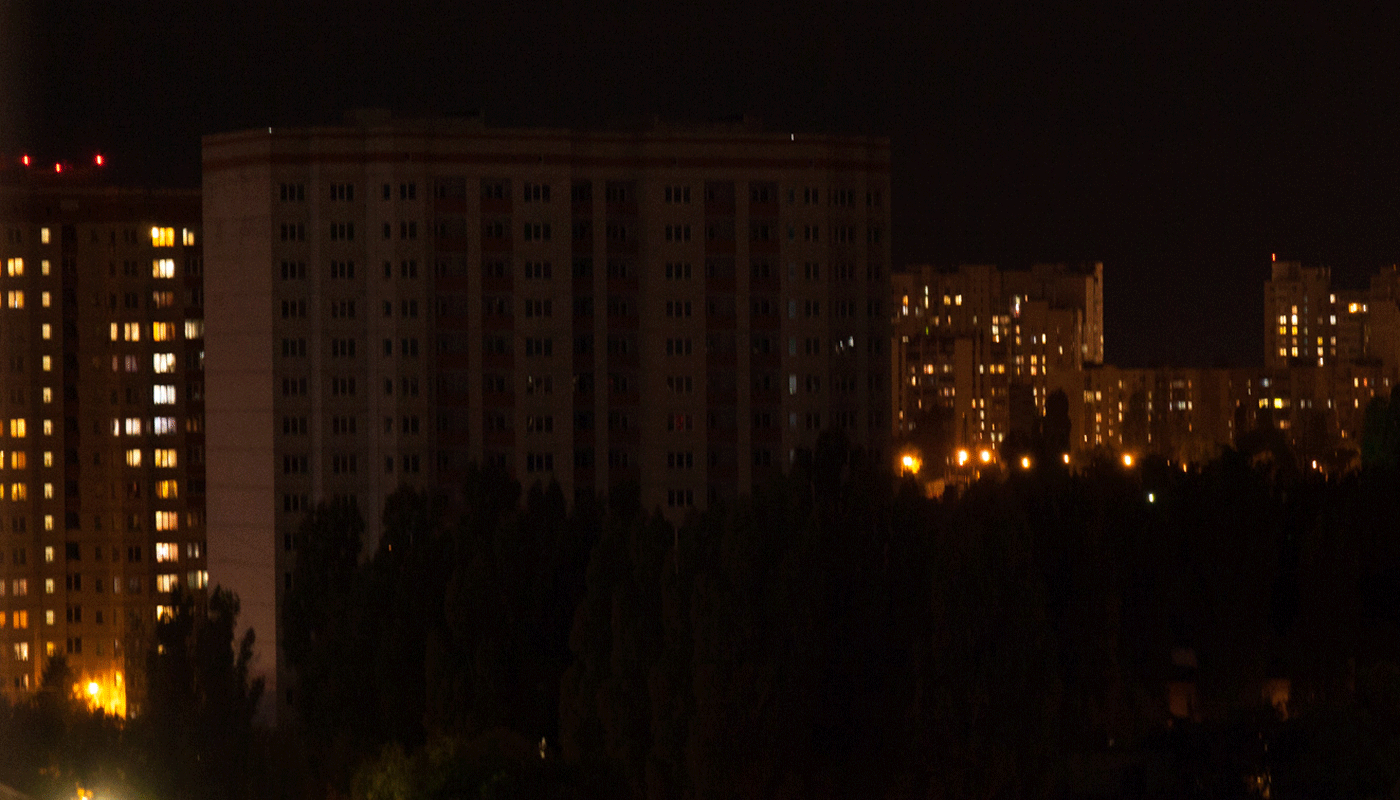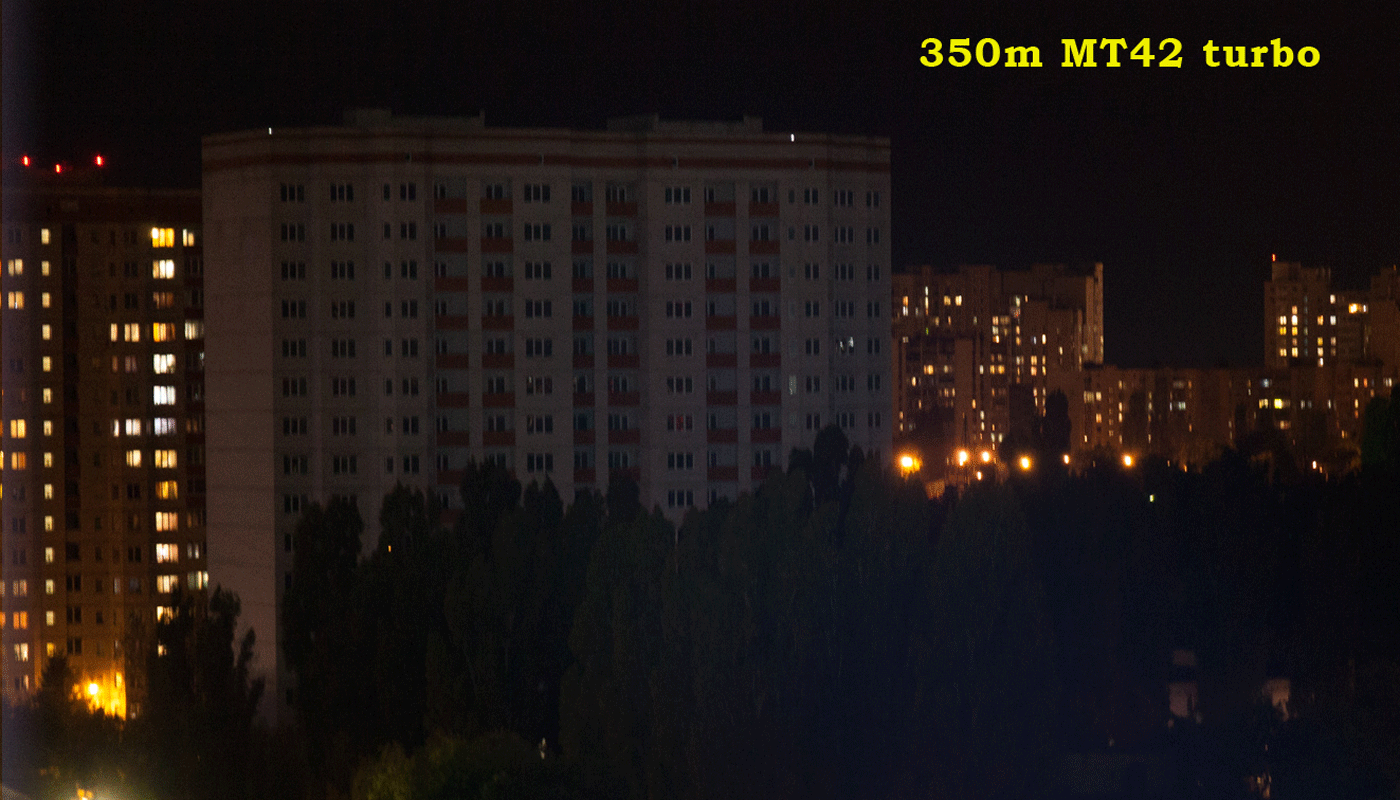 here is my video review as well.

OVERALL
Nowadays 1800 lums don't impress that much as it might be just 3 years ago (well, even TM models of that time look quite simple today). Disregarding to numbers of lumens, EC4GTS is still definitely, definetely bright flashlight with decent throw and runtime. I like how it is balanced. both in matter of flashlight body grip and sidelight\throw. More output would lead to more heat and worse stabilization. So, as it is EC4GTS is a good member of EC4 family, giving you a lot of light to illuminate arounds in about 200m range with good sidelight.
+ appearance
+ reliable time-tested construction of body
+ 2×18650 -> long runtime
+ comfortable and firm grip
+ convenient UI
+ set of modes
+ bright turbo (don't look at modern standarts of brightness, that thing IS bright)
+ uneхpectably good stabilization and thermal regulation
+ no visible PWM-shimmering at any mode
- only CW
- button-top only.
I hope that Nitecore would look further and tried 2×21700 here. Size`ll be little bit bigger though runtime would be compared with 3×18650.
you can buy Nitecore EC4GTS here