Despite its small size, Fenix E16 was a big surprise for me, mostly for it`s NW and unusual optic. Fenix dont issue a lot of 16340 stuff, so, lets take a look.
You can buy Fenix E16 at
➤ ALIEXPRESS
➤ AMAZON
➤ NITETORCH they generously offered 20% code HJK5KDNQ valid for all the items in store, including other brands
Specs:
*Cree XP-L HI neutral white LED with a lifespan of 50,000 hours; max 700 lumens
*Automobile optical lens coating process
*Two ways of avoiding accidental activation
*Magnetic tail
*Low-voltage warning function
*Compatible with 16340 Li-ion and CR123A Lithium battery
*Stainless steel side switch for one-switch control
*Digitally regulated output maintains constant brightness
*Overheat protection against high surface temperature
*Reverse polarity protection to protect from improper battery insertion
*Made of durable high-strength and oxidation-resistance aluminum
*Premium type HAIII hard-anodized anti-abrasive finish 51mm Length x 21.1mm Head x 19.8mm Body 21g (excluding battery)
BTW, one more similar product was just released, Fenix E16R.
Package and appearance.
Decent well-constructed package, good for a gift. It looks like a book, with magnet front cover. You can open it and take a closer look at flashlight.
As usually, all the specs and runtime charts are at the rear side. Speaking in advance, runtime chart are correct, I tested several Fenix stuff, and each time it was honest runtime.
Though package is good, absence of battery in set surprises. Of course you can buy it separately, no problem. But at least CR123 would be reasonable addition in case you buy E16 for a gift, so it can be used right from the box.
What about the rest – as usually, flashlight itself, lanyard, manual, warranty card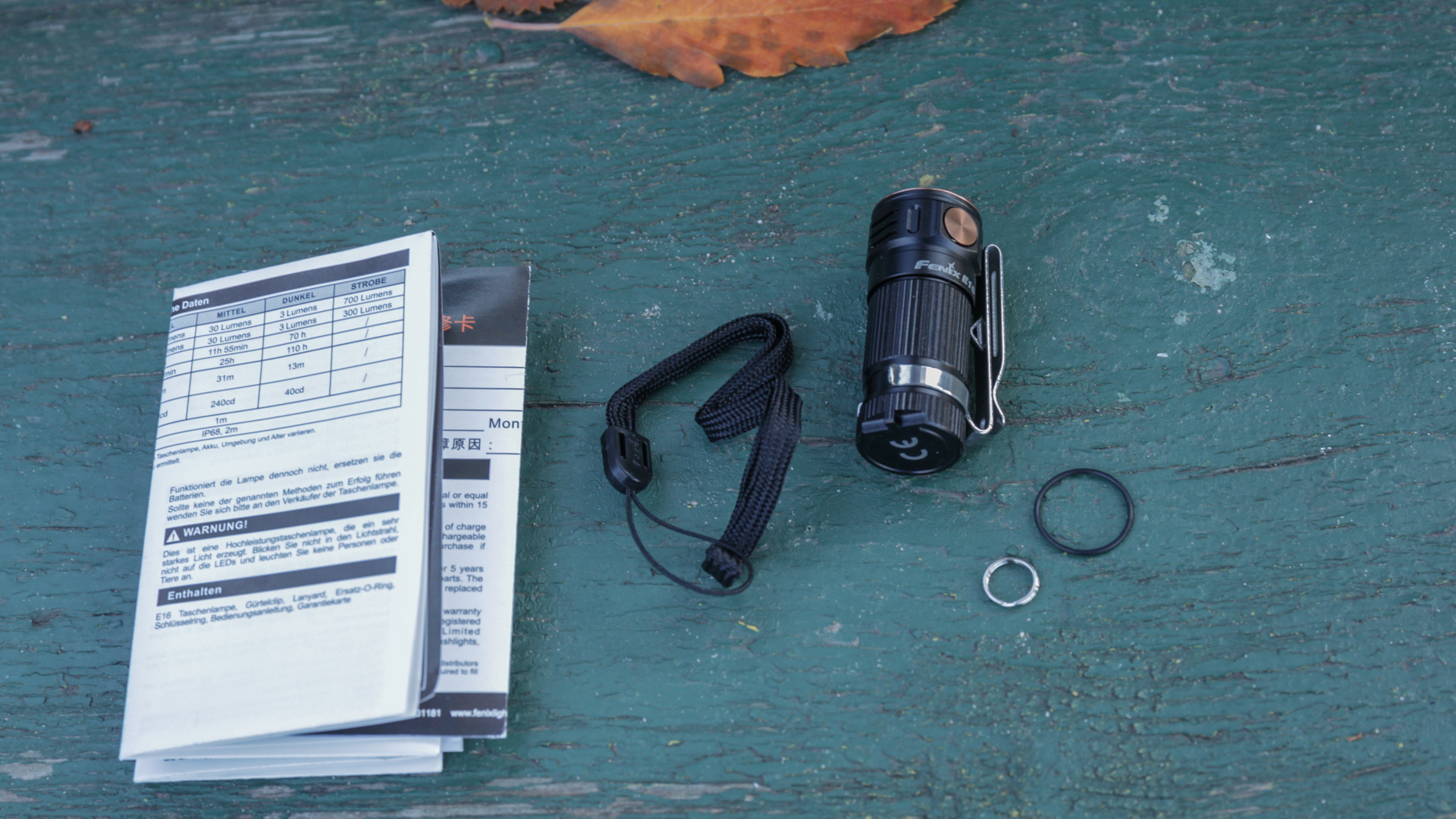 Fenix E16 looks quite good, mostly for it`s brass (I suppose it is brass) parts and awesome optics.
Size, of course, it tiny – 51mm Length x 21.1mm Head x 19.8mm Body.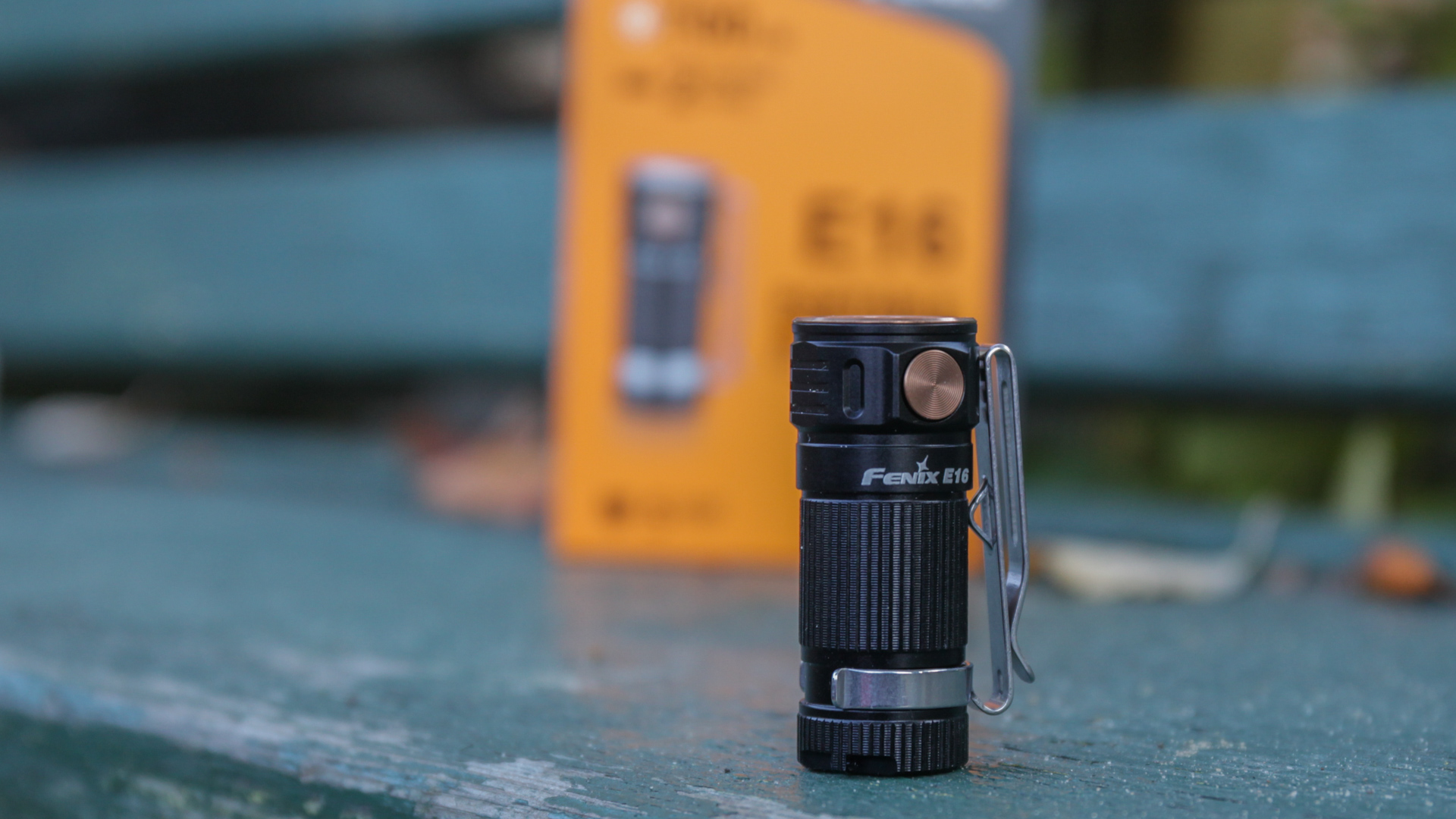 I wouldn't consider E16 to be a keylight, it`s too big for that, at least for me. But as a pocket light,
EDC
stuff – it`s really compact and can fit almost any pocket. And if don't – well, there is still a two-way clip. For example, there is my 14500 pocket light for comparison, see the difference in length.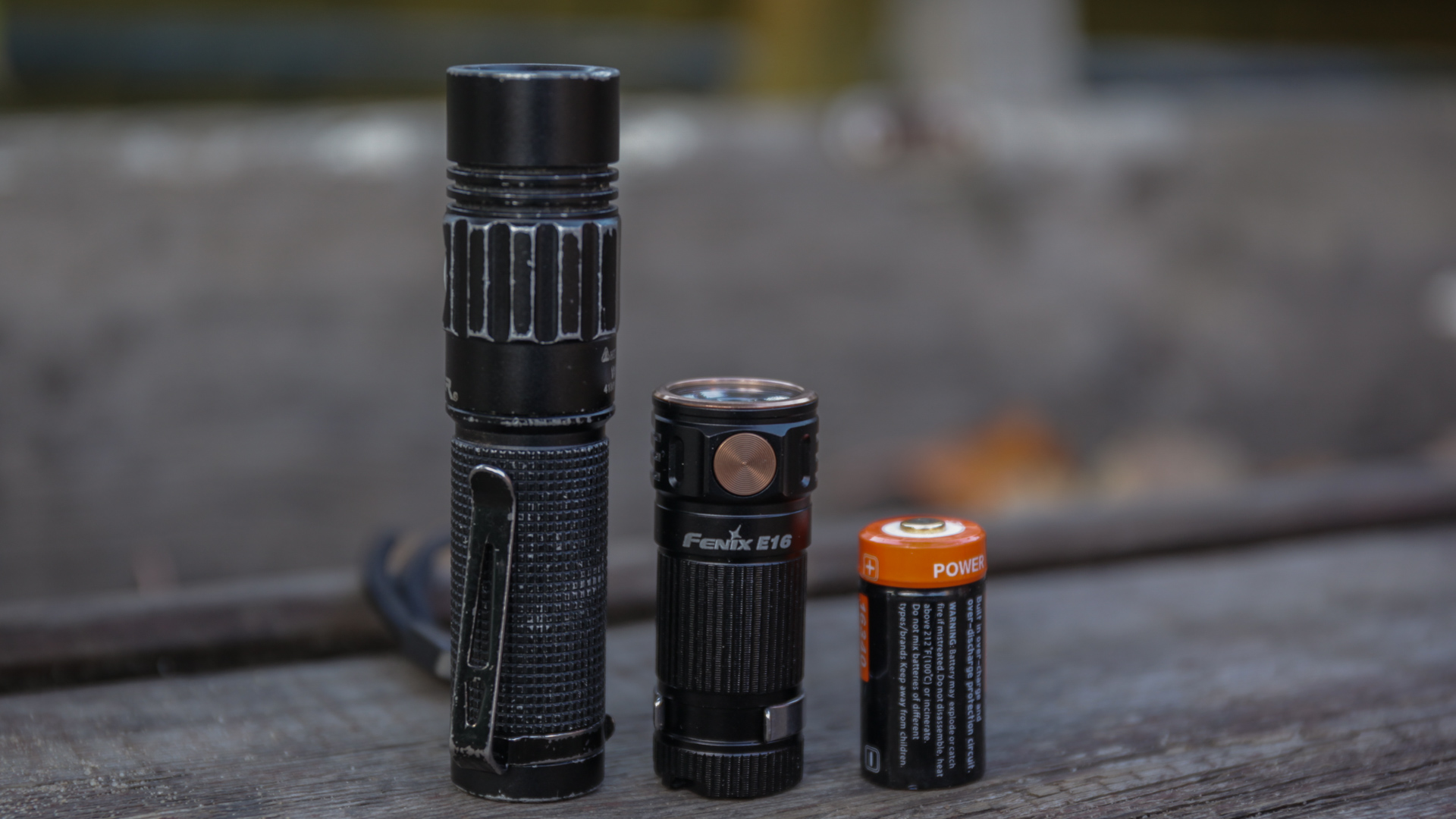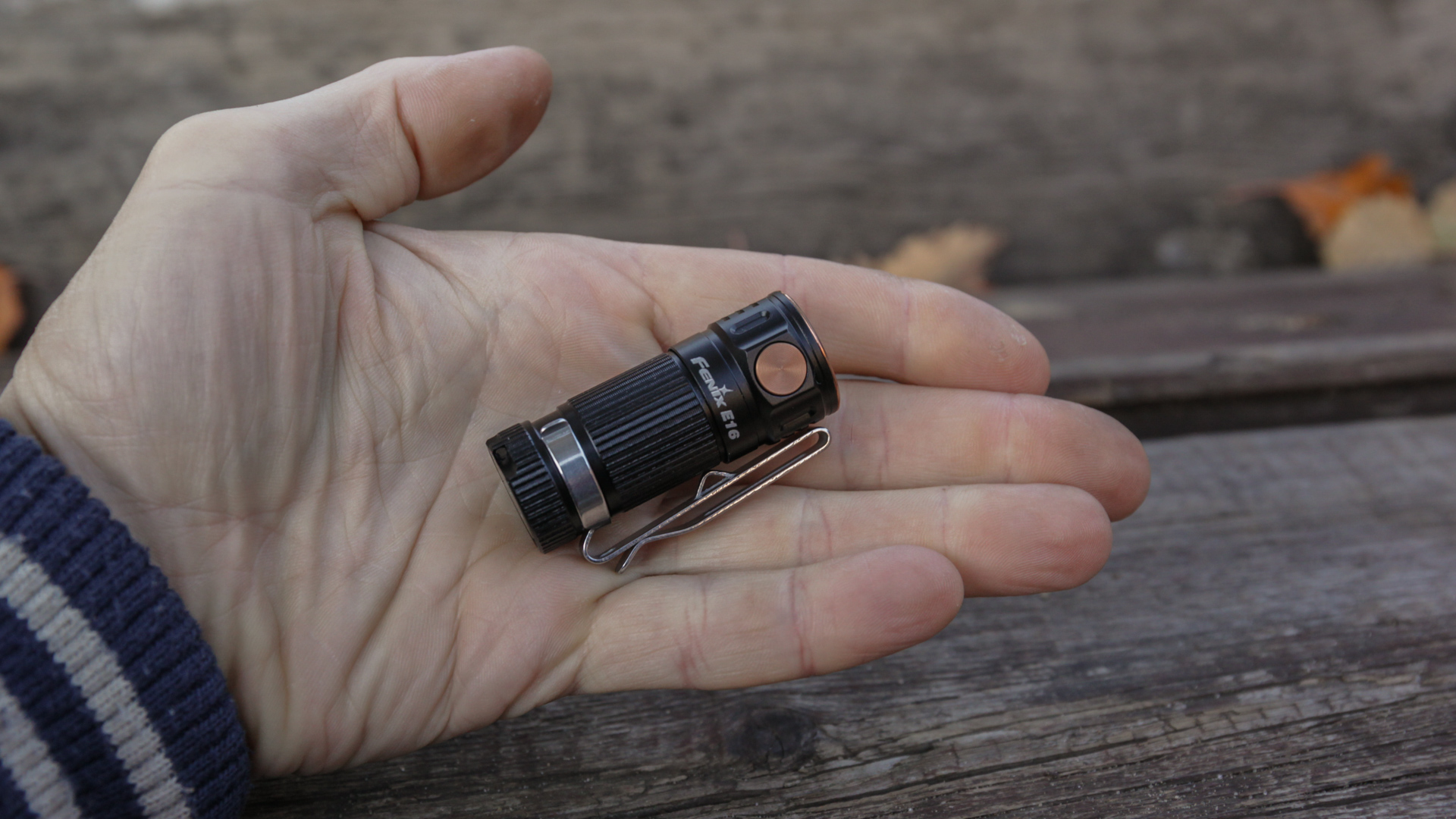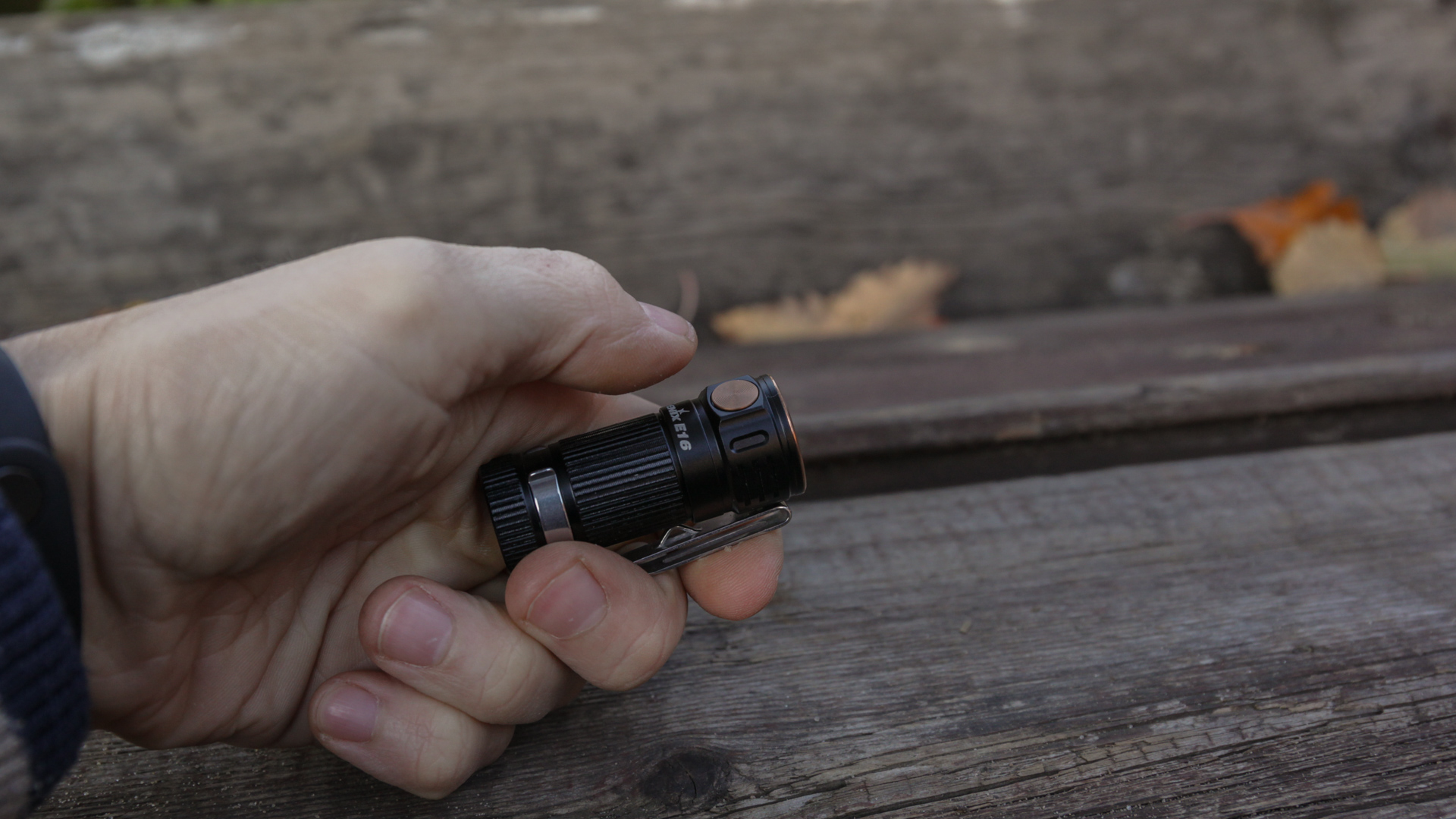 Tailspring is quite thick, like in full-scale model. I also want to notice that there is no tailcap, you unscrew head instead, like in some big 4×18650 models. I think that is better, as tailcap in this case may be too little and you can loose it.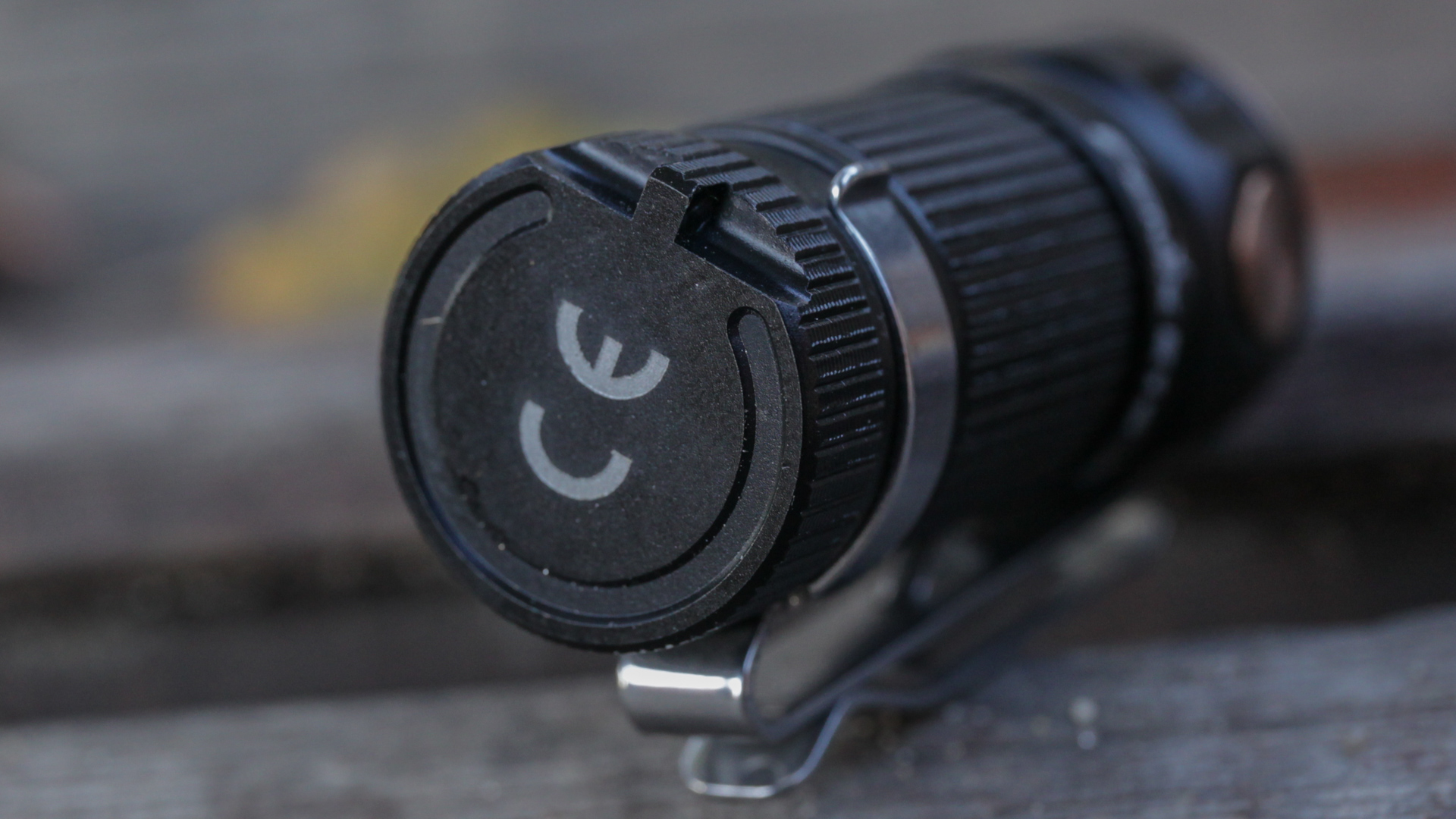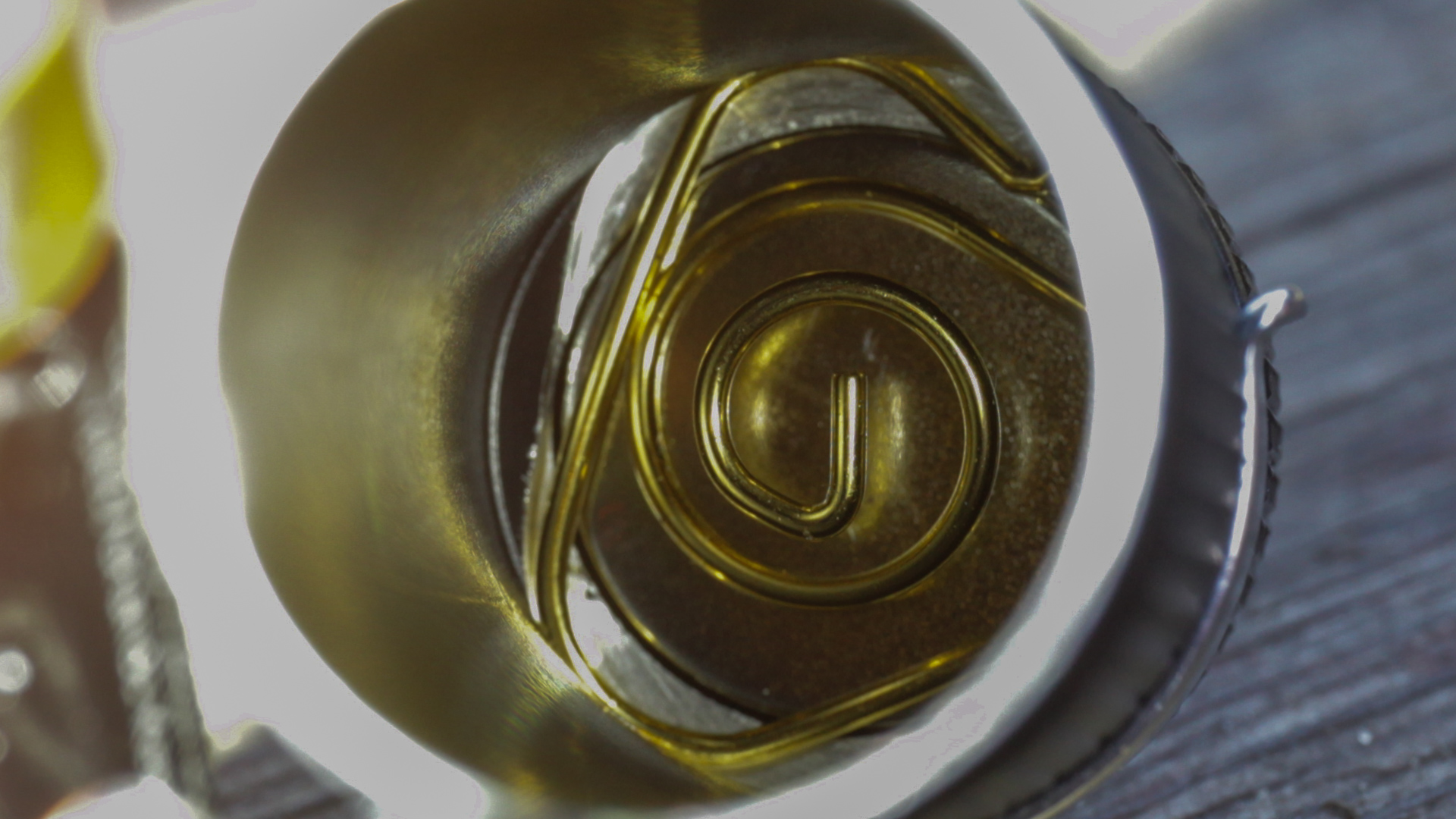 Magnet at the tail is quite strong, that`s is a good feature, that may help you in some repair situations.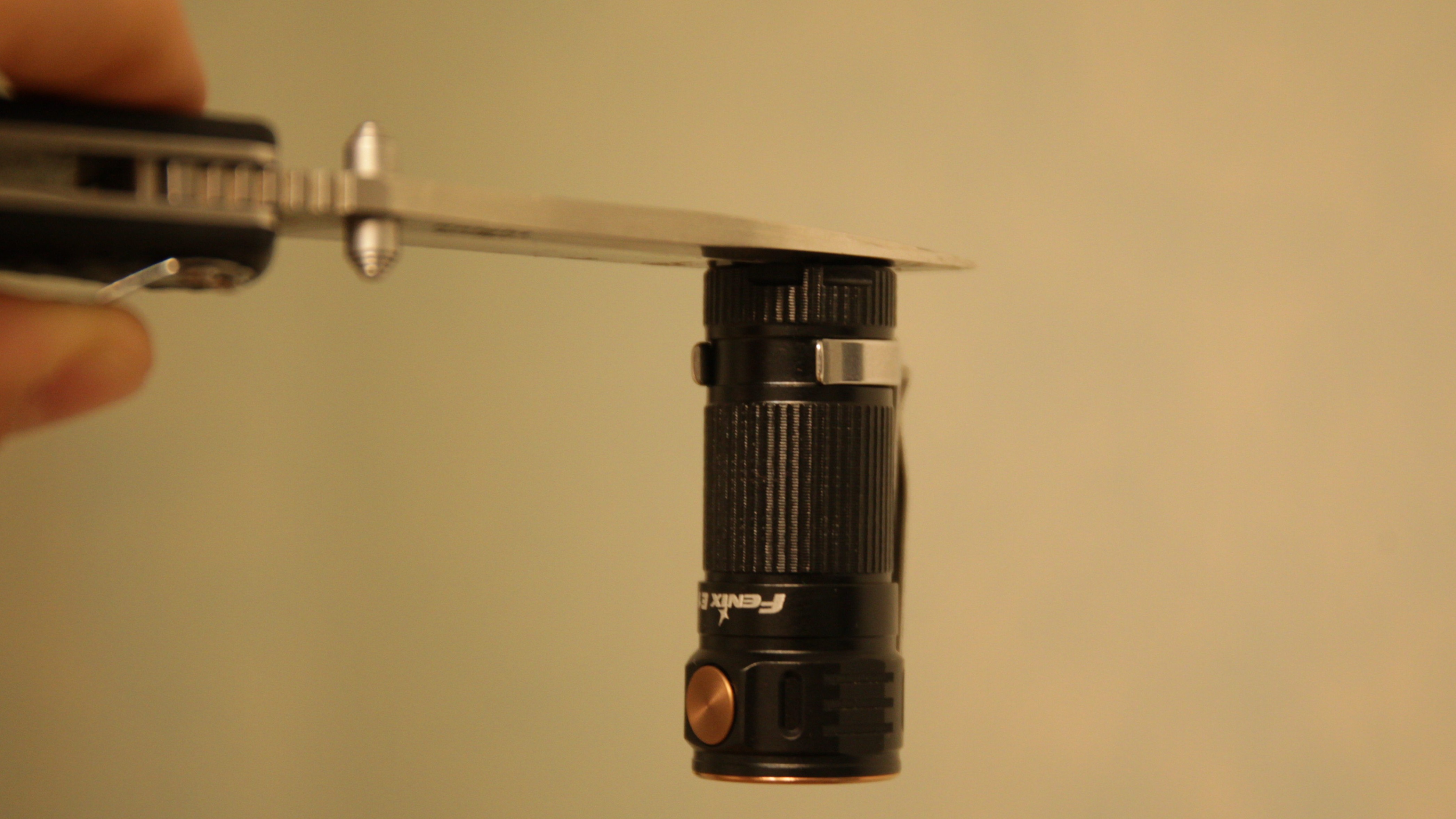 There is no spring at head, which is no surprise, but contact plate instead.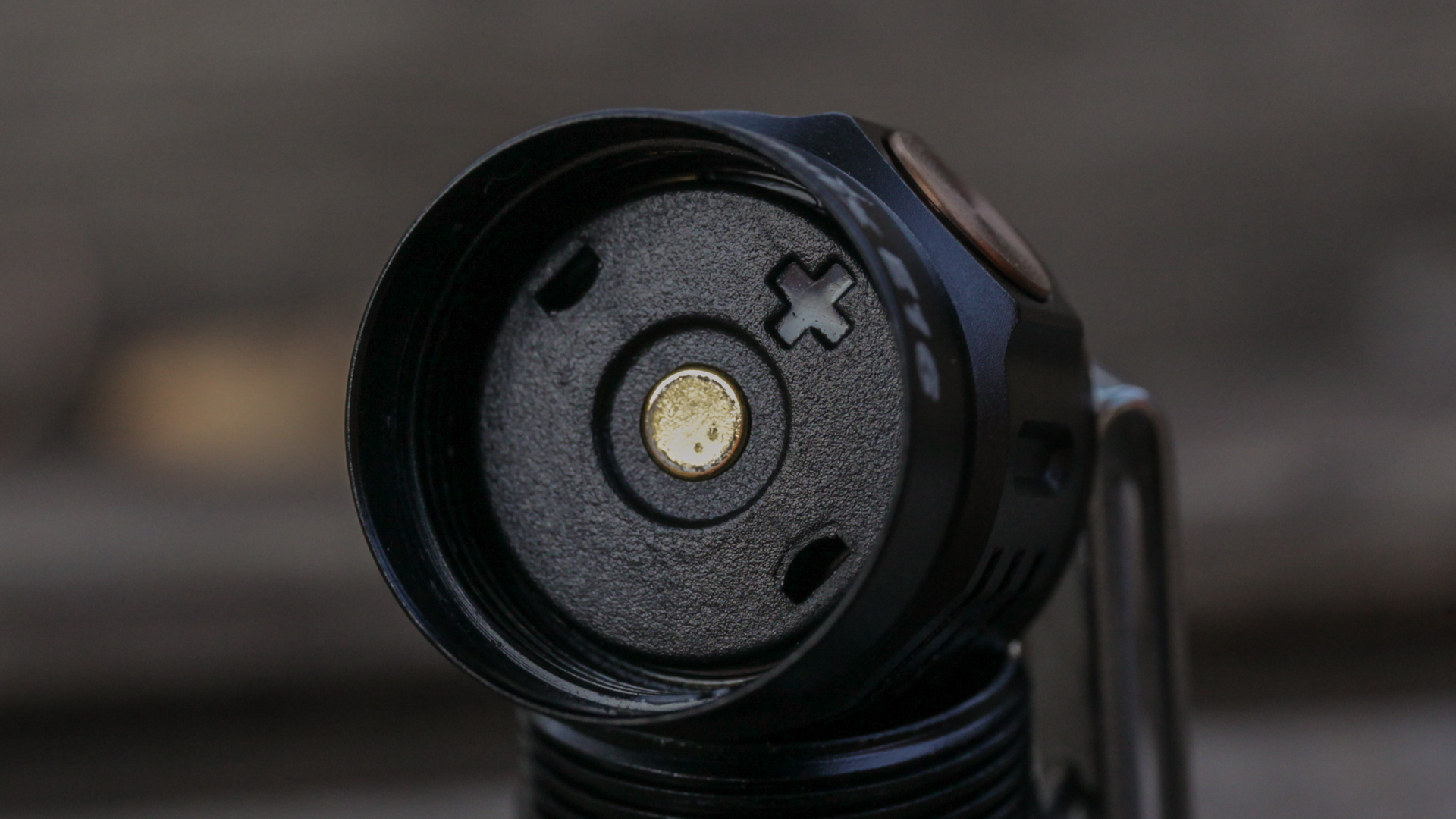 Rectangular threads are accurate, well-lubricated, machinery is good. Actually, unlike head, E16 body is quite simple in design. Knurling is tiny, but ok for grip.

All the decorations are concentrated in head part. There are: model name printed, brass button and bezel, nice optics. Cooling ribs are tiny, but, well, proportional to overall size.
Button is about 0.5mm higher than rest of flashlight body, clicky. Quite convenient for blind search with fingers. BTW, you can lock it with 2x clicks from OFF, and Fenix also say that covering it with clip can also physically lock button. Well, may be in some case it may work, but I don't feel like it is really reliable way, I didn't feel it was difficult for me to press clip that hard, that button is pressed as well. Anyway, this UI locking is good enough to rely on it.
Optics is awesome, no less. It looks sooo attractive and let Fenix save some extra millimeters of length as well. Of course there are some TIR lenses that might be even thinner, but they are for floody light, they totally dissolve light. And this one provides with normal light distribution, with some hotspot. There is NW XP-L HI at the bottom.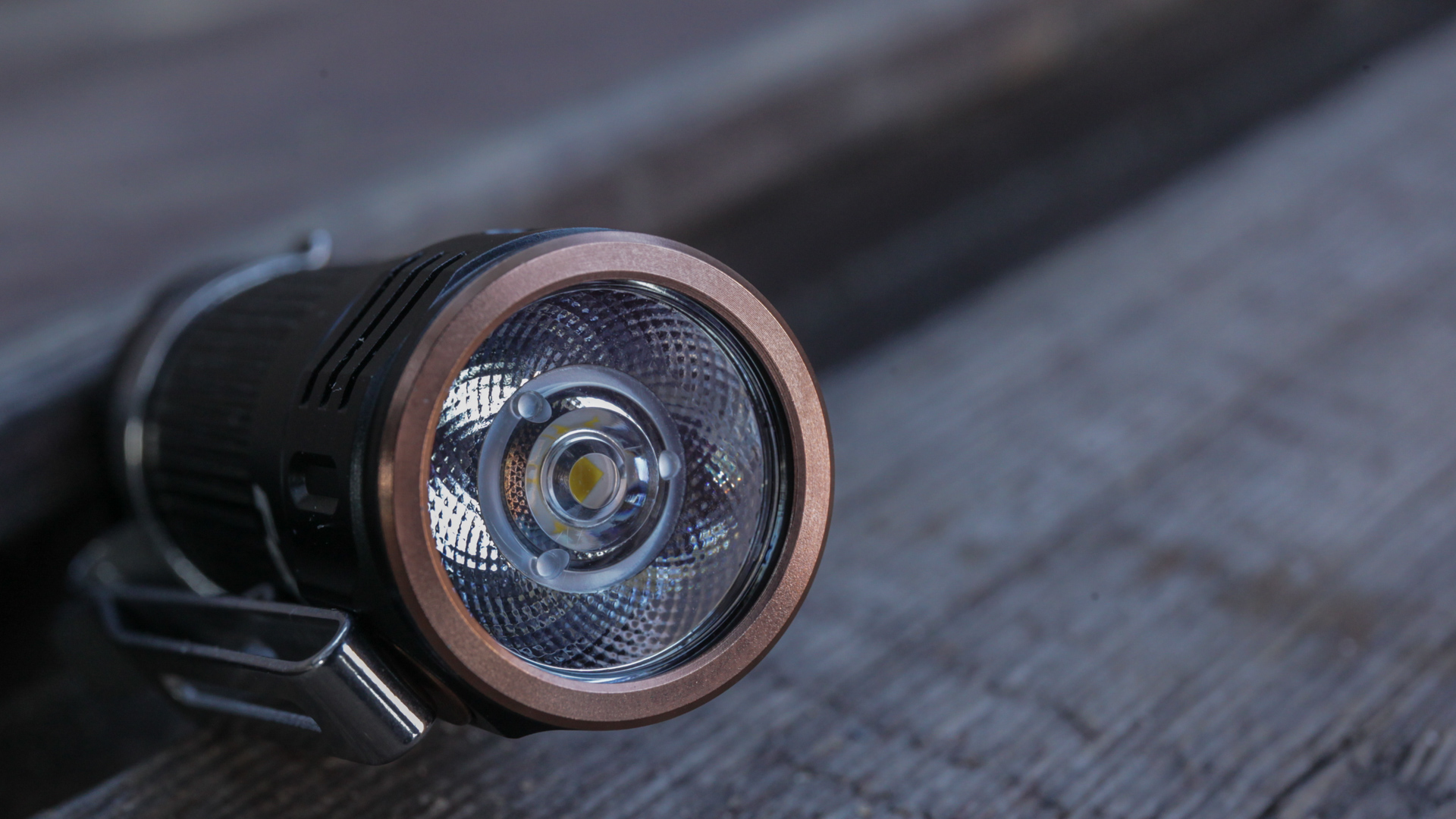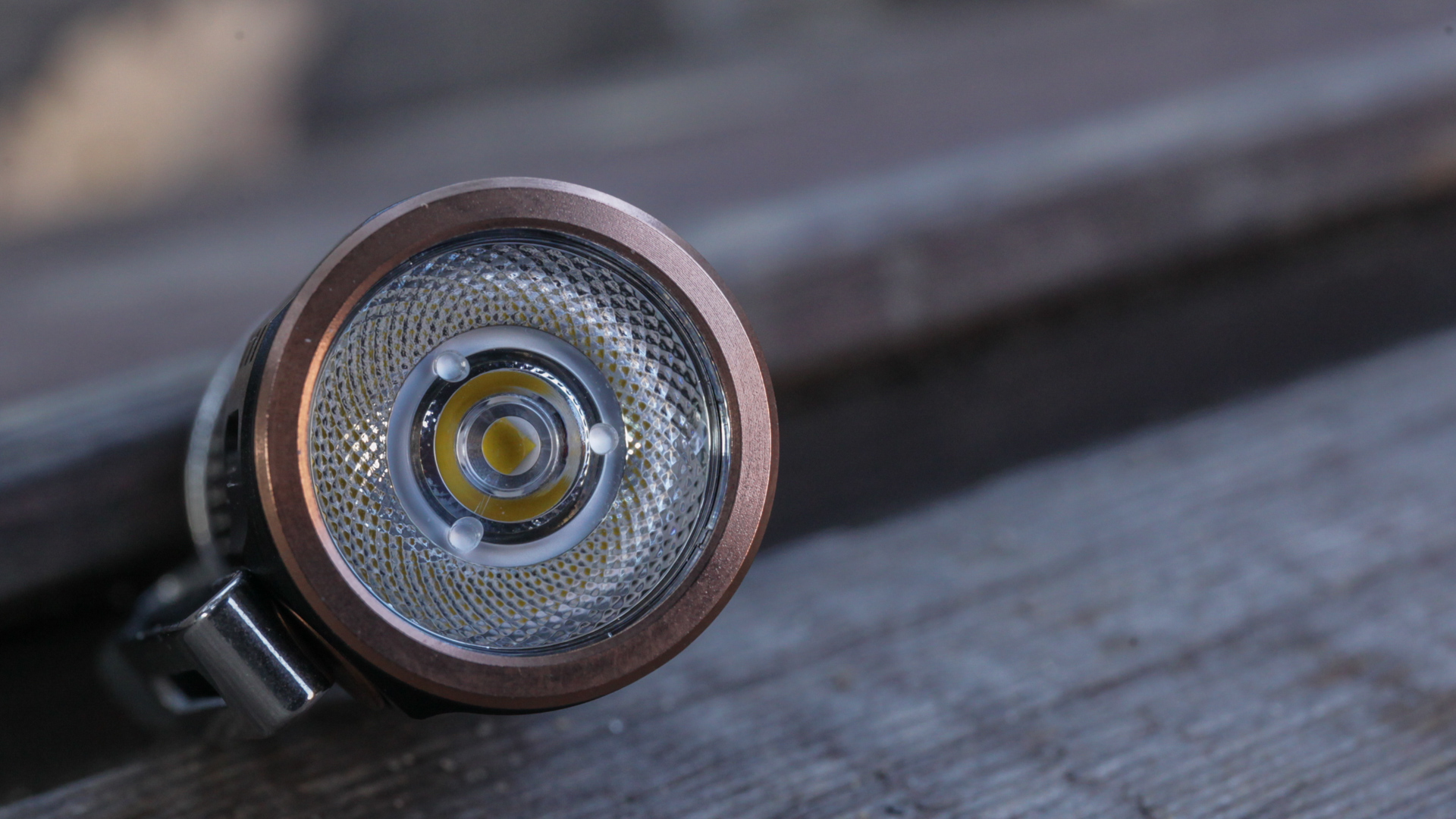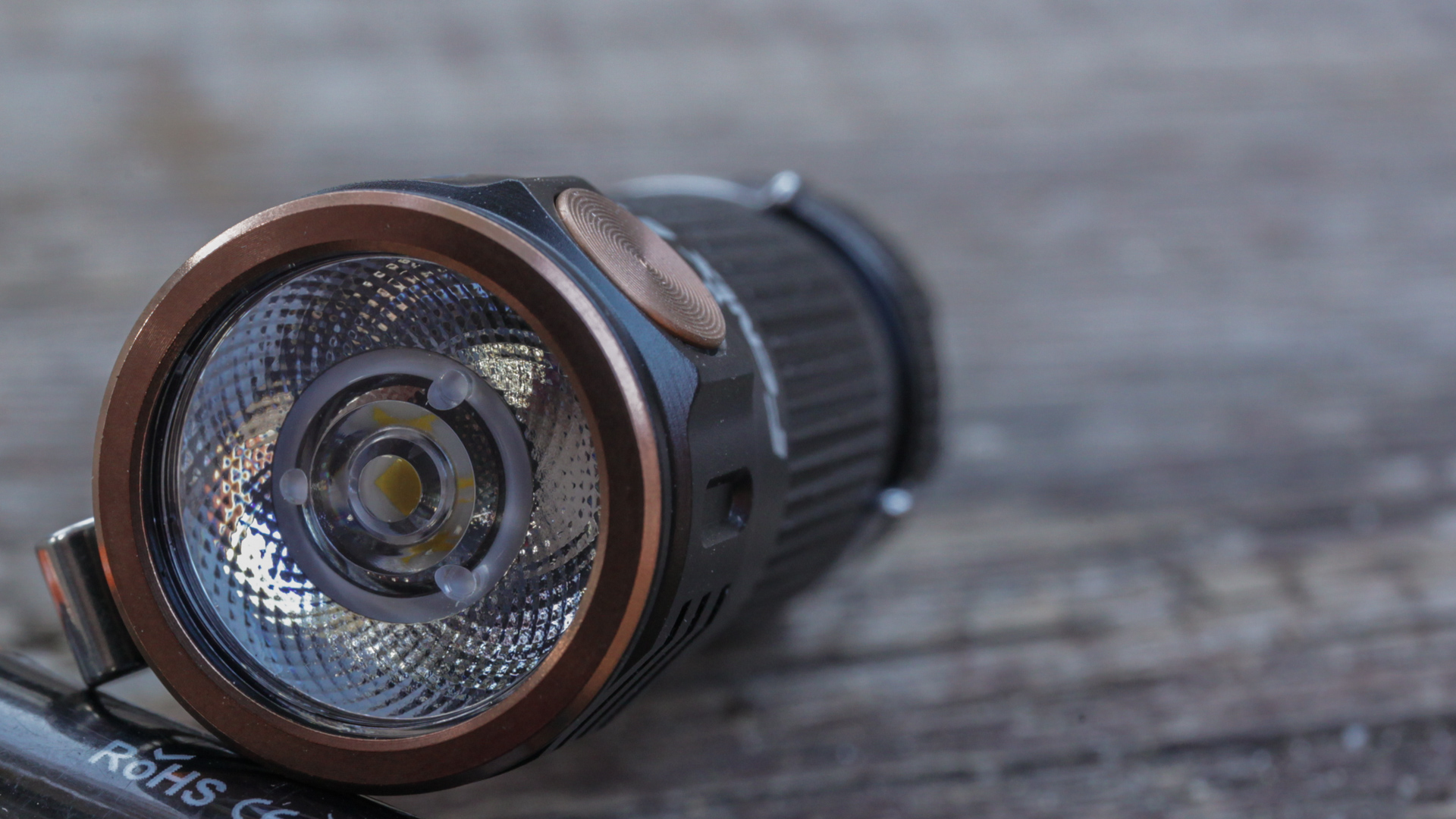 I couldn't disassemble head as bezel is too narrow, and it has chamfer as well. So there is no place to apply any tool.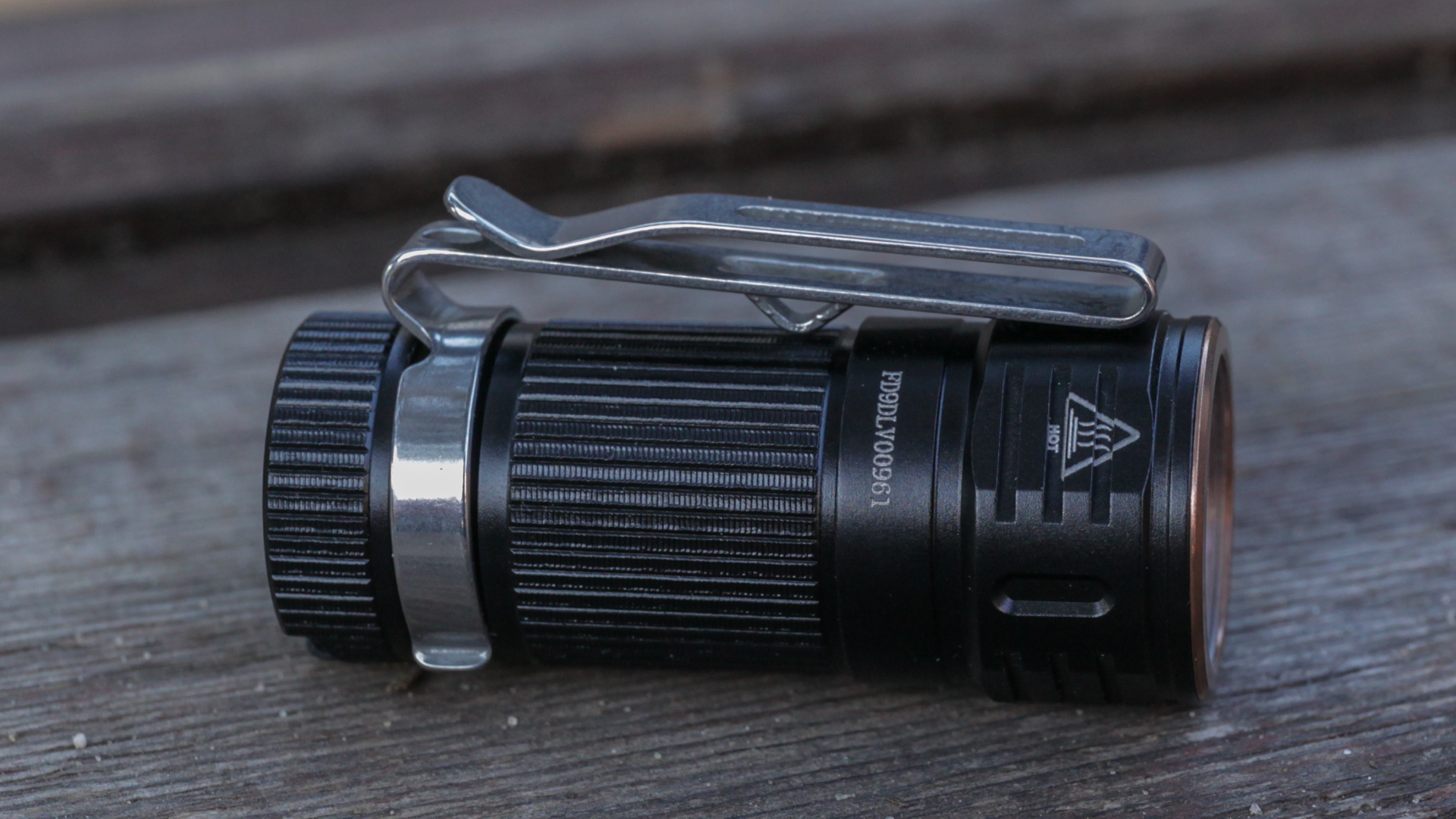 So, my overall opinion about appearance is positive. Fenix E16 pleases both hand and eye.
UI
Good, the only feature that i`ll add is instant acces to low (Ultralow is even better…if there was one). It`ll be so simple – just 1sec button hold like in lot of other models. It wouldn't interfere with other parts of UI.
But, well, it least there is a simple and convenient lock\unlock. Chances for occasional unlocking with 2x clicks are close to none, and you can unlock E16 quite fast this way.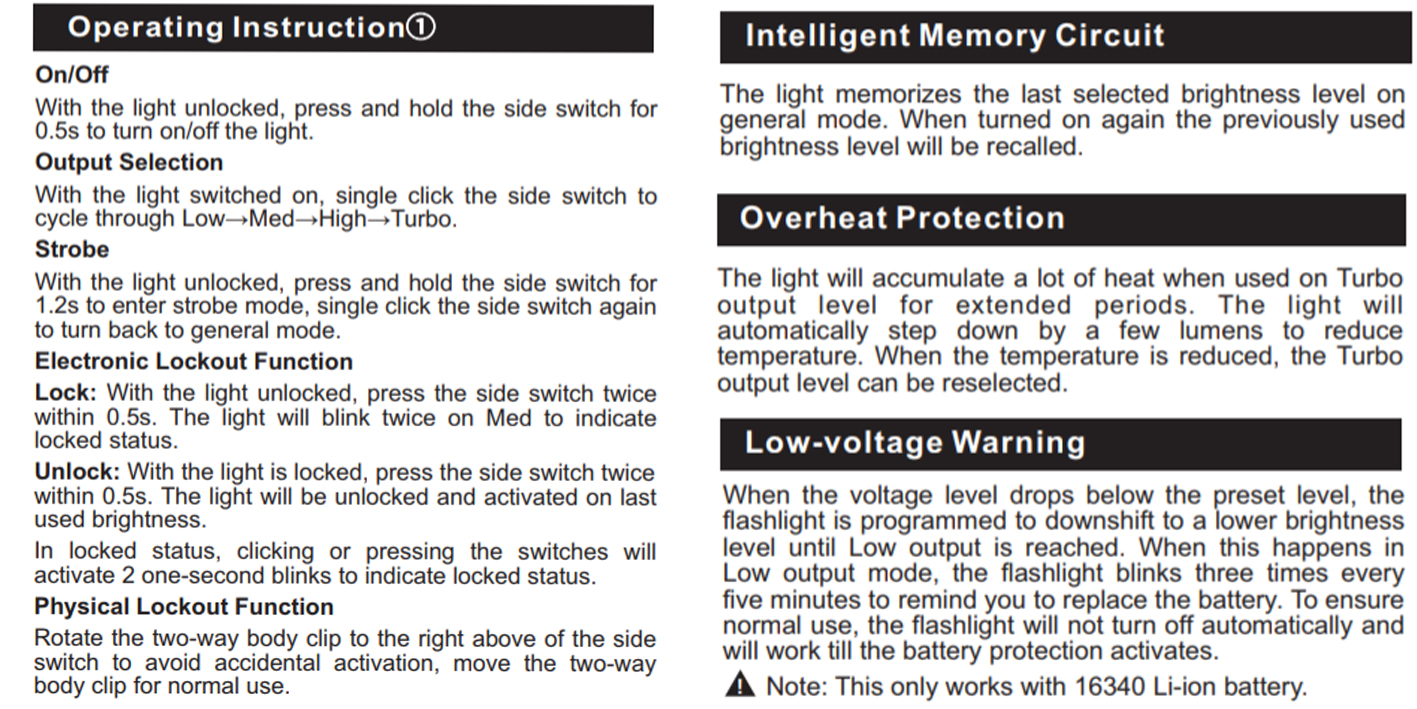 PERFORMANCE
NW is not a feature that Fenix pampers user with. So it was a pleasant surprise to see it here in E16.
I picked all-known S2+ to compare light. See, though E16 is so short, it`s optic forms decent light distribution with some hotspot, so you can use it not only in a garage , say, range.
Both pics are taken in max mode for each flashlight, but I intentionally decreased exposition here, not to make pics overexposed, so you can compare them precisely.
Of course, being that bright, Fenix E16 should gets hot quickly, so lets check thermal regulation and stabilization. 1st one gives you like minute of good brightness and then light decreases to about 200lums level. This minute for turbo is good timing, especially for this small flashlight. I wouldn't use this after-stepdown level, as it is 2 times shorter than HIGH mode, the one that looks almost the same in reality.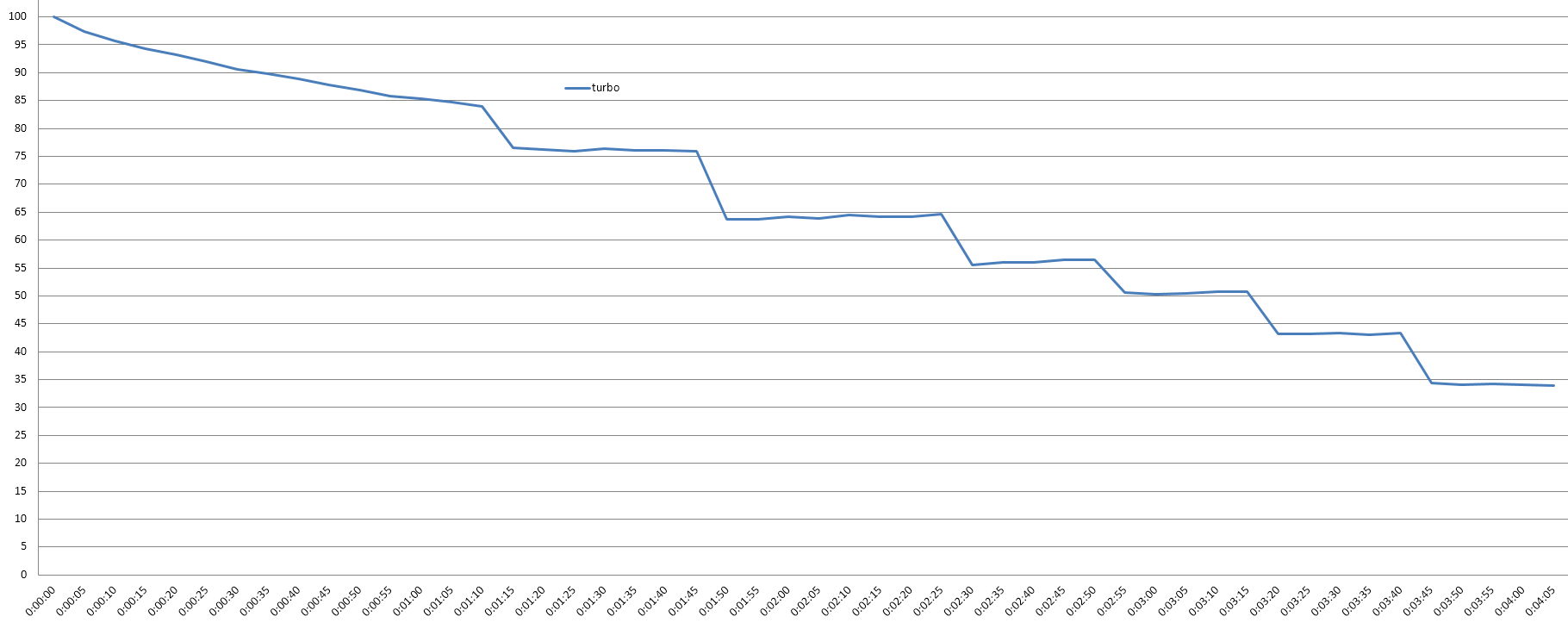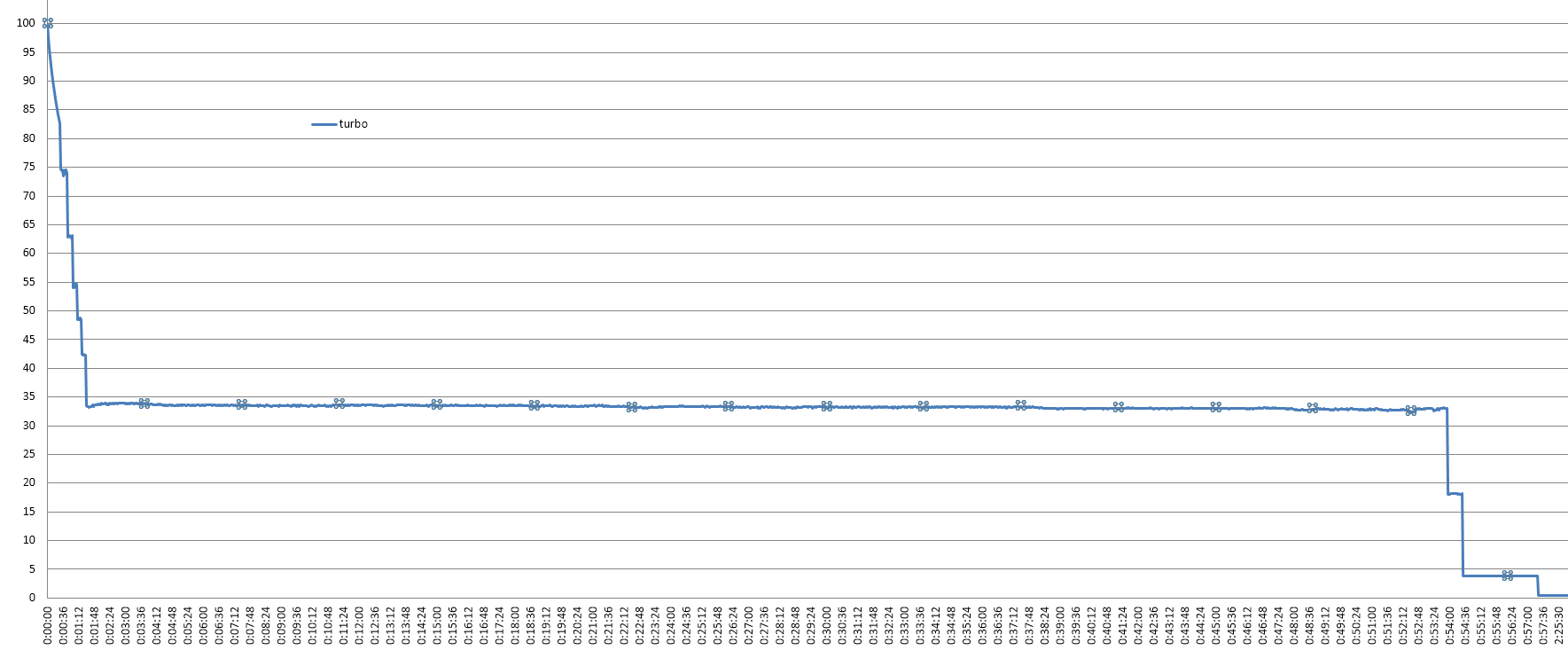 High is well stabilized, and runtime is good as well.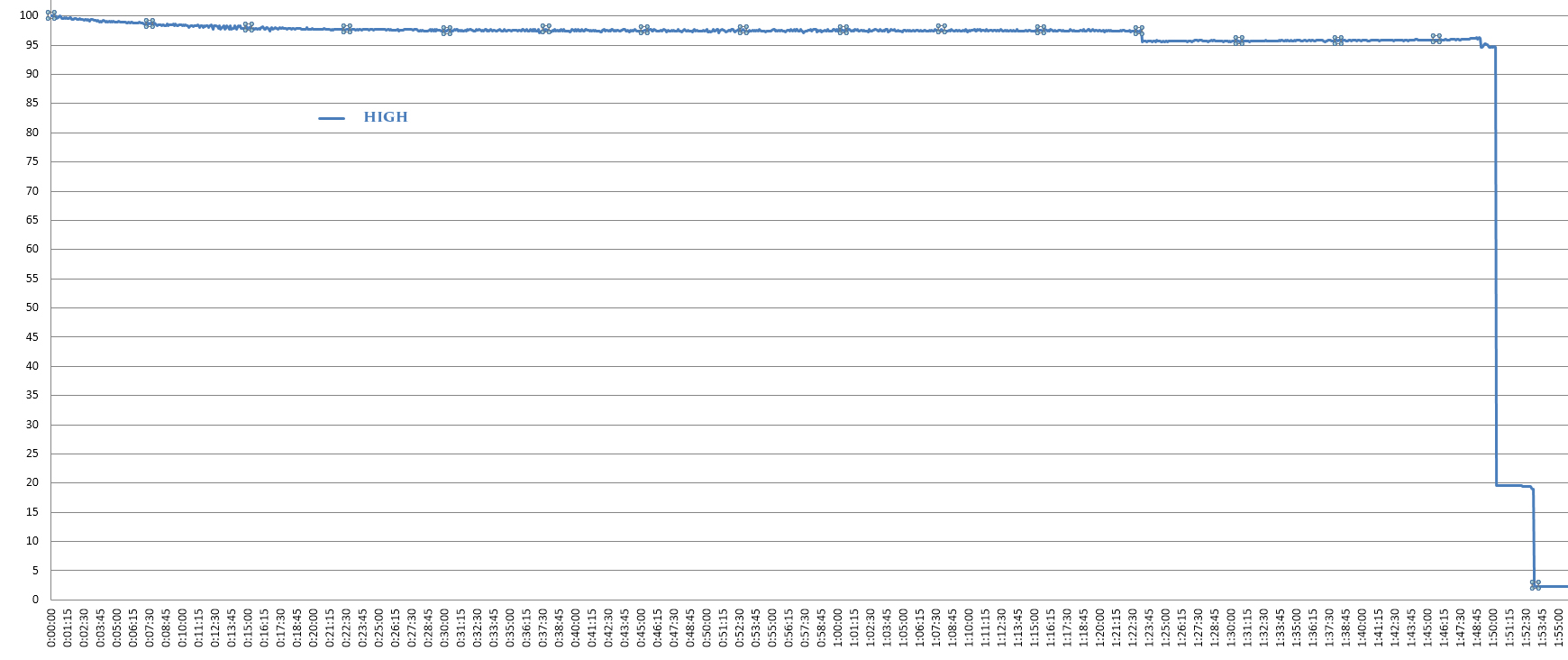 And what about live performance? 16340 flashlights are mostly used for close-range things, like EDC stuff. And within this range of 15-20 meters it performs well.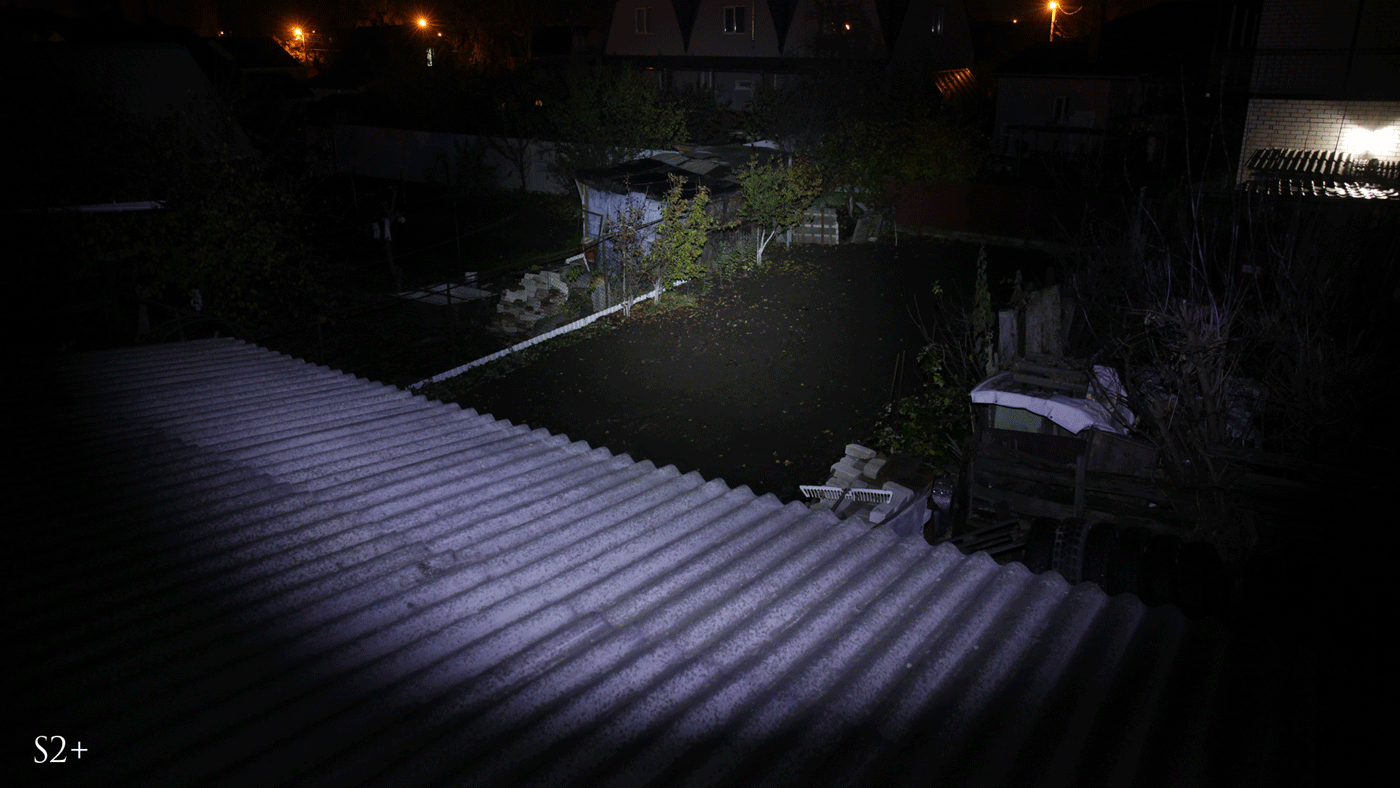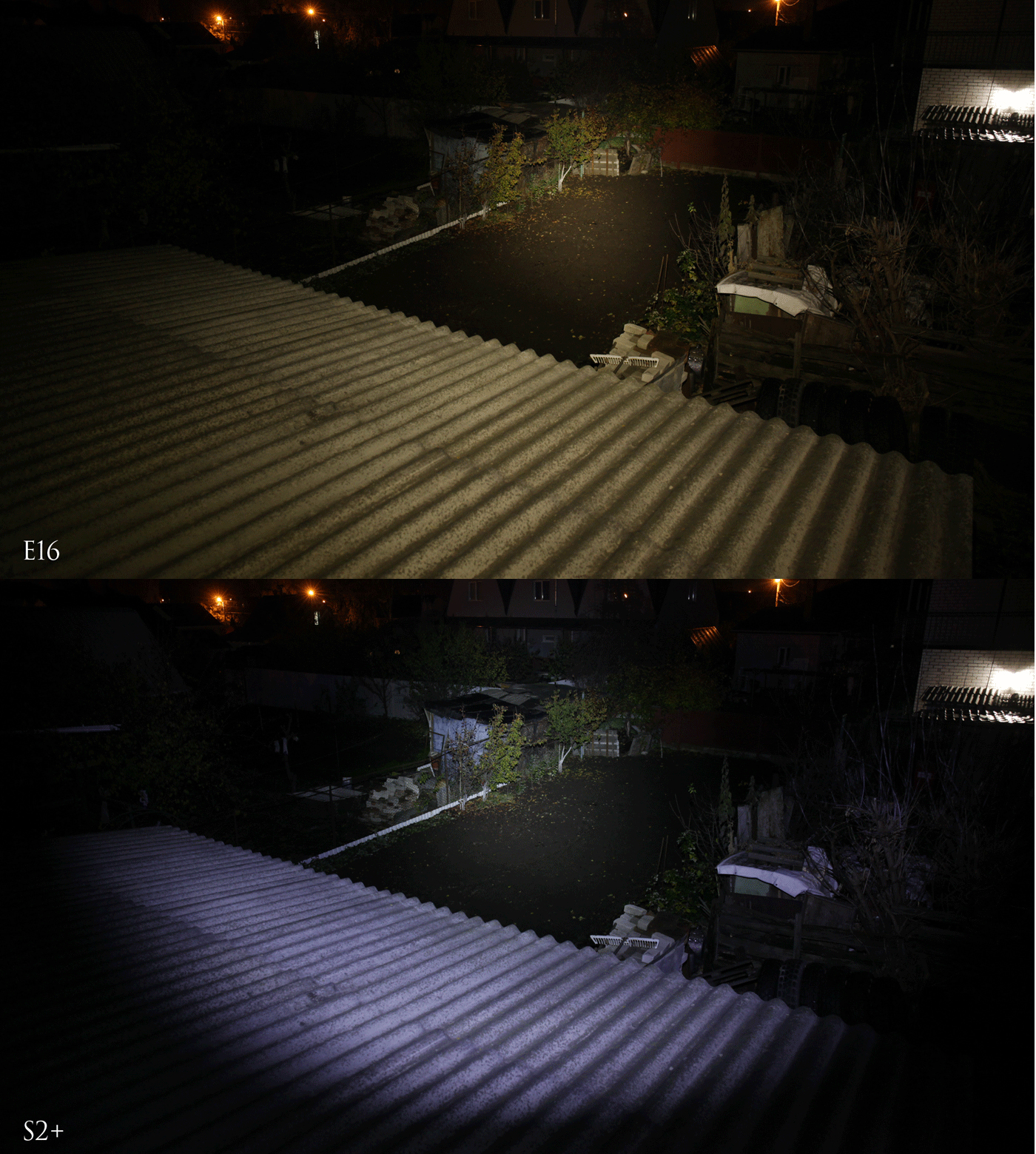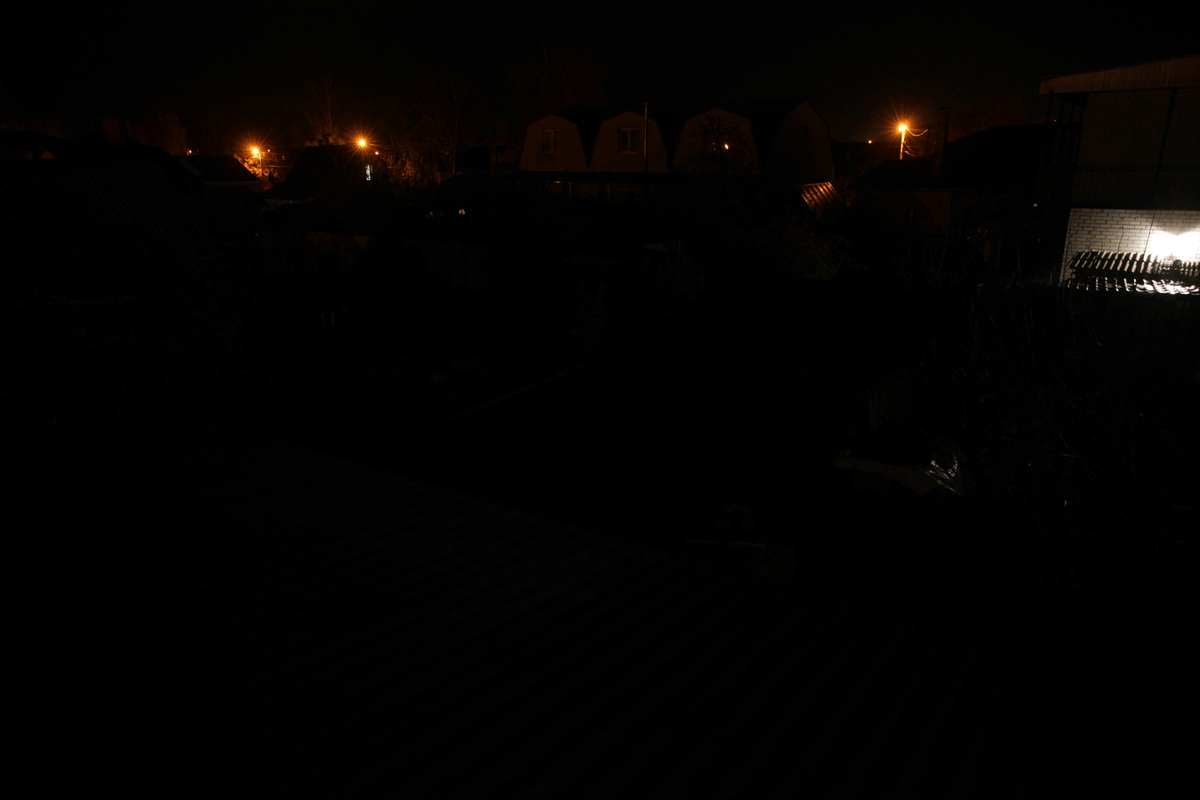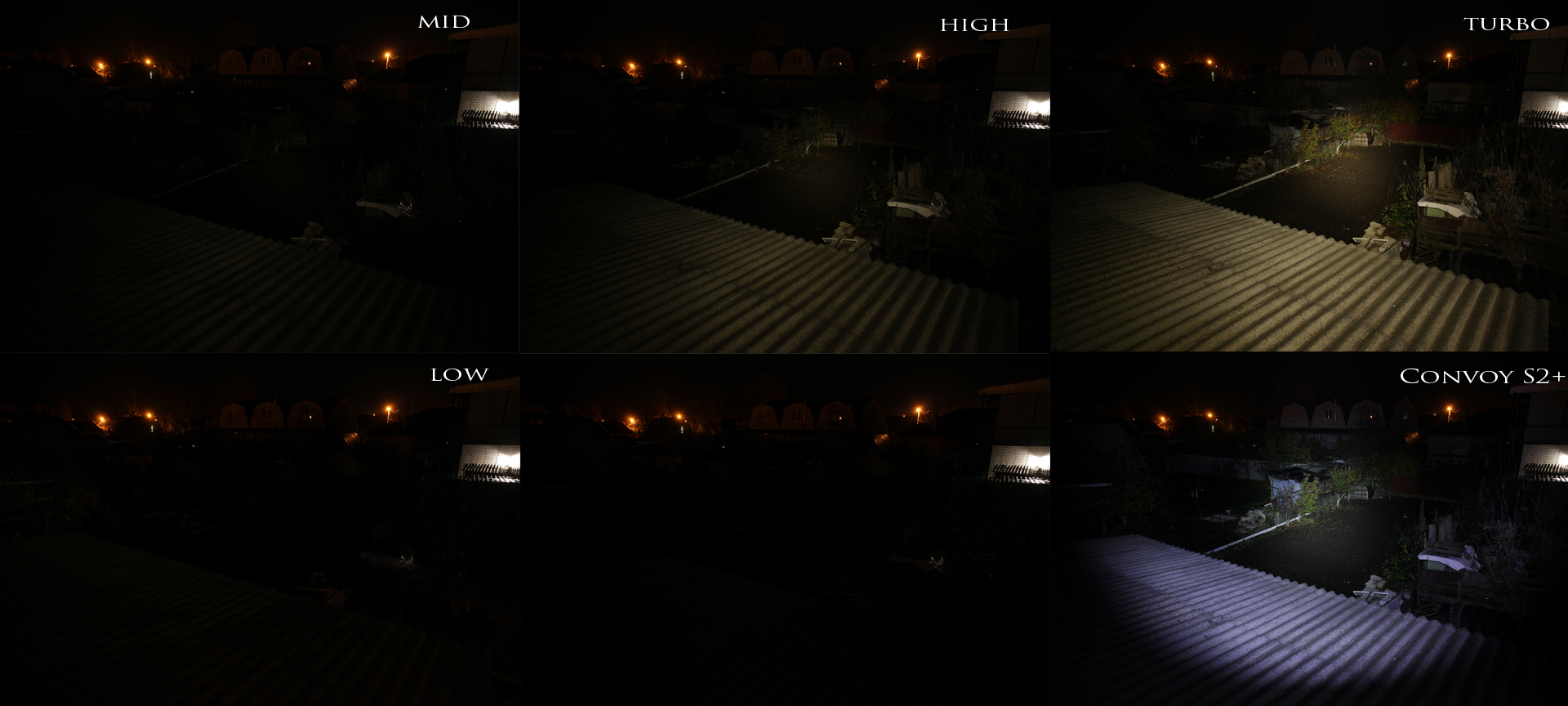 When being used indoor, E16 performes even better, as light doesn't get dissolved in air. See, here is about 50m distance.
Suppose, this 2 examples are enough to show you what this flashlight is able to.
Again, though it is compact, HIGH – as most used and stabilized mode will provided you with good amount of light. Actually, that is the mode that I use most.
And here is videoreview, this time in text+photo form, to make it as much short as possible. I suppose that is better than 15 min talking.

OVERALL IMPRESSION.
Fenix E16 is a good 16340 flashlight. And it is even better, when you remind yourself name of a manufacturer, because getting NW flashlight from Fenix is a surprise. Moreover – NW with such interesting and good looking optic.
+ brightness
+ NW
+ light distribution
+ UI (I like the convenience of lock-unlock here)
+ appearance
+ stabilization and runtime
+ though I wasn't able to disassemble it, you can expect good build quality, as this is a Fenix flashlight
- no ultralow
- no shortcut to low
you can buy it here at Gearbest
there is a good discount code for it mysku15 49.99$