New member of MH model line, Nitecore MH20GTS.
here is product page at Nitecore website
you can buy Nitecore MH25GTS at
➤ ALIEXPRESS
➤ BANGGOOD
➤AMAZON
➤ NITETORCH they generously offered 20% code HJK5KDNQ valid for all the items in store, including other brands
PACKAGE AND APPEARANCE
The same well-known yellow-black cardboard box. Though design is quite modest, still this package is OK for gift.

Inside, in blister, regular set of: Nitecore MH25GTS itself, 3500mah battery, holster, lanyard, micro-usb charge cable, manual.

Holster is good.

And here is review hero itself. Nitecore MH25GTS doesnt look like a high-design thing, and it is not supposed to be. Still, for something between EDC \ Tactical flashlight is looks definitely good, you easily can say it`s a brand thing.
With it`s 15cm length and aggressive bezel you will think to carry it in pocket or not, that`s definitely not a sort of pocket light (mostly for bezel as there are some big pockets that can store such flashlight). Nevertheless, comparing with some other Nitecore models, Nitecore MH25GTS doesn't look that big, just take a look.
Tactical ring and aggressive bezel are 2 vivid signs that flashlight is more tactical than EDC.
Tailbutton is lower than pair of U-shaped borders, so it can tailstand (but not really stable). Button has mid-deep click and is convenient for both use and blind find.
Hm, micro-usb charge port at tail? Don't remember seeing something similar recently, as normally this feature is placed at opposite from side button part of head. I don't see any reasons to place it here by tail button. As you can see at the pic below, there is an inner tube (to pass signal for remote button), so placing mode switch near tailbutton looks logical here, it`ll significantly increase convenience of UI and it`s tactical potential.
Ok, Nitecore voted for usb-charge port here. That might not be a trouble unless the rubber cover would close this port tightly. And, it doesn't, at least in my case. I feel like this cover lifts up with easy move of finger (and, to be honest, goes back as well, when finger moves downward ) and in rainy weather that may be a trouble.

There is also small blue LED charge indicator, which stop blinking when battery gets fully charged.

Both springs, at tail and at head are thick and double, which is good. Glad to see last one, as flat-top battery can also be used in this case.

Threads are rectangular and well-lubricated.
You can remove tactical ring, but i don't recommend to do this, as you`ll expose threads and the dirt and sand will stuck there. Adding small separate ring-cover for this part would be a cheap and logical decision, so those who don't like using tactical ring can get rid of it.

Clip can be placed in only one direction.

Knurling consists of several blocks, with lots of small rhombic knurling insde. Grip is convenient and firm.

Side button is mid-size, but i`d say that this metal cylinder is convenient and you can easily blind find it with fingers, even with gloves on. There is also outer indicator ring, blue LED that count voltage and warn you when battery reached threshold of deep discharge.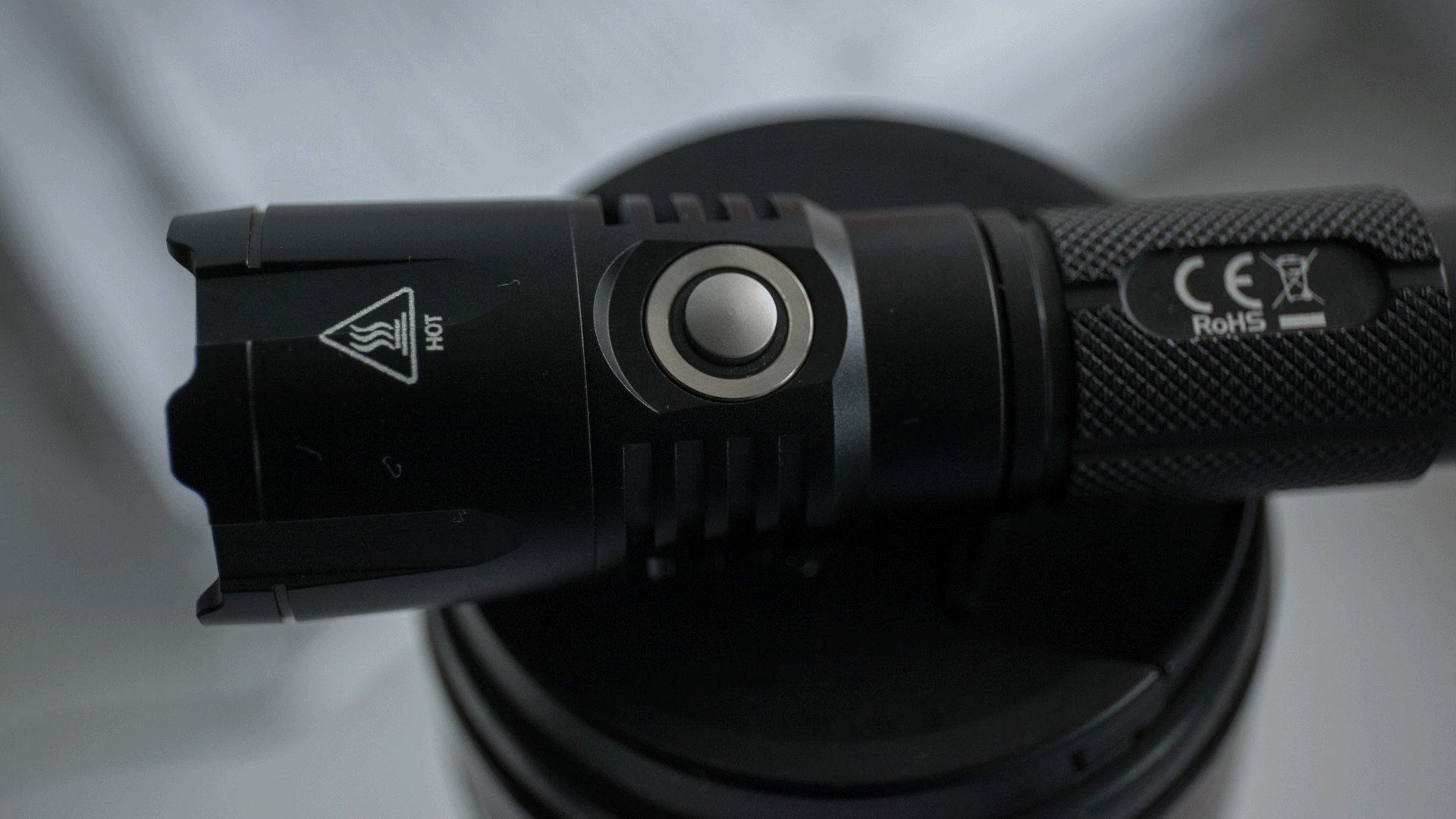 Cooling fins are not that big, but their size is ok according to size of MH25GTS itself.

Head is glued, so there is no view of insides. As I mentioned above, bezel is aggressive.

Reflector is about 3cm deep and 25mm wide, with XHP35 HD at the bottom.


Overall, good. Appearance is ok, perfect machinery. The only dislike here goes to doubtful reliability of charge port cover.
UI
P12GTs, another fresh model was more EDC than tactical, Nitecore MH25GTS is more tactical flashlight rather than EDC stuff.
ON\OFF with simple click tailbutton (supports half clicks, so you can send signals)
Mode switching by pressing side button.
Tactical features – keep sidebutton pressed from ON, TURBO will gets activated until button is released.
2 clicks – strobe.
There is also instant acces to ultralow from OFF, just hold sidebutton and press and release tailbutton.
There is mode memory. And i`ve mentioned voltage indication (blue LED will blink 3 and 8 times, that means 3.8v for example)
PERFORMANCE
As usually – no chance for NW, only CW.
Light distribution. There is a vivid hotspot, but as LED is HD, not HI, there is some sidelight as well, so you can still use it for close range needs.

Charge amperage is strange- 0.66A. Not 0.5, neither 1A ( not mention 2A) what didn't let Nitecore increase amperage? Now you have to wait for about 7 hours for fully charge battery.

And really crucial part – thermal regulation and stabilization. I`d say that threshold of thermal regulation activation is set for too high temperature here, without cooling MH25GTS doesn't keep stabilized even not that bright mode as HIGH. I don't believe that with such body these about 1000lum mode is too much.
With cooling situation gets as I should be. Well, at least there is no "saw teeth" here…
Neverthless, I have to mention that using flashlight means some movement and using HIGH\TURBO are mostly for outdoor. So you may expect some wind there and get your cooling in this form.

And for inside use MID is ok.
Yeah, this way we reached examples of illumination.
I`ve just said about MID, definitely bright mode for indoor use. HIGH and TURBO performs excellent indoor and well outdoor, just see pics.
150m– only HIGH, TURBO mid is no use here, no surprise.
400m is a limit for this flashlight, that is territory for another models, like another forthcoming thing MH40GTR. But, still, I definitely can say there IS some light at this range. it is not completely useless at this range.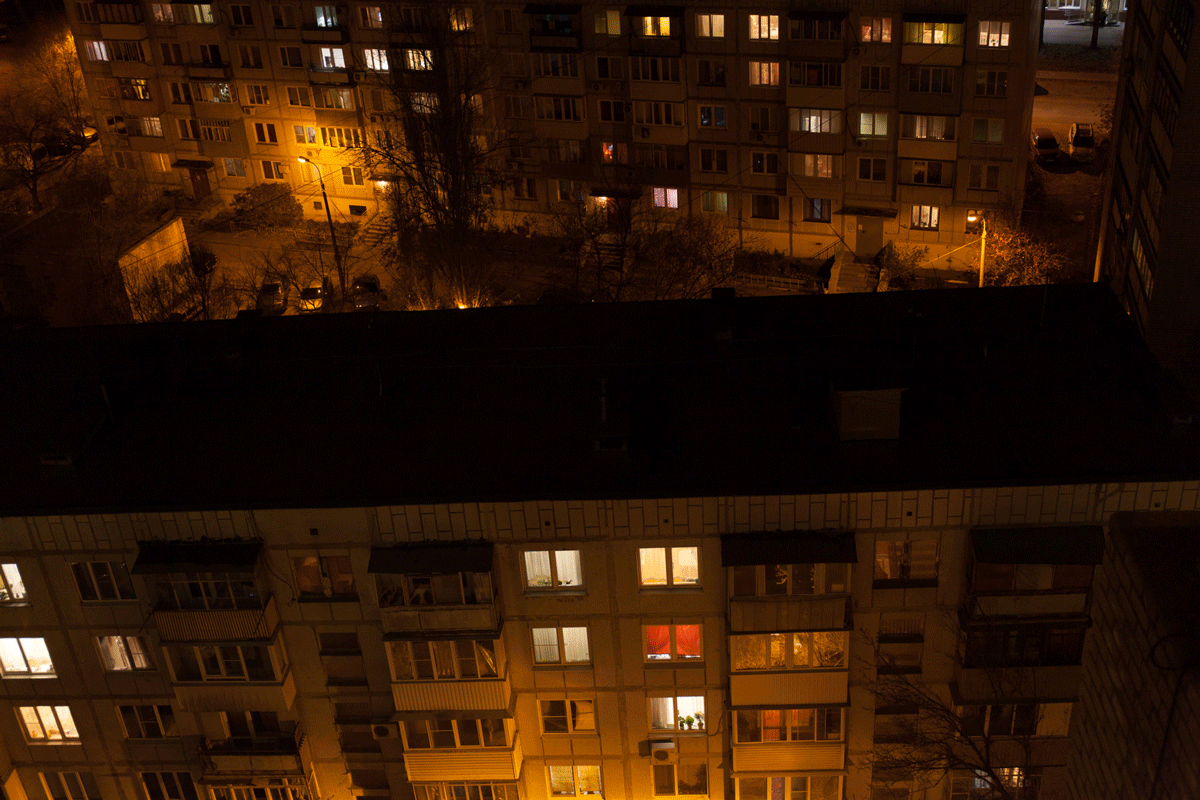 Here is video review, you can see alive video with examples of how MH25GTS works and different ranges. Pls subscribe my channel not to miss lots of forthcoming stuff
p=.OVERALL IMPRESSION.
I`d say that Nitecore MH25GTS is more tactical than EDC, but not pure tactical flashlight.
It is quite bright for a lot of needs.
+ appearance
+ you can expect good build quality
+ brightness
+ built-in charge
+ 3500mah battery included.
+ brightness gets stabilized after stepdown
- charge port cover is not tight.
- threshlold of thermal regulation is set at excessively high level