Efan Air M8 Intelligent Charger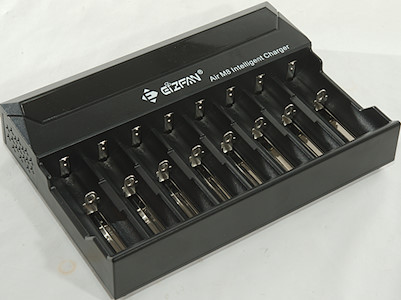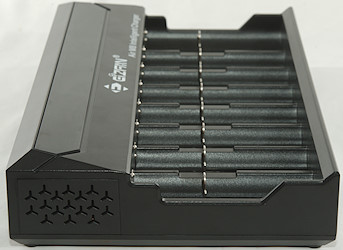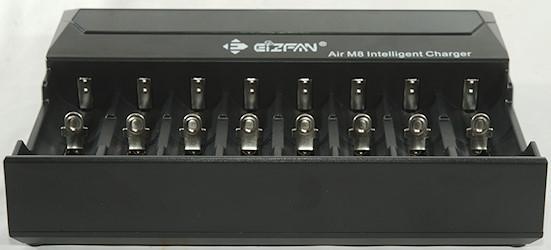 This is a 8 slot charger from Efan (Eizfan), there is no buttons, but two slots are 2A, the rest 1A charging.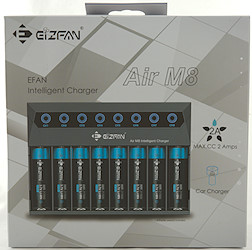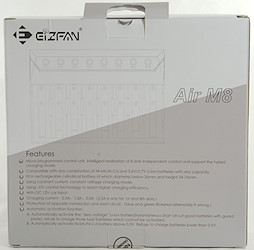 I got the charger in a cardboard box, if has a good picture of the charger and specifications on the back.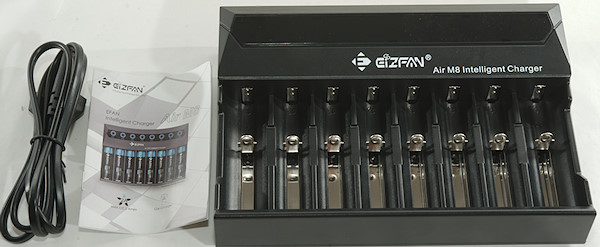 The pack included the charger, a mains cable and a manual.



The charger is directly supplied with mains voltage, but do also have a 12V input.



The slot indications are these symbols, they are blue while charging and green at other times.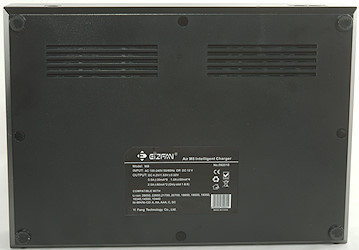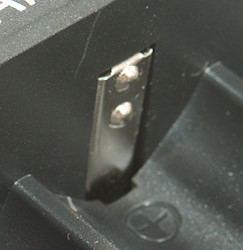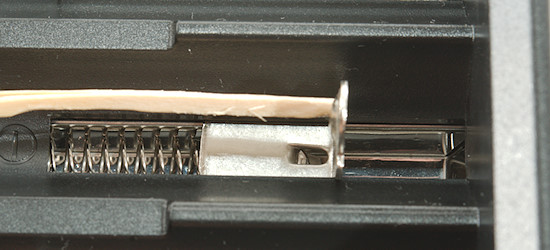 The charger has the usual slider construction. It can handle from 30mm to 77mm, this is most common cells on the market including protected 21700.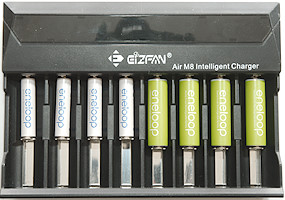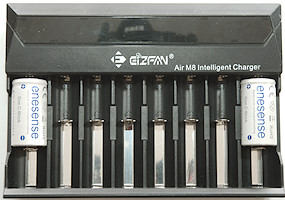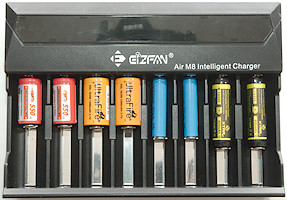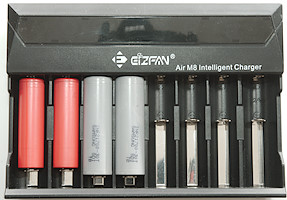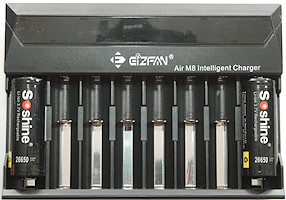 The charger has too high current for normal small cells, only high current rated small cells or more than 4 at a time can be charged in it.
Measurements charger



Slot #1 & #8 will charge with 2A, but only if total charge current is below 4A.

Up to 4 batteries it will charge with 1A.

More batteries means 0.5A charge current.

Once reduced current will stay low until battery is removed.

Power consumption when idle without batteries is 0.6 watt.

Without power it will discharge a LiIon battery with about 1.3mA

Without power it will discharge a NiMH battery with about 0.1mA

A full LiIon battery will be charged with 0.5ma

Below 0.15V the charger will charge will report error

Up to 2V the charger assumes NiMH

Between 2V and 2.8V the charge assumes LiIon and charges with 167mA.

Above 2.8V the charger will use full charge current.

Charger will not restart if battery voltage drops

The charger will restart when a battery is inserted or power is cycled.

Charging LiIon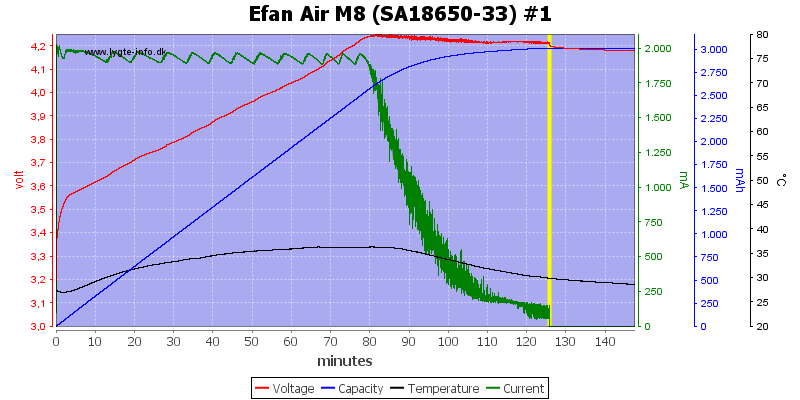 The charger uses a CC/CV charge curve with about 120mA termination current, there is a minor overshot on the voltage. The current is 2A on this slot.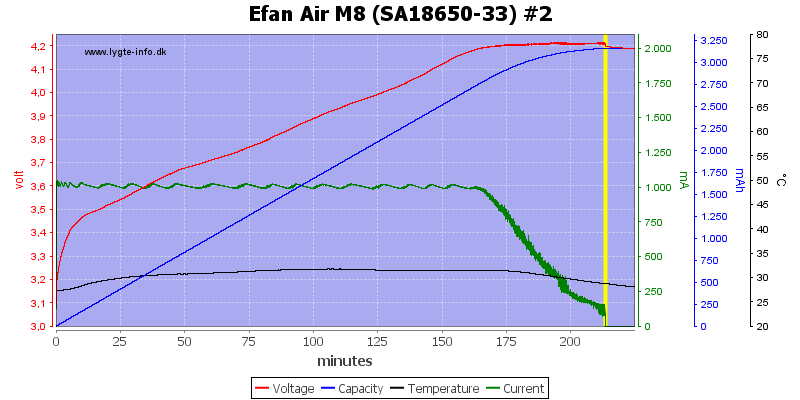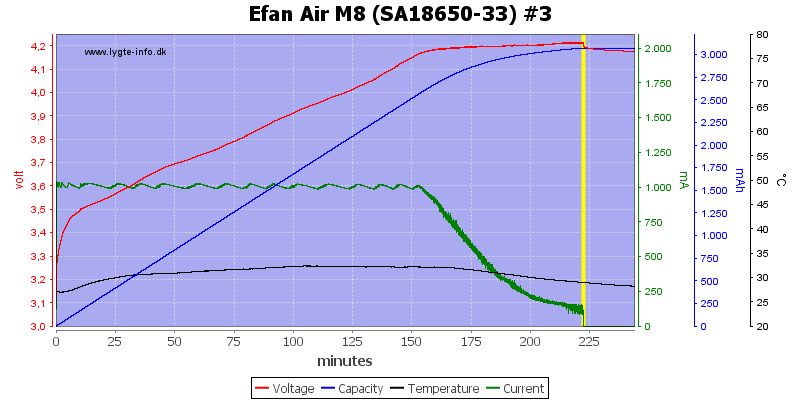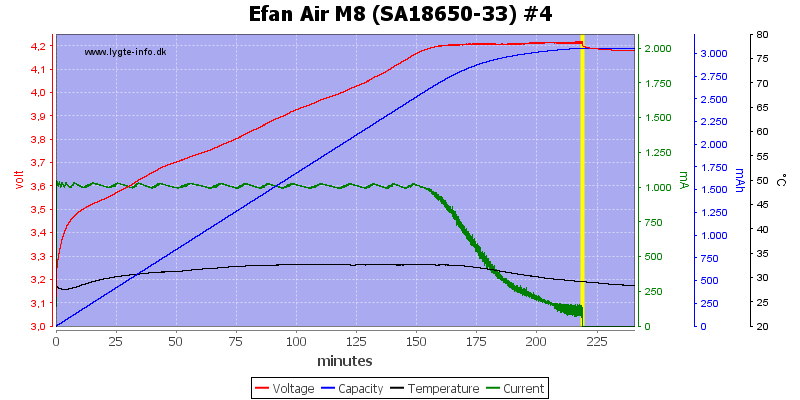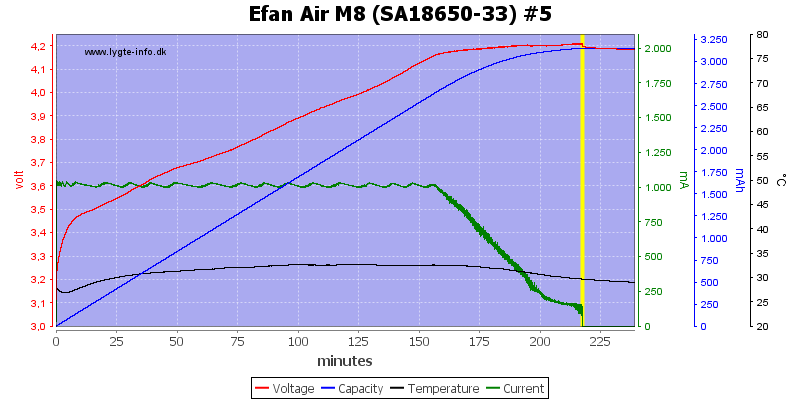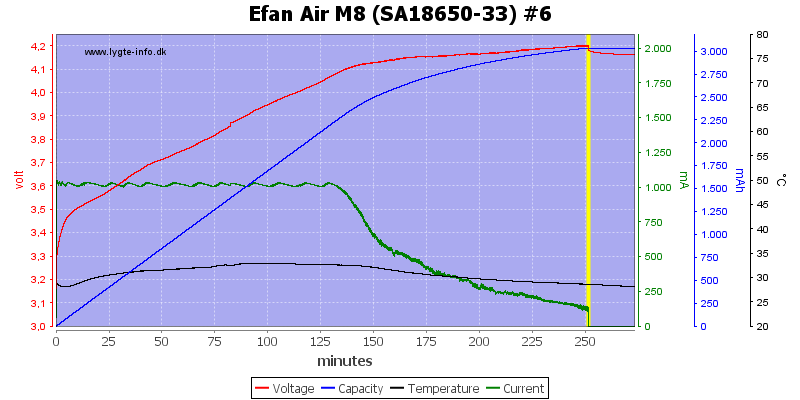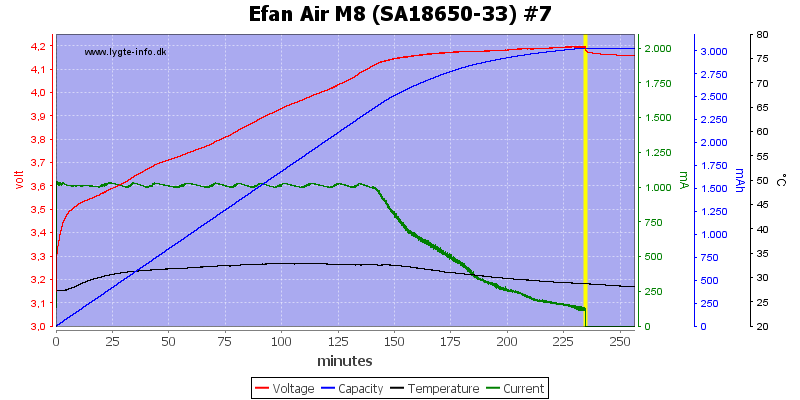 These slots uses 1A charge current.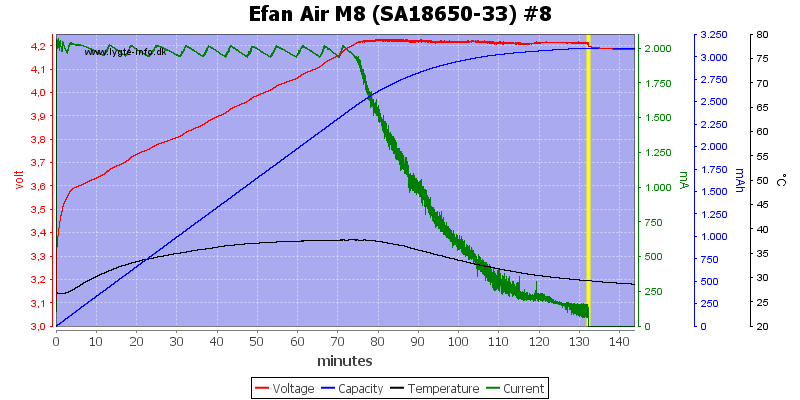 And the last one is also a 2A slot.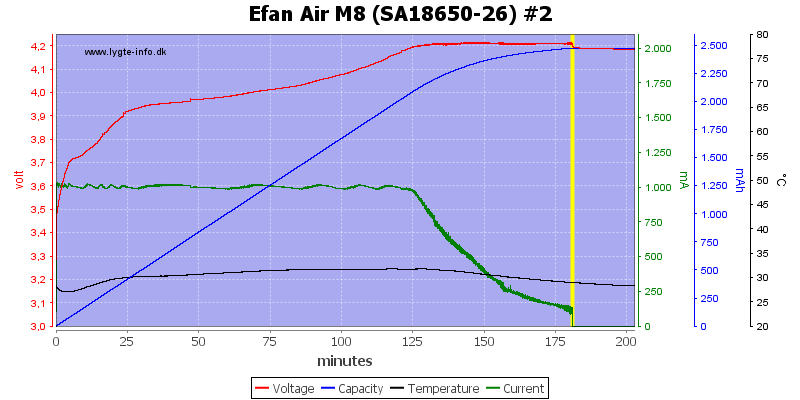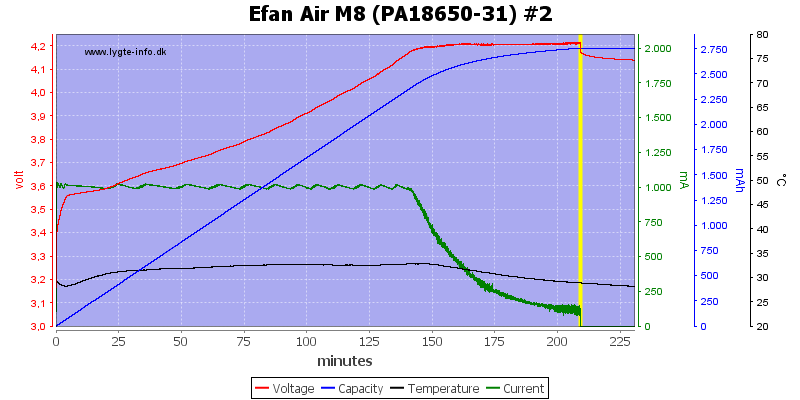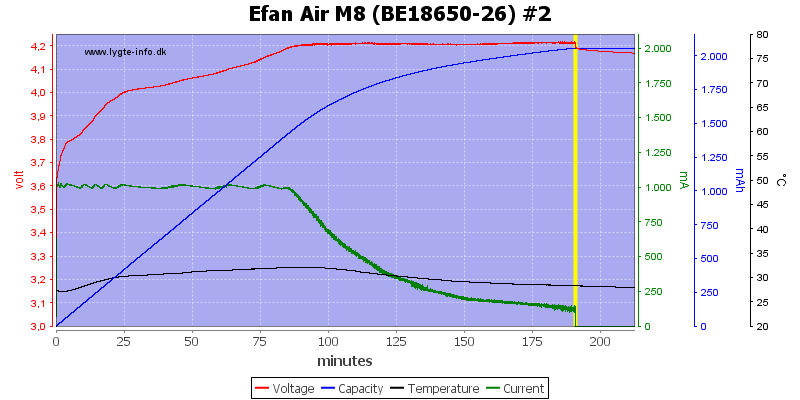 All these 3 cells are handled nicely, also the old cell.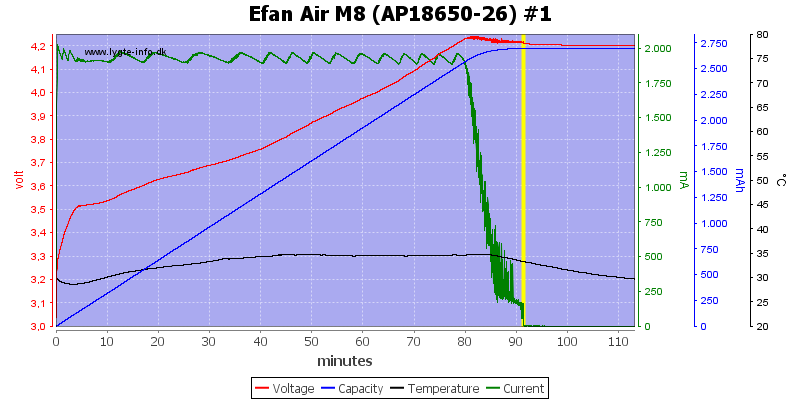 A high current cell in slot #1 with 2A charge, it works fine.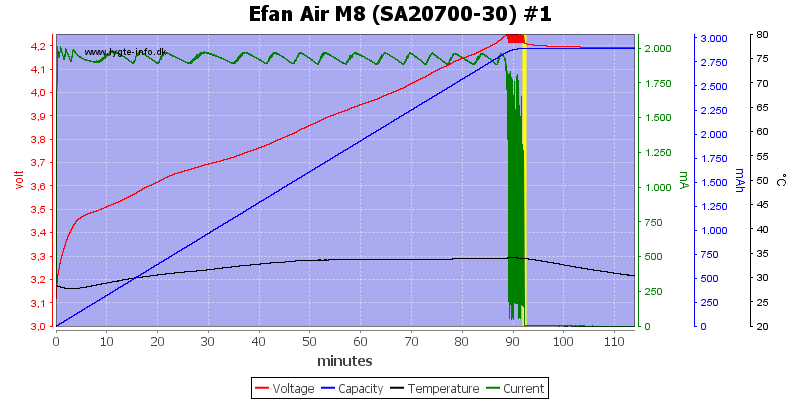 With this cell the charger has some problems with the current regulation during the CV phase, but the final charge looks good.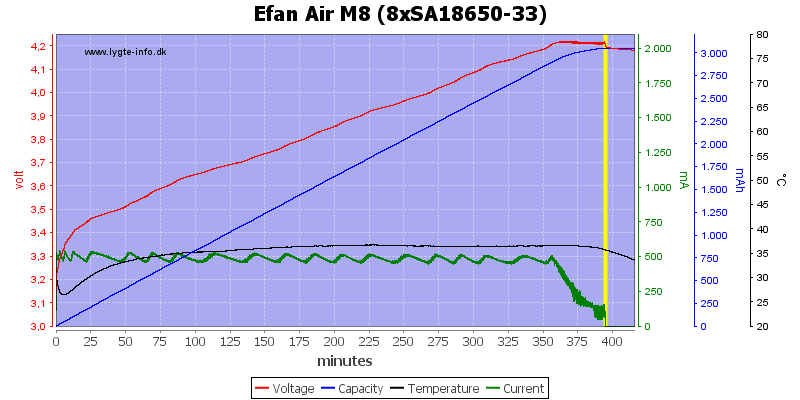 With 8 cells the current is reduced to 0.5A.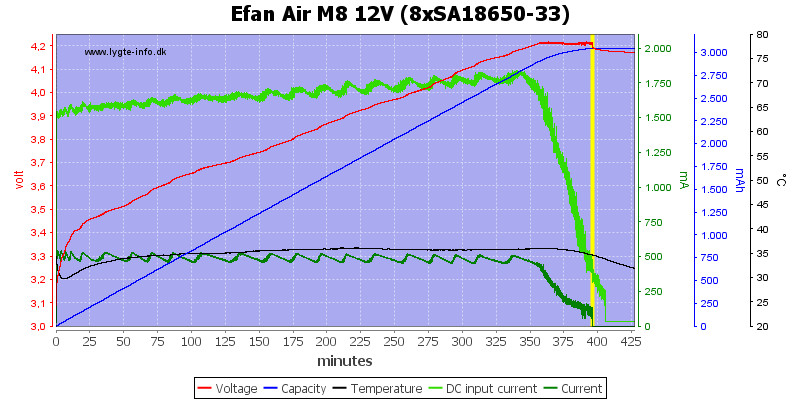 This means up to 2A current draw from a 12V source.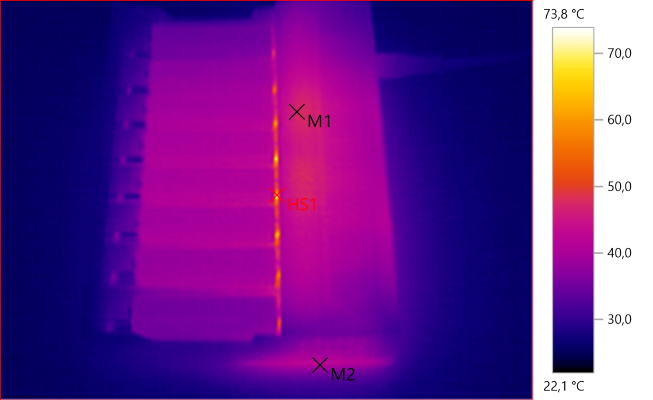 M1: 47.0°C, M2: 40.9°C, HS1: 73.8°C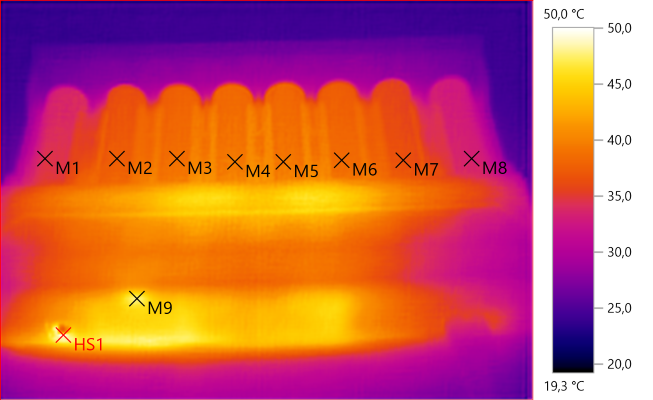 M1: 34.5°C, M2: 37.6°C, M3: 38.8°C, M4: 39.7°C, M5: 39.5°C, M6: 38.6°C, M7: 36.5°C, M8: 33.4°C, M9: 47.9°C, HS1: 50.0°C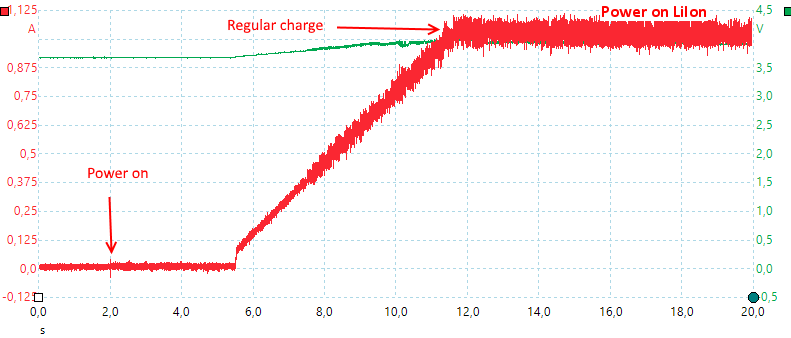 The charger needs about 10 seconds to reach full 1A current.
The charging profile for both NiMH and LiIon in a 2A slot.
Charging NiMH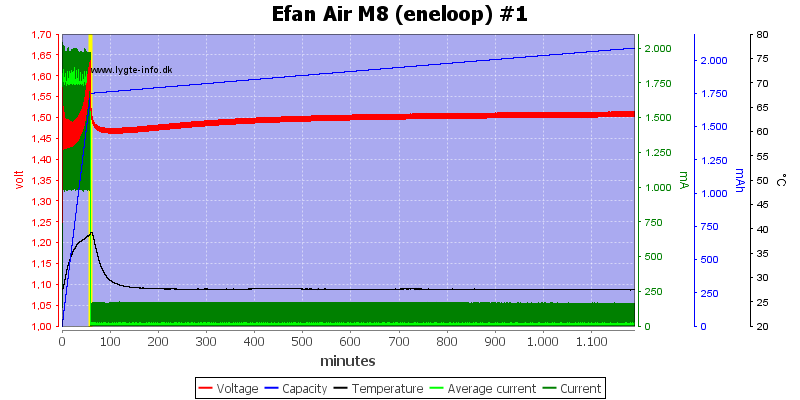 Slot #1 uses also 2A for NiMH, this may be a bit high for AA cells. There is some trickle charge, I let it run for some time to see if it would stop.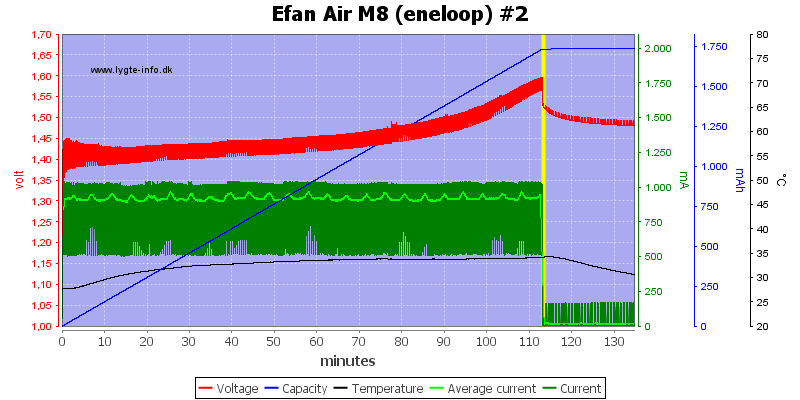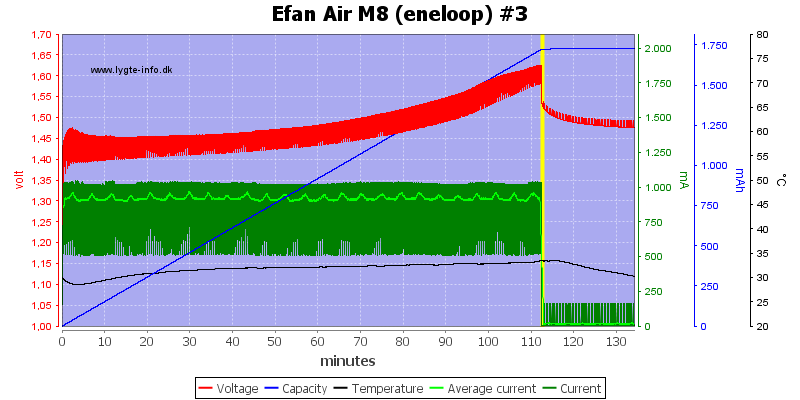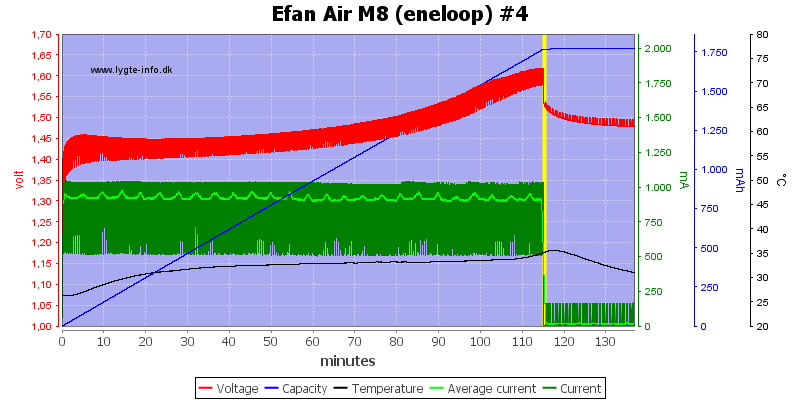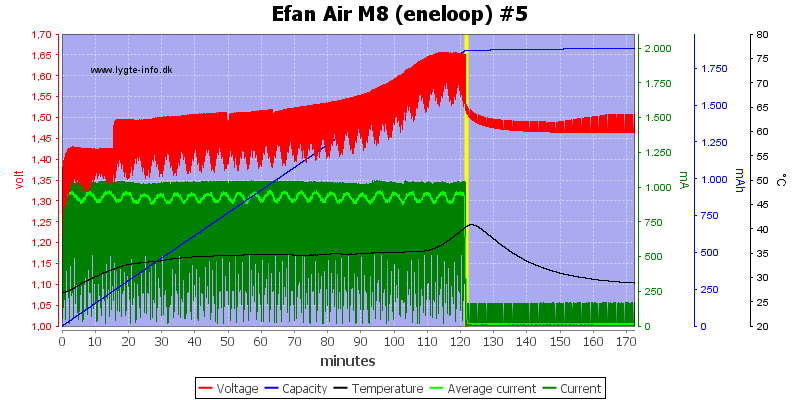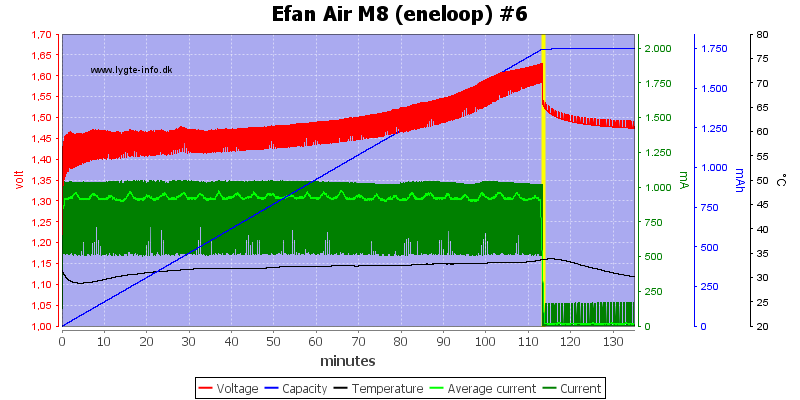 Slot #2-#6 uses 1A charge current, the charger will use voltage or -dv/dt termination depending on the battery. In all cases there is a small temperature increase at the end, showing the battery is full.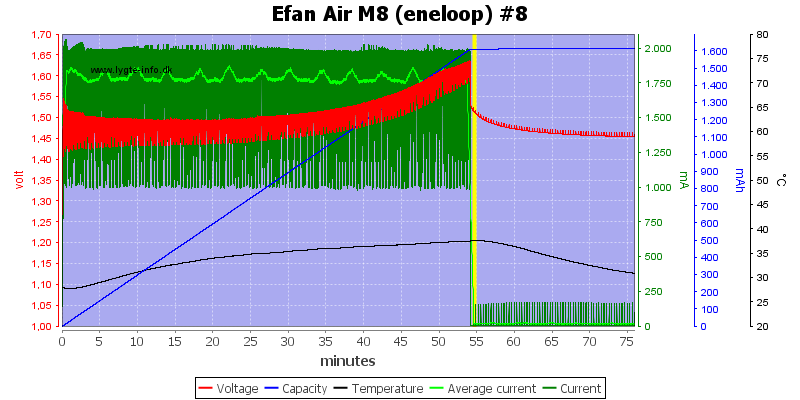 Slot #8 is a 2A slot.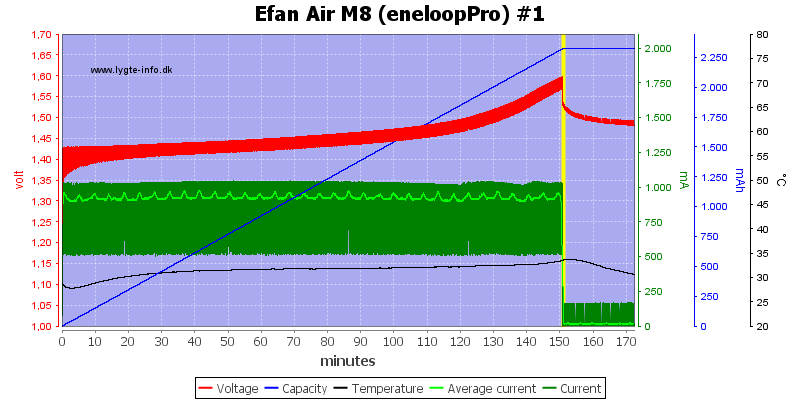 The eneloopPro is with voltage termination
And the Leise is with -dv/dt termination due to the lower voltage.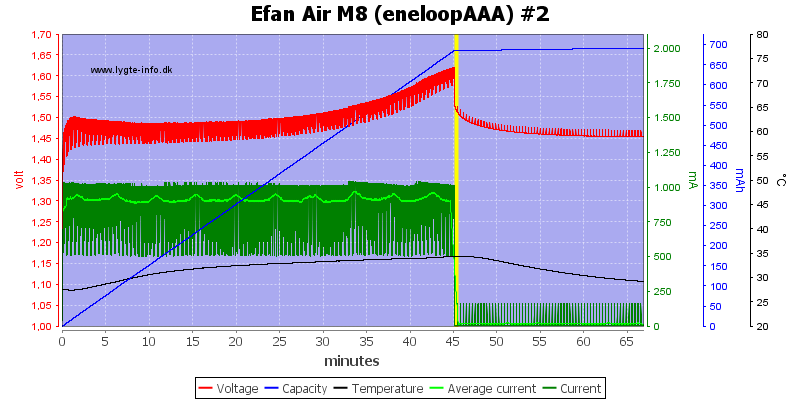 The 1A charge current is maximum a
AAA
battery.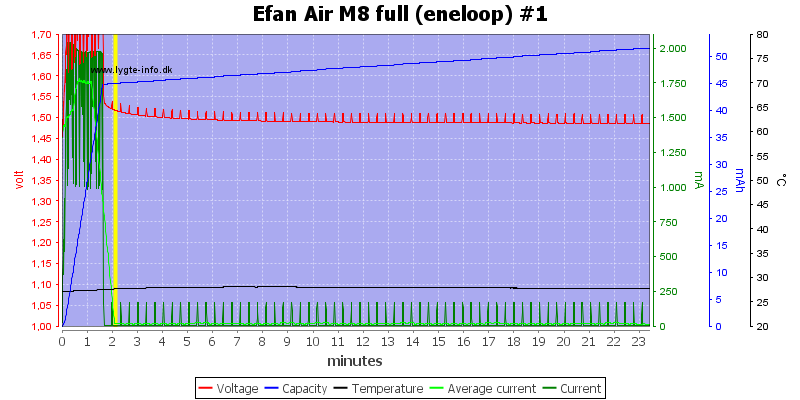 The charger was fast to detect a full battery.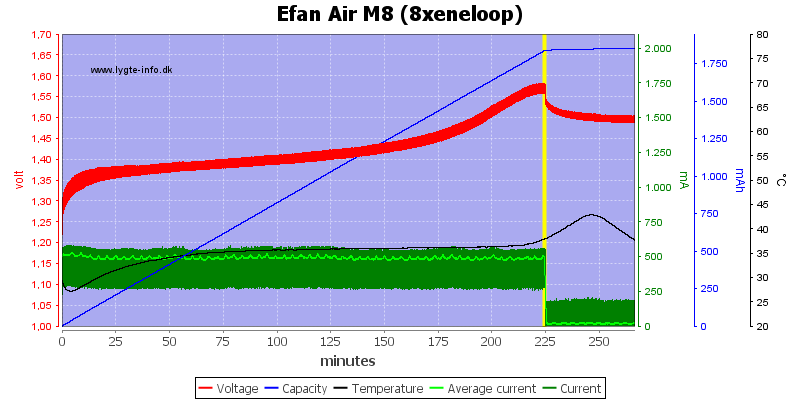 With 8 batteries in the charger the current is down to 0.5A.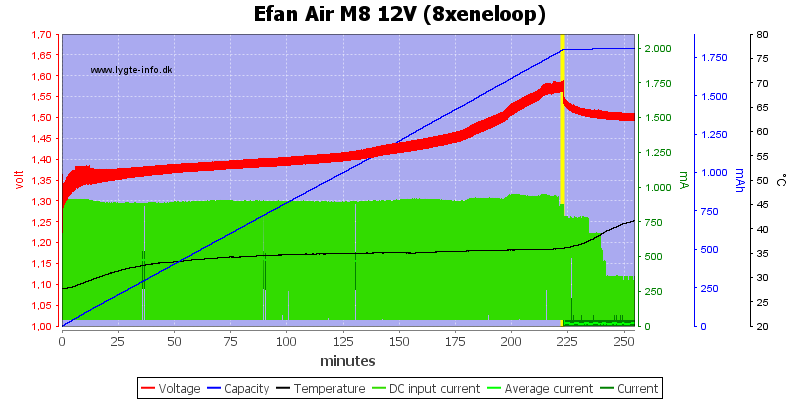 This requires about 1A from a 12V supply.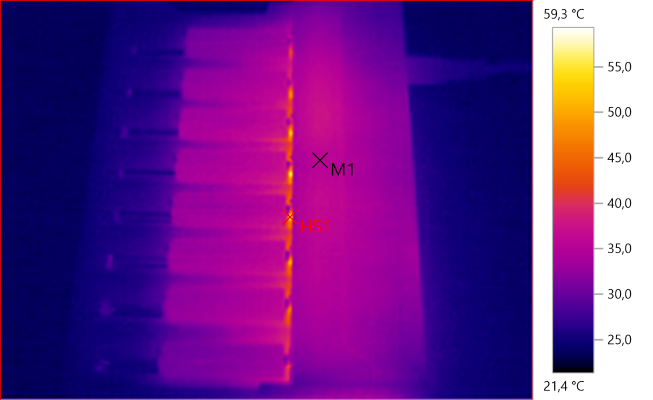 M1: 35.7°C, HS1: 59.3°C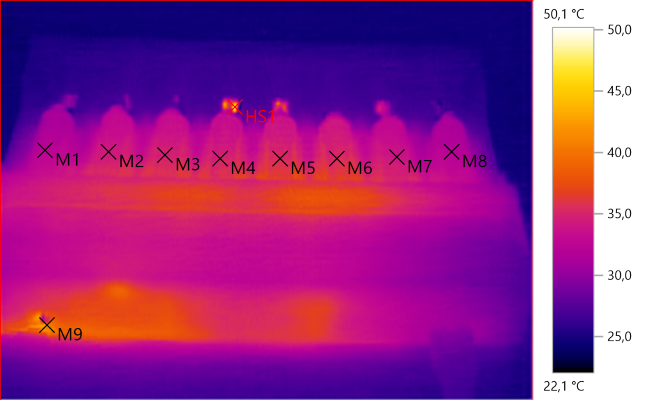 M1: 32.4°C, M2: 34.3°C, M3: 34.7°C, M4: 35.0°C, M5: 35.5°C, M6: 35.4°C, M7: 34.0°C, M8: 32.2°C, M9: 42.3°C, HS1: 50.1°C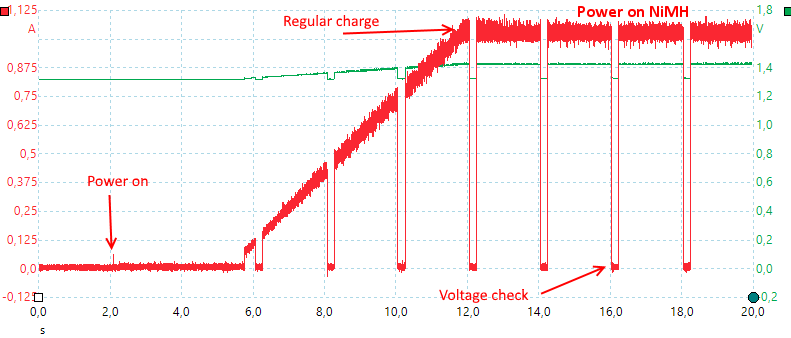 The charger also needs about 10 seconds to start here, as usual with NiMH the charge current is pulsed.
The trickle charging is pulses, around 2 seconds wide and 160mA each 20 seconds, i.e. about 16mA average.
Testing with 2830 volt and 4242 volt between mains and low volt side, did not show any safety problems.
Conclusion
The charger is good for charging many batteries at a time, it not fast when doing it, but it is possible to charge two batteries fast.
Due to the way current selection works it is not the ideal charger for small cells, it is basically required to charge 5 or more at a time.
The charger is good for bulk charging, but not as universal as models with real low current selection.
Notes
The charger was supplied by Efan for review.
Here is an explanation on how I did the above charge curves:
How do I test a charger