Though that is not the recent model, I find Nitecore HC65 to be interesting enough to tell about this model.
" Nitecore HC65 official page":https://flashlight.nitecore.com/product/hc65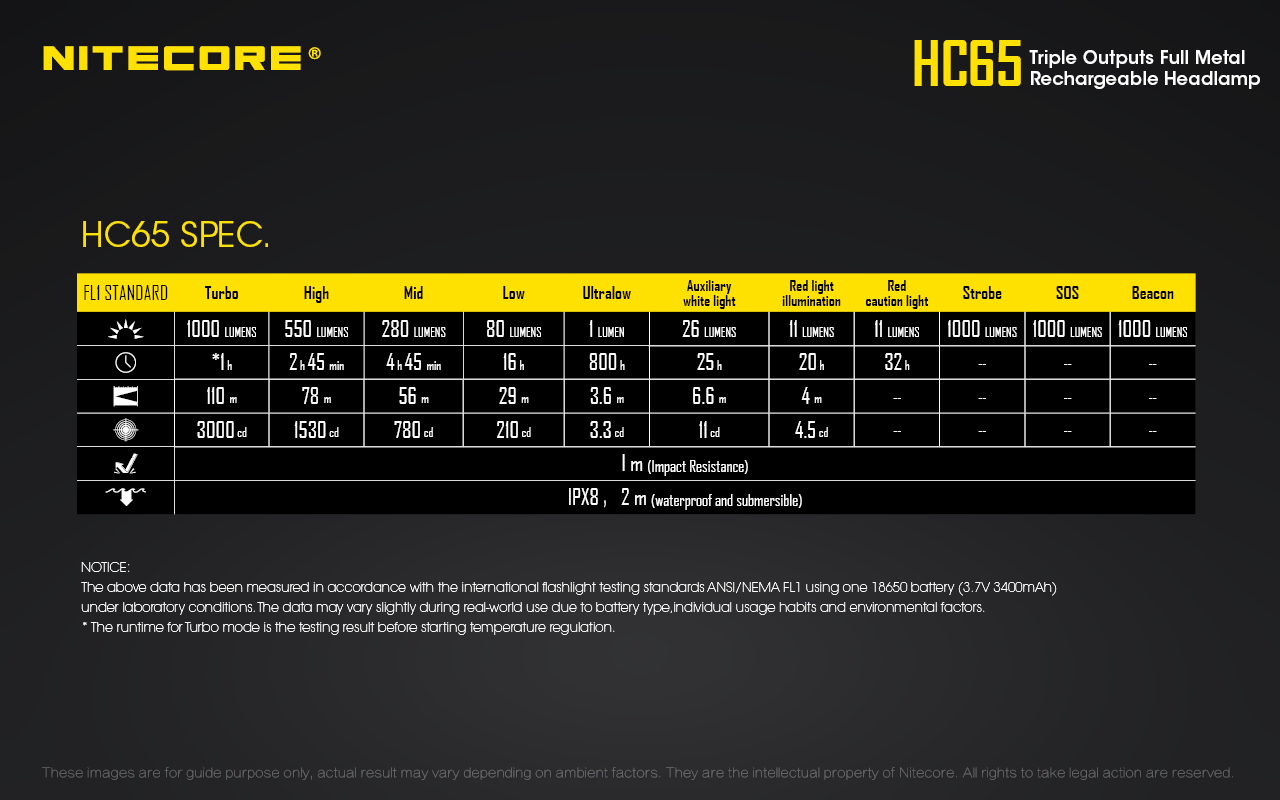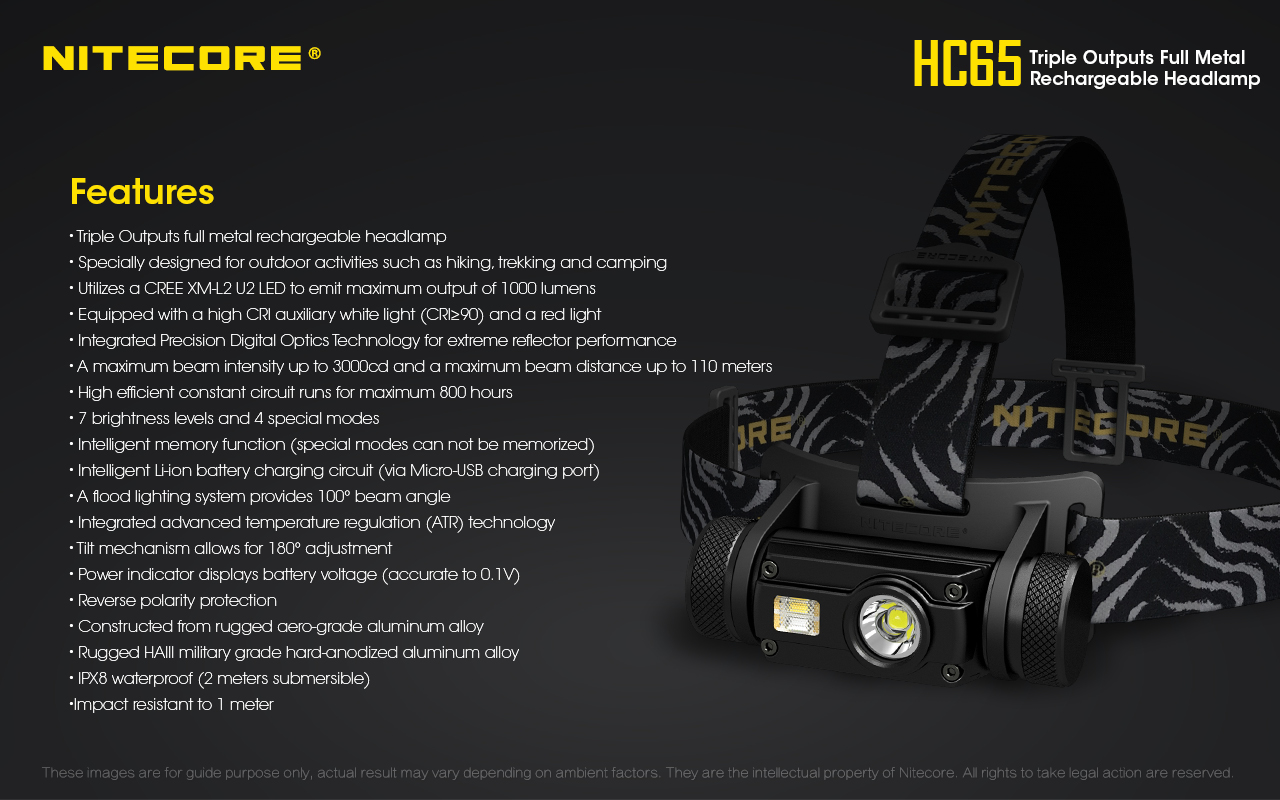 PACKAGE AND APPEARANCE
Typical yellow-black Nitecore package, if you`ve seen one – you`ve seen them all. Anyway, as usually, both package and design are good.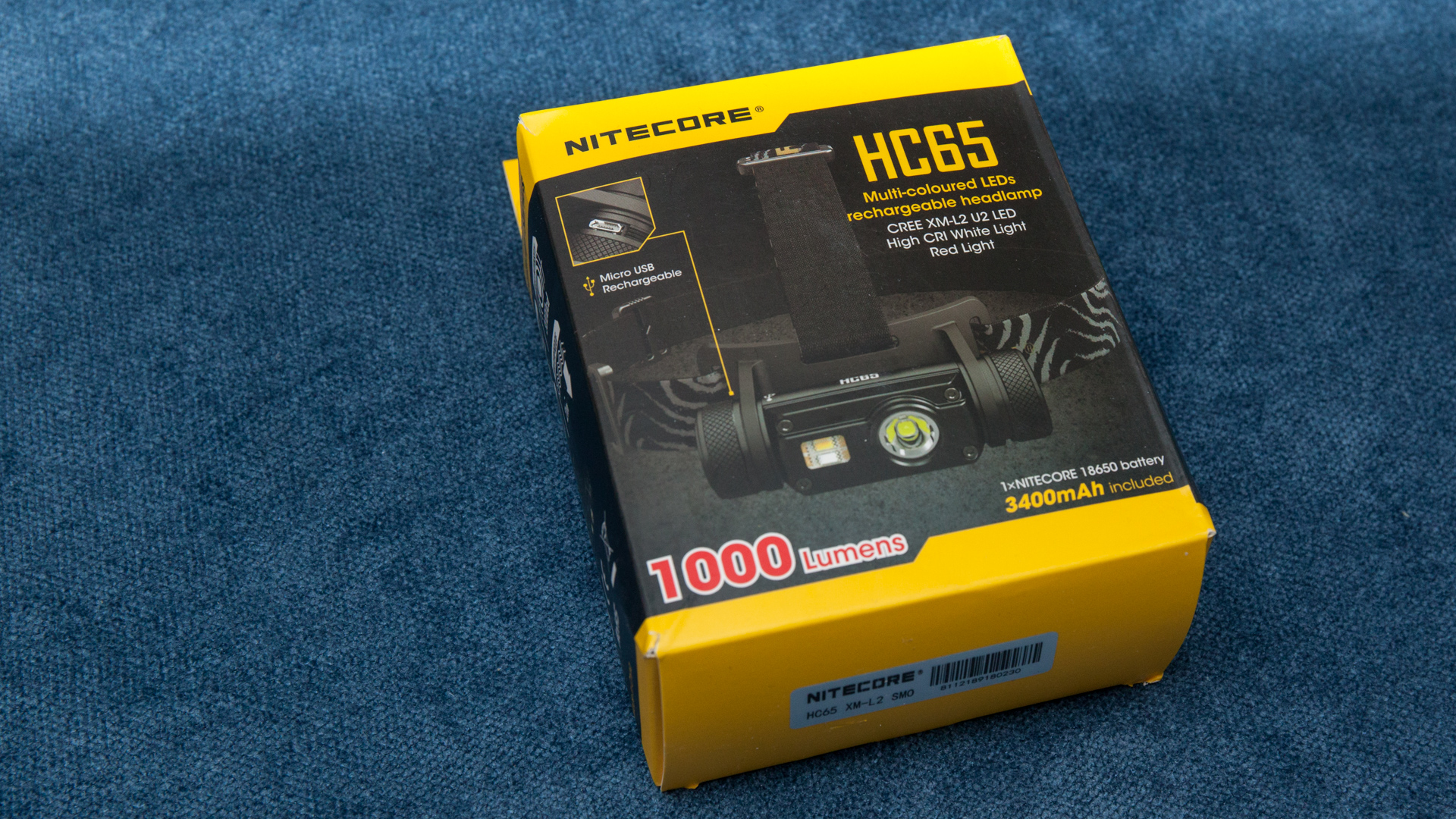 As far as in understood there are two sets, one has 3400 mah battery, other has low-temperature 2900mah one. The last one is what I got. I`ve tested it in freezer with 1A load, and yes – you get as much as possible from it even when battery is frozen over.
The rest set are: Nitecore HC65 itself, micro-usb charge cable, 4 silicone fittings, headstrap, manual, warranty card. Nothing to add, set includes everything you need.
Headstrap is standart one, like we call it in Russia (at least it is closest translation) – "speedos".
And headstrap is quite budget, without gel sweat-preventing line inside and reflective straps outside. That`s no cool. No serious problem, but difference between ordinary and good headstrap costs almost nothing.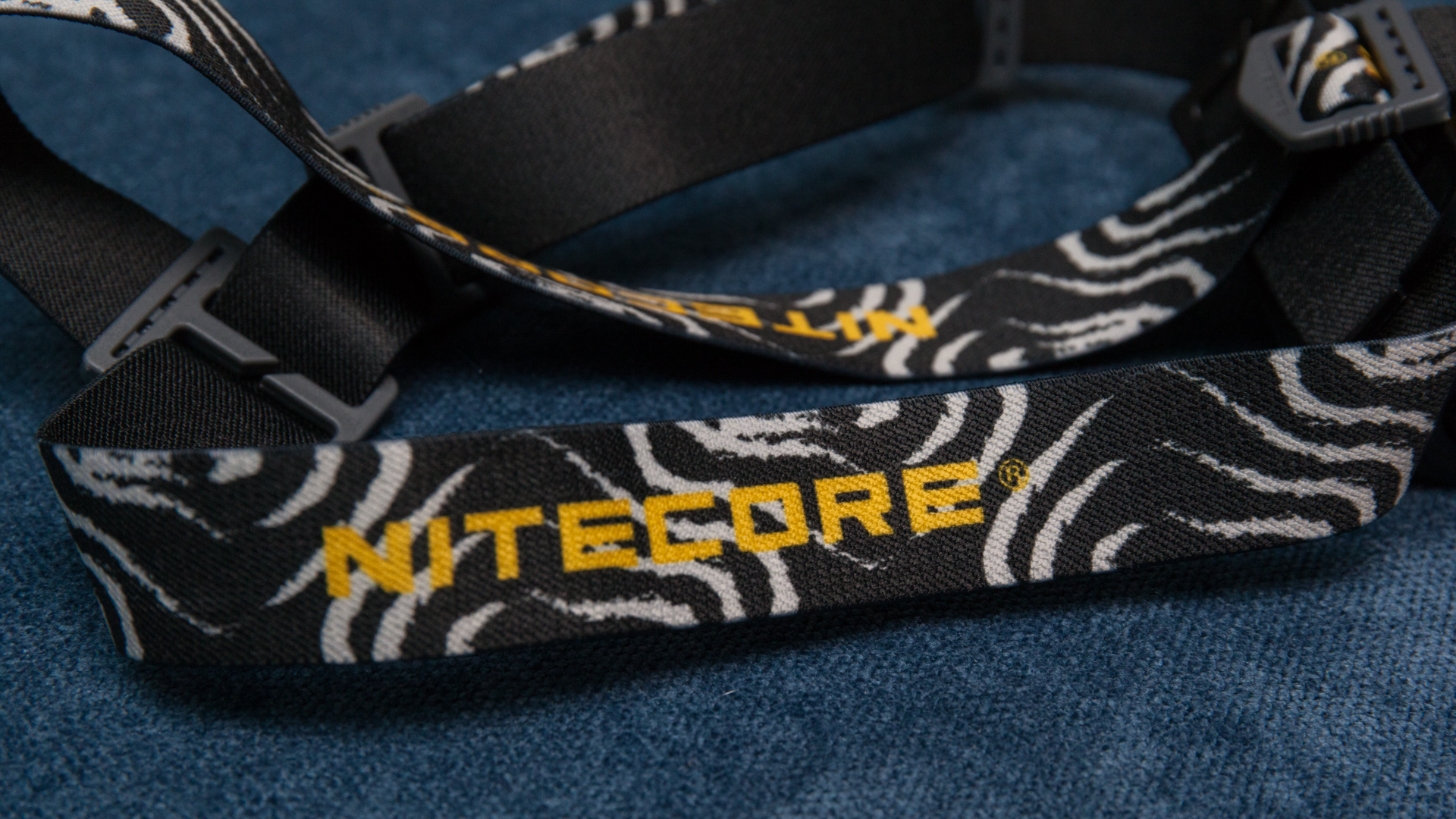 If you think about classic 18650 headlamp, there is either L or T shaped one (I don't count cheap multi-LEDs Frankensteins). And mostly they are quite alike within their form-factor. So is HC65. They most significant difference are auxiliary LEDs – the rest is mostly like any other T-shaped thing.
Nevertheless, having that classic appearance, HC65 looks good.
I suppose this pic gives you enough to evaluate size of HC65, as you can see it is quite compact.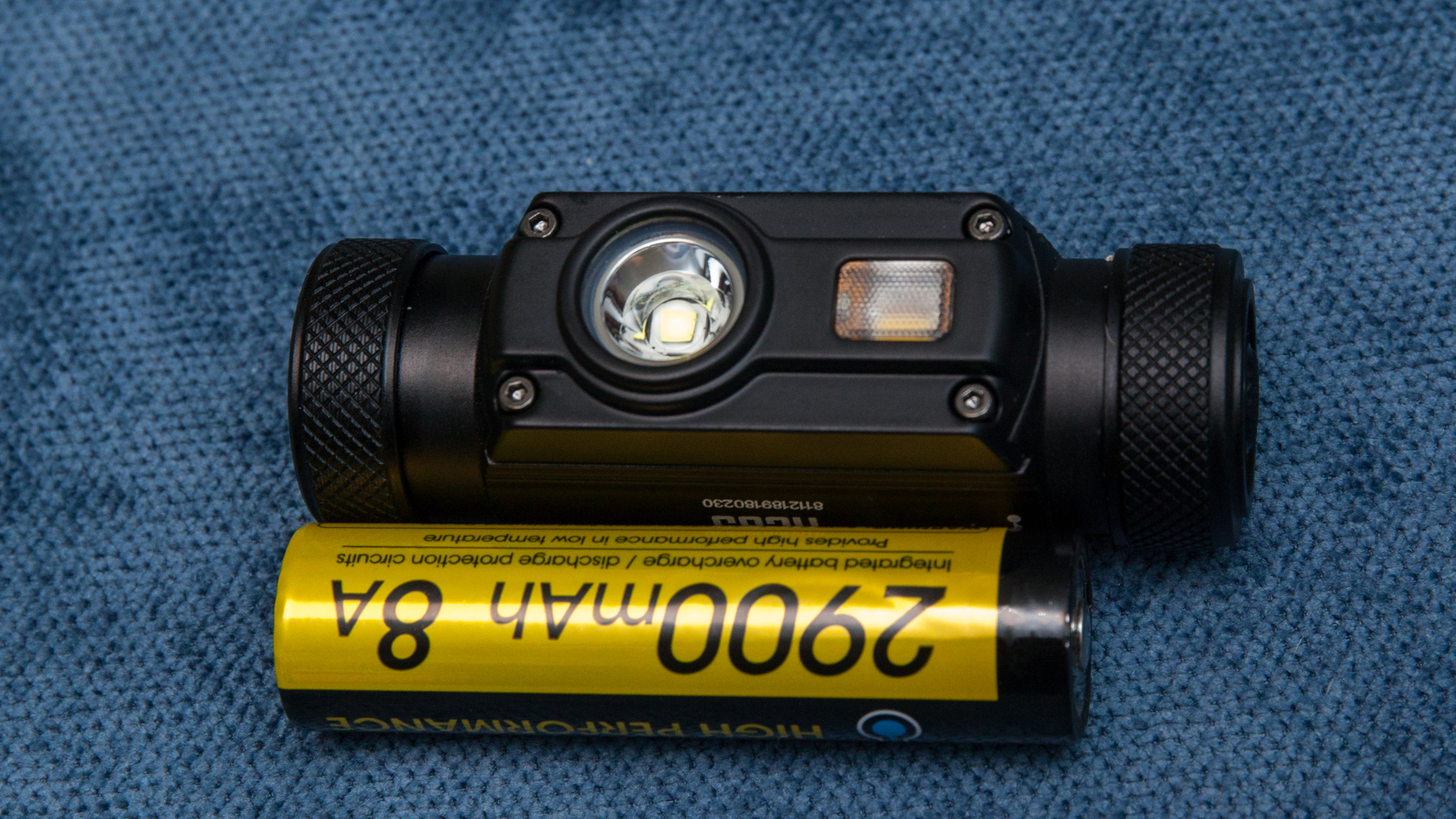 HC60, it`s predecessor, has button at the front side. Quite doubtful decision. HC65 has button at one side, which is more typical. May be placing button on the top would be better, but it is definitely comfortable as is now.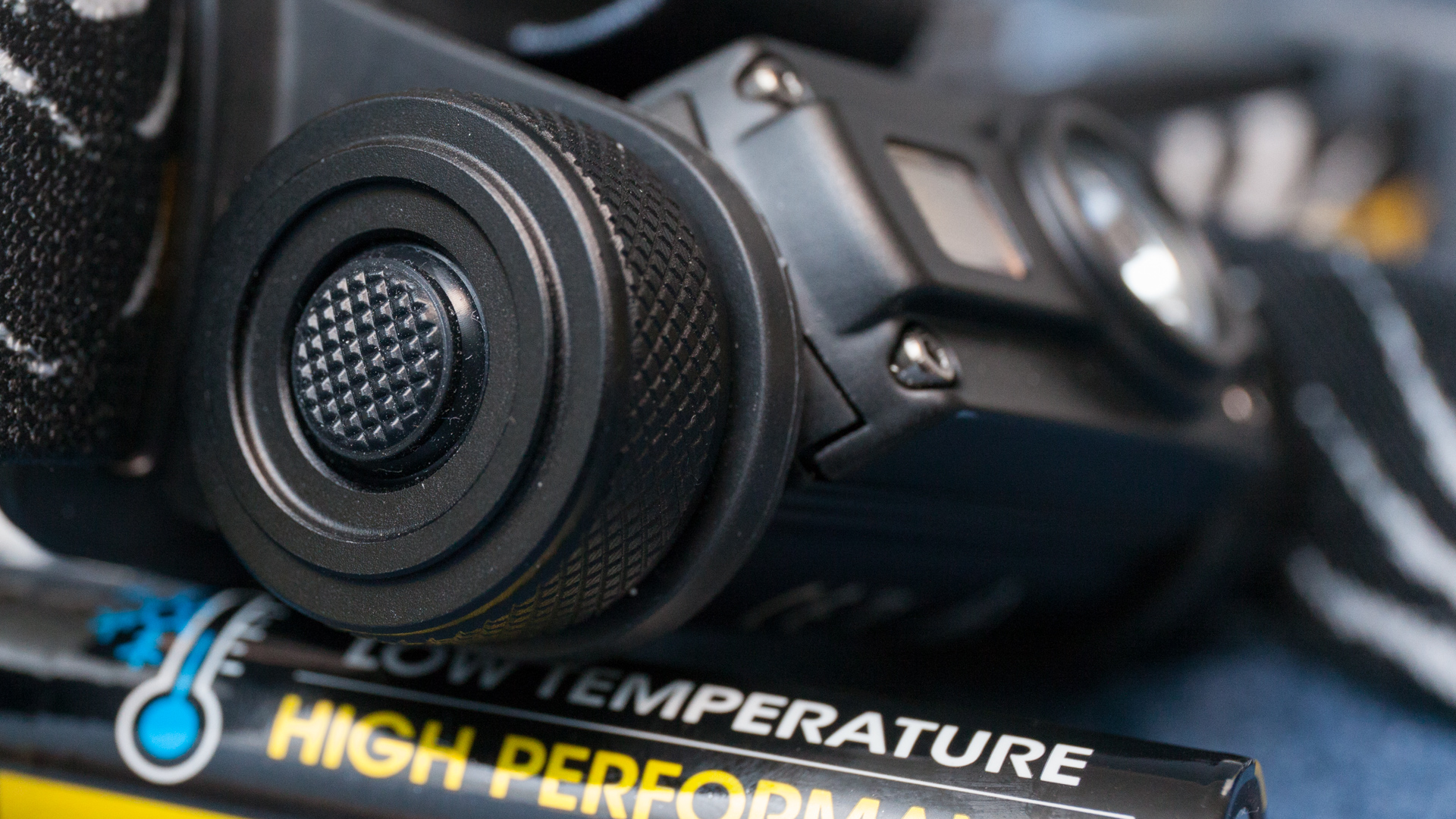 And here is important detail. Button is 2-positioned one, like shutter button in camera. I`ve already met this one, in MH23 and found it convenient, as it adds a lot to flexibility of UI.
If you unscrew ring part around button, you get access to micro-USB charge port. At the beginning I started to scratch my head about having this part lost. I tried to hide it withing headstrap, but then it struck me and I simply pulled cable through this ring. Voila! No chances of loosing.
The opposide side is battery compartment. Cover can be easily unscrewed. Threads are well lubricated. Spring is quite thick.
Of course, you can adjust HC65 angle almost from 0 to 180. HC65 is held by pair of rubber rings within it`s mount and you can jump like mustang with whole beehive stuffed in the ass – headlamp will keep it`s position. But, well , that`s normally for good brand headlamps, to be honest -)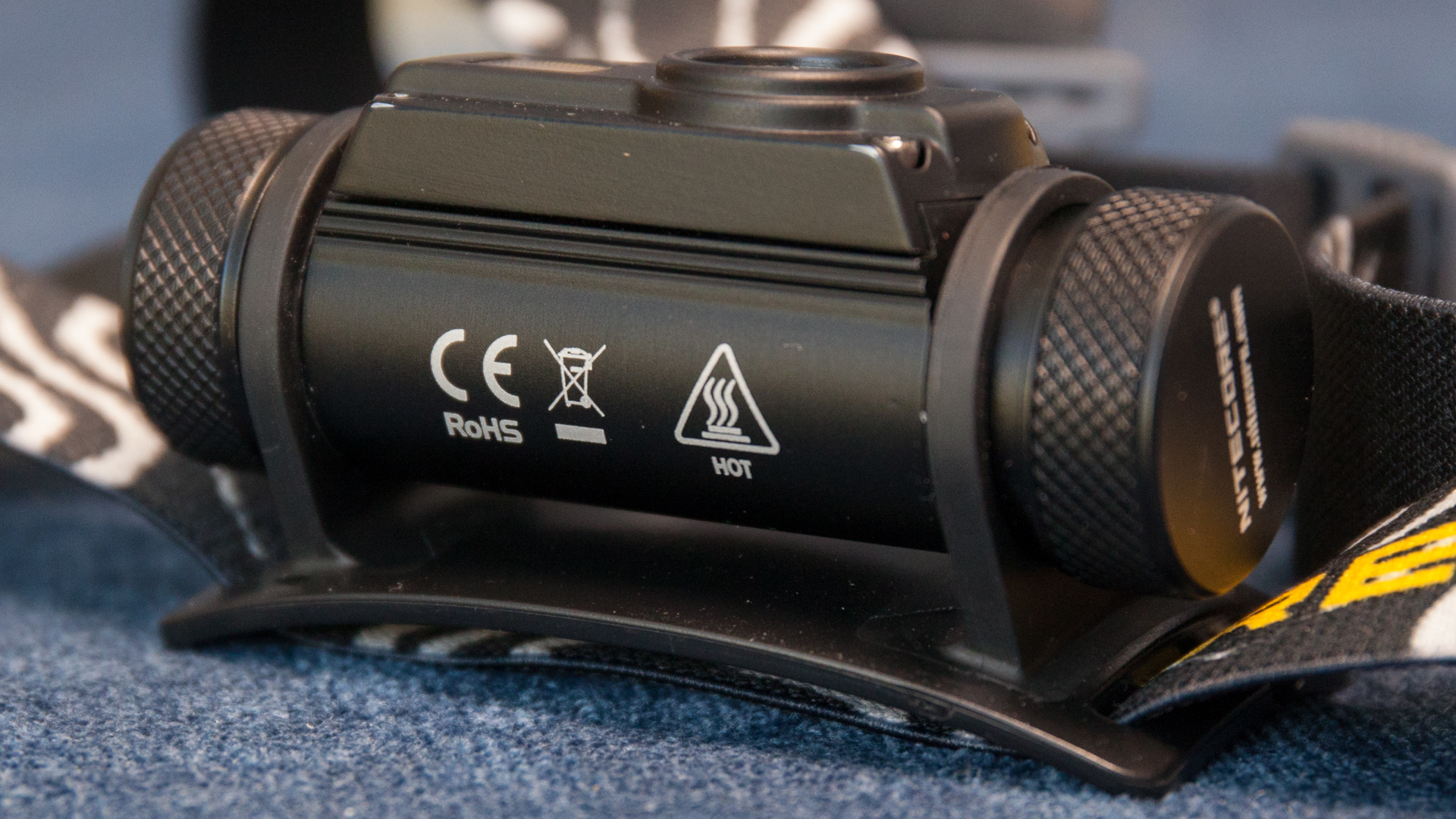 Inner part has no spring, but contact plate instead. Ehh…and again there is a part that prevents from using flat-top batteries. I don't like that. But, at least, amperage here even in Turbo is low enough to use cheap batteries.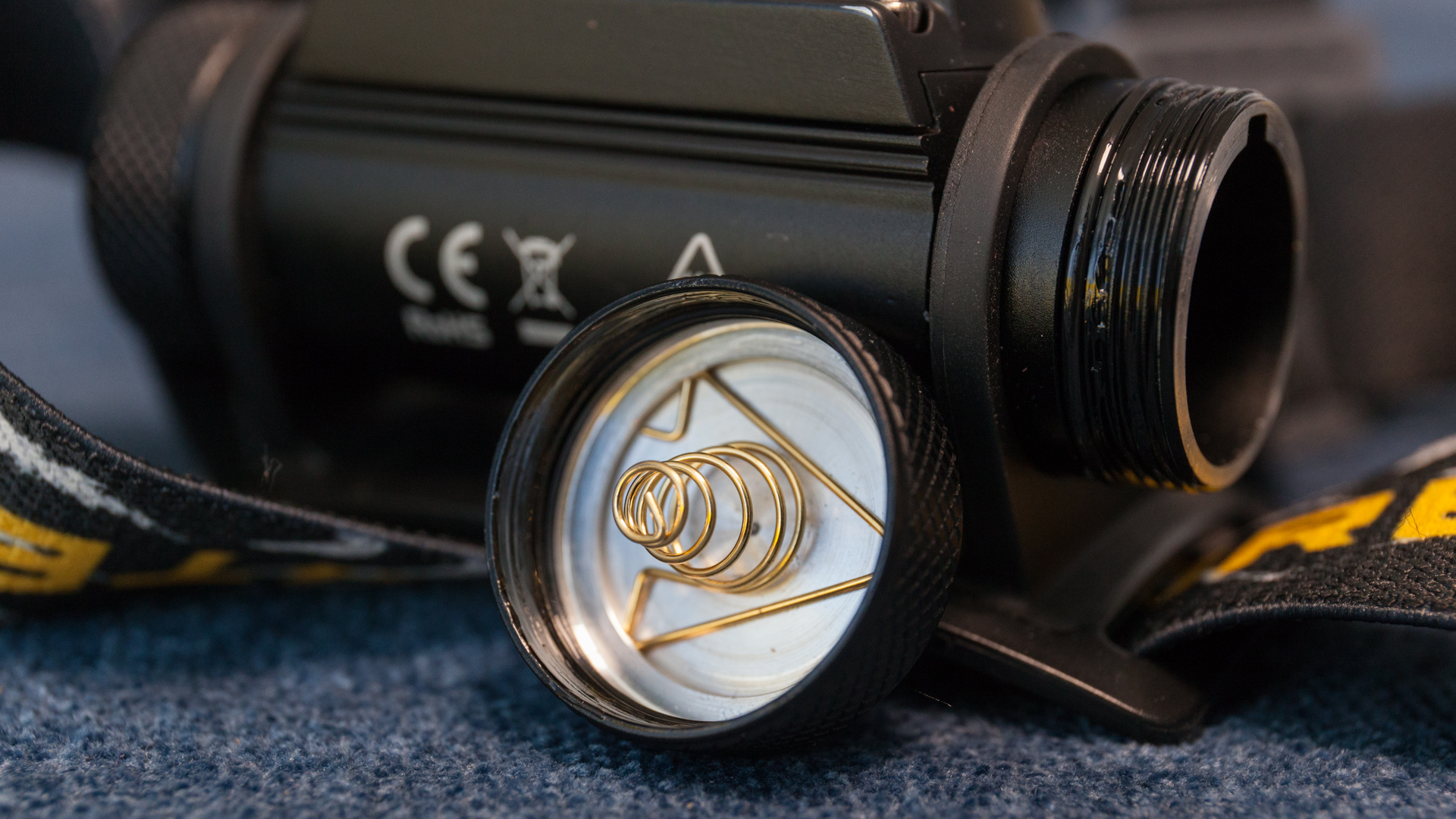 Btw, there is magnet somewhere beyond this contact plate, so there is almost no chance you loose battery when try to replace it. That is really good.
It was no challenge at all to disassemble HC65 and what i`ve seen doesn't look good. I mean, mostly, that`s ok – soldering is clean, everything is clean. But you can see that the base if reflector is too wide and it simply bends the part under SMD auxiliary lights out of shape.
Yes, that still work (and I believe that Nitecore know about this and they tested model thousand times before releasing in this condition) but it looks ugly. I simply cannot skip this detail that was stepped over in other reviews.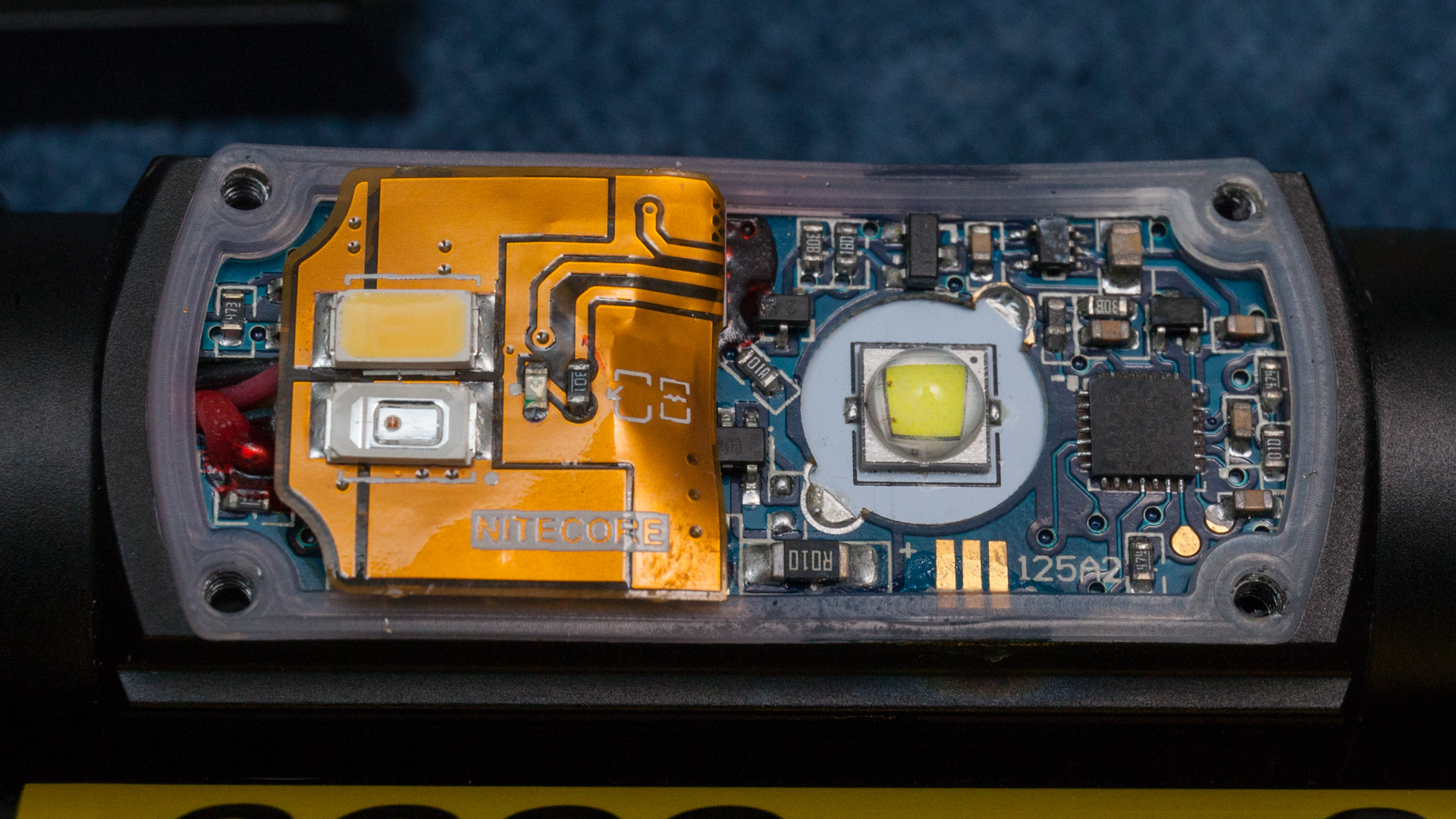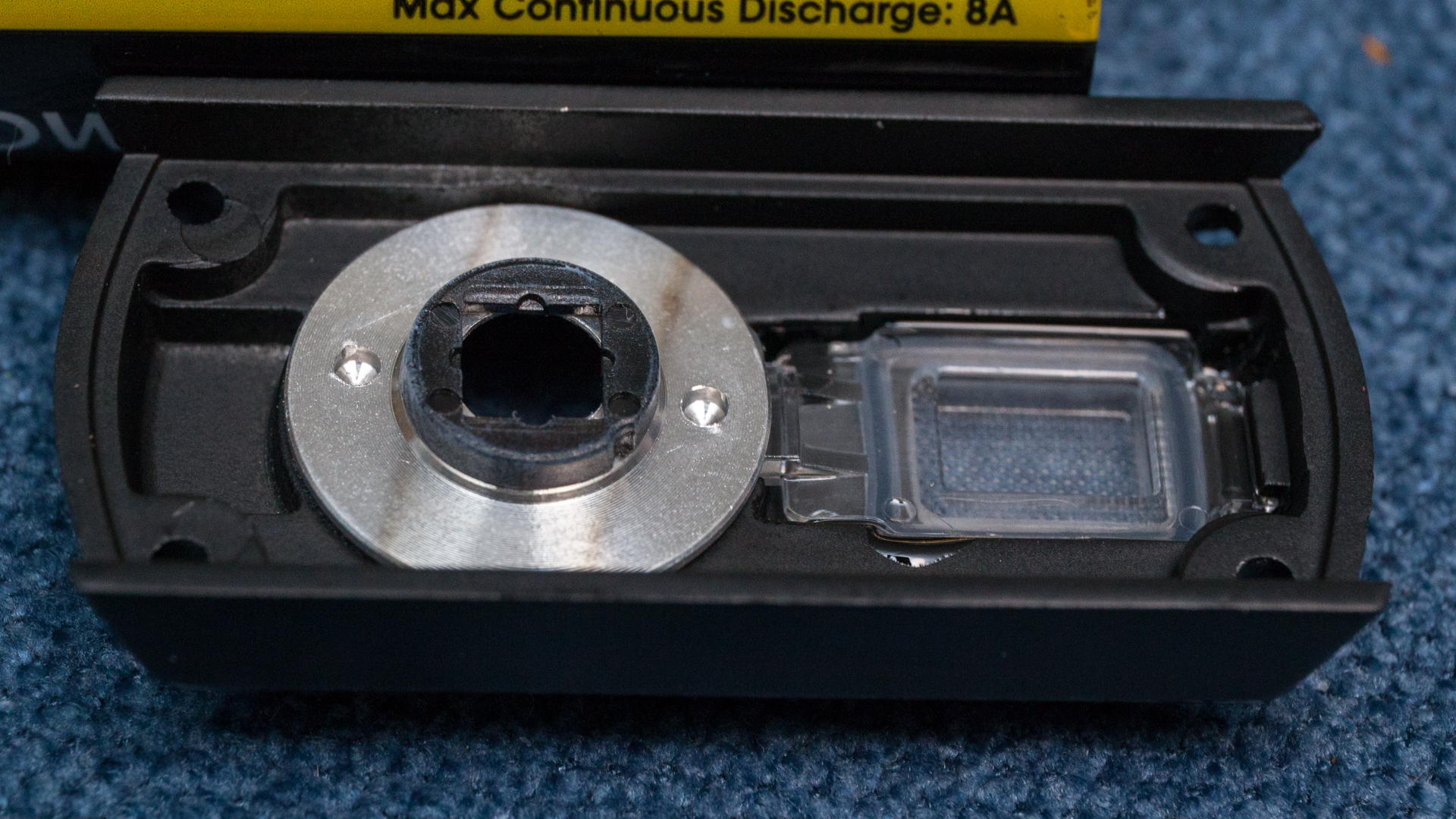 So, overall – good appearance, sits on head well.
UI.
Simple and convenient. This 2-positions buttons adds a lot of flexibility to UI. I red other review where author called it doubtfull, well, that`s subjective.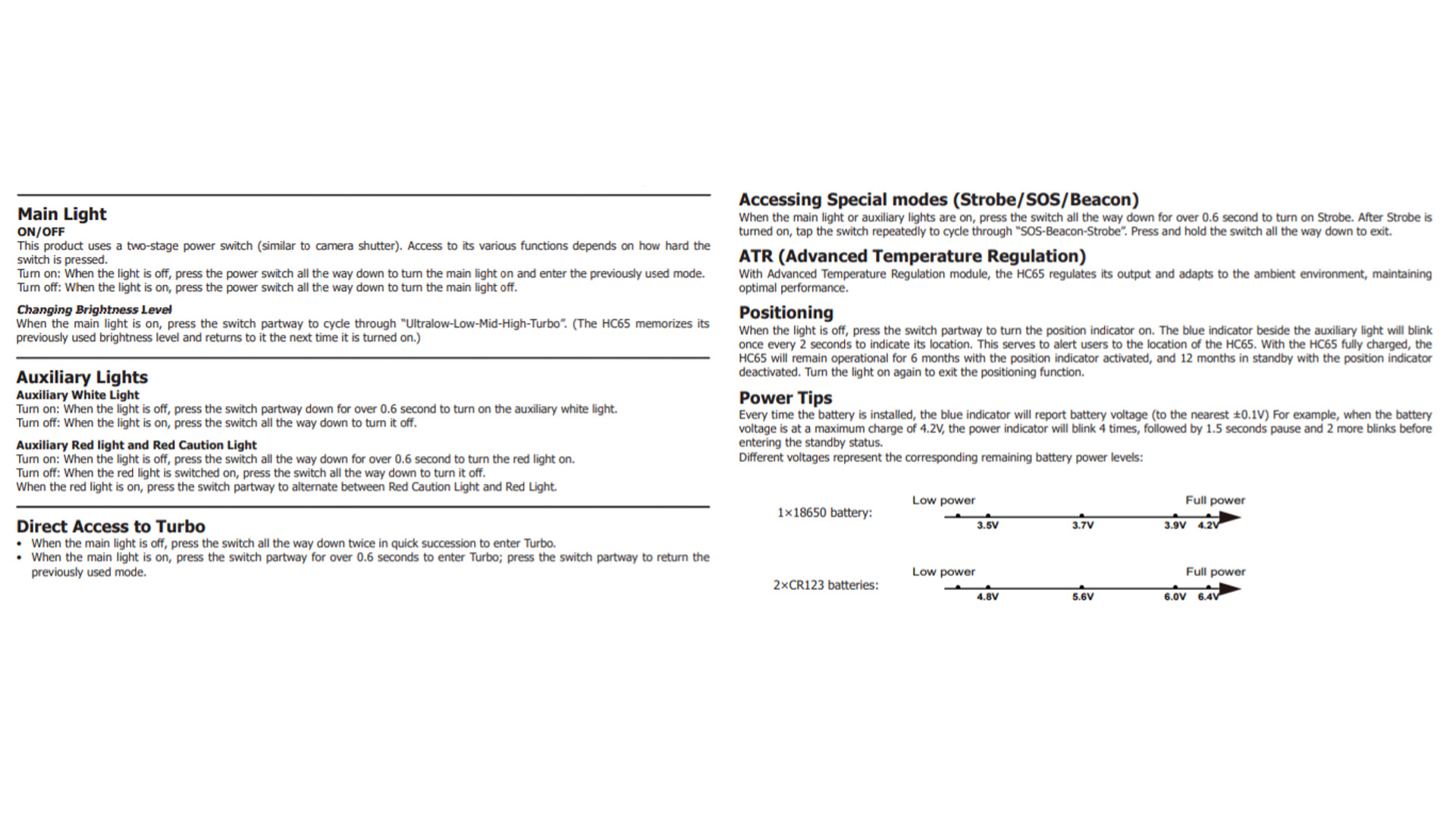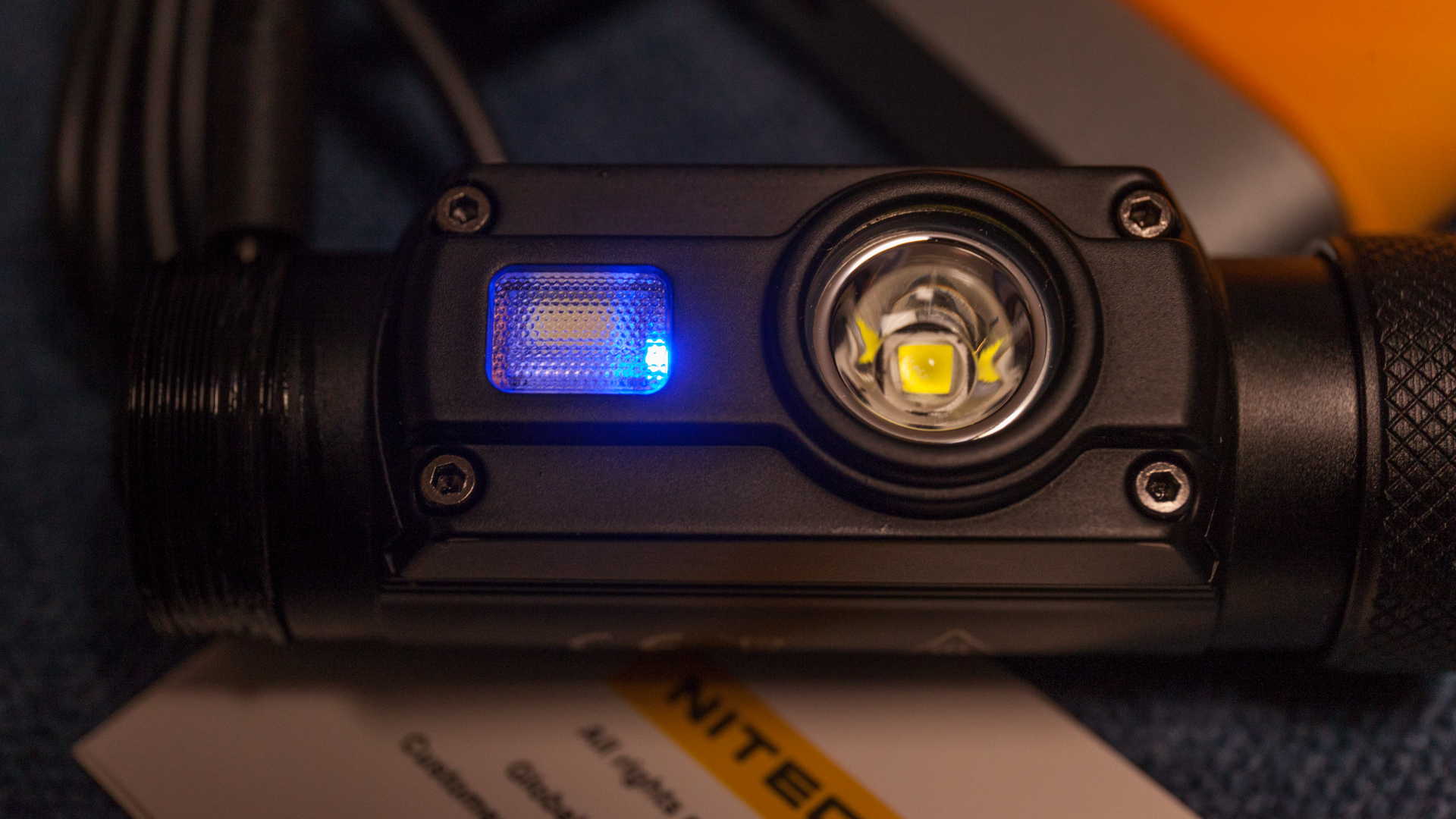 PERFORMANCE
1st pics show you that reflector is unusual one, SMO which is rare for headlamp. Normally you use headlamp in close range needs, so OP or TIR-optics with floody light is a need.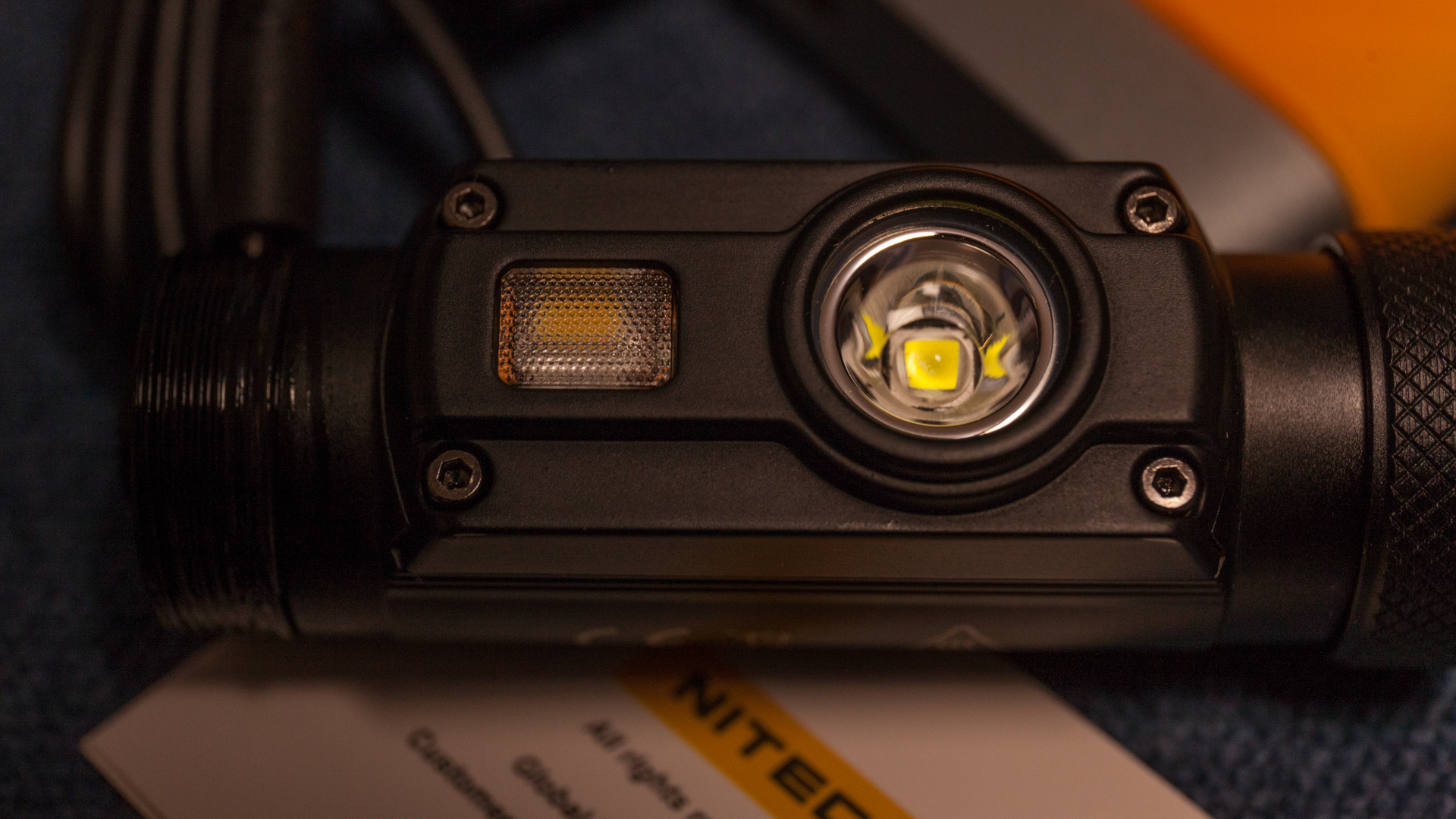 But…there are some people who want more throw from headlamp and in reality they have no choice. So, may be Nitecore HC65 will a decent pick for them? Lets read review.
We have good olde* XM-L2 (5300K* – result of measurements from another review, not bad Ks)
I`d compare HC65 with H03, but`ve already sold all of them, so all I can is to compare with S2+, though they are not really relevant to be compared.
Of course SMO result in the light distribution, which is not that comfortable for close range needs. But from 3-5 m it gets dissolved enough to be quite comfortable (of course, less comparing to OP \ TIR). And once there is HiCRI auxiliary light, that inconvenience is partly compensated.
1000lums is kinda standart of turbo for EDC nowadays. But for headlamp size that is a hard level to keep the brightness stabilized. And Hc65 handles this problem, there is a good timing in turbo before stepdown, and when fan cooling turbo lasts almost forever. And there is no crazy "sawtooth" which may ruin potentially good product. I consider stabilization of this headlamp to be surprisingly good. The only thing that I may only guess about is strange jump of brightness at the end of runtime line.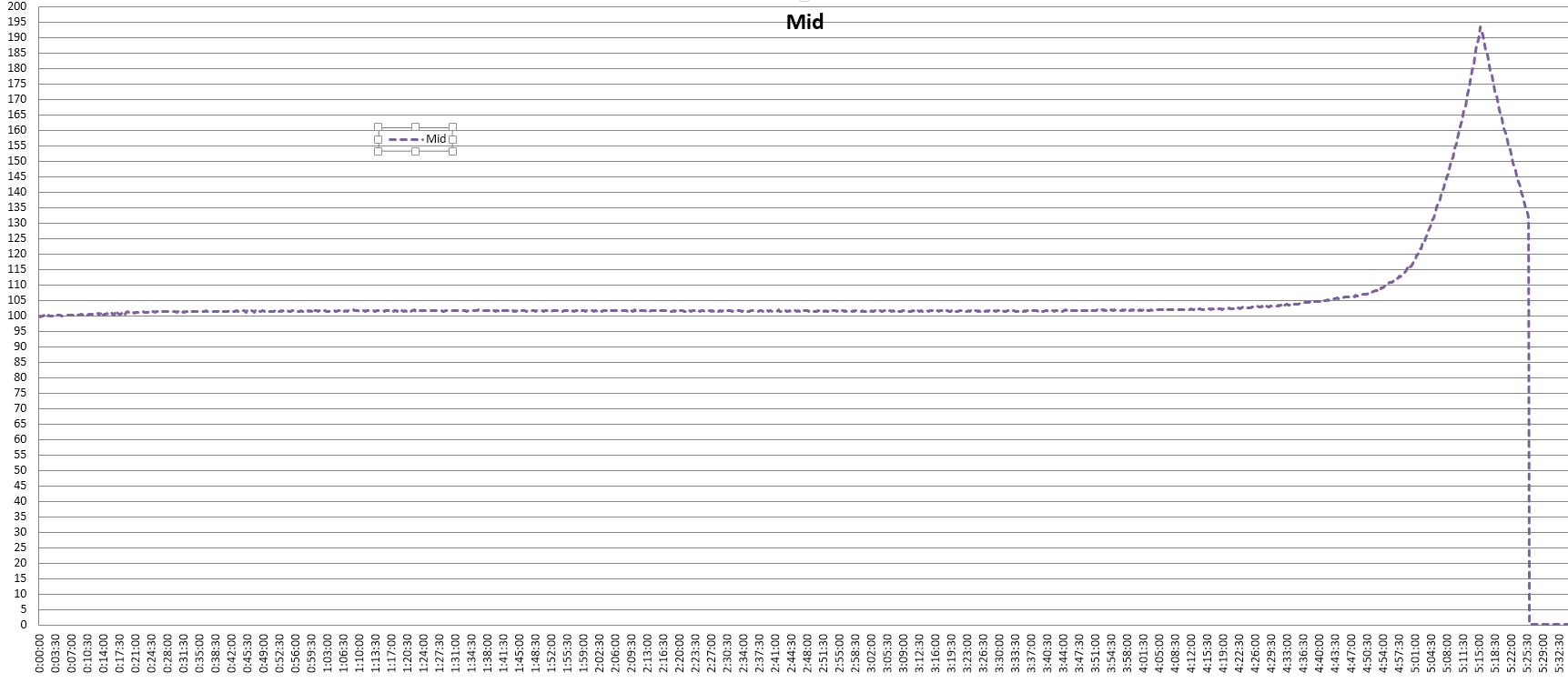 Mode spacing is good, but i`d add one more level to HiCRI and Red modes. Something about 1 lumen would be a nice addition.
1000 lumens in such reflector produces beam that may be not really throwy, comparing to full-scale flashlight, but still batter then other headlamps can show you. In high-turbo you can definitely work at the range of 50m outdoor and even more indoor.
Auxilary light is bright for indoor use
. Nice tint and light distribution, exactly what you need at 1 meter range. Red light is really bright like in all Nitecore products.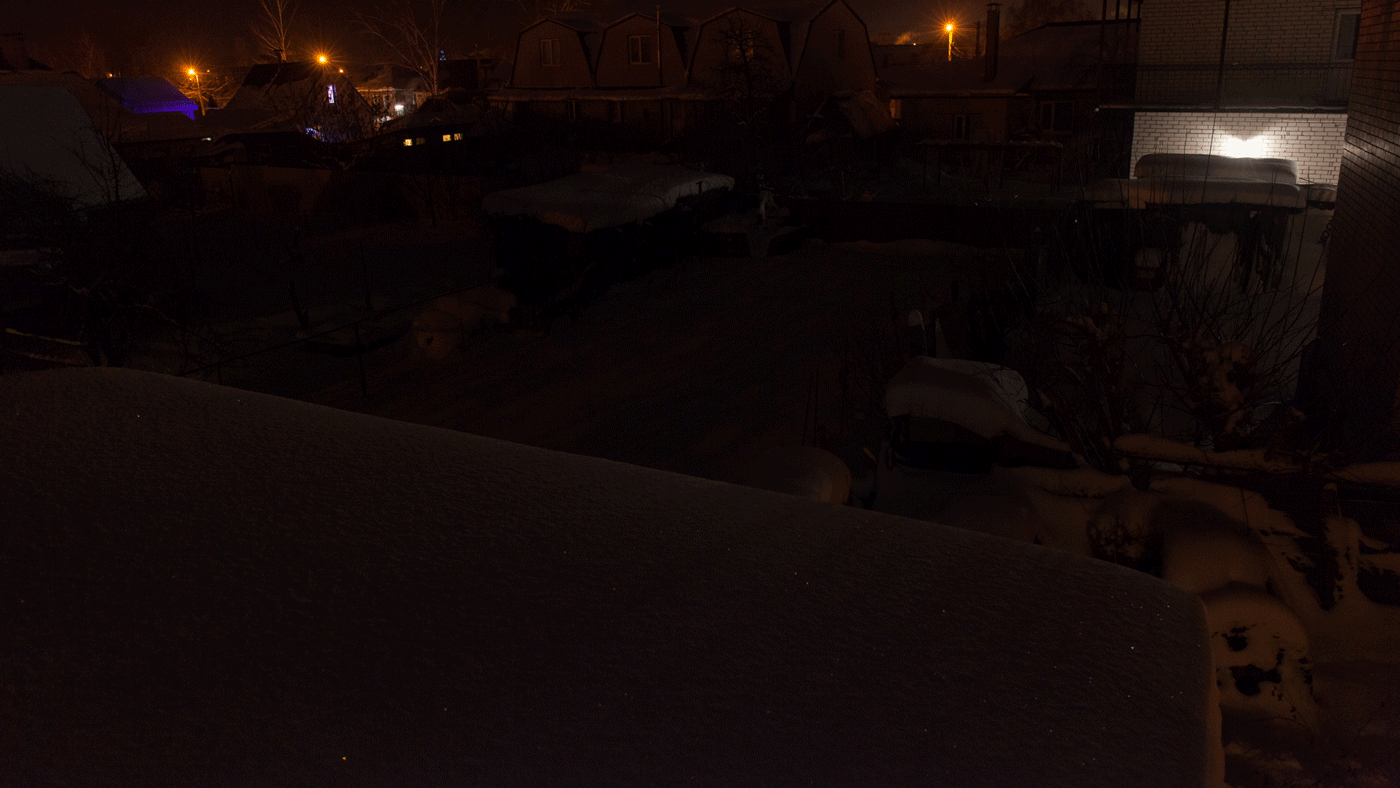 Charge amperage is low
, just 0.5A.
There is a live example of HC65 in different modes at the end of video review:

Overall.
That is a specific, yet universal thing. I like it:
But – Charge amperage
- no support of flat-top batteries
– construction with board bent out of shape - just one brightness for HiCRI and red light.
I like
+ good throw for headlamp.
+ construction
+ stabilization and thermal regulation
+ mode set.
+ price
+ UI
+ voltage indication
+ auxilary light -> universality