I recently bought a Xanes 1102 I2 from Banggood for the very cheap price of just £5.06 shipped from China, at first they emailed to say it was out of stock, 2 days later it was in stock again and shipped – that was the 10th January. Arrived on my doorstep just now….. 8 days!! That was just with regular shipping, no insurance. That is a record, I have never had anything from China that quickly. Well done Banggood/postal system!
I wasn't expecting a great deal for £5.06, who would? well, to say I'm impressed away is an understatement! No it's not a premium flashlight and it's not going to set any output records, but for £5… wow, just wow!
I am not qualified by BLF standards to do a massive long in depth review – I just don't know enough, but I do however have a few good lights to compare it to output and beam profile wise. The led is well, L2 LED whatever that is. To my eye it's smaller than an XML which my other lights have. Does it really matter if it's not a cree etc at this price point so long as it works well? Not really.
The light itself feels very solid and well made, it's cast with no machining (wouldn't expect there to be) and you will either like it's appearance or not. There are a few sharpish bits on the tailcap where the grippy bits are, but sharp is an overstatement really it's not going to cut you or anything like that, just not nice and smooth. The rest of the light feels fine. The anodising seems to be thick and fairly good quality.
This light has an illuminated side E switch which some may like, others not. This illuminates green when on, red when battery is low, red flashing when charging. I am not really fussy either way but I do find this sort of setup easier to use when in the hand, because the switch is naturally under your thumb – it's just easier to change modes. The E switch will though limit any modding options should you wish to do so. It also has USB charging built in which is a bonus, but again not something I'm qualified to test, other than it does work! as to whether it's any good – no idea!
The light has 5 modes, Strobe / Slow Flash / High / Mid / Low – personally I can do without the first two, and I'd rather it was just 3 mode but that just me.
Surprisingly it came supplied with a clip on lanyard, and a micro USB charge cable – which if buying would easily cost over £1 (now the light is basically £4) . There are a few negatives obviously, but not many and the only thing I'd really pick it up on is the threads. They weren't lubed, but nothing new there – but they are not the best cut and I'm thinking without care they could easily get crossed so care has to be taken when screwing it together, no forcing. The other thing that isn't the best is the micro USB rubber cover (I hate them anyway) but this one is worse than others I have, it doesn't stay in all that well due to a couple of things, firstly it's a bit soft and secondly it's located opposite the E switch and has a little tag on it to pull it out which is a bit stuck out and catches easily, also it's the same size/shape as the E switch which if you aren't looking can get them mixed up – as soon as you move it in your hand it seems to catch that rubber cap and pull it out. Maybe it's just my big hands!
Next on to the beam (where it erases those few bad points above). Although it's not night yet I believe it's going to throw quite nicely as it has a really quite good hotspot on my wall. The tint is fairly cool, but not offensively so, and seems to be actually quite powerful (to my eye) compared to the other lights of this form factor I have. It's not as powerful as the XML's I have in the BLF D80 or my BLF X6 SE, but then it's not going to be – these were BLF specials with genuine Cree led's.
The hotspot size/shape is almost identical to the BLF D80 whereas the hotspot on the X6 is less defined. I hadn't used the D80 for a long time, and it's just dawned on me I don't really like the tint, it's too warm for my liking. I suppose I've been spoiled/got used to the Nichia's in my S41.
On stripping it down a bit I saw nothing holding the LED down apart from the reflector, no thermal paste or anything like that which will be the first thing I remedy along with replacing the wire, though I doubt there will be any massive benefits. I couldn't pop off the centering ring to get a better look at the led, it didn't want to come off easily so I left it on in case I broke it. The reflector is aluminium and is flawless so far as I can see, no imperfections. To be honest I was expecting it to be plastic.
There is a ton of room inside this, with only the E switch rubber boot protruding into it when taken apart.
The tailcap has a regular spring you'd see in most E switch lights, I'm not sure there is anything you would need to change or upgrade there either.
I may at some point do a little light modding on this, maybe whack a cree led in there and see what happens – but it is what it is really, a cheap light that performs admirably for the price – this will be good enough for your average Joe who doesn't want anything too expensive or too technical, it pumps out plenty of light for most uses.
You could easily 'go to town' trying to modding this, both the driver and the led are held in with threaded rings and are easy to remove. The question would be, since the E switch and USB are attached to the board, what could you replace it with without a lot of fiddling…… probably nothing. It is probable some of you guys who are good at modding drivers/adding/removing resistors to get more out of it, but that is out of my league sadly.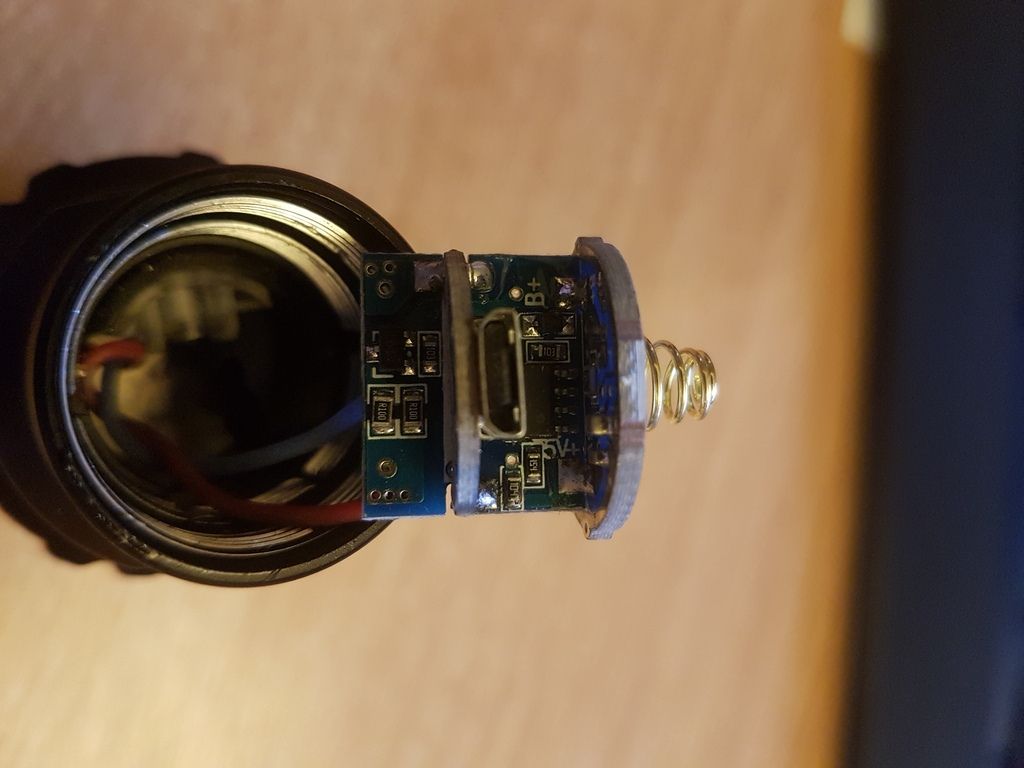 I would definitely recommend this as a cheap beater or a cheap present for someone who isn't flashlight obsessed like us – it is nothing short of a real bargain.
I'll be adding some more photo's later on. I hope this review wasn't too bad lol, the first one I've really done half properly!