Cabletime Dual QC car charger QK505


Official specifications:


Input: 12-24V/3.5A

MAX



Output QK2: 5V/2.4A

Output Smart7: 4-12V/3.6A

MAX

;

Protocols: Huwwei

FCP

/SCP, QC2.0/QC3.0,

AFC

/SFCP

I got it from Aliexpress dealer: Lancom cable Store
I got it in a small cardboard box inside a plastic bag.
The box contained the charger and a note.
Measurements
QK2 usb output support Apple 1A, Samsung,

DCP



Smart7 output support Apple 2.4A, Samsung,

DCP

, QC3, Samsung-

AFC

, Huawei-

FCP

, Huawei-

SCP



Current consumption when idle is 14mA

There is led behind the usb connectors and a translucent ring on the charger.

Weight: 34.1g

Length: 64mm

Diameter: 32mm

This output is rated for 2.4A output current, but delivers significantly more at 3.4A.
With 24V input the output current is slightly smaller.
The QC output can deliver 3.8A, this matches the 3.6A rating.
At 9V it can "only" deliver about 3A, before output voltage drops.
And at 12V it is limited to 2.2A, this is more than enough for a QC output.
Using 24V input reduced the maximum output current to 1.8A for 12V.
With 2A load current it can maintain 12V output down to about 13V and will drop out of QC mode at 11V.
With 2A load current it can maintain 5V down to 5V.
Idle current consumption varies a bit with voltage, but not much.
For load test I uses 12V 1.4A and 5V 2.4A, the charger had no problem running one hour with that.
The temperature photos below are taken between 30 minutes and 60 minutes into the one hour test.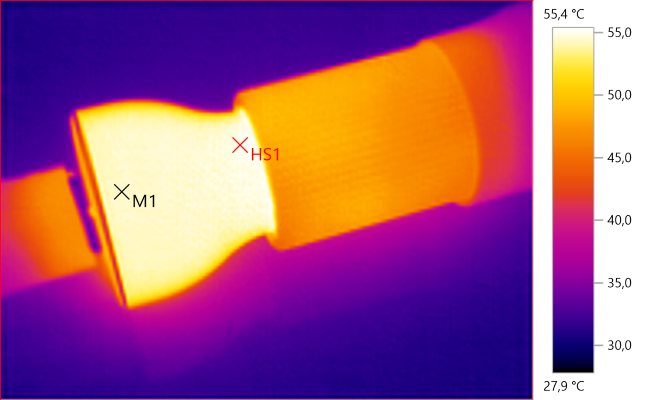 M1: 54.4°C, HS1: 55.4°C
Being a all metal body (except front) the temperature is nearly the same all over the charger, it gives a nice cooling for it.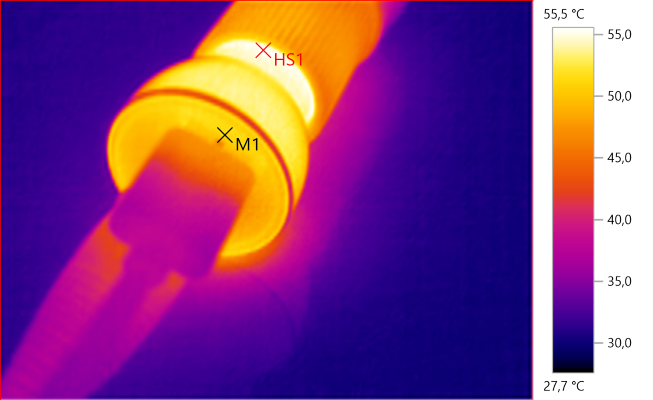 M1: 51.2°C, HS1: 55.5°C
Noise at 0.5A output is 15mV rms and 104mVpp

Noise at 1A output is 17mV rms and 110mVpp
Noise at 2.5A output is 20mV rms and 116mVpp
Noise at 0.5A on the QC output is 24mV rms and 157mVpp
Noise at 2.5A on the QC output is 31mV rms and 161mVpp
Noise at 1.2A on the QC output is 23mV rms and 142mVpp, all low noise values.
Tear down
No cutting or breaking this time, I could screw the tail off and the push the circuit board out the front.

There is a white heat transfer piece on top of one of the IC's.

At the input is a green fuse (F1). Next is the 5V switcher (
LINTOP
LT6005C), followed by the QC switcher and controller (Injoinic IP6505).


On the other side of the circuit board are inductors for the two switchers and some capacitors.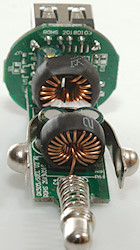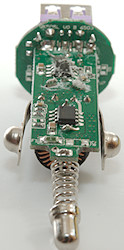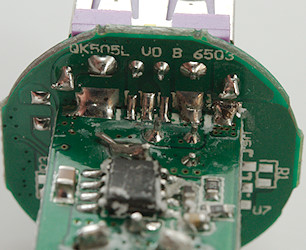 The last picture shows that both power and data connections from the QC usb is connected to the switcher circuit board.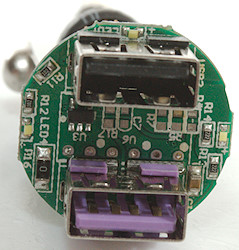 The four leds for the white light are here, the auto coding chip for the normal usb bort is also here (U3: Marked 2515)
Being a 12V device there is no need to test with high voltages.
Conclusion
The charger has one connector with support for many protocols including QC and one more simple connector, it has power enough to run both at full current, they are overload protection and with low noise. The metal body construction improves cooling.
I will call it a good charger.
Notes
Read more about how I test

USB

power supplies/charger