Here is BLF GT70 page at official Lumintor store
you can also buy Lumintop BLF GT70 at AMAZON | ALIEXPRESS | BANGGOOD
Here is my review of BLF GT in case you need to compare
SPECIFICATIONS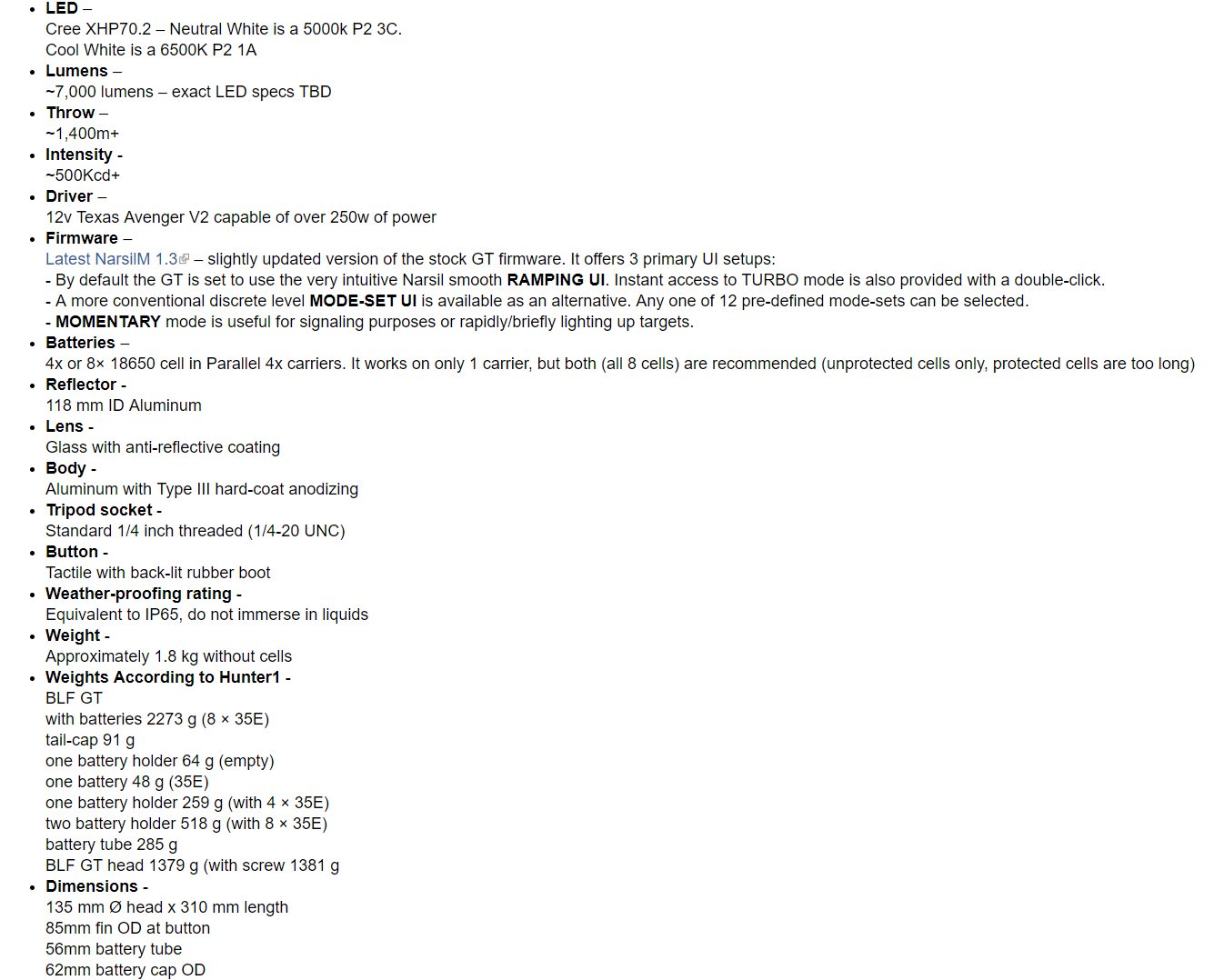 PACKAGE AND APPEARANCE.
Unfortunately, in my case, the box was totally wrapped into packing tape, see I got. But, as BLF GT has the same box, here is pic from my another review. The difference is just sticker with GT70 on it.
As you can see, there are design decorations there. But people, who buy this flashlight don't care about it, because everything here is about throw and brightness.
Flashlight travels in absolute safety. It is so huge, that head and body are package separately inside thick layers of foam rubber.
Review package includes:
BLF GT70 (head+ body + 2 battery housings)
8x Samsung 30Q.
Manual
2 o-rings (they are absent here on the photo as they arrived cut. I suppose this happened when box was opened for customs clearing).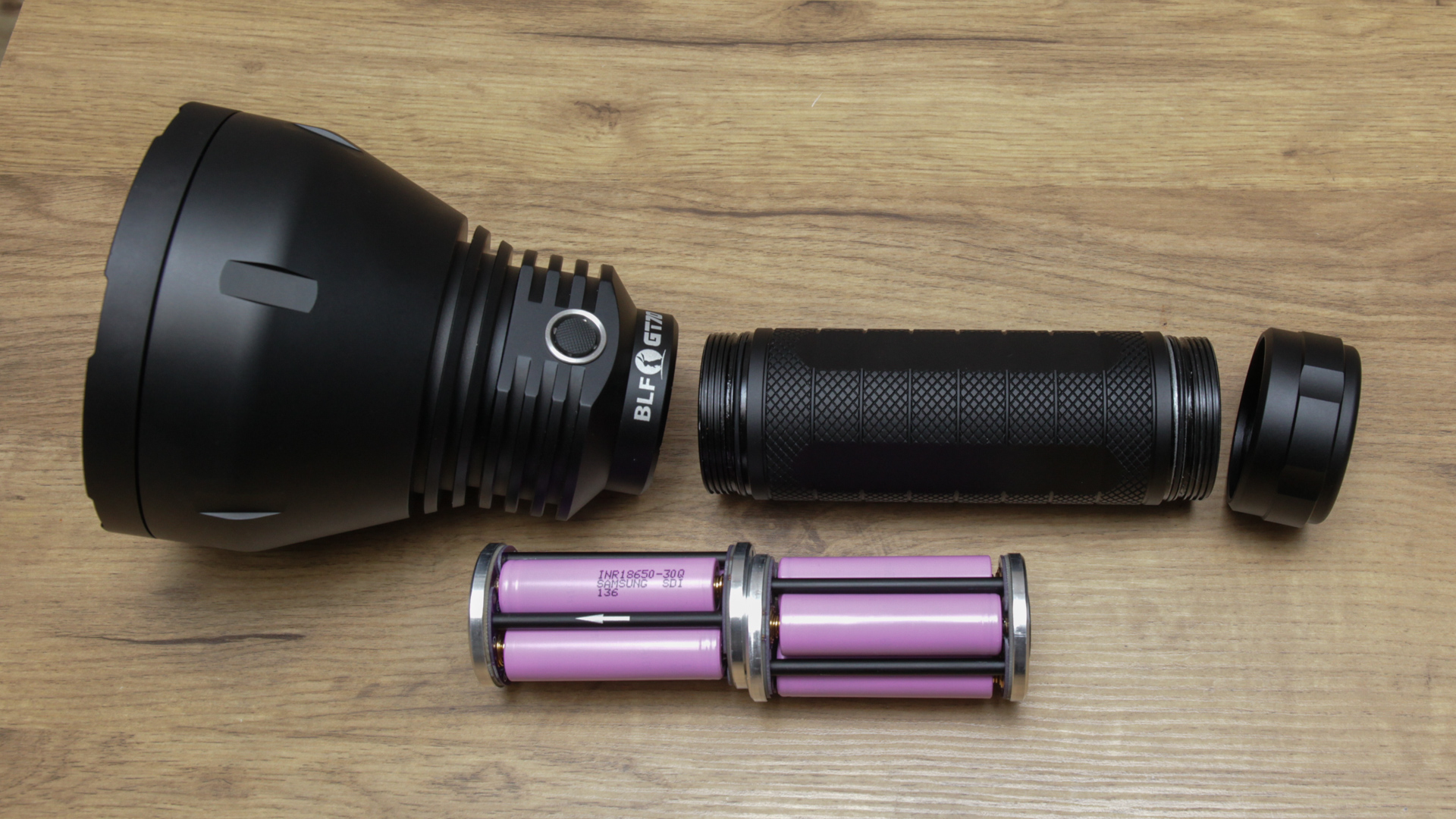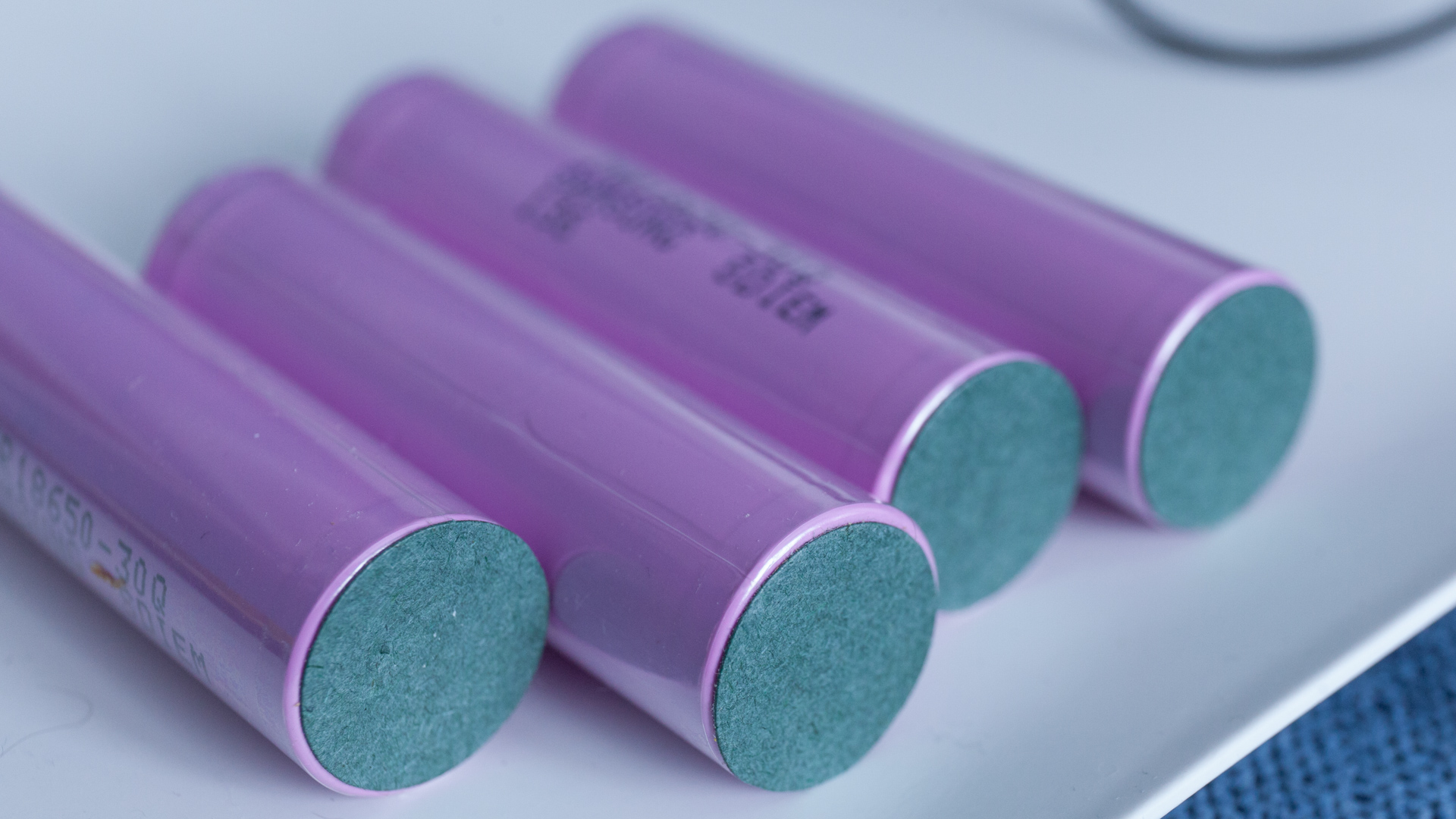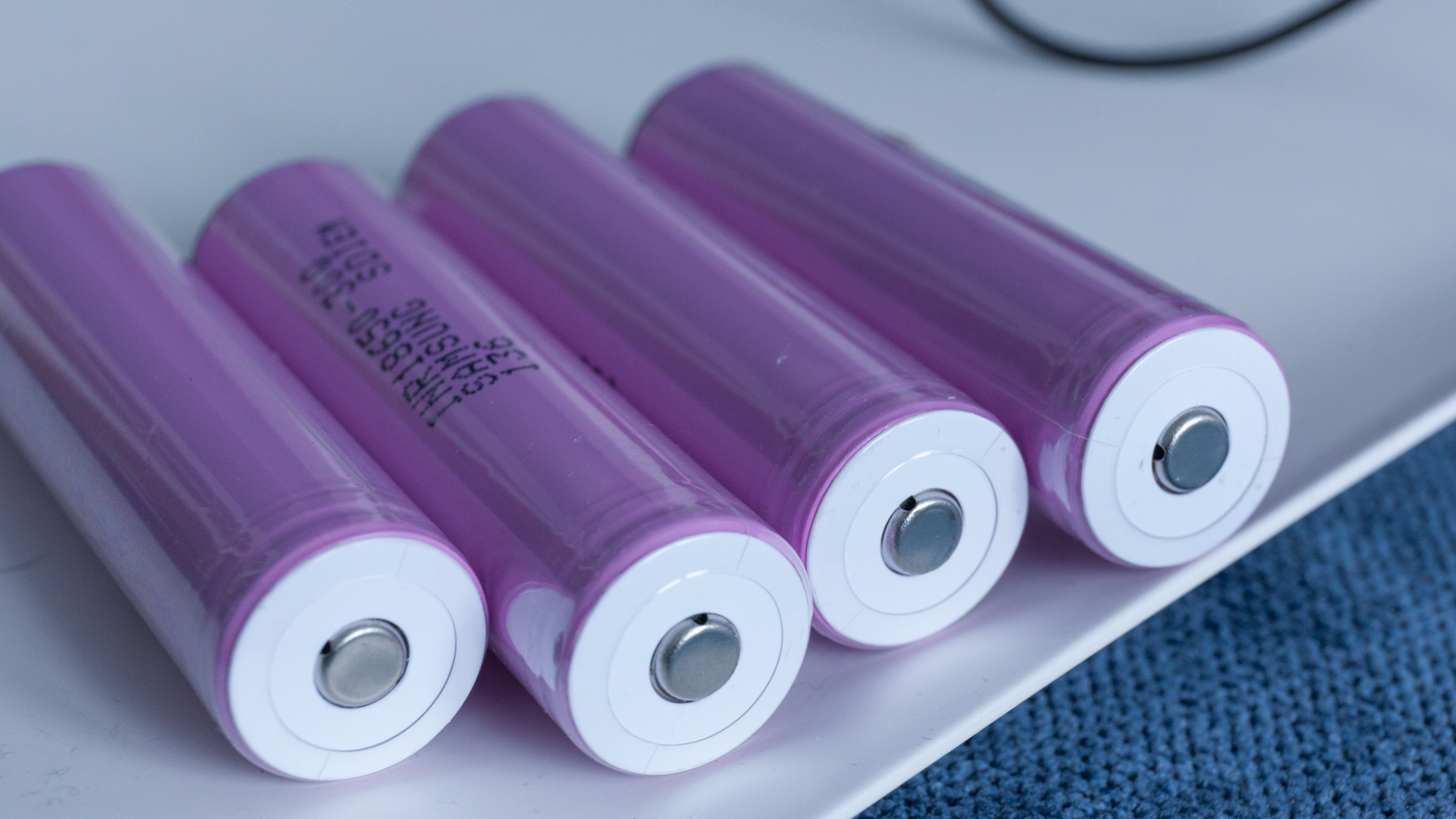 And here is review hero.Flashlight is giant. Currently, BLF GT (both versions) is the biggest flashlight on the market. At least I haven't heard about anything else that can be compared. Again, flashlight is monstrous. Just see this pic, there is nothing to add to it.
I also add some old pic with TN42 and Mk32, quite big 4×18650 longthrowers. Comparing with BLF GT they look like 16340 compact lights )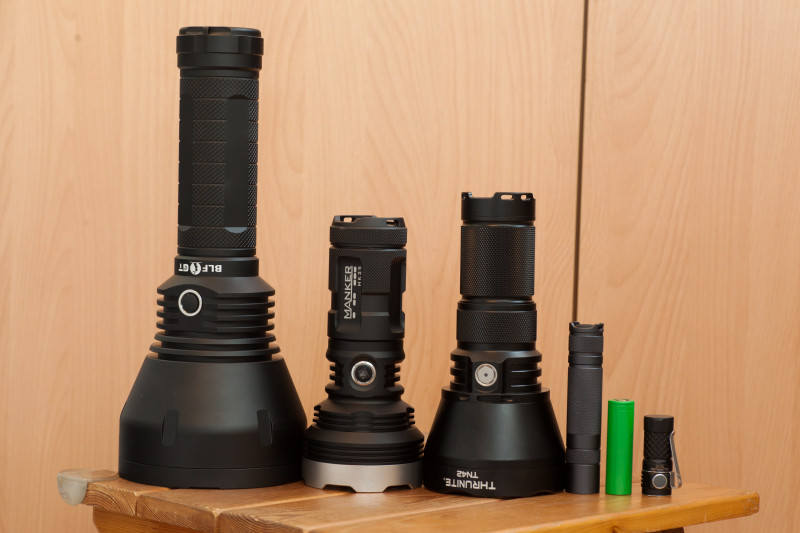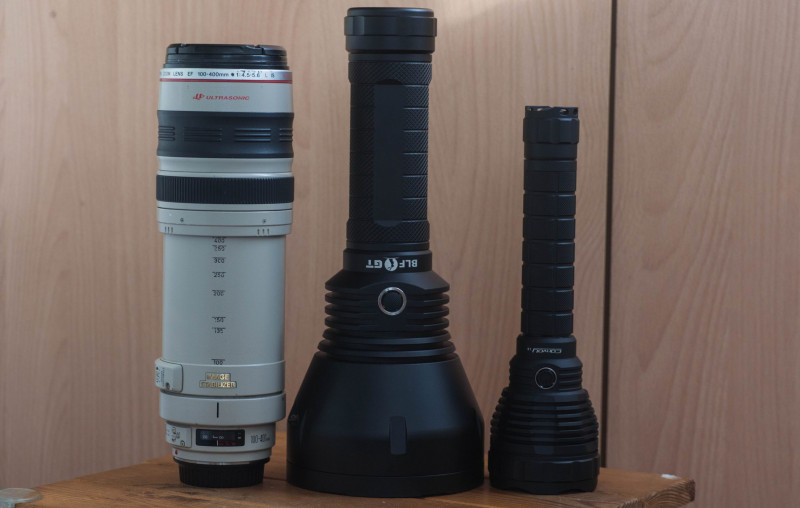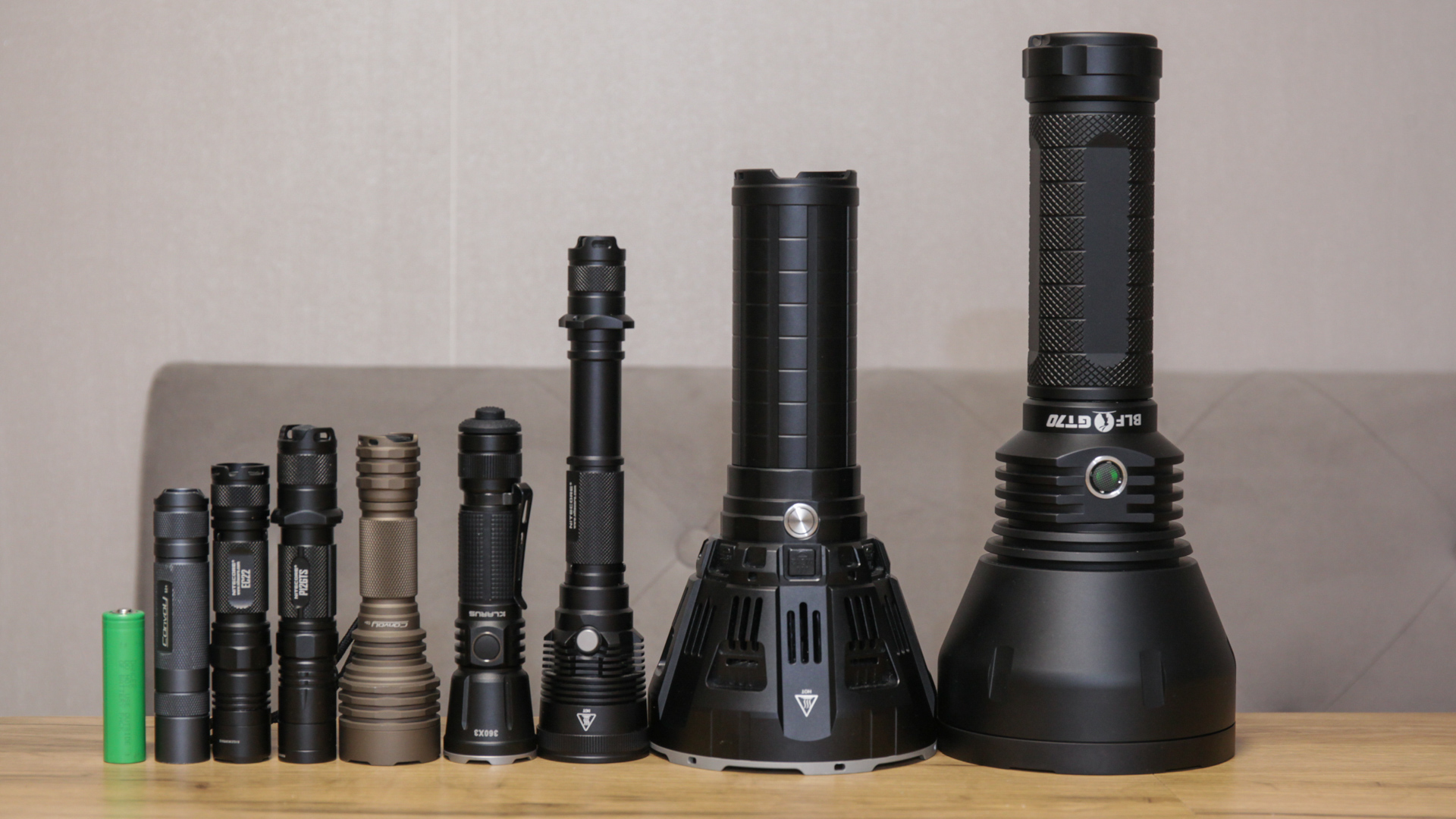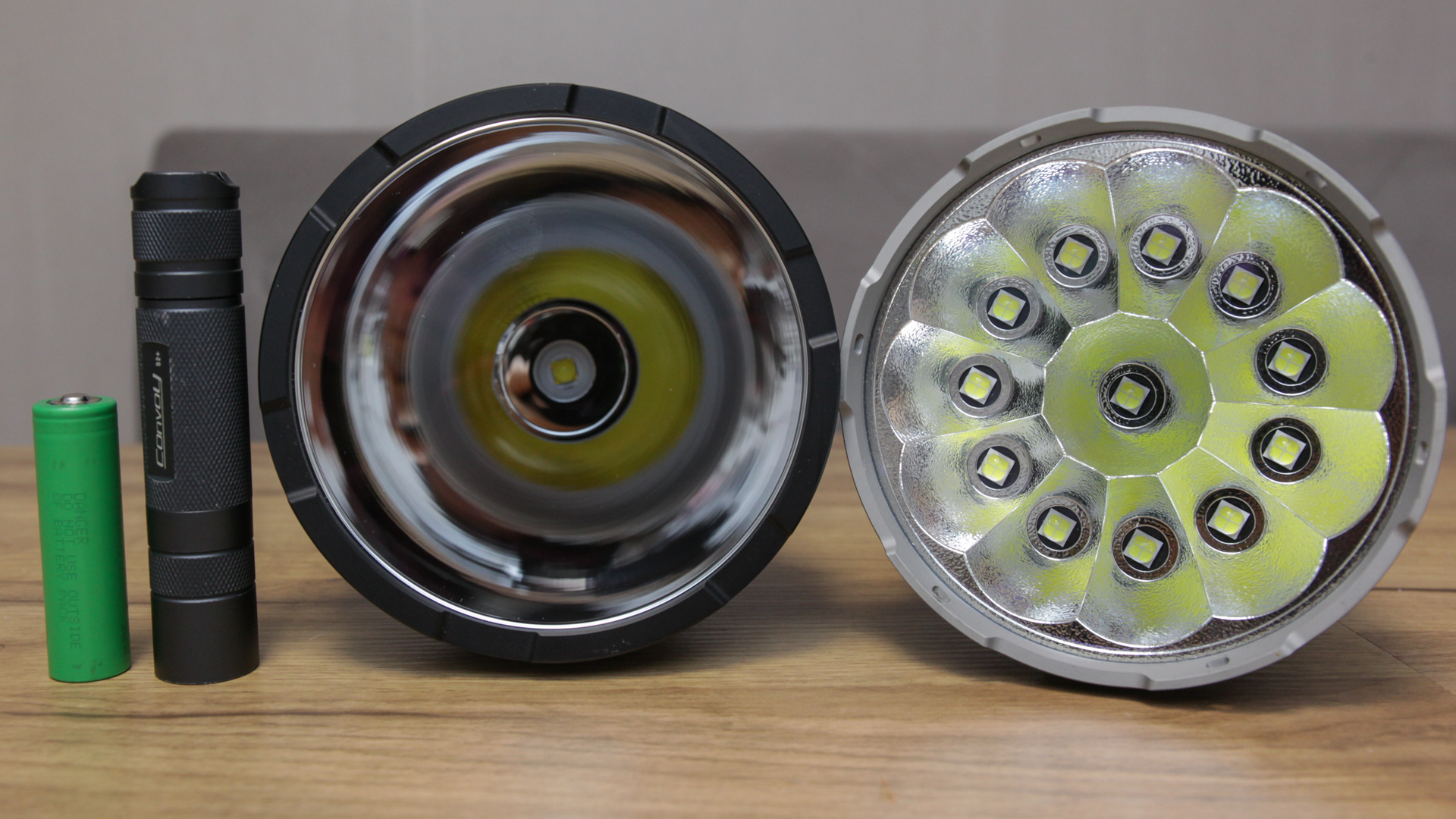 There is a groove with Lumintop logo in the center of tailcap. And there is a nice feature – movable ring around tail cap. You can attach shoulder strap to the lace of this ring and ring will always look upward.
And, once I mention shoulder strap here, this thing is a musthave unless you are a hulk-suzed guy. Even cheapest shoulder strap will let you use BLF GT70 with real comfort. Without it, you`ll feel all the 2.3 kg of flashlight weight after just some minutes.
Tailcap is a kinda cup-style, with no spring. The only thing here is a QR-code, leading to product page.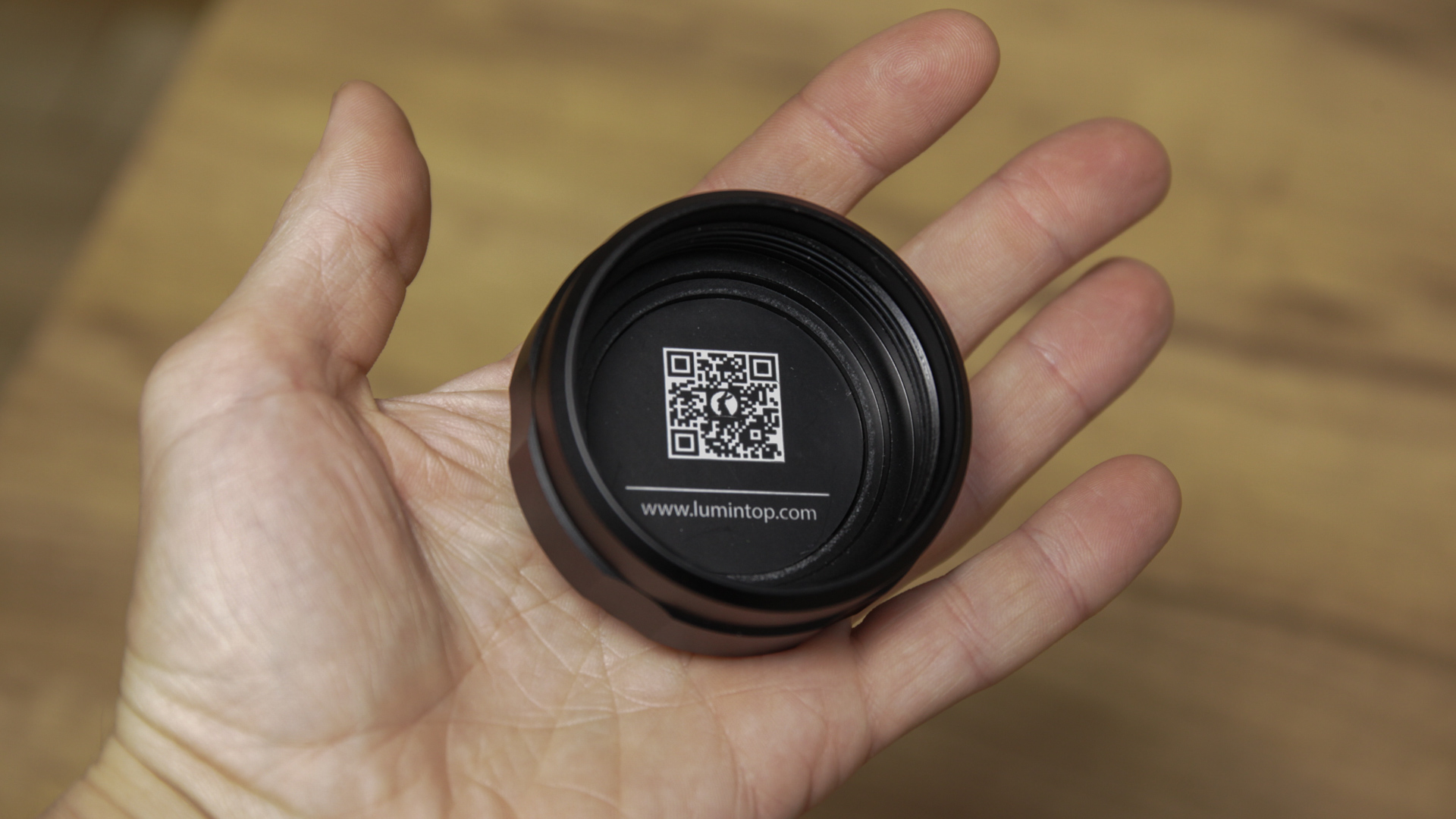 Threads at the size of tailcap is large , threads at the head is little bit smaller. So you cannot place mid part in either direction. Both the ends are perfectly lubricated.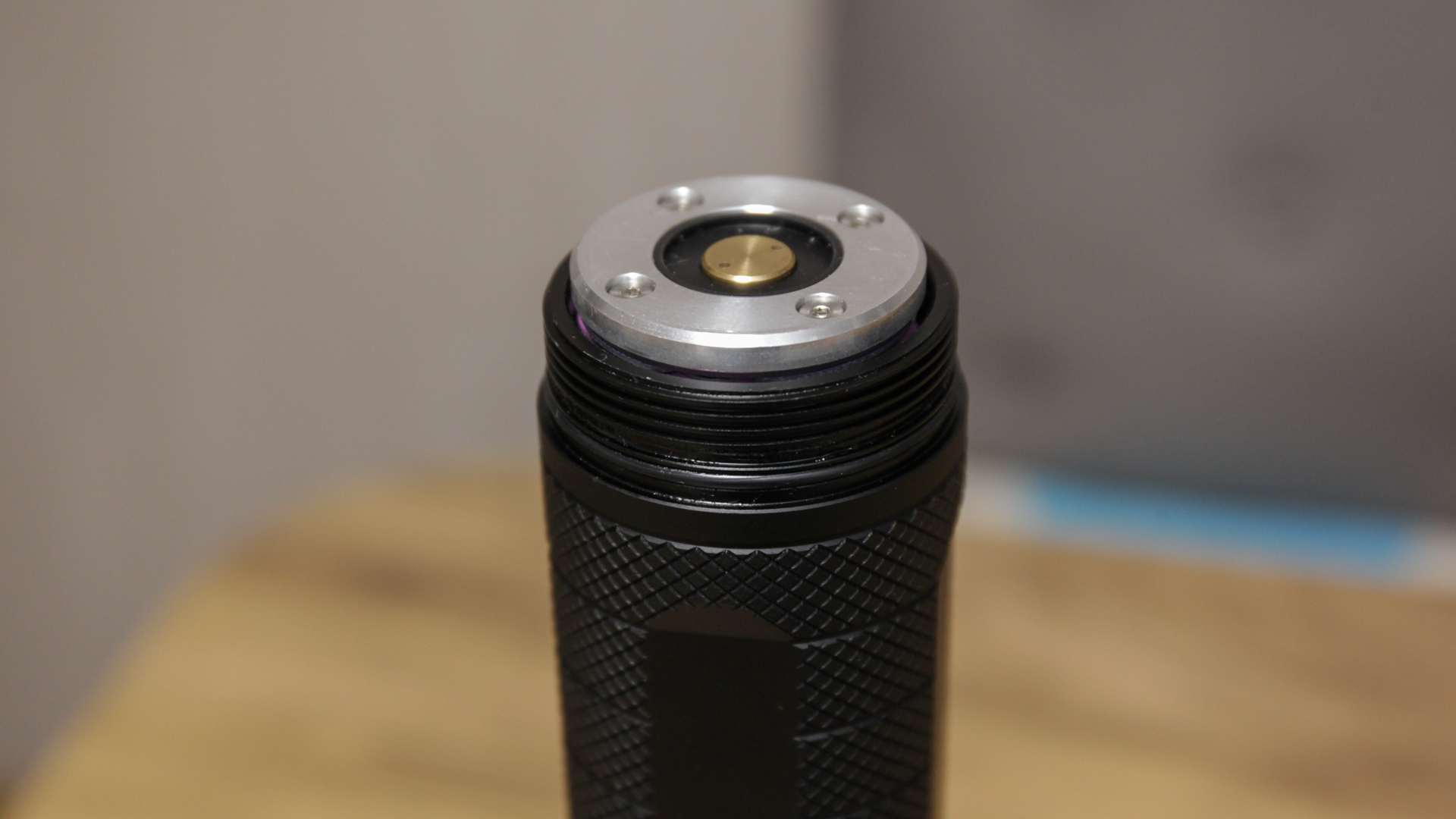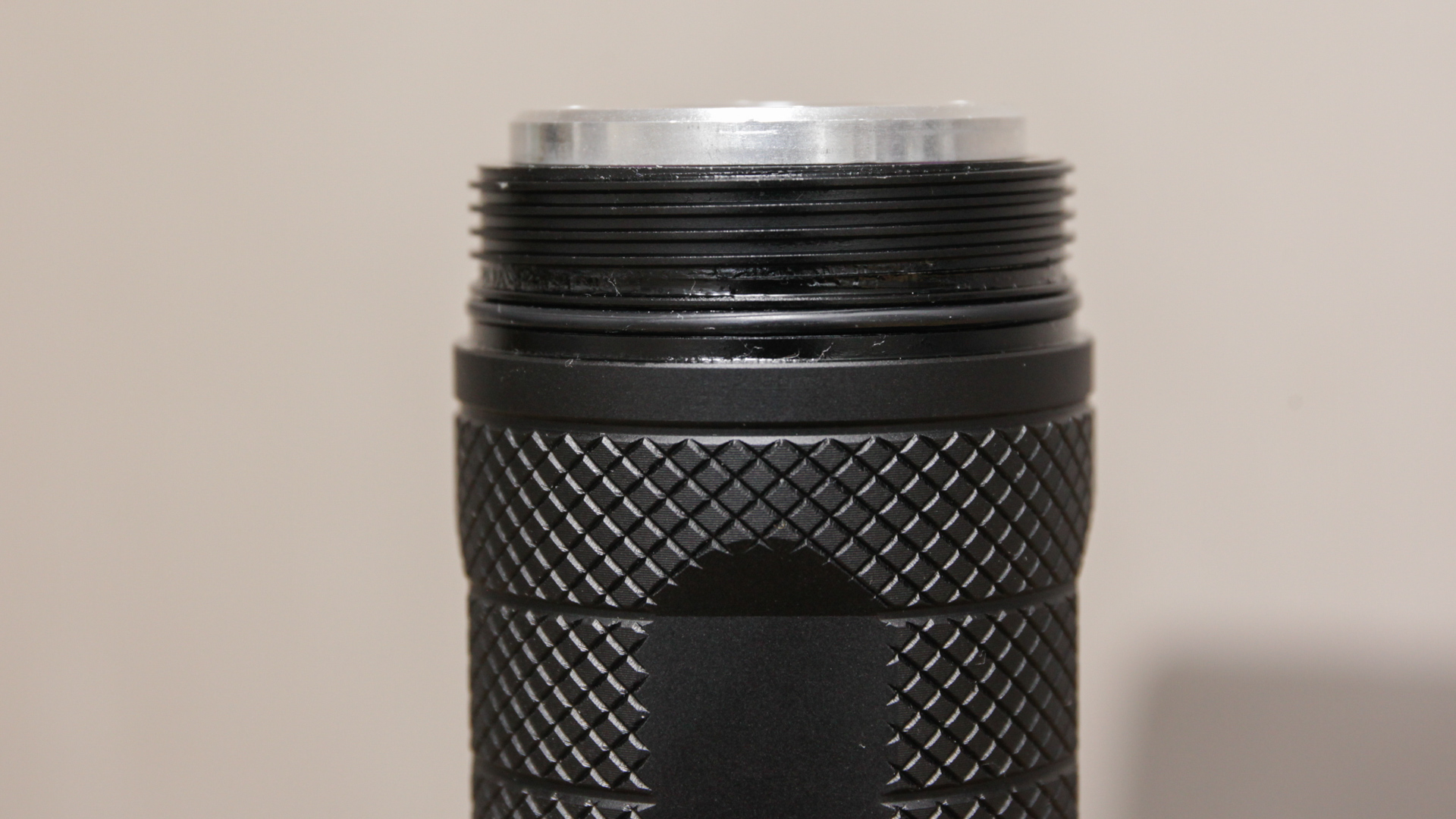 Flashlight uses 4 or 8 18650 batteries, 4S1P \ 4S2P. As I mentioned, if you buy "with battery" set, you get 30Q.
I hope that you clearly see that carriers support only button top batteries. And as that`s quite hard to find button-top high drain ones, it seems to be that buying full-set is a reasonable, especially as you have good discount code.
If you use only 4×186500 mode, it`s better to place them to the tailcap, because flashlight will be balanced better this way. Though, I must admit, that with 8×18650 balance is good as well.
This leads us to grip. That`s kinda controversial part. Technically grip is good, because this large knurling is grippy. And there are 4 "cheeks" around body, making it mixture of rectangular and round, that provide better grip.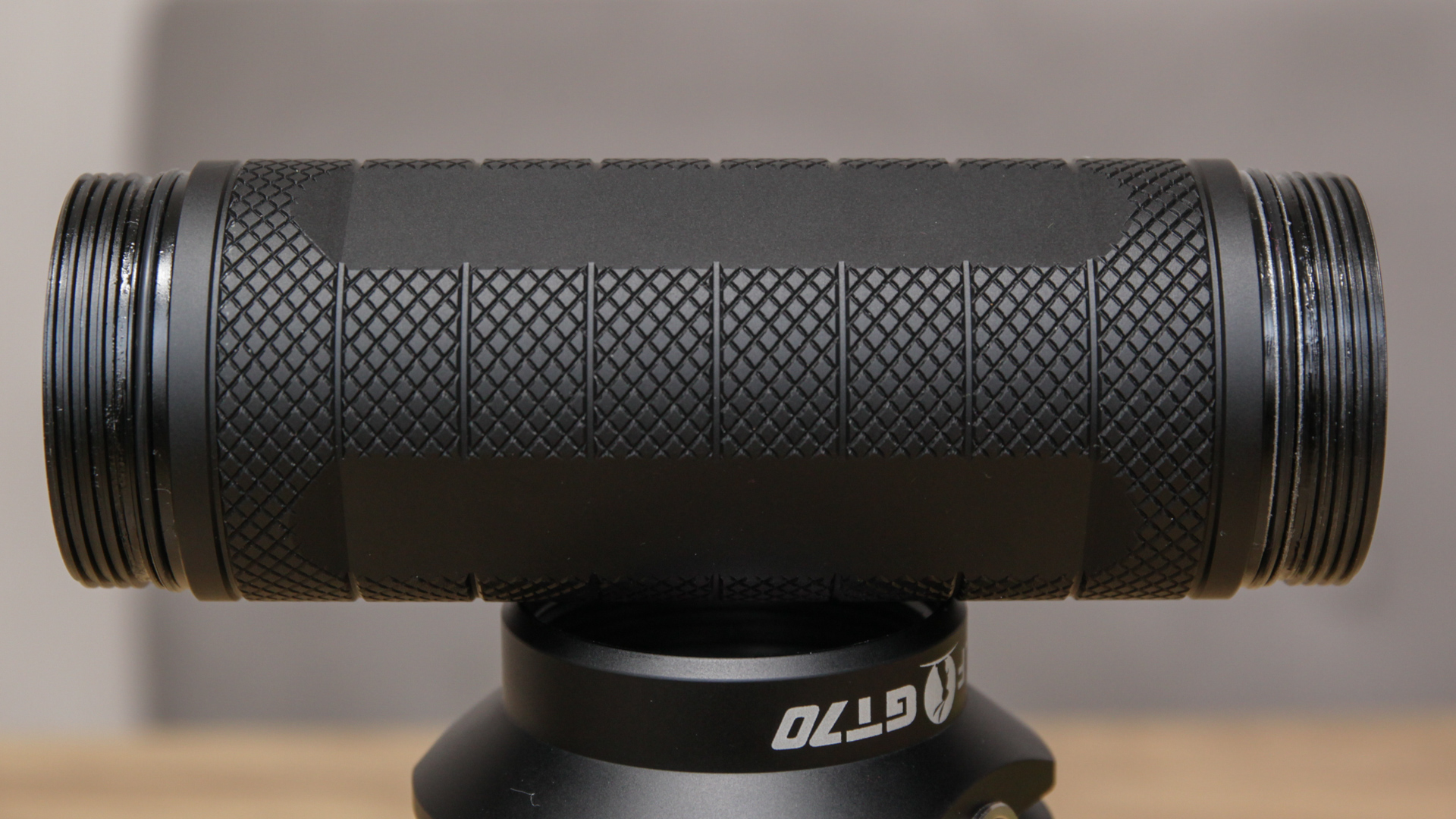 But, even so, you`ll feel like " no, no, please" after 4-5 minutes of use – weight and diameter will lead to it. That`s why, again, any kind of shoulder strap is what you really need If you plan to use BLF GT70.
Just see, how huge it is. I have ordinary size hand and it`s too small for this flashlight.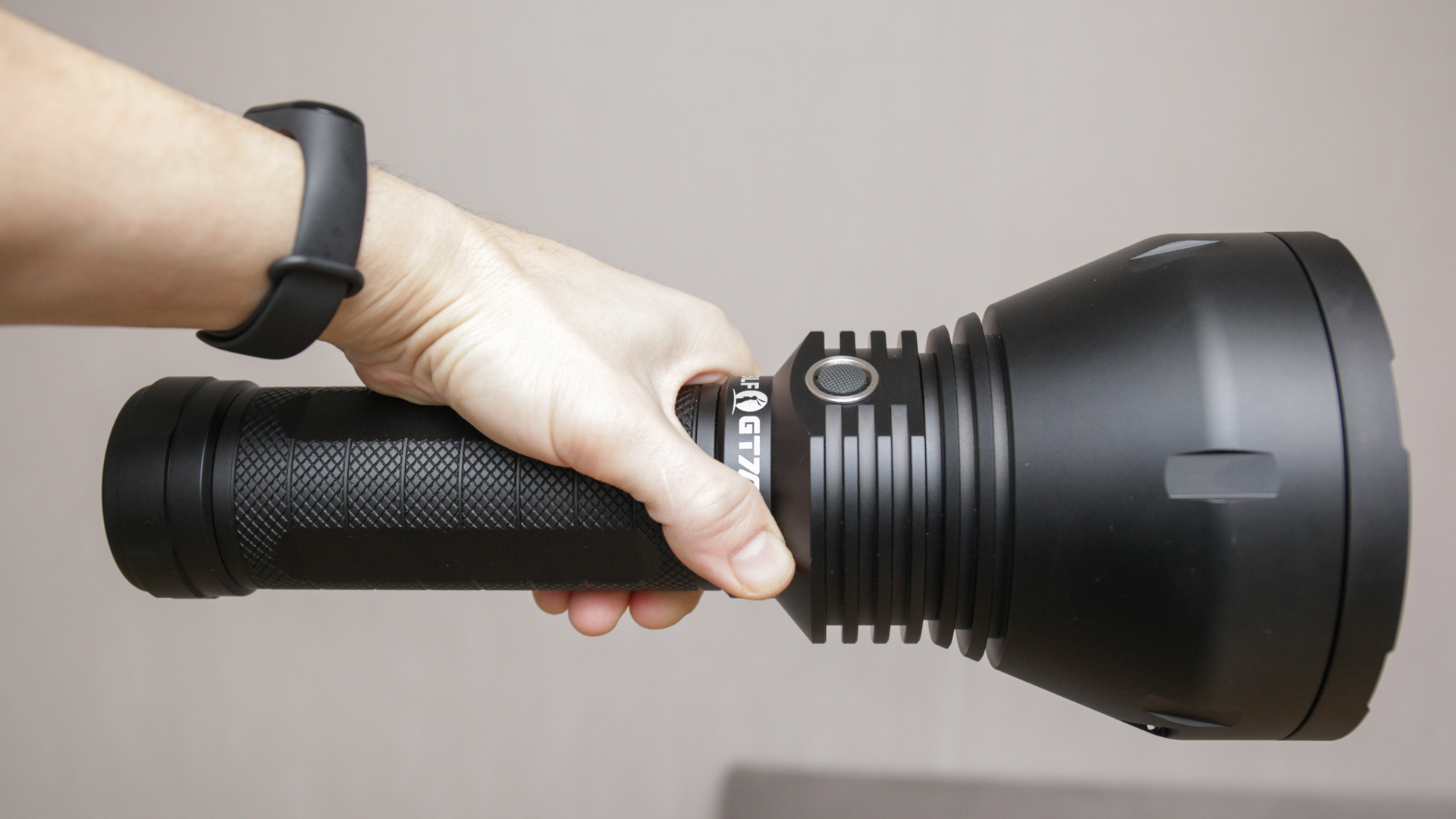 I`ve stolen this pic from some other user here (dont remember exactly who), DIY handle for this flashlight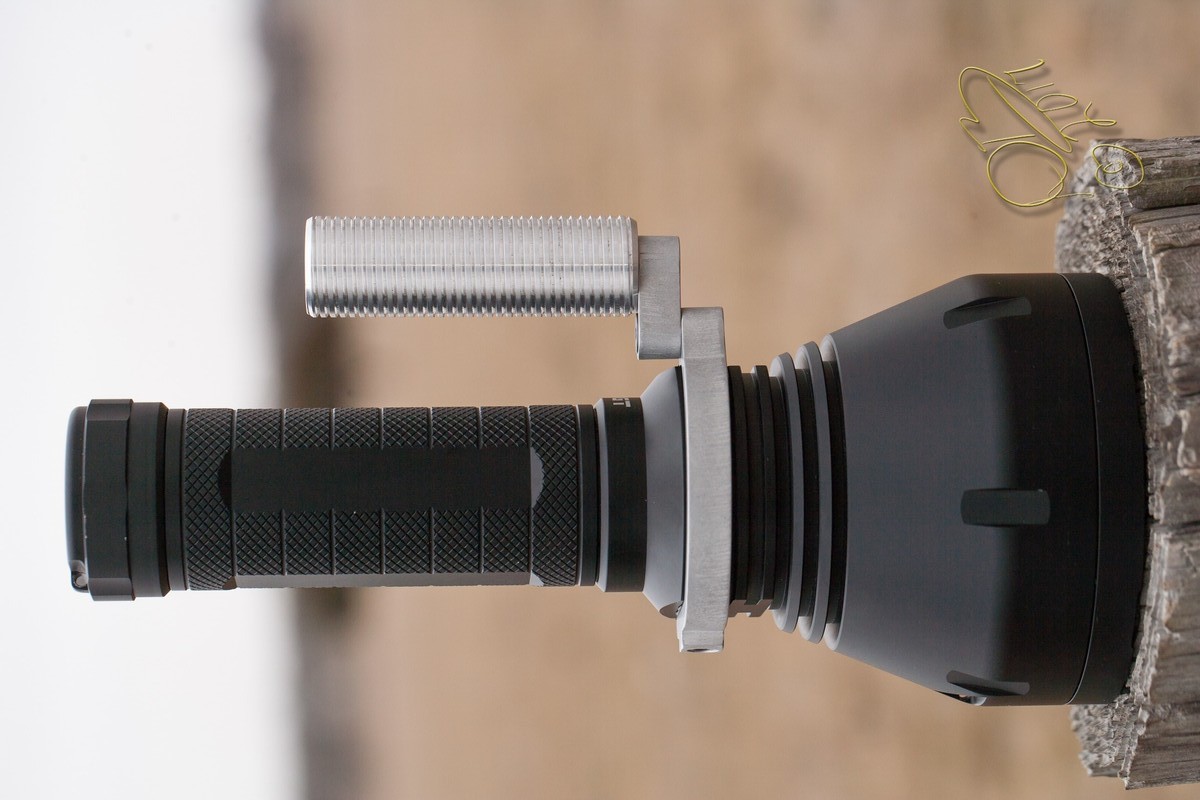 Button is soft, 17mm diameter, clicky. Green backlight helps you to find it easily. If it is not enough, button locates in the center of smooth part of body, that is no hard to find it with fingers, even with gloves on.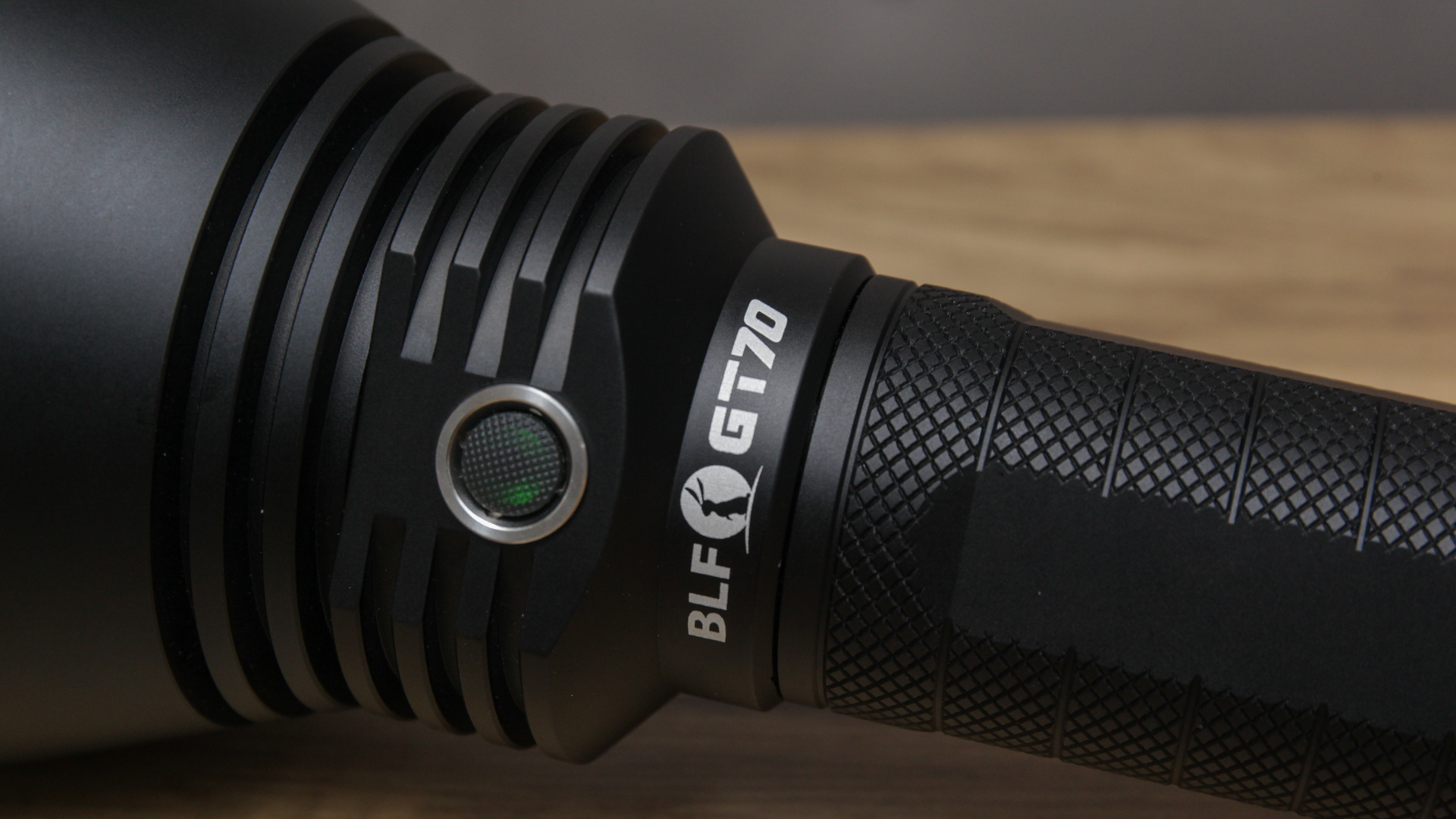 There is tripod mount at the opposide side of body. In situation when you need to illuminate distant object for a long time – that`s perfect. Fishing, is what comes to my mind at 1`st.
There is no spring at tailcap, neither at head. Instead, no surprise, there is contact plate at driver. BTW, user from US would be glad to see well-know picture of "lone star state", because Texas Ace, one of Giggle team of BLF was involved in designing driver. I have to give credits to the rest of team, but i couldnt find the list. if you have it – give me link, i`ll place their names here, guys deserve this.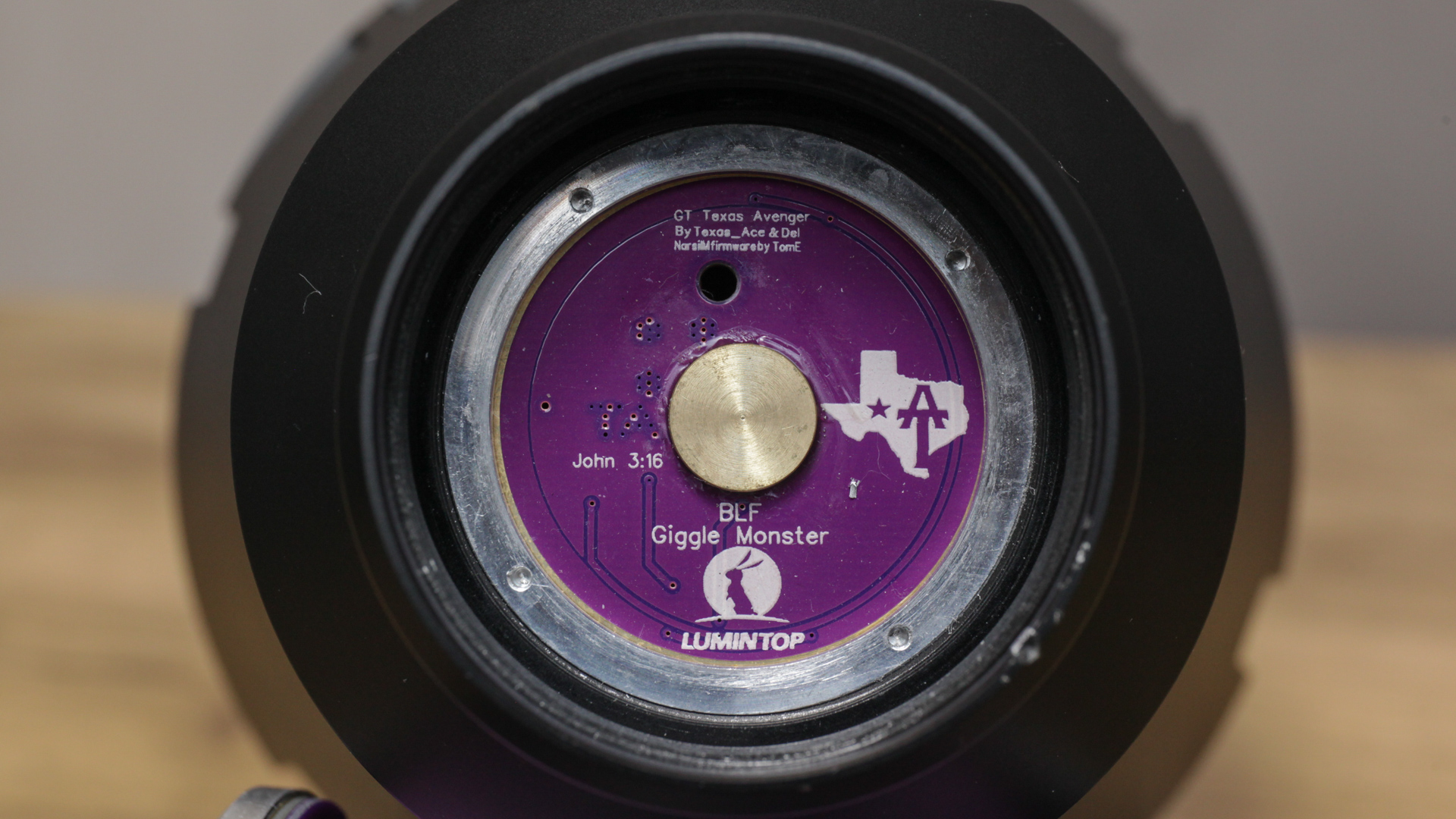 Unfortunately, my review example had a trace of hit, or drilling, i dont know. It doesn't affect on use, but that`s not good just because it looks ugly.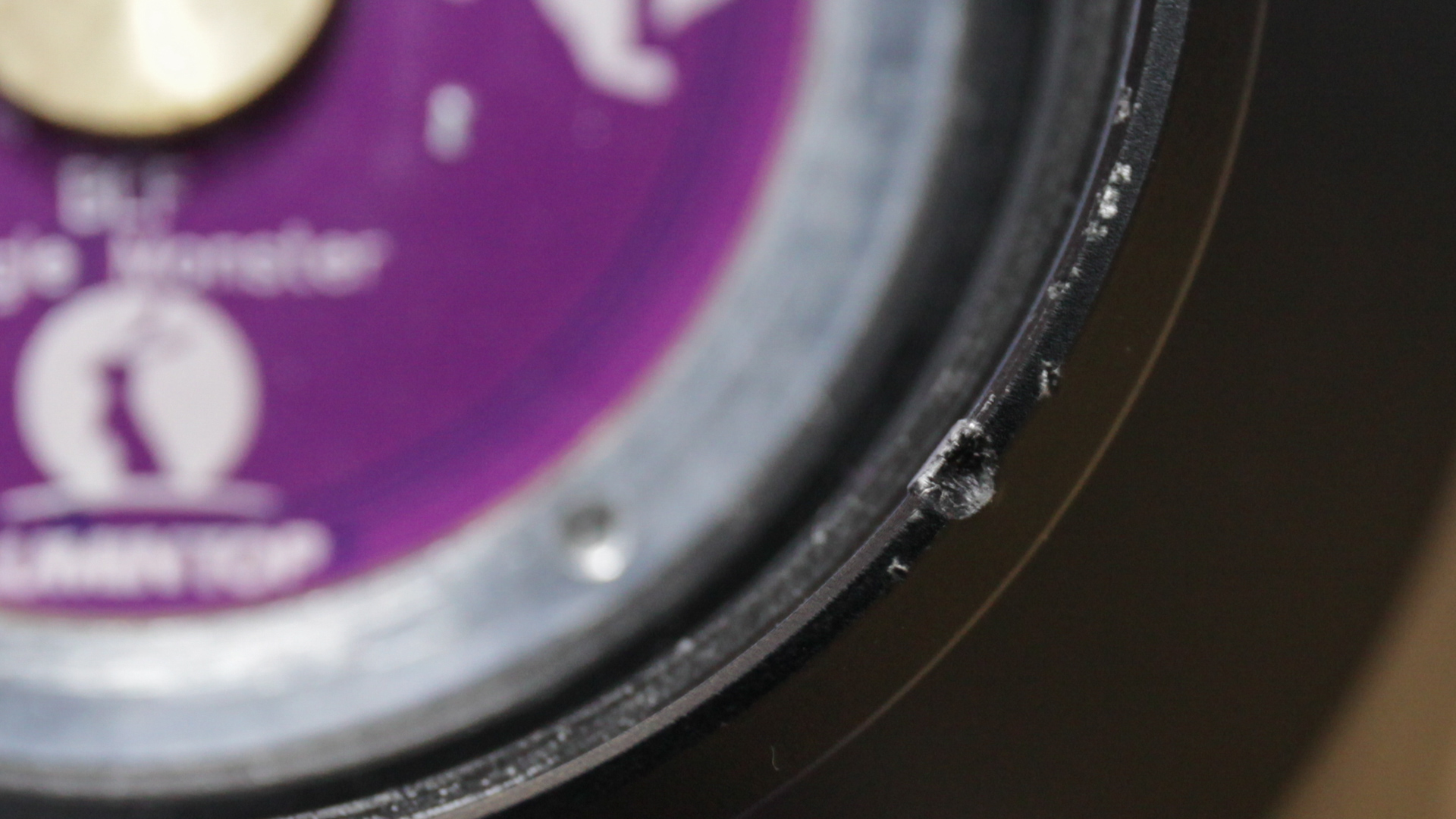 Cooling ribs are deep and numeral. Taking overall size into account, flashlight body should dissipate head with no problems at all.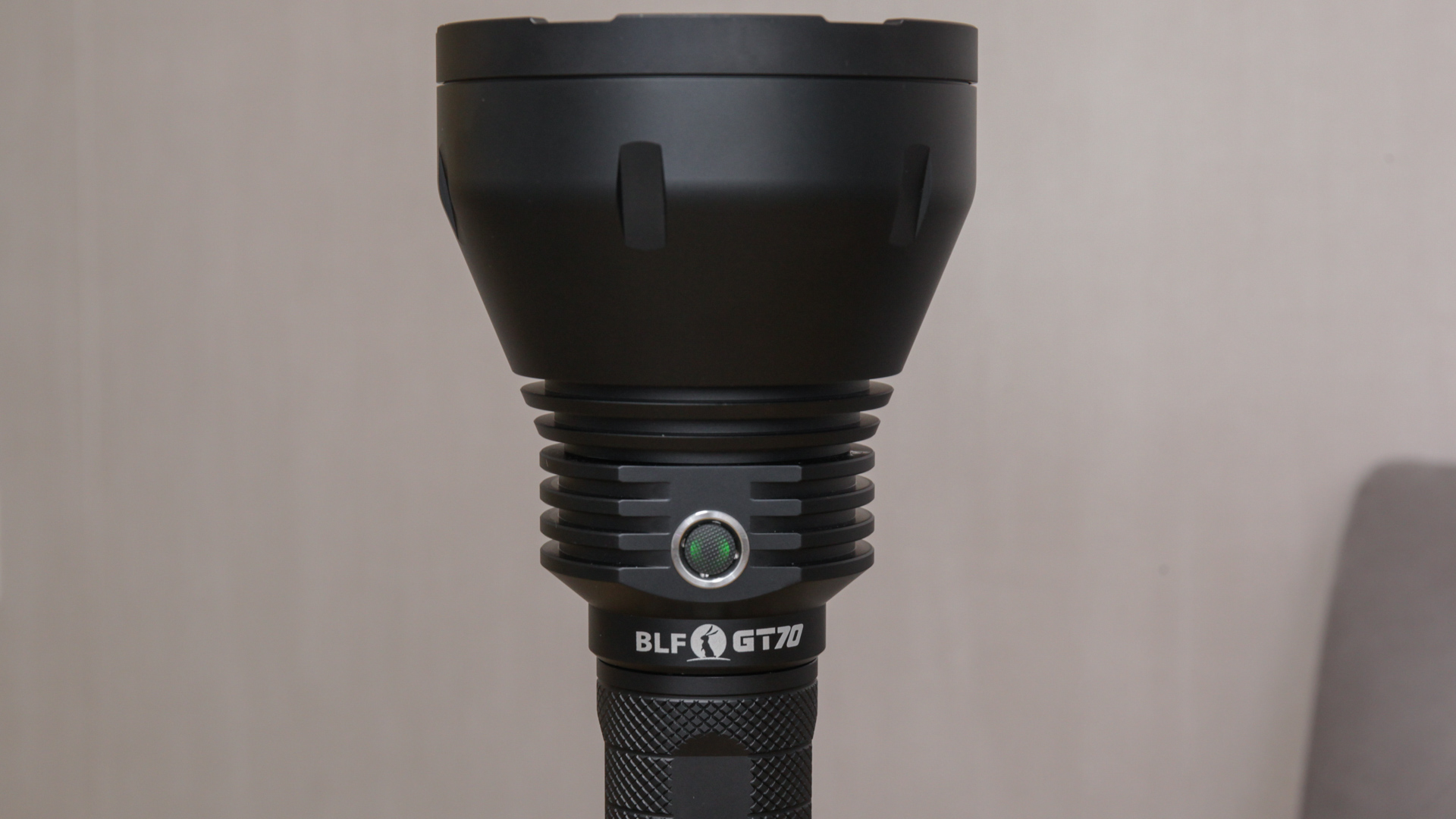 Bezel is almost flat, teeth here are long just enough to see if flashlight is turned on or off when it stays on head, reflector downward.
As with BLF GT, I couldn't disassemble bezel, it`s too large and is bolted too tight.
Inside – huge SMO reflector with XHP70.2 at the bottom.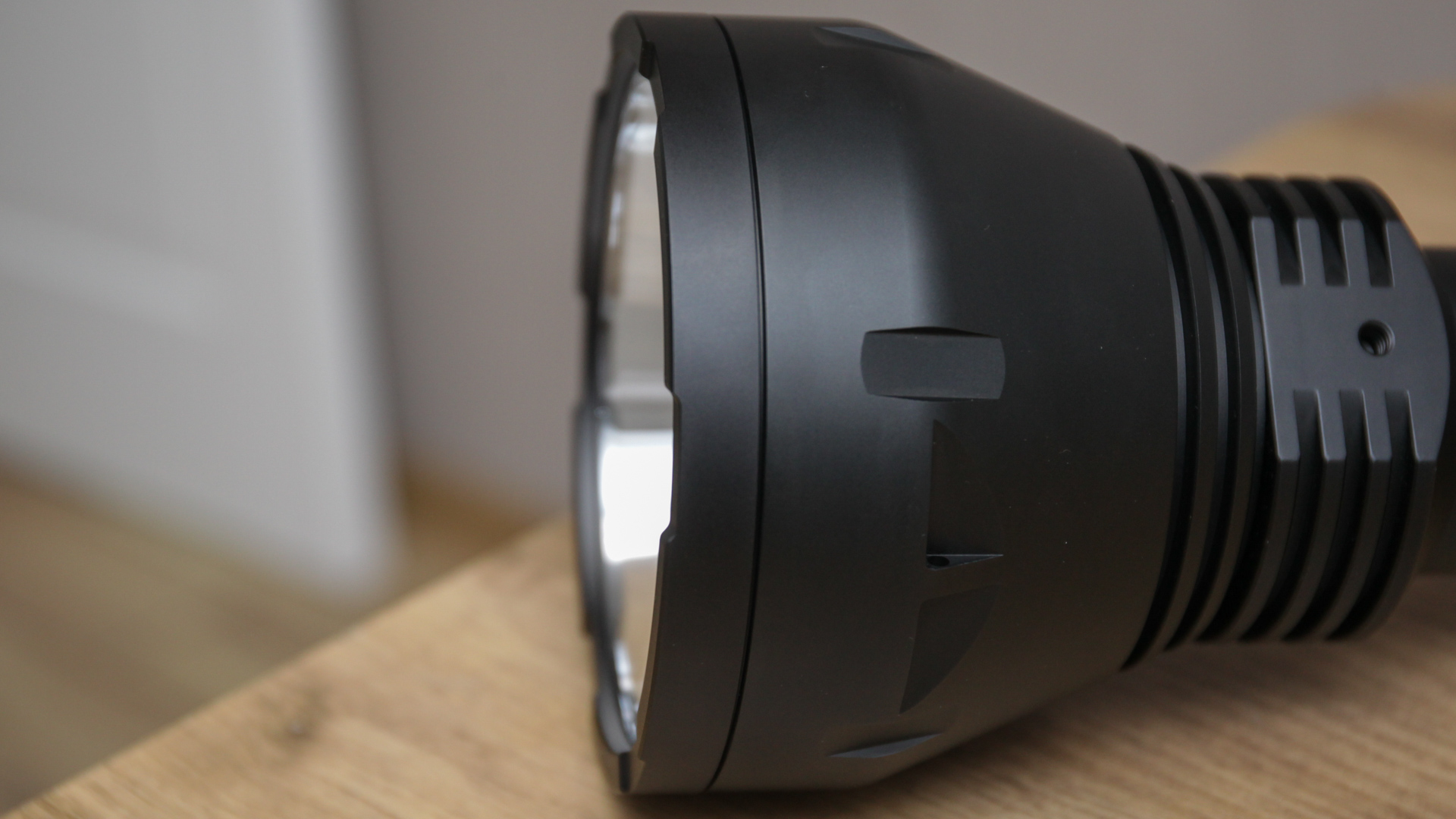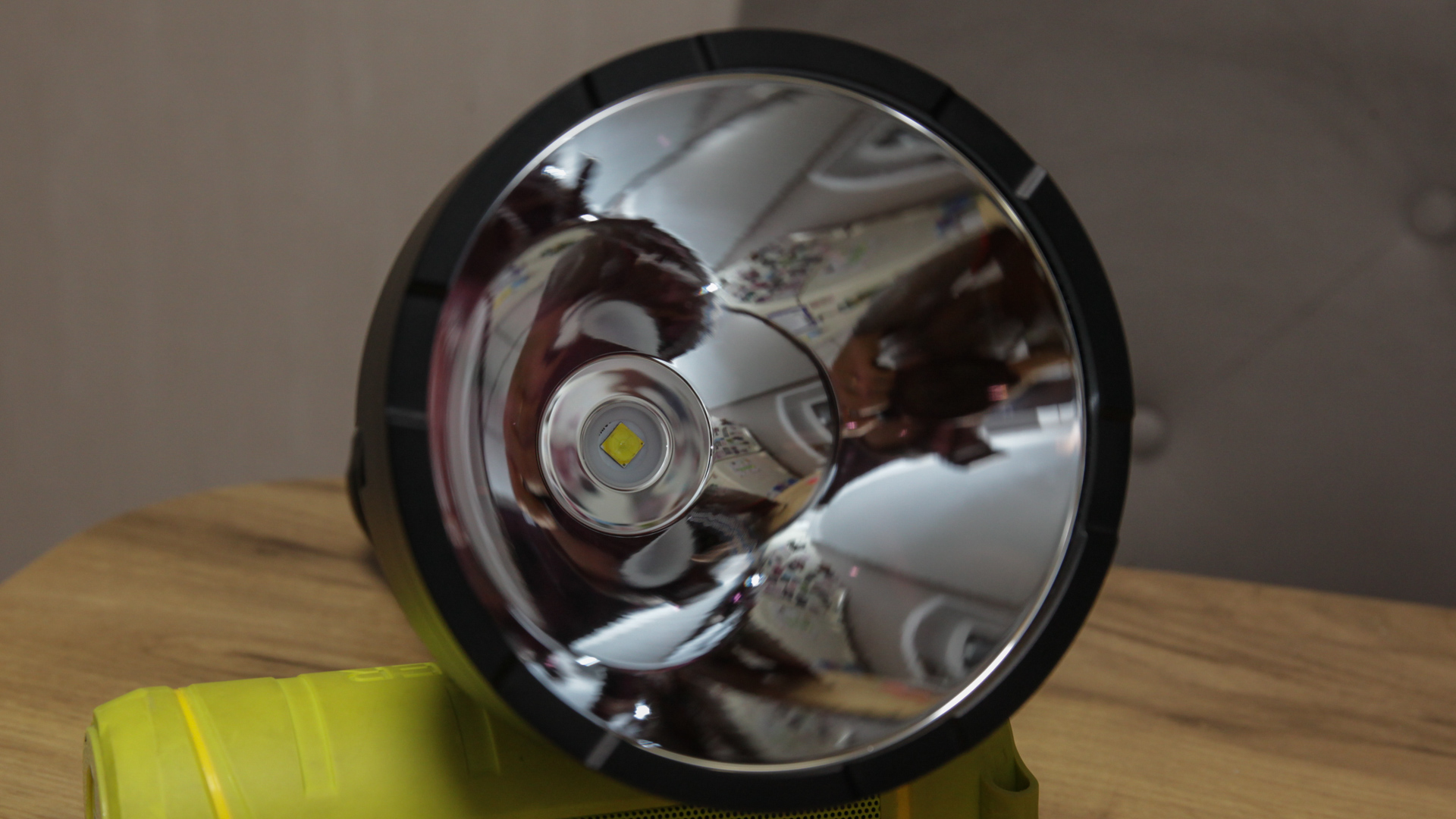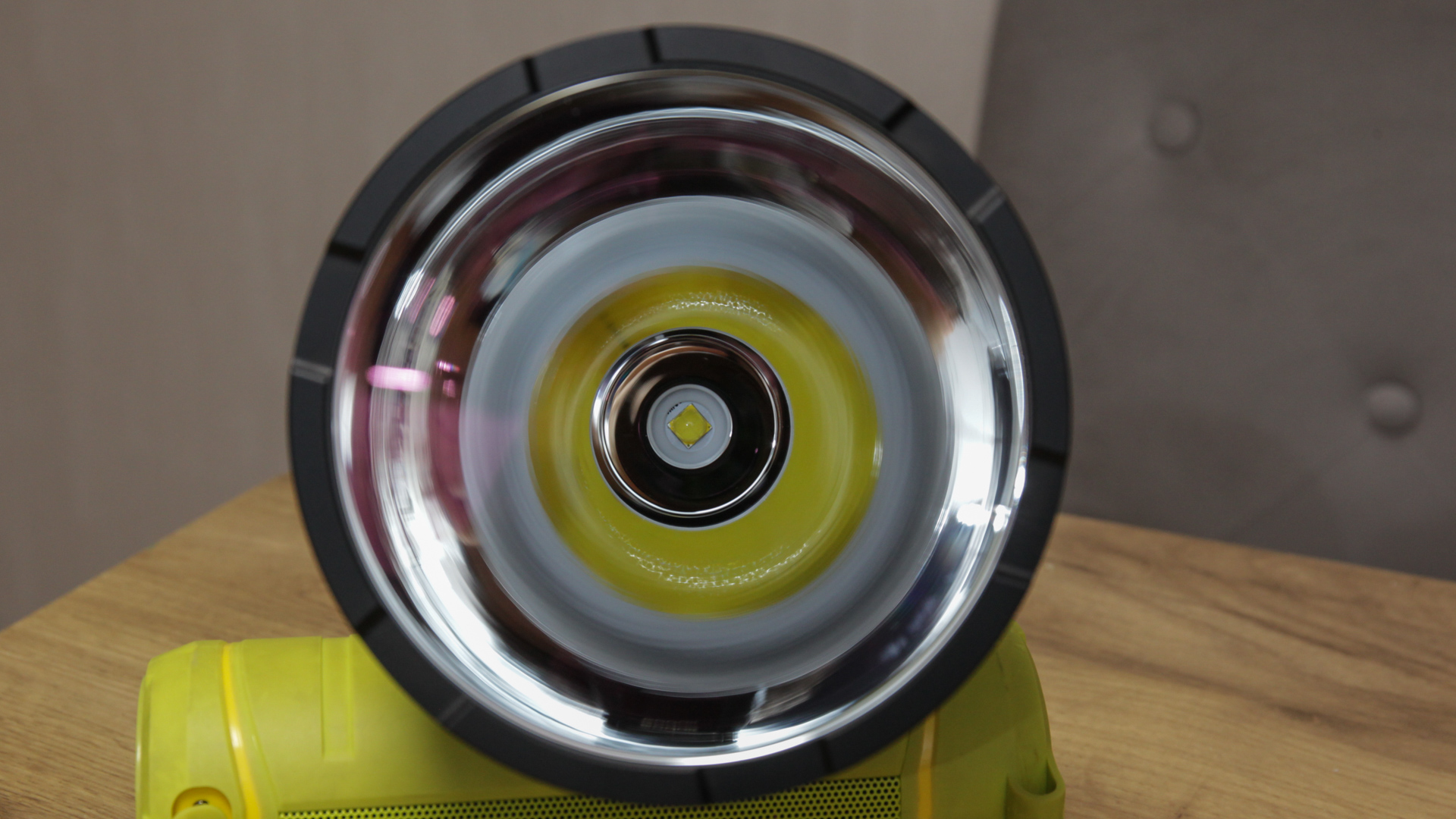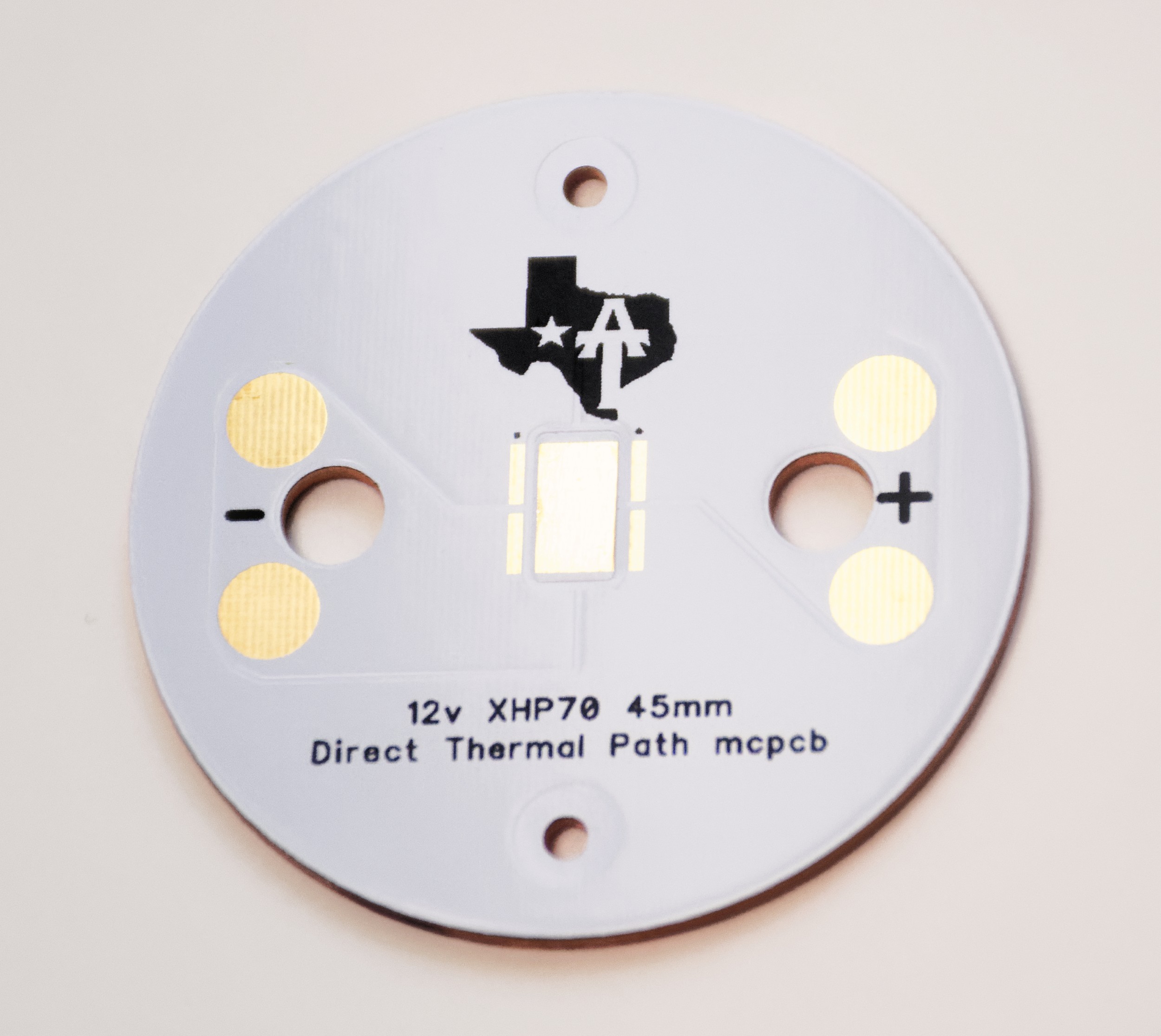 Well, that`s all. BLF GT 70 is 100% men`s thing. That`s brutally utilitarian thing with the sole purpose – to make as much bright and long beam as possibly.
*UI. *
It has Narsil UI, famous for it`s flexibility. It is basically the same as from BLF GT.
There is a bunch of settings.
Again, i`ll leave a link here. That`s UI of GT, but it`s the same.
PERFORMANCE
No PWM shimmering. Nice NW light, so rare and good for searchlights. Of course, as you may expect, there is a "donut" shape of hotspot, with some darkening at the center.
I decided to give some comparing beamshots, take a look.
c8+, BLF GT70 50% and 100%.

And here are runtime charts. They are mostly expectable for high modes, but there is significant difference with BLF GT at low modes. The last one had flat 50% level, while BLF GT70 keep brightness descending even at 15% leve, which is about the same bright as 50% of BLF GT. After getting these results, I reached Texas Ace, and he confirmed that driver is FET. So, there is direct drive here, that explains everything. I also copy some useful info from him here.
Anyway, this is a slow descend rather then fall, so you`ll not notice it in real use.
The only fall here is from 100% mode, when flashlight reaches about 15% after stepdown. That may seem to low. But, guys, that`s almost maximum brightness of a lot of EDC lights. And, believe me, BLF GT70 may reach at the long, long distance even on this level.
Here are Texas Ace PM to me, with detailed explanation.
——-
"Yes, the GT70 driver is an FET driver, so it will reduce brightness as the voltage drops.
Although a test like you are running is the worst case scenario, in the real world it is far less noticeable. This is due to the crude thermal protection Narsil uses. It is made as a safety feature to keep things from overheating, not for thermal regulation. So when it steps down as you see it steps down more then needed and never steps back up even when the light cools off.
In real world usage you can simply ramp the light back up to a level where it can remain below the thermal threshhold and maintain much higher output for longer lengths of time. Since you are generally holding the light, this is not a problem as it will get uncomfortable to hold and you will turn it down manually before it ramps down in most cases. Plus you can increase the thermal protection setting or disable it completely in the menu as well if you will not be holding the light, even with the thermal protection disabled the internals of the light remain safe.
Far as the decreasing brightness overtime, in real world usage you can simply ramp it up slightly from time to time to maintain the brightness level you want, so it is not generally noticed that it is slowly getting dimmer when in actual use.
You are correct though, it will indeed drop in brightness as the voltage drops. This is because a buck driver to handle this much power was not practical, Del who designed the GT buck driver himself said that beefing it up was simply not worth the effort and an FET driver would be better in most situations and I agree with him. The GT70 with it's 3x power draw will fall out of regulation far too fast for one thing and then it would be left with an ever worse situation then we have now and have increased the cost of the light along with the complexity."
And, sweetiest part, throw!
Just see, that`s 50m range. 2 pics, difference is really minor. But there is difference. Photo may not look interesting until you know that that`s light from lowest mode, like 0.5%. See, this tiniest output is enough to give some light visible at this range. And you can really see things at 50m range with just something like 3% output! Incredible.
And, lets check higher level. 50% and 100% from BLF GT70 vs Imalent RT70 \ Mateminco MT70. Last ones are pair of powerful searchlight with the same XHP70.2 LED.
150? More, more!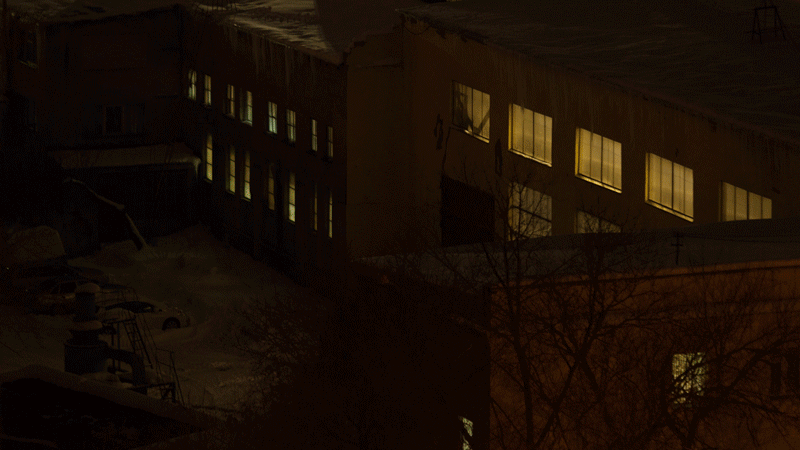 400? No problem at all. Day bright, with wide sidelight. Almost all the building is illuminated.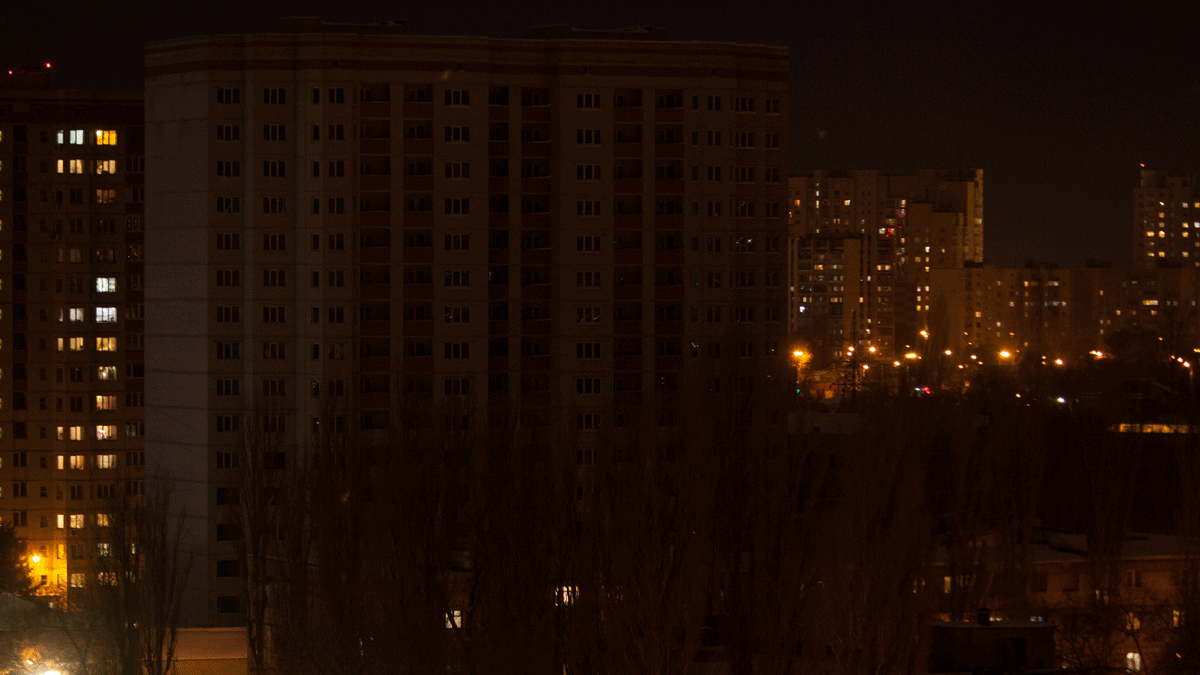 I was curious and pointed at building about 800-850m from me. Aaargh, BLF GT70 is a blaster, you can see everything at this range.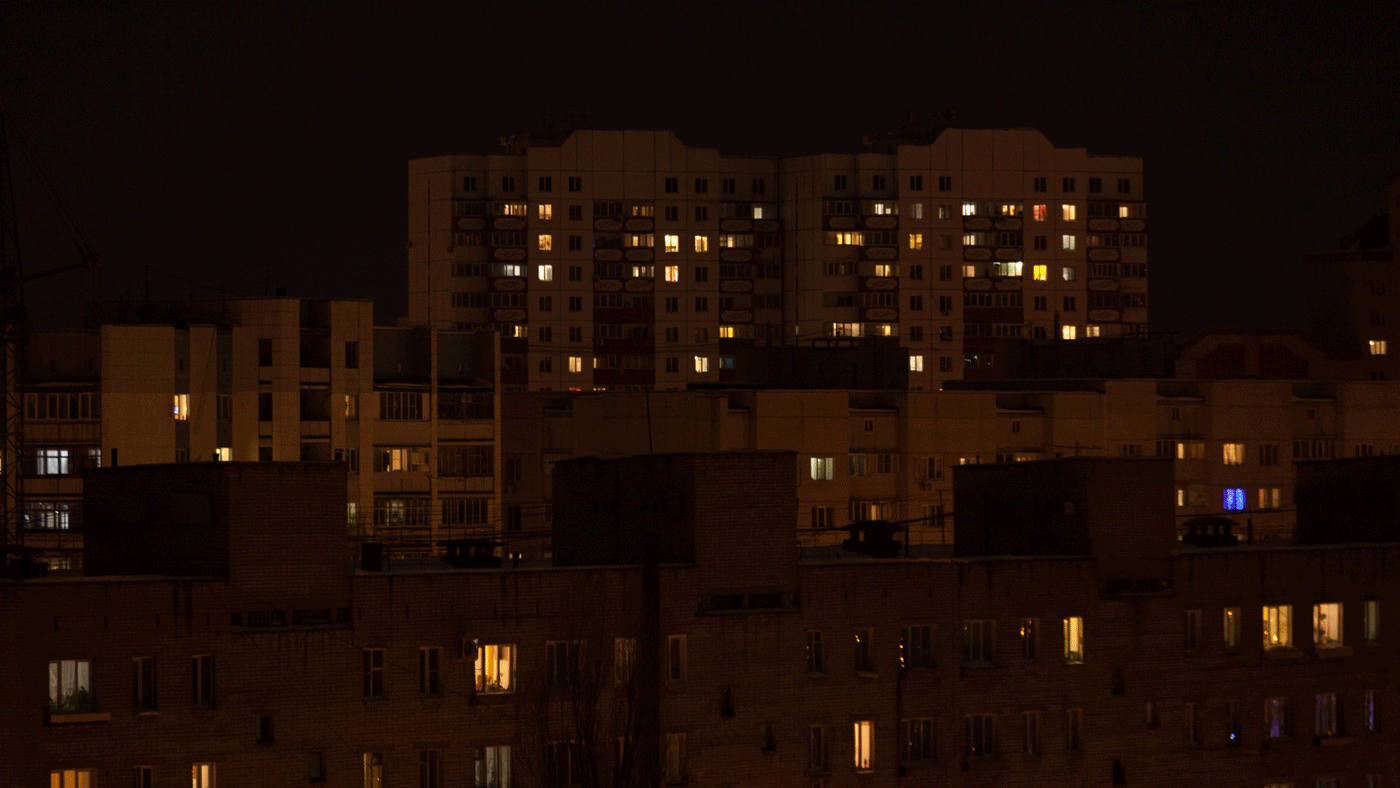 Finally, i`ve noticed distant building. Pointed GT70 at it…voila! There is some light. Specs said GT70 has 1400m throw. And google maps say the distance here is 1600m (!). OMG,for naked eye this guilding looks like matchbox, you cannot really see things there. And light still reaches this building. Normally, in situation "specs vs reality" you get worse than stated. This time vice versa.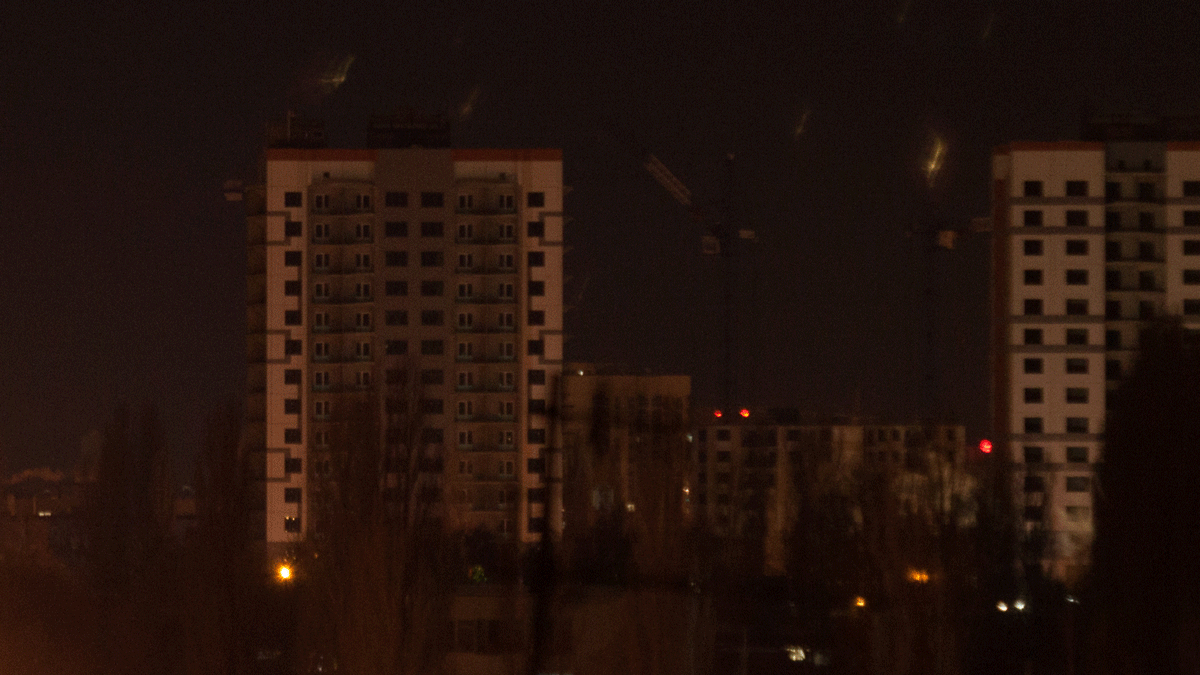 As i`ve just reviewed Imalent MS12, I decied to make some comparative pics, to show difference between superbright and superthrow.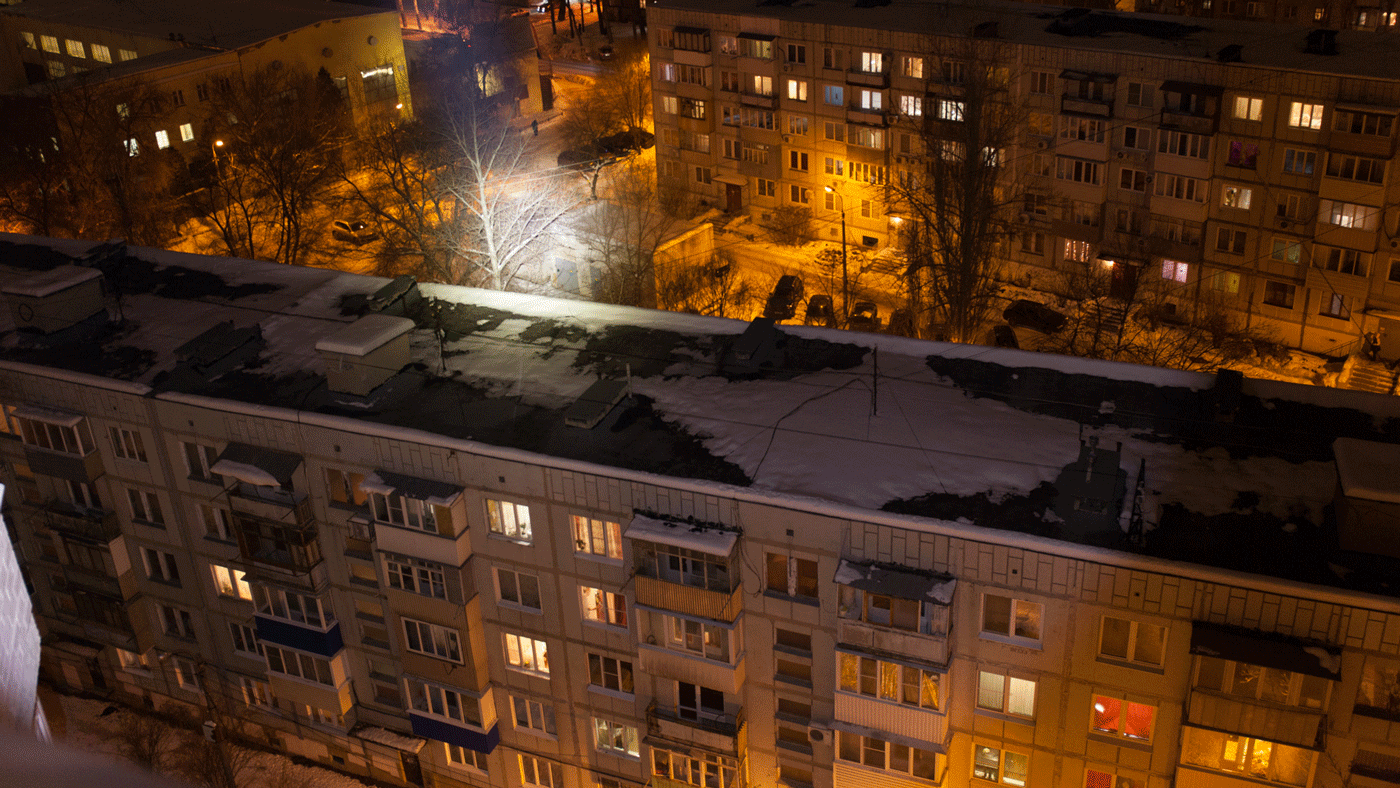 At the 300m range, BLF GT70 is way less impressive…as well as MS12 out of this range.
There are *a lot *of alive videos at the final part of my review.

OVERAL IMPRESSION.
That is extreme flashlight. Both in size and output. Even at lowest, almost eternal, possible mode, you get enough light to illuminate path ahead of you in like 30m range.
At 50%-100% levels you physically can spot airplane or whatever at unbelievably long range from you.
As it`s predecessor BLF GT70 will not be bestselling flashlight for mass-market, but i believe it`ll find it`s ways to collections of flashaholics. And I hope that my review will help readers to decide if they need this one ore not.
Price is not that low for "hm, my new flashlight this week will be…GT70", but is comparable (and even cheaper) with top model from Nitecore\Fenix\Olight\Acebeam etc.
Again, there is a decent discount, code and link are at the beginning of revew. But, definetely, you should precisely understand that with such a throw you get 2,3kilos of weight -) So, that`s not sort of flashlight you will take along with you for a walk.