A123 ANR26650M1A 2300mAh (Green)


Official specifications:


Nominal capacity: 2.3Ah

Nominal voltage: 3.3V

Internal resistance: 10mOhm (10A DC 1s)

Recommended standard charge method: 3A to 3.6V CC/CV

Recommended fast charge current: 10A to 3.6V CC/CV

Maximum continuous discharge: 70A

Maximum pulse discharge: 120A (10sec)

Cycle life: Over 1000 cycles at 10C discharge

Recommended pulse charge/discharge cutoff: 3.7V to 1.6V

Operating temperature range: -30°C ~ 60°C

Storage temperature range: -50°C ~ 60°C

A old very high current LiFePO4 cell (Datasheet is from 2010).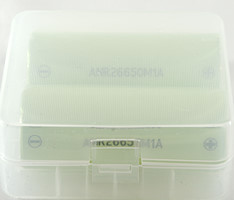 Watch out for polarity!
Output voltage depends on load, it looks like I got a good cell and a bad cell (Probably due to storage).
Conclusion
A very impressive high current cell (At least one of them). Modern LiFePO4 cells has gotten better, but not that much.
Notes and links
Vapcell told me that I was missing some cells in my comparator and they would be happy to supply them.
How is the test done and how to read the charts
How is a protected LiIon battery constructed
More about button top and flat top batteries
Graphical comparison to 18650 and other batteries
Table with all tested LiIon batteries