Fireflies is a completely new name on the flashlight market, name which is now clearly unknown outside the subject forums.
By now, manufacturer have released three models, one of which I got for review.
Link to the model page on the manufacturer's website.
➤ BANGGOOD
for years i`ve been buying batteries at Nkon.nl. sincerely recommend this store.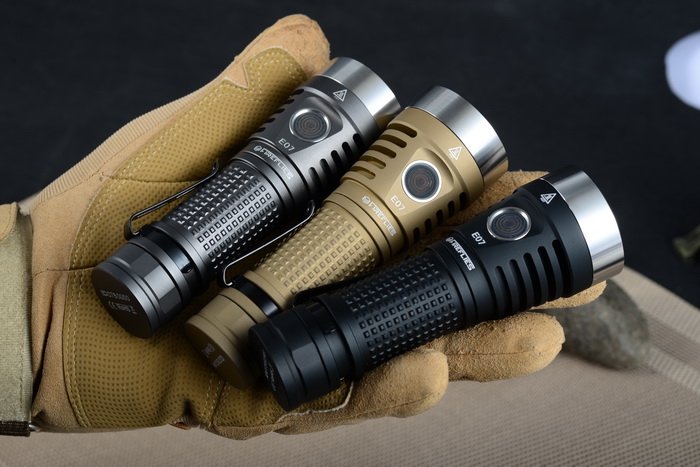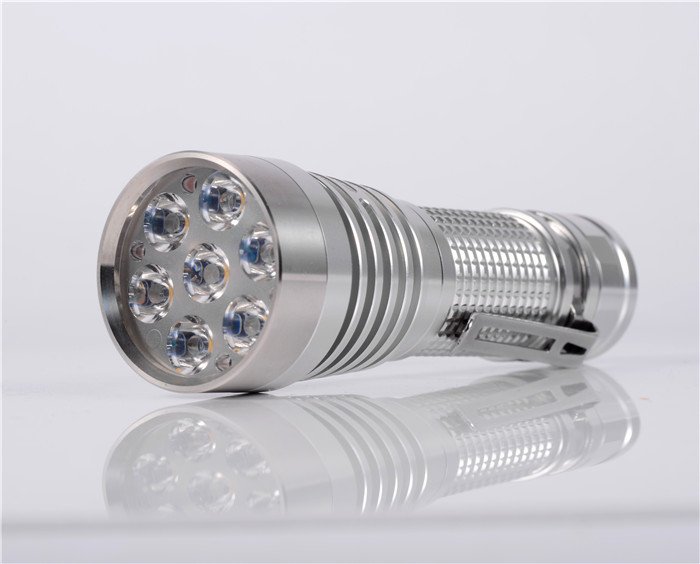 Specification.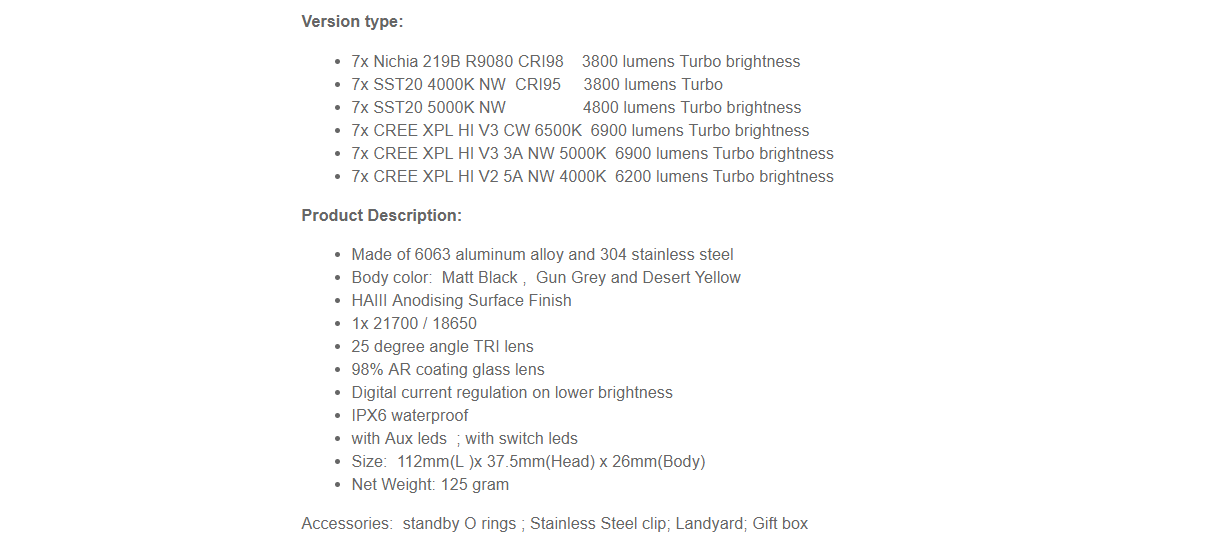 It is pleasing right from the start. 18650 \ 21700 battery, TIR optics, a choice of different LEDs, including not only Nichia, but even much less knowngetting more and more popular SSTs. It is not surprising that the BLF discussion branch of this model scored a damn lots the comments.
PACKAGE AND APPEARANCE
Package is far from what well known brands offer, but it does not fall to those designer depths in which the hikekeite\convoy dwell.
The flashlight travels in a robust black box made of thick cardboard. The name of the manufacturer is gilded on the cover, this is where all designer delights end.
There is no reason to put this in a minus, as Fireflies is known among quite a small audience by now, and there is no need to fight for shoppers on the shelves of offline stores with the help of bright and pompous package.
The set is expectable: a flashlight, manual, o-rings, a clip, and a cheap lanyard. Nice feature here is 18650 -> 21700 tube.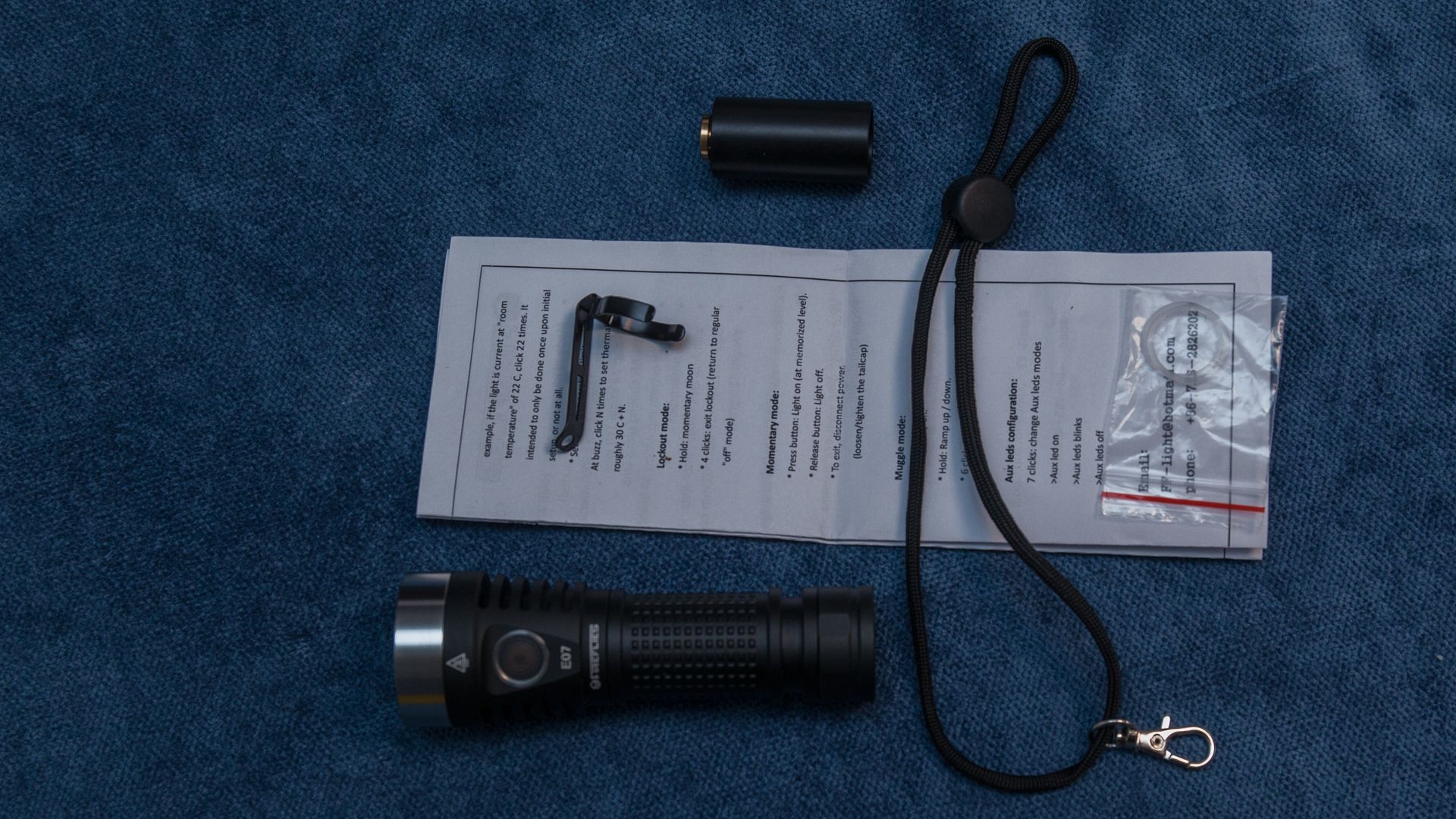 Well, here is the flashlight itself from different angles. In general, we can not say that this is the pinnacle of design. However, the flashlight and clearly far from any external wretchedness.
Fireflies E07 is an aluminum body with a matte black anodizing. I really do not remember when I last met anodizing being that matte. Anyway, it looks nice, and to the touch, too. So this anodizing is definitely one of PROs that CONs.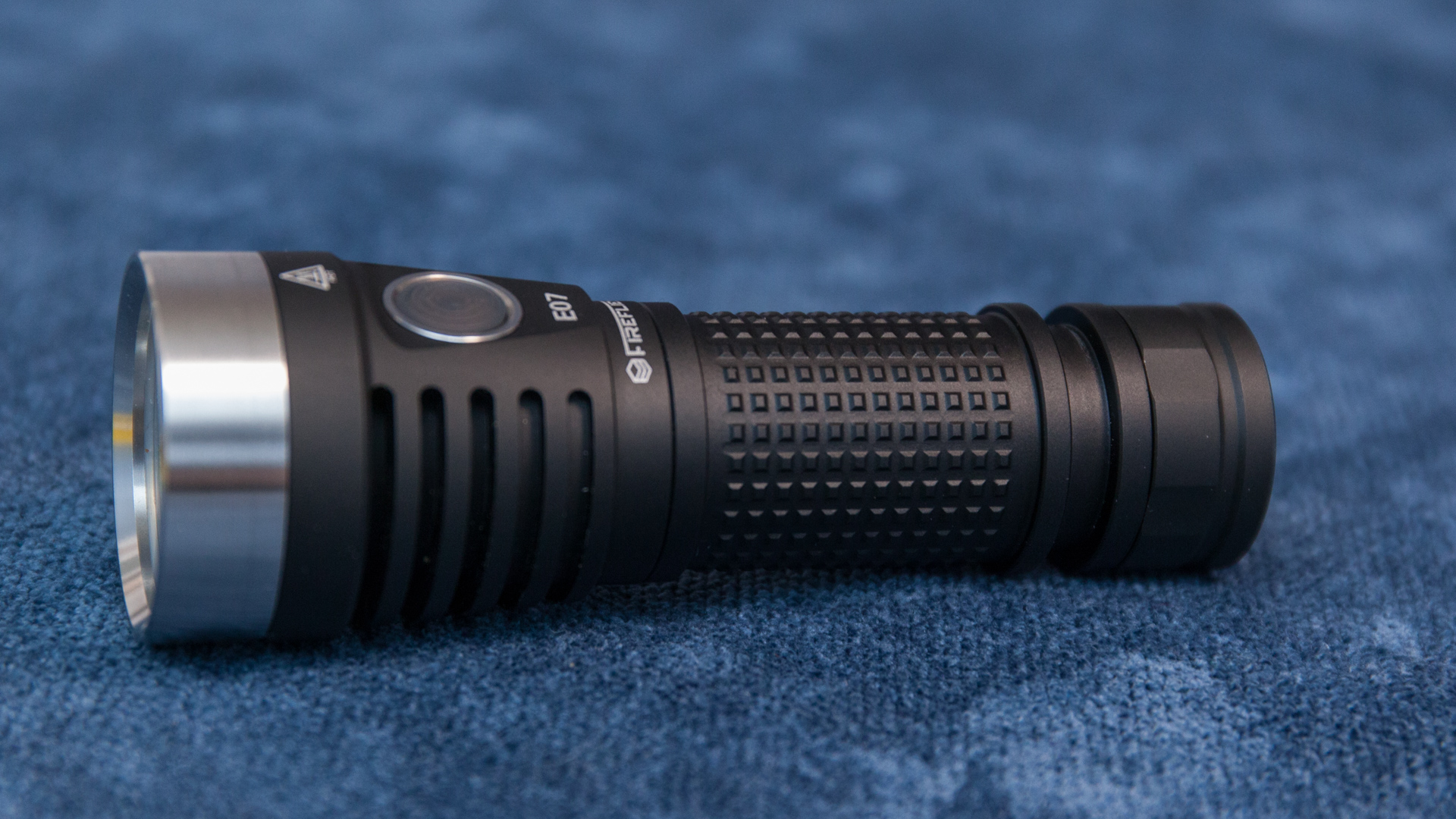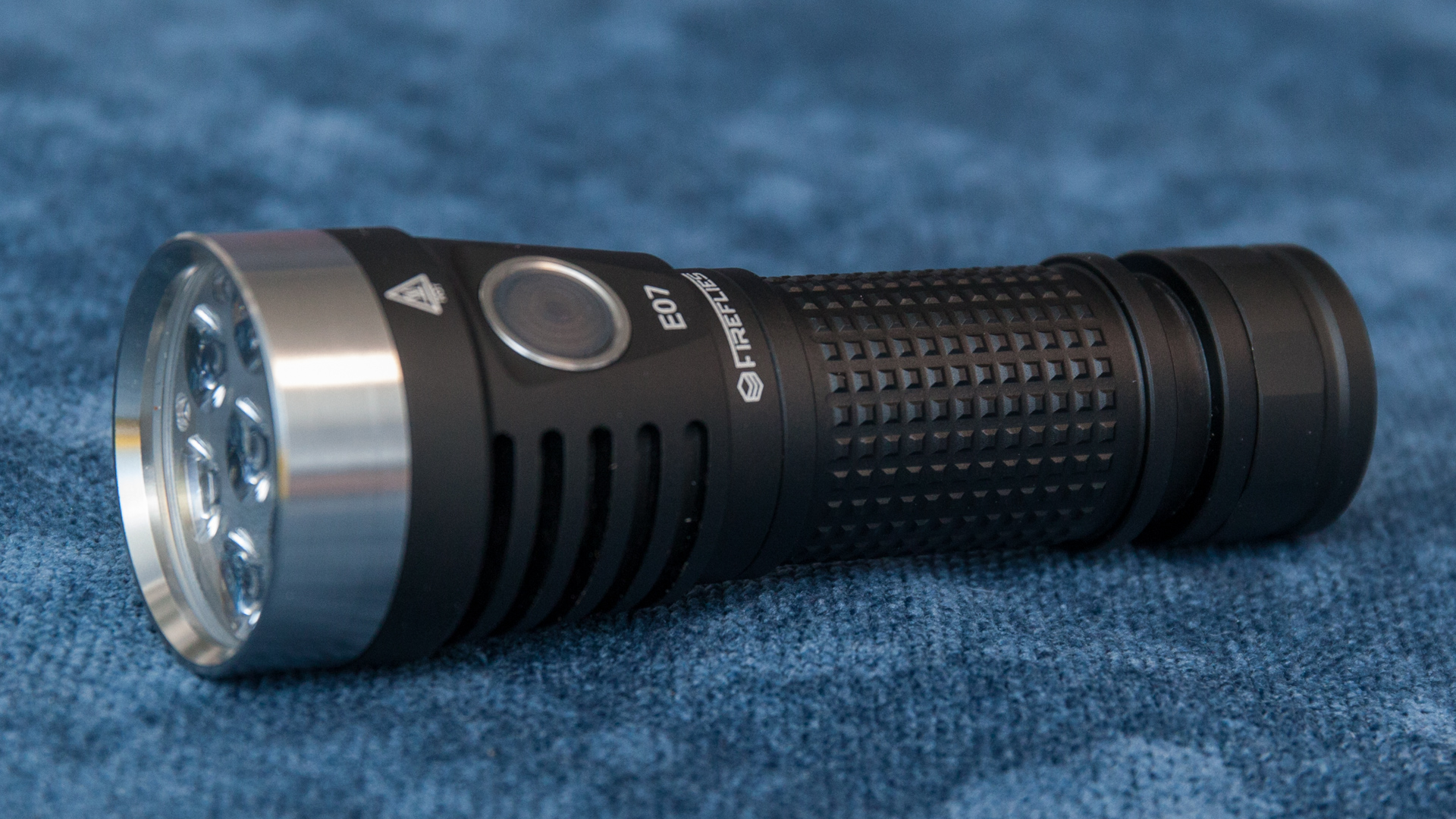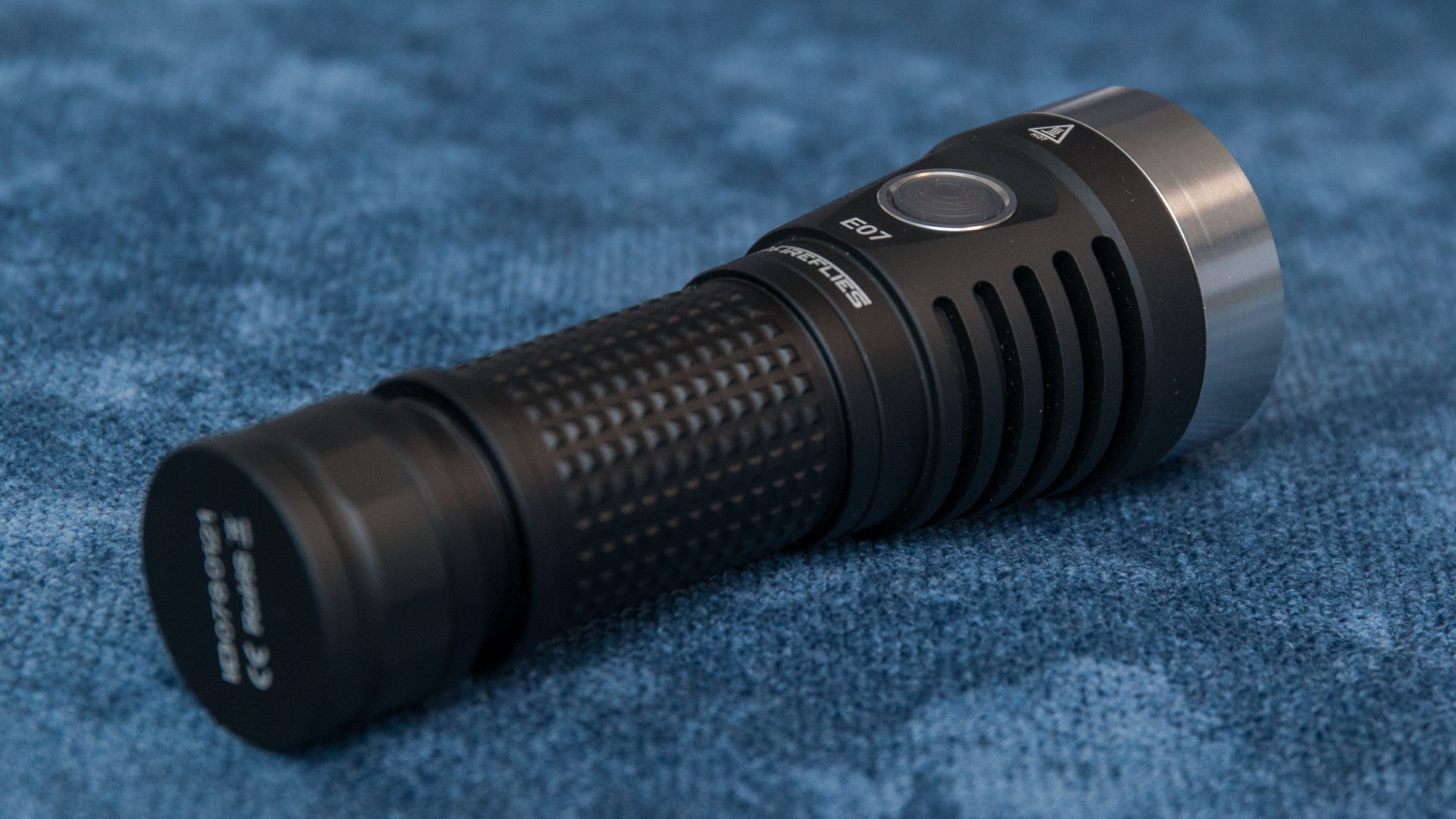 The tail is flat, with a serial and other CE / RoHS.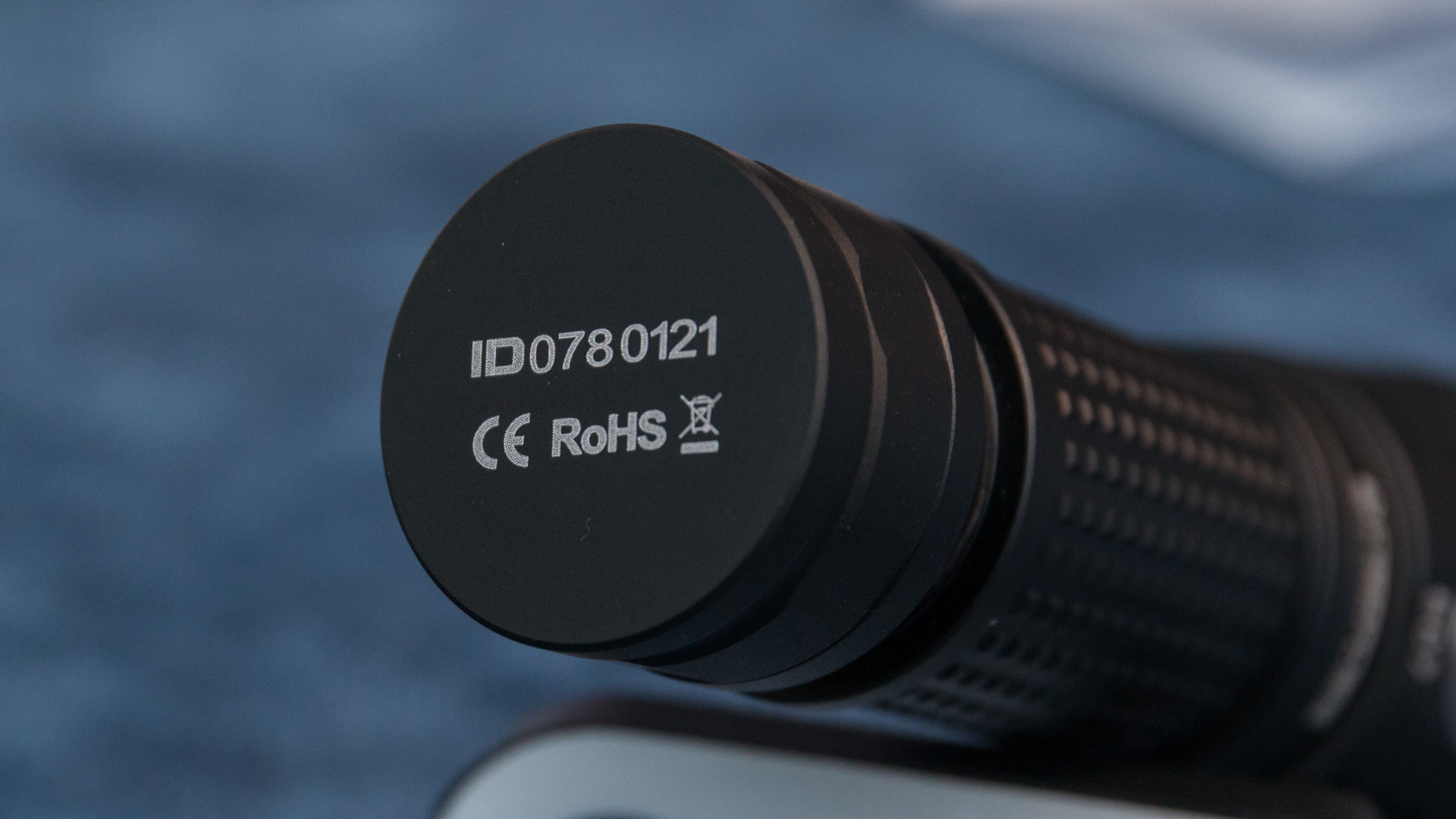 Seat for the clip is wide. The clip itself sits tight, it`ll take a force (not excessive) to remove it. But the gap between the end of the clip and the flashlight body is small, uncomfortable to attach flashlight to pocket. Moreover, there were complaints to BFL that when trying to unhook a flashlight, the clip just stayed on the pocket, guys even had glue clip to body. In my case, the clip on the pocket sat down with difficulty, but when I pulled up flashlight from pocket, it remained where should be.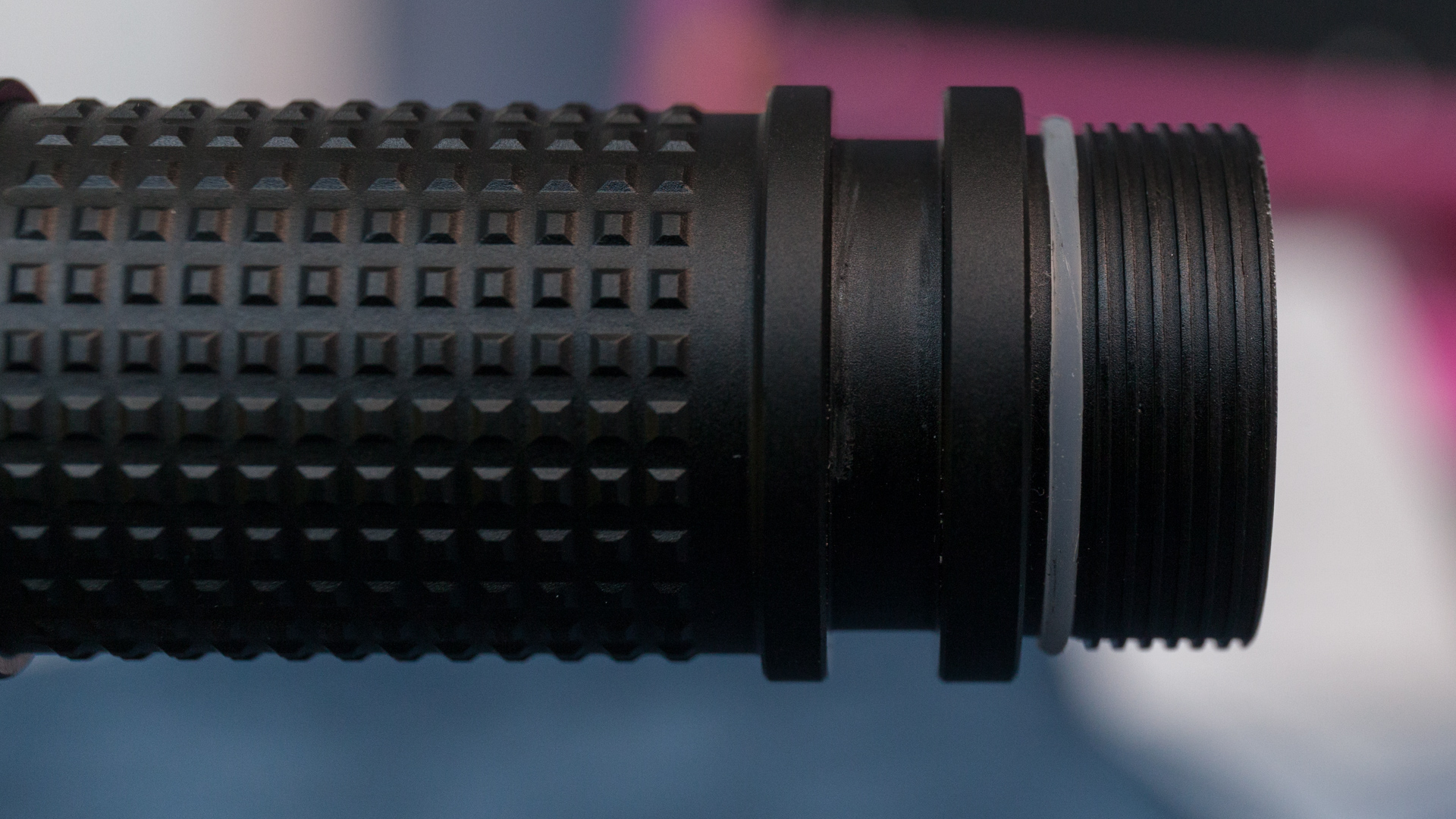 Spring on the tailcap and on the head side is single, medium thickness. Wurprising fact was to see dotted letters FF (FireFlies) in the form a clearly distinguishable triskelion on the inner surface of the tail cap.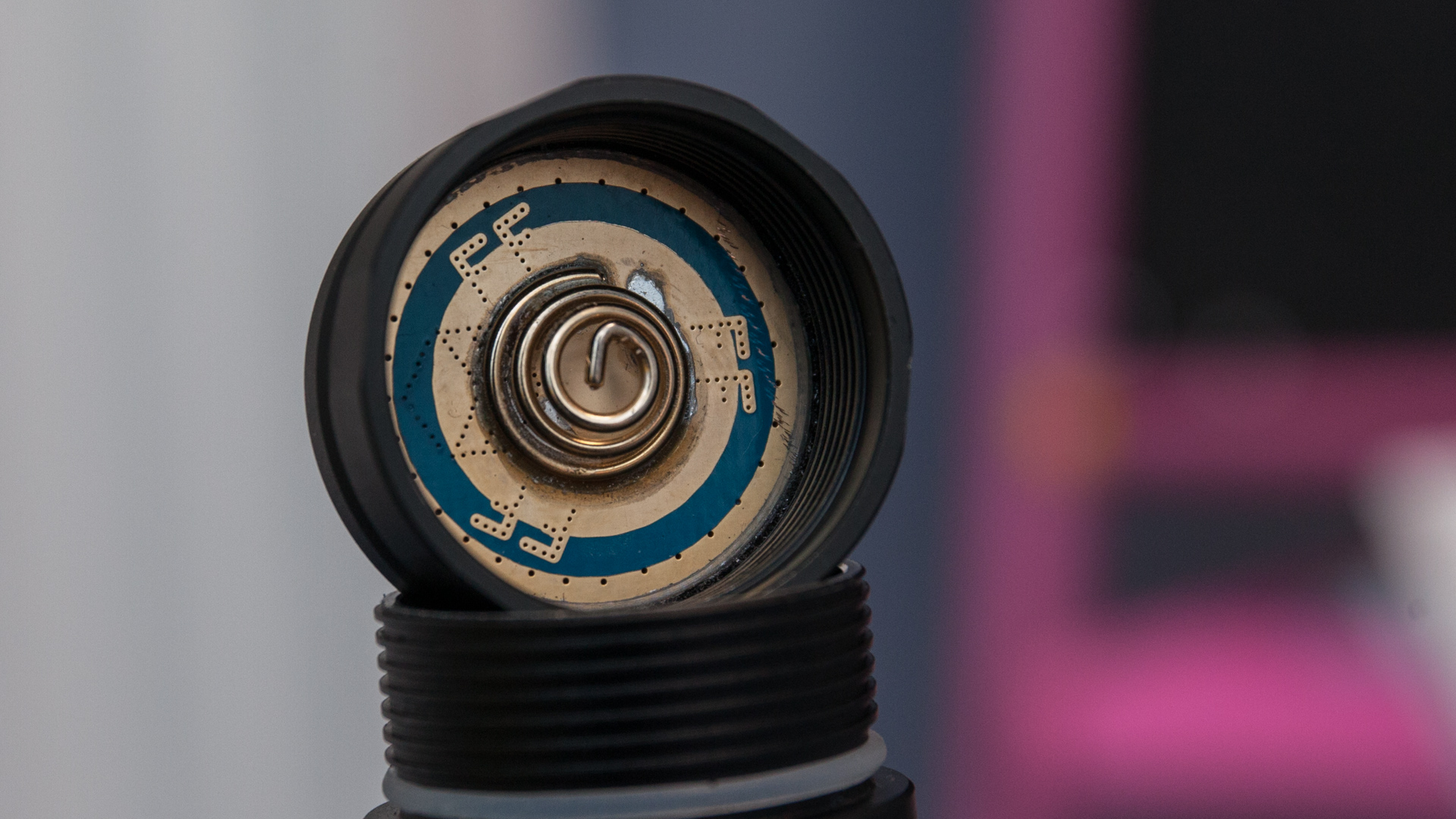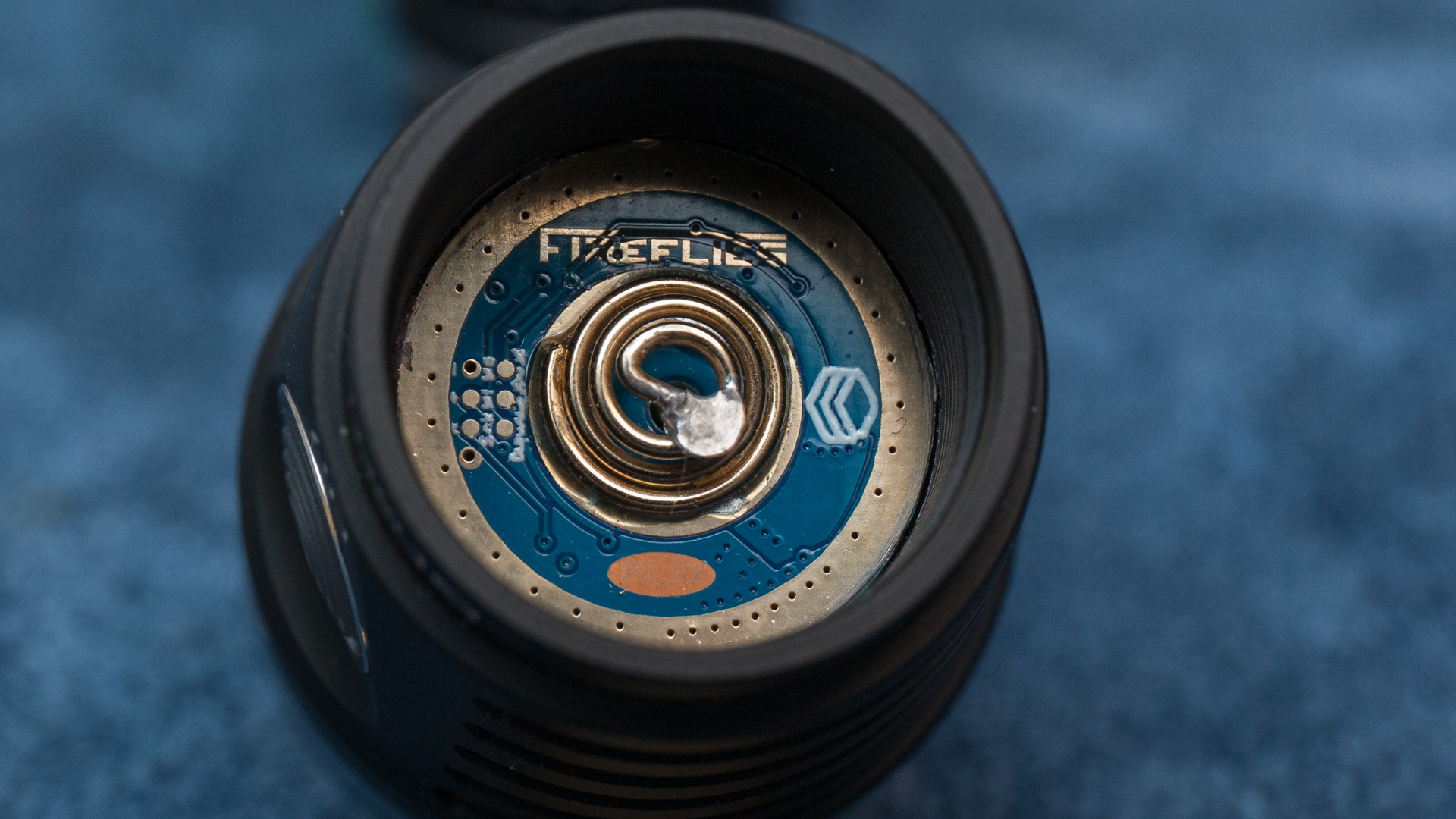 Threads look dry on both sides of the body, but this is just an appearance, there is a lubricant, probably graphite.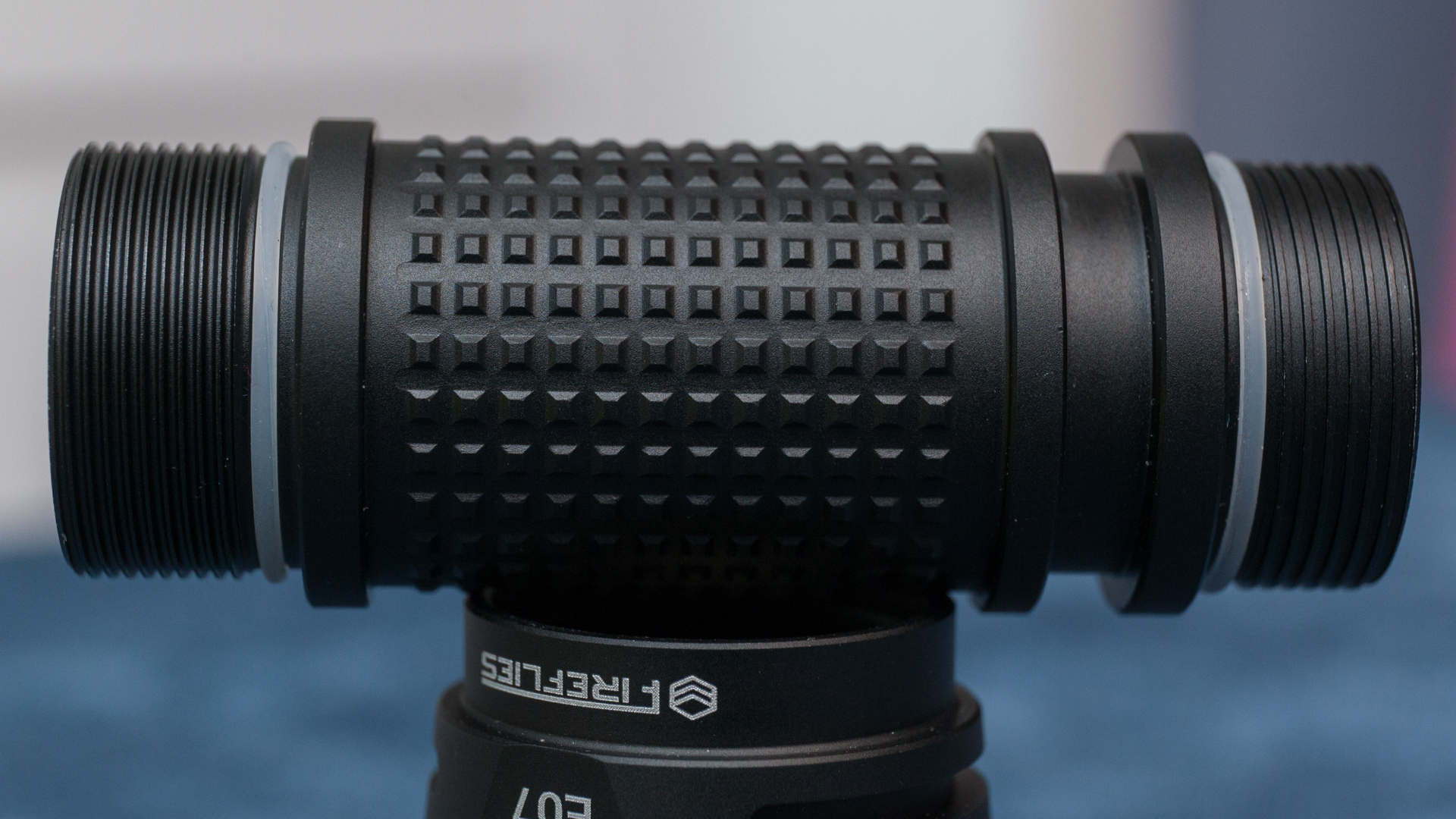 Knurling relative to the overall size of the flashlight is very large, and even without a clip the grip is reliable and comfortable.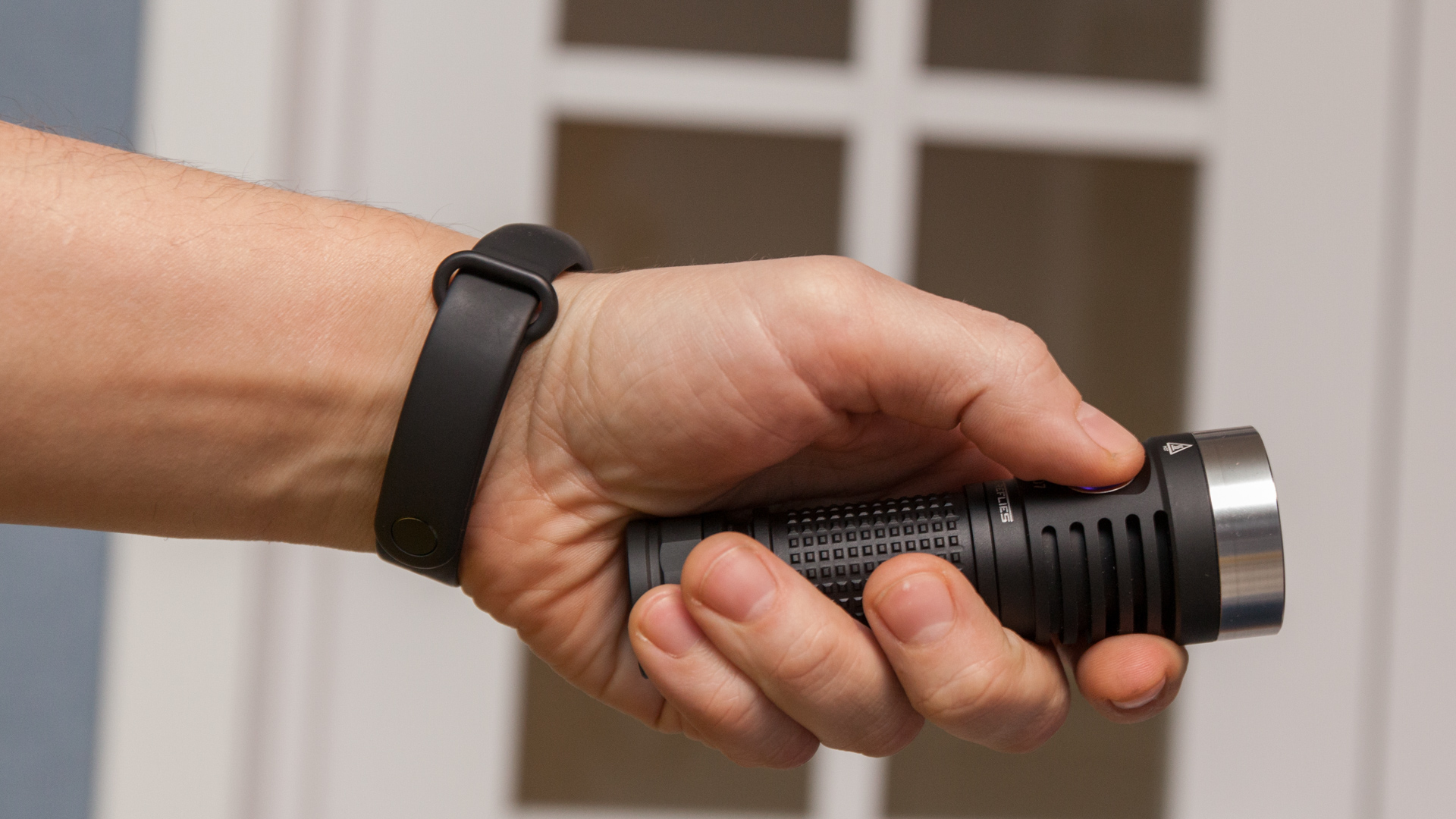 The average sized and medium bulge button lies on the smooth part of the body. The first complicates the search blindly, the second simplifies. The button move is short, with a weak click.
Fortunately, there is a constant purple button illumination, so finding it is easy.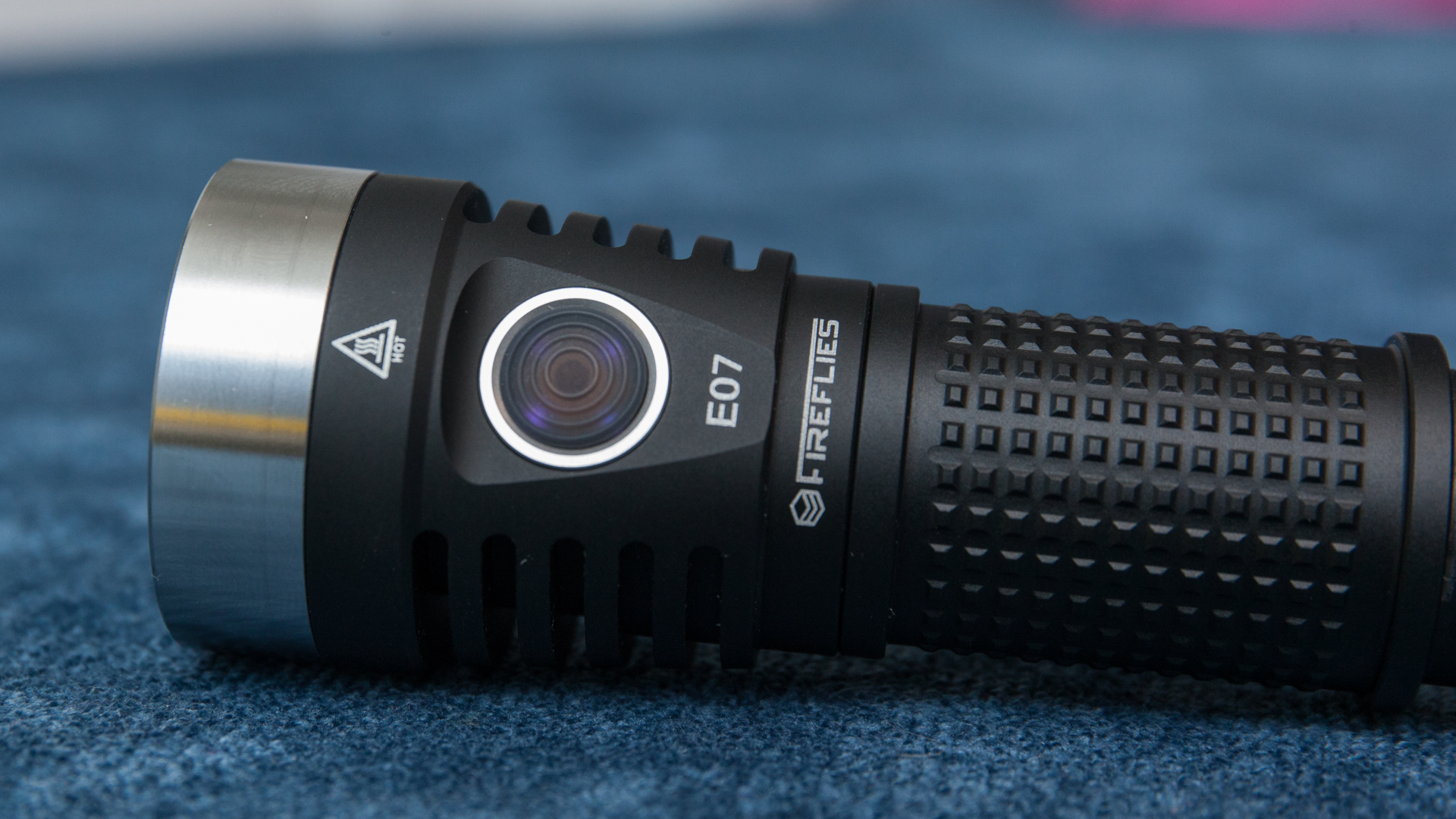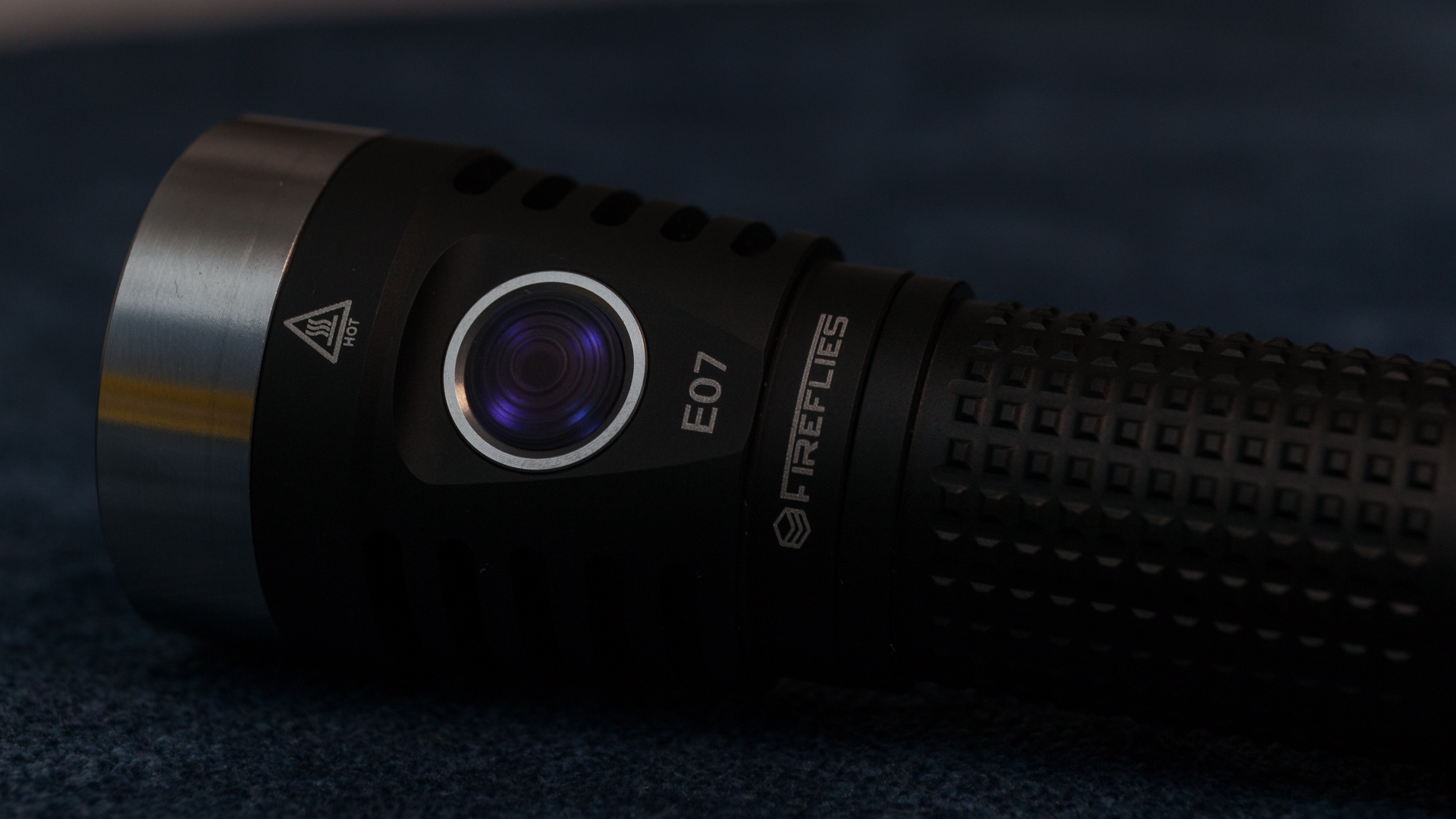 The cooling fins are very, very deep relative to the overall dimensions of the body. In this regard, Fireflies E07 surpasses, perhaps, that all the flashlights I have seen.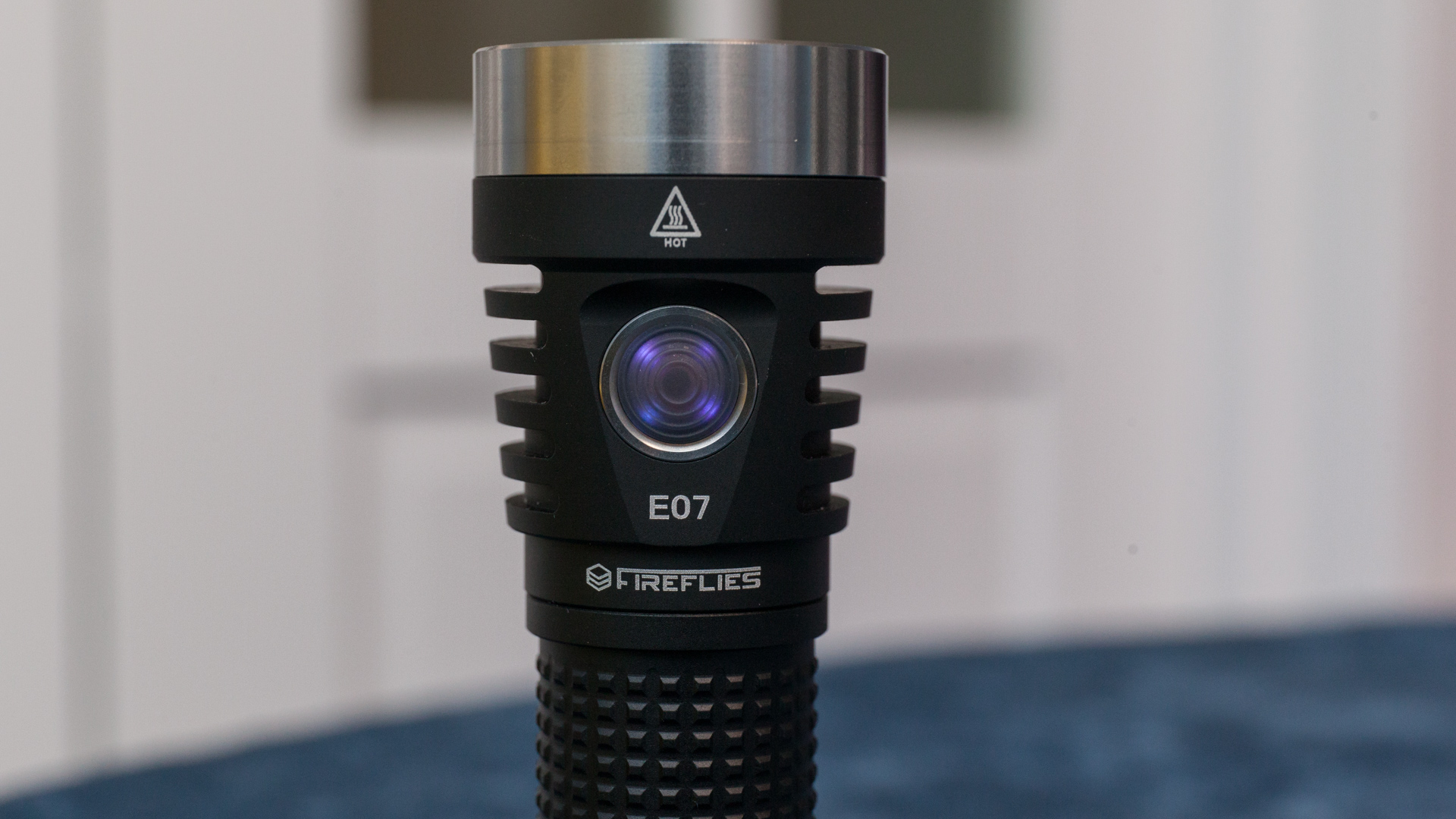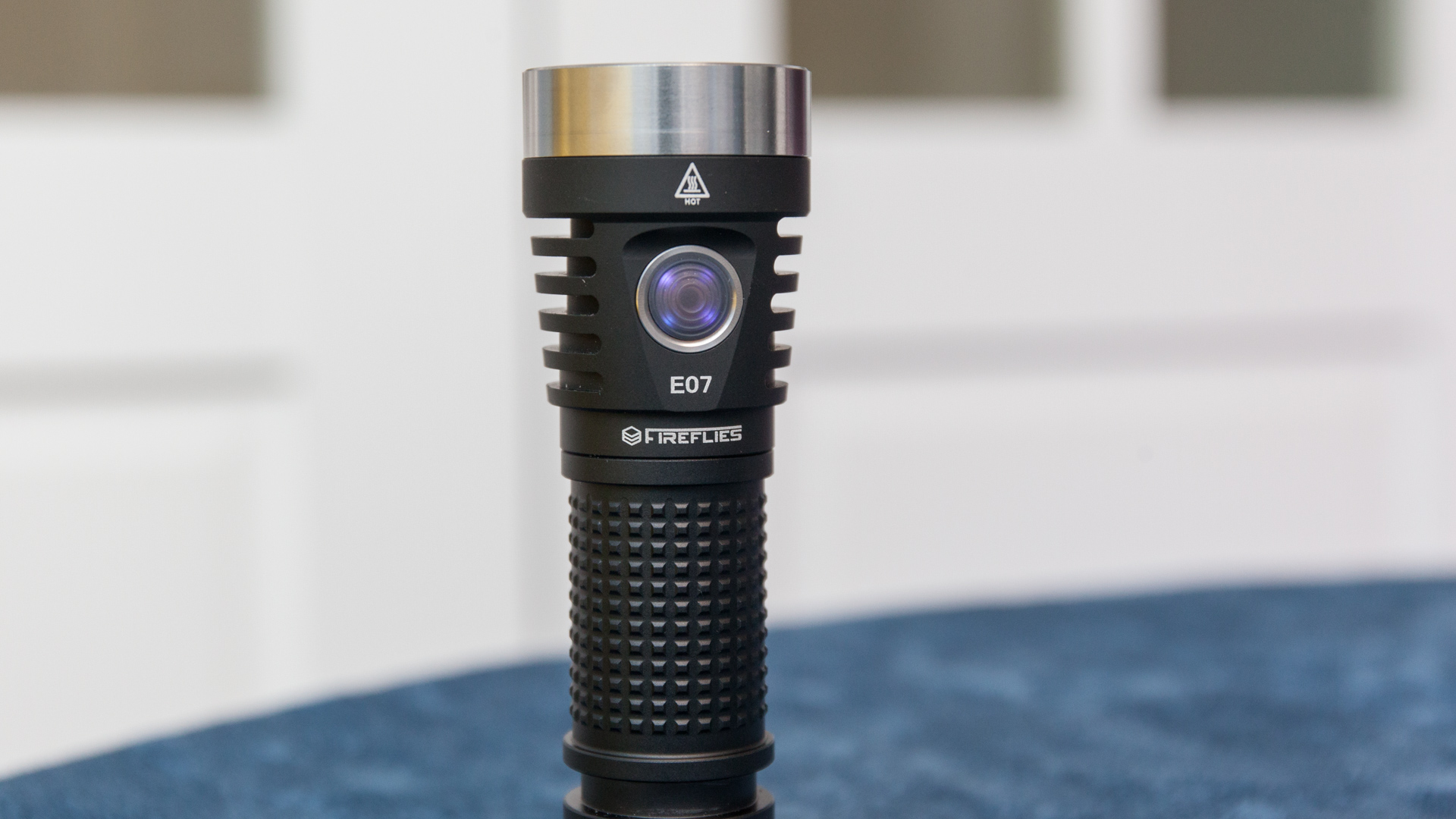 The bezel is a ring of polished aluminum. You can unscrew it without problems. Below it, the glass covering the TIR optics is quite deeply recessed. That's if good for glass safety, in case flashlight falls.
7 LEDs are responsible for the light. And then another unexpected and damn, damn cool looking feature, purple illumination of TIR optics. Live it looks exceptionally beautiful and all this time the flashlight just stands by bedside shelf as a decoration.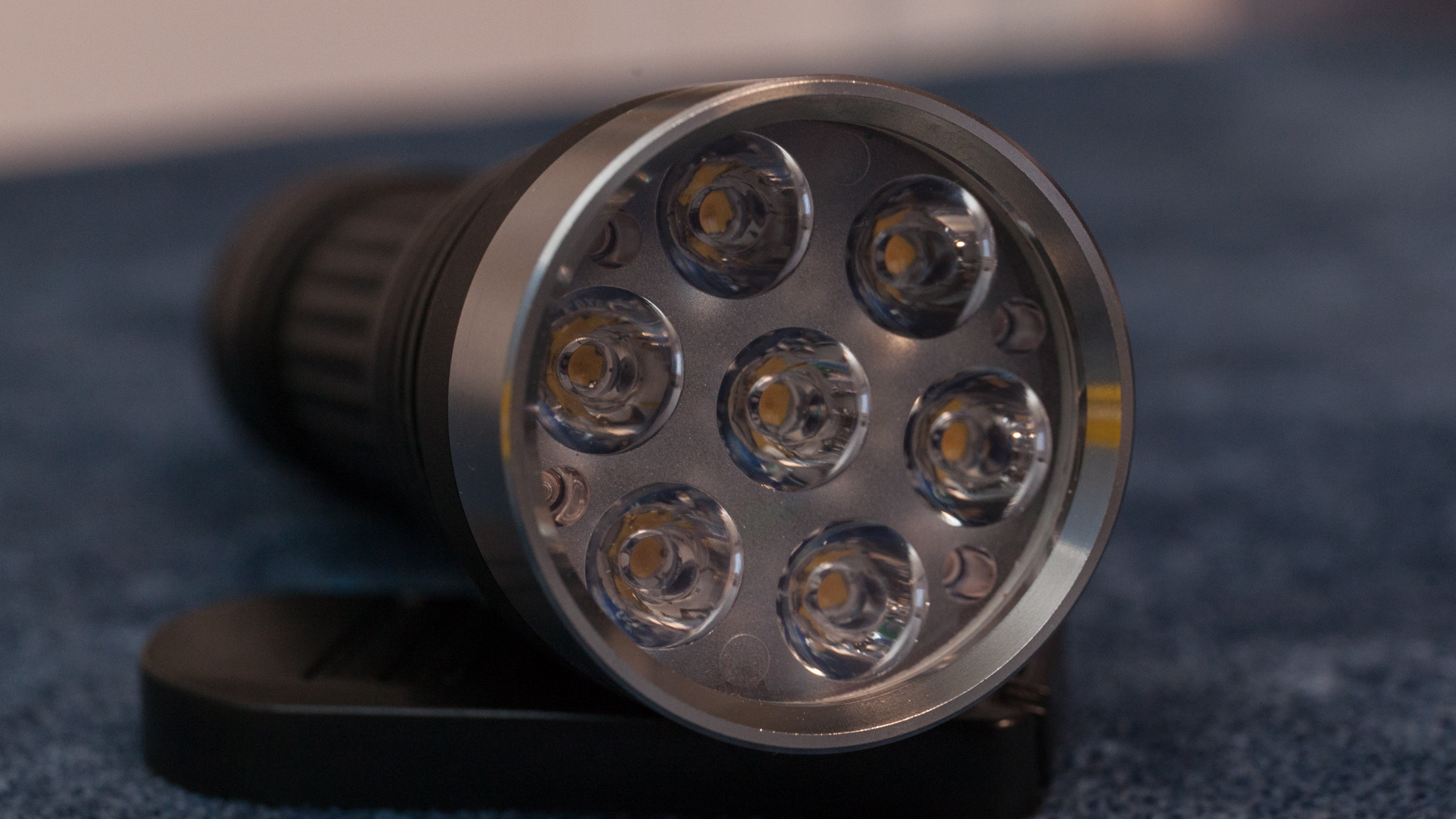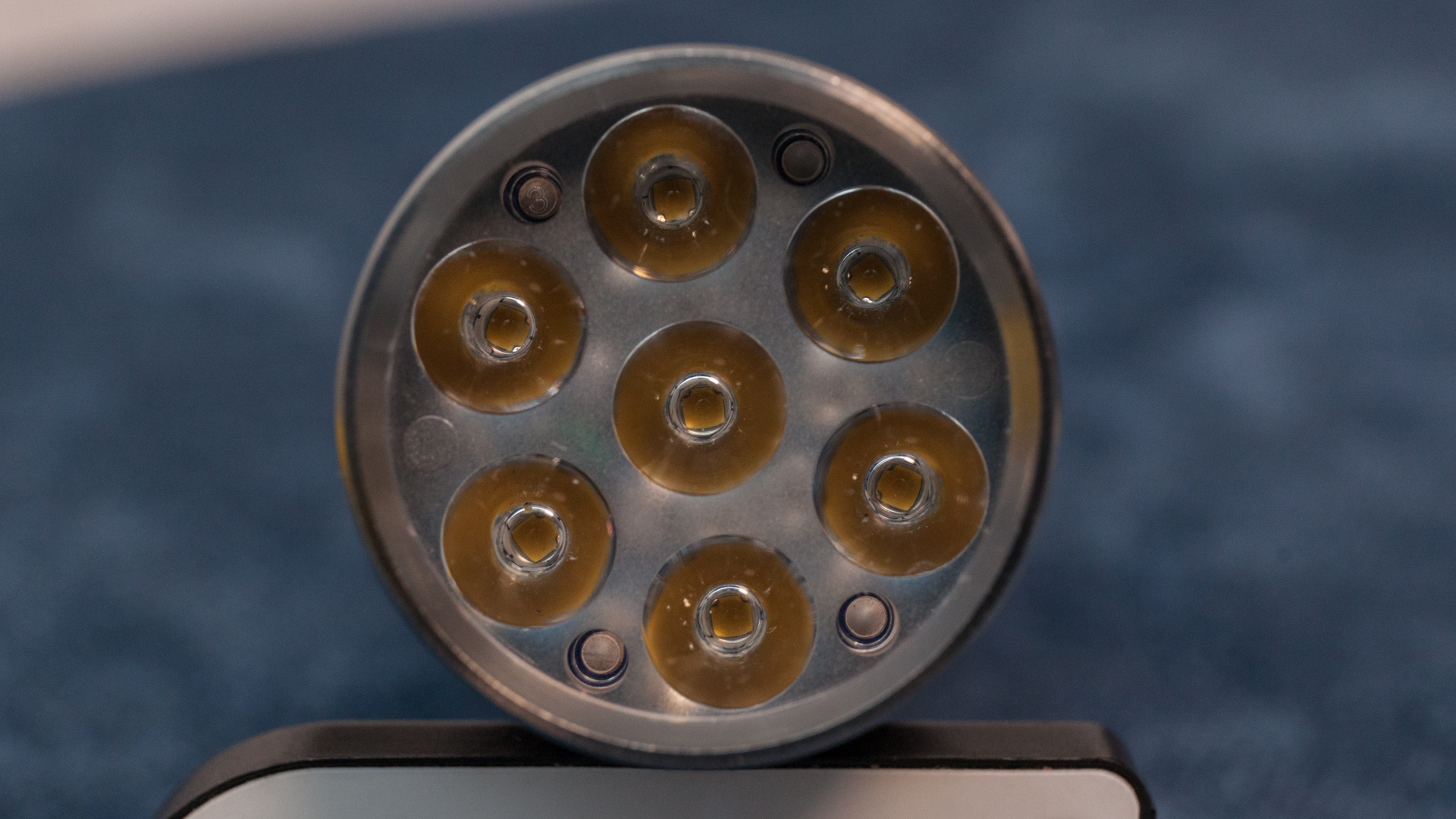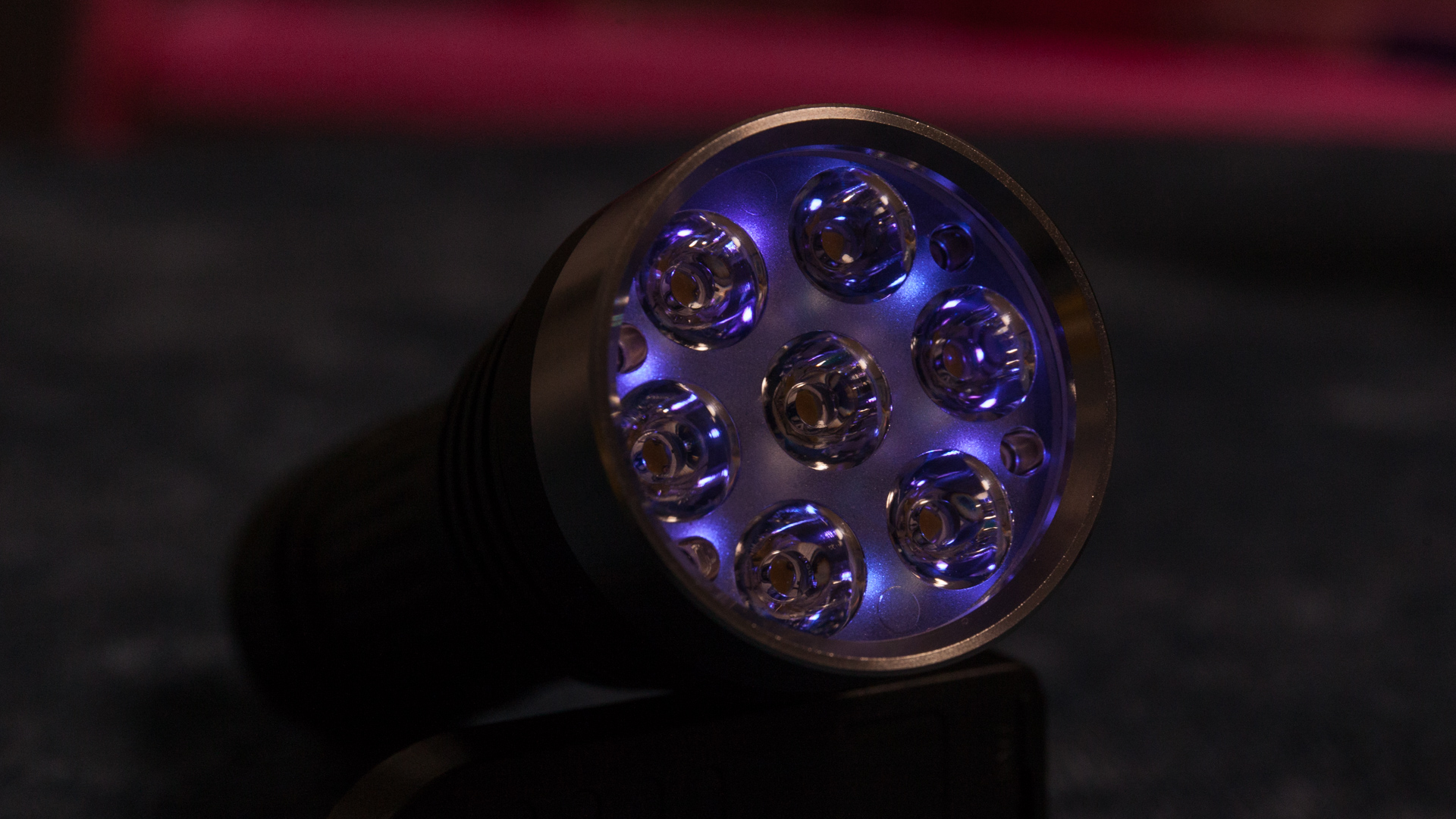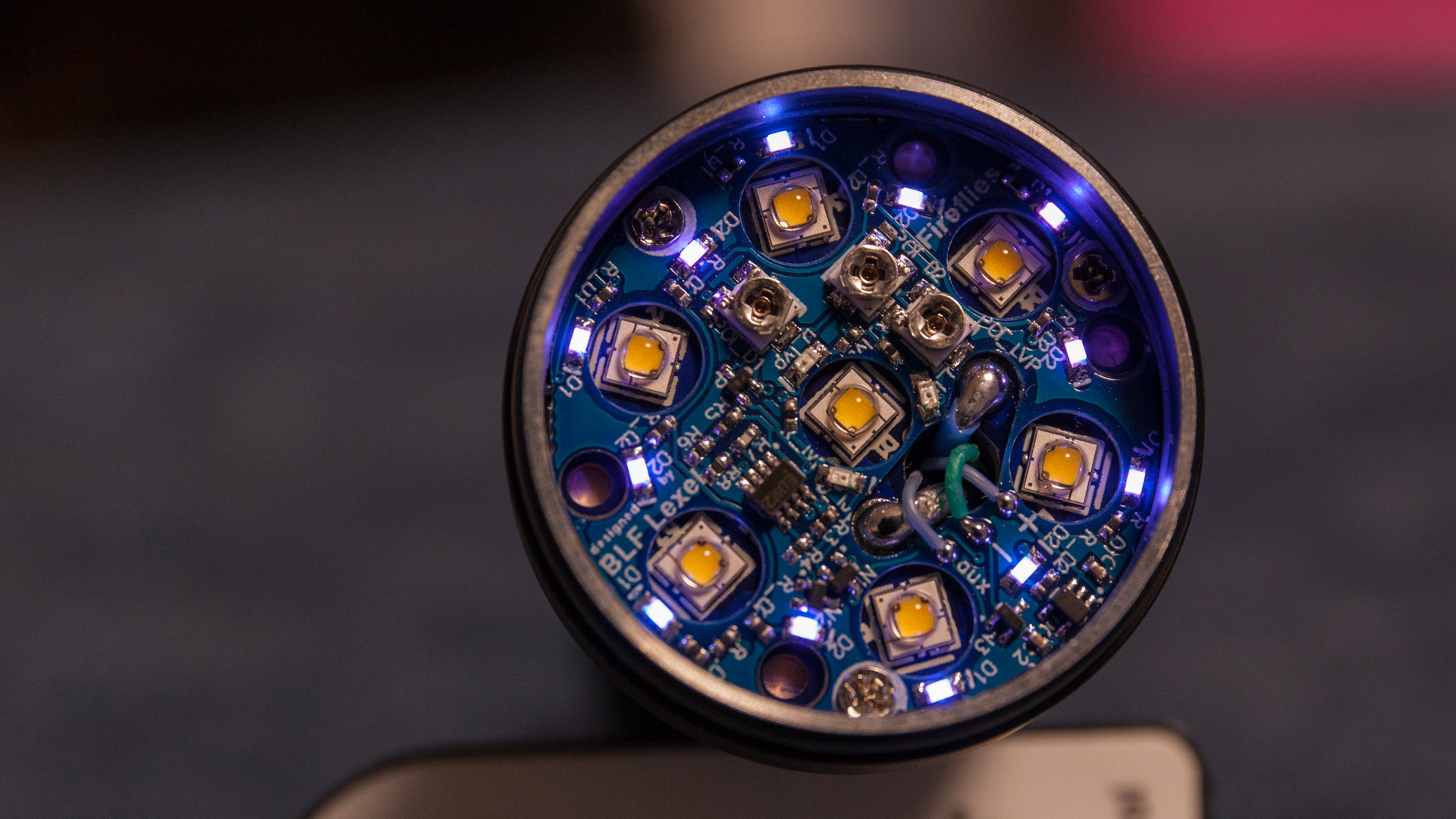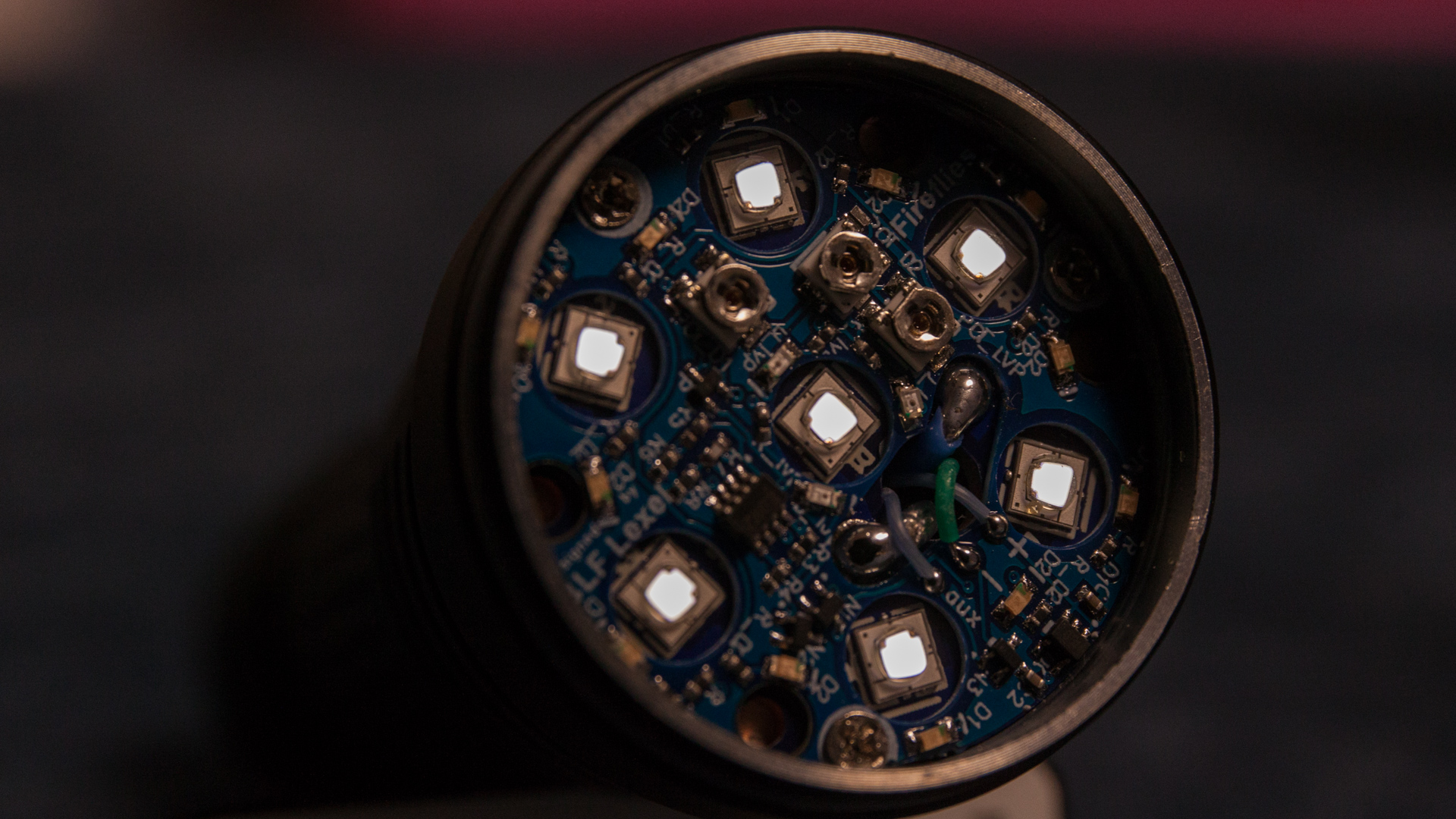 General impressions.
Construction seems to be good, haven't seen dirt and carelessness. The design of the body is quite usual, with an emphasis on functionality rather than beauty.
Of the minuses – button might be larger. Of the benefits – it is compensated by the backlight.
UI
very flexible.
There is an Anduril interface with a bunch of any settings. Brightness is regulated smoothly \ step by choice. In the latter case, there are 150 steps.
I just copy manual here. Anyone interested can goes deeper into relative forum thread.
Very flexible. My eyes went to my forehead when I saw manual with a bunch of all sorts of settings. For the average user, this may be an occasion to fling the flashlight with the swears. In the sense that you can use E07 as is, but there is a chance to accidentally get somewhere in setting and to start foolishly press the button hysterically.
On the other hand, people, who know things, and fans of customization will get what they need. Actually, there are no others yet, I'm sure. E07 is really thing for flashaholics.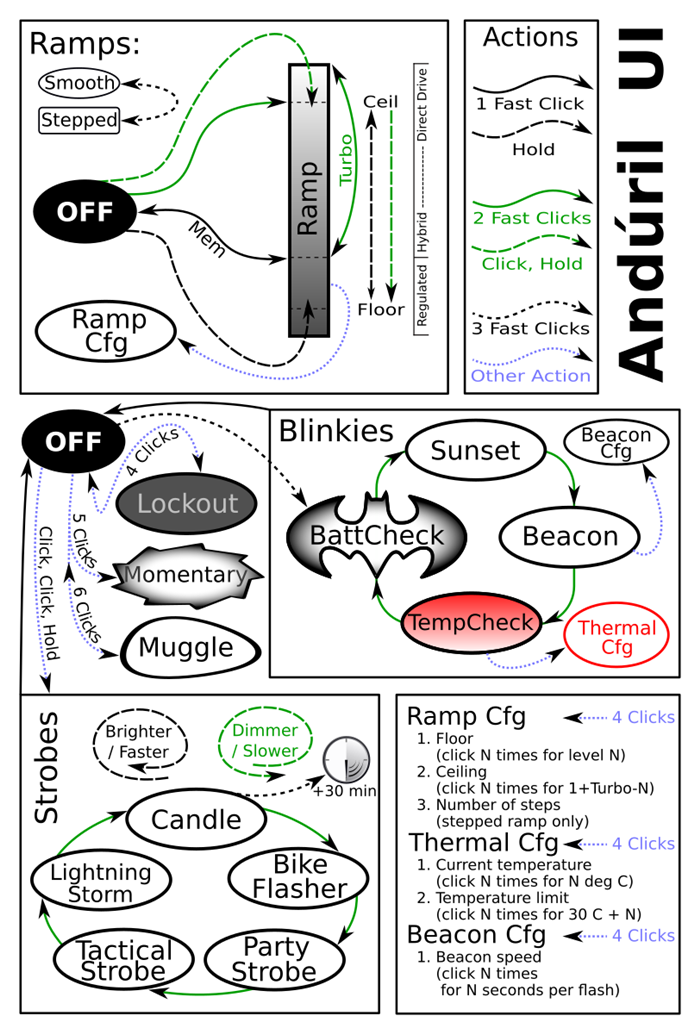 PERFORMANCE
I got a version with neutral Nichia with 3500lums max.
Naturally, the light distribution is as blurry as possible. There is nothing surprising. You have to consider that dynamic range of camera is not that wide as human eye, so there is no really bright hotspot, unlike the pic.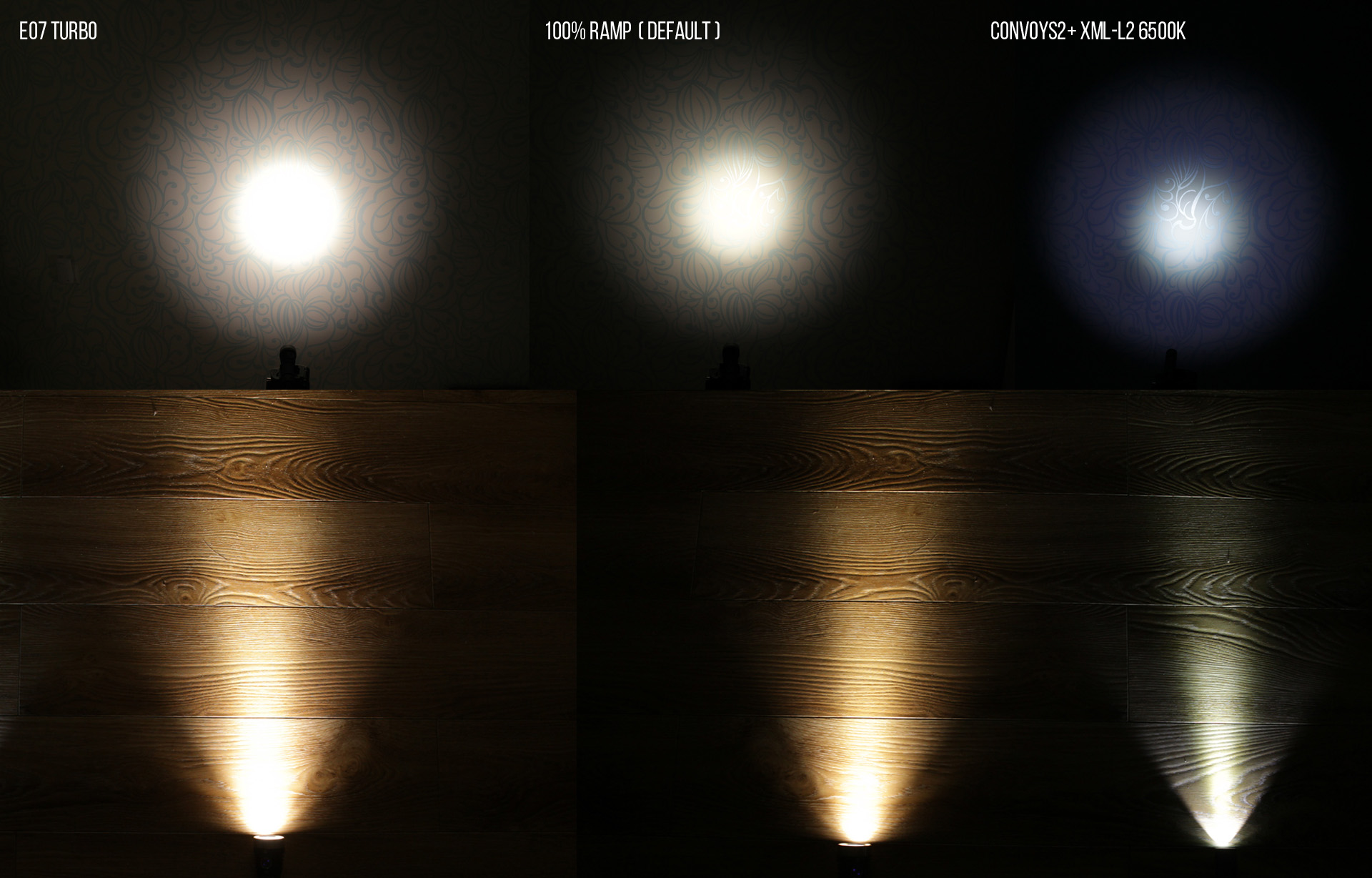 There was a temptation to ask for some brighter LEDs , but then I figured that for the flashlight of such dimensions it would be more rapid burst.
And then the interesting begins. Naturally, the heating in such dimensions occurs very quickly a sthe brightness is really serious. Therefore, the turbo and the "ceiling" (I'm talking about going by default, which is about 50% of the turbo) will not be long even during cooling.
So, in E07, judging by what I read and brought out of communication with the author Anduril, there is no stabilization above the level of about 300 lumens, there goes a direct drive. This is sad. I expected Turbo to be short, and the "ceiling" too. But in reality they are even shorter.
I calibrated thermal sensor, and set threshold at like 70 degrees (50 default). So charts relate to this setting.
What can I say, you may set it to 80-90 degrees, but, actually, even 70 is at the limit of comfortable grip. As FET+3 is used here, chart is mostly expected. But, it seems to be that thermal regulation is too aggressive, see this zigzags there. I don't like it.
It wasn't easy to, but I think I managed to set levels of brightness for runtime tests correctly.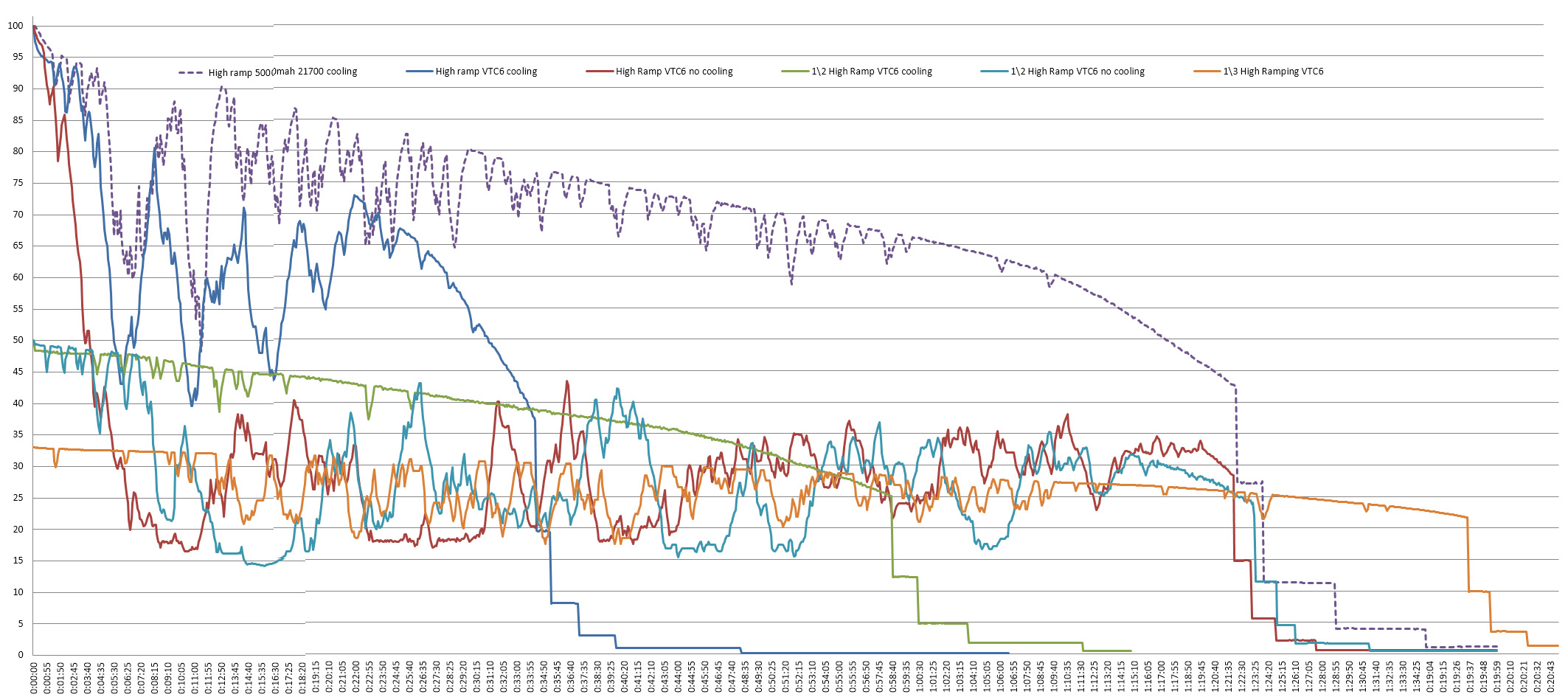 What can I say, there aint much throw, and there shouldnt be. Instead you get nice floody light. I would use it at somewhere around 300-500lums for most of needs and have a huge gap between this brightness and high\turbo in case I need something brighter.
well, i bet most of you used somehting like this and understand what to expect. And it is floooody light, so comfortable in close-mid range. NW pleases eyes, i vote for it instead of more bright CW. Top of default Ramp is quite enough, i coud see tree like 50m from me quite clearly. Turbo gives you some light even to reach like 100-150m range outdoor. Indoor that would be even much more impressive.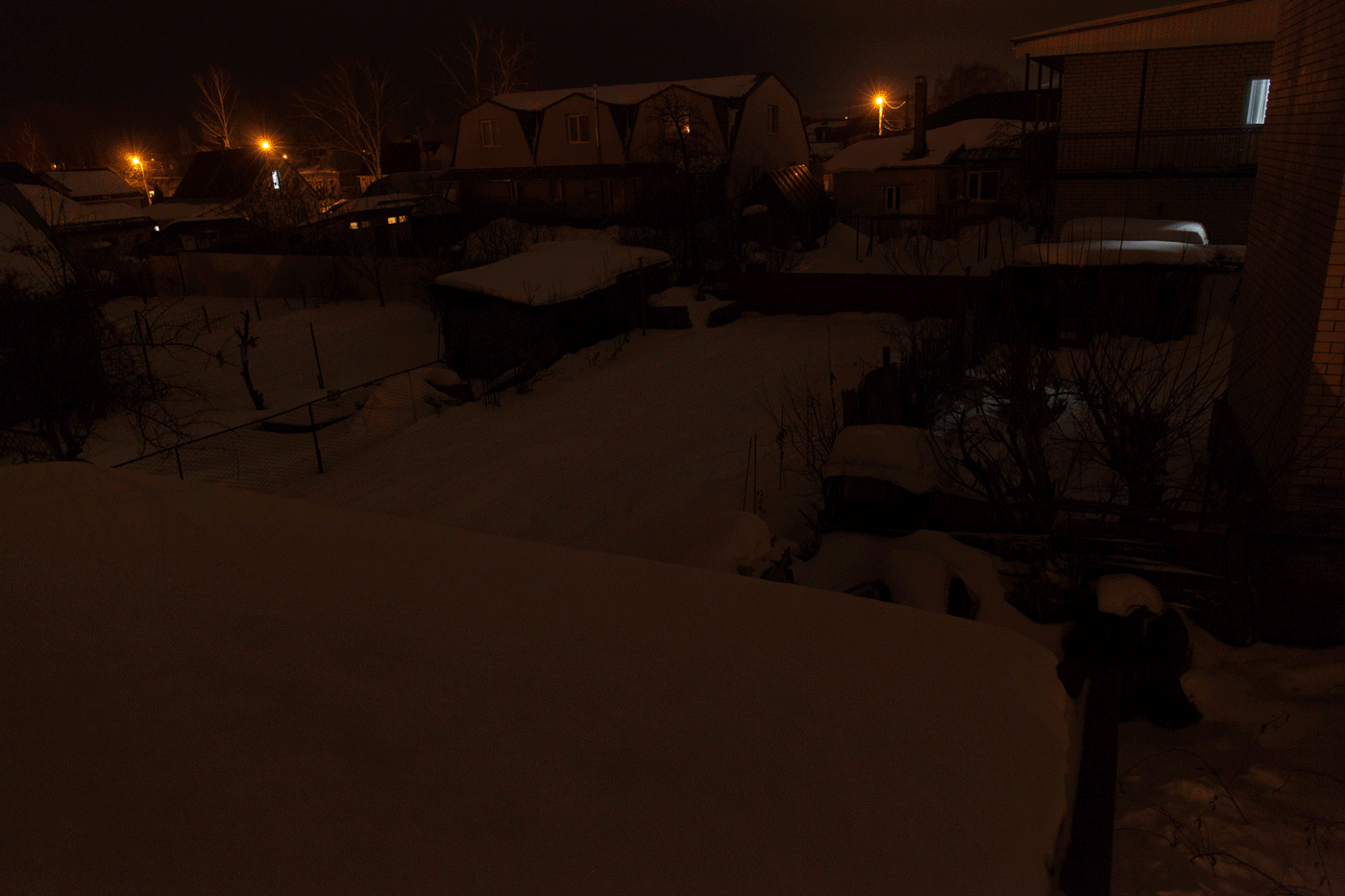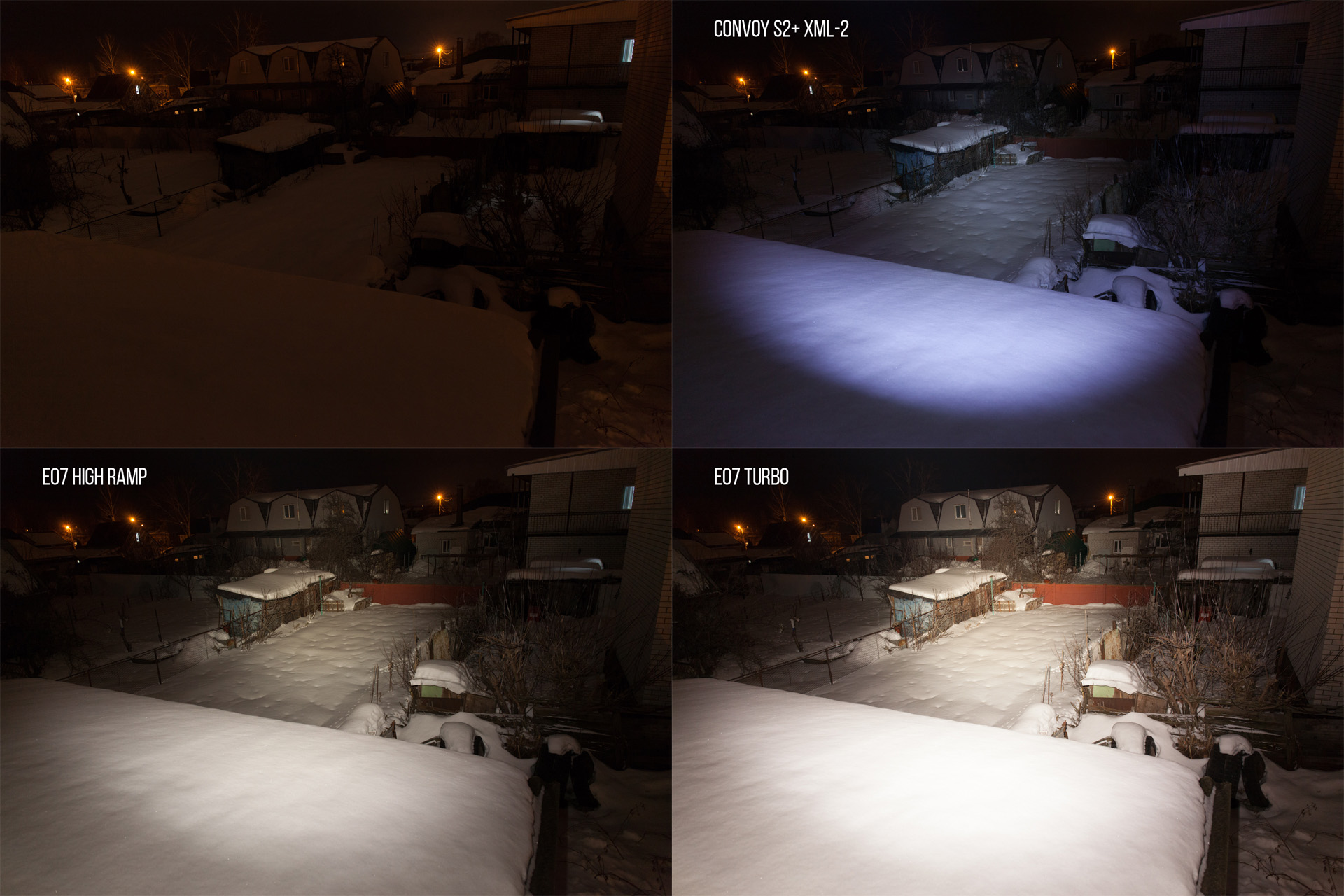 I also did video review. It is in russian, but i hope there will be subtitles. Anyway, it contains all the written above… And there is a alive video right in the beginning of review, so please check.
OVERAL IMPRESSION
My impression is mixed, but mostly positive.
upd. ok, there is definetely kinda russian roulette with QC, see pics in comment. Some FFs lacked thermal paste.
From one hand you get solid, well-build (potential problem – clip) and decent looking flashlight with most flexible UI and awesome blacklight. Being able to contain 5000mah 21700 battery, it is still smaller than lots of regular 21700 lights. Choice of LEDs is wide, that lets you to pick exactly what you need.
In my case E07 gives nice floody HI-CRI NW light, so good for close-mid range needs and, technically you can get a lot of brightness for urgent needs.
But…having all this PROs, E07 doesn't provide with good stabilization like a lot of regular simple flashlights. Lots of them can keep up to 1000lums stabilized, unlike E07 which has to deal with this FET+3 scheme.
Well, for flashaholics, this is a good thing, which enables you to fully customize LEDs and UI. Most of regular users will find UI excessively complicated. Once you are one of BLFers, chances that you like this one are high.