Removable toothy bezel, urban camouflage, good maximum brightness and flexible control vs extremely aggressive thermoregulation and a giant gap between the high-turbo.
This is, in general, not a new model. But given the fact that the brightness even in the budget lanterns has now actually reached a decent level, you can not pay attention to it.
You can buy a flashlight at
➤ ALIEXPRESS ➤ AMAZON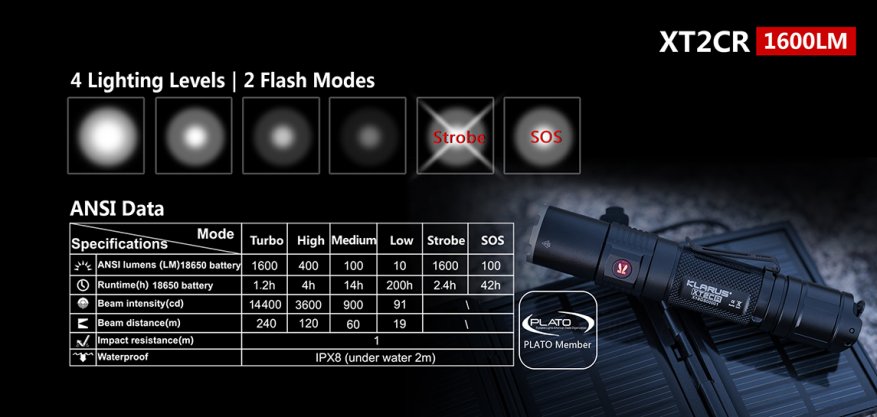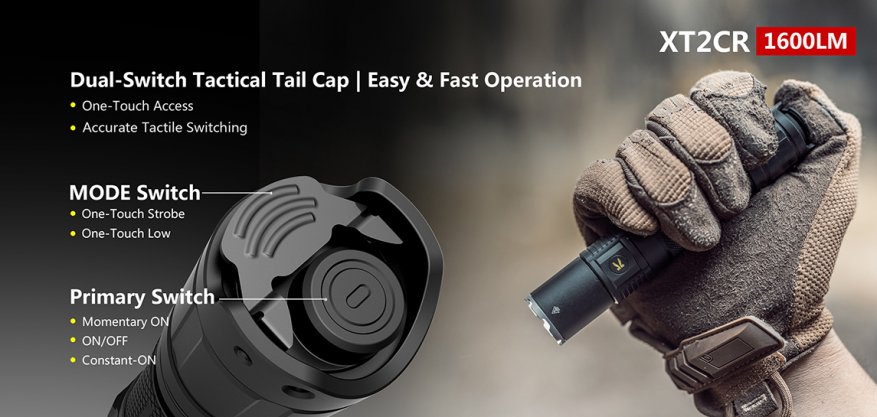 Official specification
I have an ambiguous attitude towards Klarus. Like 2 years ago I consider this this company to be a manufacturer of ideal tactical flashlights – with flexible controls, good light and everything else needed for this type of flashlights. Unfortunately, the manufacturer began to harmoniously balance all these advantages with a huge gap between the High-turbo and the wildest "saw" of thermoregulation
Well, quite a good package. Not luxury, but quite presentable. It will look good both on the shelf of the store and in the hands of the one to whom you decide to donate this flashlight. Decent design, normal printing. Here, for comparison, other Klarus models.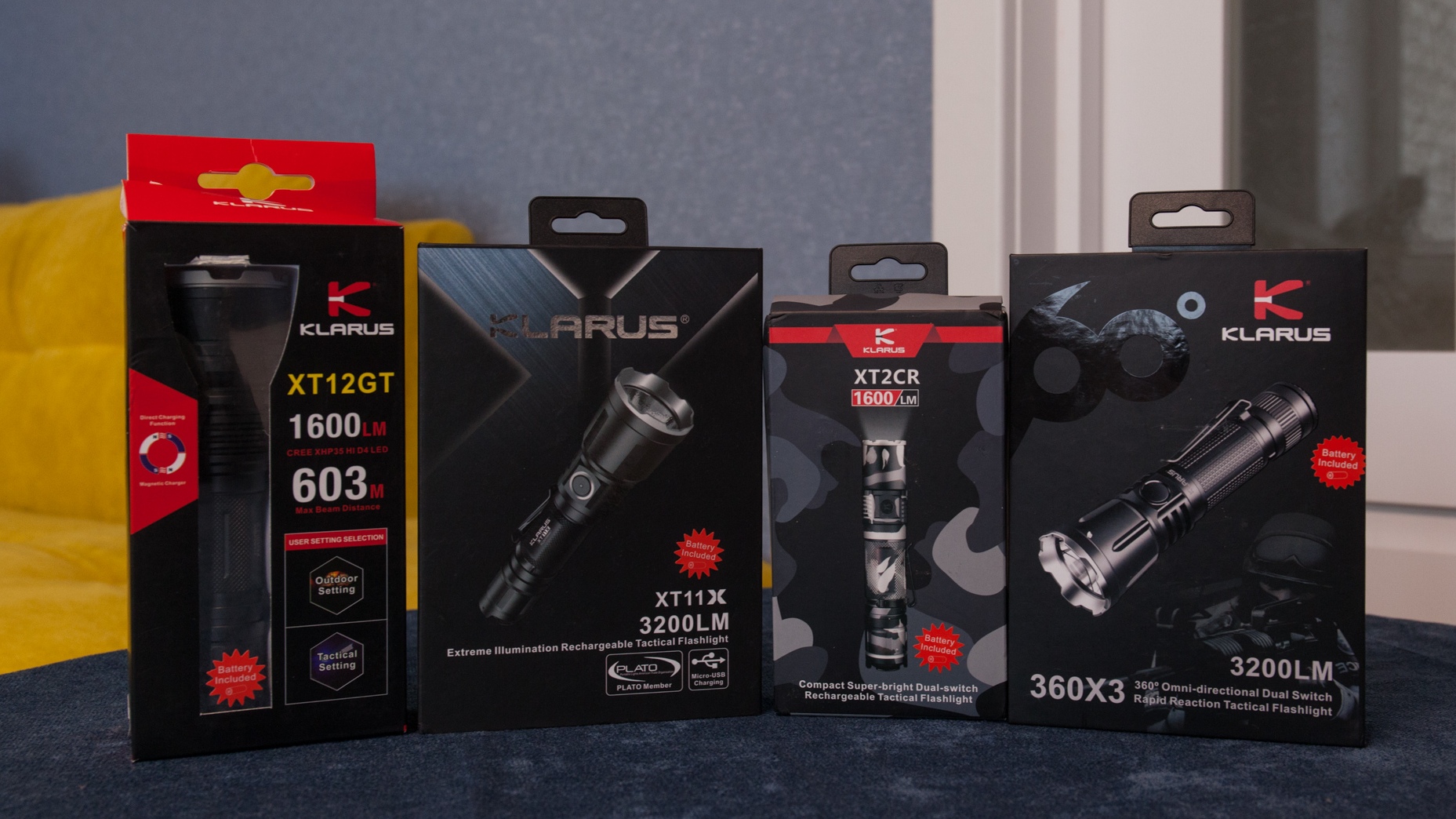 Inside the standard and expected set: flashlight, good 3600mah battery, holster, charging cable, lanyard, instruction, o-rings.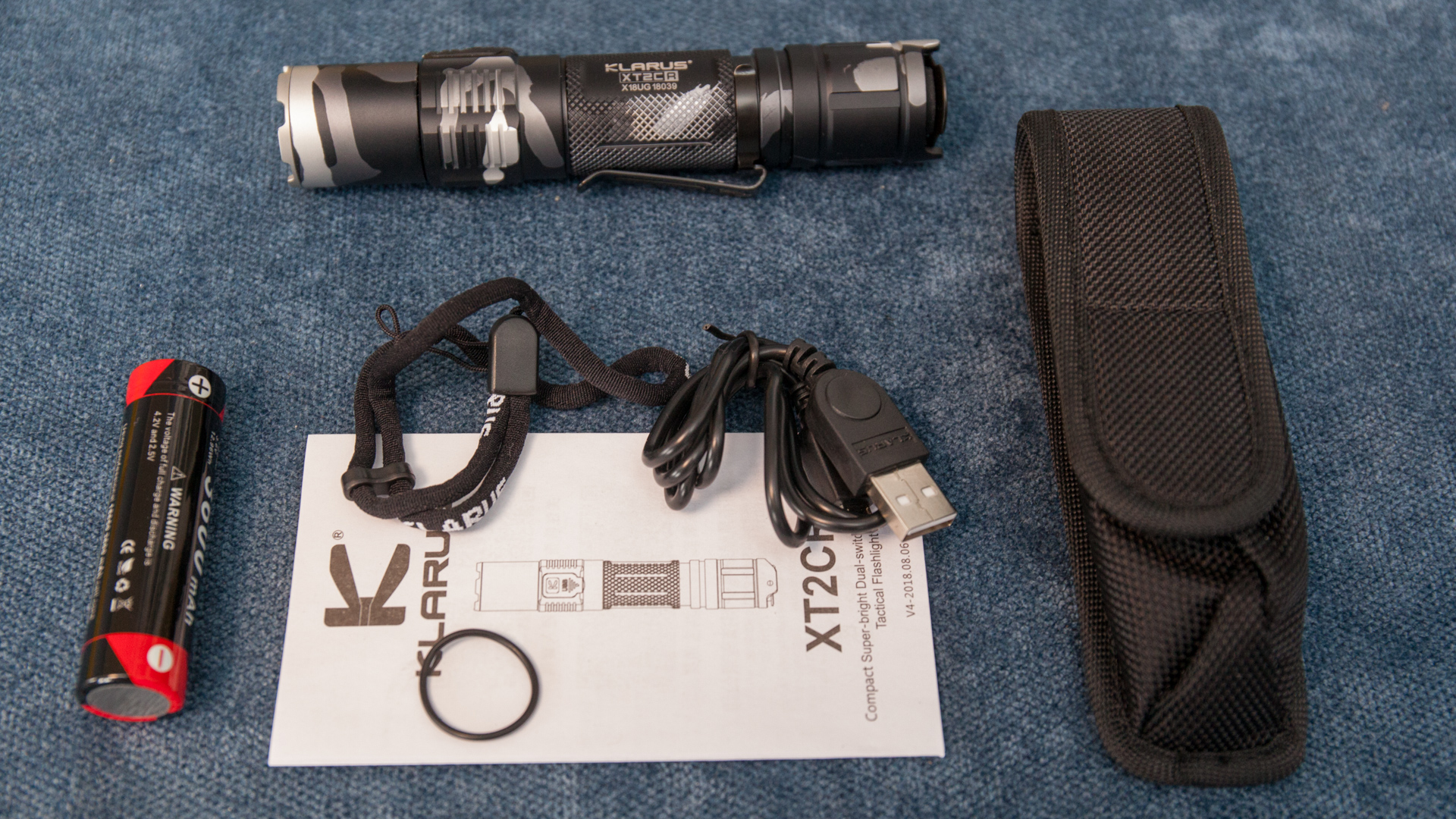 The holster is normal, just a good holster. it's hard to add something to it that would make it great.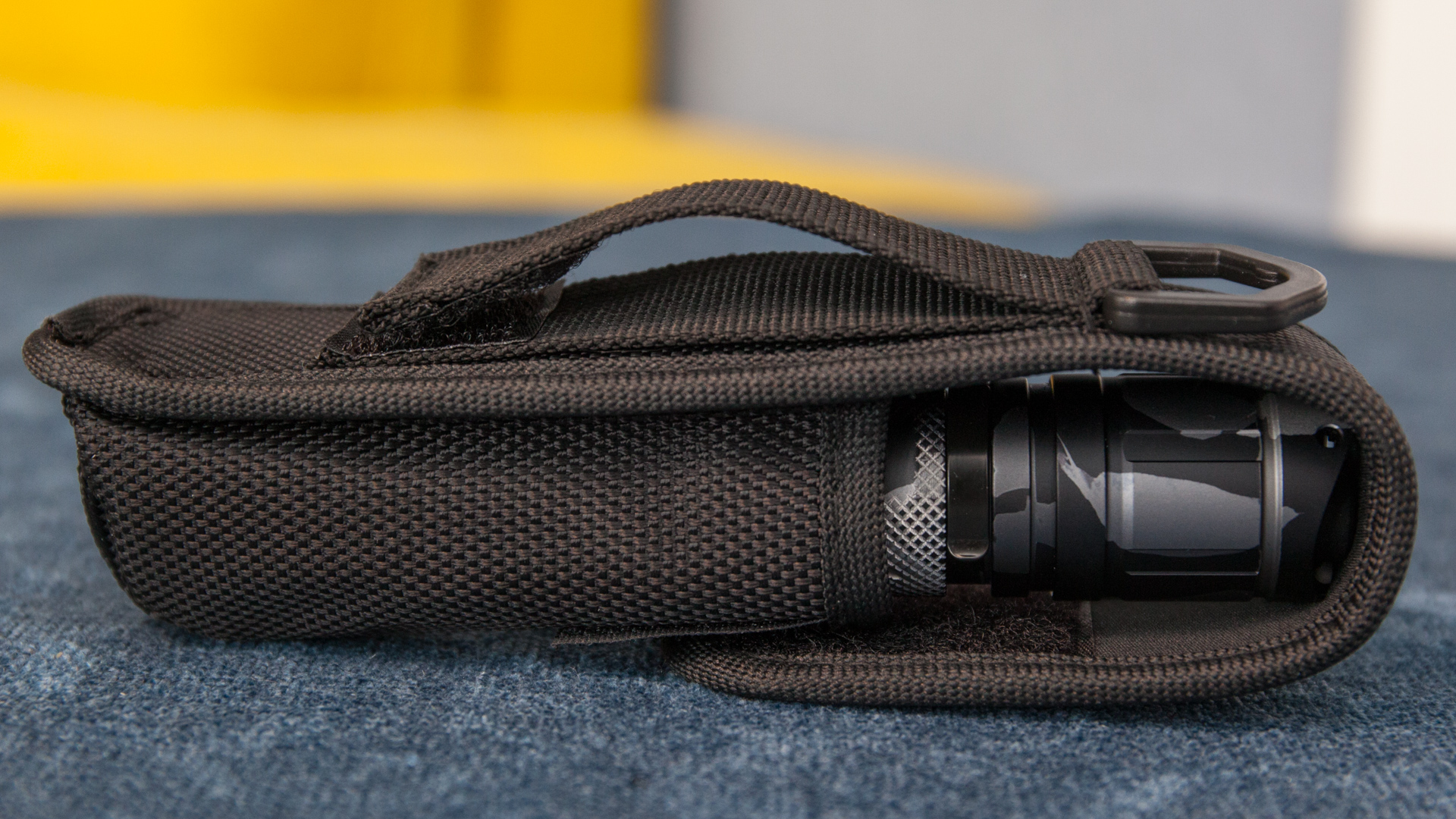 Here is the flashlight itself.I will clarify right away – there is an option in the classic black color, but there is such a tactical-tactical one. This is the very first time I come across such a camouflage color, I liked it.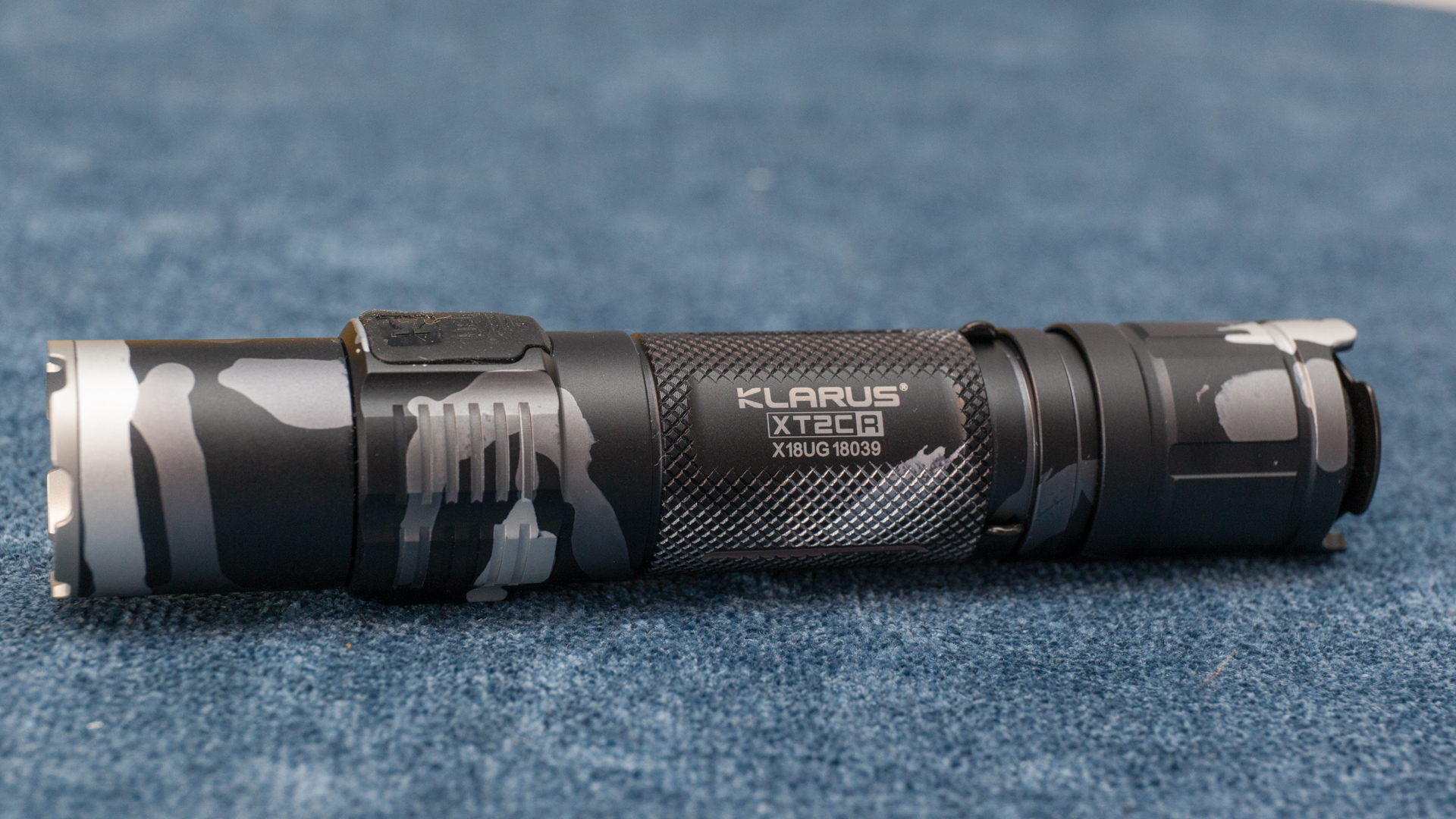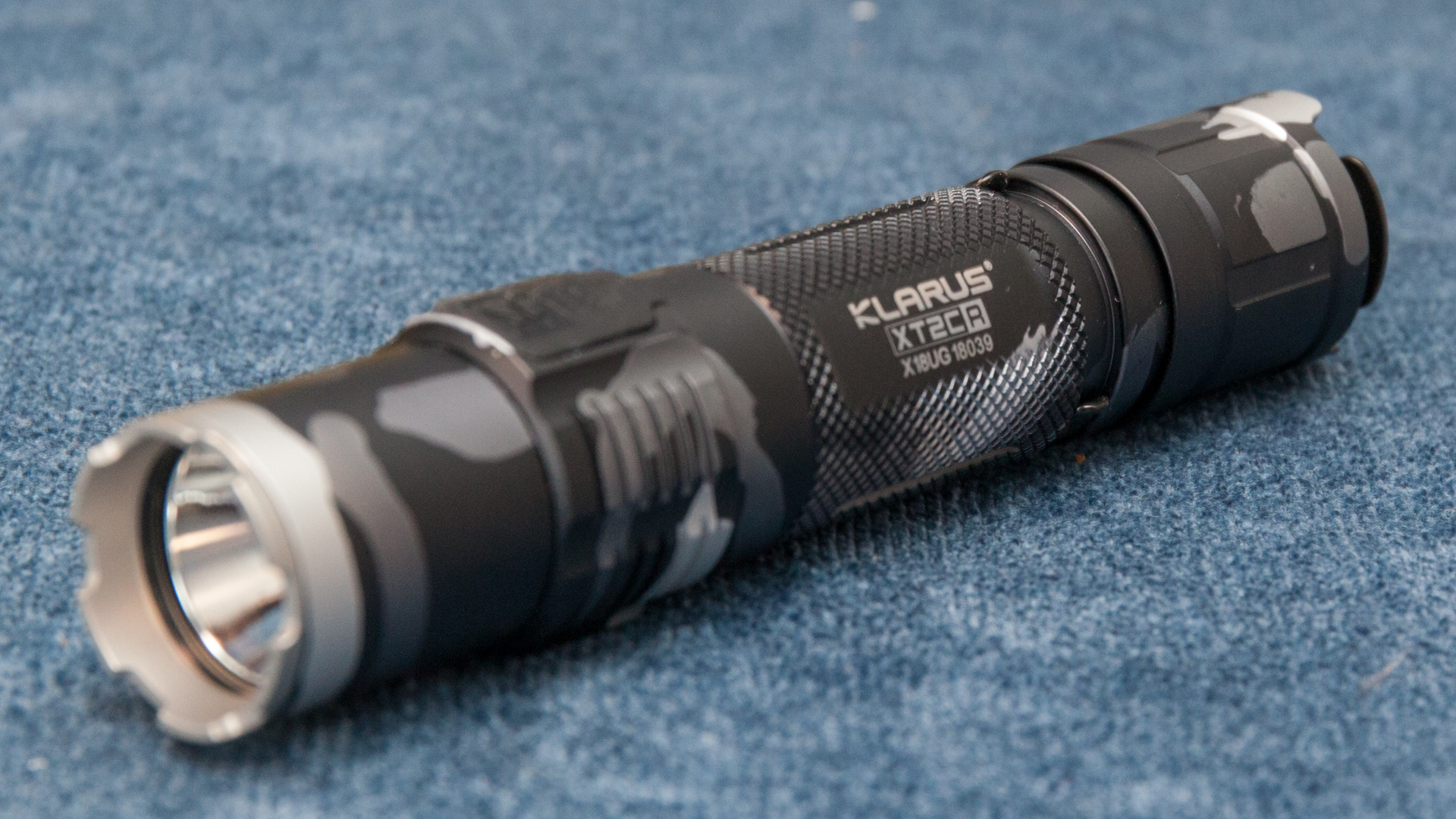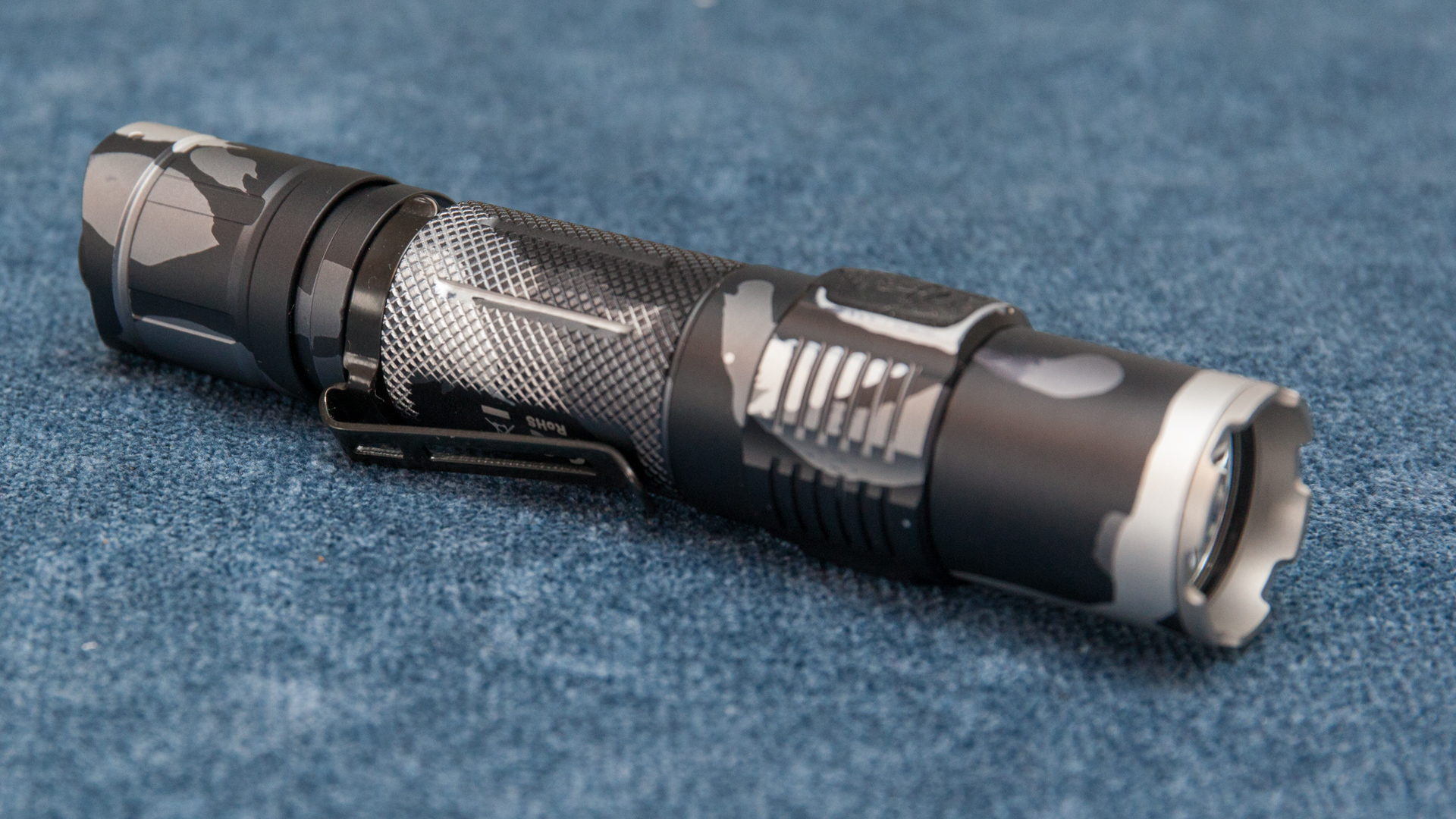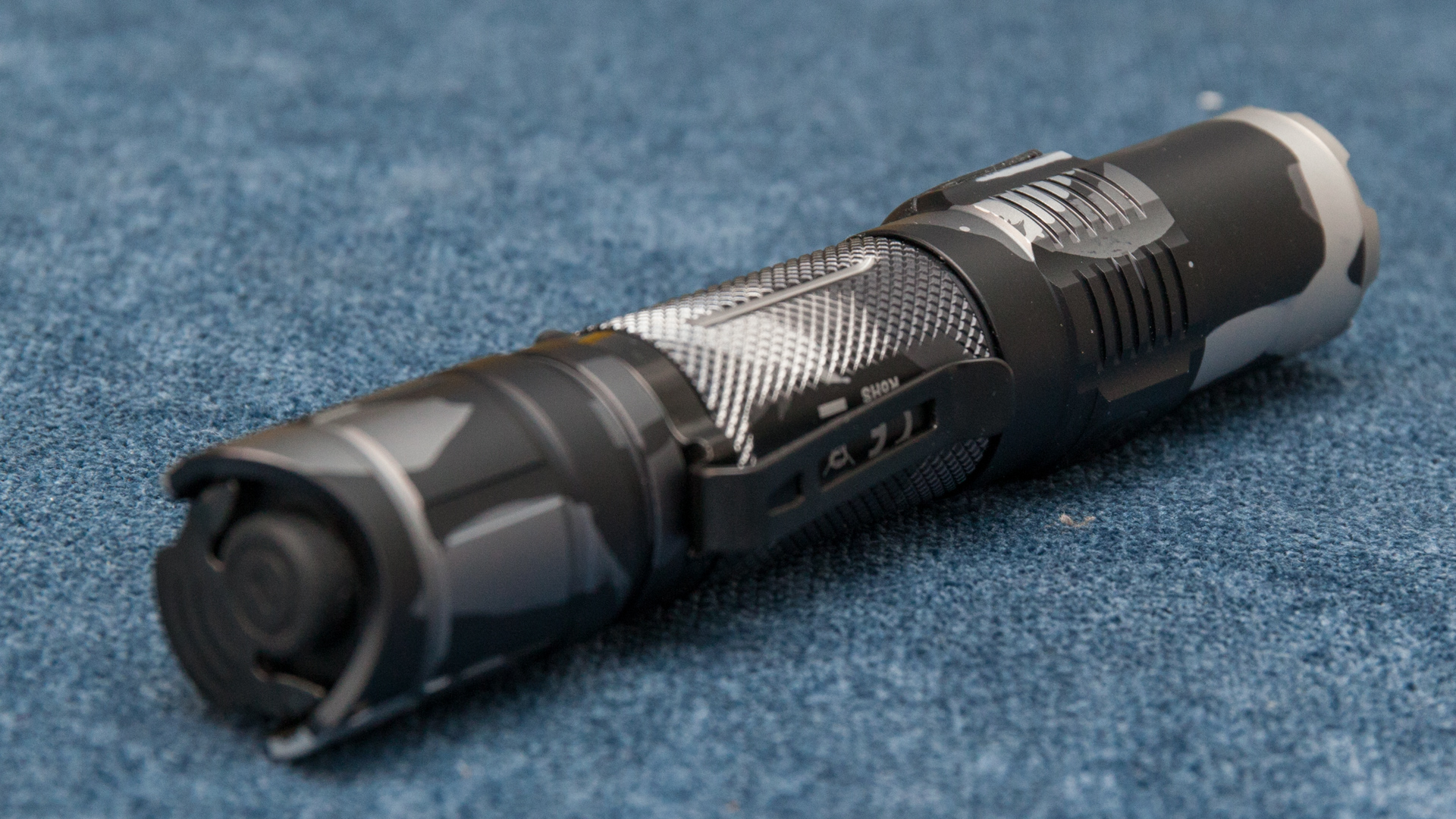 14cm length is shorter than other XT stuff, but is right on the edge of being EDC.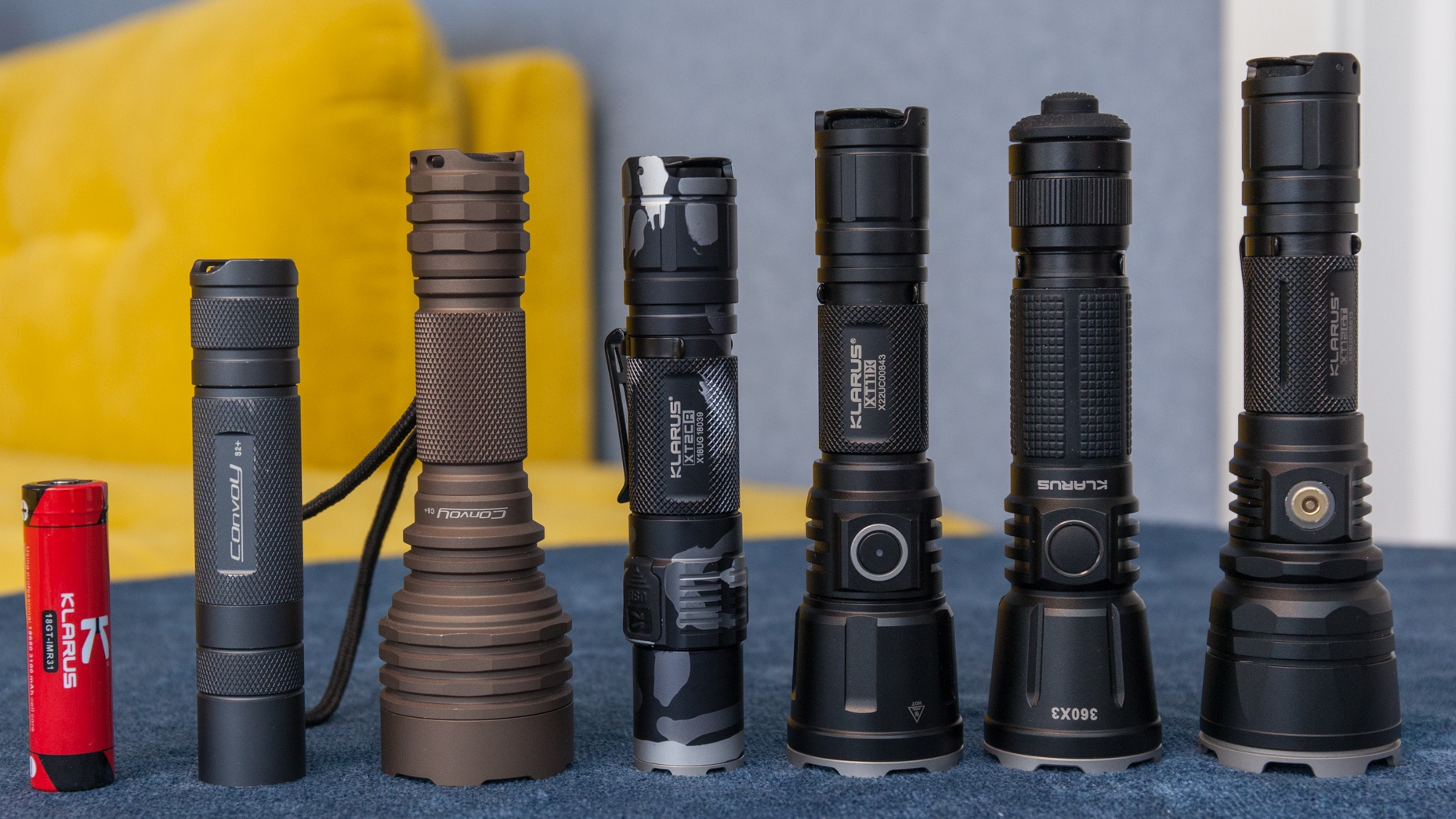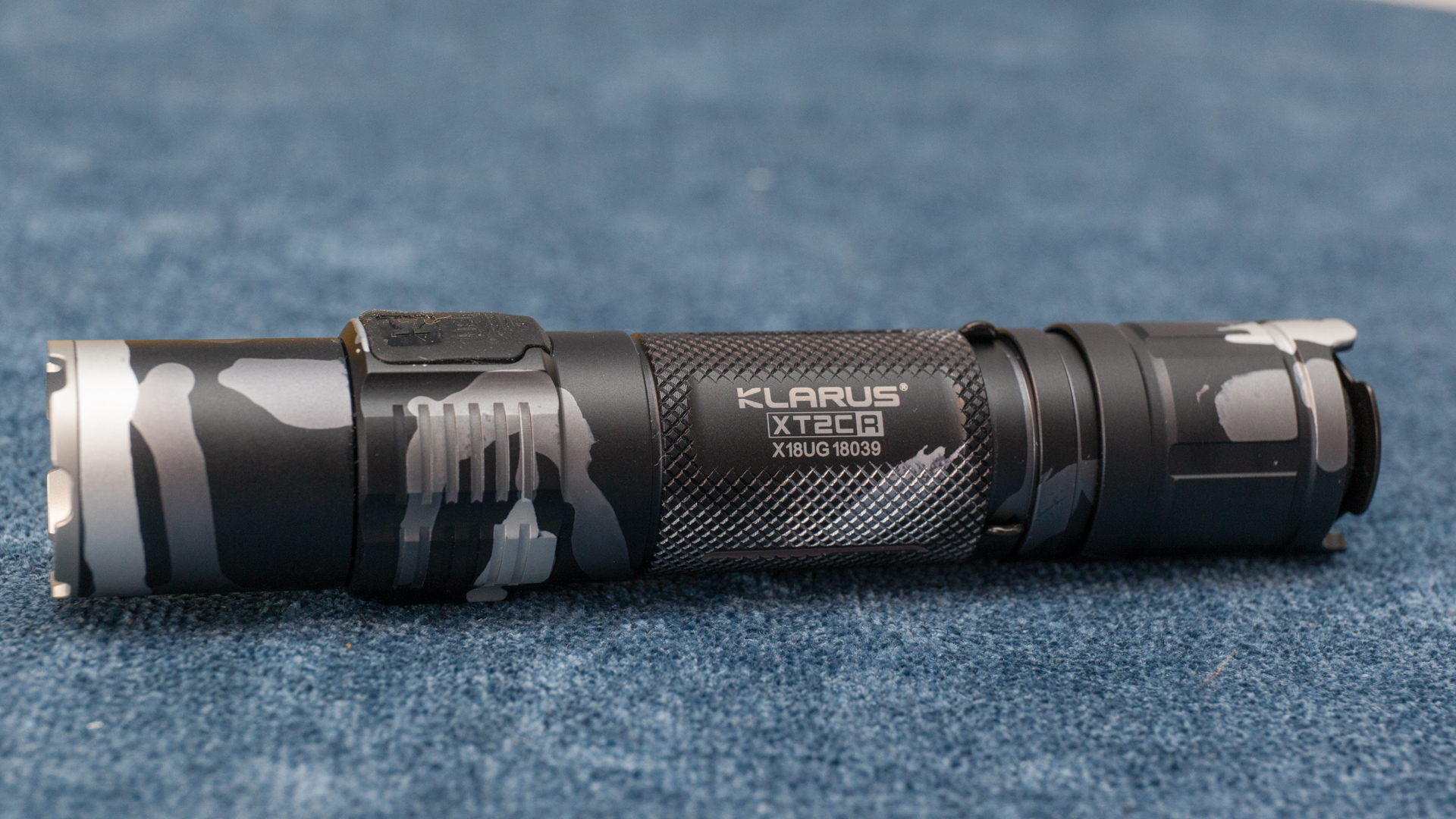 The tail is the usual combination of a power button and mode switch, like any other for the XT line. Convenient and practical, you can have comfortable and quick access to everything you need for ordinary and tactical purposes without a side button, since Klarus's trump card is just two separate sets of modes.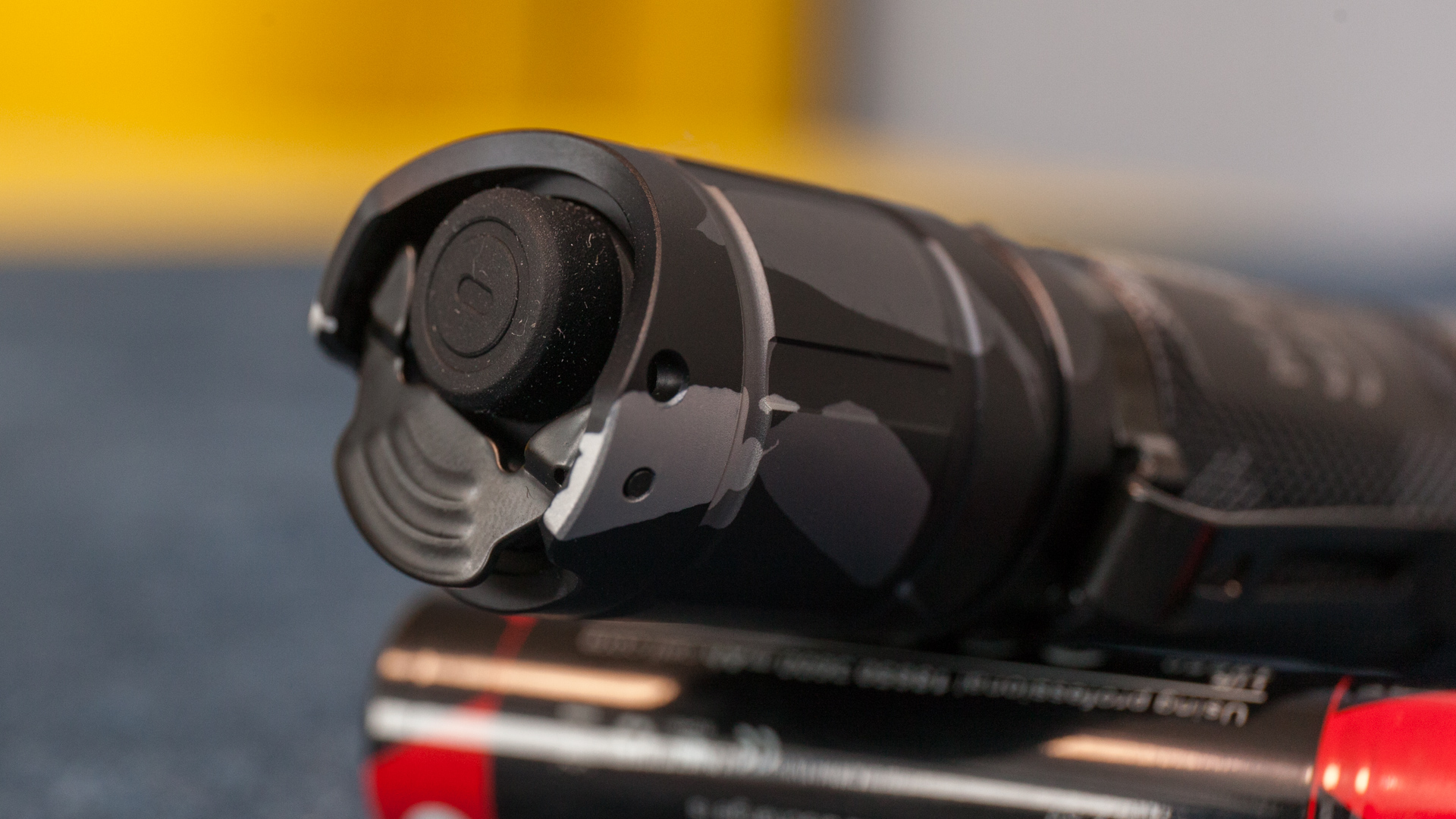 The spring on the tailcover is quite thick for the stated maximum brightness. And even so there is a reserve – it is double spring So far, nothing to complain about. But from the side of the head it is single.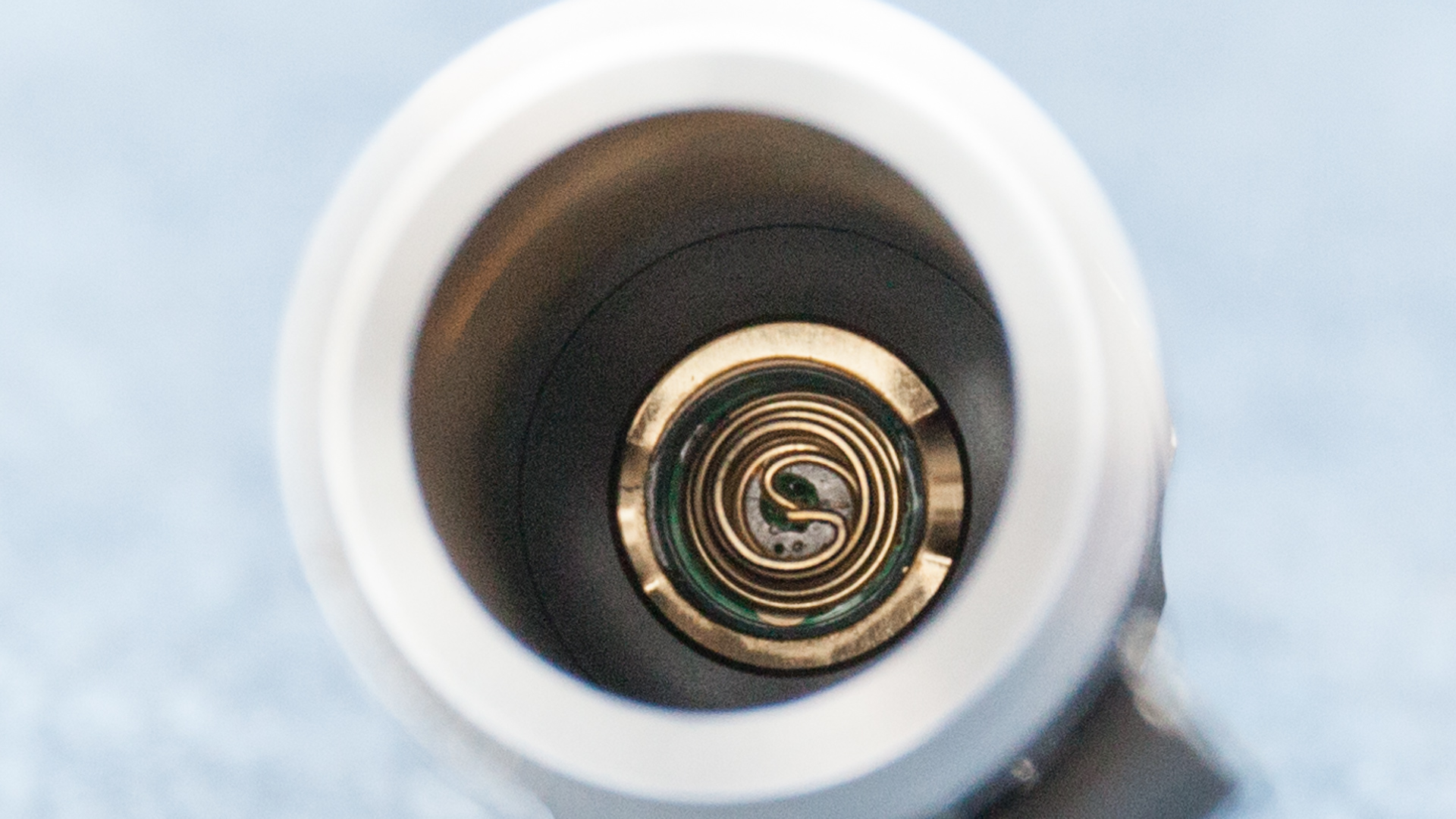 Lubrication is good. Here you can see at the same time that another additional tube is pressed into the outer case. This is perfectly normal for such a dual control.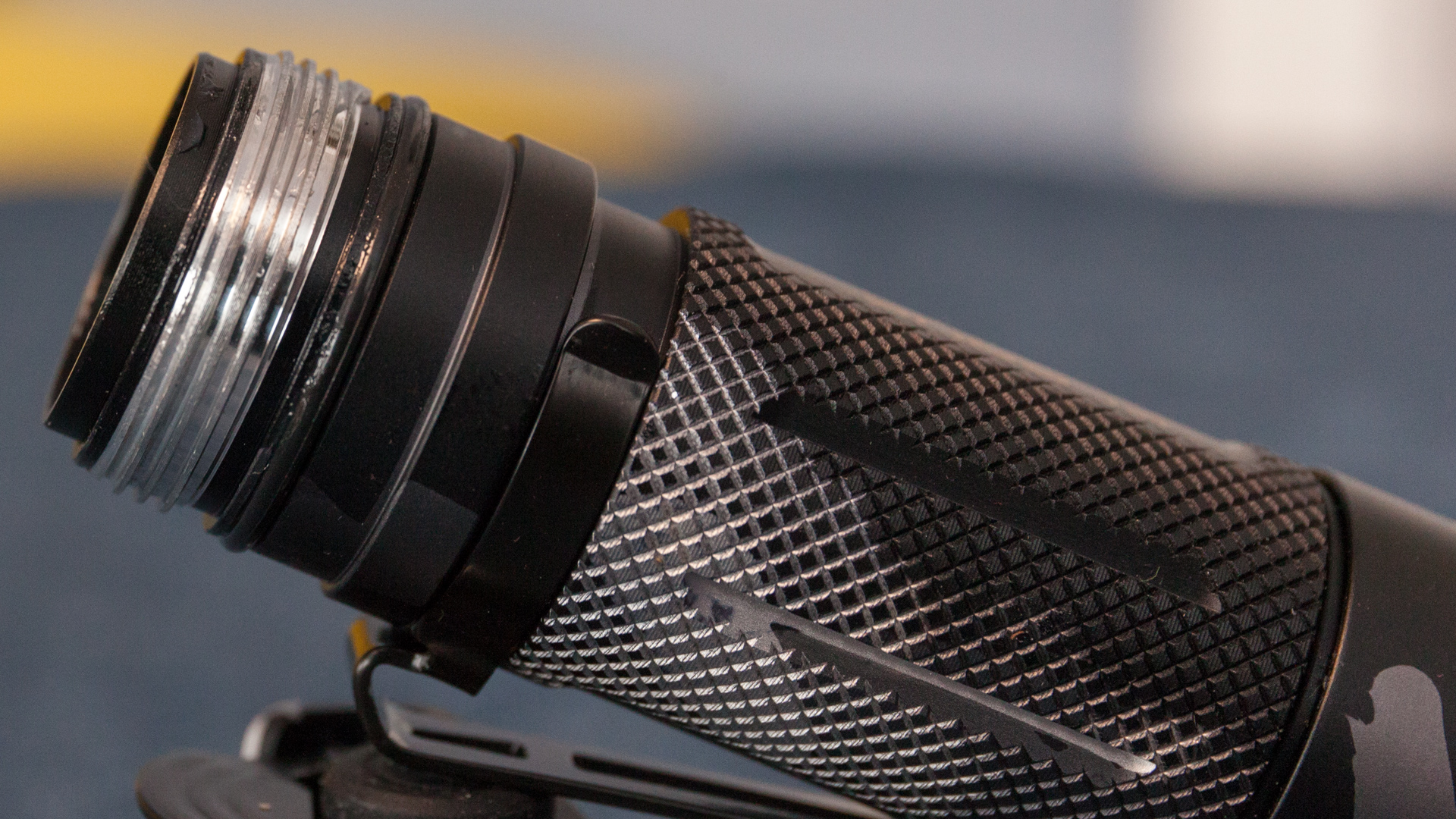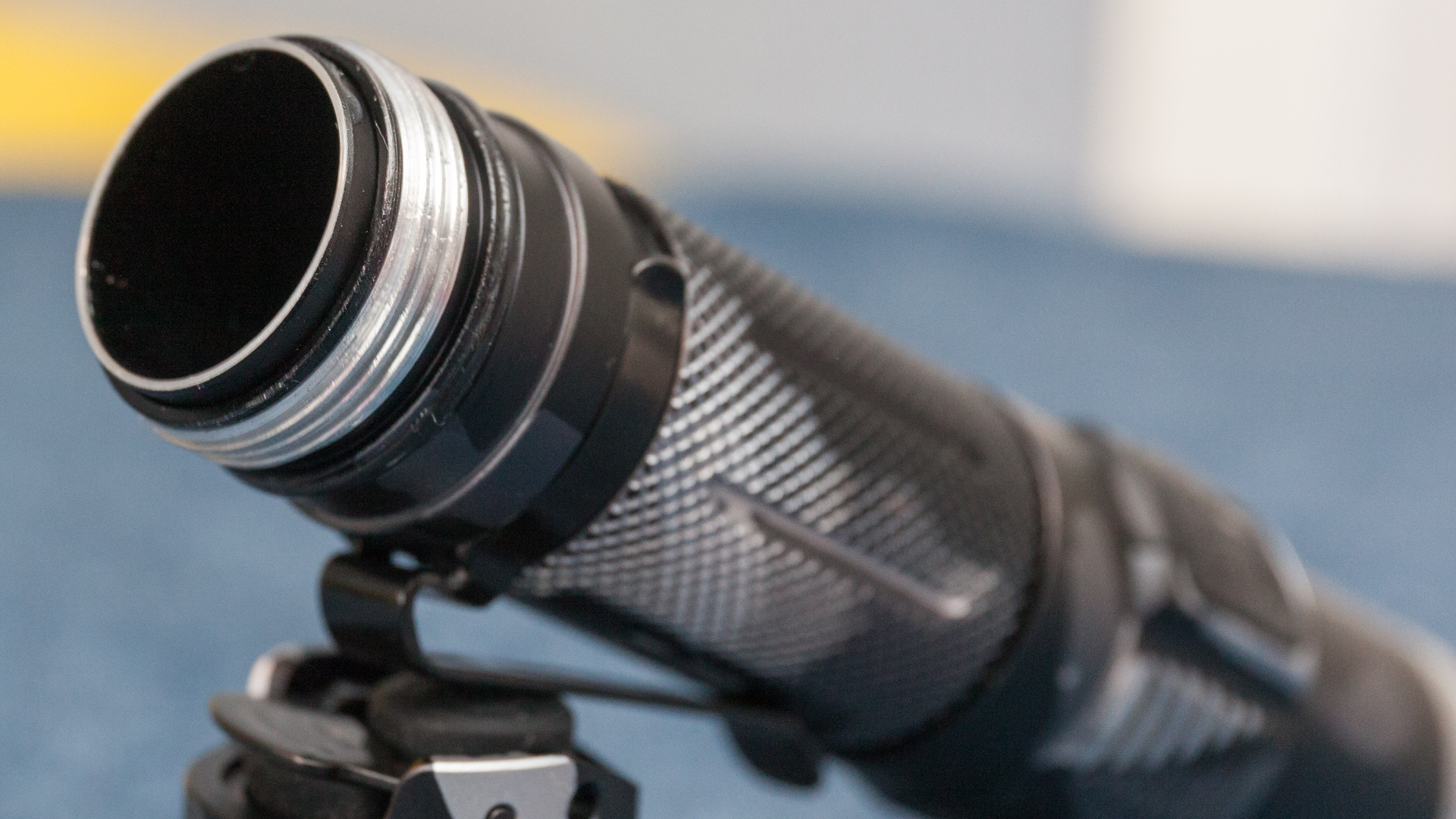 Knurling is completely ordinary. Diamonds, albeit small, but rather tenacious. Together with the clip, they provide quite reliable grip. The clip, by the way, is very tight and can only be removed with great effort. Unfortunately, the landing nest under the clip is only one. This could be compensated by a double-sided clip (as in Olight), but alas … Not that it was a serious disadvantage, but the refinement would be frankly penny.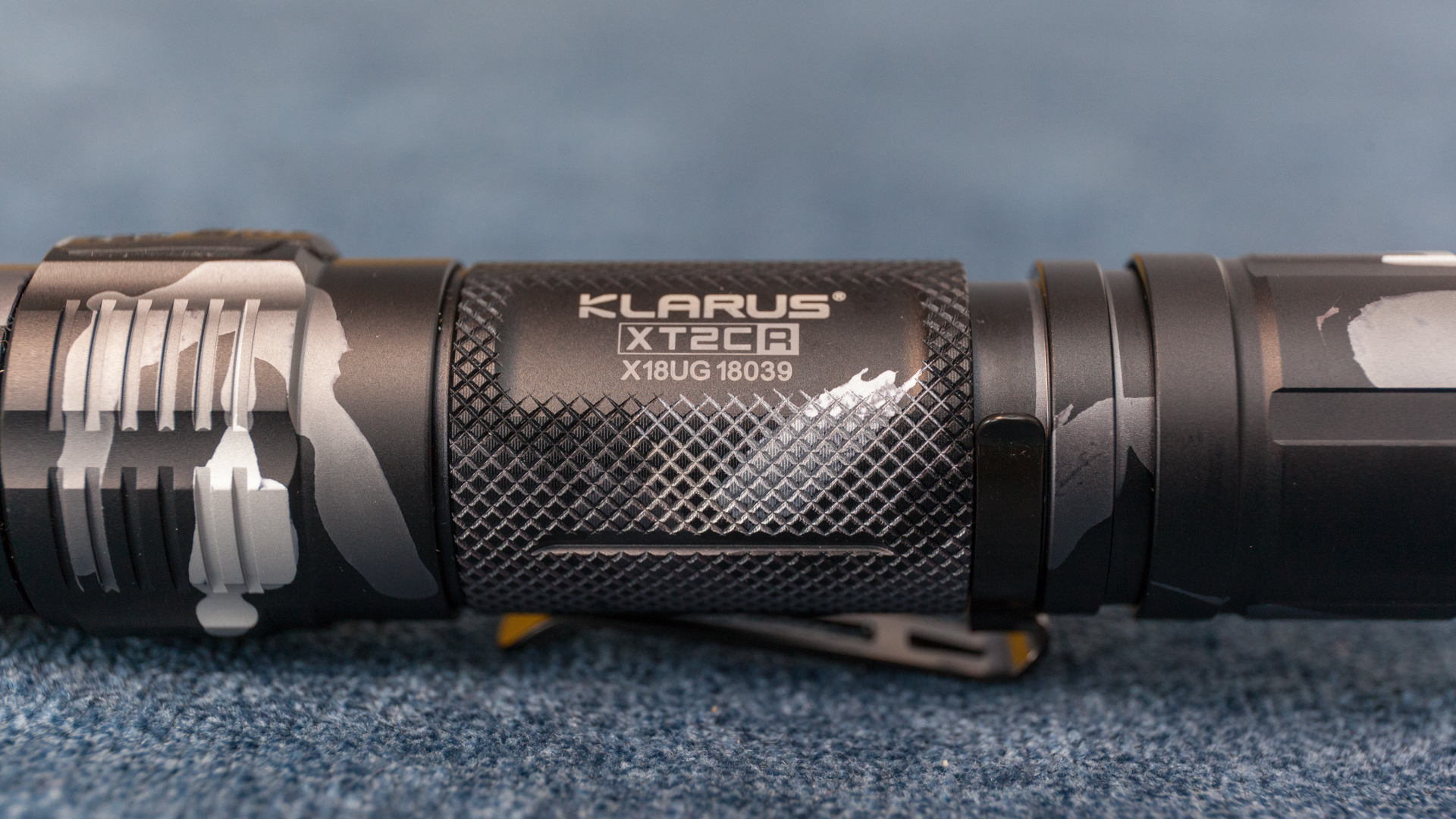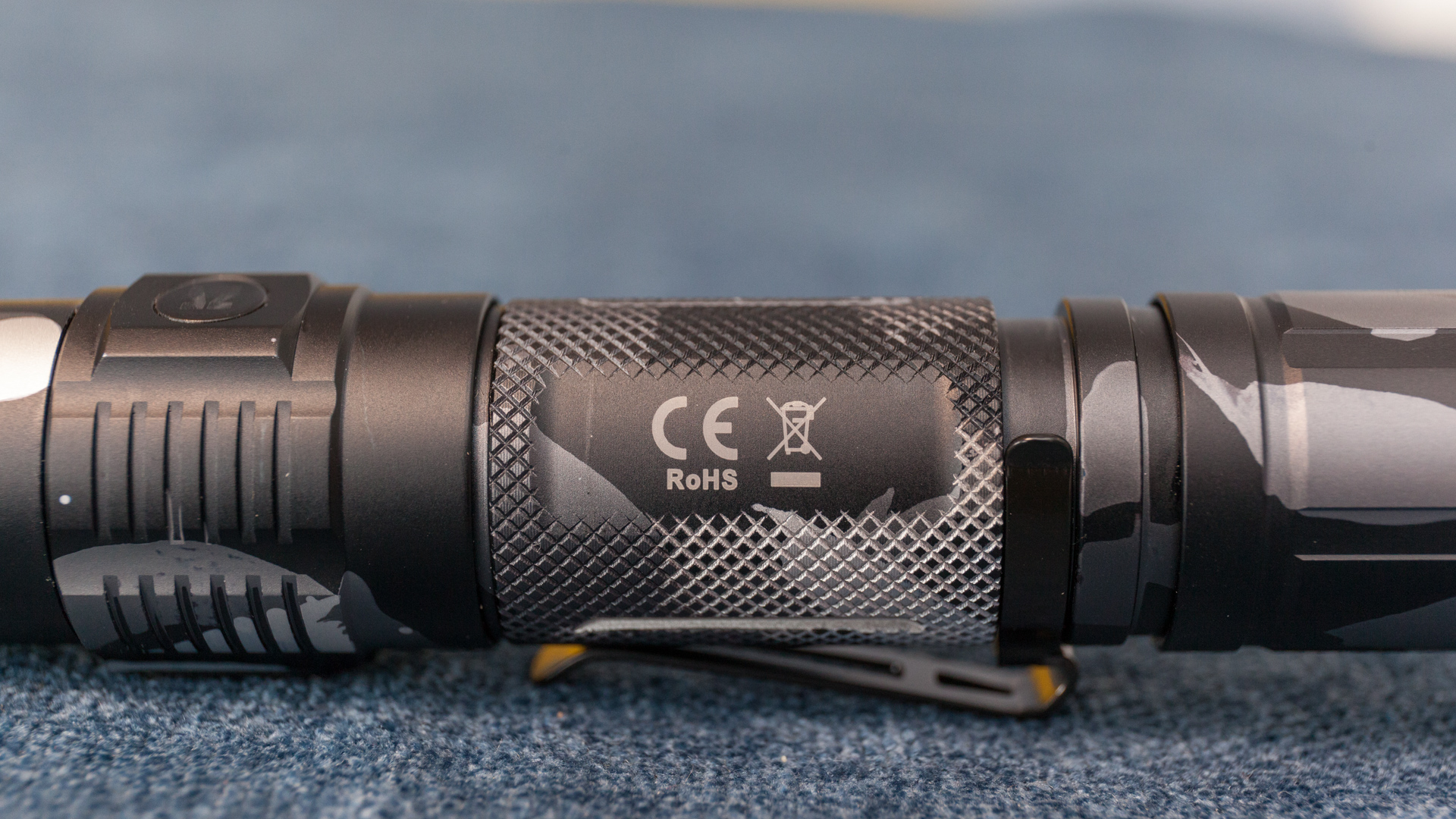 The grip is quite comfortable.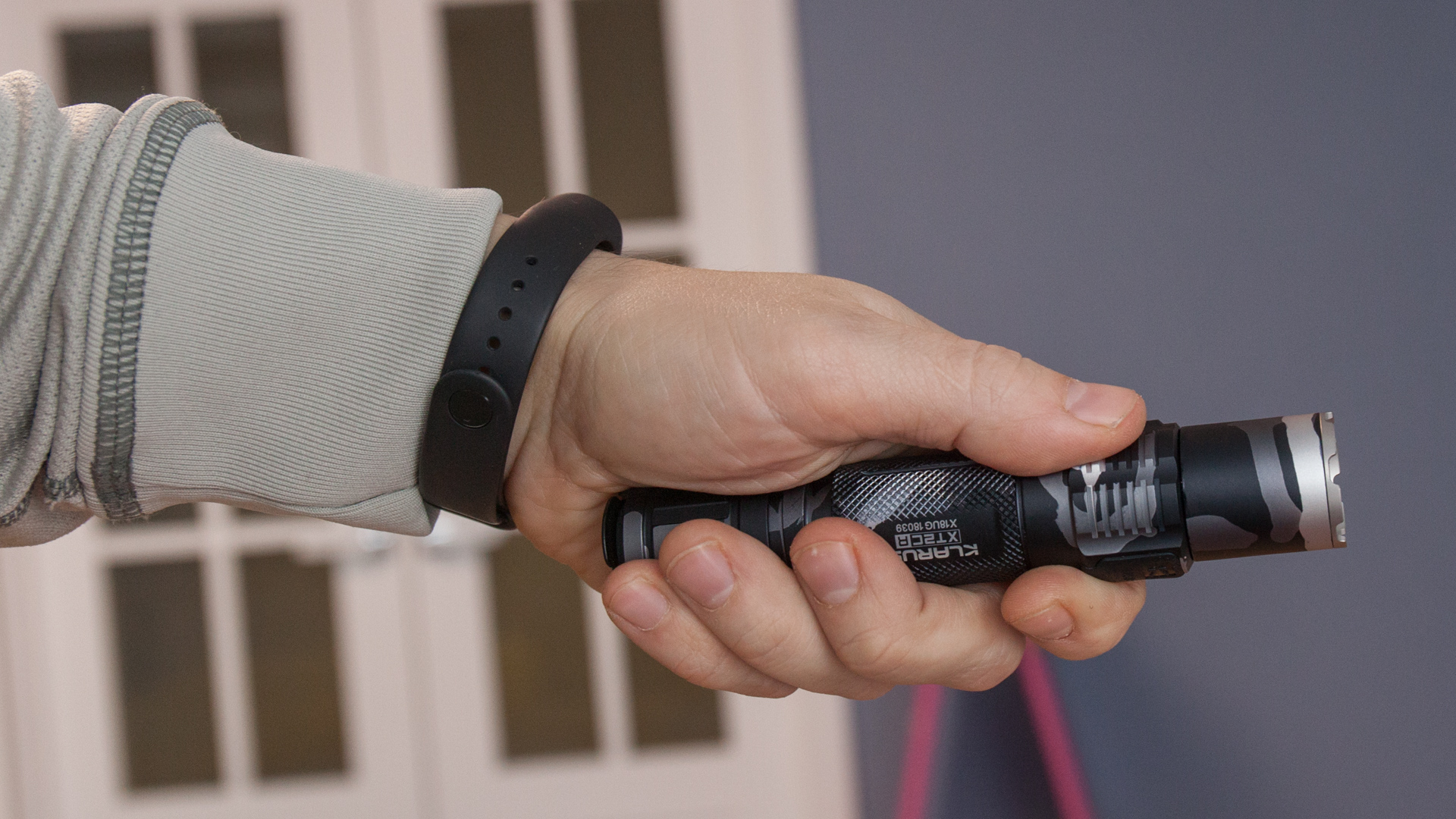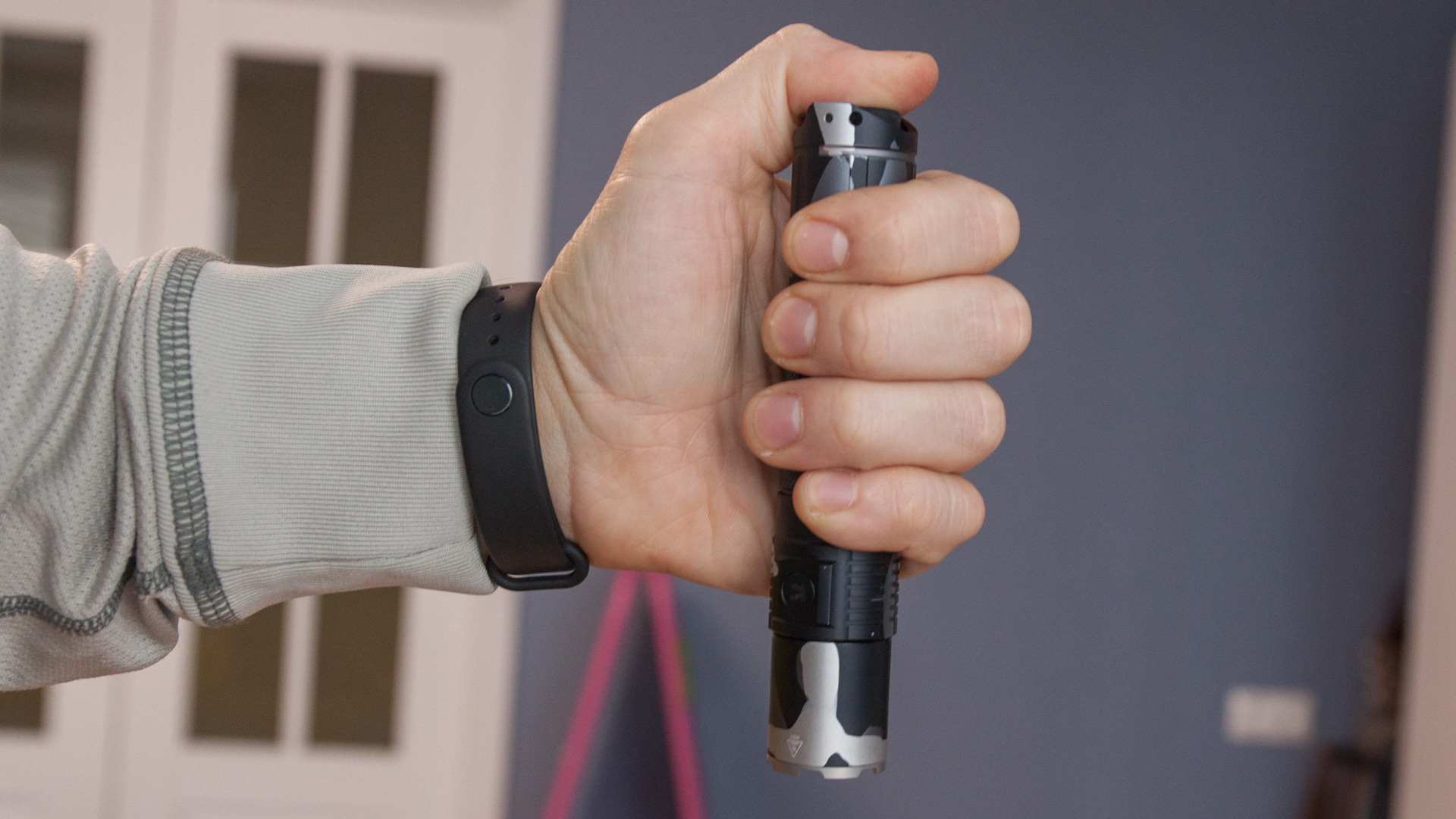 On opposite sides of the head are the indicator and micro-USB charging connector. The cover of the latter is wonderful. Thick, tight, moderately easy to open.

The indicator is a plastic round with a capital letter K from the logo. It, depending on the degree of discharge of the battery, glows green / orange / red.

The cooling fins are nominally present, in fact it is a symbolic groove around the perimeter of the head.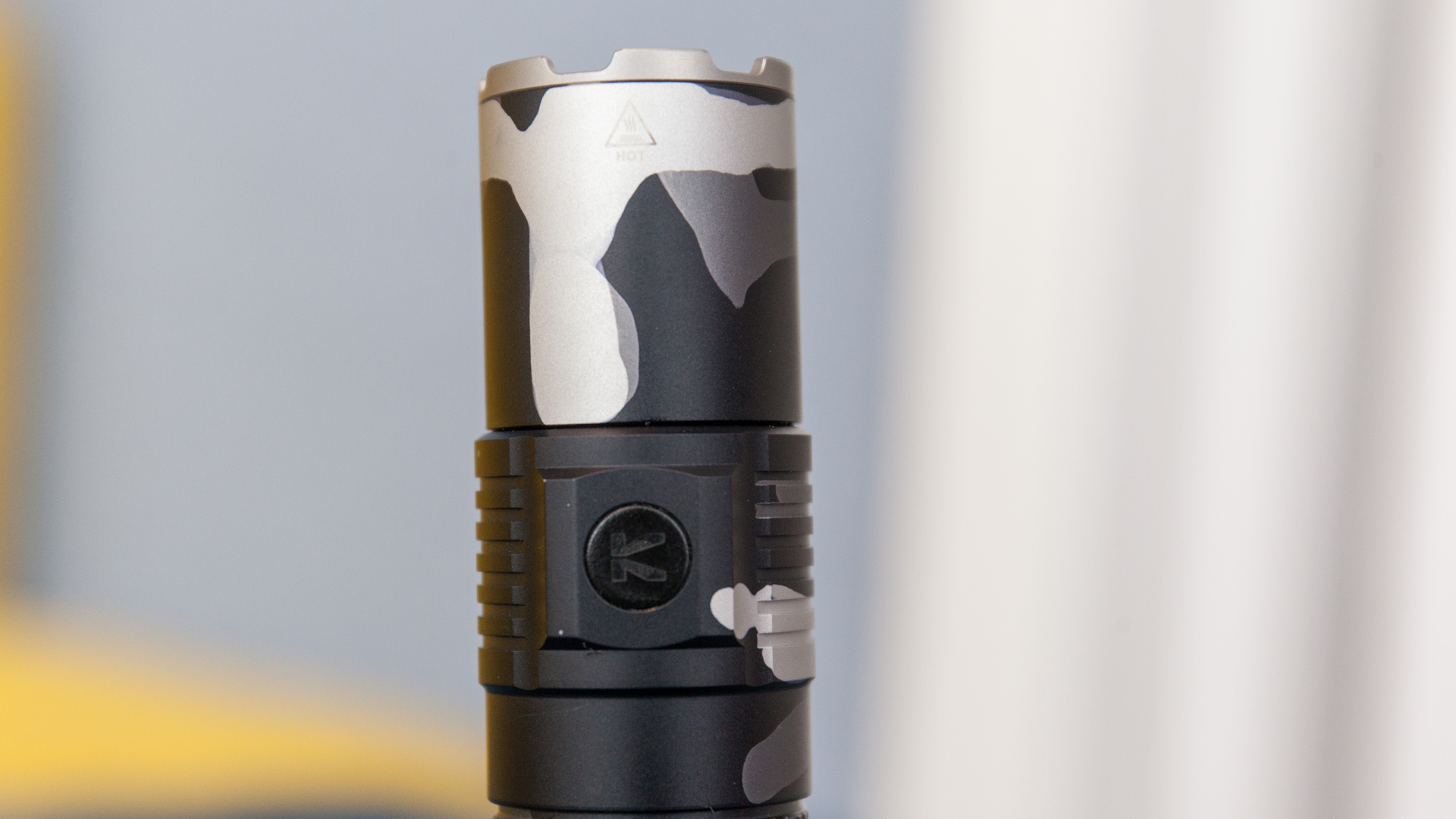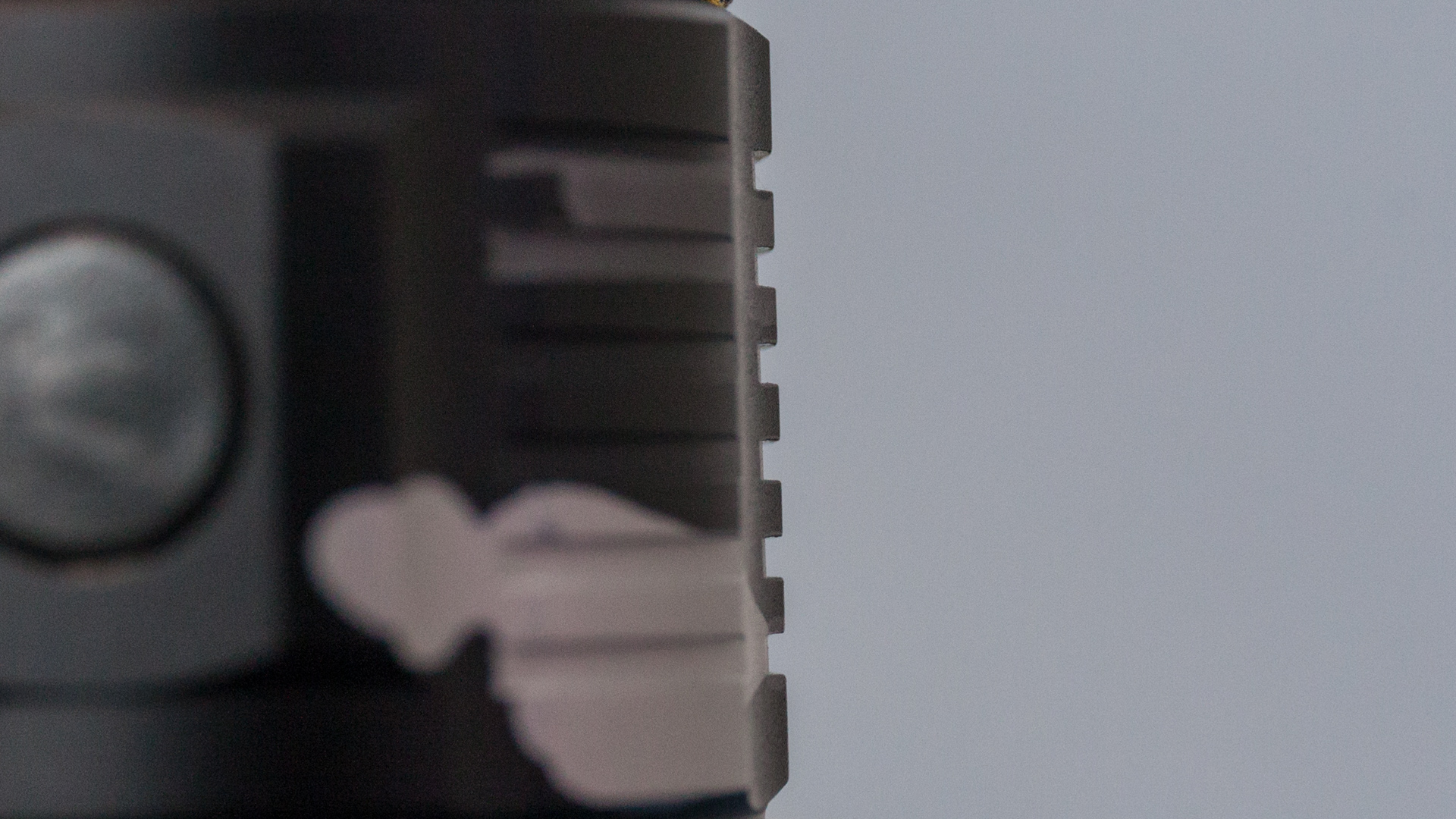 The bezel can be easily unscrewed. On the one hand, this is good – you can use the flashlight just like a regular pocket one, without fear of tearing through the lining of your pocket. On the other hand, curls are too easily.But, if well tightened, it will hold, and hold securely. If you fail, then the cherished 2.5 turns can happen and the bezel will sink into obscurity. But, nevertheless, while I see more pluses than minuses here.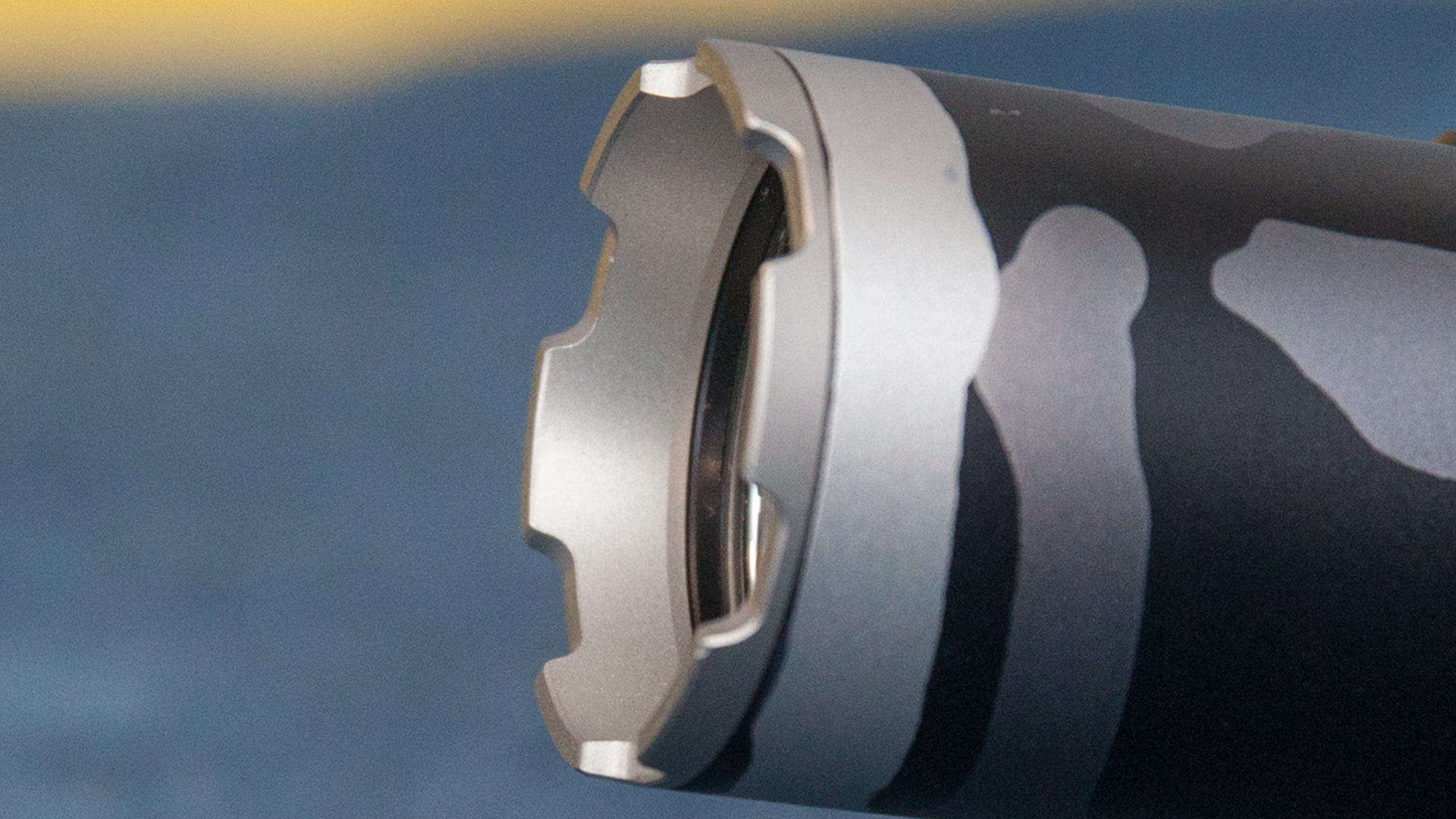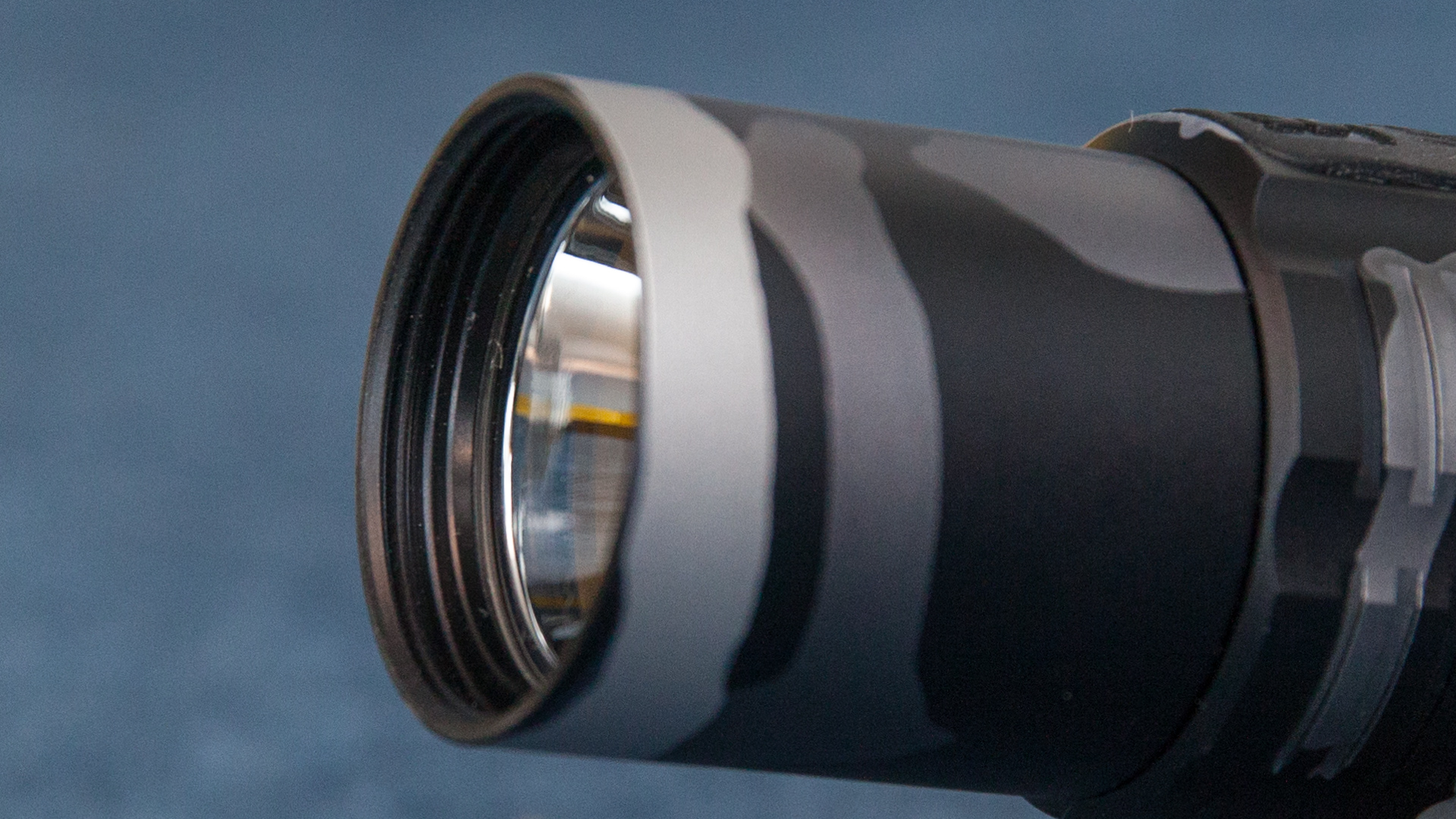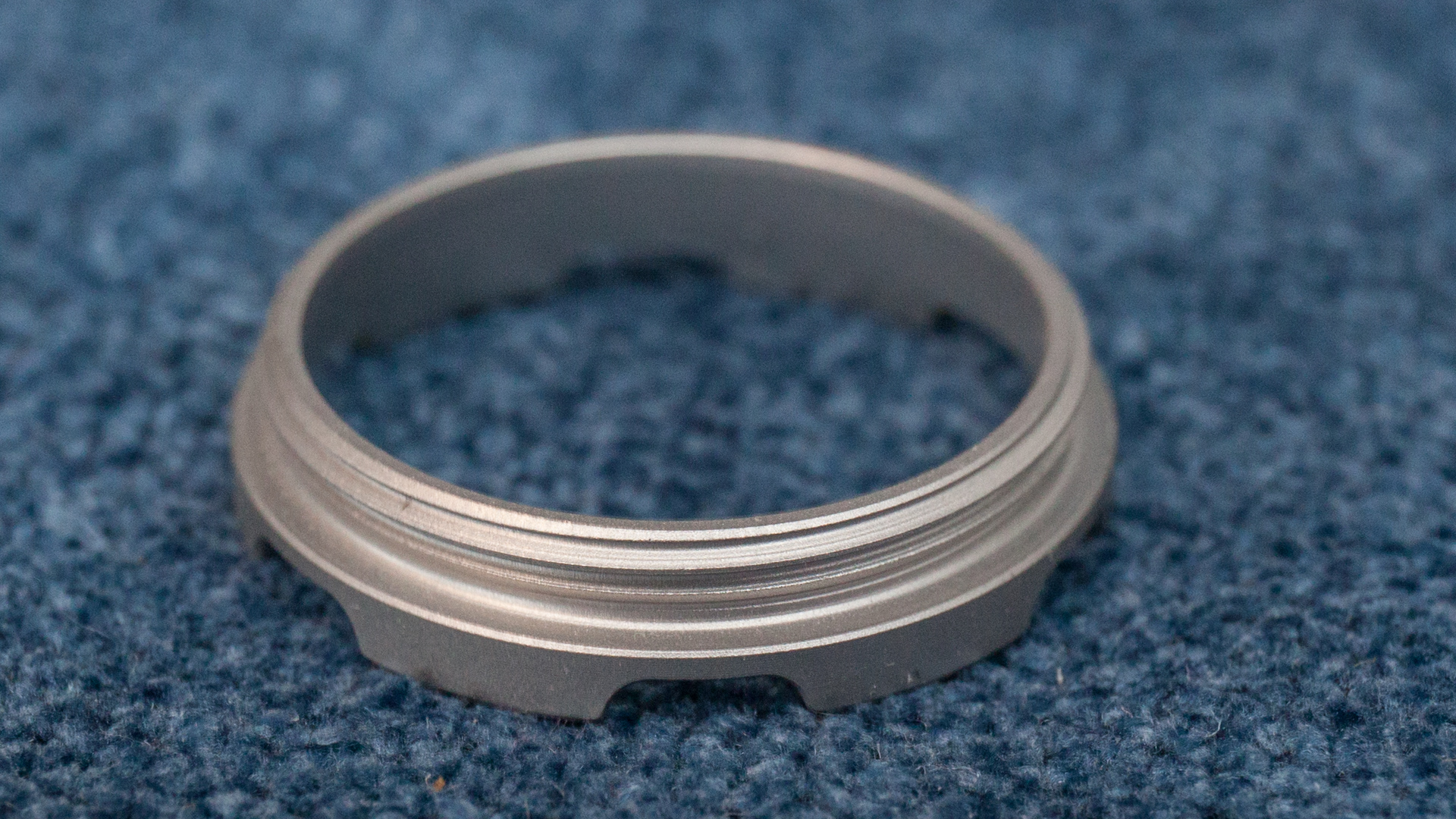 Reflector is smooth, like 2 cm deep with XHP35 HD E4 at the bottom. Perhaps that is a reasonable choice. Dedomed one would be less convenient for everyday purposes, and would not give the need number of brightness in specs. And since with such dimensions of the reflector it's not worth counting on miracles of range, it didn't help much.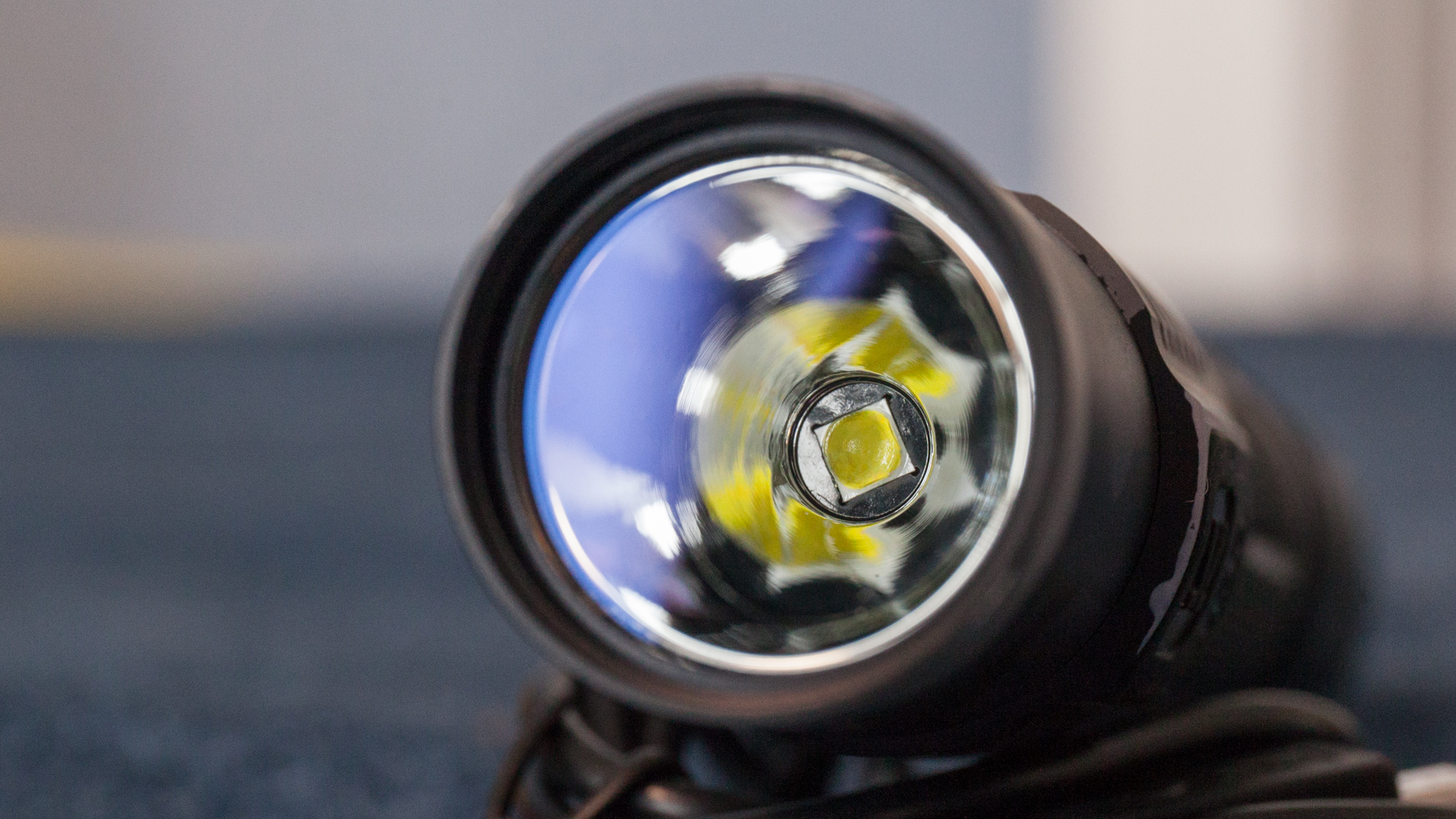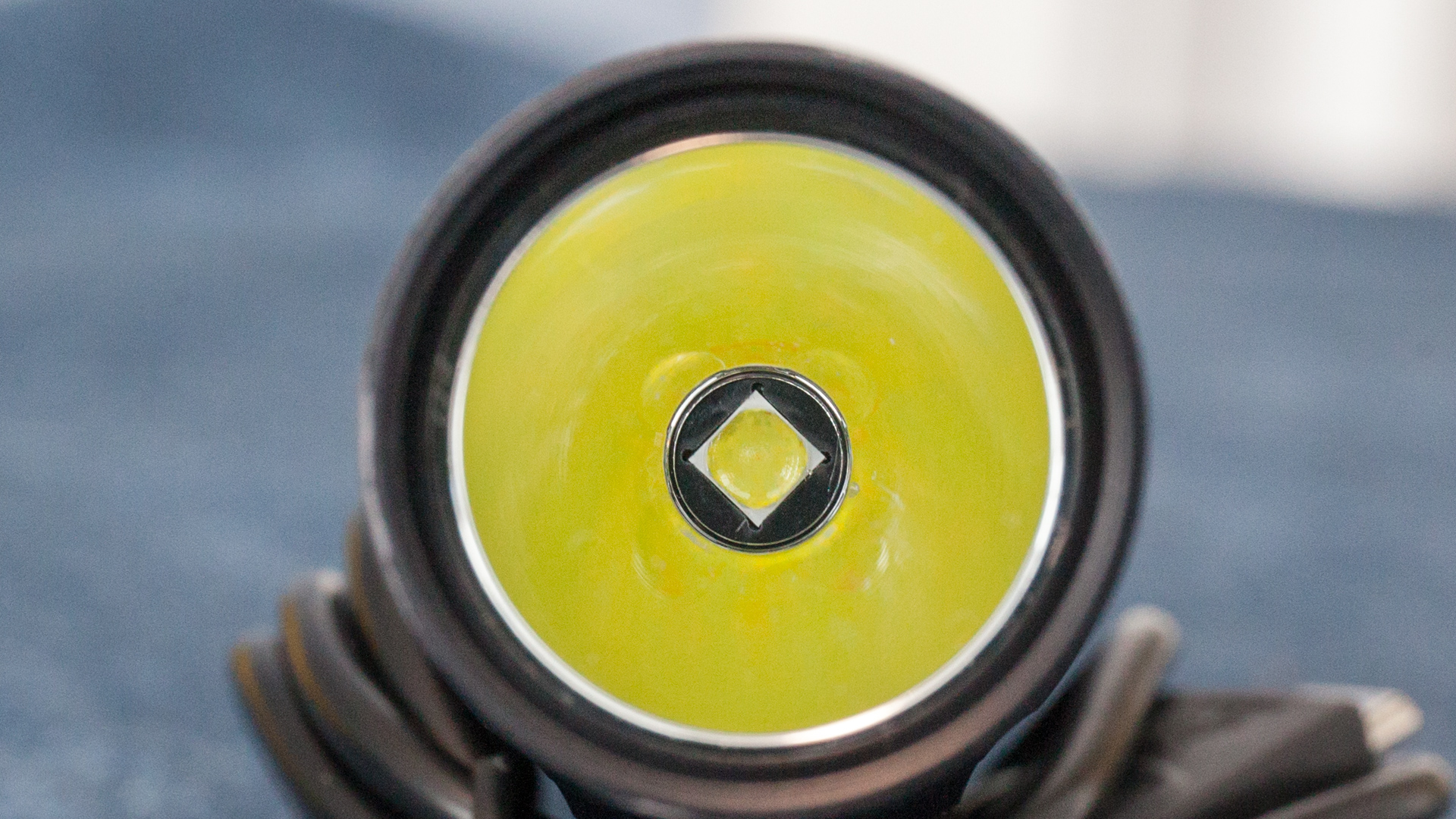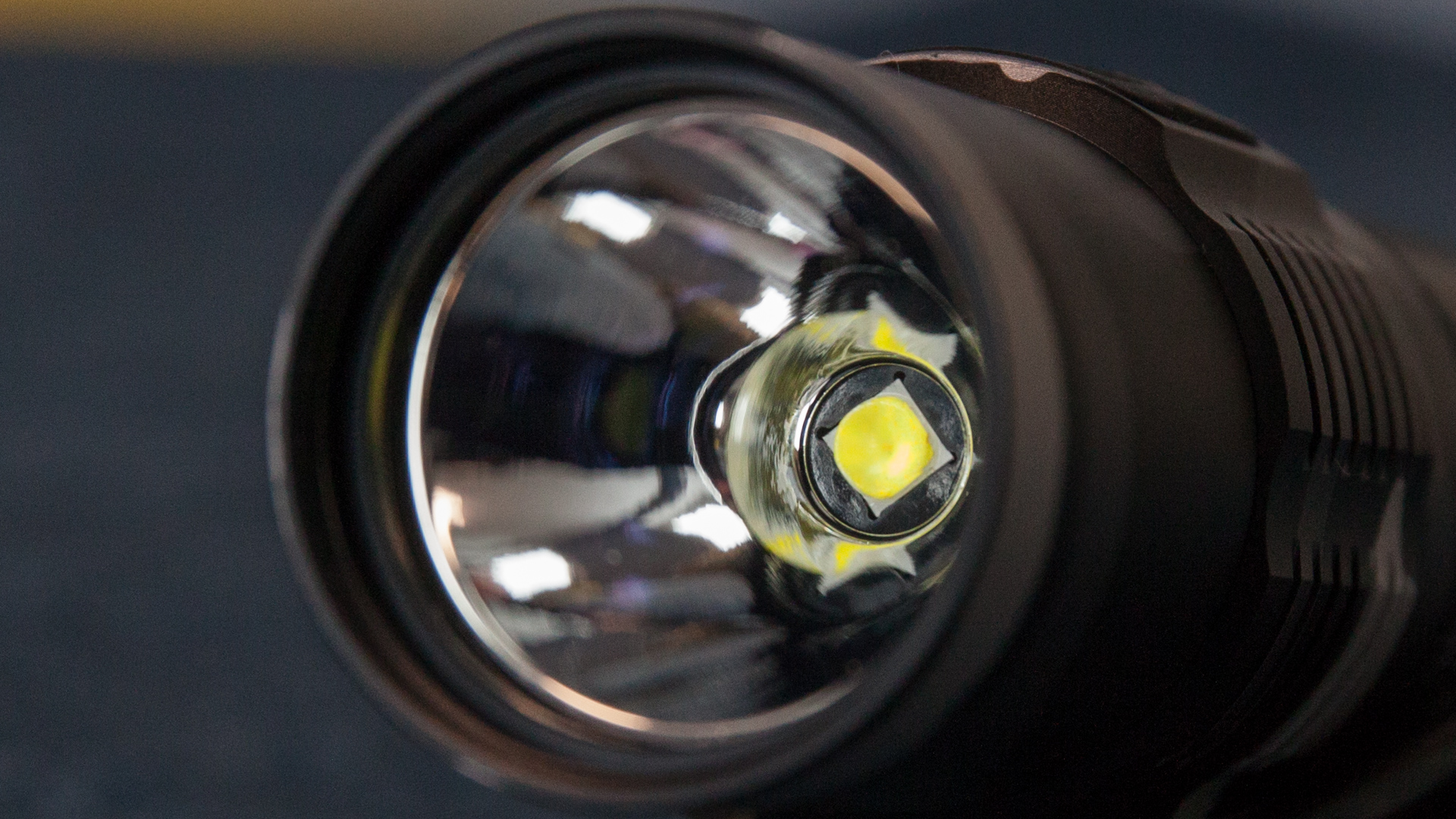 Well, in general, a good flashlight in appearance. Far from WOW! Design , but constructively and outwardly I put him a solid "good." CONs – tiny cooling fins. But camouflage looks frankly good.
UI.
Typical Klarus UI for almost (and maybe the whole) the entire line of XT. Quite a flexible and convenient.
Charge display:
• Flashing red – charge
• Red – • Yellow -> 30% -100% charge
• Green -> 70% -100% charge
• When turned on, the indicator lights up for 5 seconds.
• During charging, the indicator is red.
PERFORMANCE
Of course the cold white light. I remember that Klarus only once stepped aside from this in the XT lineup. No PWM-shimmering in any mode.
The light distribution is quite expected for a flashlight with a smooth and shallow reflector. There is a fairly bright hotspot, while sidelight is also present. Generally, from two meters it is already quite comfortable to work. Also you can see influence by bezel. But, when situation requires putting bezel on, I believe that you don't care about will shape be round or close to octagonal.

The set of modes is one of two inborn defects of the XT line. It is frankly incomprehensible to me why Klarus stubbornly ignores the fact that there is a huge gap between High-Turbo, in which one more mode could elementary be placed. In many ways, this would solve the second problem, which will be revealed below. And, by the way, the moonlight is also missing here as all. This is not a new model, I repeat, but everything that is currently being discussed is still taking place.
The second problem is "saw". 1600 lums for such a body – a lot , so heating occurs quickly. It would be logical at this size to adjust the thermoregulation as most of other companies successfully does and avoid the "saw". And if there was some level 800lum, then it would be reasonable to drop the brightness on it from turbo. Now, by virtue of small dimensions for such maximum brightness, with cooling or without – there is a terrible saw. With cooling, the picture is even worse – the height of the saw grows dramatically, in fact, the brightness is walking within 40 percent.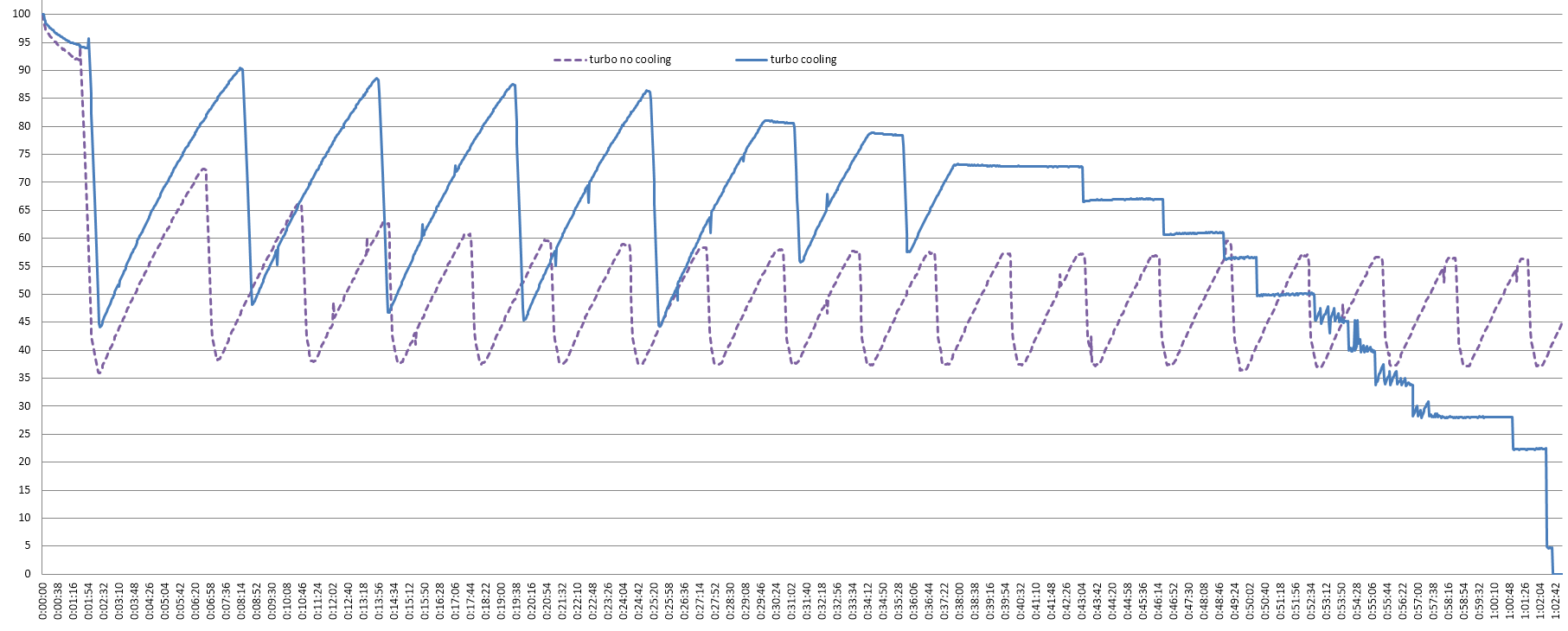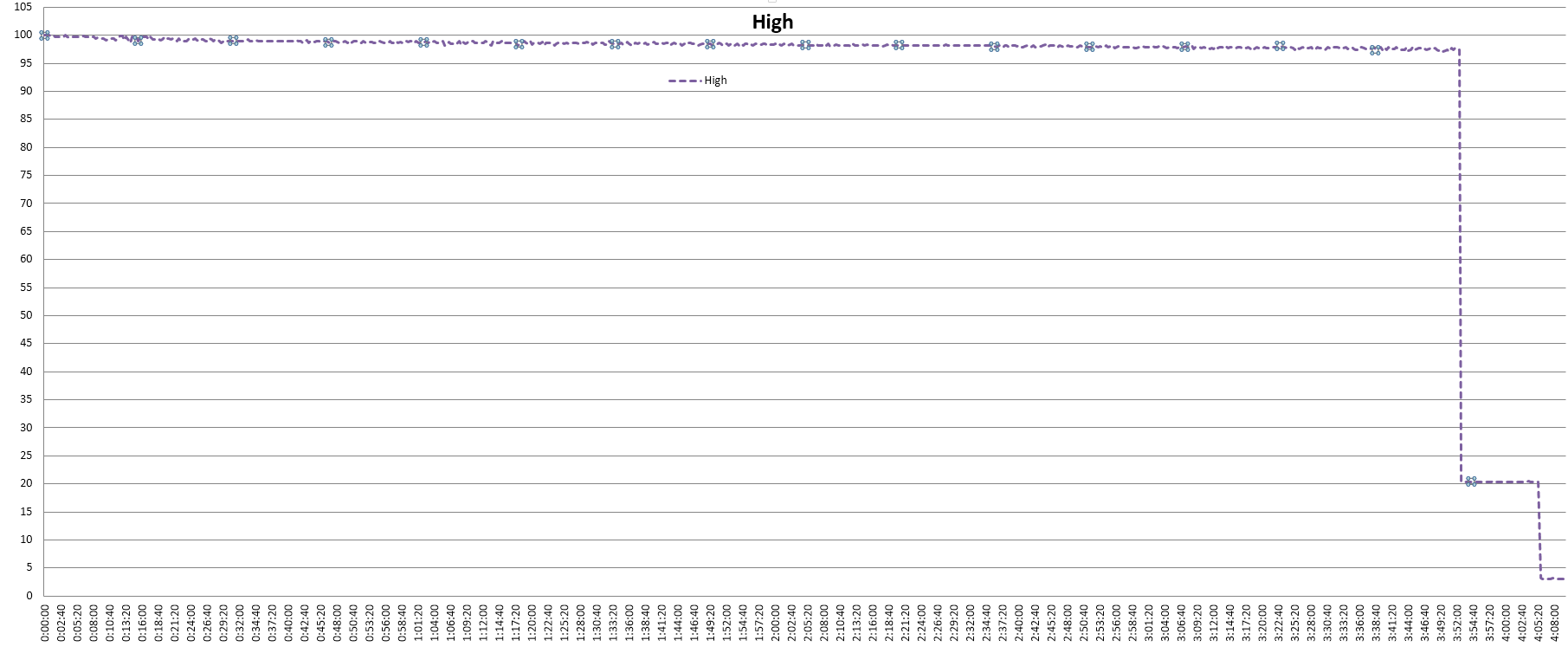 It, as it were, a turbo implies a forced short-term use. Say, I did not highlight something for a long time at maximum brightness and blow it back to 400L mode. And it seems that for the most of situations this is a sufficient mode, which can also be OK within a half a hundred meters, especially since the dimensions of the flashlight initially do not allow us to count on any further l range. But, damn, others companies do something!
All right, look. As said, a set of modes will suffice with a head for the bulk of the purposes lying within fifty meters range. Turbo allows you to highlight (somehow outdoors and quite well indoor) and that way a hundred meters.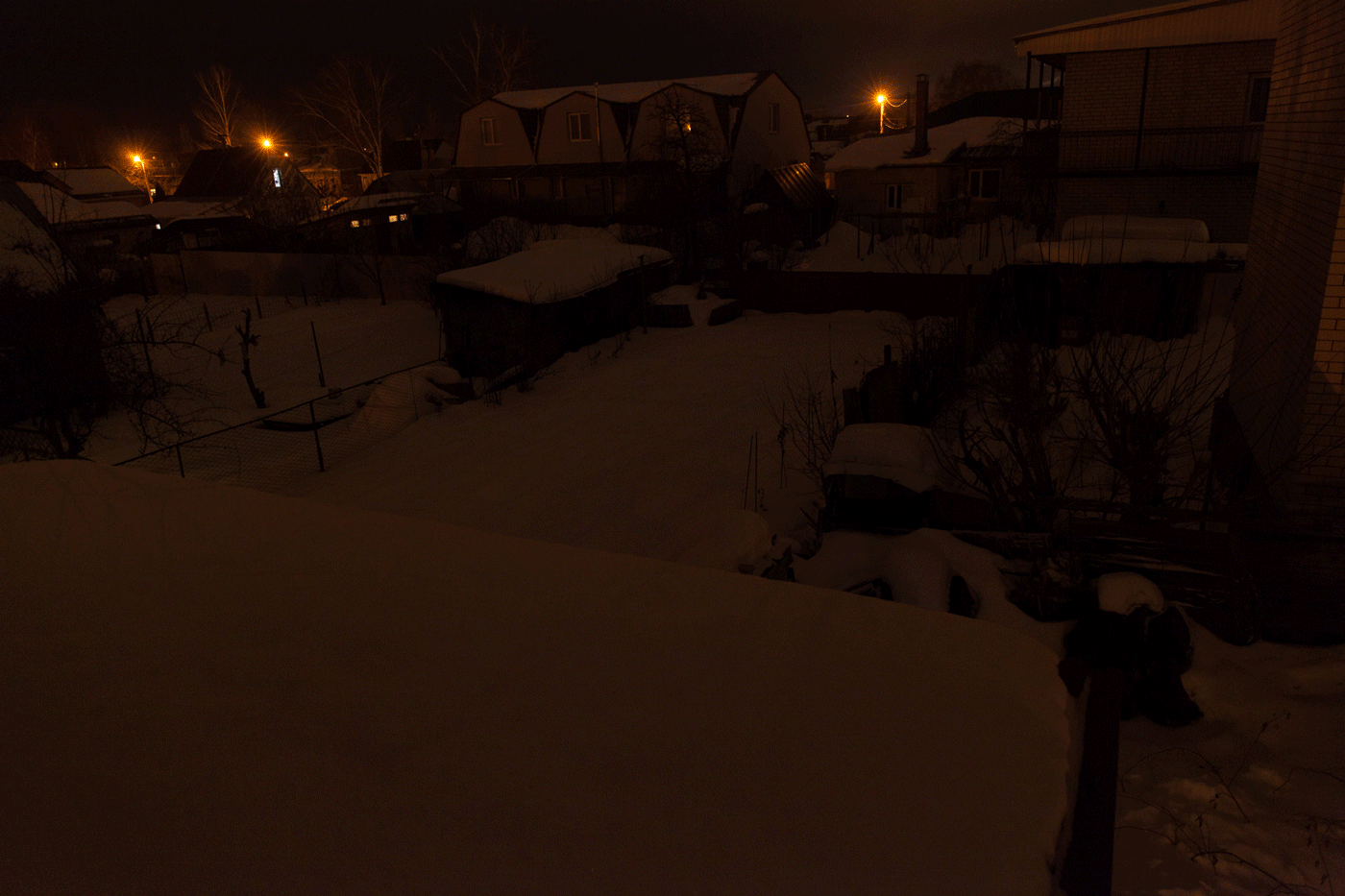 I also shot a small video, you can more clearly assess what this flashlight is capable of.
General impressions
All the same old boring rakes, on which Klarus tirelessly step on, keep the companies at the level of "well, in general, not a bad" flashlights. Thought cheap improvement will make it "yeah, damn good!"
Suppose that someone within product management or R&D team is a relative to top-managers of company, that`s why they close eyes on what`s going on. I guess some moves must be made and that move should lead that person to street from Klarus office. In my previous reviews I red some negative comments with the same what I feel about disadvantages of recent Klarus flashlights. So, that seems to be common opinion.
Now, in fact, the only significant PROs are below. Actually companies relies mostly on good UI. They did a good thing once, and haven't done any significantly new since then.
+ convenient flexible management
+ good for such dimensions brightness in the turbo
+ good charging current in 1A
that's just their opponents are not weak
- "saw" of thermoregulation
- huge gap between turbo and high.