redesign of XT11X model. new features – all access tailbutton and silicone sleeve, the rest is 100% the same.
you can buy Klarus 360X at
SPECs
CREE

XHP70.2 P2

LED

, lifetime up to 50,000 Hours.
Tactical Setting by Default.
Working Voltage: 3.0V-8.4V.
Compatible Batteries: 1 × 18650 or 2 x CR123A or 2 x

KLARUS

16340.
Charging Time: Depends on the battery capacity.
Formula: Charging Time = (Capacity of Battery/1000mA+1H).
Approximately 4 hours for included battery
Reflector: Orange Peel.
Lens: Tempered Glass Lens; AR coated; Scratch resistant.
Switch: 360-Degree Tail Cap Dual-Switch + Side Switch.
Dimensions: Head – 41.0mm (1.61") diameter
Body – 27.2mm (1.07") diameter
Length – 153.0mm (6.02")
Weight: 140g (4.94oz) without battery.
Material: Aerospace Aluminum Alloy 6061-T6, Mil-Spec

HAIII

Anodizing.
Accessories Included: 1 x Micro-

USB

Cable, 1 x Lanyard, 1 x Spare O-ring, 1 x

KLARUS

18650 Battery(18GT-IMR31), 1 x Nylon Holster, 1 x Clip.
Optional Accessories:

USB

Adapter, FT11X Filters(Red/Green/Blue),

MGM

-3, TRS1 Remote Switch.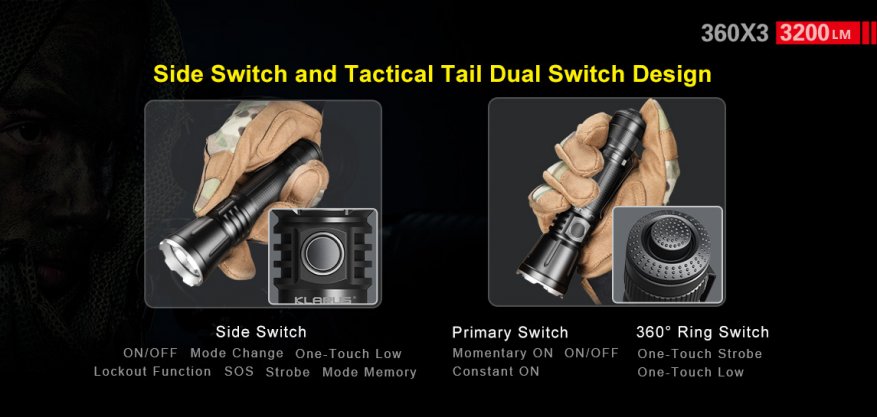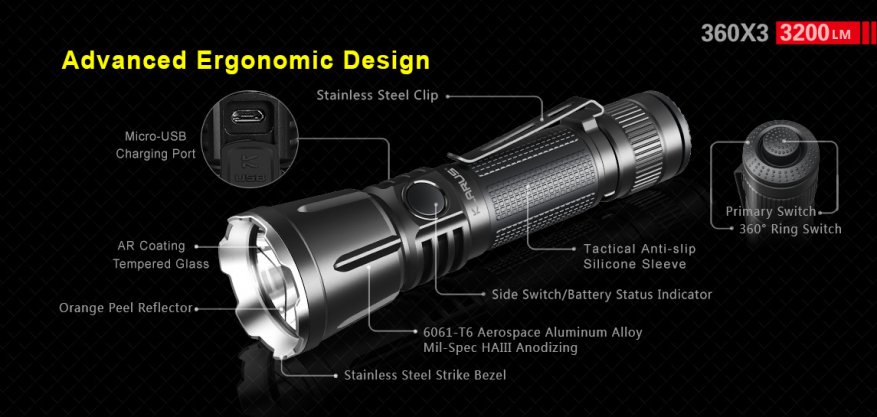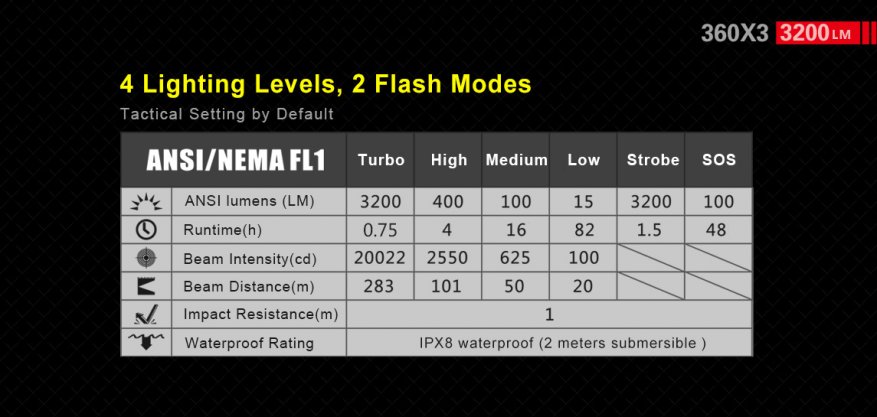 PACKAGE AND APPEARANCE
Package is really, really good,excellent design and build quality. Just compare it with other boxes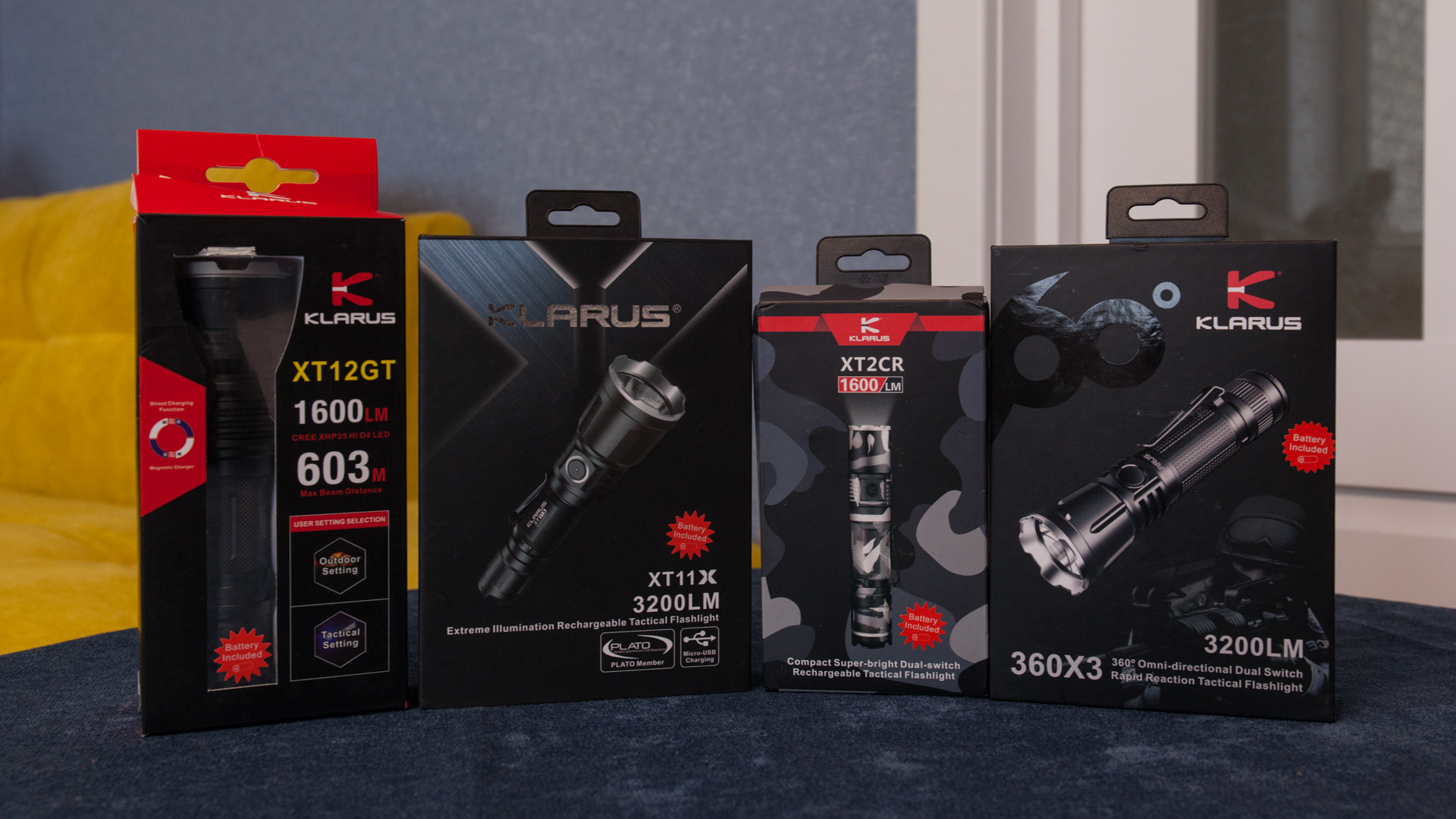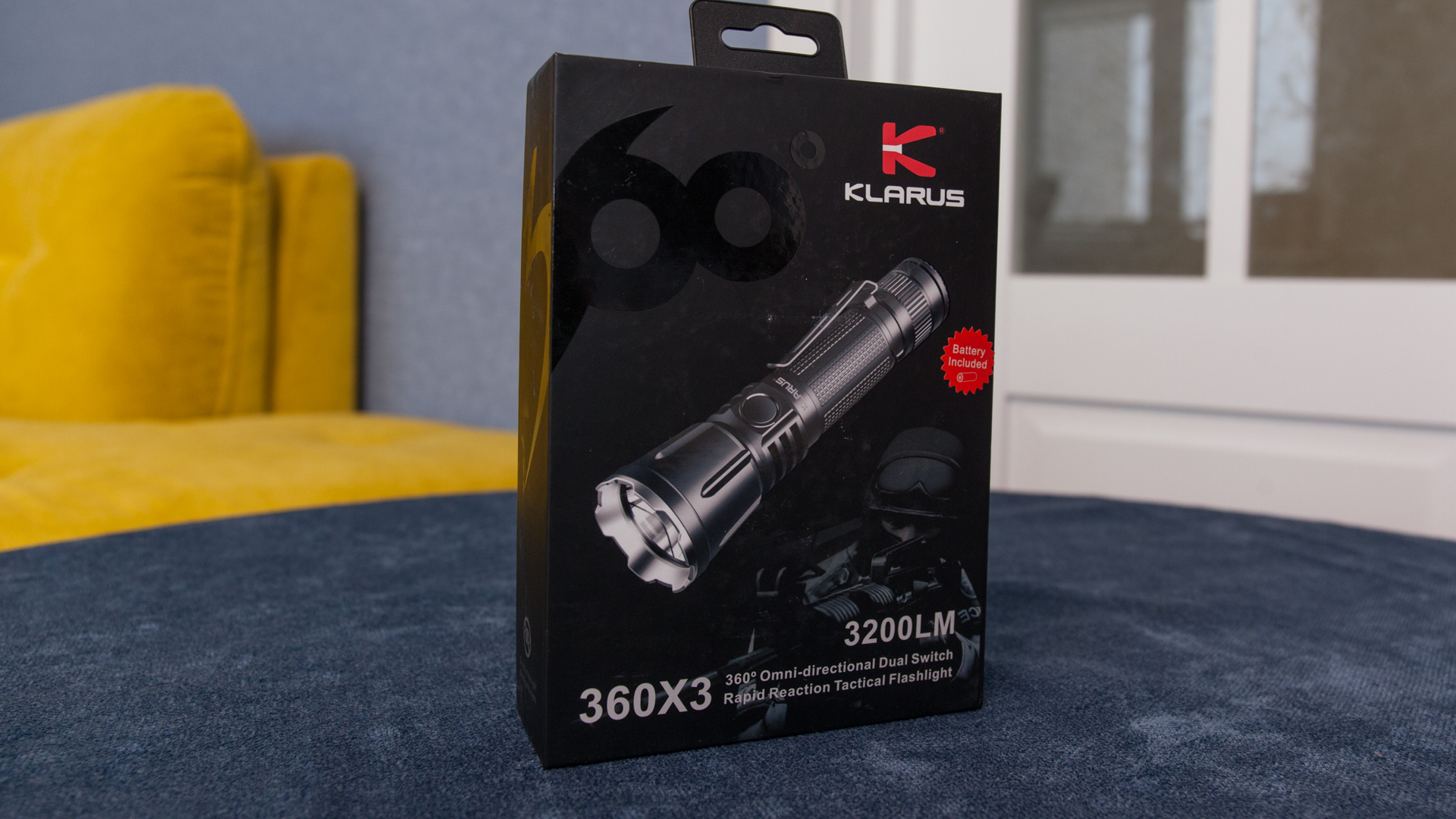 Package incudes usuall set of 360X itself, 3100mah battery, holster, micro-usb cable, manual, lanyard.
Traditionally, holster is good. I rarely meet bad ones with products above 30-40$. Above this range they are equally good.
And here is Klarus 360X itself. Visually it is the same as other XT model line brothers, especially it so close to it`s predecessor XT11X.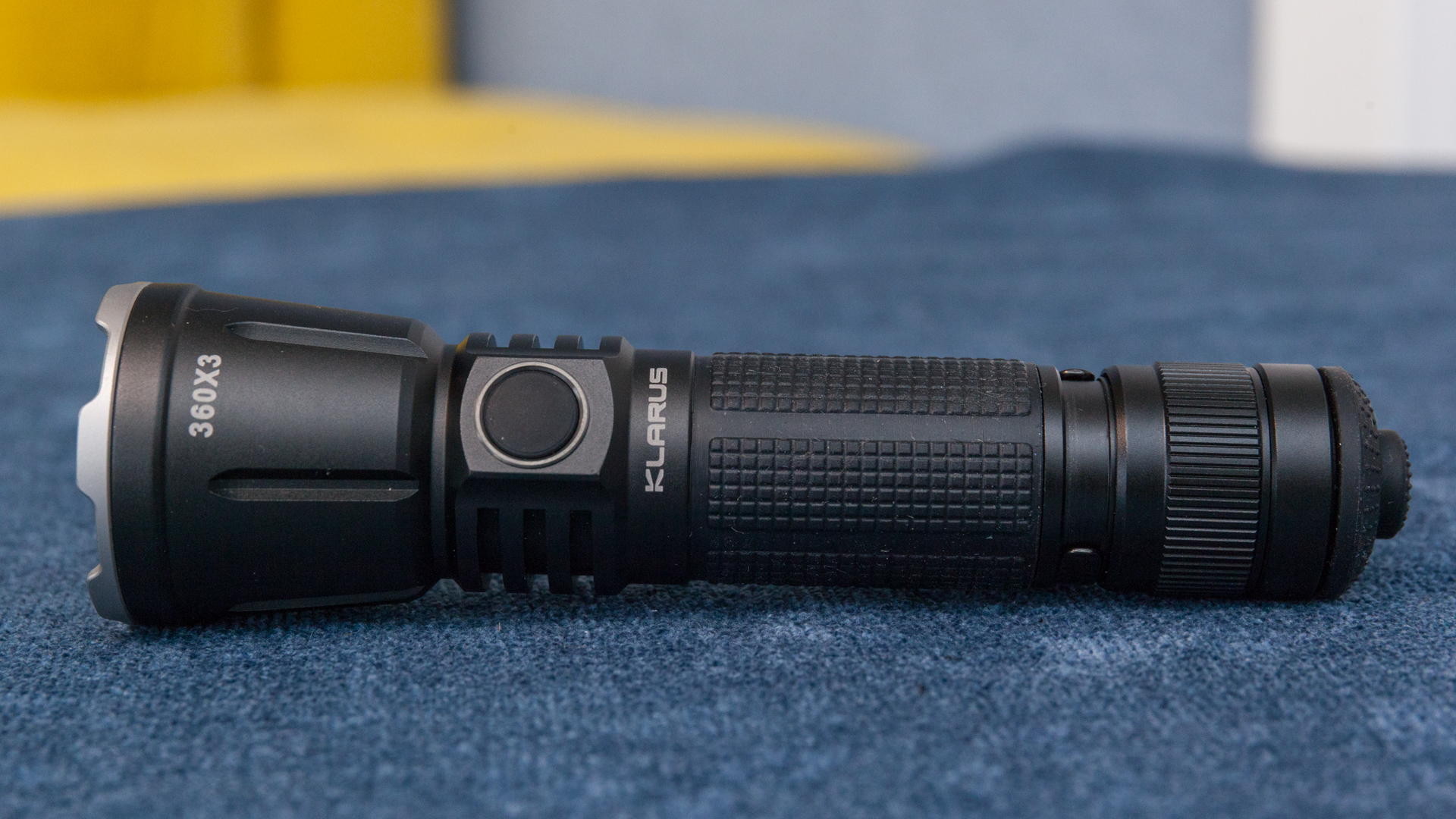 Size is typical for tactics. It is already more than EDC, but still ok to carry around within jacket pocket.
Compare it other Klarus stuff and well known C8+ and S2+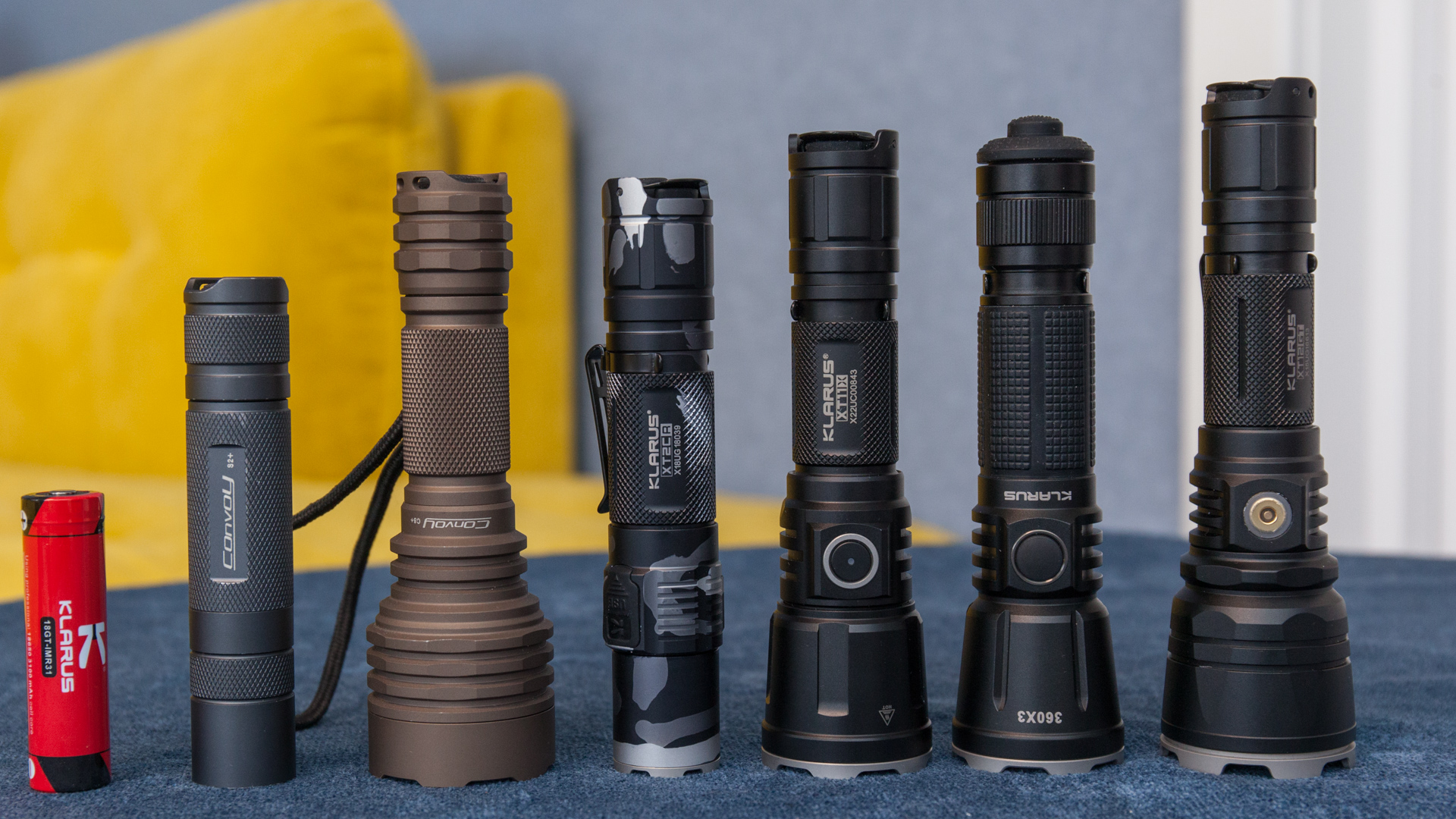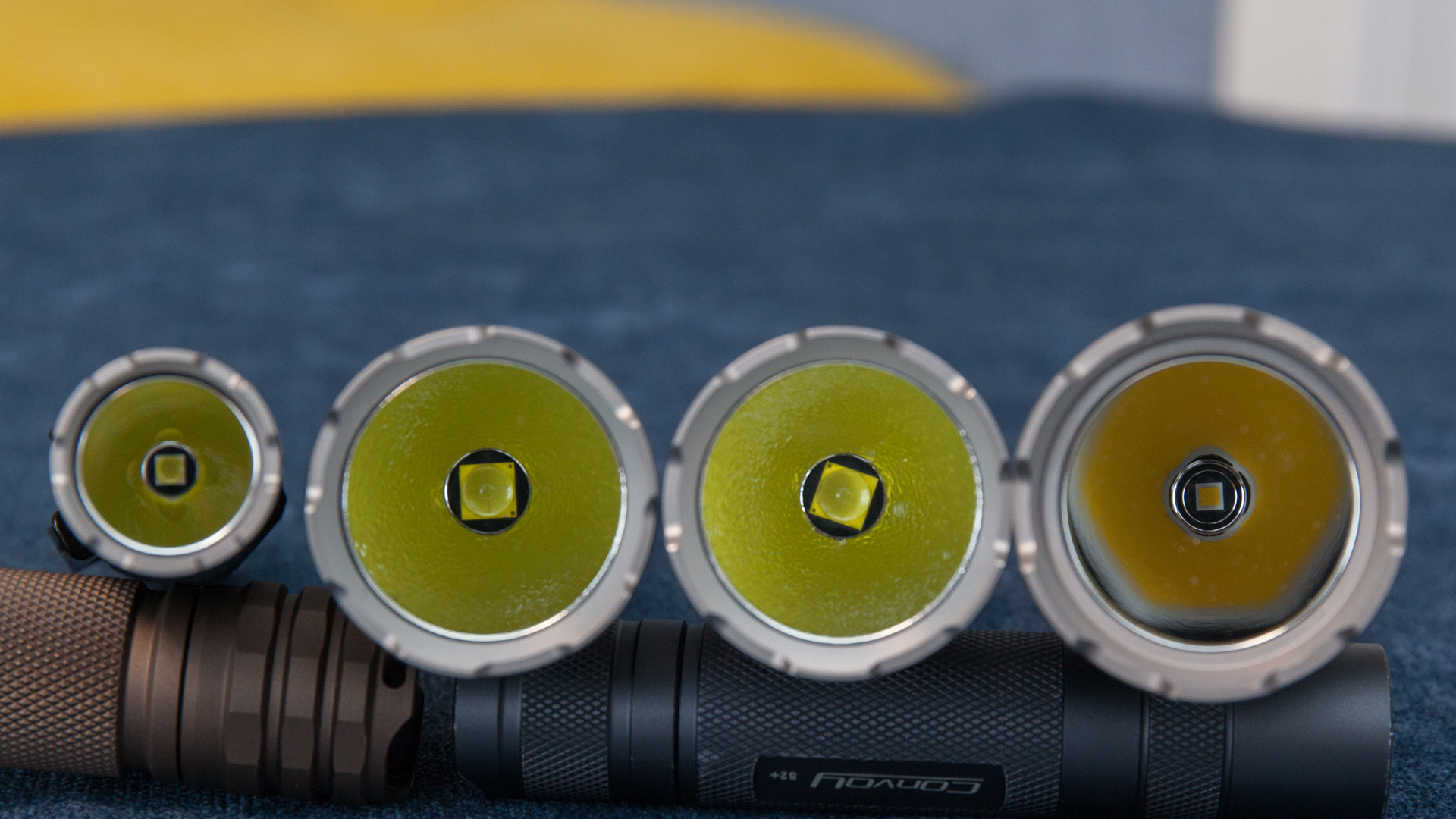 As I mentioned above, design is good. From the 1st sight you see it`s brand thing, not powerful strategical flashlight from ali, bearing countless lumens from undischargable battery.
this time there is no knurling, but silicone sleeve instead. I defenetely like this feature, as grip gets much more convenient. and you feel the difference when you grab flashlight barehand in cold weather outside.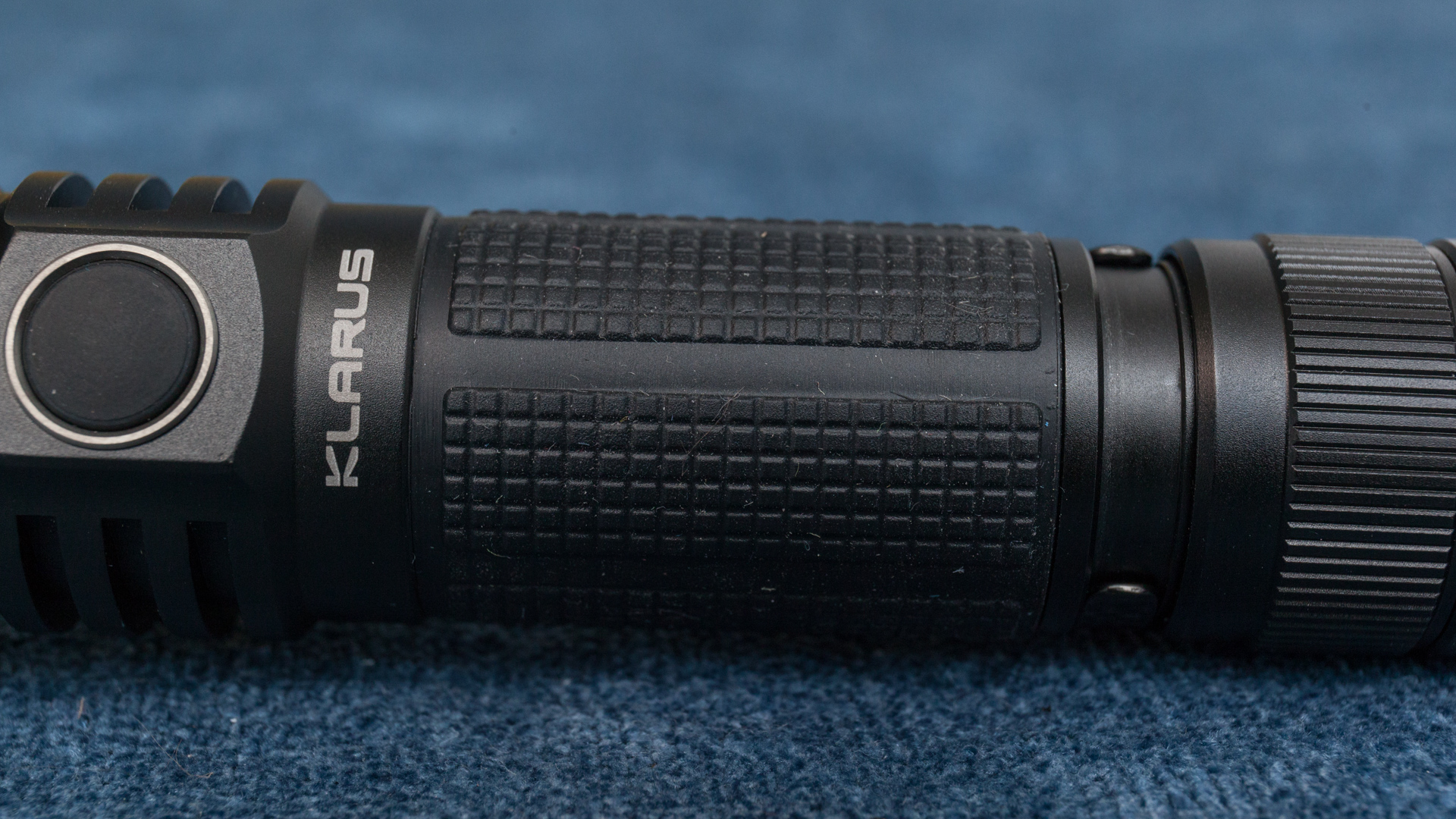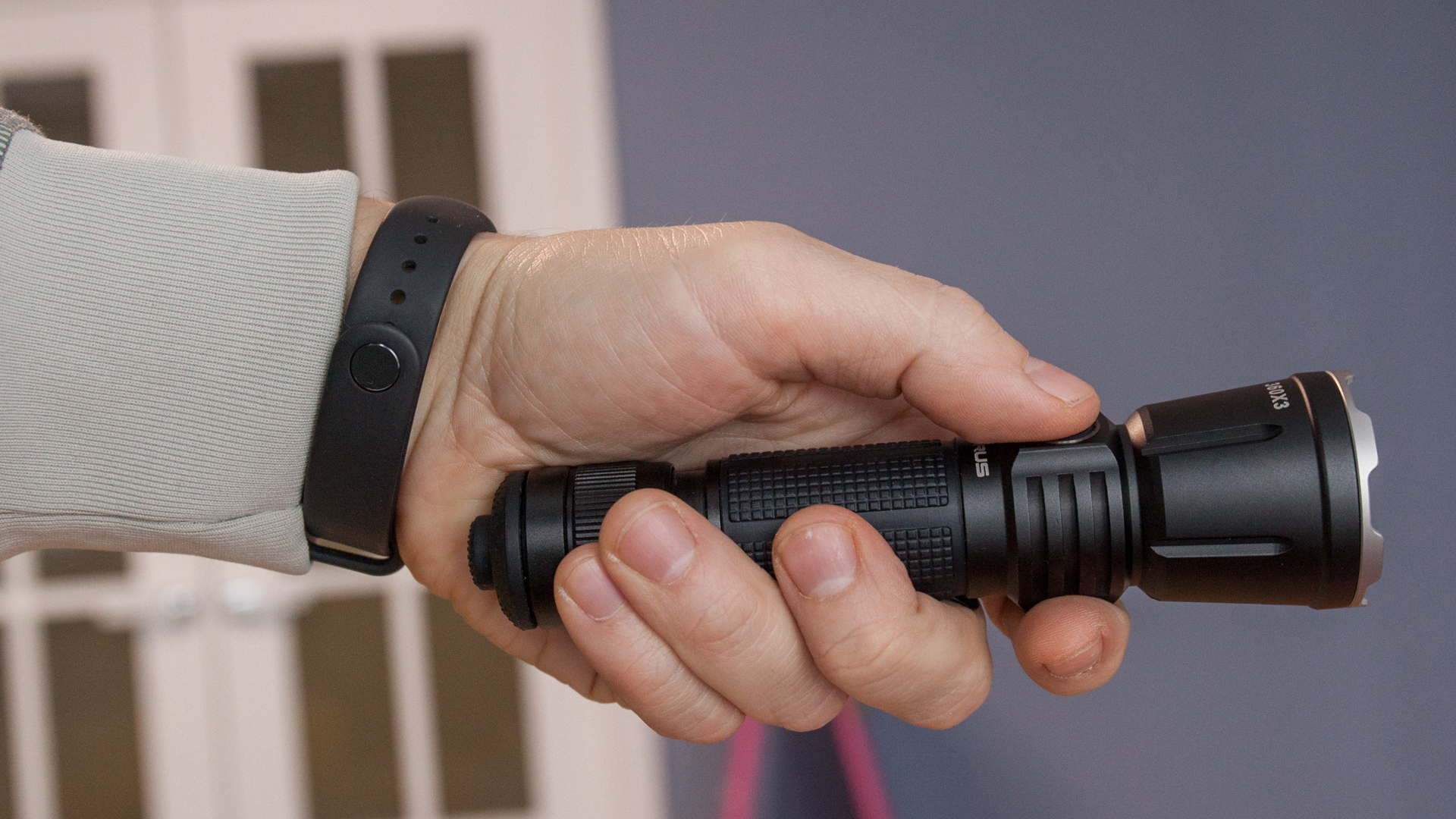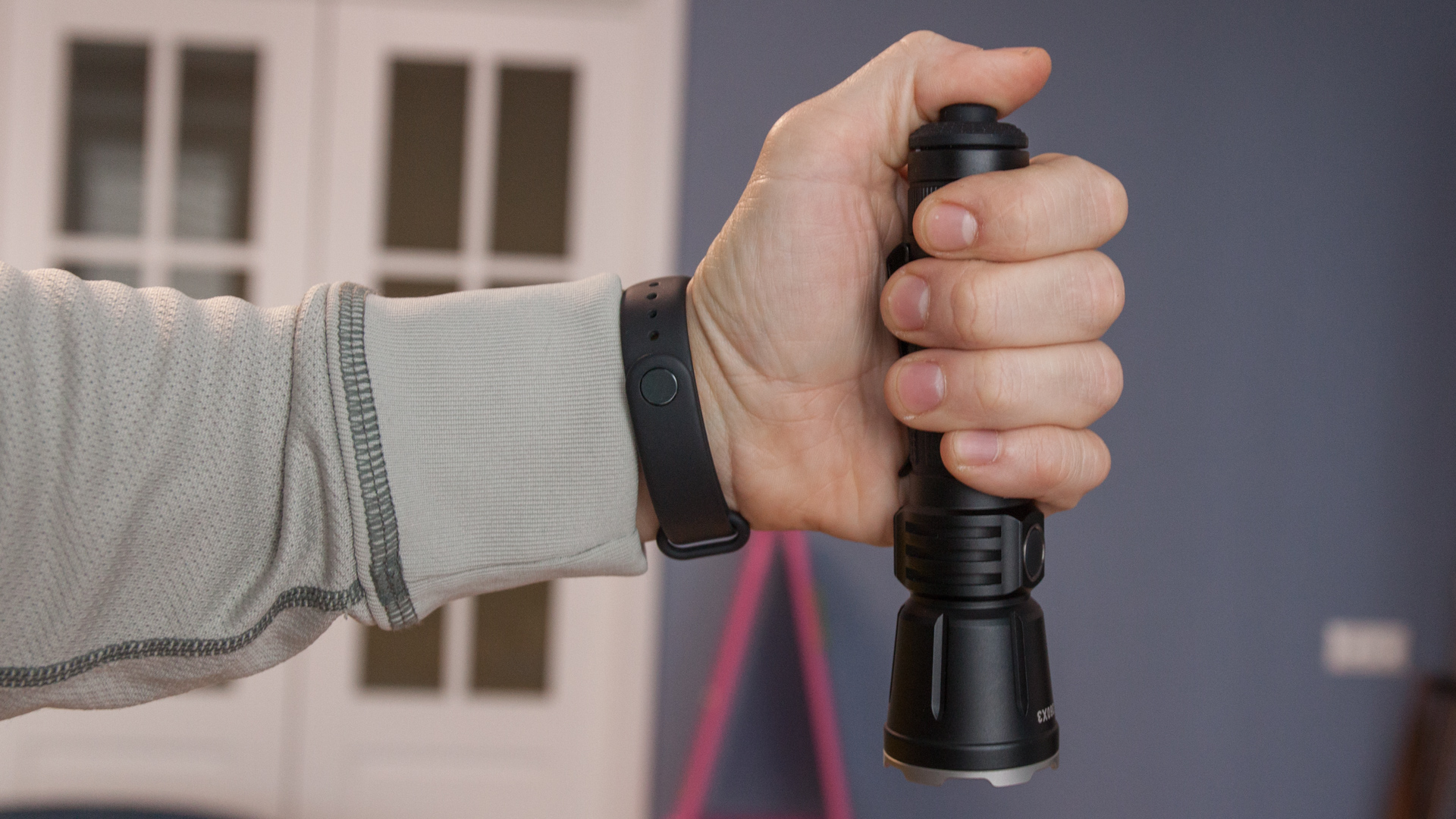 There used to be common for all the XT line primary button and mode switch at the tailcap. Tailcap was redesigned and now there is all around access side button . Well, that`s convenient feature. And primary button is quite tough., it takes some force to fully press it down.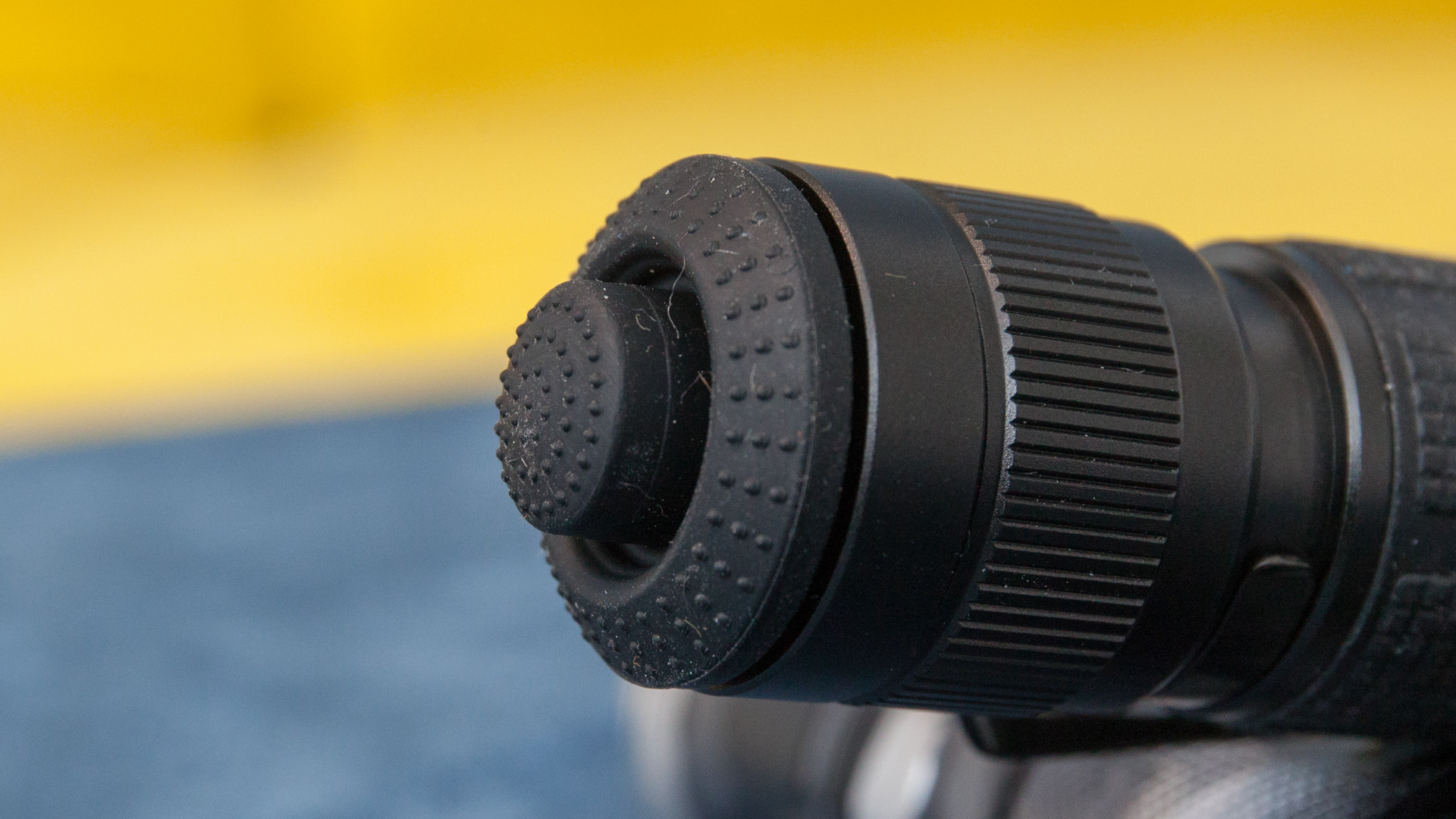 Clip has only one position. That is not a serious problem, but I don't understand why Klarus didn't made additional place for it as this would be soo simple. One more strange thing is absence of tactical ring, feature that almost all the tactical flashlights have. Strange again.
There is a double spring at the tailcap and at head side. There more and more bright lights that use such springs now, so time of bypass with wire soldered to spring seem to be gone.
As 360Xis being run by 2 buttons at the tail, there is additional shell pressed inside primary body. Last one is glued to head, but applying some force you can disassemble it. Actually, there is no interesting there.
Threads are well lubricated
Cover of charge port is thick and tight. No problems with dive session in jar with water. A guy I know, who owns XT11S dropped it from boat, and dive down to bottom to get flashlight back, no water got inside it.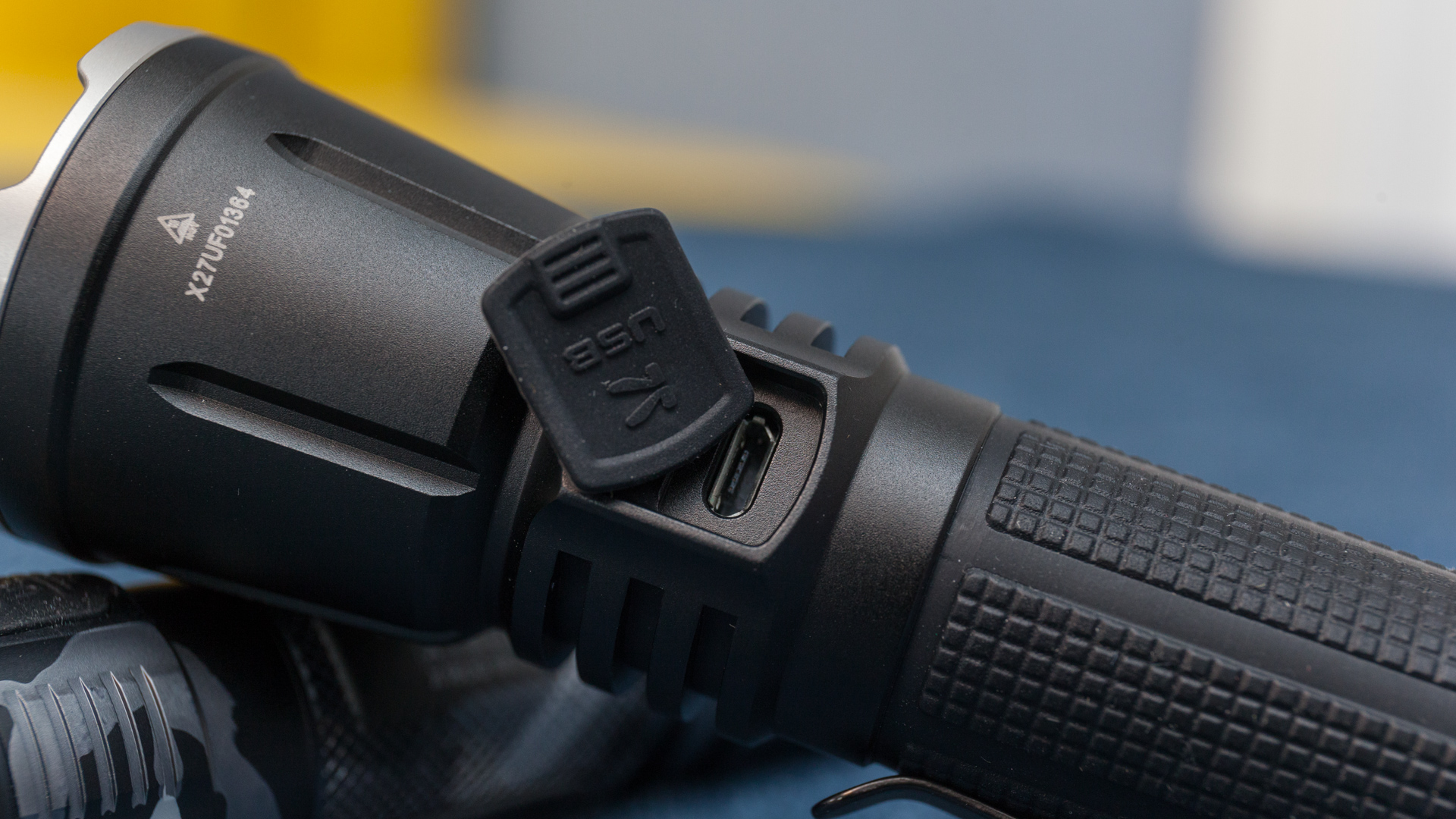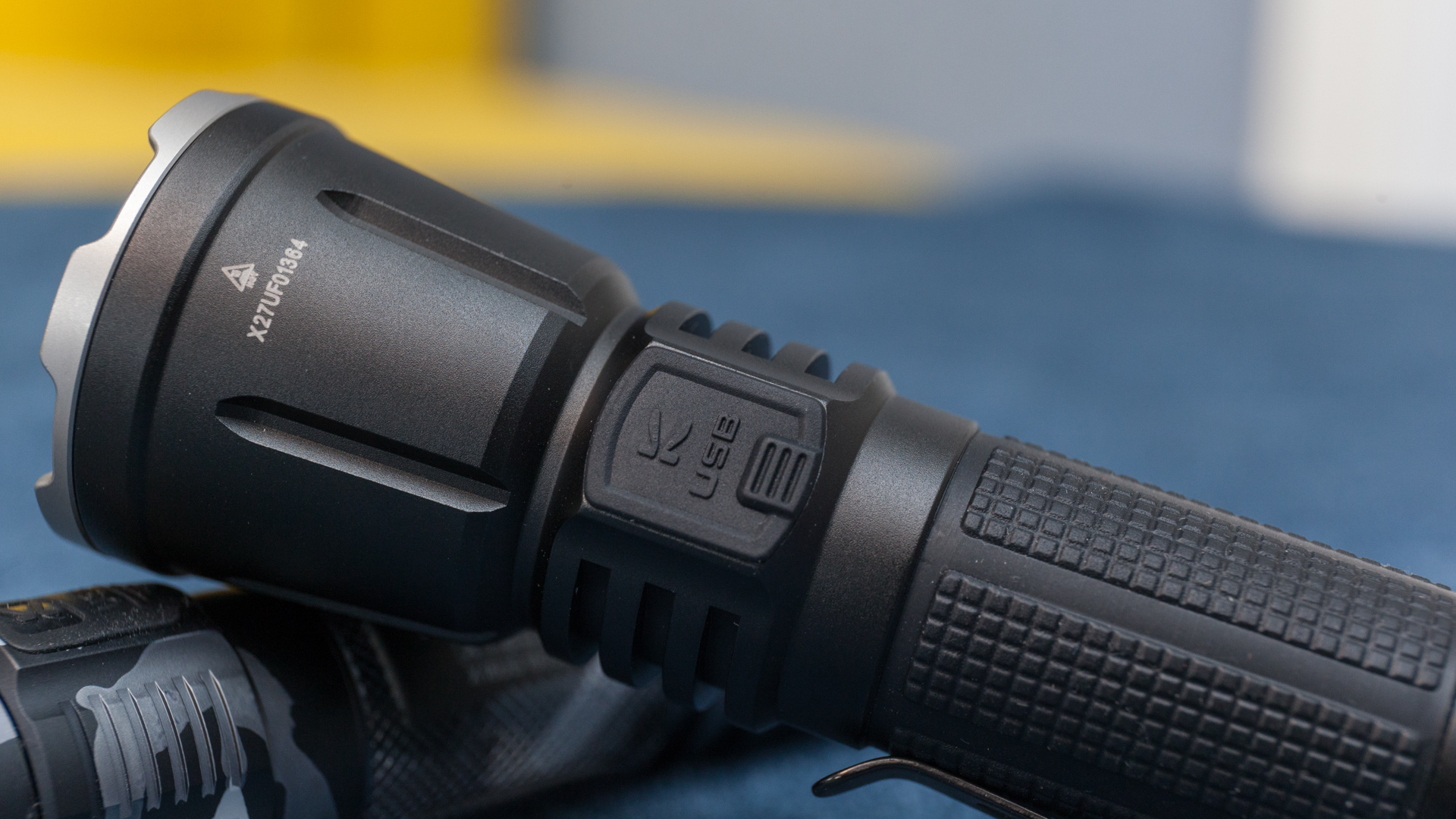 Side button is about 0.3mm above body surface and clicky. I don't feel there will be a problem with finding and pressing it with gloves on.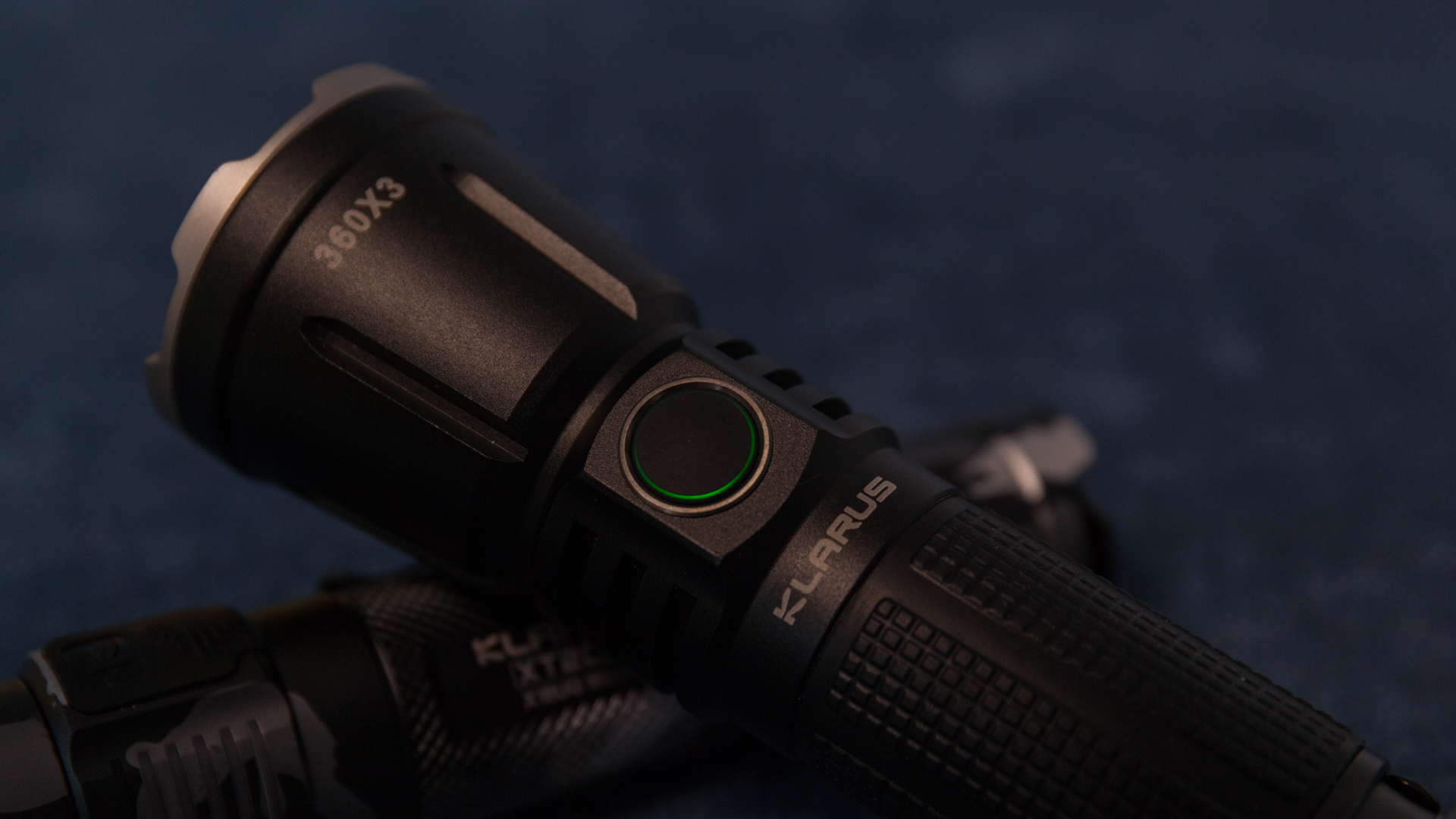 Cooling ribs are deep, but not numeral. I feel like klarus could fit a pair more there at the head.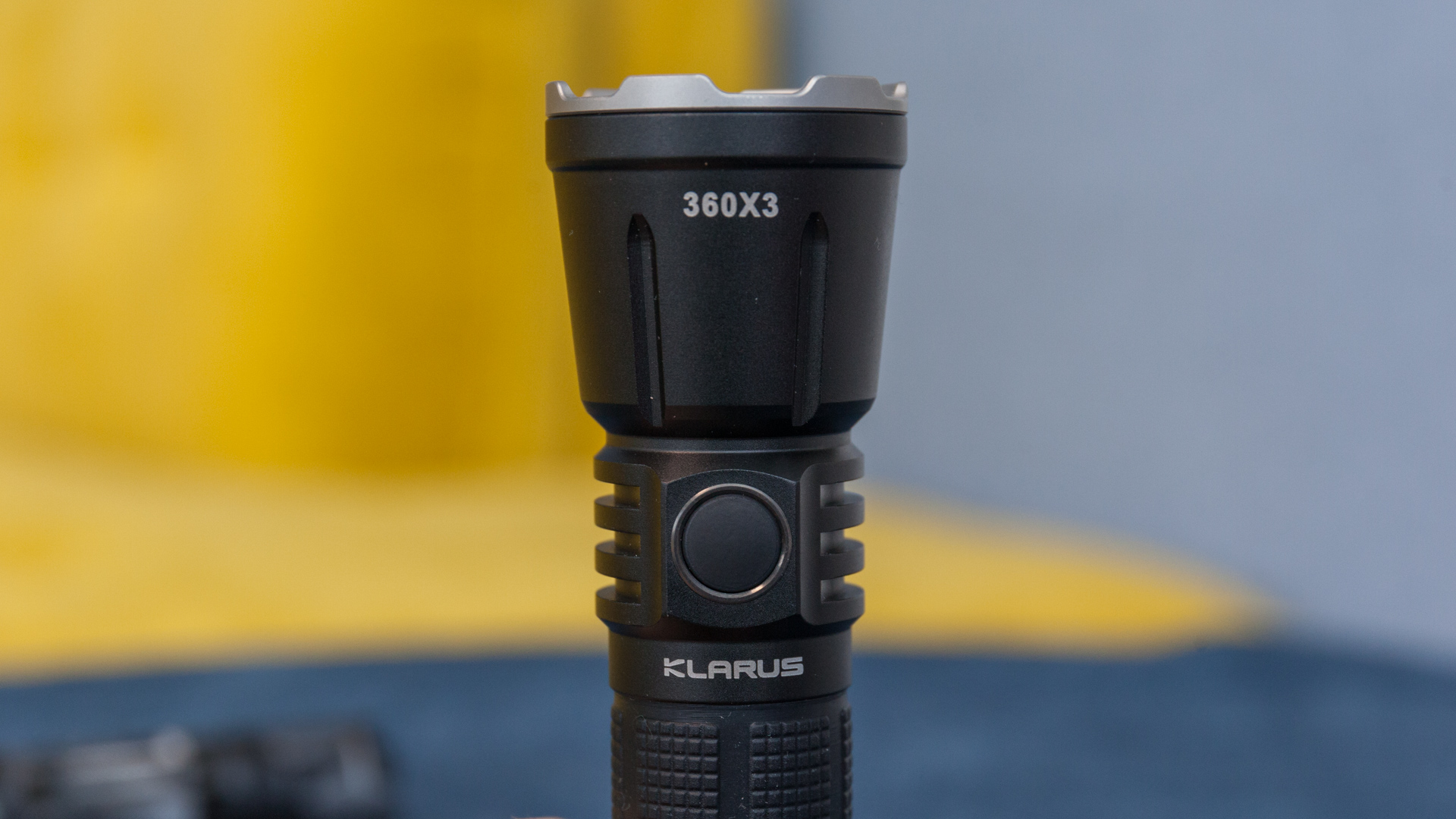 Glass is like always, toughened and AR.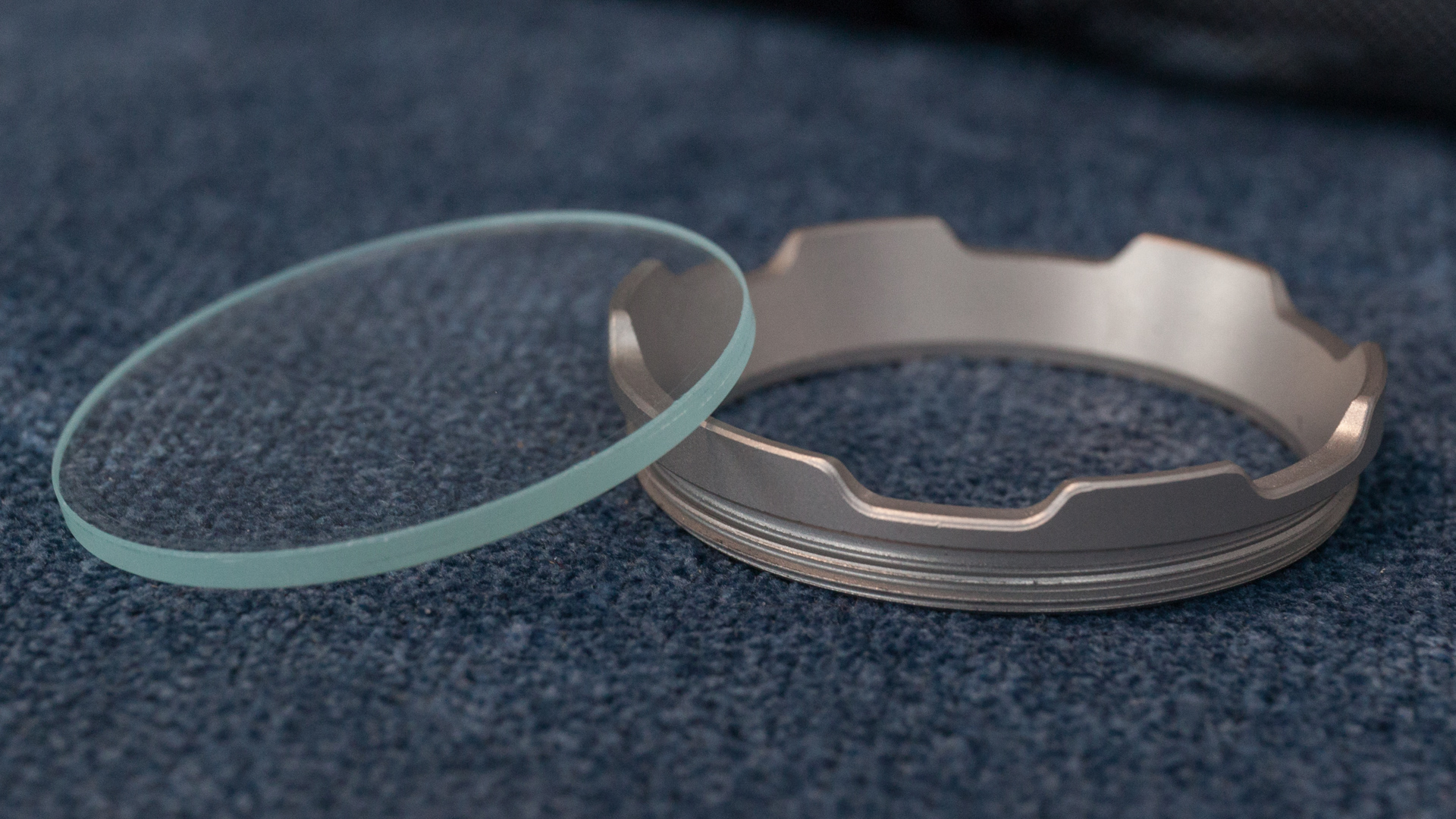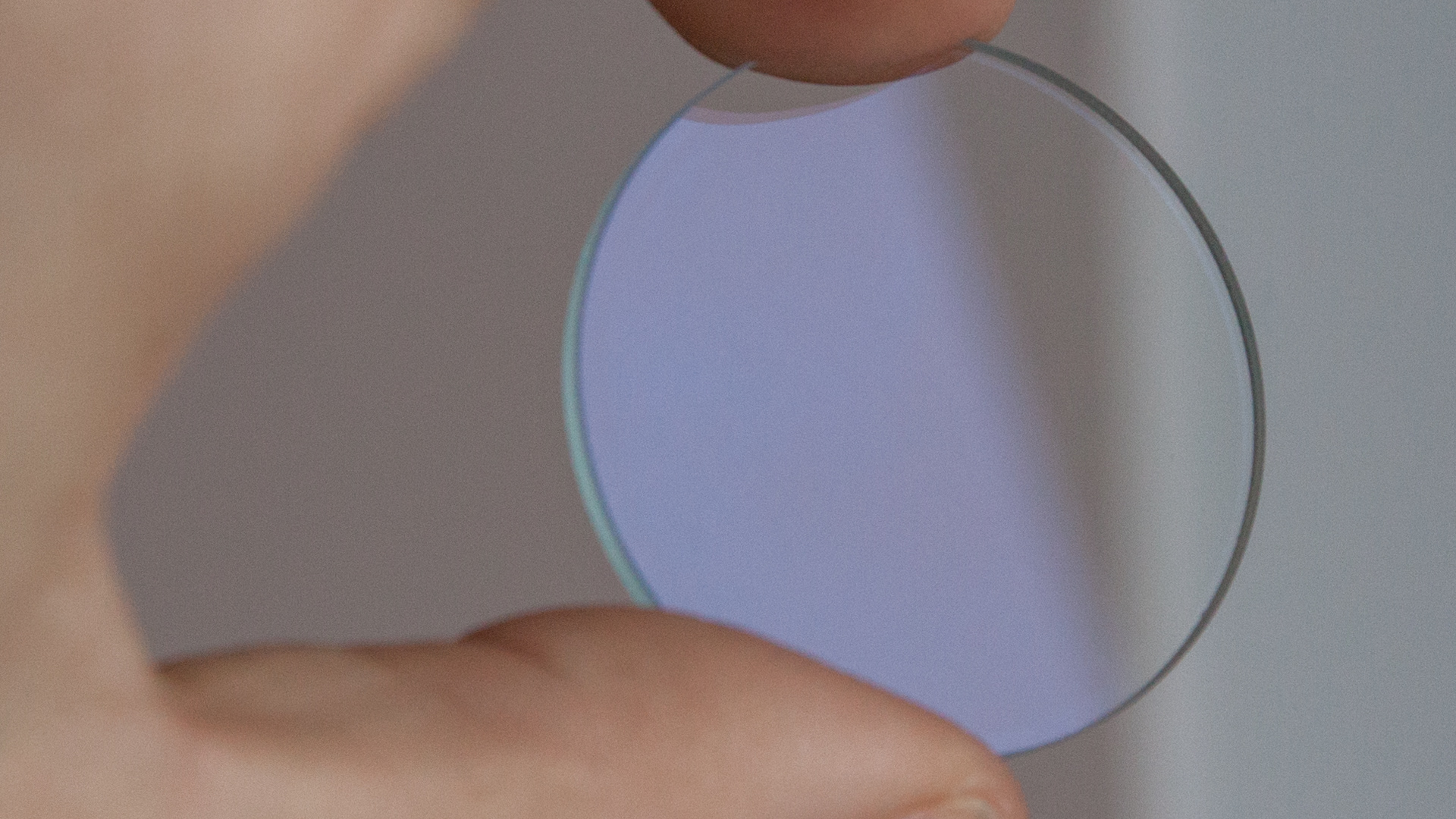 Bezel is sharp, 7mm above glass. Easily removable. It`s neat at cleen under reflector, got nothing bad to say. Again, unusual choice of XHP70.2 and OP reflector. Unusual, I mean, for tactic flashlight. I don't remember anything similar. Most single-cell 70.2 flashlights are 26650 powered. Anyway, I think that`s good as there are undoubtly lot of people who would like to get more sidelight and brightness rather then throw from flashlight like this.
Insides are accurate.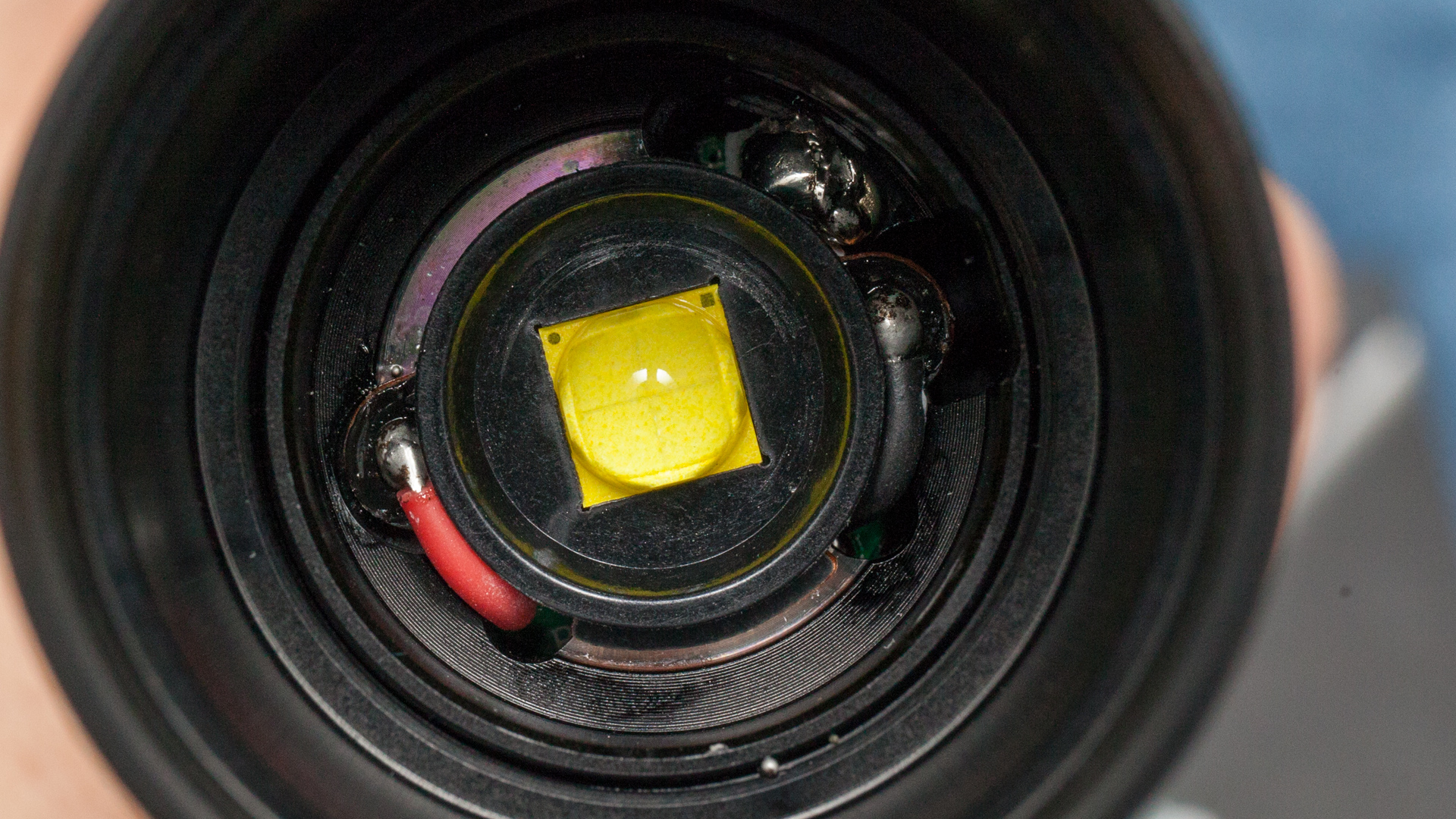 Overall impression is mostly positive. Excellent appearance and box, build quality should be good as well. There is just one minor bad – clip with only one position and no tactical ring.
UI
May be Klarus wasn't 1st company which implemented separate group settings, but, no doubts, 1st to popularize it. I really like their flexible UI, which I suppose to be best for tactical lights.
So, again, 2 groups, tactic and outdoor. Main difference:
Tactic has strobe activated by additional button at tailcap (low at outdoor setting) and skip mid mode here.
And at outdoor setting, when you choose mode with this button, mode order is ascending, though it is descending at any other mode cycle method here.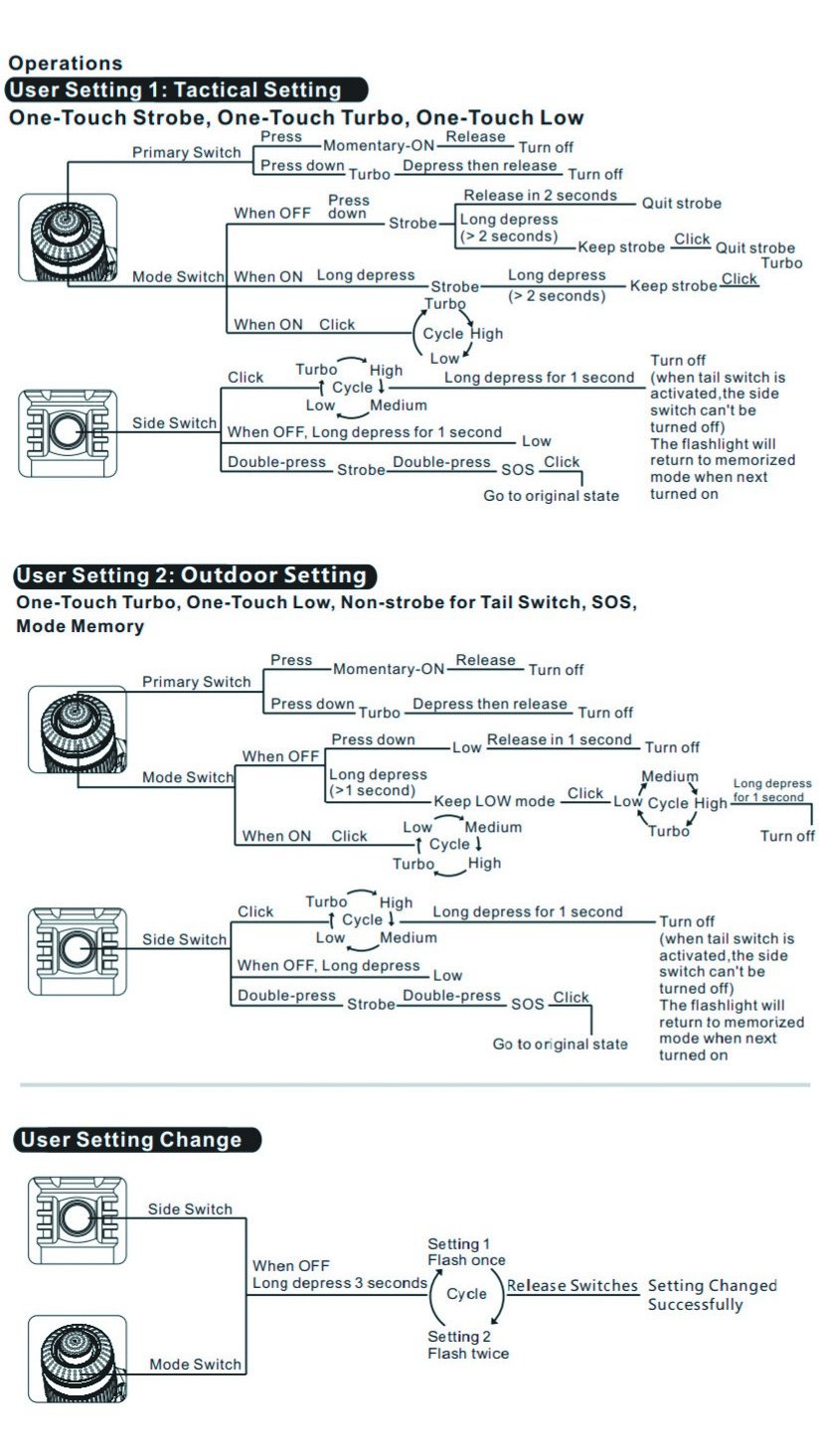 Lock-unlock.
When OFF, press and hold side button 5 sec, XT11X will blink 2 times.
Unlock – 3 qiuck clicks this button.
Tailcap button are working in this locking mode. You have to turn tailcap off little bit.
Battery indication.
When you turn light on, small LED in button glows for 5 seconds, showing the rest of charge.
Green – 70-100%
Orange 30-70%
Red – less then 30%
Red blink less – then 10%
I like everything here besides reverse mode. Well, i`m not one of target audience for tactical lights, so I cannot judge it.
PERFORMANCE.
CW light, as you can expect. But not that cold in reality.
NO visible PWM-shimmering.
Good sidelight, no surpise.
Notice! as 360X is 100% the same XT11X in each detail besides tailbutton and silicone sleeve, i just copypaste here review from review of last one. So, for this pics XT11X=360X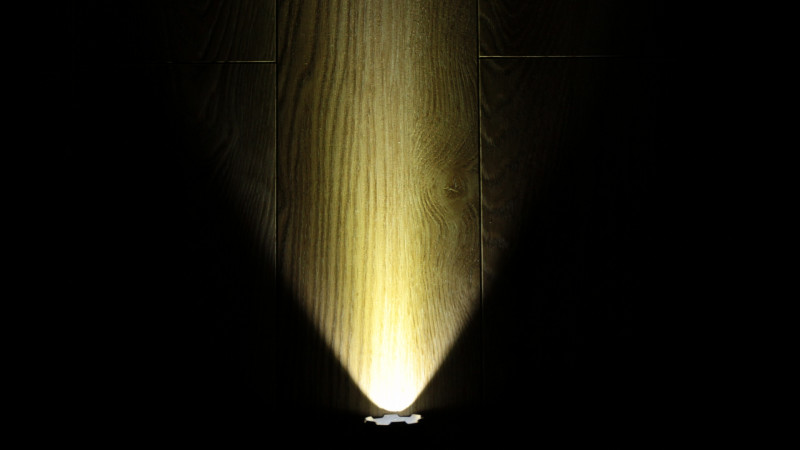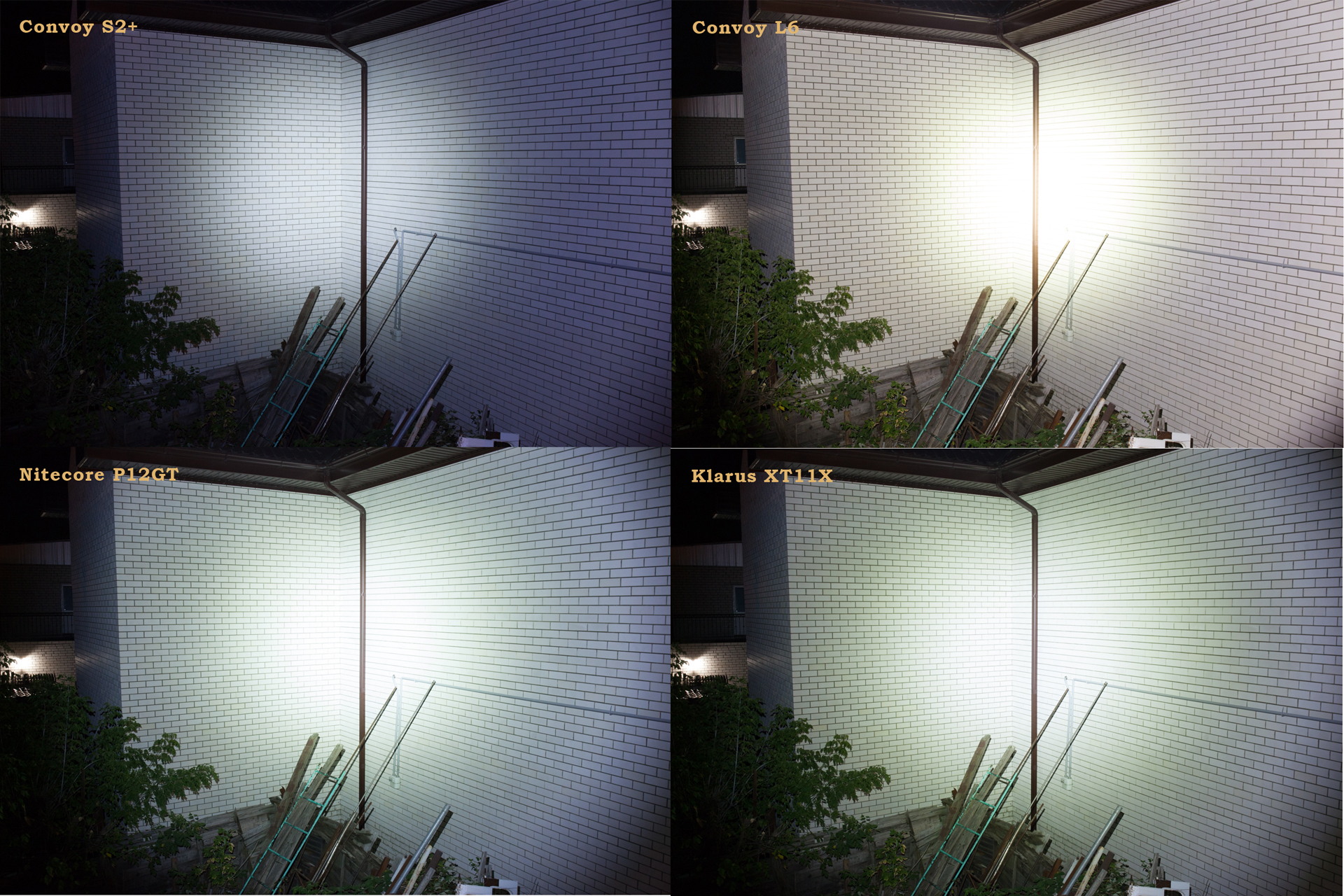 1A charge amperage. Not bad, but why not 2A?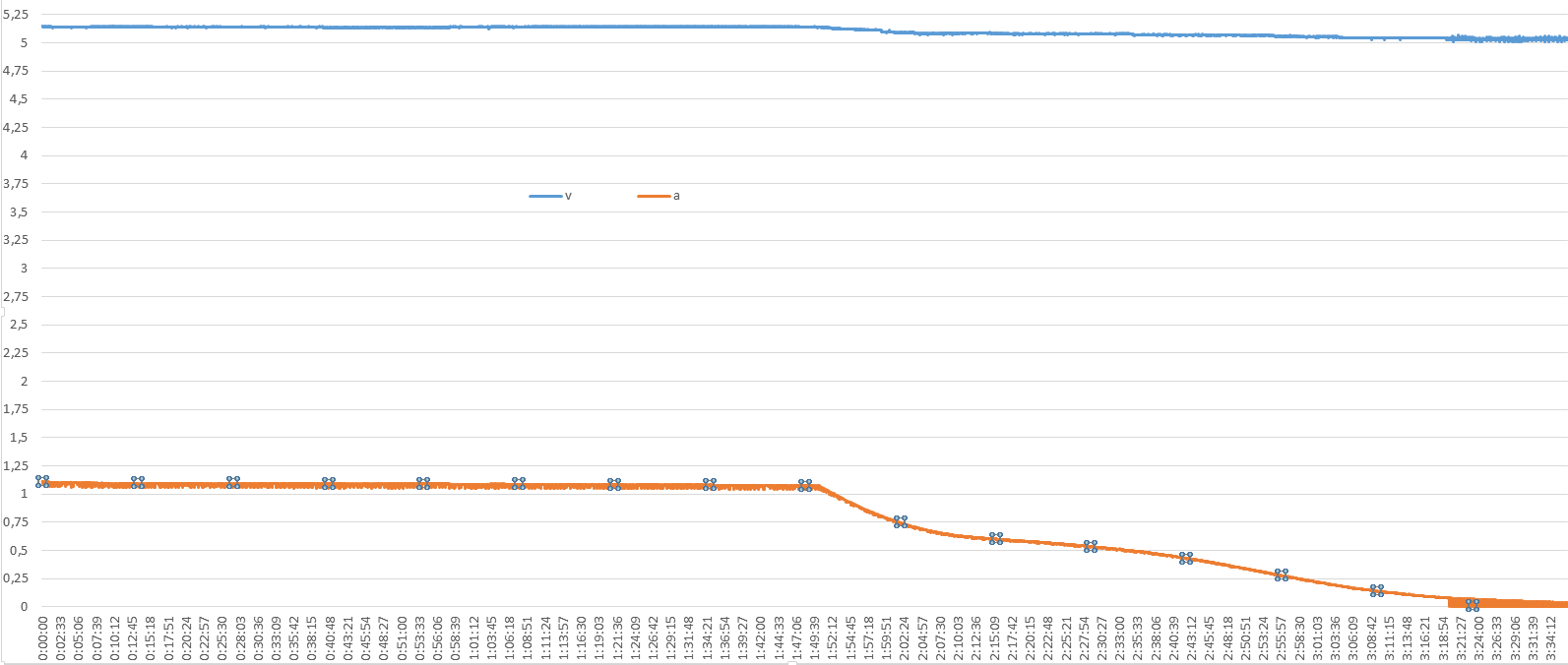 Manual says that 3200 is only for included battery. Other ones will limit turbo to 2000lum. 2xCR123\16340 to 1500. So all the non-
VTC
battery aren't powerful enough to get stated turbo, they can only reach 50% of it. And that are high-drain cells: 25R, HG2, HE4, 18650GA…they should be good enough for such turbo in 1×18650 mode. But, in reality, only
VTC
and Klarus battery (suppose there is exactly
VTC
cell inside) manage to reach full potential of this flashlight. And you know, that is good, because stabilisation of this 50% level is well…it IS stabilization inlike damned zigzag at full turbo of 3200lums.
Ok, lets take a look at chart.
With no cooling we it is 1.4min in turbo, then stepdonw. One more strange thing here is "sawteeth" here with Klarus battery. If it was thermal regulation like it should be, with VTC pic would be the same. I run test twice for each of them, and both time there was sawteeth with included battery and no with VTC. Here. I`ve got no explanation for this. Strange situation that I haven't witnessed before.
Of course, High is stabilized. That`s mostly because naming 400lum mode as HIGH is nonsence. I have no idea about such giant gap between turbo and high. Nevertheless, in real use 400lum is quite ok, in range of like 20-30m you can 100% rely on this mode. Klarus keep on surprising me , they proudly ignores common sence making such astonishing gap between turbo-high in all the XT stuff that i`ve tested. Seems someone there shoulb find new job, not connected with flashlight.
This time there might be 2 modes between 400-3200, like 800-1500. That`ll be fully stabilized and convenient modes to which turbo may drop.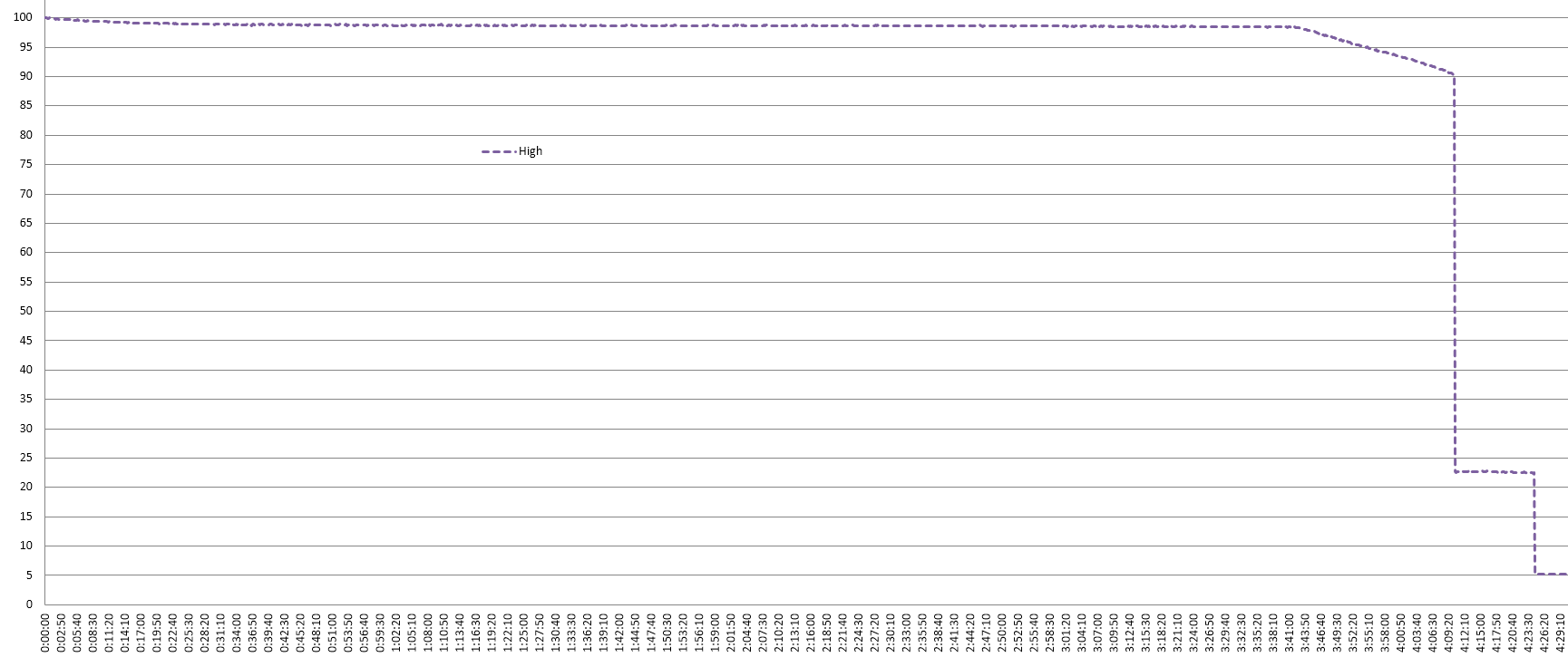 About 15m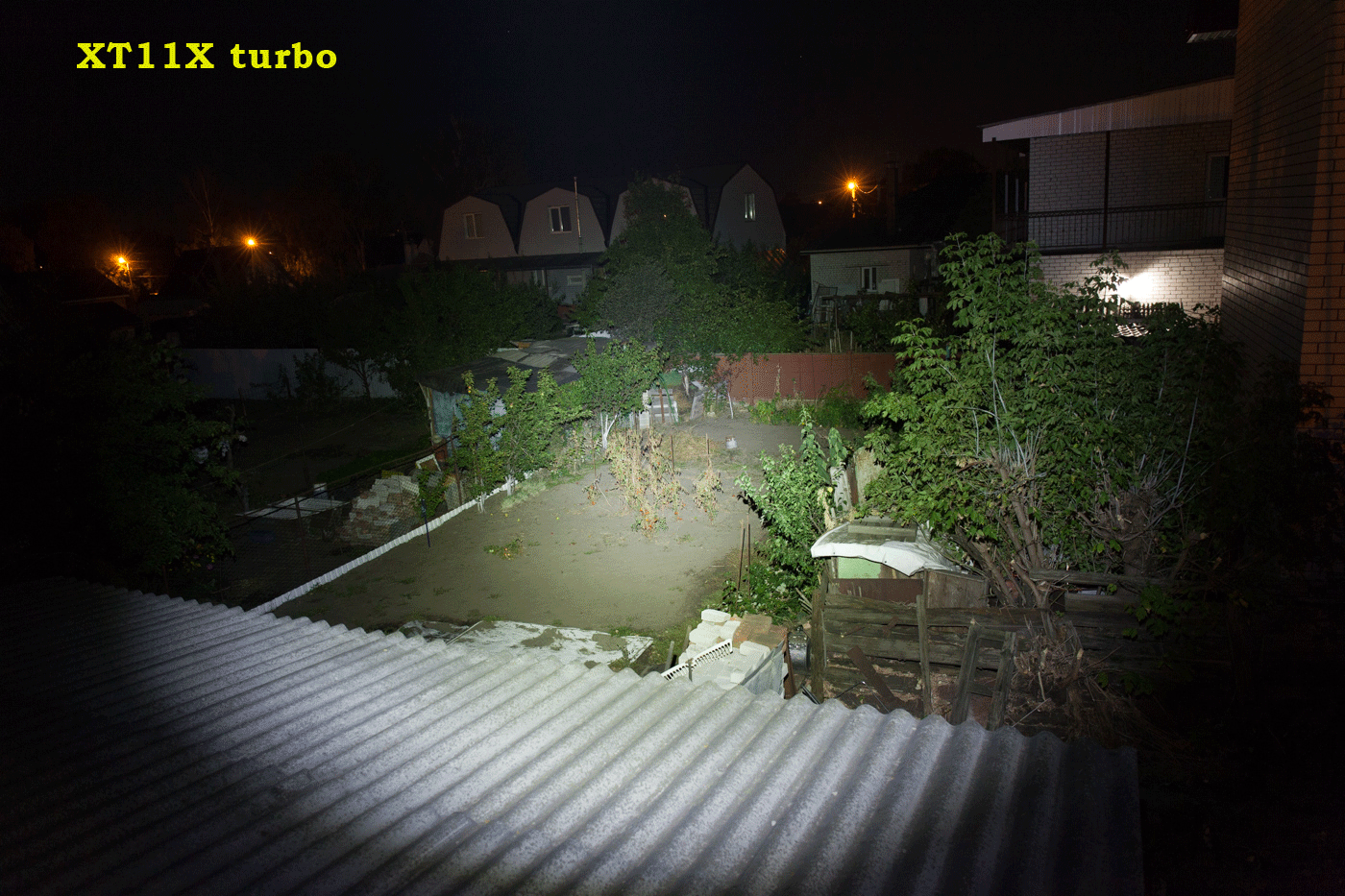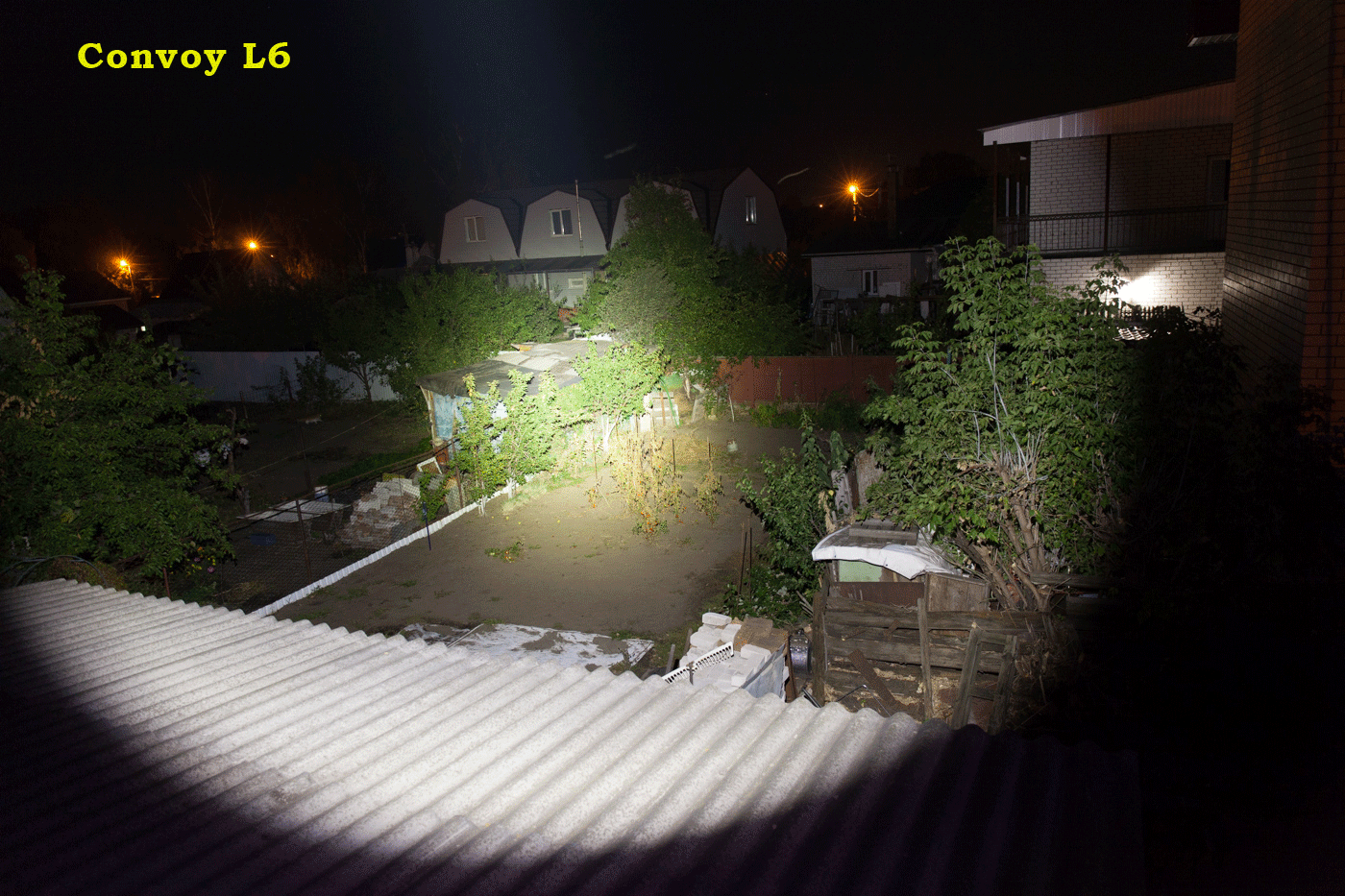 About 40m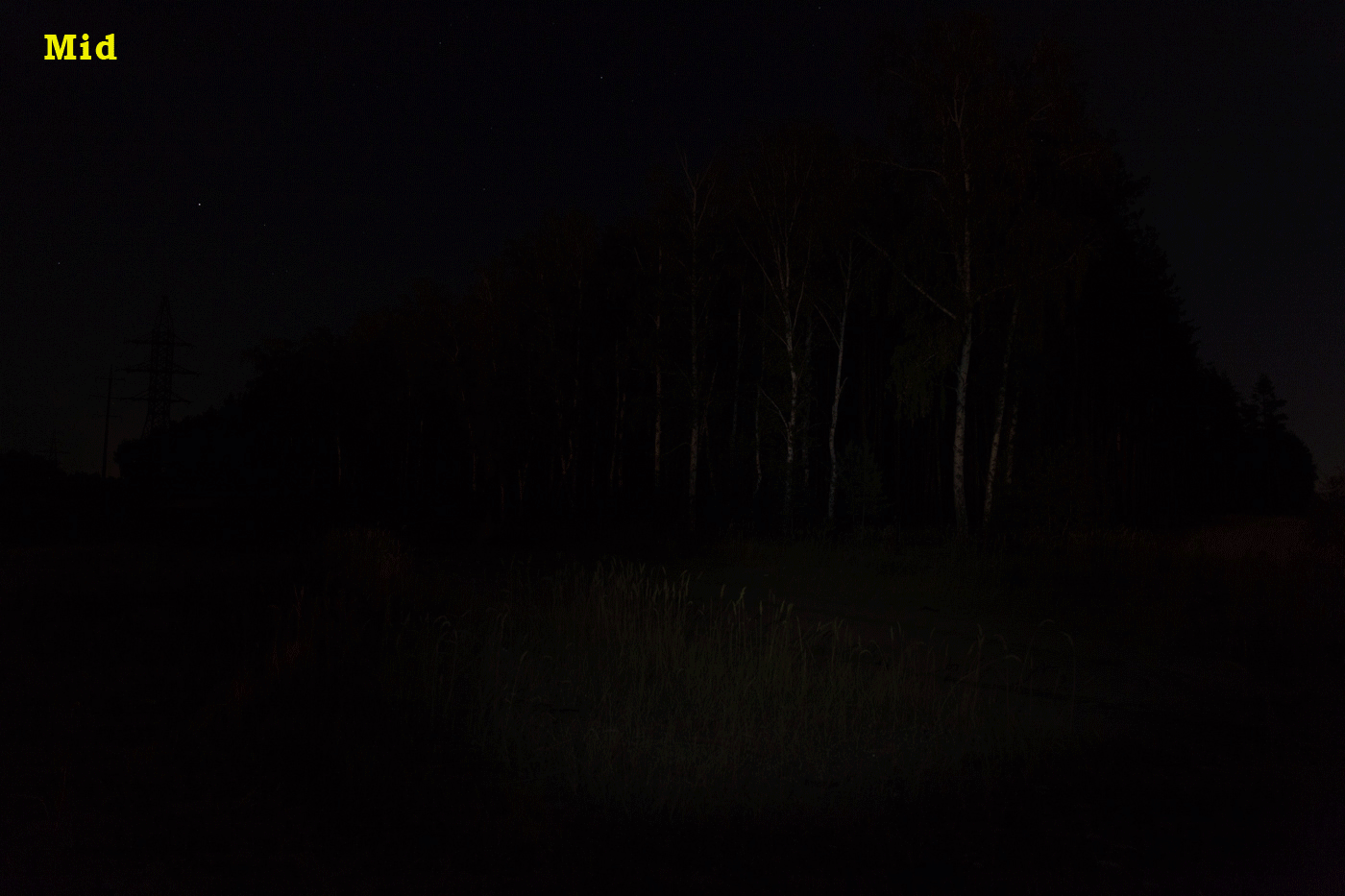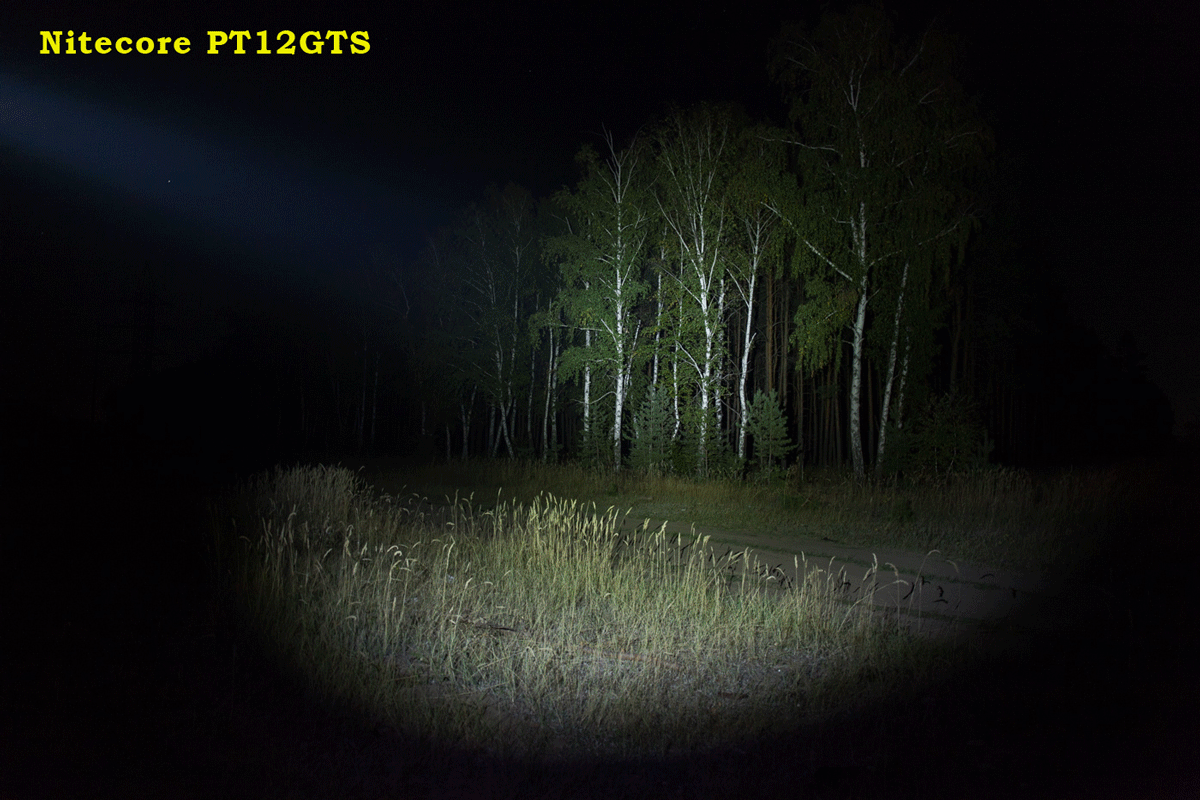 !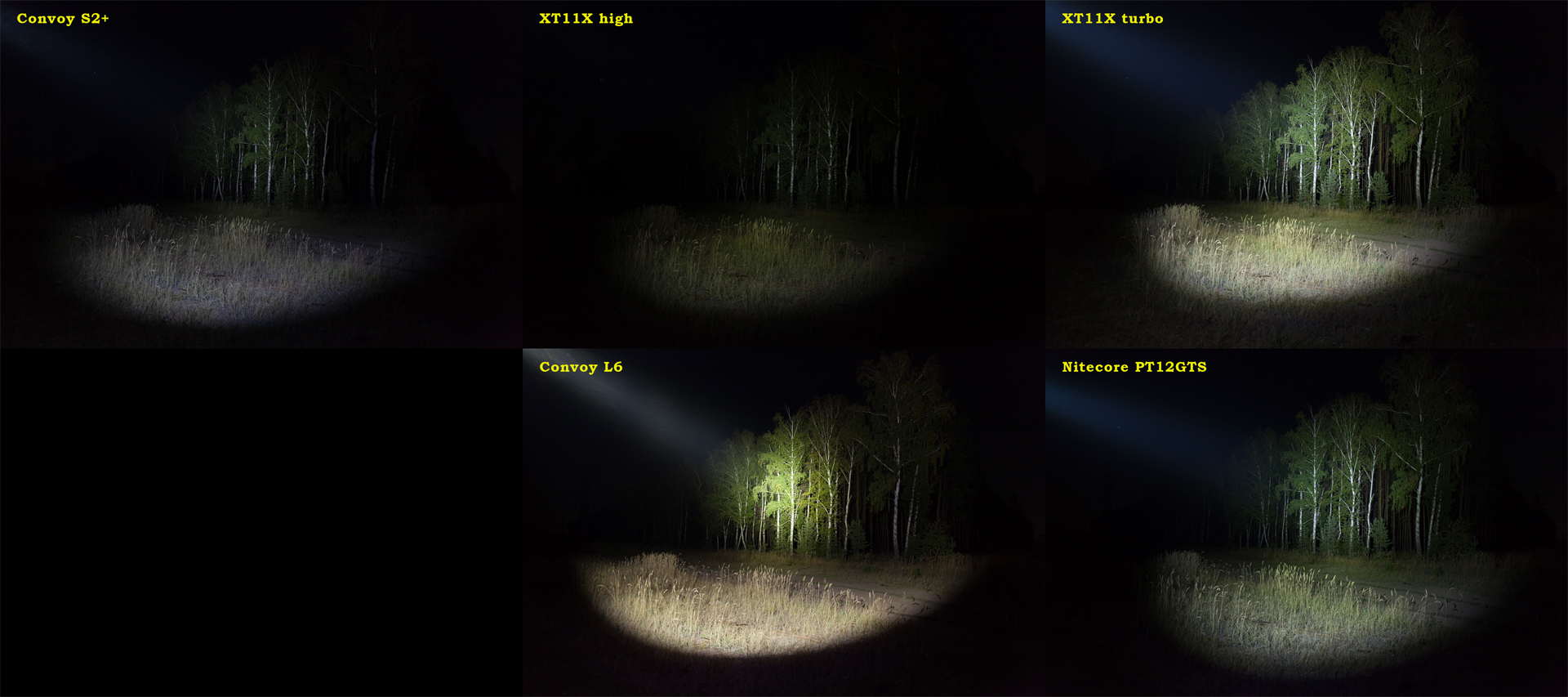 About 50-60m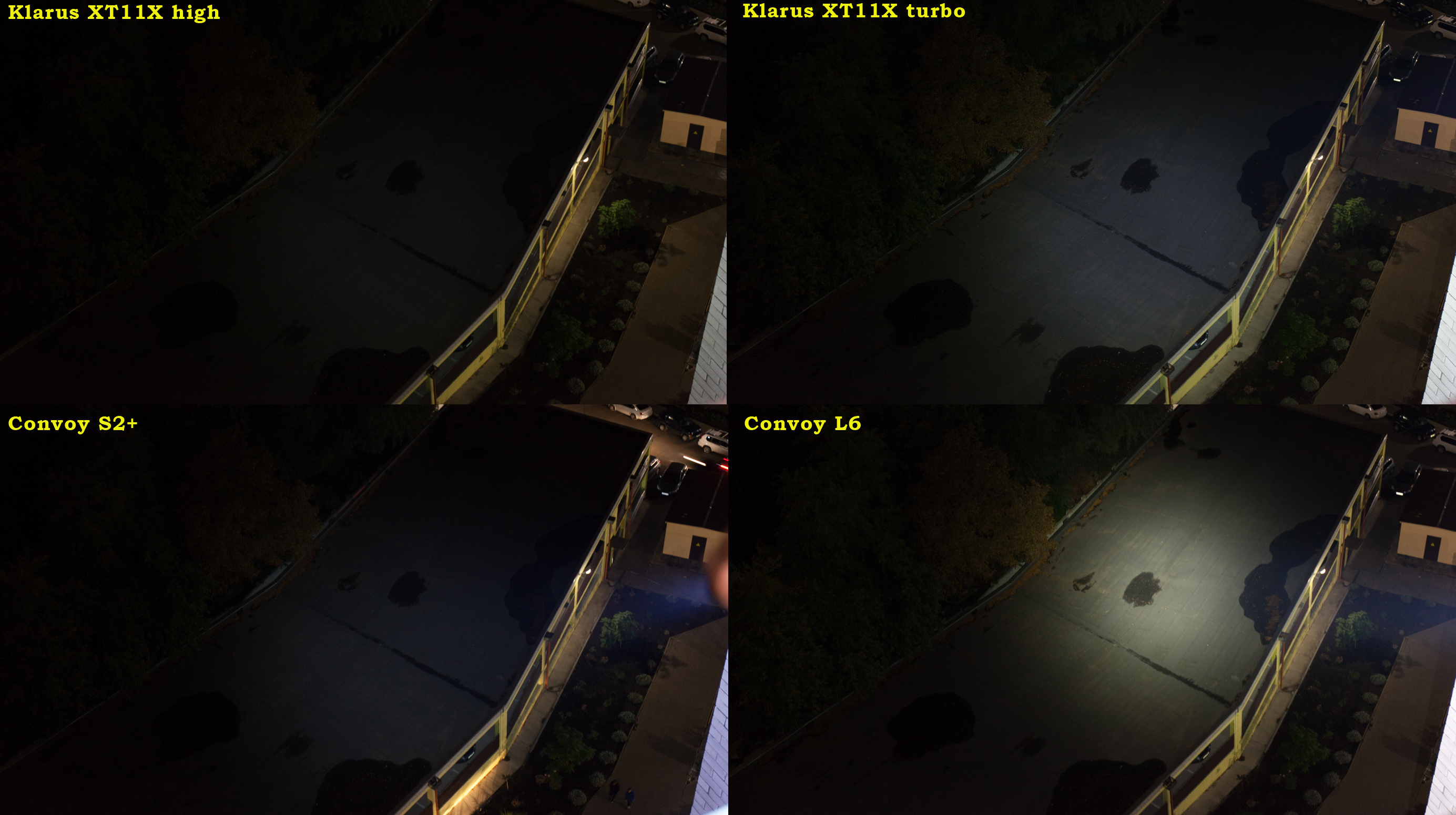 100m. I evaluate this distance is limit to real use, you can get some light further, but as it is has more sidelight than throw , light will just dissolve at further distance (though you can still say – "yeah, that`s my Jeep" from like 200m range.) Within 100m range, everything is clearly seen. If you want more throw – check other XT models.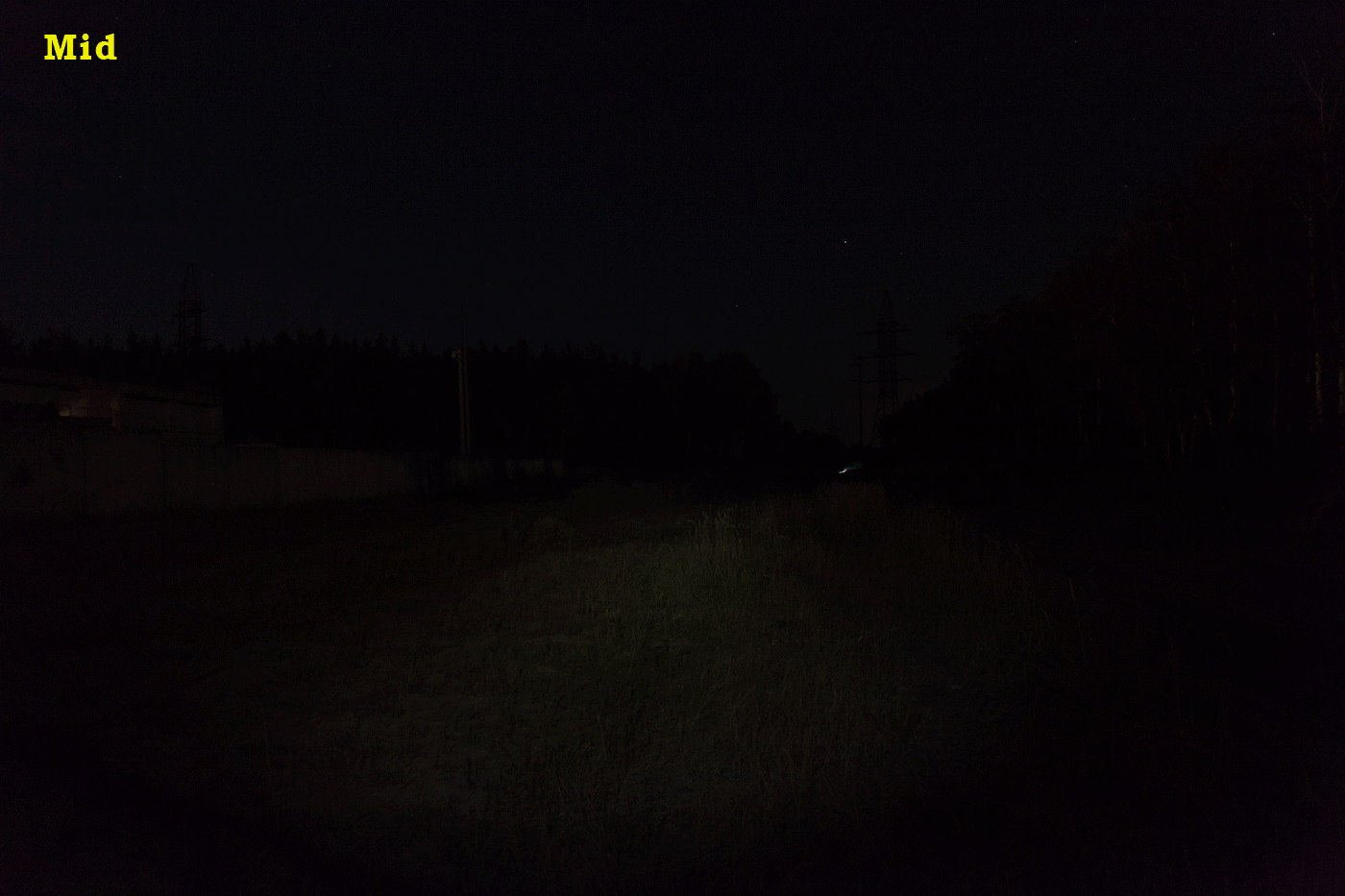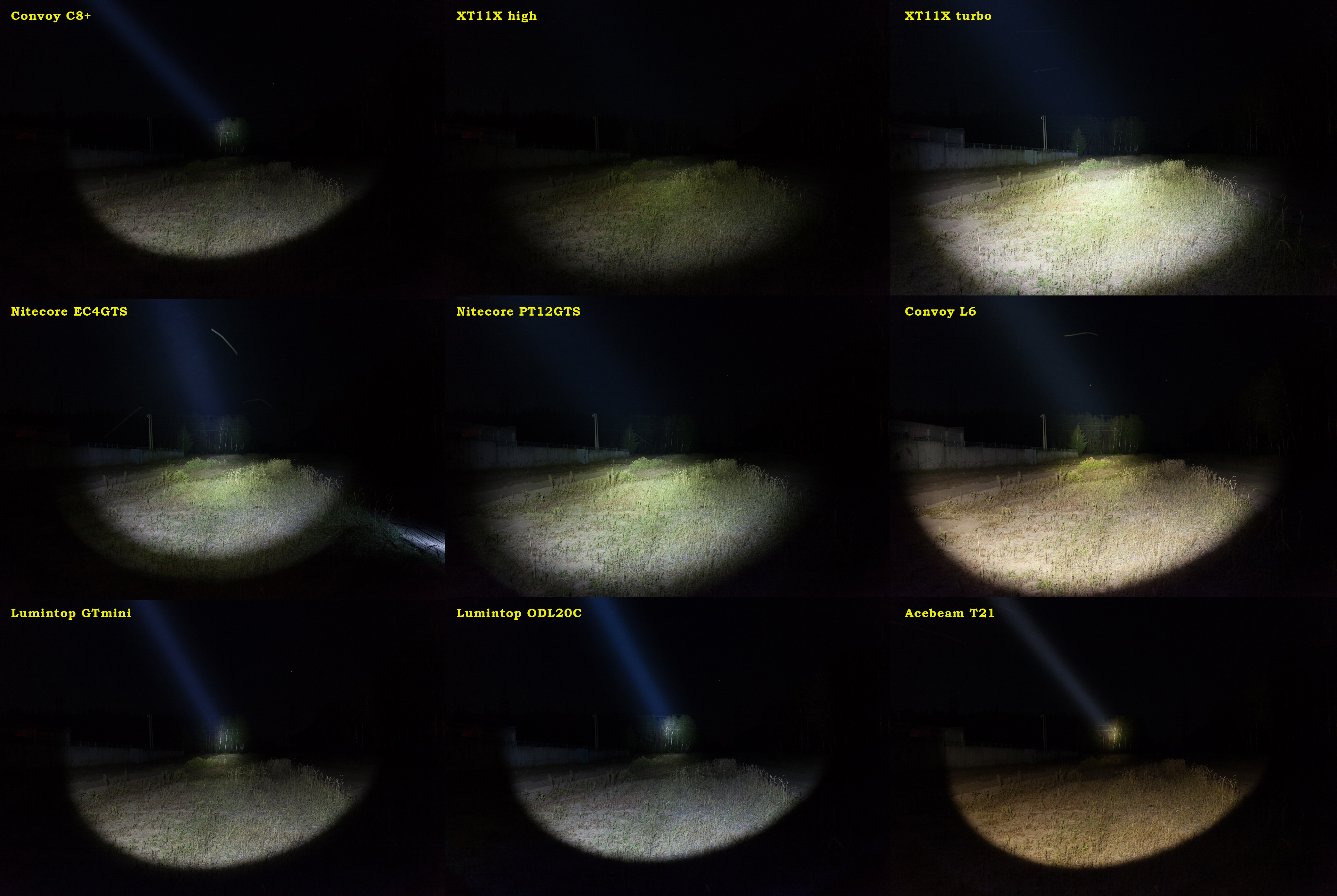 and short video

OVERALL IMPRESSION.
As for tactical flashlight, 360X is very bright. It inherits most of the best sides of XT model line.
"Most", because I, personally, dont like reverse mode (though, in outdoor setting you may use ascending mode order with tailcap additional button).
+ appearance (real gift-package and 360X itself)
+ build quality
+ brightness
+ 1А charge amperage
+\- UI. I like everything in it besides reverse mode order. There is a bunch of shortcuts to low-turbo-strobe, UI itself is flexible. If you is not about "click-click-click" using, that is not a big deal for you. I also must notice that i`m not the one who would use assault mode setting, and admit that for such needs reverse mode order may be better choice. And outdoor setting allows you to use ascending mode order
- gap between TURBO-HIGH can include 1-2 more brightness levels.
- terrible thermal regulation and minor things like no tactical ring included and just one positioned clip.
It seems to me that Klarus stuck somewhere close to very good flashlgiht. Absence of common sence and understanding what real flashlight user want – are what keep them.
All these problems with thermal regulation and turbo-high gap last too much . Hope Klarus get through that.