You can treat the full-sized Lumintop flashlights differently (although, to be fair, their recent models are a way better than they were a couple of years ago), but they make awesome small flashlights. I reviewed absolutely all of them, some of them are just amazing from the standpoint of design. And, in my opinion, Worm and Tool have been the most popular AAA keyboards for several years.
 
And Lumintop rolled out another new product – EDC01. It differs from previous models by the presence of TIR optics. I just have all the other models, so will compare them.
You can buy Lumintop EDC01
➤ AMAZON
➤ ALIEXPRESS
➤ BANGGOOD
➤ Nitetorch store with 20% off sidewide code HJK5KDNQ
for years i`ve been buying batteries at Nkon.nl. sincerely recommend this store.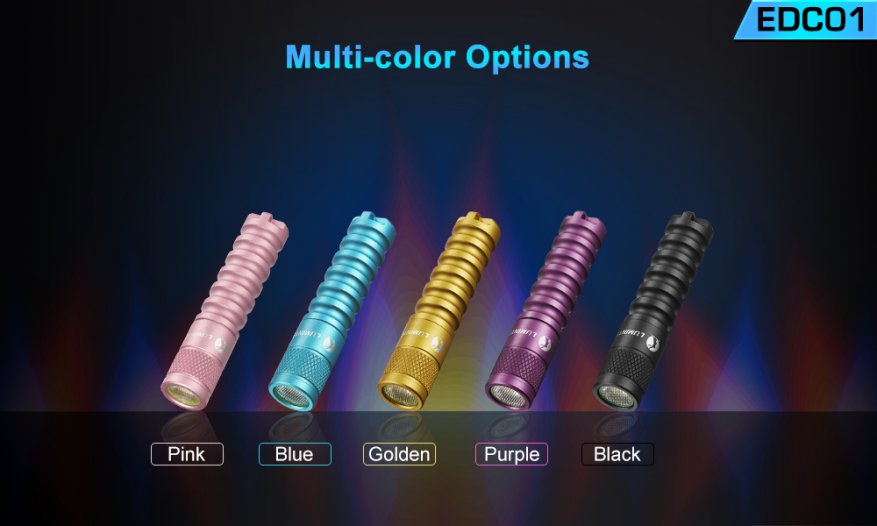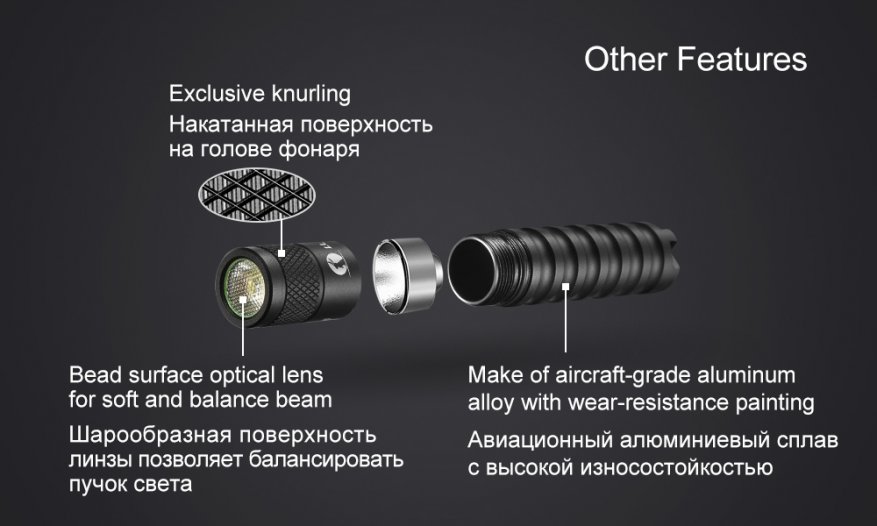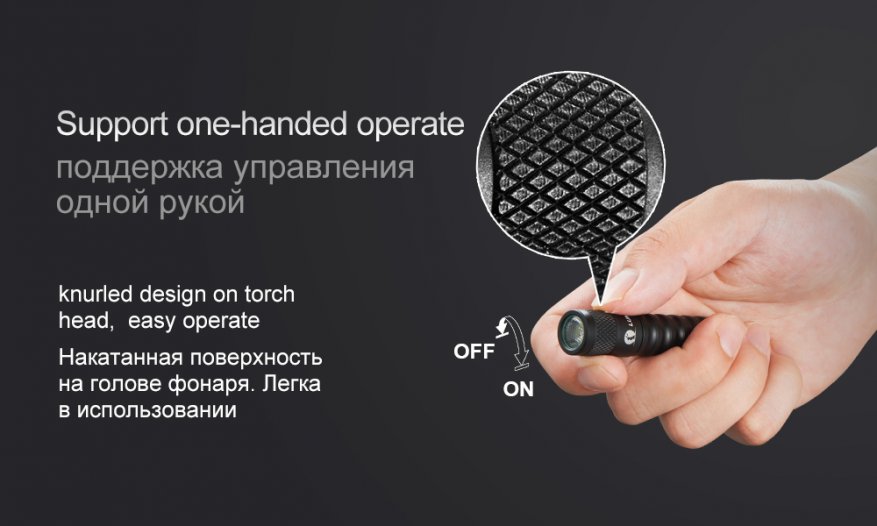 specifications
Uses CREE XP-G3 (R5) LED with 50,000 hours of life.
3 useful modes with max 110 lumen output and up to 36 hours of battery life
Powered by one always-available AAA Ni-MH or alkaline battery
Dimensions: 66 * 14.5 MM, N.W .: 12 g (without battery), compact and lightweight design, easy to carry
Five colors to choose from: black, blue, pink, purple and golden yellow
High-performance digital ADJUSTABLE CIRCUIT maintains constant brightness
Optical lens for soft and balancing beam
Glow in the dark front o-rings around the lens easily capture light in the dark
Simplifies the jog dial, making it easier to access all modes
Able to stand on a flat surface to serve as a candle
Made of aviation aluminum alloy with wear-resistant paint.
IP68 protection rating, impact resistance up to 1.5 m
5 years free repair, limited lifetime warranty
 
Package and appearance.
 
The keylight is packed in a white cardboard box. The whole set is inside, in the foam rubber box: flashlight, diffuser, carabiner, a pair of sealing rings. Though there are no any designer finds, but it looks moderately neat.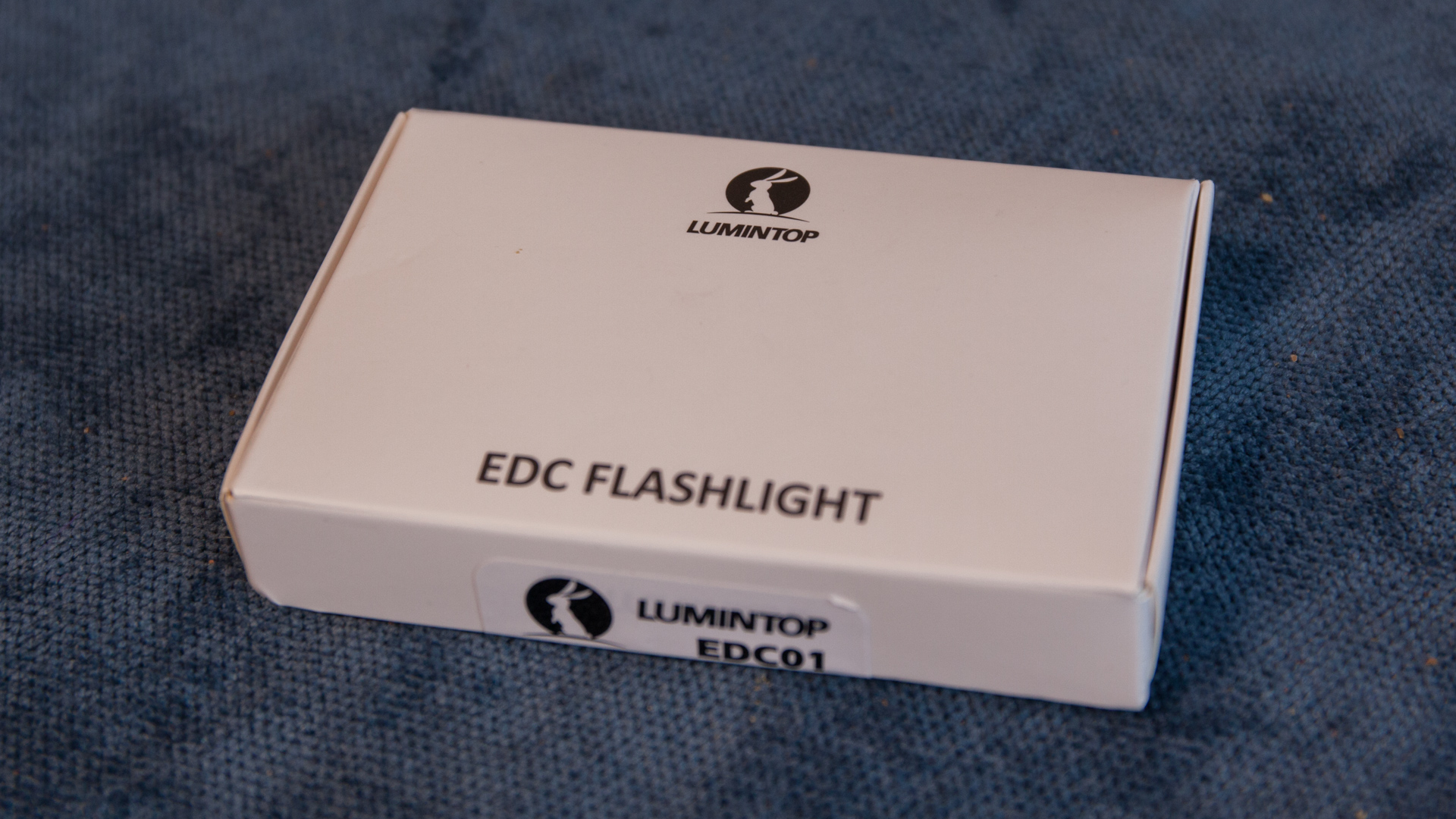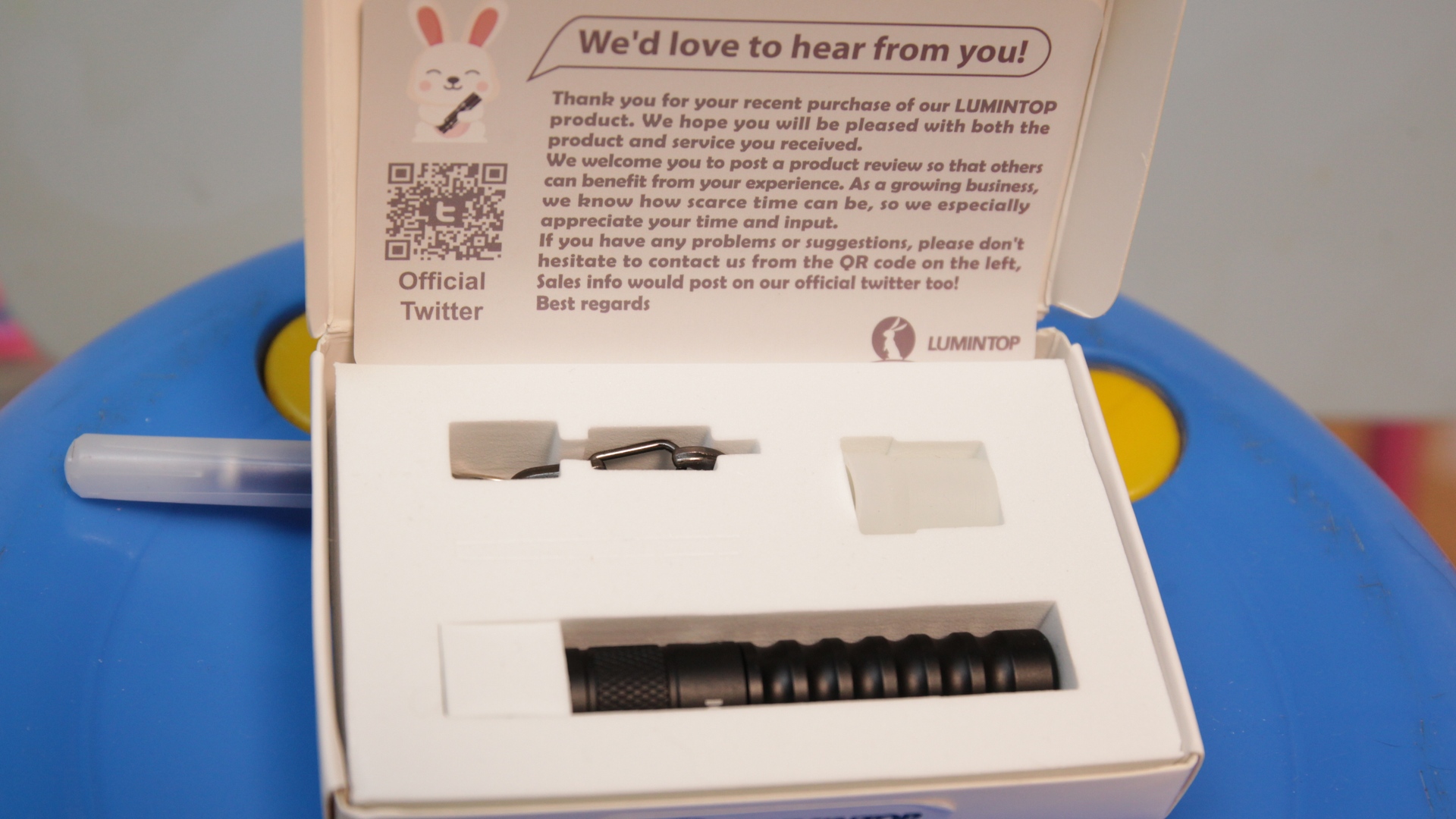 And here is the keylight itself. You can also evaluate its modest size. Due to the wavy shape, the grip of the flashlight is reliable and convenient.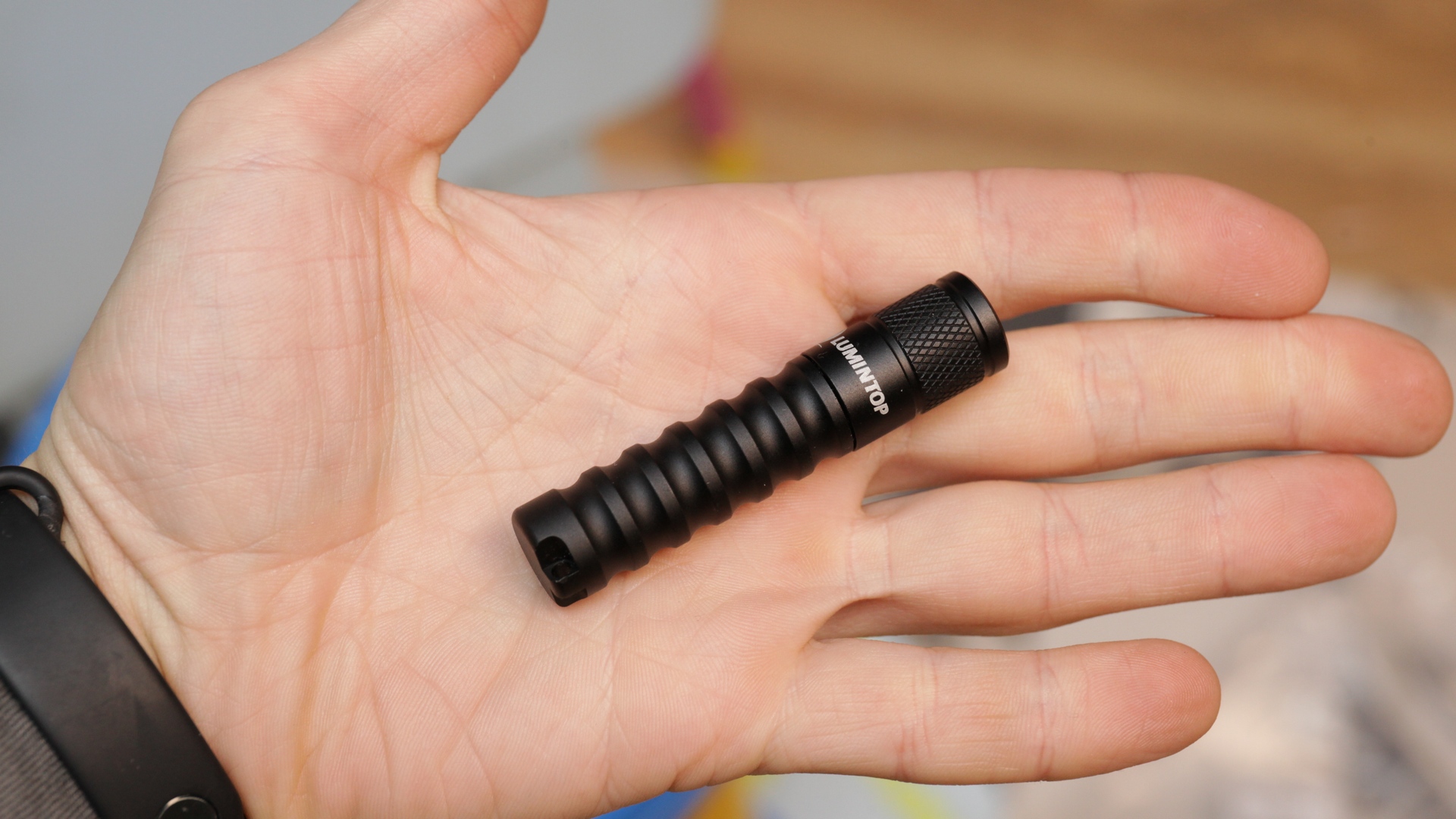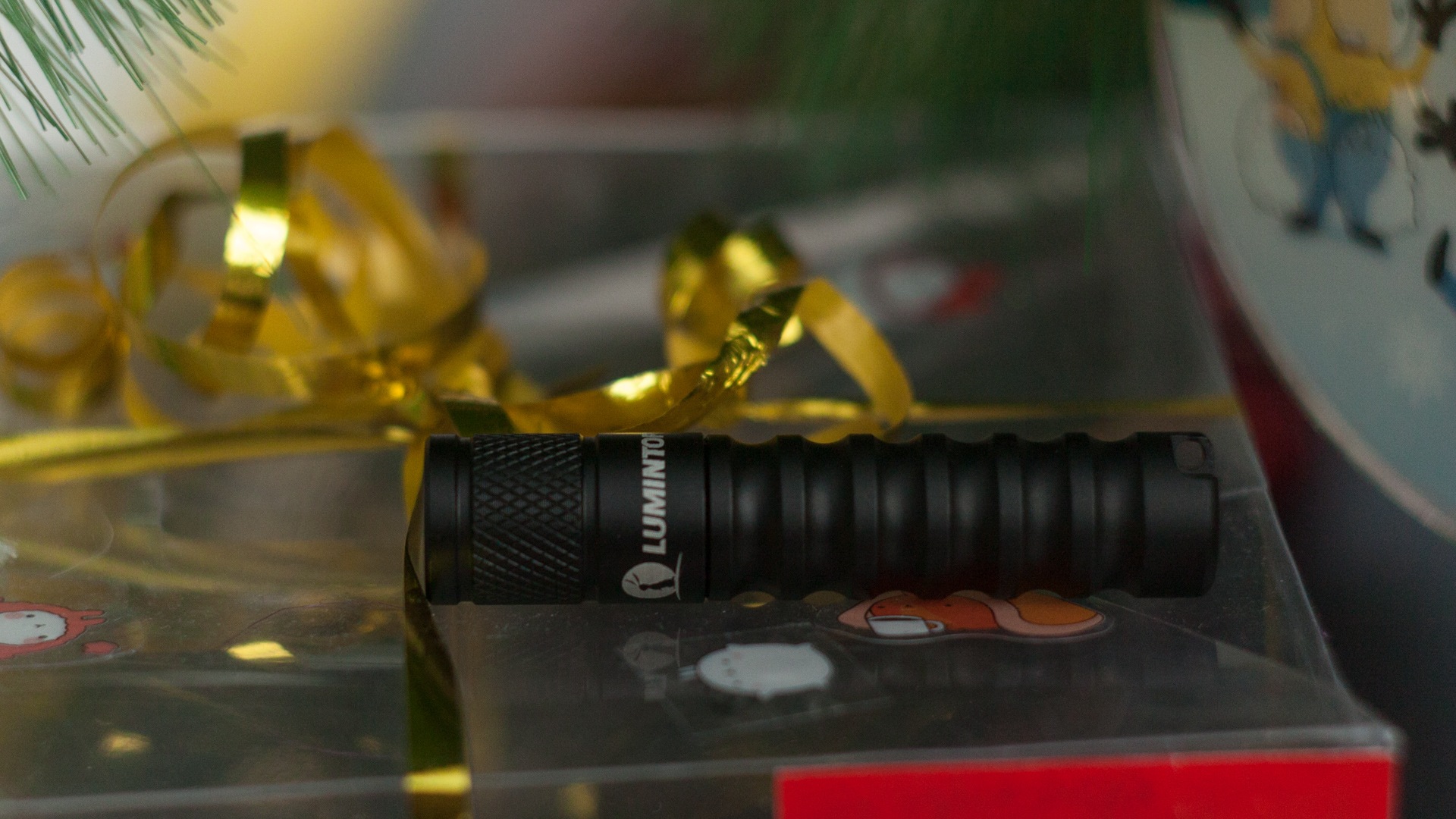 Well, here are fellows. As you can see, by and large, they are all the same in size. Immediately it is clear that the EDC01 is almost the same in appearance as the golden Worm and is much shorter than the one having the tail button.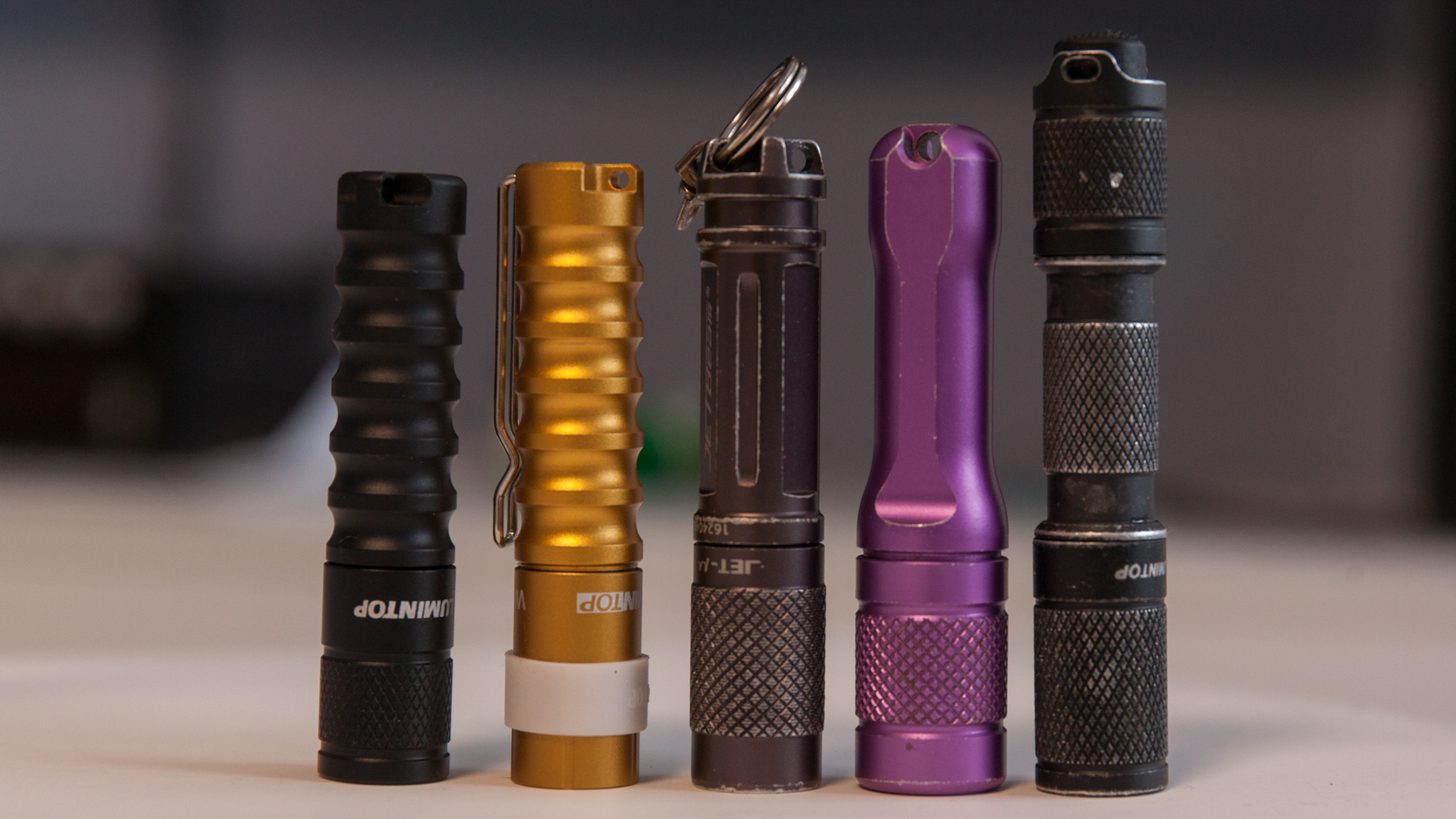 reflectors are different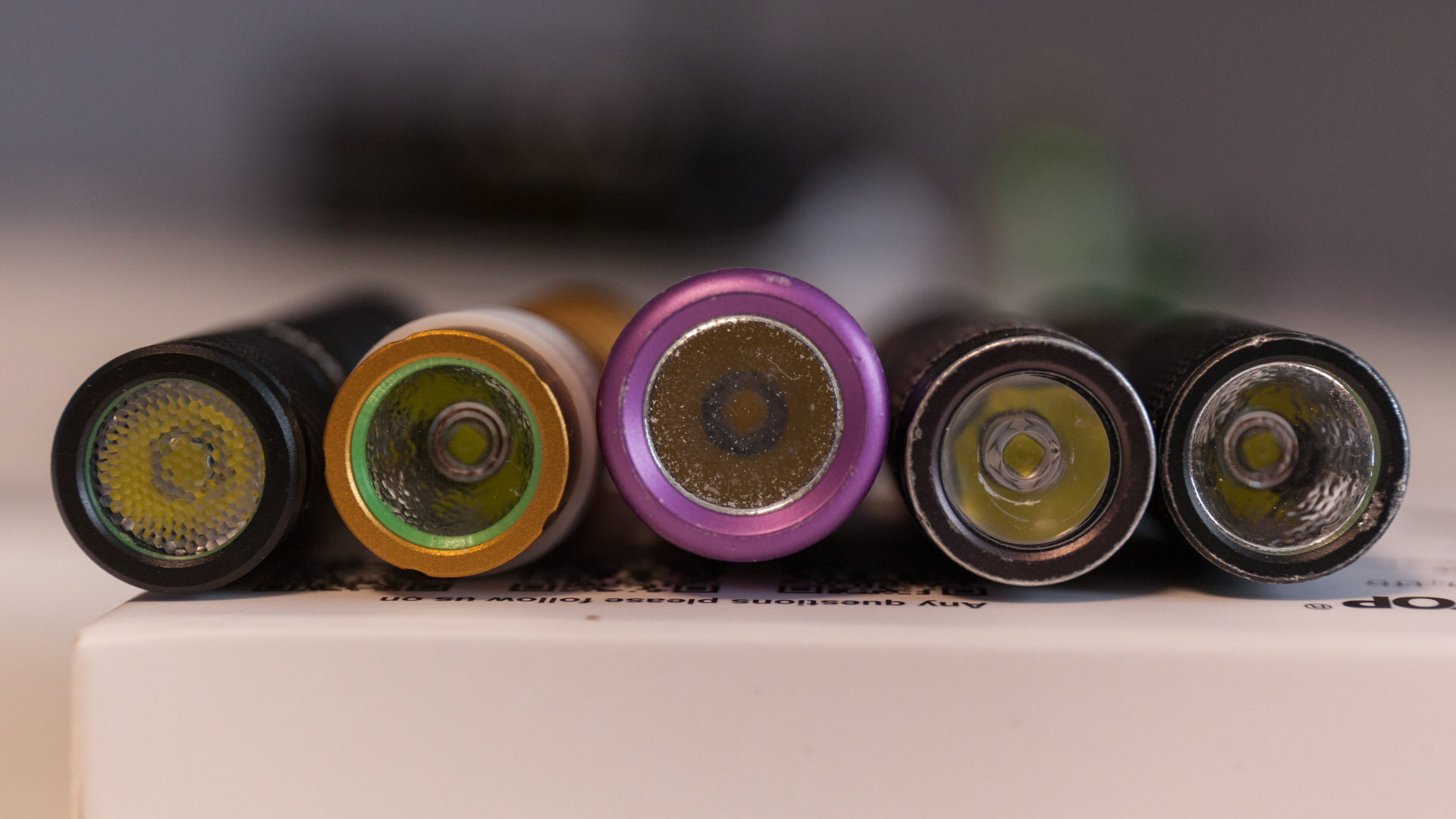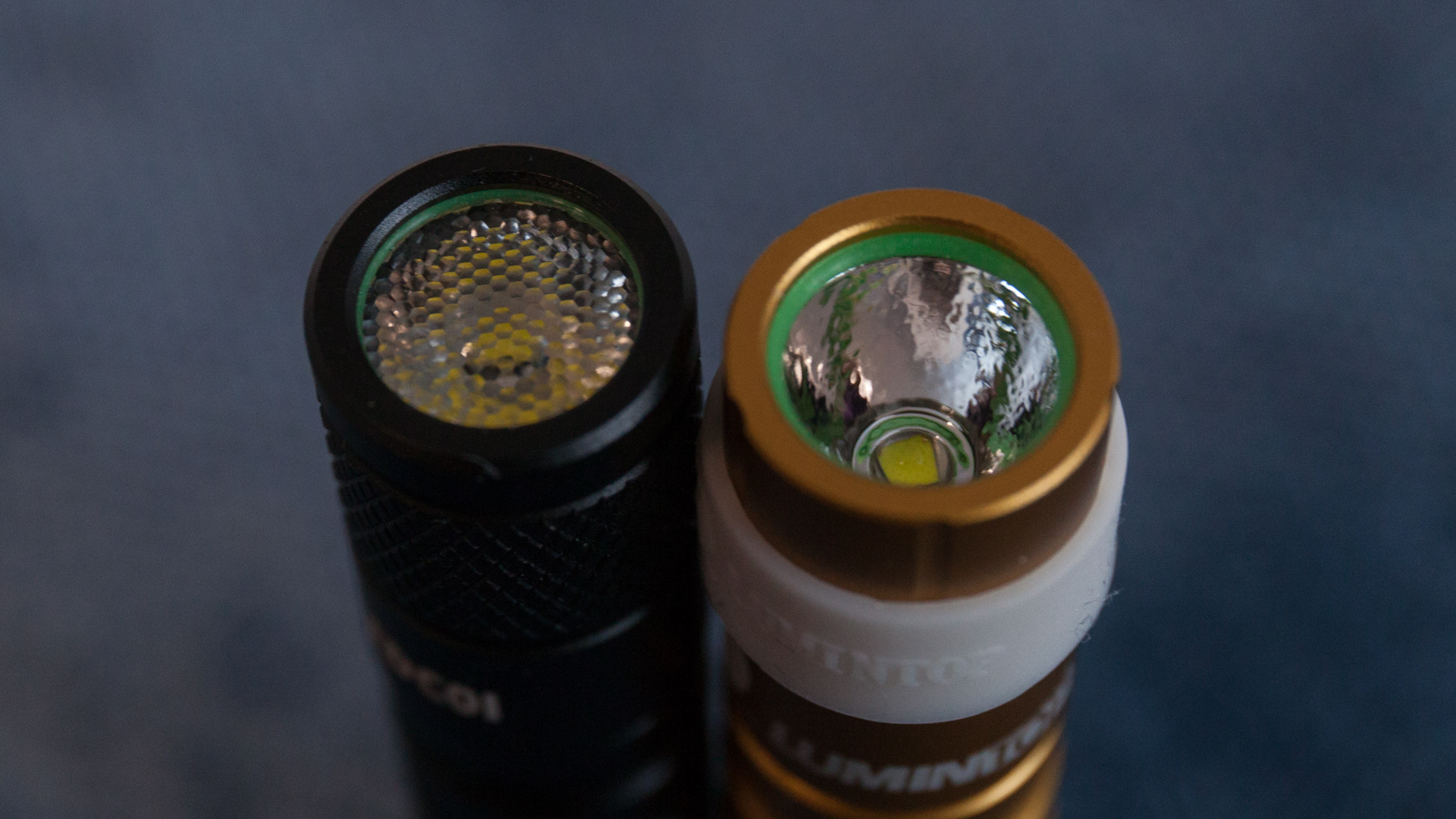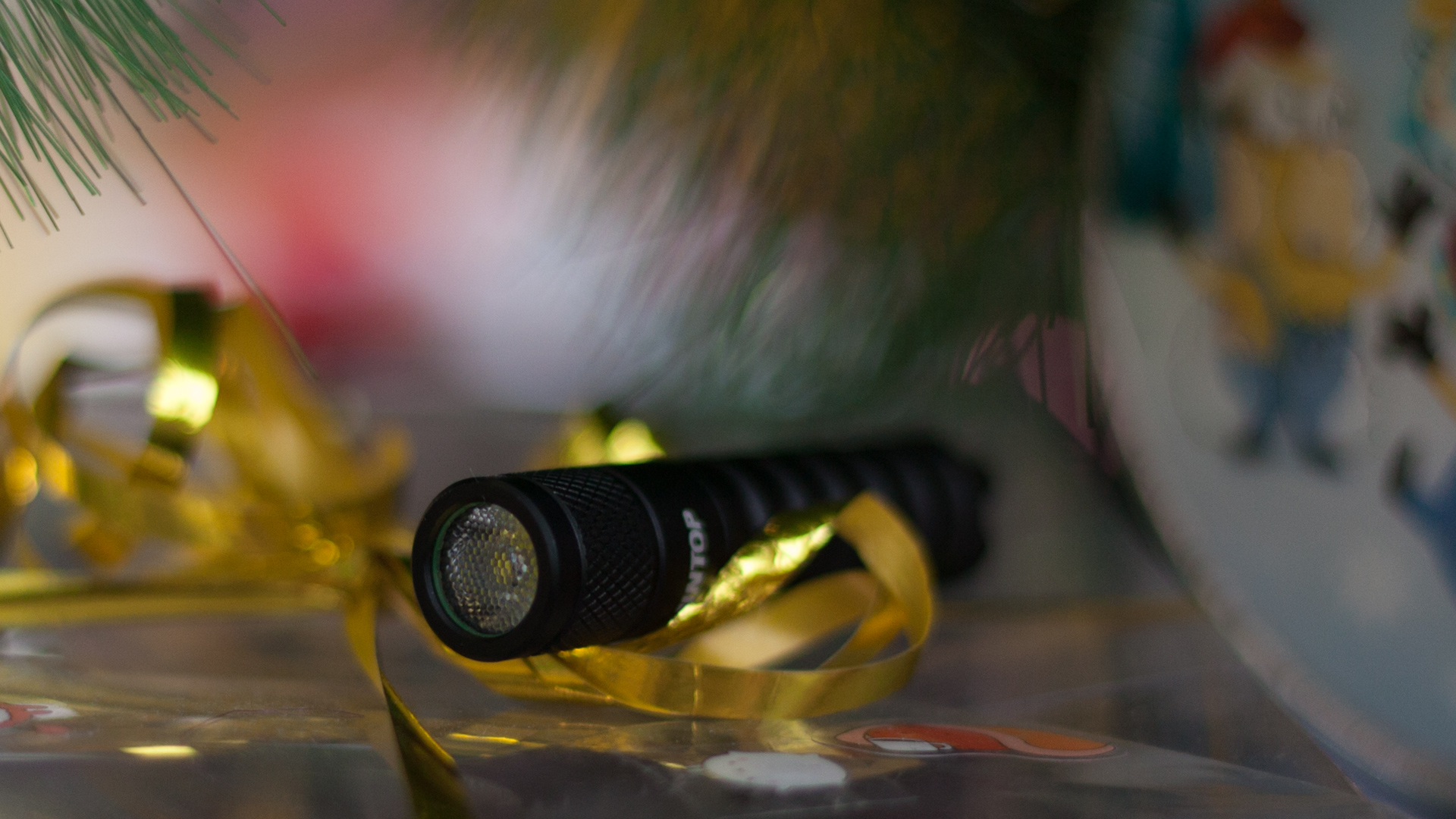 From the side of the head, of course, the contact plate.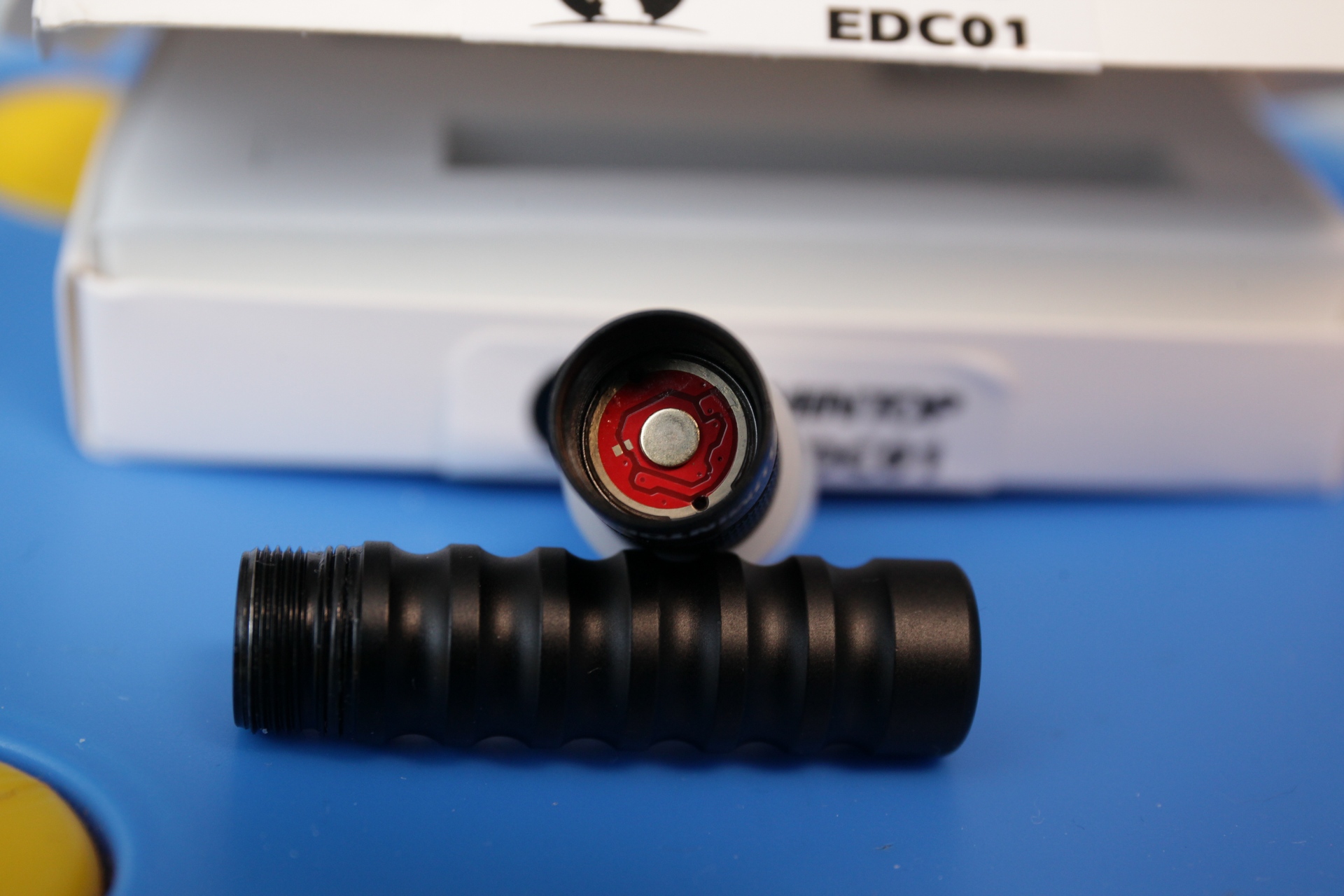 Spring at tailcap

Good machinizing, The threads are well lubricated.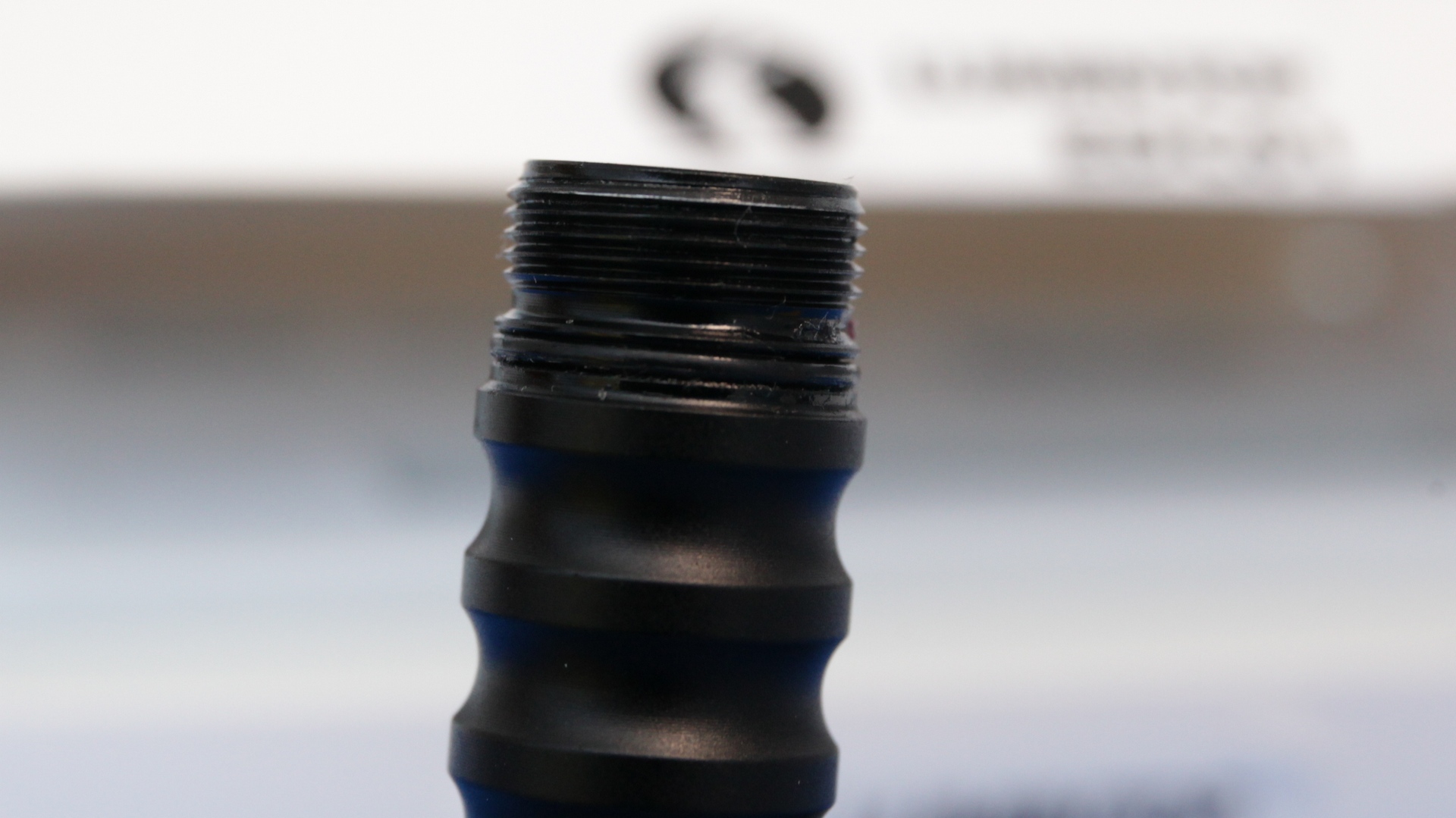 You can put diffusor on, if you need. I feel that is more decorative feature rahter than functional, but…well, there are different situations and it can be used as a night light in a tent.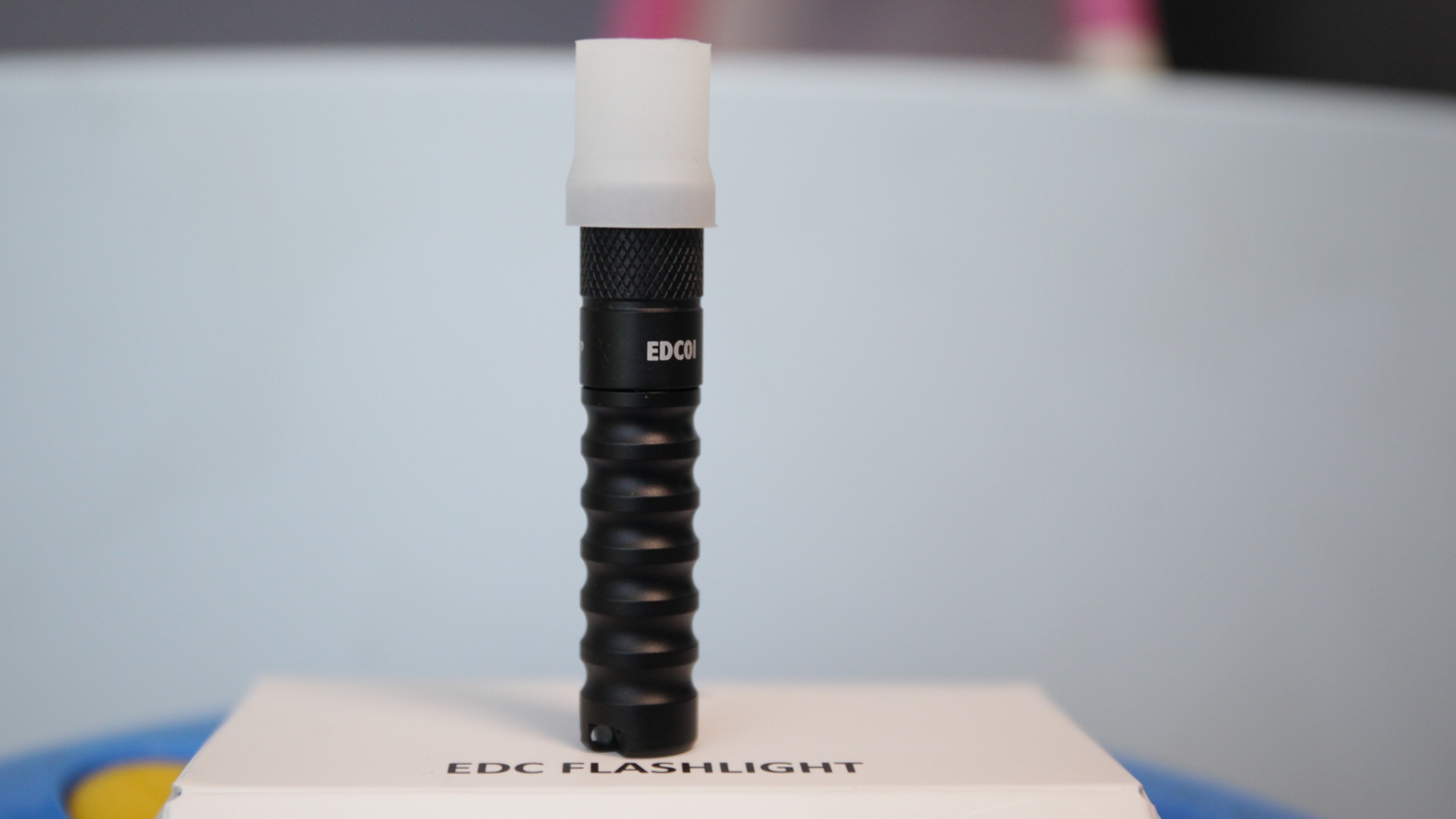 In general, like other Lumintop keylights, this one looks quite good.
UI
standard , just twist head and move through low-mid-high
Flashlight performance
 
Cool white light. For a keylight, this is not critical at all, in my opinion. There is no visible PWM shimmering.
here you have comparison of the whole get-together. the difference is clear – due to TIR optics, EDC01rved flashlight gives a wide diffused light, which is very convenient near. It and the others are quite convenient, with such a shallow reflector, but everything is completely flooded.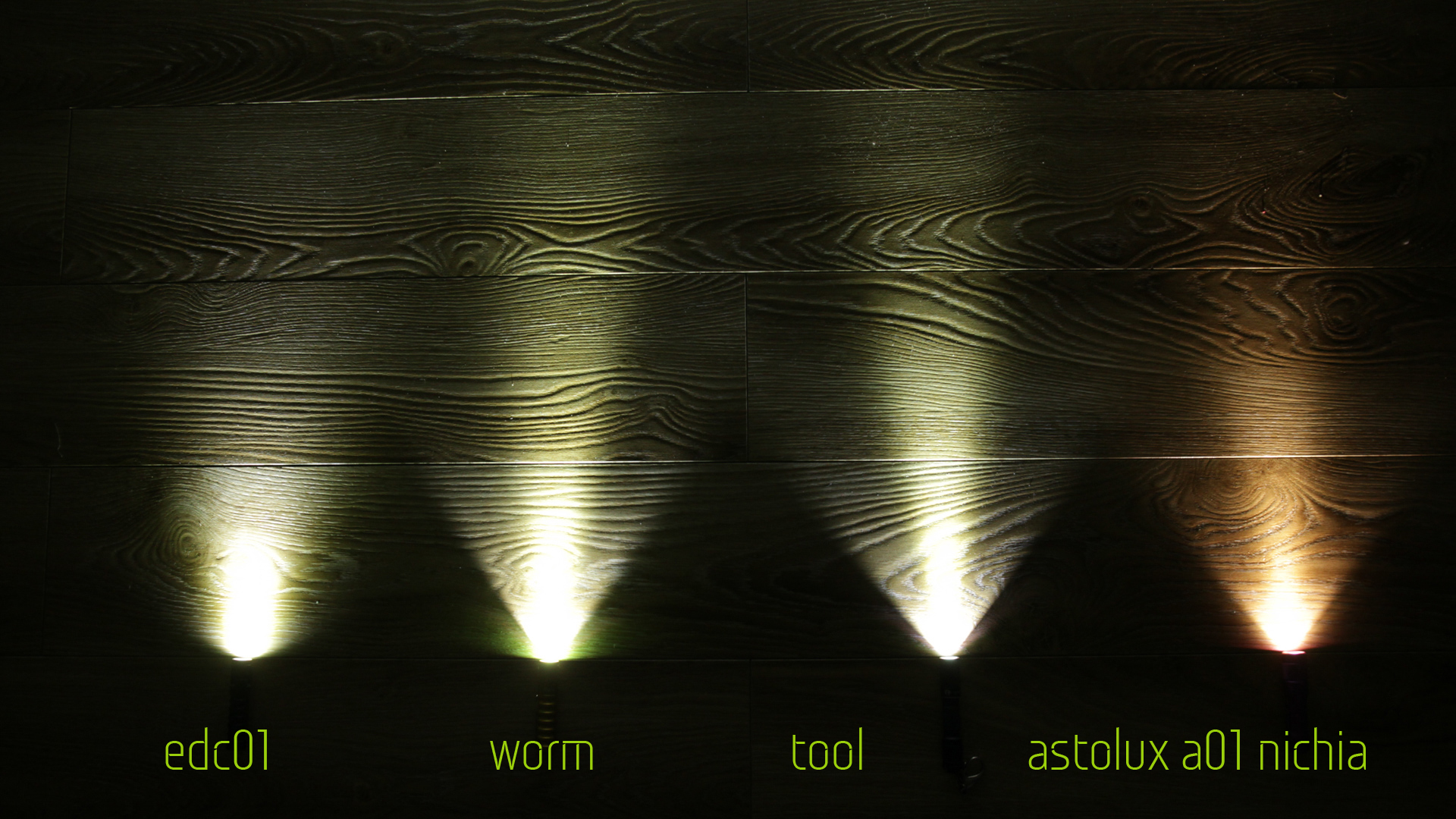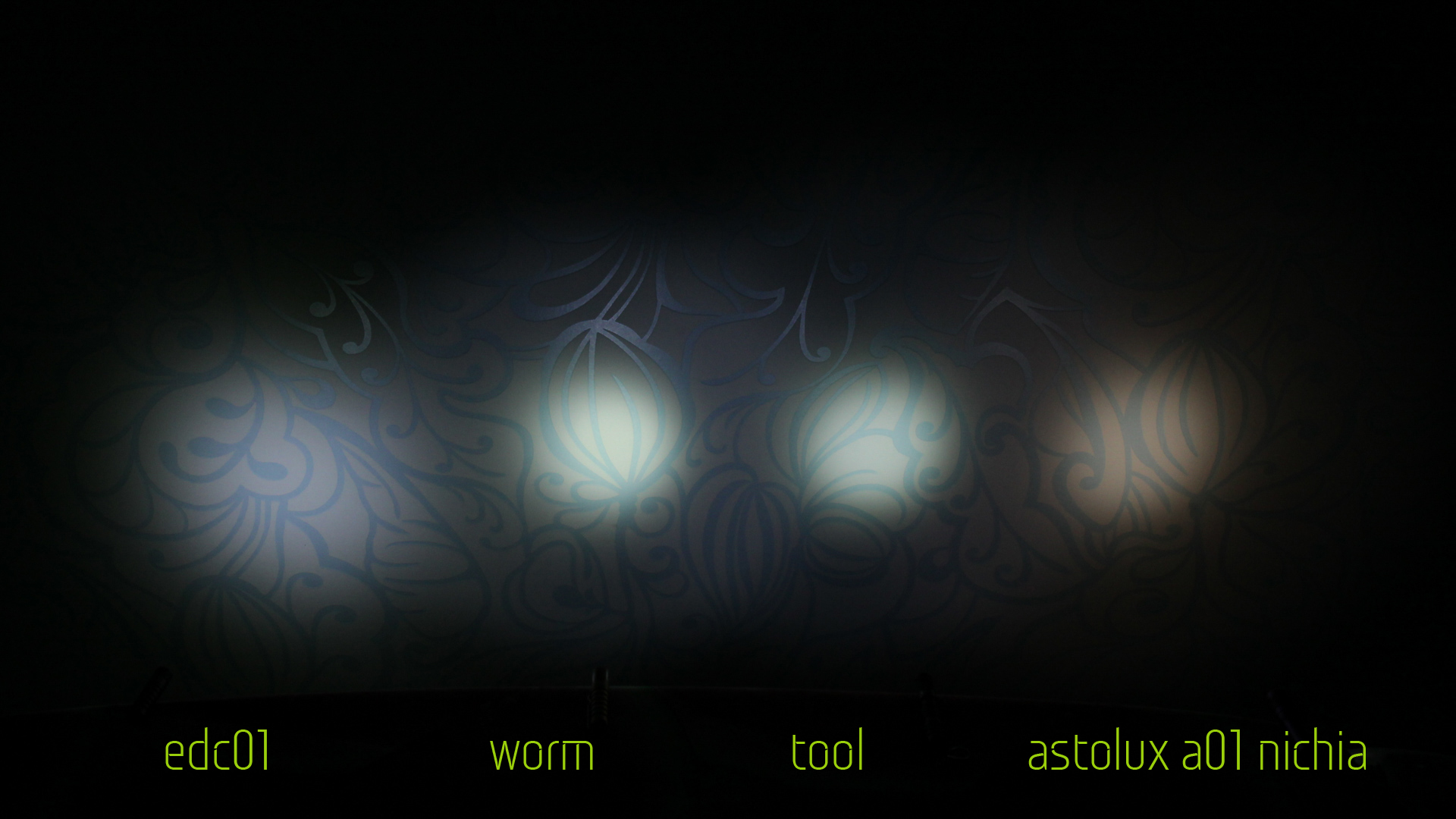 In the case of a decent battery (and here I have Fujitsu 900mah, analogs of black Eneloops), it seems like they have the same cell), the stabilization in high is amazing. I really expected way worse chart, with rapid descend. So you have quite bright and long lasting mode here. Well, mid, though not particularly impressive in brightness, but it gives 4 hours. Again, it is possible to hang with a diffuser somewhere like a night light.
How does it shine? Well, not bad. In the room it is enough for the eyes, even here the Mid will be far from useless.
here's for comparing high for all four keyboards presented.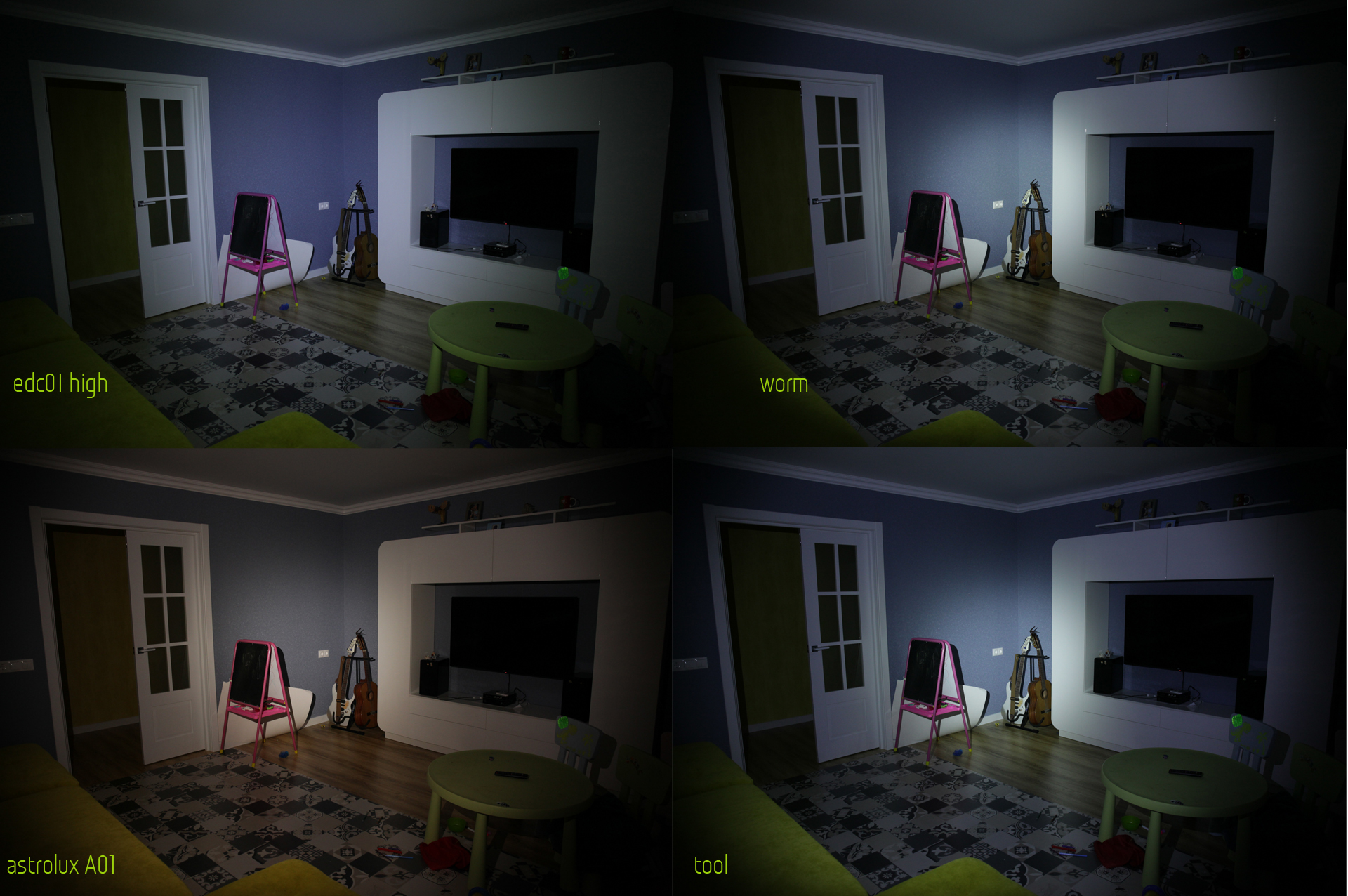 Well, EDC01 itself in Low \ Mid \ high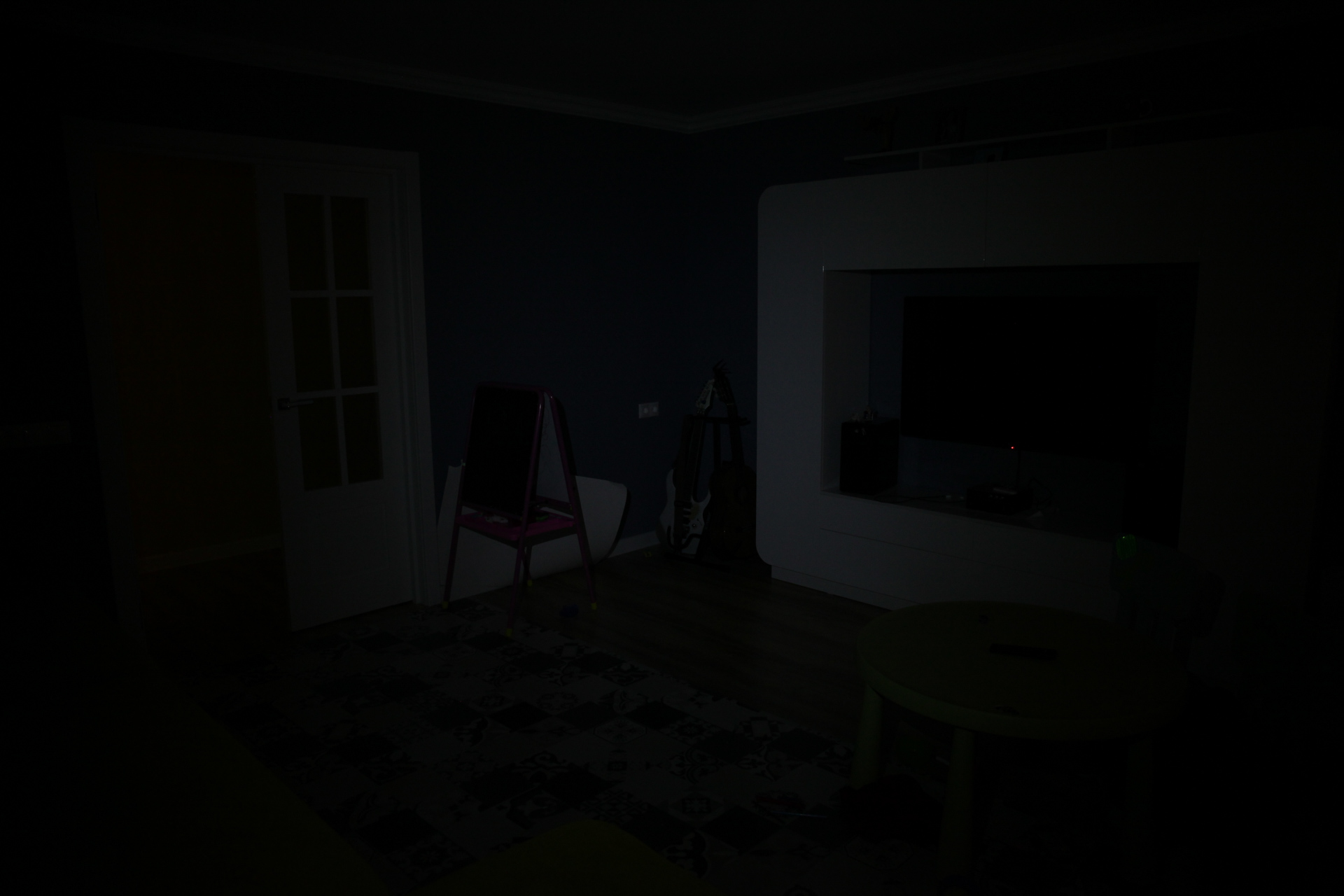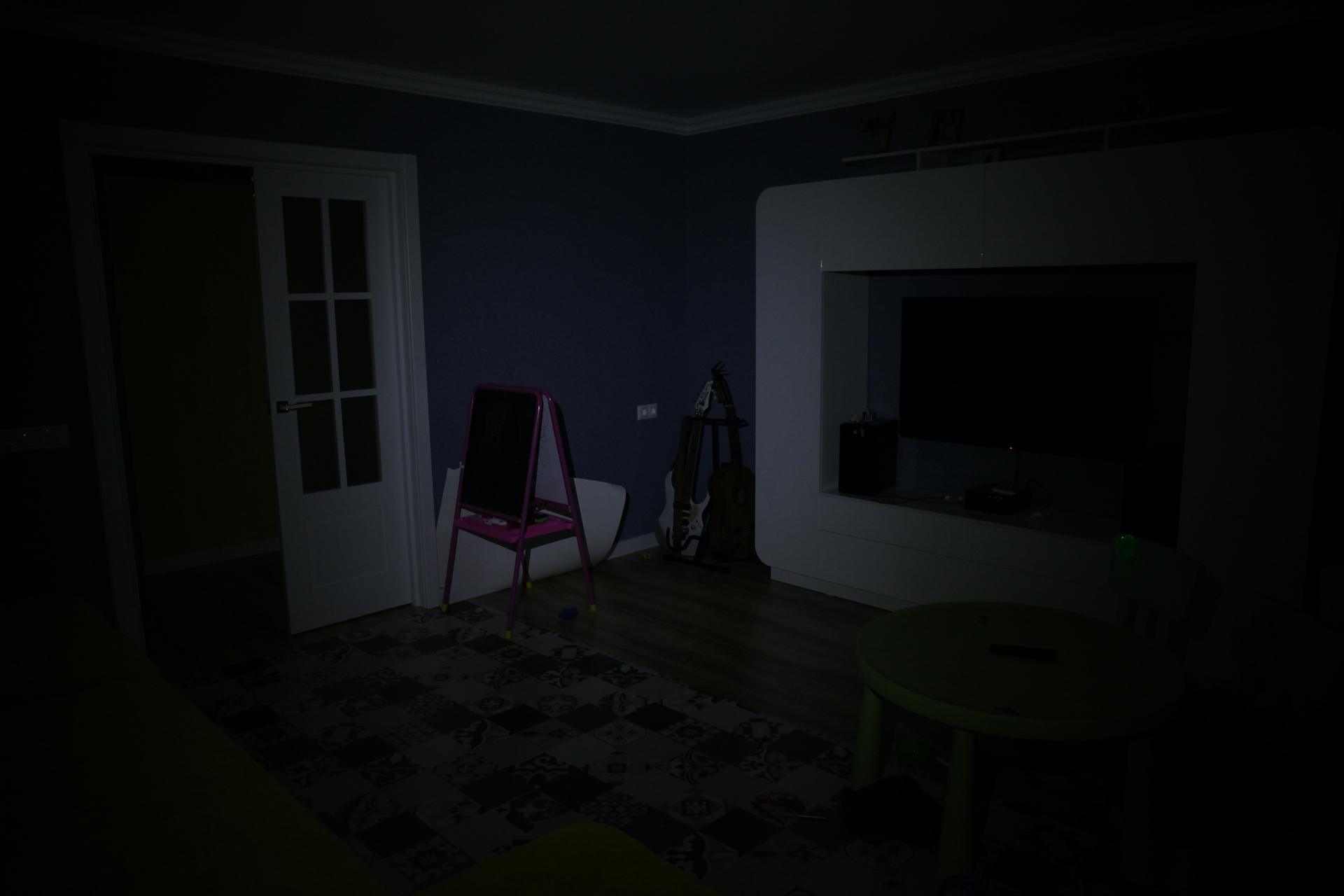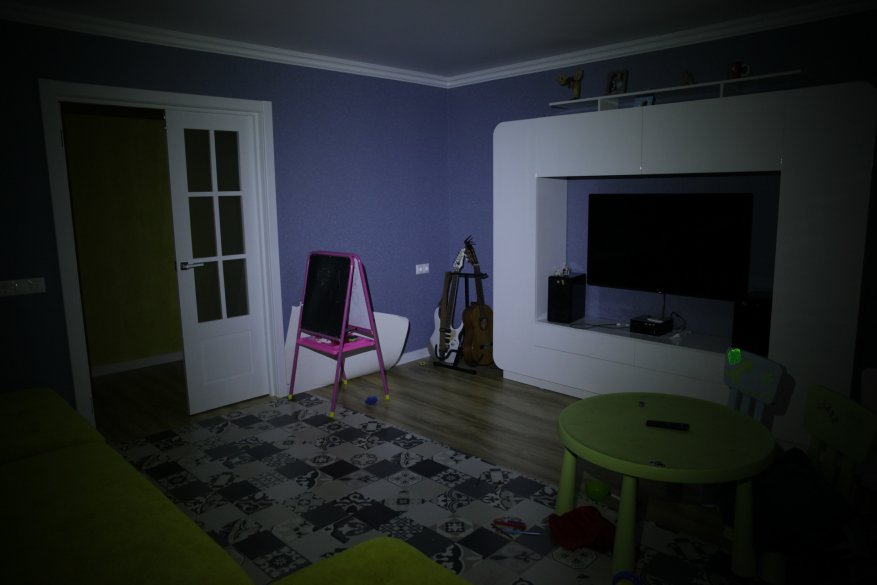 Lumintop EDC01 will give some light outdoor , but you need to understand that other models with a reflector will be preferable here, when you need to shine through the surrounding bushes. Here with EDC01 the light will be fundamentally different. And mid there will not be so impressive here. However, at maximum brightness, this baby will be quite consistent in the 15-20m range. See for yourself.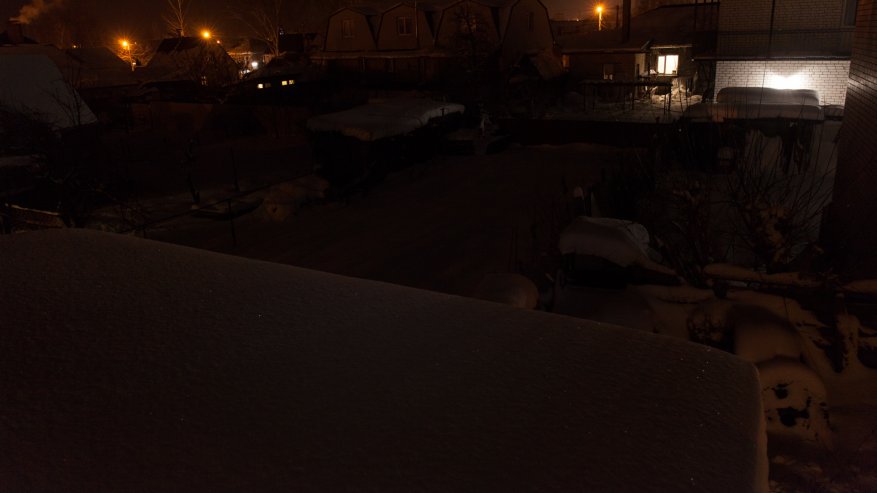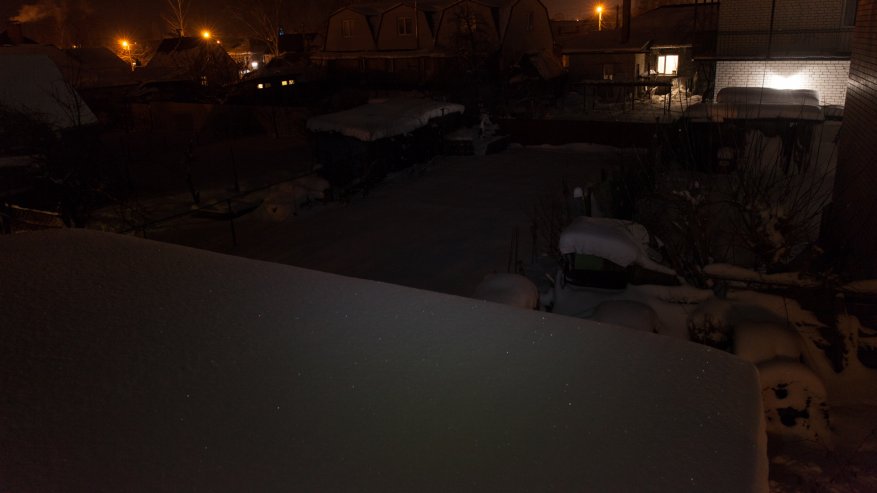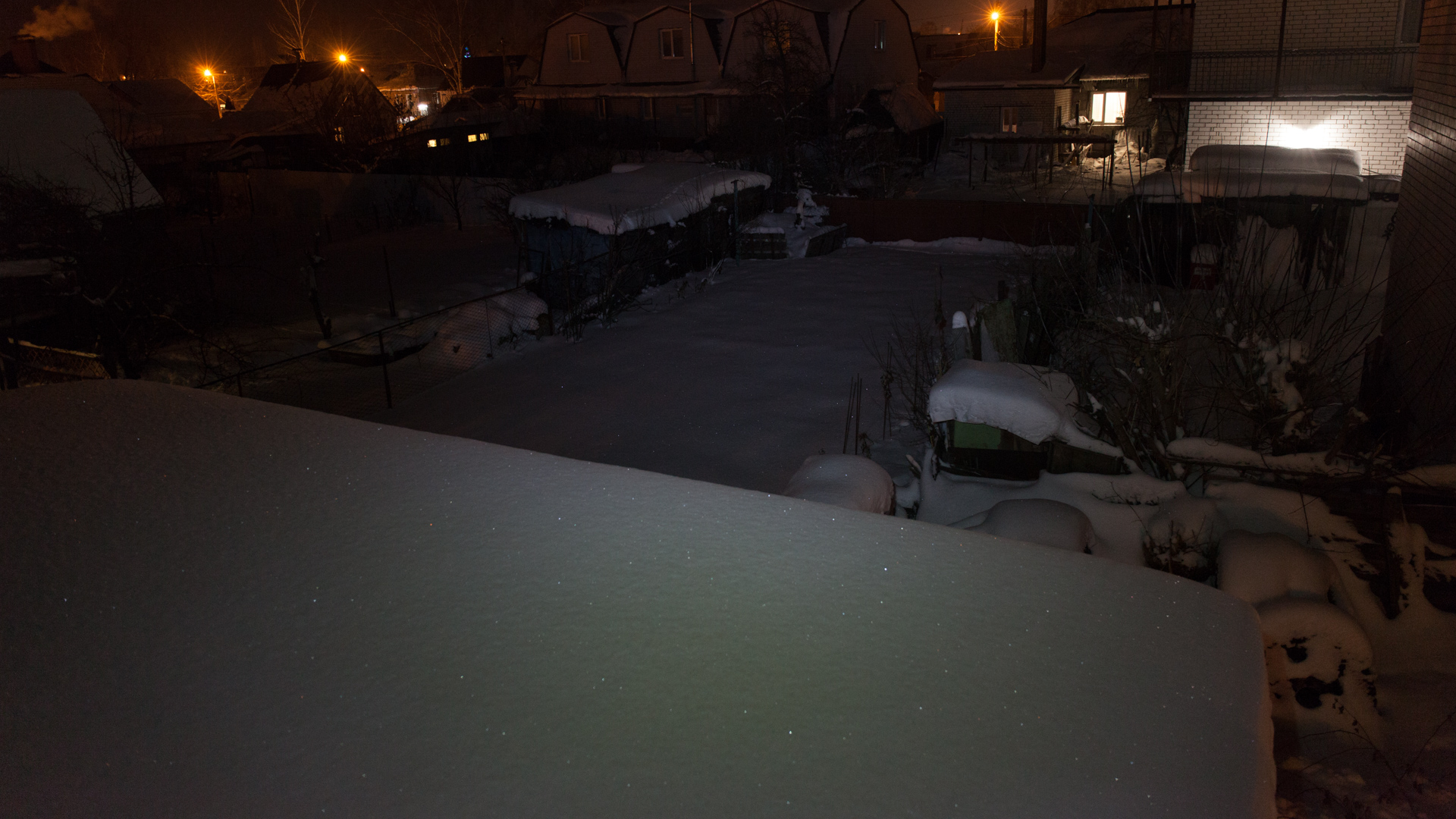 OVERALL IMPRESSIONS 
In my opinion, this is some kind of Worm, in which Lumintop put TIR optics instead of a reflector. The design is in fact the same. However, it is good – because everyone can pick up the light and control for themselves. Who needs the tail button, he takes the Tool. Who traditionally turns the head, chooses between edc01 \ worm.. Connoisseurs of beauty can generally take Lumintop Ant or HL AAA or Tool Ti.
In short, I can not fault the model. For the keylight, everything is as it should be. There is enough light. Grip and design are comfortable. All this Lumintop have been debugging for a long time, I repeat – Tool and Worm worth their popularity. If only it would be nice to add a version with a Nichia, many people here would give up a couple dozen lumens for the sake of good light.