Orico Dual Port Car Charger QPC-2U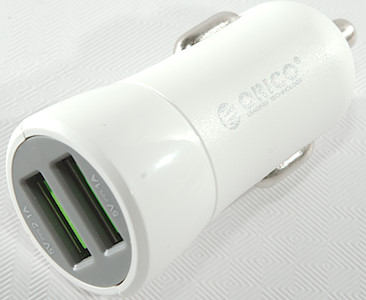 Official specifications:


Made of high quality durable aluminium alloy and plastic.

Dual

USB

, can charge two mobile devices at once.

Support to plug into any car power outlet.

The charger is very short and did not connect in my standard test socket.

With Blue

LED

indicator light.

Output: 2.1A & 1.0A.

Universal

USB

port works with most

USB

cables.

I got it from ebay dealer: orico_black_tech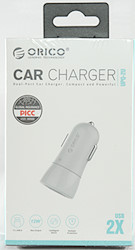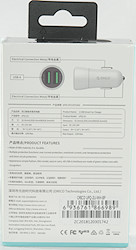 The charger was in a box with specifications on the outside.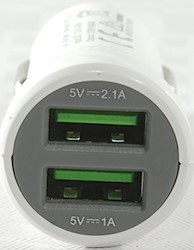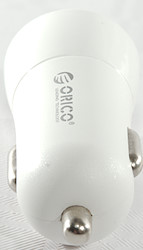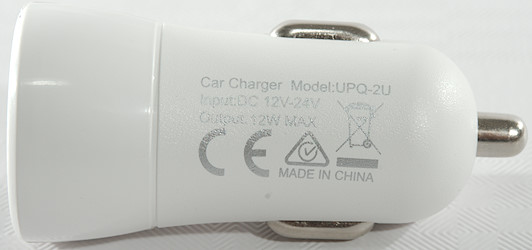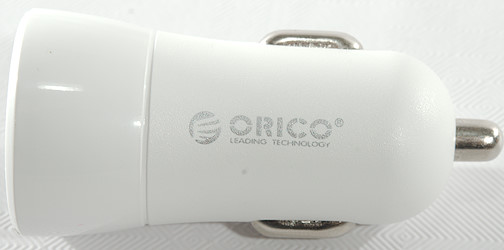 Measurements



USB

output 2.1A is coded as Apple 1A    This is silly


USB

output 1A is coded as

USB

charger (

DCP

)


USB

outputs are in paralle.

Power consumption when idle is about 30mA on 12V and about 33mA on 24V

Weight: 15.5g

Length: 56mm

Diameter: 26.2mm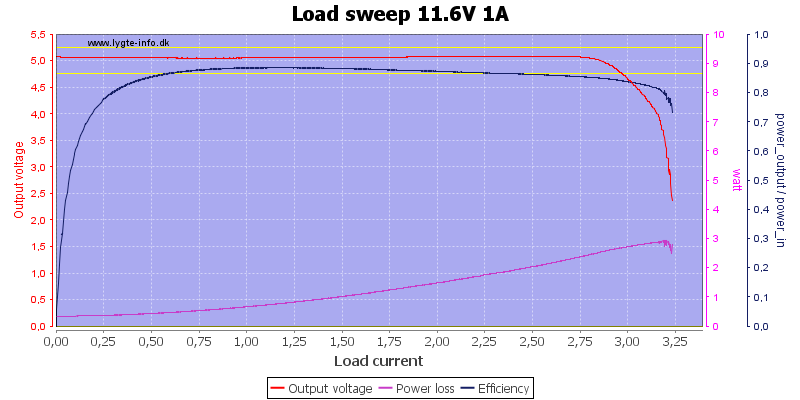 The charger can deliver about 2.8A on the 1A output
It can also deliver 2.8A on the 2.1A output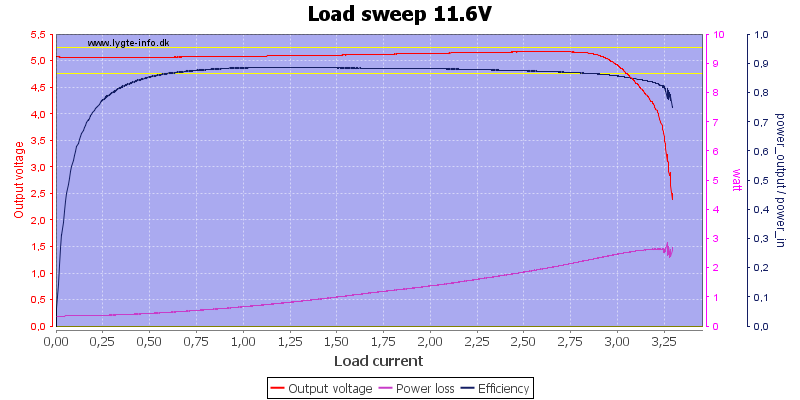 And the same 2.8A with using the outputs in parallel.
A bit higher input voltage do not change anything.
At 24V input the maximum current is down to about 2.2A, this is below the 12W rating.
The charger needs about 6V to maintain 5V output.
When unloaded the current consumption is a bit above 30mA.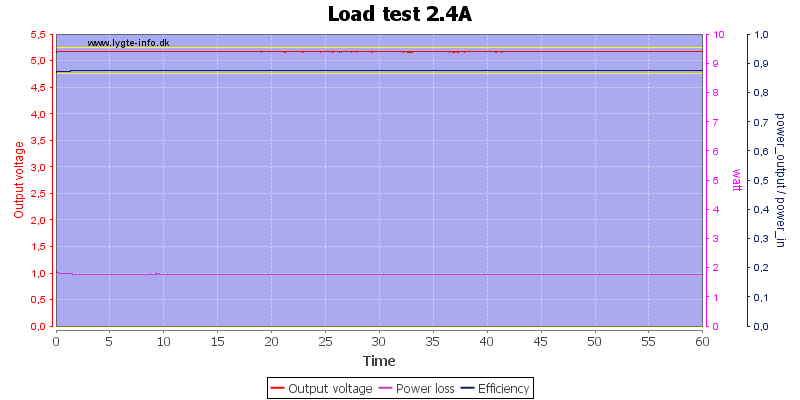 I used the rated 12W, i.e. 2.4A for testing.
The temperature photos below are taken between 30 minutes and 60 minutes into the one hour test.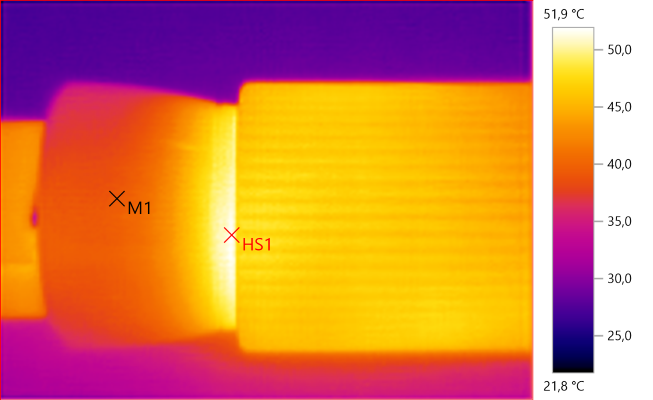 M1: 39.4°C, HS1: 51.9°C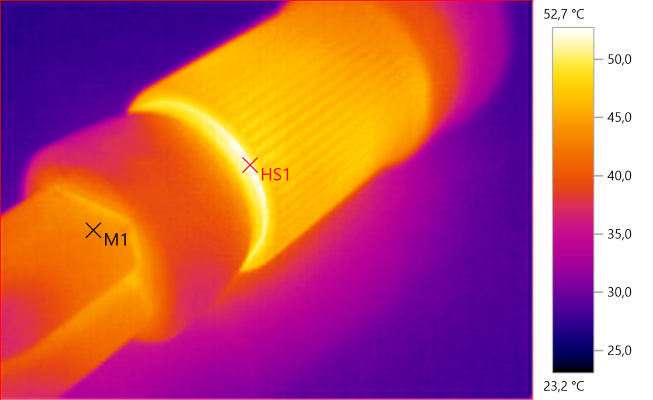 M1: 43.3°C, HS1: 52.7°C
I was a bit curious about 24V and also did a load test with 2.4A at 24V, it did not work as well, it could only maintain output for 5 minutes.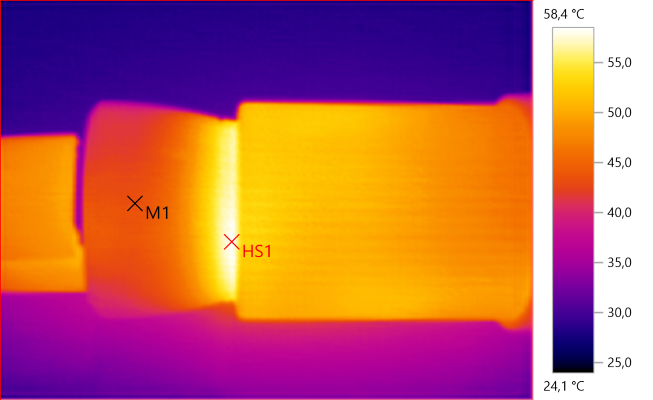 M1: 43.1°C, HS1: 58.4°C
It is about 6.5°C hotter.

Noise at 0.5A output is 34mV rms and 150mVpp

Noise at 1A output is 35mV rms and 164mVpp

Noise at 2.5A output is 53mV rms and 269mVpp, the output noise is low.
Tear down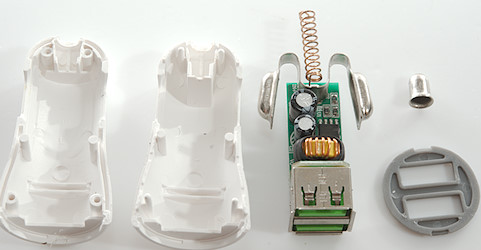 Some pressure on the sides and I could split it apart.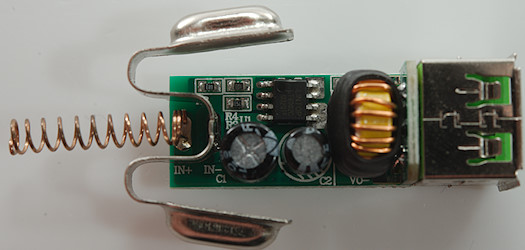 The circuit is a single switcher IC (U1: LinTop LT6002C) with smoothing capacitors and a inductor.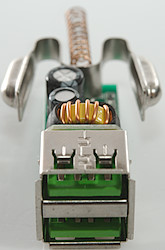 There is nothing on this side.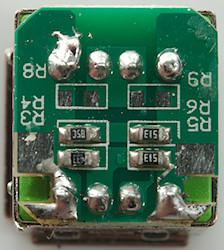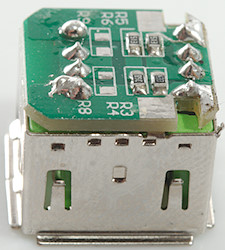 The front circuit board contains the coding, for one connector it can be either
DCP
or Samsung, the other can be any Apple coding depending on resistors mounted.
Being a 12V device there is no need to test with high voltages.
Conclusion
This is a fairly simple charger with power enough to fast charge one device, but the coding do not correctly specify that.
Notes
The charger was supplied by a reader for review.
Read more about how I test

USB

power supplies/charger
Compare car chargers and other DC supplied chargers